I think most will agree with me that the defining aspect of the SEMA Show is its diversity. It's the one place where the automotive world truly comes together, and the mash up of so many different subcultures in one place is both strange and brilliant.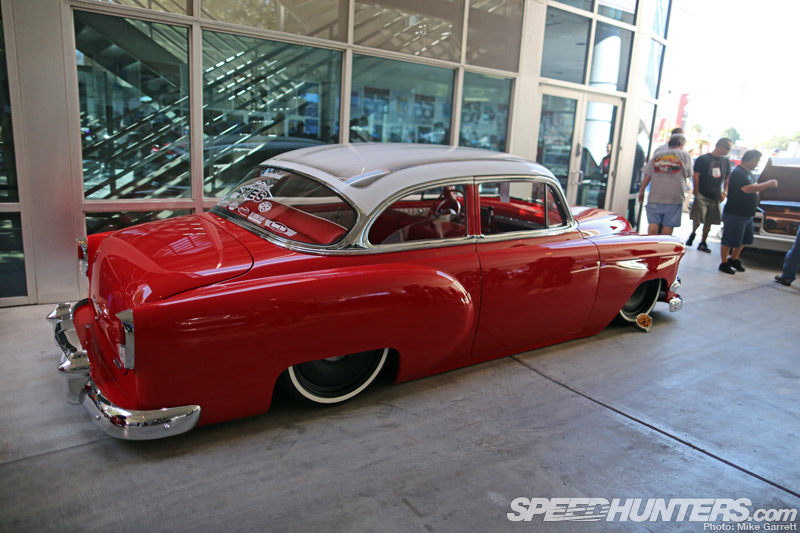 This year's show is heavy on both custom European cars and Japanese compact machines lead by the Scion FR-S, but in the end SEMA is still home turf for the customized American machine. With that in mind, lets take a look at some of the big Hot Rods, Customs, and Muscle Cars from SEMA 2012.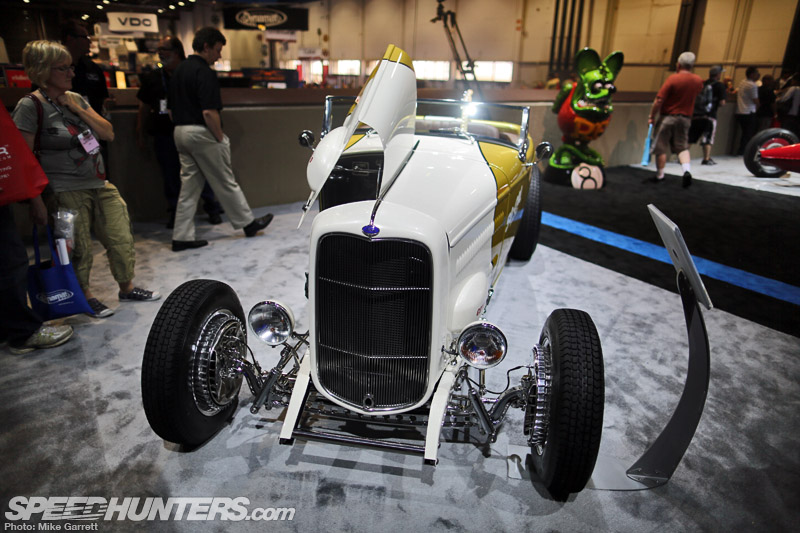 Let's begin in the Ford booth, where I found this '32 Roadster produced by SO CAL Speed Shop and Detroit Street Rods to help celebrate the 80th birthday of the Deuce.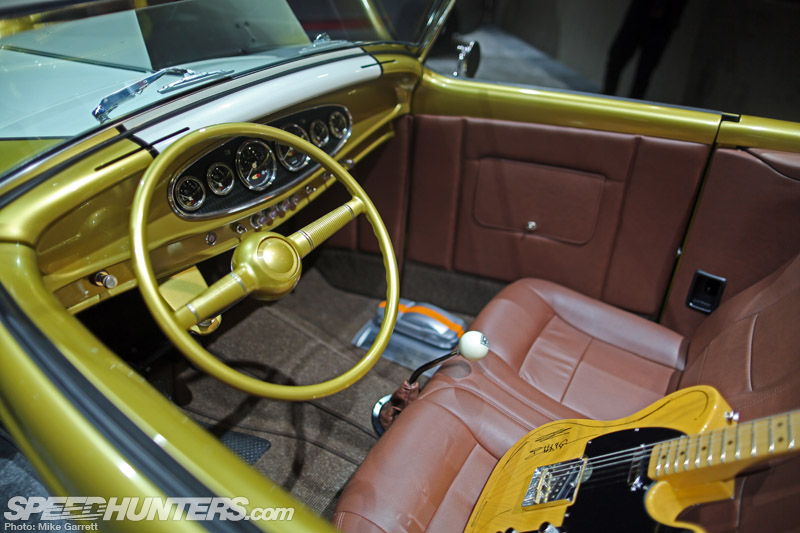 Style-wise, the car has a "modern-traditional" feel with a classic SO CAL race paint job and a simple, period correct interior style.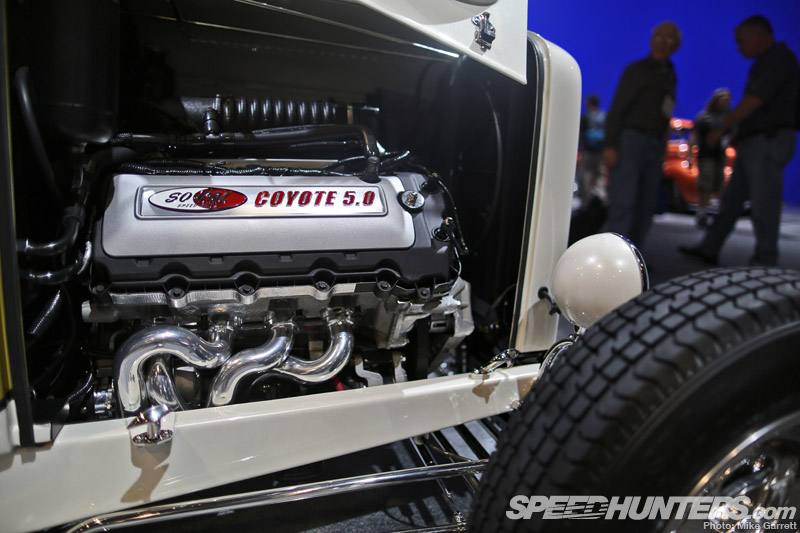 The powertrain on the other hand is completely modern. That's a  Ford 5.0 liter Coyote V8 there, which is mated to a six speed manual transmission. It also features other modern touches like four wheel discs and adjustable coilovers. The result is a seamless mix of both classic and modern Hot Rod style.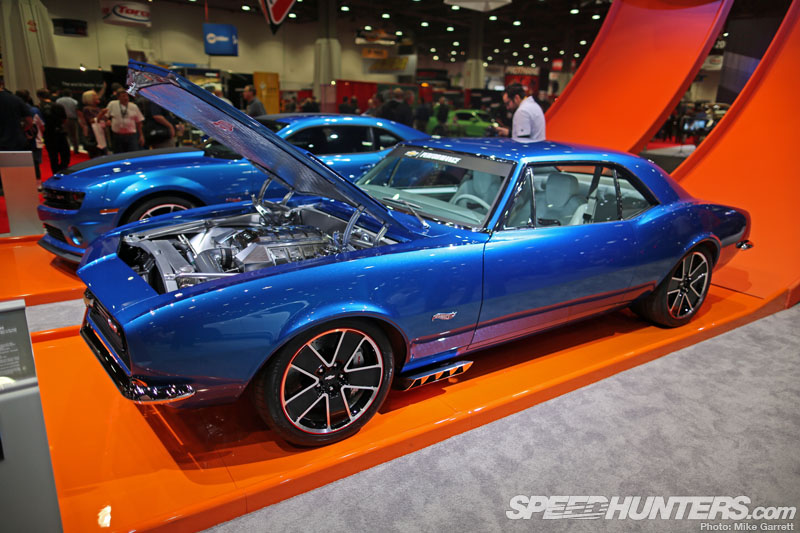 Found in the GM display, this '67 Camaro is a replica one of the first Hot Wheels diecast cars released back in 1968. It's powered by one of GM's LS3 E-Rod motors and features custom-built 18″ wheels based on the ones that appeared on early Hot Wheels cars. Also, check those awesome side pipes!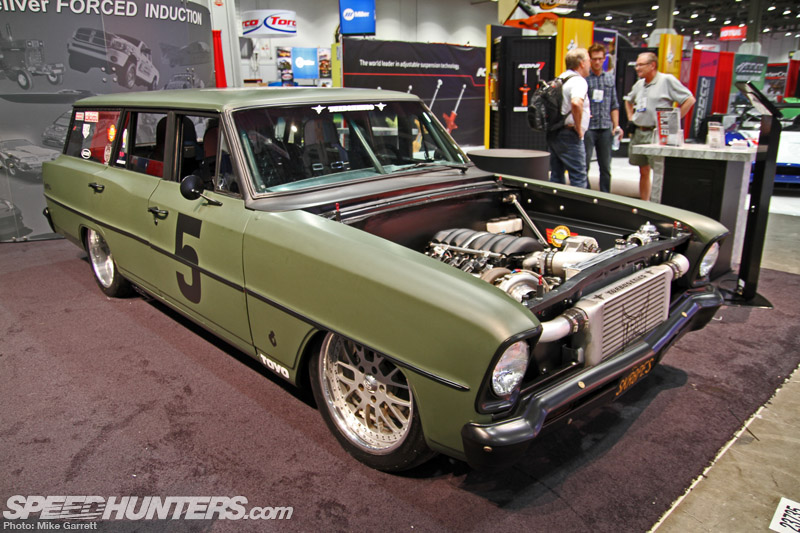 Who doesn't like a proper Station Wagon? I got quite a kick out of seeing this olive drab Nova Wagon sitting in the Turbonetics booth.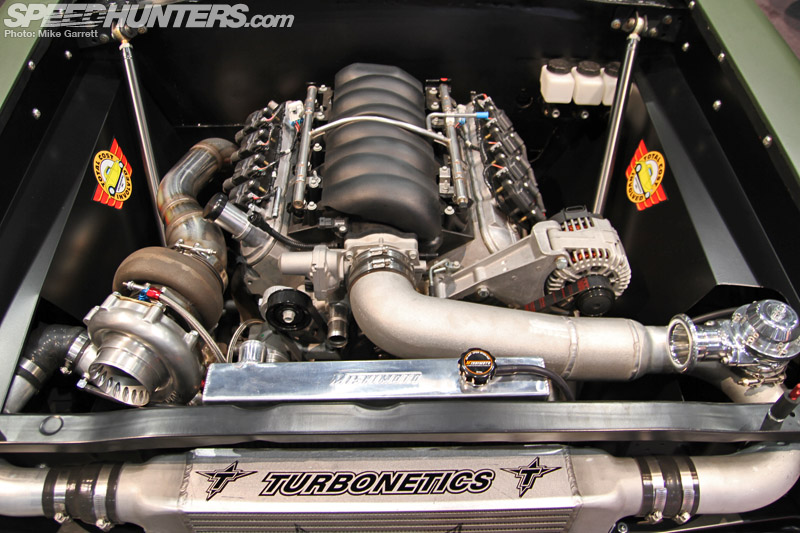 …with LS3 power and of course a giant Turbonetics snail on board.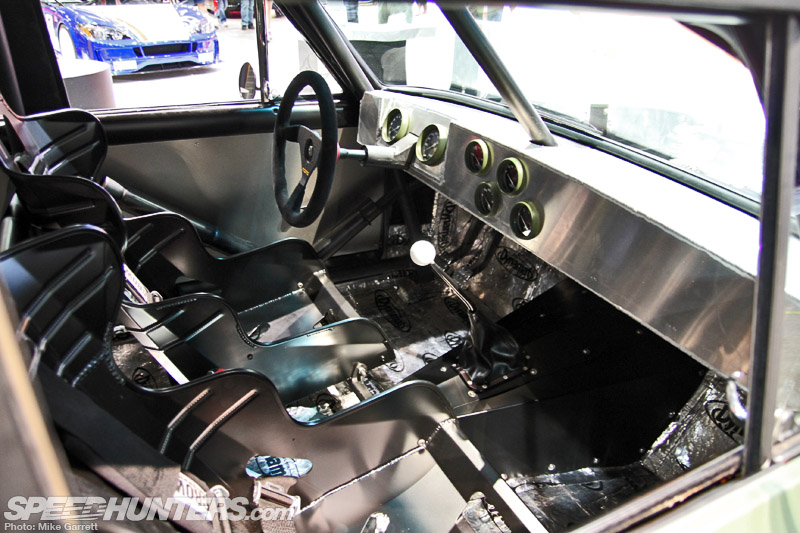 The interior of the wagon looked very NASCAR, with a full cage and custom built dash. The hardcore race buckets and harnesses were there for both front seat and back seat occupants.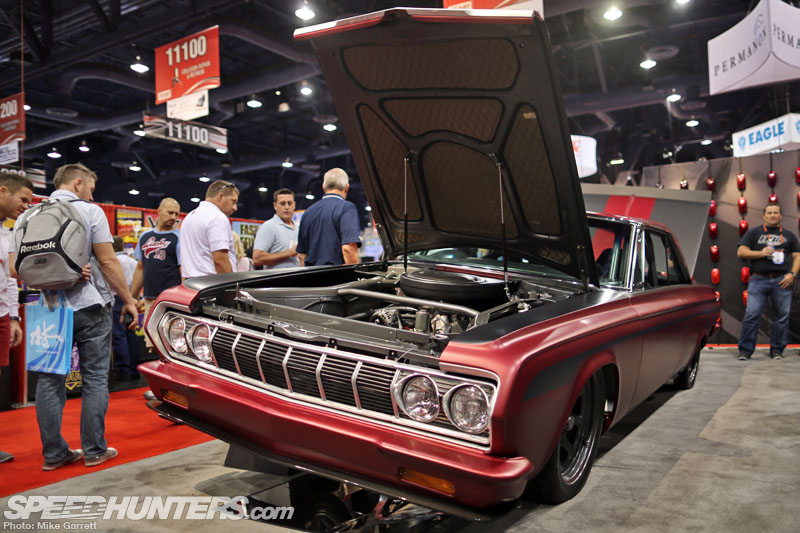 Speaking of NASCAR, check out this '64 Plymouth Belvedere created by championship-winning crew chief Ray Evernham. Ray is a huge fan of vintage stock cars with a soft spot Mopars in particular, and this build reflects that.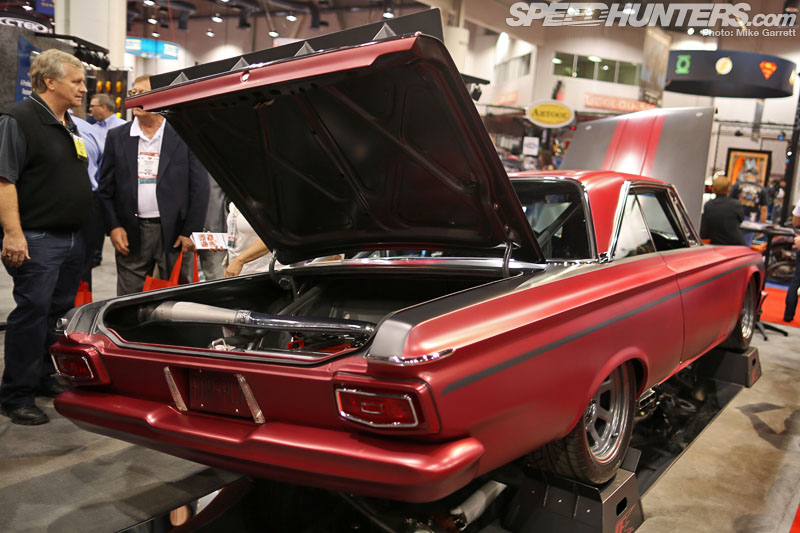 While it has the look of a Plymouth like Richard Petty drove in '64, the classic body is actually set over a modified Dodge "Car of Tomorrow" Sprint Cup chassis.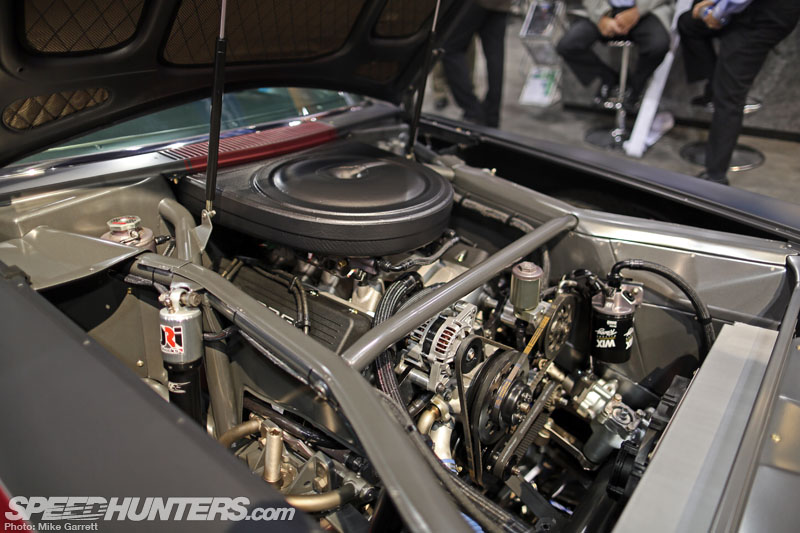 Power comes from a 358 cubic inch Dodge NASCAR motor which should produce somewhere north of 750 horsepower at screaming high RPMs.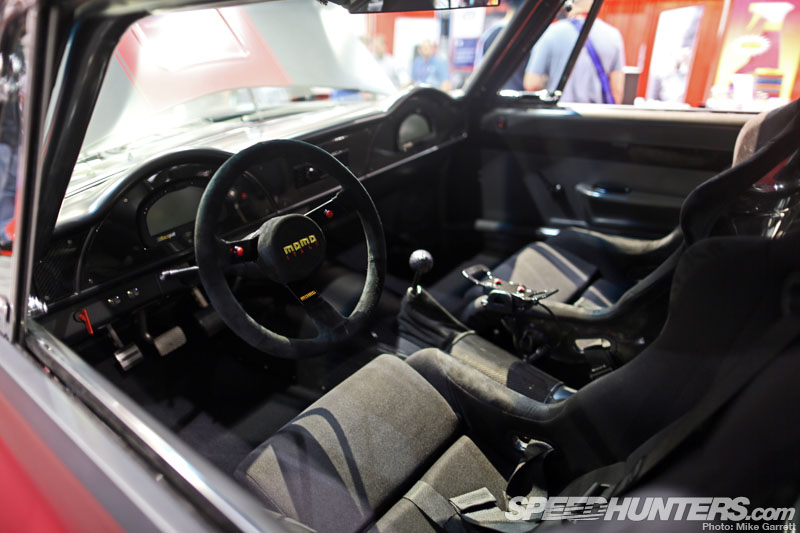 Inside, the car has is loaded with modern equipment, like a Momo race wheel, carbon fiber panels and full digital instruments. How amazing would it be to take this thing out for a romp on the street?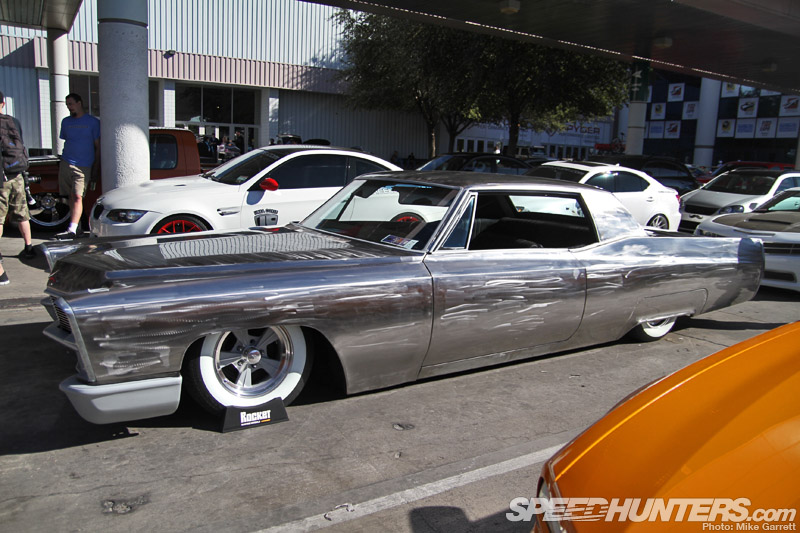 Of course it doesn't all have to be crazy horsepower numbers and race car handling. When you just want to ride low and slow, something like this bare metal Caddy on Rocket wheels and wide whites should do nicely.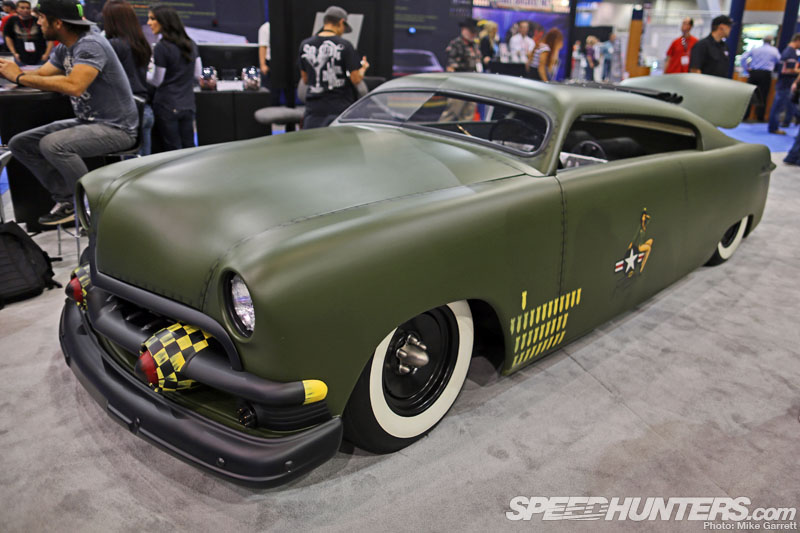 One of the craziest custom cars at this year's show is this slammed and chopped '51 Ford Shoebox from the mind of professional BMX rider TJ Lavin.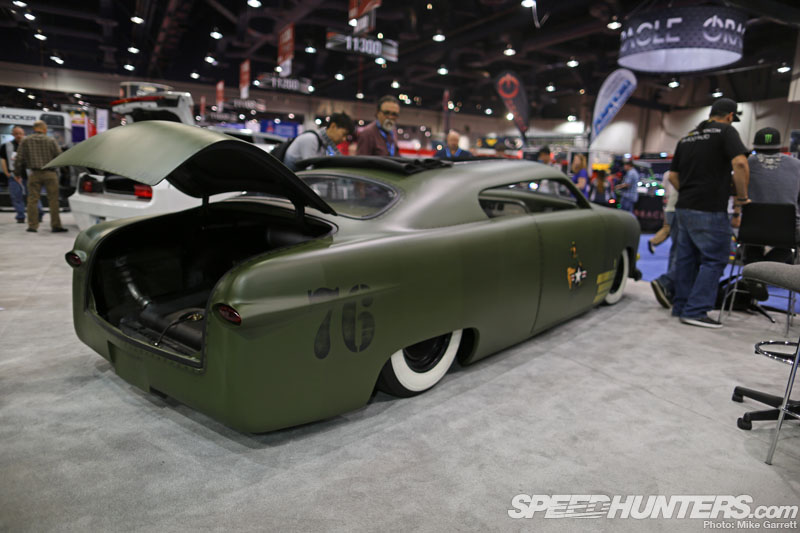 This is another car that's done with a military-inspired theme – something which is getting more and more popular both in the United States and abroad.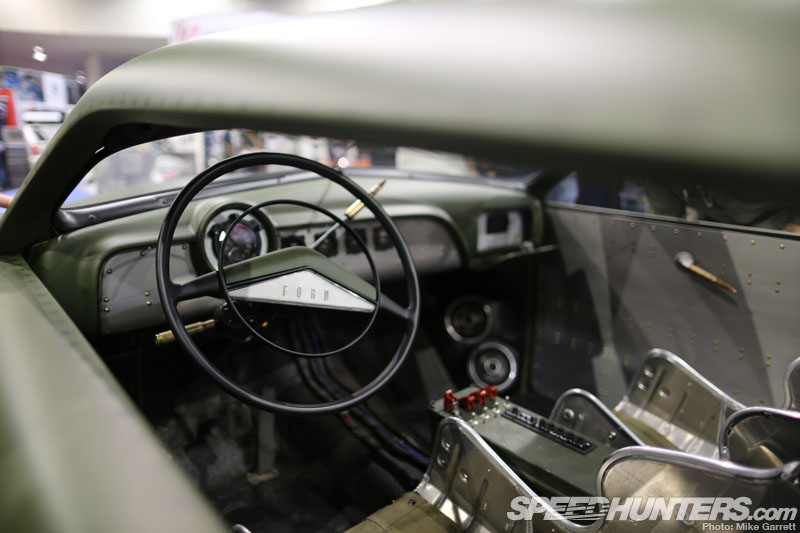 Peeking inside the massively chopped window openings, you can see the warplane seats and aircraft inspired controls on the center console. Wild.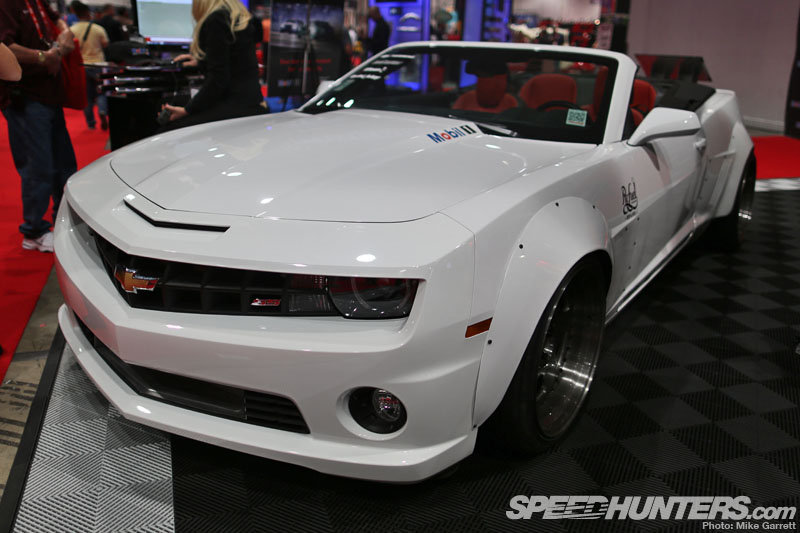 Let's not overlook the modern Muscle Cars now. One example that caught my eye was this Camaro Convertible in the Mobil 1 booth. The drop-top 'Maro is equipped with a Turbonetics turbo kit and KW suspension for starters, but it's really the exterior that sets it off.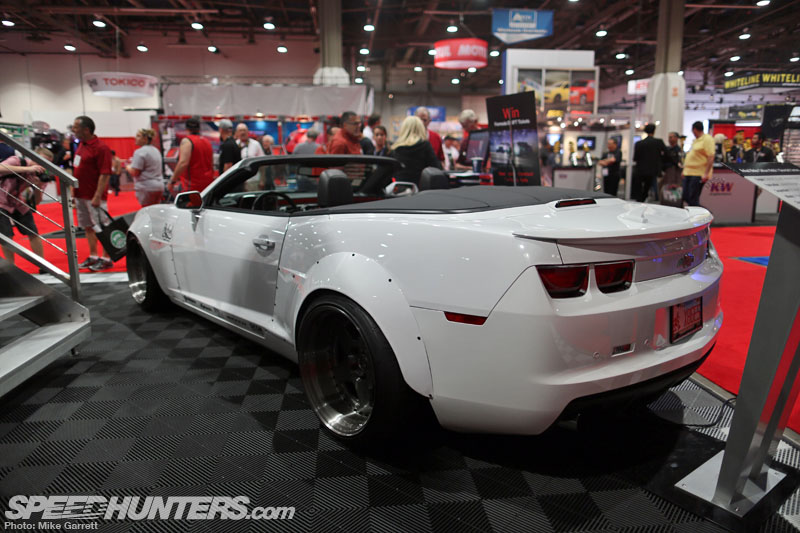 Here we have another example of the RWB/Retro-Japanese inspired fender flares being used on different types of cars. The wheels are big-lipped three-piece Tarmacs from Fifteen52.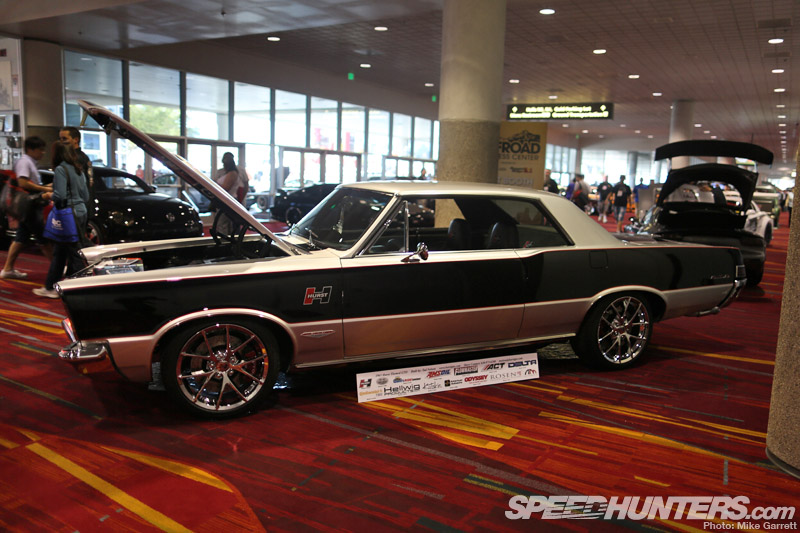 It's only fitting that I include an example of the original Muscle Car – the Pontiac GTO. This particular '65 Goat is a modern take on the Hurst edition Muscle Machines of the 1960s.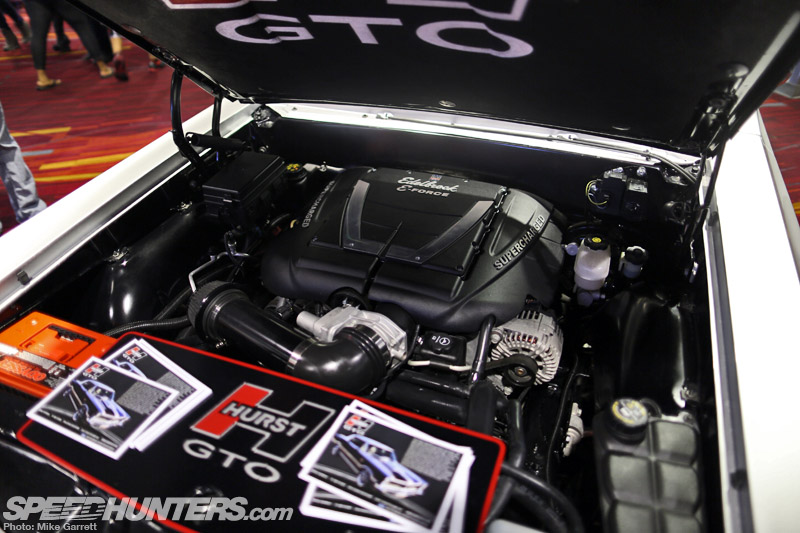 It's powered by a supercharged LS3 making around 600 horsepower with a six-speed stick, four wheel discs, traction control and all sorts of other modern gear.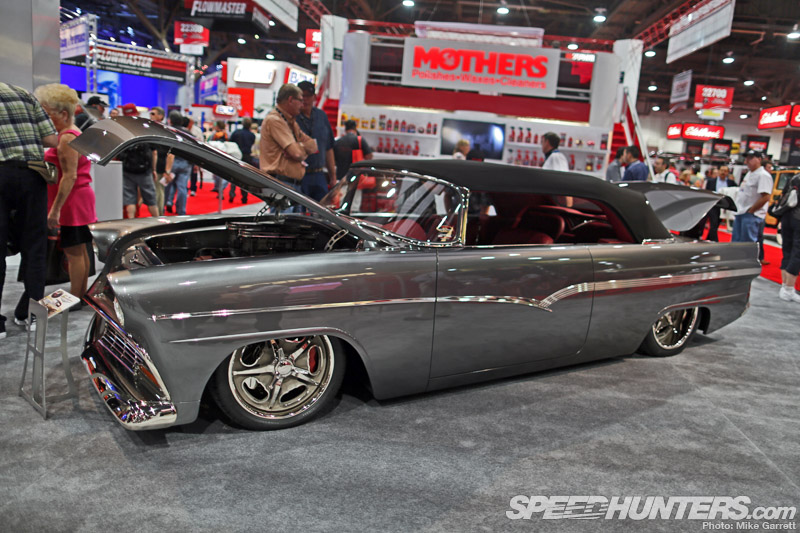 Say hello to "Suncammer", the 1956 Ford Convertible that took home the prestigious Riddler Award last year. It's a bit understated by SEMA standards, but an absolutely stunning piece of work.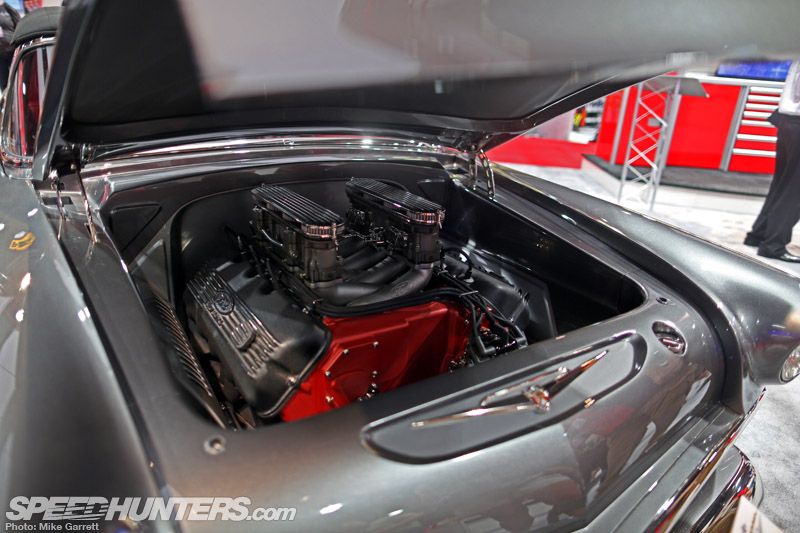 What I especially liked about is that it's powered not by  a modern crate motor by an original Ford SOHC 427 with a custom intake manifold and a pair of inline carbs.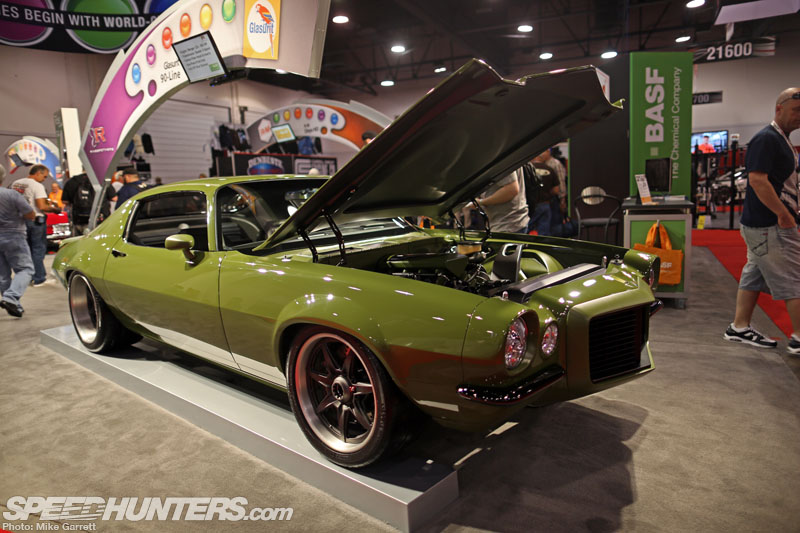 Words cannot express just how popular early model Camaros are at SEMA – not just this year but every year. It may come off as unoriginal, but it's very interesting to see how builders continue to push boundaries and try new things with established platforms. The first generation cars are still the favorites, but early second gen models are getting more and more plentiful.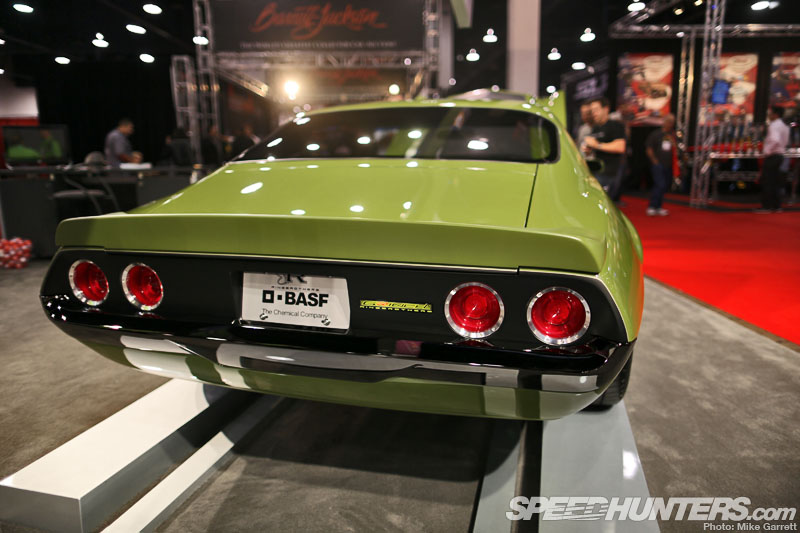 When it comes to the business of building crazy Pro Touring cars, few are better than the Ring Brothhers. Each year they come to the show with a stunning machine, like this year's '70 Camaro known as the "Grinch".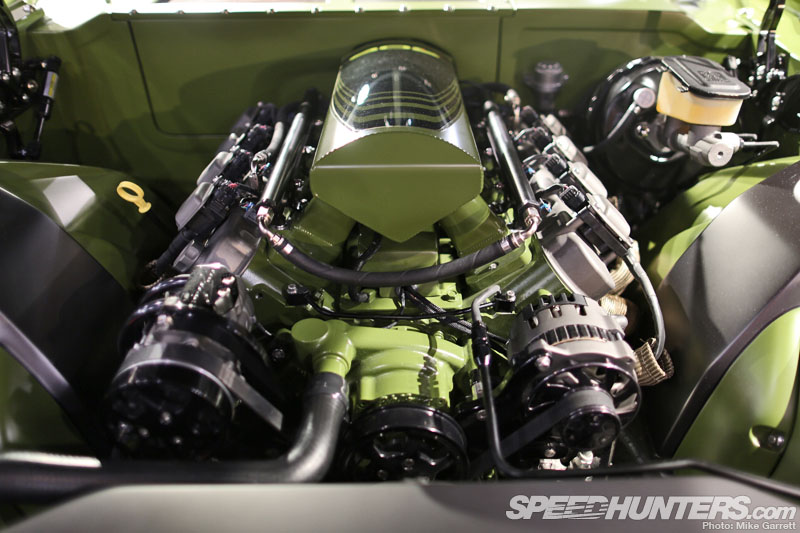 Powering the Grinch is – you guessed – LSX power.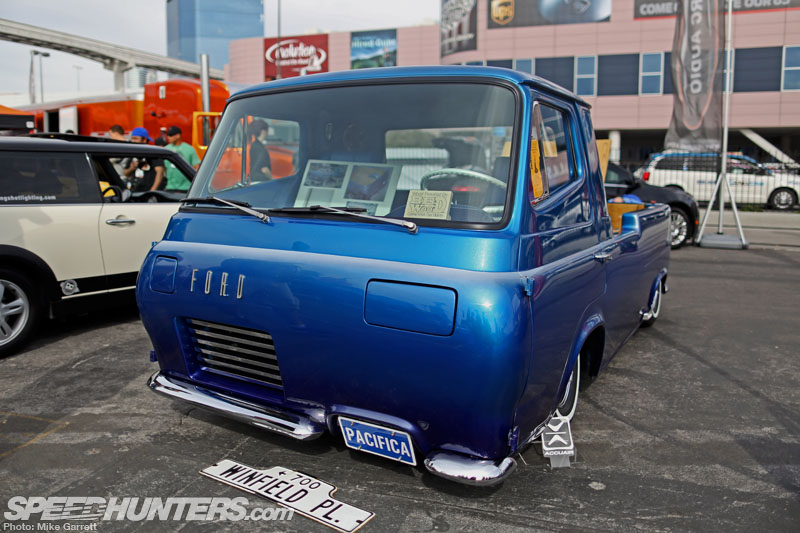 From the cutting edge Camaro we take a step back in time with "Pacifica", a Ford Econoline pickup truck built by legendary builder Gene Winfield.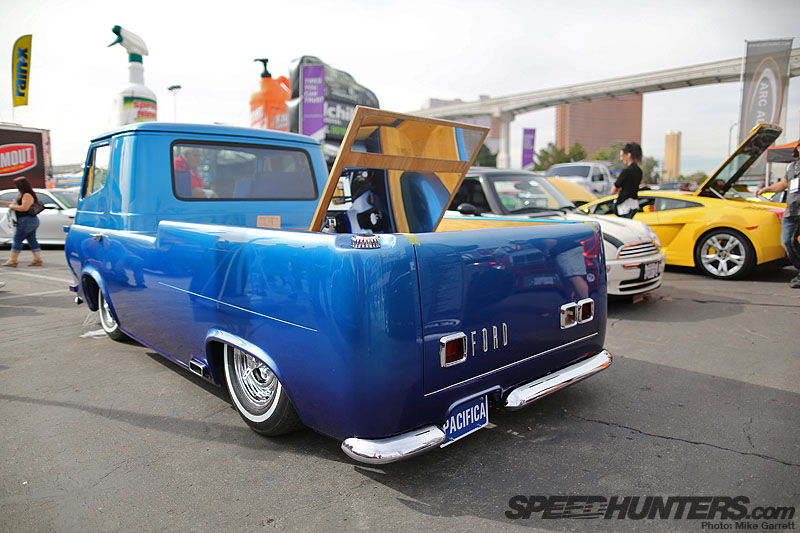 The truck is actually a recreation of an Econoline-based show machine that Gene in the early 1960s as part of Fords' "Custom Car Caravan".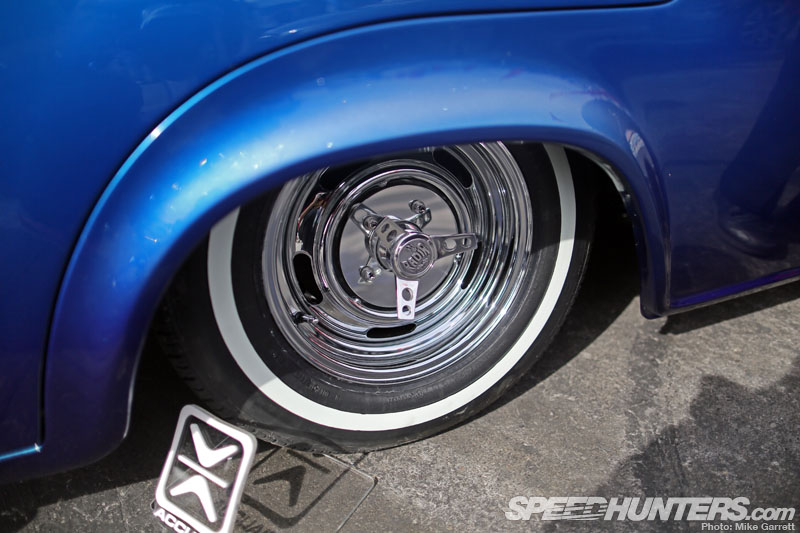 The look of the truck is pure 1960s show style, but with a few modern touches like Accuair suspension. The original definitely didn't sit this low back in '62!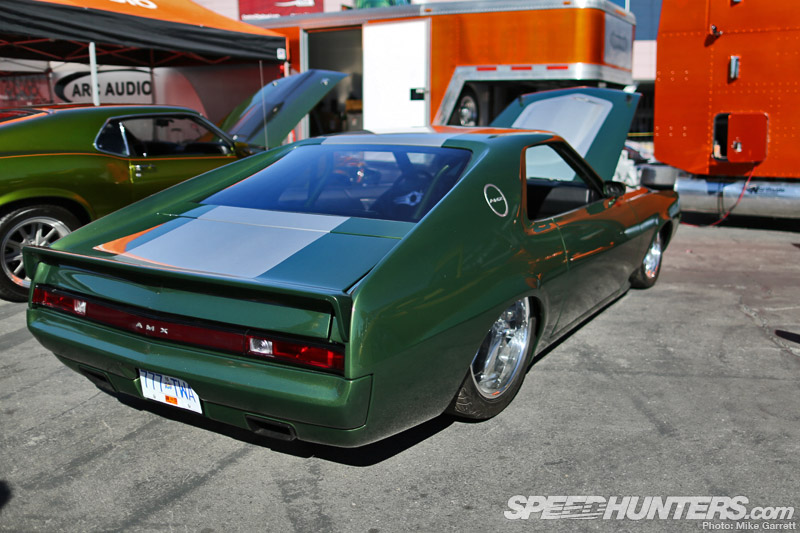 One of the coolest Muscle Car builds at SEMA this year is also one of the most unusual. You rarely see any AMXs around the show, let alone one as crazy as this example from British Columbia. Just look at the way the slammed stance and enormous wheels complement the angular lines.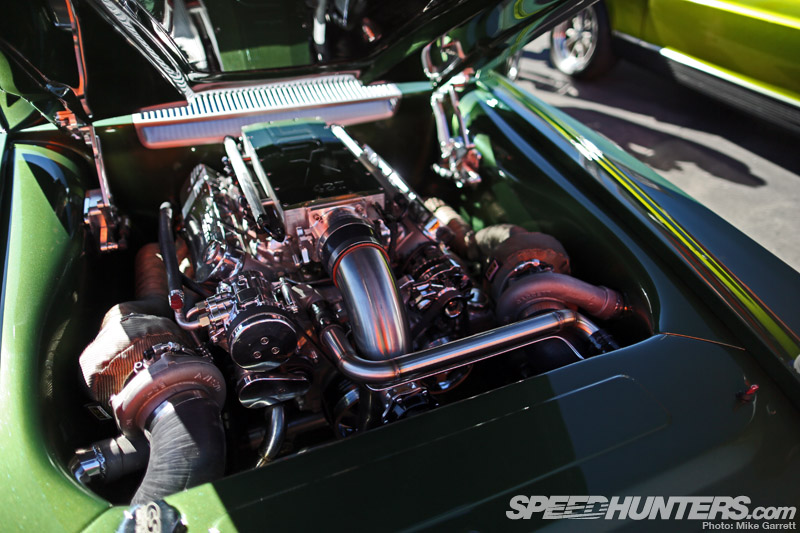 You won't find the original AMC motor under the hood, but you will find a 427 cube LSX with a pair of large turbos for good measure.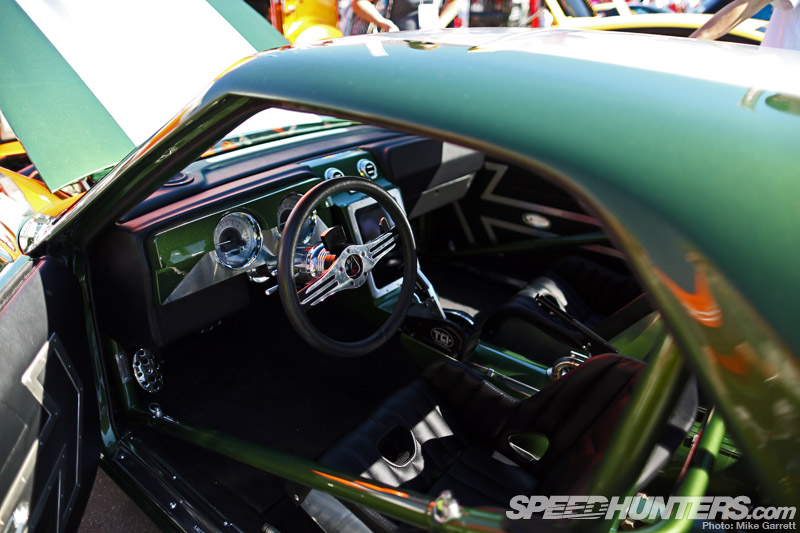 The interior treatment is equally off the wall. Like the rest of the car, the cockpit is a unique mix of both show car and hard core race elements. I'm not sure if AMC purists will like it, but who cares?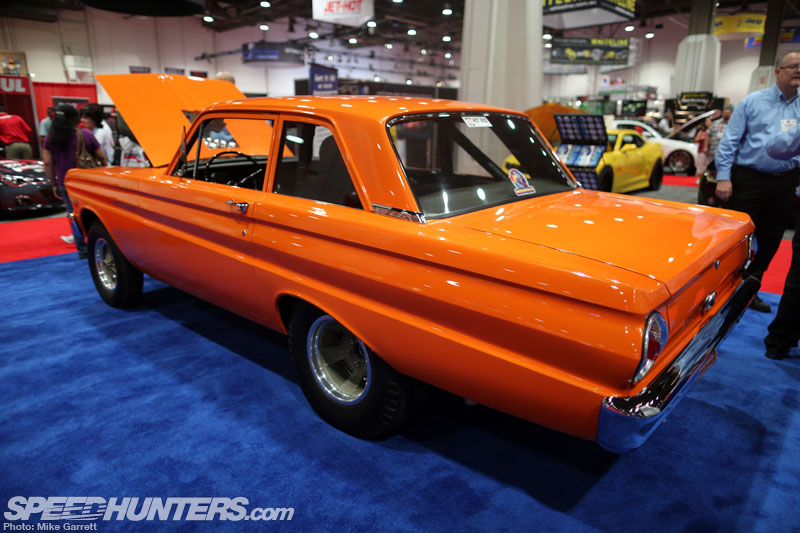 Lastly, I want to share a couple more images of the altered wheel base Ford Falcon you caught a glimpse of during my SEMA preview post from Monday.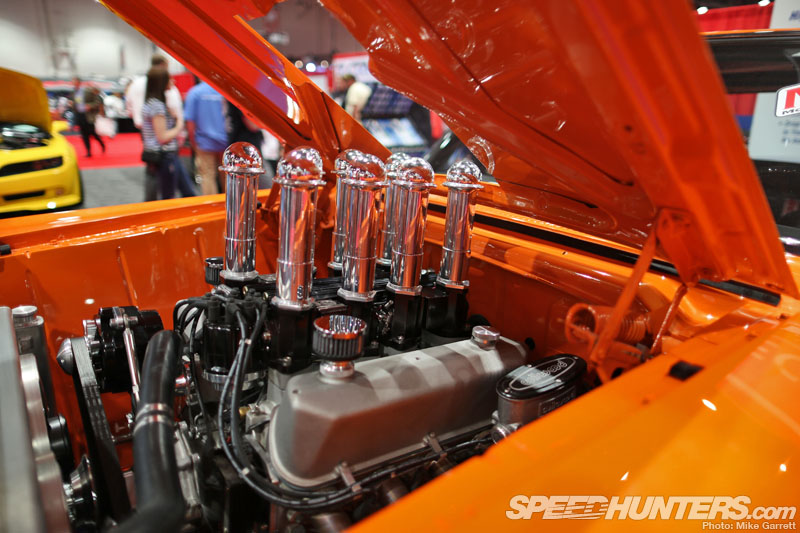 It's a pretty cool concept – with the legit look of a 1960s AFX drag special but in street form with the refinement and details of a top level show car. It's definitely one of the best pure retro cars this year.
That will do it for now. Let freedom ring!
-Mike