I have making the annual pilgrimage to SEMA since 2008, but this year would mark my first venture through the Convention Center as a Speedhunter; which meant I had an entirely new agenda.  I have to admit that SEMA is typically a week in time that I dread for months prior, but since my focus widened exponentially, the 2012 show was a welcomed breath of fresh air. Rather than being confined to one small segment of the aftermarket industry I was now free to roam and explore everything the show had to offer, and boy was there a lot!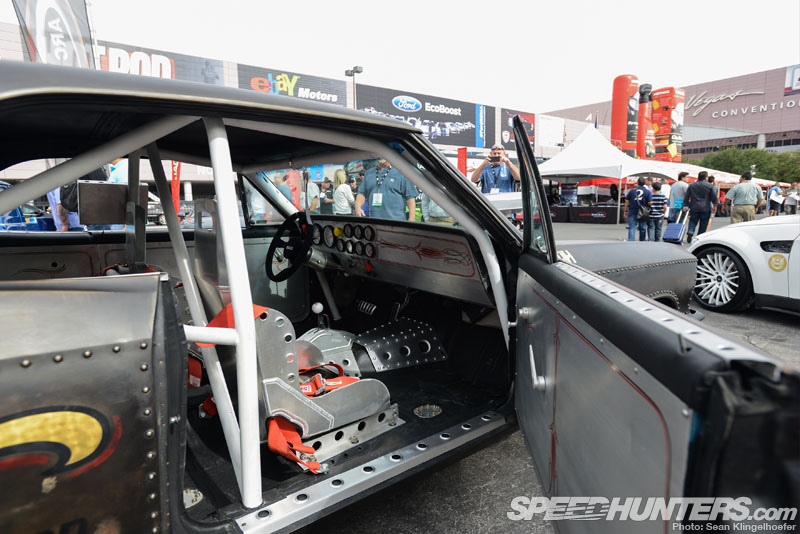 Of course with my expanded field of view came a new burden, time management. I shot all day, every day of the event and I still don't feel as though I had enough time to see everything I wanted to see, but I'll be damned if I didn't try. While I was shooting the event I had a loose itinerary in the back of my head, but I didn't try to focus on anything in particular but rather absorbed the show as it happened in a stream-of-concisouness manner.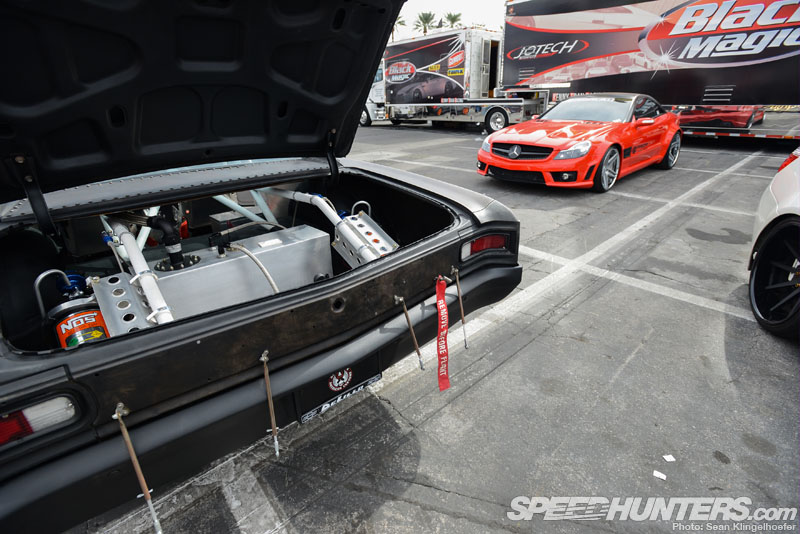 Therefore I didn't go up to a car and think "wow, there's my spotlight!" Instead I just shot without much thinking and later made my selections during the editing process by choosing the cars that I shot the most photos of. It's a simple concept really – if I liked the car I shot a ton of photos, so I went through the most thoroughly covered cars and made my selection. The resulting group of vehicles is a bit shocking, and completely unplanned, as they are all from the segment I know the least about – American domestics!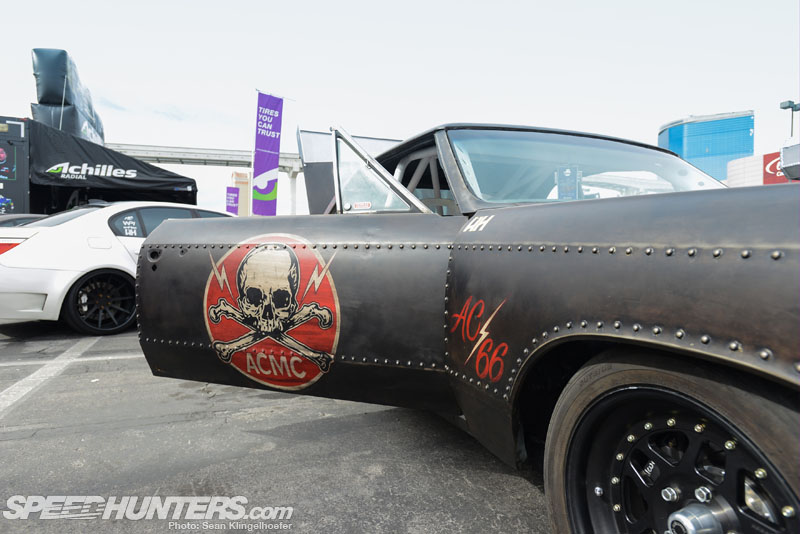 But if you really look at the cars down to the minor details, there isn't much that can hold a candle to the Detroit metal at SEMA. The Chevelle you see here was just such a cool machine visually that I got sucked in a first sight. In terms of how the car has been finished, and from a design standpoint, I think it's a brilliantly coherent build.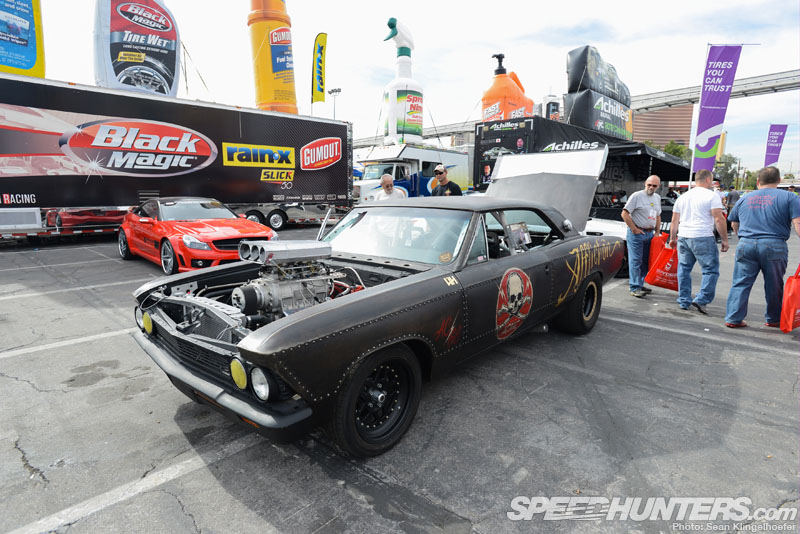 The car, aptly named "Hell on Wheels," was built by a guy named Matt Hunt who is based out of Orange County; which means you can expect that I will follow up and look forward to shooting this car for a full feature soon. At this point in time what I do know is that the supercharged V8 puts out over 1,000hp and makes a lot of racket and smoke while doing so!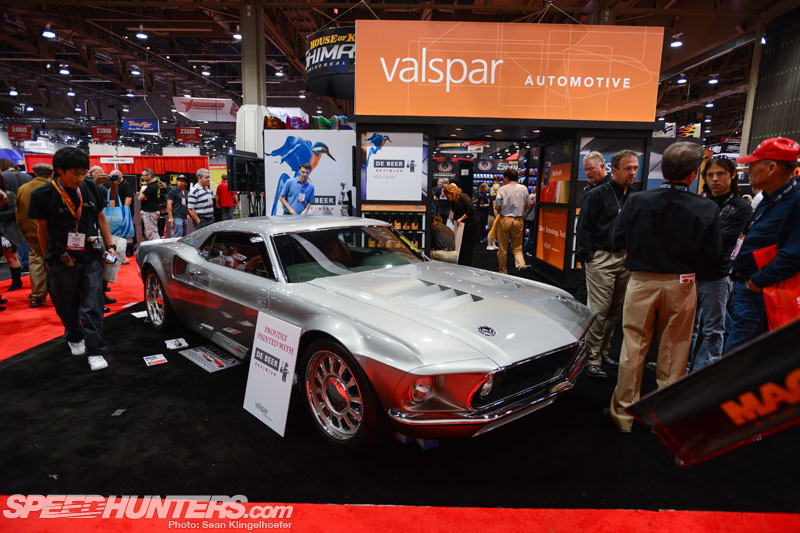 On the extreme opposite end of the spectrum is a very unique car that had a massive crowd around it all week and won the Gran Turismo "best-in-show" award, which is one of the top honors for anyone building a car for SEMA. The vehicle dubbed the "Mach 40″ was built by Eckert's Rod and Custom out of Oregon with help from metal shaping experts at Hardison.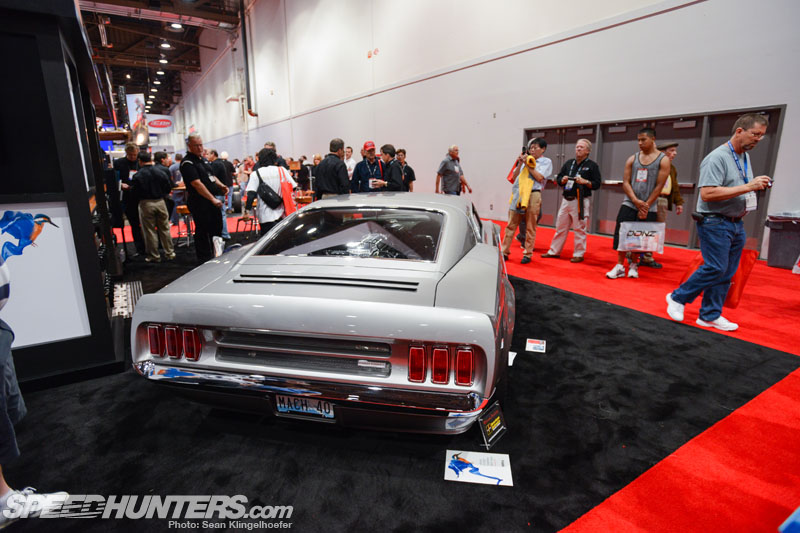 No, your eyes aren't playing tricks on you, that is a shiny supercharger sitting the back window of this futuristic looking Mustang's body. If you haven't guessed by now, this is a totally custom build using a Ford GT as the base platform on which the body has been styled around. Although it obviously isn't a vehicle one could buy from Ford, I think that this is the best modern Retro-Rod style car I've seen to date.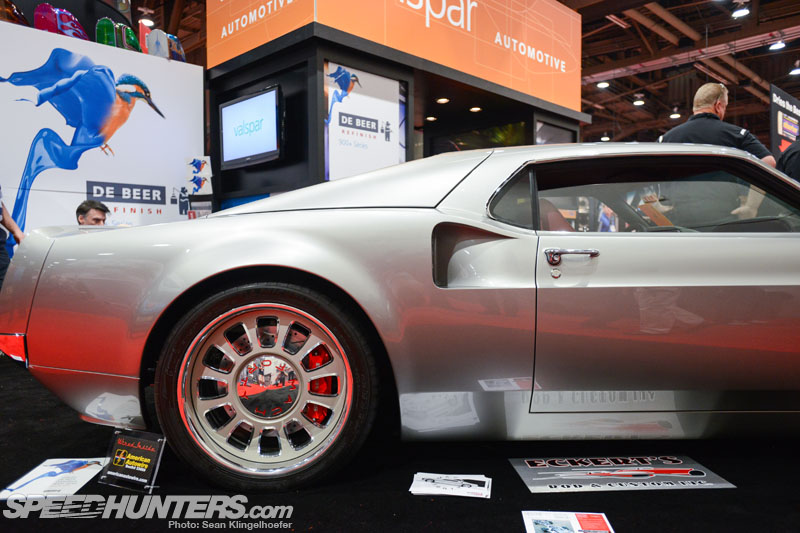 The metalwork is breathtaking and they have somehow accomplished the impossible by capturing many of my favorite lines of the original '69 Mach 1 Mustang, but somehow made it even more futuristic looking than Ford's own 2013 offering. It's fantastic.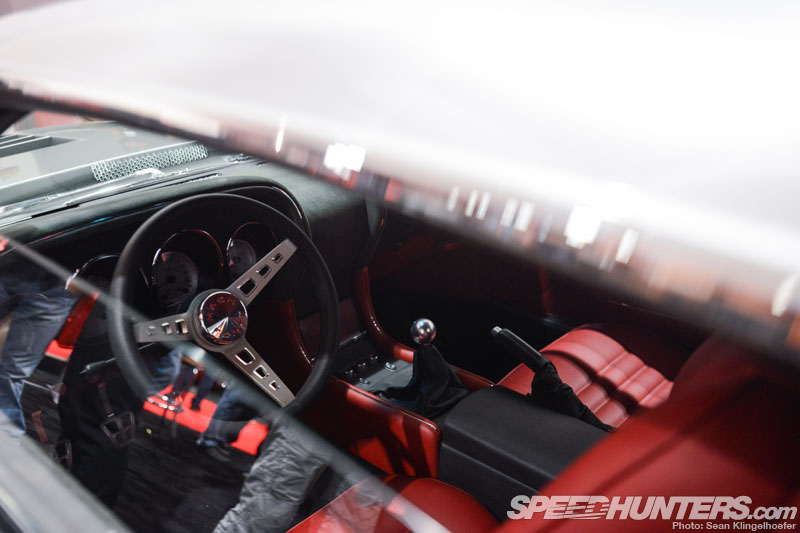 Inside, the car retains a similar vibe with a flawless mixture of old styling with modern amenities and performance. I have no doubt that this car would be a pleasure to commute in on a daily basis. They've also converted the car to throttle-by-wire and added a dial in the cockpit to control the power output from the monstrous engine setup.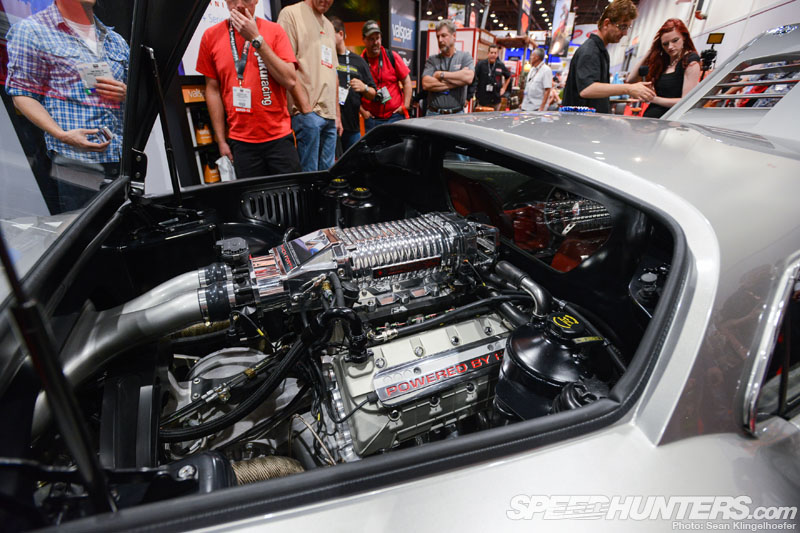 The Ford GT is a proper supercar from the factory in every sense of the term, but the Mach 40 takes it up a notch or two. By removing the factory supercharger and replacing it with a 4L unit from Whipple, power output has been bumped up to 850hp – a 300hp increase over stock! Unfortunately I doubt I'll be offered the keys to this amazing vehicle any time soon, but at least we can look forward to playing it in GT in the future!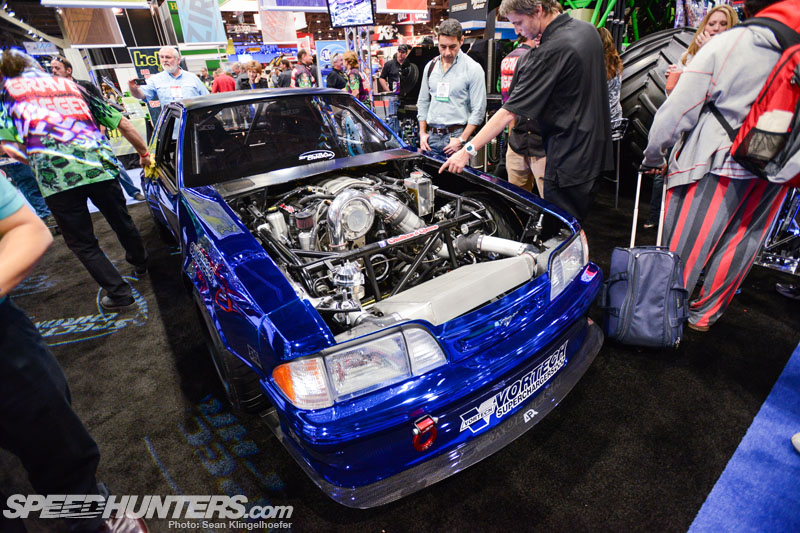 Another Ford that caught my eye was located in the Spectra Chrome booth and is a vehicle that I have been patiently waiting to see coming to fruition for some time. If the finish looks familiar, that's probably because this car has been built  by our friends at Creations n' Chrome. While their Boy Racer Mustang was impressive in its own right, they have really taken their skills to the next level with this Fox body!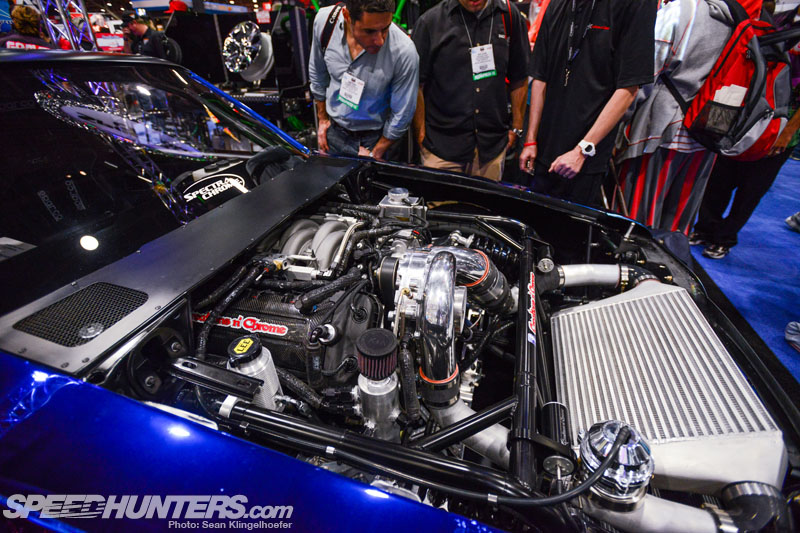 Built off a completely custom tube chassis, this car is focused at slaying lap times at tracks all over Southern California. The concept was to build a car that pushed the boundaries of what can be done with a Mustang and I'd say they're definitely on the right track. When it comes to custom fab work this car ticks just about all the boxes… I mean look at how far back into the firewall that Aluminator V8 is! Jeez!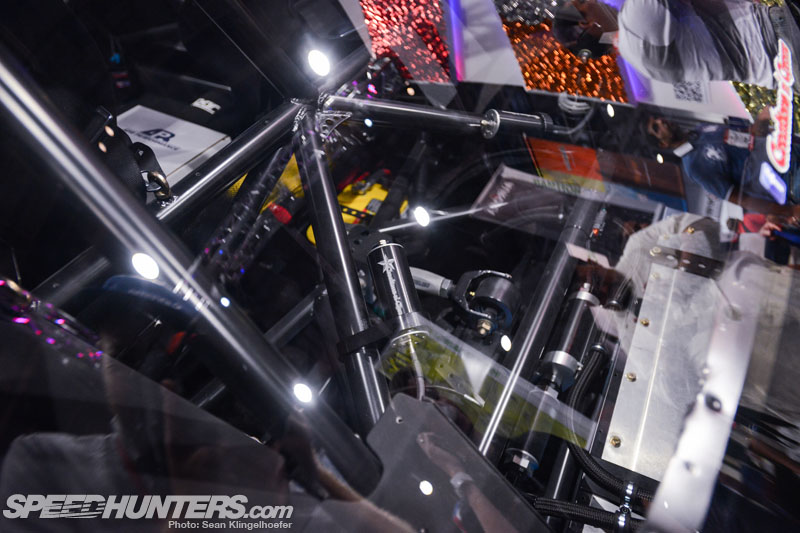 Although the car isn't completed at the moment, I think there's no doubt that it already exposes how mental it's going to be once finished. While it might be a little difficult to see, the main focus of this build was actually the suspension, and the car has completely custom geometry at all four corners which should allow it handle amazing while sitting at a ridiculously low ride height.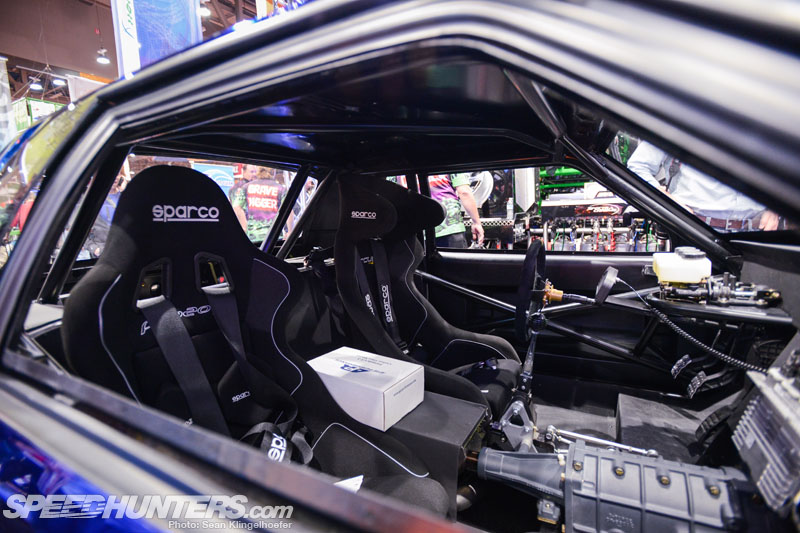 Inside the car the tubing matrix continues and one is met with a no-nonsense cabin space. Unlike the Boy Racer, this car only has one purpose and that intent is made perfectly clear by the spartan interior. Note the uncovered transmission tunnel that reveals a custom finished G-Force racing gear box… sickening isn't it?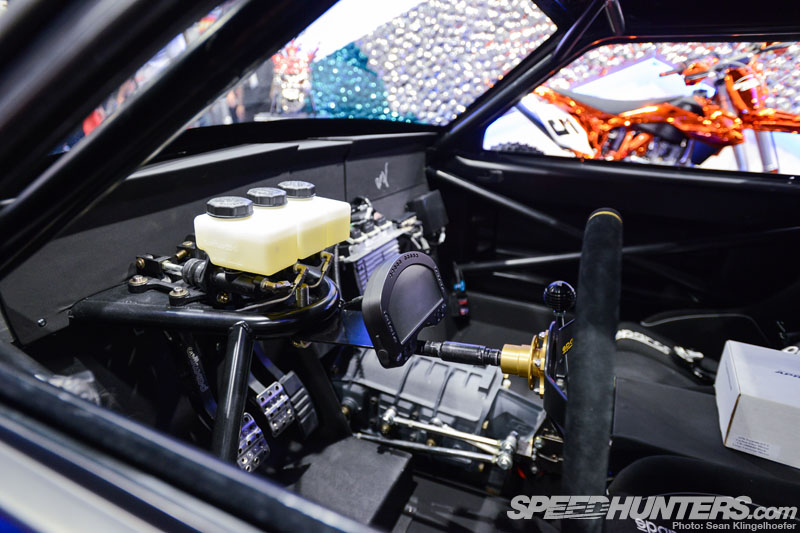 While I was speaking with Gary from Cn'C he said that Formula D driver Justin "JTP" Pawlak came by the booth and gawked at the project they're calling "Top Notch" for a bit. While the two chatted it up they kicked around a few ideas and it sounds like Justin might just pilot this beast in the future, something we can assure you the Speedhunters will be around to cover!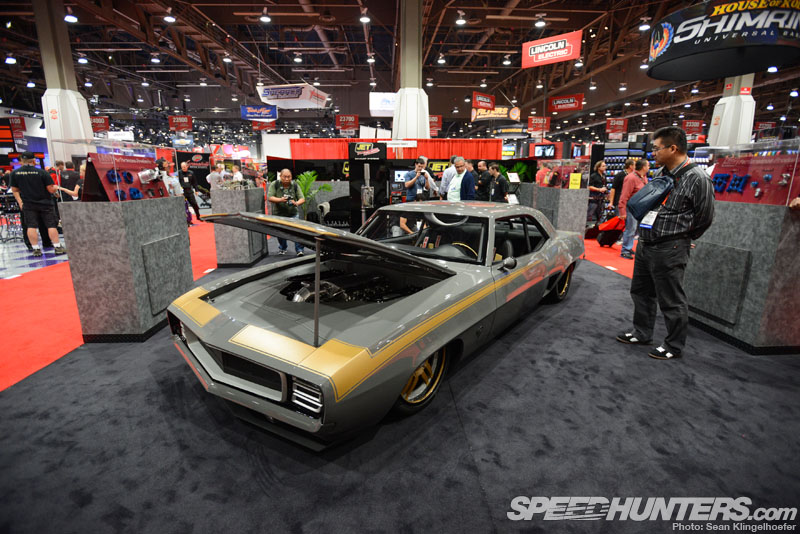 Moving further away from my comfort zone, I found this curious Camaro by Mitch Henderson designs out of Texas. Normally these hybrid show-car-street-cruiser type of builds don't really do much for me, but I found this one particularly well executed. I've spent a lot of my time as a Speedhunter trying to ignore my personal bias for cars in order to expand my own tastes and I think this was a door to another scene for me.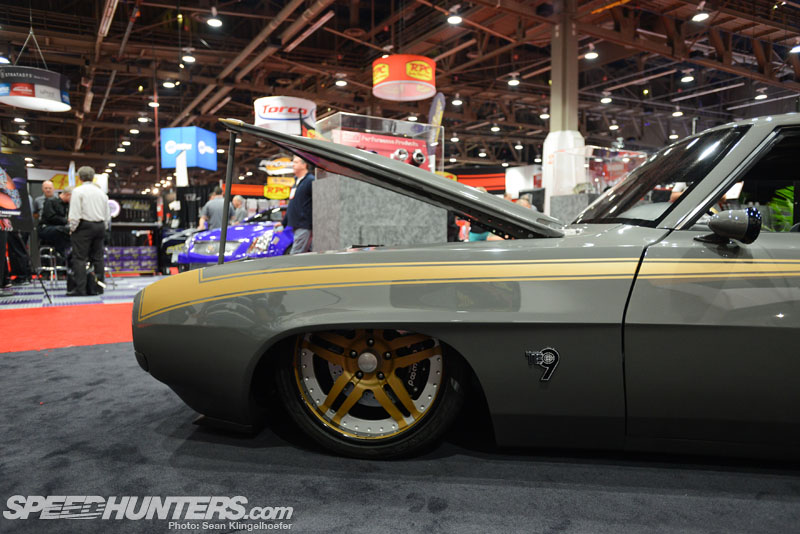 Mike Garrett mentioned how the first generation Camaro is hands-down the most common car at SEMA each and every year, so it takes a lot of creativity to build one that stands out. To me, the "Tec9″ was just such a car. From a design standpoint the car has managed a complicated aesthetic and made it look easy in the process which, in my opinion, is the mark of a great build.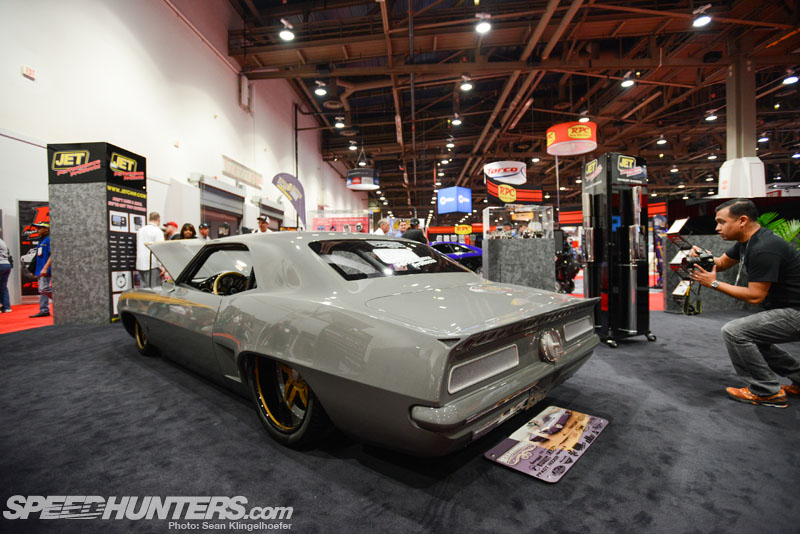 Borrowing from the Pro-Touring philosophy, the body hasn't been widened at all to accommodate the wheels. However the rear fender arches have been raised up a bit to allow the inside of the wheel wells to be clearanced-out to allow the car its impossibly hammered stance. Obviously other exterior modifications have also been performed like miscellaneous vents and shortened bumpers.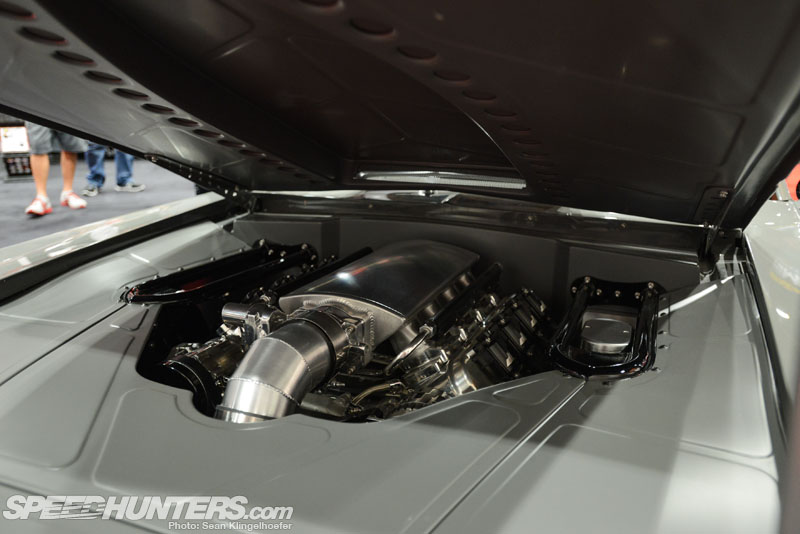 The engine bay is also a thing of beauty and I particularly liked some of the detail work like the stamped engine covers and hood skeleton. Clearly having a fully polished engine never hurts either!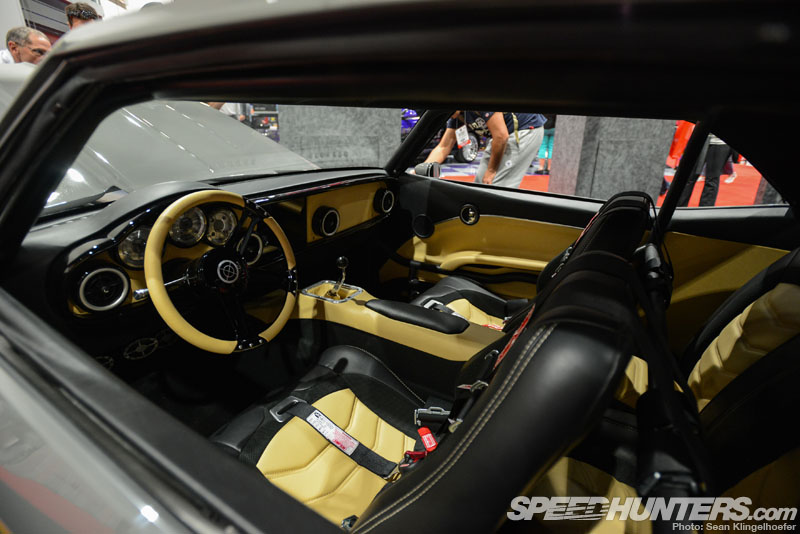 If I had to pick a weak point on the car, it would have to be the interior. While it isn't "bad" by any stretch of the imagination, it is perhaps just a pinch too modern and/or mini-truck styled for me. I also find that the tan leather is just a few shades off from the exterior accents but overall the fit and finish more than make up for my minor nit picks.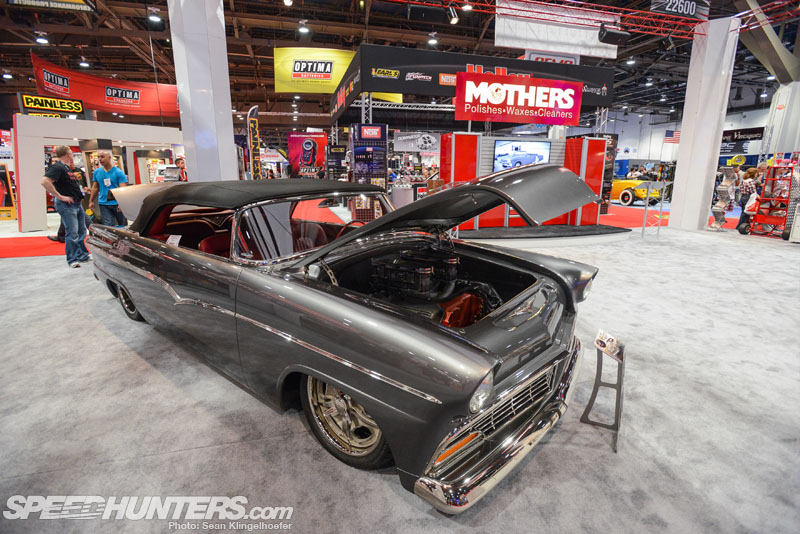 Moving on from a modern interpretation to a more traditional Rod, I found this immaculate '56 Ford over at Mothers. I later found out that this car, built by Steve Cook Creations, is about as decorated as Hot Rods come. It has won several prestigious awards, including the coveted Ridler award at the Detroit Autorama in 2011. For those of you who don't know, the Ridler is literally the end-all-be-all-top-honor in the world of Hot Rodding.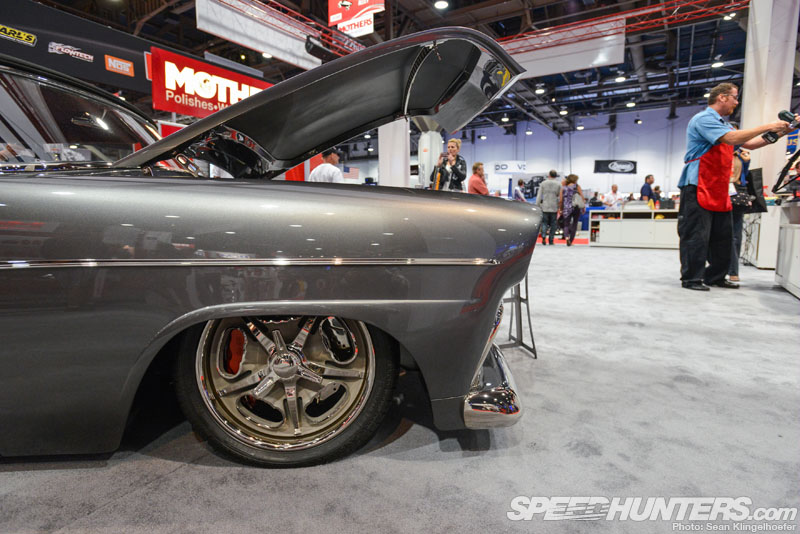 Words nor photographs can explain the level of perfection that has been realized here. There isn't a millimeter on the entire car that isn't absolutely flawless. It's been sectioned and chopped and completely customized, yet you'd never guess by glancing at it. Work like this takes a level of commitment that will take at least two decades for Japanese and European builders to catch up to.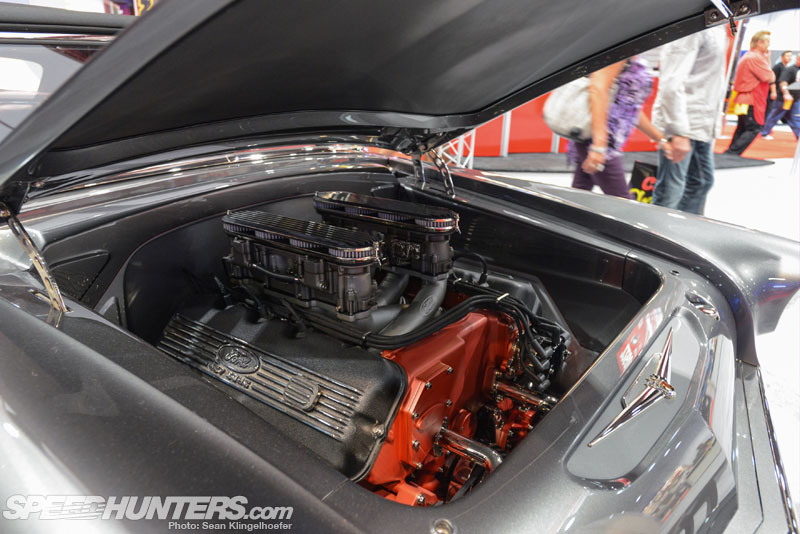 In the engine bay resides a 427 "cammer", a prototype engine that Ford only offered to racing teams back in the day. This rare powerplant has been further messaged and tweaked, starting with a ground-up rebuild and then adding some custom parts like the one-off intake manifold which houses a set of carbs that are even more rare than the engine they feed.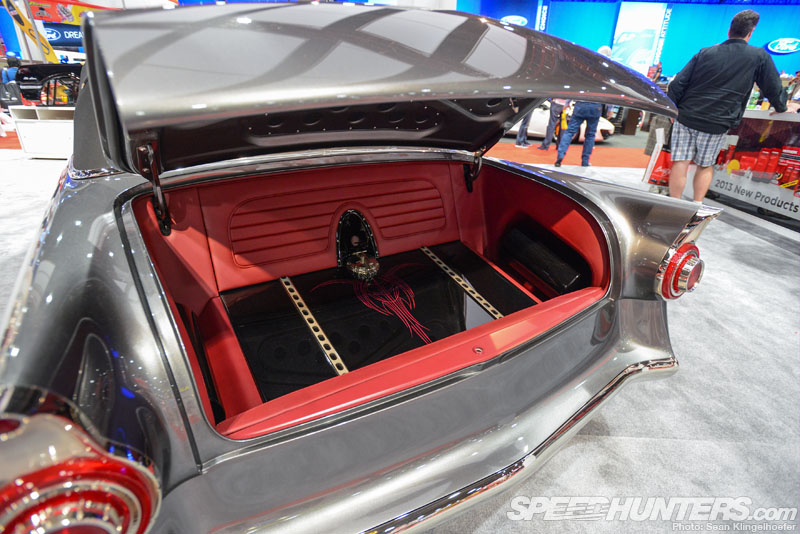 The more I learn about custom cars the more I start to understand their appeal. You take a car that you like and make it better, in every conceivable way. But there are different schools of thought when building these types of cars and I'm really enjoying this more subtle way of going about it. There are some cars that you can spot from a mile off as being a custom, then there are some like this '56 where you really have to know what you're looking at to even see a difference.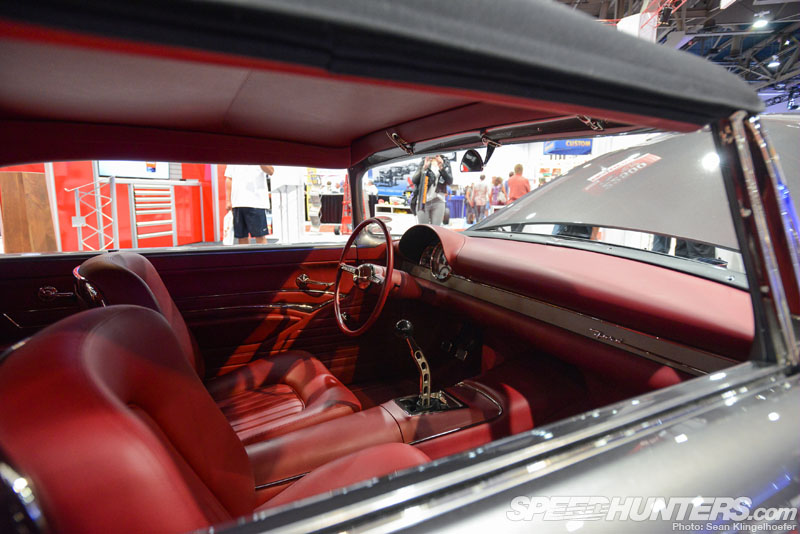 But to those who know, obviously not the Hot Rod layman like myself, there are treasures to be found everywhere. I would imagine that it would take an entire day just to point out all of the customized pieces on this car… in fact I'm not sure if there is an off-the-shelf modification to be found anywhere on it. It's inspirational, if not aspirational, to say the least!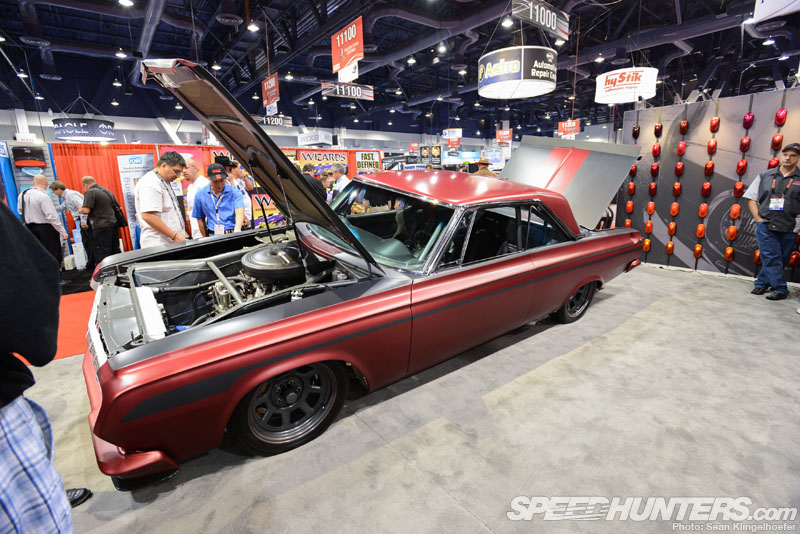 As we move on to my final selection I have to start with an apology, because I have now consecutively highlighted two cars that Mike already mentioned in his his coverage of SEMA domestics. But if I'm honest with myself, this was probably my favorite car of the entire show and it didn't feel right leaving this amazing build by Ray Evernham Enterprises out of my top six!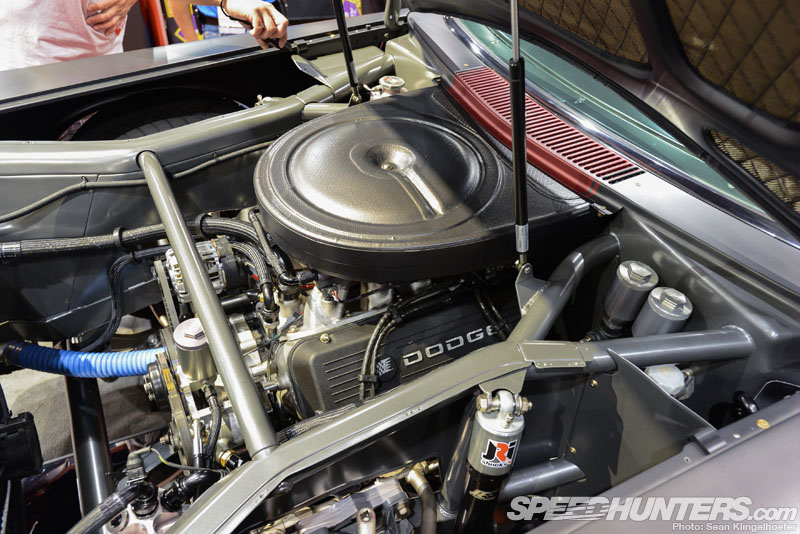 It might not be the fastest, the cleanest or the most custom car of the show, but it speaks directly to my personal automotive taste. To met this is a car that covers all the foundations, it's sytlish, it's authentic and it's designed to go fast and handle. As Mike had mentioned, the car is powered by a 358 cubic-inch NASCAR engine which has been overhauled and converted to EFI, but that's just the tip of the iceberg.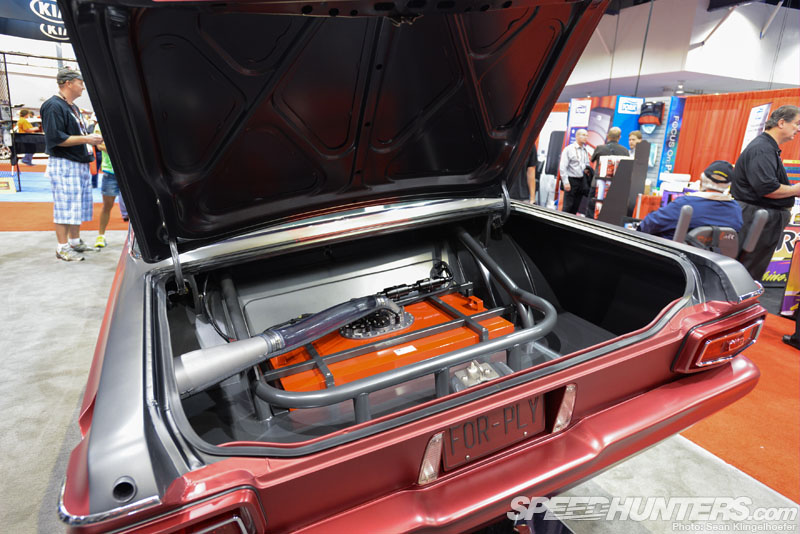 For those of you unfamiliar with Ray Evernham, he is a legend in the world of NASCAR and has fielded championship winning teams as a crew chief, not to mention he is also a NASCAR analyst for ESPN. Needless to say, there is no one better to construct the car named "ForPly", which is an homage to the Plymouth Belvedere driven by Richard Petty in 1964. With this car, Ray aims to combine classic NASCAR styling with cutting edge technologies. Even if you put the history and significance of the build aside, the work that has been done is mind blowing.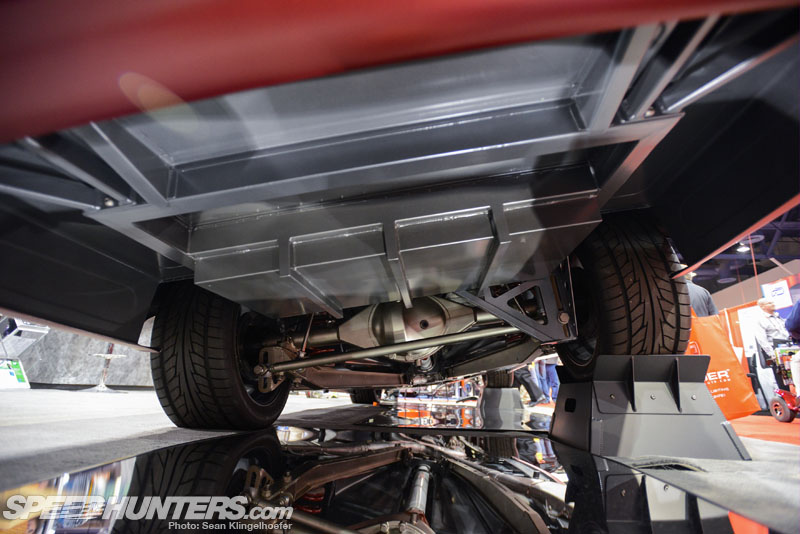 The execution has been handled by a group of extremely talented men who have spent the last quarter of a century constructing and racing NASCARs, and it certainly shows in the build quality!  Underneath the enormous body is a very modern NASCAR chassis, utilizing parts and components that were laying around REE. In fact several of the main components, including the front and rear clips, transmission and suspension, actually competed in the Daytona 500 back in 2007!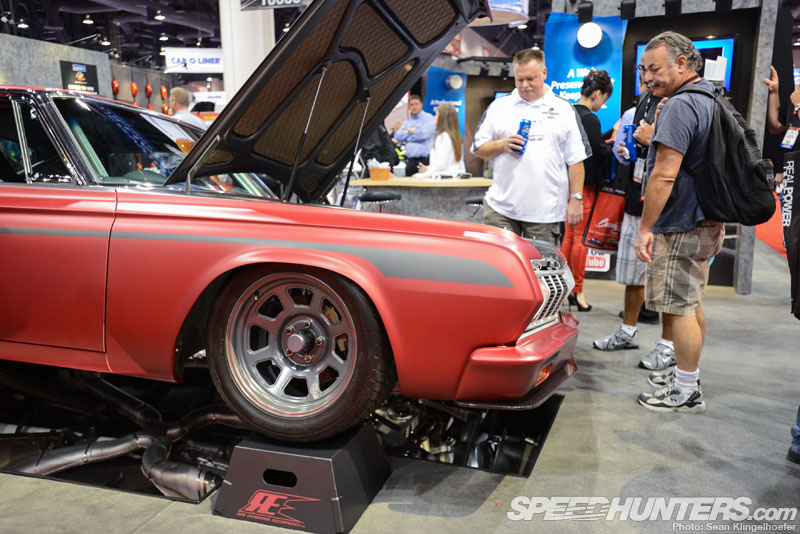 Remarkably, the car was built for charity and will be auctioned off at Barrett Jackson's largest event of the year in Scottsdale, Arizona in January. The car is set to be a featured vehicle at the auction with proceeds going to Evernham Family Racing for a Reason, a foundation that helps adults with Asperger's Syndrome. I'm hoping to intercept the vehicle in Arizona prior to the auction for a feature shoot and to help raise awareness for the auction, so with any luck I'll have a more detailed view of the car in 2013.
That's all for now, but there's still more to come from SEMA!
More from SEMA 2012 on Speedhunters
-Sean
---
---
---