For years I have been watching Best Motoring and Video Option DVDs, so I have always been a huge fan of Japanese racing culture. I got familiar with drivers like Keiichi Tsuchiya, Manabu Orido,Tarzan Yamada and Nobuteru Taniguchi. Every one of these personalities had a huge impact on bringing Japanese racing culture to America.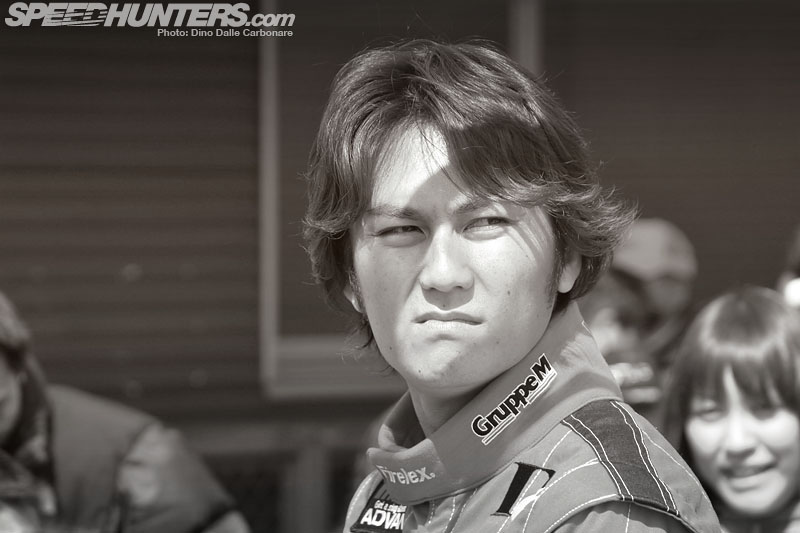 In 2001 Nobuteru Taniguchi became the very first D1GP champion, and since then he has earn the title of Super GT300 champion as well as competing in Time Attack and endurance racing all over the world. He also competed in Formula Drift for a few rounds back in 2007. When I heard he was going to be driving for the Petronas Syntium team at Round 6 of the Super Taikyu series my eyes lit up. I've always wanted to meet him as our paths had never crossed before. I took this opportunity to talk to him a bit and as it turns out he is a fan of Speedhunters.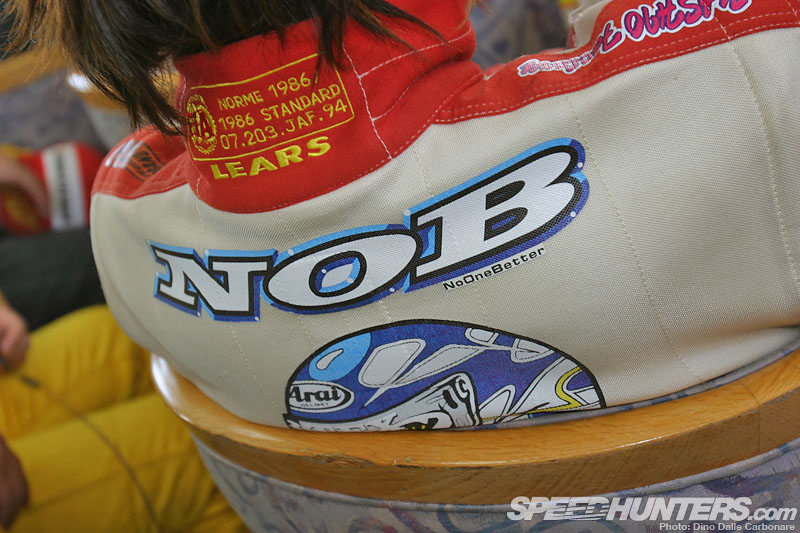 Larry: Can you give the Speedhunters out there a brief synopsis of how you became a race-car driver?
NOB: I initially started racing mini bikes, but when I got older I immediately got an AE86. I started driving for fun pretty late in life. I loved drifting on winding mountain road roads and that is pretty much where I learned the basics of car control. I was just a kid who loved to drift with friends, but it's funny because in the end I took it seriously and I became a racing driver.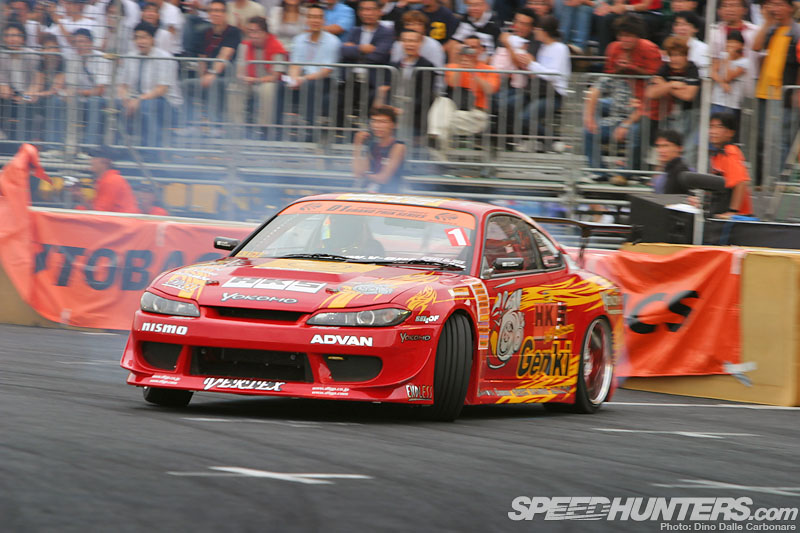 I did not start the same way that most professional drivers did. I never had the chance to drive karts when I was young. I know many drivers had pretty supportive parents who would support them financially in karting. My family made enough money to give me a great life and we never had to struggle, but there was not enough extra to fund race-school or karting.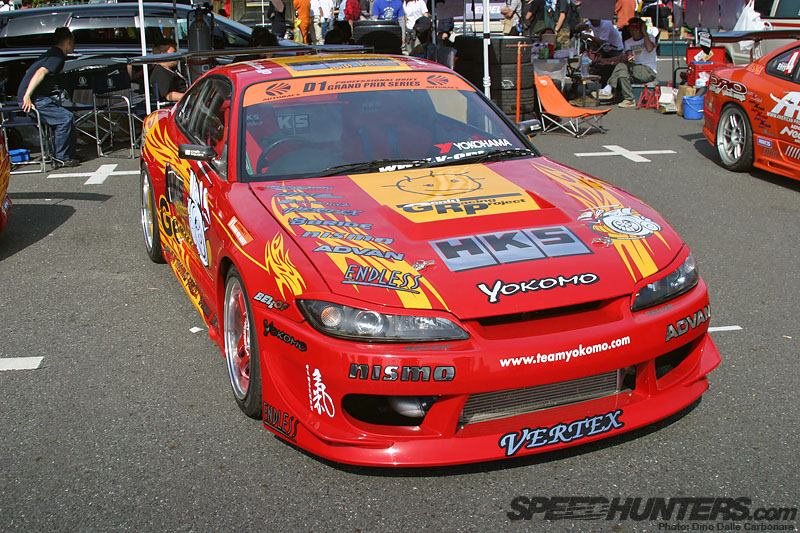 Like I said, I started pretty late – I became a full-time professional driver at 30 years old. I started with the D1 Grand Prix series and now I am doing both D1 and GT racing. I just love any kind of racing, from Time Attack to endurance racing as well.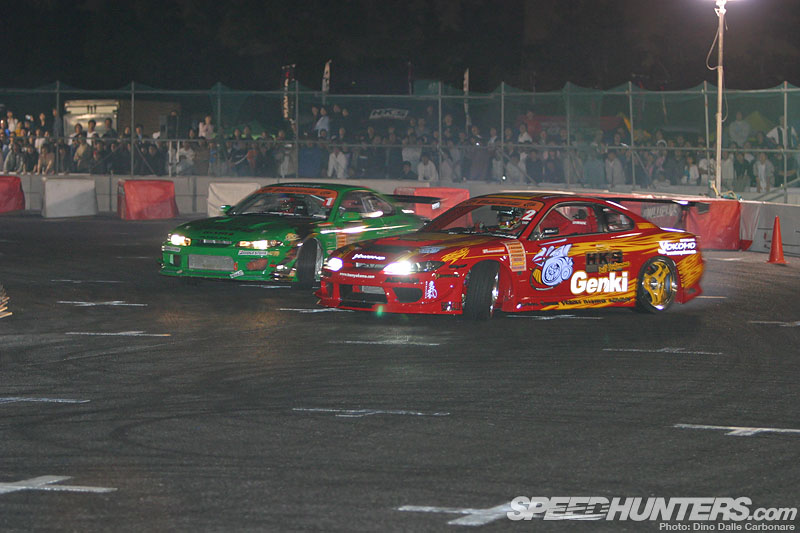 Larry: I know you have driven Formula Drift in 2007 at Road Atlanta: do you think you will ever compete in Formula Drift for a season?
NOB: Yes, I drove that round just as a demonstration. For the immediate future I can see myself competing in a few demos here and there, but as for the championship I don't think I will compete just yet.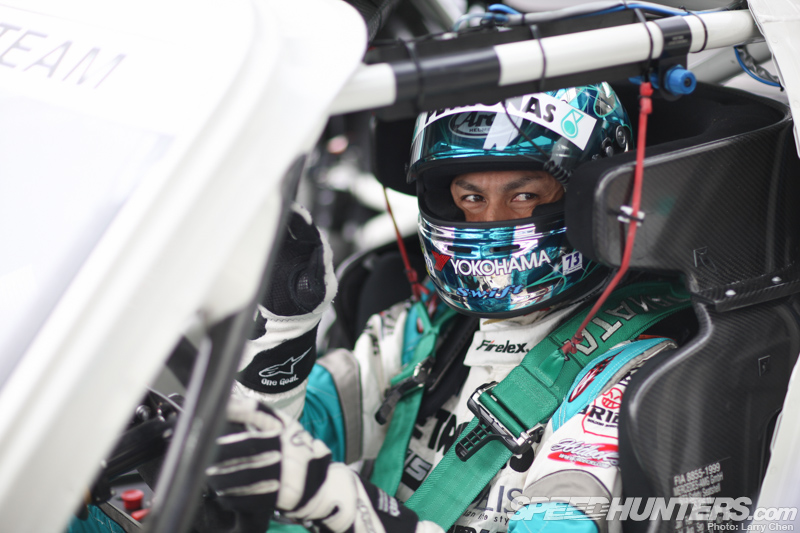 One of my biggest dreams is to compete for the Formula Drift Pro Championship, but my bread and butter is racing GT cars in Japan. The schedule will conflict way too much if I tried to drive in America and Japan in the same season. On top of that, all my sponsors are here in Japan. It is difficult enough as it is to get sponsors over here, but if I were to run a team in America I would have to find a whole new set of sponsors that would support me in Formula Drift.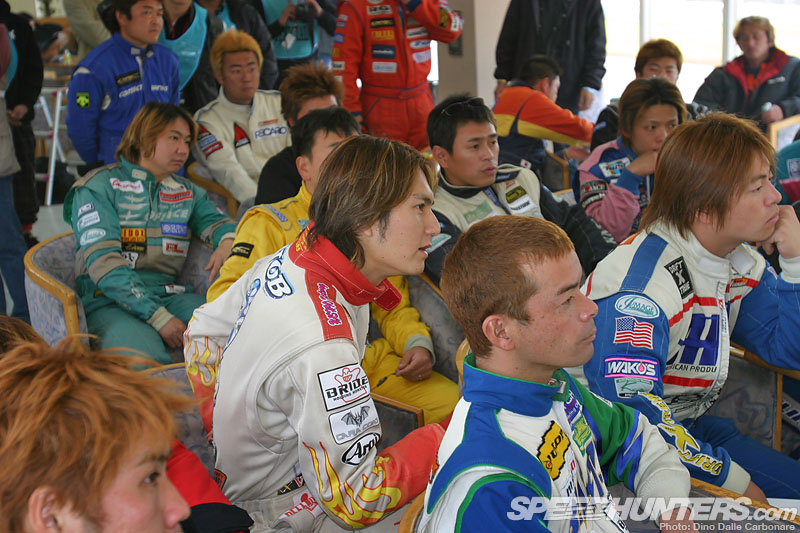 It's been seven years since I left drifting as a full-time profession, but I really miss competing for a championship and I want to come back.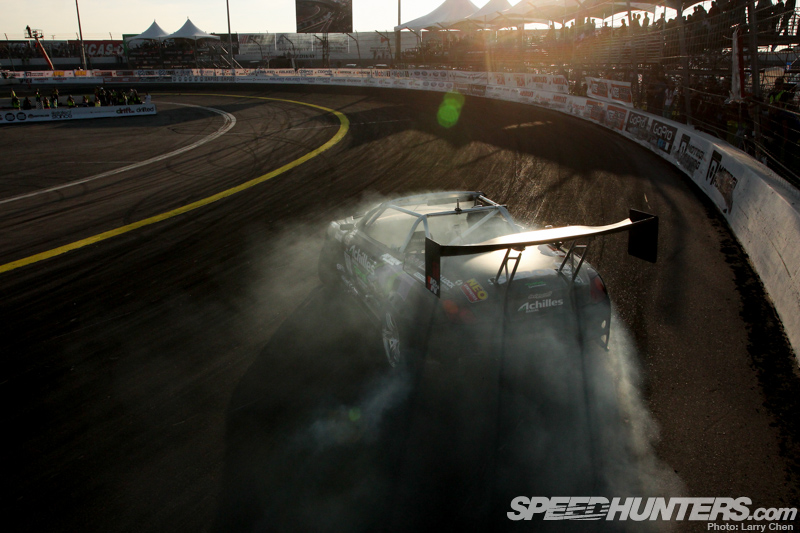 Daigo Saito has been keeping me up to date about what has been going on with him and the Formula Drift series. He actually told me that it is very competitive out there and it is very hard to win. I am excited to take a shot at it myself in the future.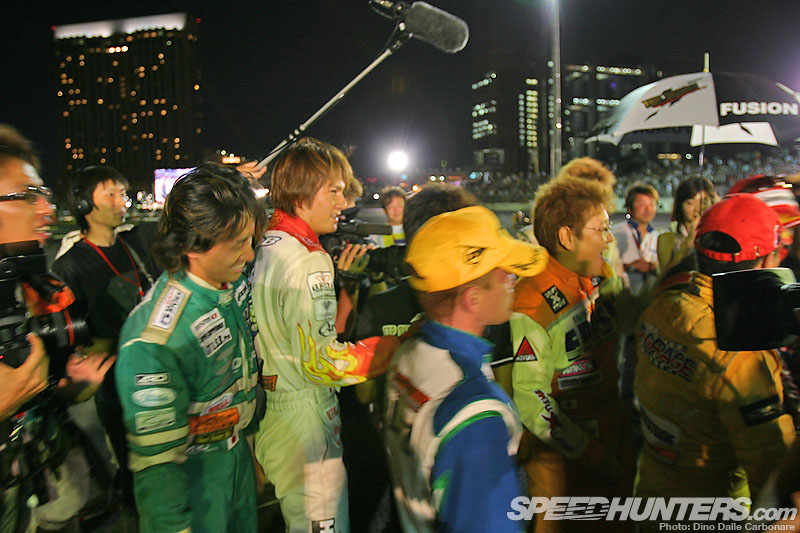 Larry: That's the next thing I wanted to ask. Do you think more Japanese drivers from D1GP will try to make the jump since Daigo was so successful this year?
NOB: I can honestly tell you that every Japanese drifter is interested in competing in Formula D, but they are all running into one major issue. The rules and regulations on how you can build a drift car for D1GP and FD are completely different.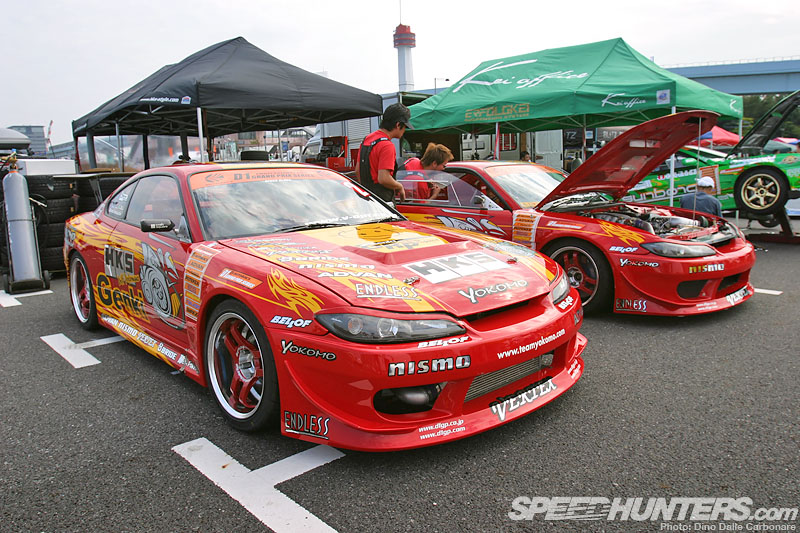 In order to run both series they have to build two completely different cars. Daigo Saito is very lucky as he has found a sponsor who was willing to build him a few cars for D1, Formula D and FD Asia. There are just not that many teams in Japan who can afford to build two or more full-on competitive drift cars.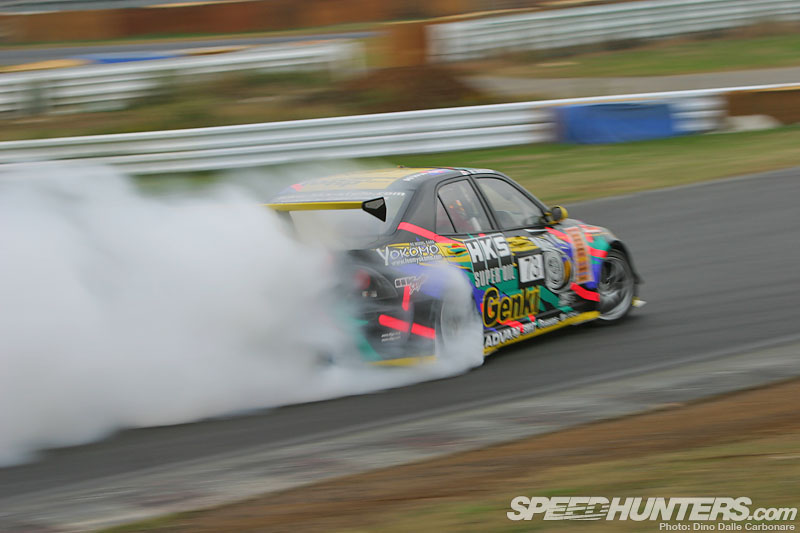 Either way, one of the two series needs to compromise so that drivers can move between both series. I've been hearing that Japanese drivers are pressuring D1 to take the first step to compromise.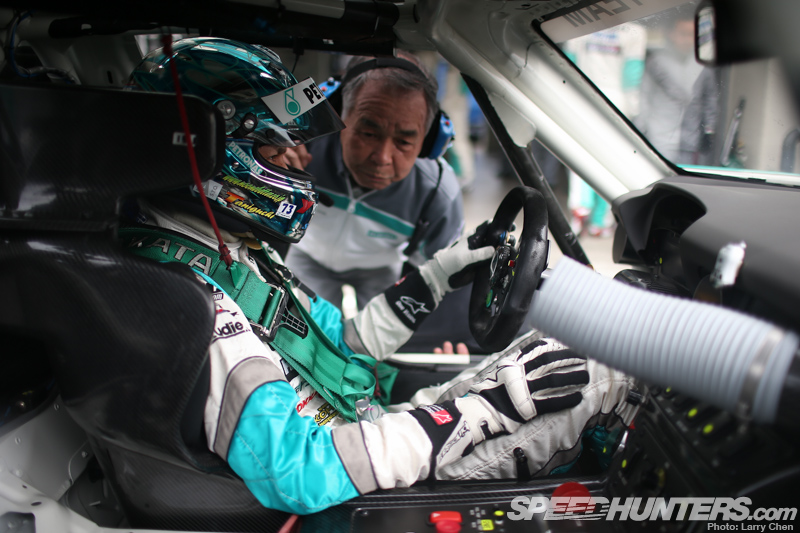 Larry: You mentioned that you learned how to drift on the streets. Do you think it gave you an edge when you started competing in wheel-to-wheel racing?
NOB: Generally speaking the skill of drifting does not transfer over to wheel-to-wheel racing. It does not help with getting better lap times around a circuit.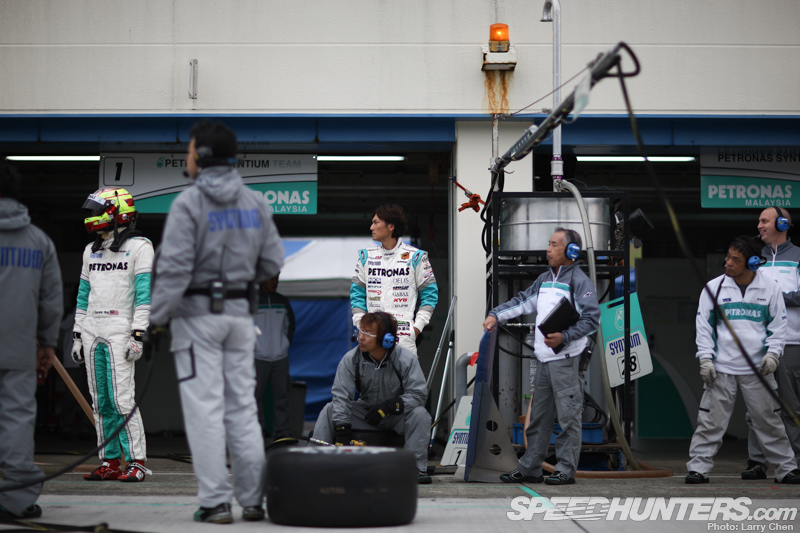 However, there are other things that do transfer over that mainly have to do with tire control. Coming from a drifting background you can really feel the effect of each tire and how much contact patch is actually touching the ground, and you can feel the lateral Gs that the car is pulling based on how sideways you are getting.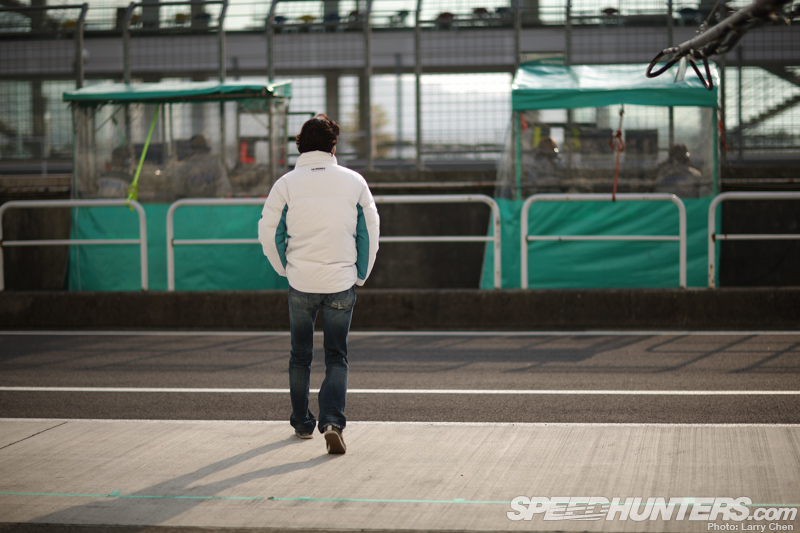 The theory to drive as quick as possible with the available grip is the same in drifting and racing.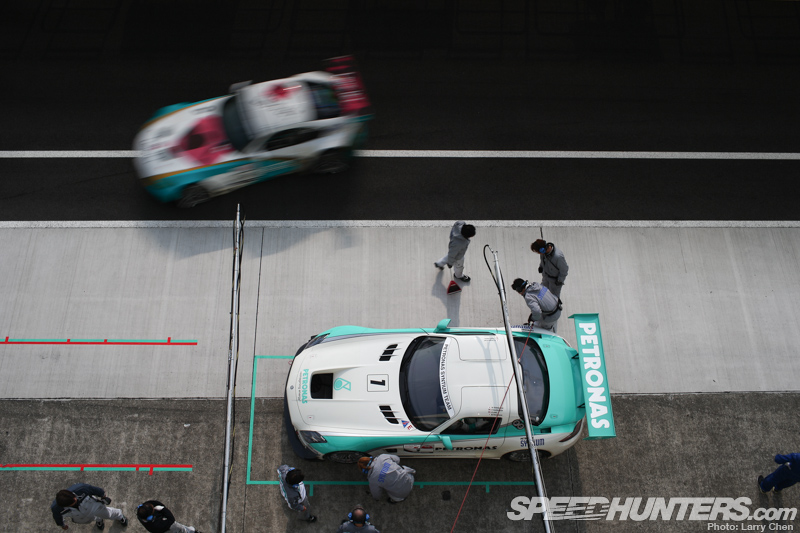 Larry: Do you think it would have been a benefit if you had learned in a kart first before starting to drift? Do you think it would have made you a better race-car driver?
NOB: Most race-car drivers who came from a karting background are scared to slide if they never have drifted before. They don't really know how to slide and they don't really know how to properly stop a slide.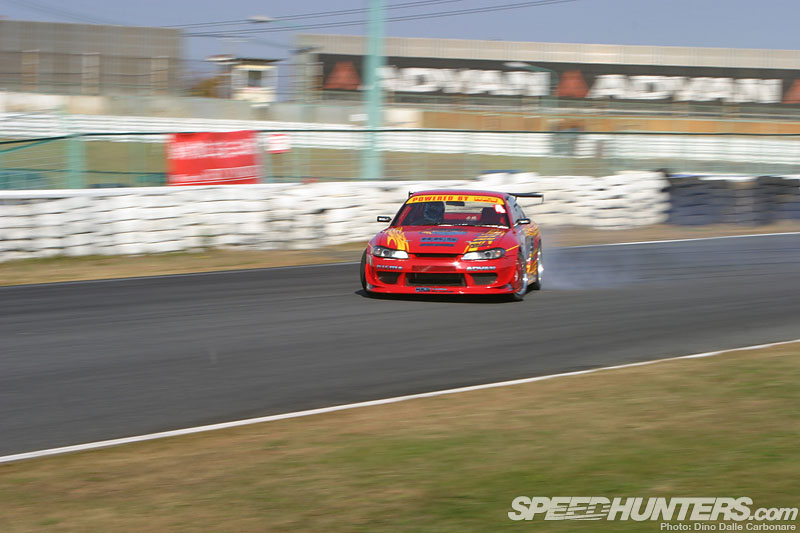 Because I was a drifter first I know exactly how to control a car during a slide and especially how to stop a slide. I think that is why I can always drive on that ragged edge of control. I think that is what sets me apart from many of the other race-car drivers out there.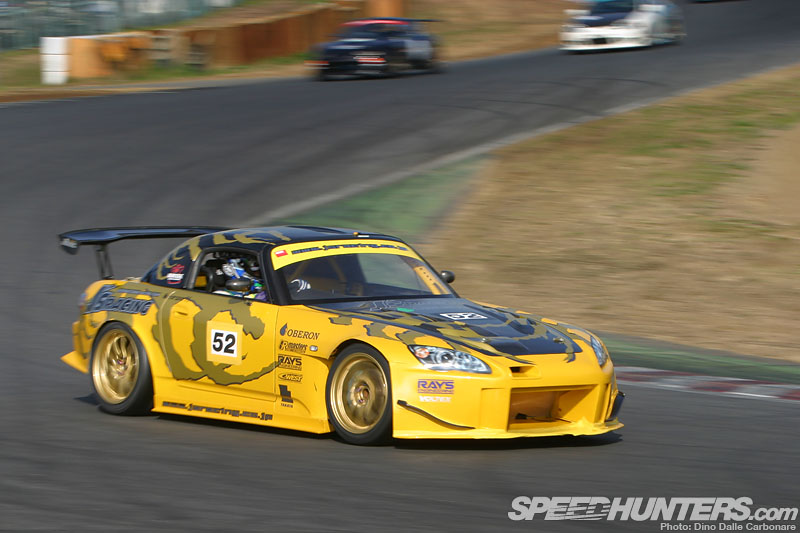 I am very comfortable at the limit, because if I go over I can recover just as fast.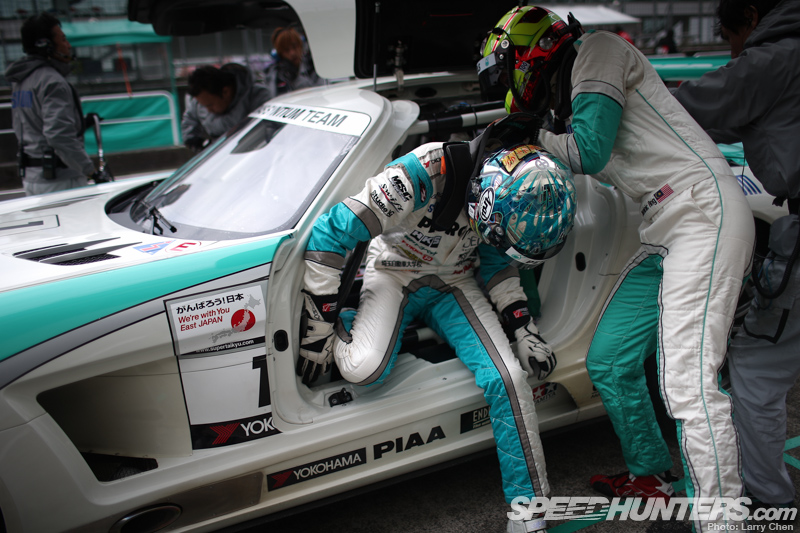 Larry: You guys are running a three-driver team this weekend and you are the most experienced. How do you guys go about setting up your car for the weekend?
NOB: With the Petronas Syntium team we are never looking for an extreme setup for the fastest lap time for the Mercedes SLS AMG GT3. We are just looking for a safe average setup that is very forgiving so all three of us can adapt quickly.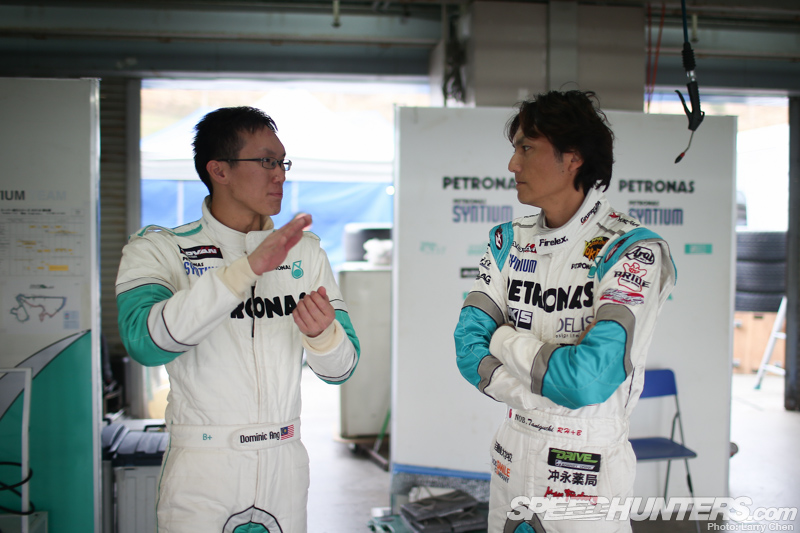 Then we can apply our different techniques, as we all have different tastes and styles. The most important thing is we have to make sure all three of us are happy with the way the car drives.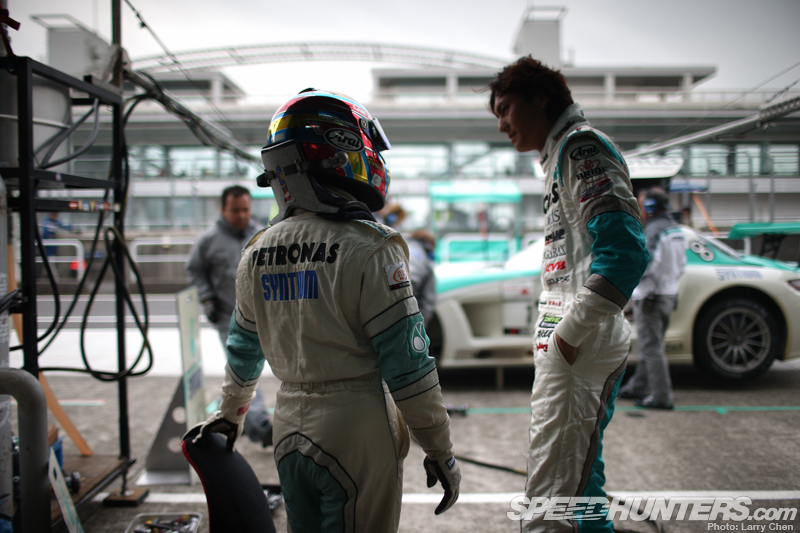 Larry: Everyone makes a compromise…
NOB: Yes, particularly in an endurance race because we are going such a long distance and there are so many variables – the biggest one being traffic to lap.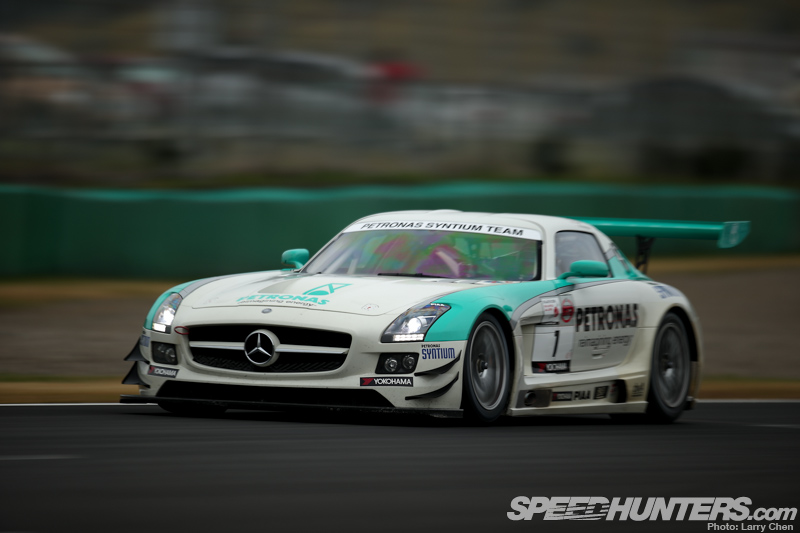 You just never know when some of the slower cars will have an accident in front of you. We always find ourselves having to turn the steering wheel quickly to avoid an incident or have to panic brake if there is no other option.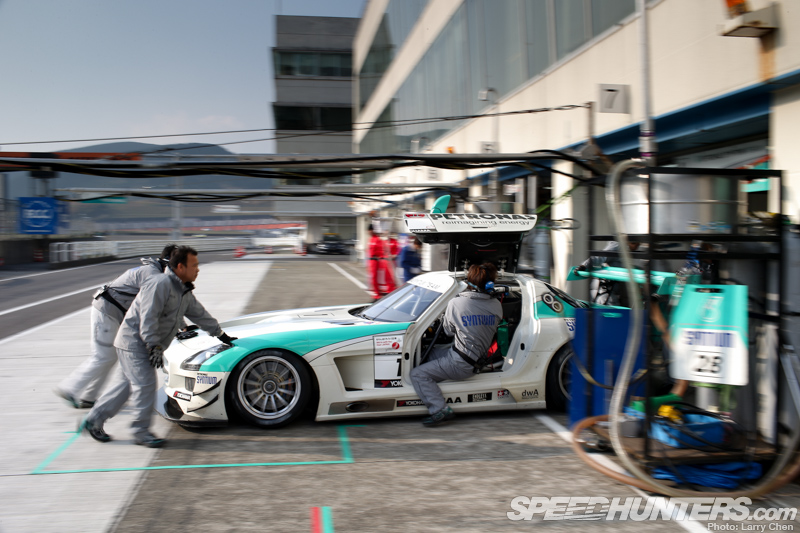 So we always set up the car extra safe for these longer races for anything that may happen on track. Also another thing that we always have to watch out for is tire wear.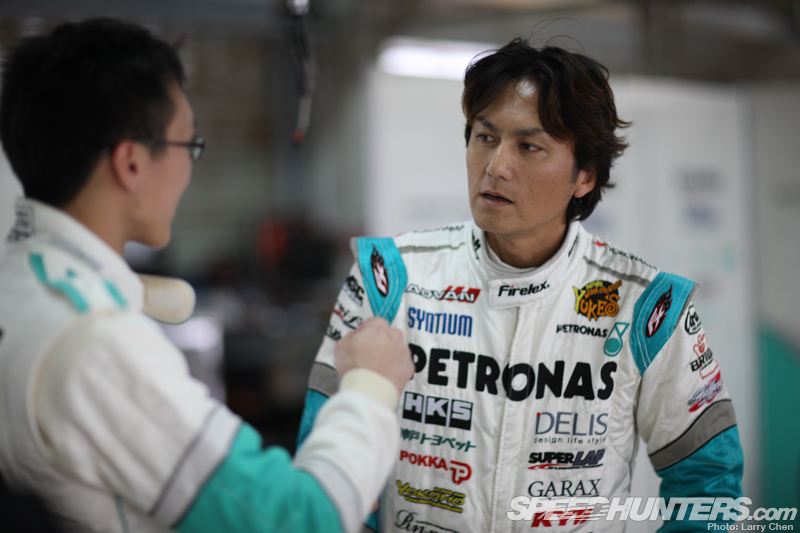 We just have to make sure not to push too hard, so all three of us can have an equal amount of seat-time during an endurance race.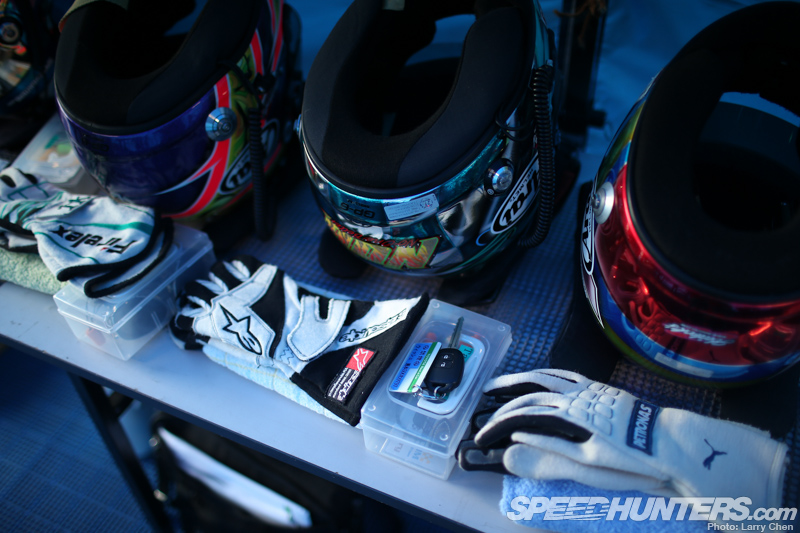 Larry: Have you ever thought of competing in any other form of racing, like open-wheel or rally?
NOB: Well, I never thought of competing in any open-wheel racing but I do like off-road racing. I've been competing in a truck series here in Japan. It's not entirely on asphalt and it's not entirely on dirt, so it is kind of like stage rally. I have a feeling that truck racing will get pretty big in Japan.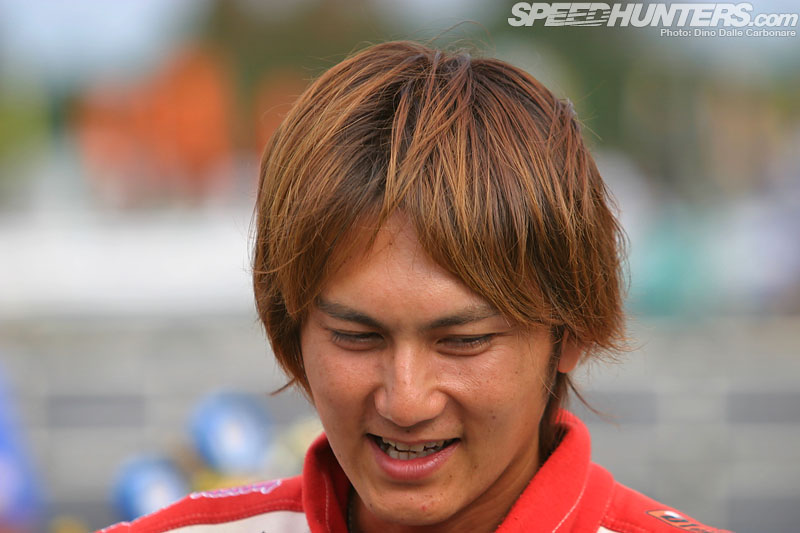 Larry: So do you think you will eventually take off-road racing more seriously?
NOB: I am actually just competing in off-road for fun. The team director for my Super GT team is really into those trucks, so I just race with him for fun. Nothing serious.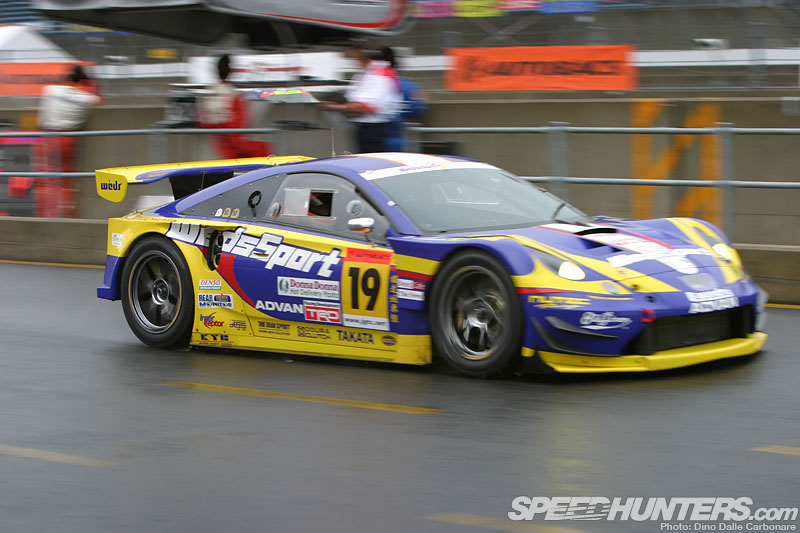 Larry: What kind of advice do you have for someone looking to become a professional race-car driver?
NOB: I think the best way to become a successful racing driver is to be diverse. Especially in Japan.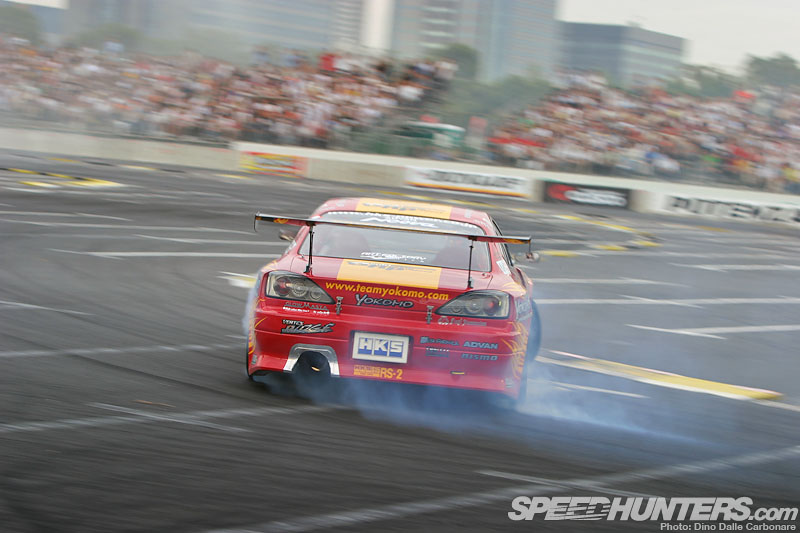 You have to know how to drift and you have to know how to grip drive. There is no point if you only know how to drift or if you only know how to race wheel-to-wheel.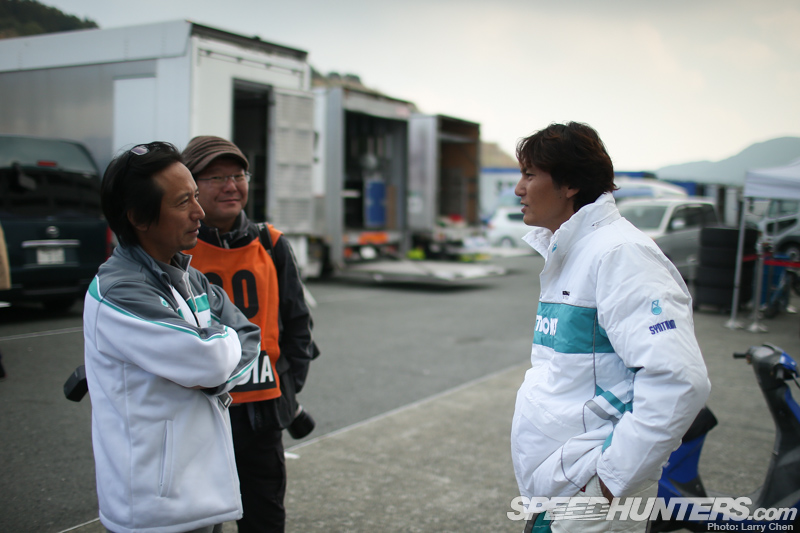 There are just so few people with this skill and if you master both then you just have that much more of an advantage over everyone else.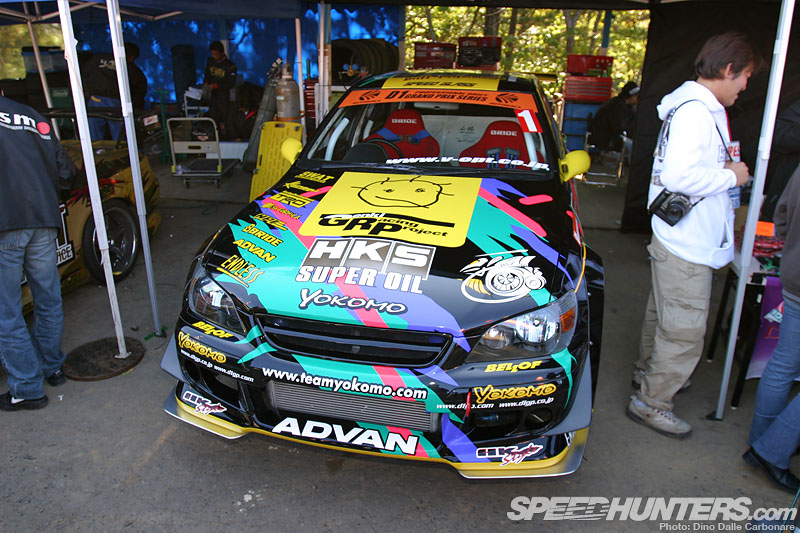 Larry: So basically like what you are doing. It's good to have that kind of diversity.
NOB: Yeah, it is also good because it is more appealing to sponsors, and in the end of the day that is what will allow you to race as a career.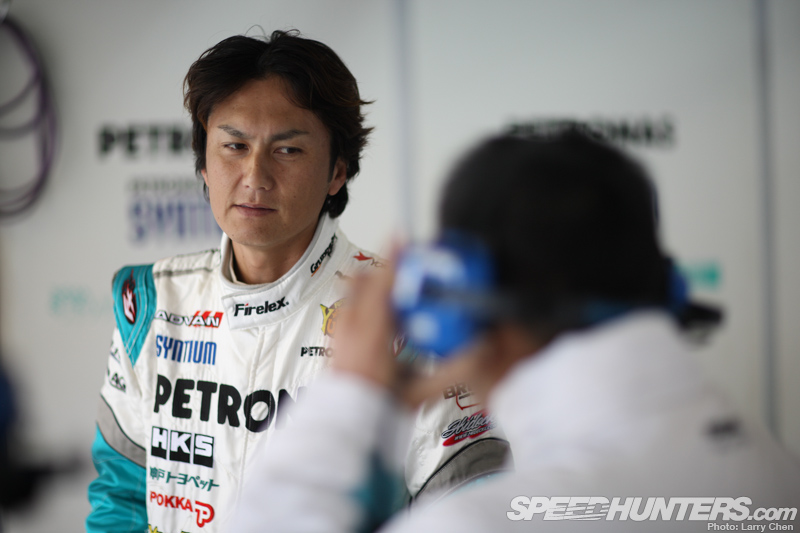 Larry: Maybe it's too early to tell, but what are your plans for next year in terms of racing?
NOB: Nothing new in the works yet, but from the looks of it I will do exactly what I did this year. I will compete in the full Super GT and Super Taikyu series and I will try to make as many rounds of D1GP as I can. I am going to just concentrate on these three series for now, but who knows, I may pursue professional golfing in the future…
Nobuteru and Larry
larry@dev.speedhunters.com
Additional Photos provided by Dino Dalle Carbonare
More stories from Larry Chen on Speedhunters