During my career I've mostly followed car culture in North America; I've only recently experienced what's going on over in Europe and I'm pretty late to the Asian automotive scene, so this recent Asia tour was the perfect time for me to do a bit of catching up. I have always wanted to shoot wheel-to-wheel racing in Asia, so I dove in head first and had the chance to photograph some very interesting things.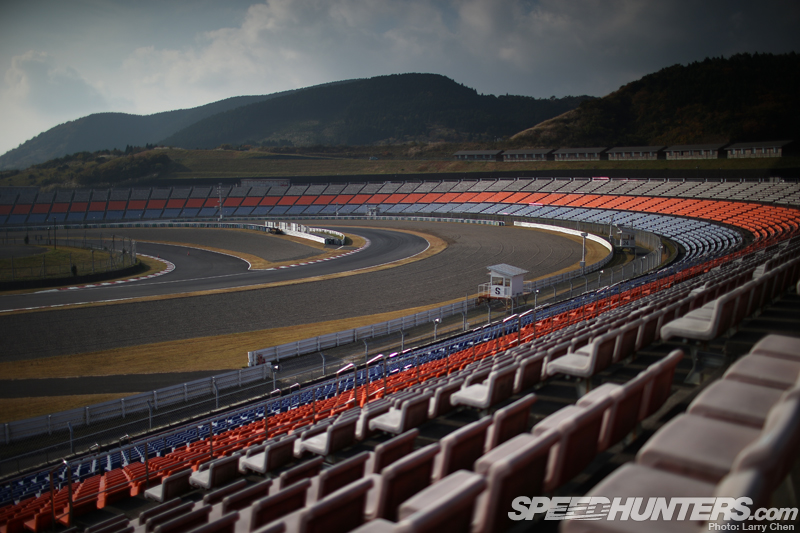 I went from one extreme end of the spectrum to the other, as I started my tour in the Japanese countryside at Autopolis Raceway. In case you missed it you can read more about the moist Super Taikyu race. I have shot many festivals and events in Japan, but believe it or not, Super Taikyu was my very first race in the land of the Rising Sun.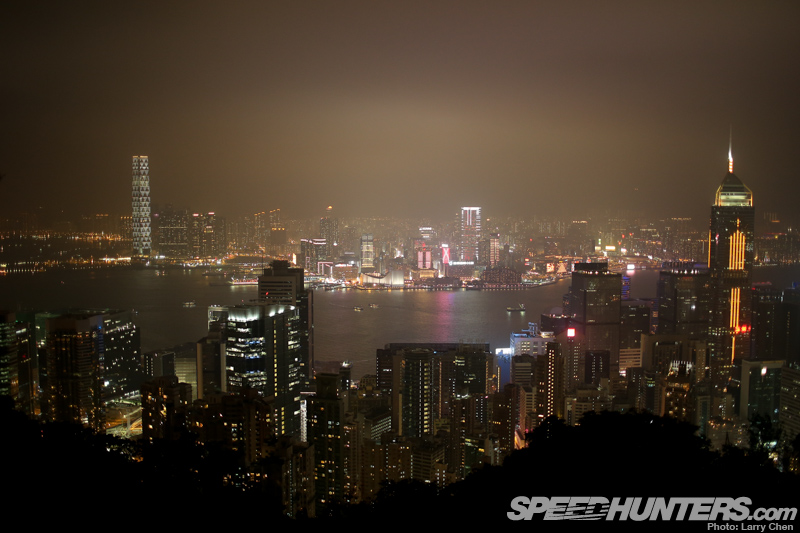 The other end of the spectrum was the financial hub of Asia, the city of Hong Kong. Although, before I got to enjoy the sights and smells of the former British territory…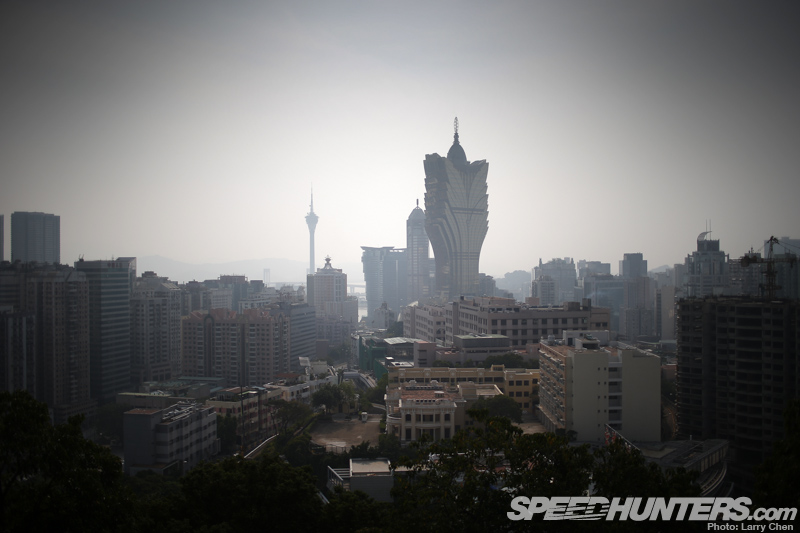 …I was to attend the annual Grand Prix of Macau, also for the very first time. The city of Macau is like most major cities in China: the sun rarely comes out. Nearby factories on mainland China pump out enough pollution to cover everything in fog.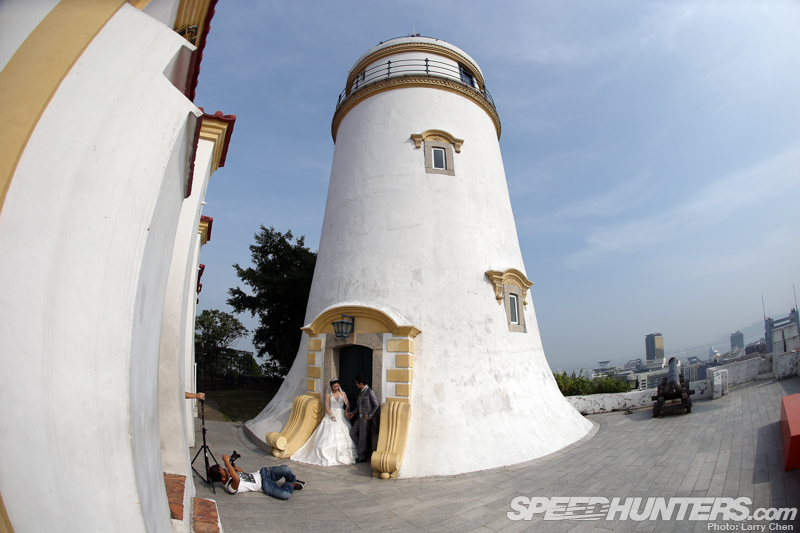 The polution produces a very soft, defused light that is perfect for wedding photography. These people went on with their special day shooting photos while one of the biggest street races in the world rumbled on beneath them.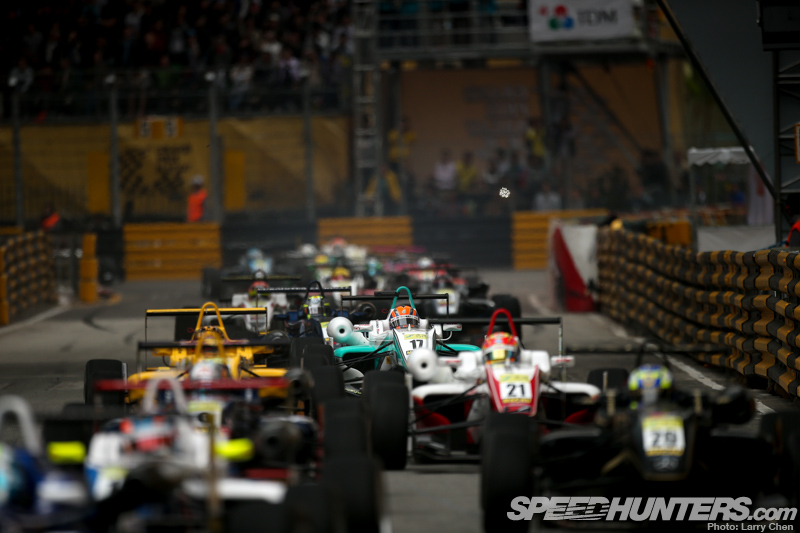 It was crazy to me that in the daytime there was a race track running through the main streets of this tiny city of casinos and shopping malls, but…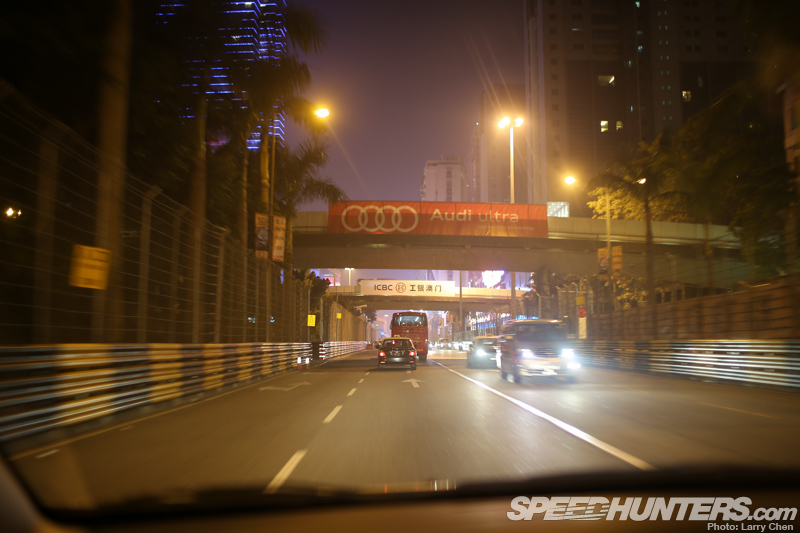 …at night the race track turns into a full-on highway of buses and taxis carrying tourists and gamblers.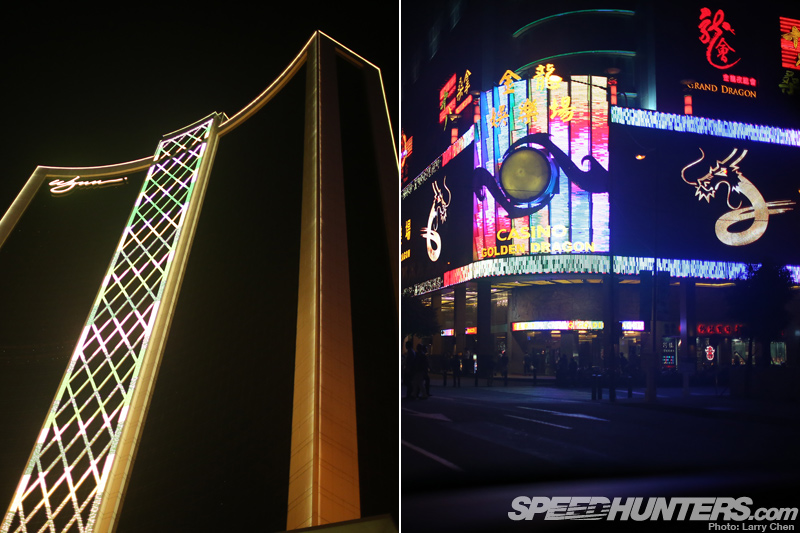 It all comes alive when it gets dark, as the lights turn on and you question if you are in a Chinese territory or in Las Vegas.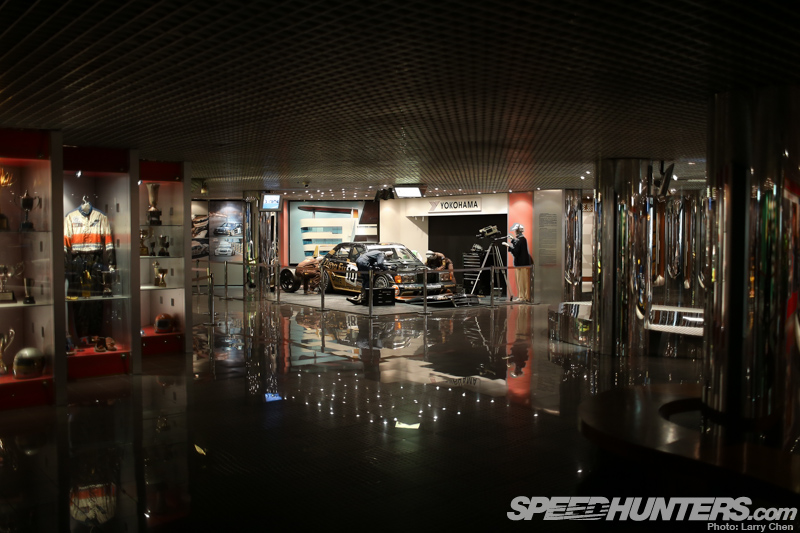 But under all that glamour in a tiny little building in downtown Macau was a display of history that I will never forget. This was the Grand Prix of Macau museum.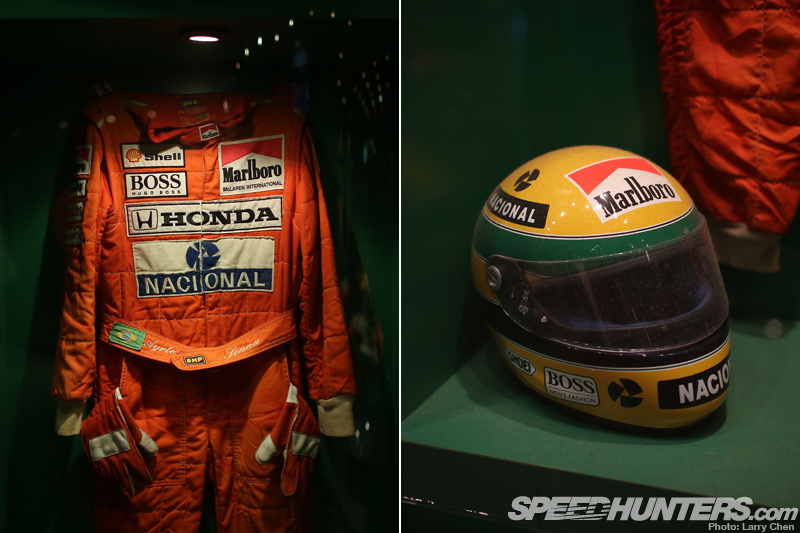 I never had the chance to see Ayrton Senna race in person, but just seeing his personal items this close made me a bit emotional.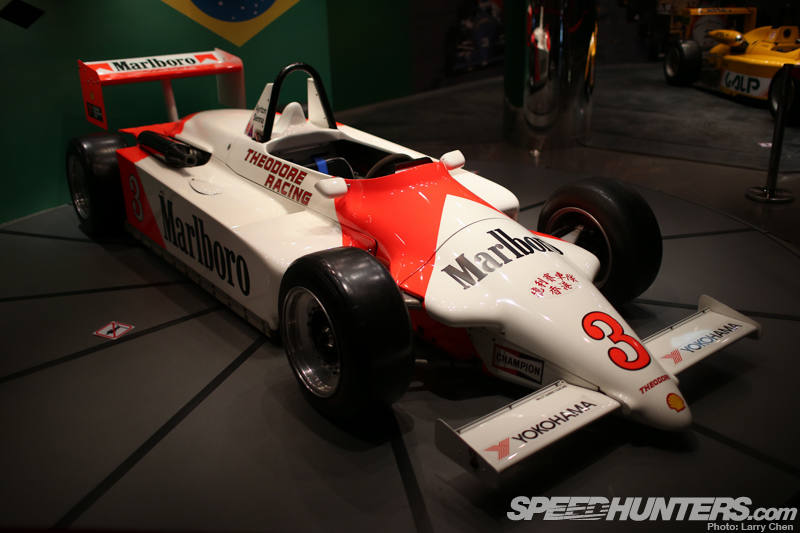 The center piece is the actual car that he used to win the very first Formula 3 Macau Grand Prix back in 1983.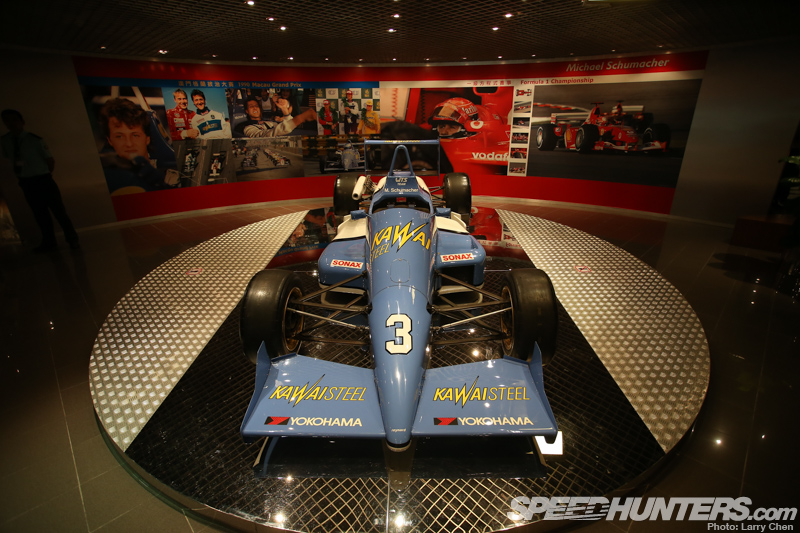 Just a few steps away was Michael Schumacher's winning Kawai Steel Formula 3 car from 1990. It's crazy to think that 17 of this year's 24 registered Formula 1 drivers have raced in Macau.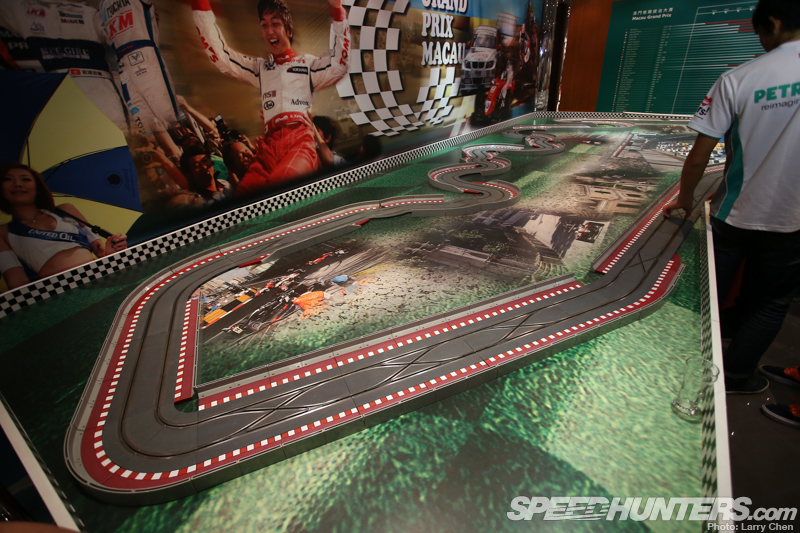 There was even a little slot-car track that was the shape of Circuito da Guia.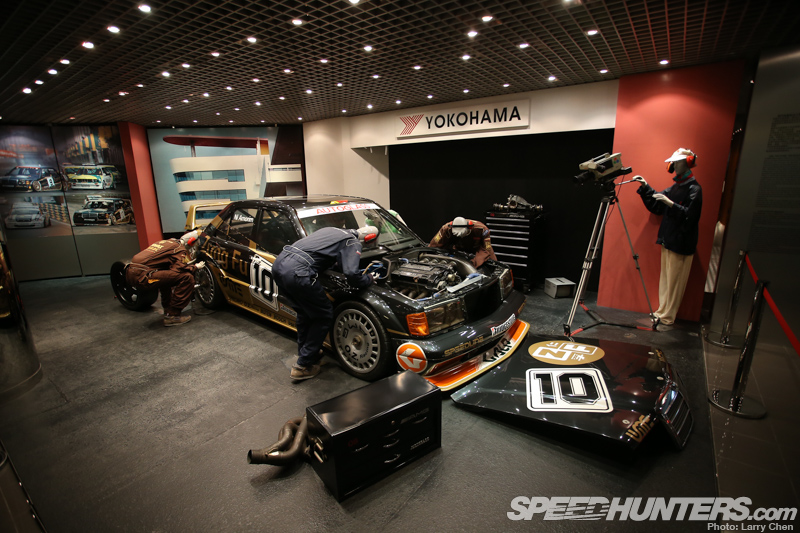 There were also some really elaborate set-ups for some of the old DTM cars from the '90s. It would be so cool to see them bring some of these cars back out one day.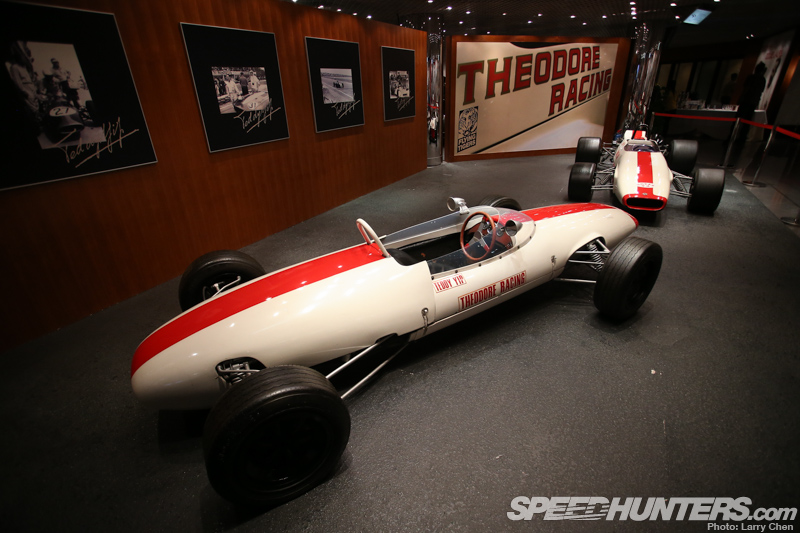 This old open-wheeled race car belonged to one of the founding fathers of the Macau Grand Prix, the late Teddy Yip, who ran several Formula 1 teams during the '70s and '80s. As a driver he had even entered a few Macau races himself and earned a third place podium back in 1963.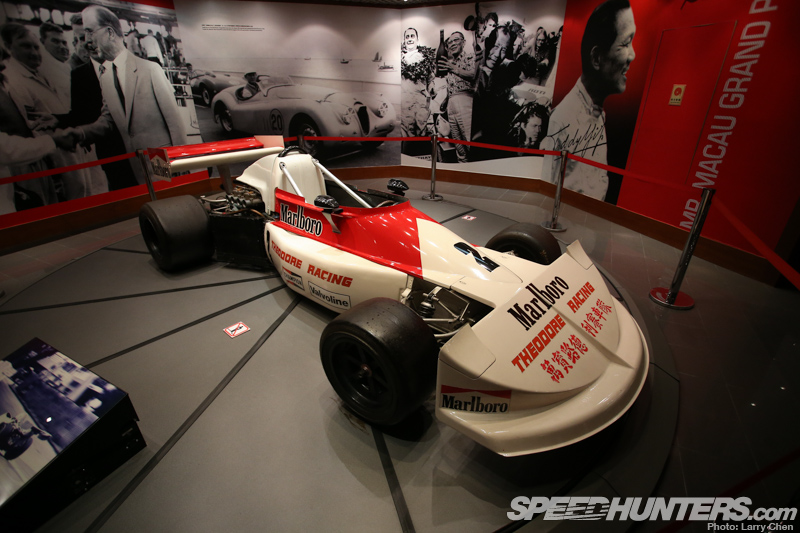 He was also a back-up driver in Formula for the Ensign team in 1974. He subsequently started his own F1 team in 1978 called Theodore Racing, whose most notable accomplishment was a win at the non-championship International Trophy at Silverstone Circuit in the UK. In honor of Teddy's accomplishments, they named a section of the track after him.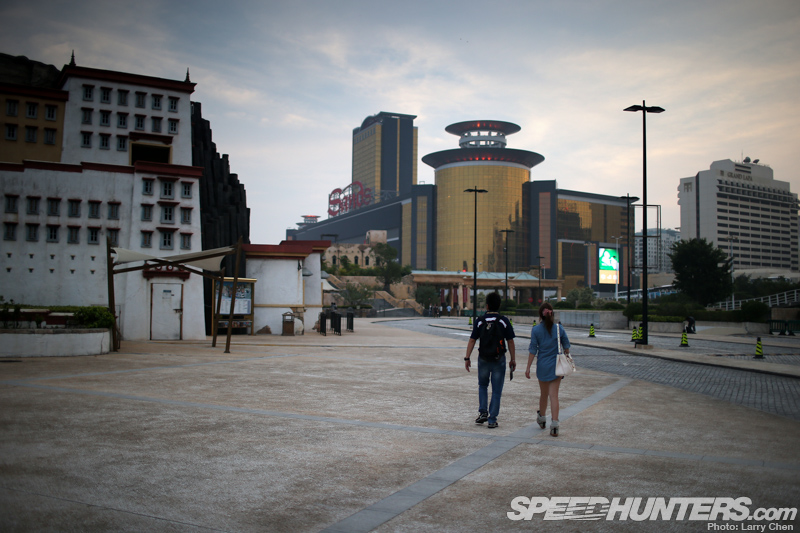 Because this race track was only temporary and in the middle of a sprawling city, it presented interesting challenges when trying to get around.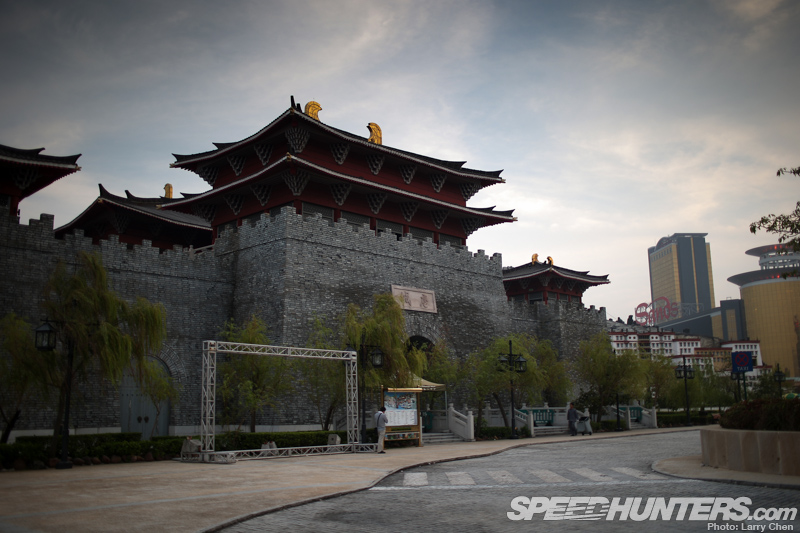 For example, I followed Charles to the drivers' meeting which was held quite a long walk away from the paddock. On the plus side there was some interesting scenery along the way.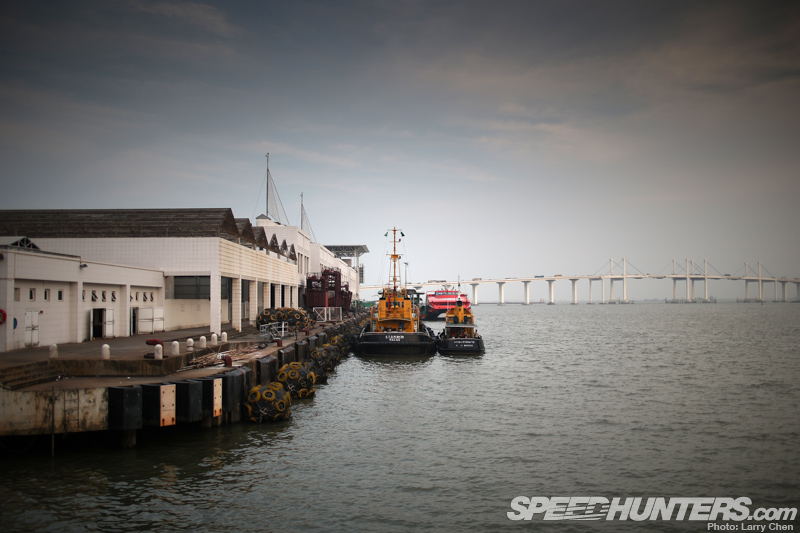 Many of the new buildings in Macau are built over water, because they have simply run out of space. There is a rumor that the government is planning on building new pits in place of this ferry port.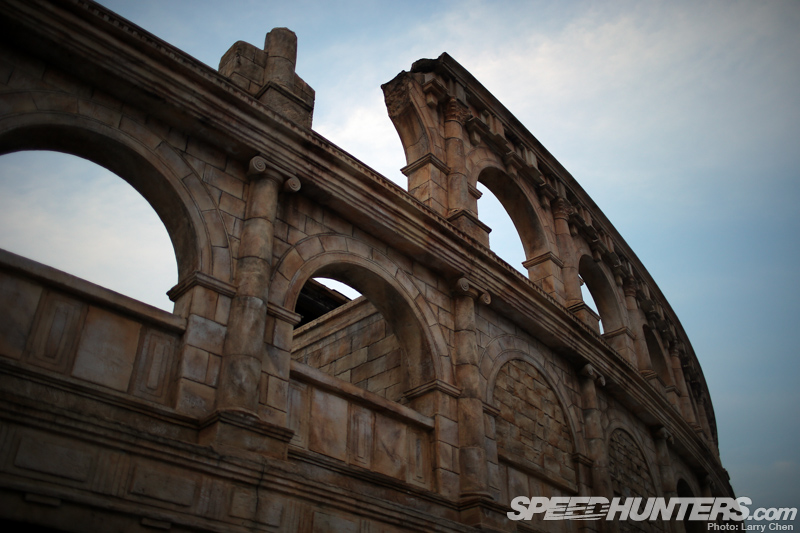 Interestingly enough the casinos are not the only buildings that had themes. This was the convention center.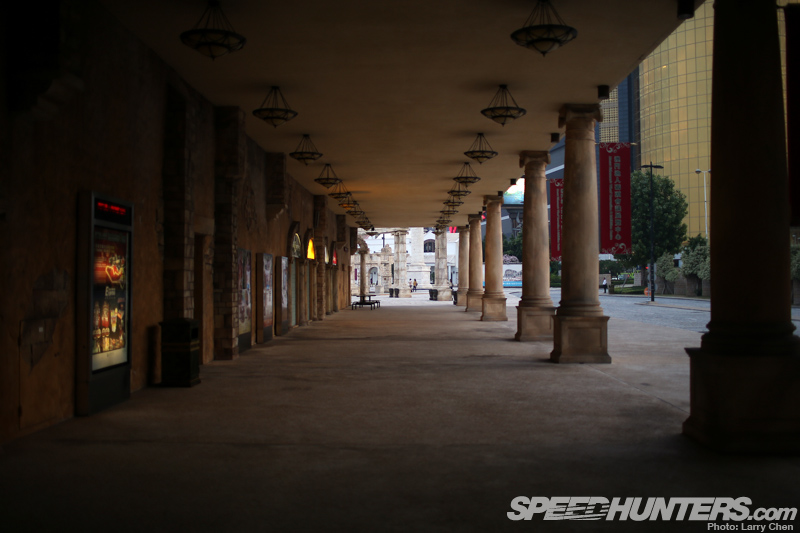 Inside this building was where they held the drivers' briefings.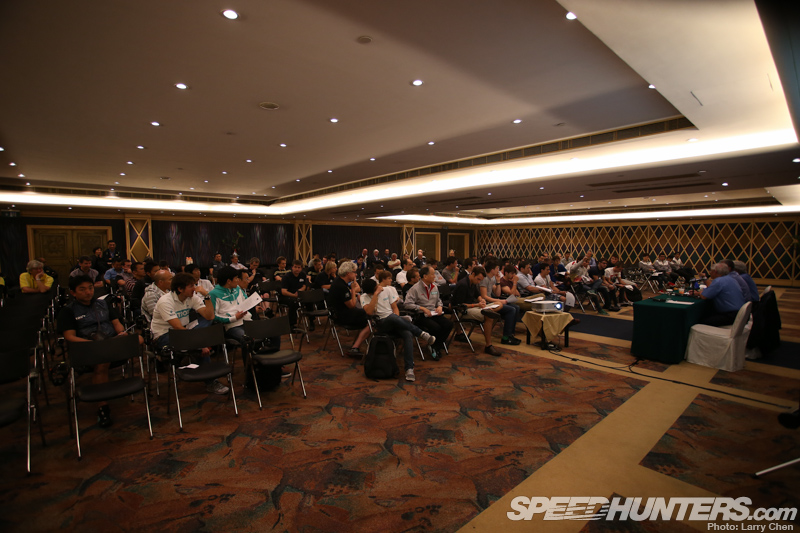 Inside was pretty normal, like any convention center. These drivers' meetings were translated into multiple languages on the spot so everyone could understand what was being said.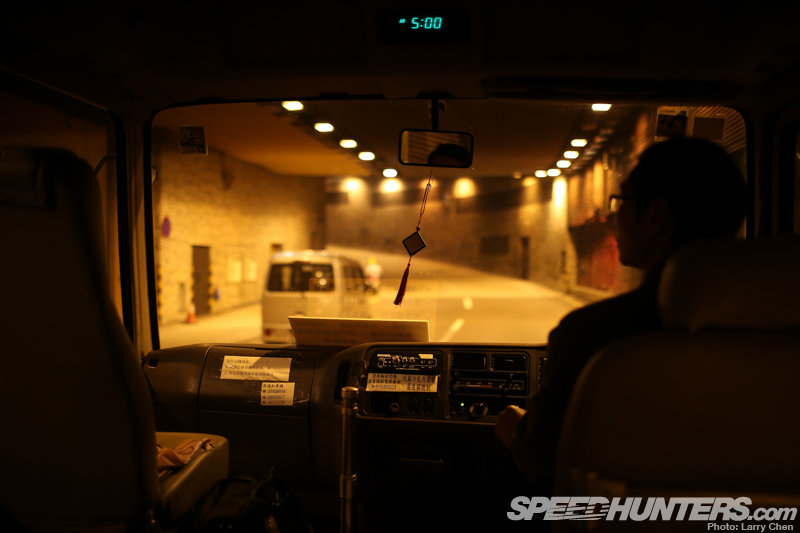 Getting around the paddock was relatively easy, but the challenge was getting to each corner around the hot track.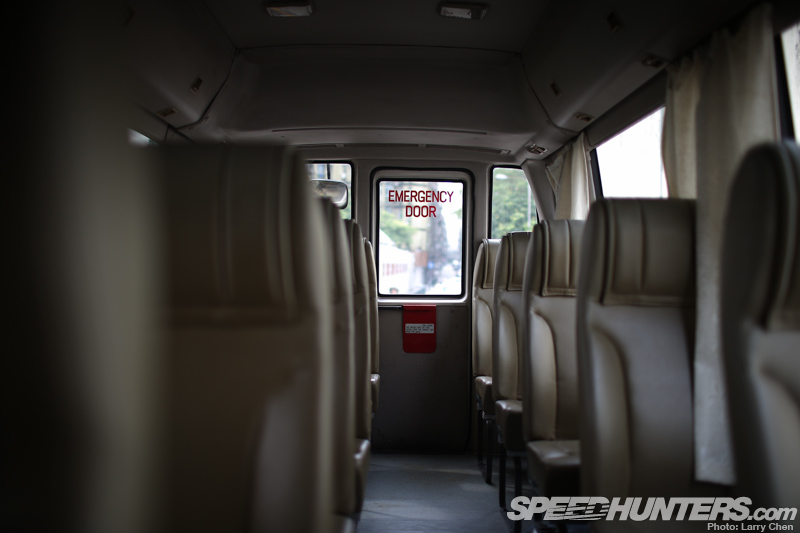 There was a media shuttle service, but it seemed like I was the only one who used it to get about – which made me wonder how all the other media made their way around.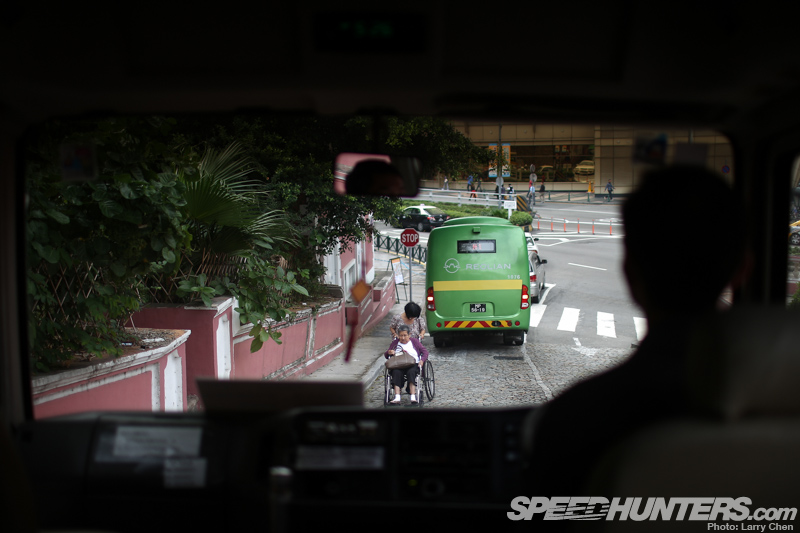 Since the track uses most of the main roads, the only way to get around is to use the back roads – and it takes forever to get anywhere. They can be very steep and made out of cobblestones.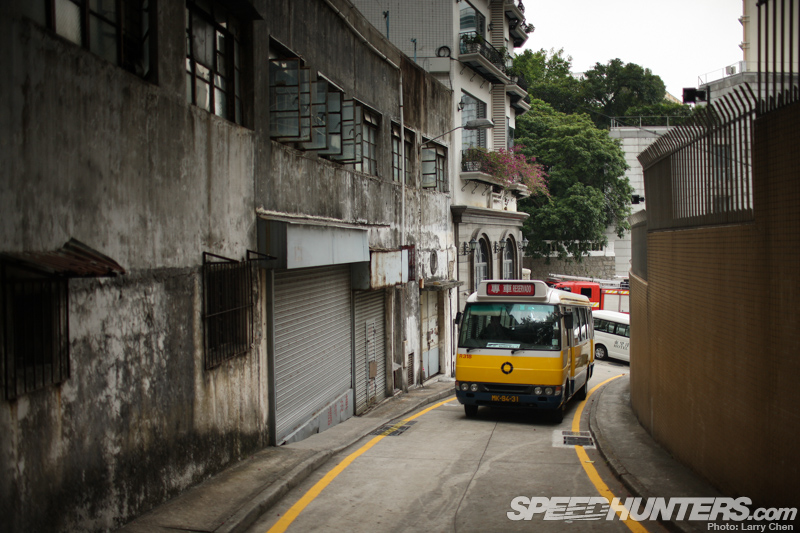 On top of that, once the shuttle drops you off you still had to hike a considerable distance on public sidewalks to get to any shooting locations. I had many stares over the weekend as people probably thought I just robbed a camera store.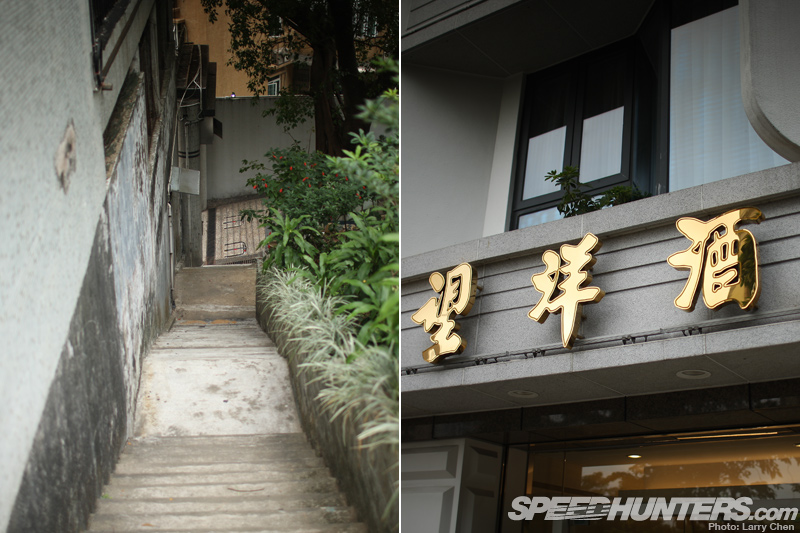 Many places can only be found with some inside information. For example, there are hotels that let you shoot from their balcony. You just have to find them and also find a way to get to them. Which also meant they were open to the public.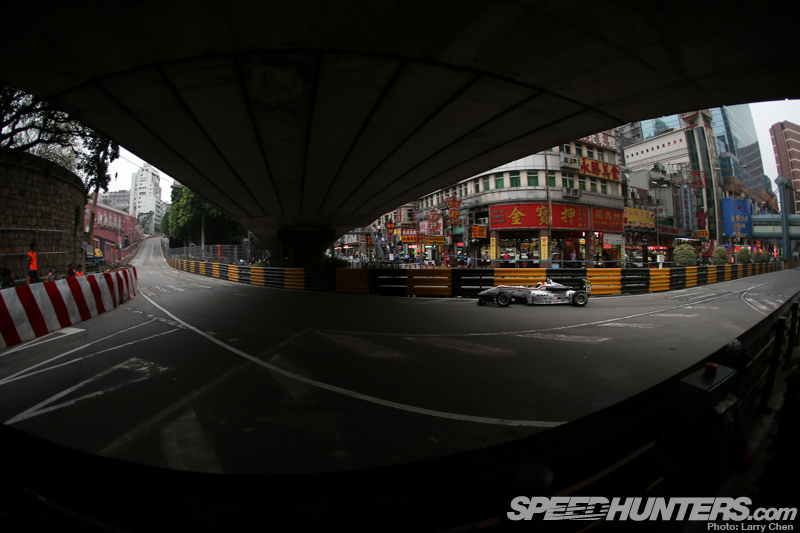 It seemed like none of the people who live there noticed what was going on. Maybe this race has become such a part of everyone's daily life that it has become the norm to see race cars on the streets of Macau.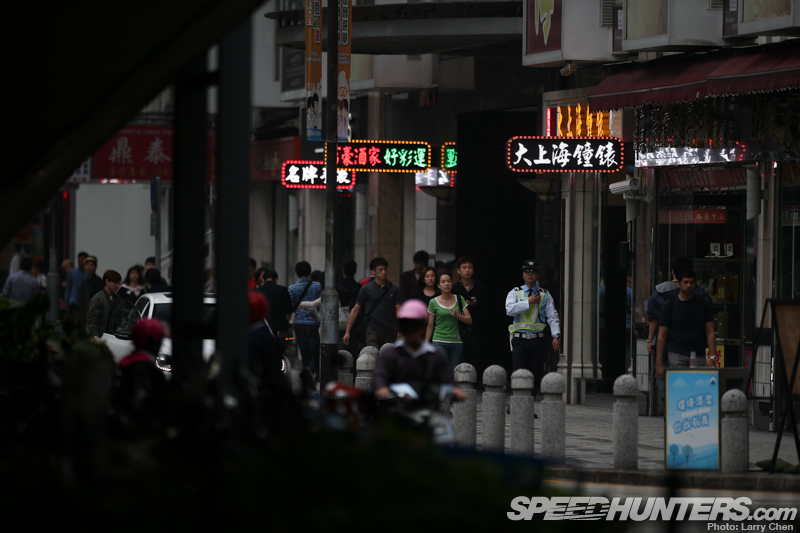 They kind of just continue on their business as ear-piercingly loud exhaust notes echo all around them.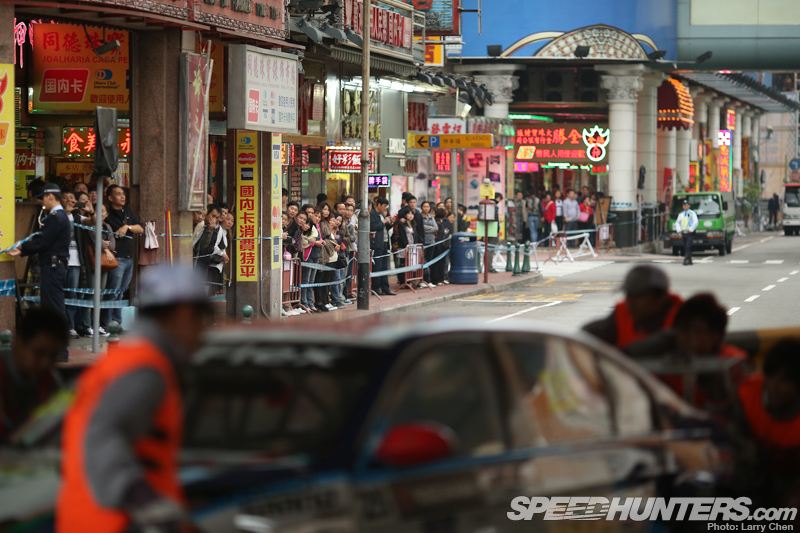 Although, pedestrians did stop and watch if there was an incident on course.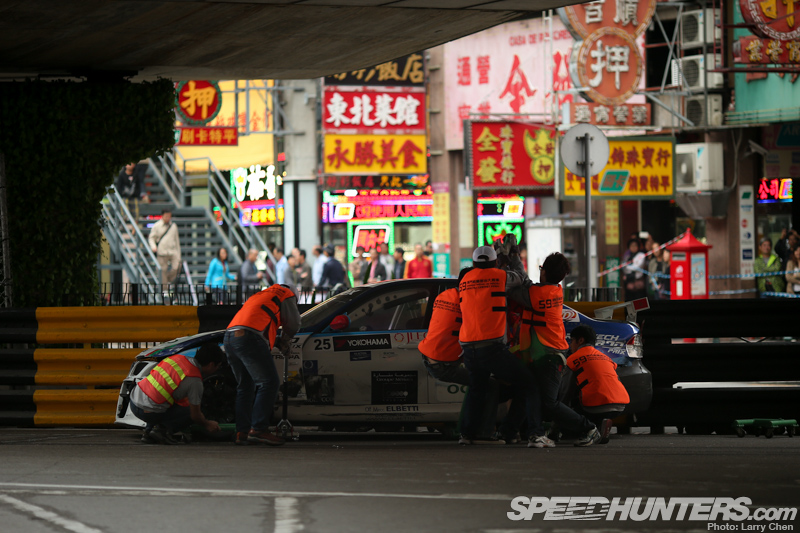 This was one of the things that particularly interested me. I also noticed you Speedhunters out there leaving some comments and asking to know more about their extraction methods.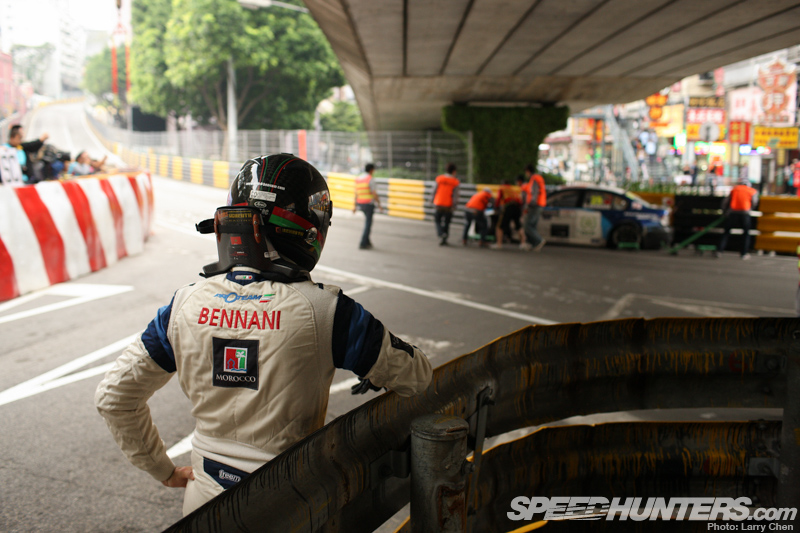 As I have said before the entire course is lined with giant cranes. However, there are still some spots where the cranes can not get to: for example, there is no way they could pull this BMW out from under this overpass with a crane. All they could do is jack the car up with hand-jacks and place it on dollies while the driver of the car watched in horror.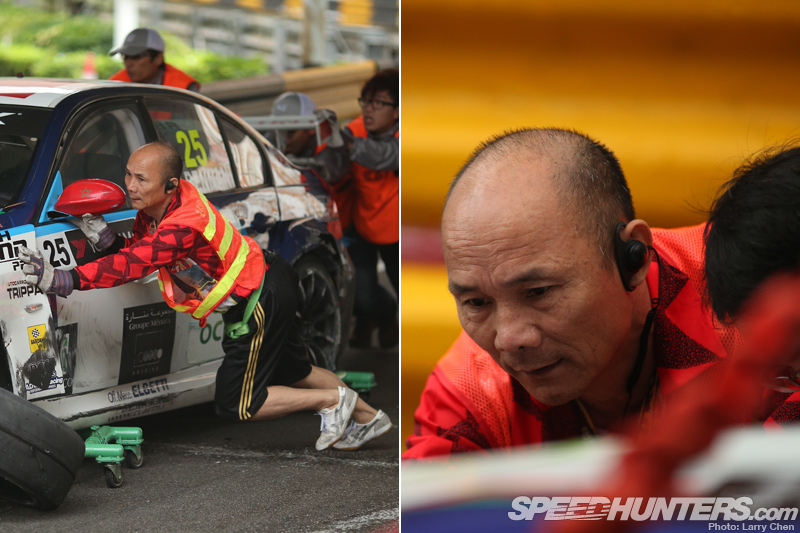 All of the track marshals are volunteers. There is no way this race would run so smoothly without these guys. They are everyday people like you and me, but they don't mind donating their time to help out once a year. After all it is a relatively small community.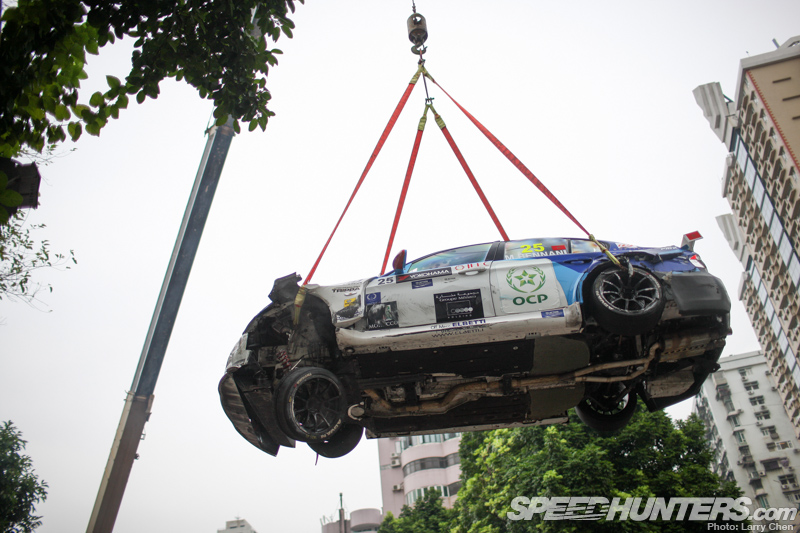 Once the car is pushed out into the open, the crane easily picks it up and drops it off in the nearest open area.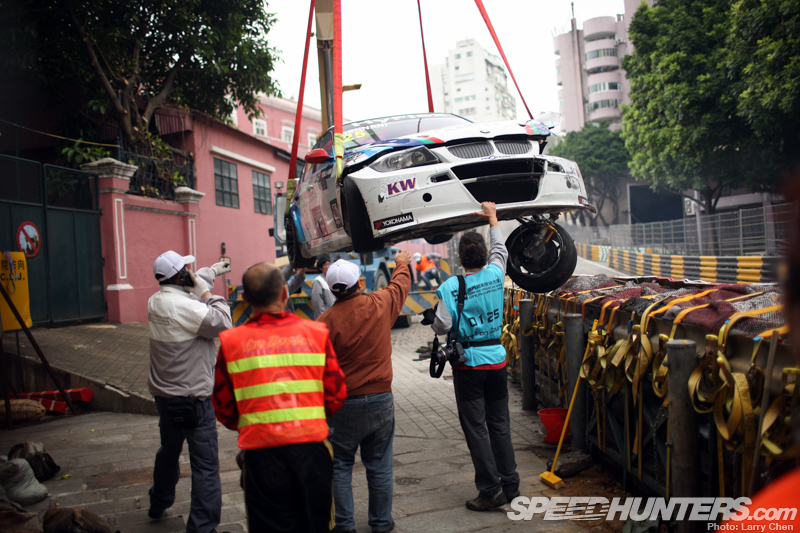 Even the photographers helped with the extraction. The faster things got done the faster the safety car could come off track.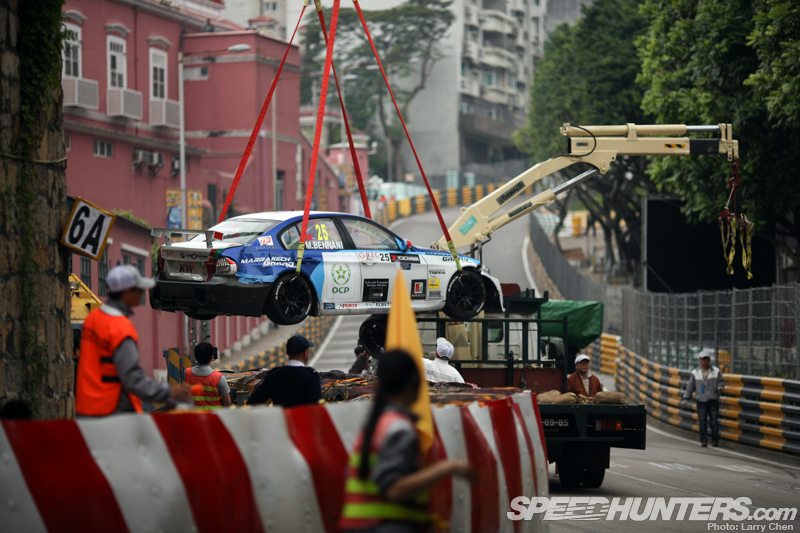 Once the track went cold a flat-bed tow truck could come along and pick up the disabled car for a safe journey back to the pits.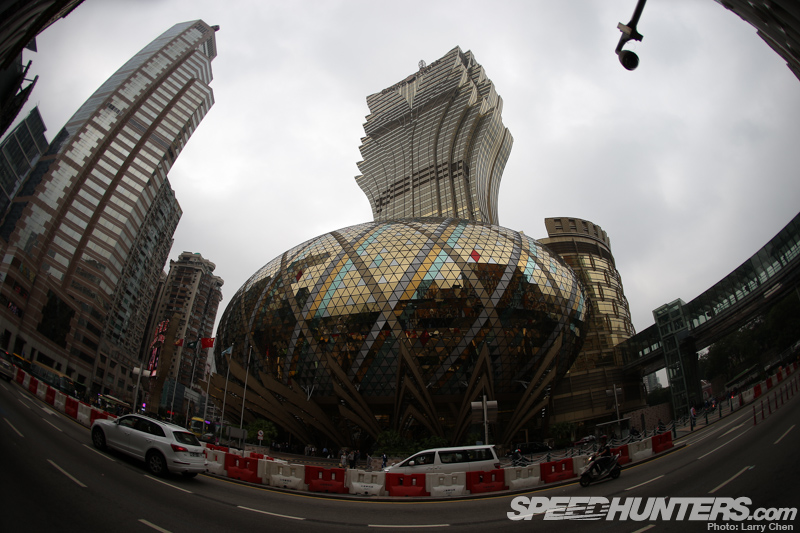 Getting to different parts of the track was a relatively easy task compared with trying to return to the paddock. I either had to walk a few miles back or the most painless way was to go to a hotel and hail a cab.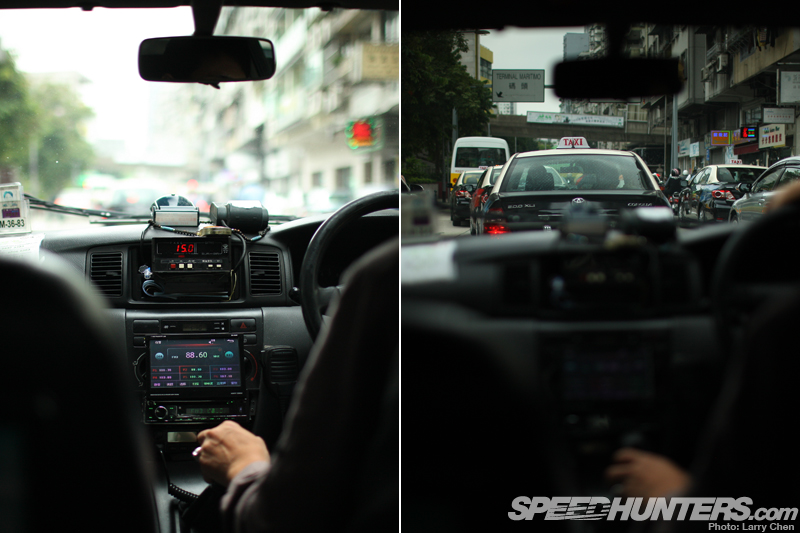 Taxis are not allowed to stop anywhere but designated locations like large hotels. Everyone else had the same idea, so sometimes it took over an hour just to move four miles. I caught up on my sleep in those instances.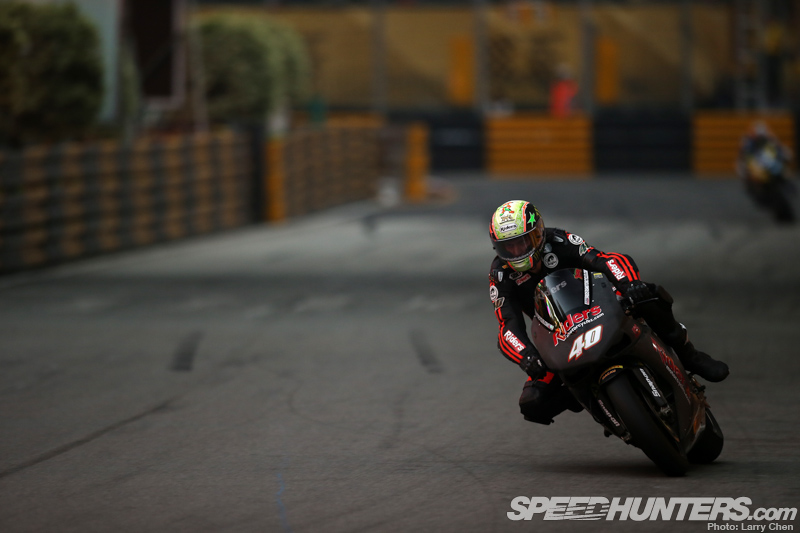 Many of you Speedhunters have also been requesting that I should post a few more photos of the Macau Motorcycle Grand Prix. Normally we would not cover motorcycle racing, but motorcycles are just as much a part of the event as any of the four-wheel race cars.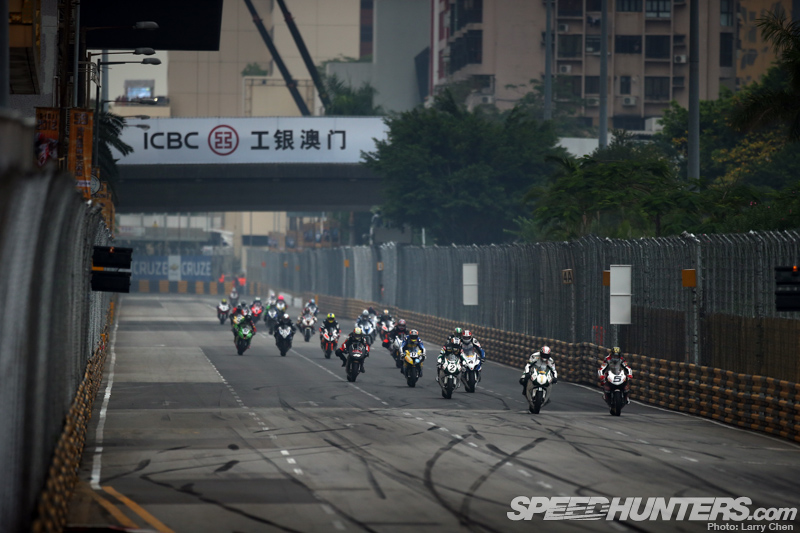 I have never shot professional motorcycle racing before, so it was a real treat for me. This was the start of the 46th running of the Motorcycle Grand Prix.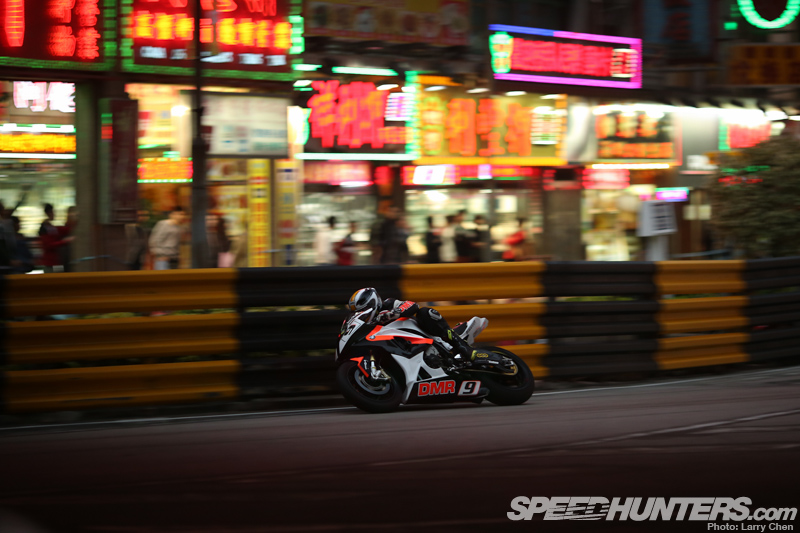 The race was actually cut short by five laps to a 10-lap race because of a 24-hour rain delay. They just could not run a full length race because it was getting very dark, as you can tell in this photo. Those are just standard neon signs in the background.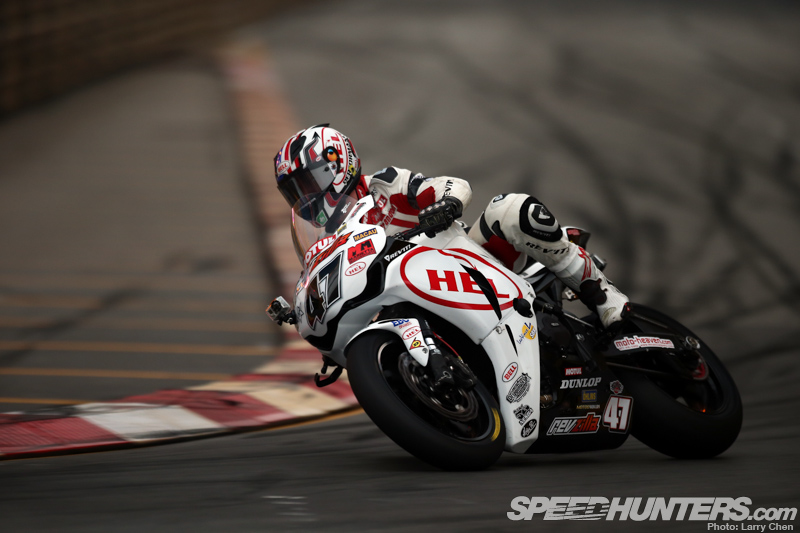 It just baffles me that some of these guys still ran tinted visors in the dusk. There were no incidents during the 10-lap race so I guess everyone could see just fine.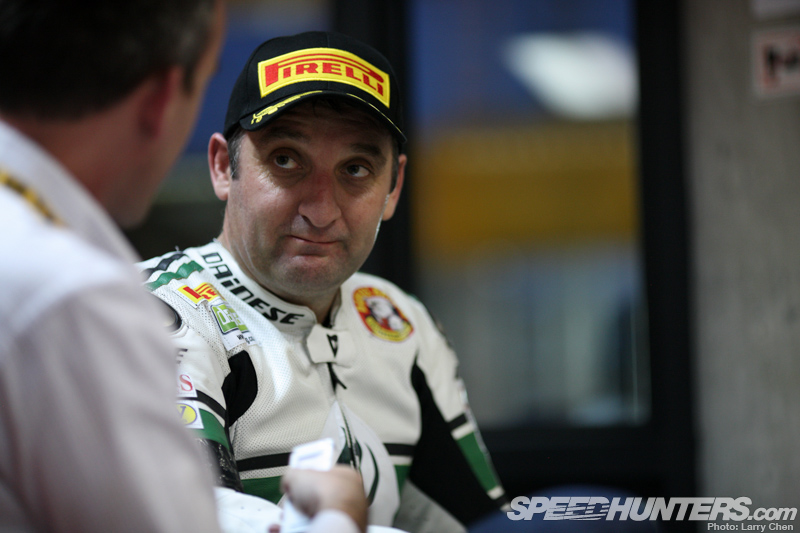 This was Michael Rutter's record breaking eighth victory on the streets of Macau. There really is no other rider out there like him. He finished the race 4.9 seconds ahead of second place.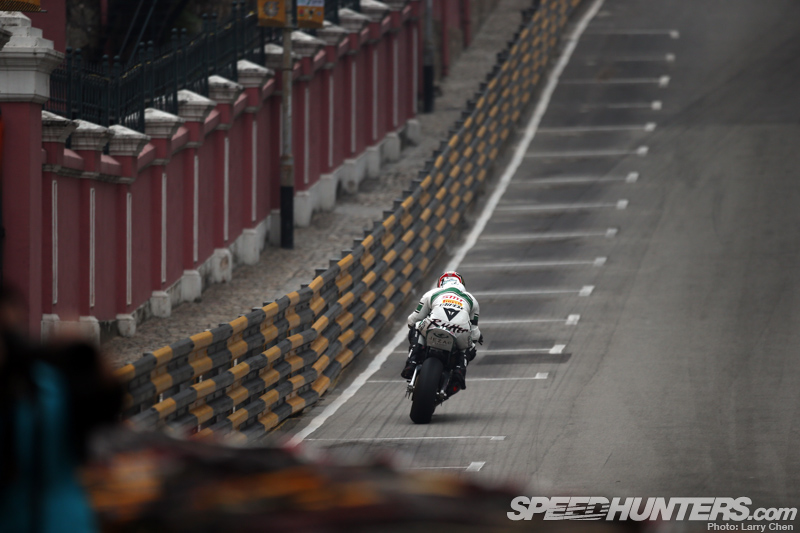 His form was absolutely perfect and each lap looked identical to the last. I am sure he will be going for victory number nine next year.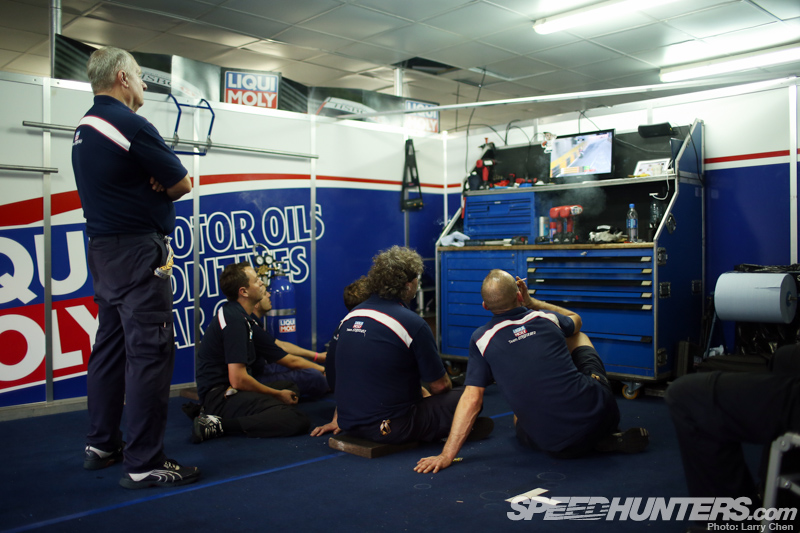 I could not help but stare and watch every time the motorcycles came out to practice – and it was the same way for Charles Ng's crew. What a nice way to take a short break.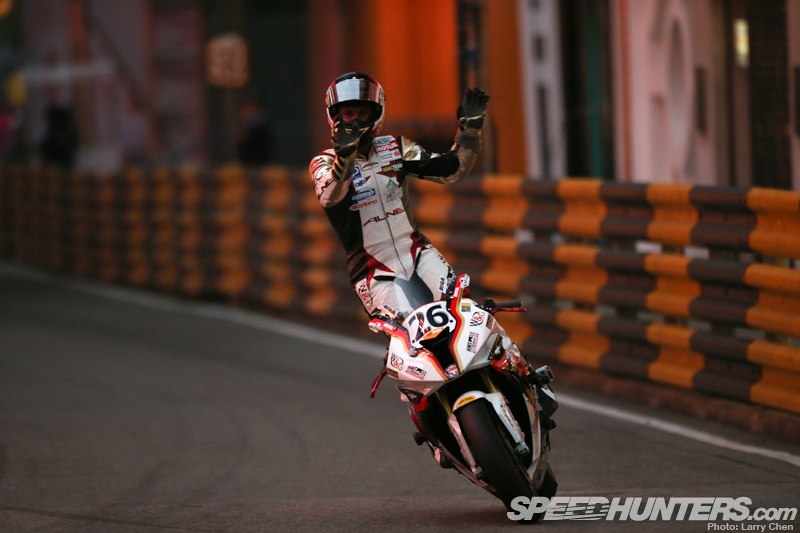 After the race many of the riders did tricks and burn-outs, and the crowds went absolutely nuts. They really looked like they were having a blast.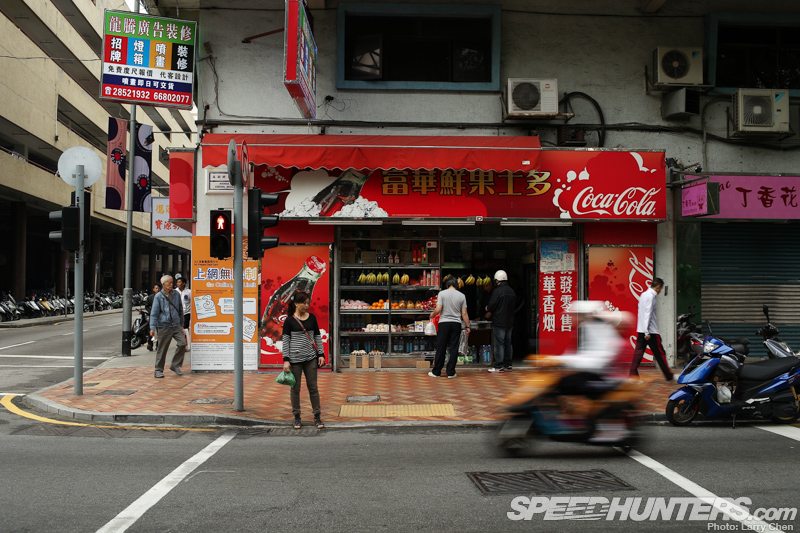 The day before the big race, I followed Charles Ng and his family to a temple so they could pray for his and every competitor's safety during the main event.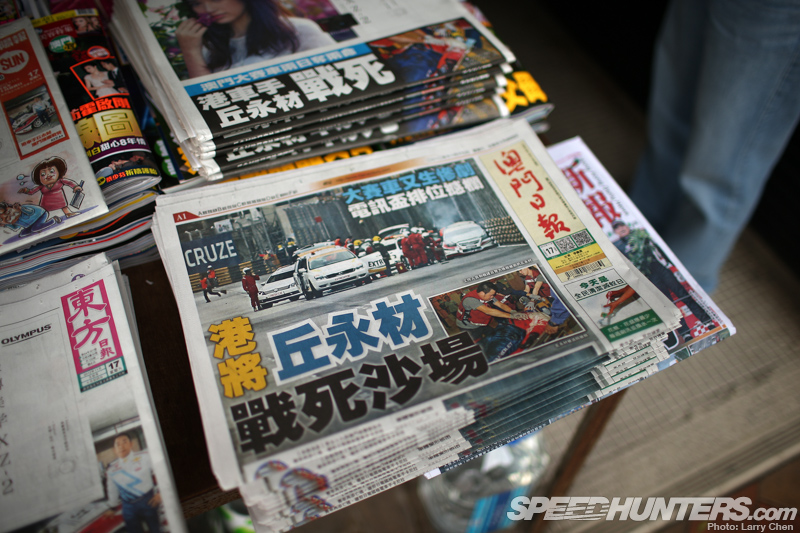 Across the street from the temple was a newspaper stand and this was on the front page of the local paper. The main story was about the death of a second competitor, from the Asian Touring car series. I don't think I will ever forget that image.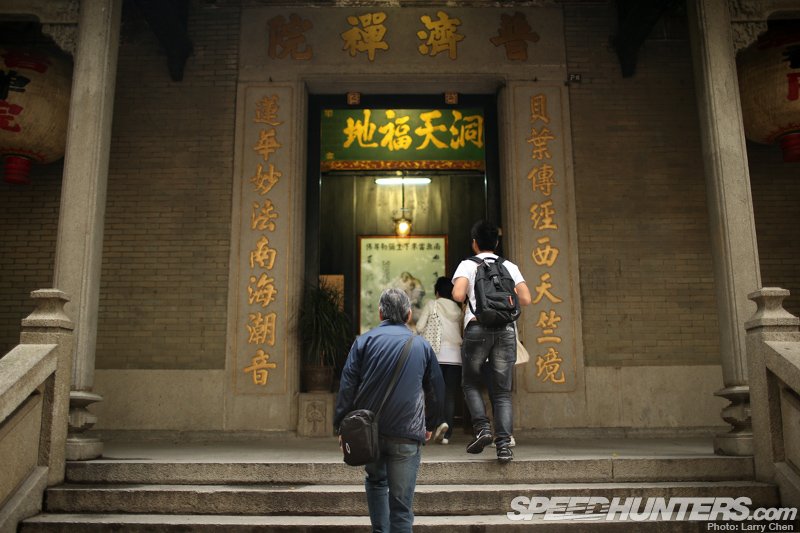 I am not religious, but it may be a sign of some sort when two major incidents happen during a single race weekend.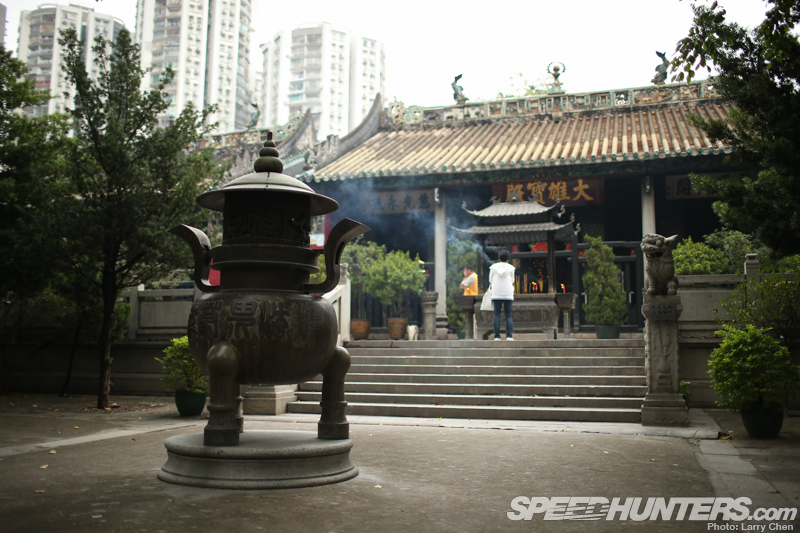 Once we stepped into the temple it seemed like the noise of honking horns and traffic just melted away. It was peaceful.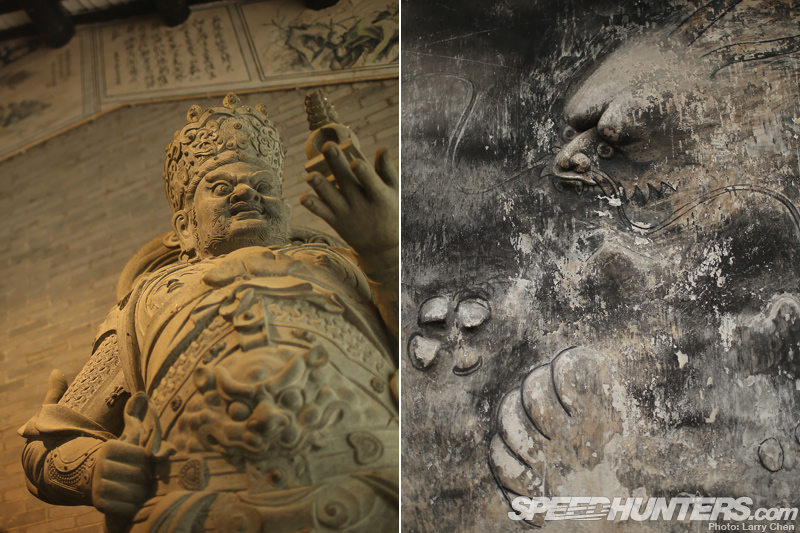 There was some really neat -looking statues in and around the ancient building. Macau was under Portuguese rule for over 400 years, but there was still much Chinese influence in the culture.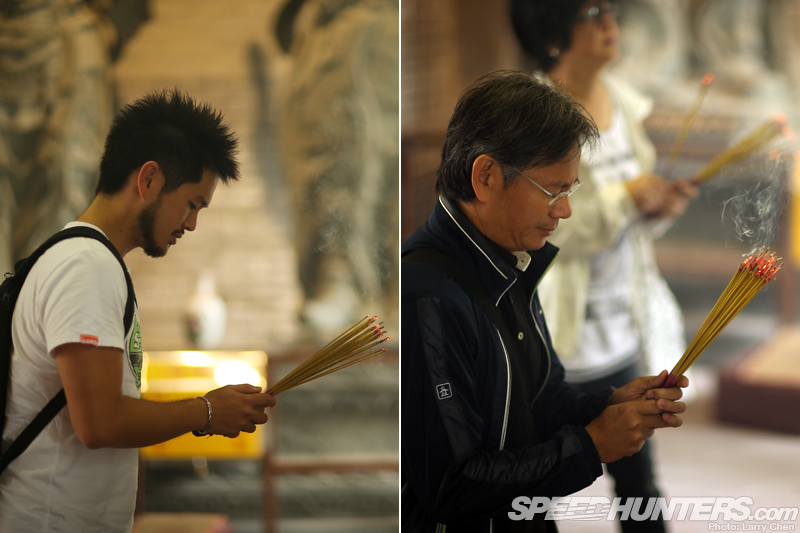 I can still smell the strong scent of incense as I write this article. Charles' father is a big supporter of his son's career choice, so he watches his races whenever he can.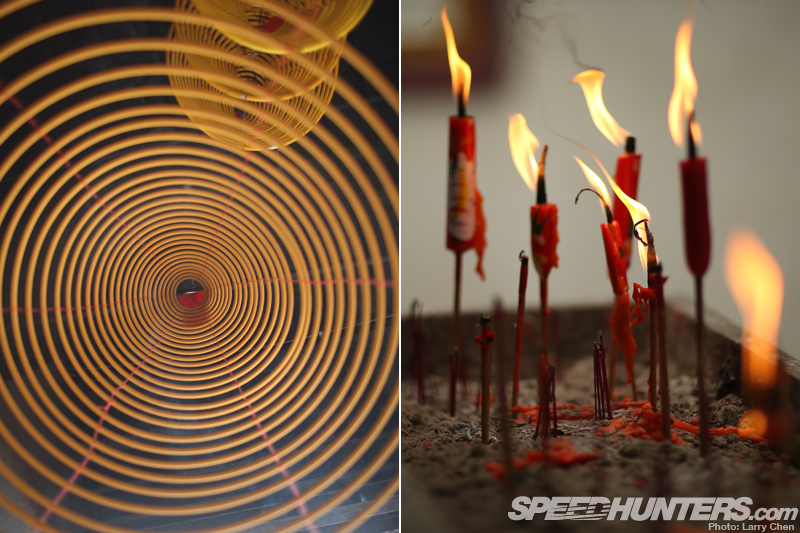 It's been years since I've stepped inside a Chinese temple; it is unfortunate the circumstance called for such a somber mood.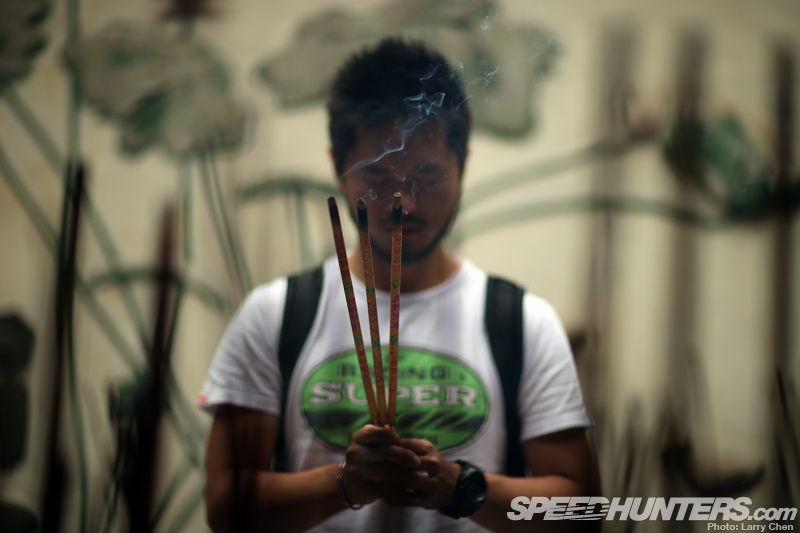 Maybe all the competitors were being a little extra careful, but there were no major crashes on race-day. Charles had a minor incident which knocked him out of both races, but he walked away without injury. You can read more about the race in my interview with Charles.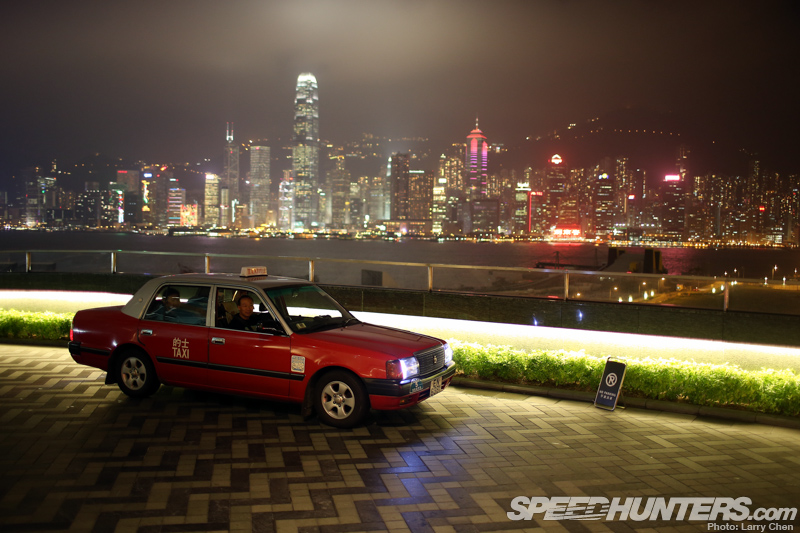 After the main event I took a short ferry-ride to Hong Kong to check out a little bit of the car culture scene and also to go in search for a rare film camera.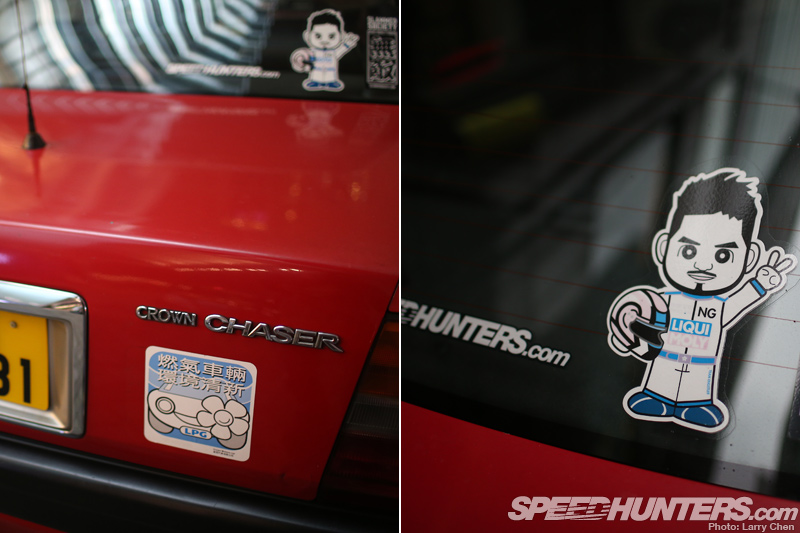 Lucky for me I met up with a taxi driver who is an avid Speedhunters reader. He also happened to be a fan of Charles.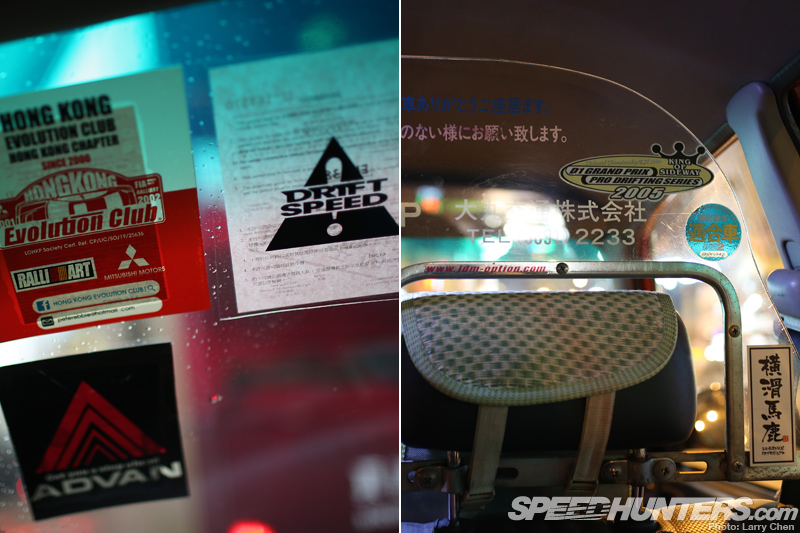 He has actually been a big fan of drifting for many years now and he always told me that he would show me around if I ever came to Hong Kong.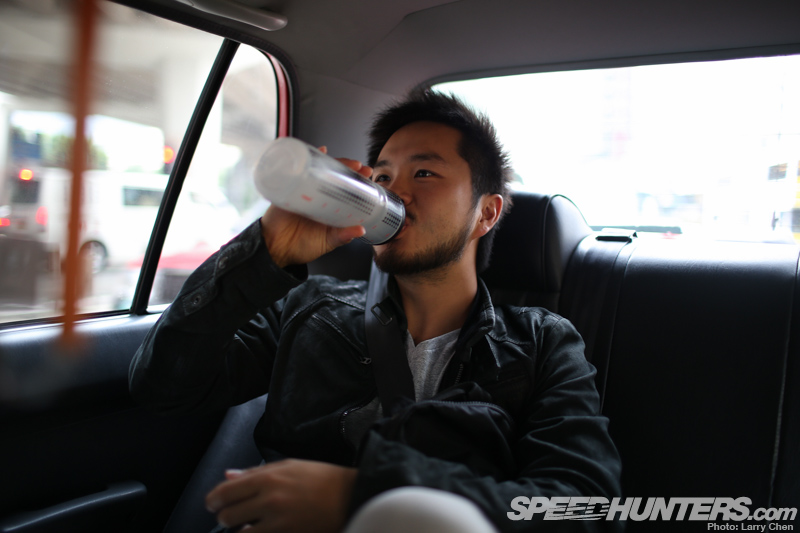 I took him up on that offer and I dragged the native Hong Kong racing driver with me.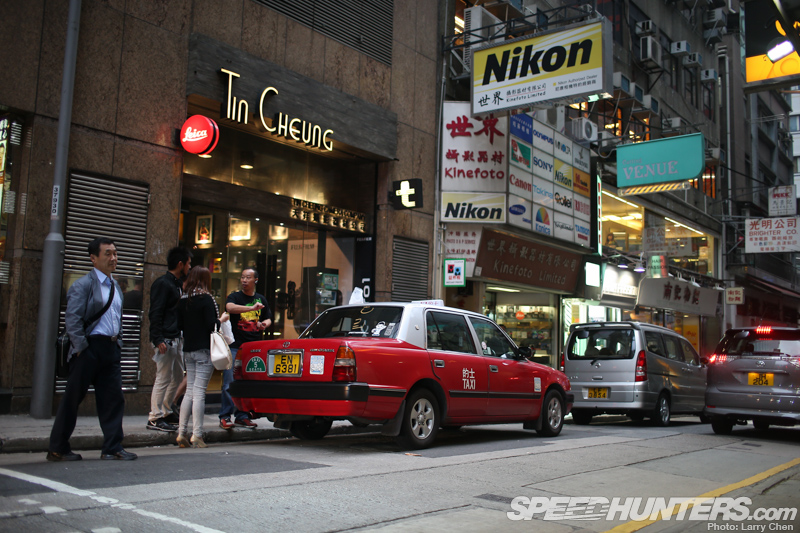 I have been looking for a very specific camera for a while now and I had a good feeling I would find it in Hong Kong.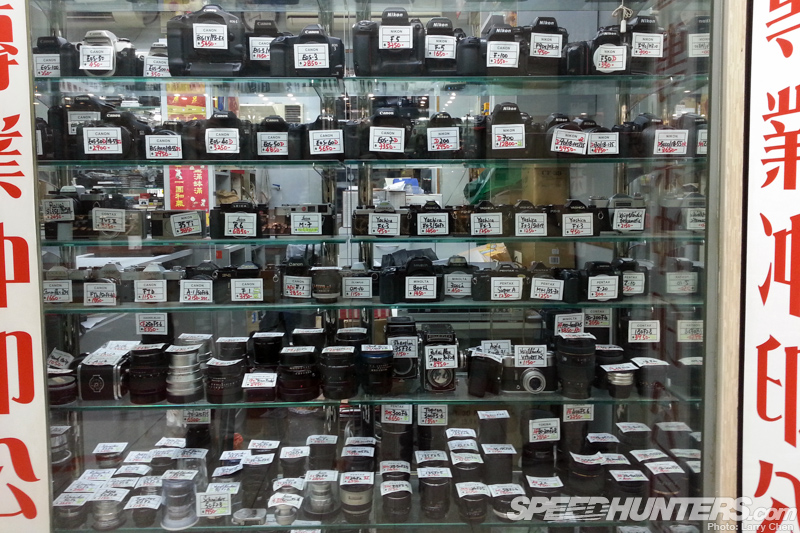 It seems like all the rare cameras that are still in mint condition are located within a few city blocks of this magical city. I love that they take photography so seriously.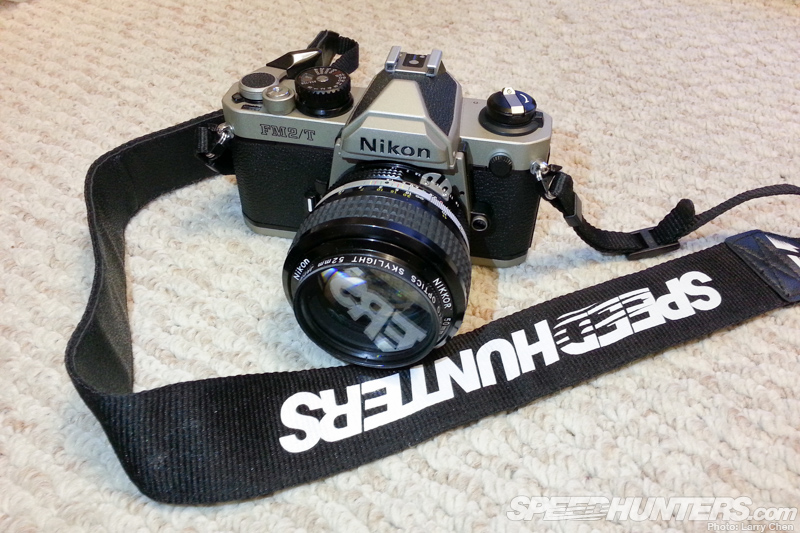 After just an hour of searching I found exactly what I was looking for, and it was minty fresh too. A Nikon FM2 Titanium.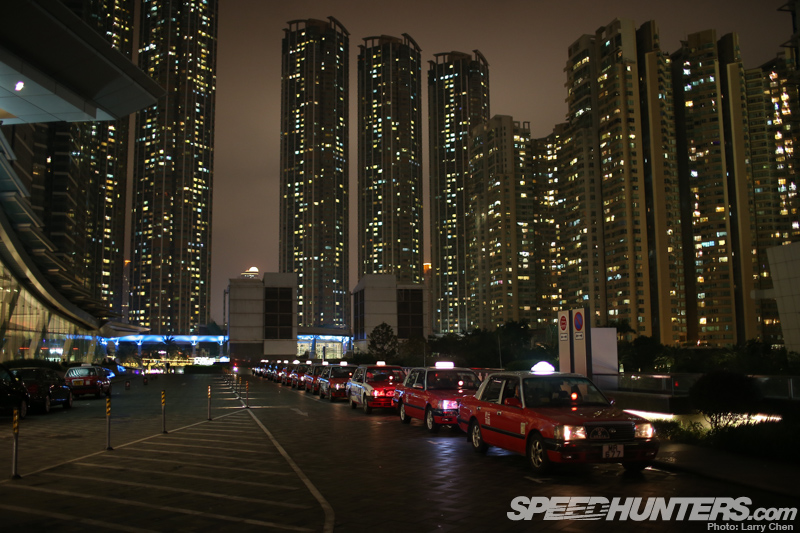 Now that the important business was taken care of it was time to see the city.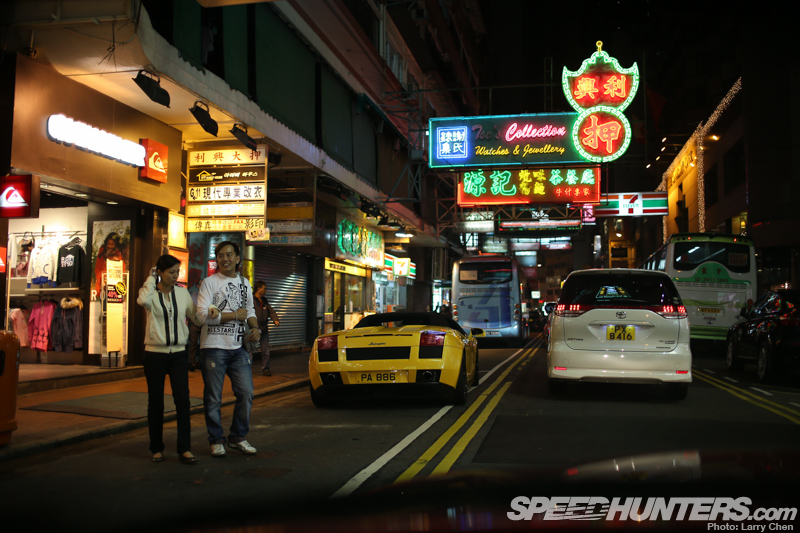 I've been all over mainland China and I have never seen anything like this place. It was very weird for me to see so many exotic cars in an Asian city.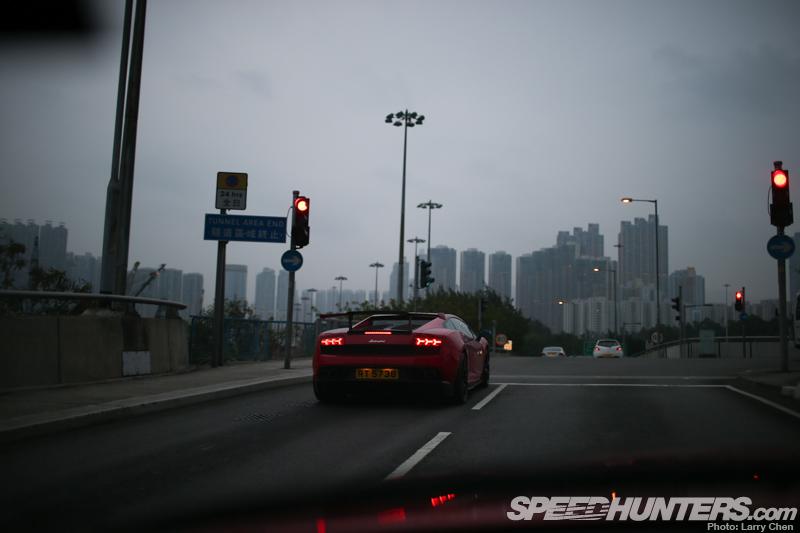 It seems like there was a Lamborghini, Ferrari or Aston Martin around every corner.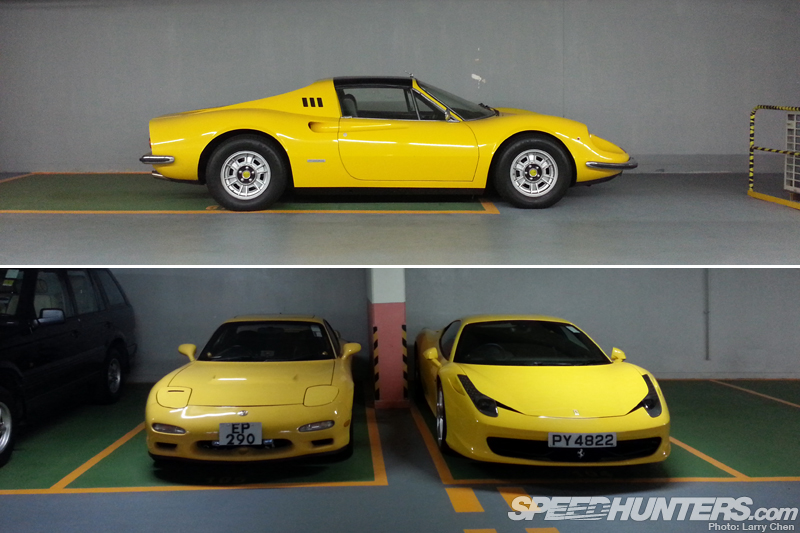 Even in the public parking garages there was always a display of amazing cars. It is unfortunate that I did not have enough time to arrange some car features, but it is definitely something that I will have to plan ahead of time next time I am in town.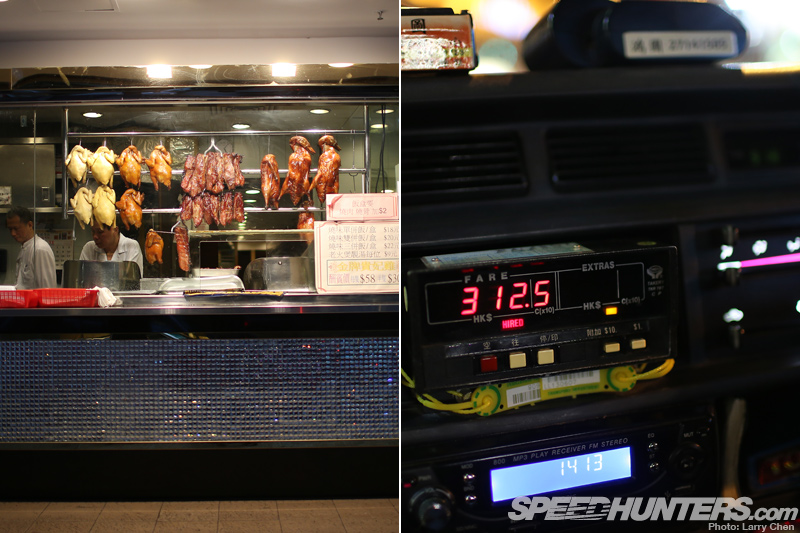 After a full day of driving around and enough dangling poultry to last a lifetime, it was time for me to call it a night.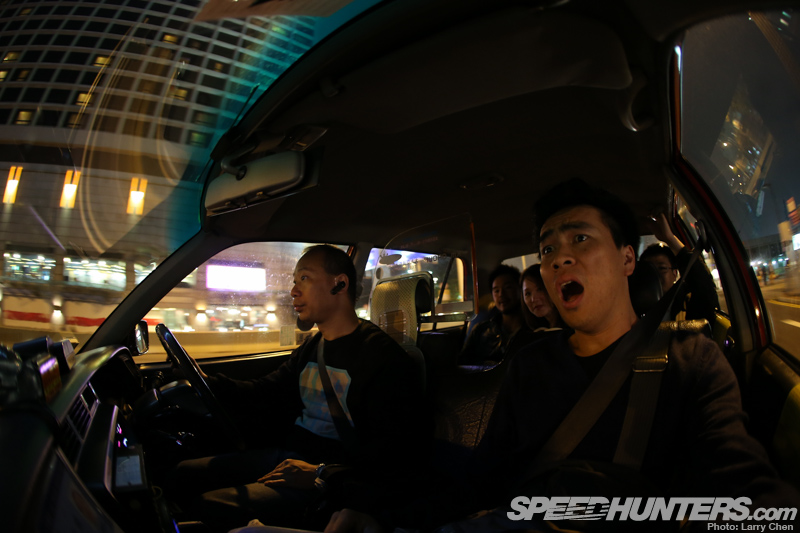 Since I joined Speedhunters, I have discovered so many new forms of car culture that I have completely fallen in love with. Many of my friends poke fun at me about how I think everything new I experience always blows my mind: well, it is true. I've learned to take in new car culture like it is the best thing ever, because to the guys who started it and live it everyday it really is the best thing ever. So my question is, where do you guys think I should go next?
Larry Chen
larry@dev.speedhunters.com
More stories from the Macau Grand Prix on Speedhunters
More stories from Larry Chen on Speedhunters
---
---
---