In yesterday's post I introduced the basics of Shift S3ctor's unique Airstrip Attack event. Now that you guys have a little idea about what went down at the Coalinga Municipal Airport last weekend, I'd like to focus a bit more on the high powered automobiles that came out to play. The concept of the event was great of course, but it'd be nothing without some exciting machinery to take part.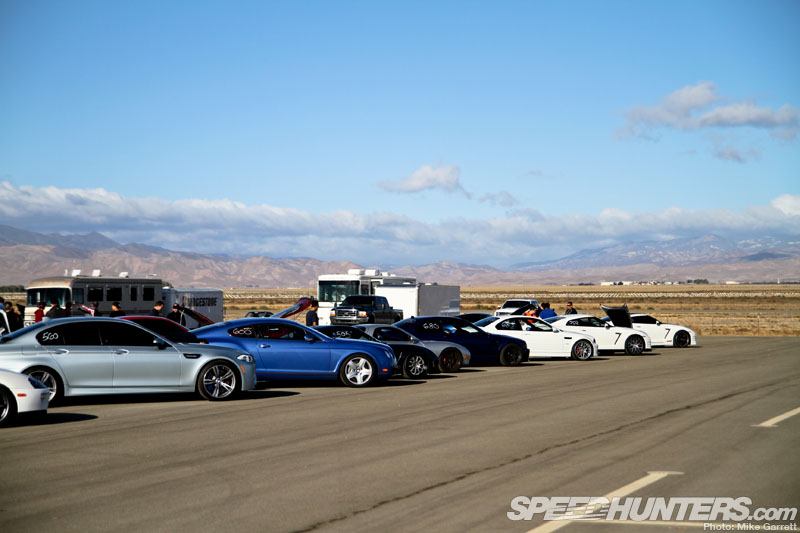 Fortunately, Airstrip Attack very much delivered in the "Joy of Machine" department. As I mentioned in the first post, this event served as the perfect place for drivers of modern performance cars to put their vehicles to the test. Just wandering the pits, you were treated to an incredible selection of fast late model cars.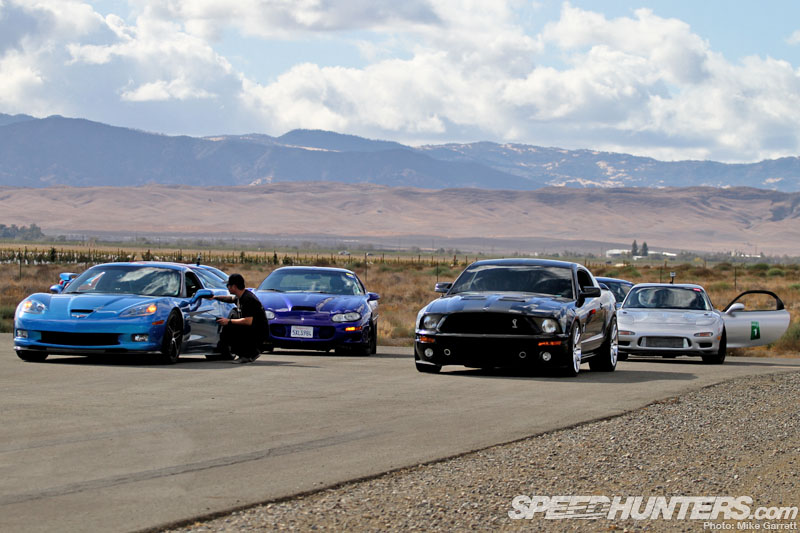 Even better was the fact the entry roster was made up almost exclusively of street legal cars. Sure some may have arrived on trailers, but there was nary a vehicle to be found that didn't have license plates.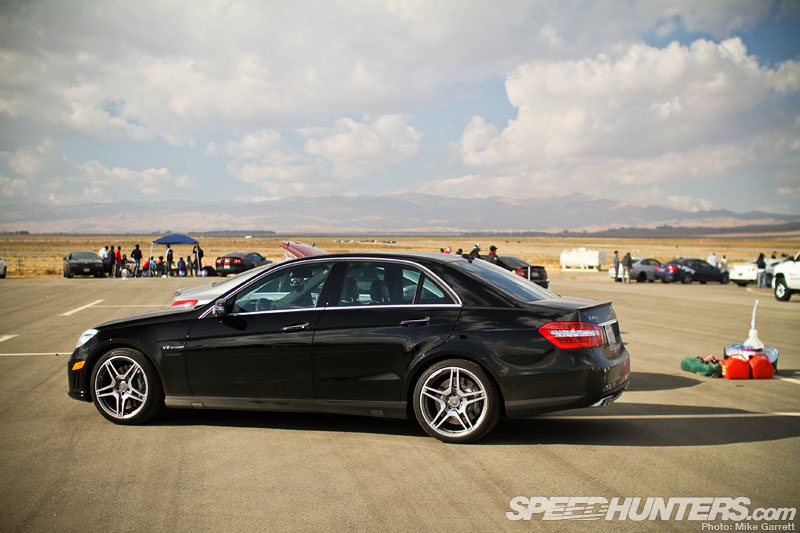 While there were plenty of heavily modified cars that came to battle it out, there was also a good number of completely stock vehicles as well. One fellow brought out a new E63 AMG Mercdes…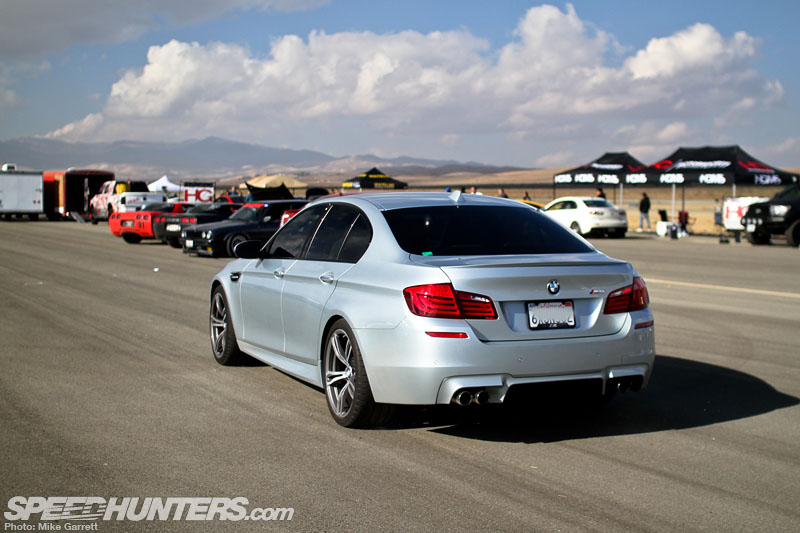 …while another came out to enjoy the 560 horsepower of his F10 BMW M5 in a fitting environment. While they were eerily quiet, the speed at which these cars went down the runway was startling.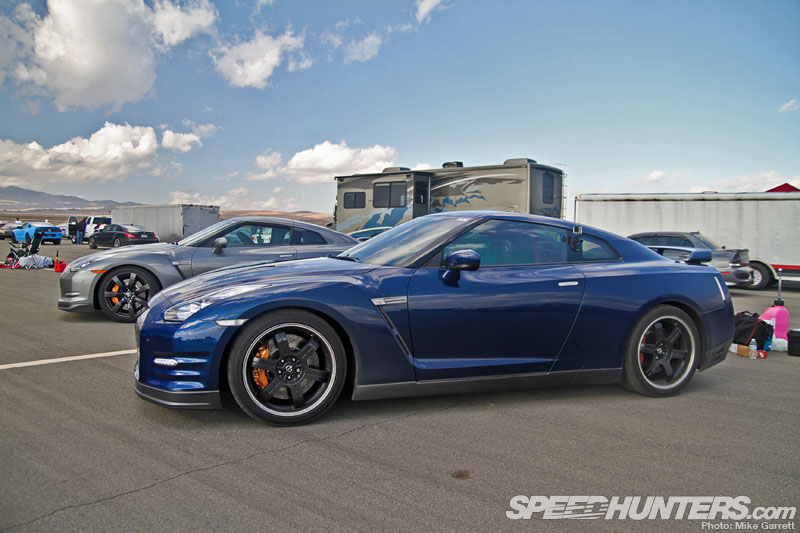 Registration was open to any type of car, and I was amazed at just how even the entries seemed to be distributed between American, European, and Japanese models.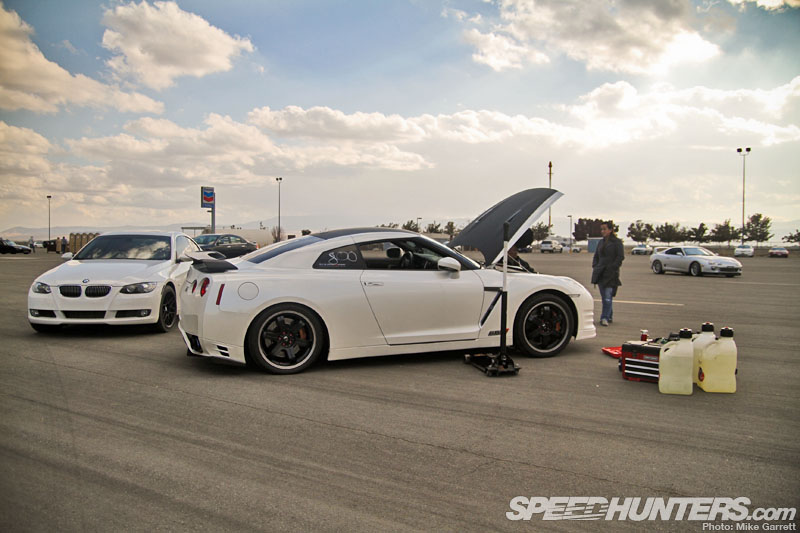 The bulk of the Japanese entrants were R35 GT-Rs, many of them breathed upon by tuners like AMS and Switzer Performance. Tons of horsepower plus all wheel drive traction is always good in these situations.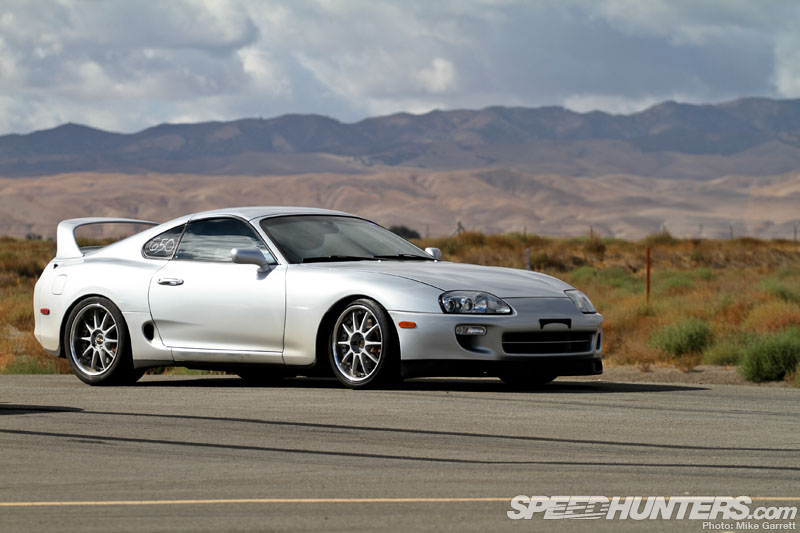 The group of GT-Rs were joined by a sprinkling of fourth generation Supras, The top end capabilities of these cars are well known, and a half mile strip of runway is the perfect place for a high horsepower Supra to stretch out.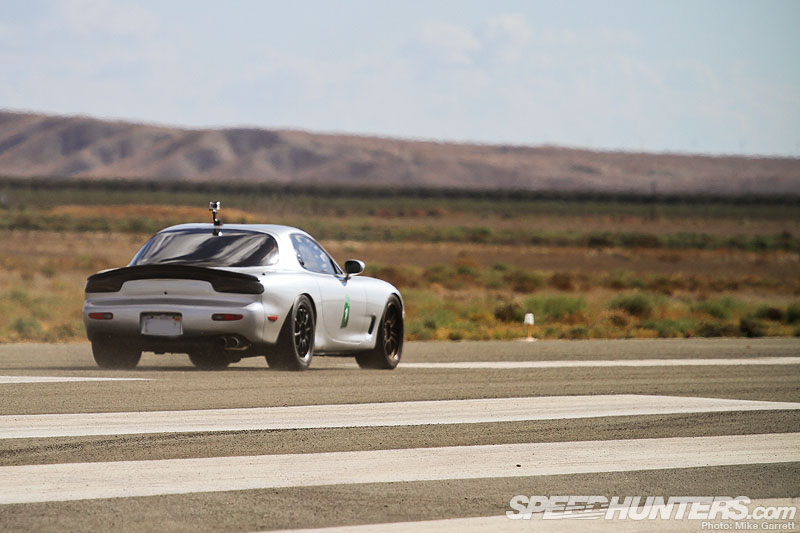 Then again not all the Japanese cars were powered by Japanese motors. This FD3S RX7 was running hard thanks to a single turbo LS swap.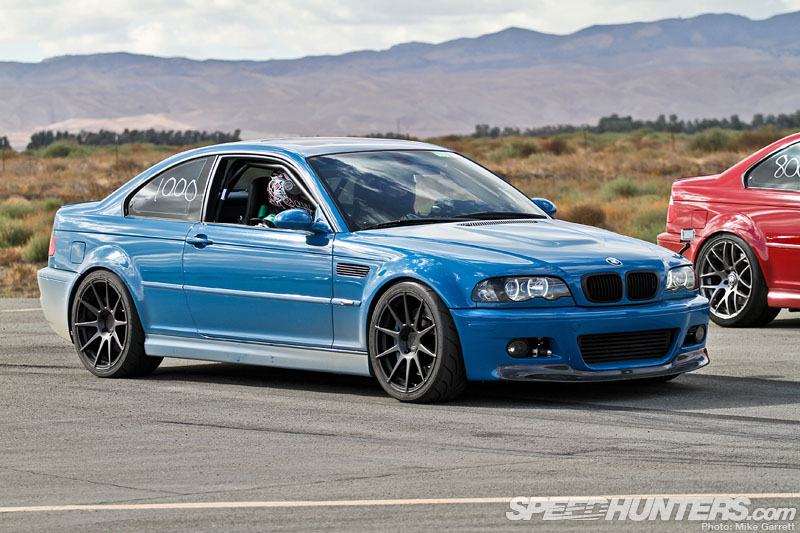 On the European side of things, BMWs were the most common. There were several heavily modified M3s that came out, with all generations represented. As you can see by its shoe polish markings, this boosted Laguna Seca blue E46 is packing solid grand worth of horsepower.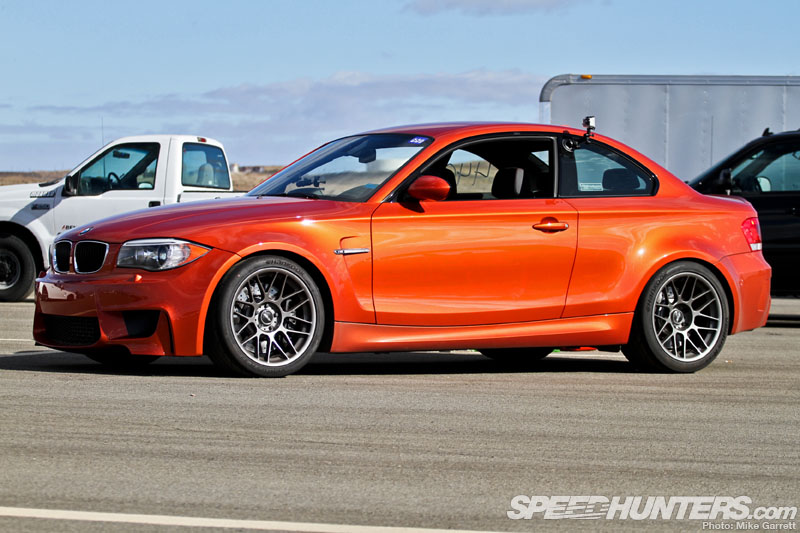 There were also some very quick factory turbocharged Bimmers out there – 335i's, 135is, and this beautiful 1M.  Most of these cars were making power that could easily rival the M3s and M5s.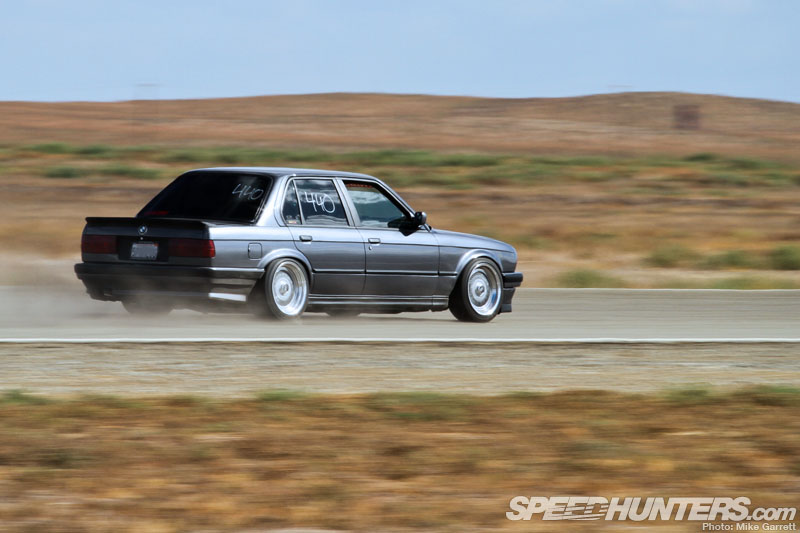 One of the most interesting BMWs though was not a late model M car, but this little E30 sedan out of Los Angeles.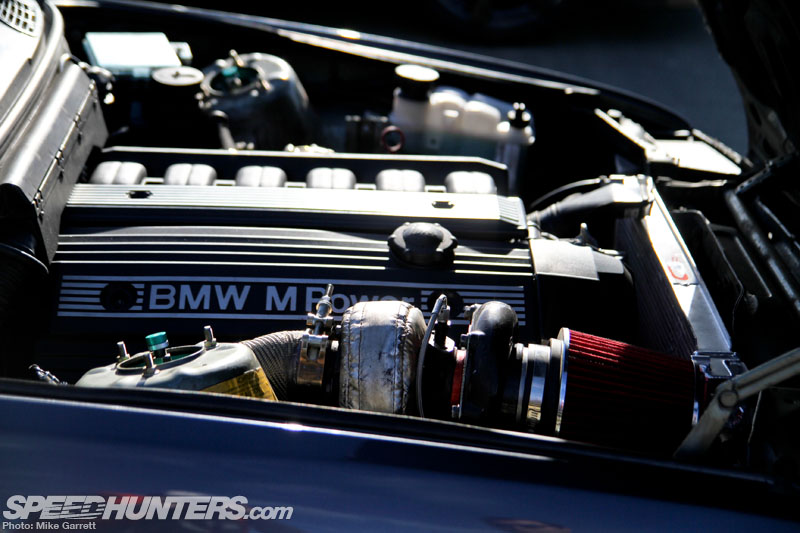 Built by BMW specialty shop Castro Performance, It was powered by an S50 M3 motor with a sizable turbocharger. All in all, the setup is good for 440 horsepower.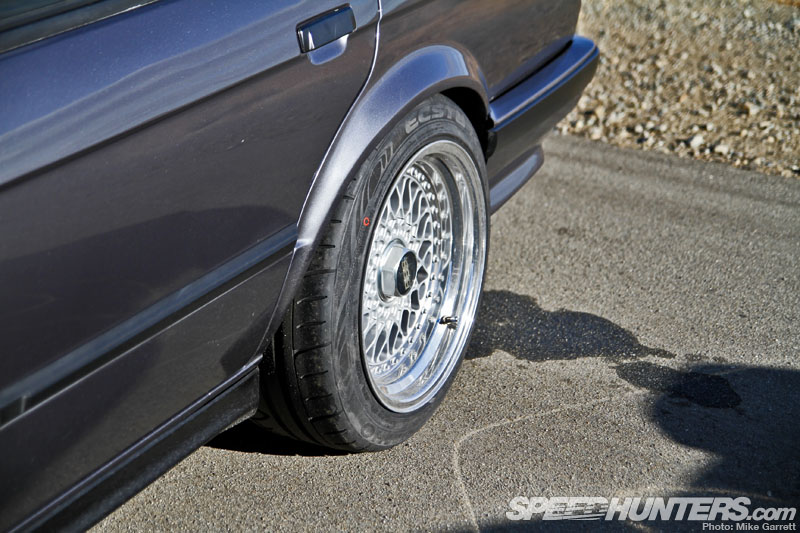 The guys were looking forward to seeing how the car would run, but were a little worried about a lack of traction. Those rear tires are very narrow by the standards of this crowd.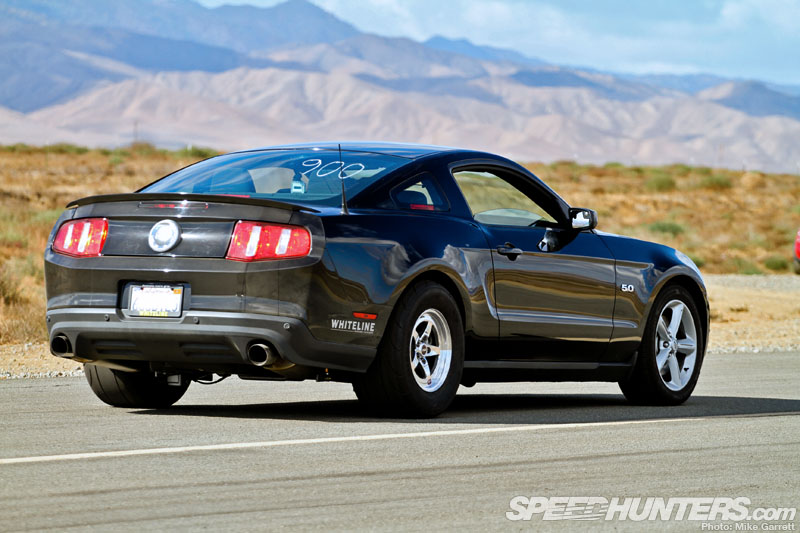 The European and Japanese machines were also met by a force of American performance cars out to defend their home turf. With the exception of its drag slicks, this Mustang GT looks very stock…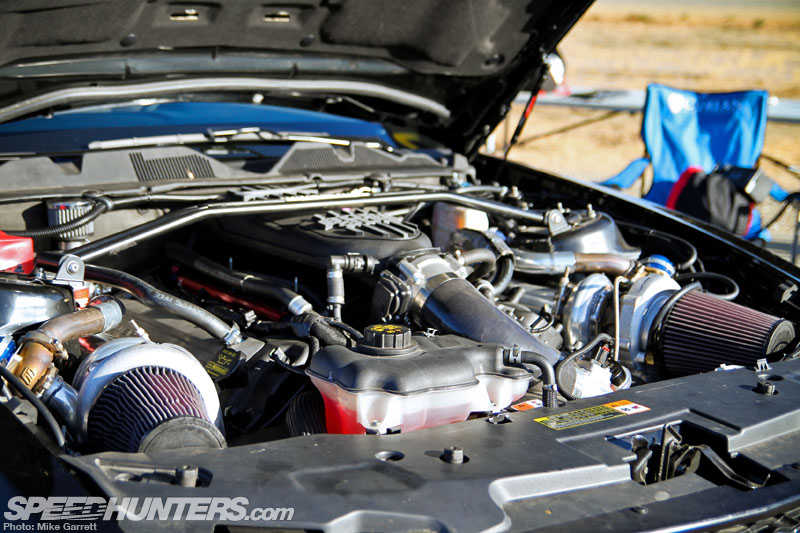 …but it's 5.0 V8 is fitted with a pair of turbochargers and she makes a total of 900 horsepower. Based on how fast this thing was going through the second set of cones, it seemed to be using every one of those horses.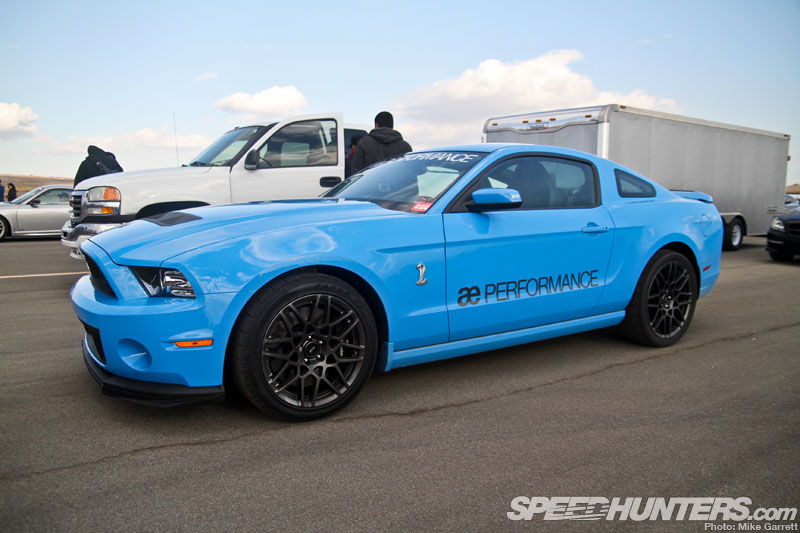 AE Performance came out with their shiny new 2013 Shelby GT500 Mustang. Let's not forget, this thing starts with 662 horsepower right out of the box.. I'll be interested to see what's in store for this project…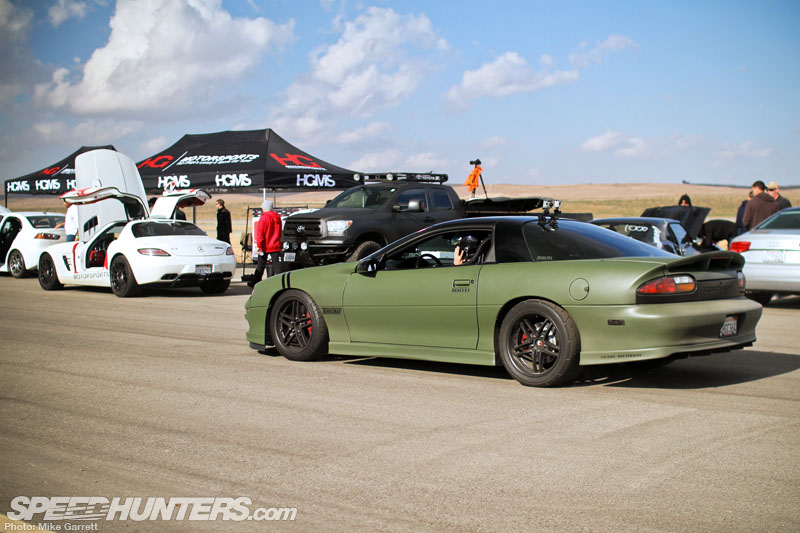 There was a time about a decade ago when the fourth generation LS1-powered F-body was one of the fastest cars you'd find on the streets of the USA. Times may have changed, but this army green Camaro is built to run with the latest and greatest.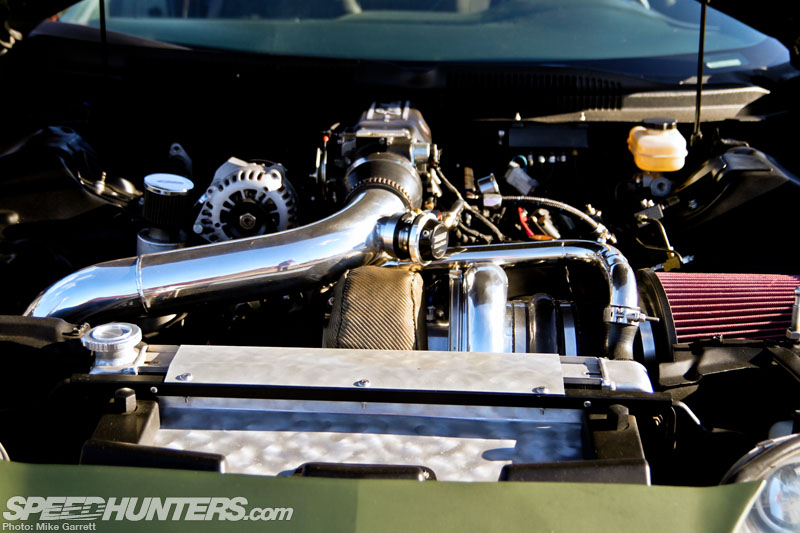 Thanks to its large snail, the sinister looking Camaro is putting down 1,000 horsepower to the rear wheels. Good enough to match any of the newer machines that came out.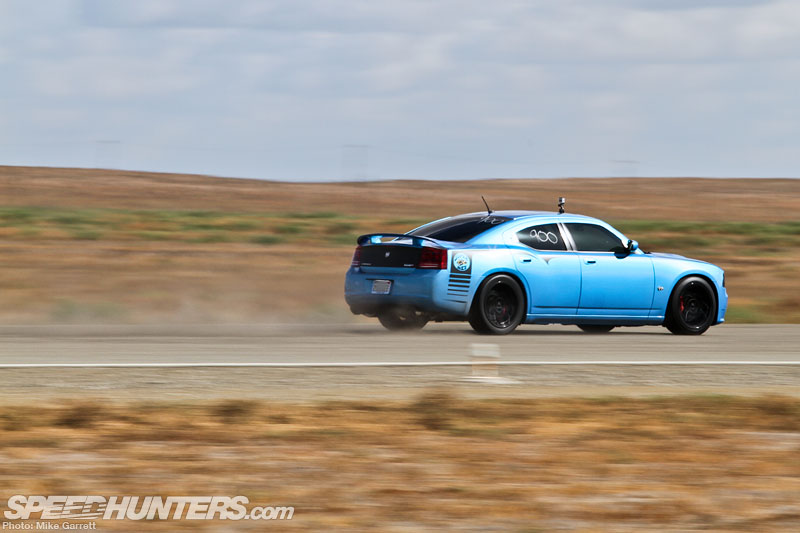 Representing Mopar was this 900 horsepower Dodge Charger. Once it gained traction, the big Dodge screamed down the track.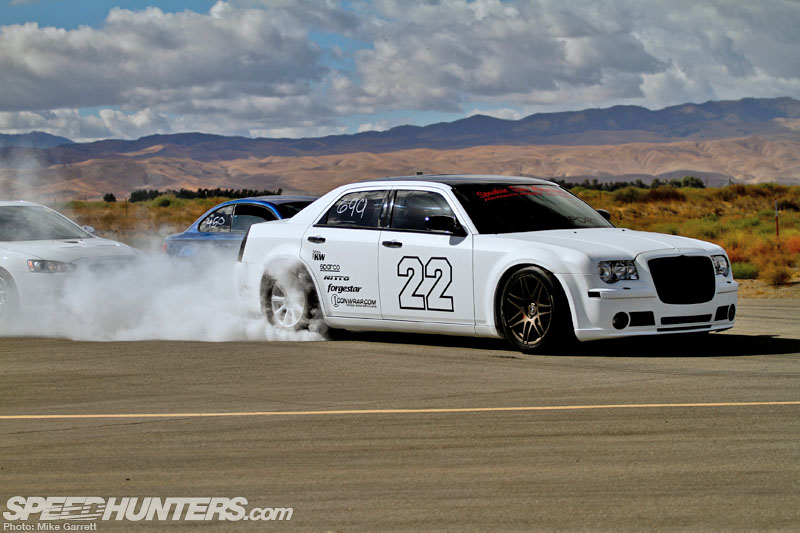 The Charger was joined by this 699-horse Chrysler 300, seen here warming the tires before one its runs. There's just something cool about seeing giant four-door cars run so quickly.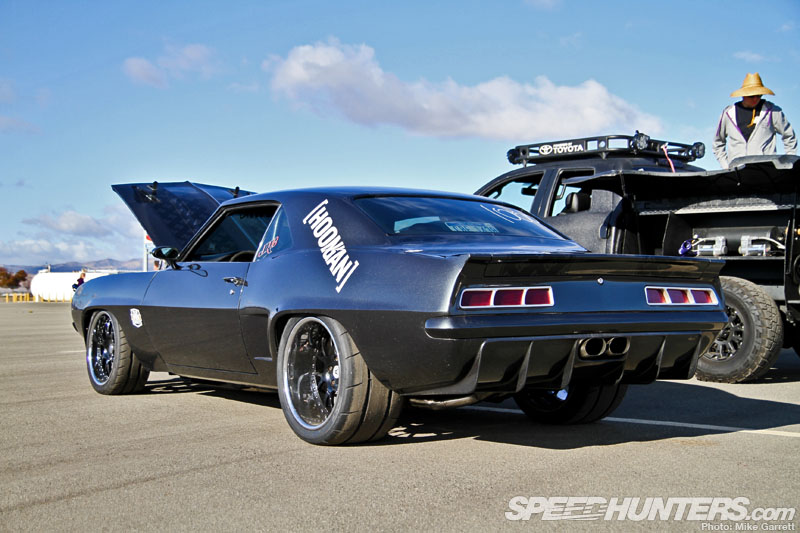 While the vast majority of the cars running at this event were from the 1990s and later, there were a few vintage machines that came out. Then again, there's nothing too vintage about the rear tires or crazy diffuser on this '69 Camaro.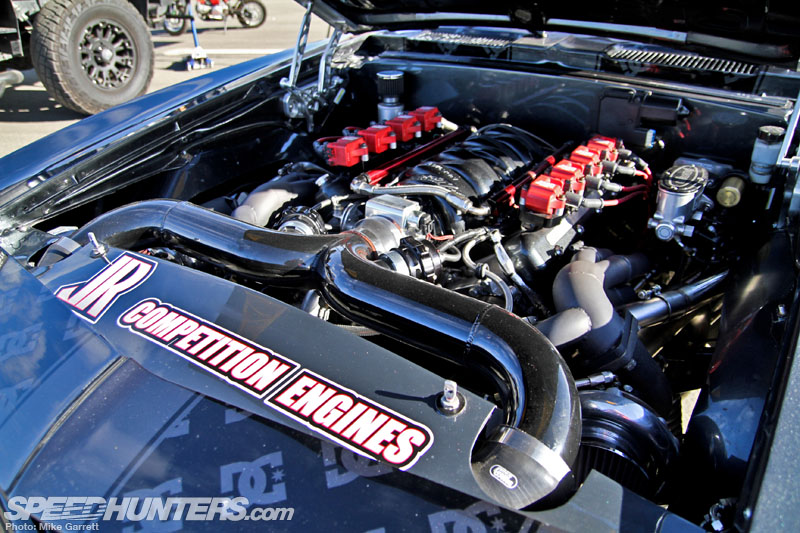 Nor is there anything old fashioned about the twin turbocharged LSX that puts the car solidly into the 1,000 + horsepower club. The bitchin' Camaro is owned by professional skateboarder Josh Kalis.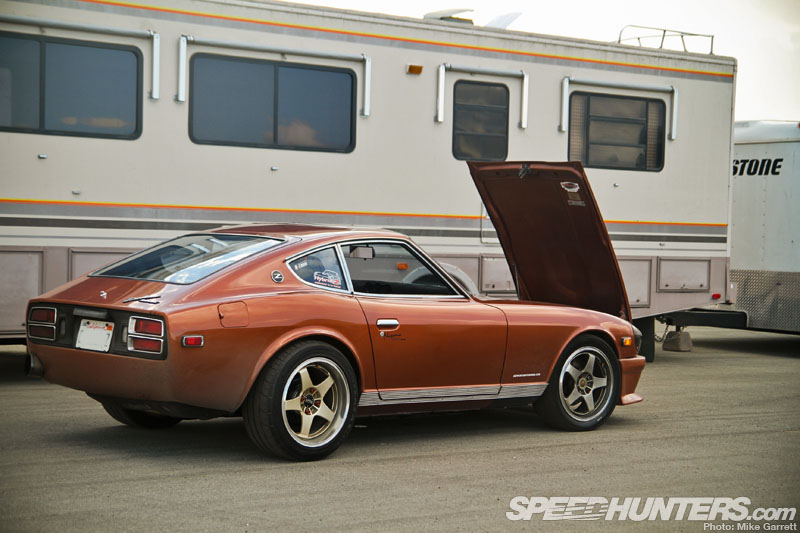 Once I saw this S30 in the pits I immediately assumed it had something other than a Nissan L-series inline six under the hood.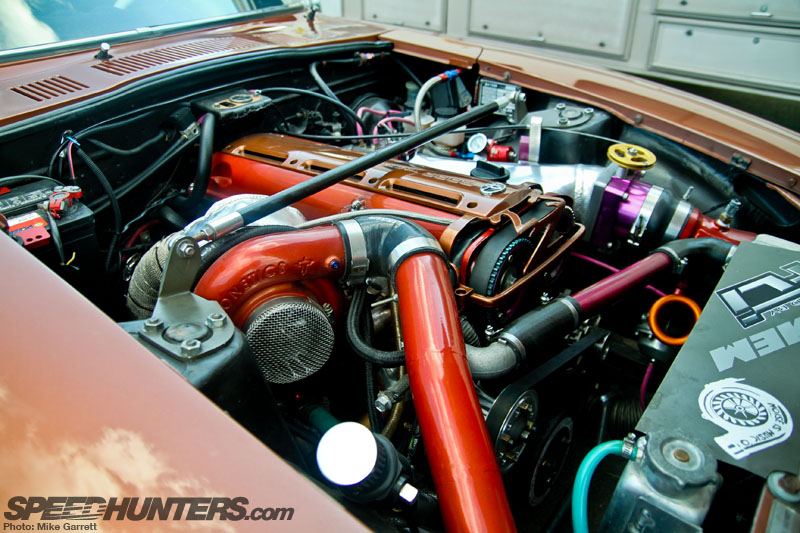 Turns out it was powered by an inline six. Not an L-motor though, but a single turbo-fed 2JZ.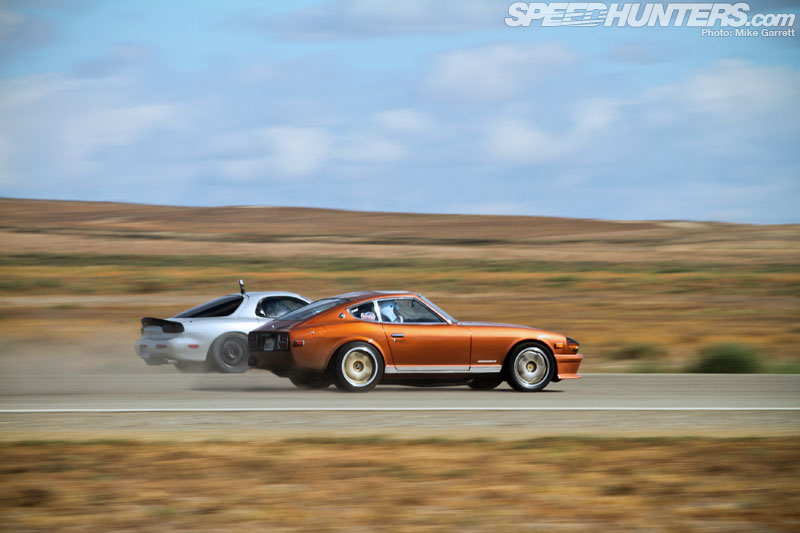 Being one of the lightest cars at the event, the little squirly little Datsun was very fun to watch. You can see it right here running alongside the turbo LS-swapped FD. Definitely one of the fastest S30 street cars I've seen.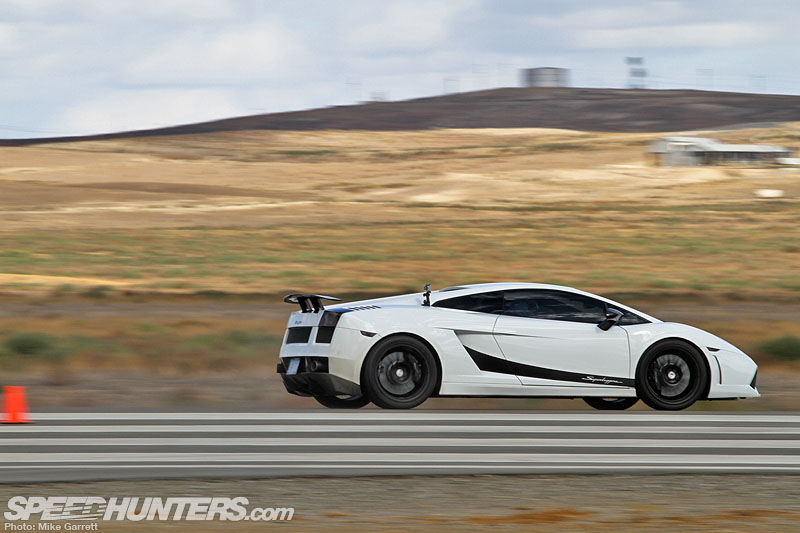 Few cars at the event got more attention than this Underground Racing twin turbo Gallardo Superleggera out of Minnesota.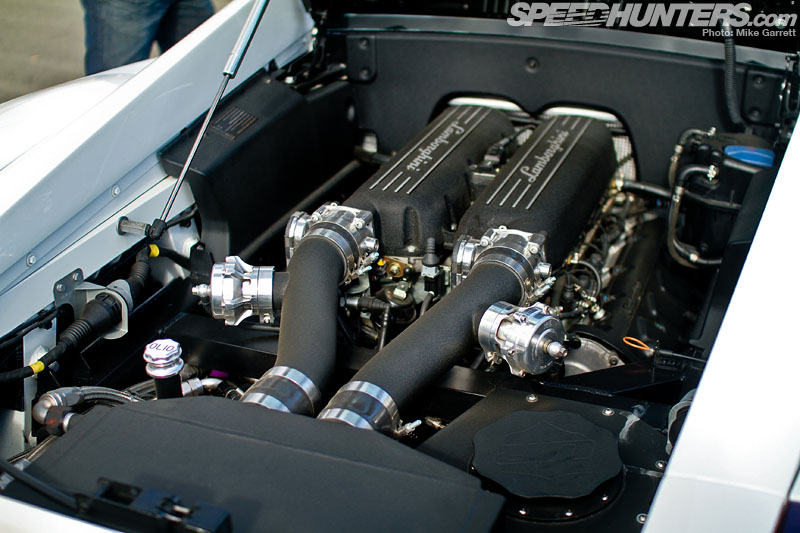 Of course with the rear bumper installed, much of the UGR magic is hidden away from view…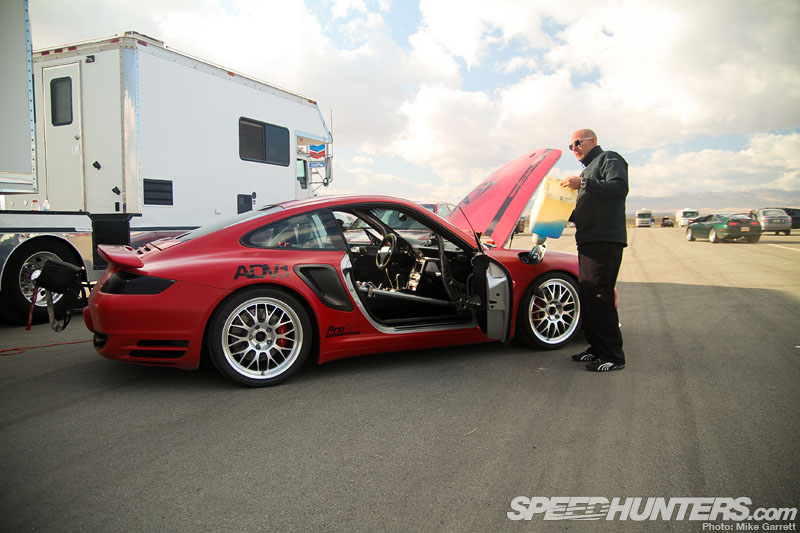 Also joining in the fun was the "Mayhem" Porsche 997 from Arizona-based Evolution Motorsports. This is the same 1,500HP monster that hit 234 miles per hour at the Texas Mile last year.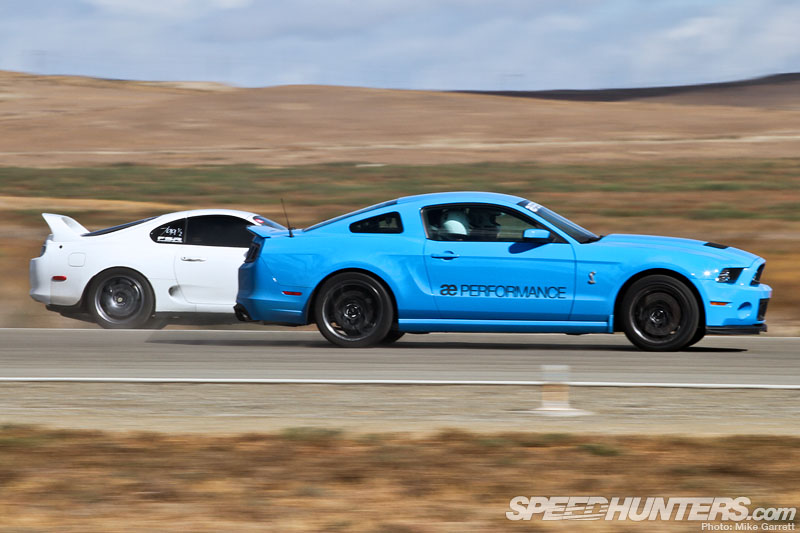 In a way, the entire Airstrip Attack event was like seeing YouTube flame wars and car forum bench racing brought to life. Better yet, it happened not on a dark freeway somewhere, but in a safe, friendly, and enjoyable environment.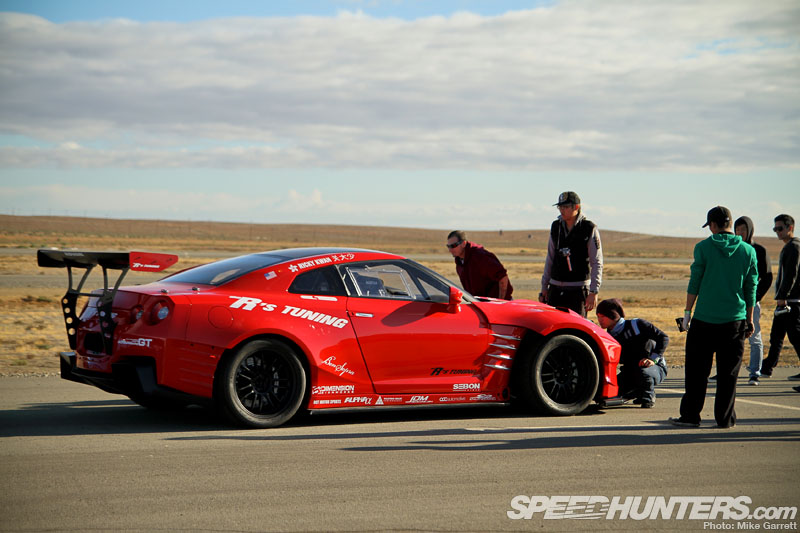 I'm already looking forward to the next time Shift S3ctor gathers up these machines for another weekend of flat out running.
See you out there!
-Mike