I felt like banging my head against a wall when I first saw Dean Meeson's Lotus Esprit, that was at the Retro-Rides Gathering back in August. I'd known of it's recent completion having seen the car on a forum thread, but as we all know the real world is so much better.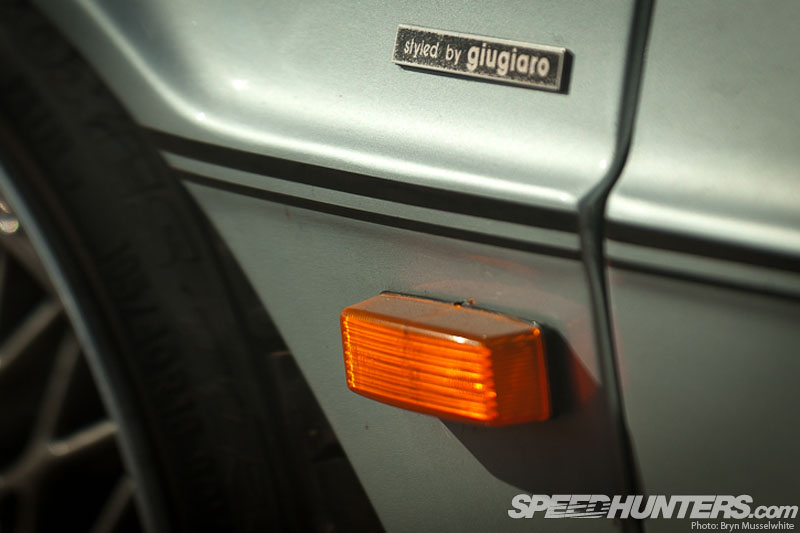 So why was I so keen to bounce my face off a tree? Because what Dean has done is what anyone of us could have done, but didn't. Some of the finest modified cars out there are the simplest. The ones that rely on a few choice modifications, instead of mind bending suspension modifications, complex engine swaps and bodywork hand designed by an Italian coach-builder. Which of course ironically this one has.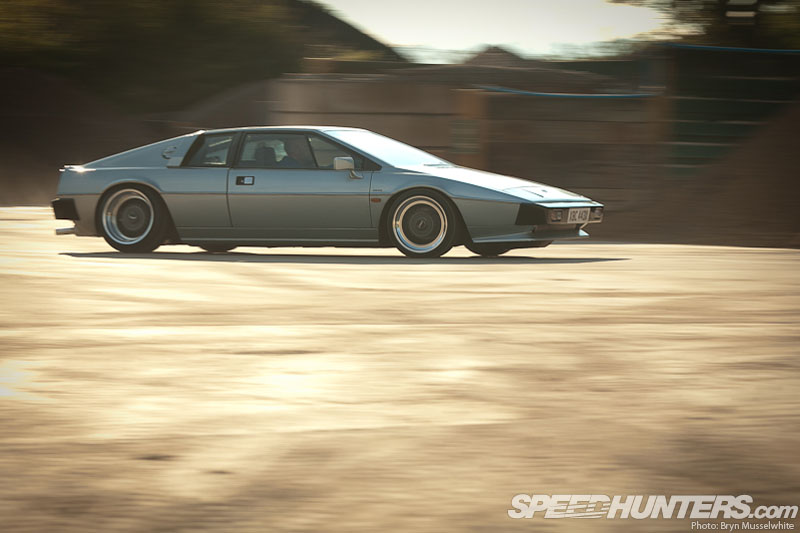 What Dean has also managed to do is tap in to a time that this Lotus sums up perfectly, the late 70s, early 80s. Now I don't care whether you think punk, Nike Waffles, illuminous powdered dessert, Rambo, the birth of VHS, polyester or spangly stickers were the best thing of that time. Because you're wrong…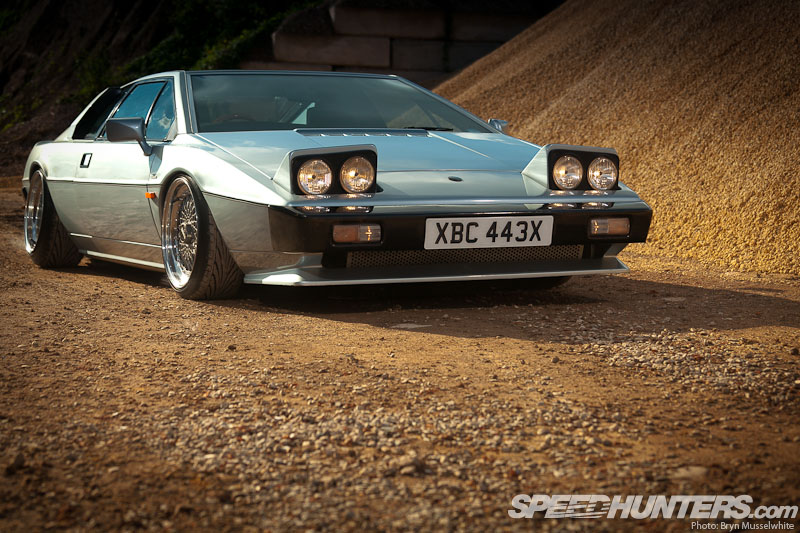 The best thing? Pop up headlights. To me they perfectly illustrate a time just before computers showed up and owned the party. Engineers and aerodynamicists knew they needed slippery shapes and with the engine in the middle the front end could be wedged shaped. Trouble was they only had big, old lamp units to use instead of today's high intensity, projector style units. I love them because you effectively get two different looks with a car, both stamping a mark on a defined time period. One says slick and chic, the other says, hi… IT'S DARK!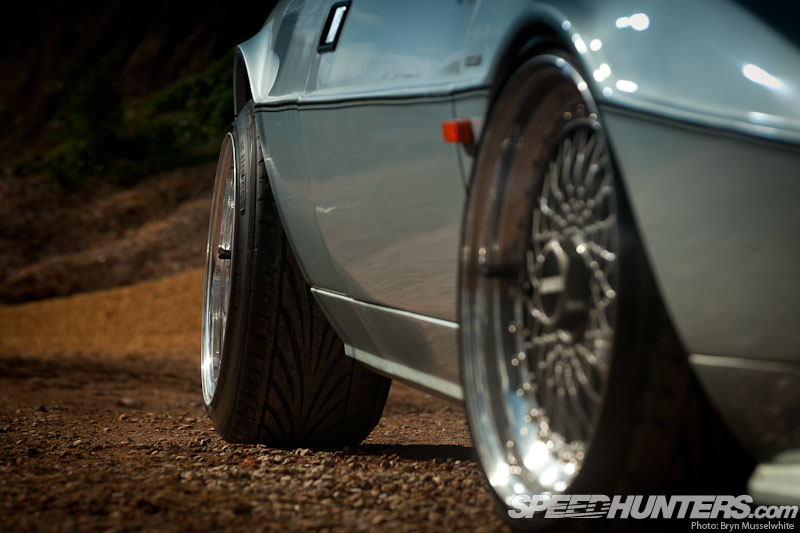 Aside from the fact that it's fitted with air suspension, quite possibly a unique feature on an Esprit (do you know different?), this is a rare vehicle to start with. It's what's referred to as a series 3 and I can not truthfully remember seeing an early generation Esprit on the road in a long time, I mean a really long time.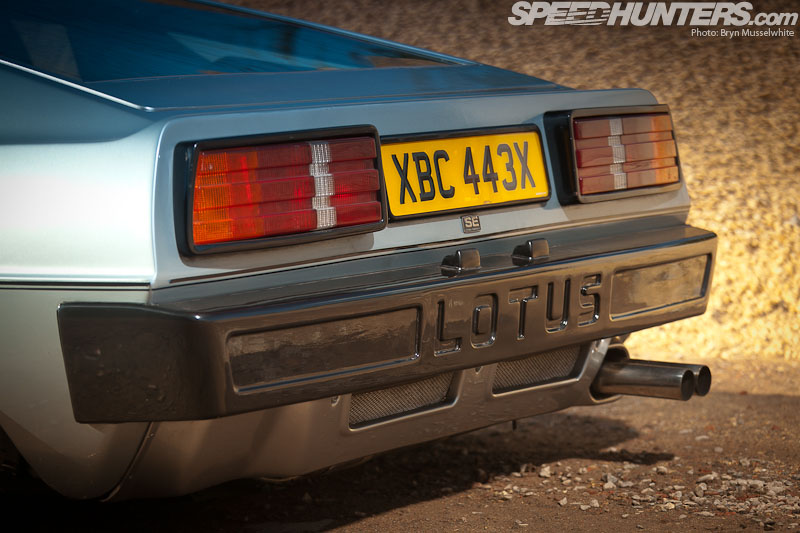 Lotus used the sales slogan, 'When you arrive in a  Lotus… You've arrived,' which even today rings true. If you own an Alfa Romeo like myself and Jonathan Moore, people look at you and feel sorry, as though you felt obliged to tick an automotive box that they wouldn't dare. The same goes for Lotus, they're desirable, look good and performance isn't bad but they have got a bit of a reputation for being problematic. Lots-Of-Trouble usually serious people say… Yet when you pull up in one, it gets 'the' look. The respect.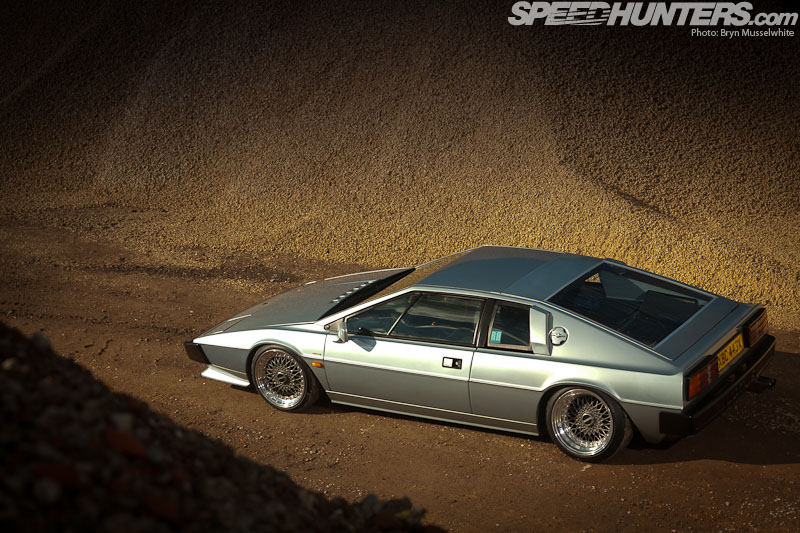 That second take which reminds you Lotus aimed it fairly and squarely at the Porsche 911, with pricing in 1980/1 hanging at around 15K Sterling. Arguably Dean's take on things would grab you more than a 911 now, the popularity of the German offering is undeniable, but is it becoming an obvious route? Would we be featuring a air equipped 911 on a set of detailed rims?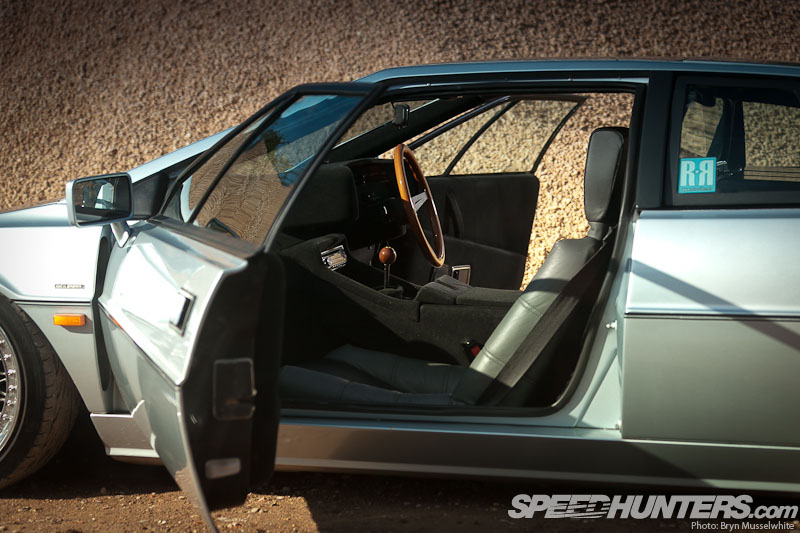 To be fair there is so much more to this Lotus than just a few simple modifications…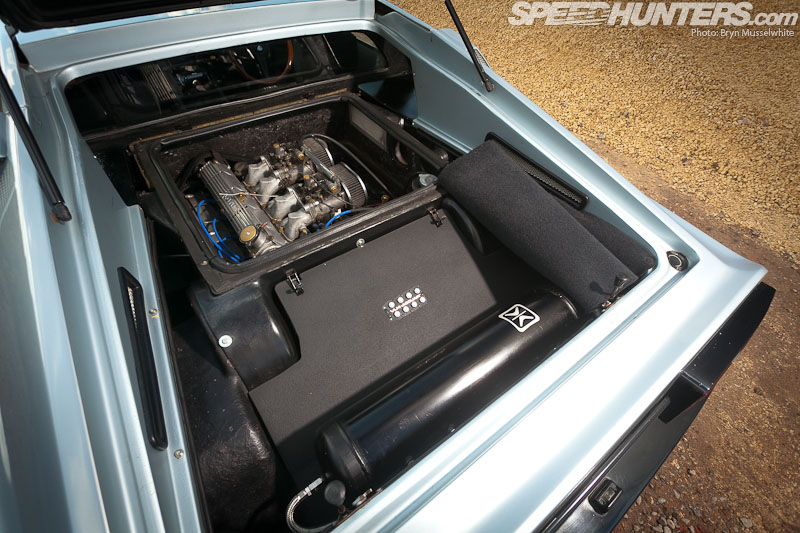 But it's the way those modifications have been presented so simply. Dean has a history of doing things his own way, with his previous project to the Lotus being a Yamaha R1 engined Mini. That in itself was destined to be a bit of fun but turned in to a maximum detail build with magazine features to show for it all.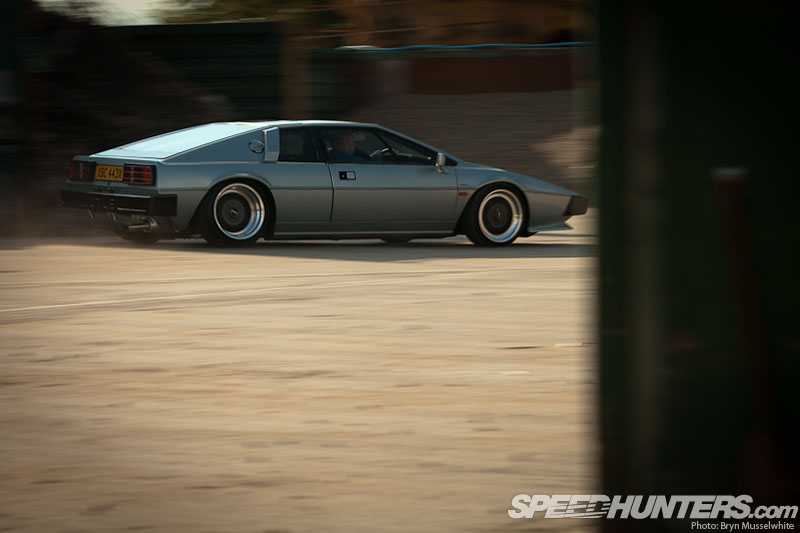 So how do you end up replacing a bike engined Mini with a mid engined 80s supercar? For Dean it was all a matter of nostalgia, as he really wanted a car the same age as him. Initially he also considered a similarly wedge shaped TVR 350i, but when this Esprit appeared at the right price, he picked it up in April 2012.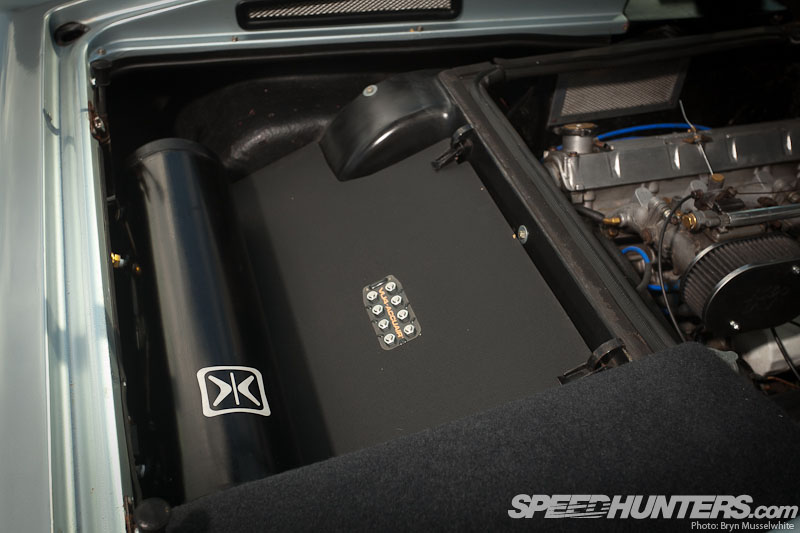 It needed some work, but this suited Dean as he's an engineer and after building the Mini we guess it'd be odd having a project that he didn't turn a spanner on. We're guessing it didn't need an Accuair system, so why go for it then Dean? 'I wanted something individual, something a little bit different and it wouldn't have worked on coilovers.' Having been to Dean's house we can verify he wouldn't have got it off his drive at the kind of height it starts to look good at…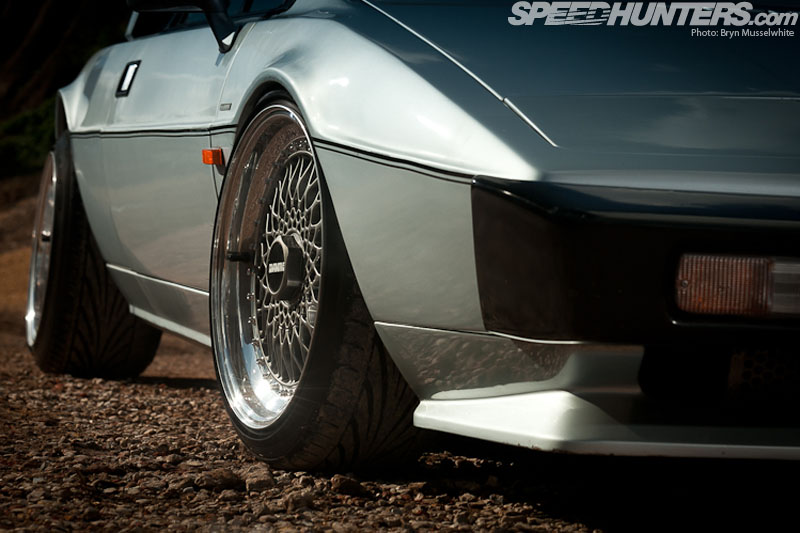 With the cleverly reworked suspension, Dean can now do as he pleases. True you might think air is cheating, counter intuitive to handling and all other sorts of essentially flawed arguments. However the truth remains, it works for Dean and looks so good.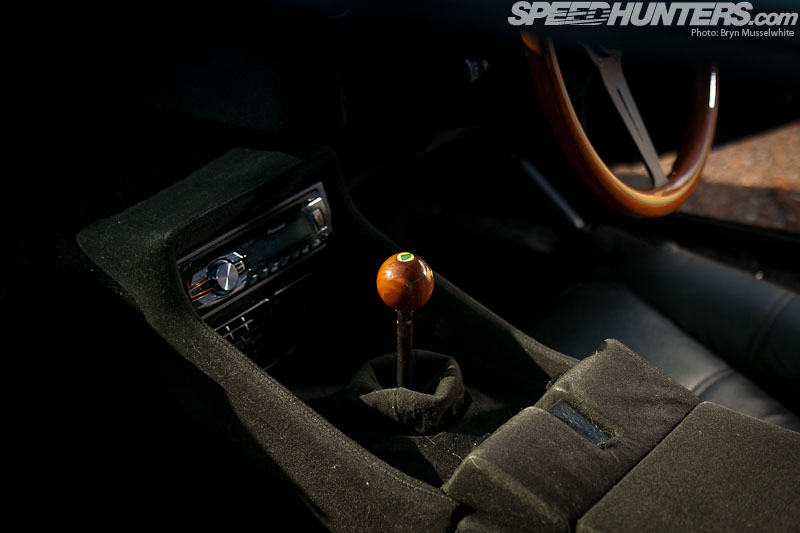 Taking a look inside you realise that it's a special place, even before the Alcantara retrimming that Dean did or the Nardi rim he added. It feels like you should be headed for a Monte Carlo casino instead of the corner store, close your eyes and imagine wood, leather and Alcantara working together. It doesn't quite work does it?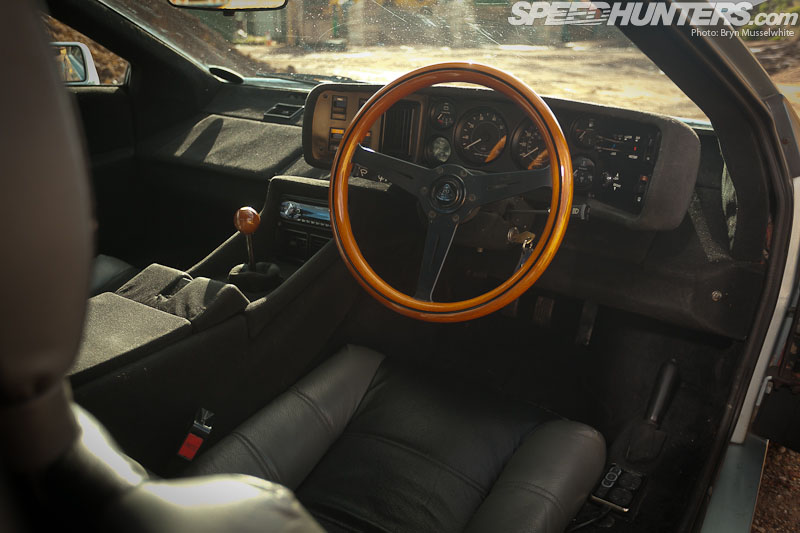 Open them and here is the proof that it can. Note the sill mounted handbrake and small air system remote too.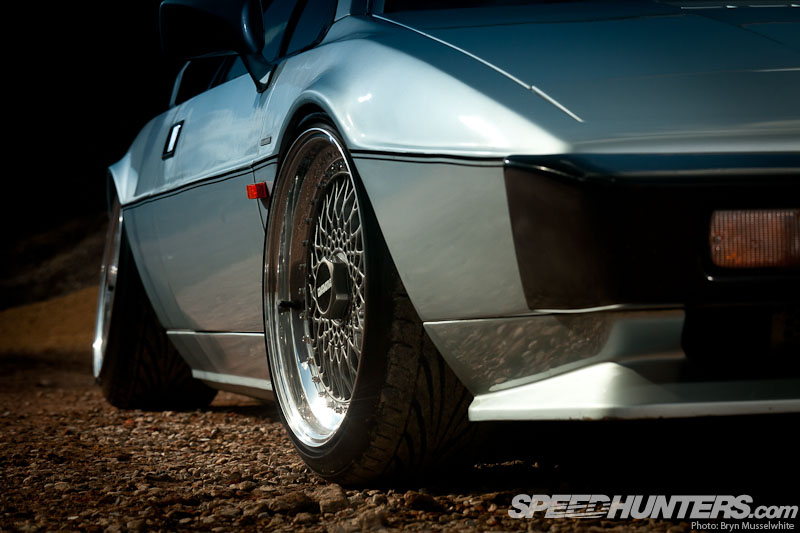 Dean is a stickler for detail and his wheel choice is pretty much perfect in my eyes too.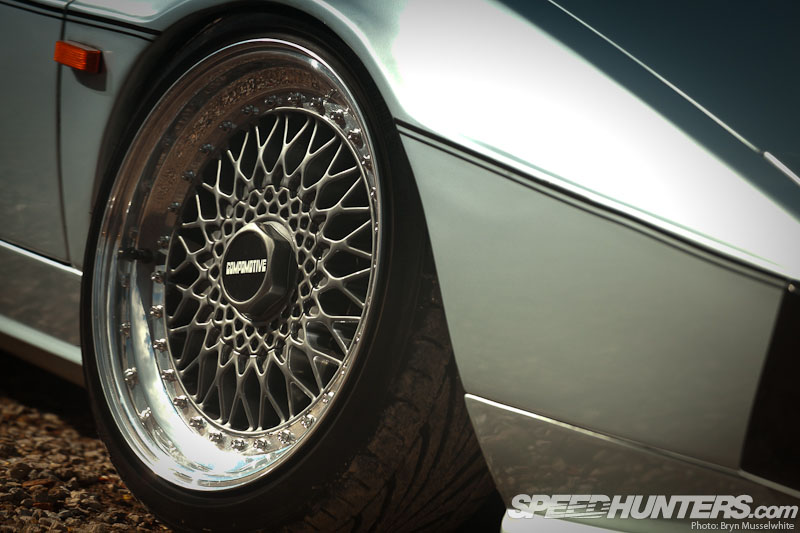 He did consider Jaguar XJ220 rims, which are of a slab design but I reckon these Compomotive CXN's work perfectly. At first they may appear an obvious choice given their period design. But the attention to fitment, with some subtle spacing and well observed detailing make them work with the rest of the car. They're local too, being originally made up the road from Dean's Worcestershire base in Birmingham.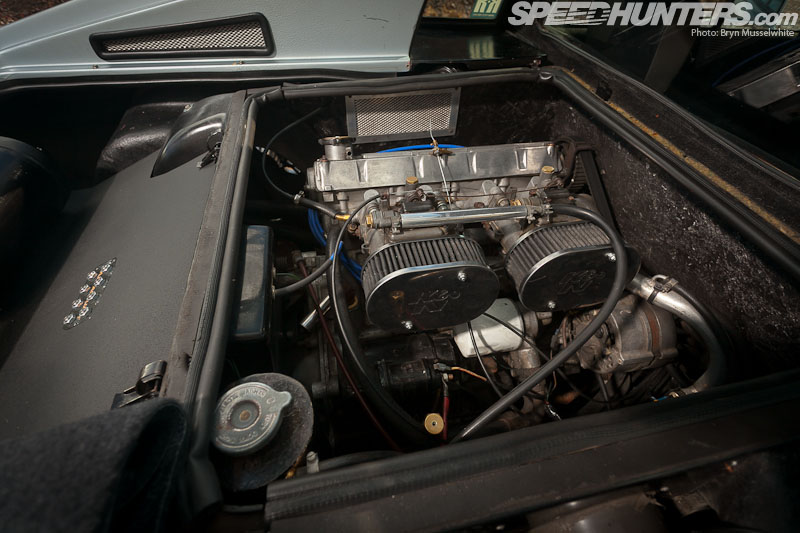 When you're looking to tick the 80s sportscar boxes, the three most important ones have to be mid-engined, GRP and those pop up headlights. In these pictures you can see the slant four cylinder, 2.2 litre Lotus engine that the Esprit would have come with originally. Right now though, that's out of the way and a 24valve, Alfa Romeo V6 is dangling on a stand waiting to go in. Dean tells me the sump lines up and the engine itself is only a little bit heavier. His reasons for the swap include 'practicality and reliability', I laugh when Dean says this as he's talking about a Lotus and an Alfa Romeo. Two notorious manufacturers, but as he says, "Given Lotus aren't that reliable, even Alfa Romeo are better…"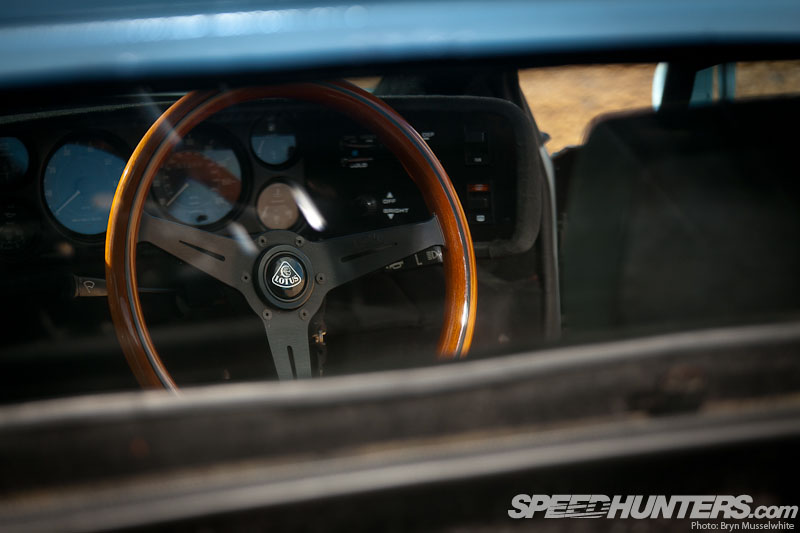 With the new engine installed, Dean intends to take in some European road trips next year. Already on the list are following the Tour De France, Nurburgring and Stelvio passes, which sounds like a plan to us, maybe he will get to pull up outside the casino in Monte Carlo after all.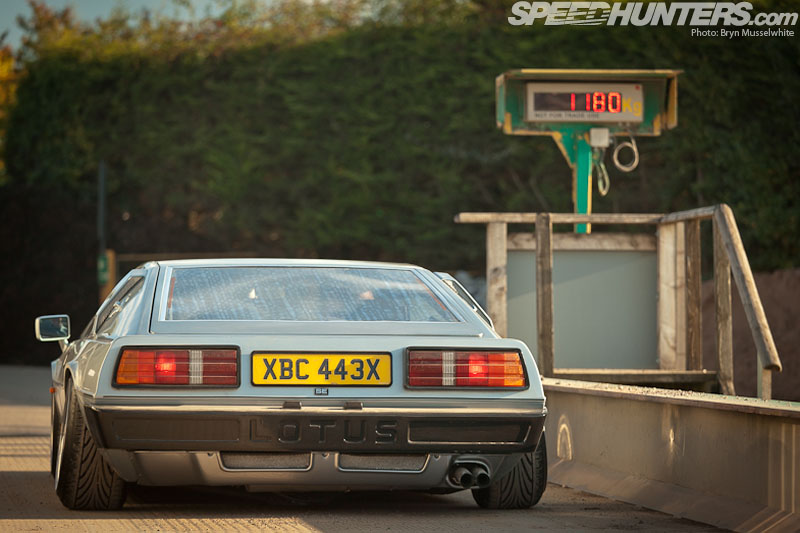 Dean reckons that a lot of people think glassfibre cars are uncool, but it's plastic all the way for him right now, as he says, "It's all about the smile factor, most of these just go to shows and back. After the Mini turned out too good, I built this to use."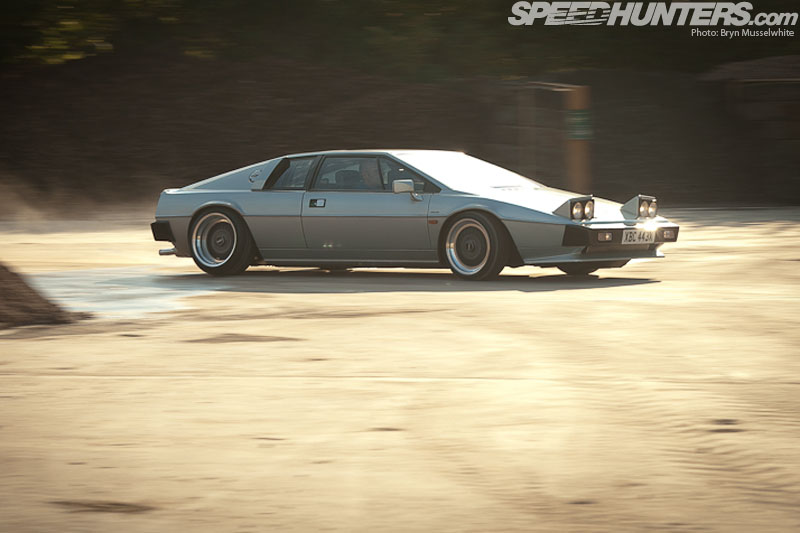 To save my head from further potential damage I'm going to make more of an effort to look at plenty of different vehicles, in plenty of different ways. And remember, I drive a stripped out and caged Volvo 240 estate, so I'm not exactly a straight down the line kind of guy. In fact I think we could all learn something from the way Dean looks at things, because the view is ace.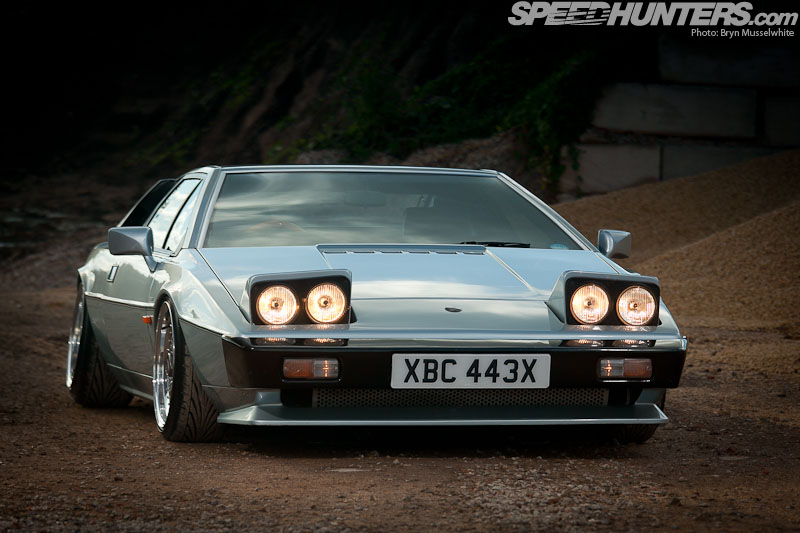 Especially when that view is lit by POP UP HEADLIGHTS!
………………………………
Lotus Esprit Series 3
Engine
2.2 Lotus twin-cam, twin Dellorto DHLA4SE carbs, Magnecor leads, K&N Filters, heat wrapped custom made straight through stainless exhaust, two batteries with split charging system for air system compressor
Wheels
8&10x16in Compomotive CXn split rims, 25&40mm spacers front and rear, 195/40×16 and 225/40×16 Toyo Proxes tyres
Suspension
AccuAir VU4 valve block with 3/8 lines, twin VIAIR 400cc compressors, black anodised five gallon air tank, Ridetech shockwave double convoluted single adjustment struts, custom lower front control arms, modified upper control arms, polybushed throughout
Exterior
Standard aside from deleted side trim
Interior
Nardi wood rim steering wheel, wooden Lotus gearknob, dashboard retrimmed in Alcantara, air system control on remote, grey leather seats
Thanks go to SE Davis & Son, Redditch, for the use of their yard as a location