I think it's safe to say that every member of the Speedhunters team present at Irwindale Speedway this weekend is feeling pretty exhausted at this point. Whether it was working on our #FEATURETHIS or #IAMTHESPEEDHUNTER activities, chatting with readers in the Speedhunters booth, or recording the nail-biting action that unfolded on track Saturday evening, we have yet to fully recover from the madness of Irwindale.
Yet even with the constant activity in the booth and the drama of the championship fight in the air, our simple love for the car is not to be forgotten beneath all of this excitement.
After all, that's what brought all of us here in the first place.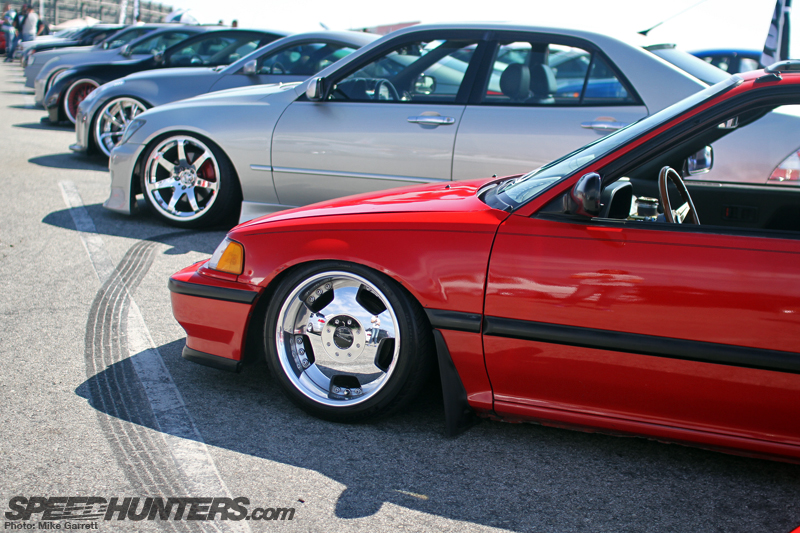 With that in mind, I'd like to focus my own portion of the Formula Drift Irwindale event coverage on well…the cars. In this particular case I'm not talking about the beastly drift machines that did battle on the banking, but on the cars that wear license plates and made it to the event under their own power. Today's Formula Drift events are absolute spectacles in terms crowds and the level of competition, but the presence of these street cars in and around the events help keep everything grounded in automotive reality.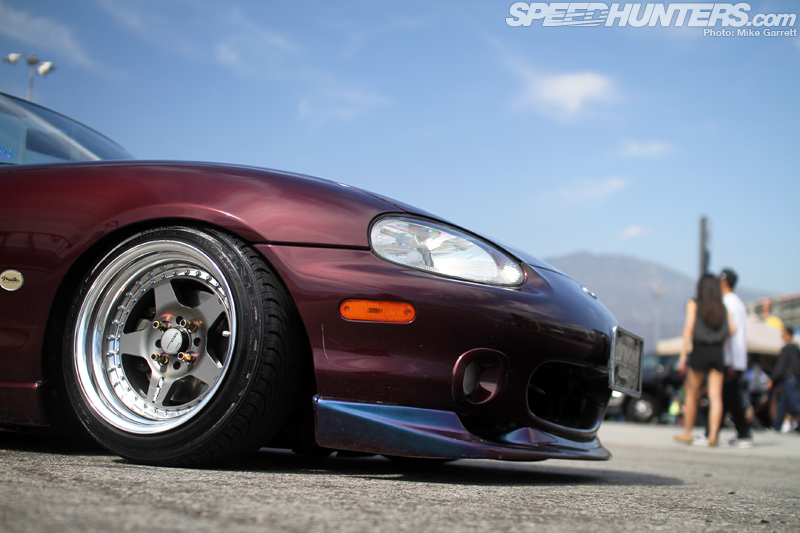 For the first of my two posts I'd like share to some observations from Saturday's Fatlace Slammed Society Showcase, to be followed by a stroll through Irwindale Speedway's spectator parking lot.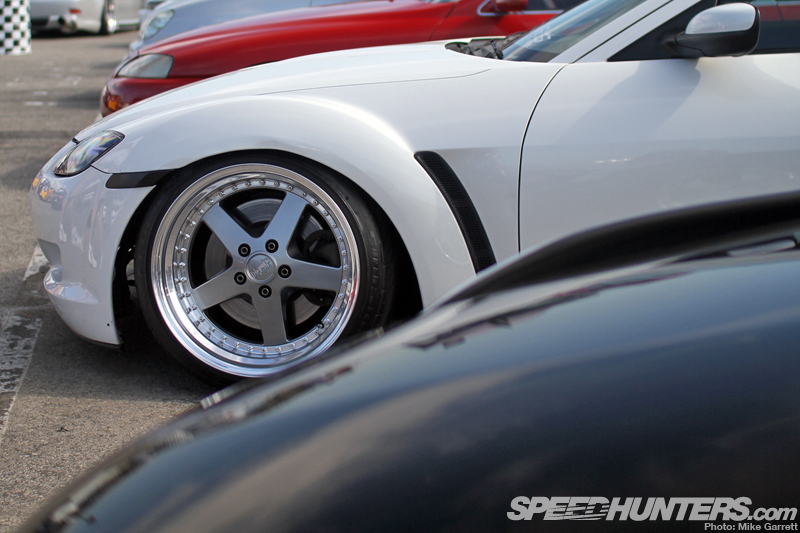 Of course I wasn't the only Speedhunter who found themselves wandering the Slammed Society event this weekend. Sean Klingelhoefer was faced with the difficult task of selecting one outstanding vehicle to be awarded a full feature (shot on the spot!) as part of the stateside debut of our "live" #FEATURETHIS program. Sean will be along soon to take you guys through his selection process, but I'll start with a general walkthrough of the show along with some of my own impressions.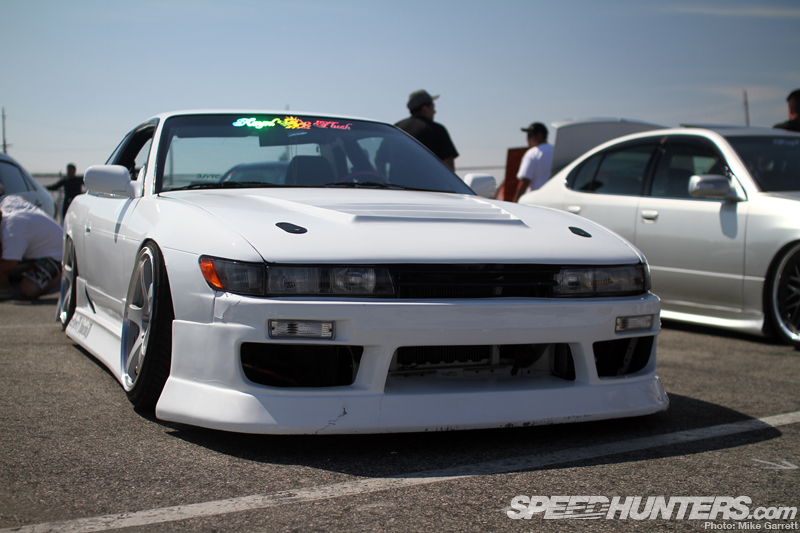 For me it's been quite some time since I've attended one of Fatlace's car gatherings, so I was anxious to check in and see how this scene was evolving. Because they are set against the backdrop of the glitz of Formula Drift competition, these static car displays sometimes get lost in the flood of activity, but I found plenty of noteworthy machines assembled on Saturday.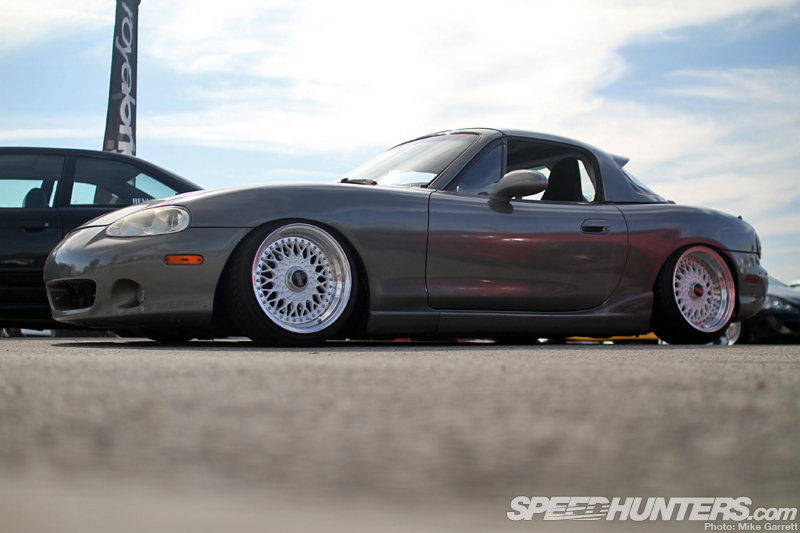 One of the first things that jumped out at me as I made my way around the show was the large number of customized Mazda Miatas on hand. The changing attitudes regarding these lovable little sports cars has been extremely fascinating to watch over the last half decade or so.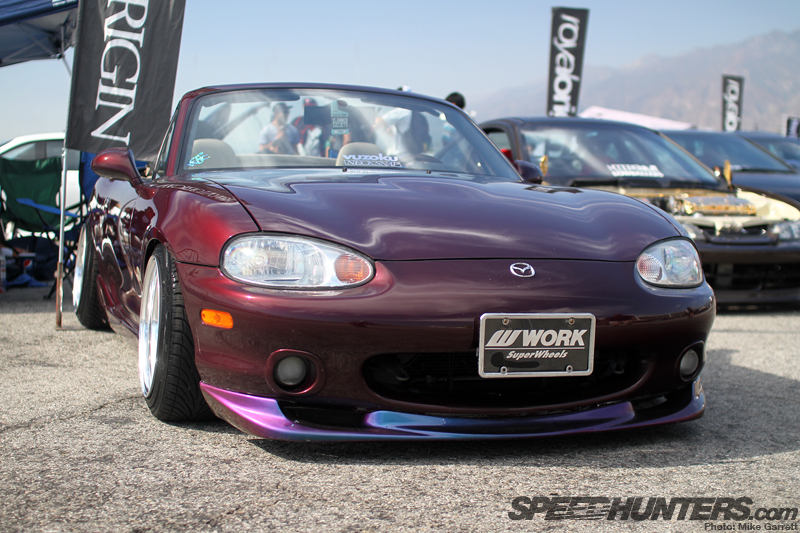 Of course the Miata has been popular among weekend racers and traditional sports car fans since its release in 1990, but for a long time the car's wrongly-earned "feminine" image kept all but a dedicated few from using it as a platform for building cool street cars.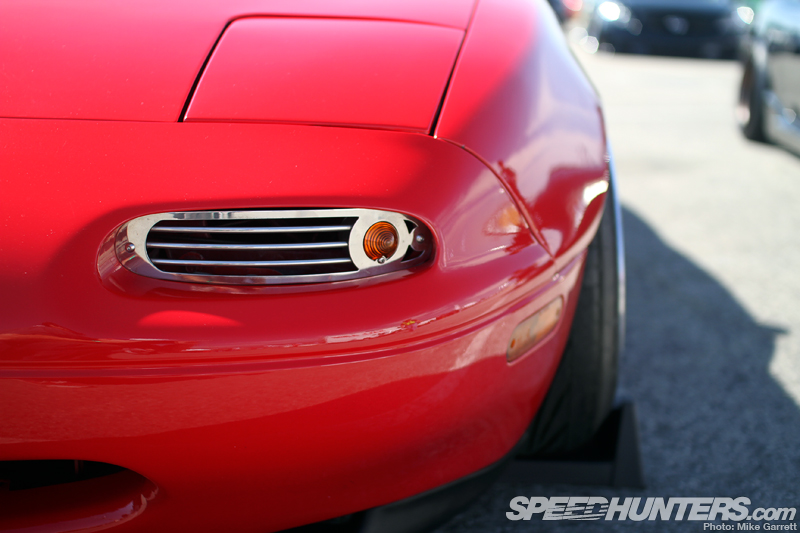 Today things couldn't be more different. In many ways it seems the Miata has become just as popular as the long-established Nissan S-chassis or Honda Civic when it comes to street car builds. Of course there's also a negative side to this as clean, unmodified Miatas are becoming just as rare as stock examples of the aforementioned S-chassis or Civic. All part of the game I suppose.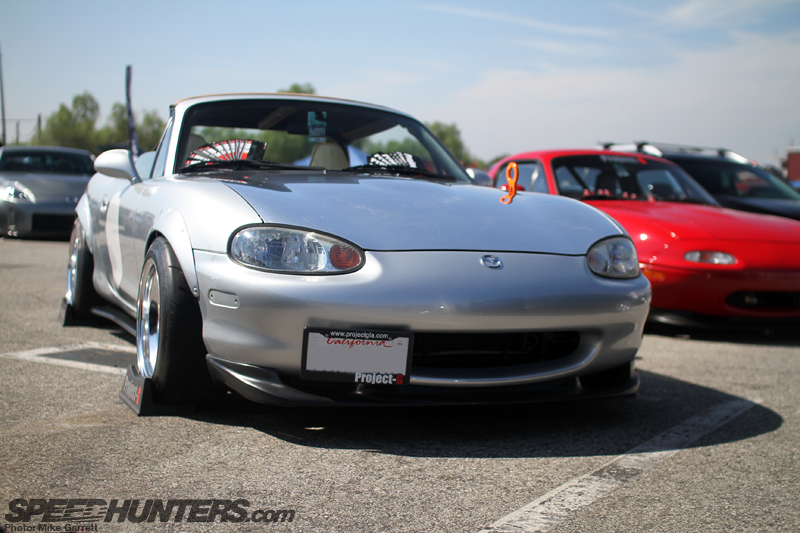 Of all the Miatas present in the Slammed Society my favorite had to be this NB8C representing Project G – a Southern California-based shop that specializes in Miata parts.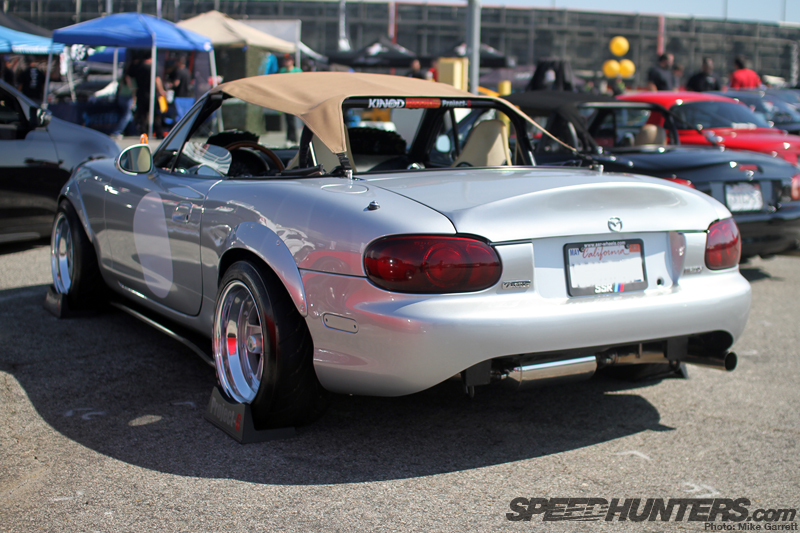 Naturally, the NB was wearing one of Project G's popular "Bikini Tops" – a creative replacement for the more cumbersome factory Miata soft top.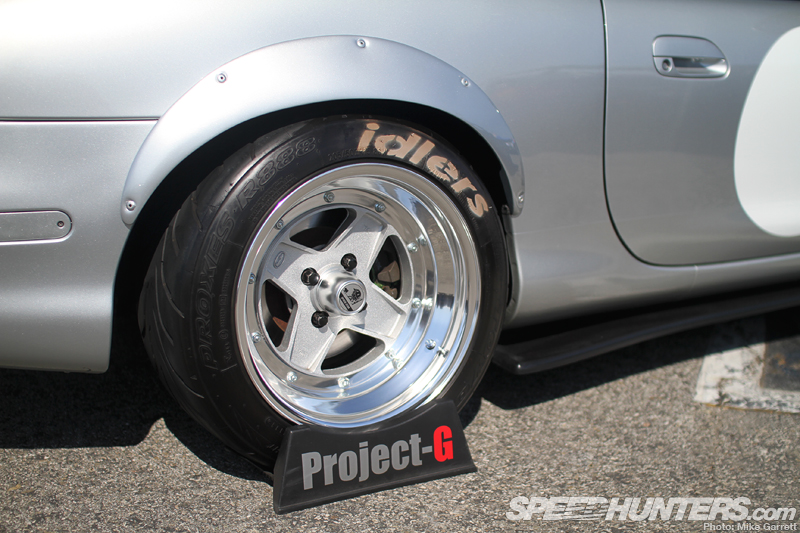 Of course the top is cool, but I think I'm just a sucker for bolt-on flares, fat rubber, and SSR Mk.IIs…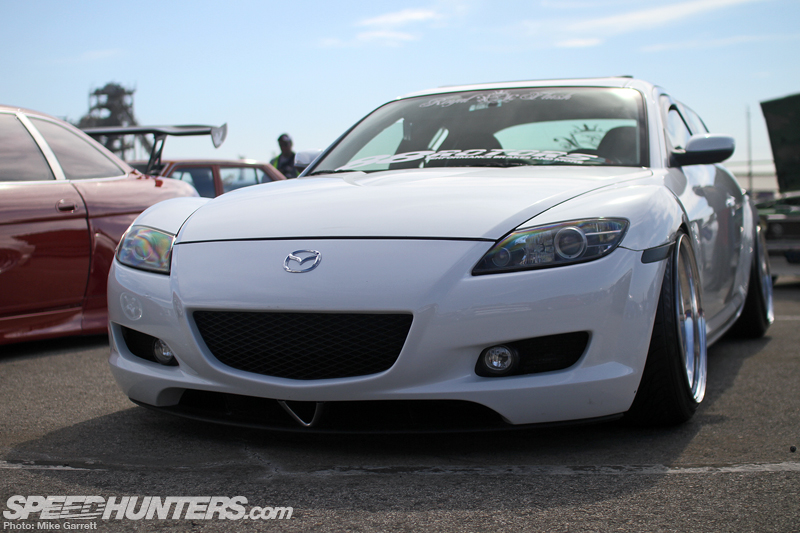 During Dino's coverage of the recent Slammed Society event in Japan, somebody brought up the question of how a Japanese car with Japanese wheels can be considered "USDM Style". It's an interesting question really. My take is that it's more a matter of the car's overall theme rather than the origin of it or its parts. Even though its wearing a set of a Japanese Work Equip wheels, the overall look of this RX-8 is something that many Japanese see as being popularized in the US.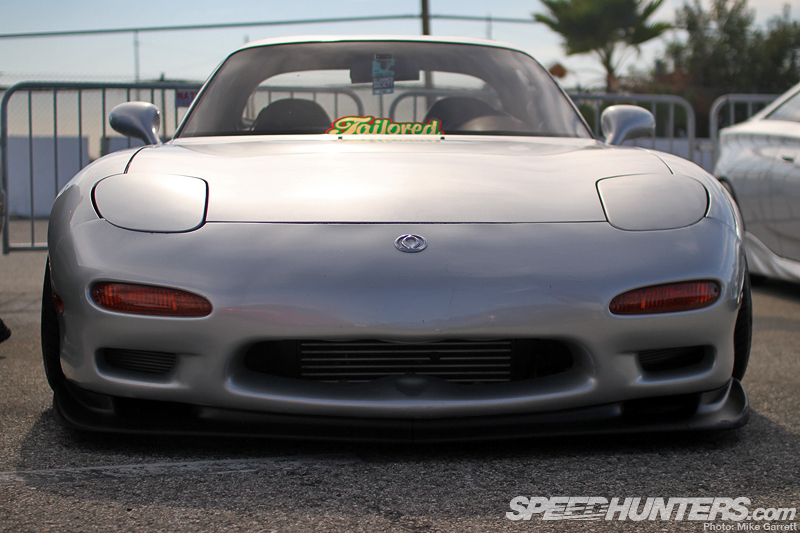 To follow up the RX-8, here's an FD3S RX-7 built in a similar style. Whether you see it as JDM, USDM, or something else – I think most will agree that the result is pretty effective.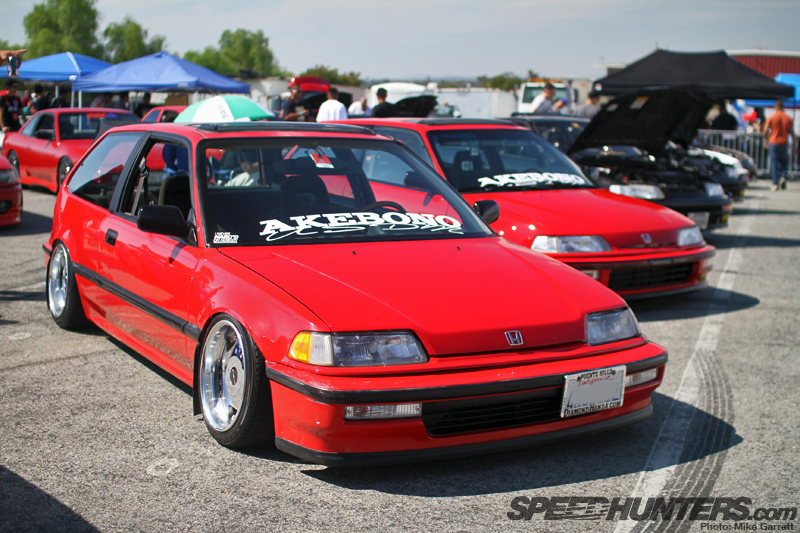 Being a drift event, the Honda turnout here was not particularly big. Even so, there was a nice little slice of Southern California's vibrant Honda culture on hand.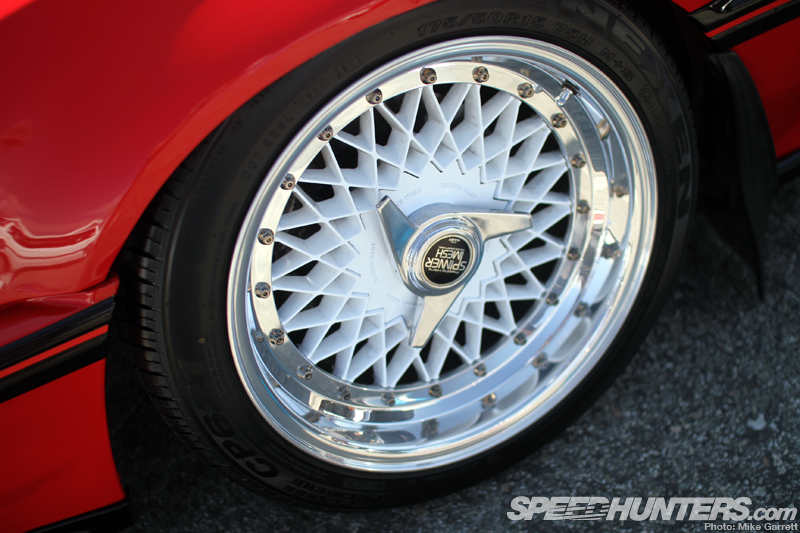 Of course the Hondas that were present were armed with all of the signature touches, be it immaculate sets of period correct wheels…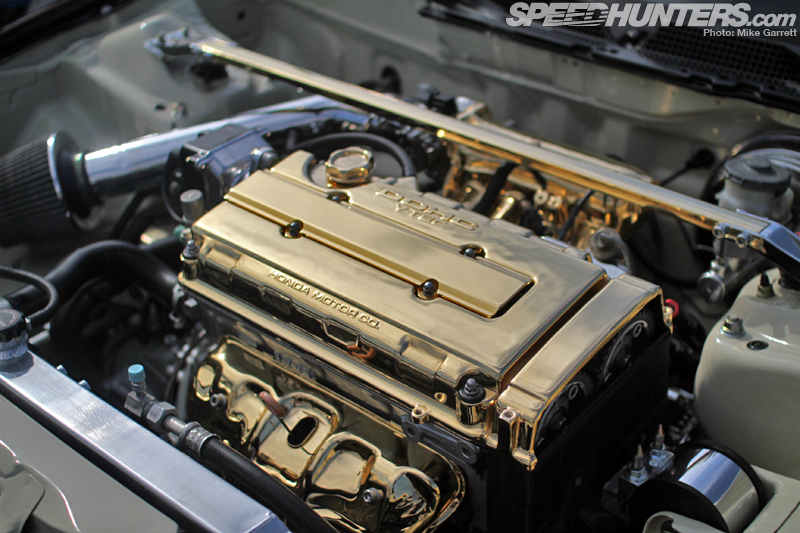 …or their expressive engine bays. It just wouldn't be SoCal without them.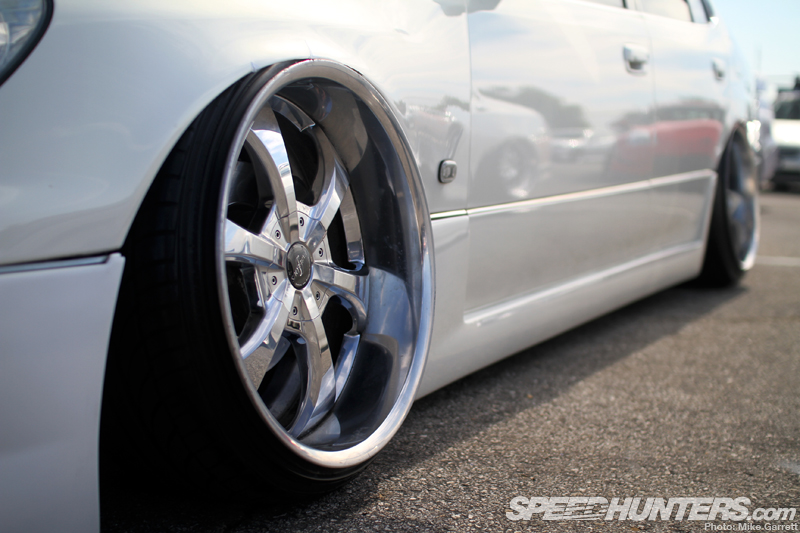 Not to be left out is the selection of VIP cars, with each one seeming to push wheel fitment boundaries further and further. That actually brings me to another observation regarding the difference between VIP cars in the US and in Japan.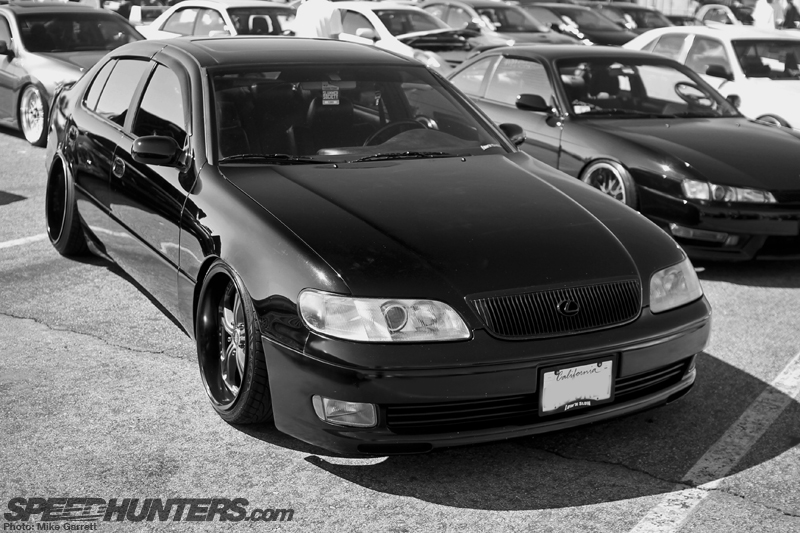 From what I saw the last time I was in Japan, the VIP builders there are continuing to experiment with extravagant custom body work and bold color combos. In the US it seems most cars stick with stock body lines and more traditional colors. That's not to say one method is better than the other, but it's definitely interesting to compare.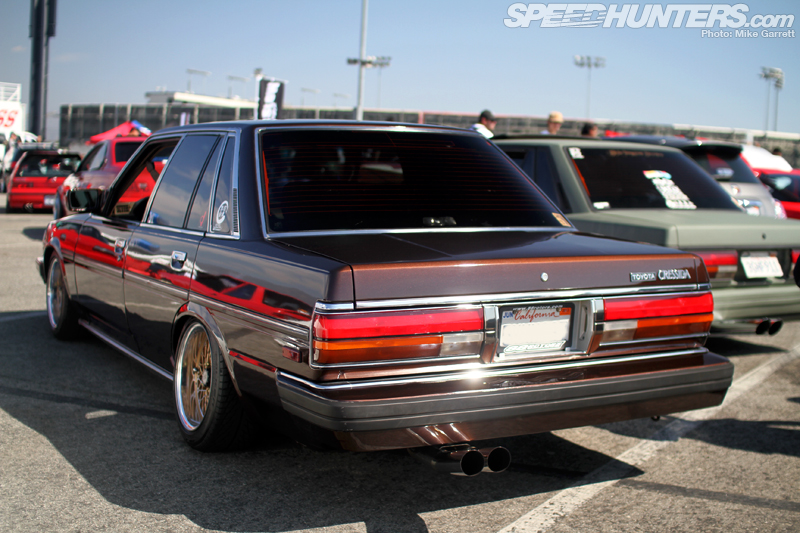 This is a fairly mild take on the MX73 Cressida, but sometimes that's all you need. The root beer color works quite well with those 1980s lines.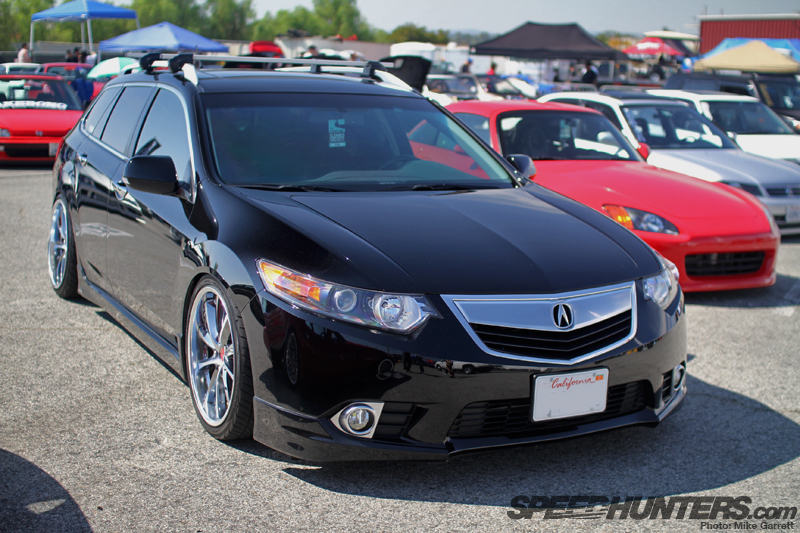 This is car you don't see often at events in the US, or on the roads at all for that matter – an Acura TSX Wagon.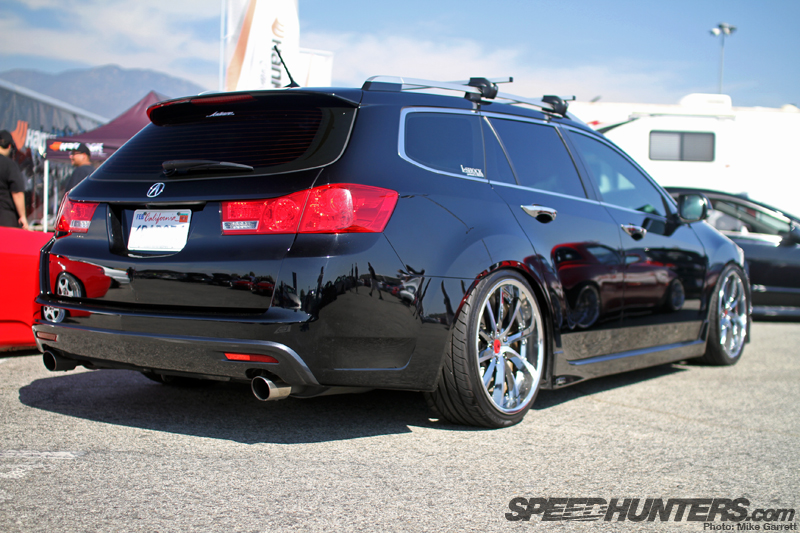 When you are starting off with car as unique as this one, it doesn't take a whole lot to make a statement. In this case a decent drop and a proper set of wheels are more than enough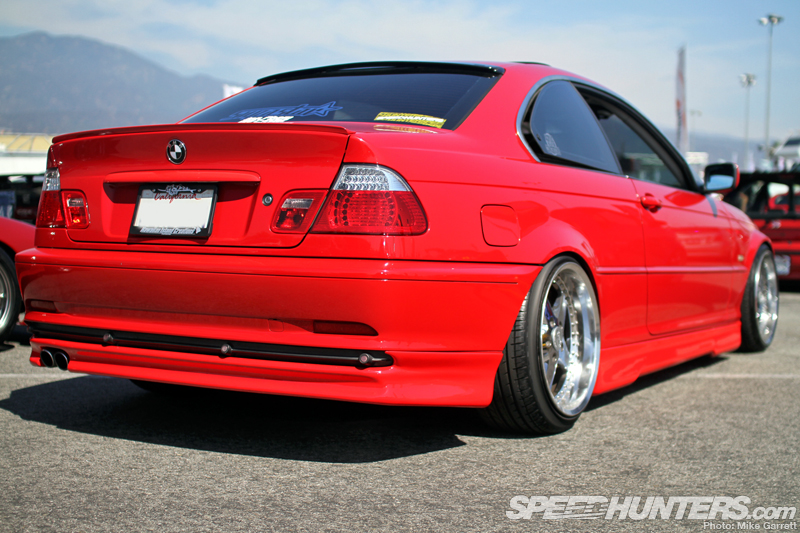 In case you were under the impression that this event consisted only of Japanese cars, let's not overlook the big contingent of European machinery that was on hand.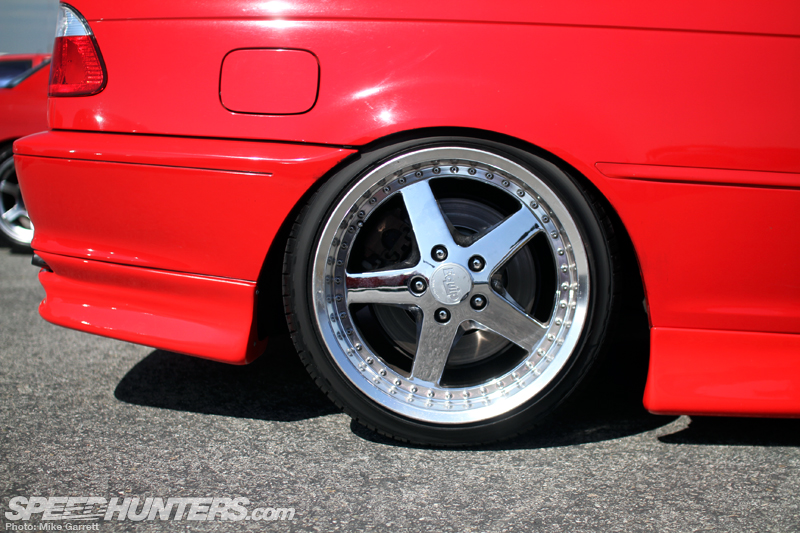 They may have been originated on opposite sides of the world, but stylistically the Japanese and Euro machines were very much occupying the same neighborhood. Who can argue with a gleaming set of Equips matched with an E46 coupe?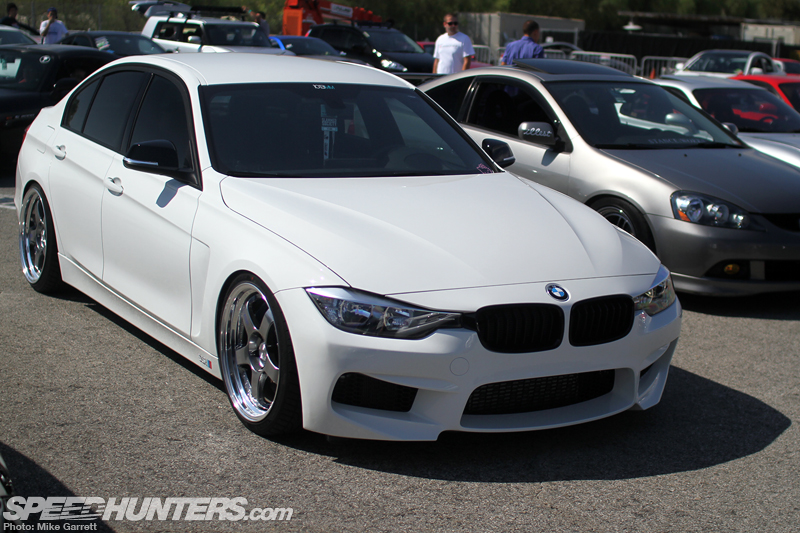 Just in case you somehow weren't aware by now, SSR SP1s do in fact look good on everything….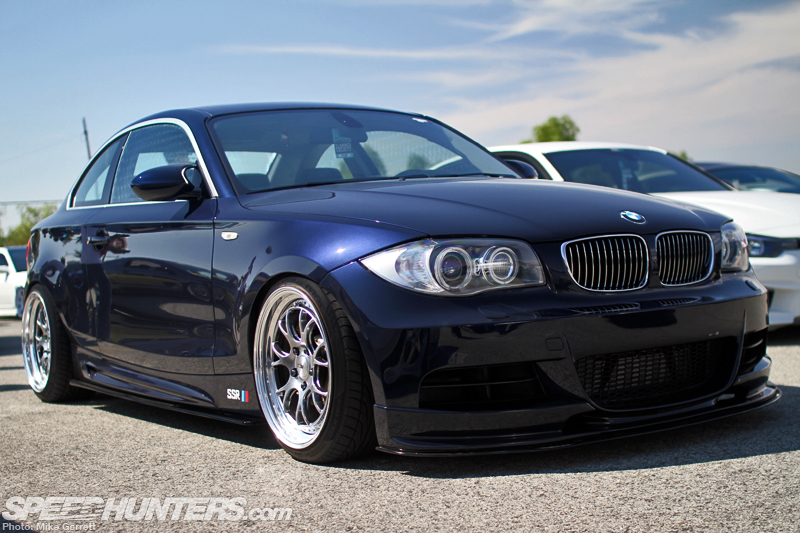 One of the nicest 1-Series Bimmers I've seen in the US. Hands down.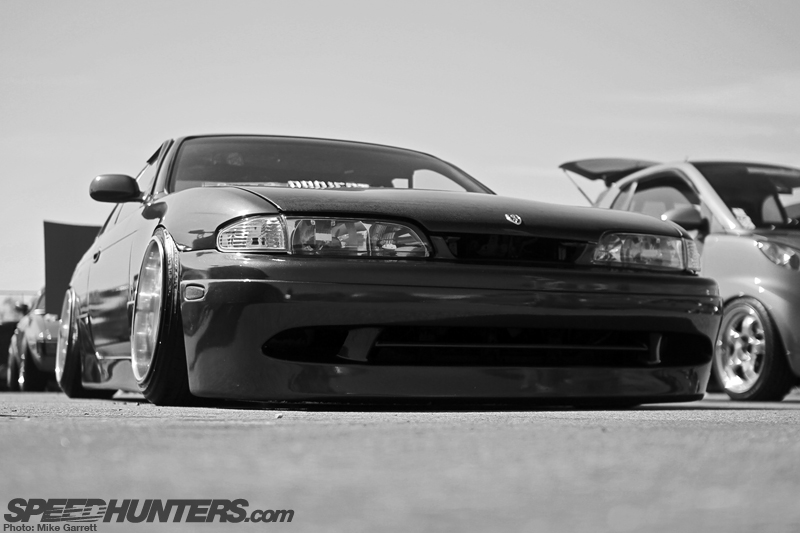 Sometimes it's hard to imagine that this smooth and slammed S14 shares its origins with many of the S-chassis race cars that were smoking up the track just a couple hundred yards away…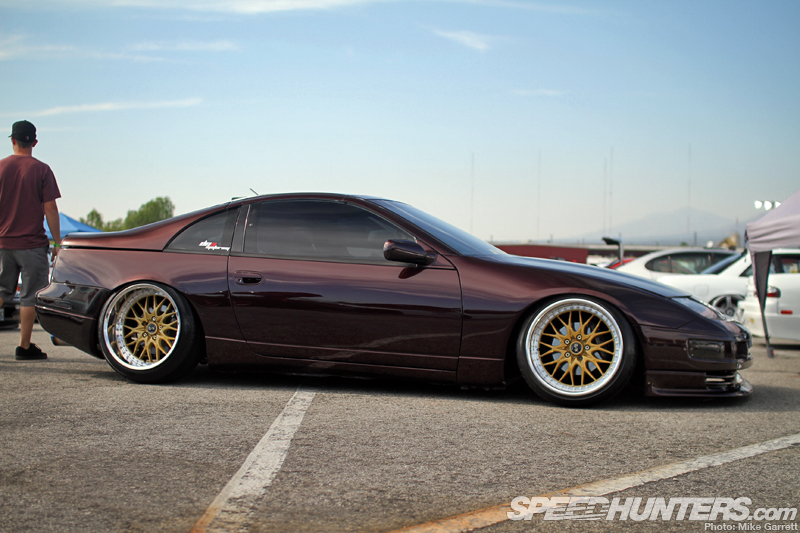 Is it just me or has there been an increase in proper Z32 builds recently? Are people rediscovering the potential of this beast of the '90s? Whatever the case, this Z was spot on.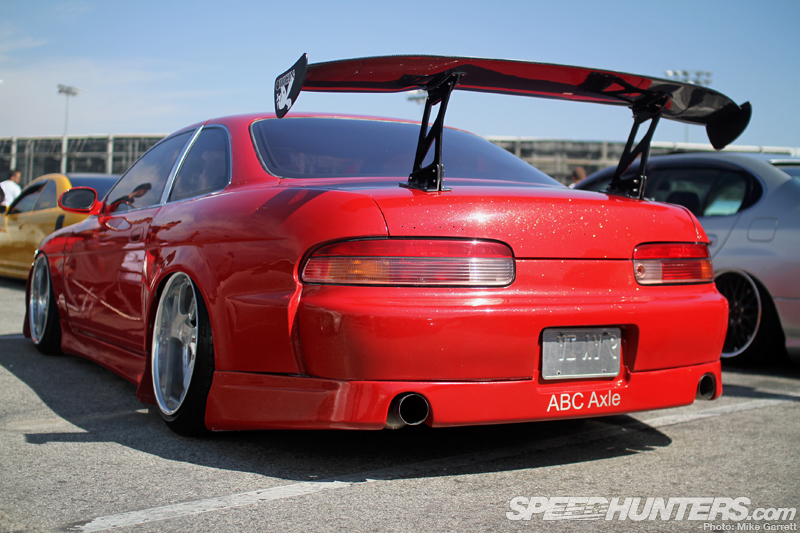 Sometimes it's funny to think how much certain cars have been altered from their original purpose. Take this Lexus SC for example. Who could imagine this velvety smooth country club cruiser from the 1990s being reimagined as a metal-flake covered, big-winged, wide body street beast? It's like the daughter from a well to do family getting caught up with the "bad crowd".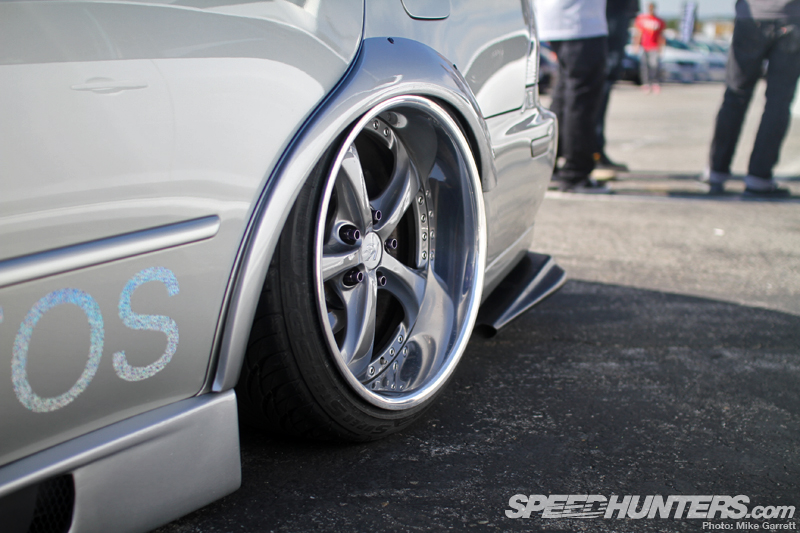 For me it's those sort of strange thoughts that make that make these events so enjoyable to experience.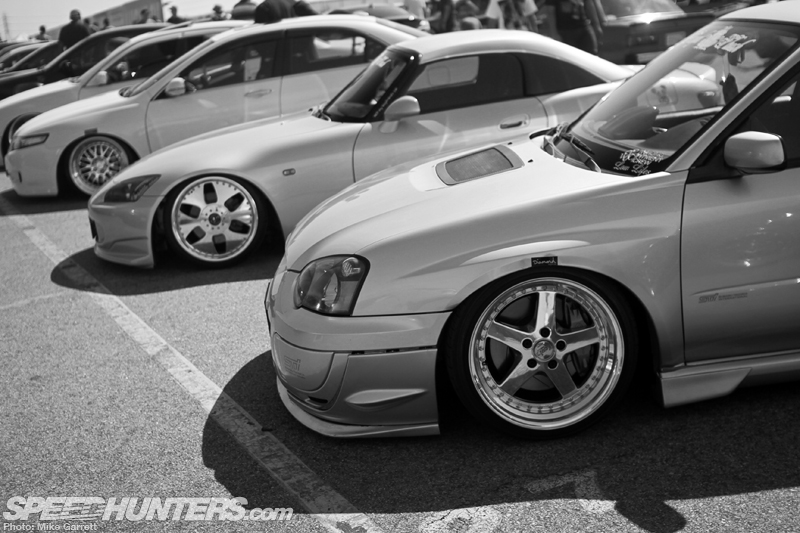 That will do it for my take on the Irwindale Slammed Society Showcase. I'll be back soon to venture outside the gates for an equally interesting stroll for the parking lot.
-Mike