I suppose it's only fitting that we begin our main SEMA Show event coverage with a look at the car displays located outside the Las Vegas Convention Center. In the years past we've always found that the machines sitting outside to be just as interesting as the ones within the display halls, and this year is no different.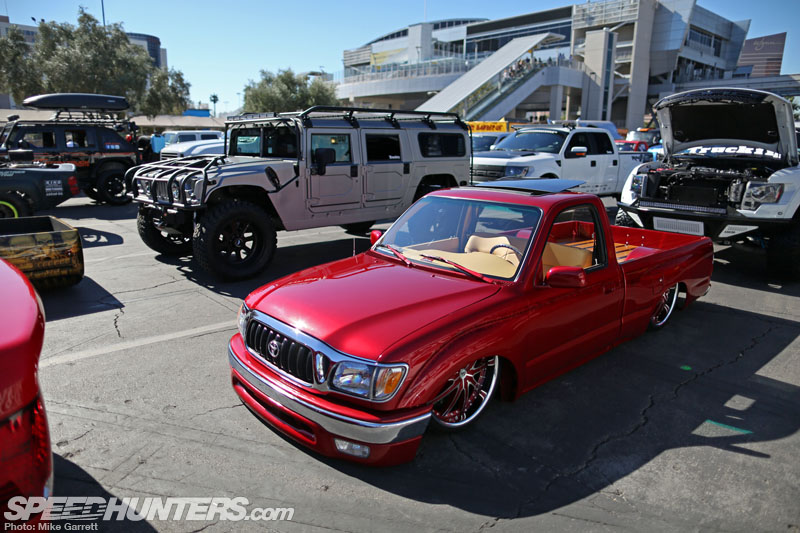 Unlike the the cars sitting inside on the show floor, many of the vehicles outside the show are not representing a single company. Instead, this part of SEMA is more like a big car show than it is a trade show.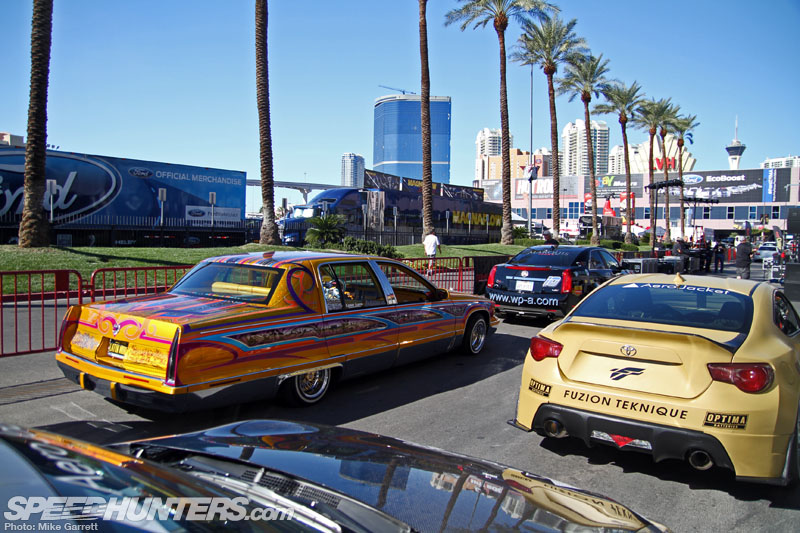 But the great thing is, it's the most diverse car show you've ever seen. This is where 4×4 trucks jacked into the sky sit inches from airbagged kustoms and Time Attack cars.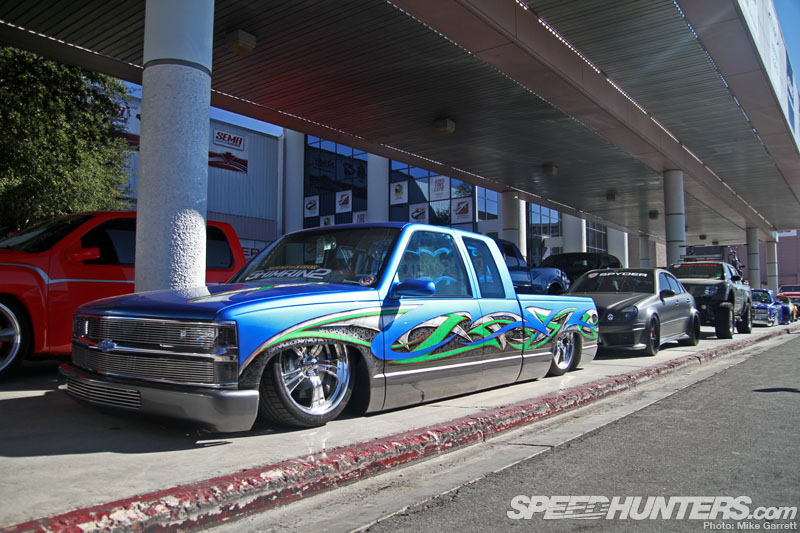 So with that said, I thought I'd try to make some sense of it all and share some observations from the sun-drenched outdoor area. I'd certainly be lying if I said that I liked everything I saw, but that's all part of the fun of SEMA.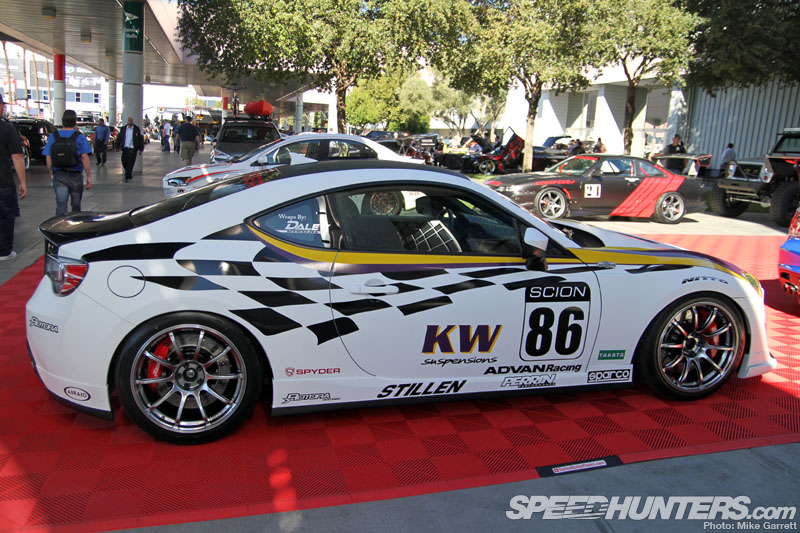 I'm sure you are all aware that the Scion FR-S is the "it" car of this year's event, but it really can't be understated. They are EVERYWHERE and I'm sure the folks at Scion and Toyota are happy to see this. Pictured here is KW Suspensions' take on the Neo-Hachi Roku.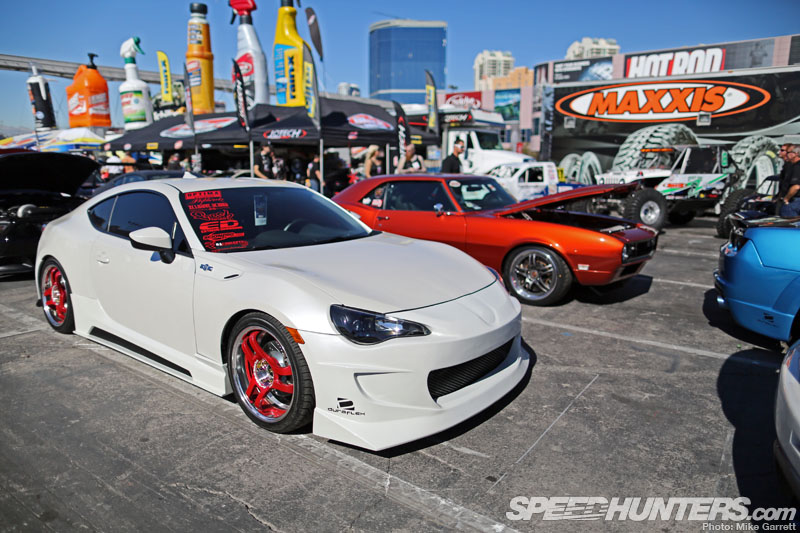 The Super Advan wheel has been out of production for a long time, but it's quite interesting to see what this symbol of the '90s looks like on the the FR-S. It probably wouldn't be my first choice, but it makes for an interesting result nonetheless.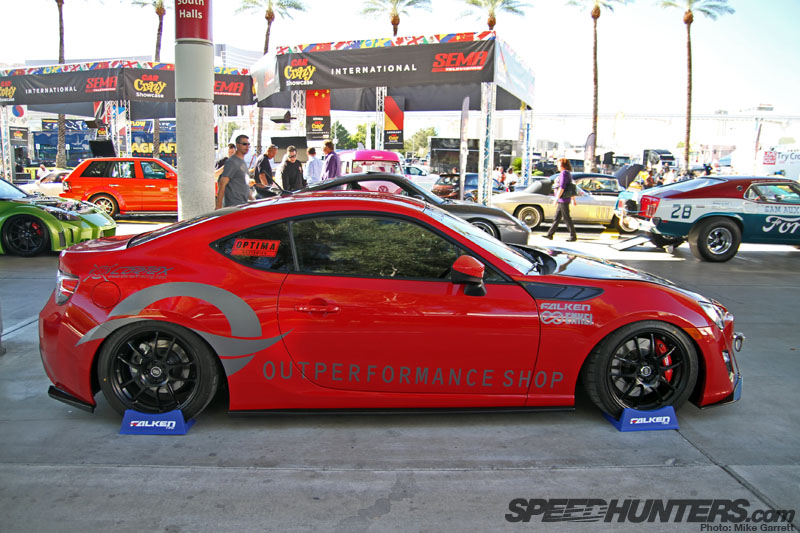 In the grand scheme things, it's very cool to see a Japanese sports car take center stage at SEMA, which is usually dominated by trucks and American performance cars. It's certainly been a long time since this has been the case.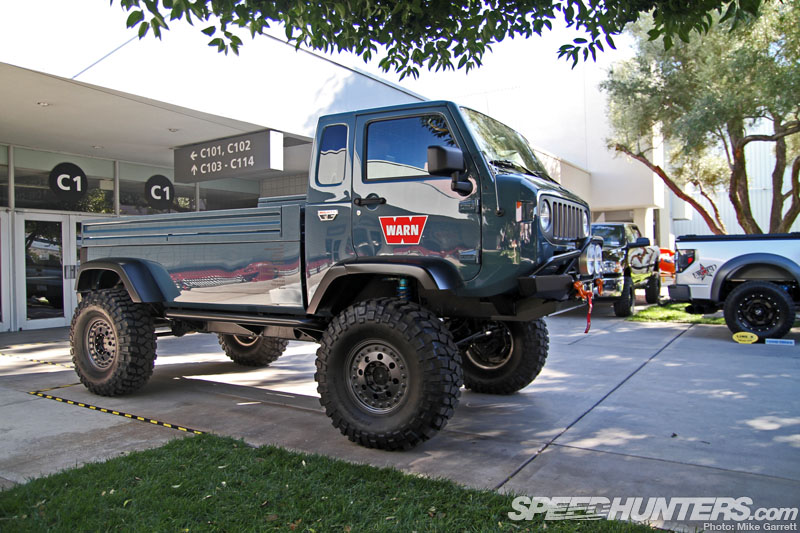 Here's another angle of the the Jeep Mighty FC I shared in yesterday's post. No matter what your stance on crazy off road vehicles is, you have to admit this thing is downright bitchin'. The five year old boy in me is very satisfied right now.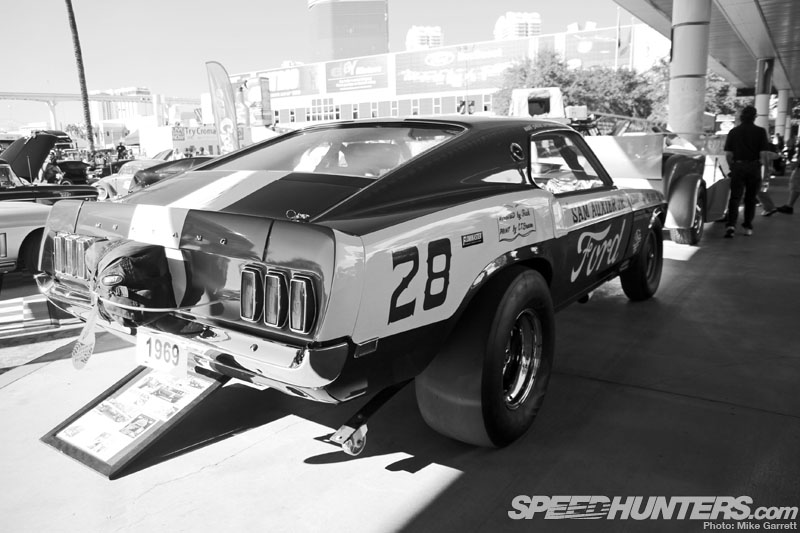 In addition to the latest and the greatest, SEMA always has a place for tradition. Here we see it in the form of a Pro Stock  Mustang drag car from 1969. You can never go wrong with legit vintage.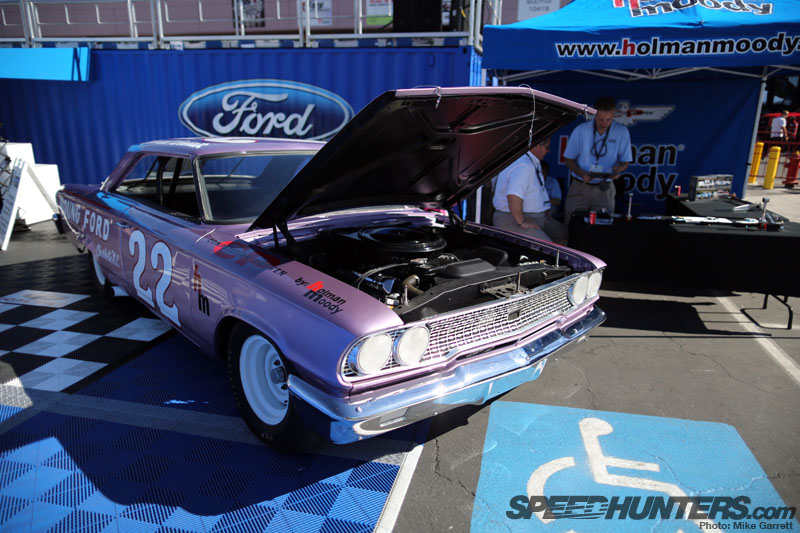 Or how about this Holman Moody Galaxie stock car that was featured in Ford's outdoor display area? The dayss of NASCAR featuring actual "stock cars" will probably never return, but at least there are cars like this around to remind us of that time.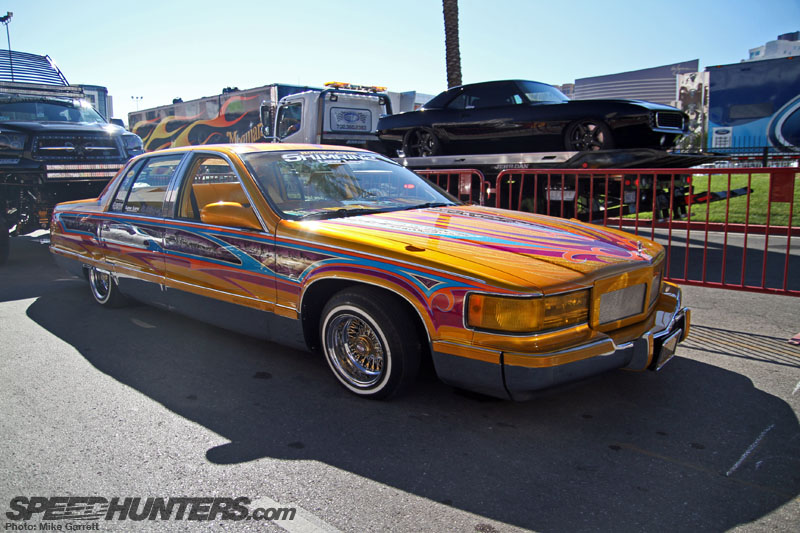 It's always nice to see a few traditional "low-lows" at SEMA each year. I know that I'll never be a "Lowrider guy", but I'll take something like this immaculate Caddy over a blinged out SUV on gigantic rims any day of the week.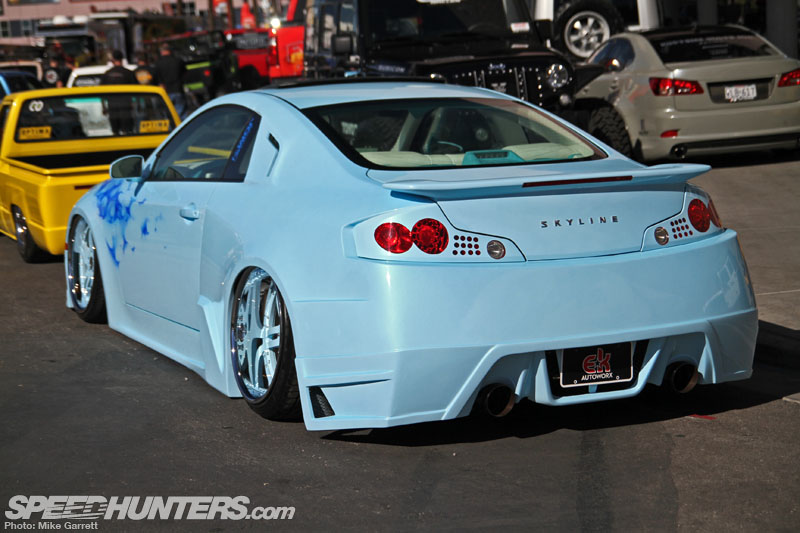 I'm not quite sure what to make of this G35 Coupe. The aggressive wheel fitment seems like a contemporary thing, but the bodywork and interior are throwbacks to Hot Import Nights circa 2001. Hmm…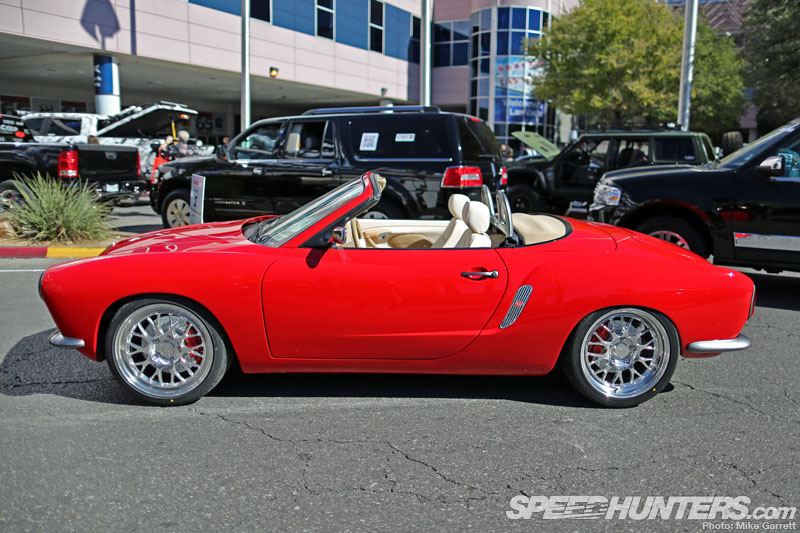 What you are looking at here is a 1972 Volkswagen Karmann Ghia Convertible built over a 2000 Porsche Boxster chassis.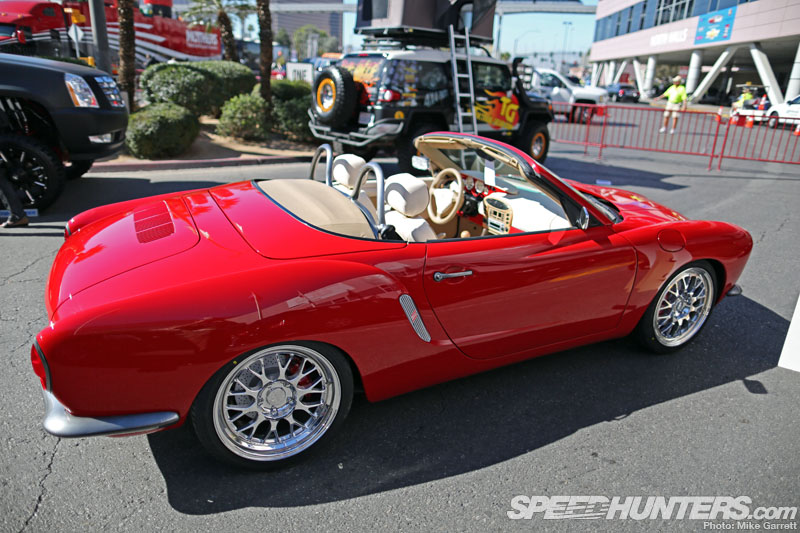 SEMA usually features a lot of these "old meets new" hybrids with questionable styling, but this one appears to be done very well. The only major thing that alters the look would be the windshield line.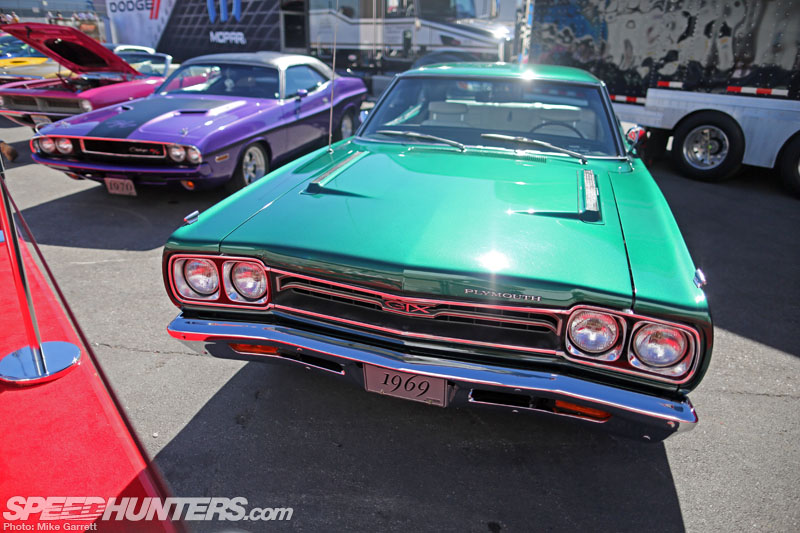 Mopar always has a huge presence at SEMA, and their showing includes a big selection of classic Muscle Cars parked outside between the Central Hall and the South Hall.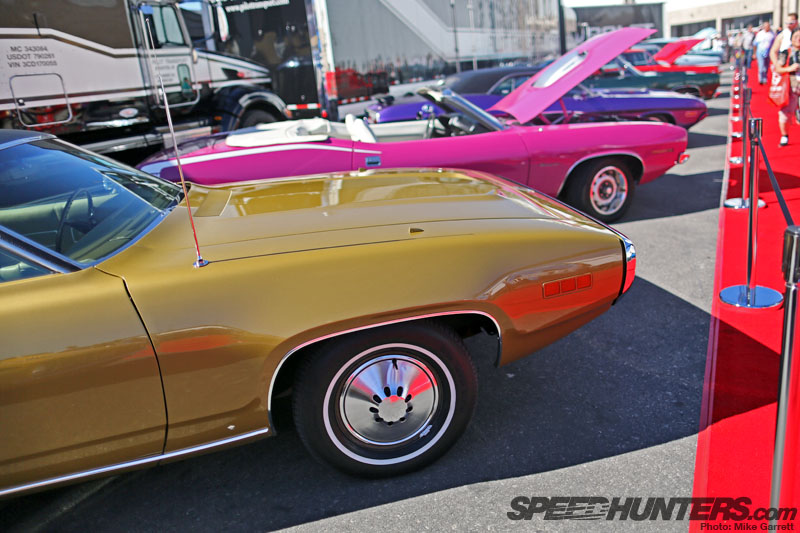 As cool as it is to see the latest cars from the OEMs at SEMA, it's equally nice to see them nodding to the past. Especially when they have a history of building as many cool cars as the Chrysler Corp has. Just looking at this lineup makes you long for the days of cheap fuel and lax environmental standards.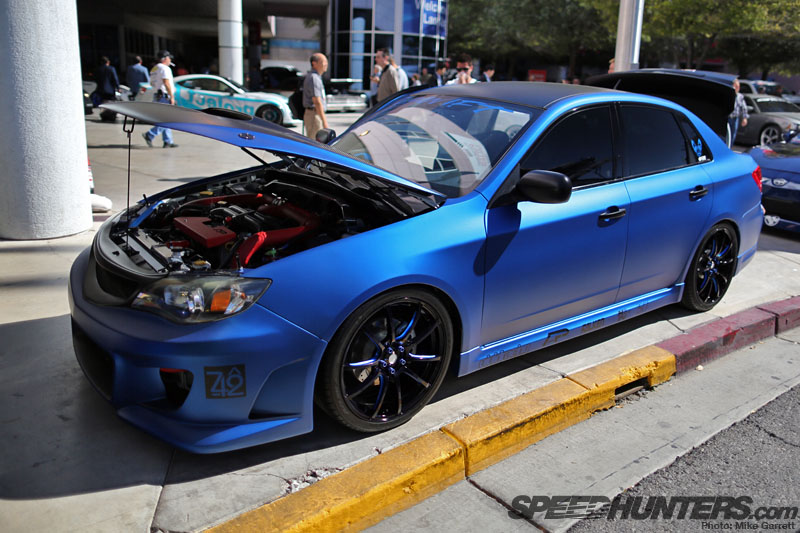 The matte body finish movement has been going strong for several years now and doesn't show any sign of fading. Here's a WRX sedan done in blue.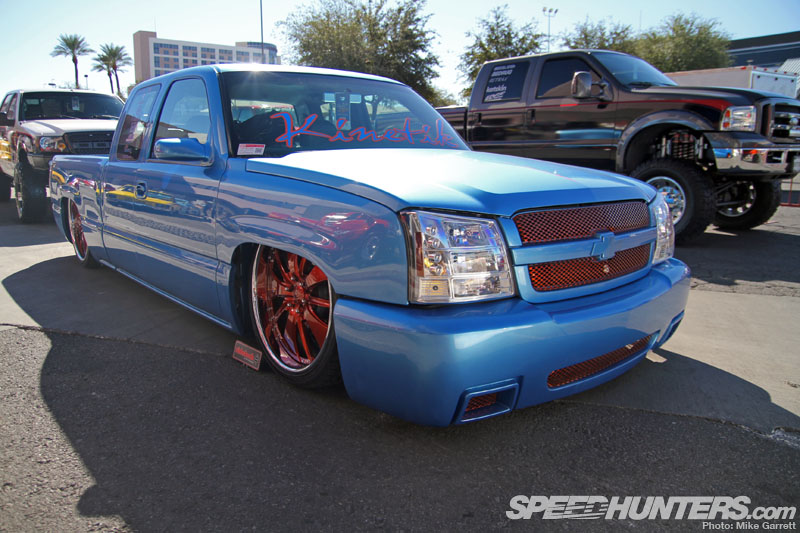 Ah yes, pickup trucks. Always a huge part of SEMA and rightfully so considering the best selling models in America are usually trucks. I end up passing by the majority of them, but there's always a few that catch my eye. I suppose I'm just a sucker for anything that's dumped to the ground.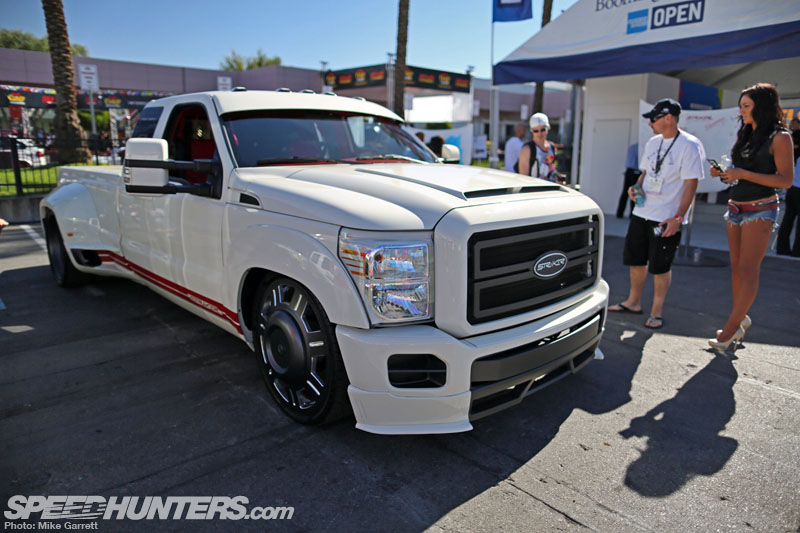 This wild customized Ford Dually is just so big and bad that you have to like it. What environmental awareness?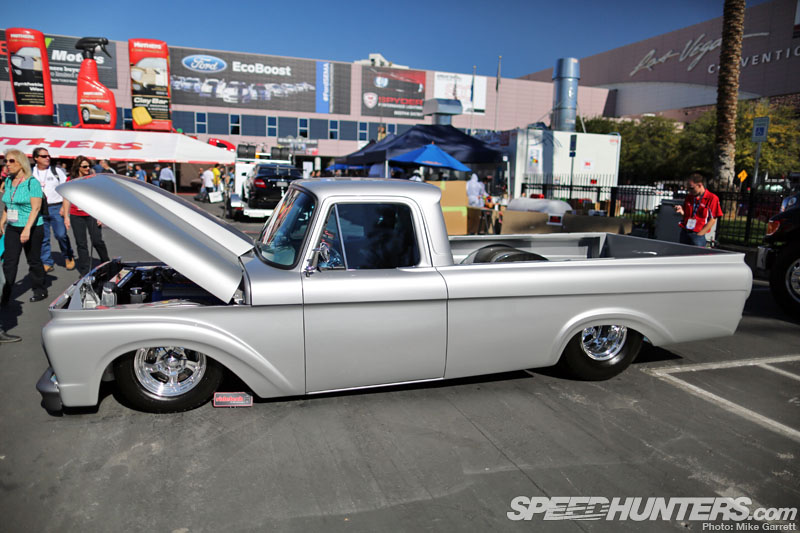 Let's not forget the vintage trucks either. I quite liked this shaved and slammed Ford F100.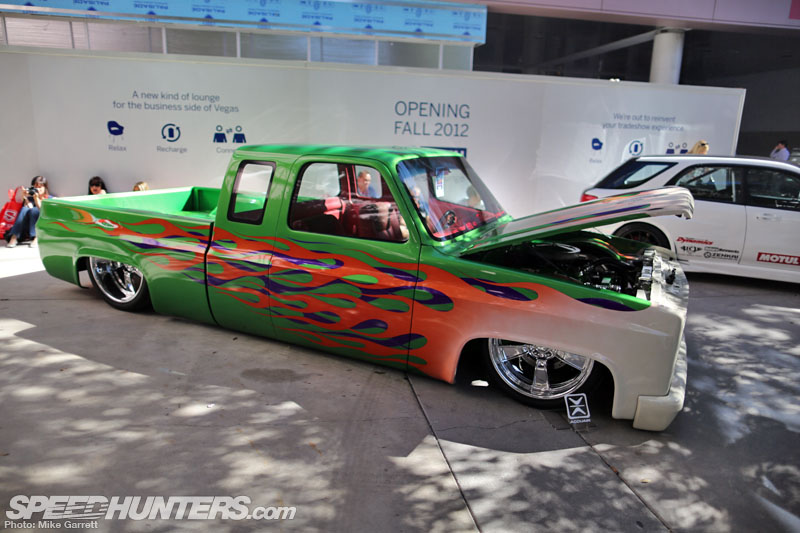 Seeing all the customized trucks at SEMA reminds me that I'd like to go check out a truck-only event someday. I'd be a little out of my comfort zone for sure, but I'm sure there is some cool stuff to be found.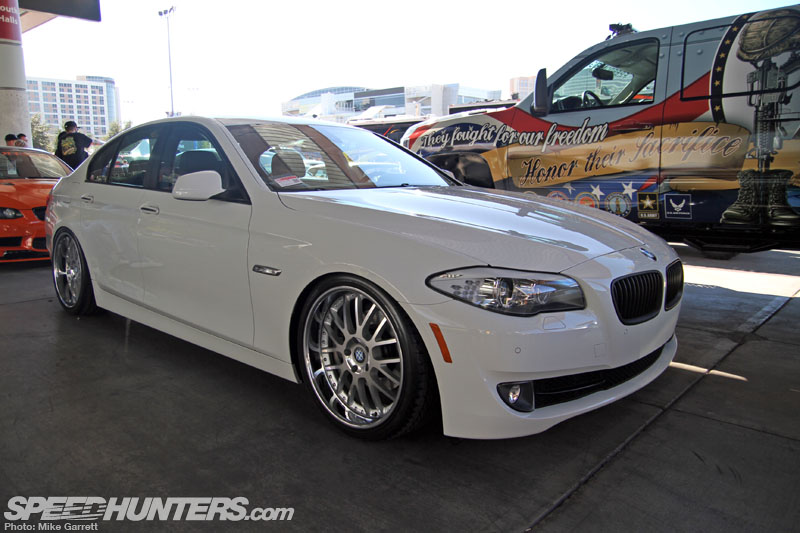 I remember noticing an increase in customized European vehicles at last year's SEMA Show, and this year it's even more apparent. There are dozens of late model Euro machines spread across the outdoor area.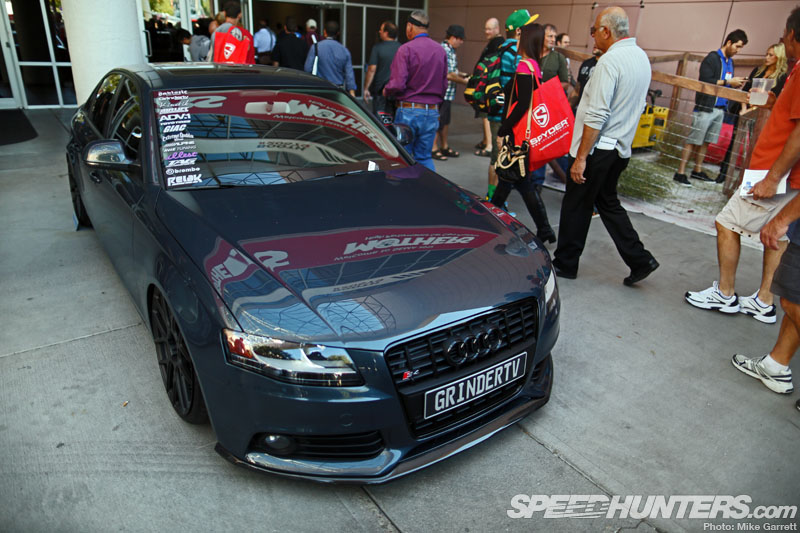 Volkswagens and Audis in particular seem to be on the upswing in popularity at SEMA, which I'm sure is related to increasing sales on account of both brands in the American auto market.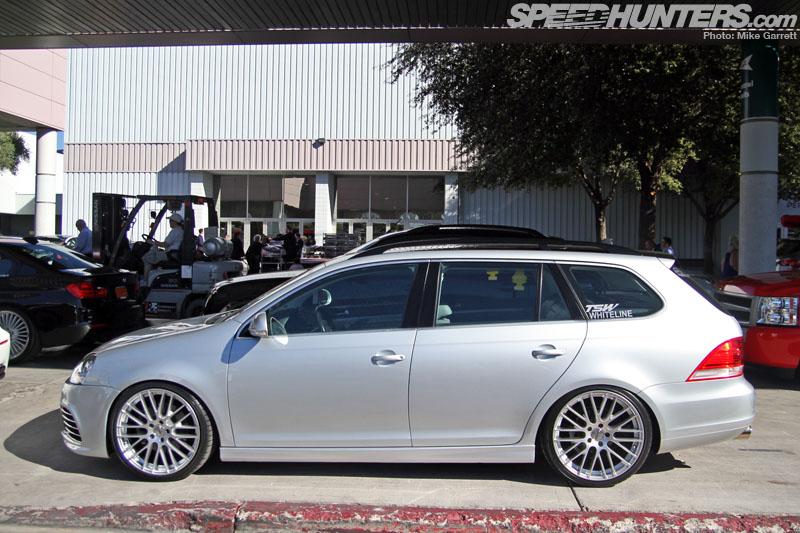 For a long time Volkswagens seemed few and far between at SEMA, that's all changing now. This Jetta Sportwagen is one of several VWs I've spotted so far.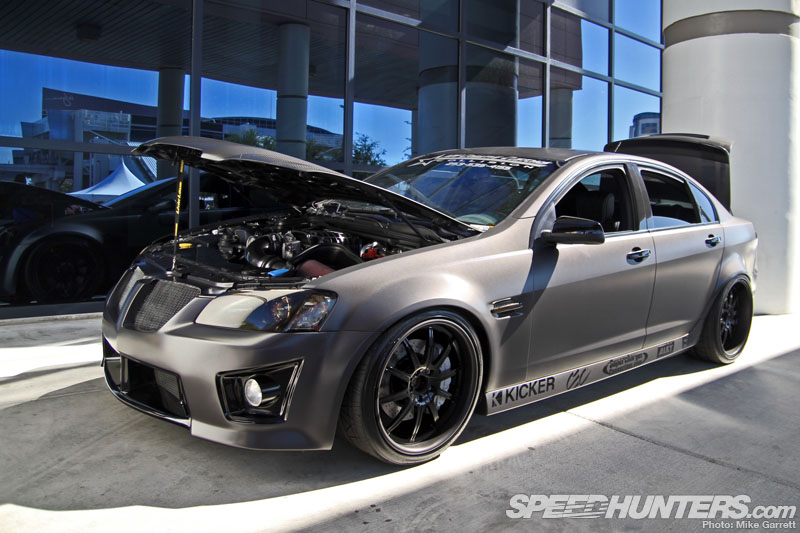 Here's a pretty mean take on the Pontiac G8, or the Holden Commodore as out Aussie readers will know it as. This car has been sorely missed since Pontiac closed shop a few years ago, but the Commodore is set to return soon in the form the 2014 Chevy SS.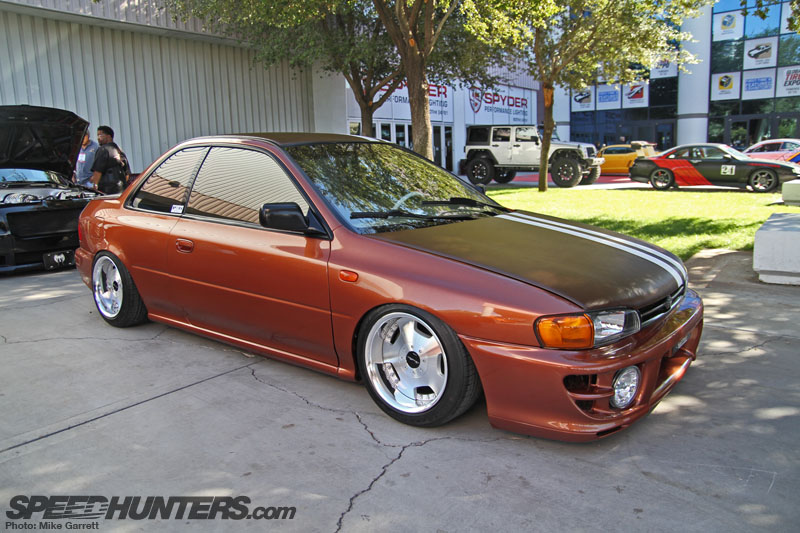 This two-door Impreza should look familiar to anyone who followed last year's SEMA coverage on Speedhunters.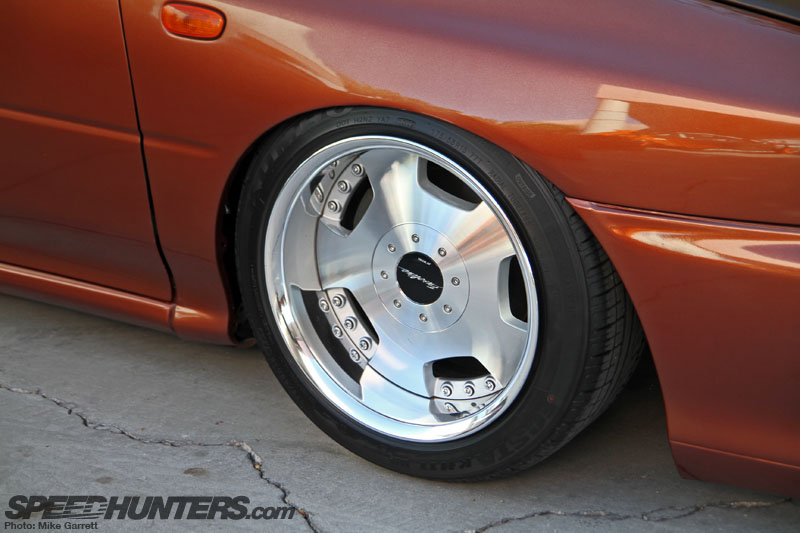 This time around the car was sporting a few changes, including a set of 15″ deep-lipped Work Euroline wheels.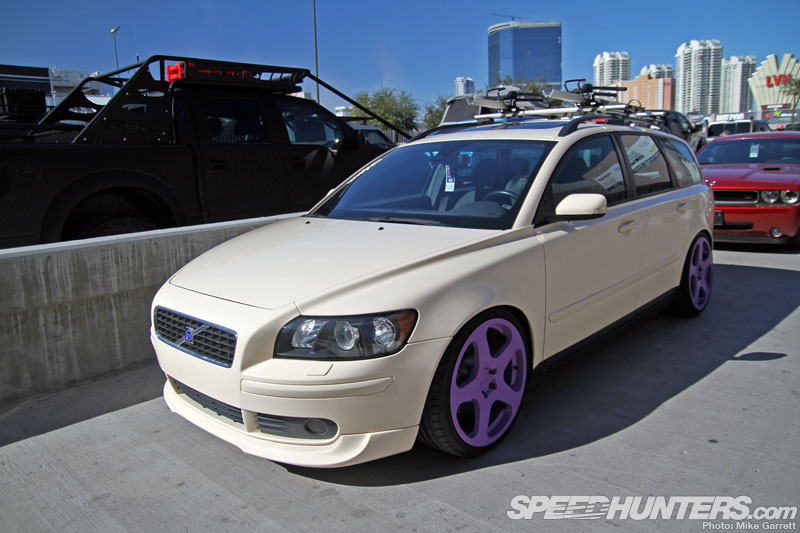 Volvo and SEMA are not two words you'll hear often in the same sentence. In addition to its rarity, the clean style of this wagon caught my attention as I made my way down the line.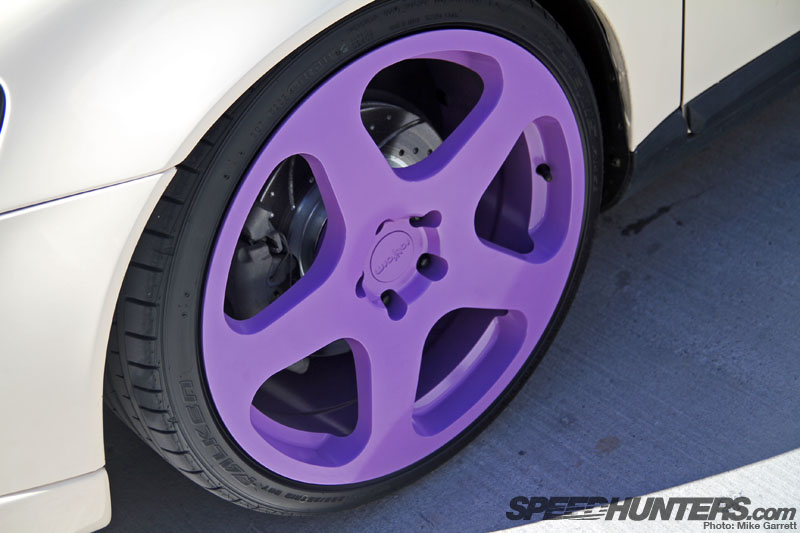 When it comes to wheel brands, Rotiform has a very big presence at this year's show. Again, this plays in to the growth of "Euro style" at the SEMA Show – despite the fact that Rotiform is based not in Europe but in Orange County, California.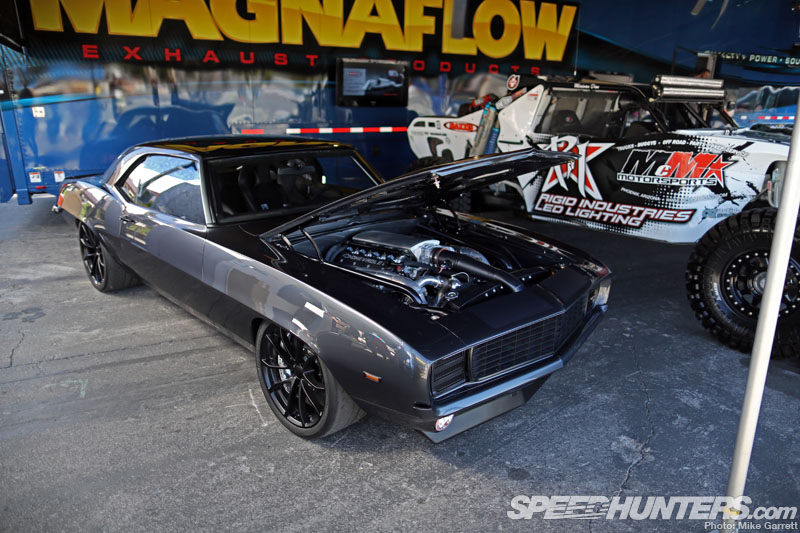 At one point I thought it would be fun to count all the first generation Camaros being shown at SEMA, but once I got above 20 I lost count. Let's just say there are a LOT of them here.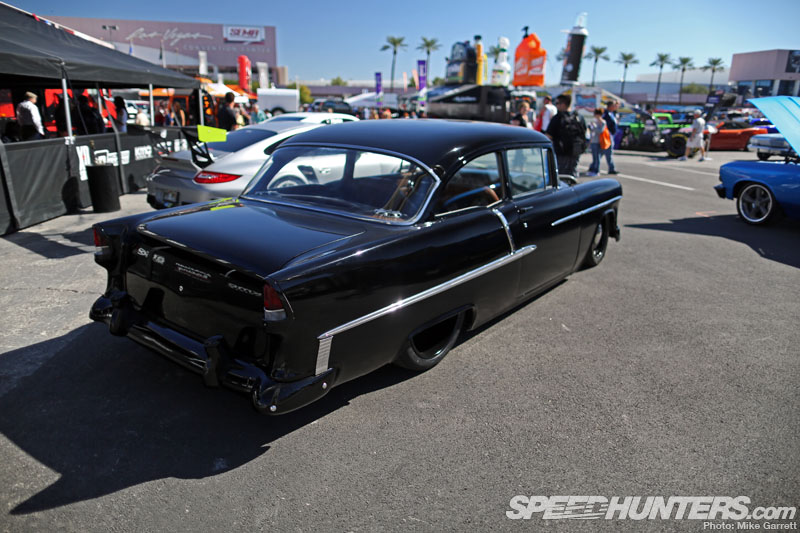 This '55 Chevy two door sedan looks as sinister as it gets.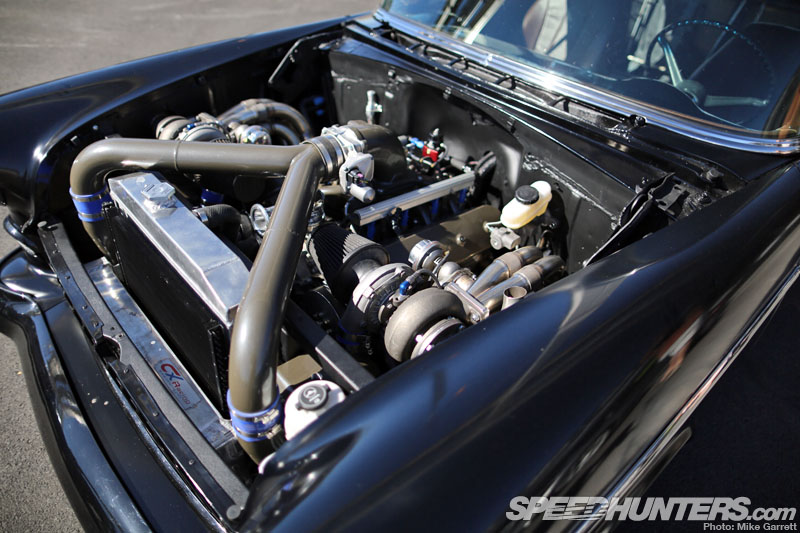 The hardcore look is backed up by this twin turbo monster mill sitting under the hood. Massive forced induction setups seem to be another big theme of SEMA 2012.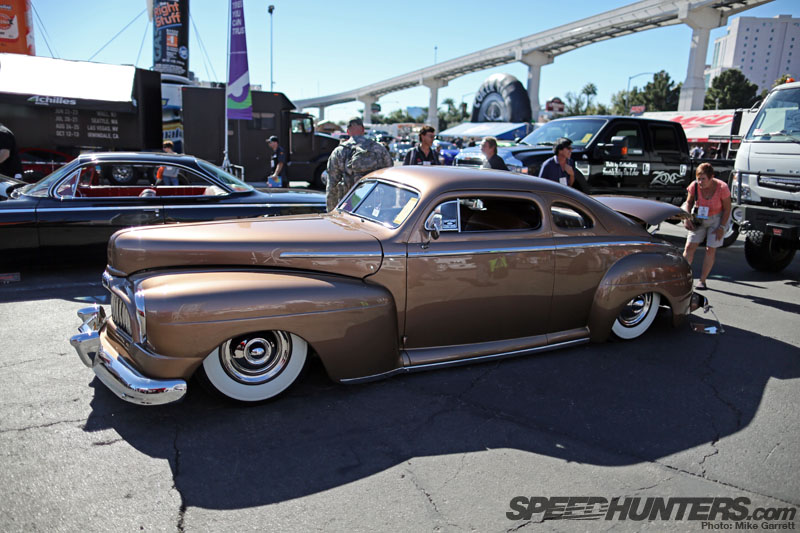 I'm going to wrap up this chapter of SEMA coverage with very mean looking Accuair-equipped Merc.
All this and we haven't even gone inside yet. Much more to come from Vegas.
-Mike