In recent years the SEMA show has seemed to have had a steady decline in the amount of Japanese vehicles and companies displaying cars and products, likely a lot of the falloff has something to do with the end of the "Fast and Furious" era. However there has been a huge resurgence at this year's show and one obvious part of that movement is revolving around the Scion FR-S / Subaru BRZ but there were plenty of other cars to get excited about as well.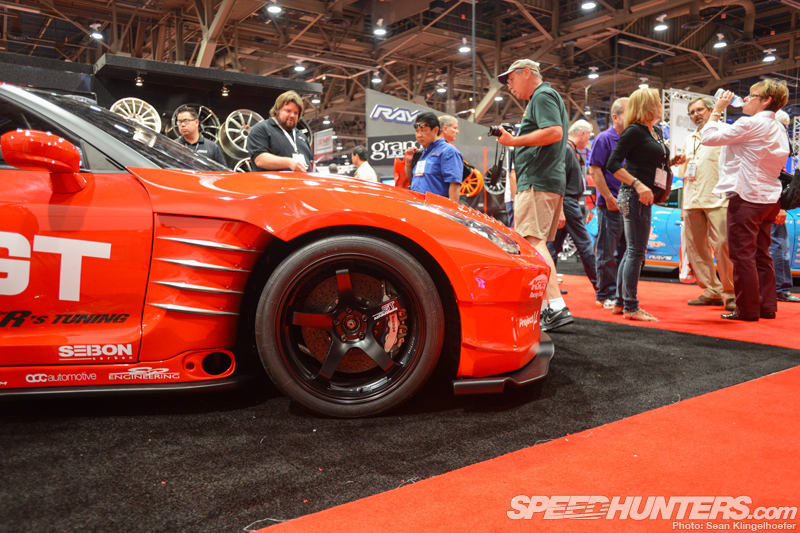 Although I have seen and even shot several BenSopra GTRs over in Japan, it was exciting seeing them hit our shores for the first time. I found this beautiful example in the Advan booth appropriately showing off a set of GTIII wheels.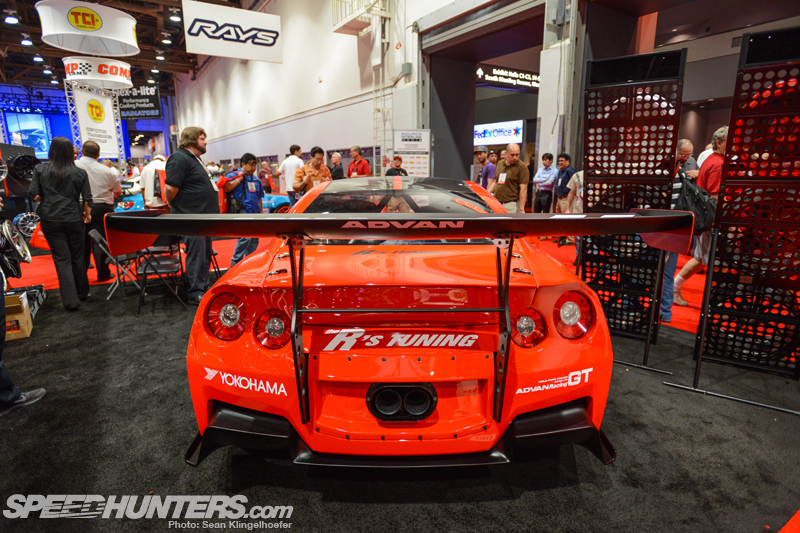 The simple color scheme on this car let the unique body shape speak for itself, but if I had to pick a favorite section of curves it would be the view from the rear. I did find the wing a bit difficult to swallow back in January but it's somehow become an acquired taste that I now rather enjoy.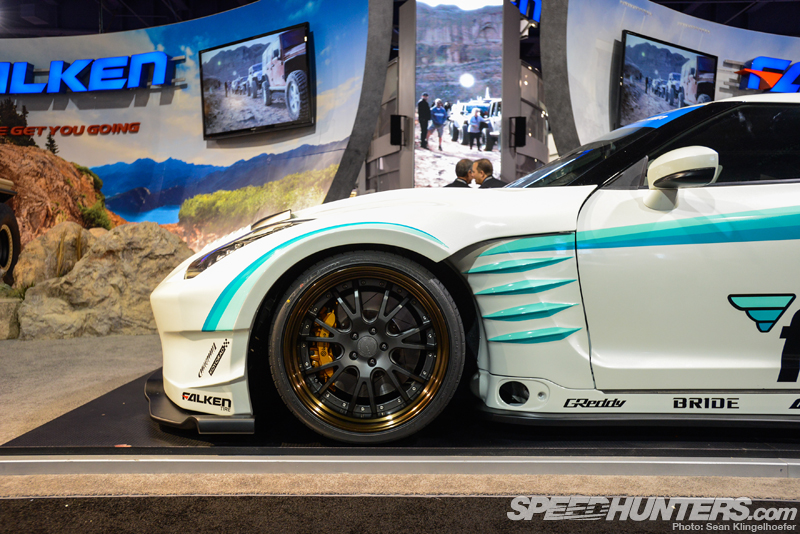 Of course there is more than one of these hyper GTRs currently occupying the Las Vegas Convention Center, the other belonging to none other than Fatlace. I wouldn't have pegged a set of black/bronze wheels matching up too well to such a bright livery, but in person it's a really stunning look.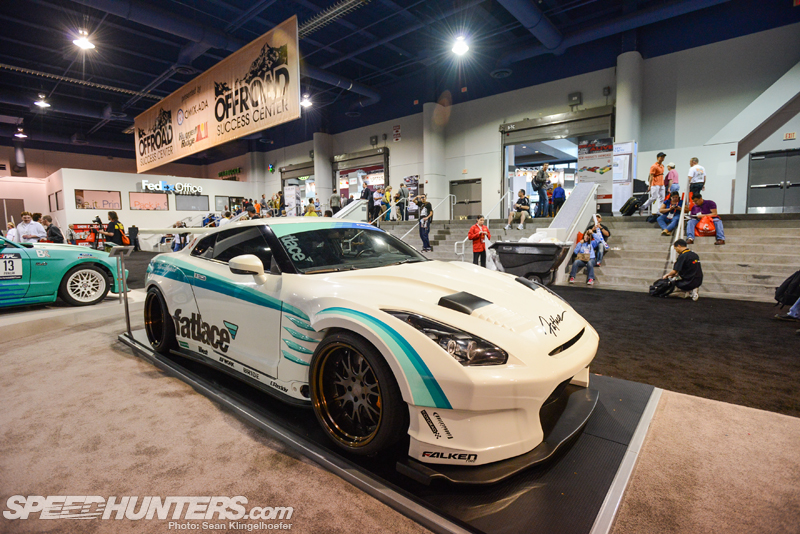 Actually I'd have to say that after seeing countless pictures of the car on the web and Instagram before finding it in person, I was quite shocked at how much better it looked in the flesh. The white pearl paint and teal stripes look very slick under the lights.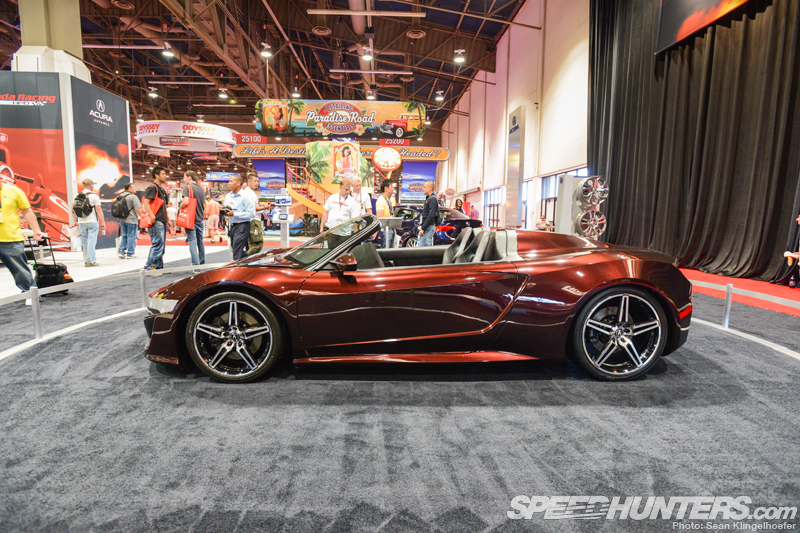 Speaking of looking slick under the lights, I definitely wasn't expecting to see the Acura NSX concept popping up at the show.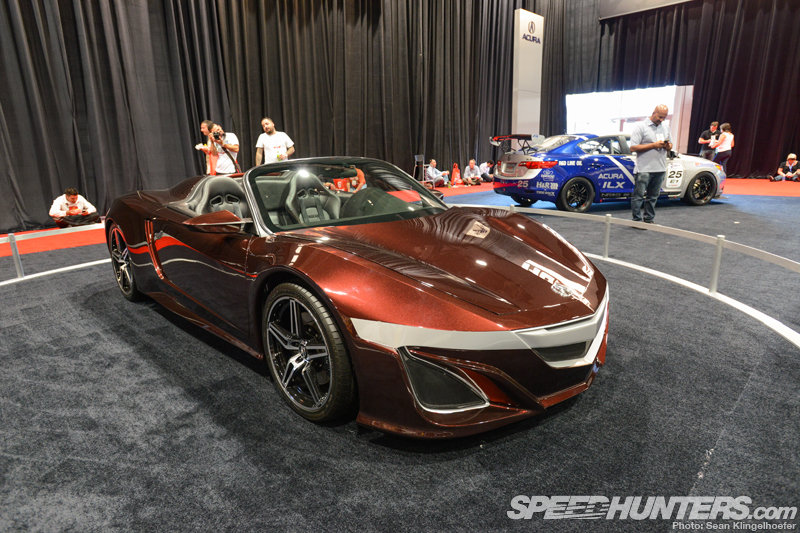 Even though the car isn't modified, I don't think it takes much explanation as to why there is an allure to the possibility of a future NSX. After Honda's HSV concept was shelved I didn't have much of an expectation to see another flagship sports car from the brand, but there's no doubt that this car gives us some hope.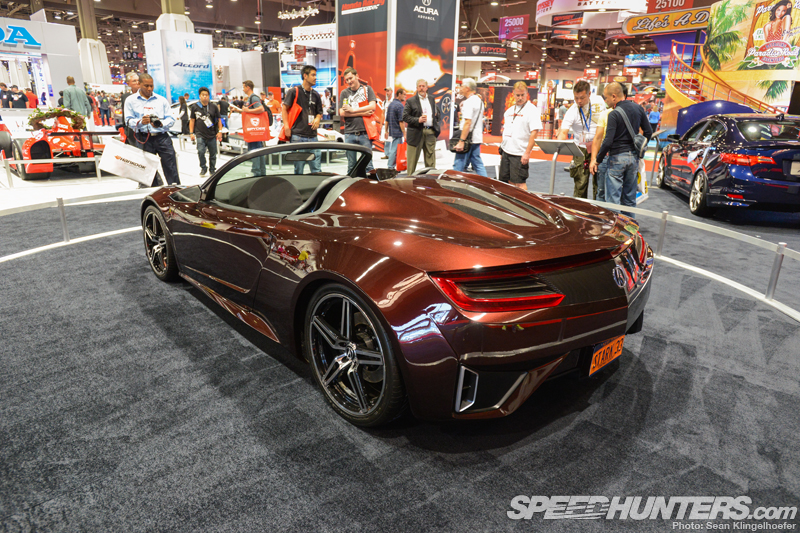 While any real-world details are still unknown it sure is easy on the eyes. All I know if the car is good enough for Tony Stark, it's got to be good enough for us.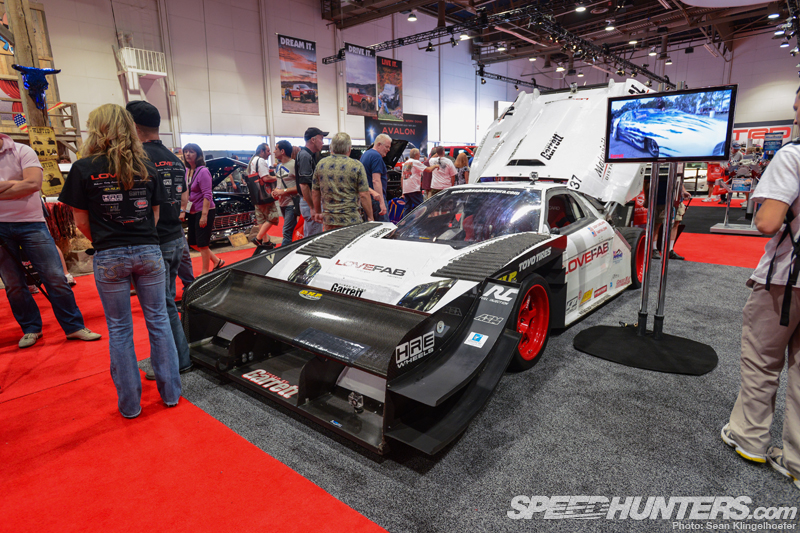 Over at the Garrett booth I spotted an NSX that might look a little familiar, the LoveFab Pikes Peak car. What it might lack in terms of clean and shiny bodywork compared with the concept car it more than makes up for with unreal dimensions and a healthy dollop of power. It was cool getting to see the car in person and I'm stoked for Cody and Tabitha who were busy with an interview when I stopped by.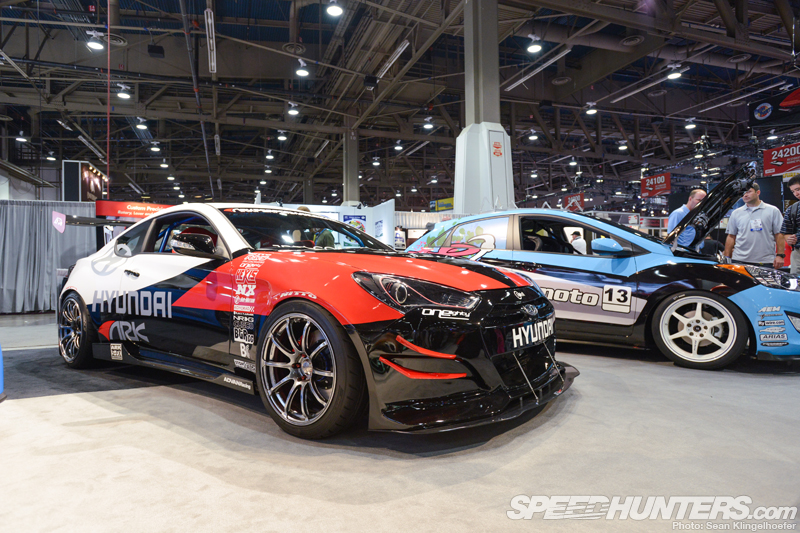 Every year it seems like Hyundai is bringing more and more to the plate at SEMA and this year was no exception. They had a number of fascinating builds on display at their booth including this Gensis by ARK Performance which not only looks like it means business but also delivers around 400hp.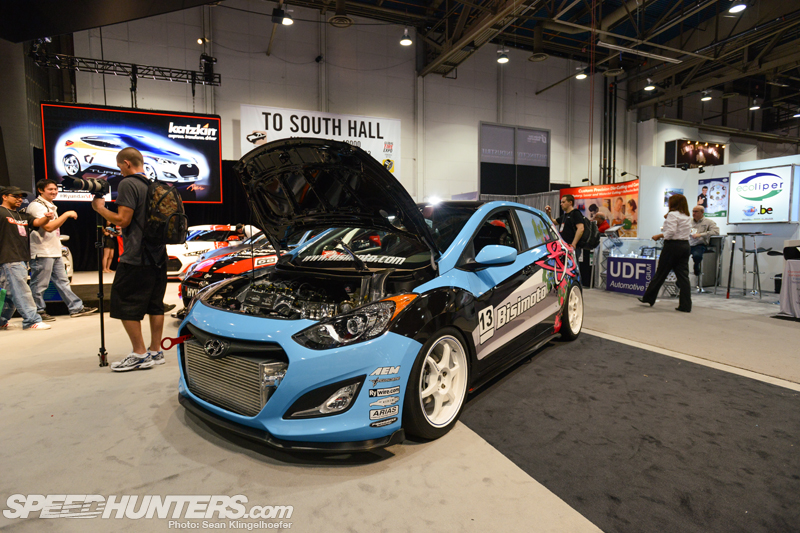 But my favorite car from the Korean manufacturer was this Elantra GT in an unmistakable hue of blue that indicates our friend Bisi Ezerioha was involved on the build. If you've seen any of his other cars on our site you'll know that this is one Hyundai that isn't to be taken lightly.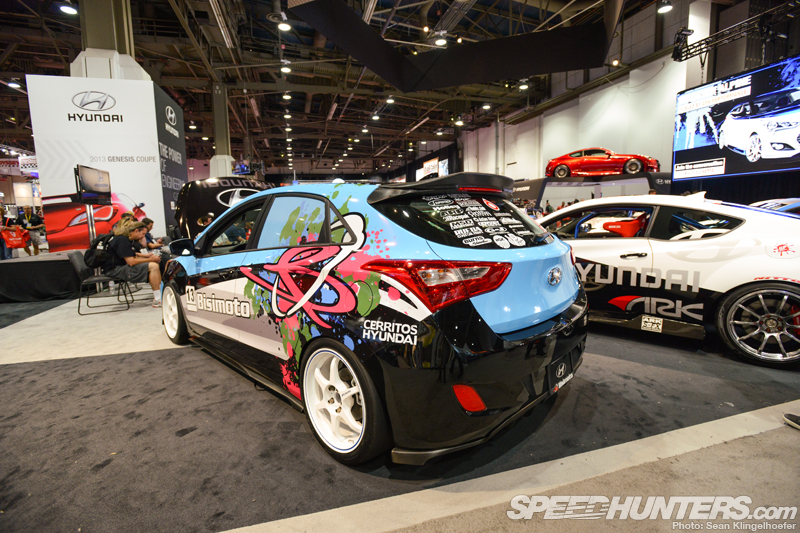 I had been chatting with Bisi several times during the weeks leading up to SEMA and he was always very excited about the Elantra, and after seeing it at the show I can see why. In his own words, he's truly "outdone himself" this time around developing nearly every piece for this car from scratch.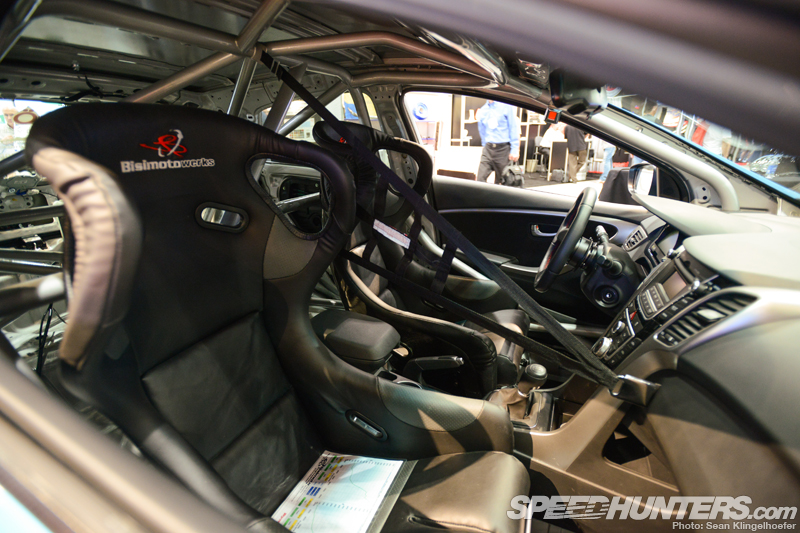 The theme of the build has been inspired by BTCC / WTCC racers and Bisi has done an amazing job putting together a project that references those influences. Staring in the cockpit there is an unbelievable rollcage and a pair of Bisimotowerks racing buckets to keep the occupants safely confined.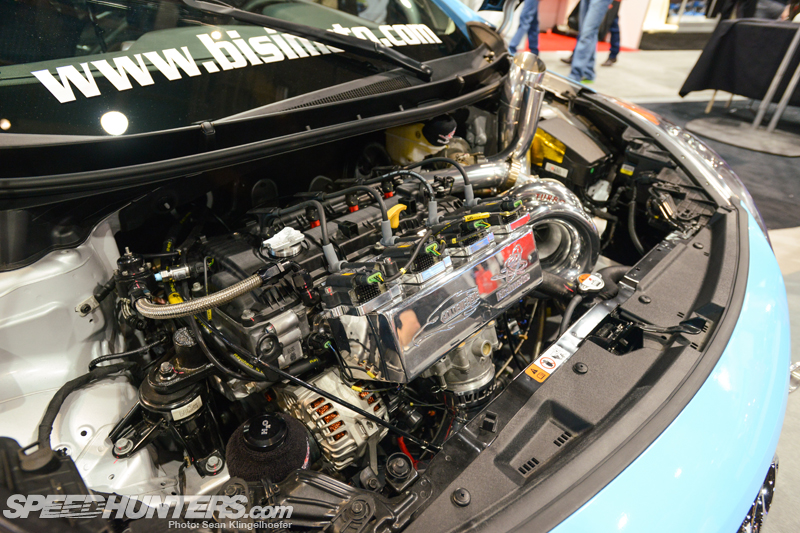 But the real magic, as with most of Bisi's cars, isn't what is on the outside or inside of the car, but what lay in the engine compartment. The exact numbers and figures escape my SEMA-deterioated brain at the moment, but to the best of my knowledge the 1.8L has been bumped up to an even two-liters and, with the help of a turbocharger, now puts down right around six hundred horsepower. I'm thinking a feature of this Hyundai is in order!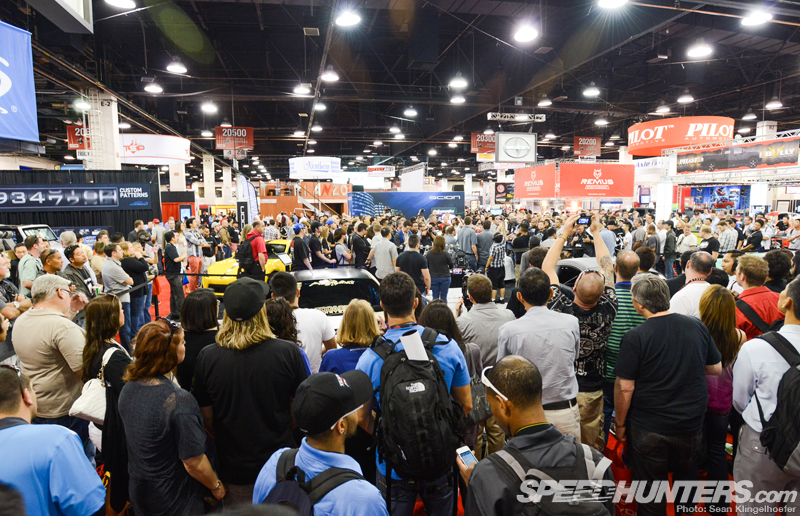 Yesterday Mike Garrett pretty much nailed it on the head when he named the FR-S the "it" car of SEMA 2012 in his post yesterday. However it was confirmed officially by SEMA when the FR-S was named "hottest sport compact car" of the year earlier today, although I'm sure the hundreds that surrounded Scion's booth for their press announcement already knew that.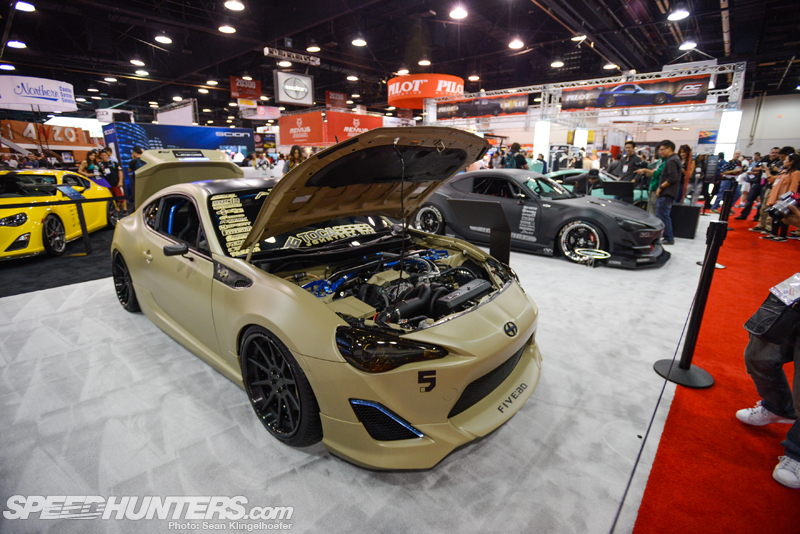 One of the festivities that always draws a crowd to Scion at SEMA is their annual Tuner Challenge where three cars are given to different tuners to modify however they see fit and are judged on the outcome. Of course this year the car they handed out was, wait for it… the FR-S. In years past I'd typically have a landslide favorite, but this time around all of the builds were very nice.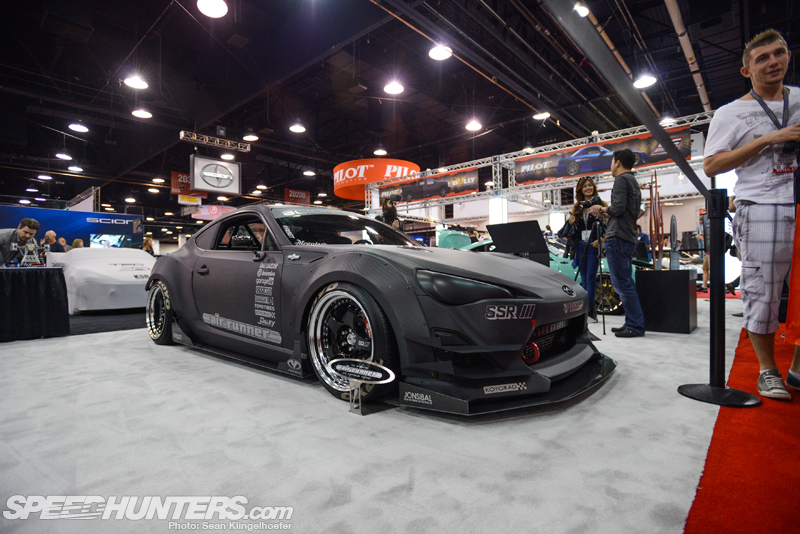 If I had to pick a favorite I'd say that the car built by Daniel Song and designed by Jon Sibal spoke the most to my personal taste. The understated finish and aggressive bodywork really turned the car into a sinister looking machine!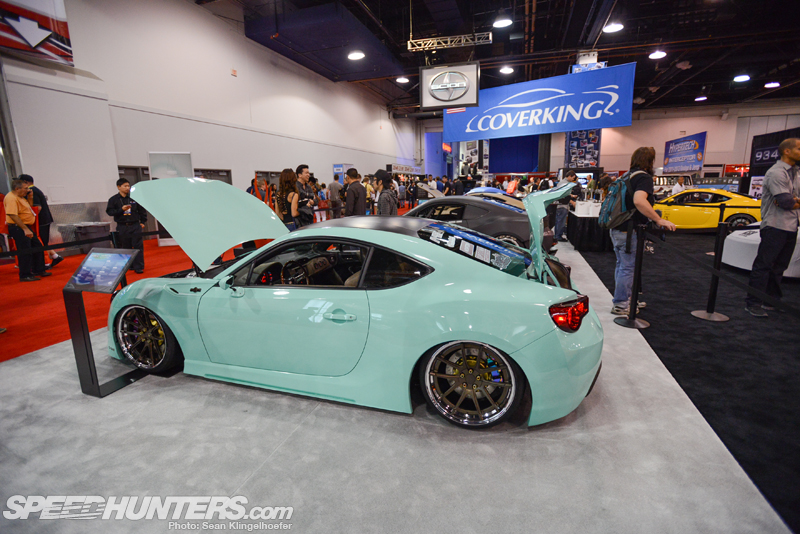 In the end the judges crowned Chris Basselgia's teal FR-S the cream of the crop. While it might not be my personal style, there's no denying the amount and high-caliber of work done on this car, rightfully earning the $10,000 purse.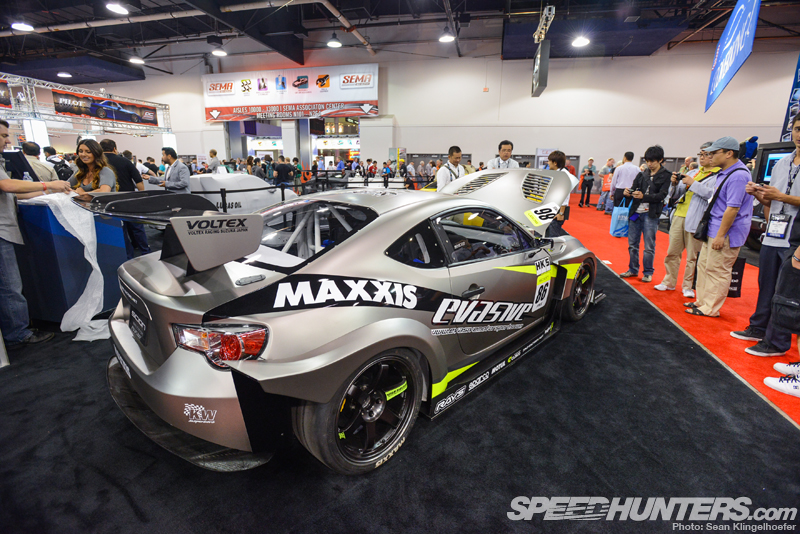 Here's an FR-S that stopped show goers in their tracks and certainly needs no introduction as it just made it's world debut here on Speedhunters a few days ago.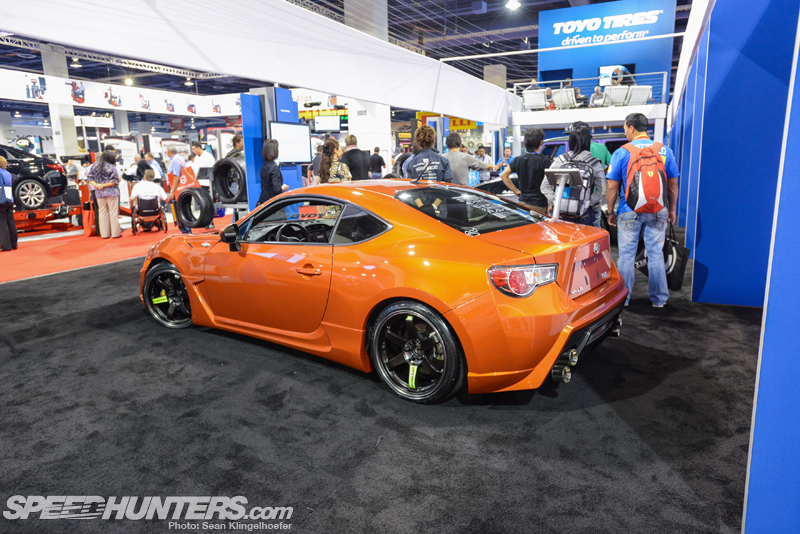 I remember hearing rumors and buzz months, even years, before the FR-S was initially announced and wondering if one car could really "save the industry" like many believed it would. Skeptical as I may have been back then, after walking SEMA this year there is no doubt in my mind that FR-S is here to stay and I can only presume that Tokyo Auto Salon will have even more stunning examples.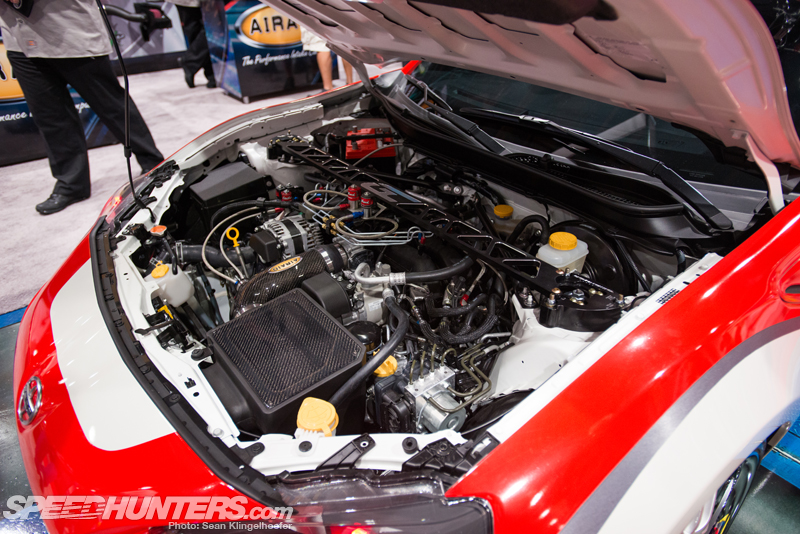 In fact it seemed that almost every company, big or small, was trying to get in on the action offering parts for the compact sensation. I found this car at the Airaid booth with an intake system designed by none other than Keith Charvonia, the owner of the Drag'n Kaiser. I also tripped out on the upper shock mounts and beefy strut tower bar from Ground Control!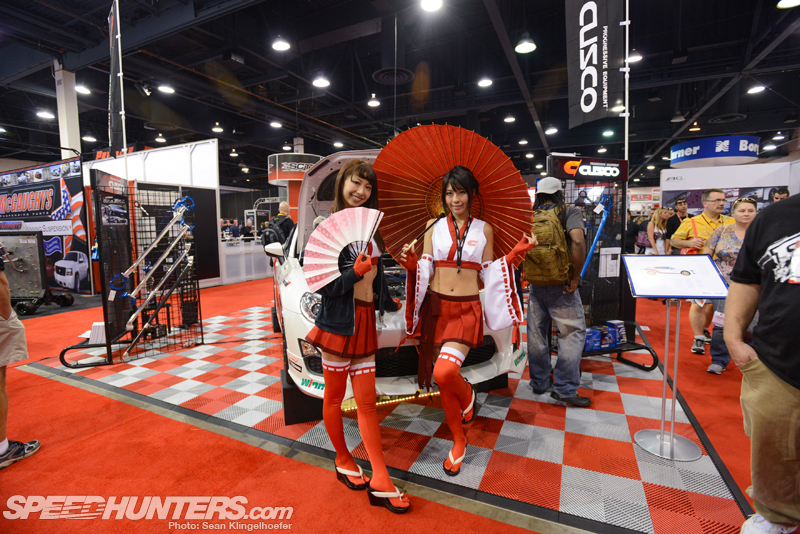 Cusco, meanwhile, had another idea to grab spectator attention and steer them towards their offerings for the ZN6.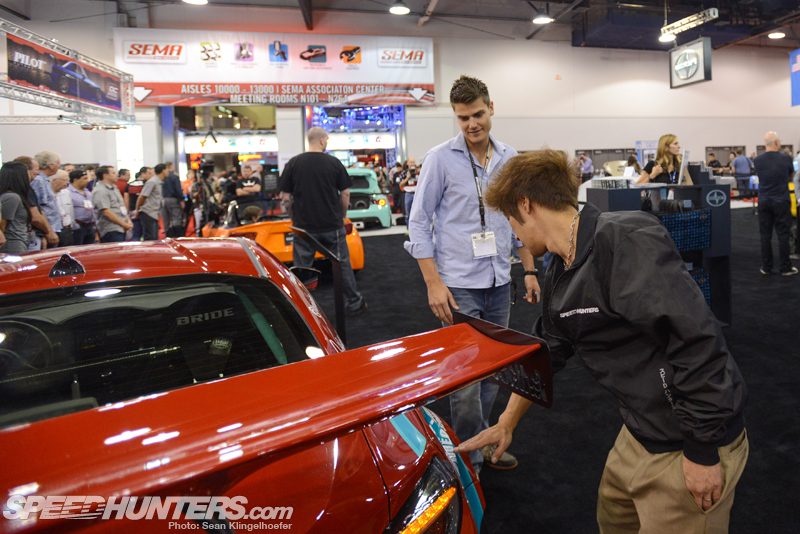 I figure if the FR-S is the hottest compact car, then this stylish man right here must be the hottest designer – Mr. Rocket himself, Kei Miura. Here we see the legend discussing some of the shapes of the kit to Frederic Aasbo who owns the very first ever version of the Rocket Bunny ZN6 kit from which the original mold was formed.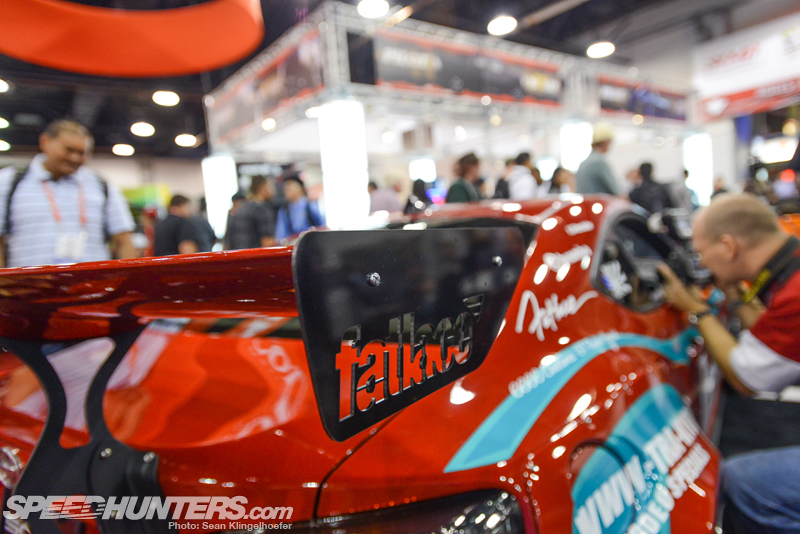 Although I had also seen this Fatlace car countless times digitally, it came together amazingly well in person. Finally having a chance to look at the car in person I noticed a lot of clever details like the paint-matched teal calipers and Fatlace-engraved end-plates.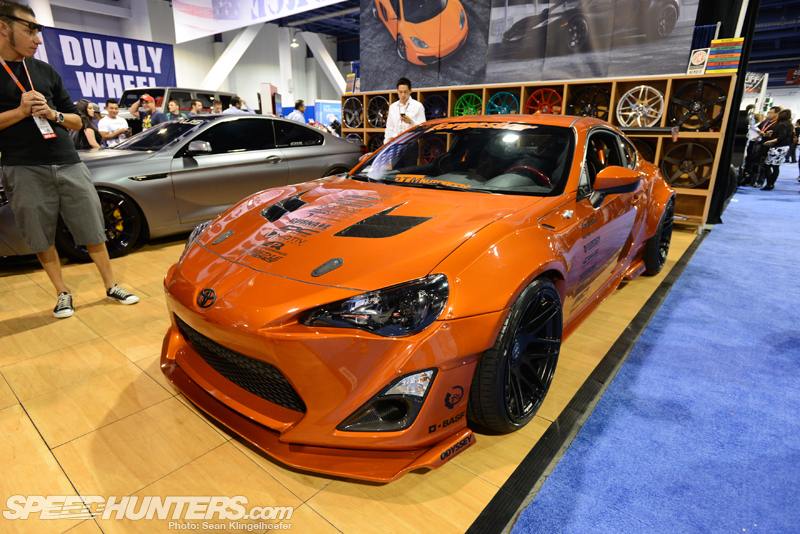 Yet again Fatlace wasn't alone in terms of company in the body kit department. If I had to make a guess I'd say that probably one third of the ZN6's at SEMA are wearing a Rocket Bunny kit, and considering the cost of such modification I think it speaks highly of how America is receiving TRA-Kyoto's work.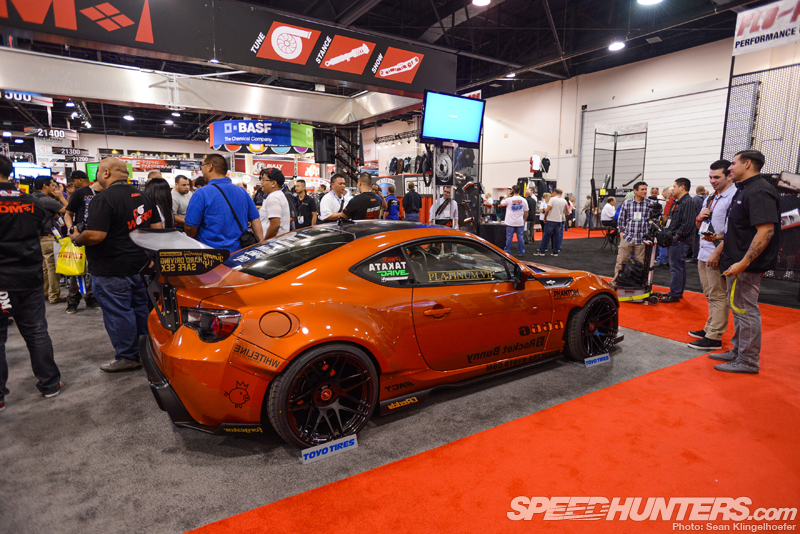 This might look like the same car I just showed you, but it serves as a perfect demonstration of just how many of these cars are running around. The builder of this particular car decided to leave the lower skirting in black, which I think is the better look for this kit.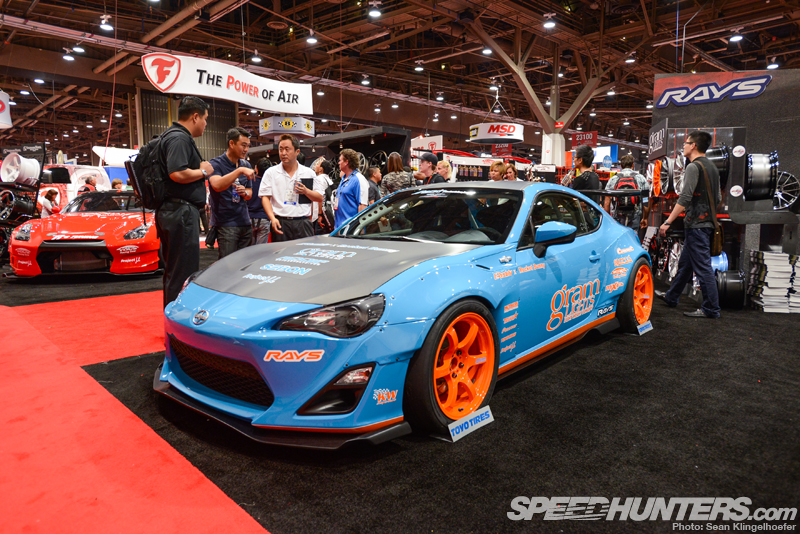 Rays had a pretty incredible version of the car on display promoting their Gram Lights wheel line. You just can't go wrong withe a gulf color scheme, but if you move in closer you'll notice some special touches like reflective blue decals on the spokes that really set it off.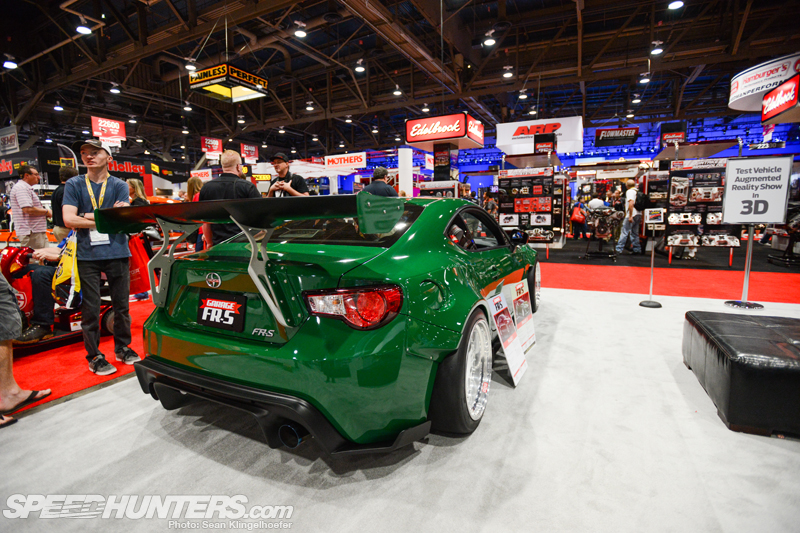 Yet the car that I thought was the best looking Rocket Bunny FR-S was the Source Interlink Garage FR-S project vehicle. There's just something about british racing green that I can't get enough of.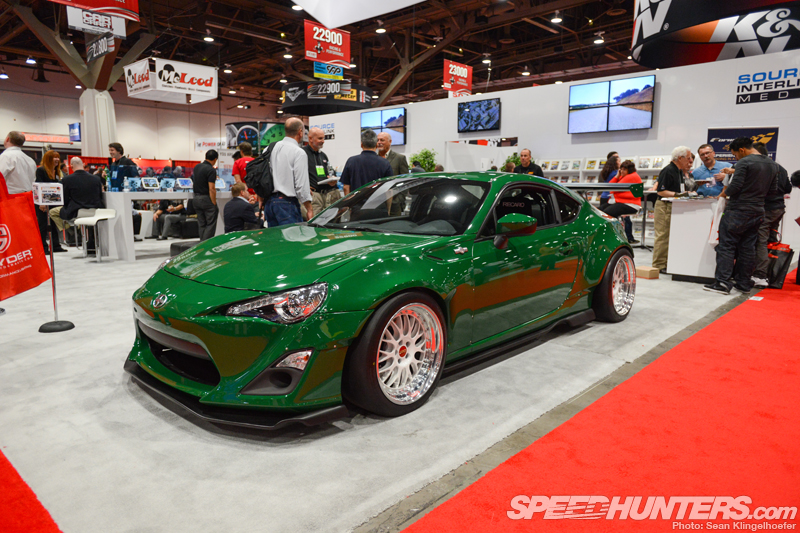 This is also only the second time, after Miura's personal car, that I have seen the kit with a simple single-color paint job and free of any intricate decals or other distractions. I think this clean look does the kit a lot of justice and prefer it to the busier examples.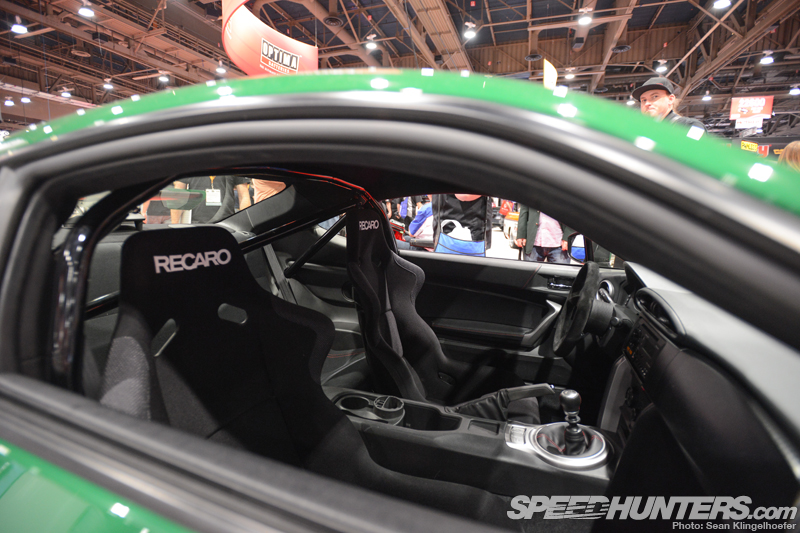 The interior was also kept simple but nice with a roll bar, suede steering wheel and a pair of Recaro SPG seats. I could definitely see myself daily driving this thing!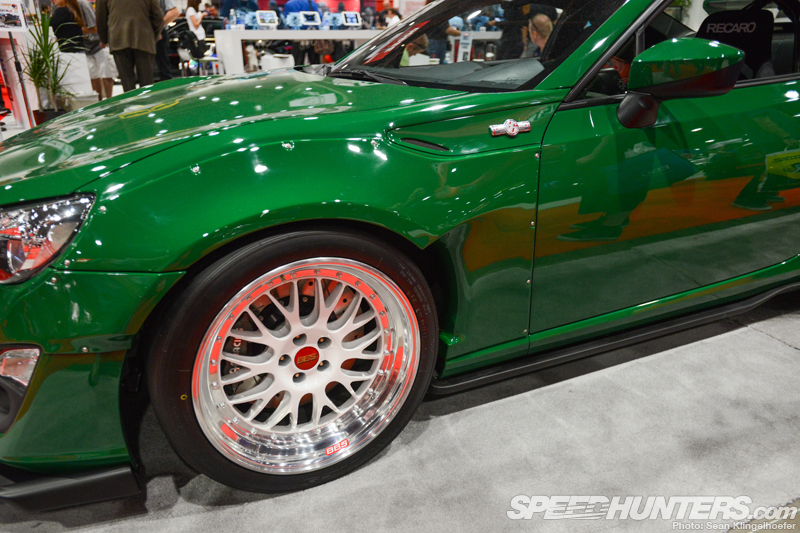 To finish it off the guys custom finished a set of BBS E88s in white and while they aren't the first wheel that comes to mind when I think of a Scion/Toyota, I think they suit the car very well.
Anyway that does it for today, I'm off to bed to prepare for another long day at the convention center tomorrow – see you there!
More from SEMA 2012 on Speedhunters
-Sean