I have been wanting to do a feature on Kazama Auto for quite some time now. If you have been following my stories throughout the last few years this is a name that must sound quite familiar. Kazama Auto is one of the biggest players in the Japanese grassroots and professional drifting scene and is a great example of your modern day drift shop catering to everything a drifter may require…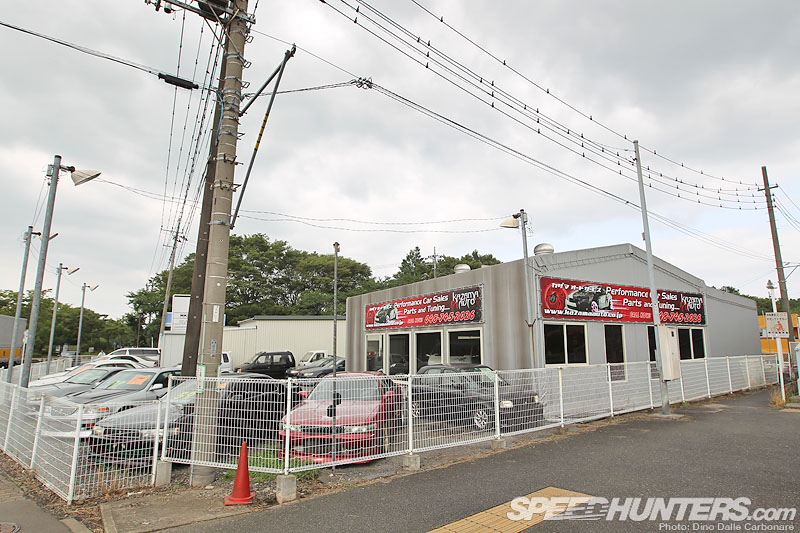 …and as we will see further down, also a little bit more. The shop is located on Route 16 in Kasukabe, Saitama-ken, and is very easy to spot from the road as it's usually got quite a nice selection of ready-to-drift cars for sale outside.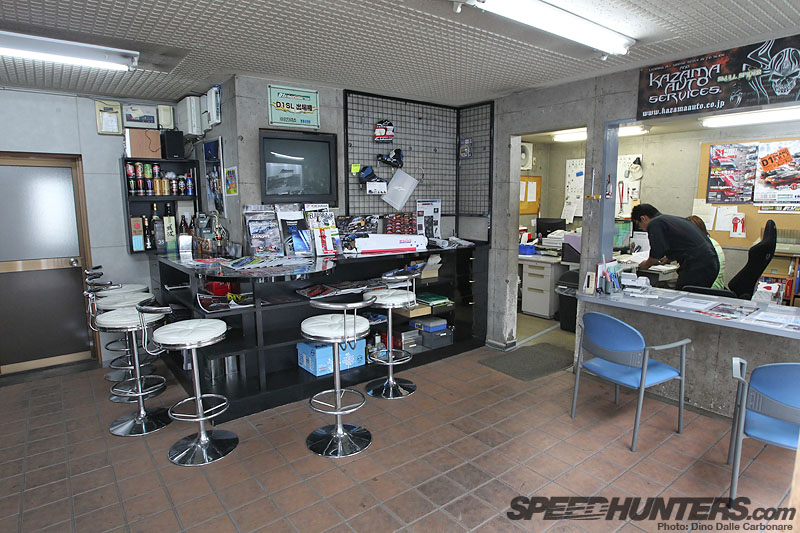 When you stop by, your first port of call will no doubt be the main office. This is where Kazama-san himself is usually found along with his staff who are usually busy in the office or talking to customers. I dropped by during a quiet weekday so things weren't as hectic as usual.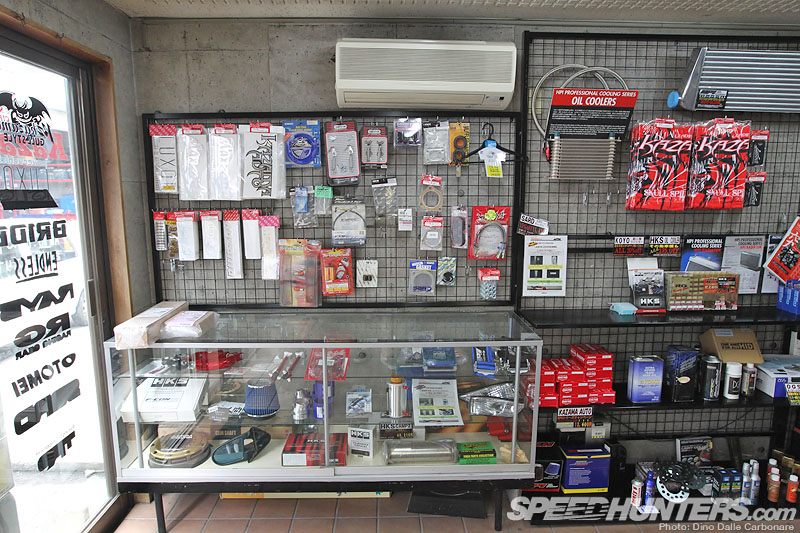 The shop is a cool place to hang out, there are plenty of parts on display and lots to check out including all the latest issues of various tuning magazines and of course Option and Hot Version DVDs constantly playing on the TV.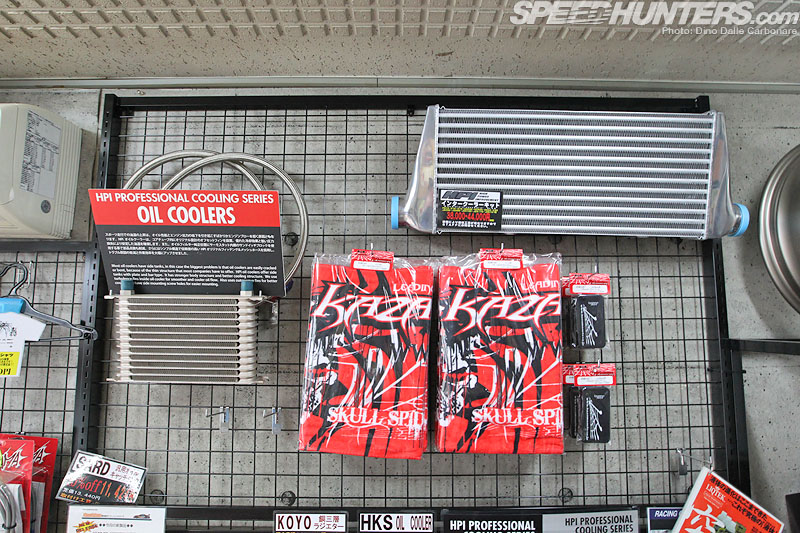 On top of offering a wide selection of parts from various tuning brands like HKS, Tomei and HPI…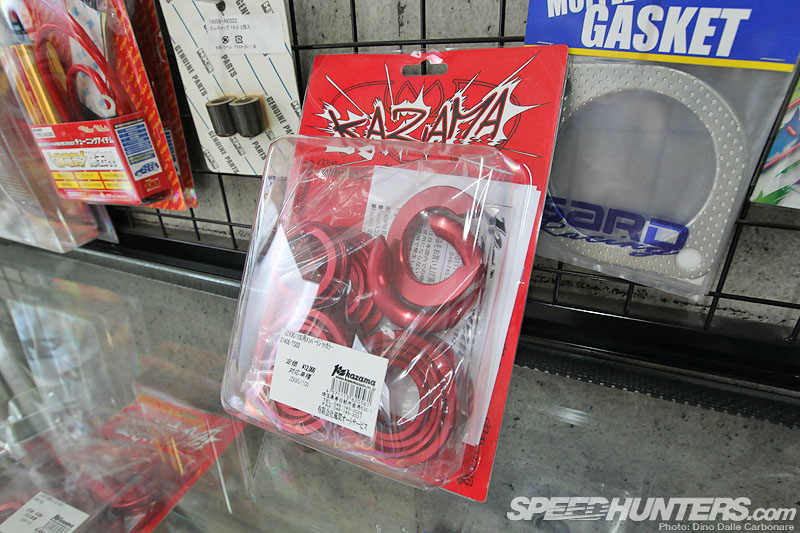 …Kazama also has his own parts line up, specializing in suspension upgrades and bits to help convert your street car into a more focused drift machine. These are some rigid collars for the JZX90/100 rear subframe…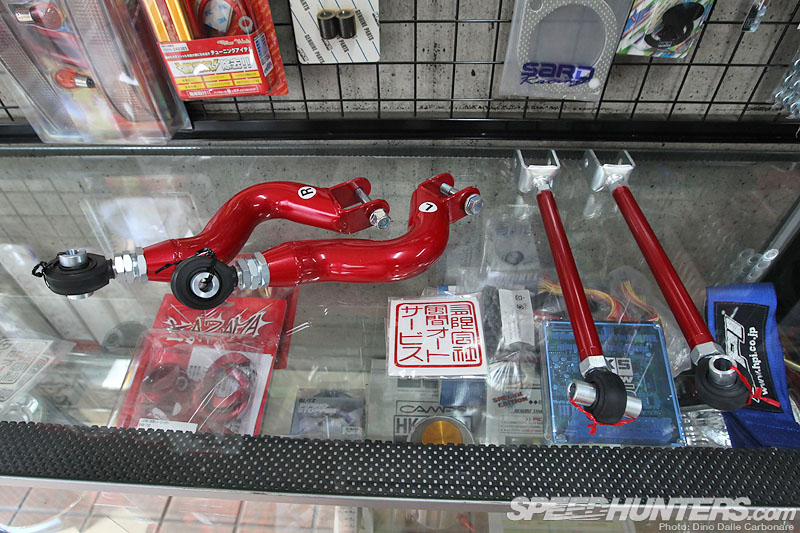 …while on the left here we have S14 adjustable rear upper arms and toe control arms on the right.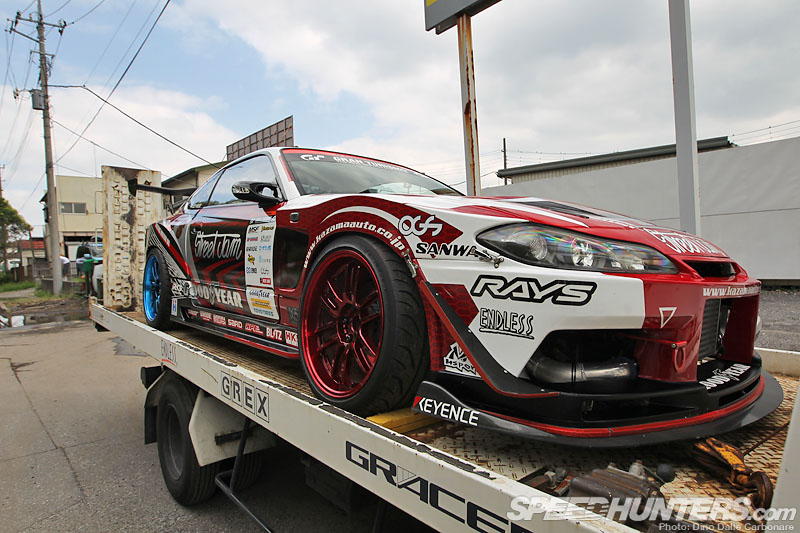 Outside the shop I found their old D1 machine sitting on a transporter. This S15 runs a 2JZ swap good for around 650 HP and was driven by ex-Team Orange driver Tanaka during the 2011 season.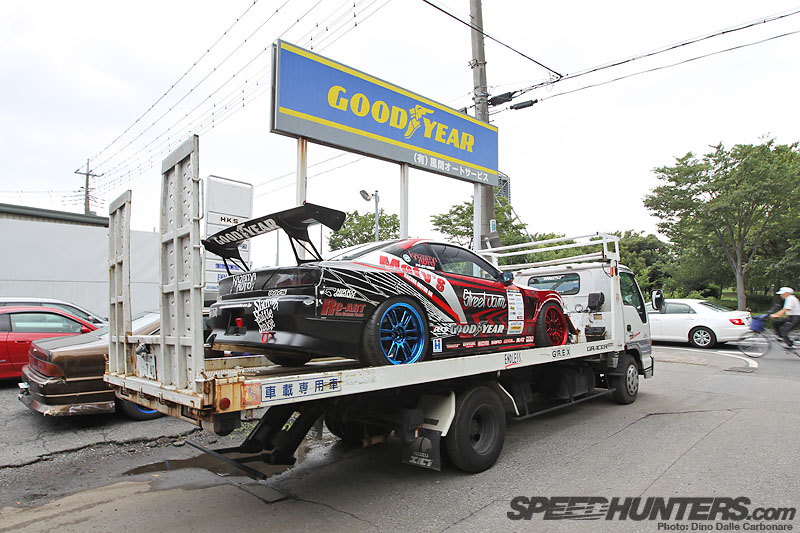 It's a pity they retired it but it will be interesting to see what they will be coming up with next. Before it finds a new home, a feature might be in order, what do you guys think?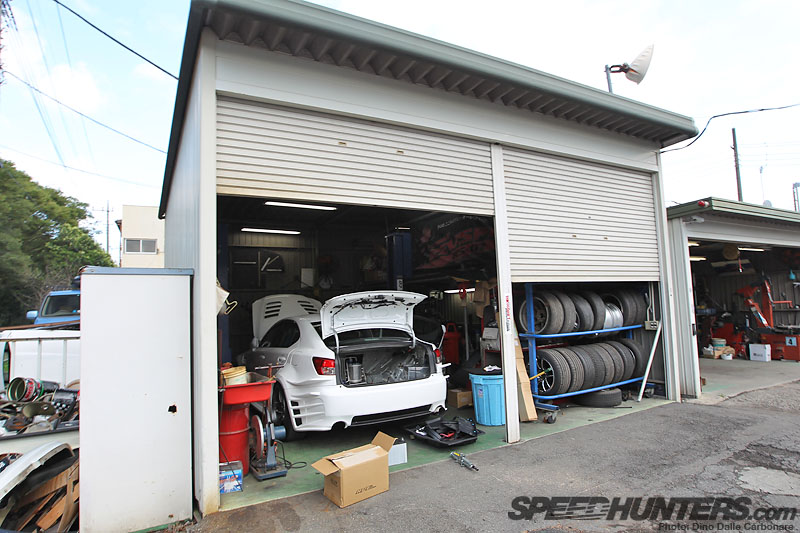 And while on the subject of 2JZ swaps their Lexus IS drift car was getting some work done in one of the pits.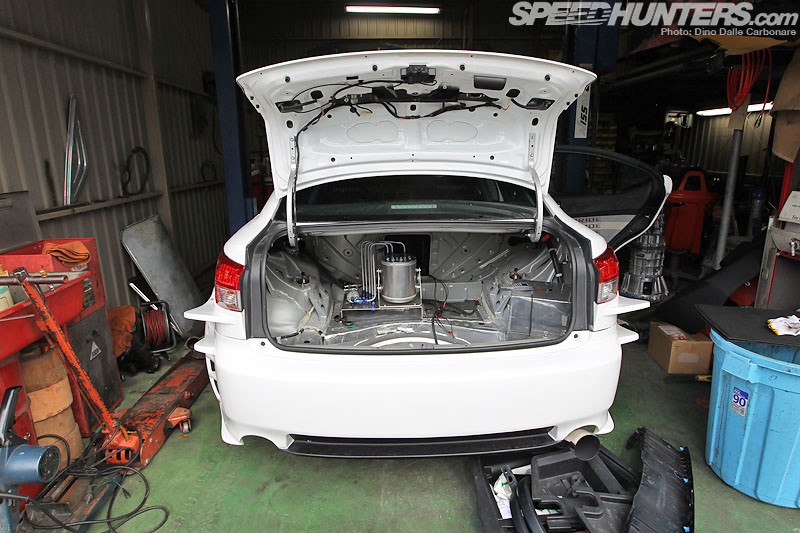 If you recall we looked at this car in detail last year, except now it has lost all of its graphics and could almost be mistaken for an every day car…if it wasn't for the wild wide body aero!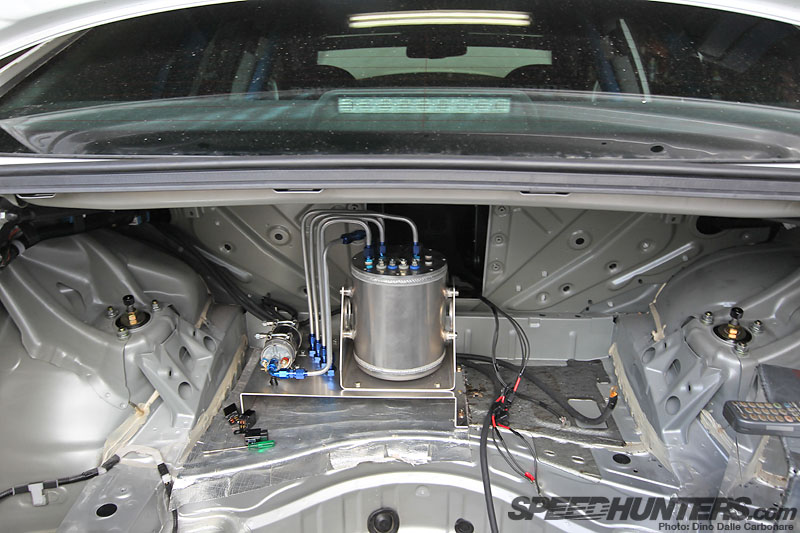 The fuel system was being worked on…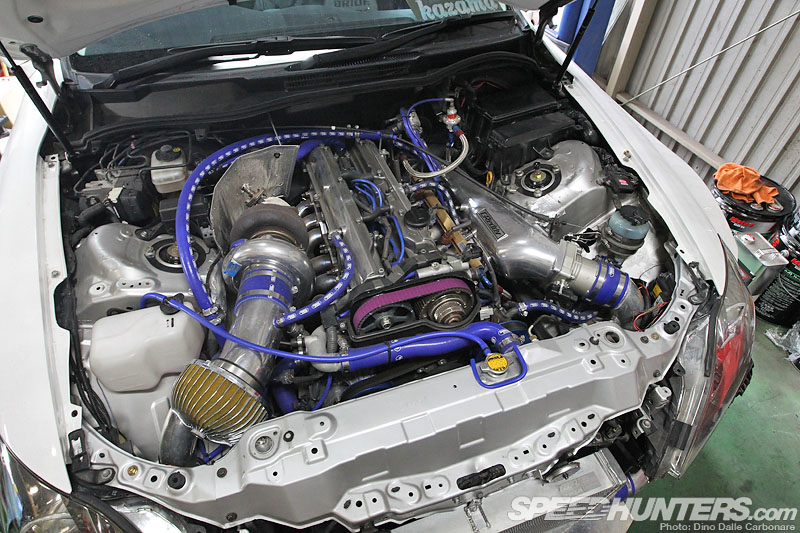 …and receiving a few upgrades up front. That is still one pretty impressive looking engine bay and I have to say I prefer it without the 2J's blue plastic cam covers.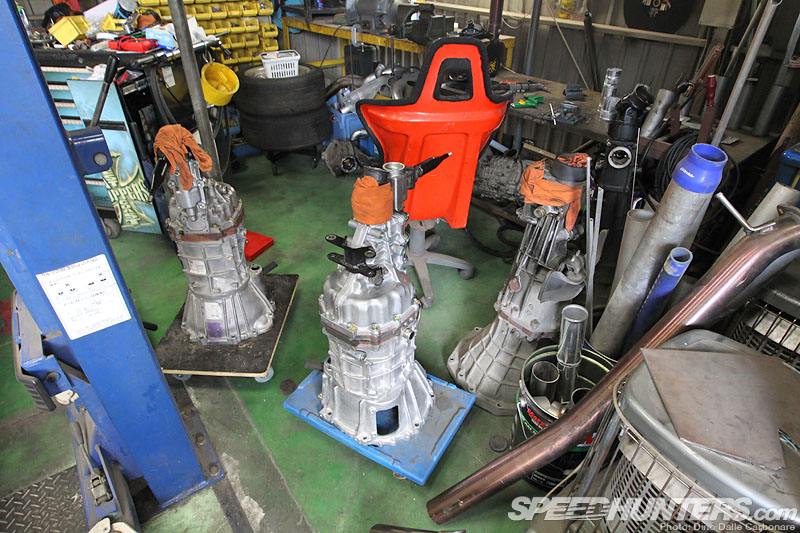 You can always tell you are in a drift shop when there are tons of spare gearboxes lying around.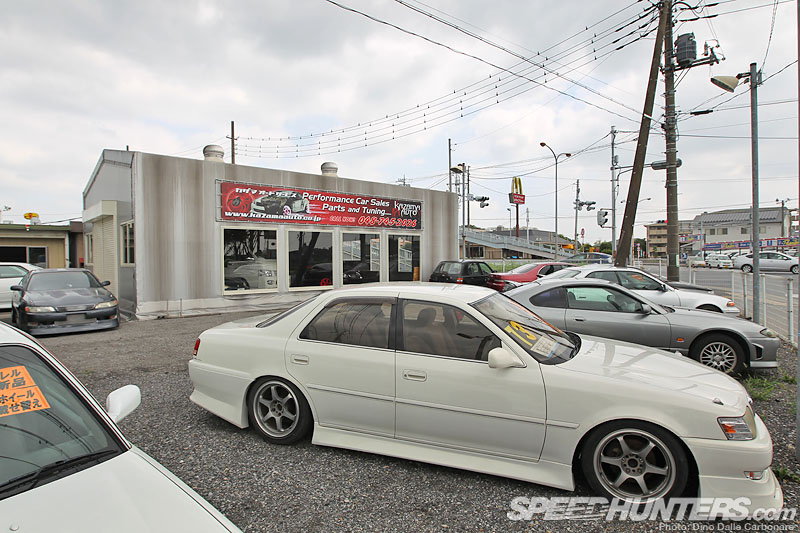 If you are after an affordable drift car Kazama Auto is a great place to check out, as they always have a nice selection of ready to drift cars up fro grabs…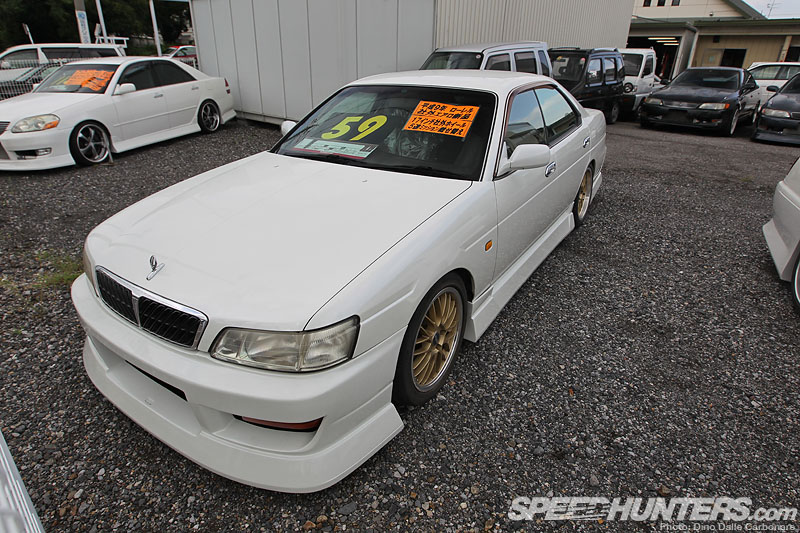 …like this 5-speed manual 1997 Laurel on 17-inch wheels and fitted with some aftermarket aero. At todays exchange rate 590,000 yen is around $7,400.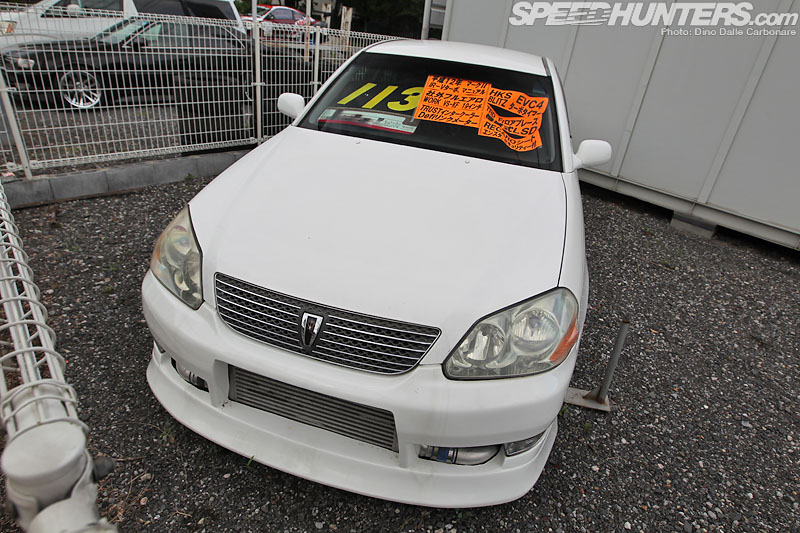 I quite liked this manual 2000 JZX110 MarkII i-RV, already sporting lots of cool mods like an aftermarket intercooler, boost controller, 19-inch wheels, aero and an LSD. Not a bad deal for $14,250.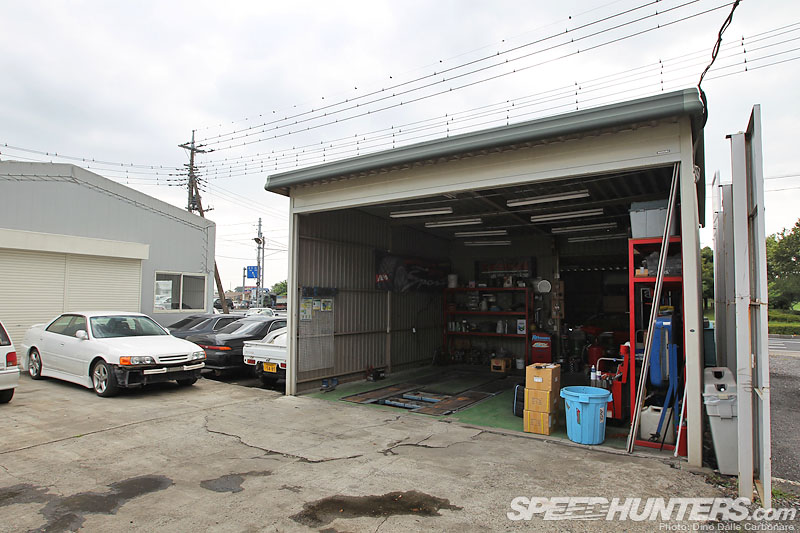 Aside from the smaller pits where bigger projects are built and looked after it's this main workshop area…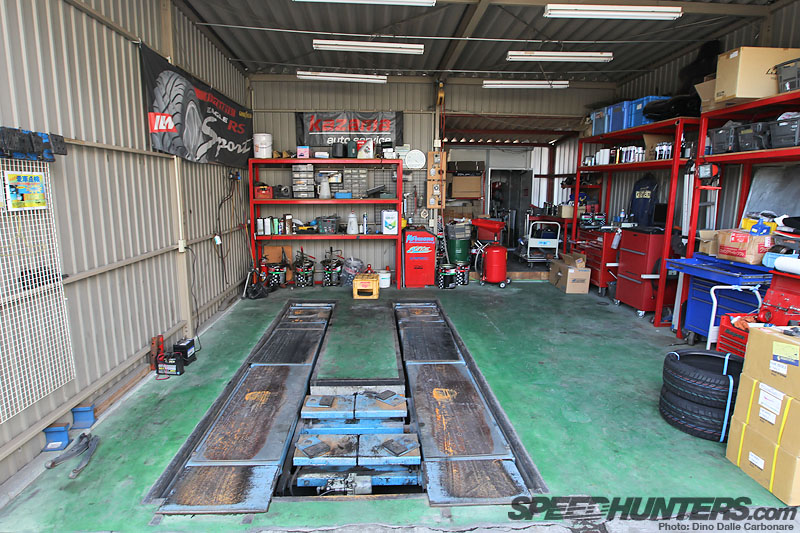 …where day to day maintenance and customer cars are looked after. If you come in for an oil change, tire change or alignment this is where your car will be worked on.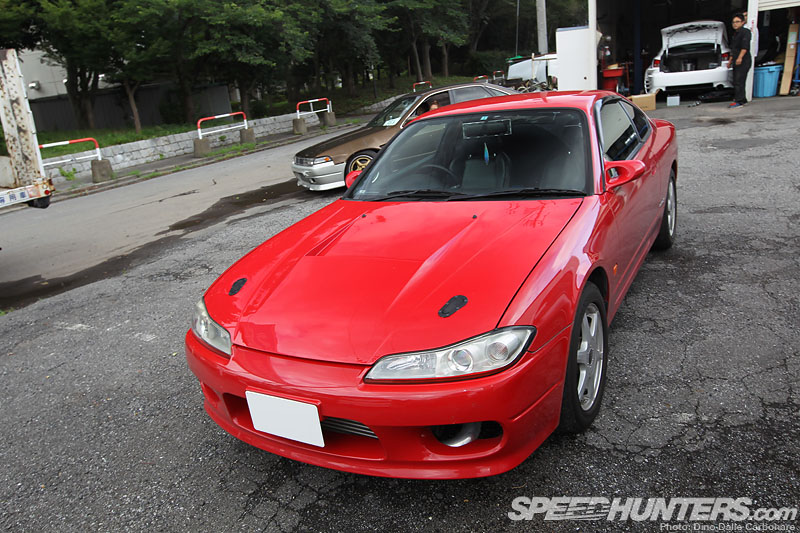 Despite it being a quiet weekday afternoon there were a couple of cars being worked on like this S15 Silvia fresh out of the alignment rig…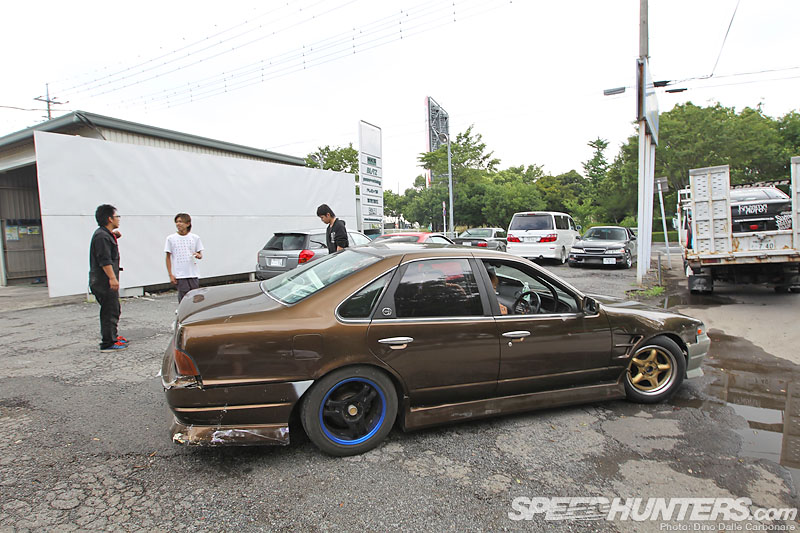 …and this well used Cefiro…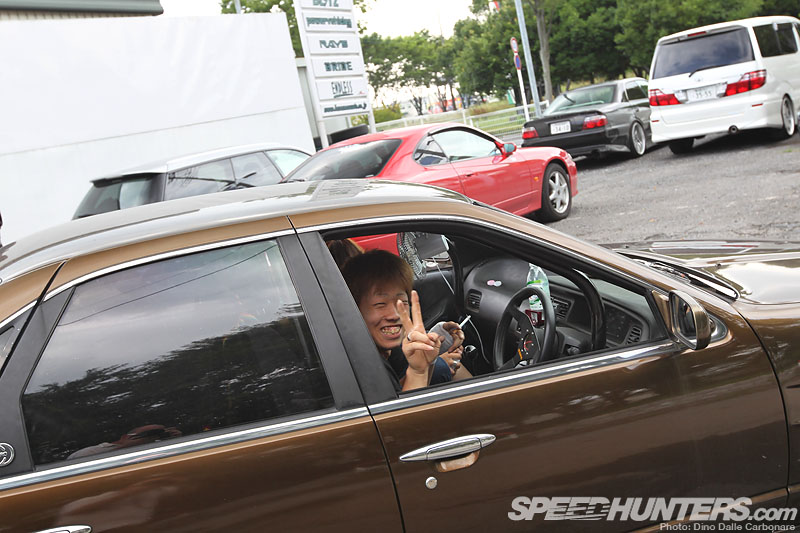 …which the customer had just dropped by to pick up.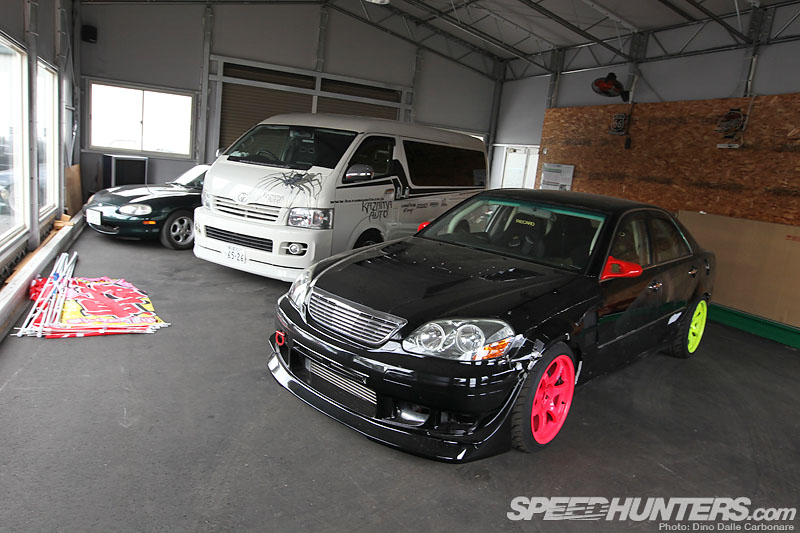 One of the outside buildings is now used as a garage for some of Kazama's cars like this D1-SL JZX110 and the big Toyota HiAce he uses to transports parts to and from events. This actually used to be the first RC drift track that Kazama built 4-5 years ago, a decision he took seeing the Japanese economy at the time was on a seemingly unstoppable downward spiral and people just weren't spending money on their cars. Little did Kazama know just what a big success this venture into RC drifting would actually become. He has now closed this little track…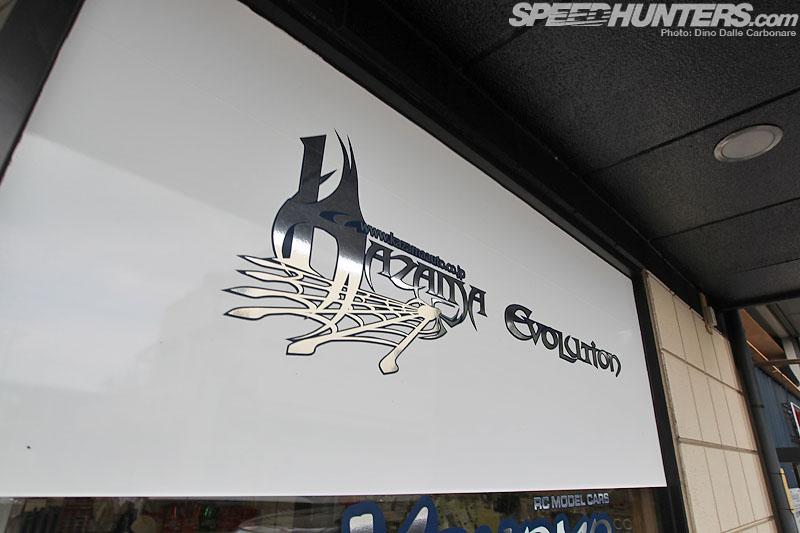 …and opened a slightly larger one next door to the main shop.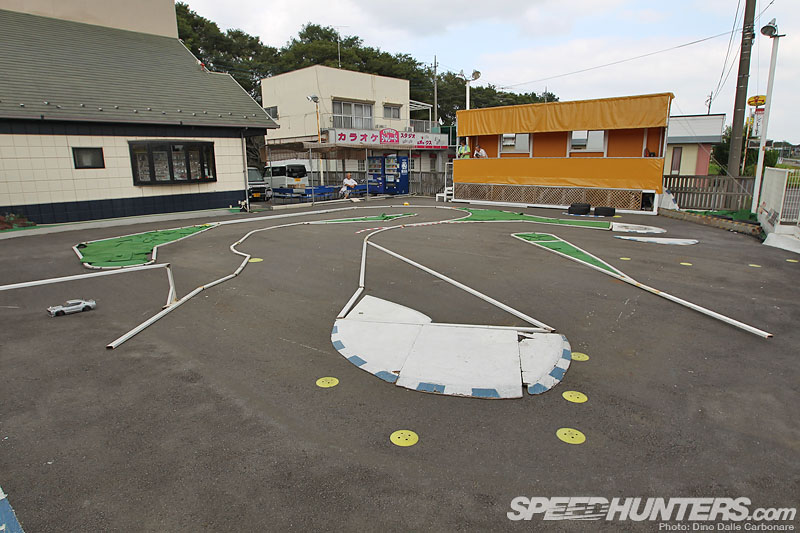 No matter what day or what time, you can always find someone playing around…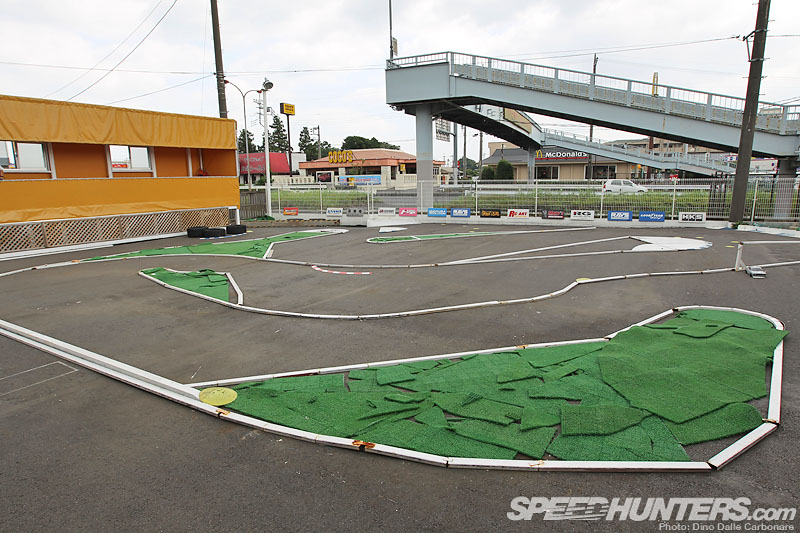 …on the continuously evolving track layout. I think every time I drop by it's different!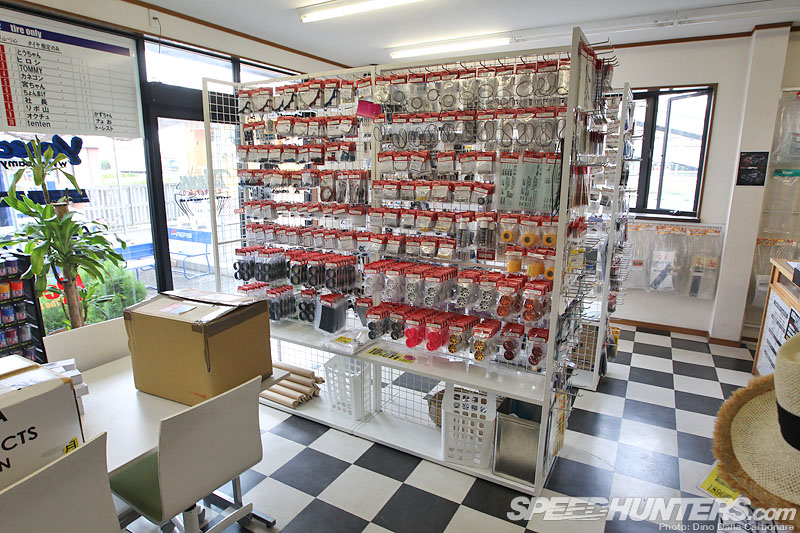 Next to the track is the dedicated Kazama Auto RC shop where you can find a ton of original Kazama parts for your RC car, anything from lightweight billet aluminum parts, wheels…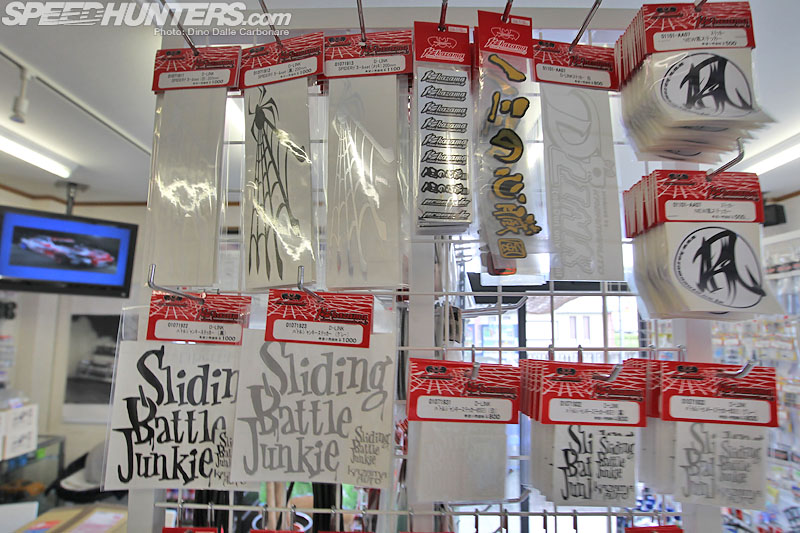 …and of course graphics to spice up your scale drifter.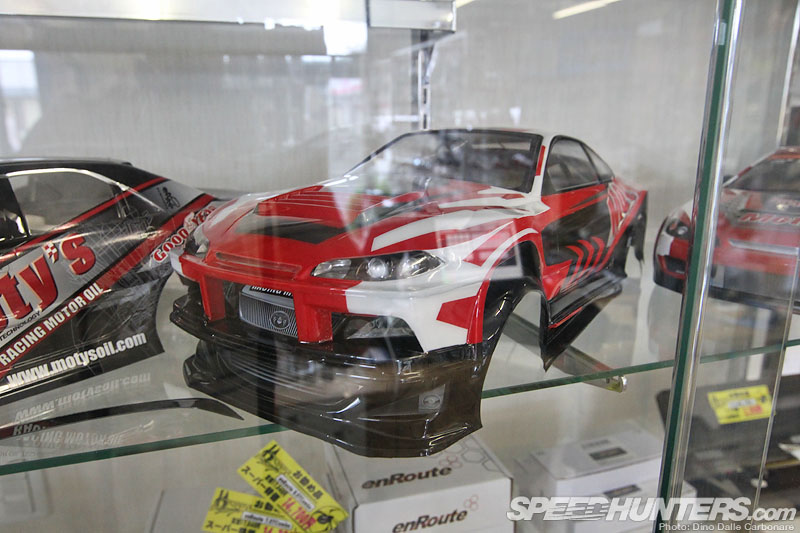 Kazama is really good at merging his two businesses together, and every time he builds a new project car he always makes scaled replica bodies. Here is the S15 that we saw a few pictures up, and next to is the Kazama MarkII body.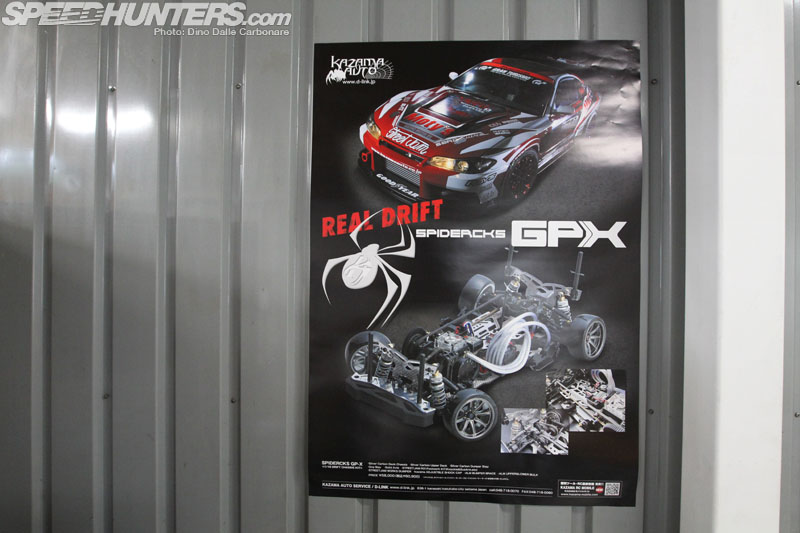 He has even begun selling his own chassis!  In late 2010 he opened up a huge drift car facility in Moriya, a short drive from Tsukuba Circuit, called D-Link, which is a great place to hang out after a day at the "real" track. I stop by myself occasionally when I have some spare time and waste a couple of hours fine tuning my somewhat lacking RC drifting skills.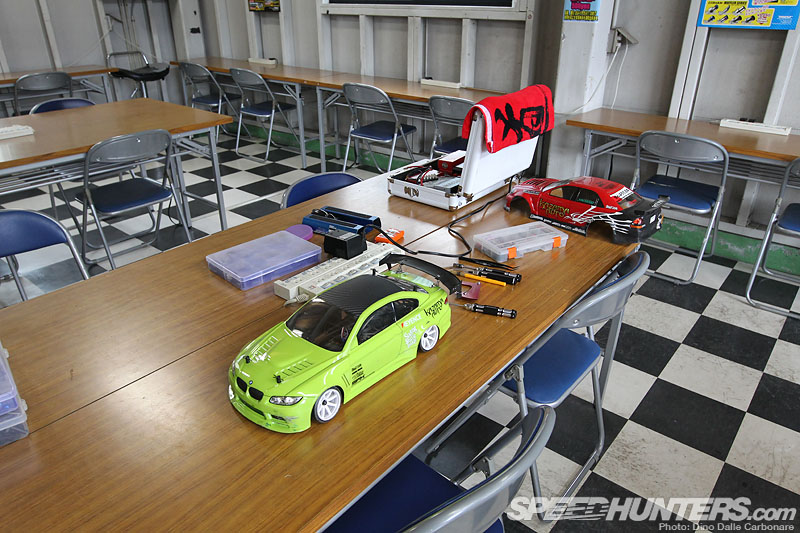 So in a nutshell that is what Kazama Auto is all about a place that, no matter if you are into real drifting, or the miniature variety – or both – will cater to your every need. Plus it's one hell of a cool place to hang out at!
-Dino Dalle Carbonare