It's Saturday afternoon at Irwindale Speedway. The gates have just opened and drift fans are lining up to get inside the track. An endless procession of cars pulls into the parking lot under traffic direction for the Irwindale Police Department. At this moment I'm walking away from the track and toward the parking lot with my camera in hand, glancing down the rows of vehicles. I must have looked pretty strange.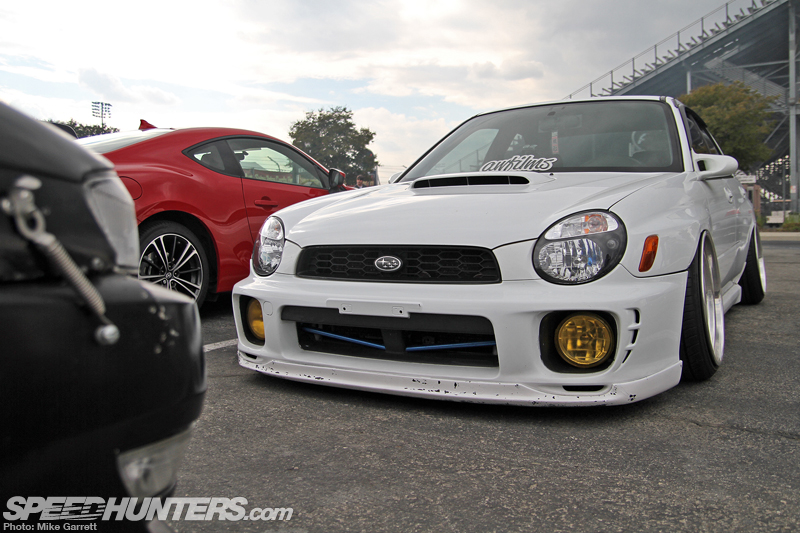 In fact I know I looked strange because I ran into a confused gentleman who asked me if I was trying find my car. He himself had gone back to his car to retrieve something and lost track of where he'd parked in the massive lot. I explained to him that I was actually looking around for cool cars to take pictures of and I think that may have confused him even more.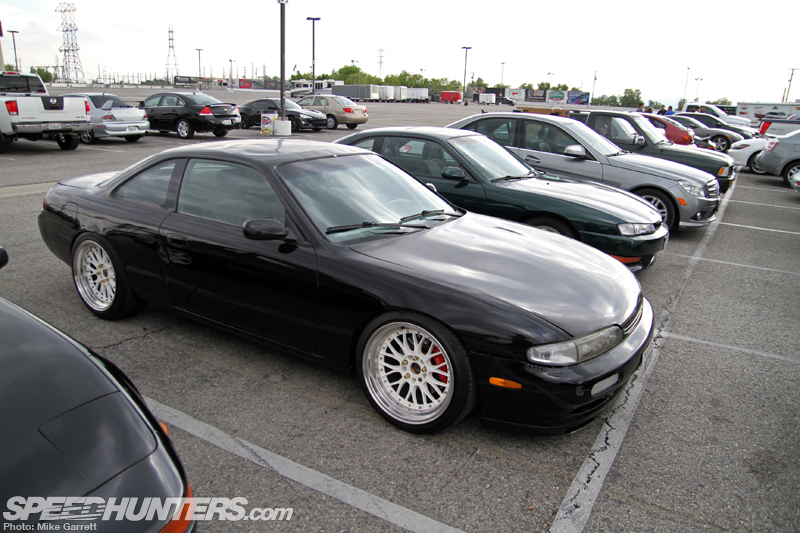 Despite how strange I may look while doing it, parking lot browsing is one of my favorite things to do at events. These cars may not be within the gates of the event itself, but to me they are still a very big part of the whole experience. On both Friday and Saturday I made sure to take a break from my duties at the Speedhunters booth to browse the parking lot and see what I could find.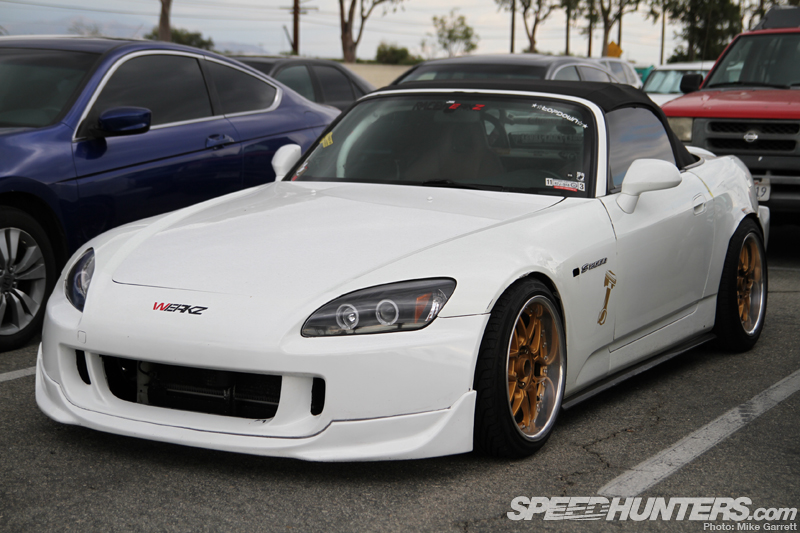 After all, there's really no better way to feel the pulse of a particular scene than by looking at the machines that brought the people here. What kind of cars are people driving? What kind of things have they done to them?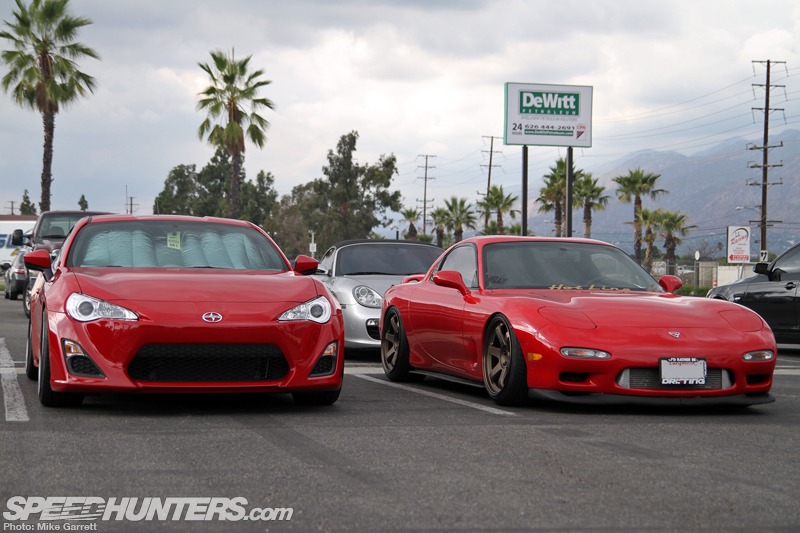 In addition to the spectators, the professional drivers have to get to the track as well. Here we see a couple of street cars owned by Formula D drivers and SoCal residents Ken Gushi and Justin Pawlak. Makes for quite a pair doesn't it?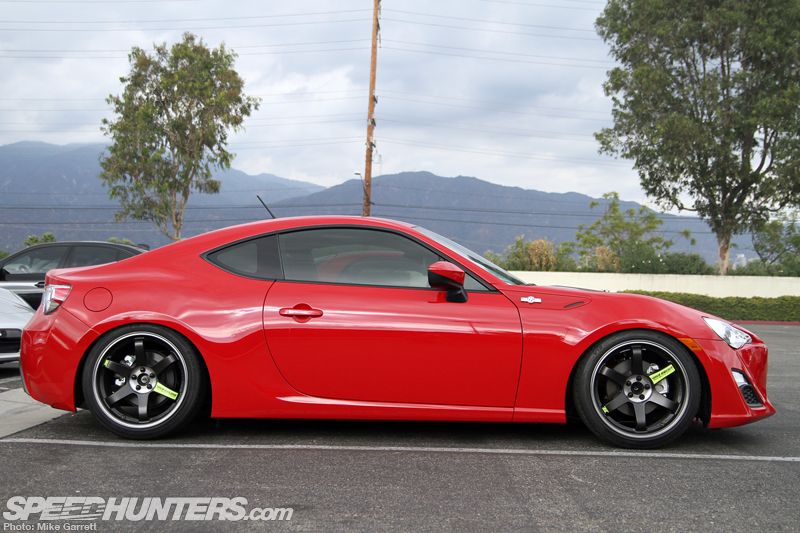 Ken Gushi of course competes in Formula Drift behind the wheel of a Scion FR-S, so it's only fitting that he drives one on the street as well. Ken's street car seems to be coming along very well, with its Black Edition T37SLs perfectly contrasting the Firestorm Red body.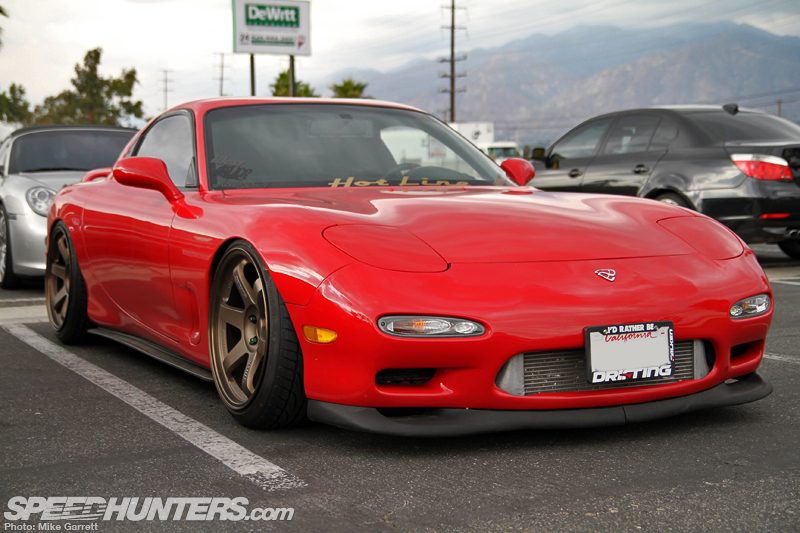 JTP may do battle professionally in his Falken Tire Ford Mustang, but he keeps his rotary roots alive in his FD3S street car. You may remember this car from when I visited Justin last year at his Hot Line shop in Gardena.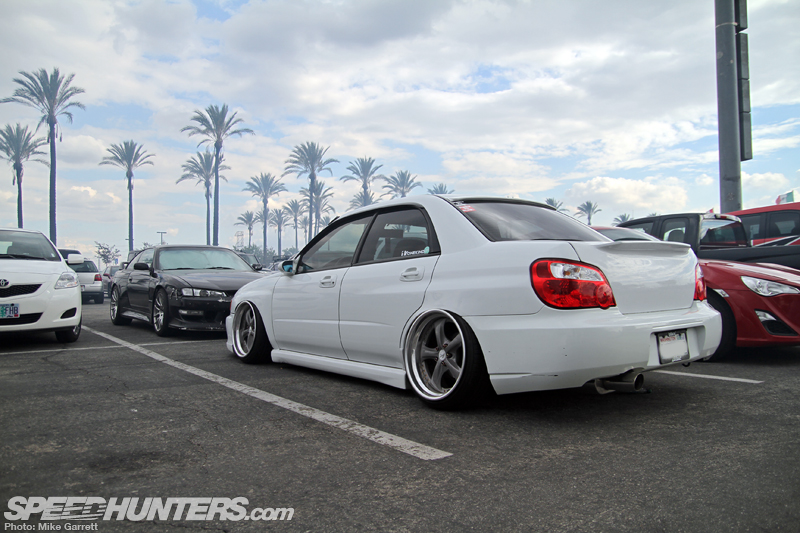 The Work VS-KF is a highly sought-after wheel in the grassroots drift world, but how do they look on a slammed WRX? Quite well I'd say.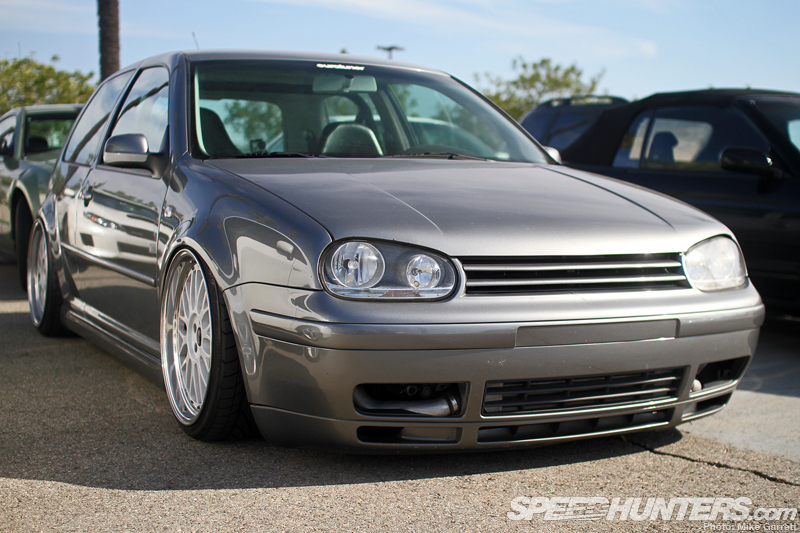 You might expect the parking lot at a Formula Drift event to be filled with nothing but beat up S13s, but the variety may surprise you. Here's a very mean looking Golf IV with a big intercooler hiding behind its front bumper.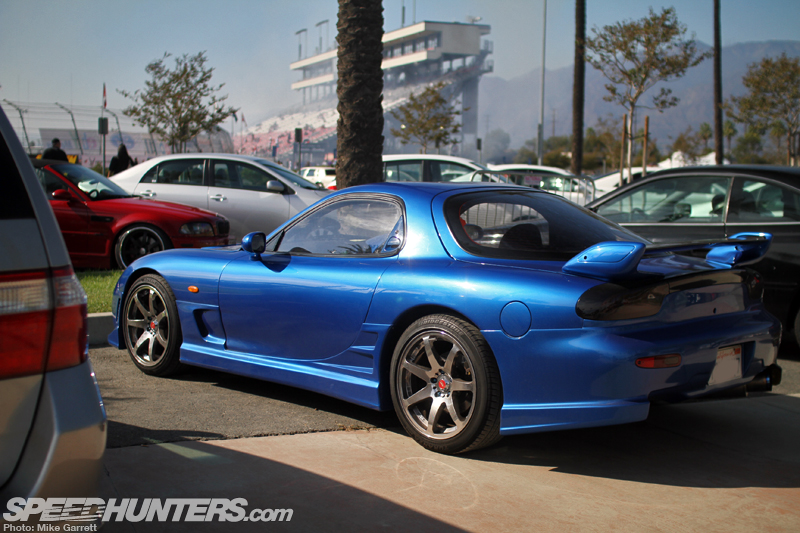 When I walked by this FD3S I thought to myself "that looks a lot like the RX-7s  you see on the streets of Japan". A closer look revealed that it's in fact a late model, right hand drive example brought over from Japan.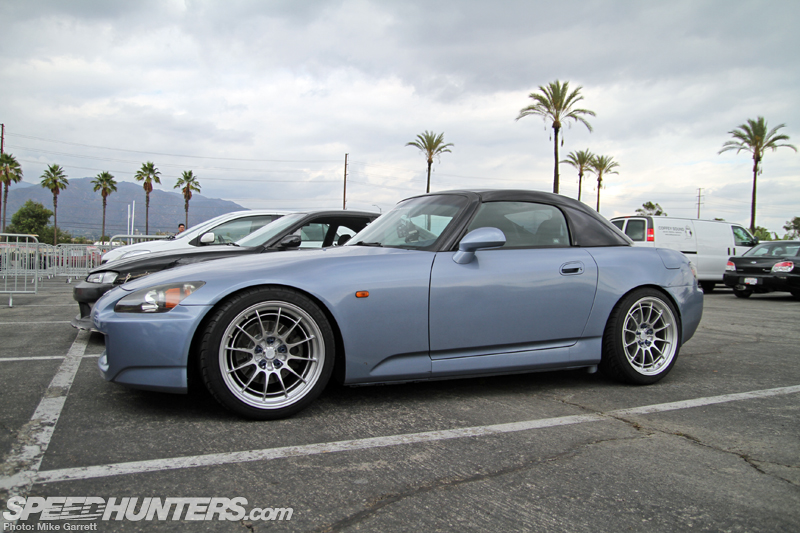 It may be lightweight, rear wheel drive, and Japanese but the Honda S2000 will probably never carry the same drift-friendly image as the AE86 or S13. That didn't mean there weren't plenty of them to be found in the parking lot though. Here's a Suzuka Blue AP2 with a Mugen hard top and Enkei NT-03s.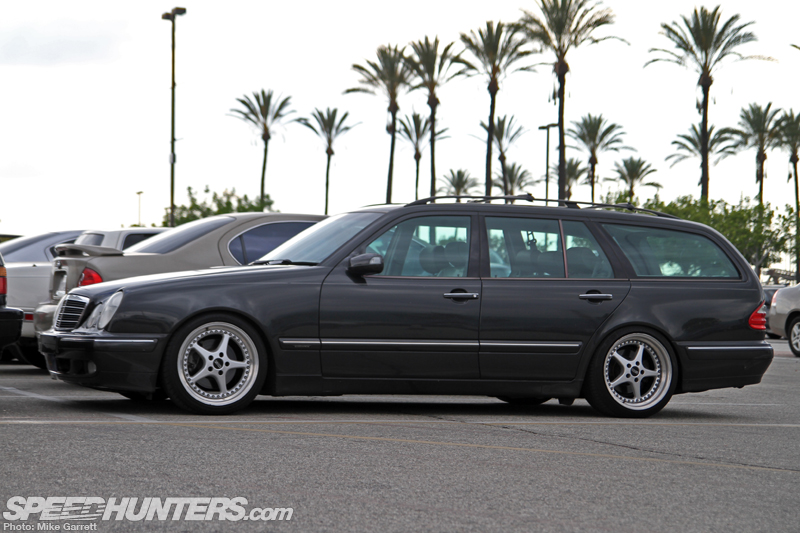 No matter their age or country of origin, it's ALWAYS cool to see modified station wagons. Here's a big body Benz ready to haul in style.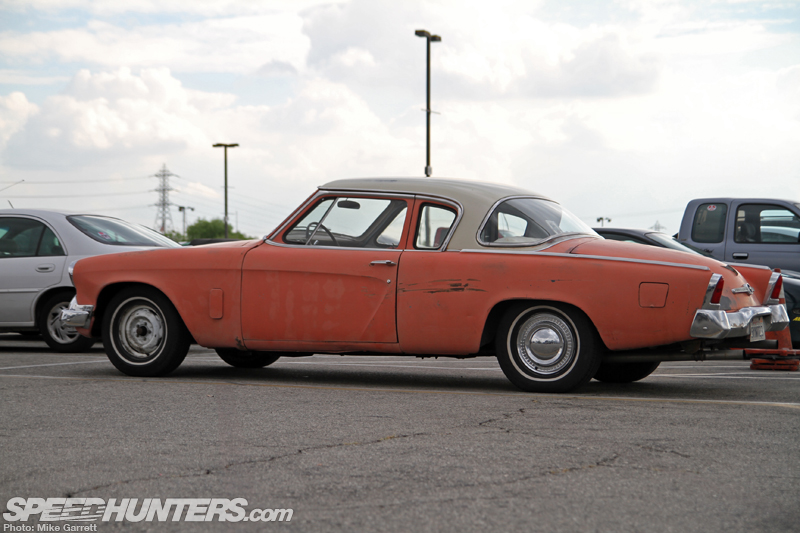 A Studebaker Commander in the parking lot of a drift event? Hey, why not? It's sightings like this that make these parking investigations so fun.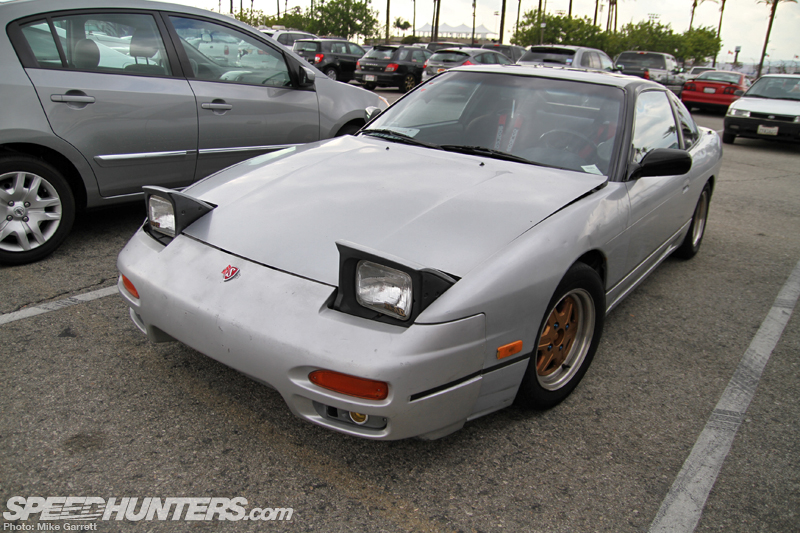 It may not be pretty or flashy, but many of today's established drifters began their journeys in something similar to this S13. Note the 14″ wheels that originally came from a 280ZX. Low buck style.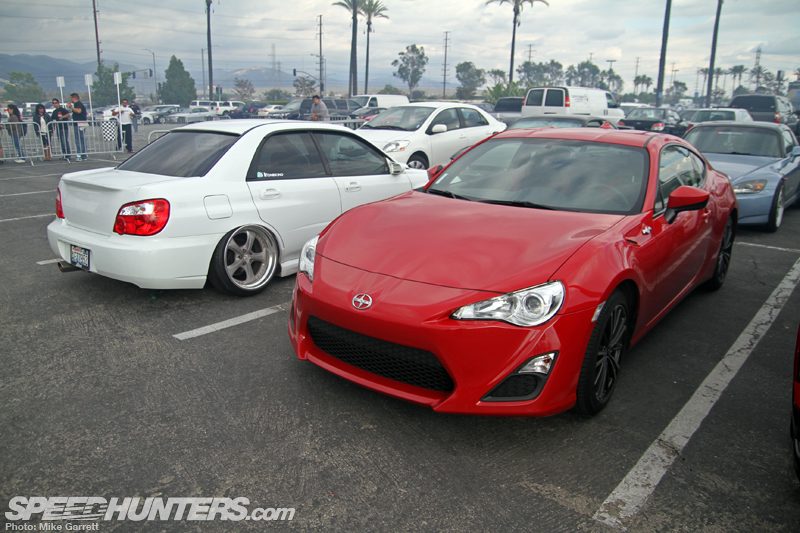 I noticed quite a examples of the Scion FR-S and Subaru BRZ in the parking lot. It's not surprising really, but it is nice to see that these cars are indeed catching on in the "real world".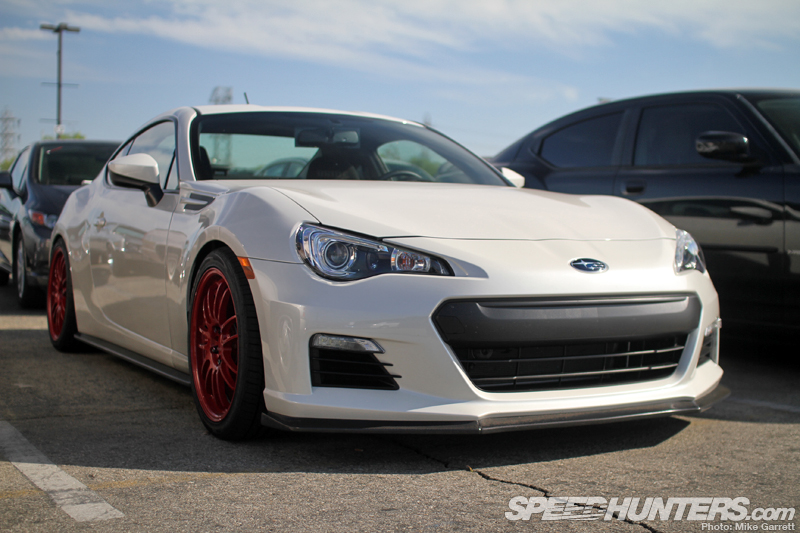 Most of the FR-S/BRZs I came across were still stock, but I did catch a few modified versions like this white BRZ. After so many years of speculation and rumors, it's still a bit hard to believe that these cars are really out there in the flesh now.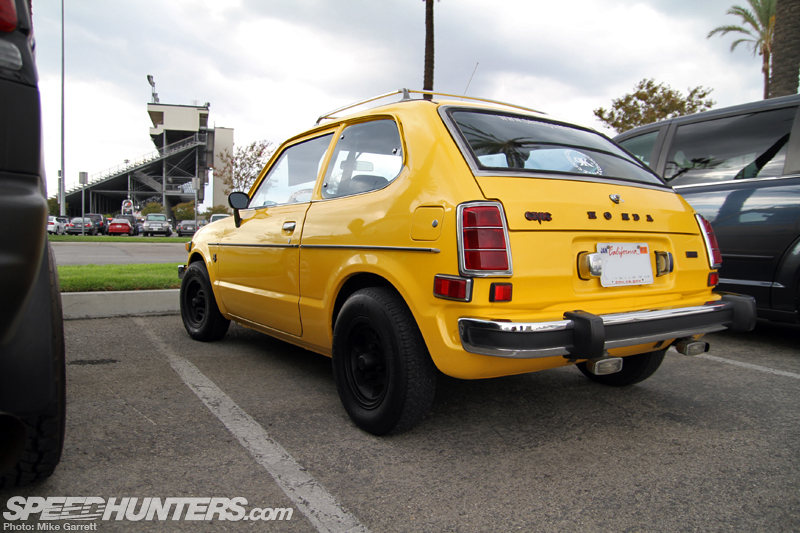 As you might imagine, I was pretty surprised to come across this very clean first generation Honda Civic. Early Hondas may not have the same sort of widespread appreciation that their counterparts from Datsun and Toyota get, but I could very easily see that changing in the future.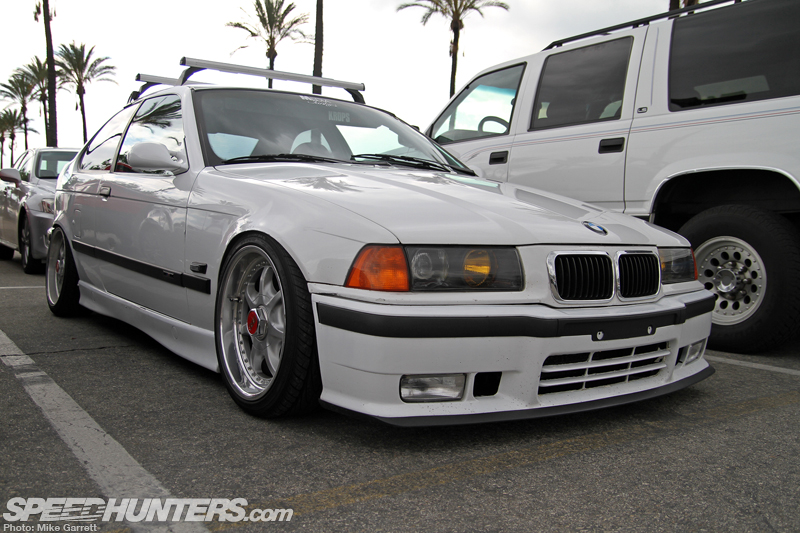 Now I can't speak for our friends in Europe, but I can say you don't see too many BMW 318tis here in the United States. Here's one of the "mini Bimmers" looking rather cool.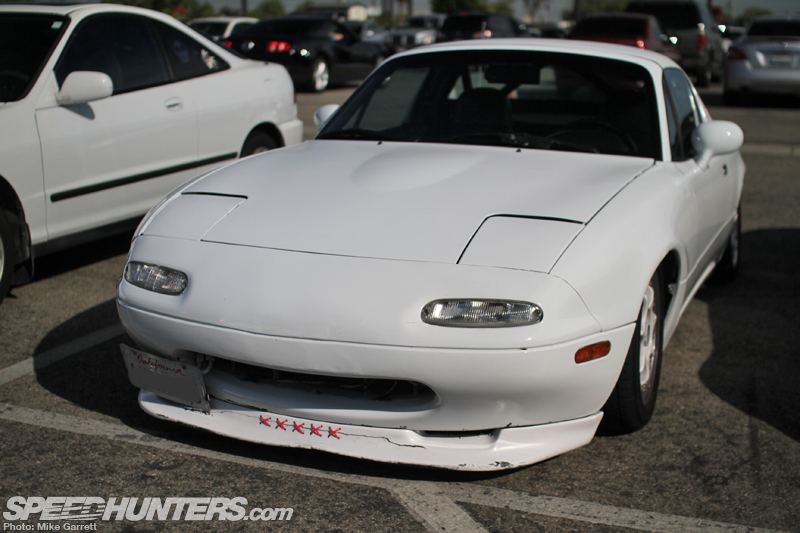 How about an NA chassis Mazda Miata sitting low and looking a little battle worn? It's been far too long since I've driven one of these….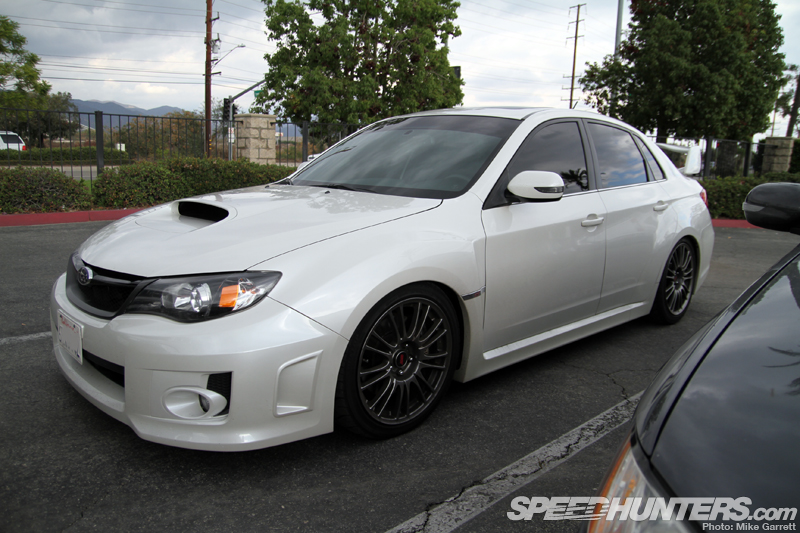 This STI sedan looks completely stock aside from suspension work. These things are pretty amazing even in factory spec, so I'm certainly not complaining.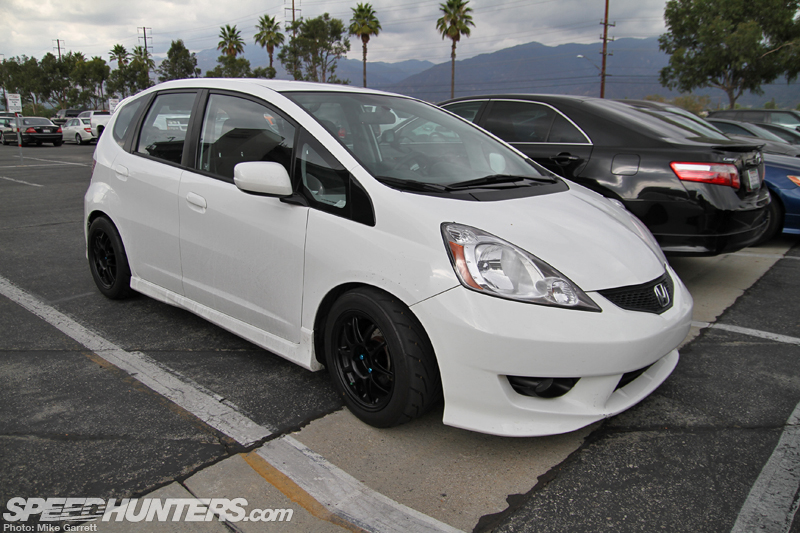 Here's a Honda Fit wearing 15″ Enkei PF01s and a set of sticky Toyo R888s. Looks like the perfect machine for attacking corners during the daily commute.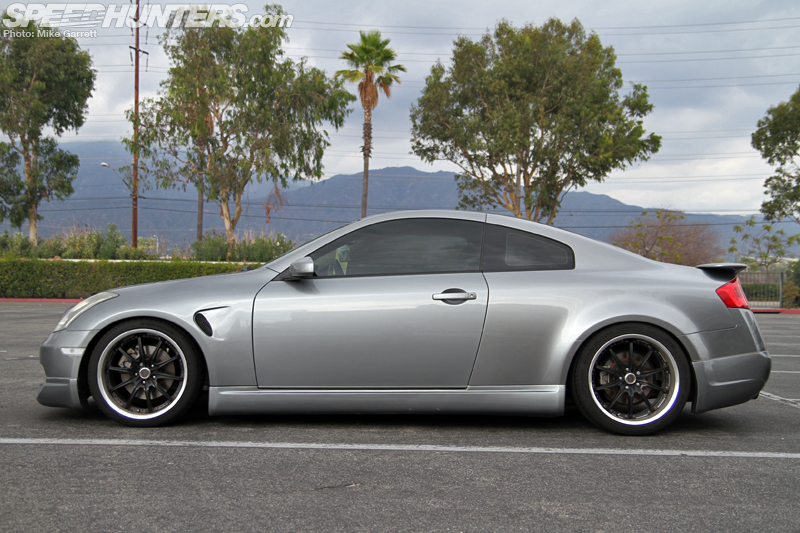 The early G35 Coupes are another one of those cars that have been dropping in price on the used car market. They've been popular for some time now, but I imagine we'll be seeing even more being modified as they get cheaper and cheaper.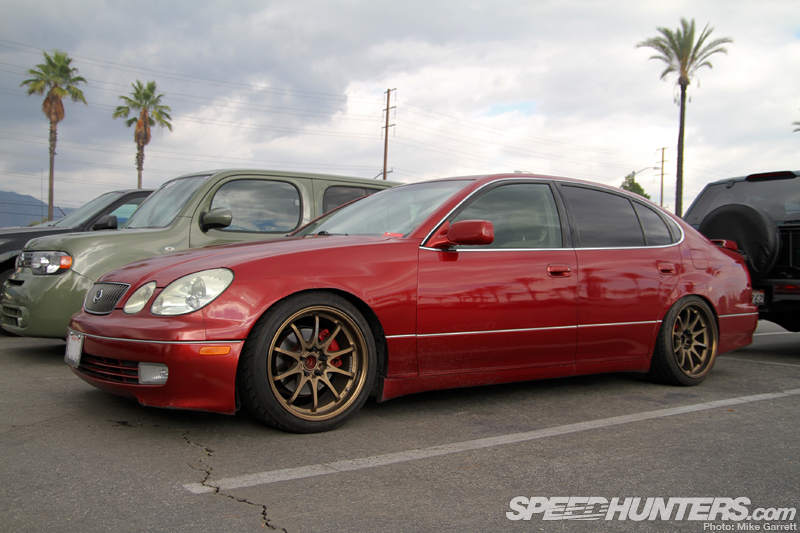 One of my favorite finds of the weekend was this Lexus GS on bronze Volk CE28Ns.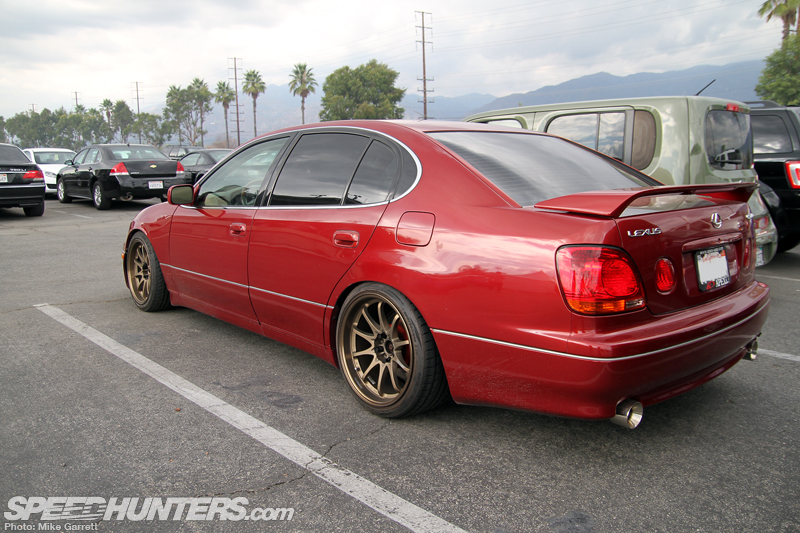 There wasn't anything "outstanding" about the car, but it's always nice to see a GS done in something other than a VIP theme. I wonder what's under the hood?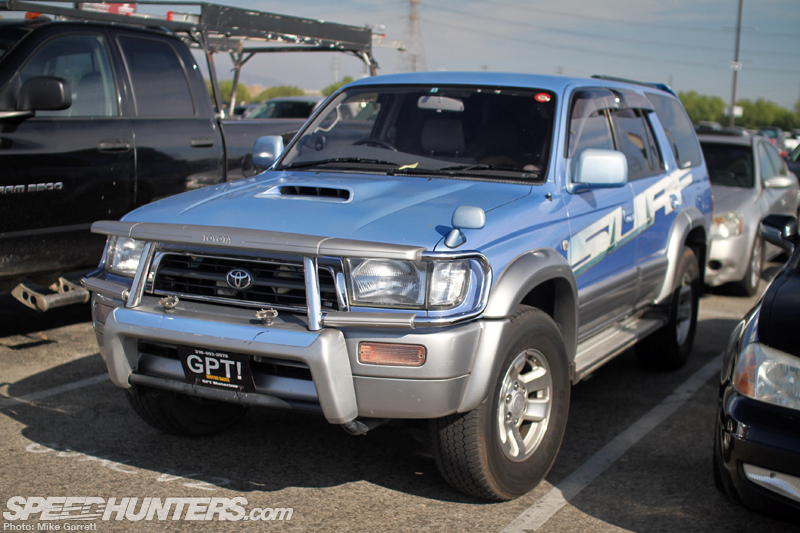 Just in case you didn't know this is a right hand drive Toyota Hilux Surf, it's been proudly written down the side. Gotta love the '90s.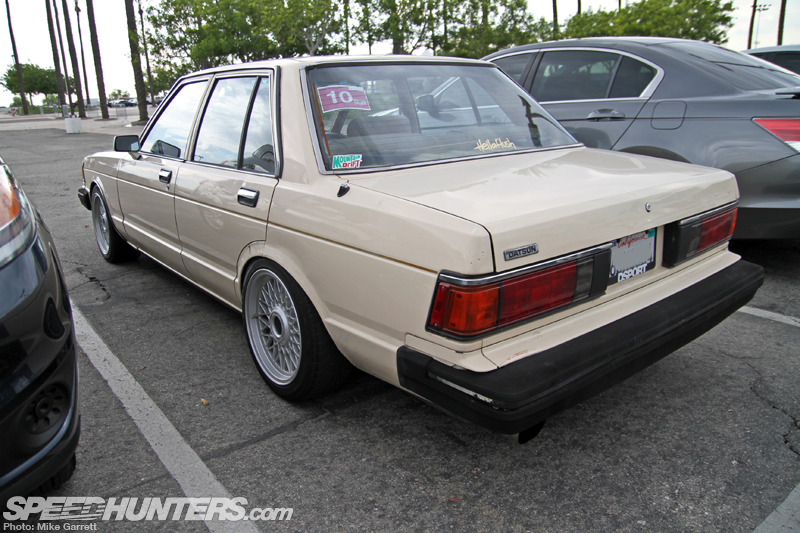 It feels strange to call the Toyota Cressida "mainstream", but compared to its rival the Datsun 810 Maxima it most certainly is.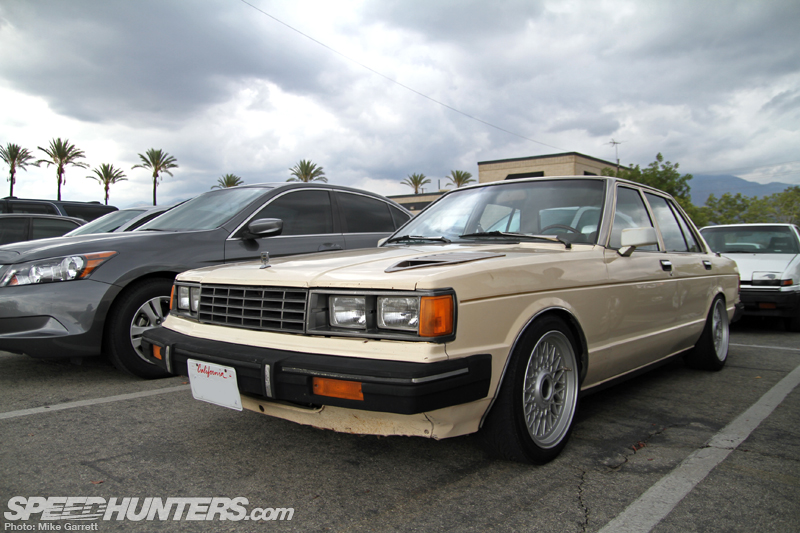 It's definitely cool to see someone taking a shot at fixing up one of these big Nissans. Check the NACA vent that's been added to the hood.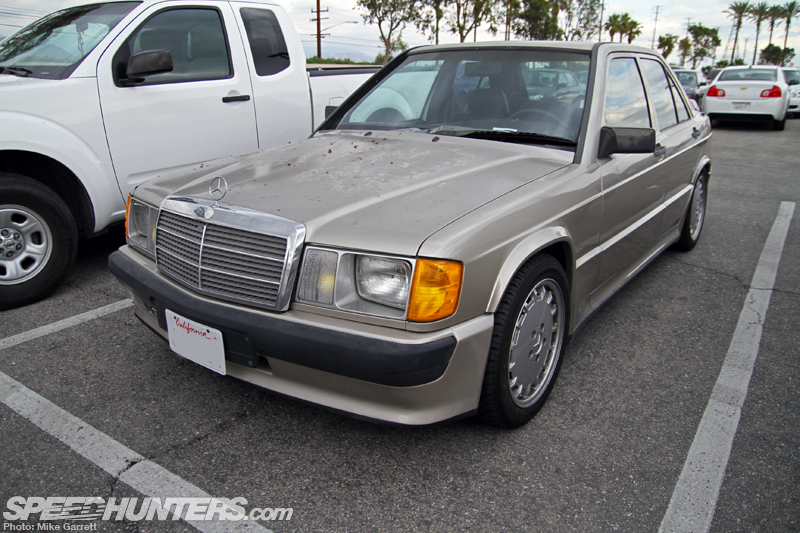 Aside from a bit of sun peel, this Mercedes 190E appeared to be in very good condition. I'd love to pick one of these up and have some fun at some point, but for now it will remain among the sea of project car ideas that's constantly swirling in my head.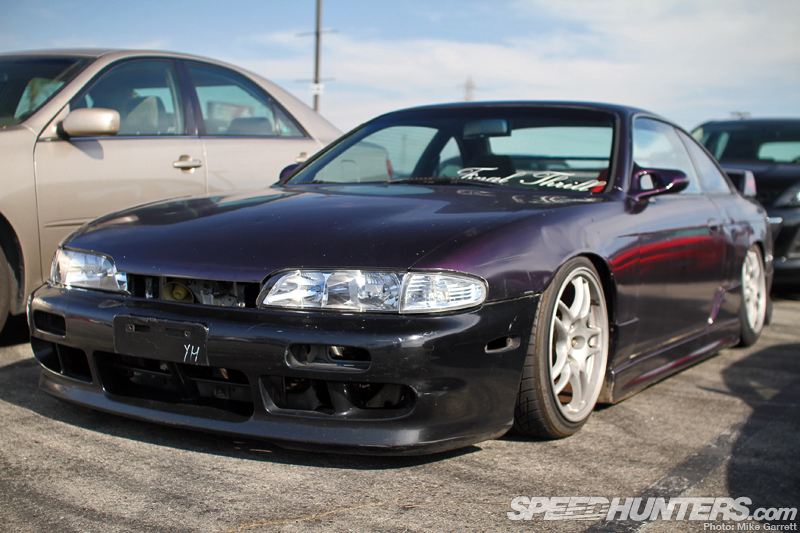 I'll wrap up with this Zenki S14 that was very clearly inspired by the awesome Japanese street drift cars of the late 1990s and early 2000s.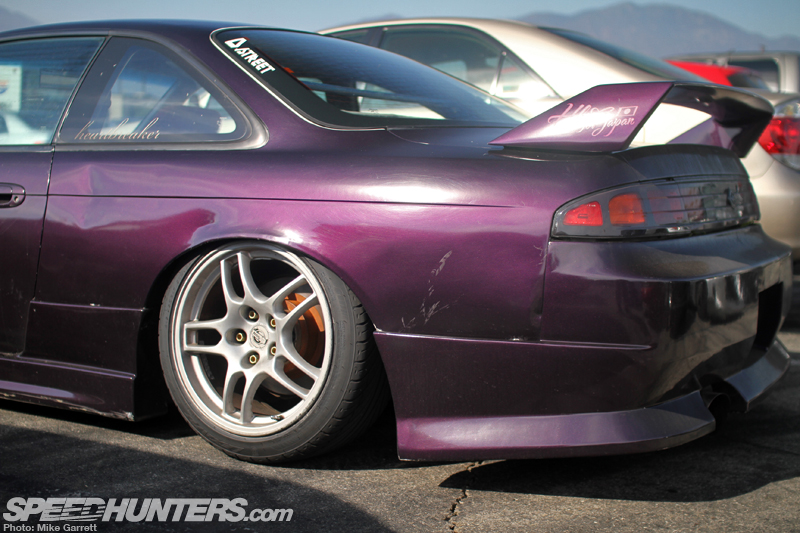 With ground-kissing stance, GT-R wheels tucked beneath the fenders, and just a bit of body damage it represents street car style to the core, and is a fitting way to finish up my parking lot exploration from Irwindale.
-Mike