As I'm sure you guys are aware, the life of a Speedhunter is like that of a pinball. We spend our time bouncing back and forth between different automotive subcultures, never staying in one area for too long. A typical month for any one of us will include pointing our cameras at everything from rusty Hot Rods to jumping rally cars. Rarely though, do two events so different fall so close together.
You've already got some of Larry and I's exploits at the California Hot Rod Reunion, but that eardrum blasting insanity was just half of our Speedhunting adventures last weekend. On the opposite end of Kern County from Famoso , All Star Bash was also going down at Willow Springs. Larry will be contributing his own take on the event, but for my end I'd like to focus on one of the best parts of ASB – the cars.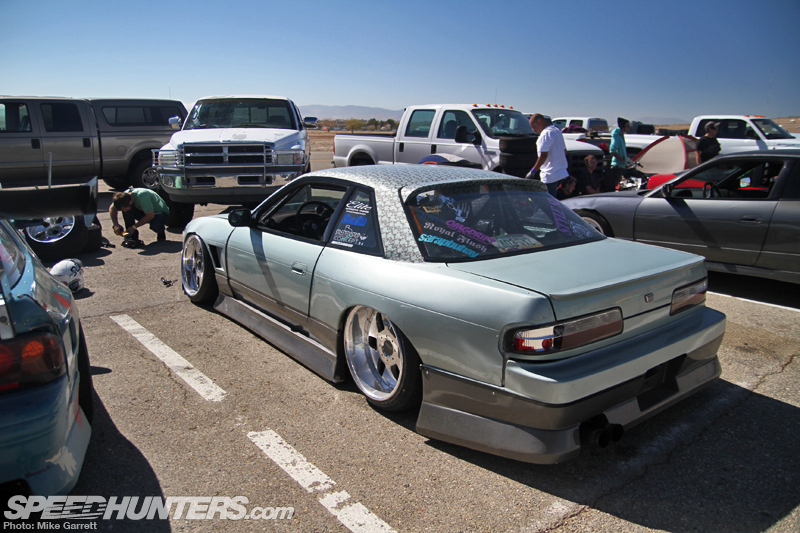 I figure this S13 coupe is a fine place to start off. After all this is the car that's defined the grassroots drifting scene since the beginning. What I particularly liked about this car was that even with its aggressive aero and enormous wheels, the owner stuck with the factory two-tone color scheme. It sets the car apart and is a nice homage to its roots.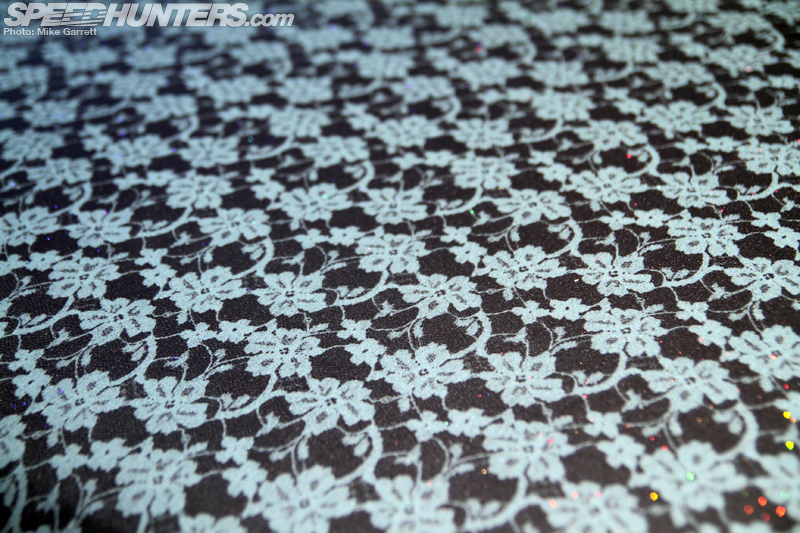 In addition to the OEM style paint job, the roof was covered in a flaked floral pattern the brings to mind Lowriders and Bellflower style customs from the '60s. It's another one of those little crossovers between car cultures that I love so much.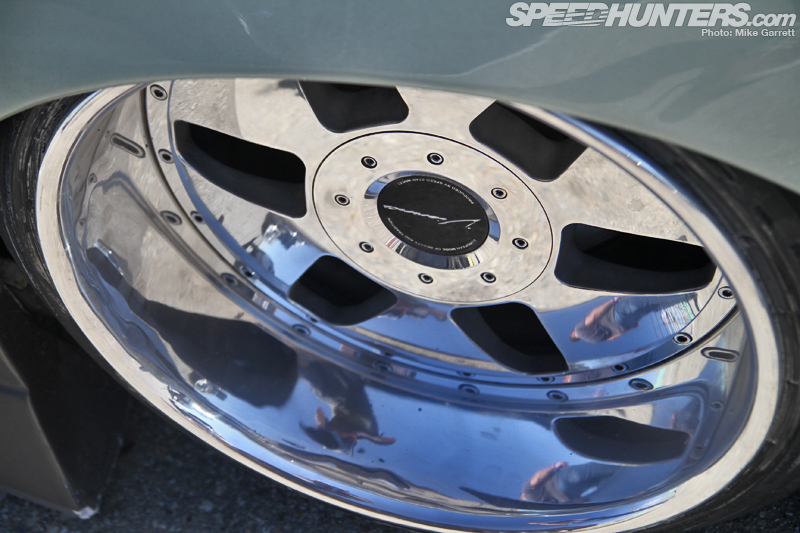 When you think of wheels good for taking a beating on the track, the SSR Vienna probably isn't one that comes to mind. But that's what makes this car and other street drift cars so cool – flash and style is always a big part of the equation.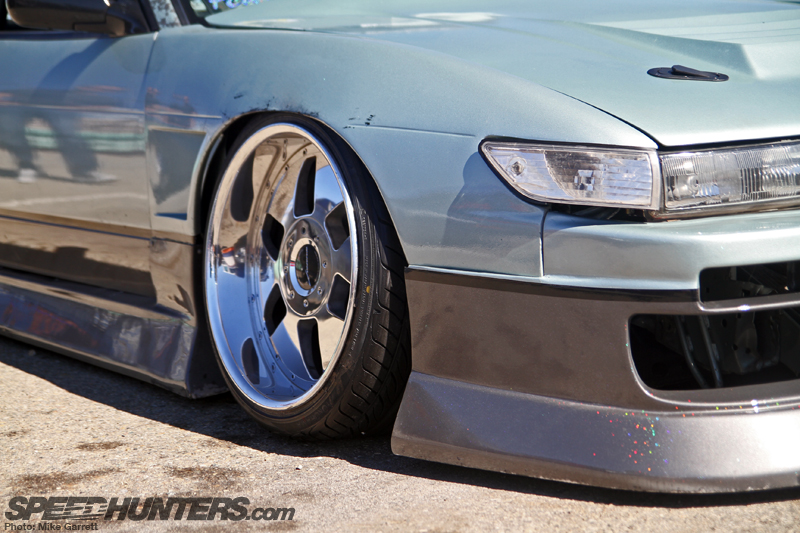 The hardcore motorsports junkies probably won't be on board with the slammed stance, but let's not forget this is All Star Bash. It always has and always will be about having fun.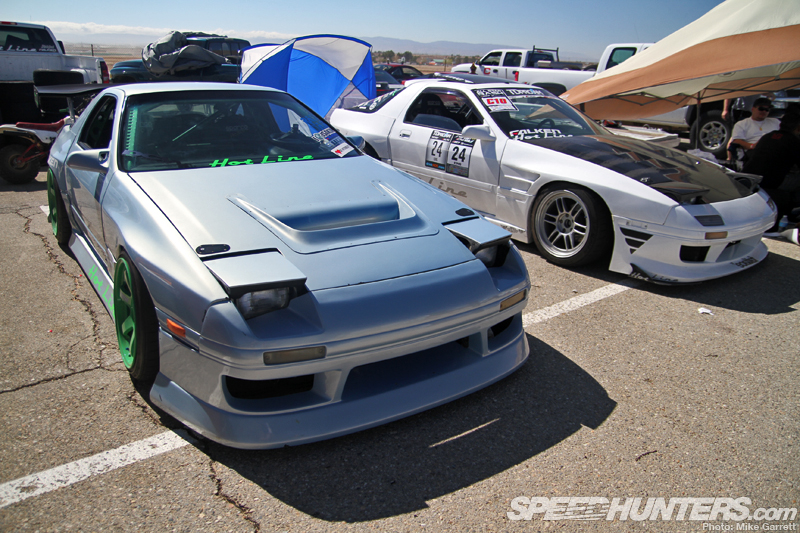 Less than a week after going for the glory in front of thousands at Irwindale, Justin Pawlak was looking to unwind a bit at ASB with his freshly completed FC3S. When I say "freshly completed" I really mean it. He finished the car mere hours before heading to Willow Springs.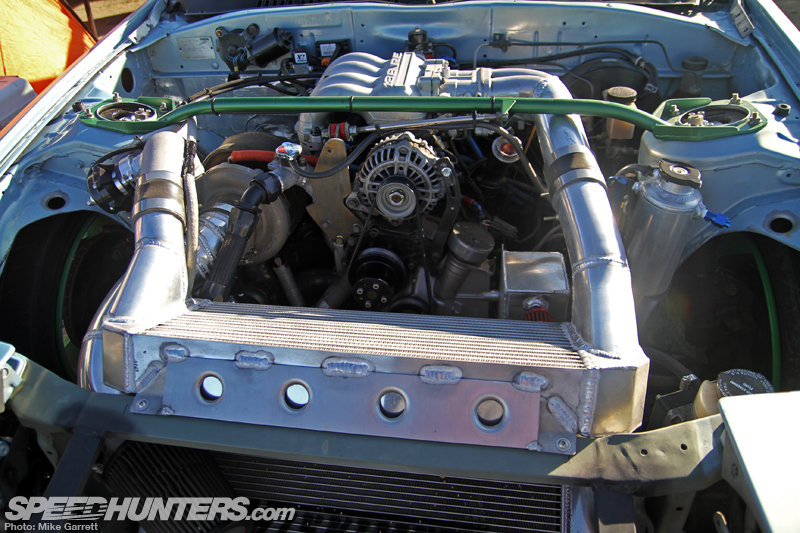 Just prior to the event, the boosted 13B put down a stout 400 horsepower to the rear wheels. Also, check the custom V-mount intercooler setup that Justin did at his shop.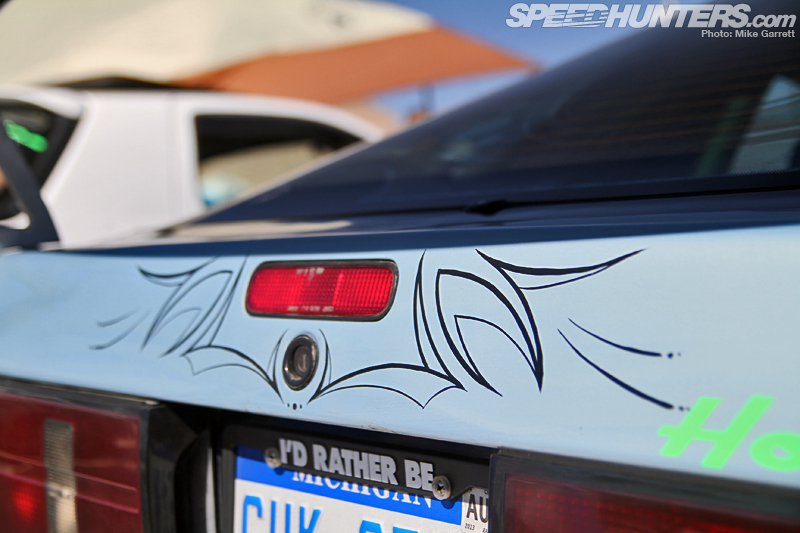 I like the Hot Rod touch that some subtle pinstriping adds to the rear hatch.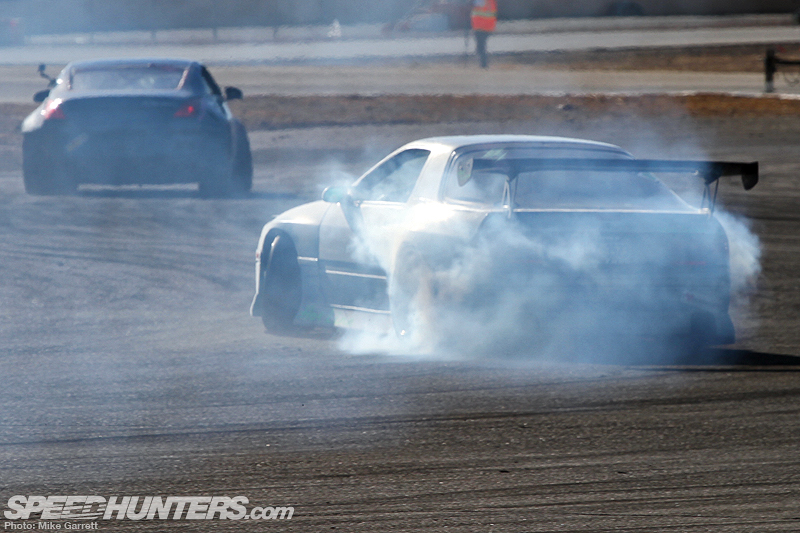 Justin says that the car still needs more tweaking before he has it where he wants. Even so, the thing still looked pretty wicked on the Streets of Willow, which is a testament to his skills as both a car builder and driver.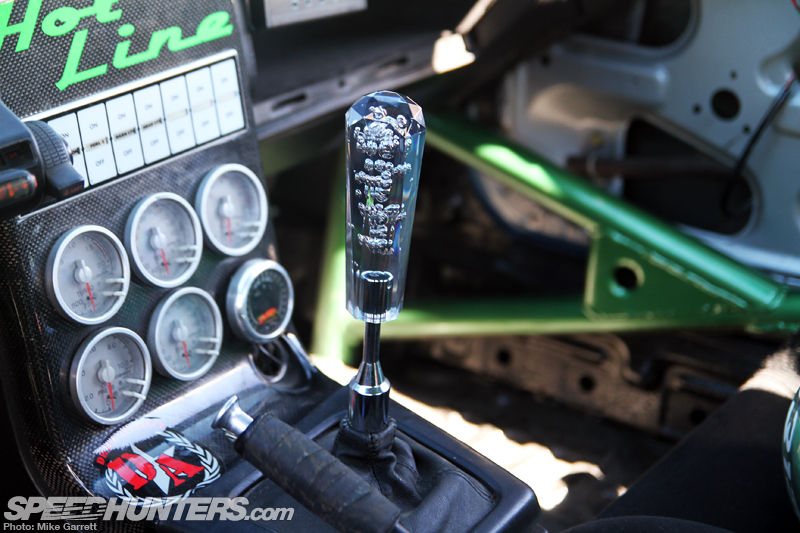 Even though he's one of the top drivers in Formula Drift, he still spends much of his free time building and driving drift cars for his own enjoyment. The guy lives and breathes it.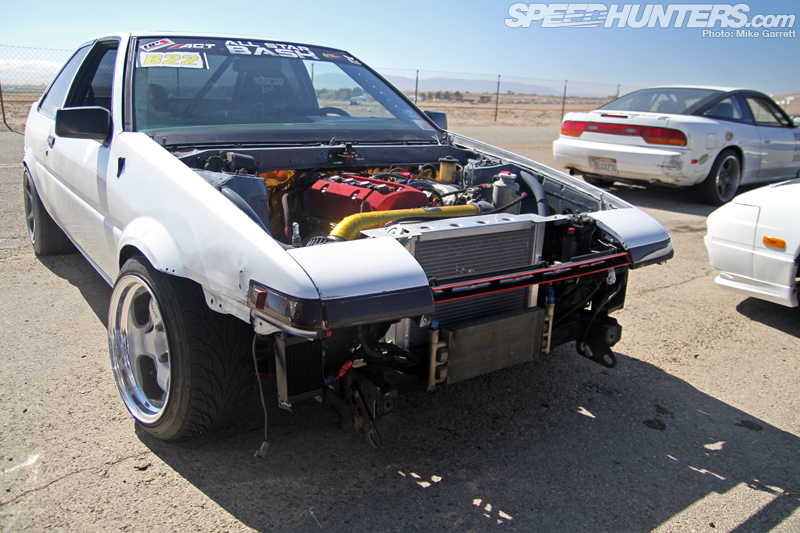 Next up, I'd like to focus on a pair of AE86 Corollas that came out to join in on the fun. From the outside both looked similar, but in terms of powerplants each went in a very different direction.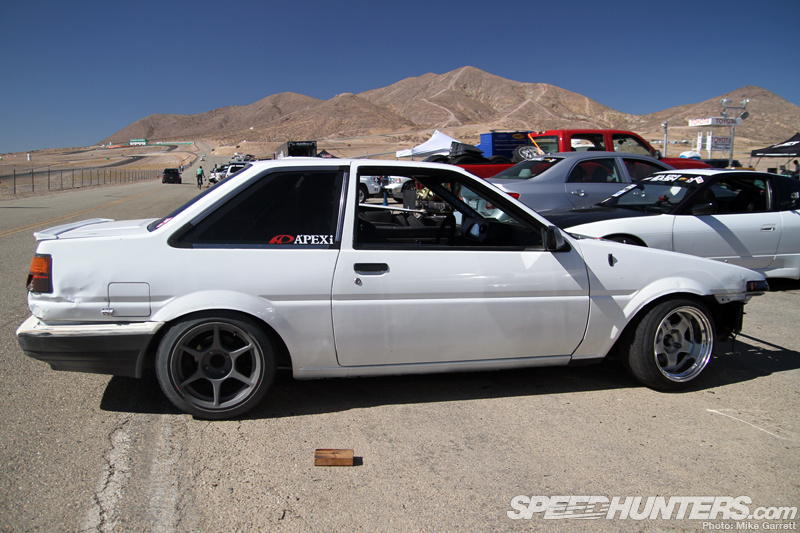 First we have this white kouki model notchback…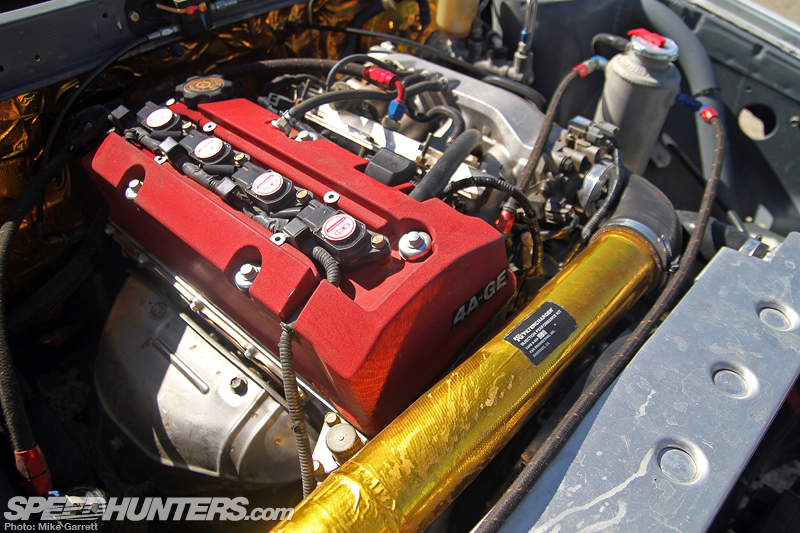 …which was sporting the popular S2000 F20C swap. Hey mister, that "4A-GE" emblem on the cam cover is not fooling me. Nice try though!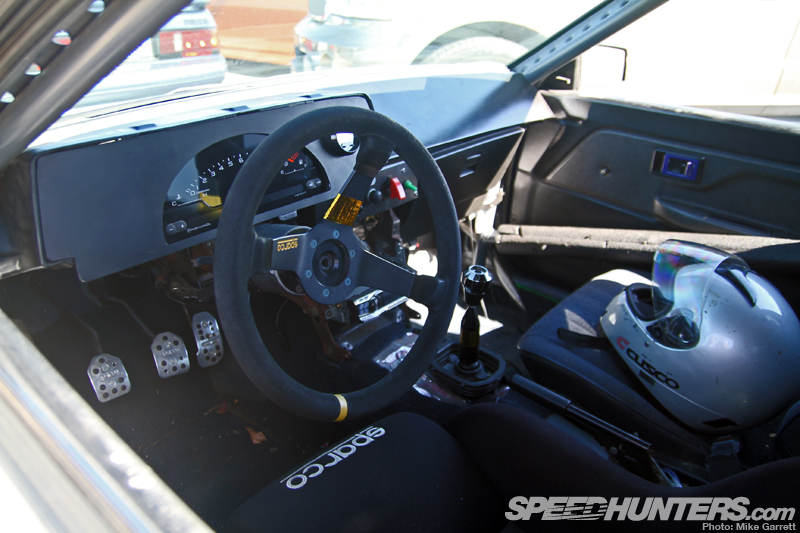 Like nearly every car with an F20C swap, the S2000 gauge cluster was carried over and is seen here in a custom slot in the stock Corolla dash.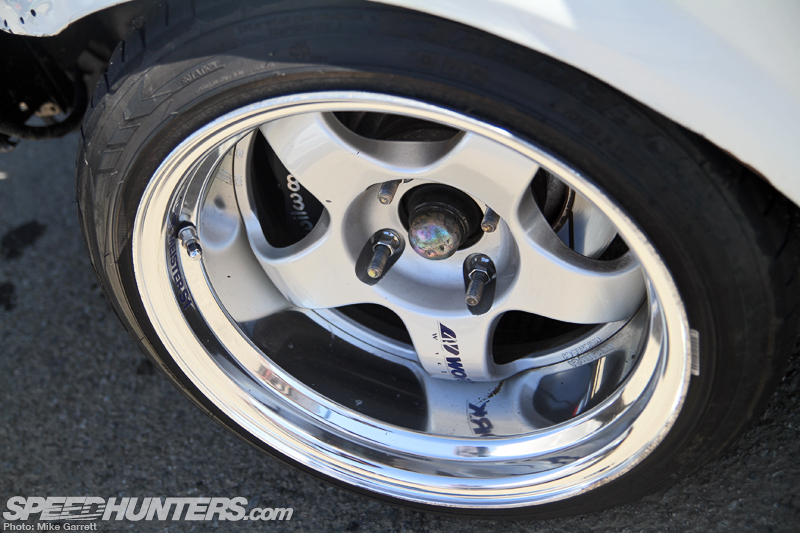 Adding to the little 86's appeal is the wheel setup – deep-lipped Work Meisters up front and lightweight Buddy Club wheels out back. Don't forget the Wilwood brakes either.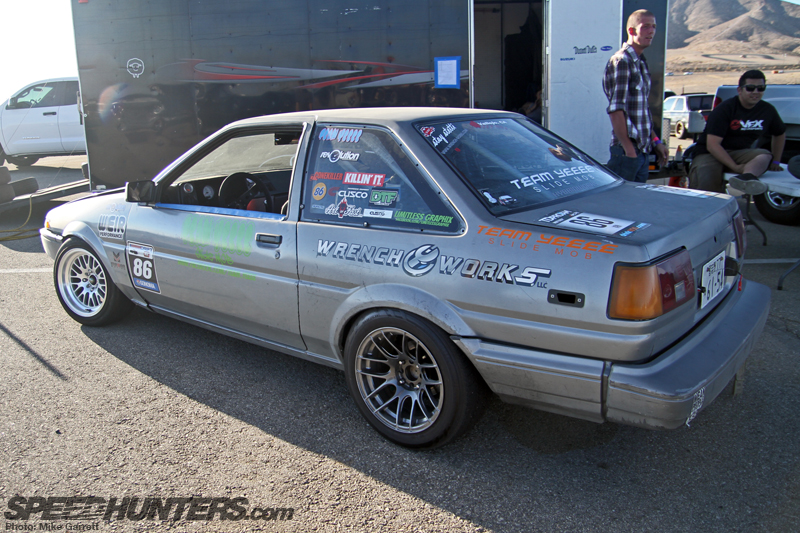 The second AE86 that caught my eye is this slightly worn looking  Zenki notchback.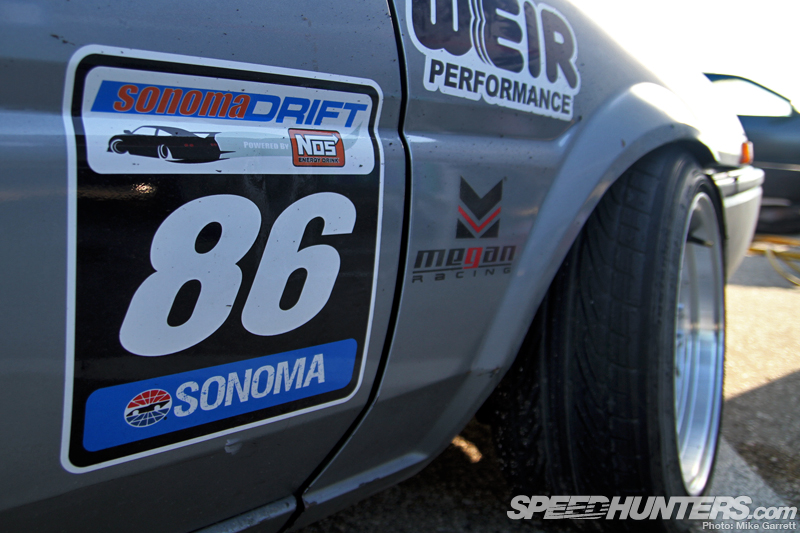 This was one of a large group of cars that traveled south to represent the San Francisco Bay Area at All Star Bash. You can see that its a participant in the weekly Sonoma Drift events, which I've been meaning to check out for myself for a while.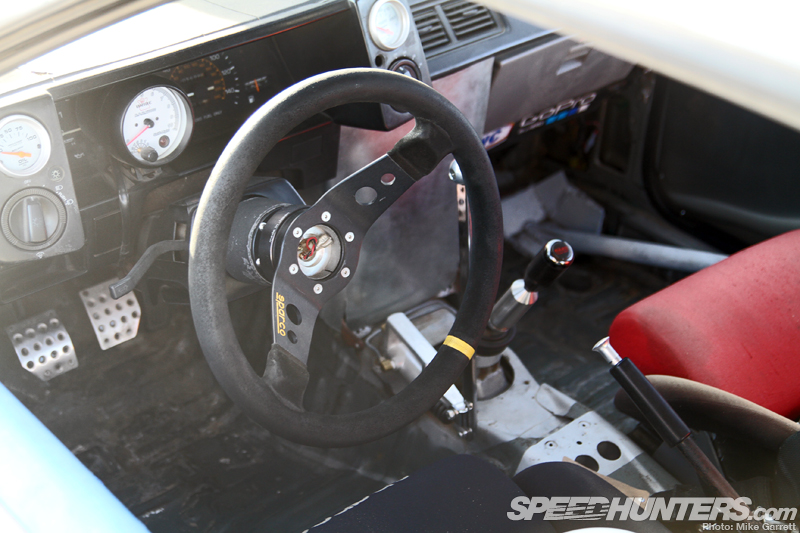 Like the other 86, this car looked like a track-only machine with a full roll cage and a stripped interior.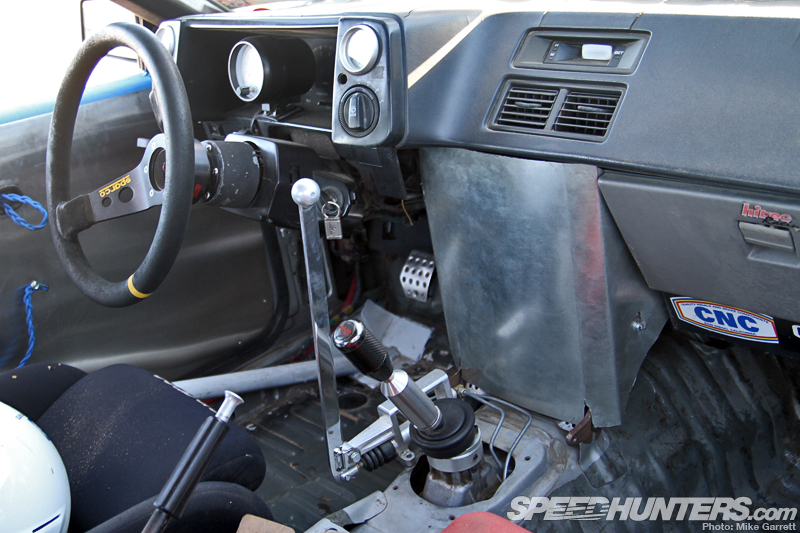 Also note the trick e-brake setup. It seems that a few years ago you would only see this sort of thing in professional drift cars, but it's something that's now trickling down to the grassroots level.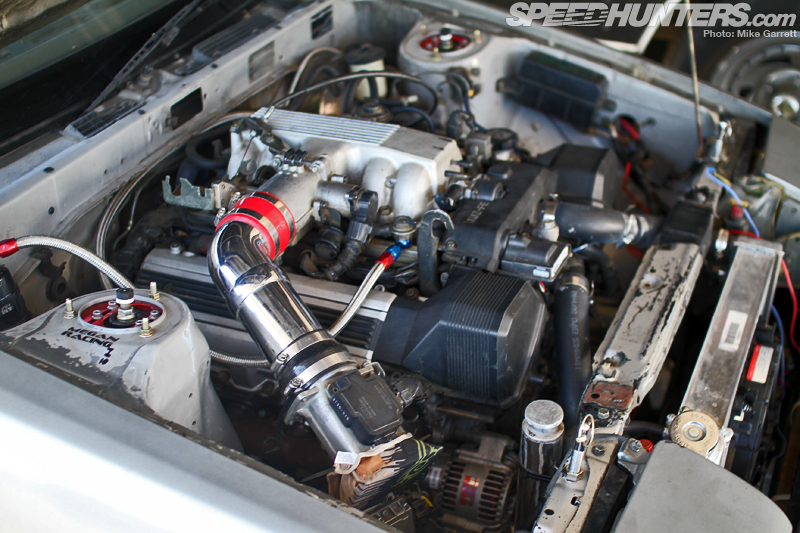 In contrast to the high winding S2000 motor in the previous car, this one is powered by a smooth Lexus 1UZFE V8. It's two different takes on the same car, with a pair of a motors that make roughly the same amount of horsepower, albeit in very different ways.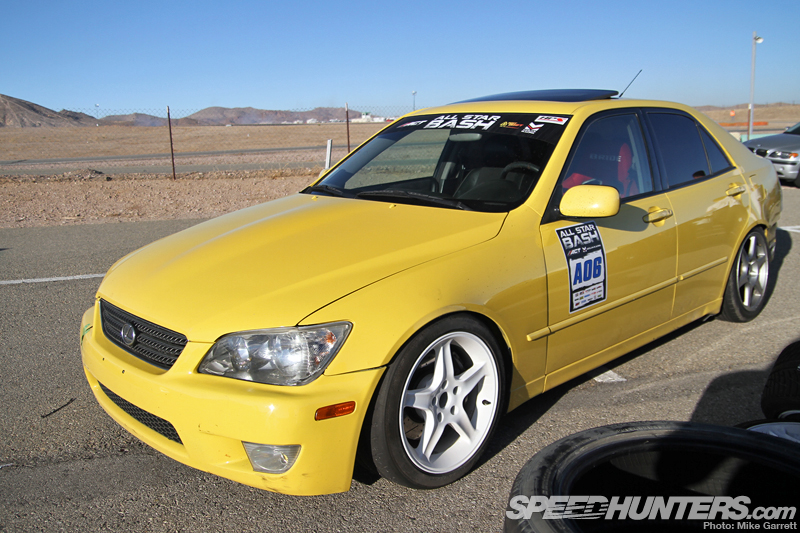 This Lexus IS300 was one of the pure street cars that was getting in on the action. This is a true daily driver with a full interior and license plates.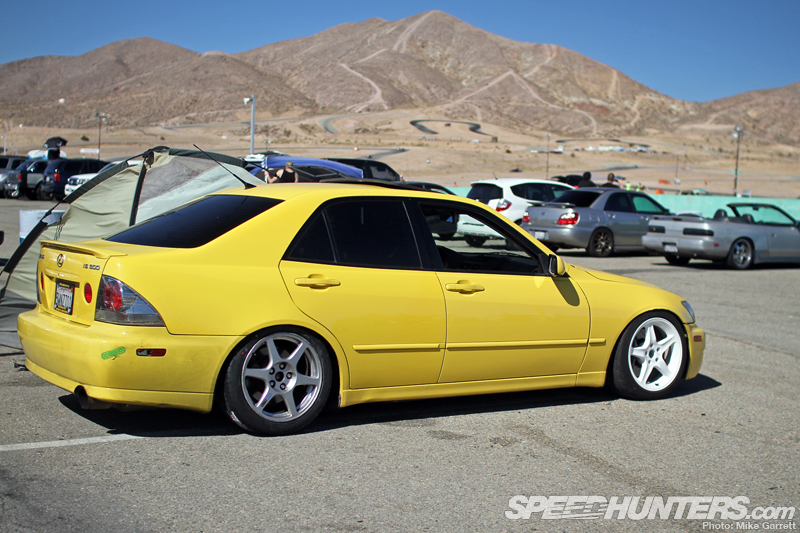 Aside from its ride height, the IS looked very stock – and that was a big part of the appeal.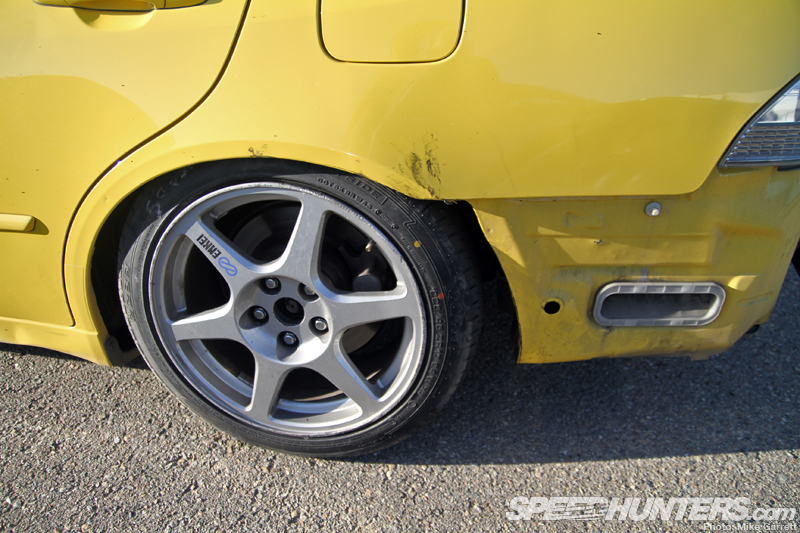 I also liked the car's affordable but unique wheel combo. You might recognize the rears as being factory 17″ Enkeis from an Evolution 8…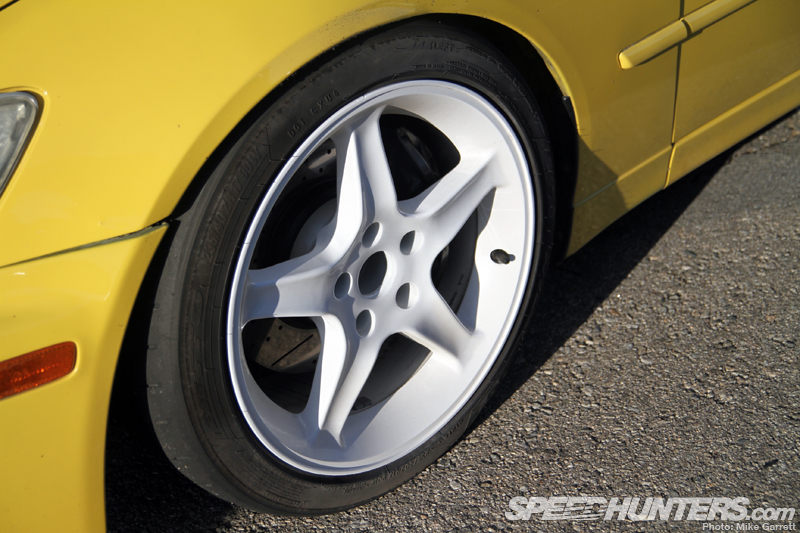 …while the fronts are a set of white-painted Mustang Cobra R wheels. Both can be picked up cheap and make for a nice alternative to buying a set of Rotas from Ebay.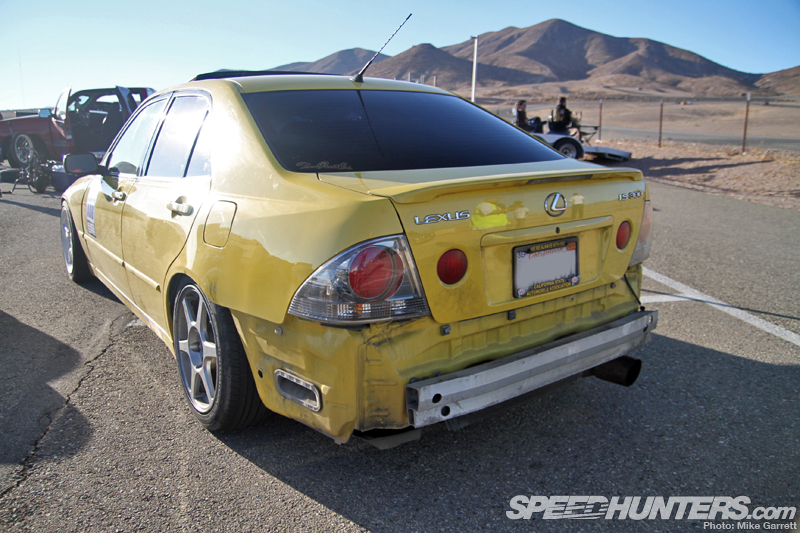 By Saturday evening the IS was looking like it had seen its fair share of abuse. Again, this is what All Star Bash is all about.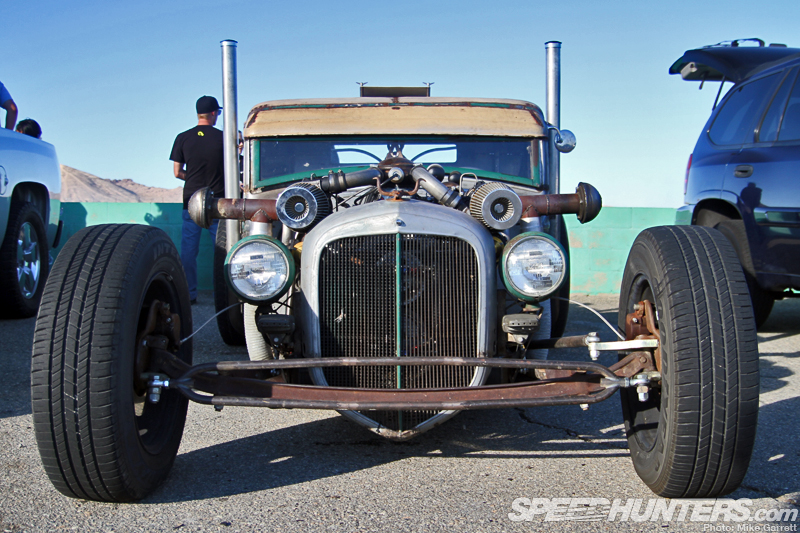 Finally, it seems that each Spotlight-O-Rama needs one car that truly stands apart from the others. I'd say this crazy rat machine handles that duty quite nicely. It wasn't drifting unfortunately, but was owned by a spectator who came out to watch. I felt it was just too crazy to pass up.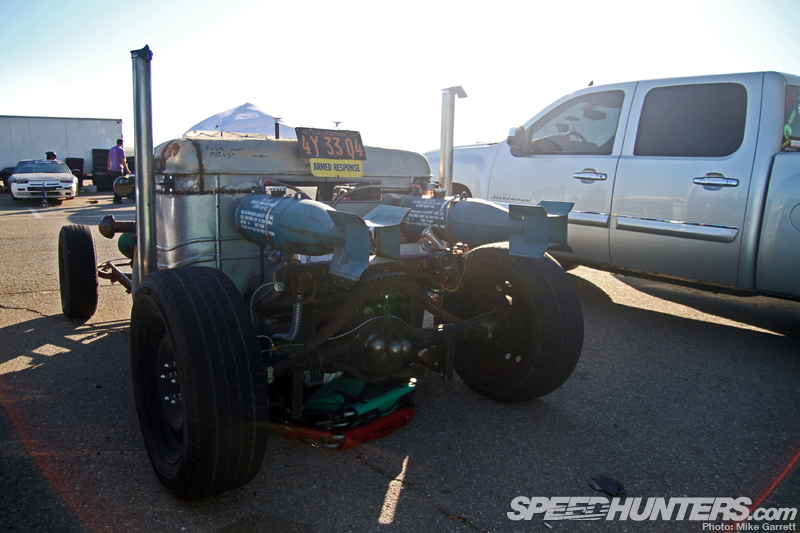 At one point this thing was a 1935 Chevy flatbed truck, but now it's become something entirely off the wall and awesome. Anything that has bombs on the back has to be cool, right?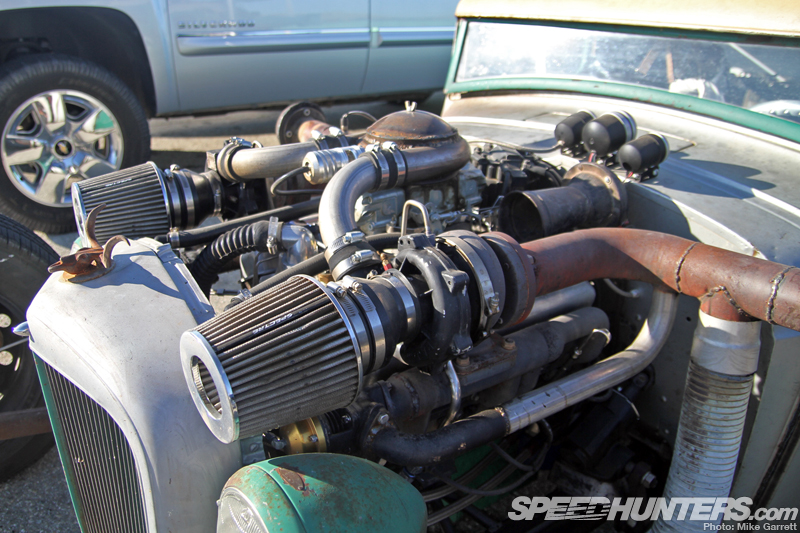 The twin turbo small block that was bulging from the engine bay provides the motion to backup the look.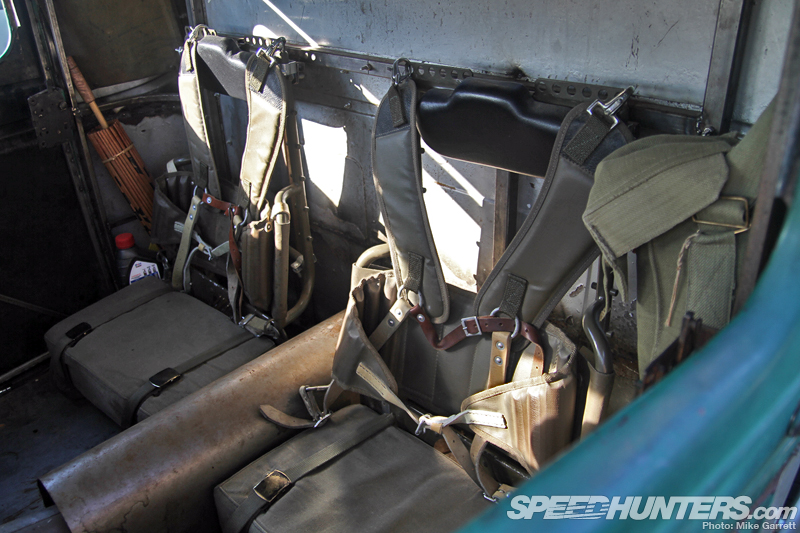 The military aircraft theme was continued to the cab with this very comfortable looking pair of seats.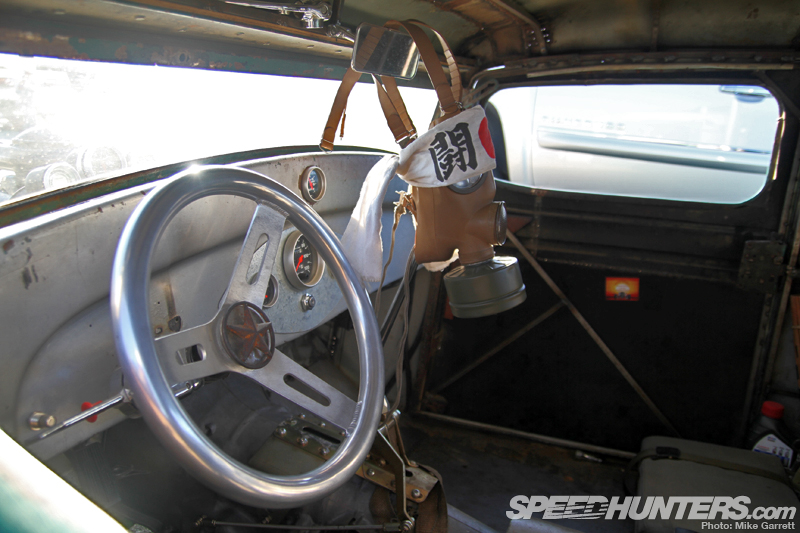 As the owner watched the drift cars pulling massive entries down the front straight, he joked that he'd like to get out there and try it himself. He just wasn't quite sure if his interior would pass the required safety checks for such a thing…
I suppose that's a good note to wrap up my journey through the All Star Bash paddock.
-Mike