A few months ago, not long after we officially kicked off the #FEATURETHIS program we received an email message from Adam Auerbach of Reno, Nevada. Adam is a regular reader of the site and wanted to share his vehicle with us, and what a vehicle it was.
As I looked through the info that Adam provided about his heavily modified 1991 GMC Syclone pickup truck, I immediately wanted to post the photos he sent over of this unusual beast. But then I had a better idea…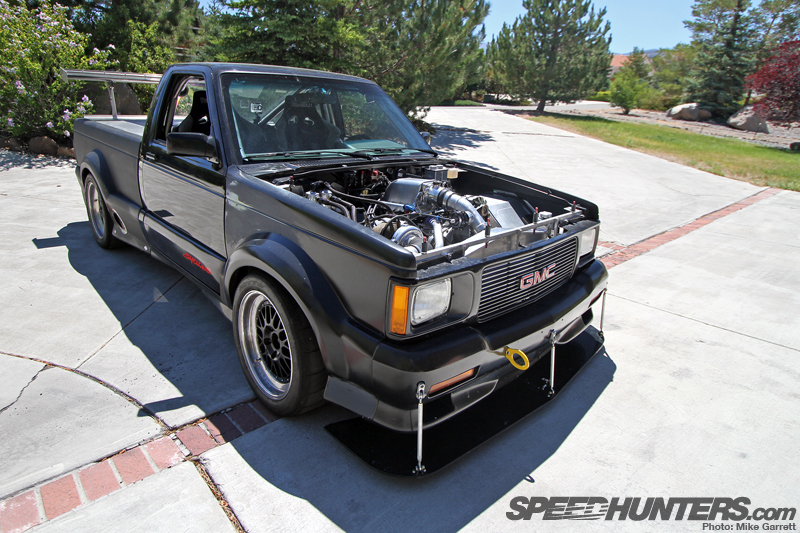 At this same time I was planning out my trip to Reno for Hot August Nights, and I figured why not go and see this thing for myself? Part of it was the fact that I wanted to report my findings to you guys, and other part was that I was that I just really wanted to see Adam's truck in "real life". I asked him if it'd be possible to come check out the truck while I was in town and he was very keen on the idea.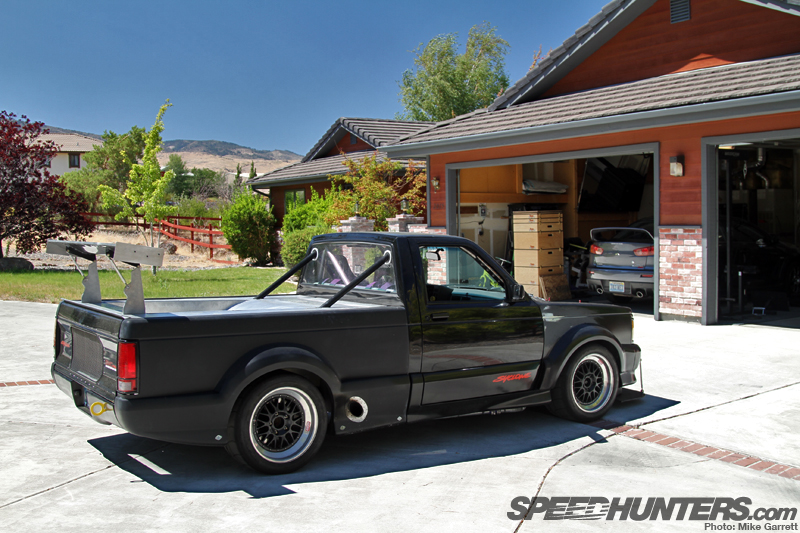 So one afternoon while I was in Reno I took a break from the Hot August Nights festivities and headed over to Adam's house, located in the hills just outside of town. When I arrived I was told the truck developed a mechanical issue the last time it was out and wasn't able to be repaired in time for my visit. Damn.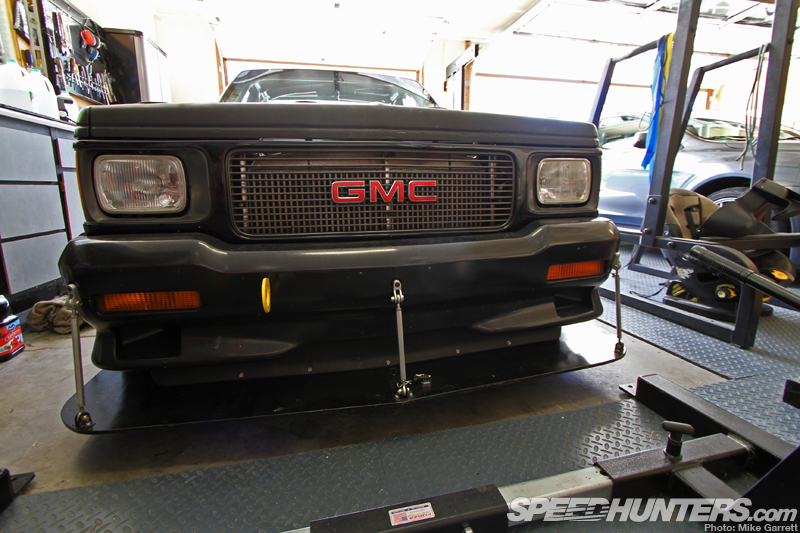 While my hopes for an exotic photoshoot backdrop or even getting a ride this thing were slashed for the day, I wasn't too bothered because the truck itself was amazing. Even more so than it appeared in Adam's email description.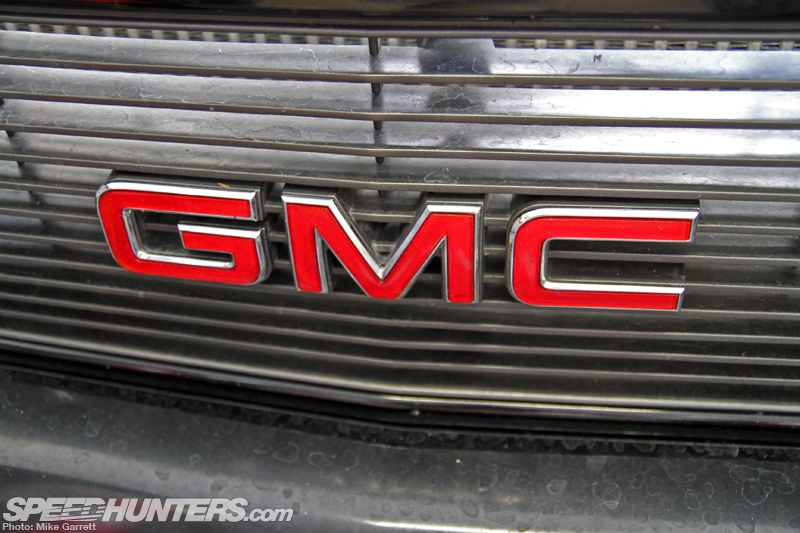 But before we jump into the details about Adam's truck, I think a quick history lesson on the GMC Syclone is in order. The Syclone was introduced by GMC in the early 1990s as a limited production high performance version of the Sonoma pickup. It may have been based on a very unexciting pickup truck, but beneath the body it was anything but. Both the Syclone and its SUV-based cousin the Typhoon were powered by 280 horsepower turbocharged 4.3 liter V6s with all wheel drive.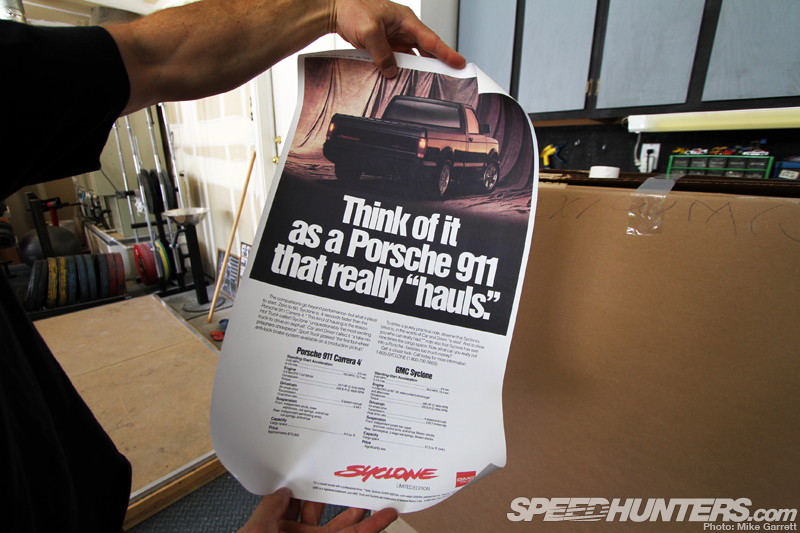 The result was one of the greatest factory sleepers of all time. The Syclone and Typhoon were fast, and not just in the sense of being "fast for a truck".  At the time, the Syclone was one of the quickest production vehicles of any type, capable of doing 0-60 in the mid four second range. You have to remember this was a time when even the hottest versions of most performance cars still made less than 300 horsepower. Hell, a four second 0-60 is quite quick even by 2012 standards…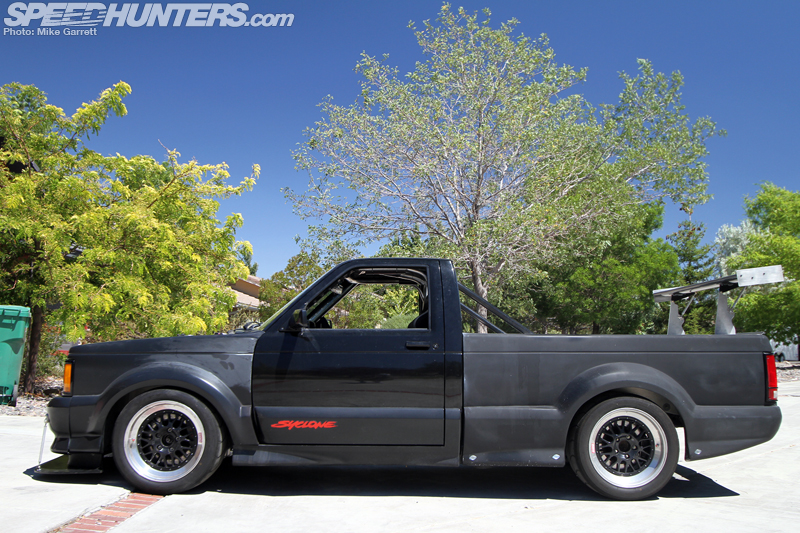 From the day it was released, Adam was in the love Syclone. One of his friends had owned a Buick Grand National and that was start of his love affair with turbocharged GM muscle. When he heard about the Syclone combining turbo power with all wheel drive and a pickup truck body, he was completely sold. Although he couldn't quite afford a new one at the time they were in showrooms, he didn't give up. In 1996 he was able score a lightly used example for a decent price and the journey had begun.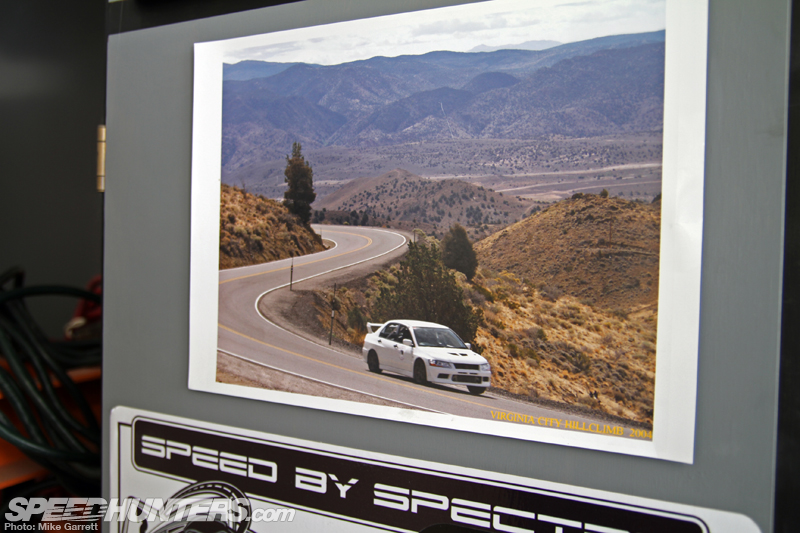 As I soon discovered, Adam's love for cars with turbochargers and all wheel drive goes beyond just those built by General Motors. Back in the early 2000s he owned an imported Lancer Evolution VII, but he parted with the car around the time it was featured in a certain Hollywood movie about street racers, cops and cops turned street racers…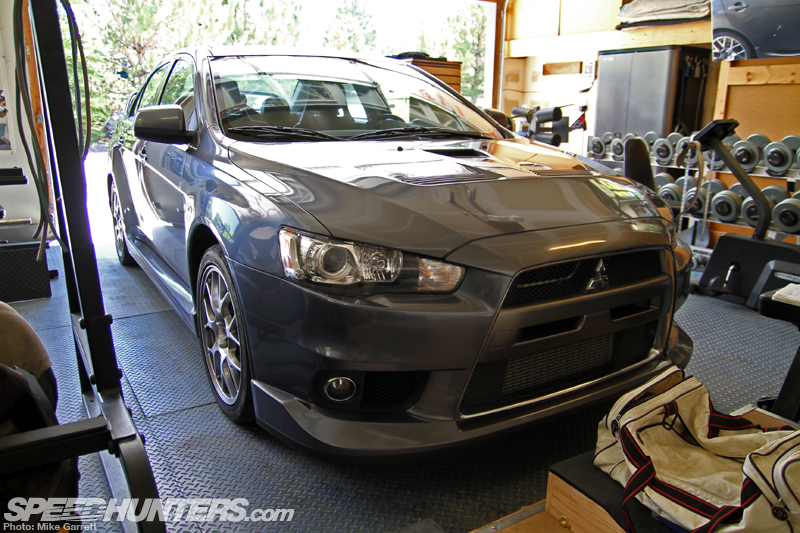 Adam still has plenty of love for the Evo though. In fact, his daily driver is a completely stock Evo X MR, which I'm told will remain that way.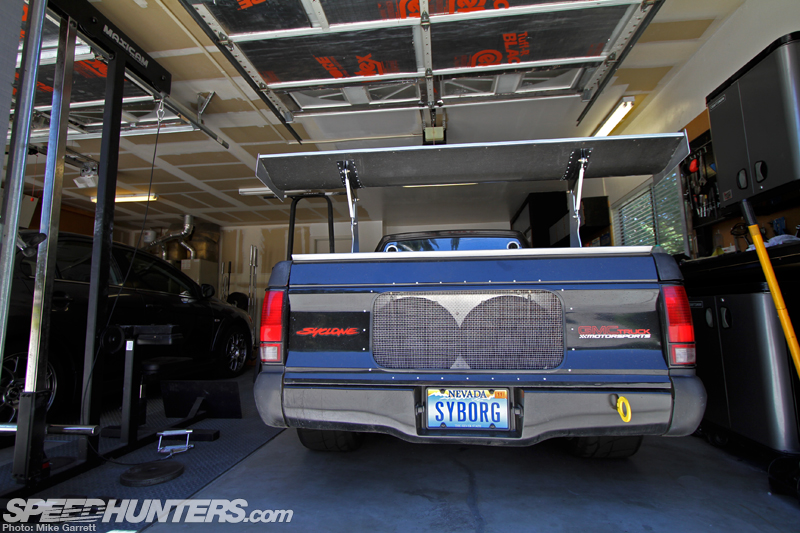 But back to the truck now. As you would expect, Adam had a lot fun driving the Syclone on the street and getting strange looks from the owners of "proper" sports cars when he'd blow them off. Eventually, the modding bug kicked in and he started upgrading the truck while taking it to the drag strip and later to autocross events on weekends.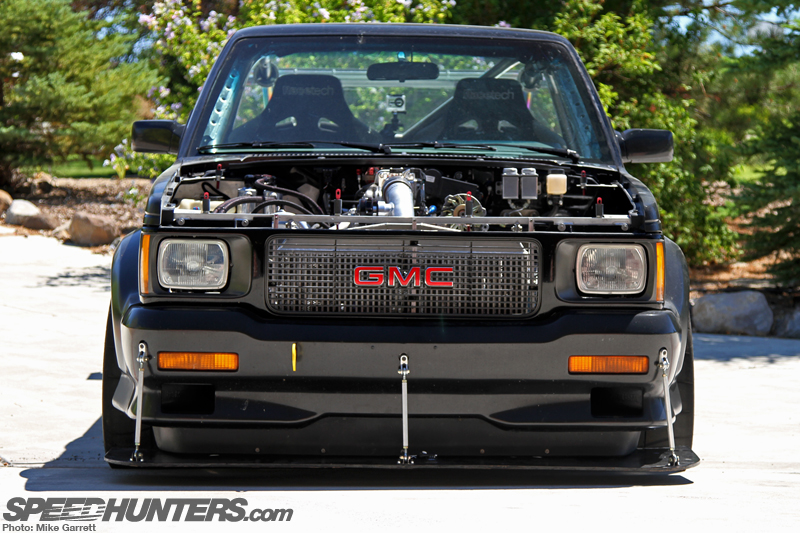 There are plenty of challenges that come with modifying a rare specialty machine like this one – particularly for the type of driving Adam was doing. It's not like owning a Camaro or Mustang where there are thousands and thousands of like-minded enthusiasts to share tips and advice. It's all pretty experimental, and as the modifications got progressively more extreme the Syclone became less and less suitable as a daily driver. Over the years the truck was retired from daily driver duties and converted into more of a track weapon – eventually winding up in the form you see here and becoming known as the "Syborg".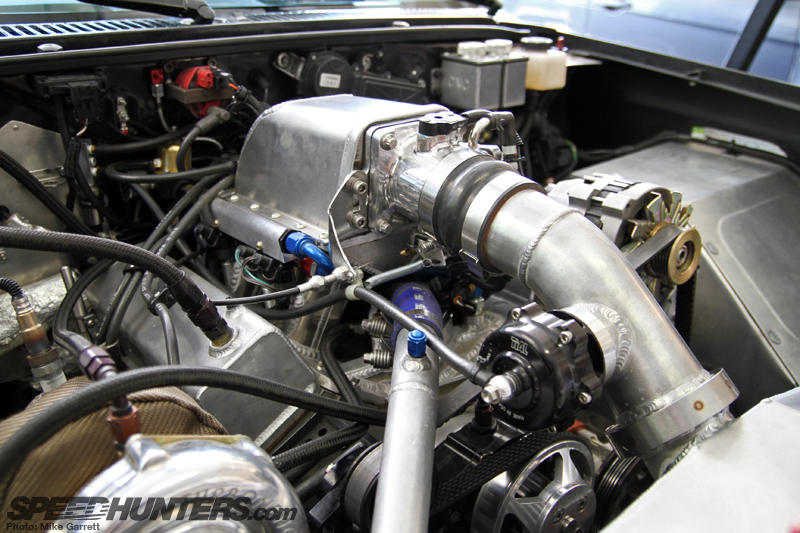 The truck is still powered by a turbocharged V6, but instead of the factory 4.3 Adam is running a 283 cubic inch aluminum "Bowtie" V6 from GM Performance. The motor work also includes a custom sheetmetal intake manifold, a Canton Racing Accusump system, and Big Stuff 3 engine management.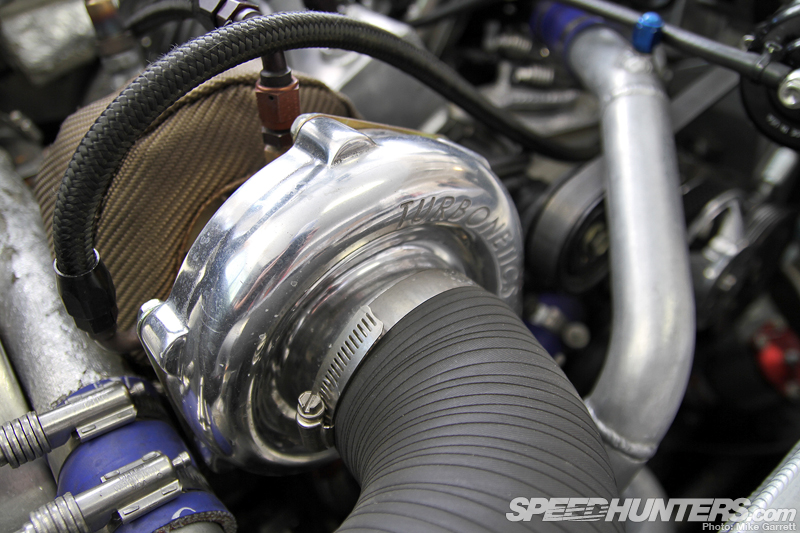 All Syclones left the factory with Mitsubishi TD06-17C/ 8 cm2 turbochargers, but Adam is running a now running a Turbonetics ball bearing turbo with a custom front mount intercooler that fits perfectly behind the truck's factory front grille. It's not the huge snail you see on many race builds, but it works very well for his overall goal with the truck.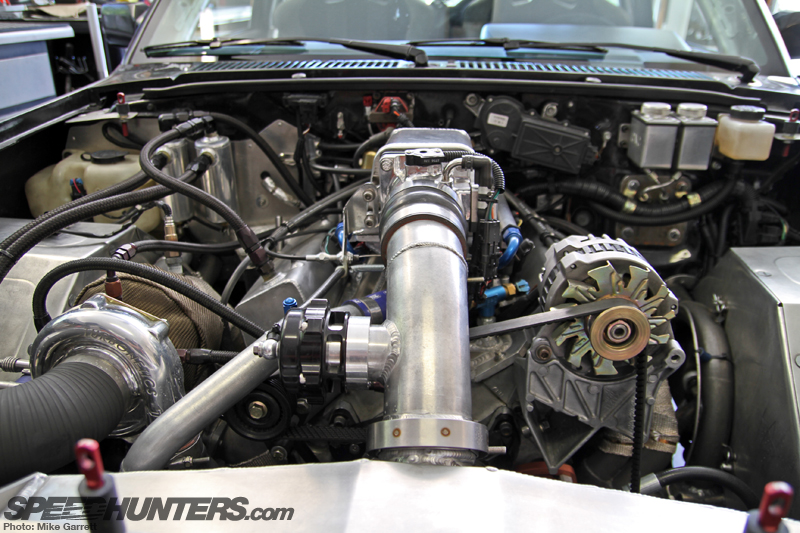 On the dyno the setup put down 410 horsepower and 440 foot pounds of torque to the wheels. These aren't massive numbers, but are quite solid considering the truck is tuned more for overall balance and longevity rather than outright power.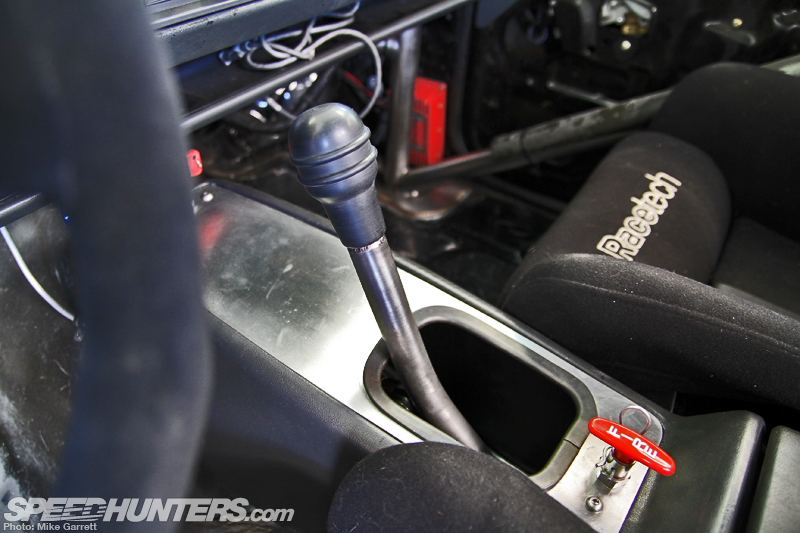 If there's one major week spot when it comes to the Syclone, that would have to be the transmission. A 700R4 automatic was the only tranny offered from the factory, and while it may be OK on the street or maybe the drag strip, even built versions of the automatic weren't up to the abuse that comes with road racing use. After trying to work with the automatic for years, Adam eventually threw in a built Tranzilla Tremec T56 Magnum six-speed manual transmission and never looked back. Not only could the T56 better handle the power, it also shaved several seconds off his lap times.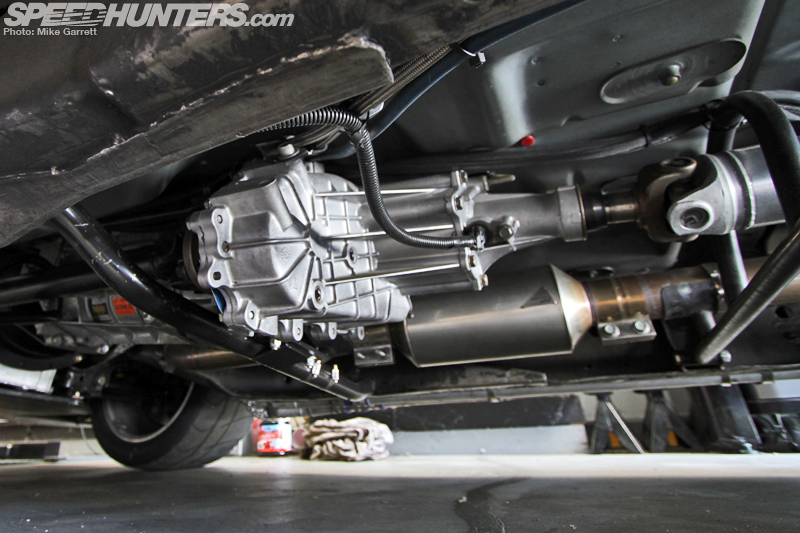 It's important that the power goes to all four wheels efficiently and reliably, so the T56 is mated to a Borg Warner 4472 all wheel drive transfer case with billet internals.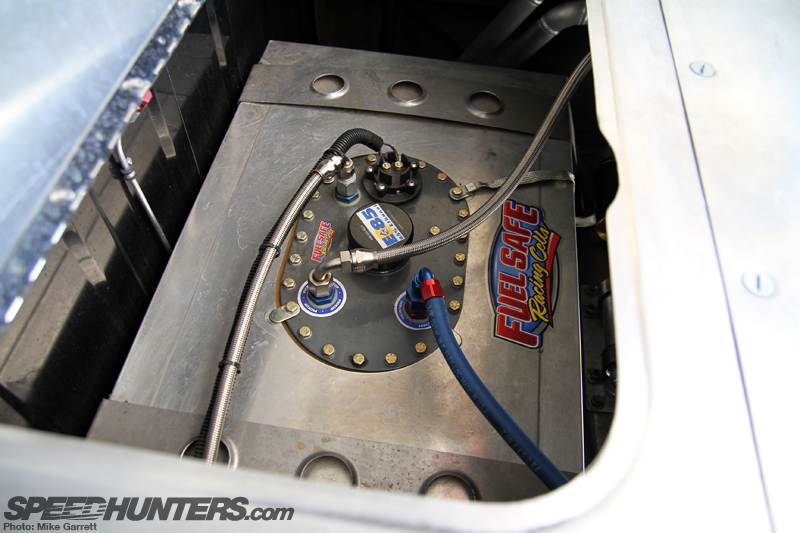 As you continue to look around the truck, you can really sense Adam's attention to detail when it comes to the build. The Fuel Safe fuel cell for example sits in its own custom compartment located behind the cab.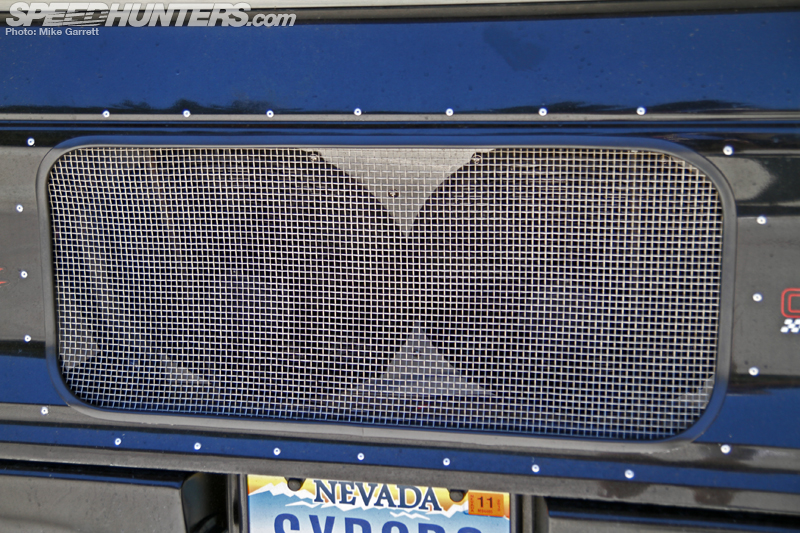 Then there's the cooling setup – a giant Ron Davis radiator and oil cooler moved to the rear of the truck and mounted just in front of the tailgate.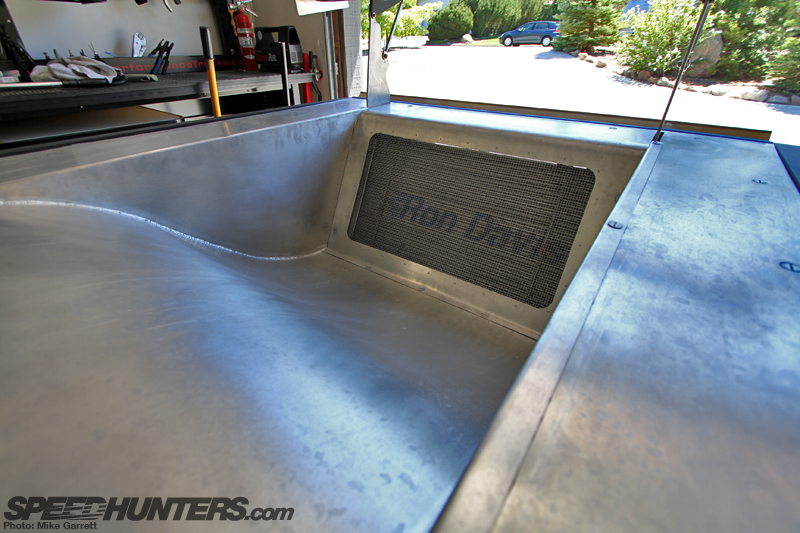 Not only does this provide some serious cooling power and better weight distribution, it also makes for one of the most visually interesting parts of the truck. Check out the custom fabricated aluminum in the bed funneling air directly into the radiator.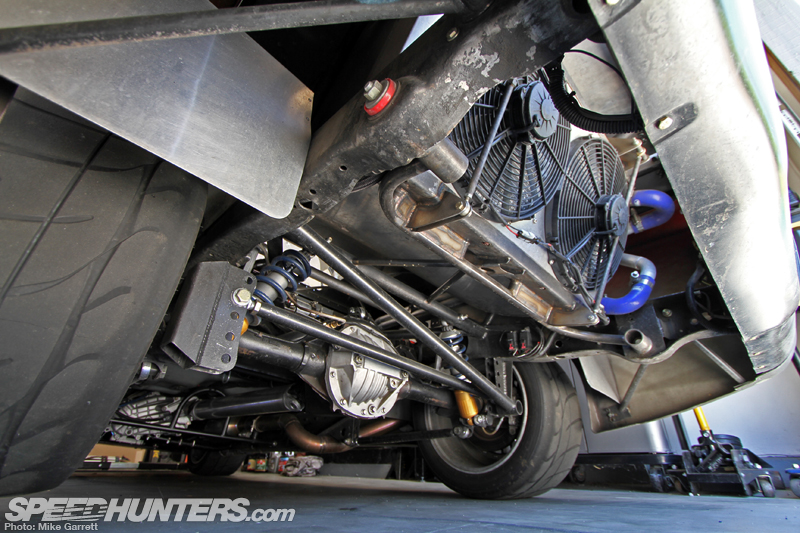 GMC may have equipped the Syclone with a very potent engine and drivetrain from the factory, but there's no getting around the fact that it's still  built over a pickup chassis. Over the years Adam has worked very hard to make the it handle more like a real performance car and less like the body-on-frame truck it's based upon. In the rear, the stock leaf spring suspension was replaced with a a custom three-link setup with a panhard rod and trick Ohlins coilovers with Hyperco springs.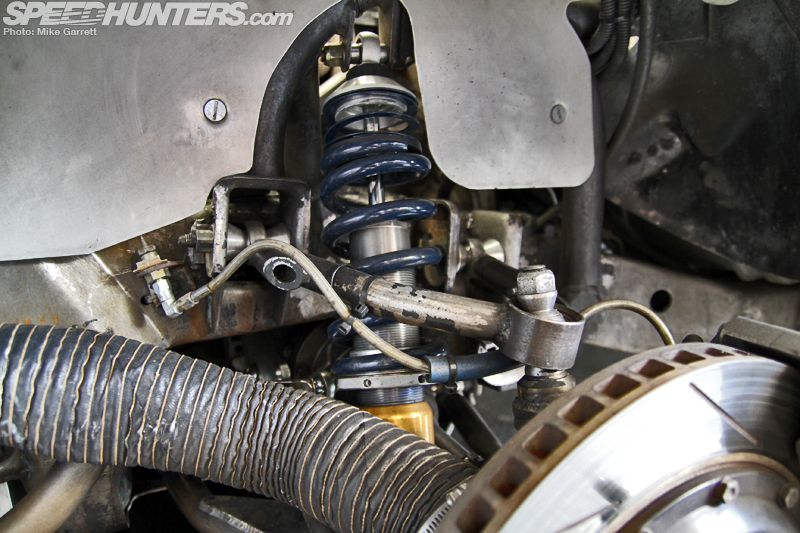 On the front end you'll find a custom tubular double A-arms and Ohlins coilovers once again. It will always be a pickup truck, but the suspension work has done a very good job of making it not handle like one.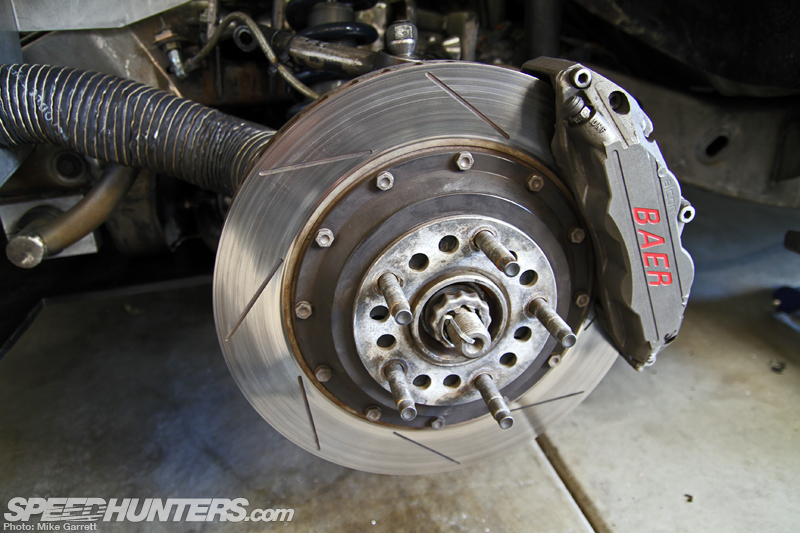 In Adam's own words, the stock brakes on the Syclone "Suck Ass" and couldn't even stand up to a single lap of hard driving. He remedied this by adding BAER/Alcon calipers with 13.5″ two-piece rotors up front and replacing the stock rear drums with a set of PBR single piston calipers and 12″ discs.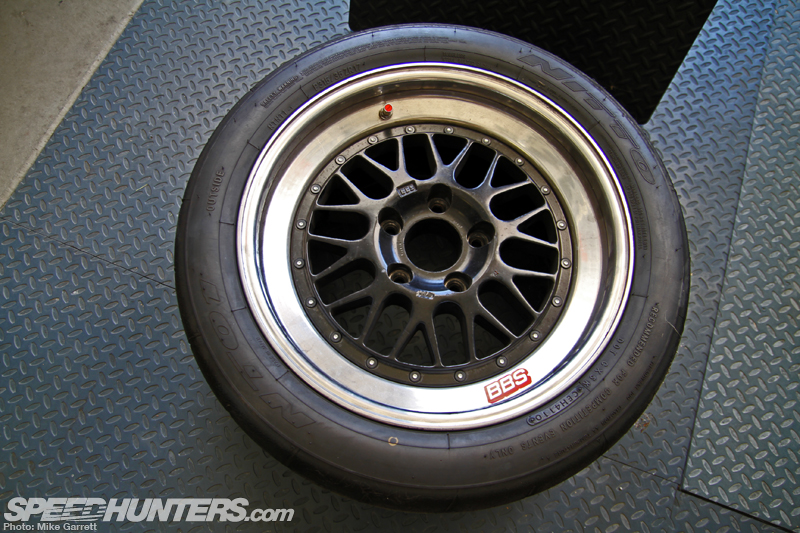 The Syborg runs 17″ BBS road racing wheels with magnesium center sections and forged aluminum barrels with 315/35/17 Nitto NT01 Rs at each corner.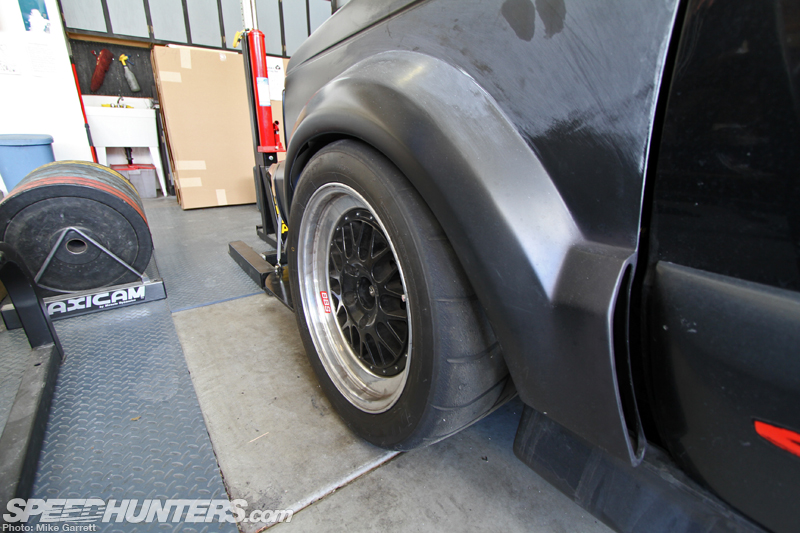 That makes for a very light and very grippy wheel and tire combo, and one that also happens to look quite mean sitting beneath fiberglass wide body panels in both the front and rear.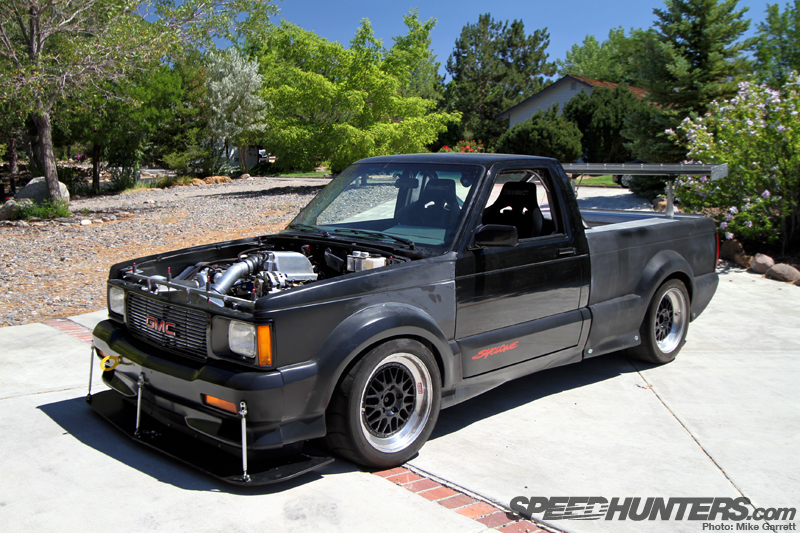 Elsewhere, the body has been outfitted with a vented carbon kevlar hood, a giant front splitter, and a GT3 spec carbon fiber rear wing.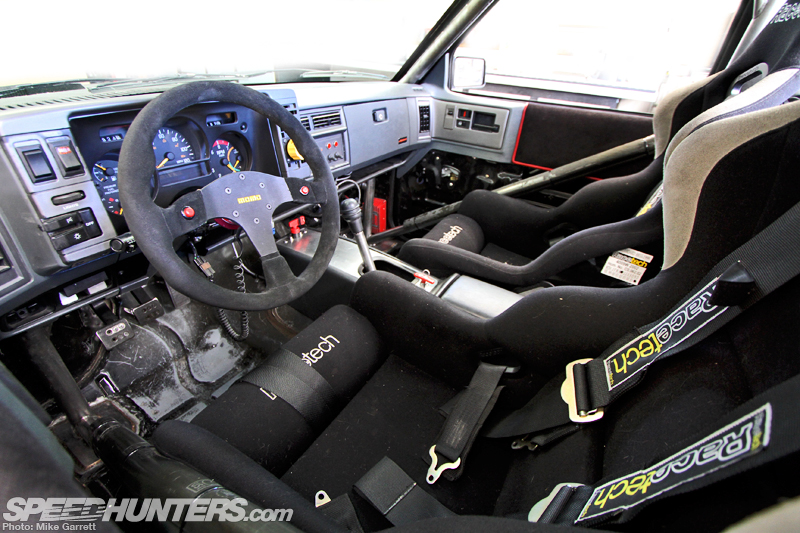 To add safety and structural rigidity, the truck is equipped with an eight-point cage that extends through the cab and into the bed area. The cockpit also has a pair of Racetech seats and harnesses, a Momo race wheel, and a full fire supression system.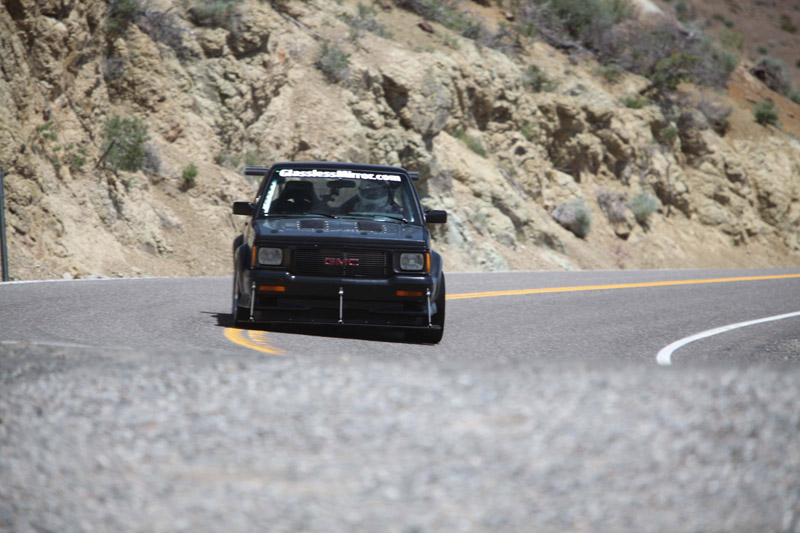 There's nothing done to the truck that isn't there for a reason, and it all gets used often. In fact, there's few grassroots motorsport events that Adam hasn't tried behind the wheel of the Syborg. He's autocrossed it, he takes it to track days at nearby Reno Fernley Raceway regularly, and he's also competed in open road rally events.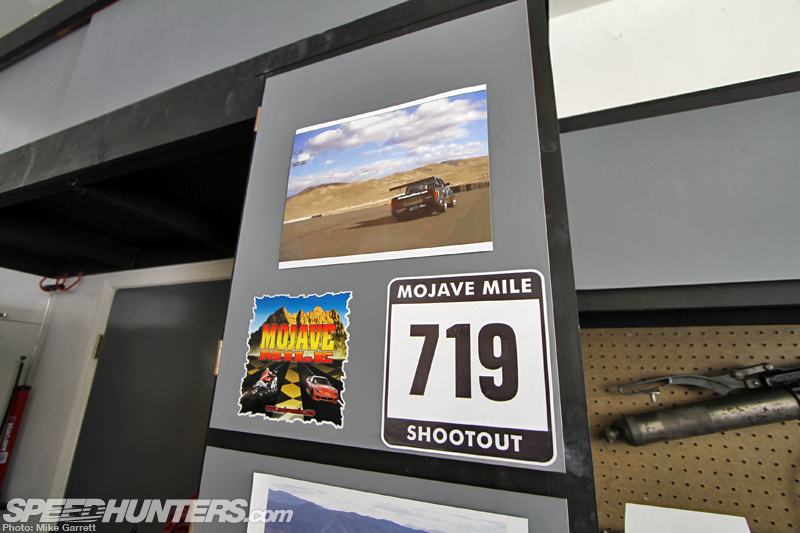 He may not have built the truck for drag racing, but that didn't stop him from taking the truck to the drags after the transmission swap. He ran 11.5 at 123 miles per hour in case you were wondering. He also took the truck to the Mojave Mile in 2010 where he posted a top speed of 165 miles per hour. Maybe some day he'll disconnect the transfer case and go drifting?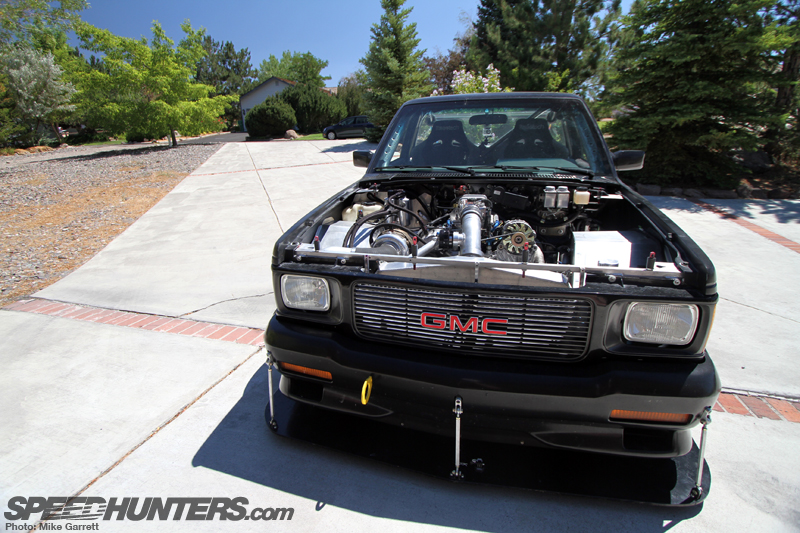 Despite the fact that Syborg has been built for competition, it retains its license plates and Adam still likes to take her out for the occasional cruise around the city. Just one more of the many things to like about this truck.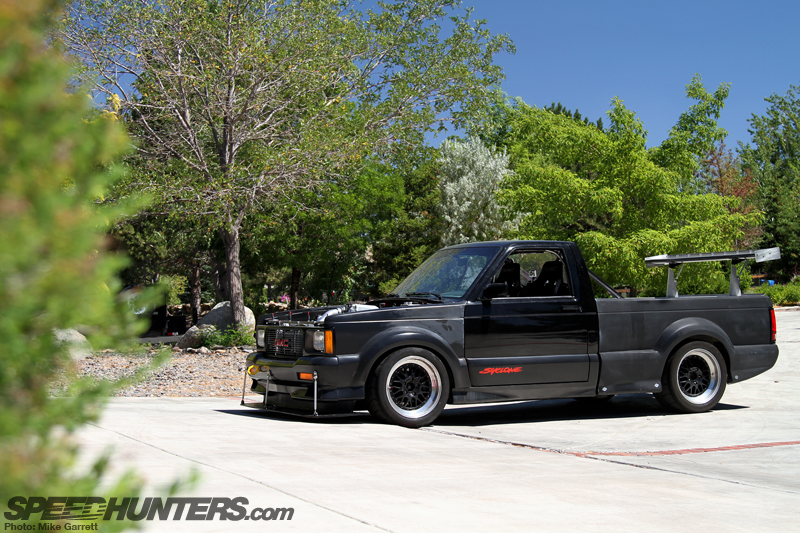 But I think what I like most is the fact that even with all of the work done to it, nothing has changed fundamentally here. This is no tube chassis race machine that looks like a GMC Syclone. It's still a Syclone through and through. It's still powered by a turbocharged V6 with all wheel drive and Adam took great care to retain the original look and character of the truck.
The GMC Syclone became an instant classic when it was released for its incredible performance, unassuming exterior, and the overall craziness of its concept. Adam's truck simply takes all of those qualities and multiplies them exponentially.
What more needs to be said?
Thanks to Adam for letting me come over to check this thing out in person!
-Mike
CHASSIS
1991 GMC Syclone #2419
3,285 lbs wet w/ driver
Weight Distribution 58/42 Front Rear
8 Point Safety Structure
Frame Reinforced
Skeletonized Aluminum Hood/Intercooler Support
Aluminum Fenderwells Front/Rear
INTERIOR
Racetech FIA Road Racing Seats
Racetech FIA 5 Point Harnesses
Momo Race Steering Wheel
SafeCraft Fire System 3 Nozzles
ENGINE
283 CID Aluminum GM Performance Bowtie Engine, Sheetmetal Intake, Single Ball Bearing Turbo, Intercooled, Wet Sump w/ Canton Accusump System
Ron Davis Radiator/Oil Cooler Mounted Directly In Front Of Tailgate
Big Stuff 3 Engine/Transmission Management
Fuel Safe Fuel Cell
DRIVE TRAIN
Rockland Standard Gear T-56 Tremec Tranzilla Magnum 32mm Output Shaft
Borg Warner 4472 All Wheel Drive Transfer Case Billet Internals 32mm Input Shaft
Custom Remote Shifter & Delrin Shift Knob
SUSPENSION
Chrome Moly Tubular Front Double A-Arms
Chrome Moly Tubular Adjustable 3 Link With Panhard Bar & Anti-Squat
Hyperco Springs
Ohlins Coilovers
Custom Adjustable Front Blade Swaybar
Custom Adjustable Solid Rear Sway Bar
BRAKING SYSTEM
Baer/Alcon B Type Brake Calipers, 13.5 inch 2 piece slotted rotors, SBS Carbon/Ceramic Brake Pads Front
PBR Single Piston Rear Brake Calipers, 12 inch rotors, OEM Corvette Brake Pads Rear
Tilton Pedal Box,  Balance Bar, In Cab Brake Bias Adjuster, CNC Dual Master Cylinders
Front Brake Ducting
STEERING
Custom Race Steering Column With Quick Disconnect Hub
Momo Racing Steering Wheel
Howe Performance Quick Ratio Steering Box
WHEELS & TIRES
Nitto NT01 R Compound Race Tires 315 35 17 Front/Rear
BBS Magnesium Inner/Forged Aluminum Outer Road Racing Wheels
AERODYNAMICS & BODY
Wide Body Front Vented Fenders Fiberglass
Rear Bed Panels Fiberglass
Carbon Fiber Hood With Carbon Kevlar Hood Vents
GT3 Carbon Fiber Wing Adjustable
Front Splitter
Aluminum Sheetmetal Radiator Ducting