The Brooklands Autumn festival wasn't called Motorsport Day for nothing: the sounds of competition engines echoed off the banking and buildings of the 100-year-old oval track. And what better sound than the scream of a Formula 1 Benetton taking to the Mercedes-Benz World test track in the middle of the oval? It was enough to send shivers up your spine.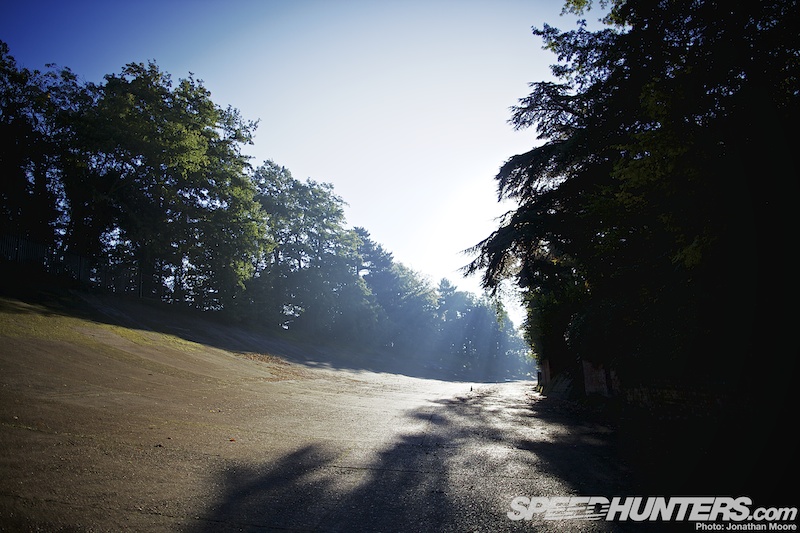 The Brooklands Oval is a majestic example of architecture and a civil engineering feat of epic scale. The banking at Monza is a magical place and a similar length to Brooklands – and still intact – but its older brother outdoes it in sheer scale. The banking is enormously wide and steep: we'll be taking a tour around the remaining sections of the oval in a later story.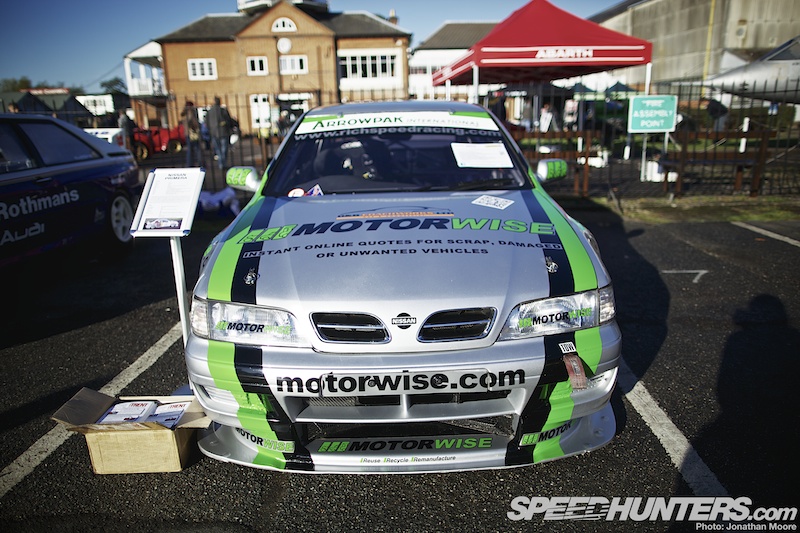 The main paddock at Brooklands, outside the old Clubhouse, showed off a range of racers spanning decades: one of the most recent cars was this Nissan Primera SuperTourer from 1997.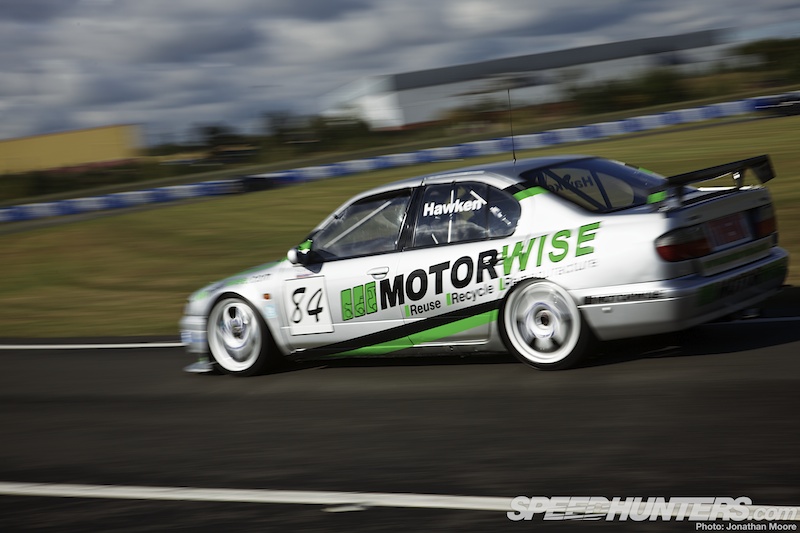 It originally ran in factory colours as #33 in the British Touring Car Championship, driven by the late David Leslie. 'Edgy but quick' was the description for this car, and the low-slung Primera GT looked wickedly fast even putting in demonstration laps on the narrow M-B World test track. The car currently has a set-up that tends to mild turn-in oversteer, which probably kept things interesting at Brooklands.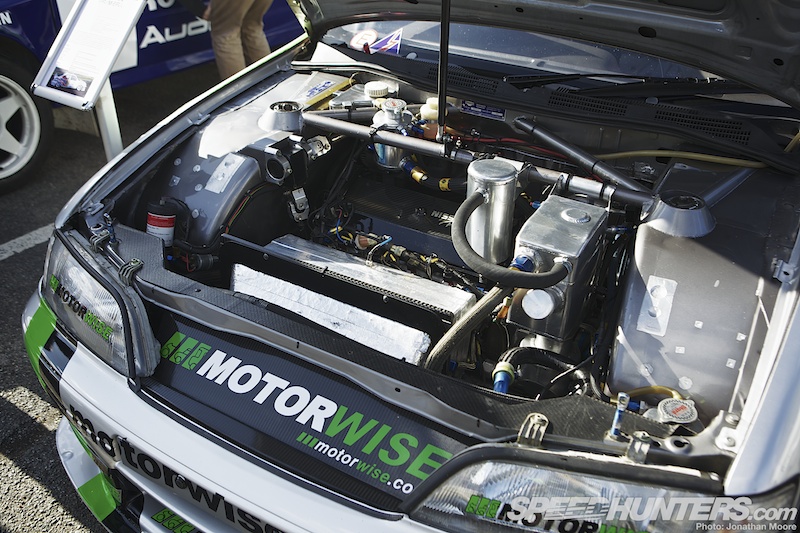 The car was updated by the factory in 1999 with the latest aero kit and electronics, and current owner Richard Hawken has won the Euro Saloons SuperTouring Trophy for the last two years. Peering into the engine bay, the 2-litre SRD20E block is buried so deeply that you can barely see it – typical for a Supertourer, with everything as low and far back as possible. Although modern touring cars are still fast and the racing is great, the SuperTouring era seems a golden age, and the chance to catch these cars out on track in post-historic races should never be missed.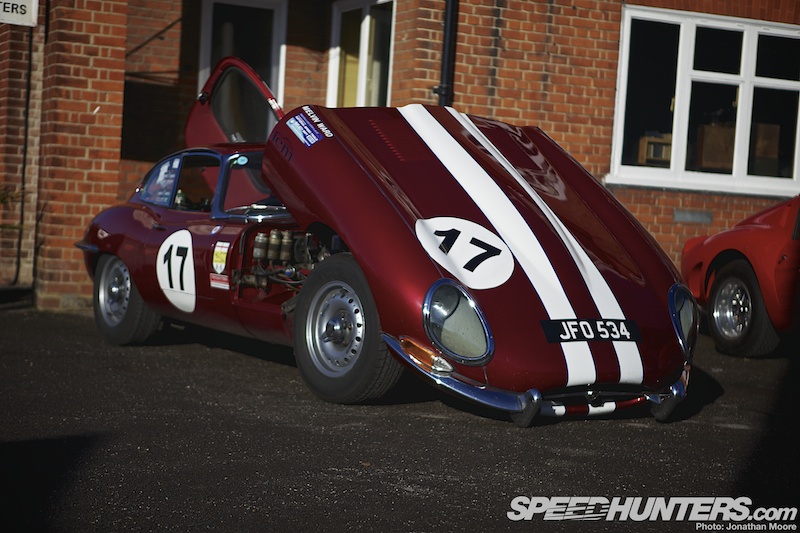 Moving back through the decades, this Jaguar E-Type was parked up by the Clubhouse, resplendent in a burnished deep red offset with classic racing stripes.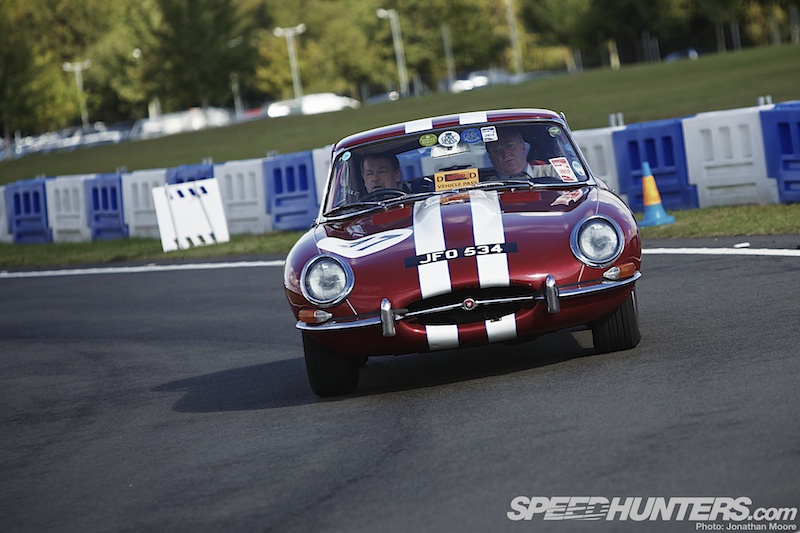 This 1962 Series 1 Fixed-Head Coupé has gone through a couple of rebuilds, with the original gun-metal grey changed to this red, matching the interior.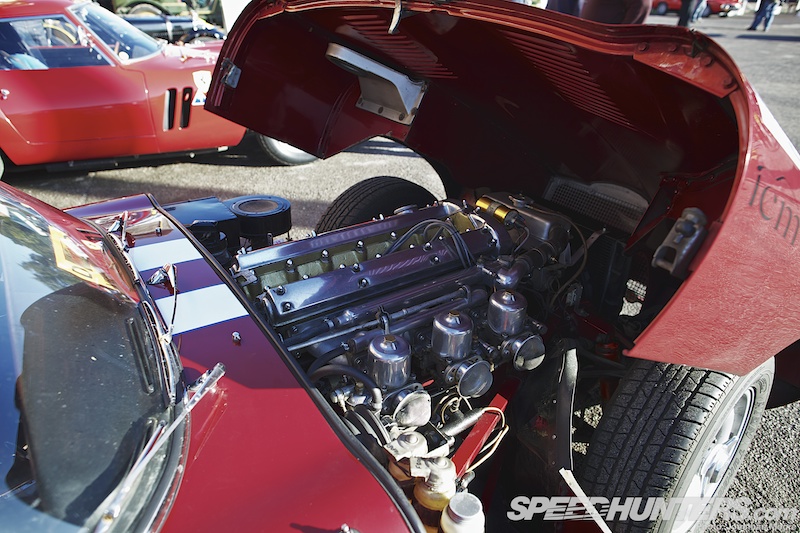 The 3.8-litre inline-six with triple-carbs is a beautiful unit, filling up the nose of the E under the long, front-hinging bonnet.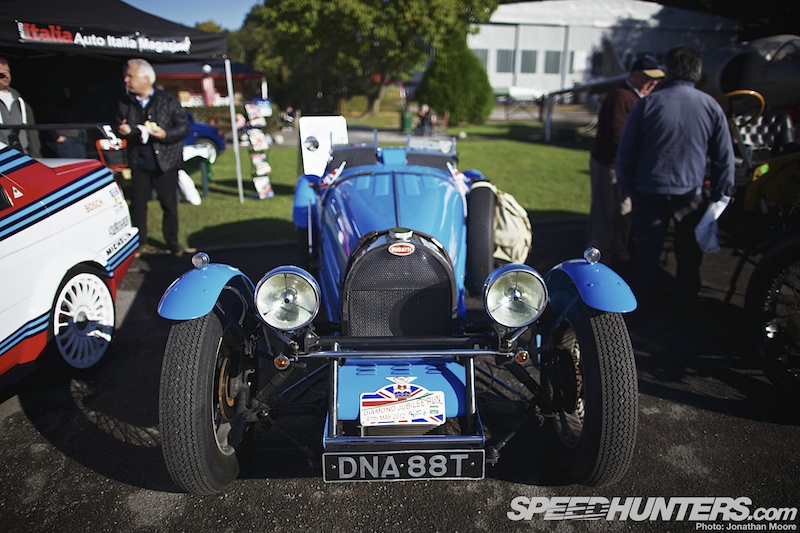 Like Bentley, Bugattis were a common sight at Brooklands in its pre-WWII heyday, and a pair of T35s were on show.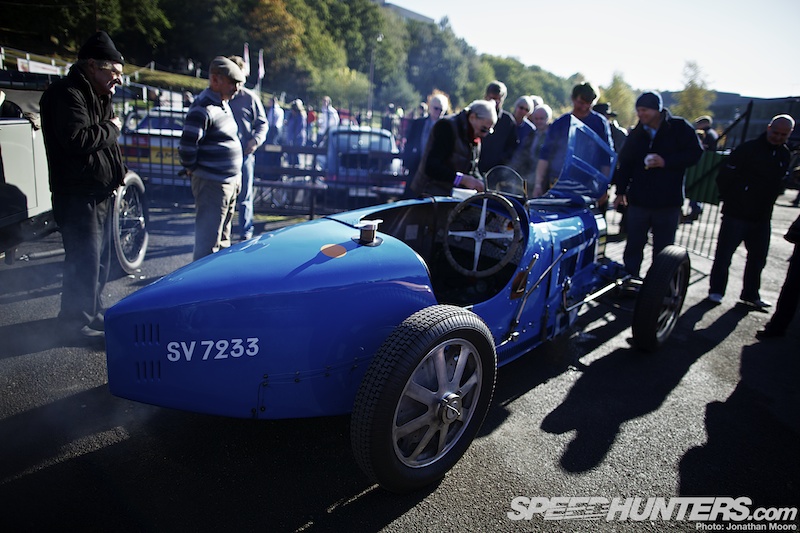 You can see why these cars were the Lotus Sevens of their time: the design is surprisingly modern, simple and effective and the build quality excellent. I've always loved the look of the one-piece spoked alloy wheels. The sound was surprising though: a sharp, almost rasping noise coming from the straight-eight.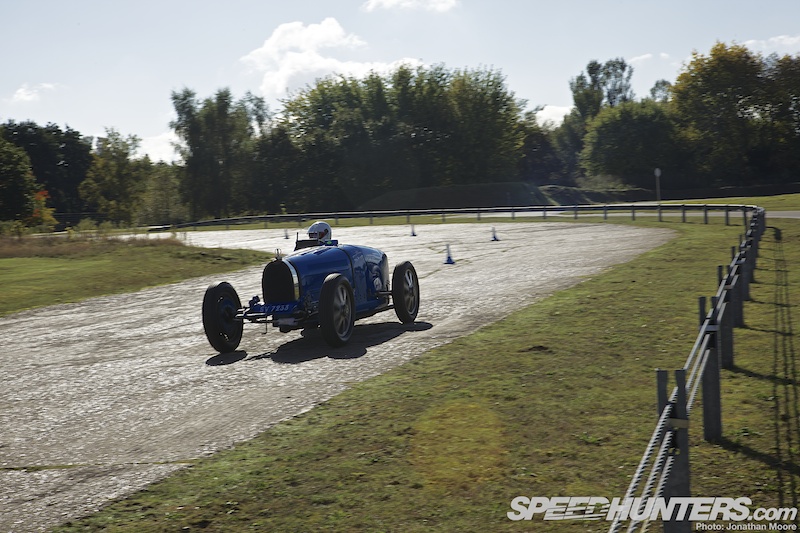 The driver of this one unfortunately took a wrong turn out onto the M-B World test track, but that just meant a better opportunity for shots of this legendary car on original Brooklands tarmac!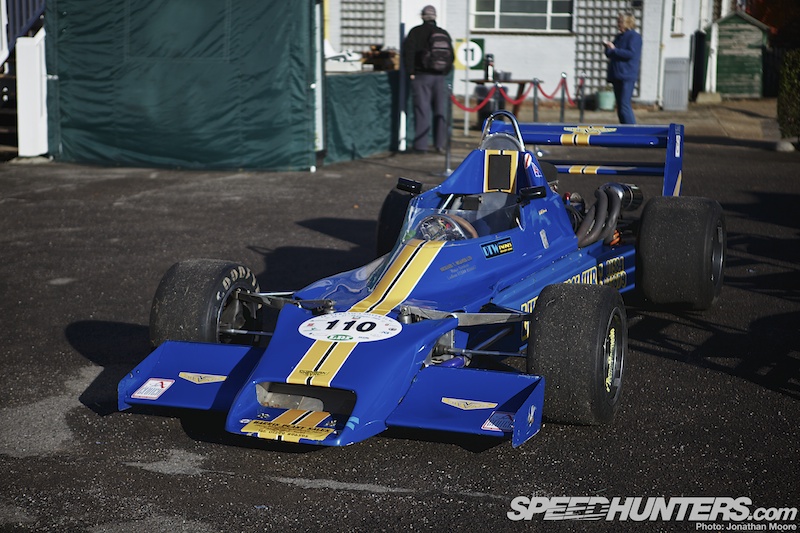 The more modern era was represented by this Chevron B48 F2 single-seater.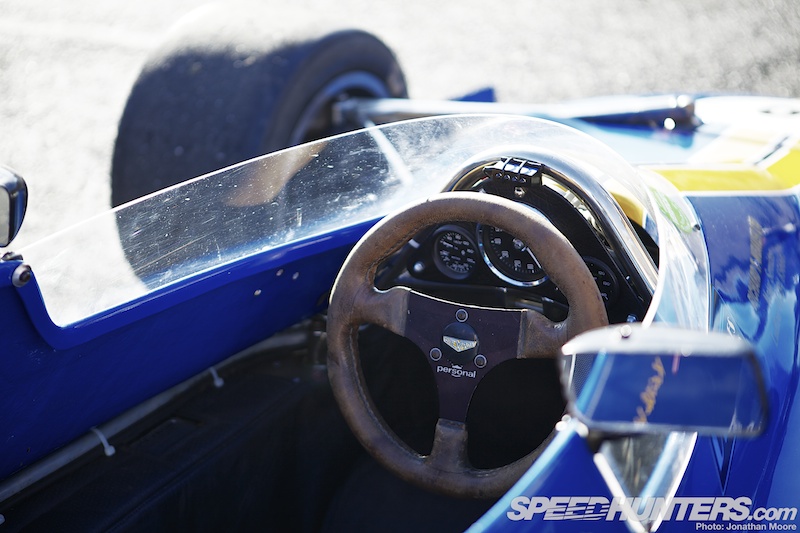 In the late '60s and early '70s F2 was a serious place to race and earn a living, so plenty of F1 drivers dropped into F2 races in the same way that NASCAR 'Buschwhackers' compete in lower-tier races.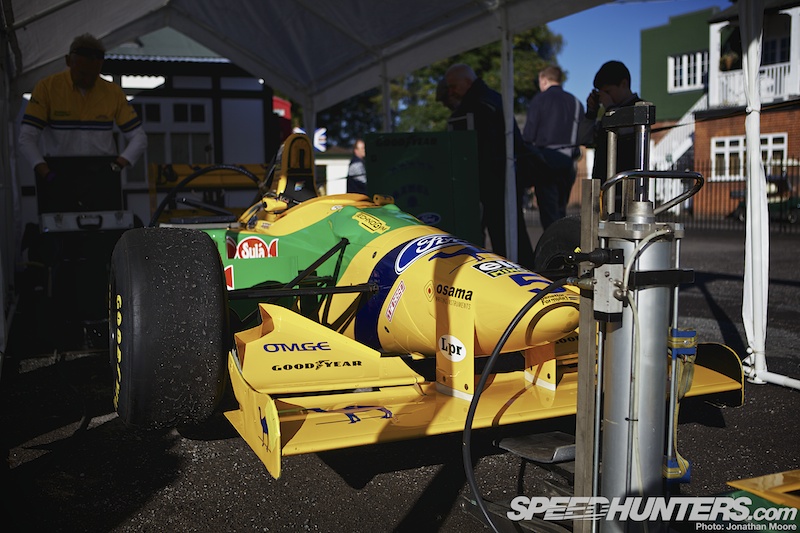 Representing the '90s were a pair of pucker Formula 1 cars, two of a number of Ford-powered Benetton F1 racers that have been putting in special appearances around the UK all year.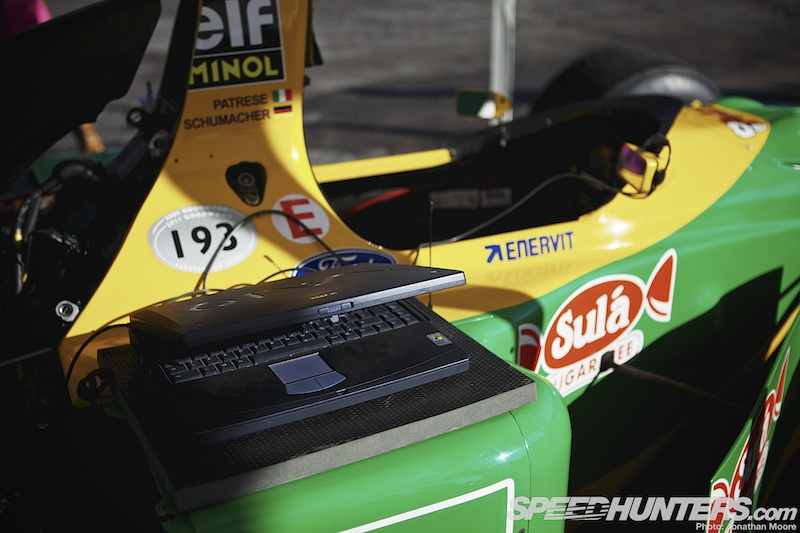 This B193 stood next to a B190 from 1990, with a laptop plugged into the data system. The B193 was from the active-everything era, and the current owner and driver is still getting up to speed with the overwhelming quantity of parameters that can be controlled by software.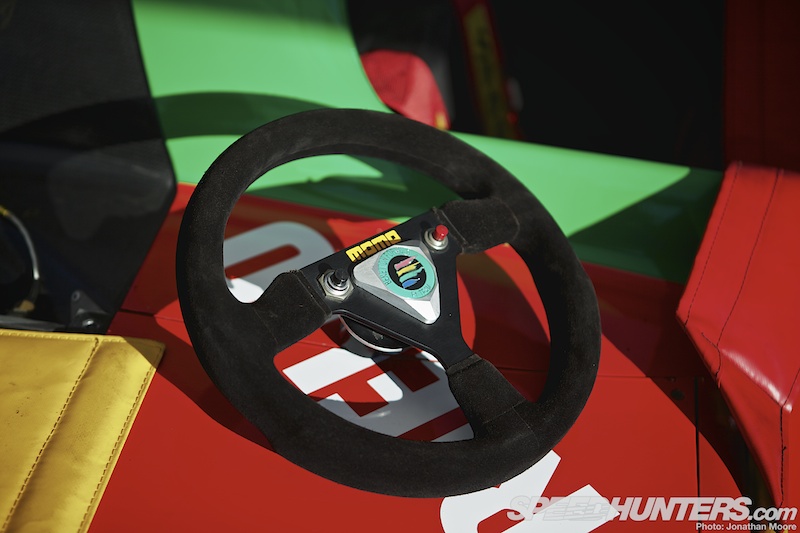 Steering on this monster wasn't just done with the round thing in your hands: the B193 also featured trick rear-wheel steer.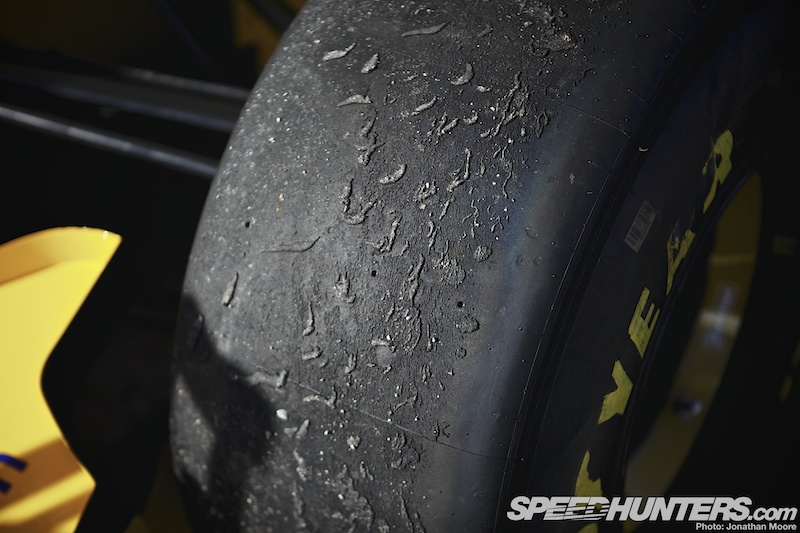 The big Goodyear slicks might be a relatively hard compound, but they hoover up discarded rubber…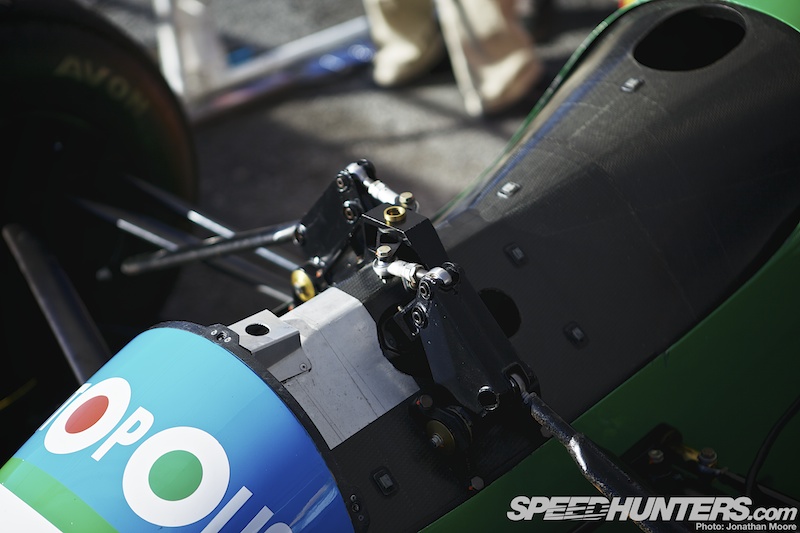 Next door, the Rory Byrne/John Barnard-designed B190 was a simpler but no less impressive beast. Seeing F1 cars of any era close up is always such a pleasure – being able to look at the intricate details and cutting edge contemporary technology in a manner which would have been virtually impossible at the time.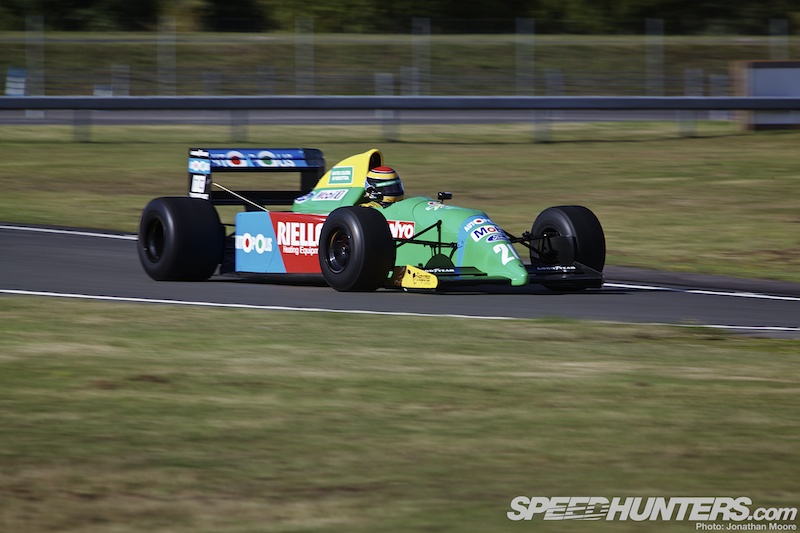 The B190 made it out on track for the lunchtime demonstrations; the crowd lapped up the sound of the howling Ford V8, and it really was a magical thing to be experiencing an F1 car in a leafy London suburb. Imagine what it was like when Brooklands was actually operational!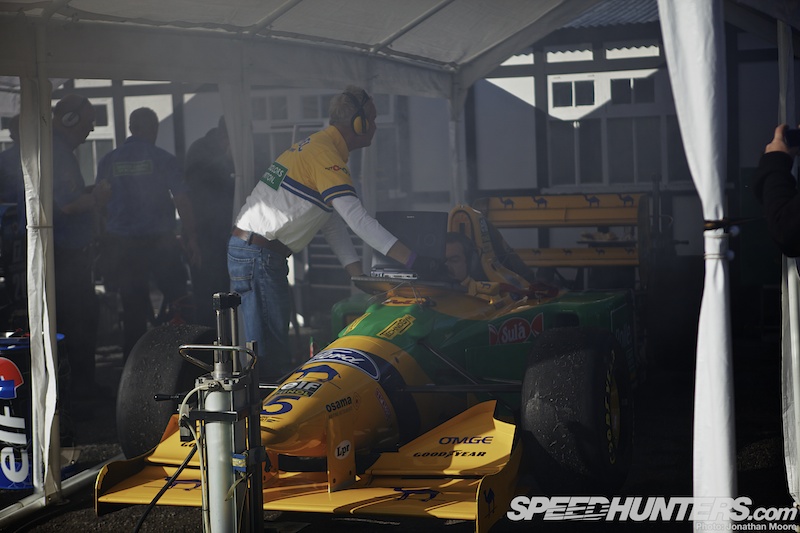 Unfortunately the B193 didn't make it out from under the awning: a combination of a sticking throttle and the short and very narrow tarmac of the test track meant it wasn't worth risking.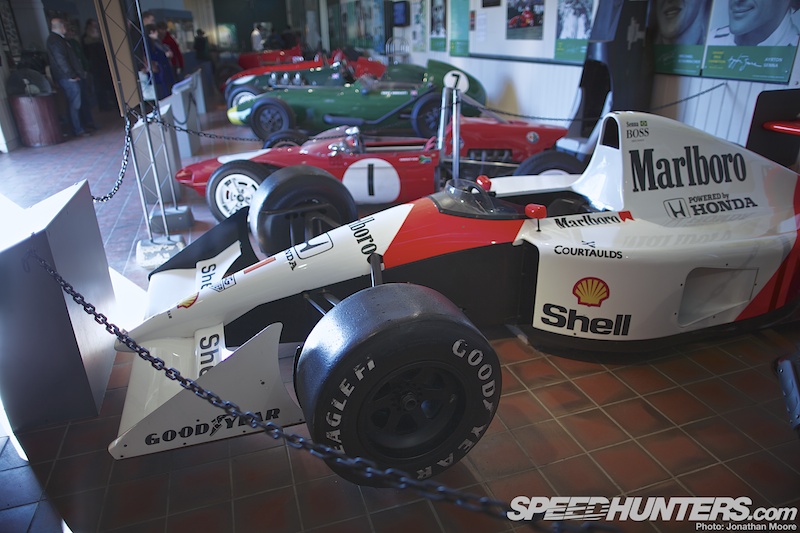 Talking of F1, Brooklands' museum has been dramatically enlarged and improved in recent years, and spills out into several annexes made up to look like period workshops around the paddock site. Again, we'll be taking a look around the exhibits in a future article.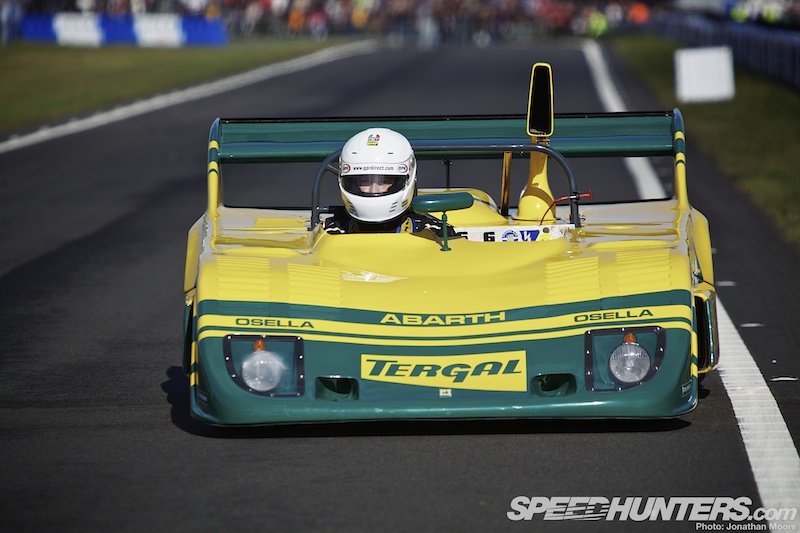 The Abarth Osella PA2 from 1974 was out on track with the Chevron and Benetton. It was raced in the FIA European 2-Litre Sportscar Championship, but it wasn't the finest year for Osella. A number of PA2s – which were effectively F2 single-seaters with enclosed bodywork – took part during the season; the cars looked and sounded great, but were outclassed by Alpines. That roll-hoop doesn't look like it's going to help much though.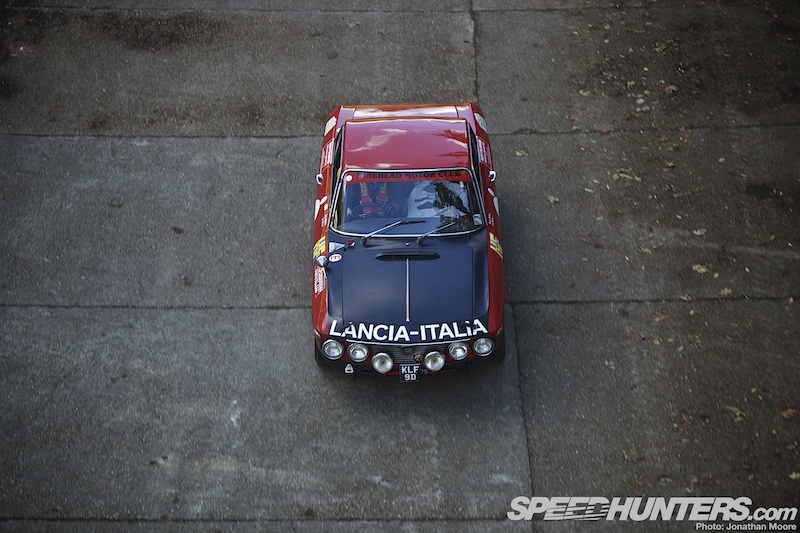 A happy proportion of the cars on show at Brooklands were Italian in origin: Lancias, Fiats, Ferraris, Maseratis and, of course, Alfa Romeos, could all be spotted both on and off the track.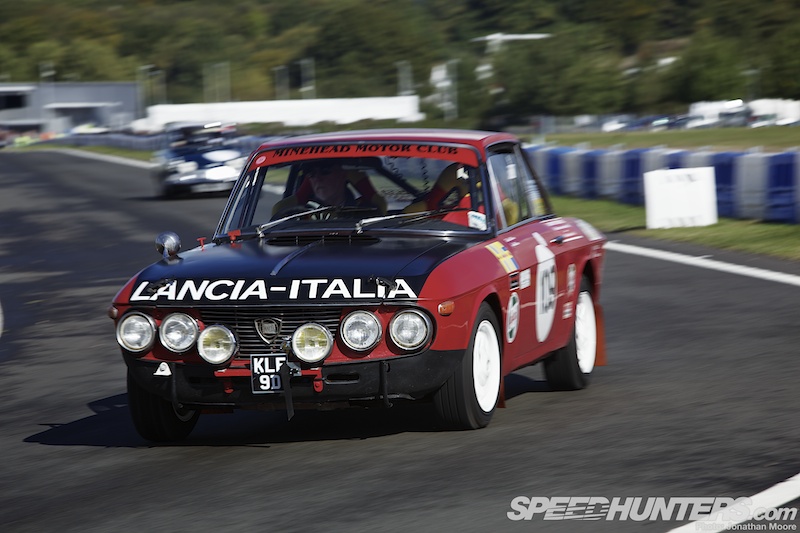 The Lancia Fulvia Coupé was an early example of Italy's rallying strength: with the extra lighting pack and nose-down stance it looked fantastic at speed. This Fulvia also showed the distances that people had gone to in attending Brooklands: it had been driven up from the south-west of England, but all over the site various European accents could also be heard.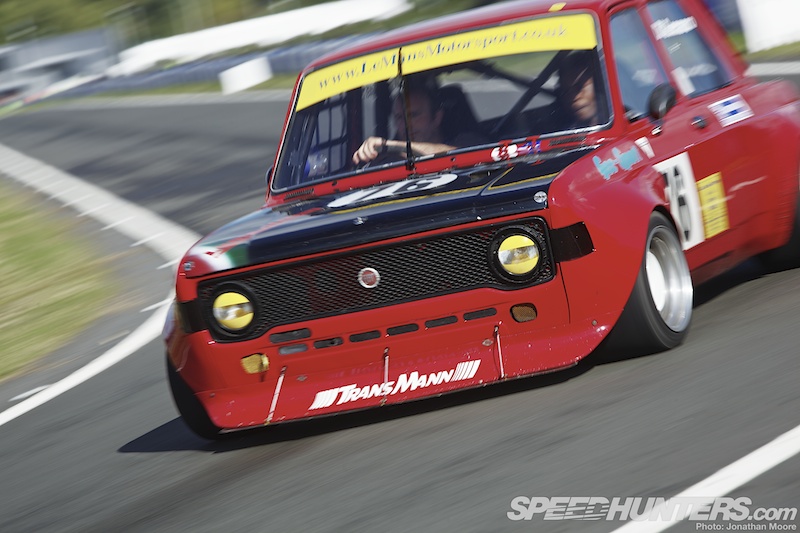 Buzzbox Fiats are a popular thing, and several Fiats and their Abarth cousins were out at Brooklands. This squat 128 was an absolute beast: far faster than it should have been!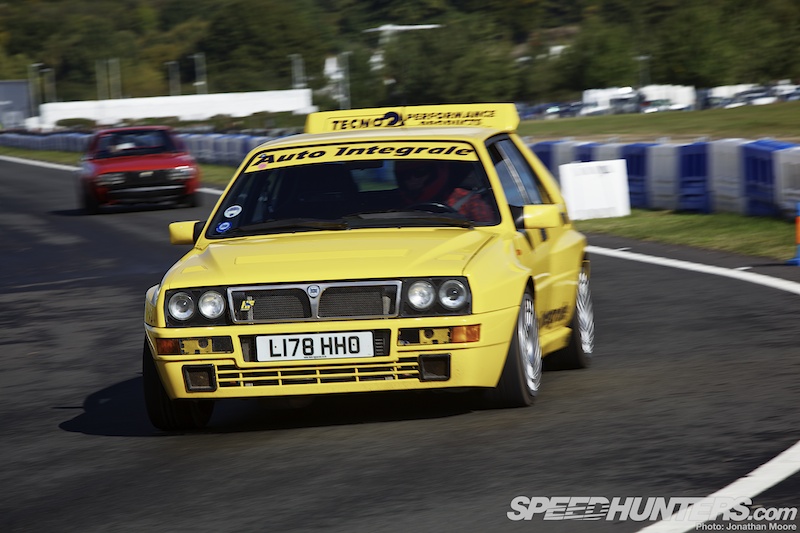 This was one of a number of Lancia Delta HF Integrales at Brooklands, complete with a wide body kit and adjustable rear roof spoiler: still one of the most desirable four-wheel drive cars there is.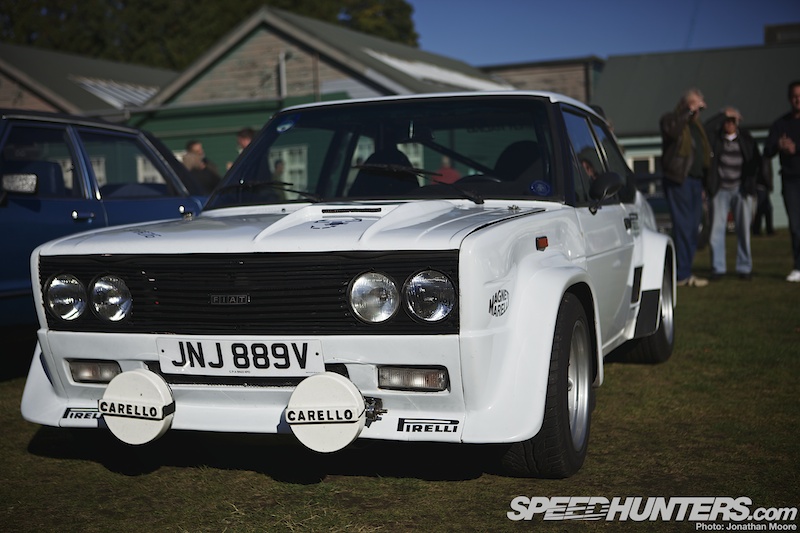 A celebration of a classic competition weapon: this 131 Mirafiori has been decked out with a wide-body kit, Carello spots and period stickers.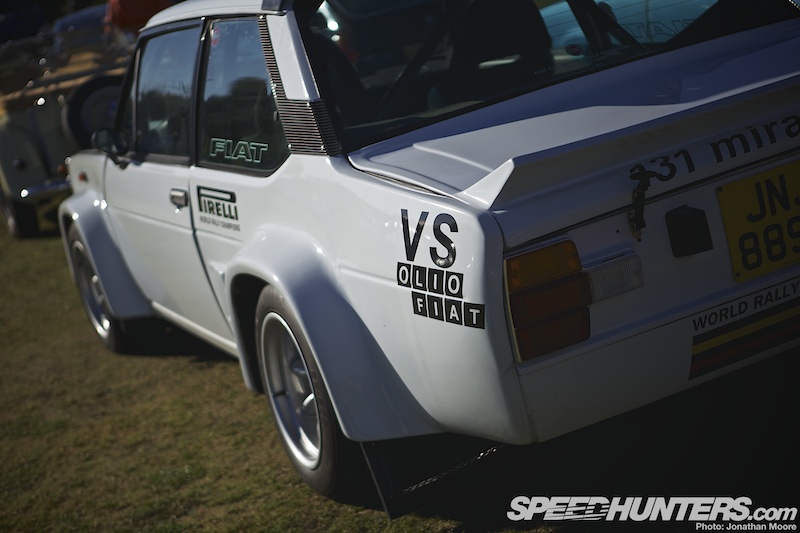 131s won the World Rally Championship in '77, '78 and '80 so there's plenty to celebrate with a Mirafiori.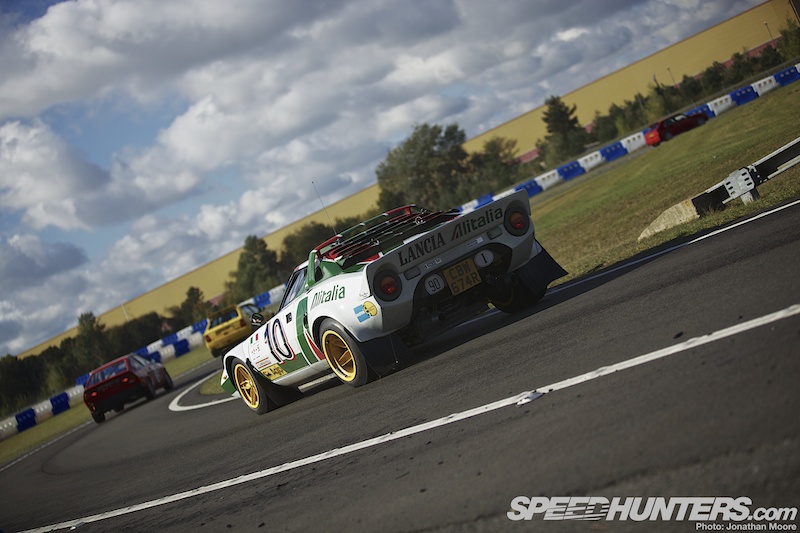 Stratos replicas may not be the real thing either, but you can't help but be transfixed – especially when an Alitalia livery is involved.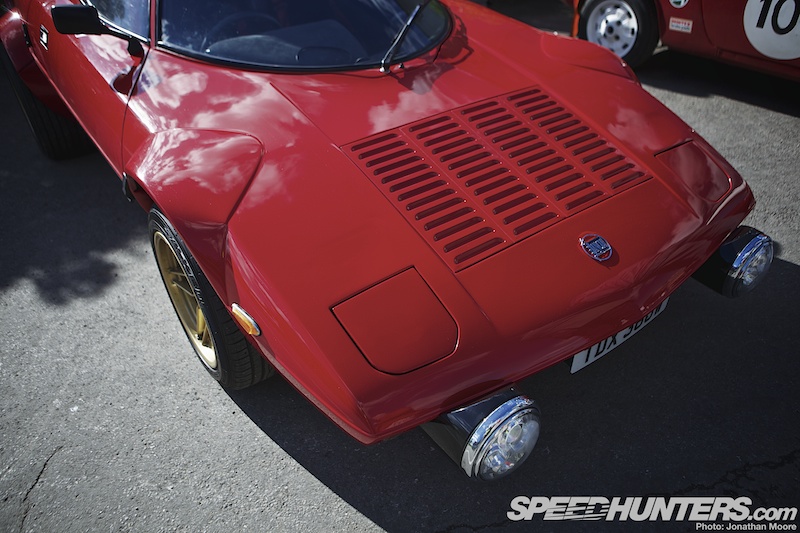 The shape looks stunning even in a flat colour with no stickers. The new builds are very true to the original though, and a far more affordable way of owning this iconic car than with a genuine original.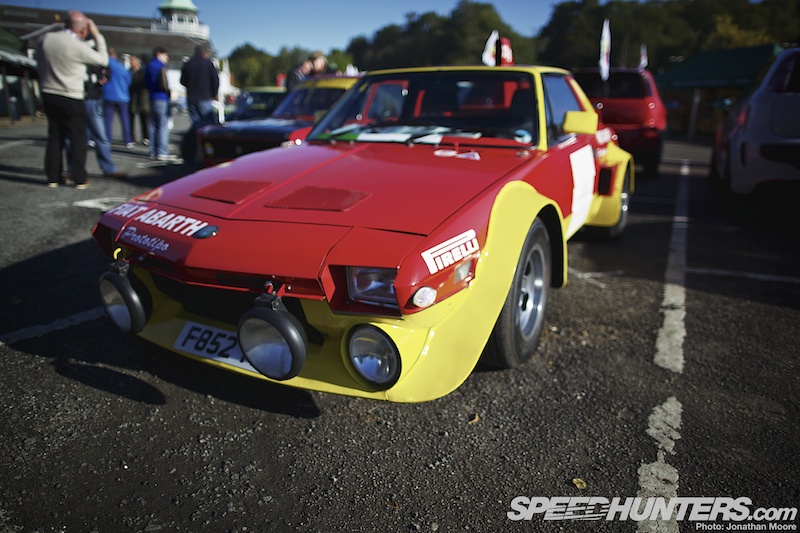 Replica builds also allow people to tackle particularly rare cars that otherwise there would be virtually no chance of seeing in real life.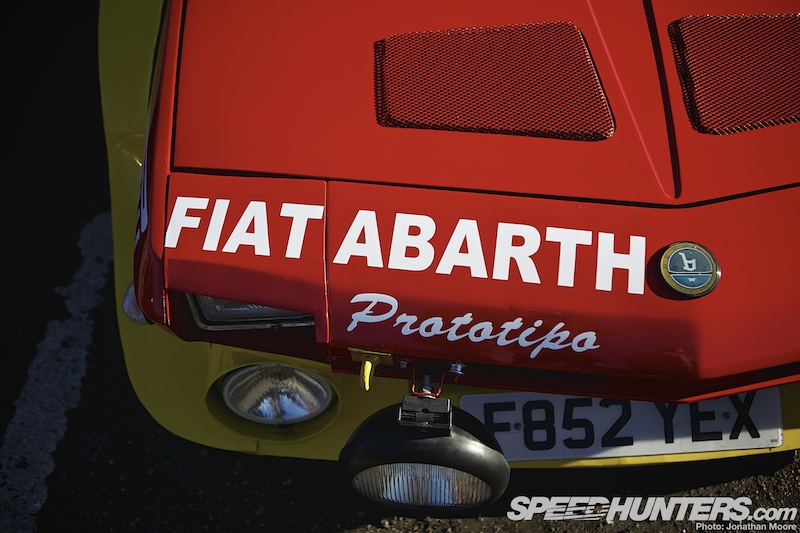 The original supercharged Fiat Abarth X1/9 Prototipo was built for rally competition in 1973, and won three times in 1974. Just six were built and five survive, scattered around the world. Replicas of Prototipos can be achieved with ready-made kits, and build threads are awash with details to allow as accurate a recreation as possible.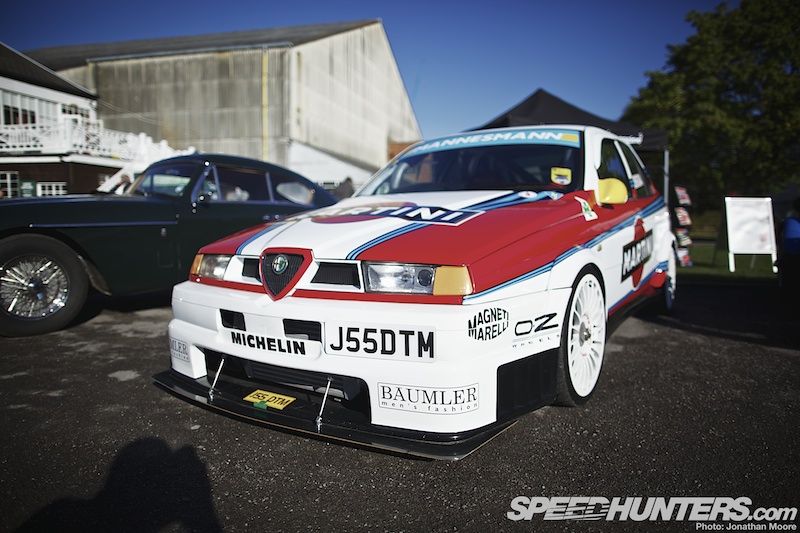 Making a road-going race replica is a popular idea, and this Alfa Romeo 155 DTM recreation has been excellently executed. It's also one of the fastest 155s in Europe, with almost 400hp on tap.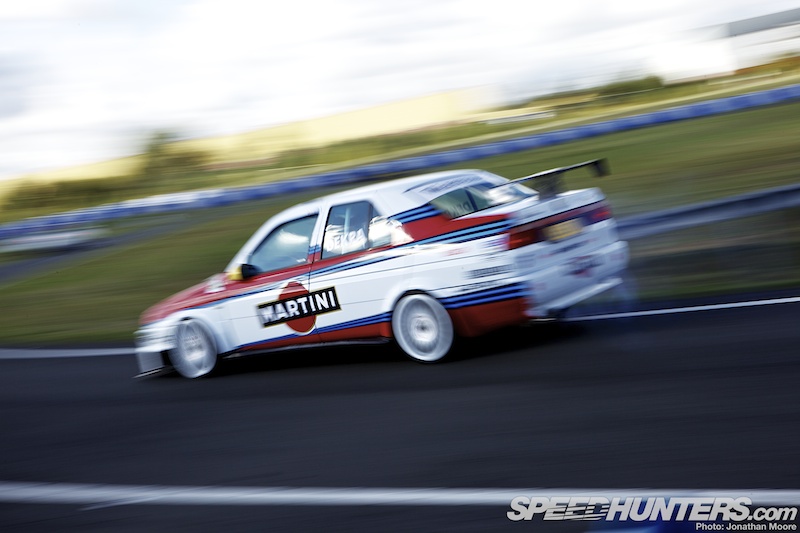 Emulating the livery of the Martini-sponsored factory 155s from 1995/96, J55 DTM now mounts a tweaked Fiat Coupé 20V five-pot turbo transplant under the hood, which gives it plenty of grunt and sounds nice and throaty.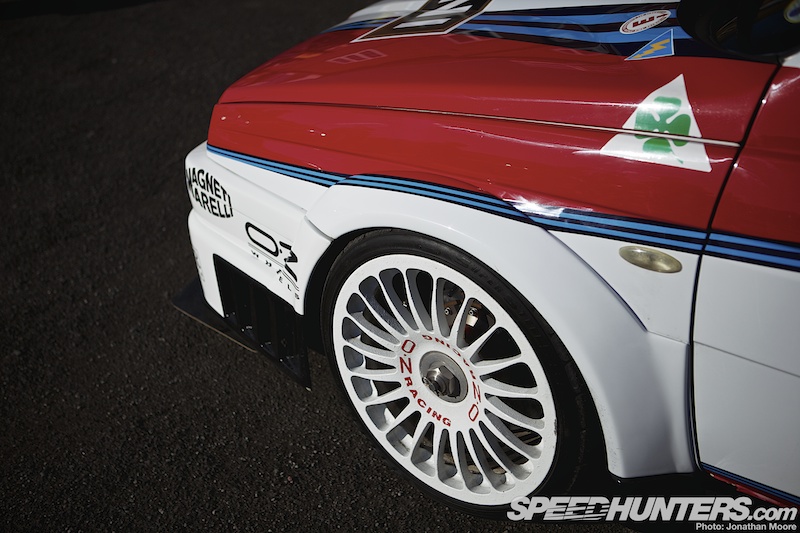 The detailing is exemplary, with the aero kit complemented by these OZ Racing wheels. Speed humps must be a nightmare though – I've no idea how the driver managed to get the car down the steep, bumpy entrance road onto the Brooklands site!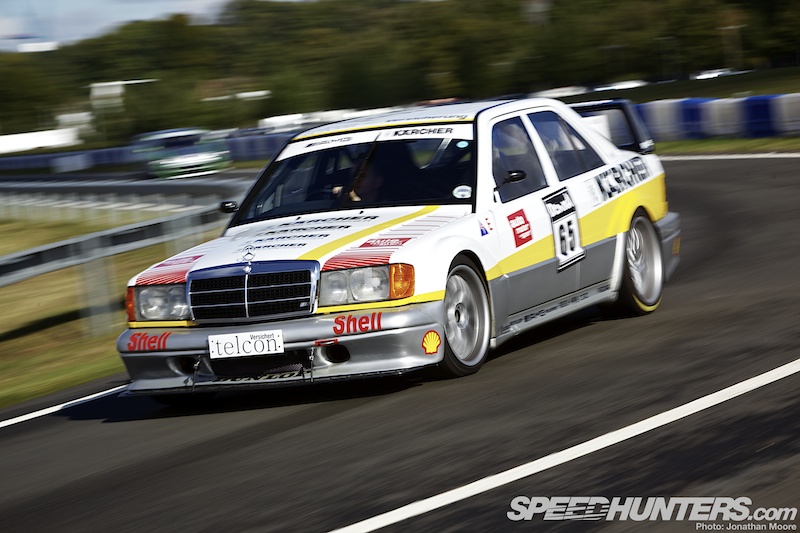 A quick marque detour here, but on a similar note: this Mercedes-Benz 190E 2.3-litre 16v has been built up to a similarly impressive standard with an Evolution II aero pack to emulate the 1990 AMG Junior Team DTM car: Oz Wheels are the next thing on this owner's list as well!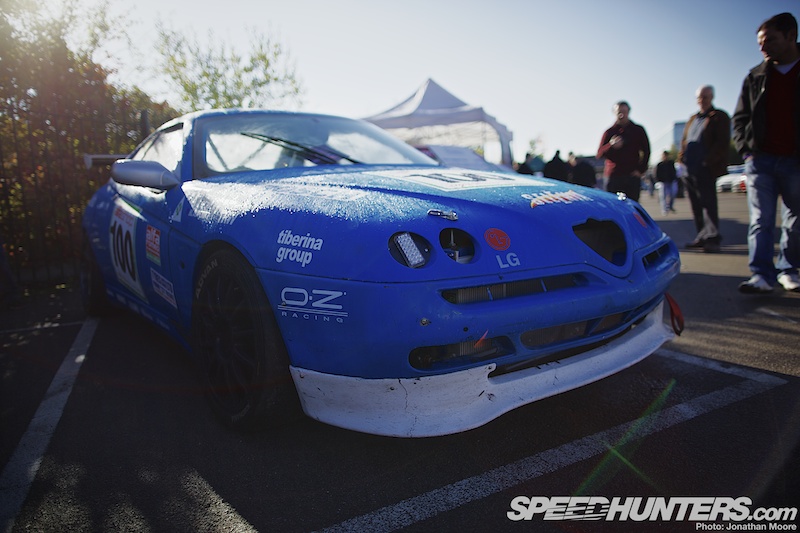 Back in the paddock was a display of racers from the UK's Alfa Romeo Championship Association, which included this stripped-out GTV. These kind of racing series are the perfect way to get into circuit racing. The GTV did race in its own Cup series in Italy – from which my beloved road-going version was derived – but it was interesting to see this more home-built special. And tempting, oh so tempting.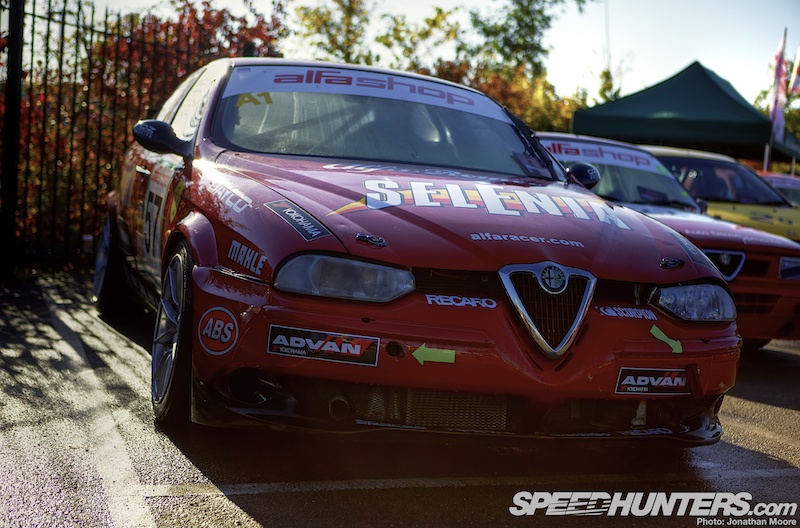 Barry McMahon's S2000-spec 156 was originally built for the Swedish Touring Car Championship. It was brought to the UK as a rolling chassis and its unreliability traced to a trick alternator (which kept failing) and a fan that was blowing instead of sucking! Barry has lapped Spa in a respectable 2m:50s, and over the winter plans to drop a new 1.75 Turbo unit from a Giulietta in, which should reach 350hp – well into WTCC spec.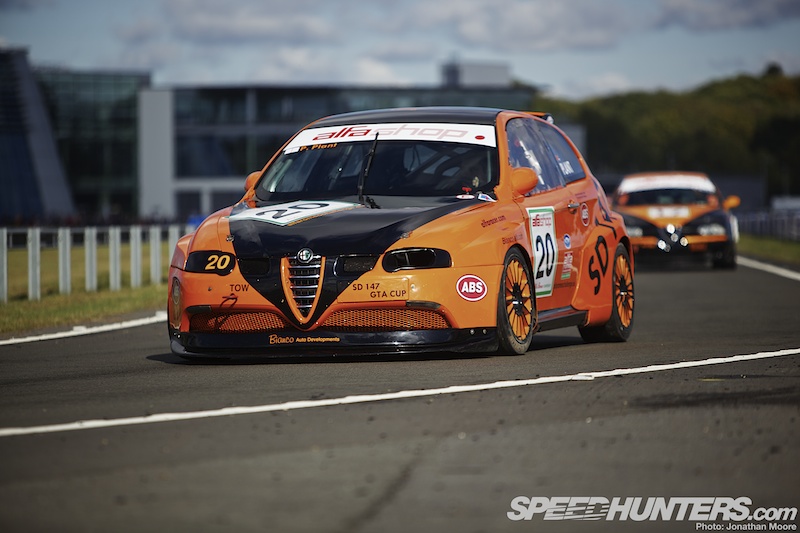 Next door was a 147 GTA: the car was originally built for the WTCC-supporting 147 Cup. It sounded awesome out on track: its modified engine produces 250hp in a car that weighs just 940kg. The carbon aero kit has been custom made, and at the rear is a huge, Seat Leon Supercopa-like diffuser – that's mainly because there isn't the space for a big rear wing, but also it brings the advantage of more speed for less drag.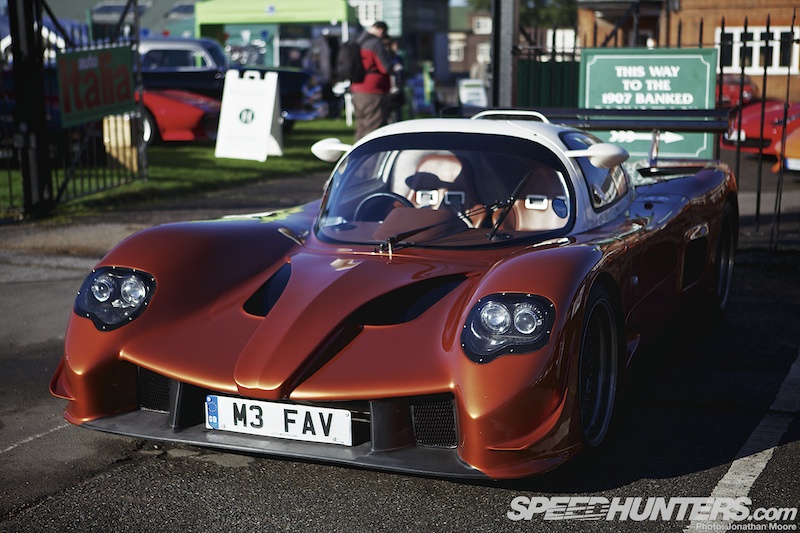 Finally, two road-going race cars: an Ultima looking a lot more refined than most of its V8-powered sisters…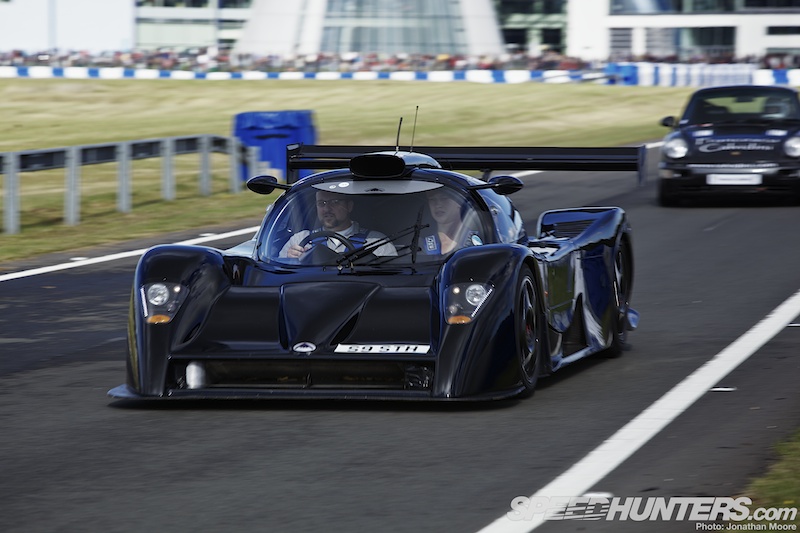 …and a Stealth B6 GT. The Stealth (check out the badge icon!) weighs just 1,050kg and packs a 6.6-litre all-alloy dry sump Chevy V8 producing 550bhp. The basic design has been around for over a decade, and has competed in national GT series around Europe. Ground effect from the flat floor and a big carbon diffuser even on the road-going version mean that the B6 is probably the quickest way to get to the shops I can imagine – as long as you're not aiming to buy much once you get there…
Jonathan Moore
Brooklands Autumn Motorsport Day
---
---
---