When I first lay my eyes upon this Escort at Ford Fair last moment, I only had one question on my mind. Throughout the nine hour journey from my home in southern Ireland to Cye's work shop in the south west of England, the same question continued to circle my mind. After we had exchanged pleasantries, I couldn't wait any longer to ask Cye that one question – "why did you build this car?"
He just smiled and simply replied – "because I wanted to."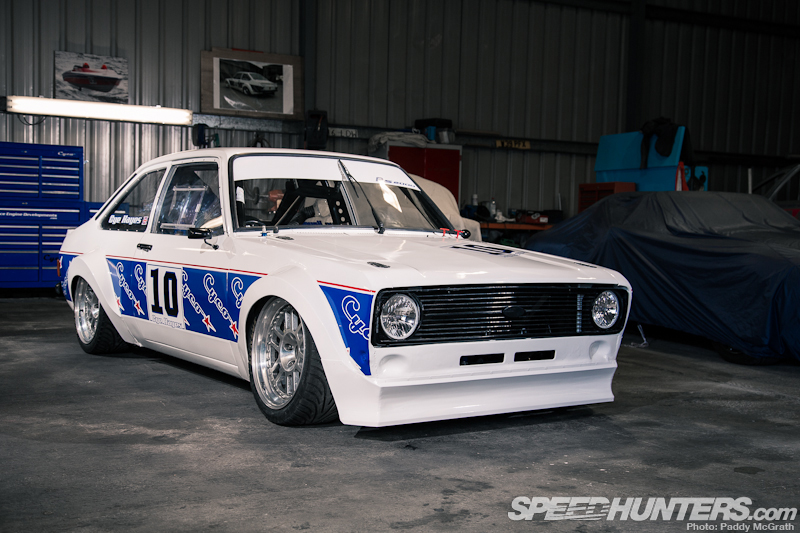 The Ford community, in the UK & Ireland in particular, are quite a traditional lot. For the most part, they like to keep things within the family so to speak. I'm sure the idea of a TVR chassised and Honda S2000 powered MKII Escort will absolutely horrify some, but then Cye built this car for one person only – himself.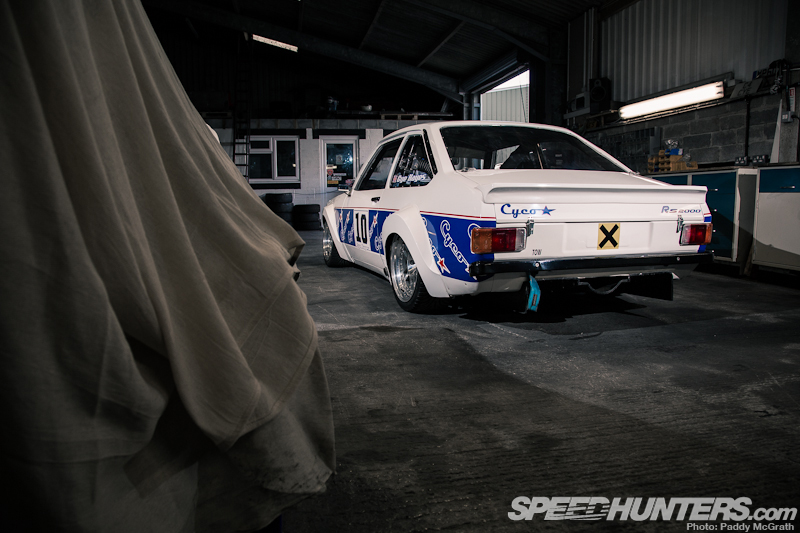 With a history of fast cars and probably even faster boats, Cye's engineering background allowed him to build this Escort with no compromise.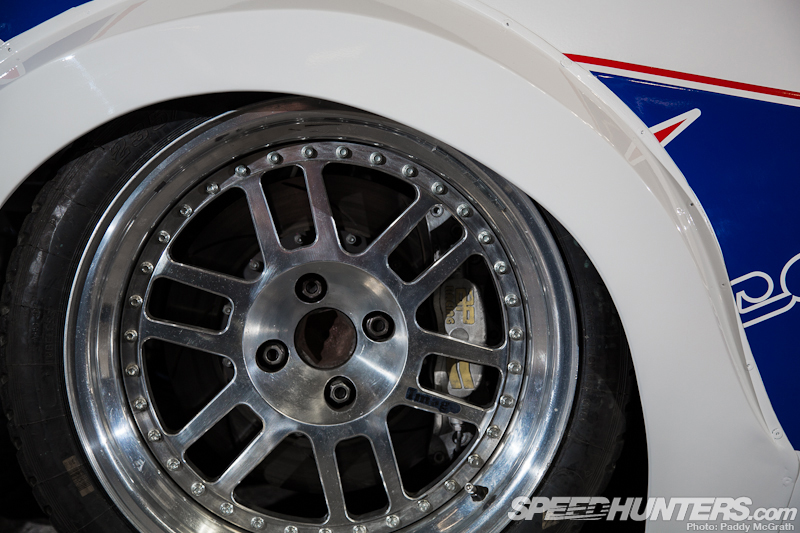 His friend who shares a workshop with him joked that Cye probably has more tools for measuring things in his tool box than he had tools in his own. I don't imagine it's too far from the truth.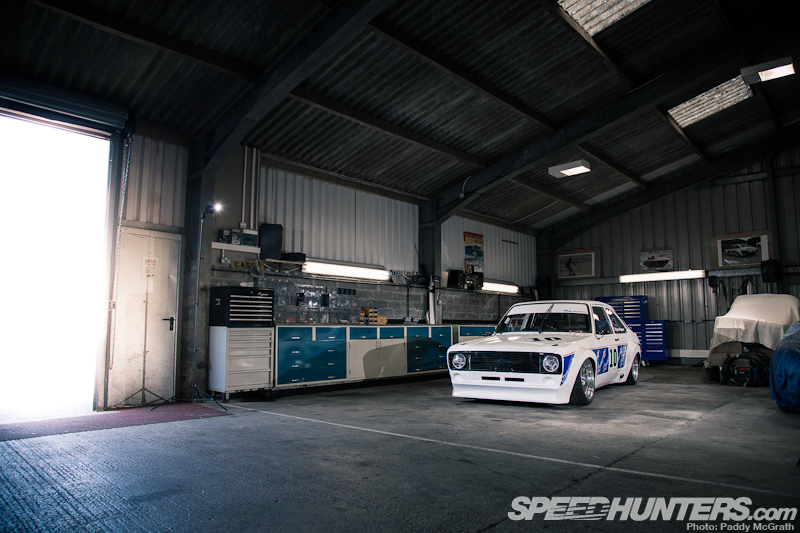 There is so much to this car that I'm not really sure where to start being honest. I guess the inside is as good a place as any …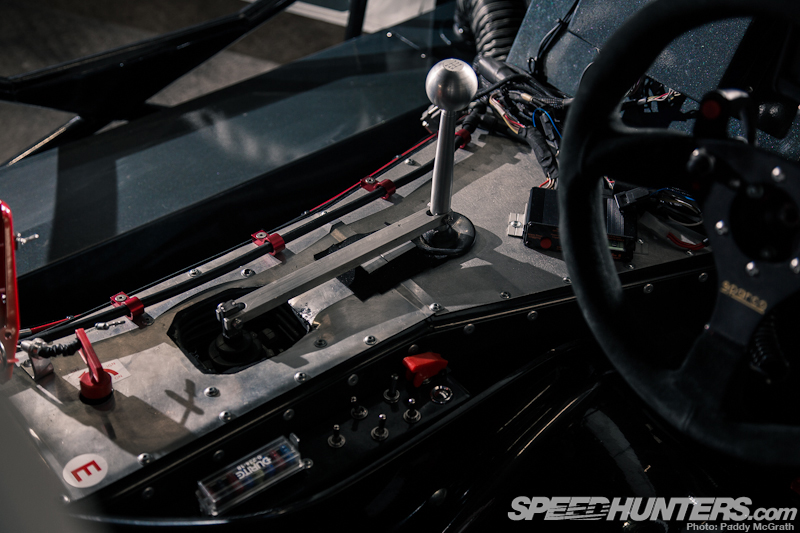 Cye has retained the factory Honda six speed gearbox but paired it with an AP Racing paddle clutch and mated that to a  TTV lightweight flywheel.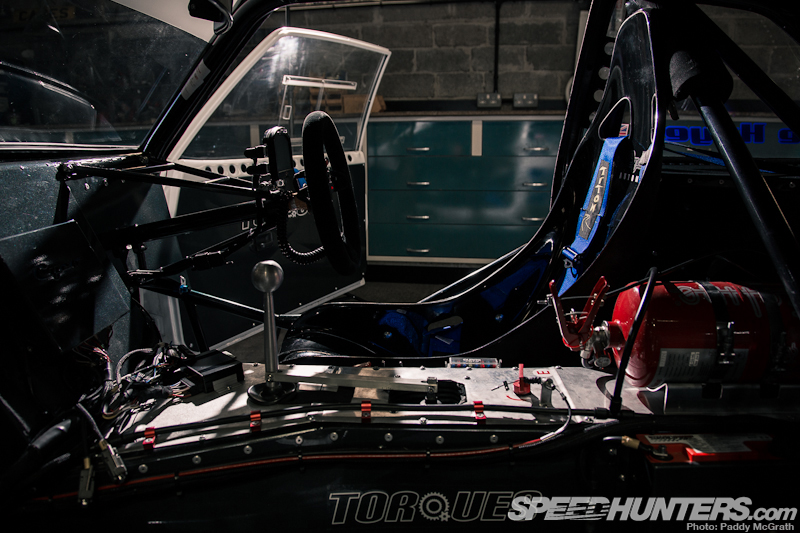 The inside is more business than most would care to imagine. Because of the flat bottomed floor, the passenger seat has been removed to allow the exhaust to pass through the car (inside its own tunnel) before exiting out the passenger side of the car.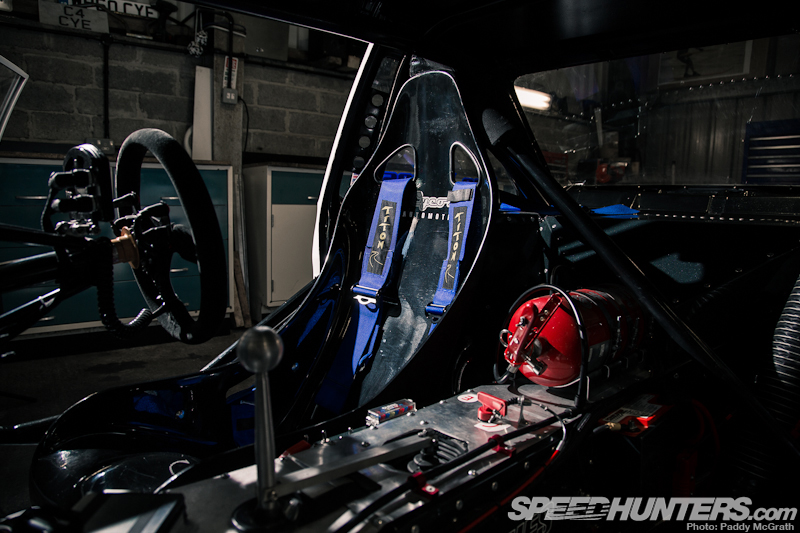 You're going to be reading the word 'custom' quite a bit in this feature. The car features a custom roll cage, a Cyco Automotive driver's seat and Titon six point race harnesses.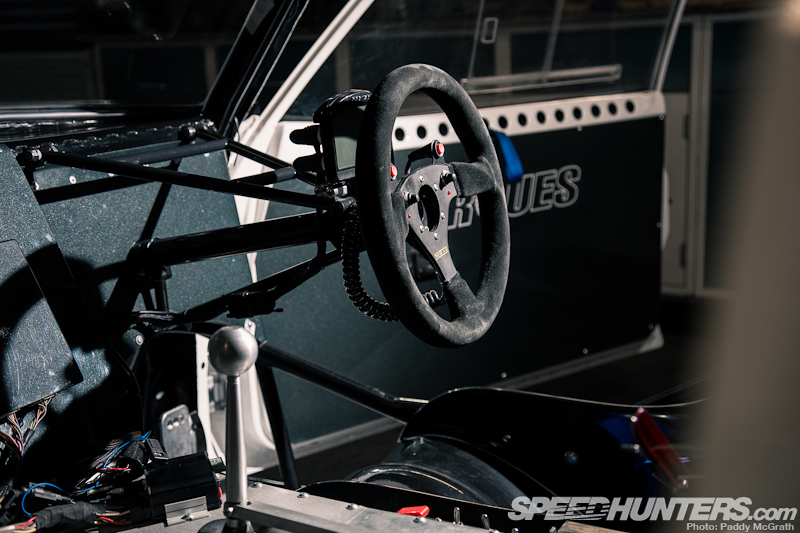 With the driver's seat located as far back as possible, the steering wheel and column is supported on a custom frame.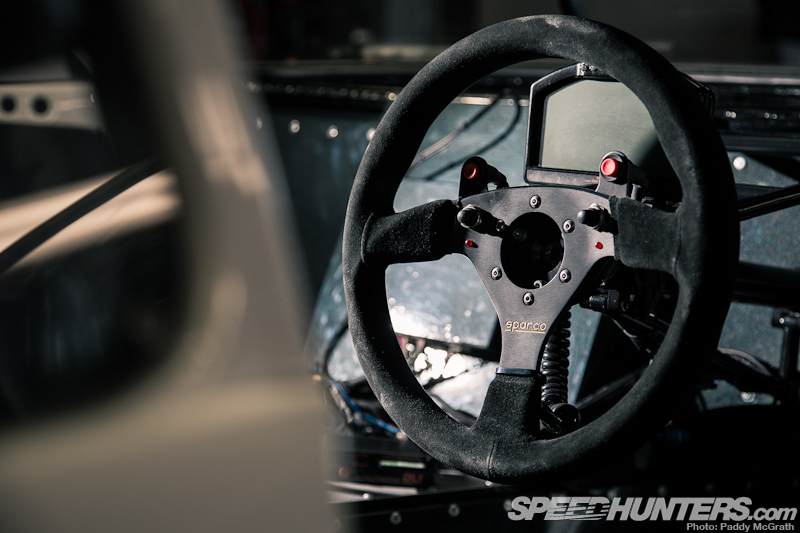 The wheel, along with a few other parts are Sparco items. Hiding just behind it is a Race Technology Dash 2 which contains everything Cye needs to know on the fly including oil pressure, temperatures, speed etc. The car also features a Race Technology DL1 data logger for post race scrutiny.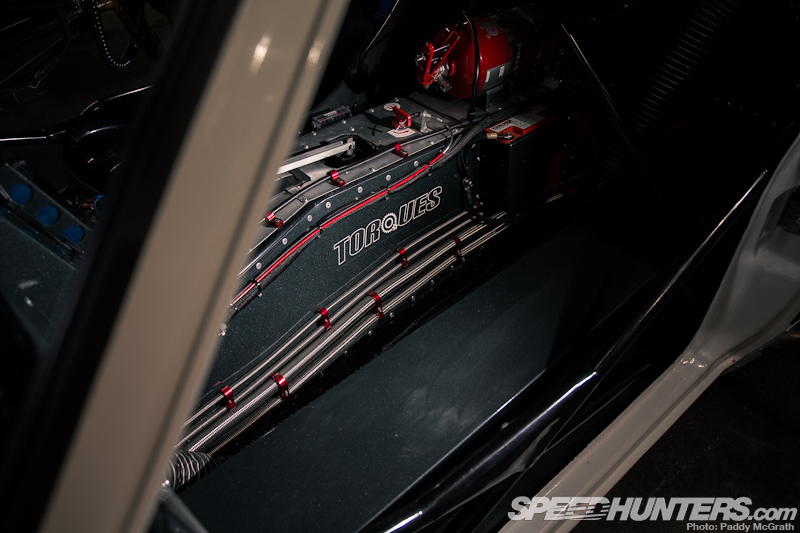 All the fuel and brake lines are routed neatly through the car.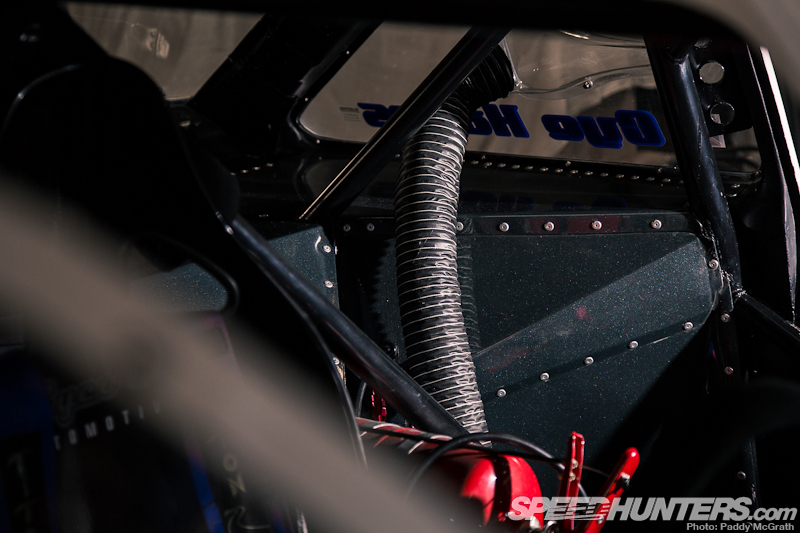 The exhaust tunnel also has its own cooling duct which draws air from the passenger side rear window …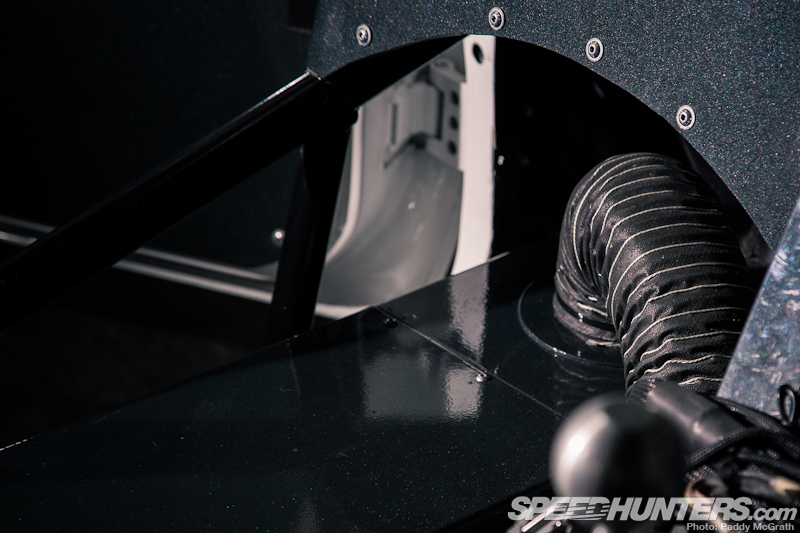 … and blows onto the exhaust closer to the front of the car.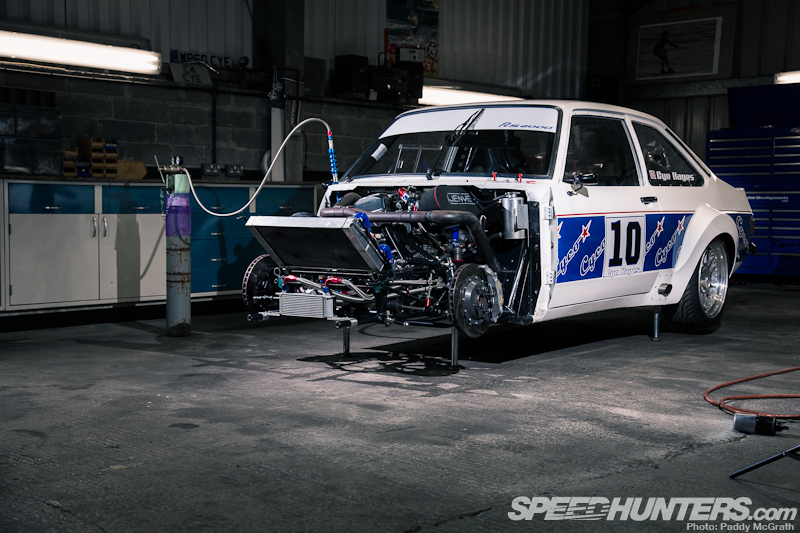 Convenient.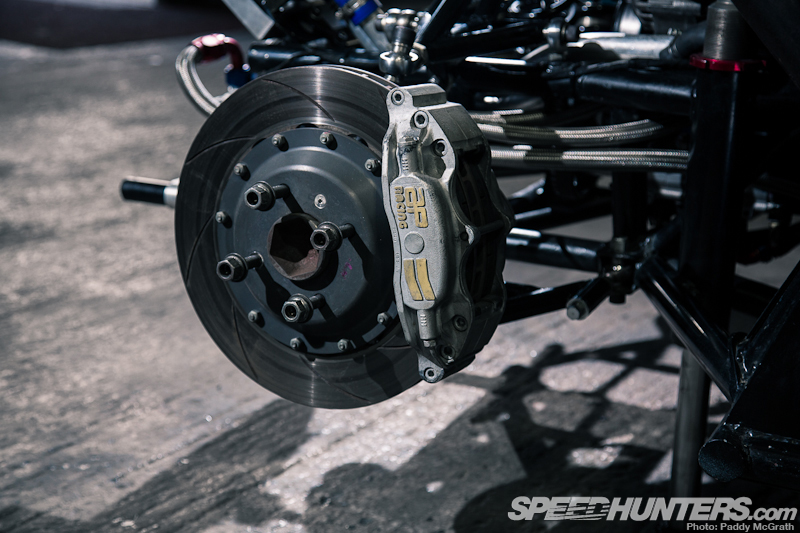 330mm front rotors are slowed by AP Racing 5200 front callipers with AP brake pads front and rear, all modulated through a custom built pedal box.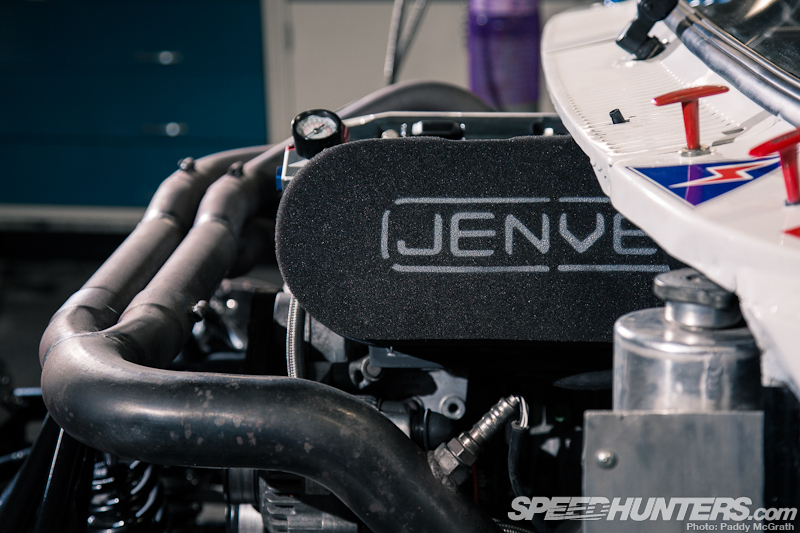 Two of the four cylinders hiding underneath the dashboard.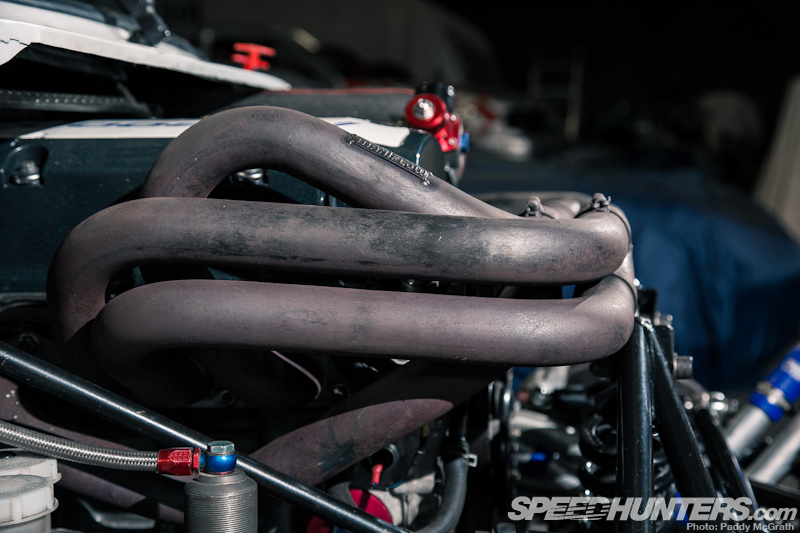 The exhaust system is a completely custom Maniflow item which exits the engine on the driver's side as normal, but then wraps around the front of the engine before converging from four pipes to two, and to one before dropping down and running through the passenger side of the car.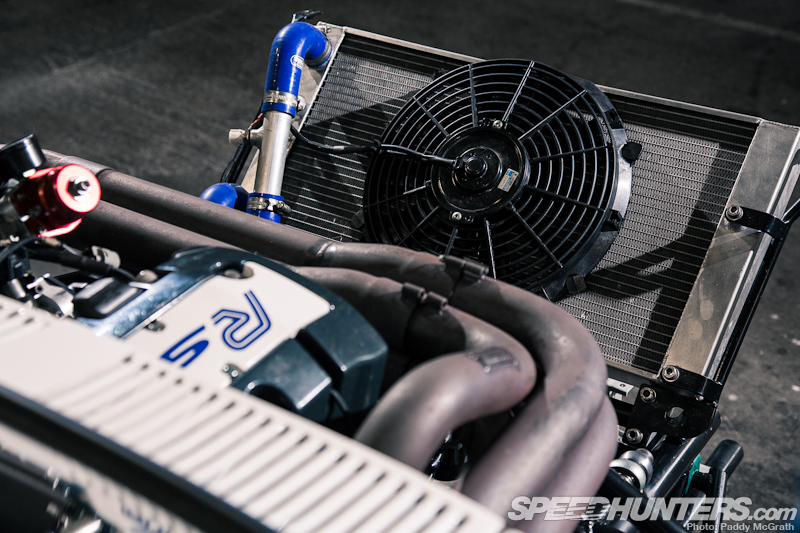 The diagonally mounted radiator features custom piping.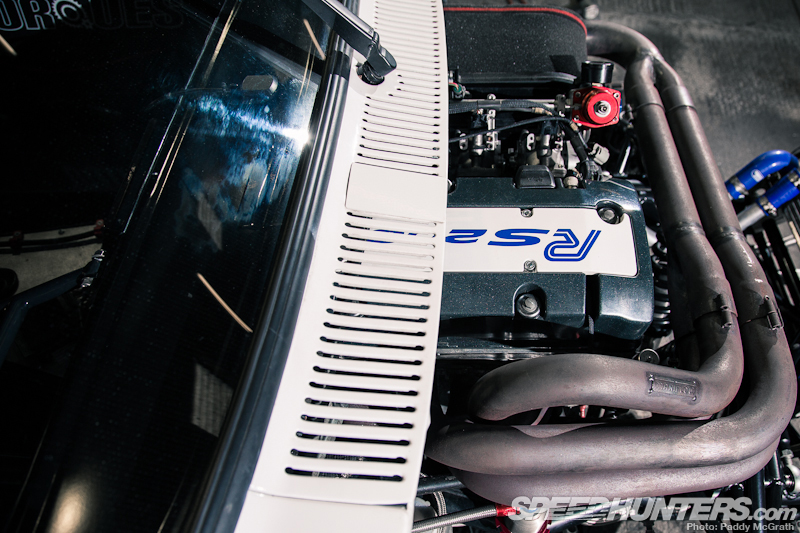 I asked Cye about the manifold being so close to the intake and whether the car suffers from any heat soak issues. He told me that because there is so much airflow through the front of the car, it's not been an issue and that the car has provided healthy power figures of around 275BHP. The engine is pretty much standard too save for some minor block work and Jenvey ITBs, so those are pretty impressive numbers.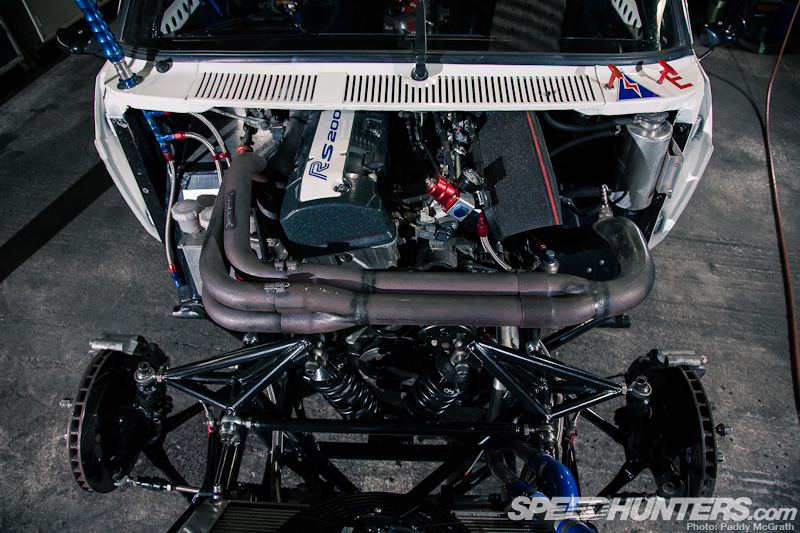 With the front clip removed, you get a better overview of the dry-sumped F20c setup.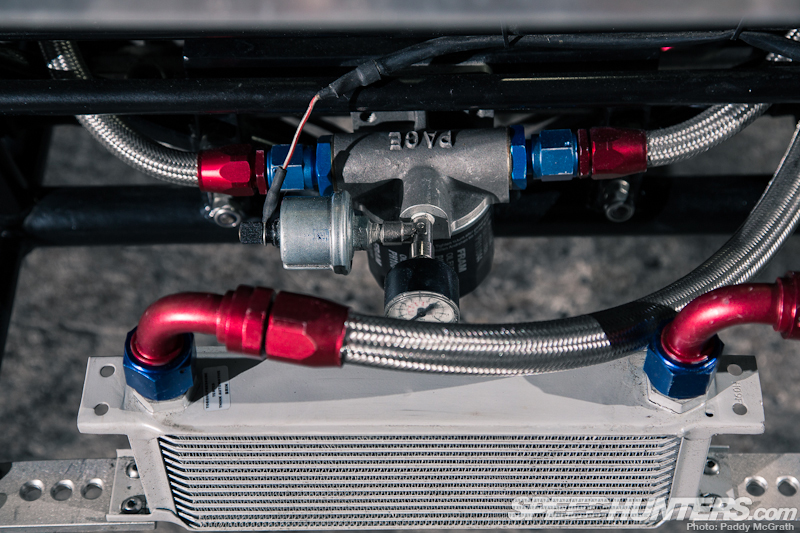 At the very front is a fourteen line Mocal oil cooler.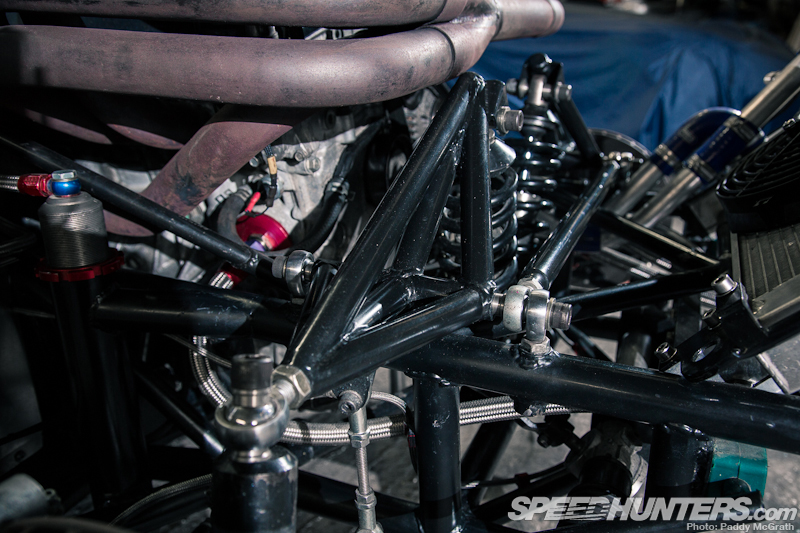 All the suspension components have been custom designed by Cye himself. Using coilovers mounted in the centre of the chassis, his custom suspension features rose jointed double wishbones made from 1″ thick billet aluminium and allows the ride height, toe, castor and camber to be adjusted.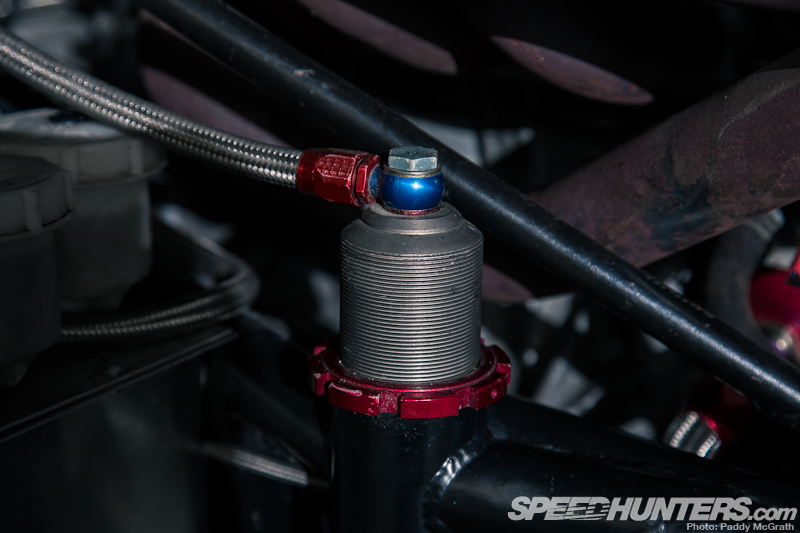 The chassis has also been fitted with an air jack system.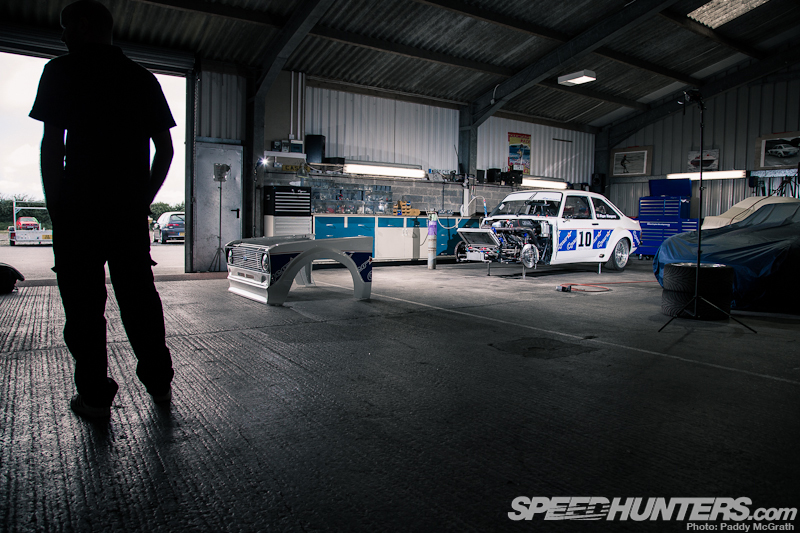 This is a whole lot of car.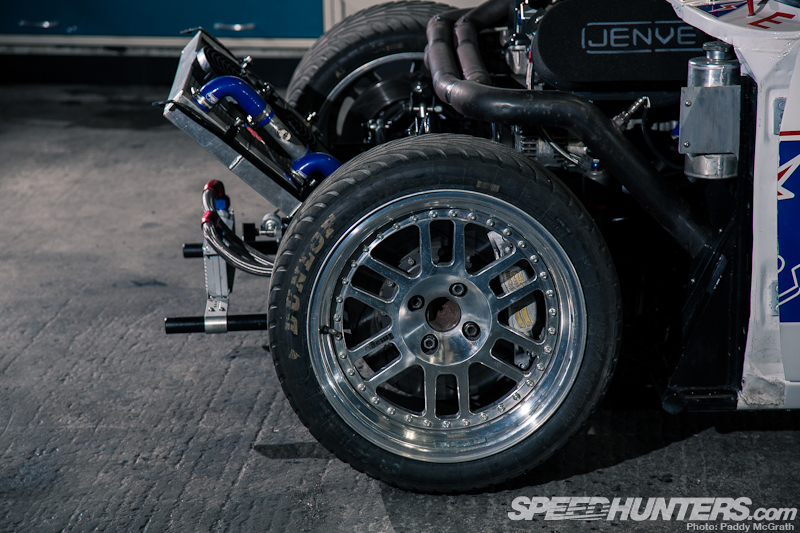 Actually, with the front clip removed you can really see how compact the car is and it should be no surprise when you read that it has an almost perfect F:51%/R:49% weight distribution with fluids but no driver.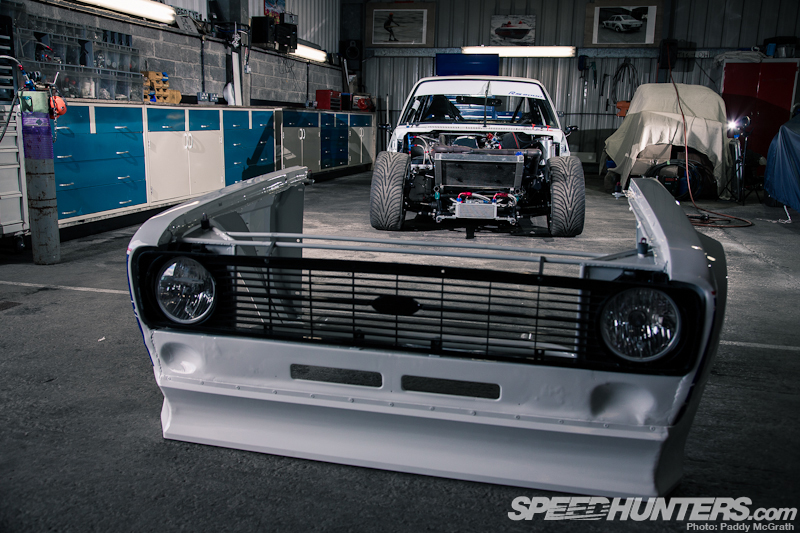 The front arches were hand made and blended into the wings and custom widened Ralloy Group 4 Style front bumper. The working headlights are original Ford items.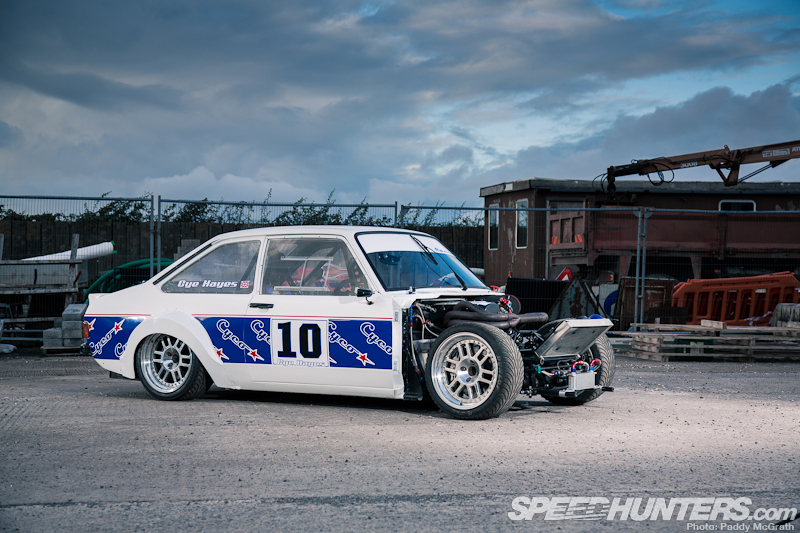 With the car painted in bright white and a custom graphic scheme, it's obviously been built for one thing – racing. Not that the whole other part of the build gave that away beforehand…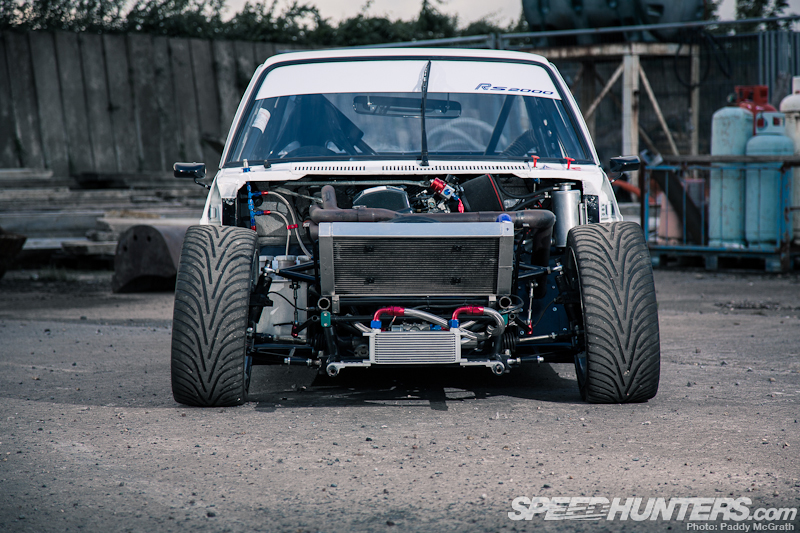 With four and a half degrees of negative camber at the front, it's certainly an aggressive looking setup.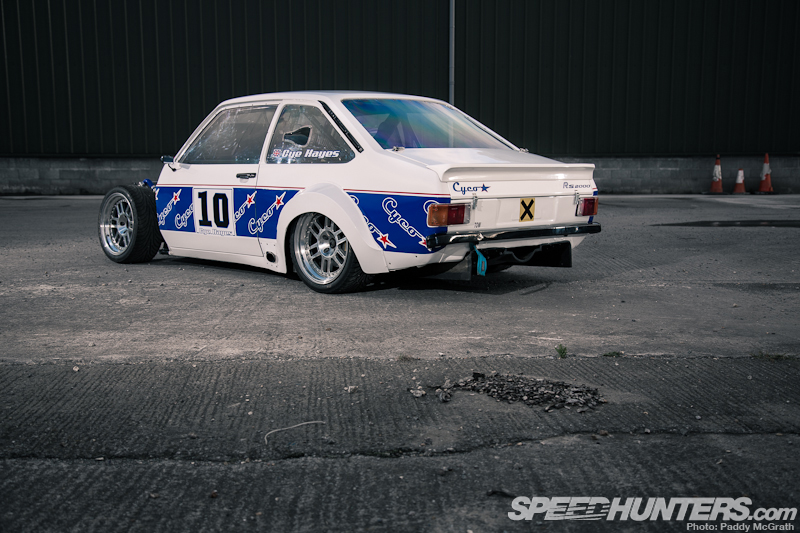 The rear arches are Ralloy Tarmac specification. The doors interestingly are standard Escort doors which have been lightened and fitted with custom aluminium door cards.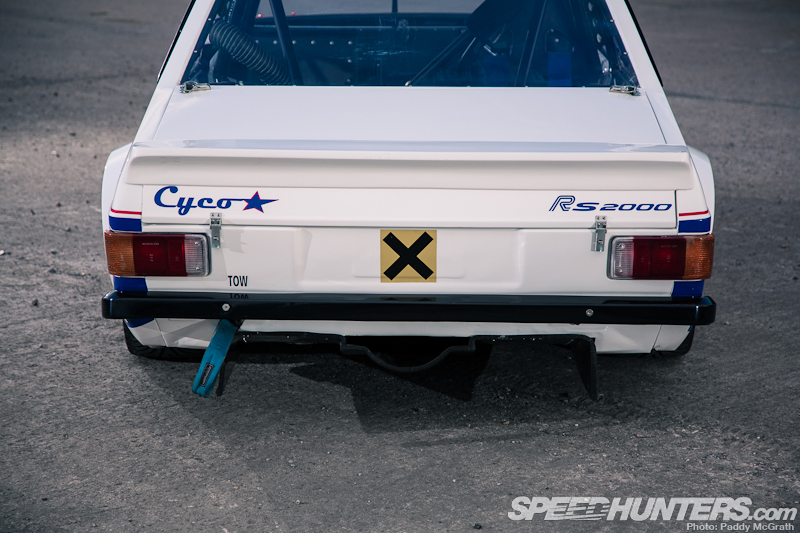 The rear of the car is about as normal as it gets with just a glass fiber boot-lid and carbon underbody diffuser which was sourced from a Radical.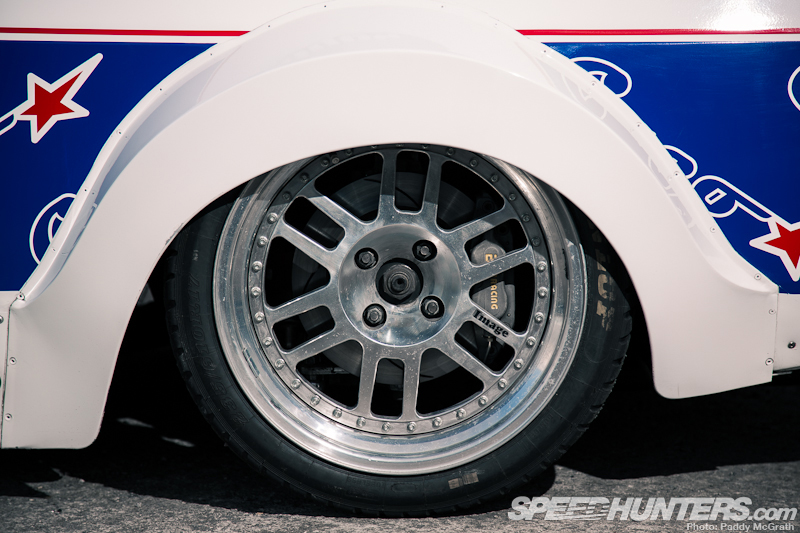 17″ Image three piece wheels with Billet centres are located at all four corners – they can be wrapped in a variety of Dunlop slick or wet compounds.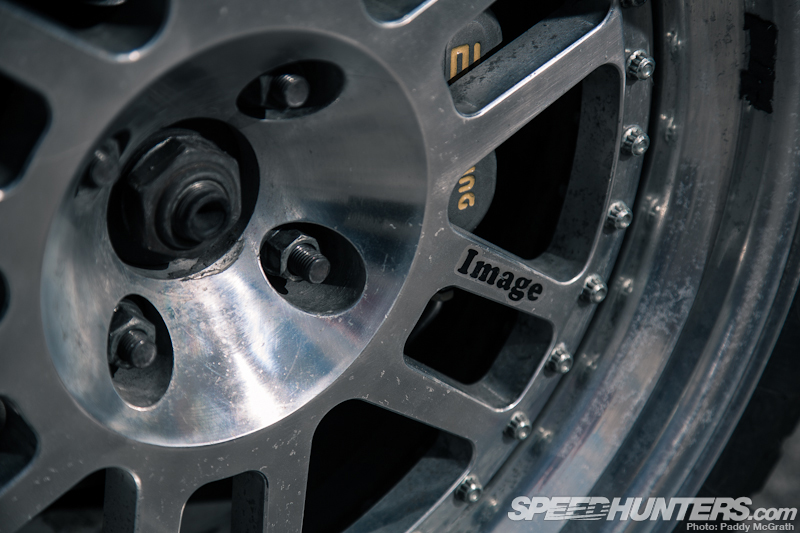 Of course, the rear brakes are AP Racing items also.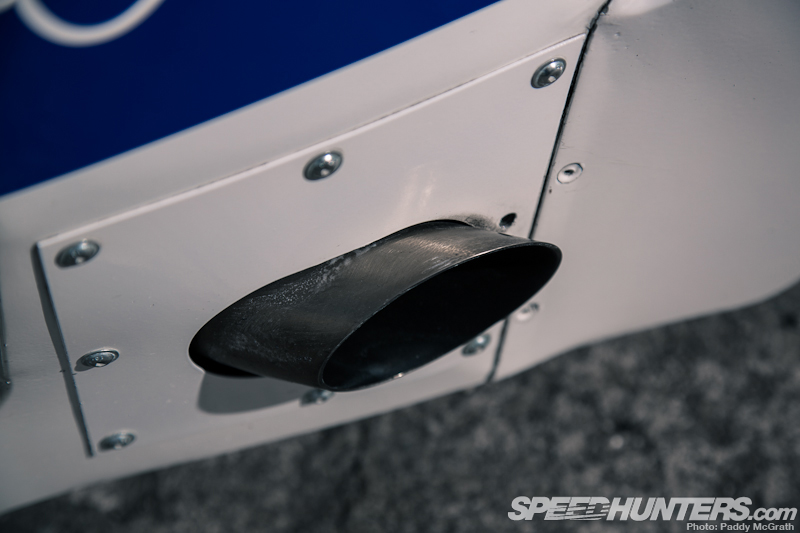 A shot of the side exit exhaust.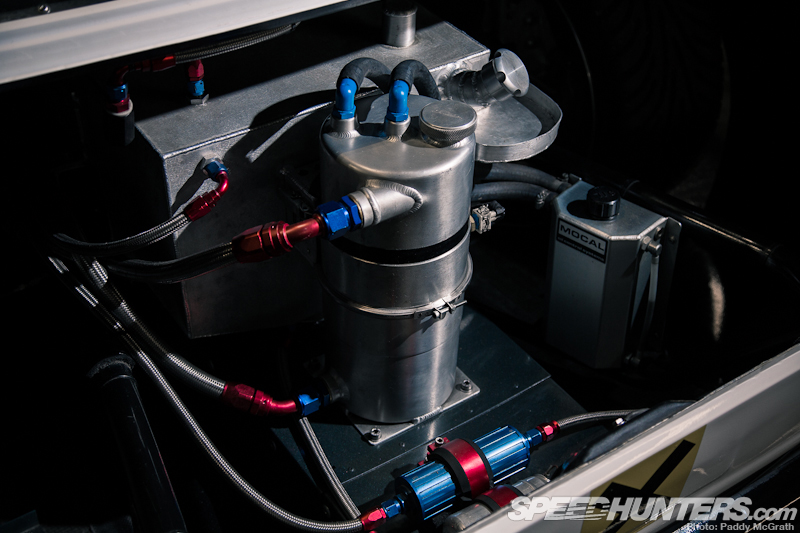 A 55 litre custom fuel cell is located in the rear of the car.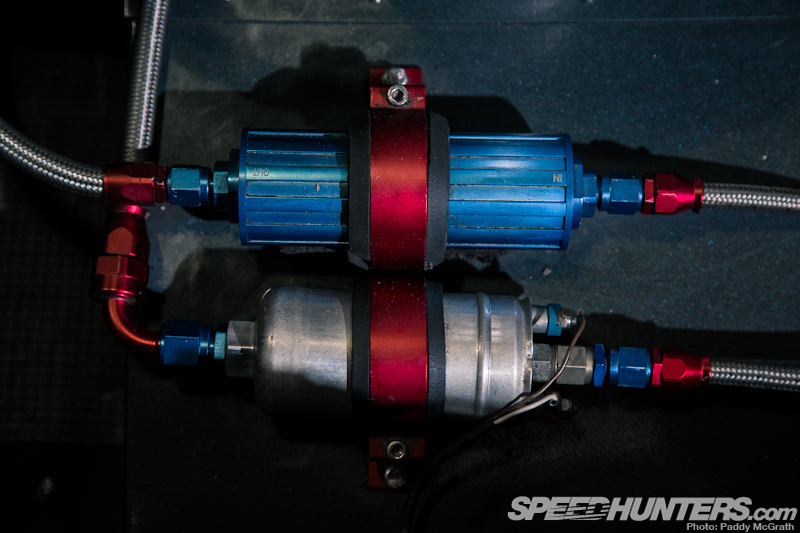 The fuel is pumped forwards care of a Bosch fuel pump.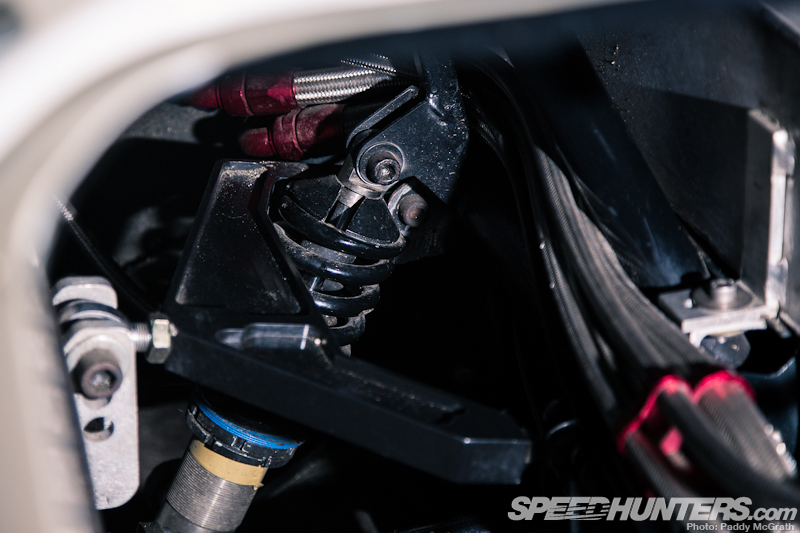 The rear suspension setup is again all custom using spherical bearings.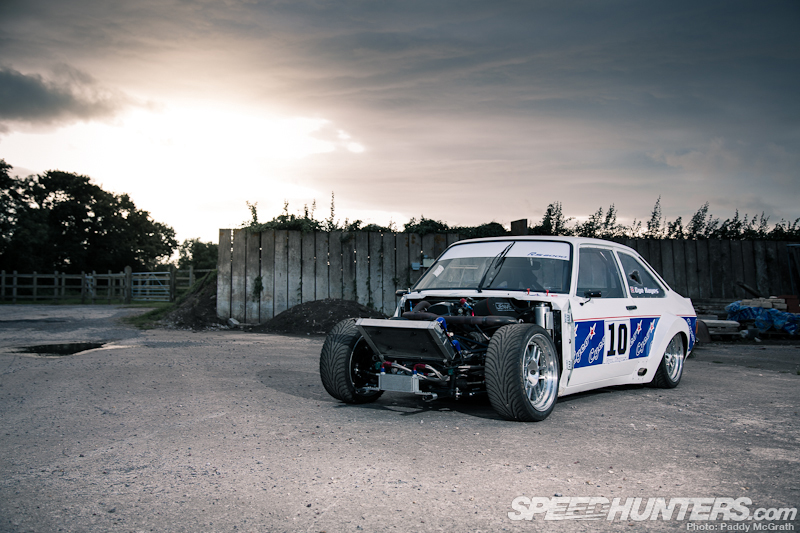 This has been a year of crazy builds on Speedhunters. From the countless Gatebil cars to this very Escort, we are experiencing a gold rush of world class builds from every corner of this small blue planet. The one thing that all of these builds have in common is that they all started with one man, an idea and the passion and dedication to see the idea through to the end. Perhaps more importantly, they are all cars built to please the only person that matters – the owner and builder themselves.
–
Paddy McGrath
paddy@dev.speedhunters.com
More Feature Cars on Speedhunters
Cye Hayes's Ford Escort S2000
CHASSIS
TVR Tuscan Challenge Chassis – Narrowed to Suit Escort Shell; Custom Roll Cage; Air Jacks;
ENGINE
Honda S2000 F20c; Compression Ratio 11.9:1; Mild Porting; Standard Vavles with Re-Cut 1mm and 0.8mm Seats; Block Decked Slightly; ACL Bearings; Custom Engine Mounts; Lightened & Balanced Pulleys; Jenvey Air Intake; Jenvey Direct-to-Head 50 mm ITBs with 90mm Trumpets; 55 Litre Fuel Cell; Bosch Fuel Pump; Jenvey Fuel Rail; Torques UK Fuel Filter; Braided S/S Fuel Lines throughout (flow and return) with Bulkhead Connectors through the Cabin; Custom Maniflow Exhaust System including Headers; Powervamp PVR-25 Battery; Race Engine Developments Dry Sump System; MoCal Oil Cooler; MoCal Oil Filter Relocation Kit; Millers Fully Synthetic Race Oil; Custom Wiring Harness; Light Weight Flywheel;
ENGINE MANAGEMENT / ELECTRONICS
Race Technology ECU; Mapped by John Bettie of Race Engine Developments; Race Technology Dash 2 with DL1 Data Logger; Race Technology Lap Timer & Data Logger; Powervamp Kill Switch; Powervamp Anderson Connectors for Charging and Boost Start;
DRIVELINE
Honda S2000 Six Speed Gearbox; Cosworth Bara Motorsport Differential; 4.4:1 Final Drive; Custom Gun Drilled Half Shafts (Rated to 1500HP); AP Racing Paddle Clutch with Titlon Concentric Slave Cylinder; TTV Lightweight Race Flywheel to suit 7-1/4″ Race Clutch; Custom Shift Lever; Custom Lightweight Prop; Castrol Differential Fluid;
SUSPENSION
Lead Race Coilovers; 650lbs 2-1/4″ Front Springs; 600lbs 2-1/4″ Rear Springs; Custom Top Mounts & Camber Plates Front & Rear; Custom Front Adjustable Links; Custom Rear Adjustable Links; Spherical Bearings Throughout; Custom Titon Steering Rack (1.6 Turns Lock-to-Lock); -4.5 Degrees Camber Front; -1.5 Degrees Camber Rear; Custom Front Sway Bar; Ford Front Shock Tower Bar;
BRAKES
AP Racing 5200 Front Calipers; AP Racing Rear Calipers; AP Racing Brake Pads; 330mm Front Discs; 280mm Rear Discs; Custom Brake Lines by Torques UK; AP Racing Proportioning Valve; Girling Master Cylinders – 0.75″ Front Brakes / 1″ Rear Brakes / 065″ Clutch; Custom Pedal Box; AP Racing Brake Fluid;
WHEELS / TYRES
17″ Image Billet Centred Three Piece Split Rims; 235/610/17 Dunlop Slicks, Wets & Medium Compound;
INTERIOR
Custom Driver Seat Rails; Titon Six Point Race Harness; Sparco Steering Wheel; Sparco Steering Hub; Sparco Steering Wheel Quick Release; Custom Shift Knob; Custom Pedal Covers;
EXTERIOR
Bright White Paint; Cyco Design by Green Chilli Graphics; Hand Made Front Arches; Tarmac Ralloy Rear Arches; Custom Ralloy Front Bumper – Group 4 Style Extended 2″; Custom Flat Floors; Ford Escort Rear Bumper; Carbon Fiber Rear Diffuser; Ford Escort Rear Spoiler; Standard Ford Steel Doors – Lightened with Custom Aluminium Door Cards; Ford Escort Roofskin; Fibreglass Bonnet & Boot; Ford Headlights; Ford Taillights; Perspex Windows; Heated Glass Front Screen;
PERFORMANCE
Power – 274.6BHP @ 8,700RPM / 175 lbs/ft; Weight – 826KGs with Fluids; Weight Distribution 51% Front, 49% Rear; Length from Wheel Centres – 2450mm; Track – 1650mm;
THANKS
Cases Ltd, Ding Master (Nathan Baker), Green Chilli Graphics, Torques UK, Larry (Machinist), James Goldstraw at Grace Engine Developments, Rob Quinn for Corner Weights & Set-Up, James Gillet at South West Restorations and my wife Danielle for putting up with yet another project!