When putting together this post, I knew that I wanted to show you variety rather than the absolute best cars on display. The latter of course would be too subjective anyways so I thought that you would get a better overall picture of the cars present. There were a lot of cars present on the day that were more than worthy of this post, but alas, there is only one of me (thankfully most might say) so I do apologise to those who might feel left out.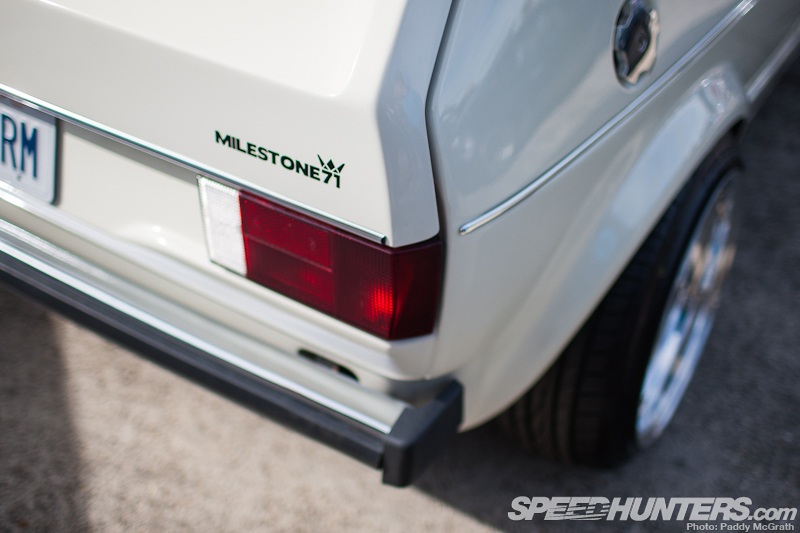 I want to start with this MKI Golf which took centre stage at the show.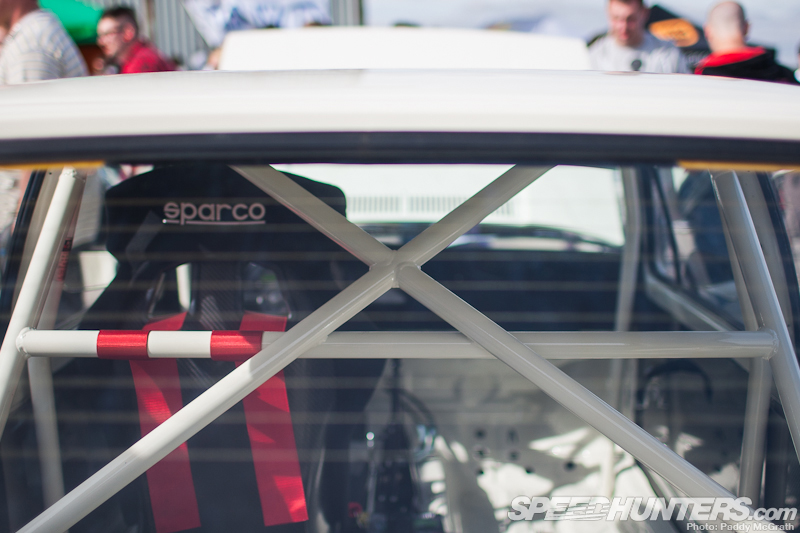 Unlike the majority of other pristine Golfs on display, this was pristine for different reasons – it was built as a fast road car with plenty of style and substance.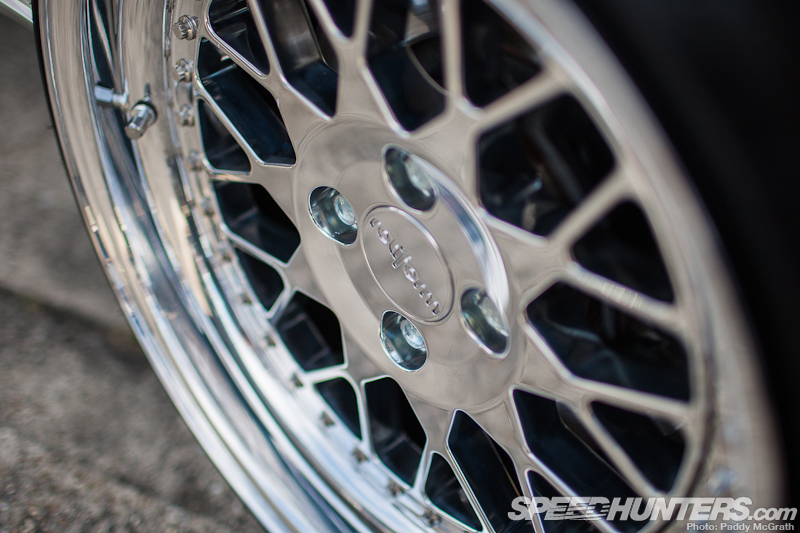 Sitting on Rotiform SJCs – which just might be my favourite wheel of 2012 –  a welcome change from the rightly-so popular BBS RS.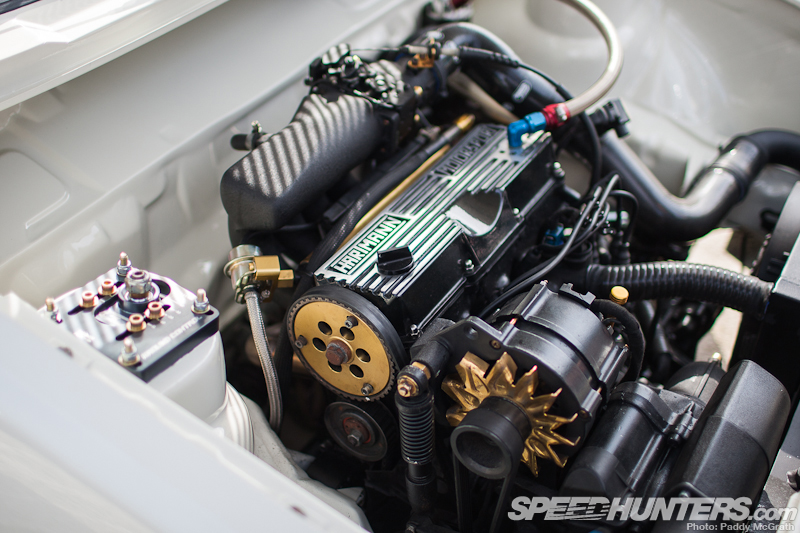 I asked Ben Chandler to give me a quick rundown of this particular car:
'Jay Mac's Mk1 Golf has recently been finished by Milestone71 and made its debut at Edition 38 show. The co-organiser of Players Show is running a JD Engineering mapped G60 lump which has been taken out to 1.9-litres. The result of this is a seriously nutty sound from the side exit exhaust.'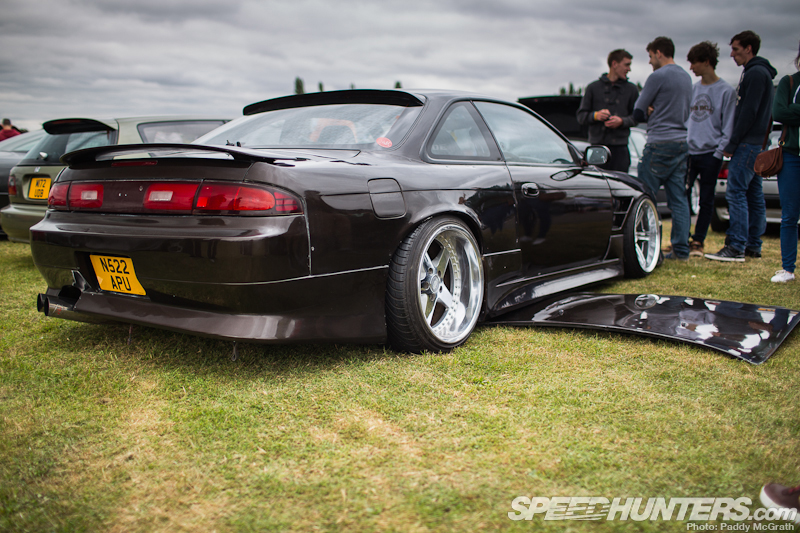 Changing things up a little from the hordes of Volkswagens, was this Zenki S14.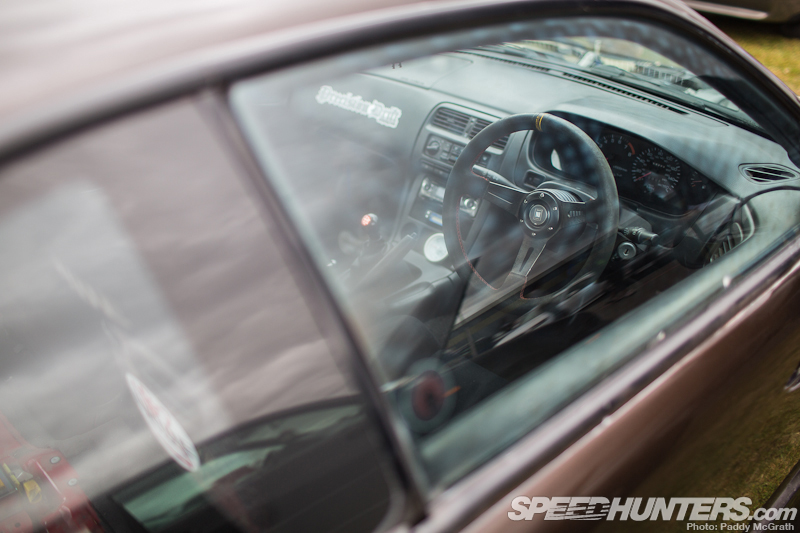 Things have been kept relatively simple but just executed so well.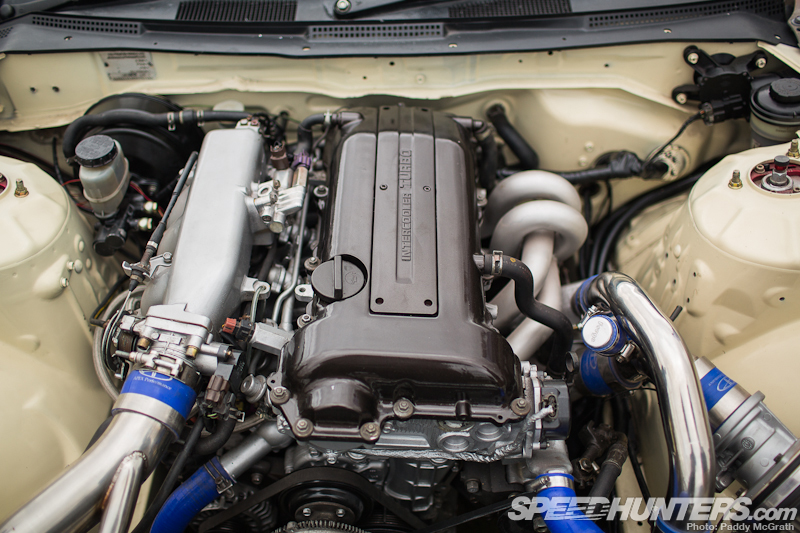 A tidied engine bay houses the SR20 motor.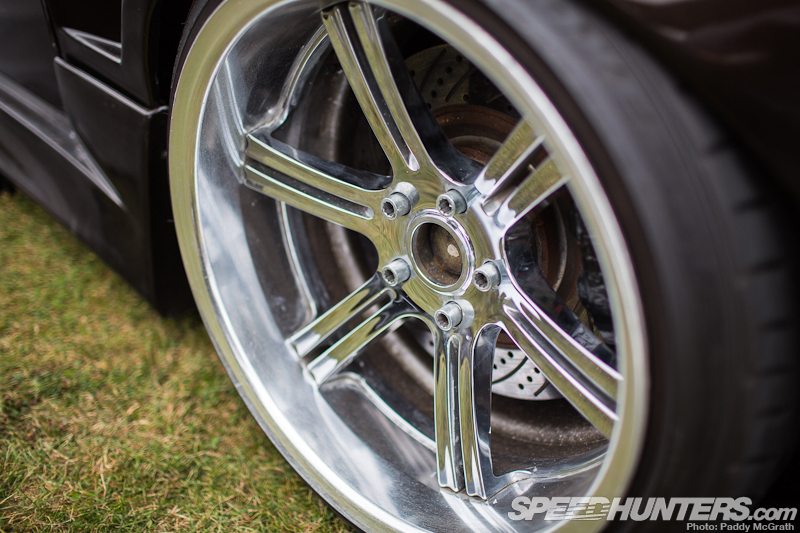 The car was running Do-Luck Double Sixes up front, a wheel I haven't seen since the Driftworks S15 was first unveiled many moons ago …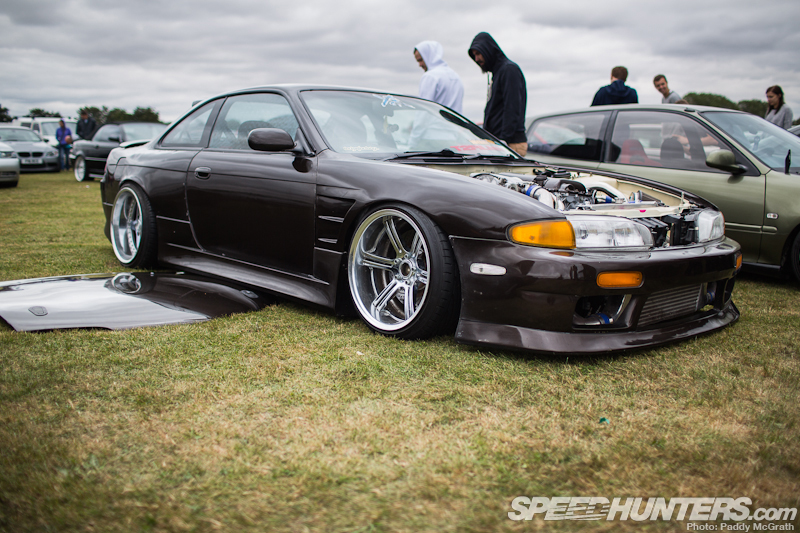 … whilst running Work Equips at the rear. Simple, tasty and effective.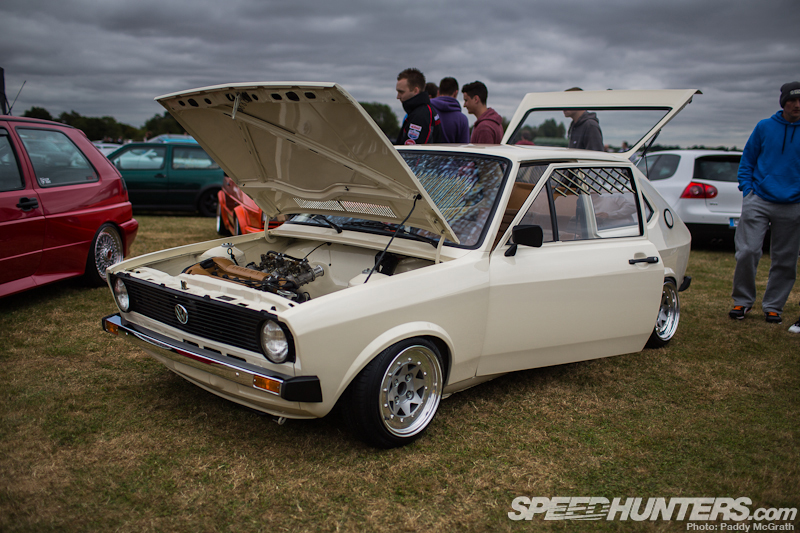 Another VW that caught my attention was this MKI Polo. Again, I'll let Ben chime in …
'James' Mk1 Polo has been painstakingly put together. It's the result of a lot of his own work and features an incredible interior that was trimmed by a local guy in a stunning retro combo of tweed and brown leather. The carb'd motor sounds super sweet and the car is a real deal home brewed effort. James has just picked up a Mk1 Scirocco which he's going to completely rebuild over the winter.'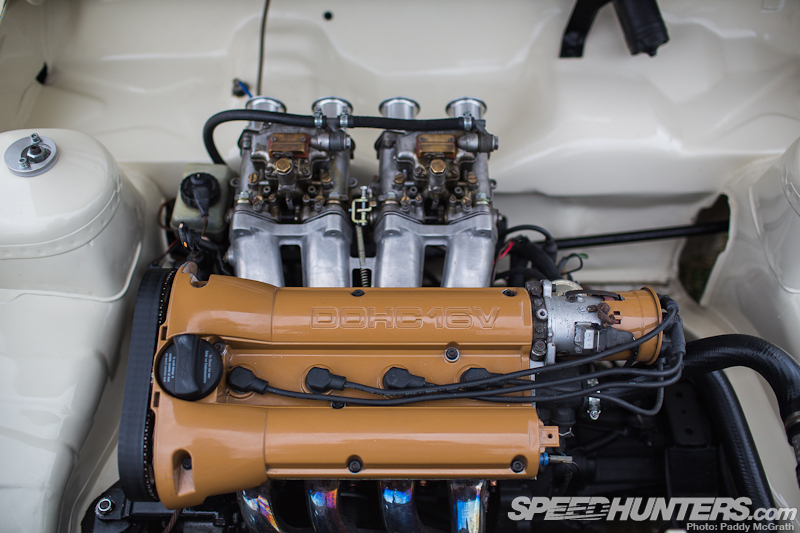 Again, it's no surprise to see such a tidy engine bay in a Volkswagen these days – it's almost a pre-requisite at this stage.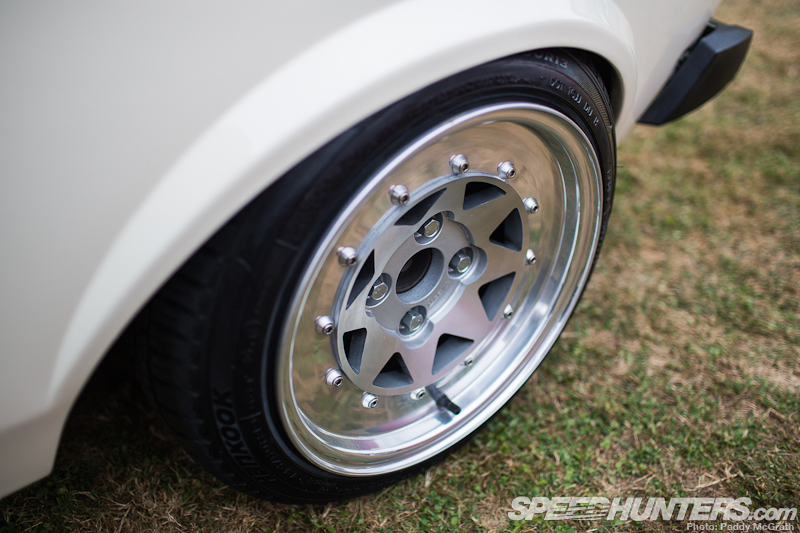 Polished 13″ Split rims tucked neatly under the arches.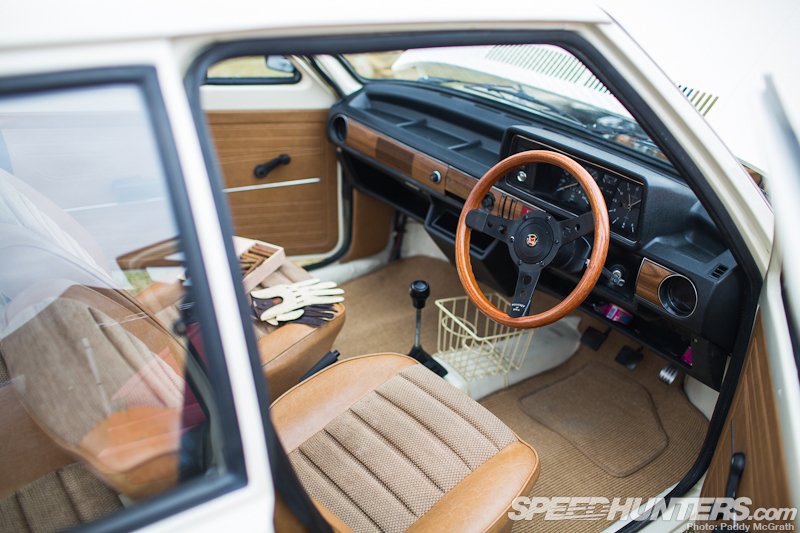 A sublime but simple interior.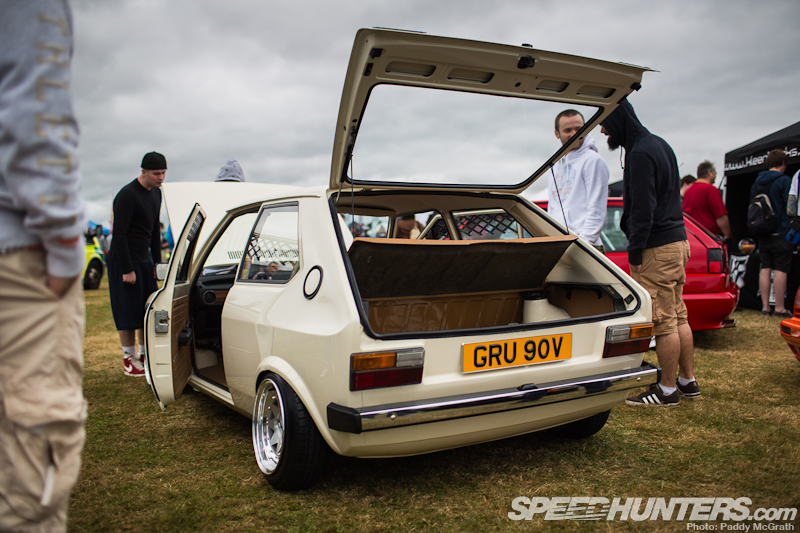 Like most cars on show, it was another perfect example of every detail considered.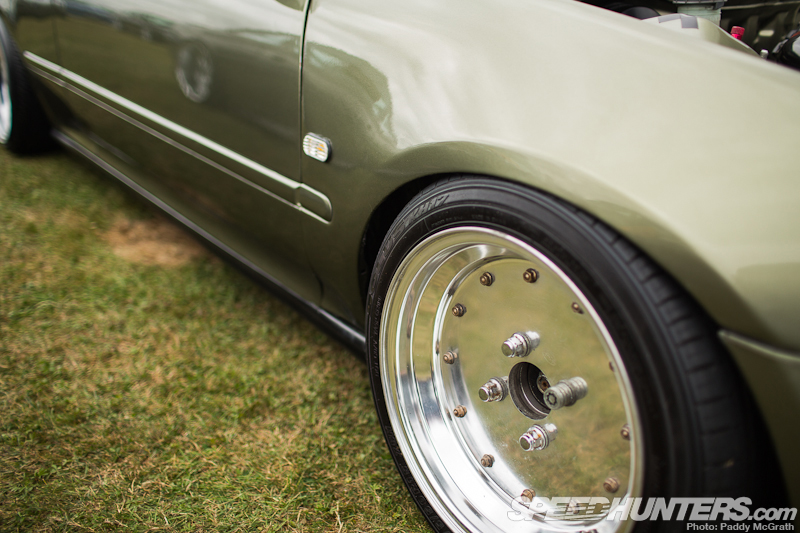 It wasn't just the euro guys who were on point at players, the Japanese car owners were duking it out with the best of them.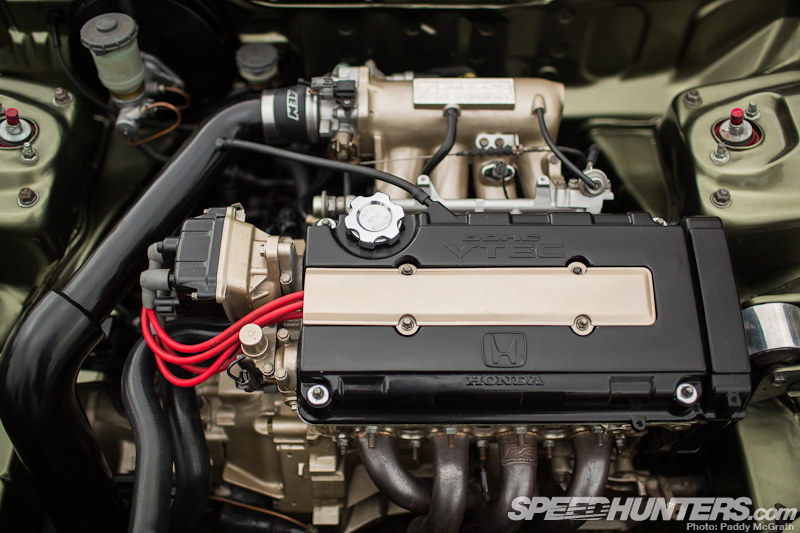 A B-Series engine – although I'm not sure if it's a 16/18 –  with some aftermarket parts including a DC Sports manifold is resident in the the bay.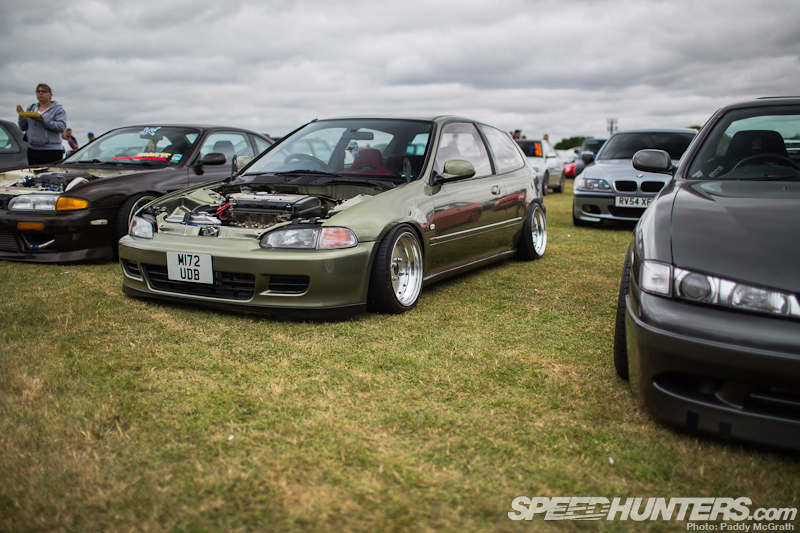 Sat atop a full compliment of SSR MKIs, the simple wheel design works in harmony with the overall theme of the car.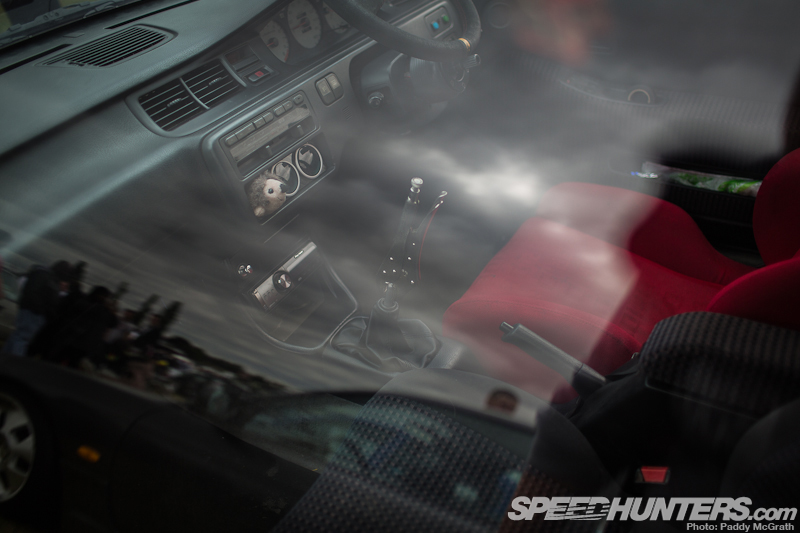 The owner may want a new shift knob however …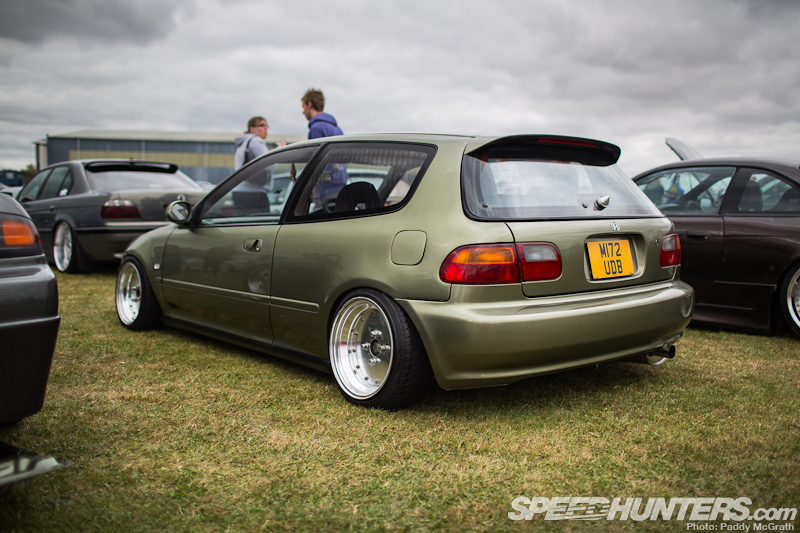 Keeping things simple just pays so many dividends.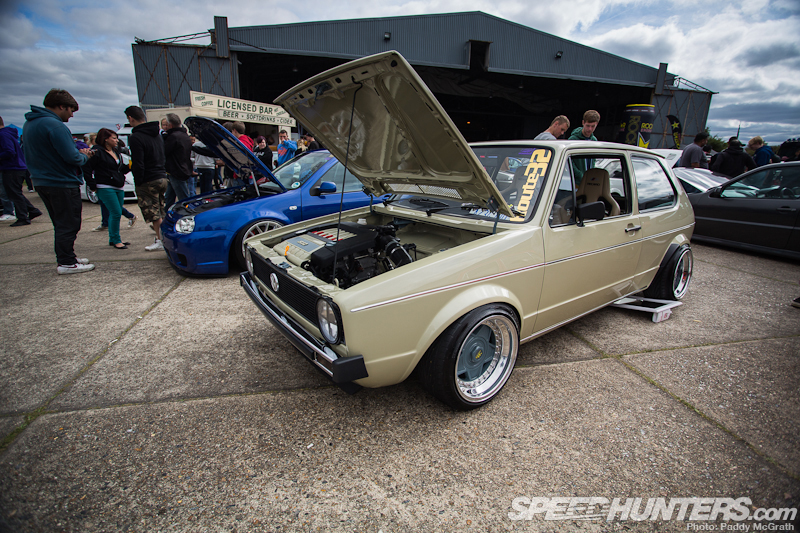 Back inside the main show area, and another MKI Golf was screaming out for attention.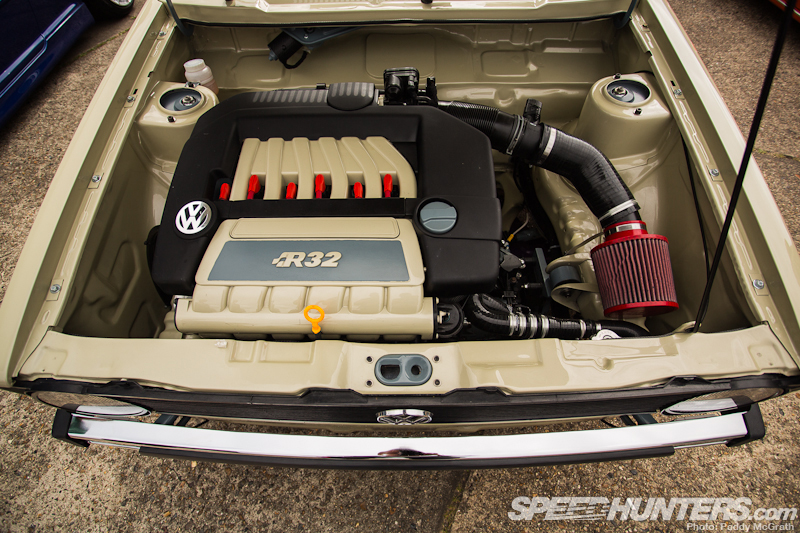 Have you ever seen such a tidy engine transplant?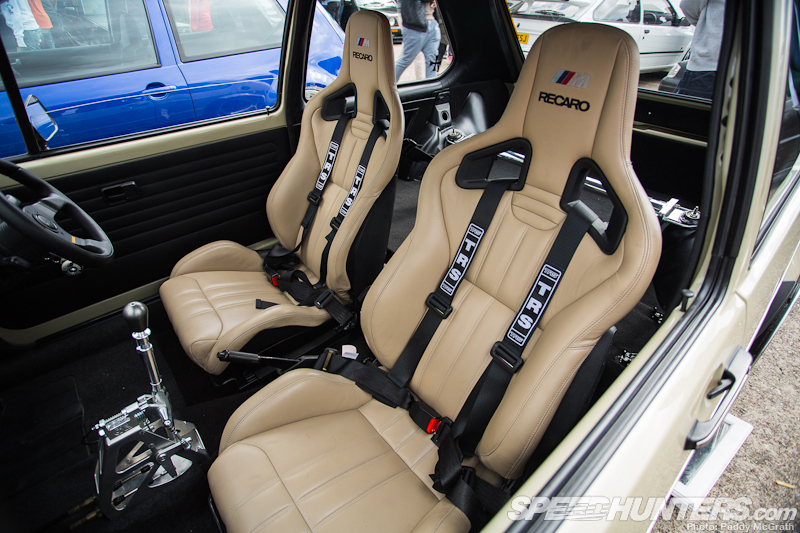 Inside are a pair of BMW sourced Recaros with TRS harnesses.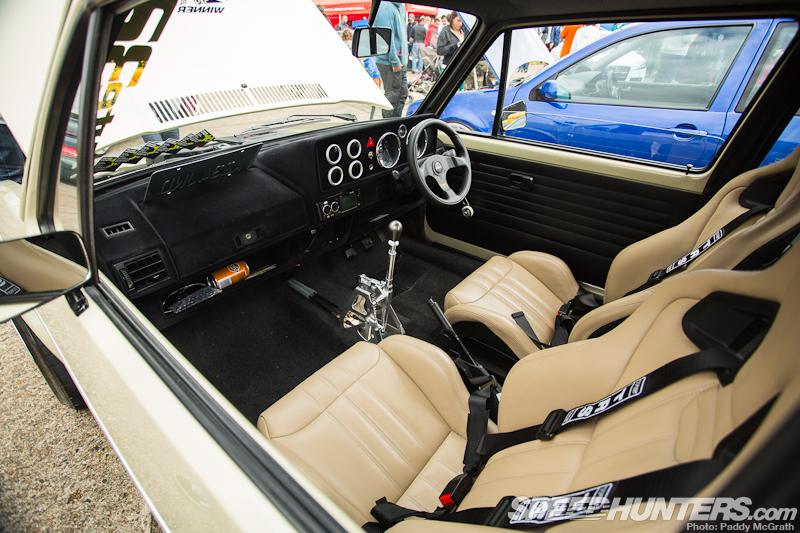 It's a subtle fast road / luxury interior. I'd expect nothing less of the UK Volkswagen scene to be honest.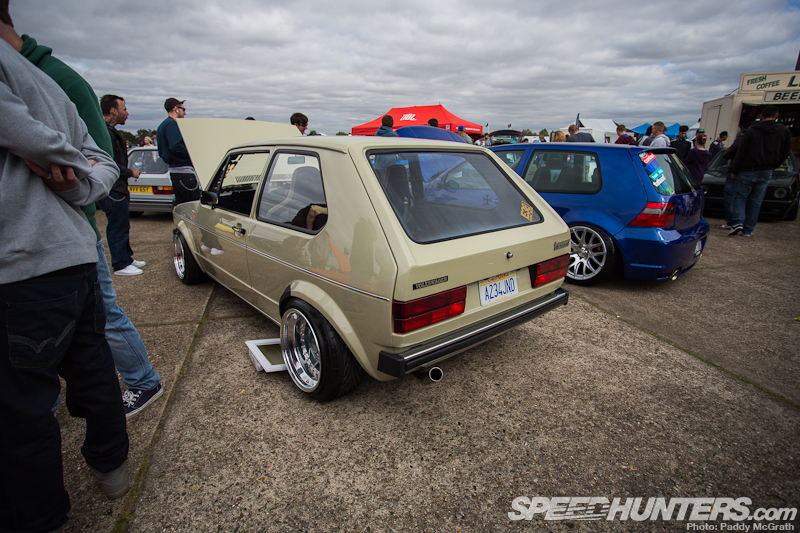 When stock the R32 engine produces around 240BHP in a car that weighs in or around 800kgs but would you feel guilty driving it hard? I don't think I would to be honest!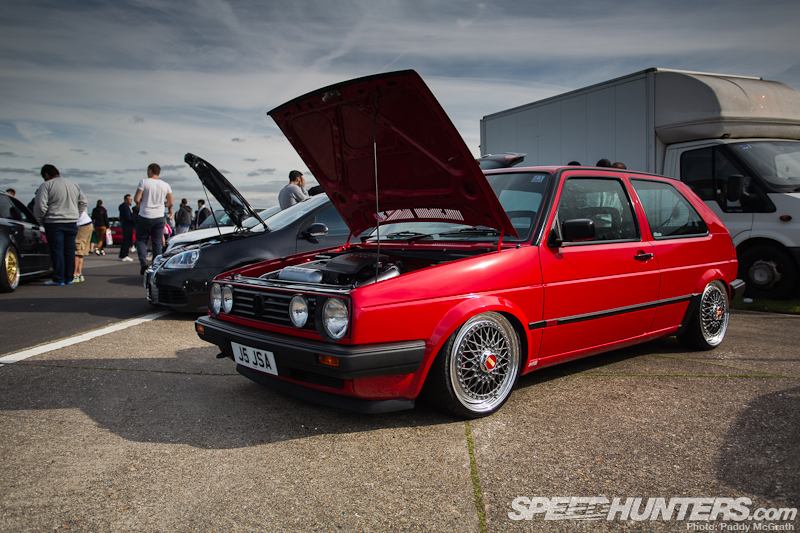 I'll wrap things up with one more Veedub – this time a subtle looking MKII …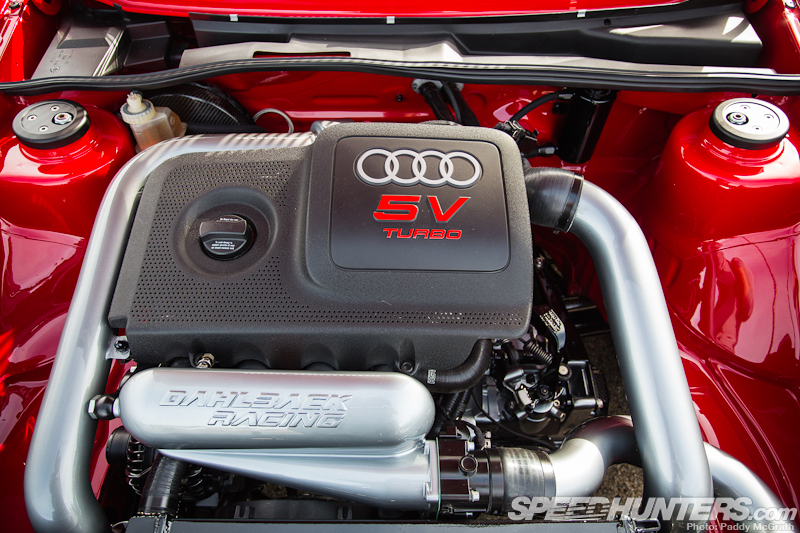 … with a 20 valve Audi heart. Am I the only one who gets excited by words 'Dahlback Racing'?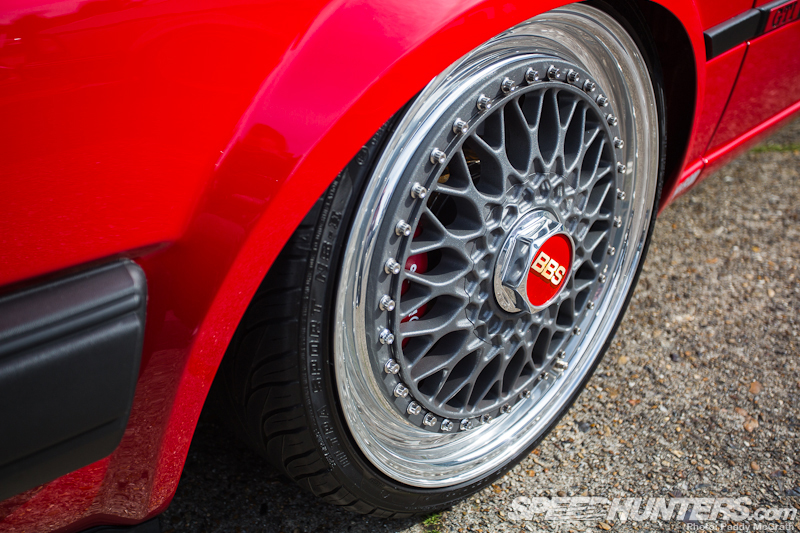 Again, the increase in popularity of less dish – like others, I don't like the term zero-lip – is evident. Notice the Brembo calipers hiding behind the mesh …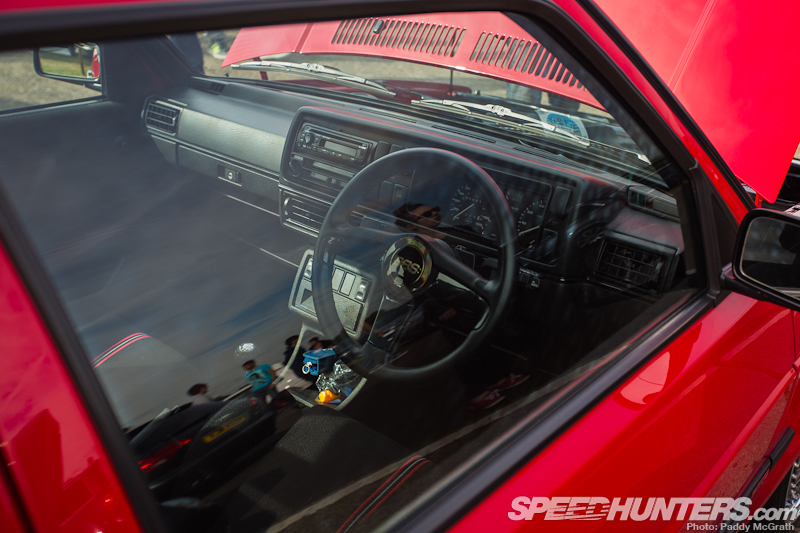 Simple and clean stock interior pretty much disguises the potential performance within.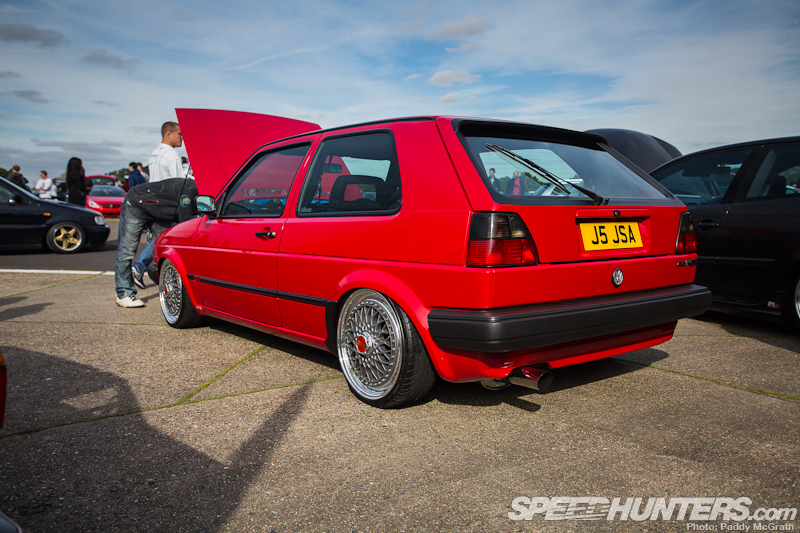 Just the way we like them.
There was honestly around 100 cars at Players that could have been here in addition to the above, so again I apologise if I've left something out that you might feel deserved to be here. Don't forget, you can always share your own coverage with the hashtag #iamthespeedhunter on Twitter and Instagram.
This wraps up our Players coverage, next year's can't come soon enough!
–
Paddy McGrath
paddy@dev.speedhunters.com