It's time to get busy now and begin to check out some of the awesome GT-Rs that were present at the R's Meeting on Sunday. As we saw in yesterday's intro post there was quite a lot happening, and even if seeing owner cars blast around Fuji is quite entertaining, it was hard for my inner-otaku to stay away from all the nice demo cars the tuners had brought over. So I think I will concentrate on showing you what is new in the JDM GT-R scene starting off with the recently completed Hosaka Tuning Factory R35.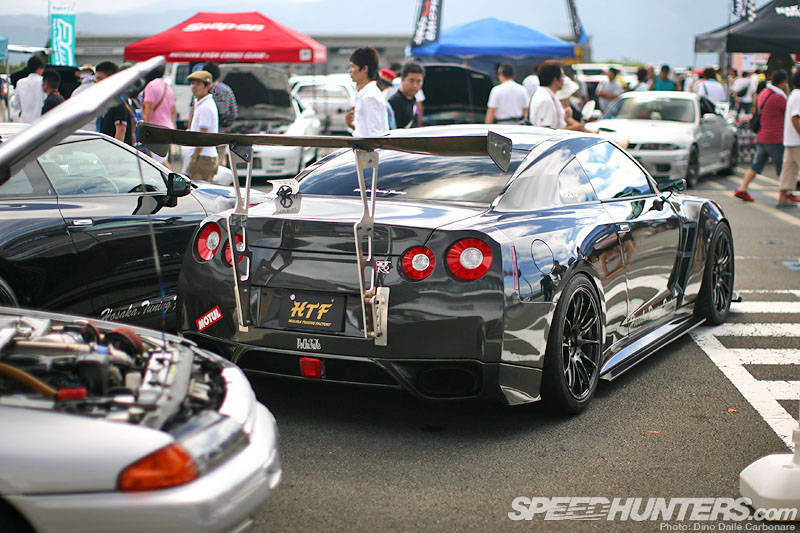 It is quite a wild machine, fitted with a carbon fiber Top Racing front end which on top of looking rather impressive in its unpainted state, also increases the front width of the car. Check out that rear spoiler, very BenSopra-esque with the wing stays popping out of the rear bumper and attached directly onto the chassis.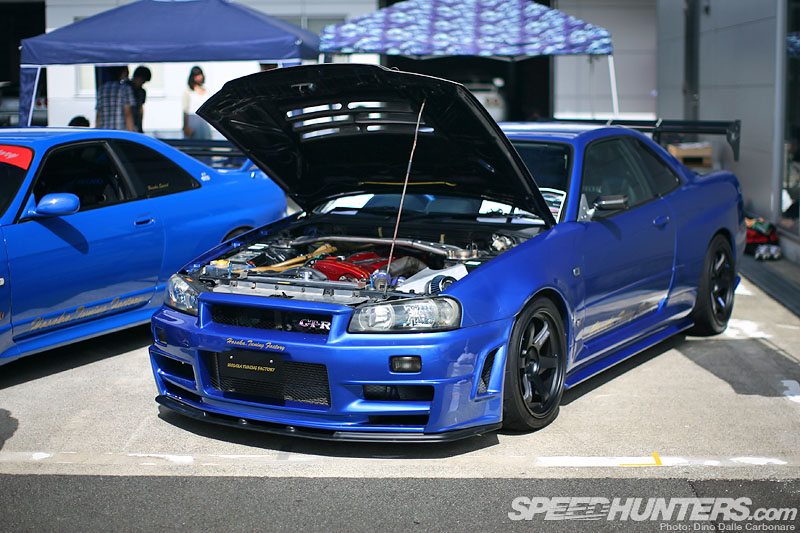 HTF also had a pretty cool R33 with single turbo conversion as well as this R34, fitted with a Nismo Z-tune front bumper and blistered front fenders as well as running the prohibitively expensive Nismo R-tune carbon bonnet.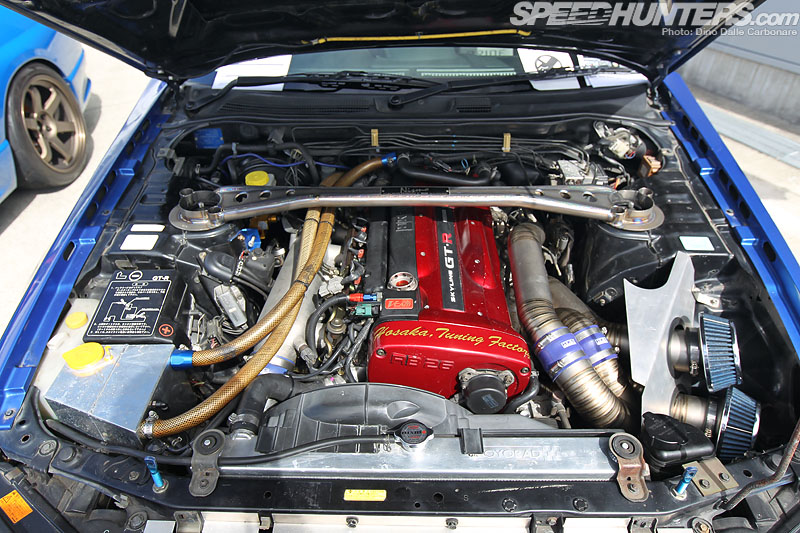 That is what a nicely tuned RB looks like, all 600 HP of it thanks to a forged bottom end, HKS blowers and an HKS V-Cam system. Oh and let's not forget HTF's signature lobster-tail titanium intake/outlet pipes.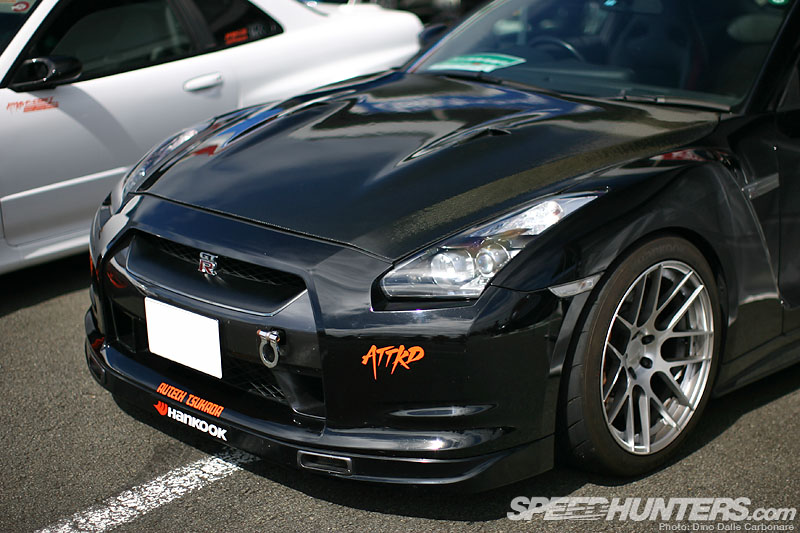 It was great to see that the guys from Autech Tsukada, aka ATTKD, had come over from Nagano.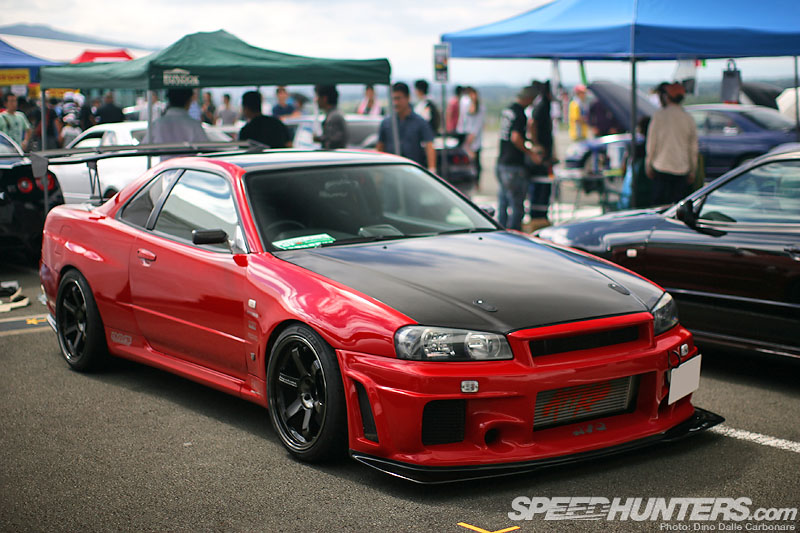 On top of the two cars on display they also had this beautiful R34 tucked away behind their stall, a car that if you recall I ran across a couple of months back at Honjo. I've always liked Tsukada-san's way of doing things, he creates wild builds but goes for a simple and functional look, this new red demo car serving as the perfect example. I'm loving that new bumper and splitter combo.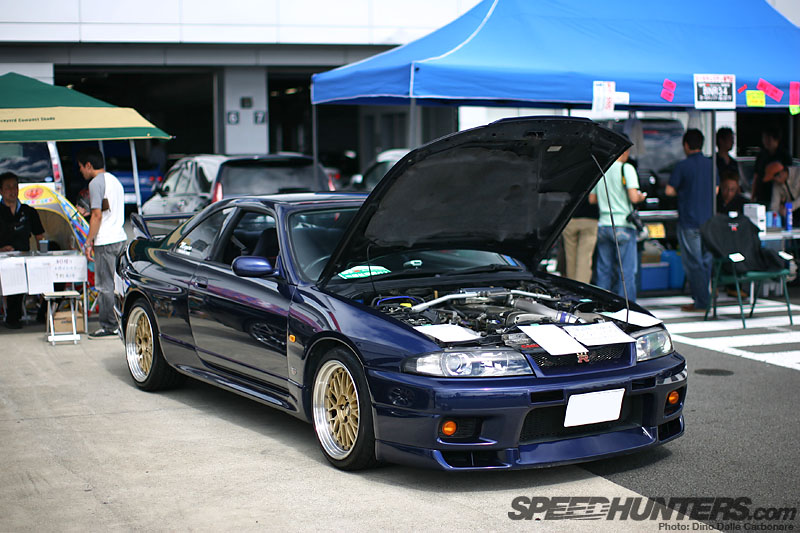 I have to try and show some love to the R33 as well of course, there weren't many around in the tuner area, but I did come across this spotless dark blue example on BBS LMs which was actually a display car for a car reseller specializing in R's.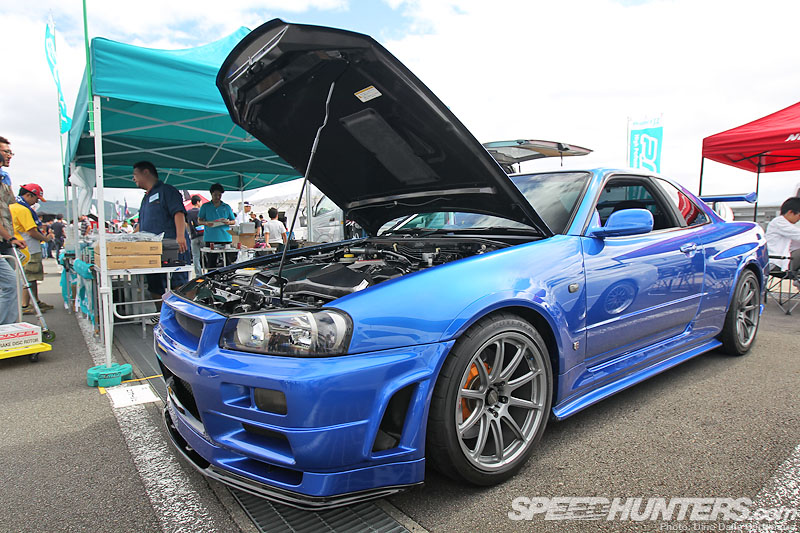 Right across the R33 was this Exage-built san-yon V-spec II.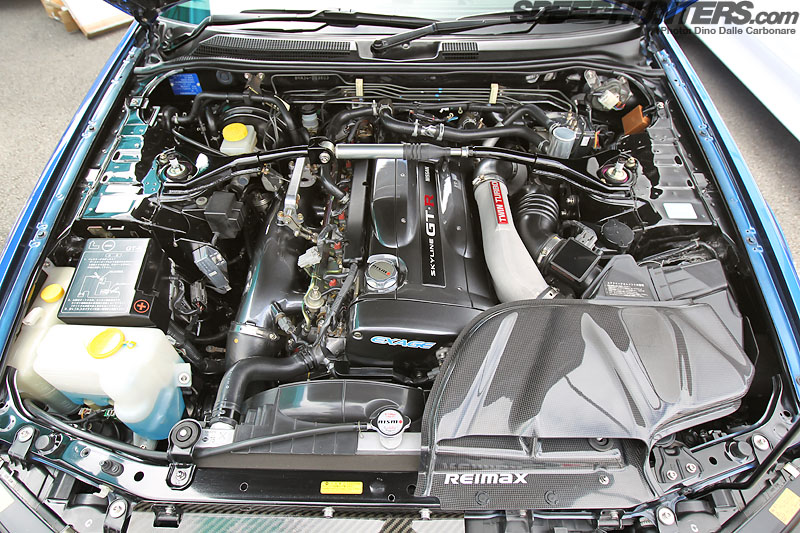 I really liked the simple almost-stock look of the engine bay and the painted intake manifold in particular. It looks like they also modified the stock strut-tower bar and added a damper in there. Very interesting.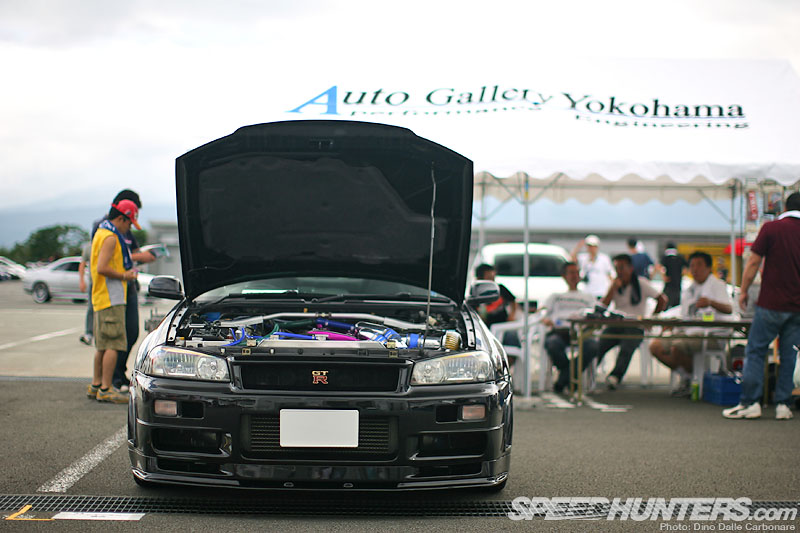 Auto Gallery Yokohama is the place you head to when you need to do any sort of work on your transmission. Of course they cater to every area of tuning…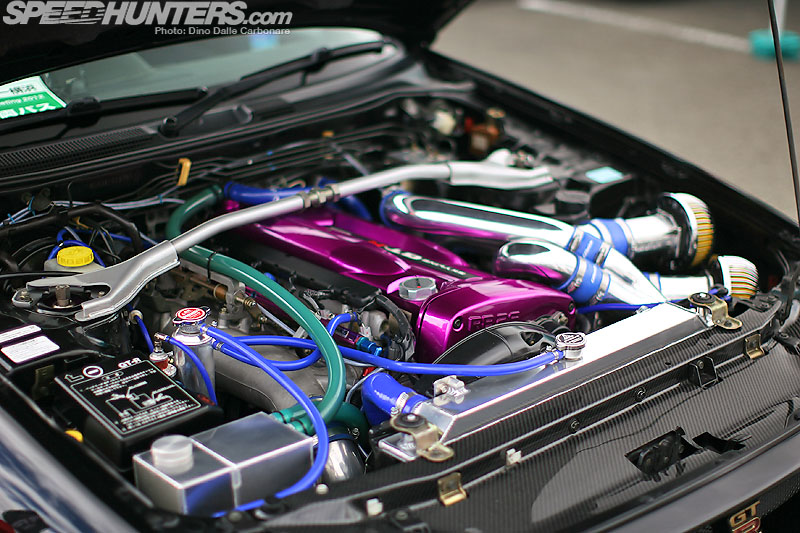 …as was shown in this customer R34…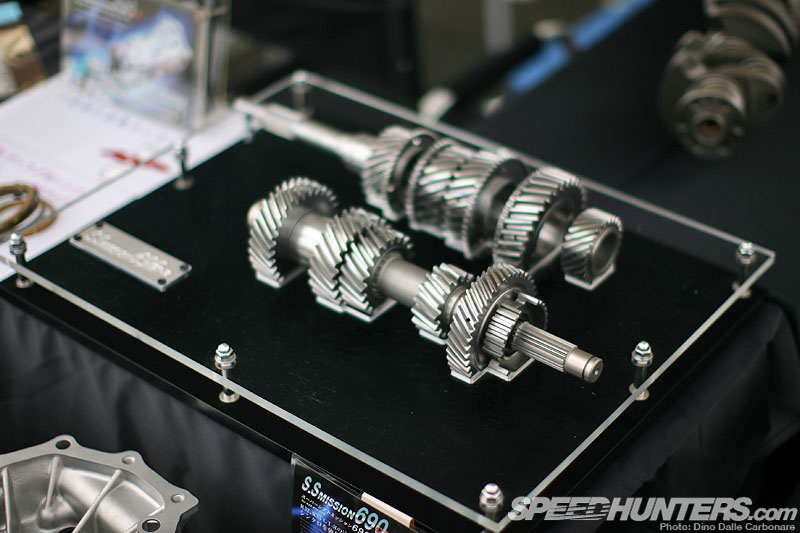 …but it's their driveline goodies they are famous for. If you are an R32/R33 owner and are in need of a gearbox refresh then you might want to invest a little bit more on top of a rebuild and go for their "690" transmission kit. There are quite a few options on these bulletproof internals, even a choice of a closer ratios for the first three cogs.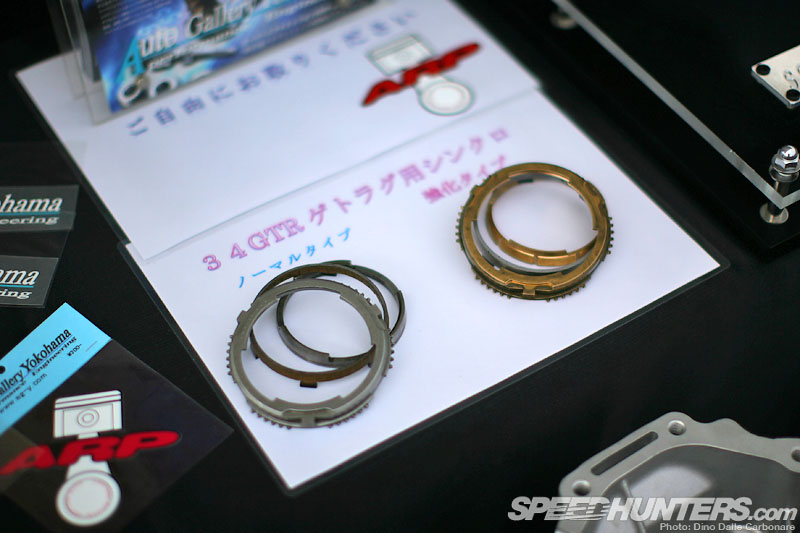 R34 owners might be interested in these reinforced synchros. There goes yet another something on that wish list!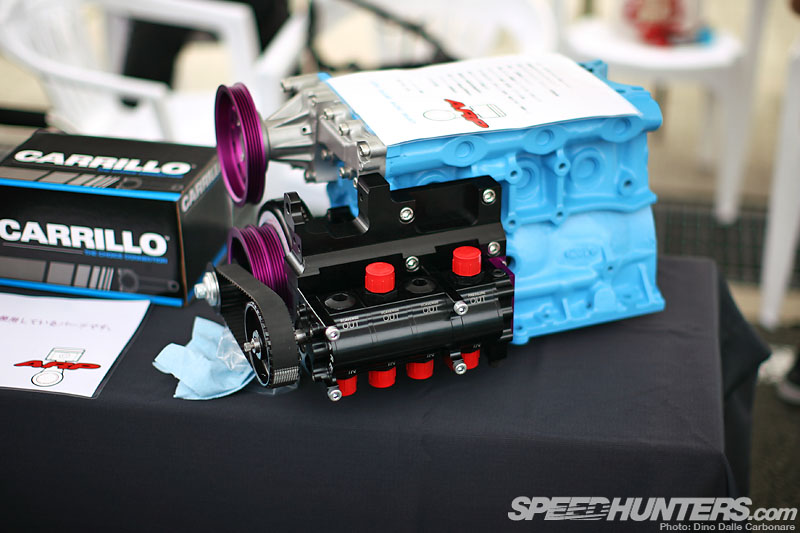 The reason their crazy BNR32 time attack car wasn't present is that it's currently in pieces. It seems they haven't quite called it quits on the project, quite the contrary actually. They are in the middle of building an all-new RB27 for next year's time attack season which will feature a dry sump lubrication system and run a massive 2.2 bar of boost for 900 HP at 8,200 rpm. Redline will be set at 9,500 rpm. Awesome!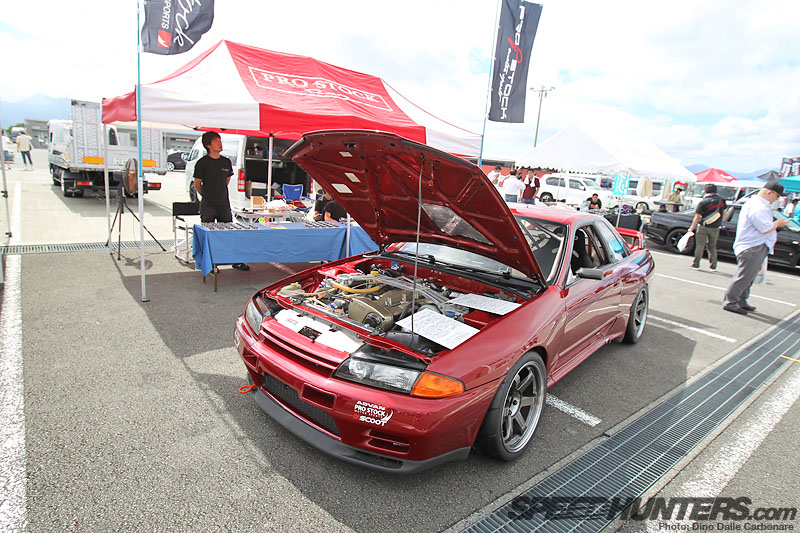 Pro Stock Racing, who have recently put their BNR32 time attack car up for sale, are focusing heavily on RB26 tuning…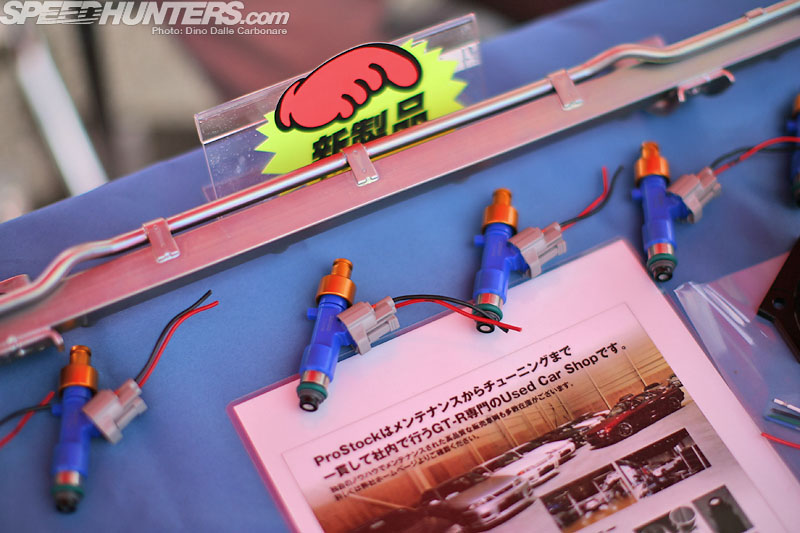 …and have just released an R35 injector upgrade kit. On top of the injectors you get new connectors, a billet adaptor for each of the shorter sprayers and a modified fuel rail.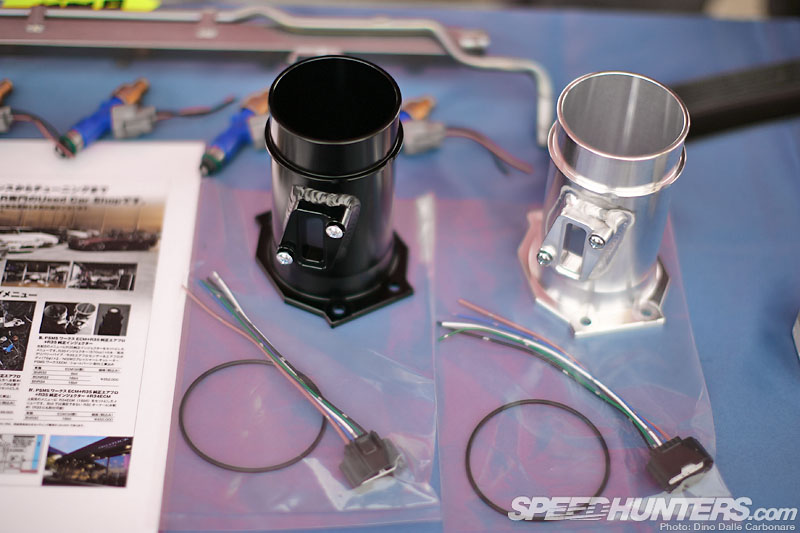 You can also add R35 airflow meters if you want, a great way of getting the best out of Nissan's legendary straight-6. Following an ECU remap you can expect better throttle response, more low-end torque, marginally more power, better fuel economy and emissions. This is all down to the better atomization the 12-hole injectors offer, as well as their higher precision at any given duty cycle. They are 570 cc/min so perfect for a nice and reliable 600 HP tune with upgraded turbos and cams.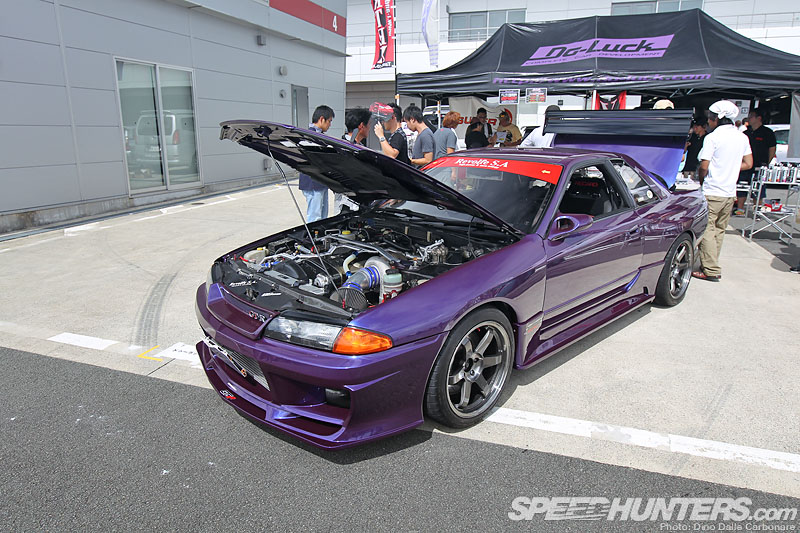 Do-Luck had this awesome Revolfe-built BNR32 at their stand…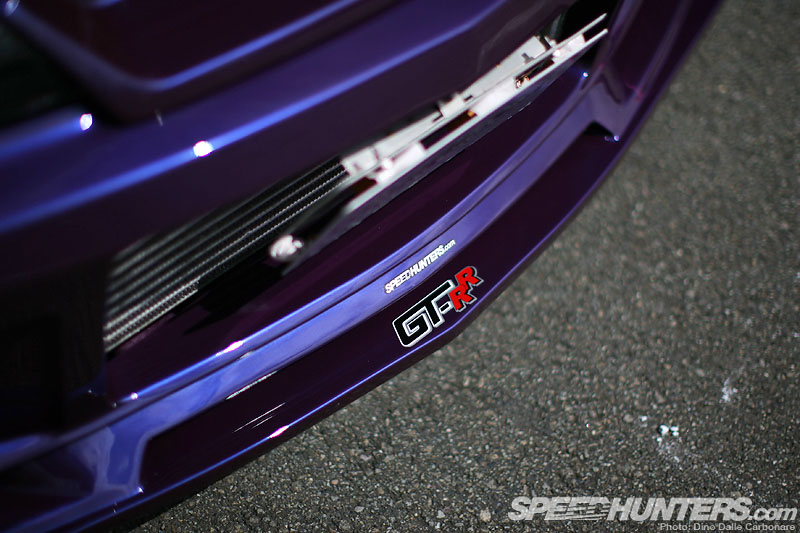 …which was sporting some awesome sticker tuning!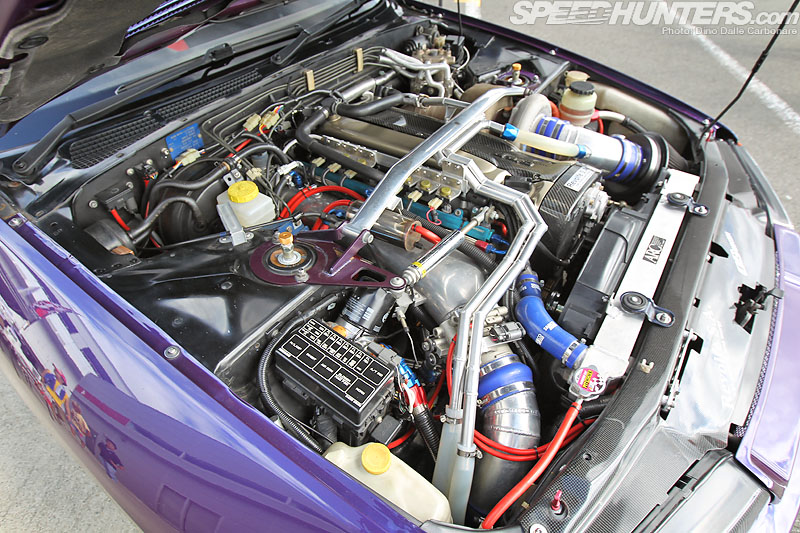 Under the hood must be one of the most complex RBs I've come across, and you will have to wait for a full feature to find out more.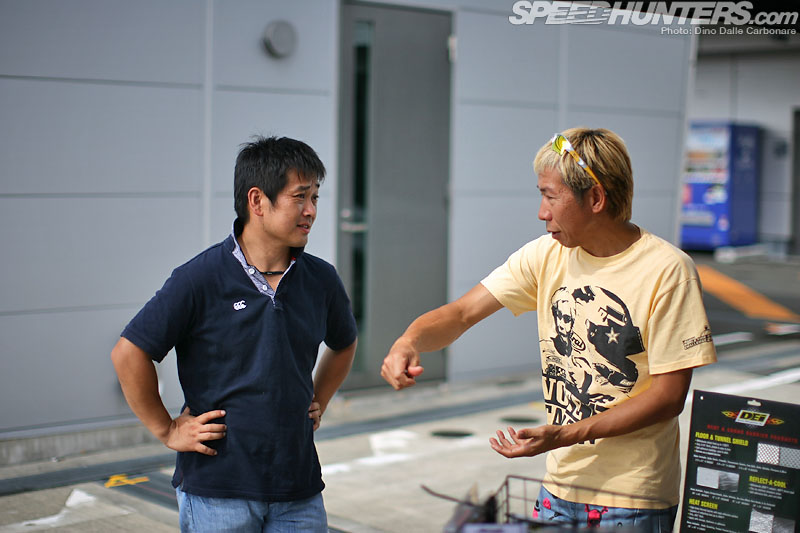 Tarzan and Ito-san were enjoying a bit of chit chat, not sure about what but by the looks of it Ito-san wasn't too impressed.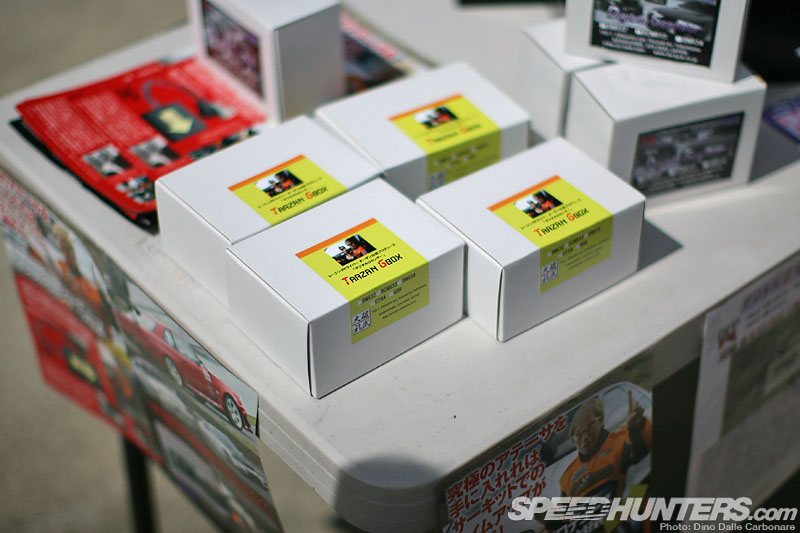 Tarzan was there to promote his Gbox, a little box of magic that has literally transformed my car into an even more capable supercar-slayer. I can't wait for this crazy hot summer to be over so I can take the R34 out for a proper drive on the Turnpike.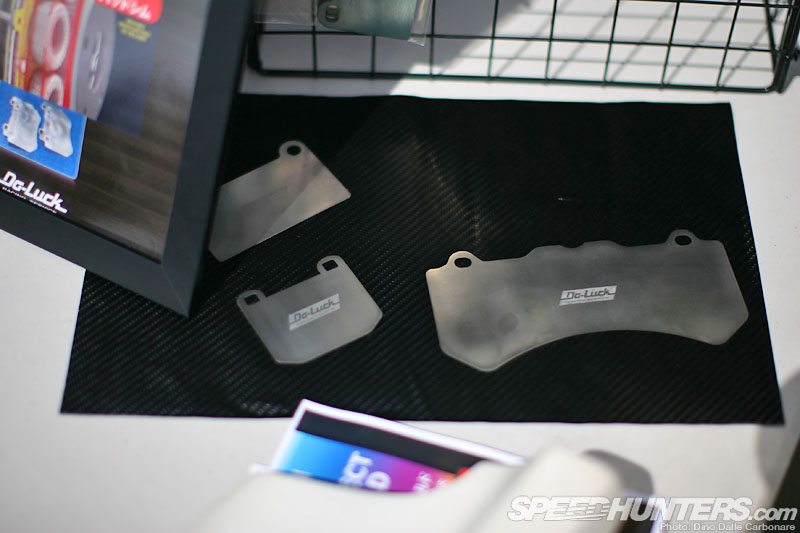 I thought this was a cool and simple idea against brake overheating. These titanium pad backing plates will make your brakes last longer, acting as heat shields, keeping that fluid from boiling over.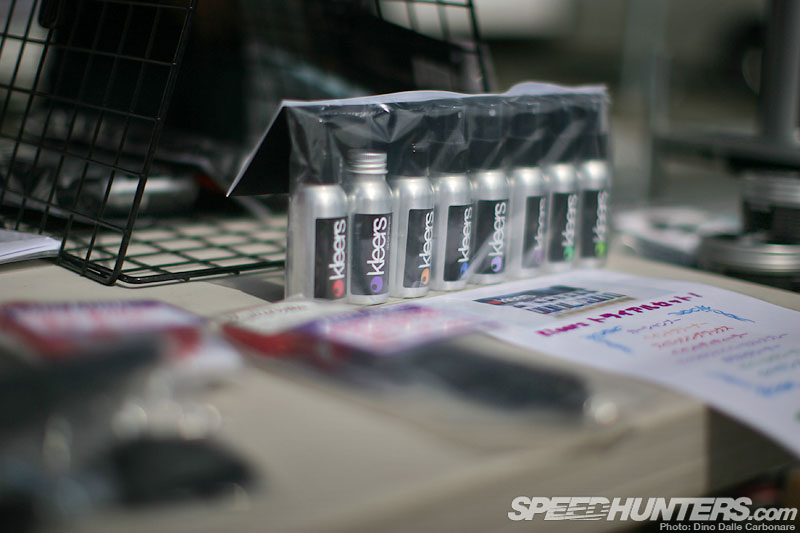 One thing I've always been into is detailing, and with so many products out there one of the hardest thing is actually choosing what to go with. The guys at Kleers have had a great idea of crating a sample bag so you can try their all stuff out before deciding what works for you.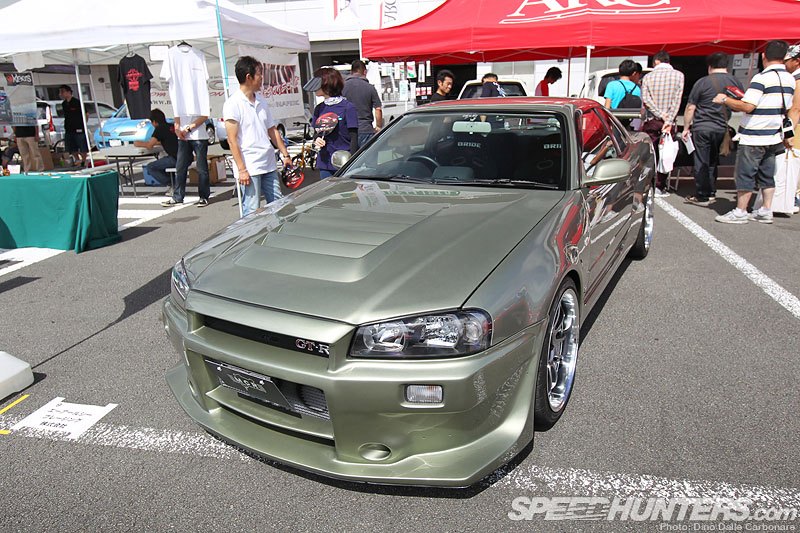 Take a look at this stunning street-spec demo car that MCR had on display.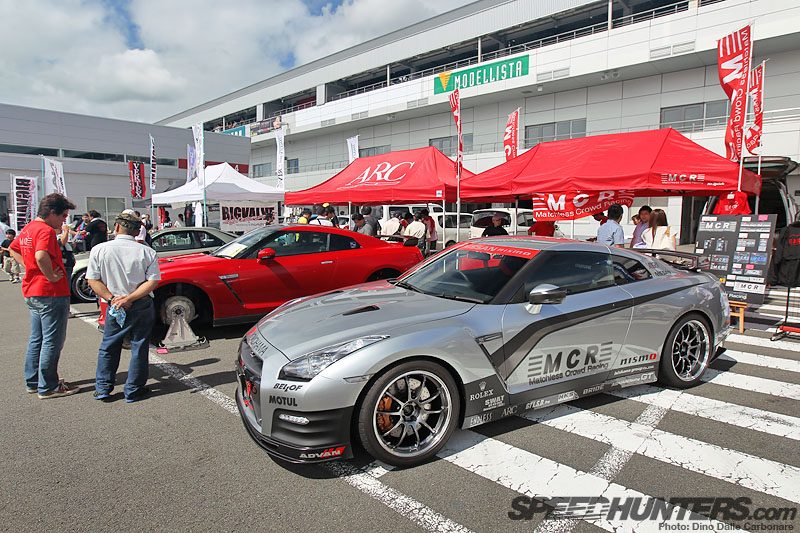 It was parked next to their other two demo cars, both R35s…the silver one being a new creation that is more focused for the road.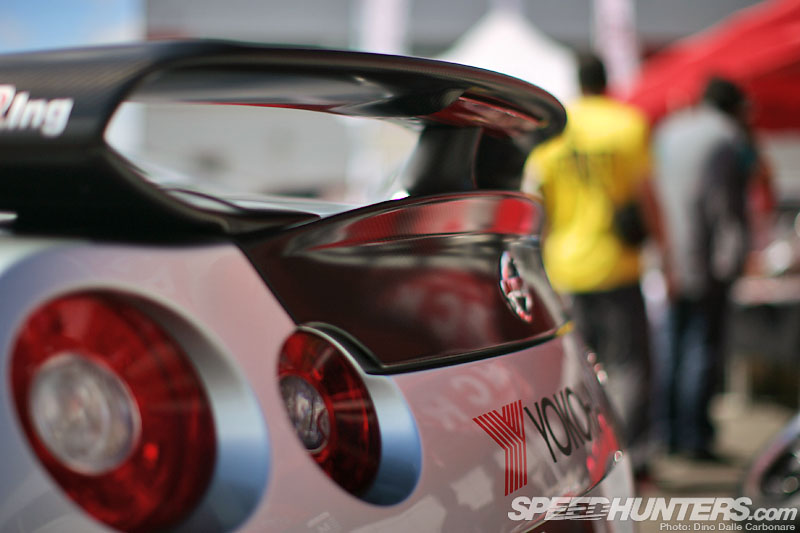 It was fitted with one of my favorite aesthetic additions for the R35, the Nordring dry-carbon trunk lid with integrated lip spoiler.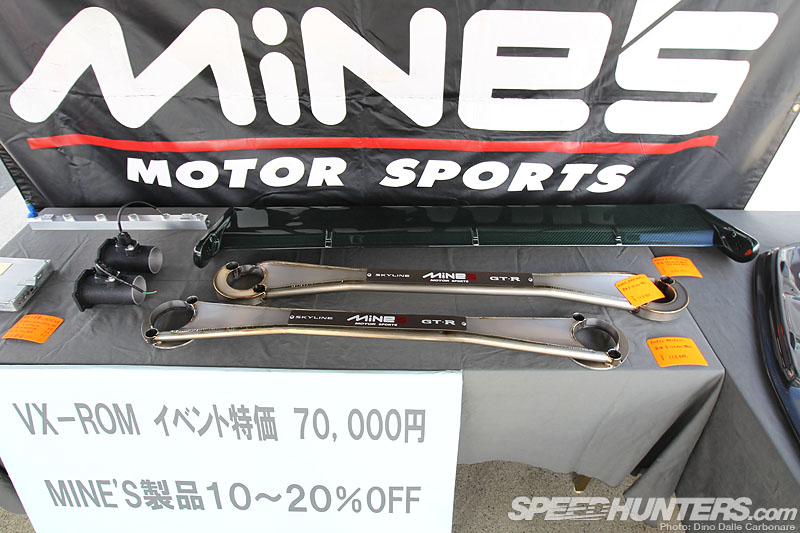 Mine's, on top of offering discounts on some of its products like those lovely titanium strut braces…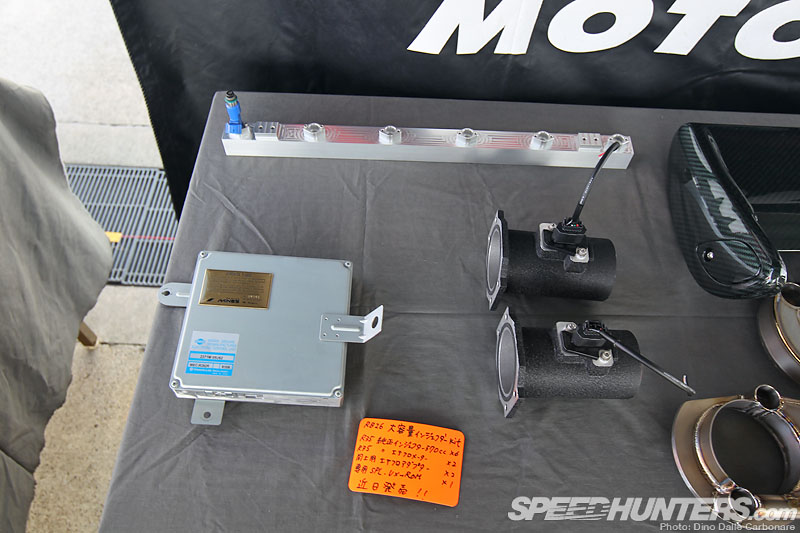 …showed a glimpse of an upgrade kit they will be coming out with sometime this year. Like Nismo Omori Factory and Pro Stock Racing they are working on an R35 injector/AFM kit. They are doing things a little differently however, preferring to create a billet fuel rail rather than individual adaptors.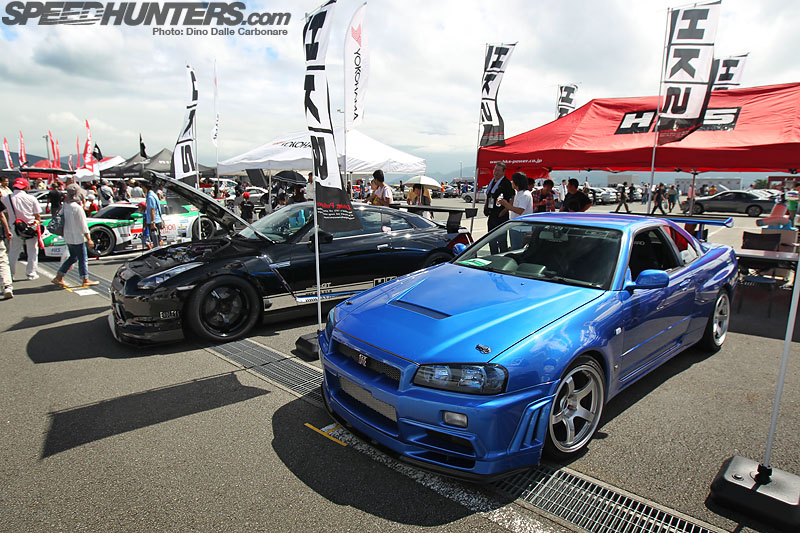 I'm not sure if HKS have gotten rid of their legendary "Driving Performer" BNR34, but they showed up at the R's Meeting with another san-yon. Again great to see that they are in no way forgetting about the older GT-Rs.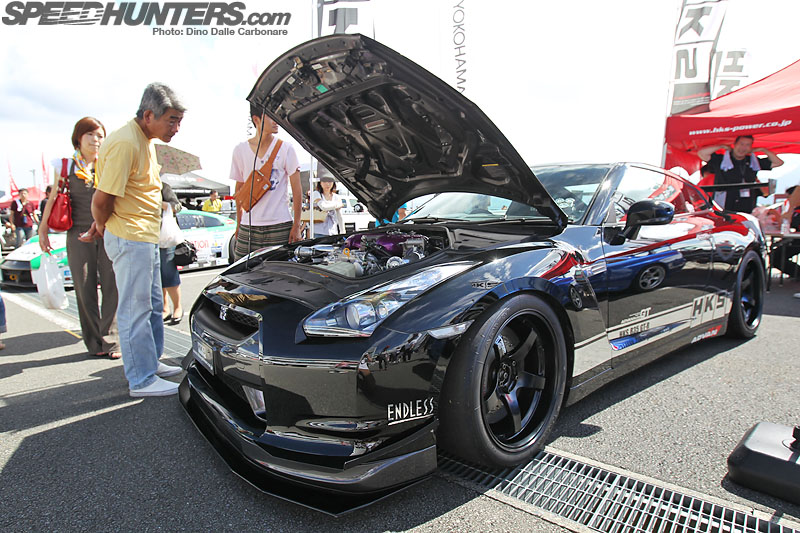 All attention however was on their GT1000 demo car which on slick tires has managed to lap Fuji Speedway in a very fast 1'41″73 with Nobuteru Taniguchi at the wheel.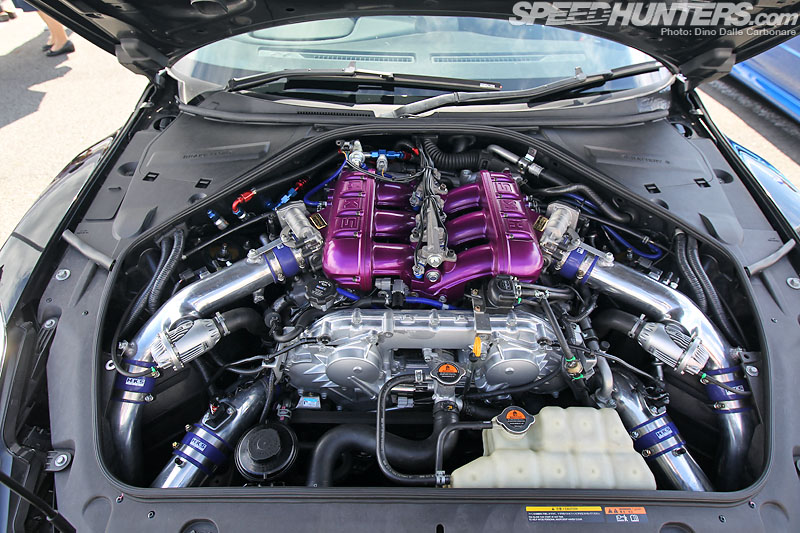 The 4.1 stroked VR runs 1.8 bar of boost through a set of HKS GTII blowers for just over 1000 PS. Fuelling is handled by an extra set of HKS 575 cc/min injectors. HKS have also upgraded the transmission to cope with the 128.6 kgm (930 lb/ft) of torque the engine churns out.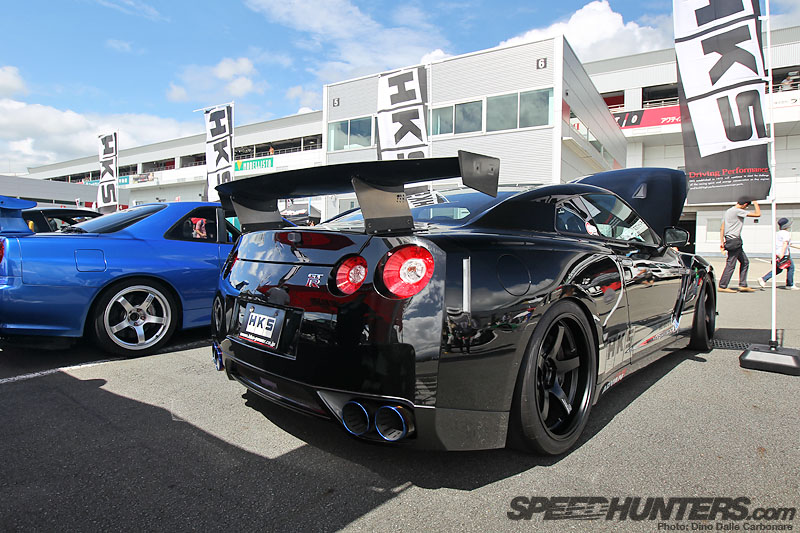 Curiously enough aside from a massive rear spoiler and front splitter the R35's exterior is pretty much stock.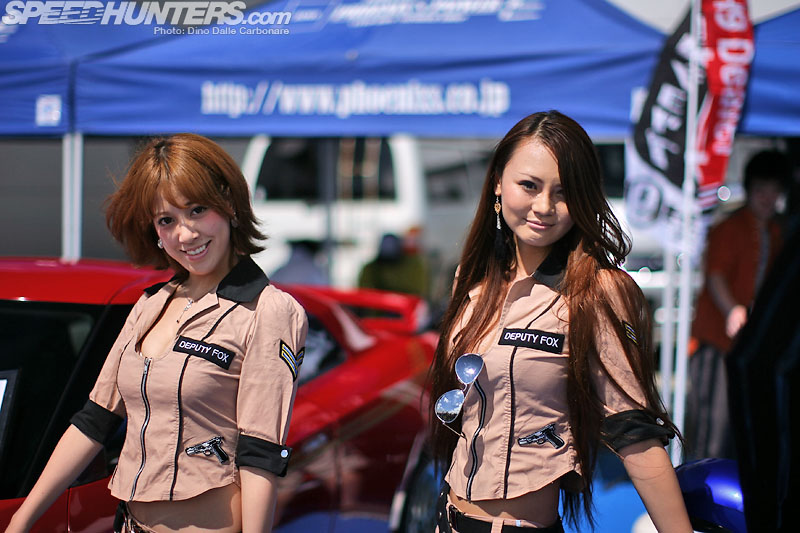 And while we are on the subject of R35 tuning, Phoenix's Power from Kyoto certainly know one or two things about getting the most out of the VR38. Aside from a lovely pair of race queens…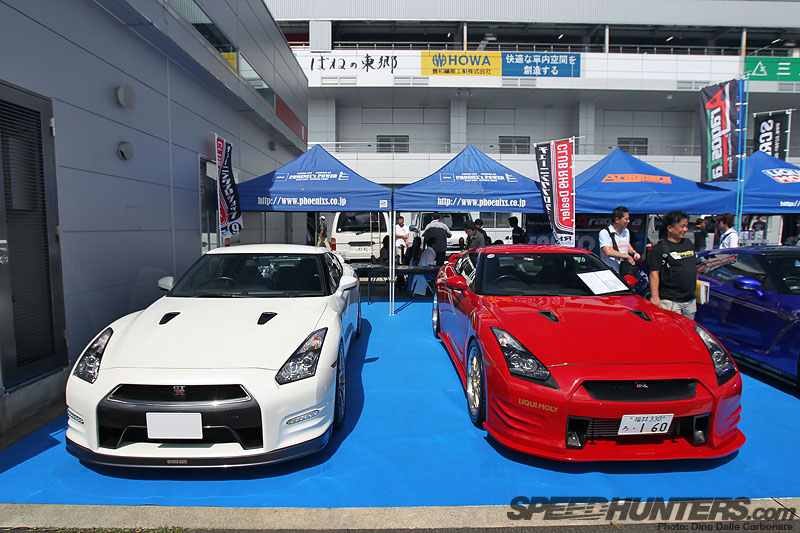 …they had a nice selection of demo cars…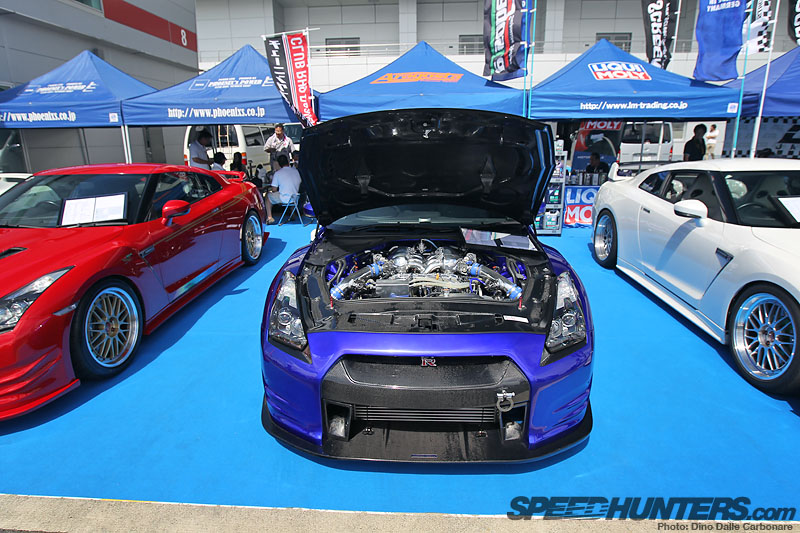 …which included the wildest san-go they have built to date…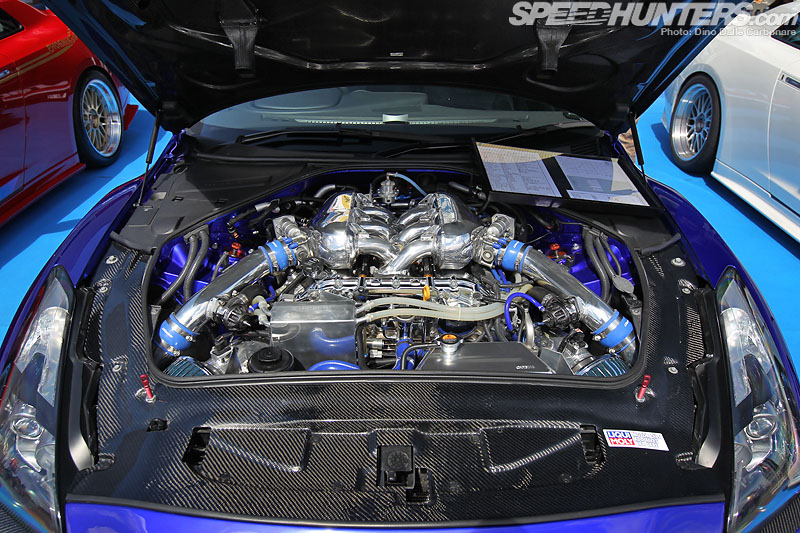 …proving that with a lot of work, even the R35's engine bay can be made to look pretty presentable! This car in now developing close to 1000 PS with more coming soon.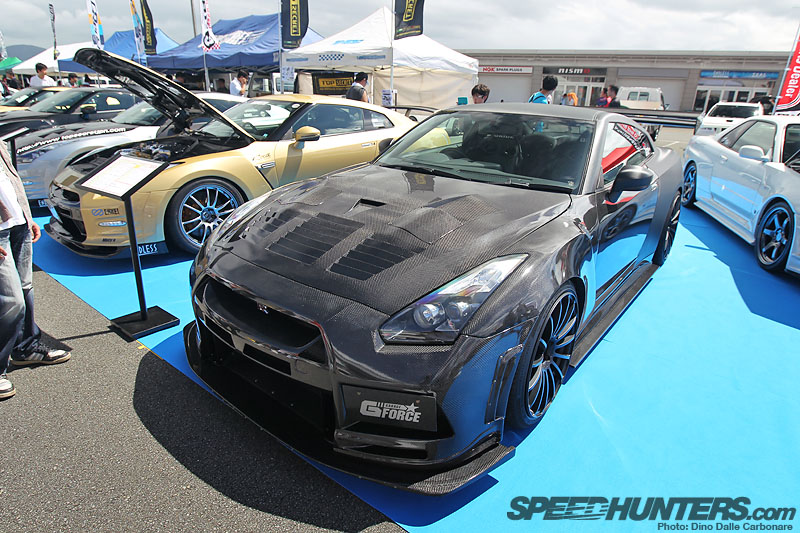 Garage G-Force is probably a name that is more familiar to Lancer Evolution owners, but as of last year they have began working on R35s too. This is one of their craziest creations so far, Nobuteru Taniguchi's very own car. Like the HTF's 35 it runs a carbon fiber Top Racing front conversion…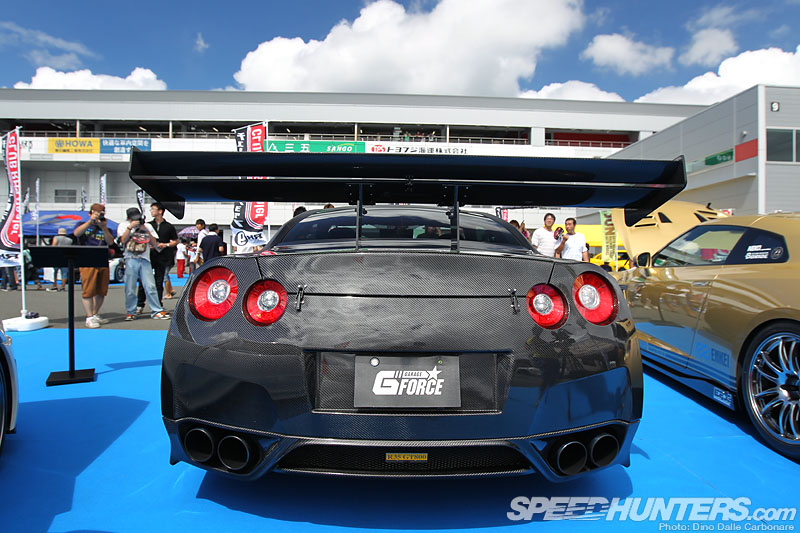 …but Nob is not one to do things by halves so has continued the carbon fiber treatment throughout the car. That huge GT wing is the latest part to be fitted. The HKS R35 GT800 badge at the rear sort of hints at what it is boasting under the bonnet…what else would you expect HKS's official driver to be running!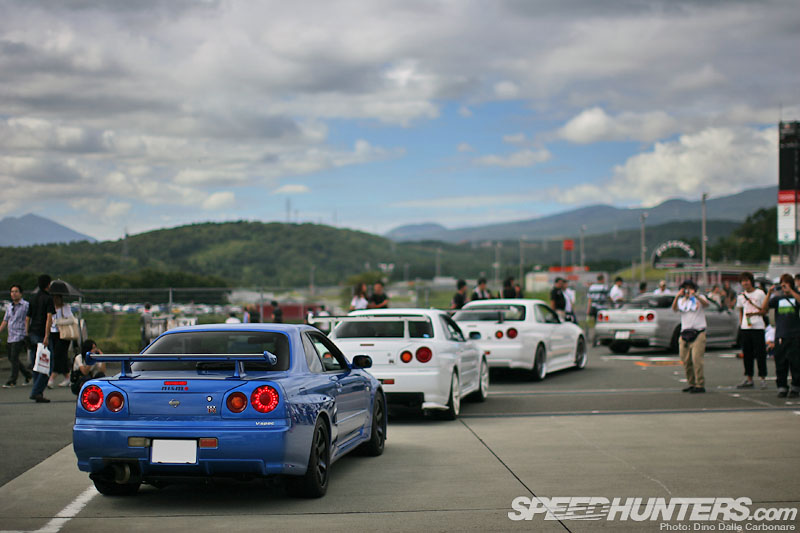 That's it from the R's Meeting for now, more to come tomorrow…
-Dino Dalle Carbonare