Somewhere in my attic is a box full of years' worth of promotional brochures from the London Motor Show, collected over a number of visits where I would avidly hoover up every available piece of literature on the latest models that would be gracing the roads of the world. After a long break, I saw the last UK event in 2006 at the echoing Excel centre in Docklands, but since then I think I had perhaps forgotten the excitement that a motor show can create: the fervour that can greet the launch of an exciting new car.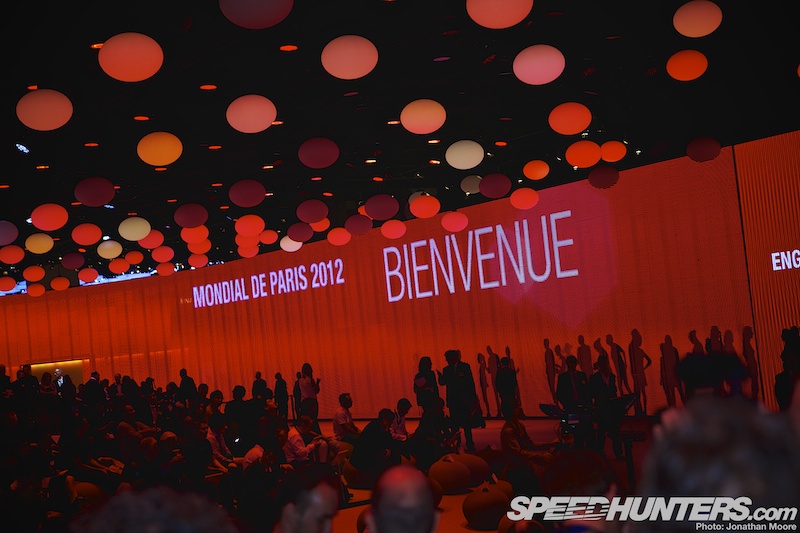 The 2012 Paris motor show – the Mondial De L'Automobile – was not short of launches: over 80 were scheduled for the show – an easy 80 reasons just for starters to be excited about attending a motor show again in person, with the biggest one being the McLaren P1.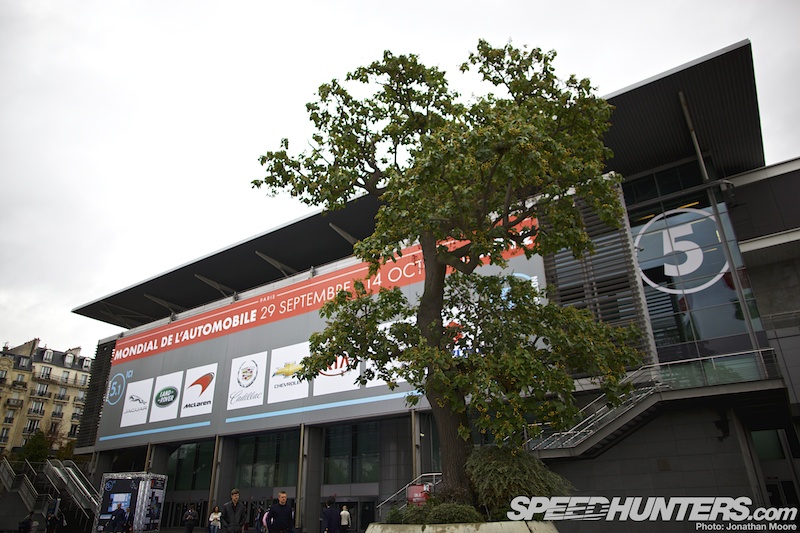 The show is based across Paris Expo's sprawling, Thunderbirds-base halls on the south-western edge of the French capital: cavernous spaces that still only just manage to fit in the many hundreds of auto manufacturers and their unfeasibly large displays.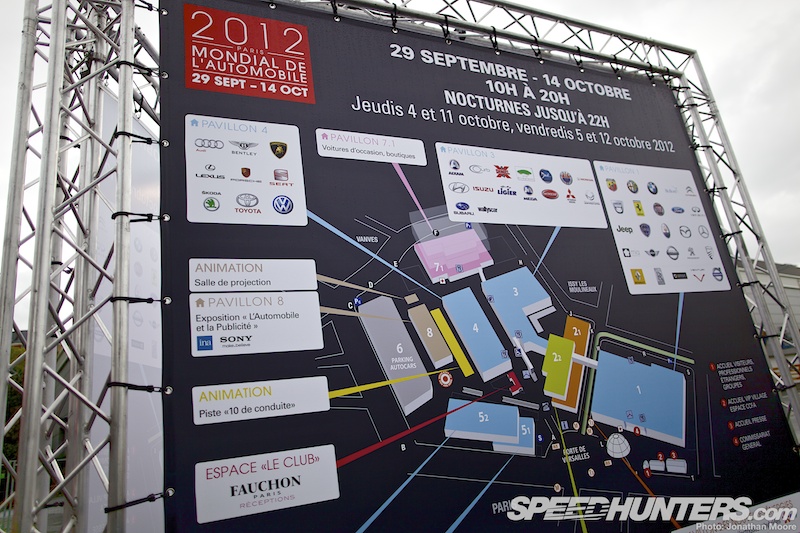 The opening two days of the show are press days, though in practice this still means large numbers of attendees: last year over 13,000 journalists turned out, followed by over a million visitors in the subsequent two weeks that the show is open to the general public.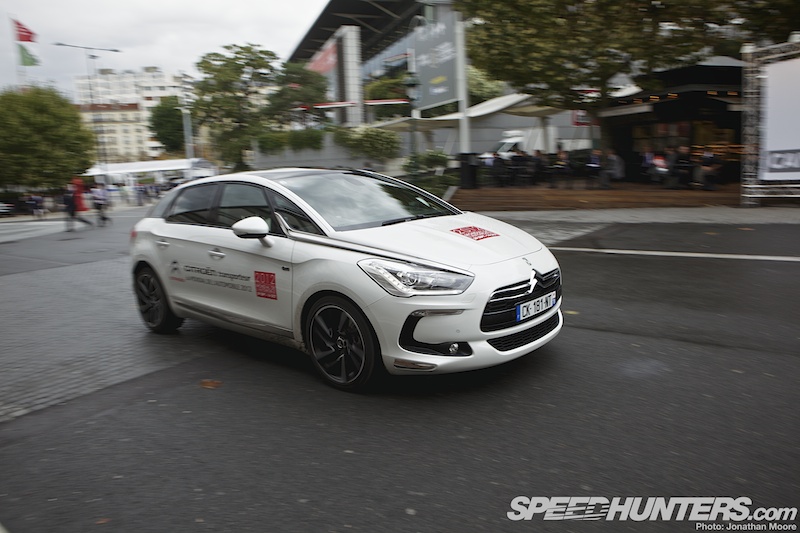 Citroën and Peugeot rolled out a fleet of their latest five-door saloons to ferry people between the various halls – though with each hall effectively adjacent taking one seemed more than a little decadent. If there had been taxis inside the halls, that would have been a completely different thing…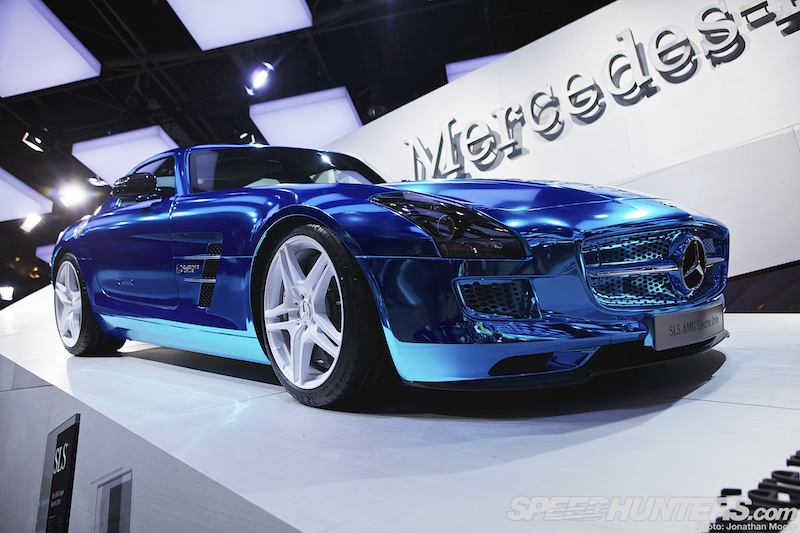 As ever, manufacturers at motor shows vie with other to assemble the most impressive and eye-catching displays. This year in Paris we had cars at extreme angles along walls…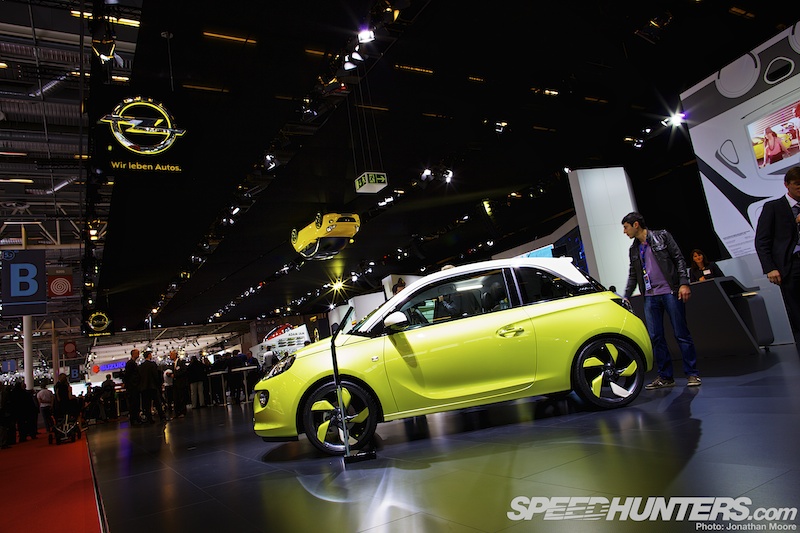 …Cars on the ceiling.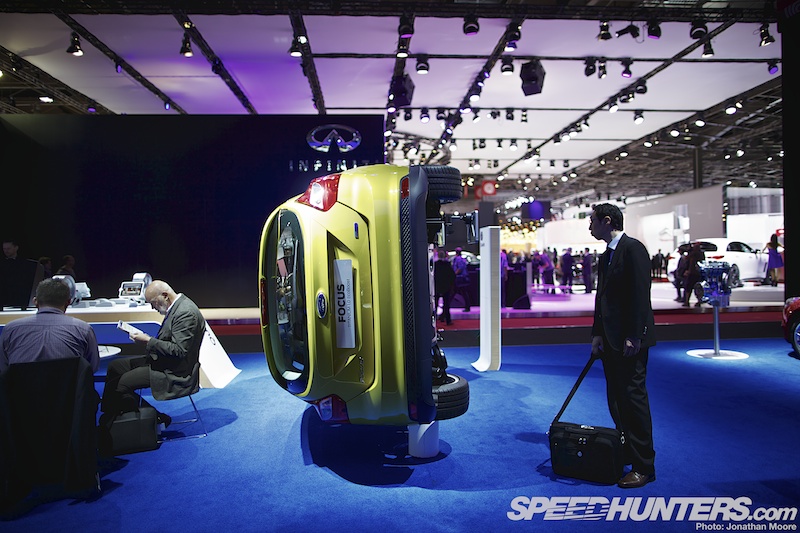 …Cars on their sides, looking rather precariously threatening to the seating area they covered.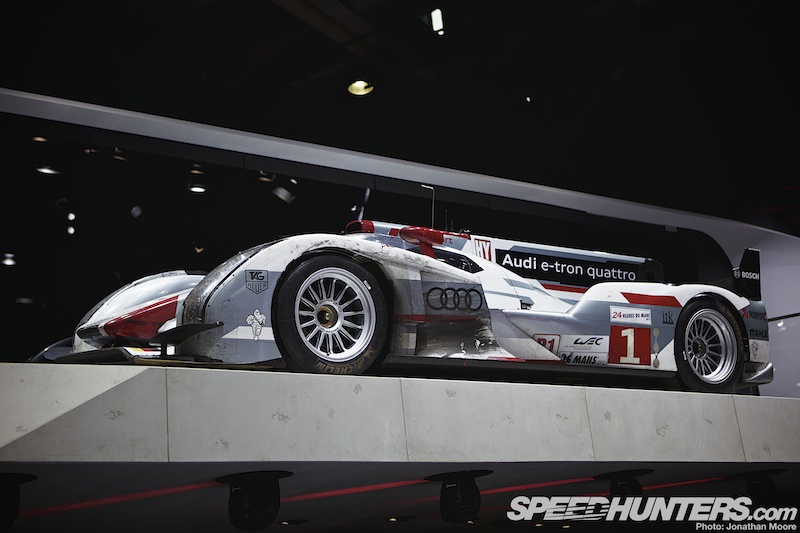 …Cars at roof level.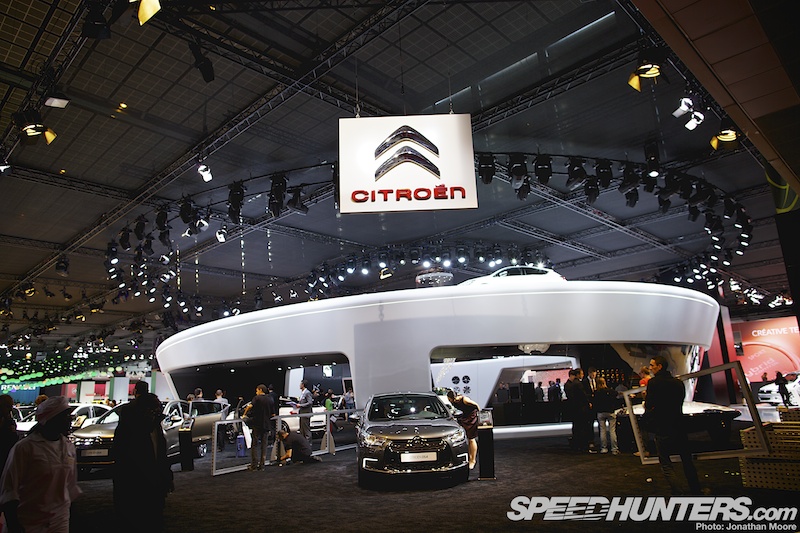 …And cars on aerial superstructures that were actually quite difficult to spot from the ground. Which was strange, but still.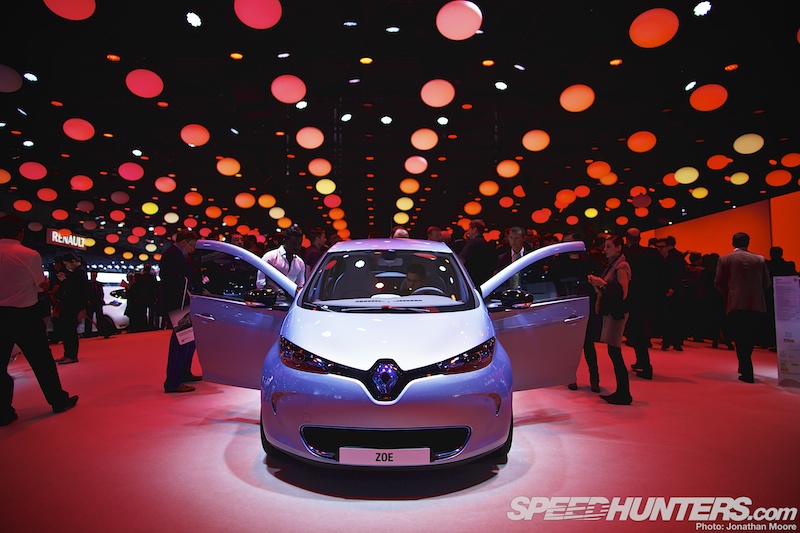 Stand decoration is now everything, and modern lighting and presentation techniques have opened up an entirely new level of spectacular possibilities. Renault had created a virtual rolling landscape in their corner of Pavillon 1 on which to mount their cars, lit by an ever-shifting pattern of coloured lights which themselves moved up and down in a wave-like pattern on the ceiling.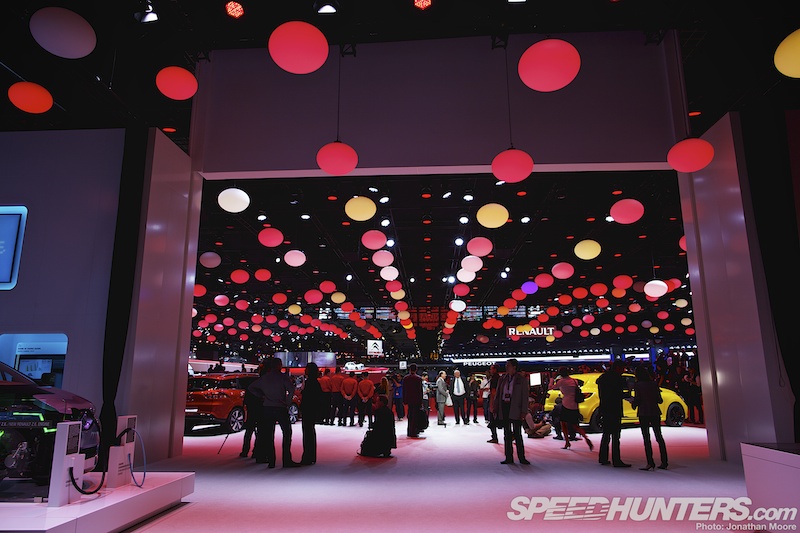 It was simply a delightful, calming experience amongst the hustle of the show, and became a focal point for the attendees to simply hang out and enjoy the Renault atmosphere.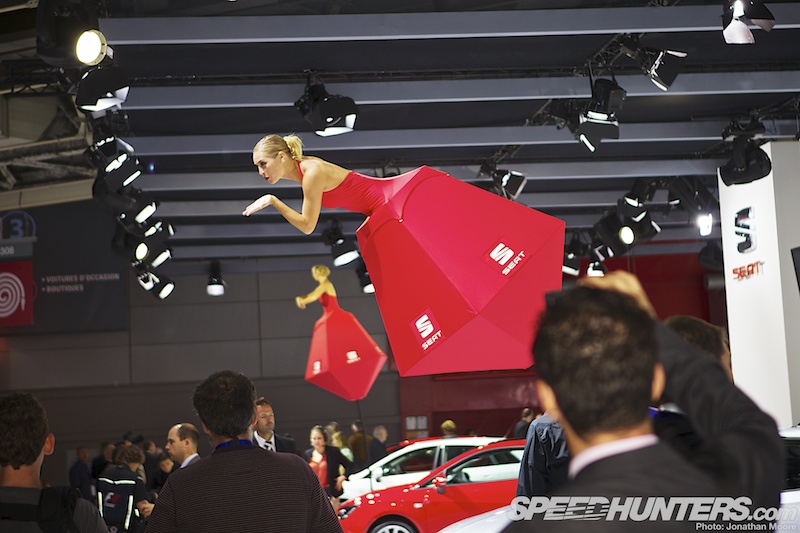 Rather more nerve-wracking to watch were the two girls on the SEAT stand, mounted on poles and bounding around like Zebedees.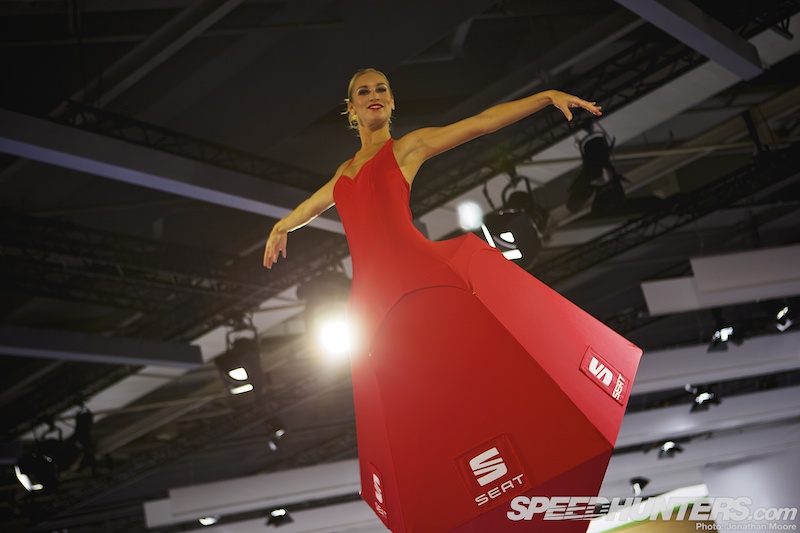 They were certainly captivating as they gracefully performed their aerial dances, arching down to high-five or blow kisses at the crowds!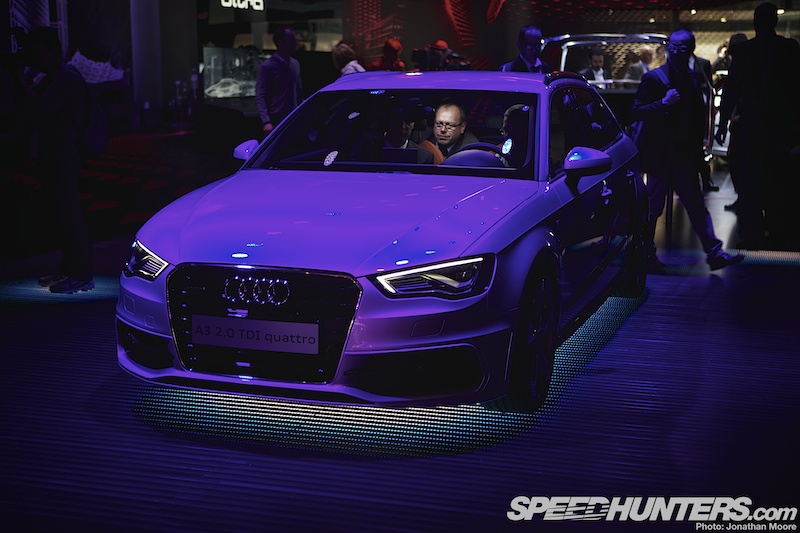 Audi's stand was another enormo-display, reaching through three separate sections that touched on performance, technology and new launches. Shimmering high-tech lighting shifted and pulsed around their demonstrators.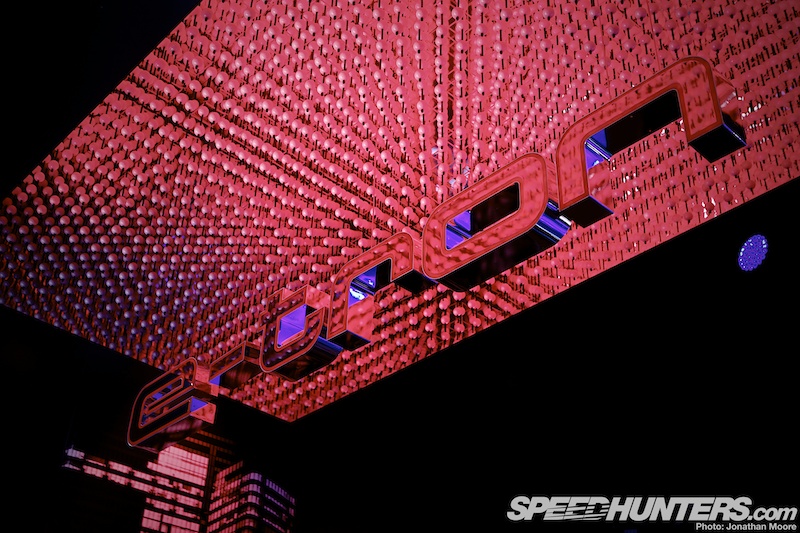 Suspended logos looked like rendered digital illusions hanging in mid-air…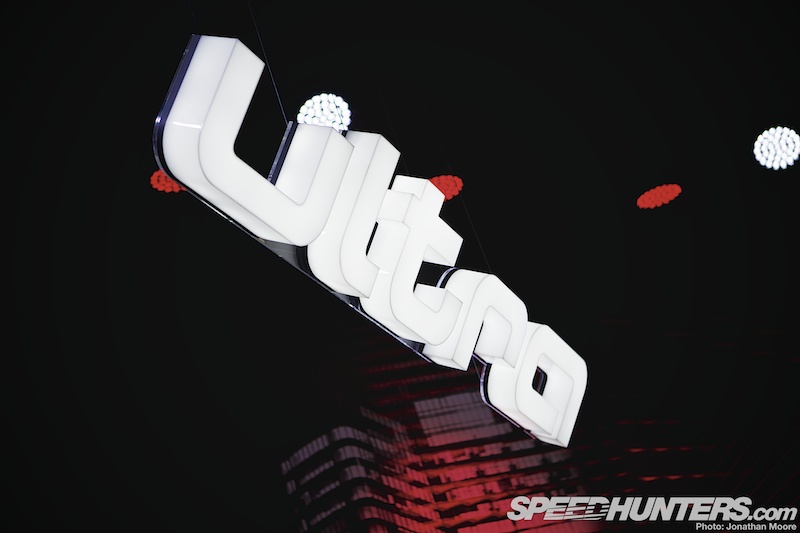 …showcasing Audi's buzzword technologies.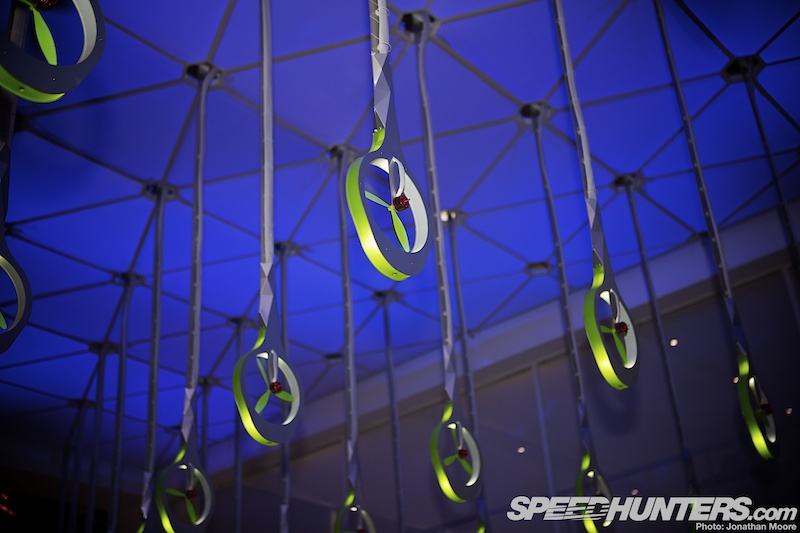 Technology was to the forefront across the show: hybrid power and alternative sources are at the top of all the manufacturer's marketing plans.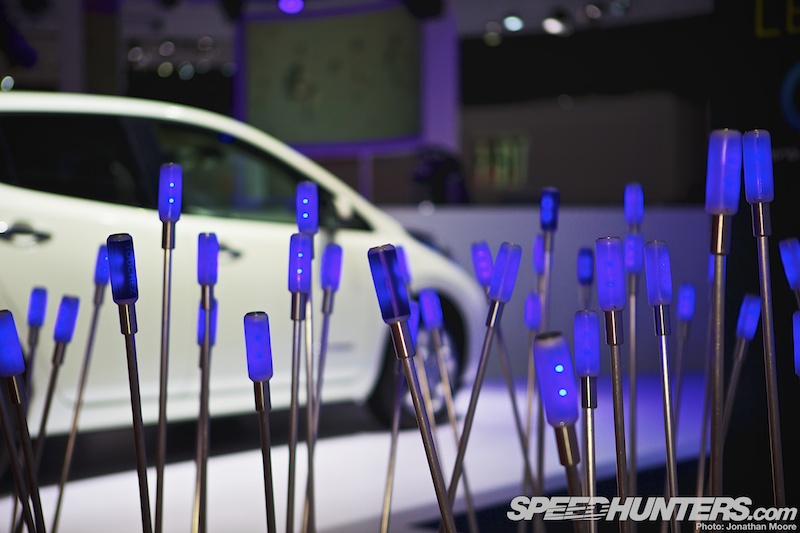 But that did lead to interesting and captivating displays like the sheer pleasure of the Renault stand or the musical light poles on Nissan's.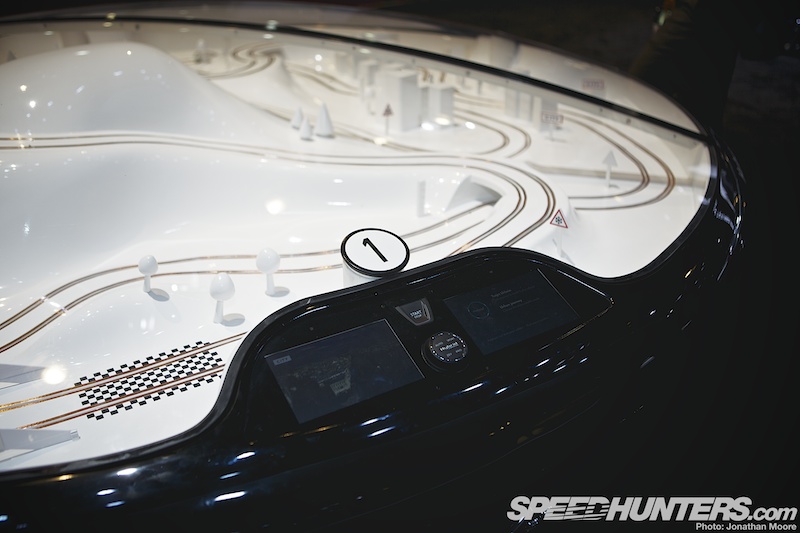 A hall was dedicated to specialist hybrid and battery technology companies, but a demonstration of electric power that I was particularly keen on was Citroën's slot-racing track, which used old-school pro-grade copper conducting tape along the guides. Not like the magnetic nonsense of modern slot-racing – you need proper thumb skills with copper!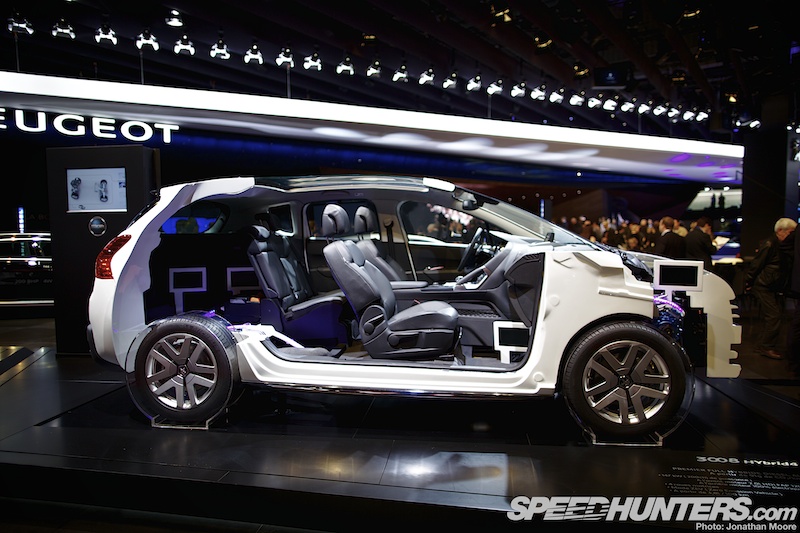 Car shows are also great excuses to chop cars in half for the public's pleasure…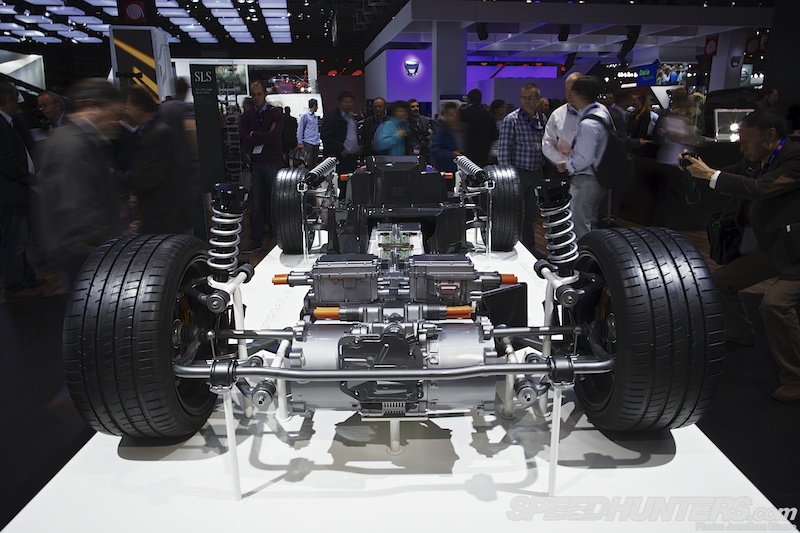 …either to show off internal space or to demonstrate the latest in chassis and power-train technology that would normally remain cloaked under svelte metal, plastics or, if you're lucky, carbon.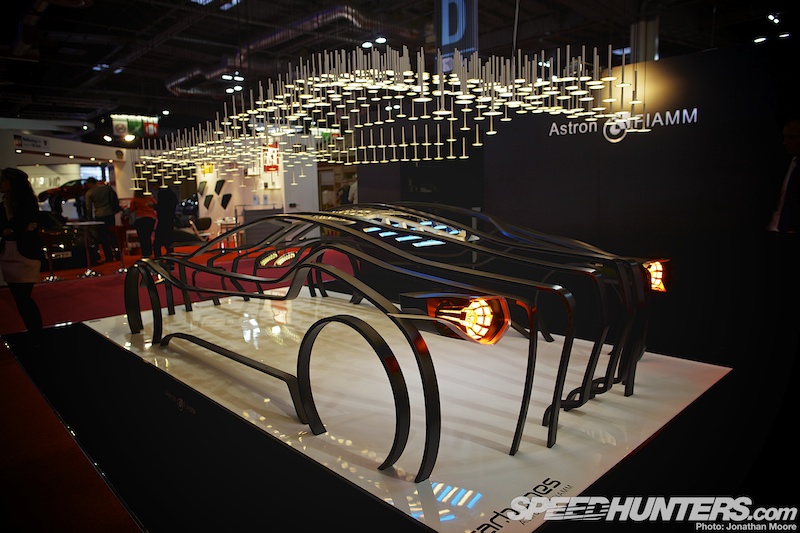 Component manufacturers could also show off their wares, such as Astron Fiamm's OLED technology, with which they're looking to revolutionise exterior and interior automotive lighting. And make awfully nice light sculptures.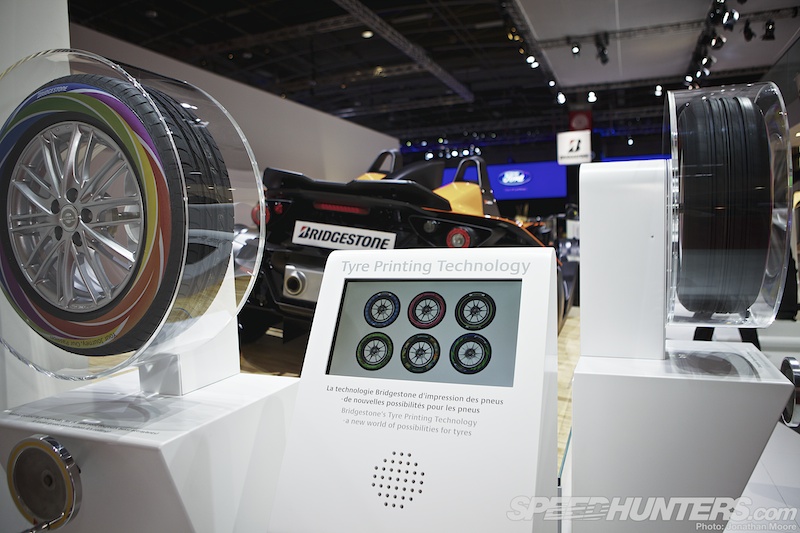 Not exactly frivolous, but definitely just as colourful, Bridgestone showed off their new tyre printing technology, which allows custom colours or even photos to be applied to tyre sidewalls, covered by a protective layer to reduce wear. This could lead to some serious taste issues…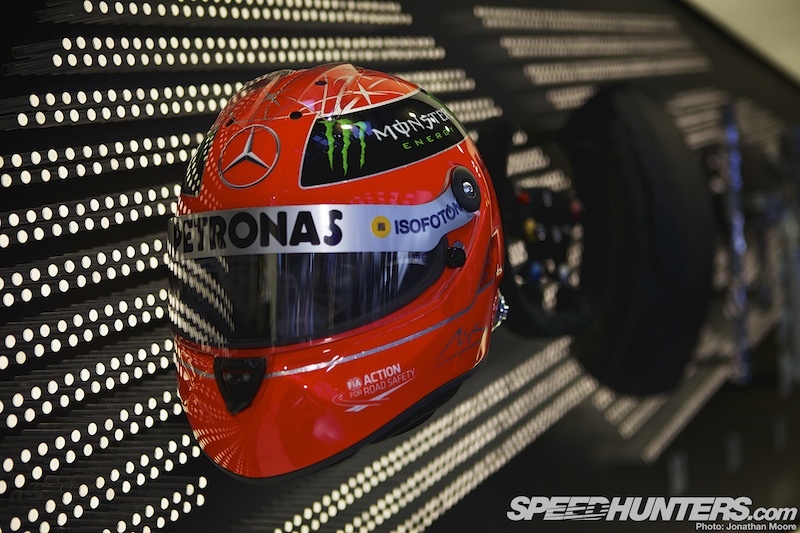 Lip-service was paid to related motorsport programmes depending on the manufacturer. For some, the mere idea of racing is an anathema; for others, current illustrious employees were highlighted; for the brave, racing cars took pride of place. And what racing cars there were: I'll go into those in a following story.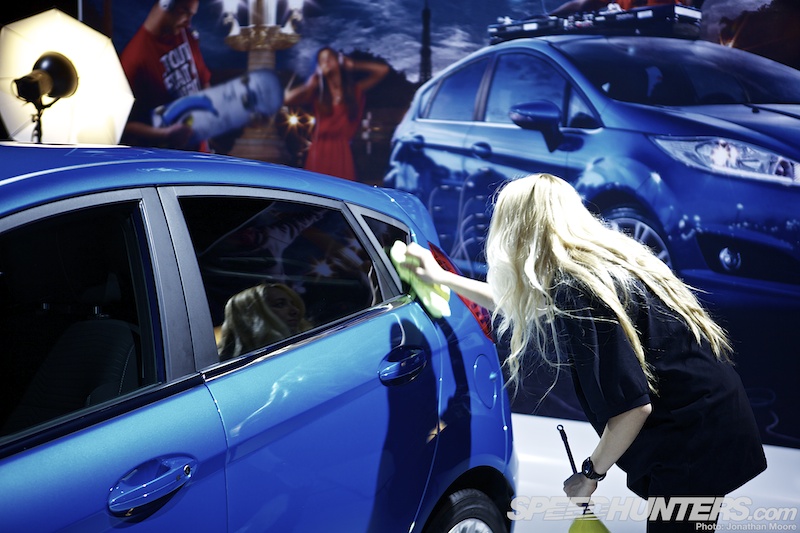 One thing I had either forgotten, or been so blinded by car love that I had previously ignored, is the near constant polishing and dusting that goes on over every car and corner of every stand.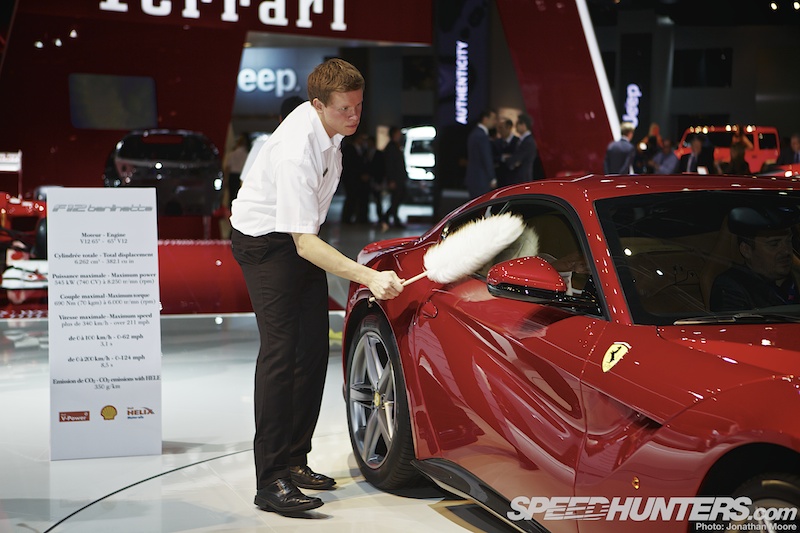 God forbid that sir would see dust on the side of one's prospective F12 Berlinetta…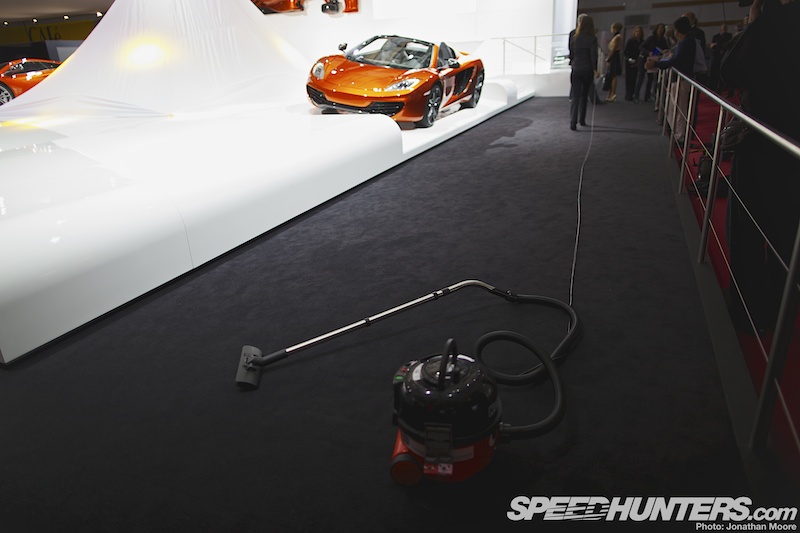 …and with Ron Dennis' well-known compulsive drive for perfection the McLaren stand was almost more a showcase for effective cleaning systems as it was supercars. Individual carpet tiles were constantly being reappointed with fingertip precision after any overly aggressive hoovering dislodged them.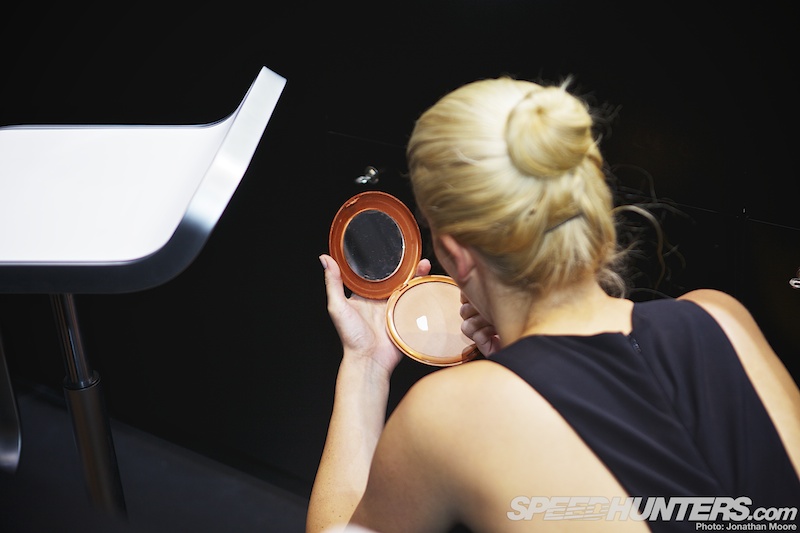 The other constant of motor shows, even in this day and age, is the stand girl.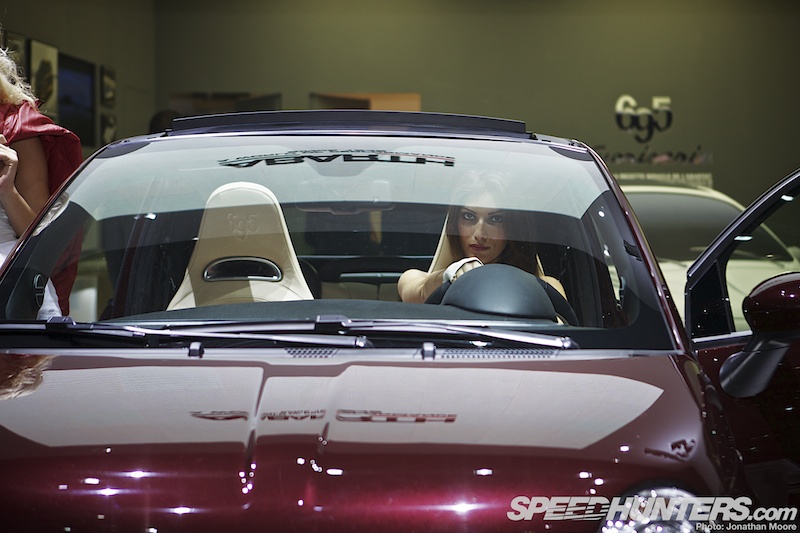 An unfeasible number of models were on almost every stand, ready to strike appropriately smokey poses on demand.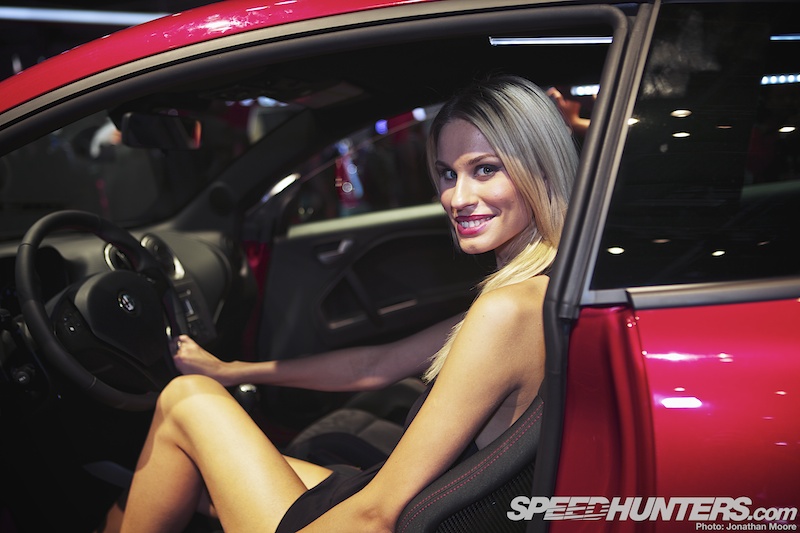 Environmental concerns might have fundamentally altered the direction of automotive technology, but marketing appears to have changed little over the history of the car…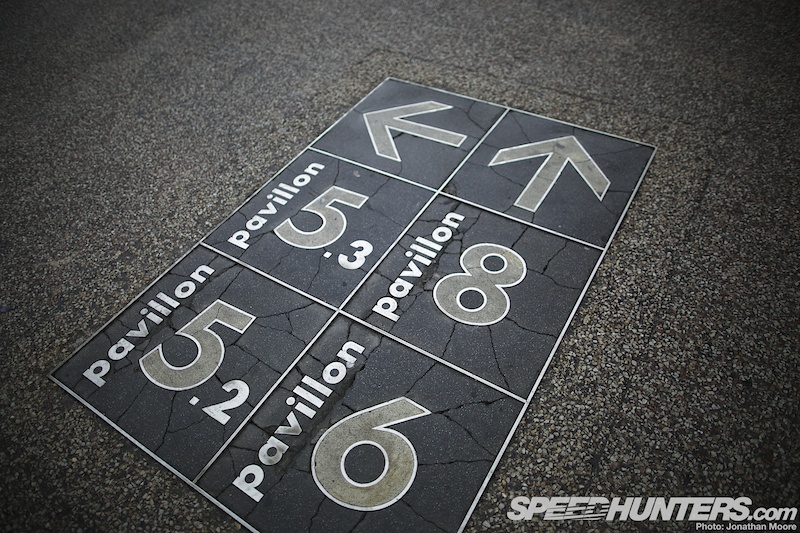 Walking the halls is an easy, if tiring thing: all six of the pavilions in use linked through to each other, with a long travelators arcing over the main halls to return you back to your starting point.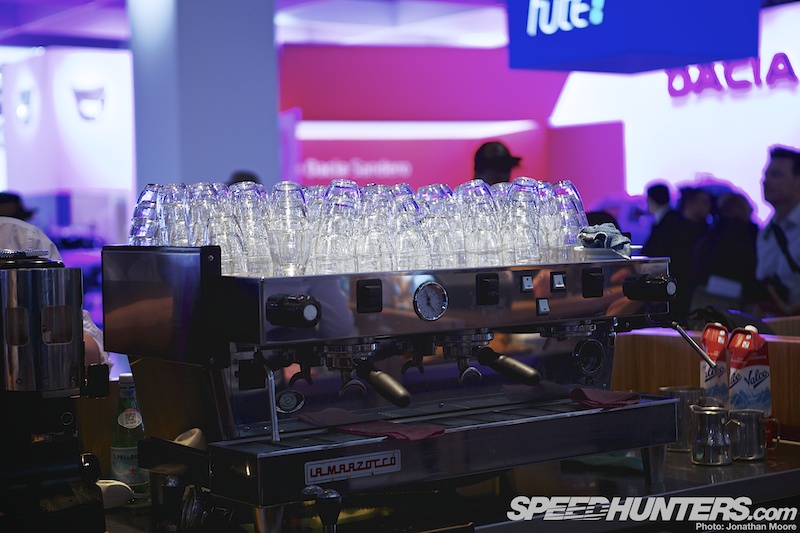 Most of the stands had a good supply of persuasion on hand to keep thirsty and short-attention-span journos engaged, mostly involving coffee and alcohol – the classic editorial combination.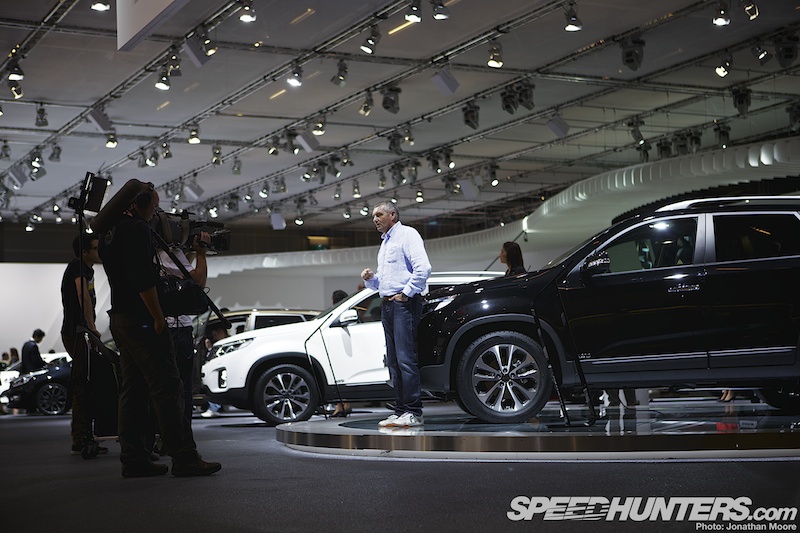 Roving gangs of international TV crews roamed the halls, trailing cameras mounted on wheeled tripods like techno IV drips. Everywhere you looked, people were filming, photographing, writing and interviewing in every language imaginable.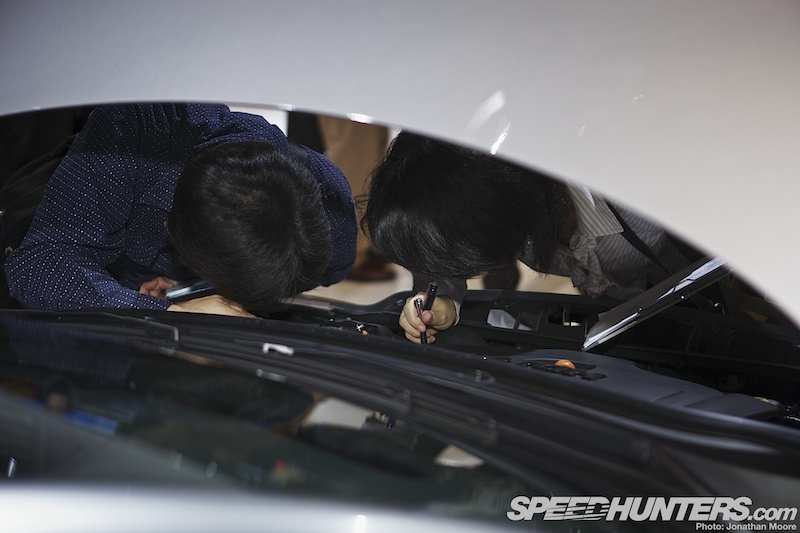 Much as my attention is really only diverted by cars with an element of race-pedigree or exotica, the bread and butter of a motor show – and indeed the entire automotive industry – is still the humble average saloon. Even on these cars journalists (or, perhaps, industrial spies) could be seen buried so hilariously deep under bonnets with torches and pens that they looked in danger of being swallowed up into engine bays.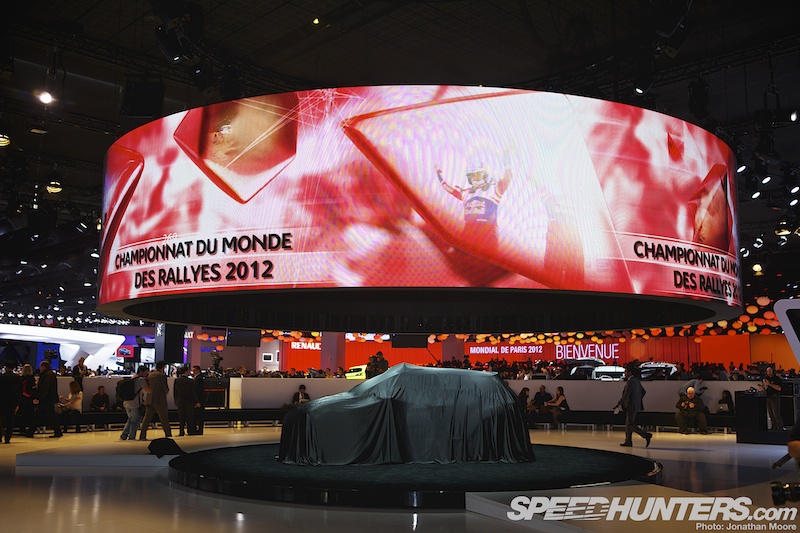 The relentless rhythm of the opening day was kept high by the continuous cadence of new launches. Cars waited impatiently under cover, awaiting their allocate slots. Launches kicked off with Suzuki at 7.30am and were hammered out every quarter of an hour or so throughout the day until the closing slot almost 12 hours later.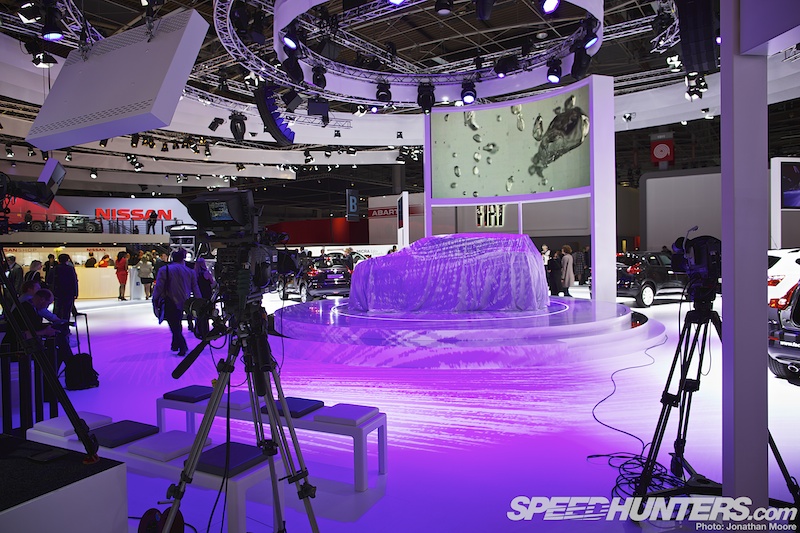 The quantity of audio-visual material at a motor show press day is breath-taking: the floors were strewn with cabling; the peripheries of launch areas piled high with flight-cases, control units and cameras.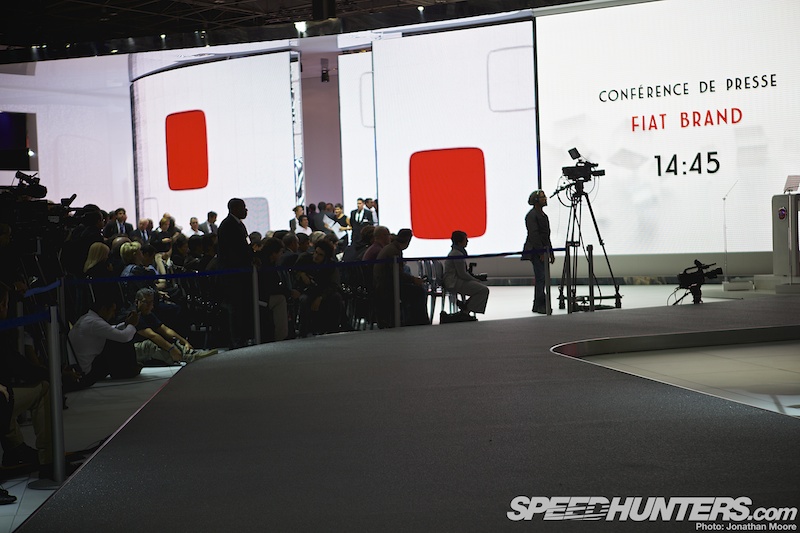 As the time drew near for each launch, so the scrum of media would ebb away from one area and into the next: deliberate scheduling meant that adjacent (and usually related brands) followed on from each other, meaning that the crowds would simply reorientate around to the next stand. Fiat to Ferrari; Lamborghini to Audi; and so on.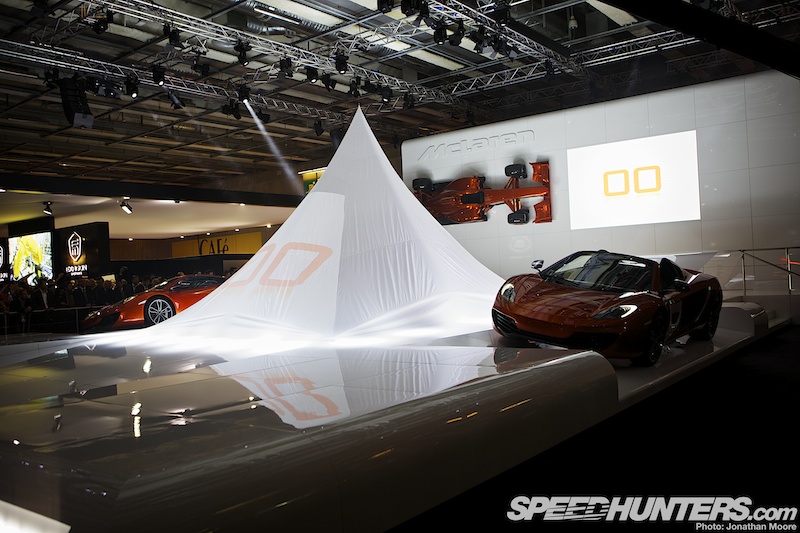 The big one was going to be McLaren's motor show debut: the count-down to that wouldn't begin until the end of the day, with plenty to get through – and lots of coffee to be consumed – in the meantime.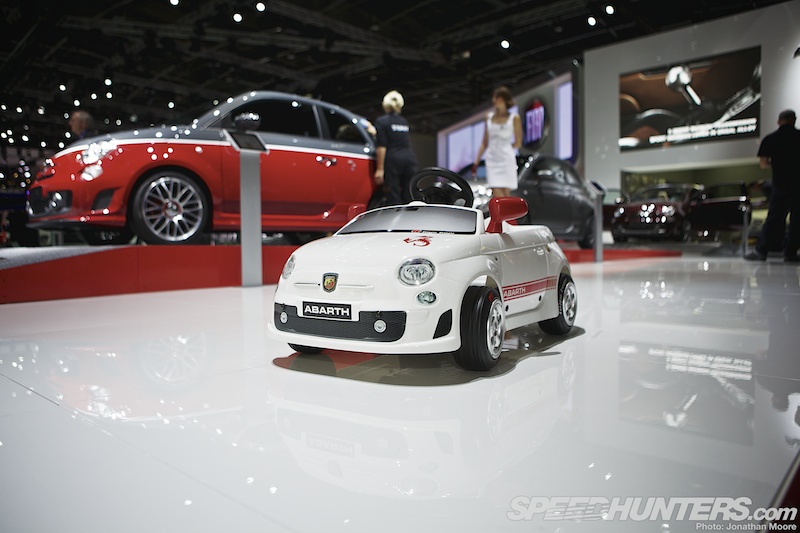 Thankfully, amongst all the press-day suits and negotiations, dusting and posing there was plenty of fun: like the Citroën slot-car track and this mini Abarth.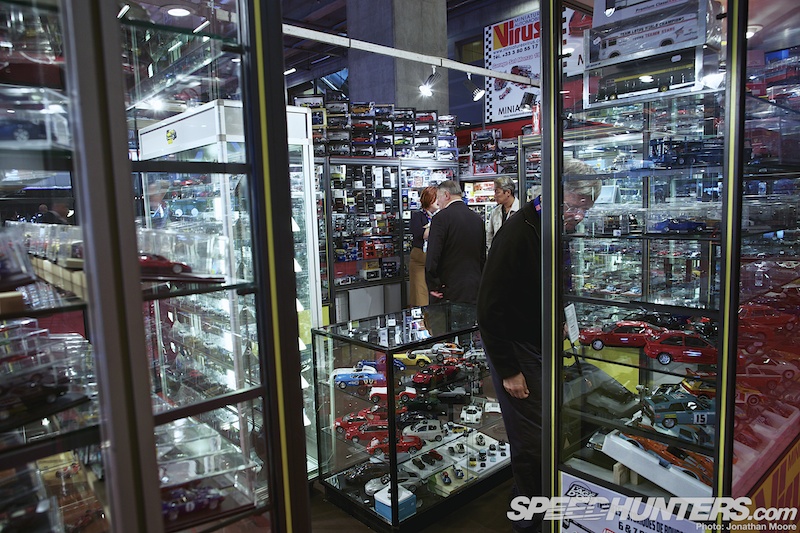 Along with the full-size cars, half a hall was also set up for their miniature cousins, allowing you to walk out of Paris Expo with a car but still change to get home.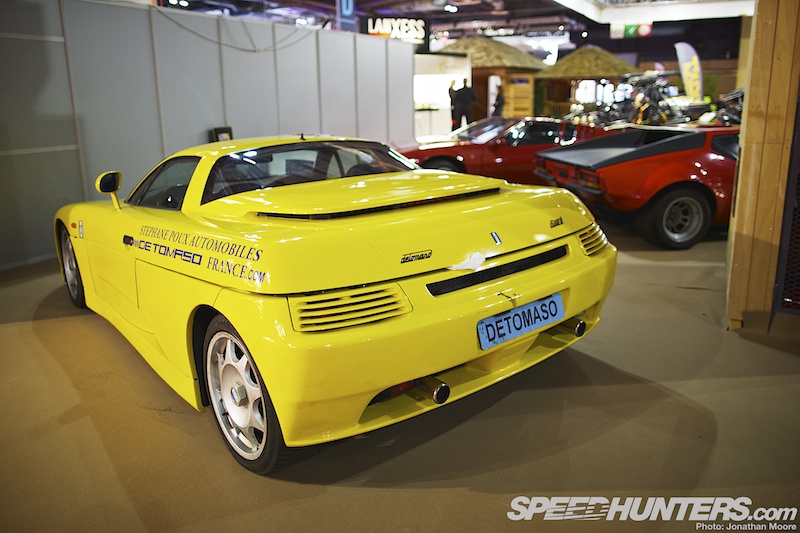 The best motor shows don't forget their heritage either, even though sometimes it could be a little hidden away – or on display without any apparent reason, like this De Tomaso trio of Guarà, Pantera and Magusta. The history of automobile advertising was also given its own separate exhibition space, which housed some unexpected and impressive machinery alongside period marketing materials – again, more to come on that.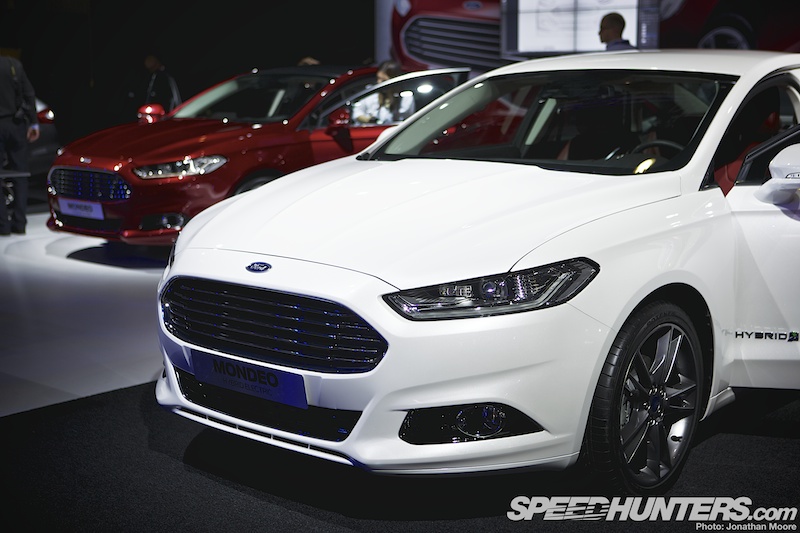 The first stand I had hit upon arrival was Ford: initial pleasing thoughts that the nose styling from their recent concept were being applied to the previously rather wallowing Mondeo were then tempered by the realisation that almost every manufacturer seems to have adopted the exact same approach! Longer, angular lights with aggressive tapers and big grills…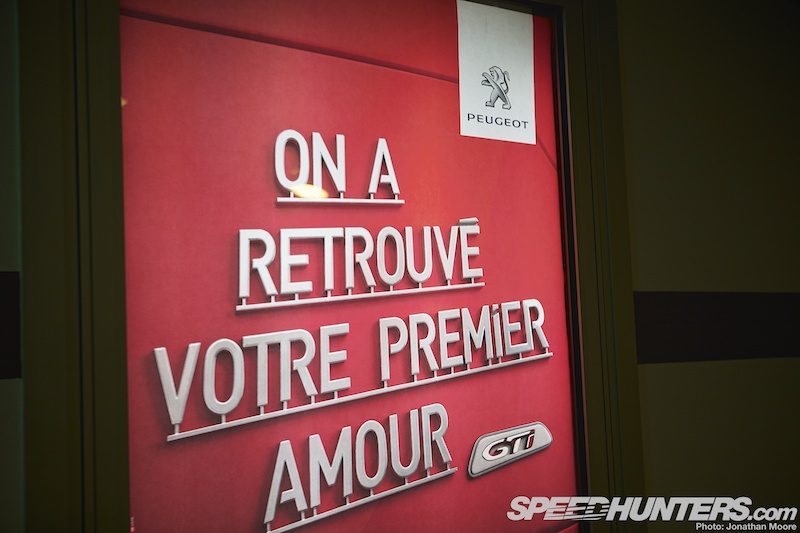 But this is a small complaint: in general the level of aesthetic pleasure was high: it seems like even the most modest hatch comes nowadays loaded with modern gizmos, and some names can still bring a smile to the most cynical face.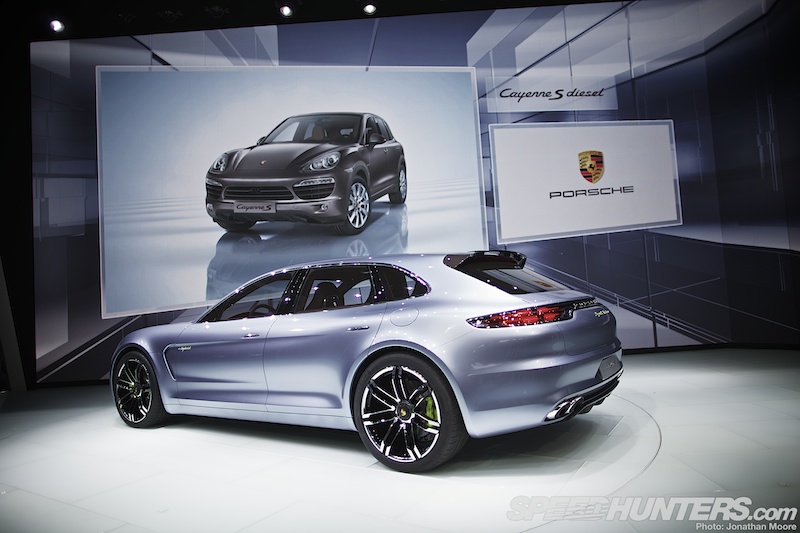 Though another thing that is surely morally wrong is excitement over a…
I'm not sure I can say it…
Diesel-powered Porsche. There. I said it.
The Panamera Sport Turismo Concept barely made up for it.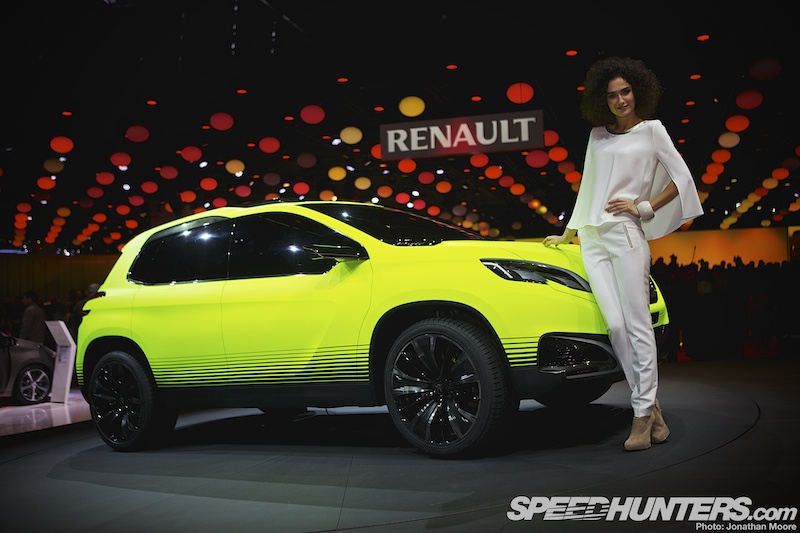 The only other worrying trend is the horrifying number of SUVs and 'crossovers' that are being thrust onto the market, which surely can't be because of customer demand. Small, economical and efficient hatchbacks I can understand (if not exactly lust after), but fake 4x4s?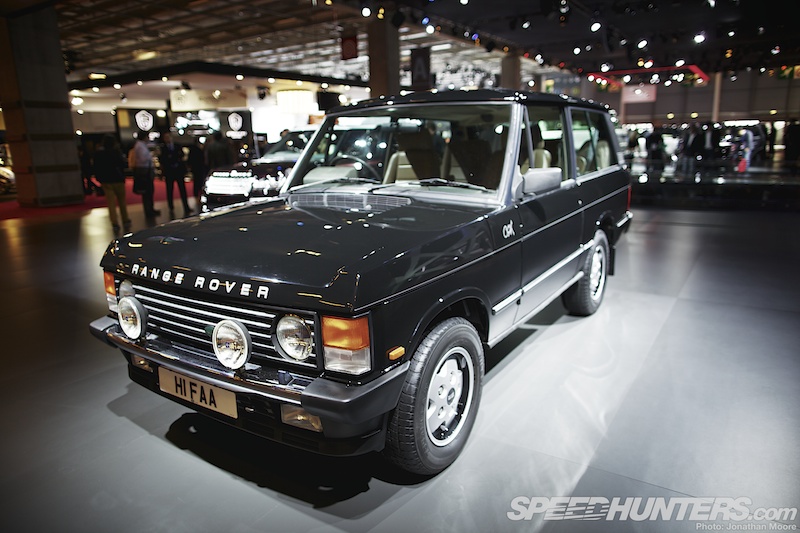 Which is why it's so wrong that I like Range Rovers, like the new model showed off in Paris. Oh. No, hang on…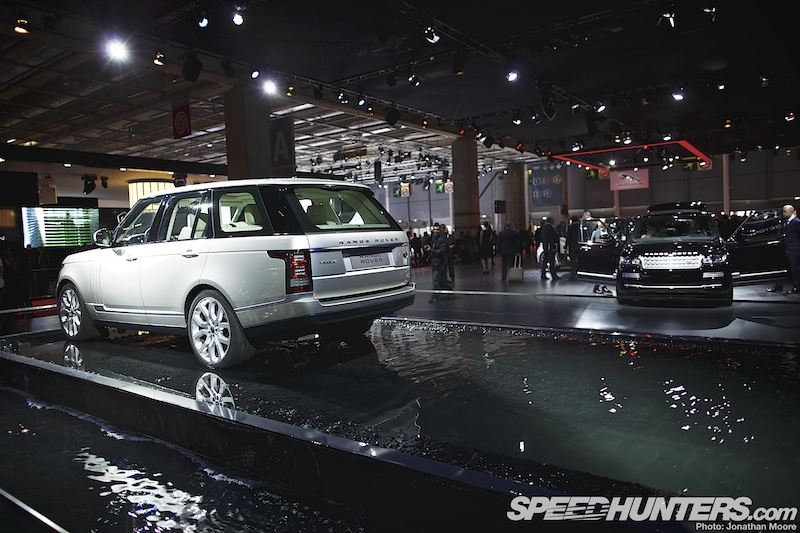 This one. Land Rover/Jaguar were showing off two new models: a revised Range Rover and the utterly gorgeous new F-Type, which is another car that is so much better in real life than in released pictures – more on that in a following story, along with the absolutely stunning and hitherto unfeasible Bentley GT3 racer, Onyx concept and the Peugeot 208 rally car: my highlights of the show. Okay, and the Citroën Tubik, Civic WTCC car, Maserati Grancabrio, Chevy 140S, Peugeot RCZ-R, and so on…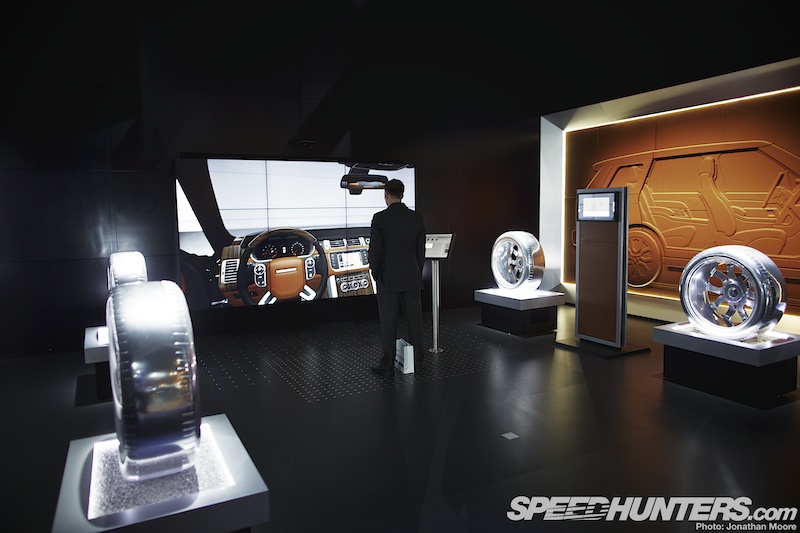 Range Rover had, in typically understated style, installed an entire waterfall in their pavilion. Rather more engaging was this VR room in which you could take a virtual tour around the interior of the new RR beastie.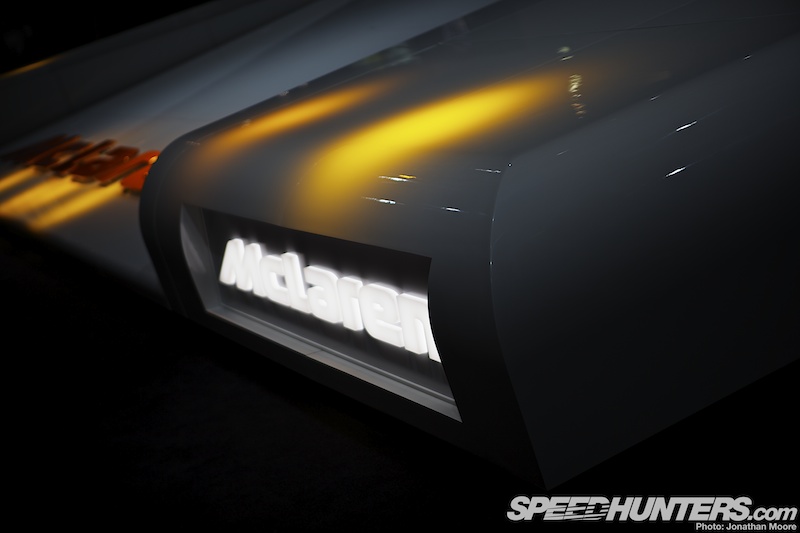 But for me all roads always led back to one place.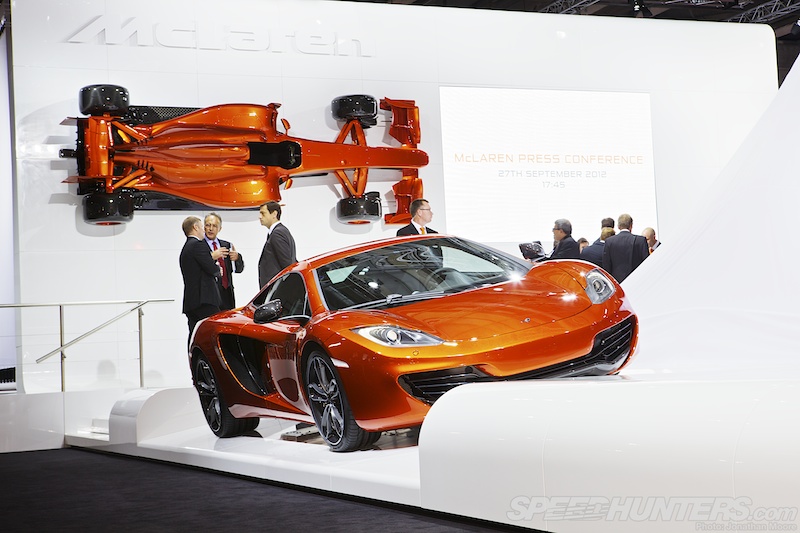 The burnished metallic take on classic McLaren test-team orange never looks real the flesh, let alone in pictures: it really does shimmer like a render. McLaren's stand was buzzing all day, showing off a 12C…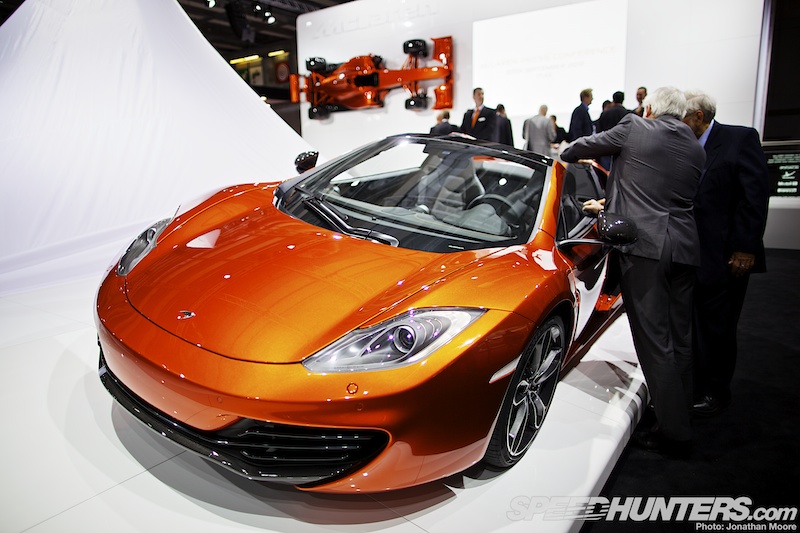 …and its new Spyder sister, along with a colour-coded F1-alike hanging on the wall.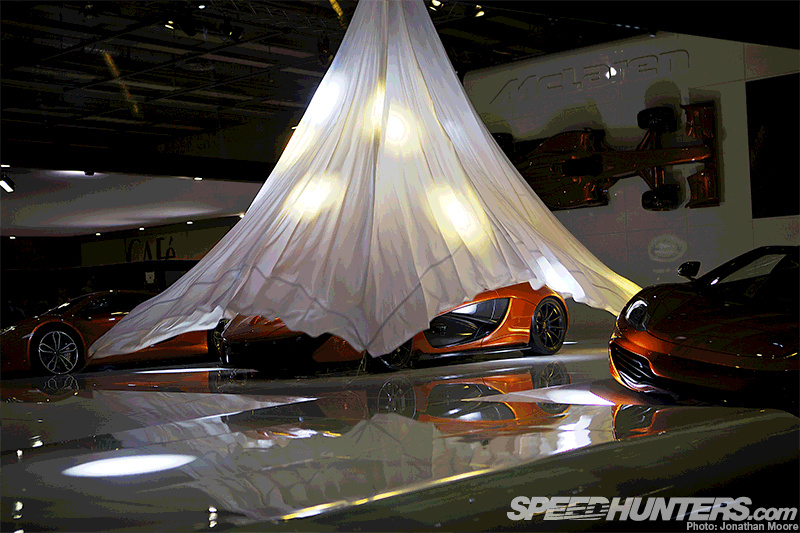 As with all the launches, turning up an hour early was the minimum if you wanted any chance of an unobstructed view of proceedings. With 30 minutes to go the lights dimmed, the spots played over the drapes and the atmosphere of the crowd grew more intense as the minutes ticked away. Finally… 5, 4, 3, 2, 1… and the cover was whisked away to reveal the new P1 supercar.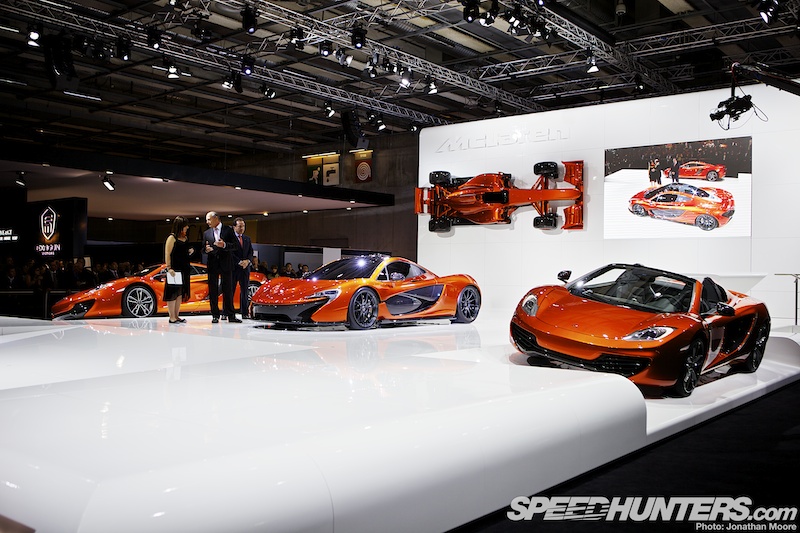 McLaren chairman Ron Dennis was joined by McLaren Automotive's MD Antony Sheriff to be interviewed on stage by the BBC's Lee McKenzie: no Lewis here, as he had been for the launch of the 12C. I wonder why that could be?…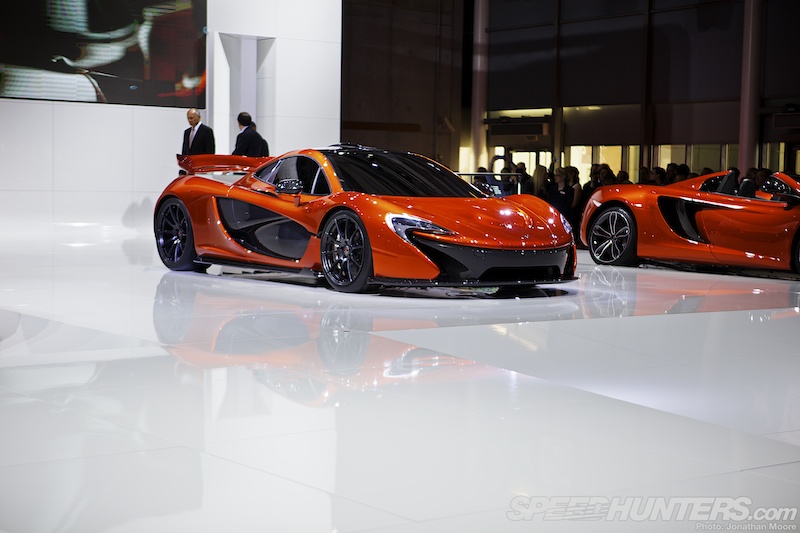 Any remaining uncertainty over the P1 was almost completely eradicated after seeing it tip its rear wing into a low-drag 'DRS' configuration and then utterly exorcised when it was deployed into the full-on high-drag position. What can I say, I'm a sucker for a rear wing.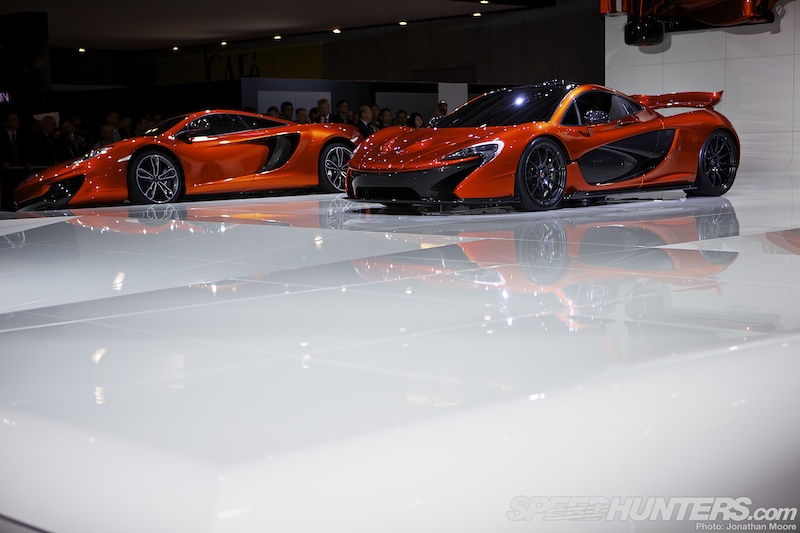 Without it, I do think the car's rear flanks are a little too remote from the extreme F1-style Coke-bottle styling of the rear deck, but the wing gives the rear a bit more harmony. At the moment, McLaren are giving little detail about the car – we're going to have to wait till next year's Geneva show to find out the next stage in the P1's development.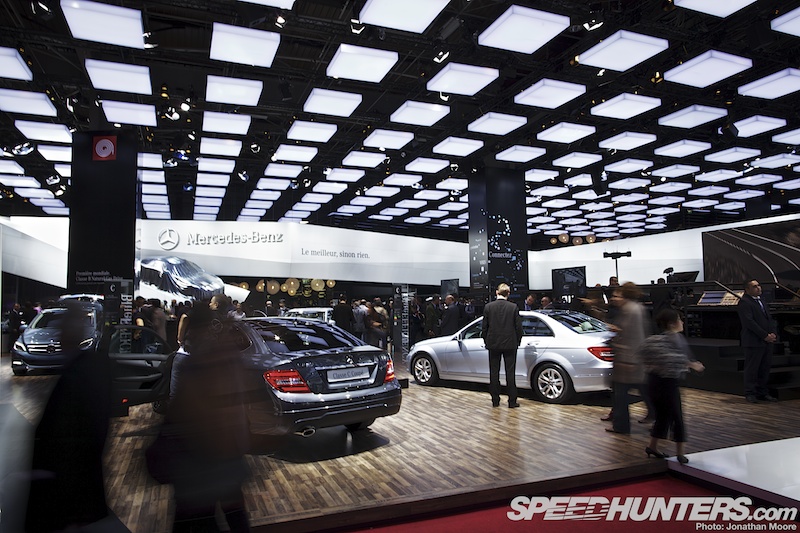 The P1 launch had ended my day at Paris Expo, but before that there had been many hours of pounding the pavilion floors, and enough automotive goodness seen to last a week. Which is just as well, as a tour through the halls will be coming up next…
Jonathan Moore
Speedhunters at the Paris Motor Show