I can remember so many epic battles after shooting drifting for over eight years, and the battle between Daijiro Yoshihara and James Deane today will be forever added to my list of all top tandem runs. It was just utterly amazing to see these two top drifters go at it around the challenging and technical Mondello Park drift course.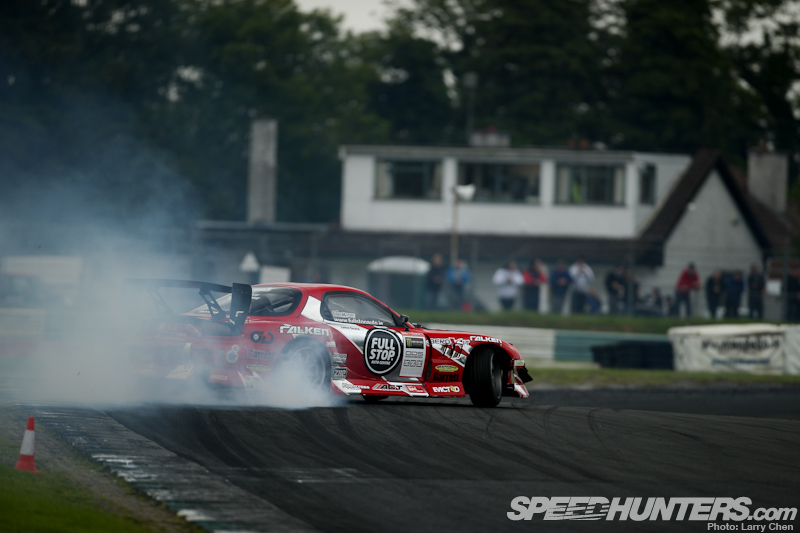 The day was literally action packed as qualifying, super lap and top 16 were all in a single day. James Deane qualified 1st and of course he went on to win the super lap, which is a round that pits all the top 16 drivers against each other for one final run to decide final t0p 16 running order.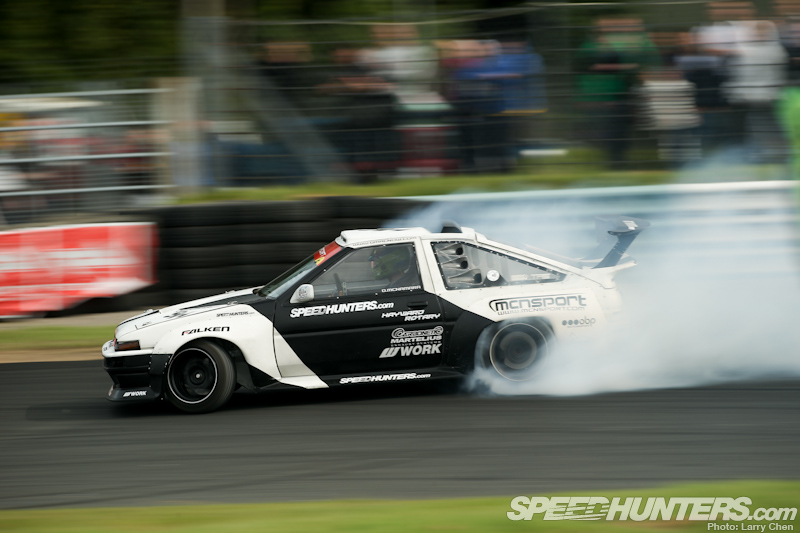 There were also a fair amount of upsets too, as local favorite Darren McNamara did not make the top 16 due to mechanical issues. The team had to disable the power steering as it was just not working.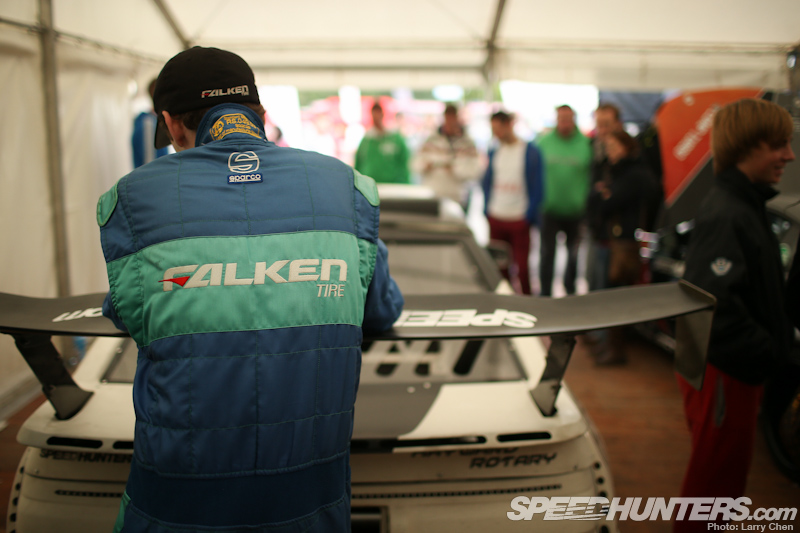 The late fixes were not enough to make the car competitive though. Hopefully Darren will be able to put all these troubles behind him as Formula Drift Irwindale is just around the corner.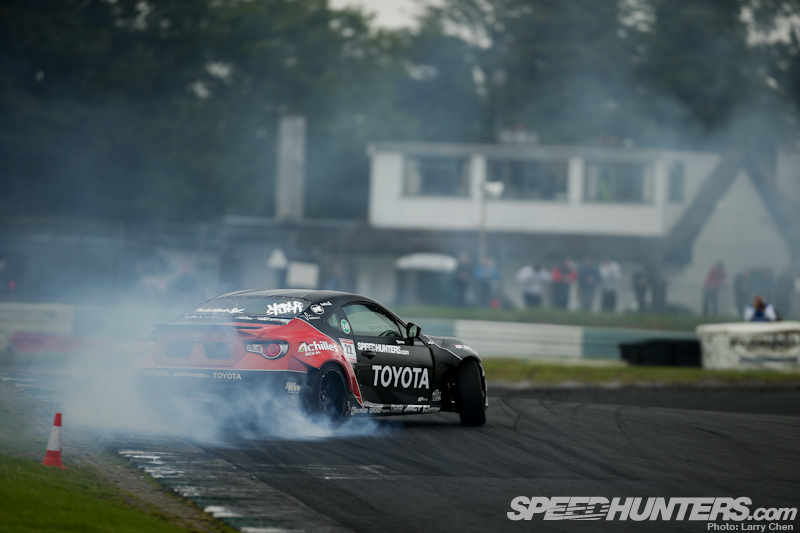 Fredric qualified 5th and into the top 16 with ease although he was also having troubles with the car setup. The Hammer was having a difficult event as his e-brake stopped functioning during his qualifying runs.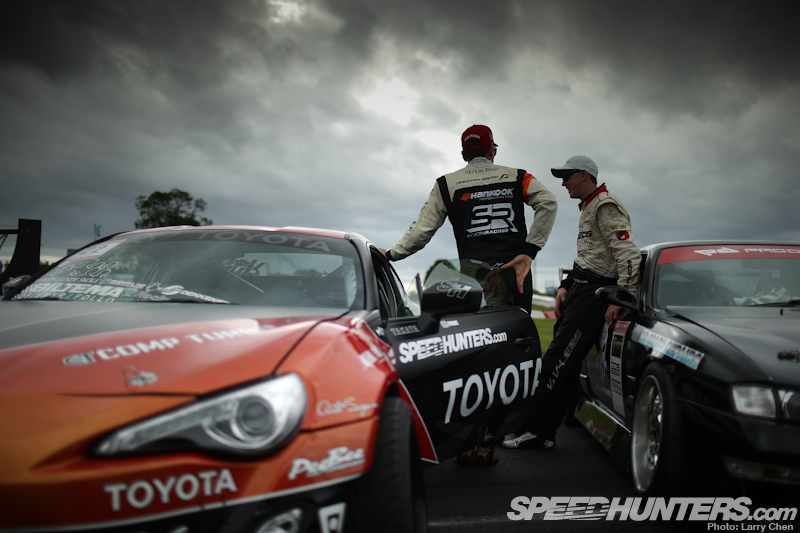 In the super lap round he went in way too hot and ended up off course. He was then given 8th, which meant he was paired up with ProDrift points leader Brendan Stone.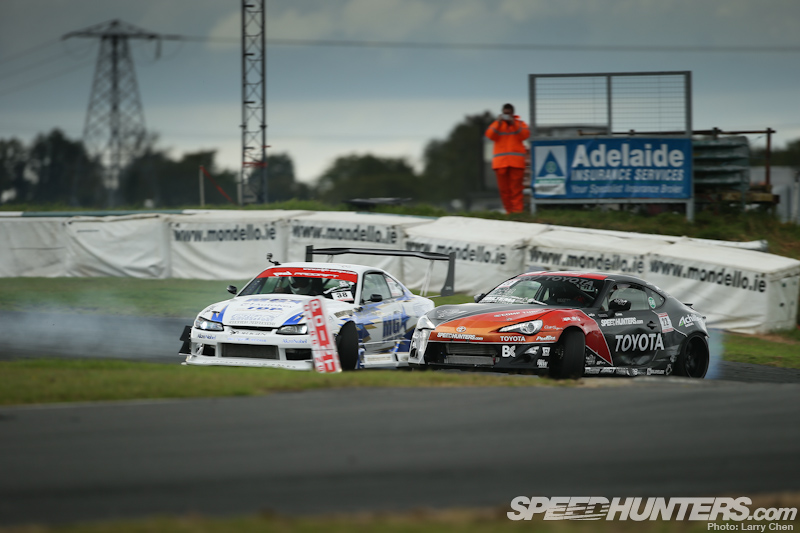 Both drivers battled very hard and Fredric had excellent proximity. Unfortunately, he put two tires off course on his chase run which gave Brendan the win.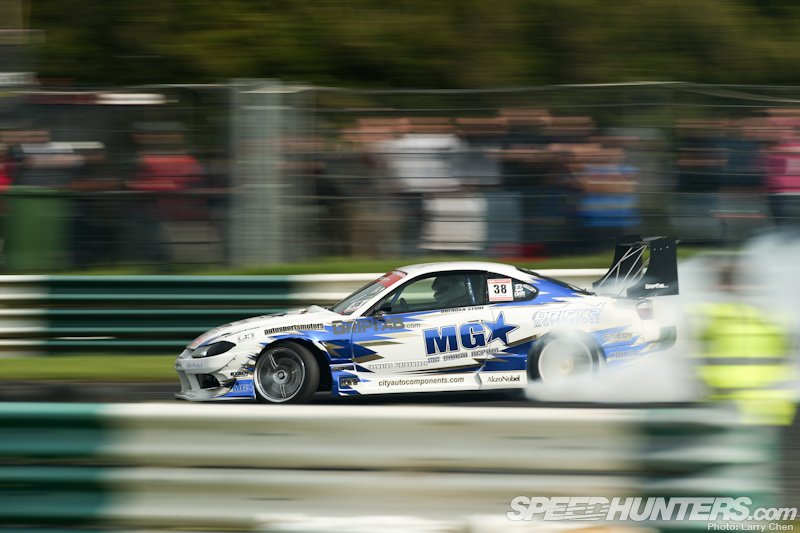 By beating Aasbo and making it in the top 8, Brendan had enough points to win the 2012 ProDrift Championship.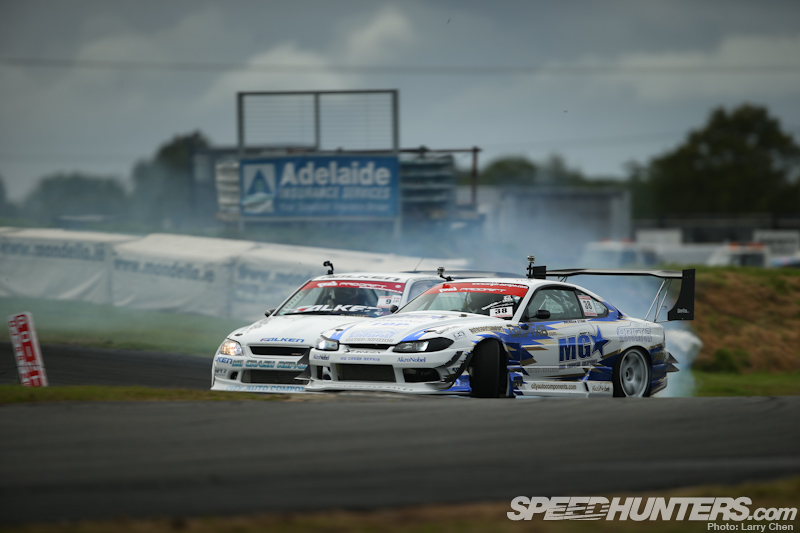 The final battle was between Daijiro Yoshihara and the new ProDrift Champion.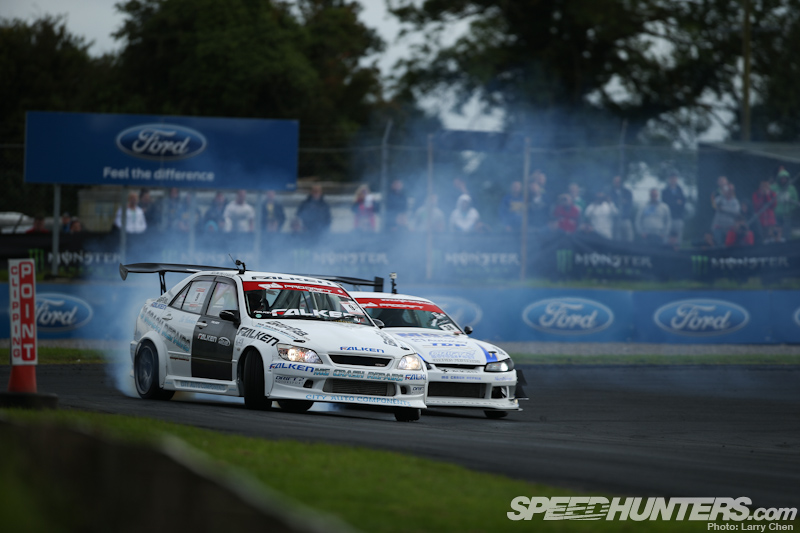 The battle was very close, and resulted in a One-More-Time. Unfortunately, Daijiro's Altezza had some mechanical issues. It was leaking coolant and the drive shaft was loose so they had to call  five minutes to fix as much as they could.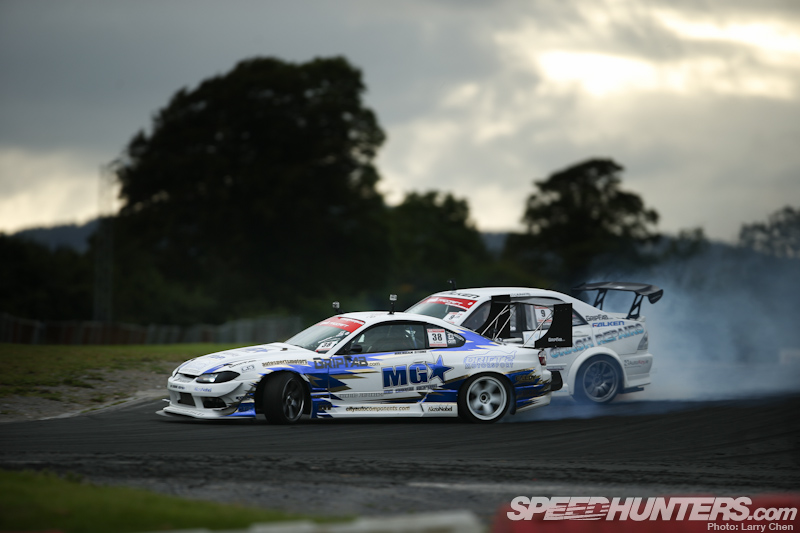 With the time ticking down the team only had a chance to address one of the problems and they figured it was a huge safety issue to have a loose drive shaft. Ultimately, Dai understeered on his follow run which gave Brendan the win.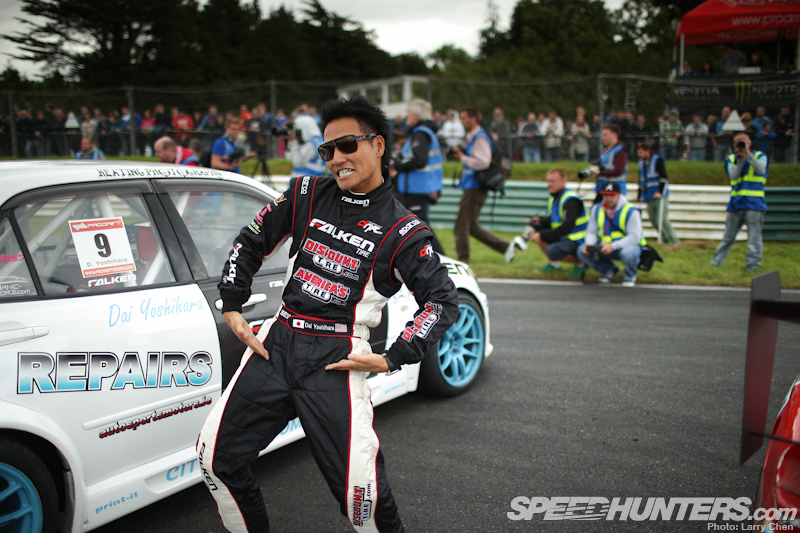 This was Dai's second time competing in ProDrift. Last year he was knocked out of the top 8 by Dmac, but this year he did much better.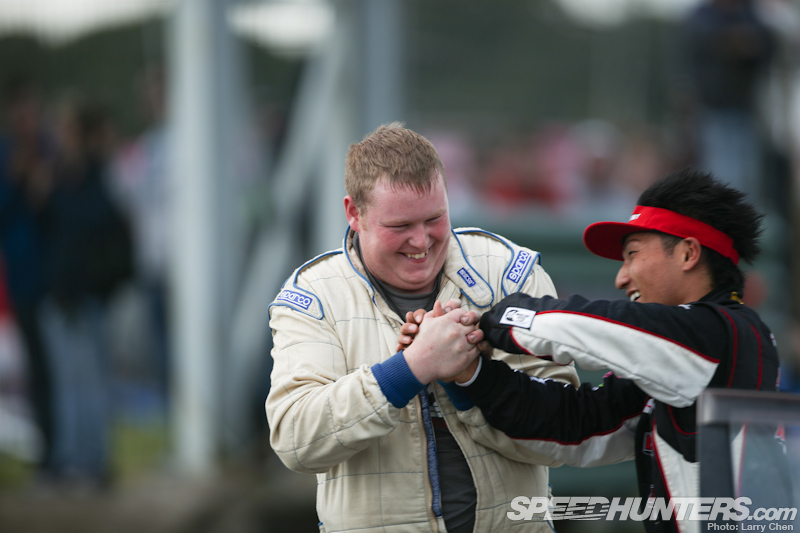 This was Brendan's first drift championship and I'm sure it will be one of many to come. Who knows, maybe we will see him competing in Formula Drift one day.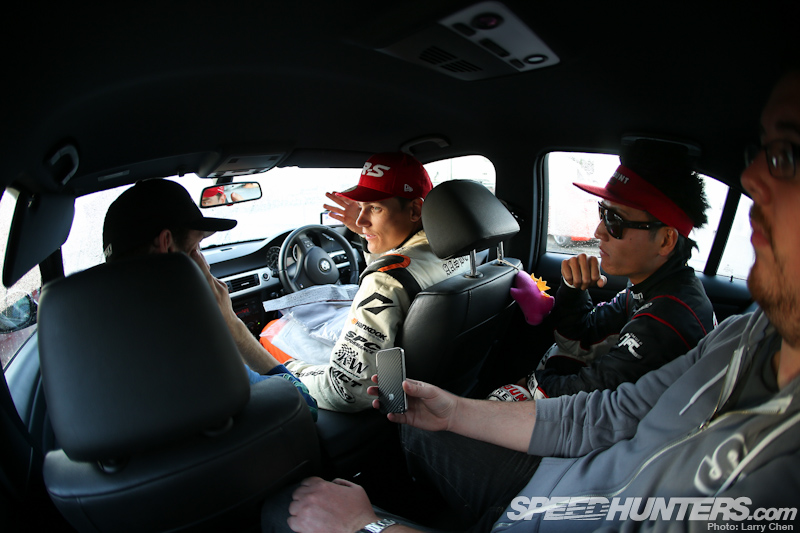 After the event,we interviewed the guest FD drivers about their event. You can bet we recorded everything. Keep an eye out for and interview with the three stooges.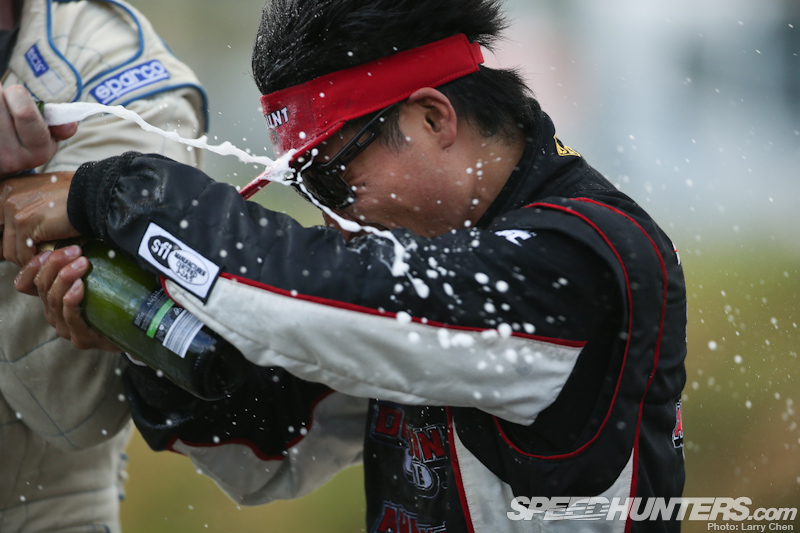 That is it for now.
Stay tuned for much more from Japfest including a 'spotlight-o-rama' and of course more from ProDrift.
-Larry
larry@dev.speedhunters.com
More stories from Japfest on Speedhunters
Is there any way you guys can speak to the Driftstream people and get them to do a couple of these european events?? Look what the stream has done for FD!! 
Hell, a feed from any Gatebil would be sick too!
What an epic event! The Speedhunters crew are a pleasure to deal with and the level of driving was amazing! 
I remember Brendan Stones first drift event in a yellow s14.5 back in 2009 i think?, to say he has come far is an understatement and a half. 
The only thing I thought was bad was the Speedhunters apparel price! Was it, €50 for a hoodie, Me being a sucker I bought one but seriously, everyone i was talking to said they wouldn't buy one because of the price of em! If they were 30-40 euro you probably would have sold double!
10/10 would go to again.
 @D1RGE EXE I think they tried to do it at ProDrift, but for whatever reason it did not work out.
@LeDerp Thanks m8! The hoodies are American Apparel. We decided to go for quality and style with all the products which is why the pricing is the way that it is. We could have done 'cheap and cheerful' but that's not really Speedhunters style :)
 @RodChong  @LeDerp Rod, American Apparel is good gear but wholesale cost on the hoodies should make retail WAAAAAAAAAY below 50 Euros. More like $50 USD. I did 8 years mass-producing clothing, if retailers didn't insist on a 200% markup, more would sell. I want one bad but if they are 50 Euros then that will make them $85+ in USA. LOVE speedhunters but gat DEMM is that a lot for a hoodie. Would be easier and cheaper to have a personal one screened.
 @RodChong  @LeDerp I thought the same at first, but bought the hoodie and 3 t-shirts and afew stickers and payed for and ordered the amazing book and glad i did , yes the quality is good. But in this day of the internet we read and enjoy this site for free, so a few euro extra for a hoodie or a t-shirt  to show your support for speedhunters  amazing work, which we all enjoy a lot let's face it is no big deal, after all they also support Aasbo, yoshiara, D-mac which is an added bonus for us,  so well done to all envolved at japfest 2012, hope you are back for 2013...
On the clothing side, buy 1 size larger than you normally take....
is speedhunters apparel only available at events, or will there be an online store at some point?
@D1RGE EXE @LeDerp It's worth noting that our clothes are not mass produced. They are very limited run numbers.
@D1RGE EXE @RodChong @LeDerp Dont see the point in this post, you go into a retailers and everything you get, you pay for, you come on here to speedhunters and everything you enjoy is FREE, if you enjoy the site, "support it"