It's time wrap up the InterClub coverage from this past Sunday now as we take a final look at some more cars that were roaming the paddock that day. I would have loved to do a second Spotlight-o-rama but with constant sessions and everyone moving around it was tough, so I think a final general look will be a great ending to what was a fun day out.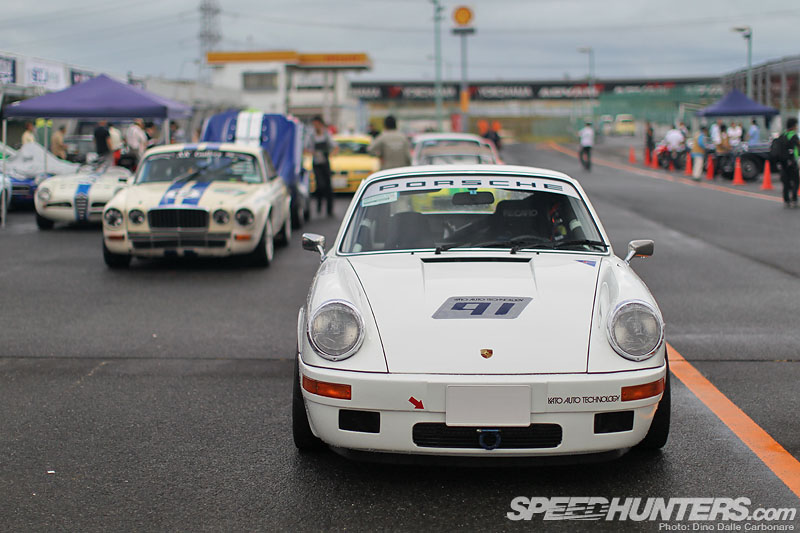 It's a good way to show once again the sheer variation of rides present…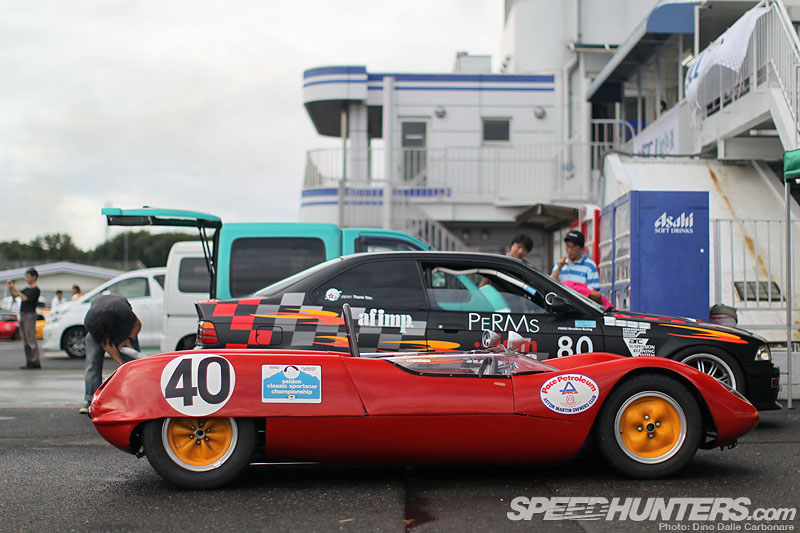 …all awesome in their very own way. Take this pocket-sized Lotus 23B for example, approaching performance from the purest of Colin Chapman's ideologies, which of course called for extremely low weight and compact size. I think the highest point of the car was as high as the tires on the E36 next to it!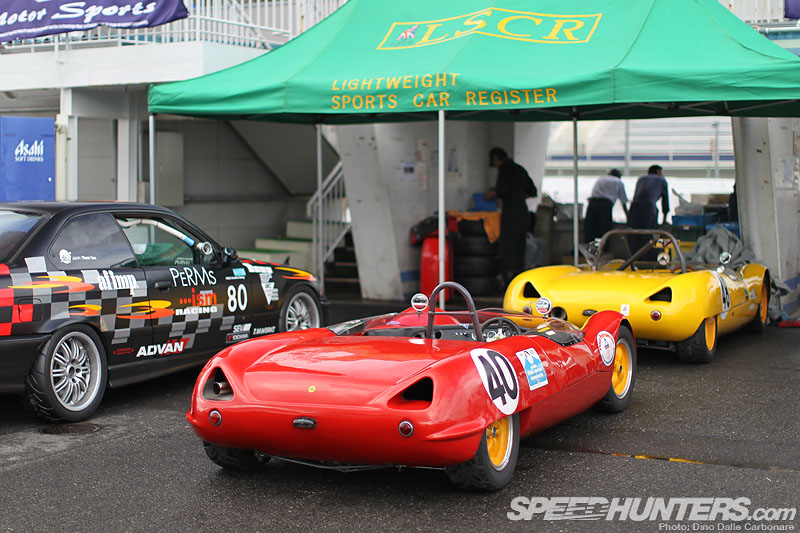 It was one of two cars rounded up by the Lightweight Sports Car Register (LSCR).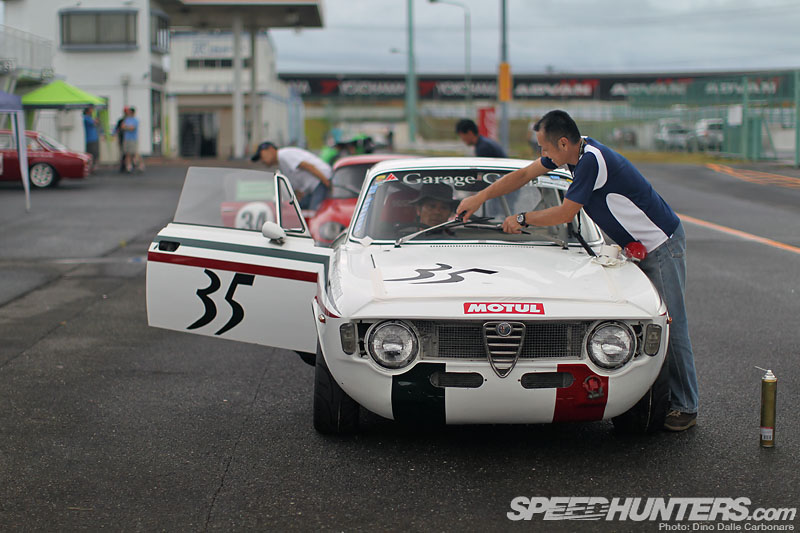 For any lover of Alfa Romeos, Tsukuba was the place the be on Sunday and it's where I got a quick crash course in the history of the 105/115 series Giulia which began back in the 1963 with this stepped nose, twin headlight version styled by Bertone (by Giorgetto Giugiaro).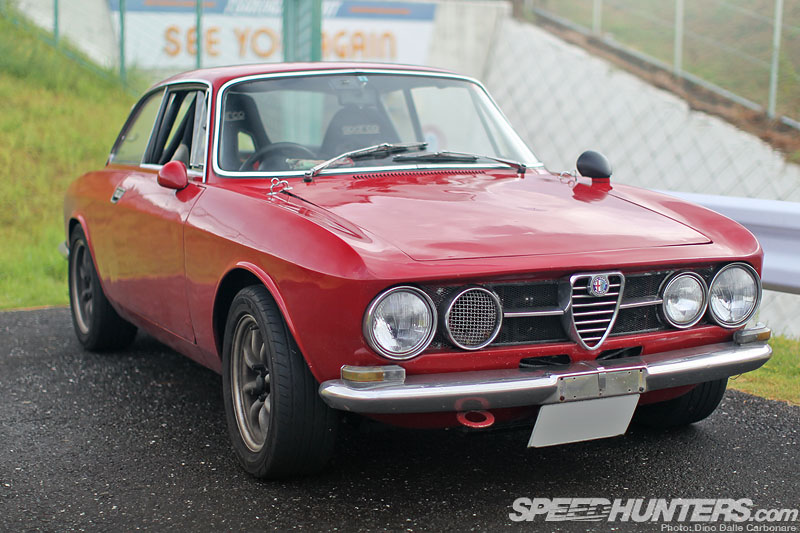 A variety of versions were made and then later the 1750 GT was released, an evolution of the original Bertone design but now sporting a smoother nose and a quad-headlight set up. Later on the 2000 GT with the bigger 2L engine was also released. As you can see here for those that like to hit the track the quad-headlight can offer some cunning additional air intakes to help feed velocity stacks…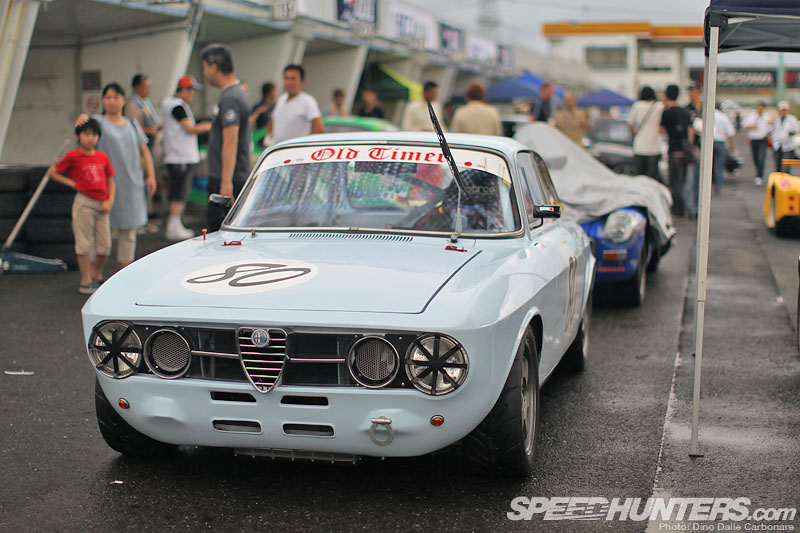 …or the exhaust side of the engine too!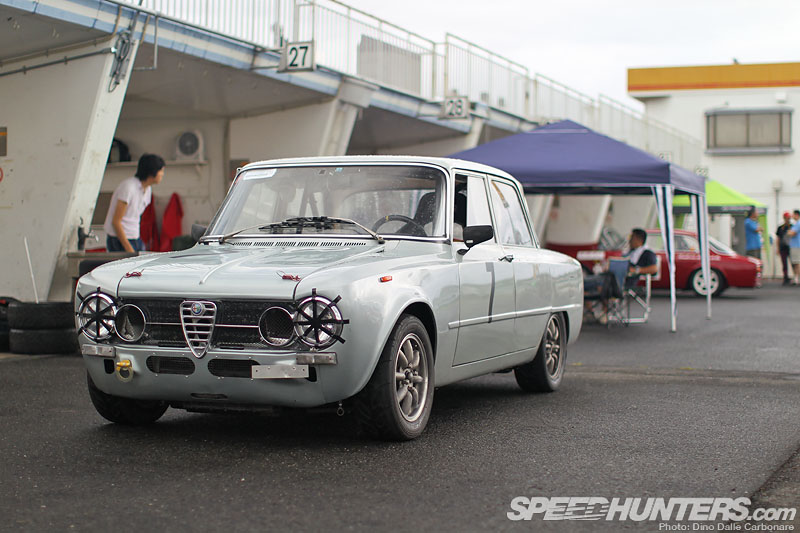 The sought after coupe is based on a shortened Giulia Berlina (berlina means sedan/saloon in Italian) platform, a car that to a lot of Italians is usually referred to as the Police car…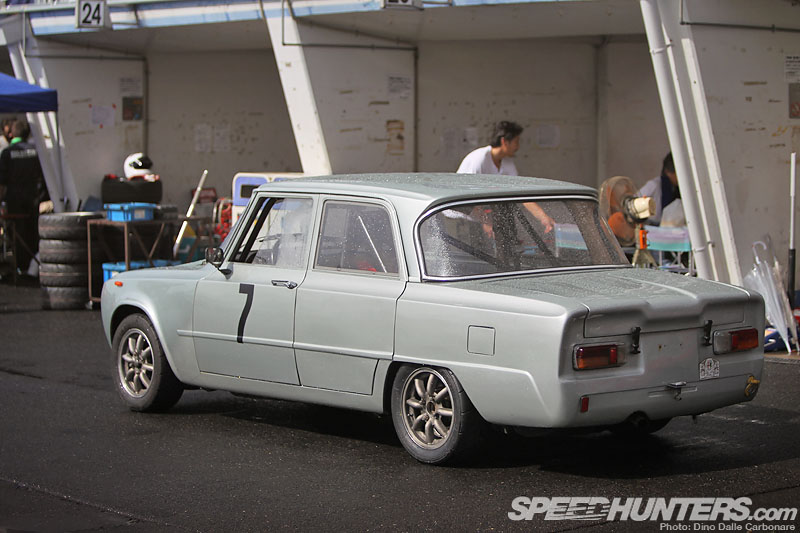 …as this is what the Polizia and Carabinieri used back from the late sixties into the seventies.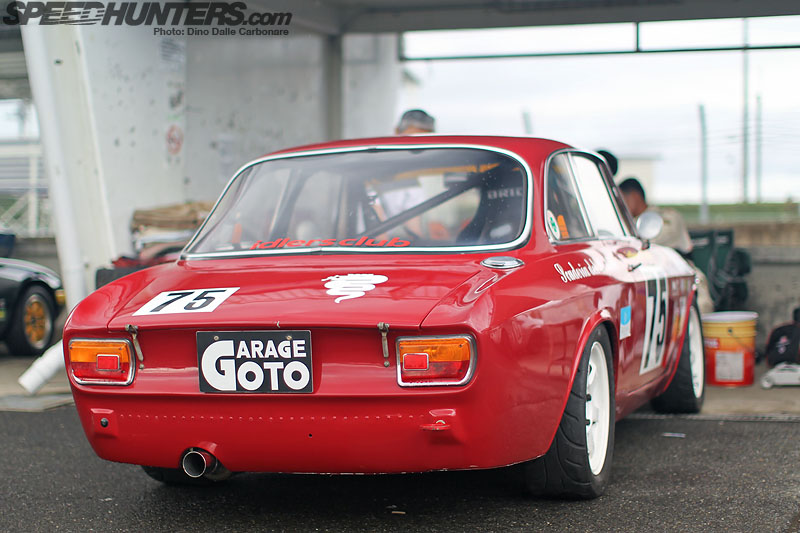 The Garage Goto demo car is built on a first series GT, which also has smaller taillights. Goto-san has taken a great deal of weight out of the car by stripping it completely and in some areas, like the front section, replacing metal with lighter FRP.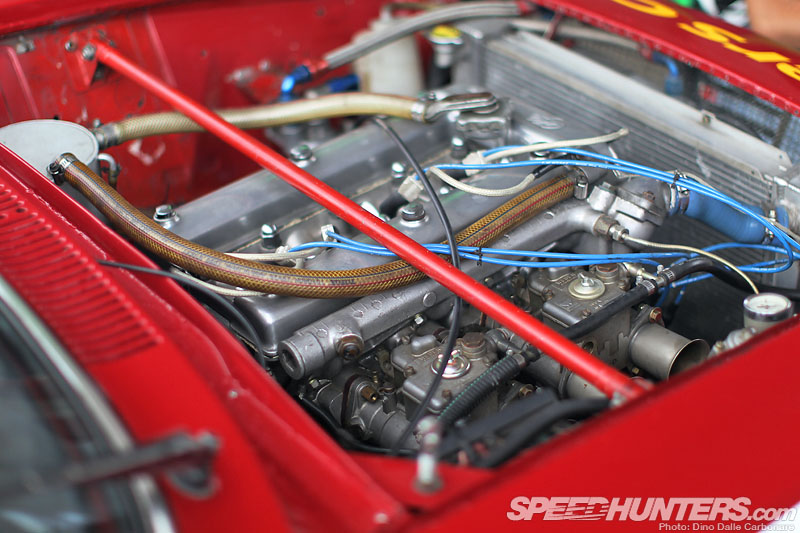 The larger 2L engine is used and sports a custom made bottom end which Goto-san designed and machined himself.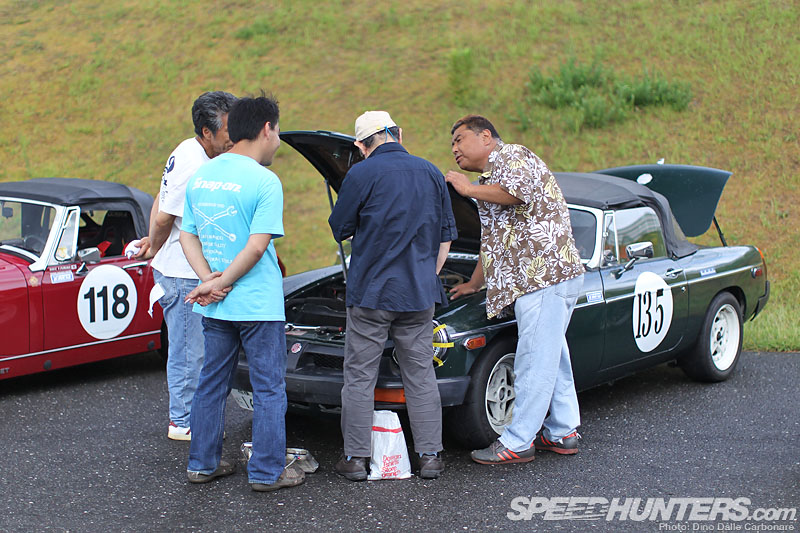 The Alfa Romeo class was pitched together, as you can see in the opening shot, with the MG guys. The above picture is the perfect example of what the InterClub days are all about; a bunch of car guys meeting up to do some driving and chat about their rides. Bliss!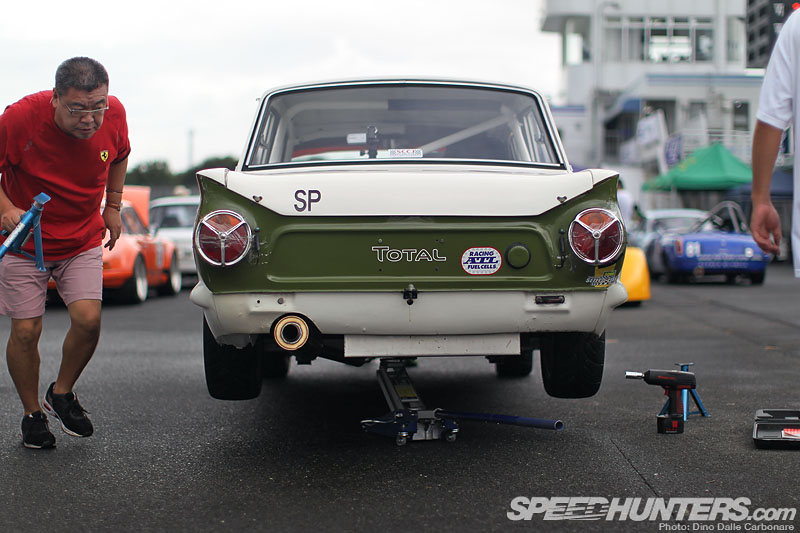 Here is another image of that awesome Lotus Cortina, getting a new set of wheels fitted before going out on a still very slippery course.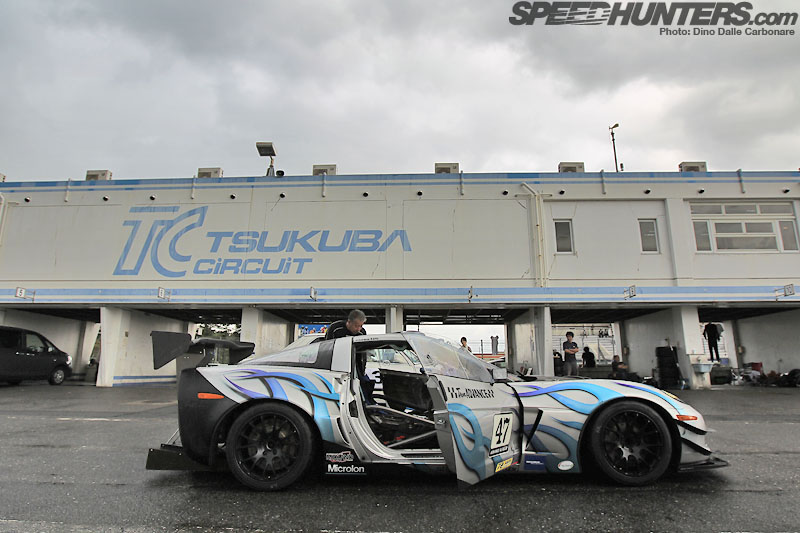 If you remember, this Advance Corvette is one we have seen a few times before at Super Battle events in December. The Advance guys were out with a few of their customers and brought their demo car along for a few hot laps. Despite running on slicks in slippery conditions it seemed to have ridiculously high levels of grip, no doubt helped by all the wild aero it wears.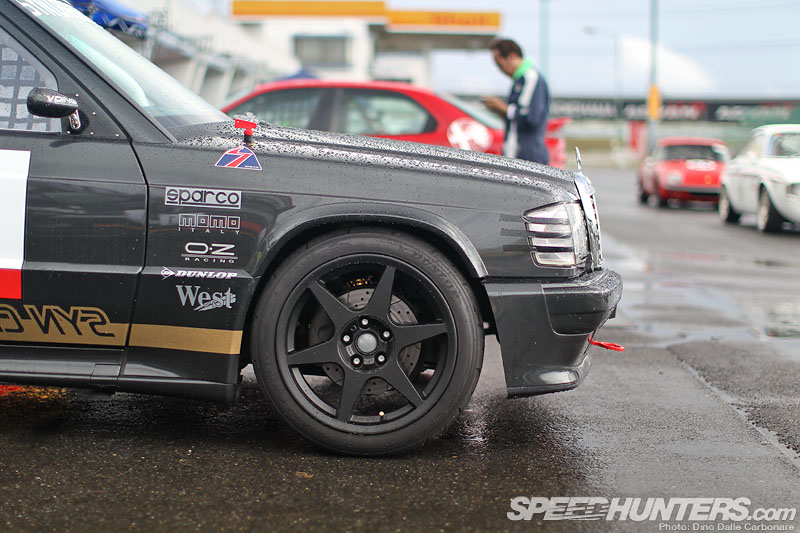 And variety is indeed the spice of life because from a Corvette on one side of the paddock you could walk past a couple of Lotus, a few Alfas a Mercedes Benz 190E 23-16…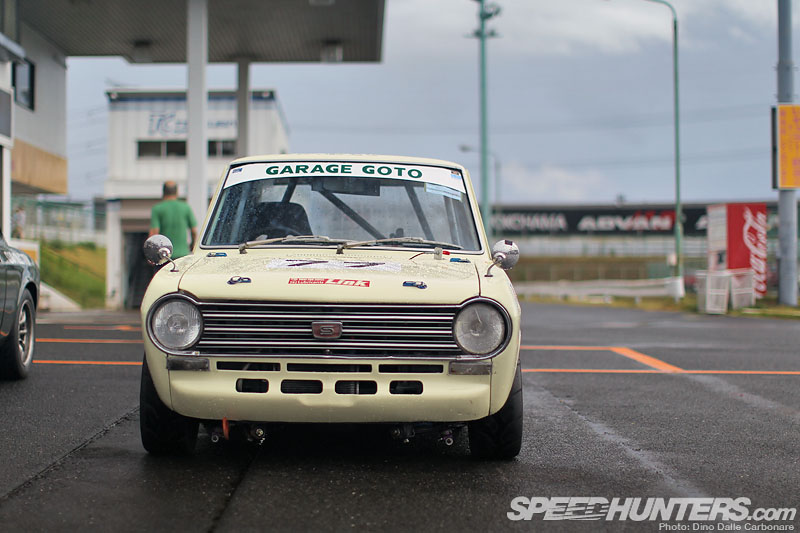 …and end up finding a Datsun Sunny1000! This car we have seen before at Idlers events and is another creation from Garage Goto.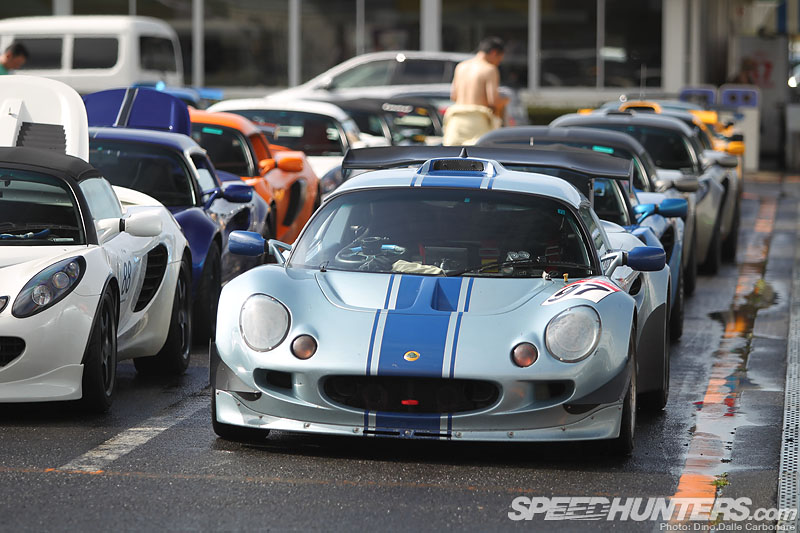 With so many Lotus Elise entries the InterClub always runs a separate Elise Cup race, where you can see some of the closest racing of the day. The InterClub series has a total of 44 car clubs as members so depending on which event you check out…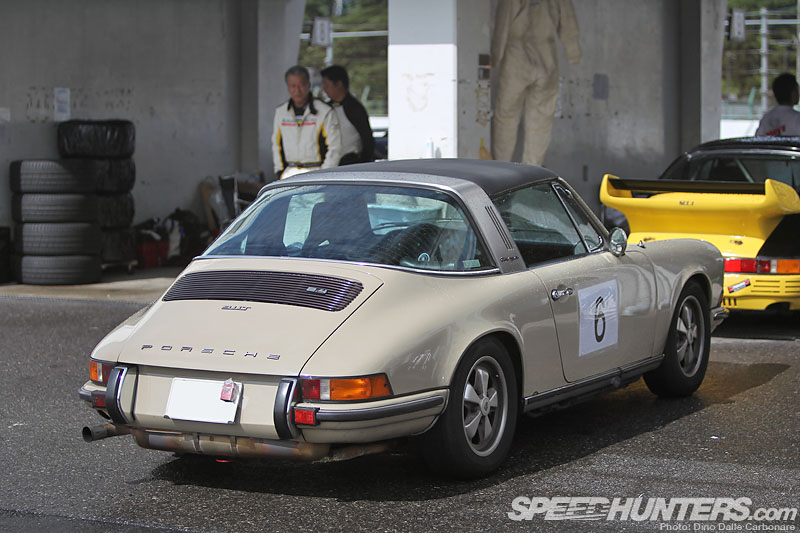 …there are always cool new cars to see along with the regulars that never miss a chance to race.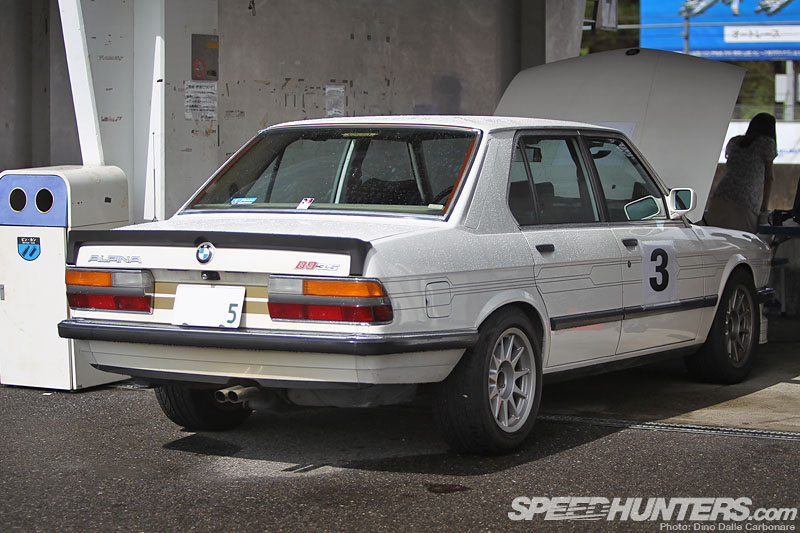 I thought this Alpina B9 3.5 was a very cool find. Japan is probably one of Alpina's best markets so it's not a big deal when you see one of the newer models roaming the streets, but for more classic examples like this I tend to get excited. Didn't do too bad out on track too!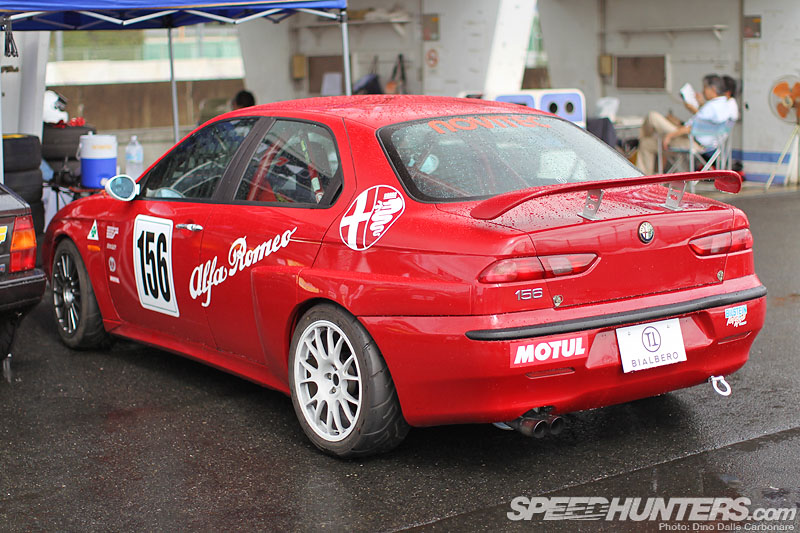 Some of you wanted to see more images of the widebody 156 from Bialbero. Well here  you are…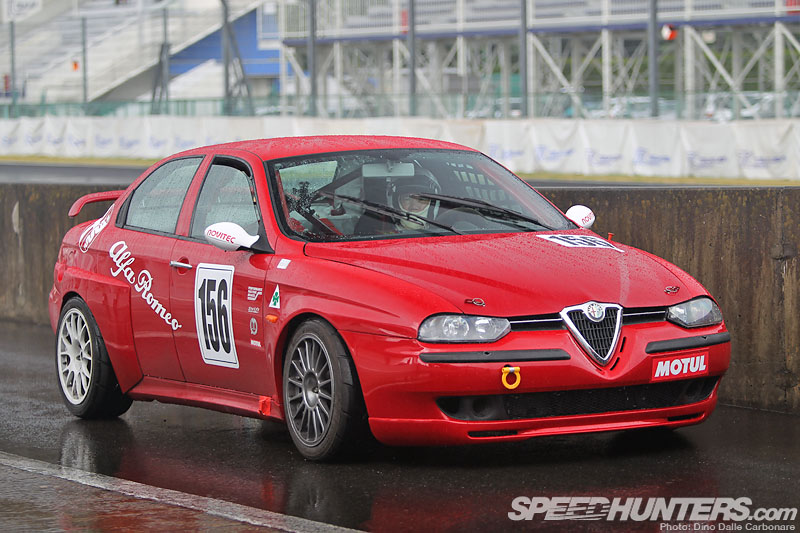 …the car in all its glory!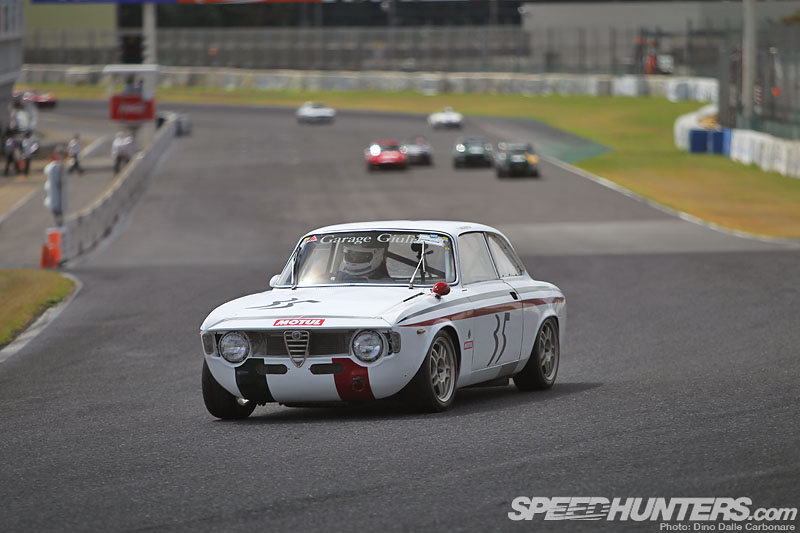 One of the best things about Japan in general is that car enthusiasts, no matter how valuable their cars may be, like to drive them and the races that InterClub organizes throws in some exciting competition into the mix.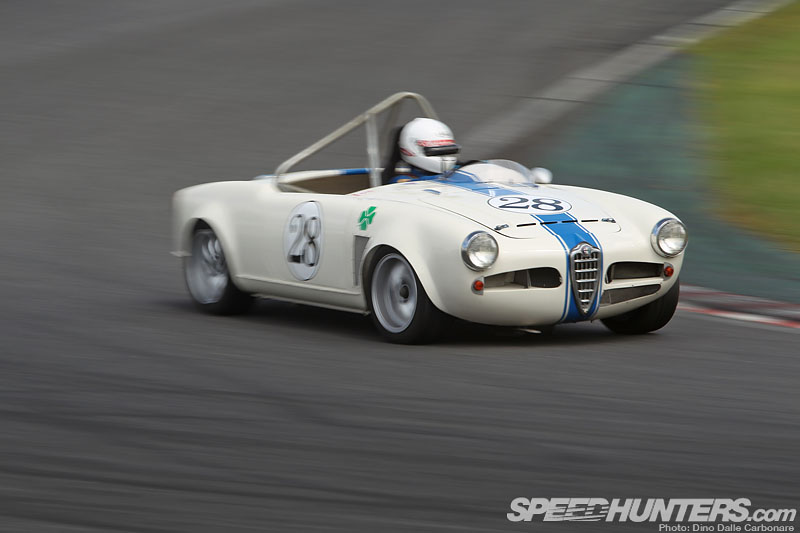 For the onlooker this is great too as we get to witness stunning cars like this Giulietta Spider race car in action.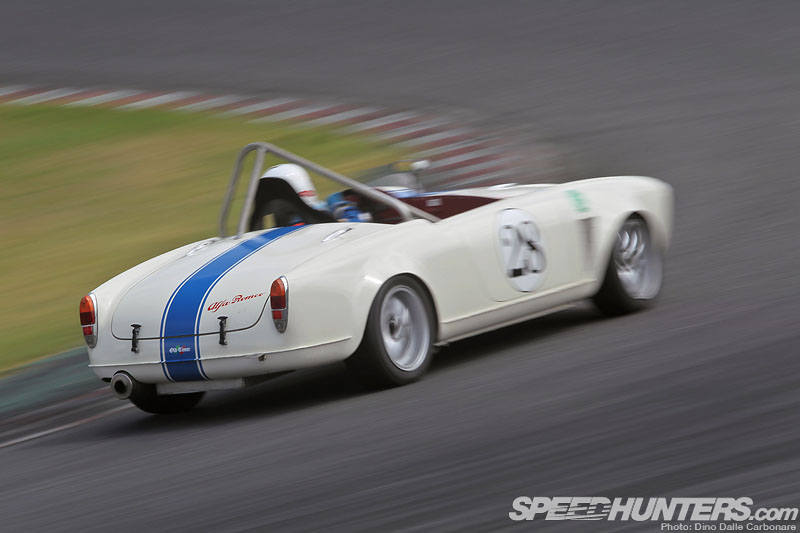 Beautiful simplicity.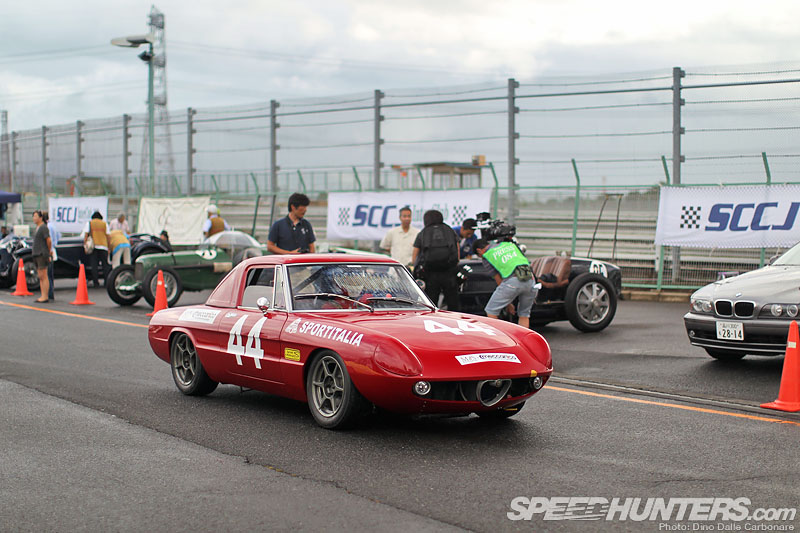 And on the subject of open-top Alfas it was this particular Spider everyone in the paddock was talking about. The whole body of this car has been recreated in FRP…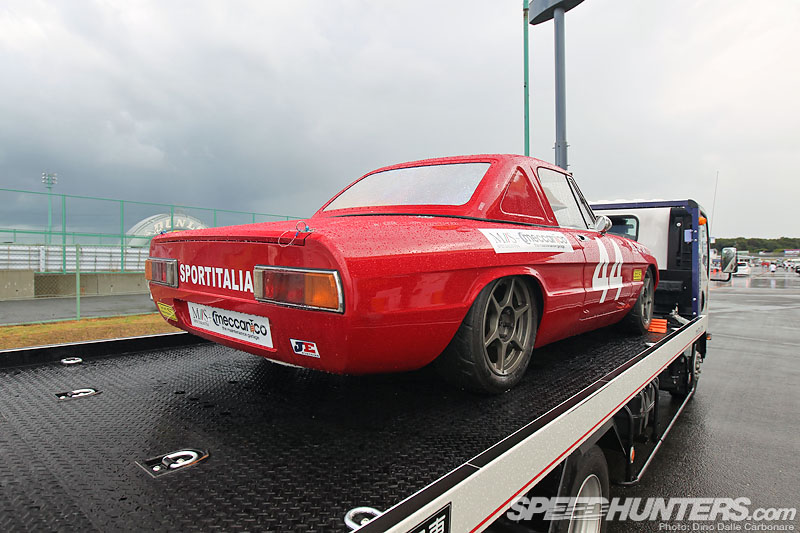 …so it hits the scales at something like 750 kg. It's no wonder it's pretty fast around Tsukuba!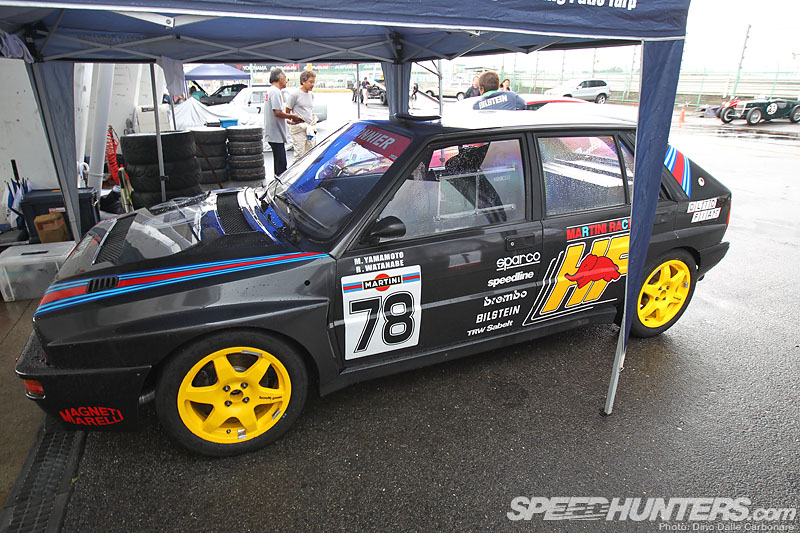 What would a track event full of Italian cars be without at least one "Deltone." Deltone is what in Italy we call the Delta Integrale, and it literally translates as the "Big Delta" meaning the top of the line AWD model. It's amazing how awesome these cats still look. There would always be space for one of these in my dream garage, even if it had yellow wheel!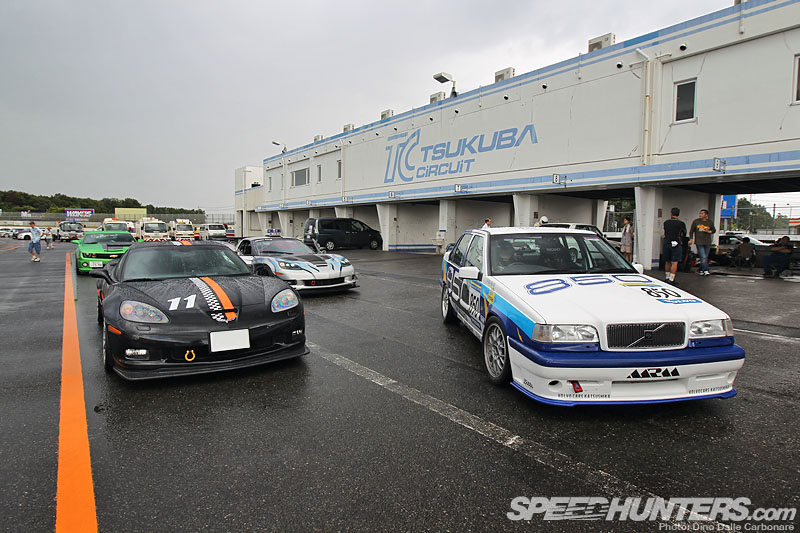 A Volvo 850? Hell yes, and stripped out and in full race trim too!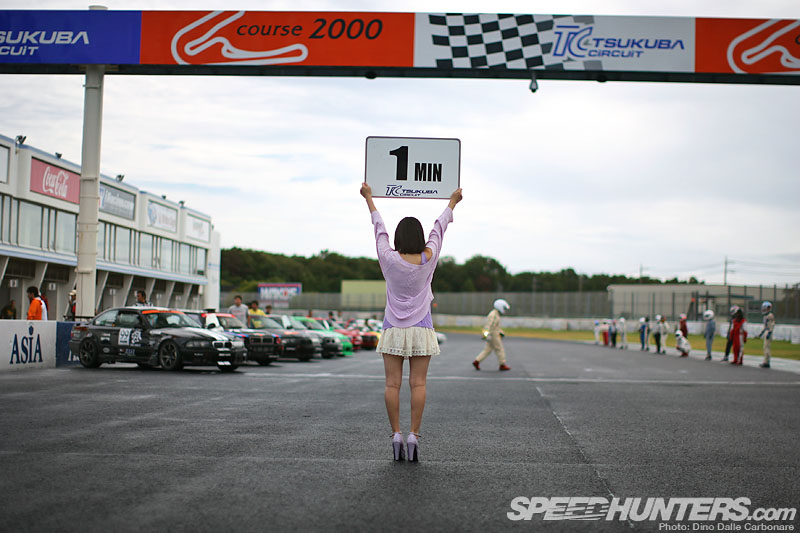 With all the shorter sessions and class races wrapped up the day ended with a 2-hour endurance race with no restriction on entries. So along with cars like E36 M3s and the Integrale we saw a few pictures up where older cars like the Giulia Berlina and the Garage Goto GT.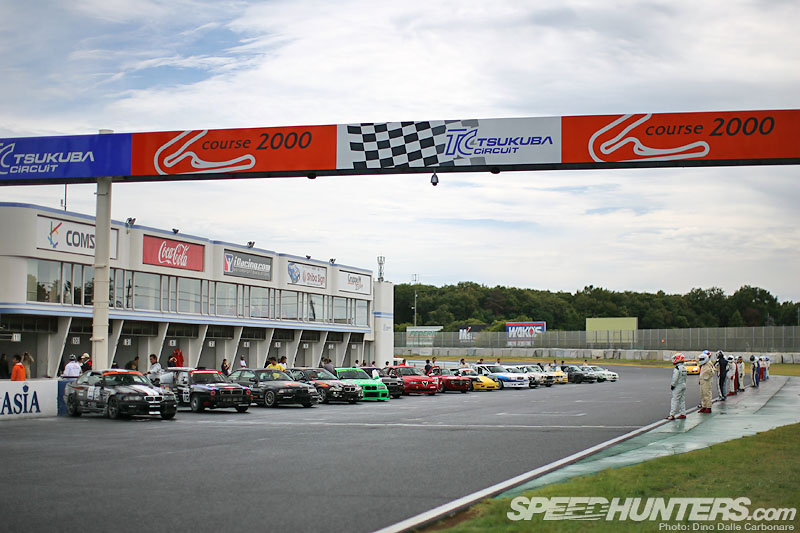 The race start was done out in true oldschool racer fashion with the cars lined up along the pit wall and the drivers having to run to them, strap themselves in, turn the engines on and shoot off down the remainder of the home straight. Very cool indeed!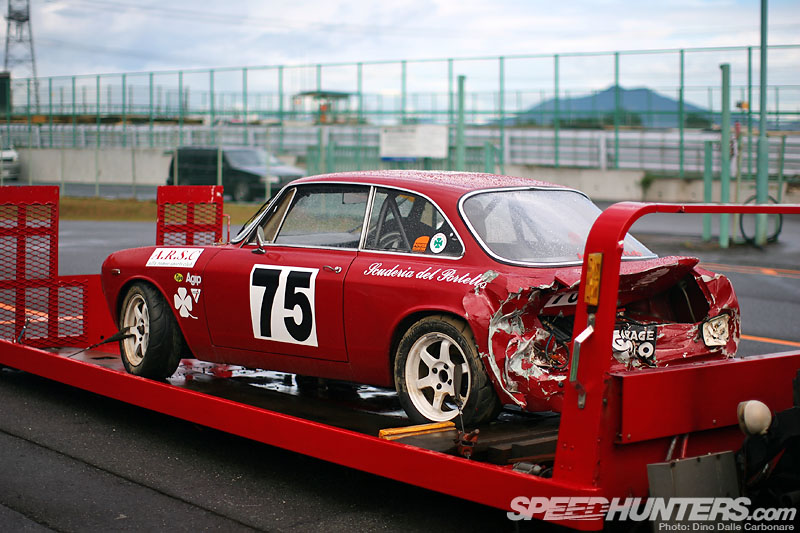 This is a painful reminder that no matter how much fun racing car be it is still very dangerous and usually what can go wrong may actually do so. Fortunately Goto-san didn't get injured in this nasty crash as he wasn't in the car itself when it happened. He ended up in the kitty litter, left his car there and then someone crashed into it. I really hope he can fix it, as it's a one of a kind machine!
That's about it from the InterClub in Tsukuba. I've prepared a nice selection of desktops, so scroll down and download a few!
-Dino Dalle Carbonare
---
---
---
---