Approaching the Rudskogen Motorsenter it was clear that there was something unholy going on in the forest. Turning off the main road, smoke was rising over the trees and there was a terrible howling coming from the other side. Something – many things – were screaming in torment.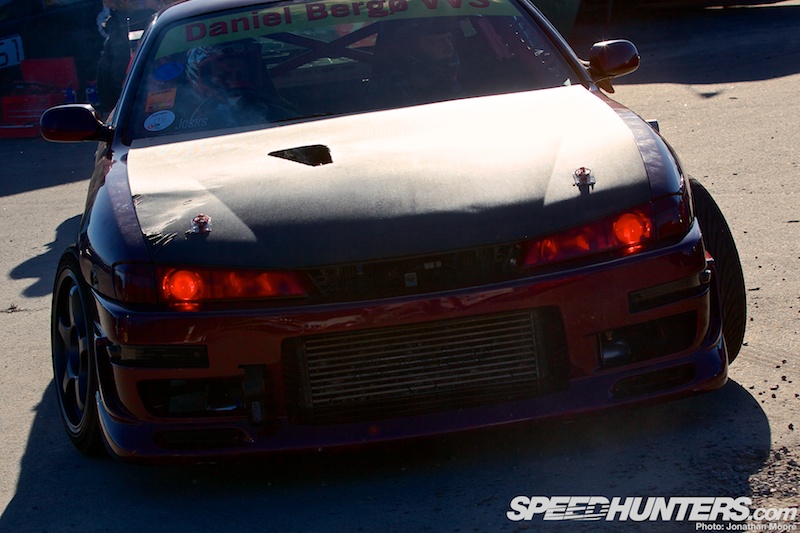 Tortured souls; glowing eyes; wailing banshees. Was this a place I really wanted to visit?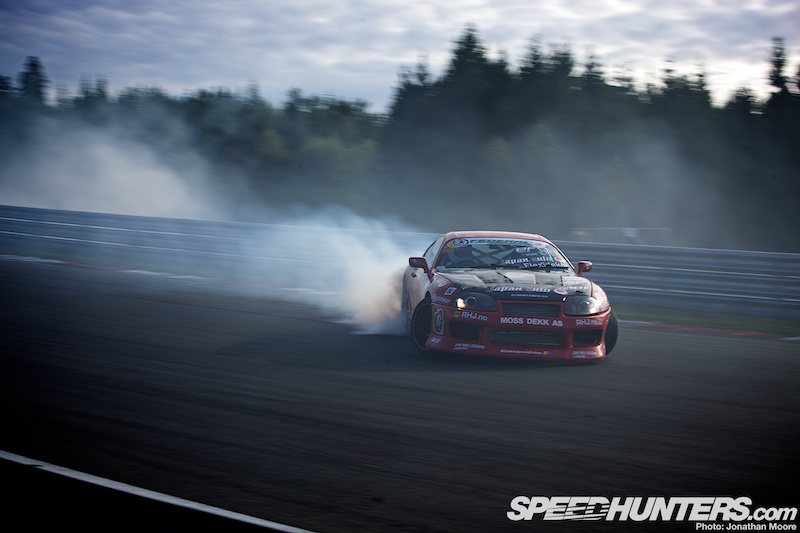 Oh yes. Very much so.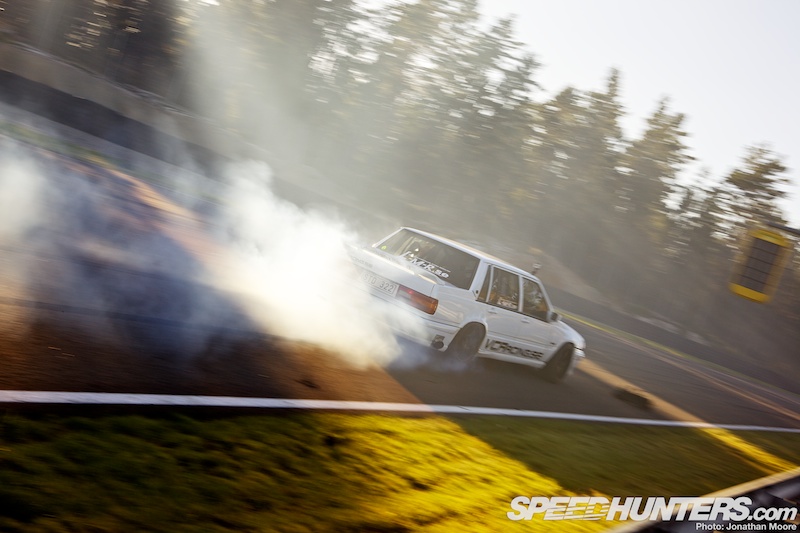 This was my first visit to a Gatebil show – and certainly the expectations were high after the eulogies of previous Speedhunters visits – but this would be to the more low-key, season-closing September event. The crowds might be smaller and the number of cars on-track apparently less than the Summer gathering, but from my experience that just further proves the quality of Gatebil.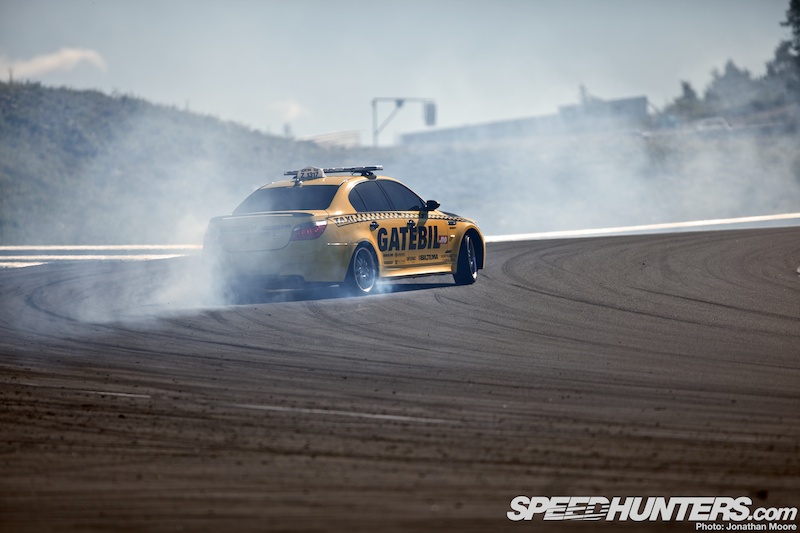 Gatebil is everything you've already been told about, so I'll try not to dwell on the sensory overload and sheer insanity of the place. Too much… However, it is a wholly mind-altering experience. Driving down the long country road to the track entrance, I was reminded of the drive to the Road Atlanta track in Georgia – but not just the trees and topology, more the fact that I was being passed by dozens of vintage American cars. Going in the other direction to Gatebil. They weren't even going to Rudskogen, apparently. They were just hanging out. In Norway. It makes no sense, but you just have to get used to that.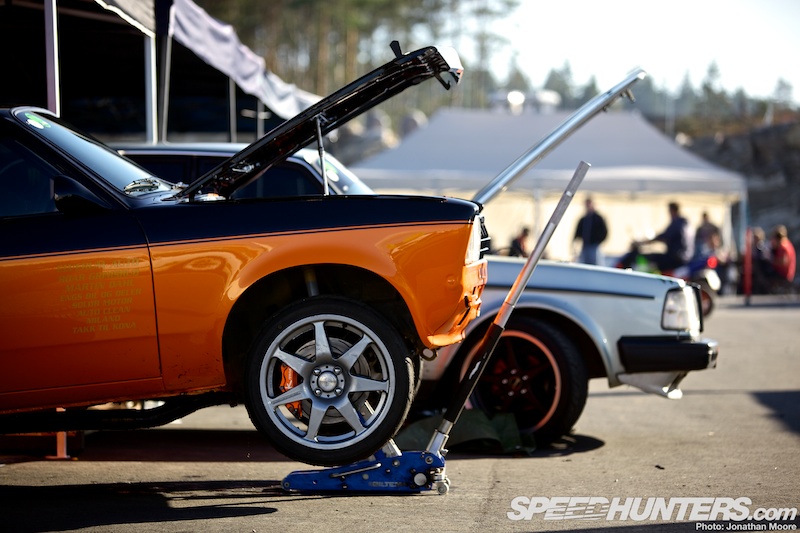 It's the same in the paddock. Virtually nothing is what you expect and rarely anything is stock – it would of course be heresy and you'd be burned at the stake. Or on one of the many barbecues at any rate.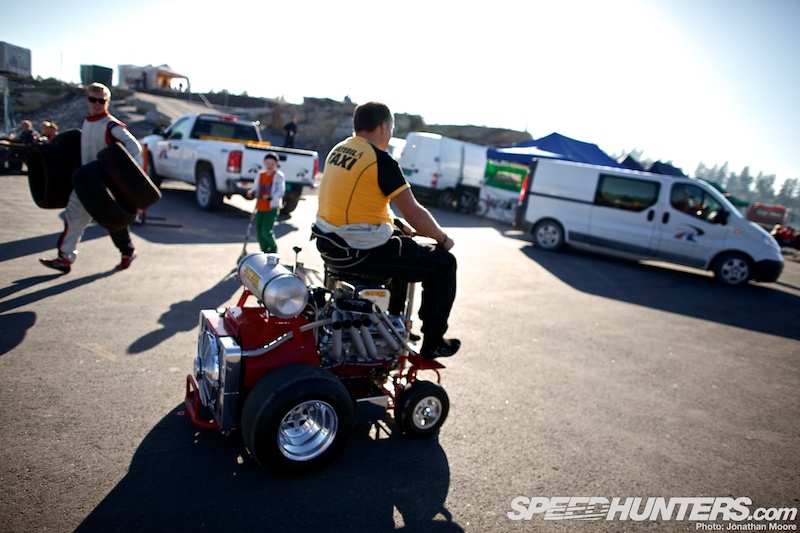 Look at any car, and it's a dead cert that what is under the hood has nothing to do with the chassis. It's like playing hide and seek with engines. BMW with Toyota, Opel with Corvette, Nissan with BMW, Volvo with Ford, Caterham with Saab, barstool with a V8…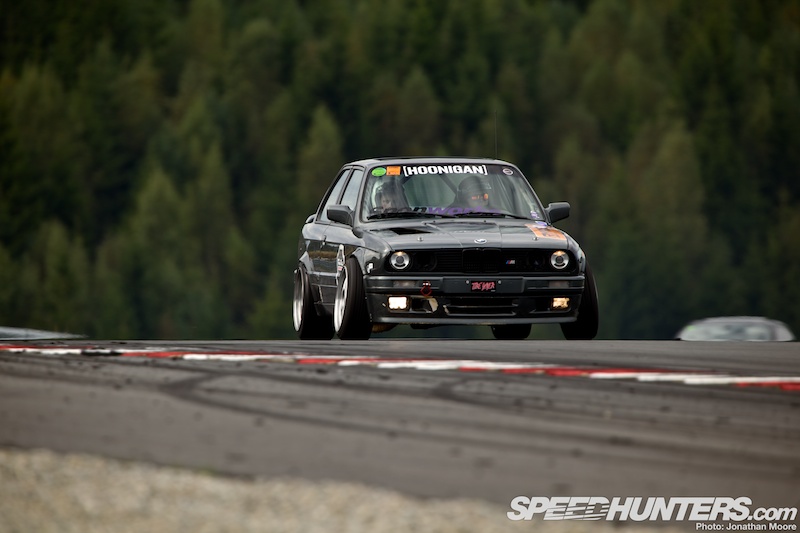 Although some cars come cambered to the extreme, a large number seem to focus on lock – and then the rest on pure power.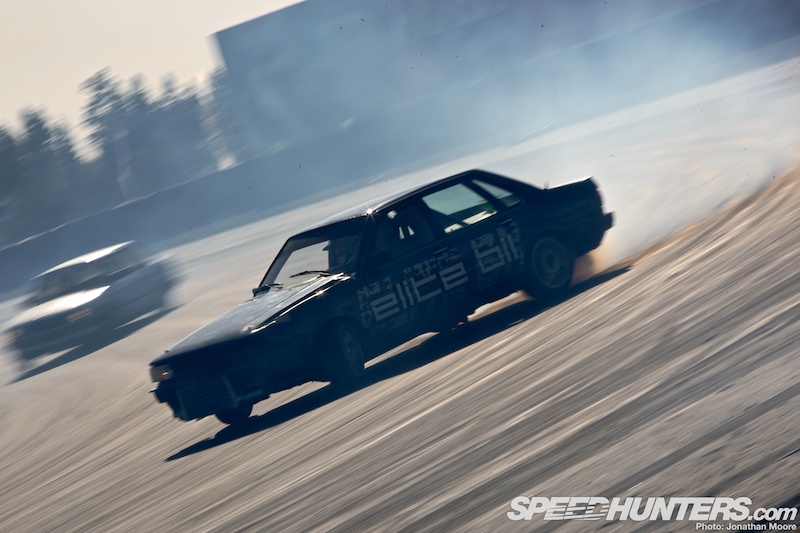 The only thing that's more or less guaranteed is a turbocharger of some kind. In fact, if your horsepower levels aren't approaching face-melting numbers then it's hardly worth coming out to play.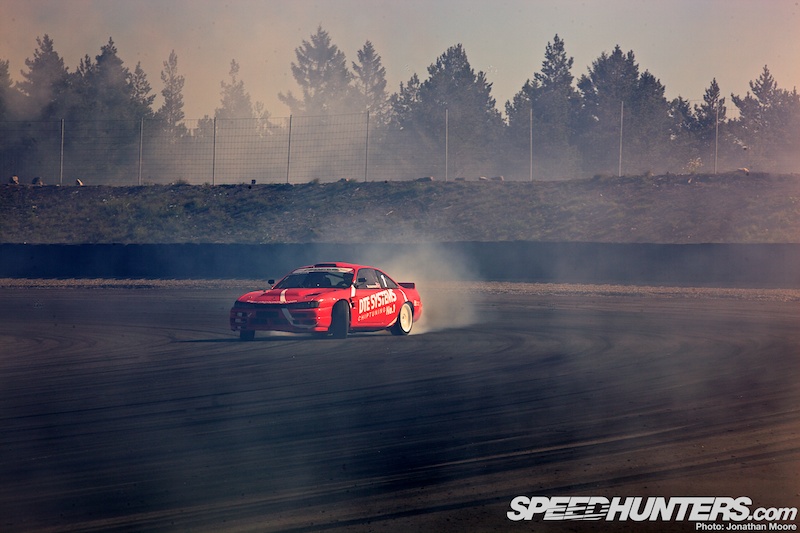 A car with 350-odd horses under the hood gets sniffed at. After all, what can you do with a mere 350hp? That's three hundred and fifty horsepower. Most seem to push out supercar-levels of power.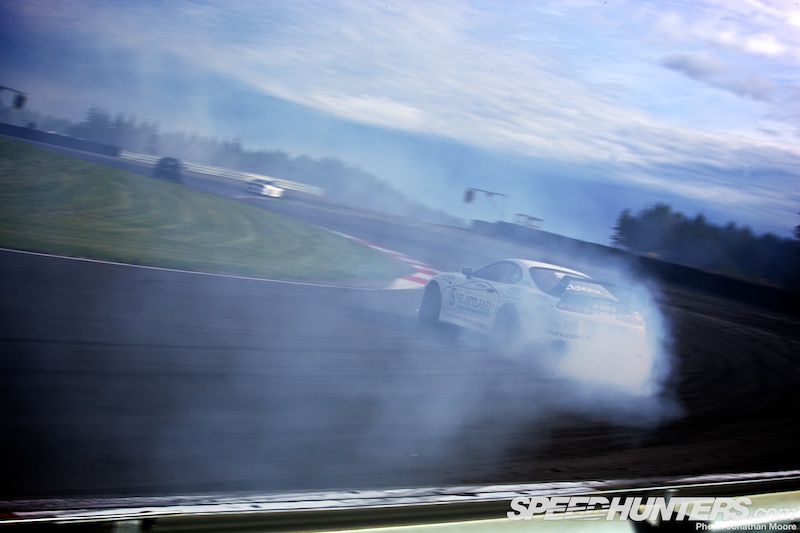 But these cars also handle: they're no pillow-queens. Norway might only have a population of five million, but it seems that everyone at Gatebil not only knows how to wrench, but also build a car from scratch and then to drive it to the absolute limit. Birth, school, drift, kill car, repair, drift, kill car, repair – repeat ad infinitum.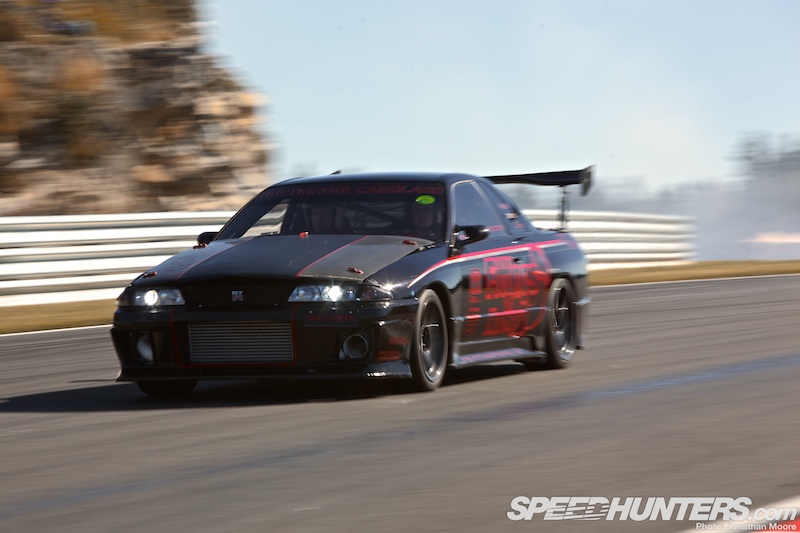 I've never been to an event based around performance cars that has been so impressive. It's the emphasis on performance that is important: looks are secondary to an extent, but that's not to say that effort isn't put into the aesthetics. There are some incredibly clean cars.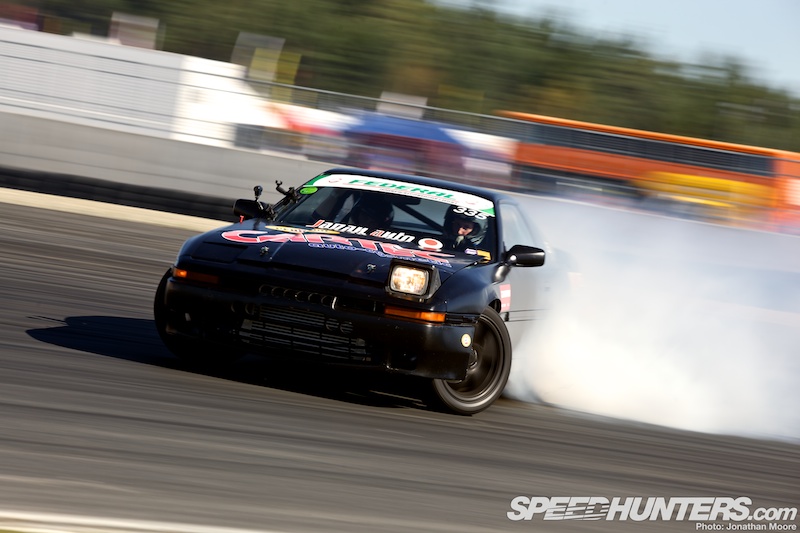 There are three noises that are inextricably linked with Gatebil: the whooshing of turbochargers, the constant squealing of tortured rubber – and the thump-thump-thump of a car limping home with a dead tyre.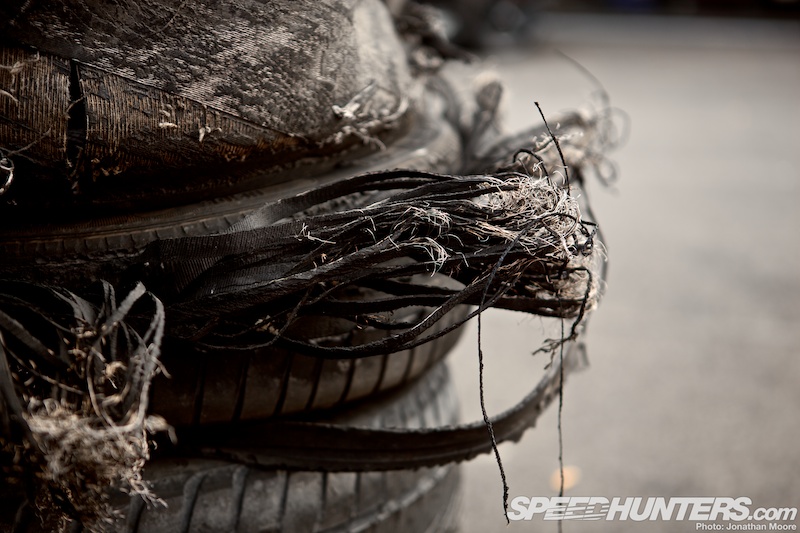 Forget the petrol crisis, is there enough rubber in the world to support Gatebil?! The quantities of rubber that drivers go through is frightening: dozens of rears will be burned up by even an 'average' car – though the term is virtually redundant when discussing Gatebil – and the harder-driven cars with deep-pocketed drivers could easily destroy 30-40 rears over the weekend.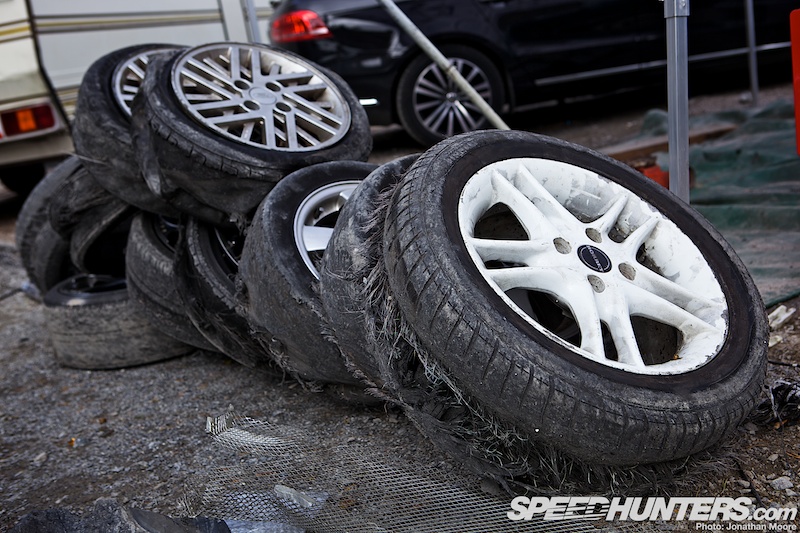 They're certainly not going to run out of supplies for the barriers, that's for sure.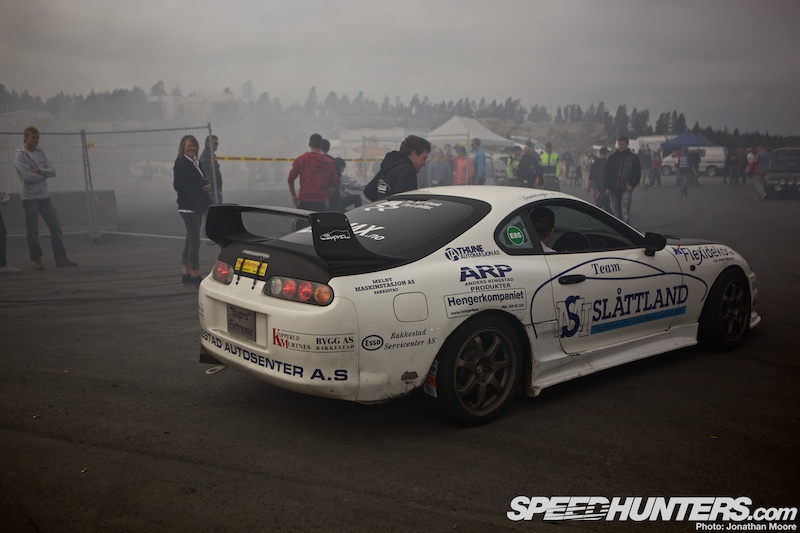 Out on track the tyre counter is ever-clicking at a regular rate; in the paddock's drift circle the counter spins at an insane rate as cars donut around the daunting, concrete-lined circle. Some people turn up just to run their cars in the arena!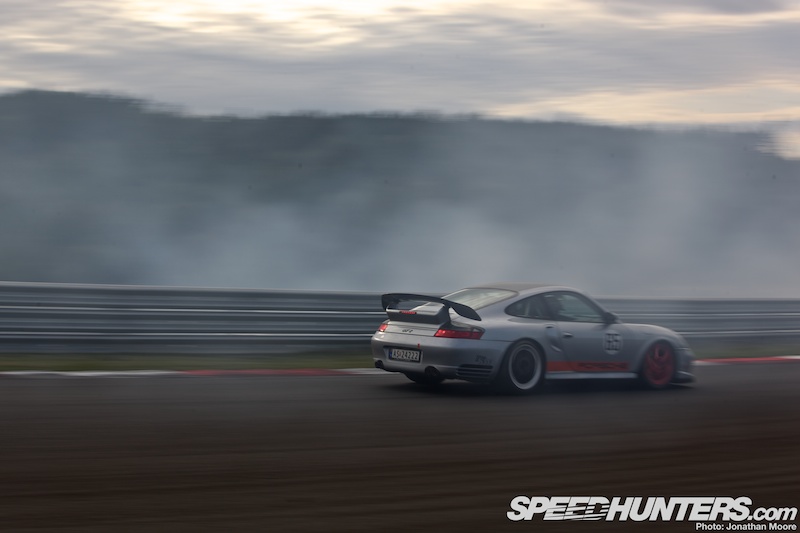 This is no cheap weekend: between rubber, fuel and damage the budgets can be enormous. And these are not professional teams with a cash incentive to compete. These are predominately just passionate fans of fast cars who make the most of the three weekends a year that are presented to them.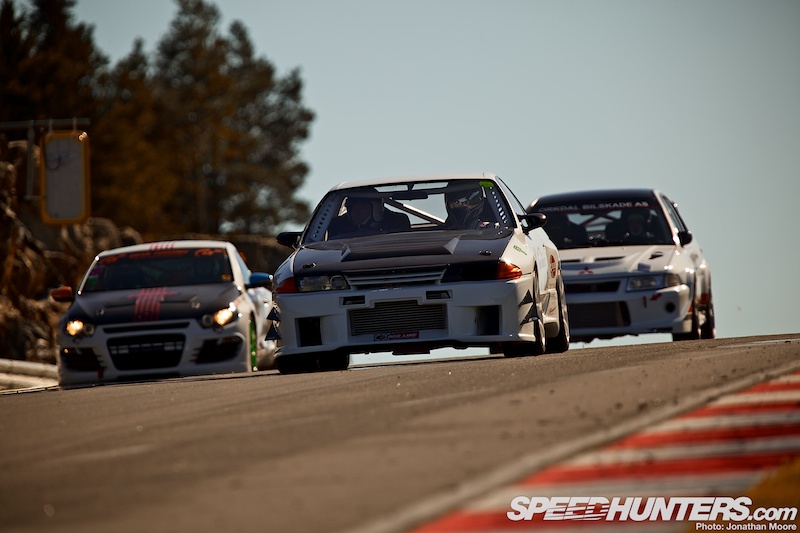 Three weekends! It's incredibly to think that some of the machinery here is created and run solely at the three Gatebil events.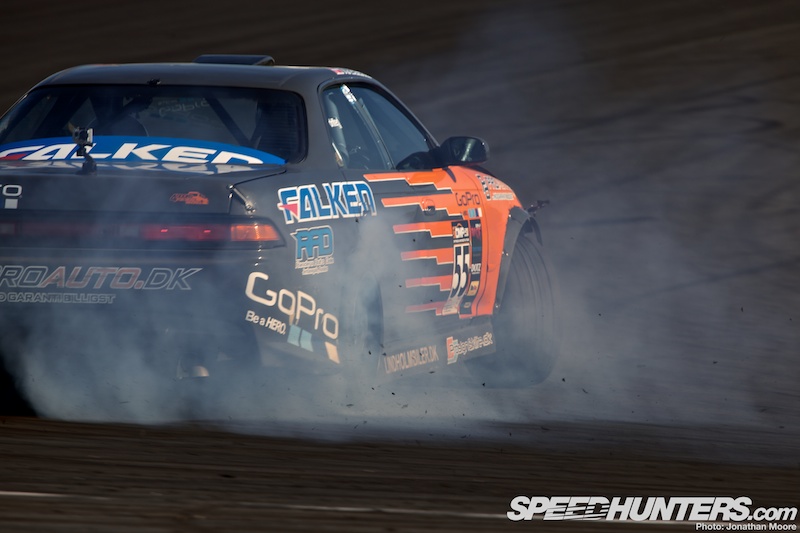 It's the same with safety. There's a Gatebil spirit to it. I want to make clear that the event is safe, there's no question. Racing at the Nordschliefe, much as I love it, is not safe. Here, there's a refreshing belief in people's ability to take care of themselves, rather than relying on Health And Safety procedures to see them through. You take responsibility for the safety of others: what you do to yourself is your problem.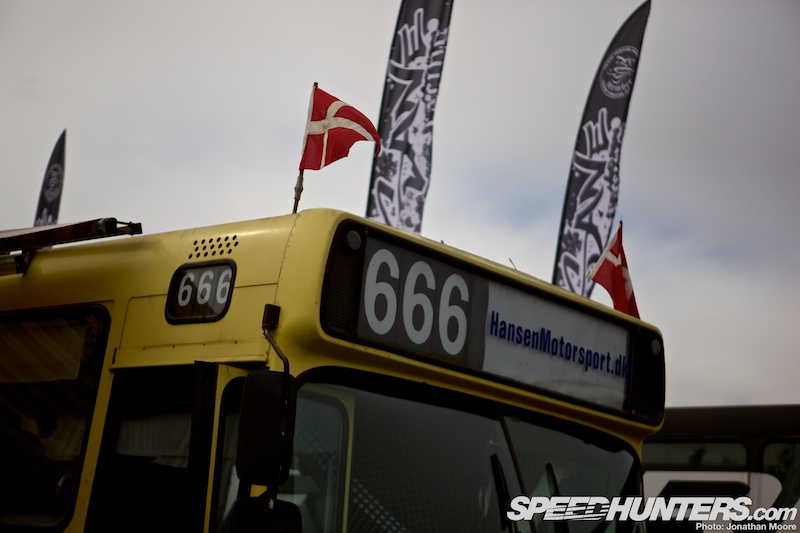 This is only a good thing, and applies to everyone at the track: competitors, the spectators and the media. After years of seeing 'seasoned' professionals throwing around disapproving looks (I wouldn't stand there, mate), it was refreshing to have a track with completely open access all the way round and its own relaxed but sensible take on how to run an event.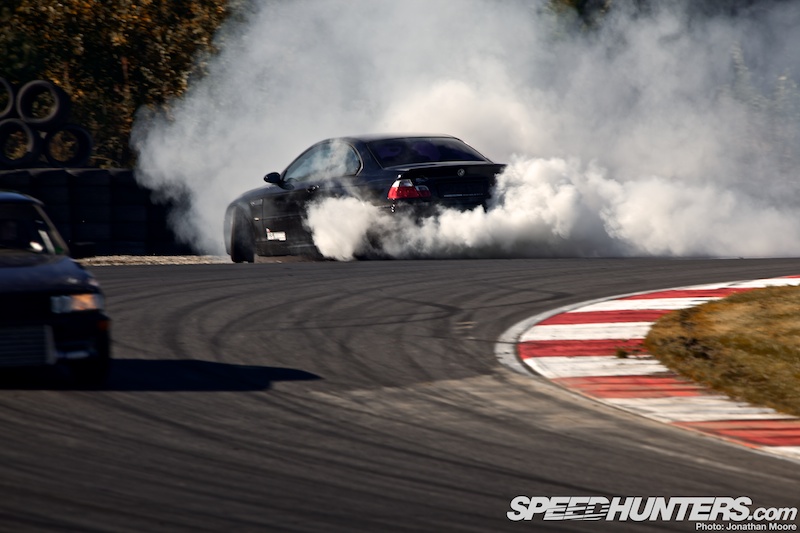 As people push on out on the track spins are numerous, as are damaged cars slowly crawling back to the pits or being towed by the tag-team rescue trucks. Following cars immediately slow, either to what they've seen in front of them or thanks to the electronic signalling boards all round the track. There's mutual respect. It just works.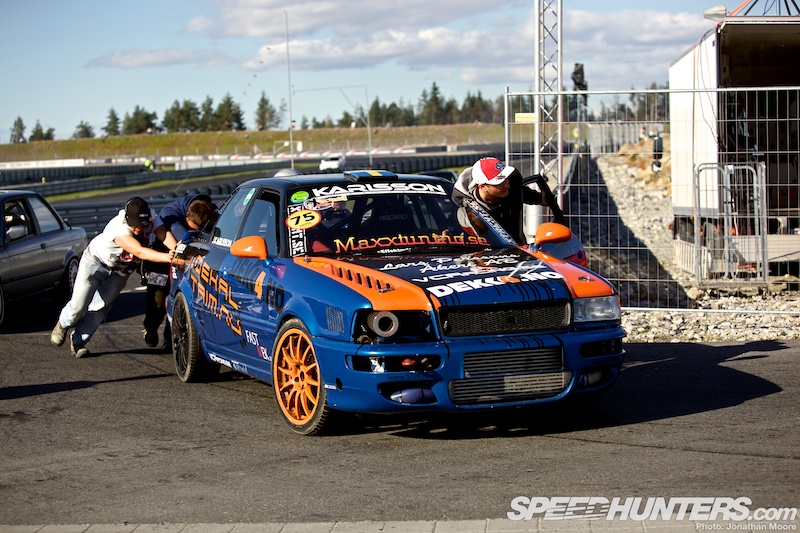 But the deliberate, glorious aim of Gatebil is undoubtedly to kill cars. Though in the most positive way: kill them by making them go to the very extreme of their possible performance.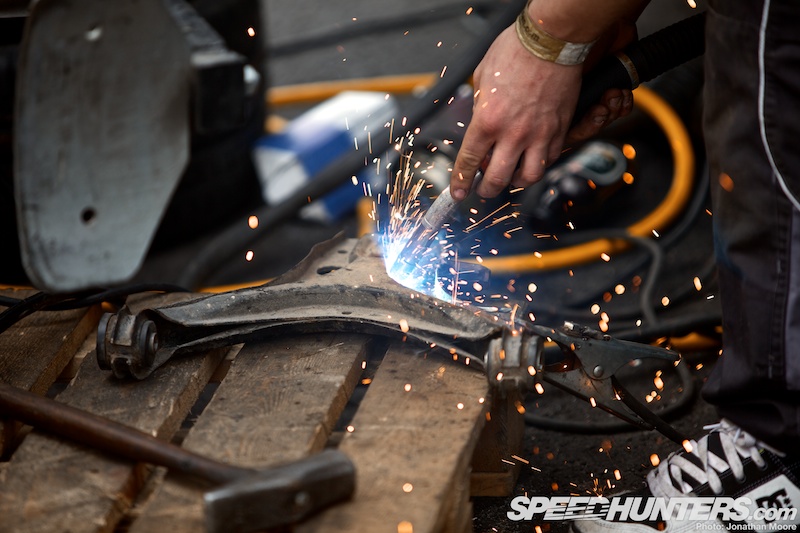 Kill your car, make it better. Then kill it again.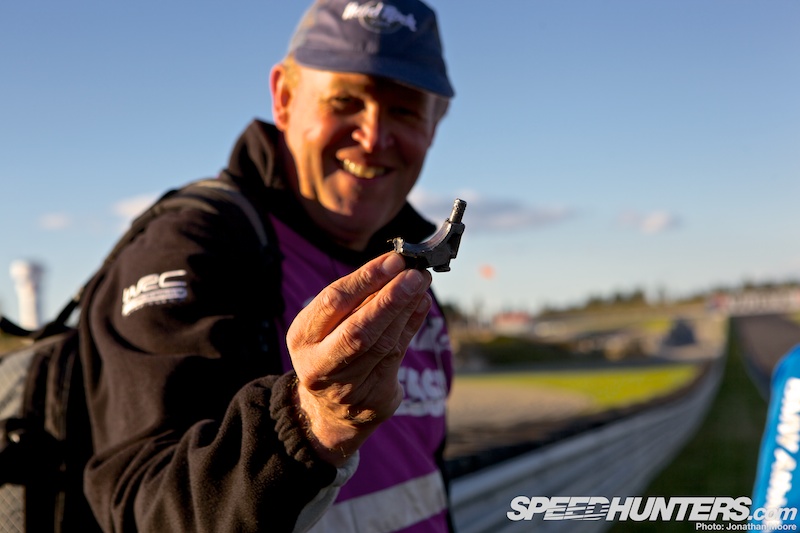 Around the track you can pick up the exploded remnants of what used to be engines…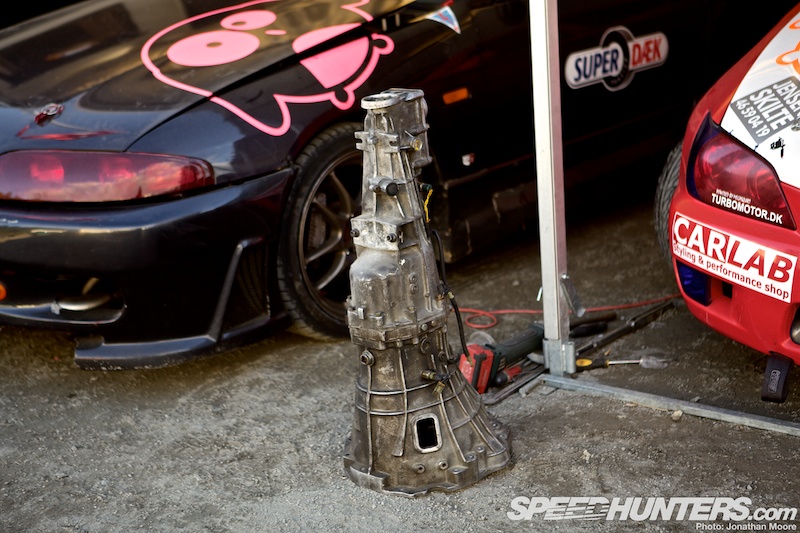 Gearboxes are replaced, damaged panels hammered out, wheels piled up in smoking heaps, diffs, driveshafts, turbos… Unless the car is well and truly pronounced clinically dead, then it's going back out.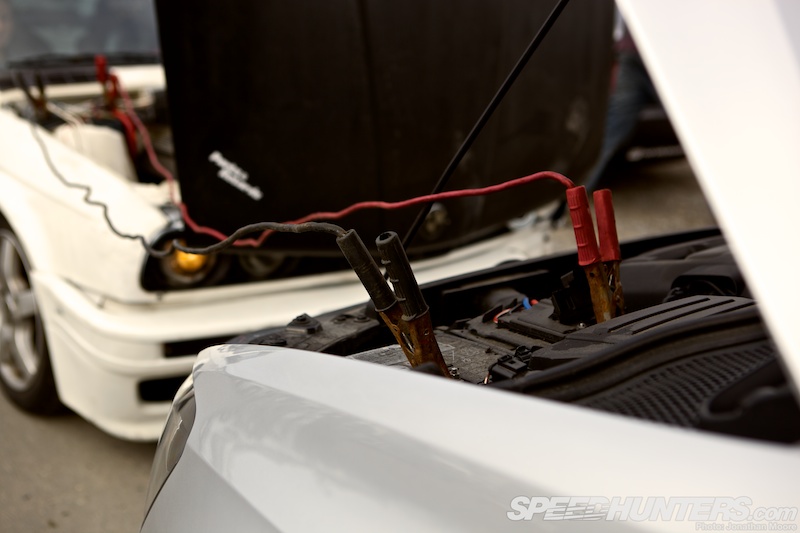 Arriving on Sunday morning, the owner of stricken BMW sporting serious battle-scars asked me for a jump-start from my rental car. I innocently asked him if he was on the way home after getting fired up again? With confusion on his face, he replied that of course, no, he was just heading straight back out on track…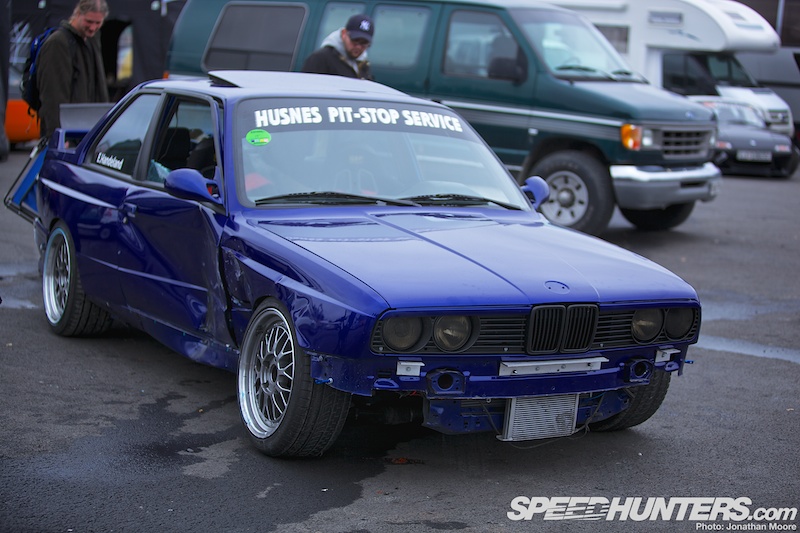 That said, unfortunately there were some phenomenally successful attempts to kill cars. A small graveyard of cars gathered by the forming-up queues, with the dead sorted out by triage and either patched up and sent back to the front or loaded onto trailers for some over-the-winter rebuilding. It turns out that an M3 makes a very effective stopping point for a Porsche with fried disks.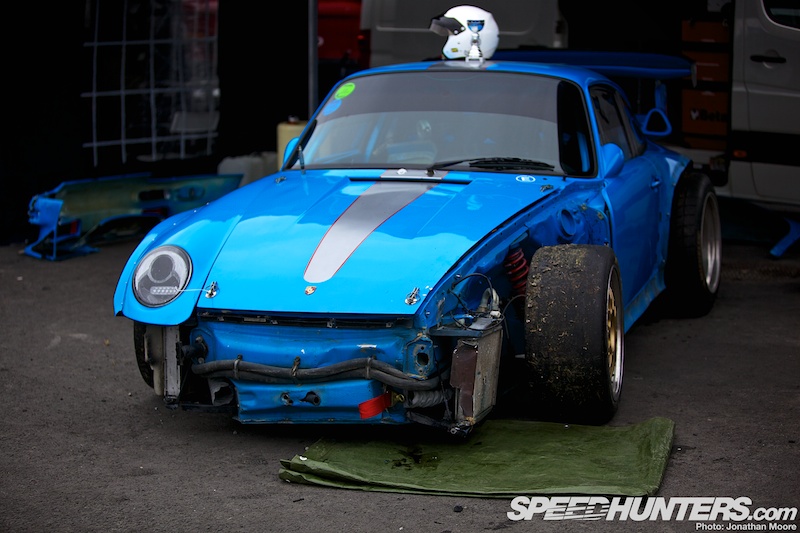 It seems they make them strong in Stuttgart…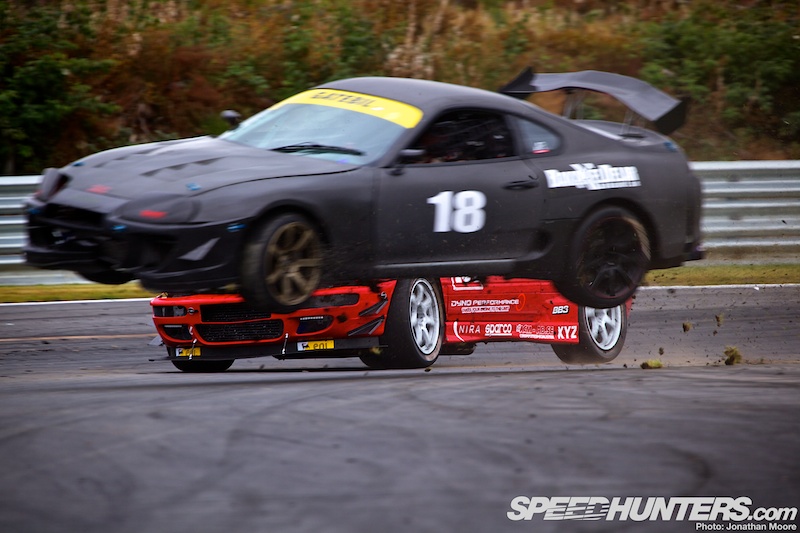 Most impressive of all, a moment that left all of us track-side going 'did that really just happen?', was this flying Supra at the beginning of Sunday's all-in Time Attack race. The first corner kerb is pretty vicious, frequently sending cars up onto two wheels. But several metres into the air? The Supra landed with a sickening crunch on its front-left wheel, but otherwise sort of intact – at least from the outside.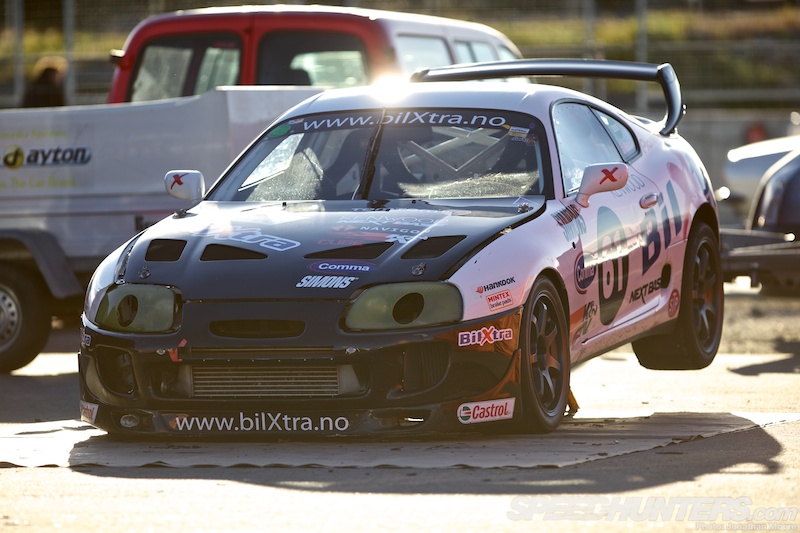 I think this Supra in the paddock was a static sculptural tribute to the moment…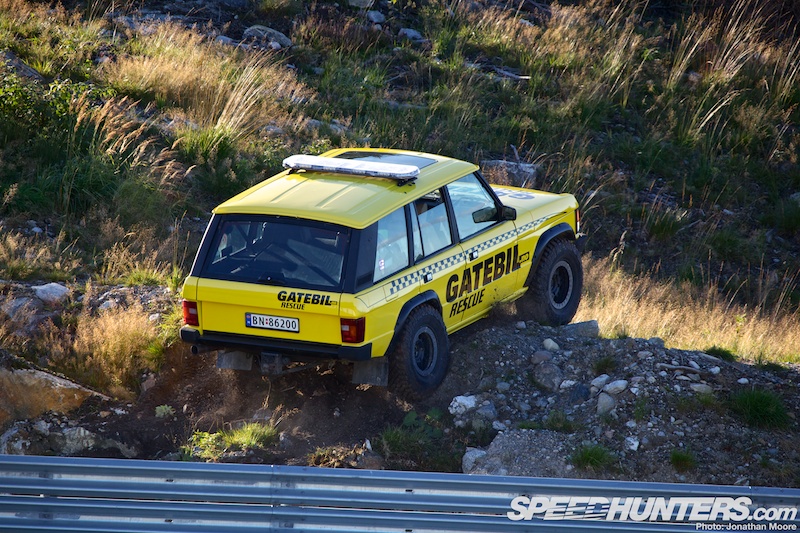 In between sessions, the marshals sat in their 4x4s passing the time by doing things like, well, just ramming them into a mountain to see if they'd get up it. Range Rover wins! Now back to the waiting point. Why? It's the usual reason. Gatebil.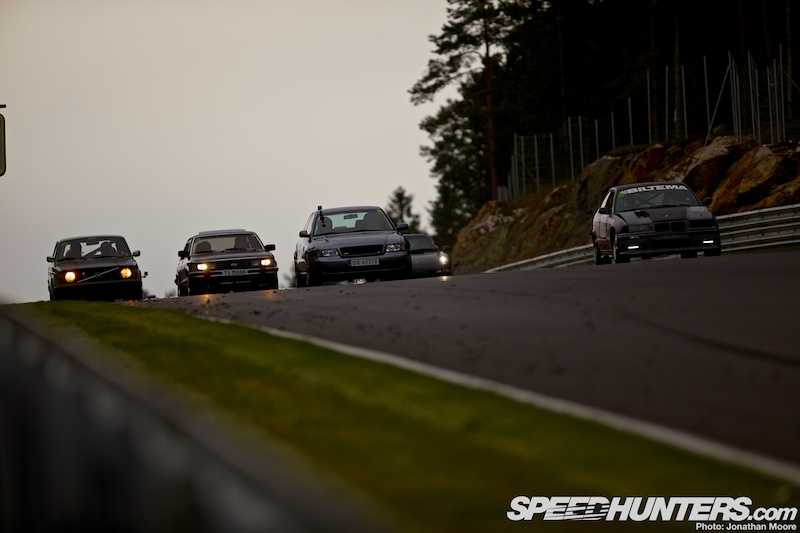 My personal preference is for grip cars, but the best thing about Gatebil is the sheer variety of machinery and styles on show.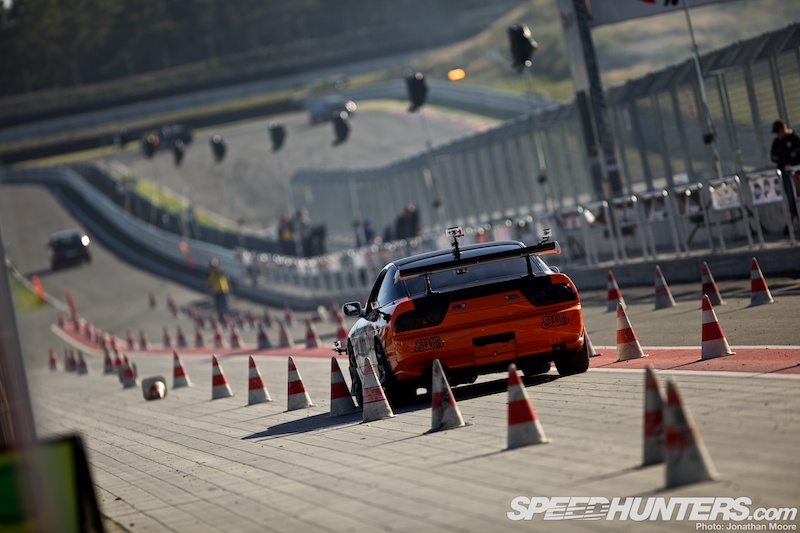 Operating a night-club style one-out, one-in policy, the schedules are generally followed but are are loose enough (both time-wise and entry-wise) to allow hugely eclectic machines out on track at the same time.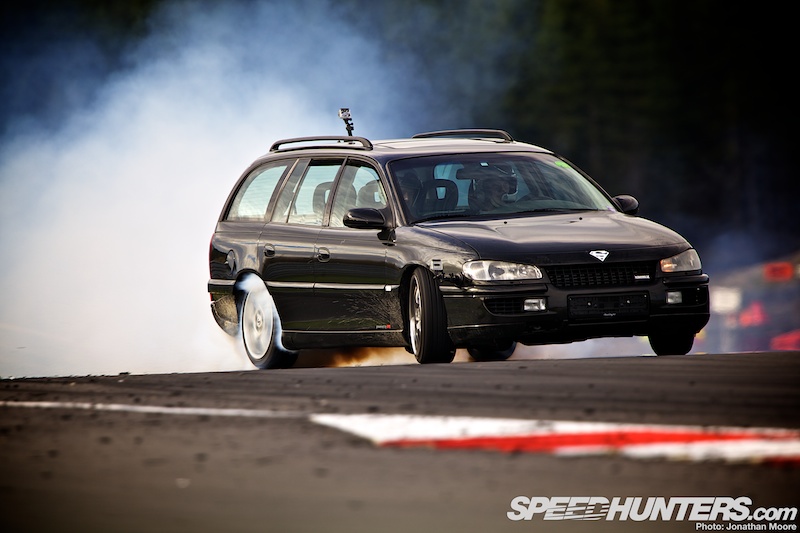 It's all about automotive joy. It's like jazz-pop-disco-rock-fusion – but it so works. Also, when you see grip cars out on track as the same time as drifters, then yes, of course the smoke wins…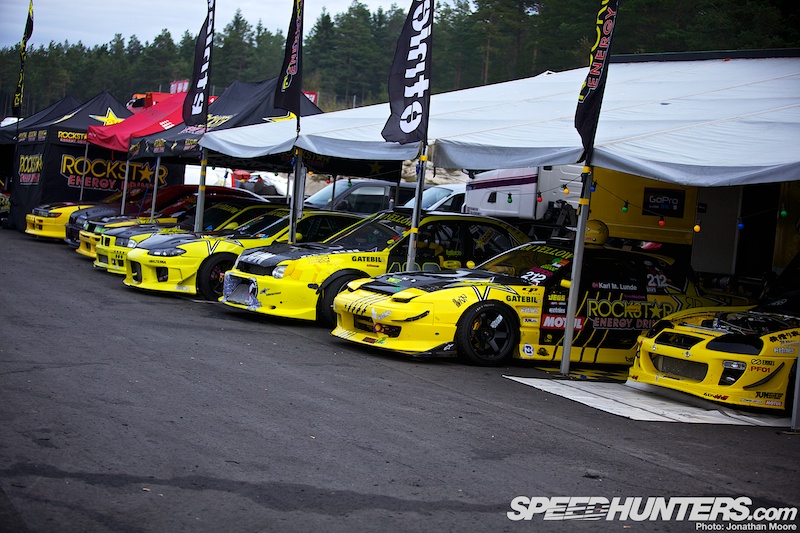 Next to the privateers there are some more heavily-backed efforts. Rockstar seem to have almost Red Bull levels of amnesia. Hang on, have we got any cars? Better get another one just in case. What was that? Get another car? Right!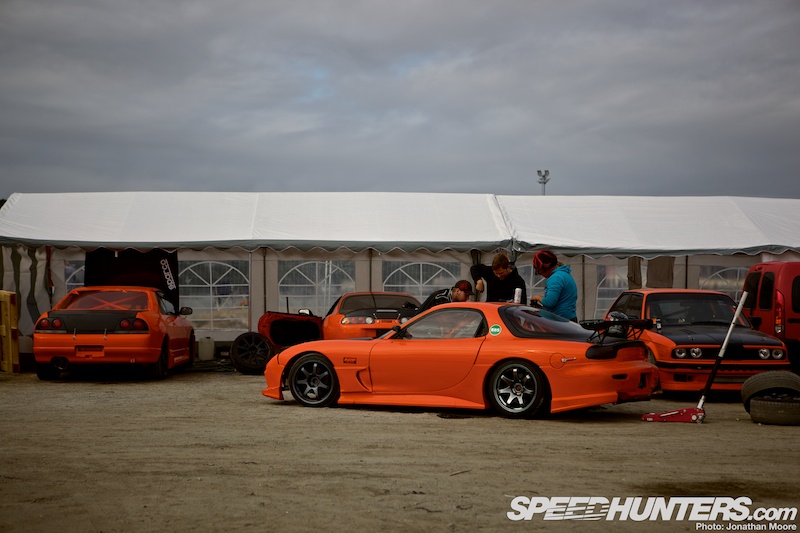 Between their squadron and the Gatebil taxis the track was awash with yellow, but even private owners clubbed together to create their own synchronised team colours.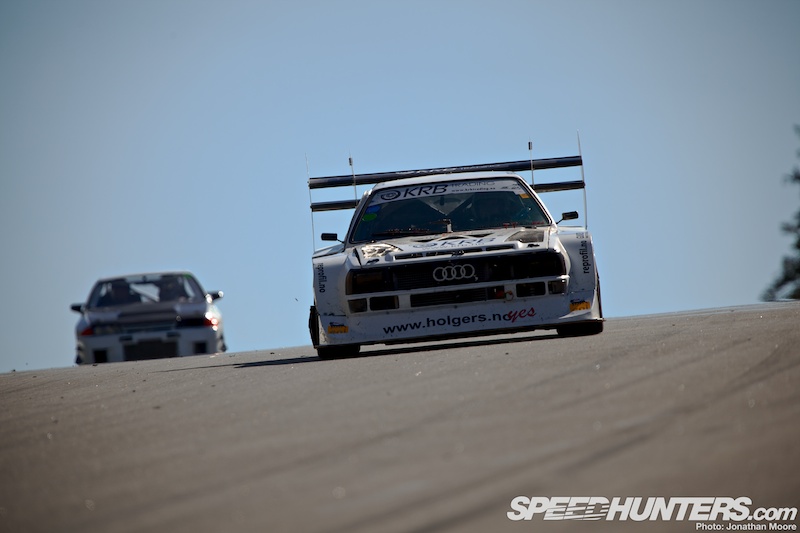 There were other cars that I was looking forward to witnessing, the most exciting one being the Dragon Of Gatebil: the KRB Audi. The first time I saw it was when it was sleeping in its tent. Out on track, with the beast fully awake, the experience was all I'd hoped for. When you pitch man versus sense, insanity will always win at Gatebil. A blown engine sidelined it unfortunately, meaning the owner took out his 'spare' Quattro.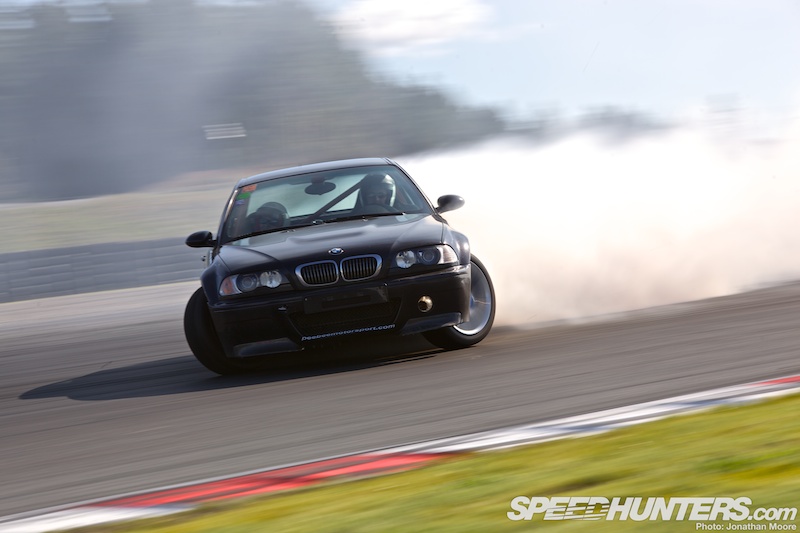 The Quattro Mini was also run out, as crazy as expected, and giving 'real' Quattros plenty to think about. Audi were strongly represented, as was everything rear-wheel drive. Or anything that could be made rear-wheel drive. After the Japanese hordes, it was actually BMW that had big numbers out on track.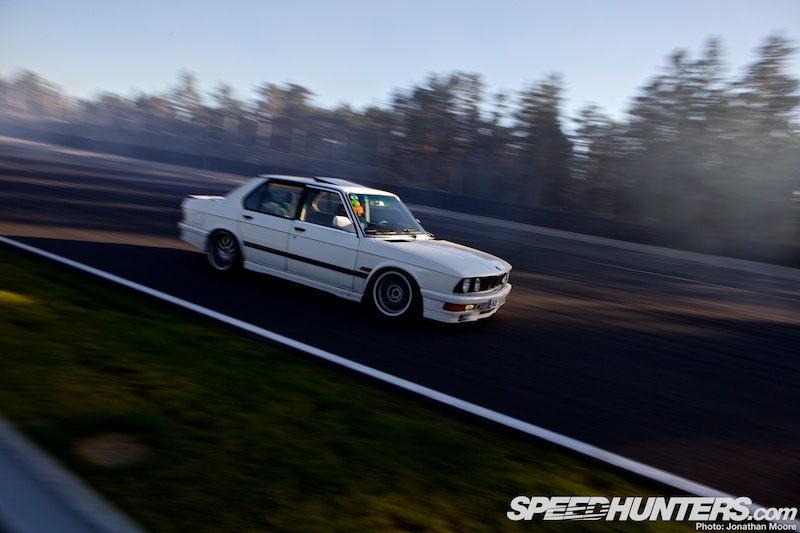 E30s were particularly popular, but so were all the other M3 and M5 variants.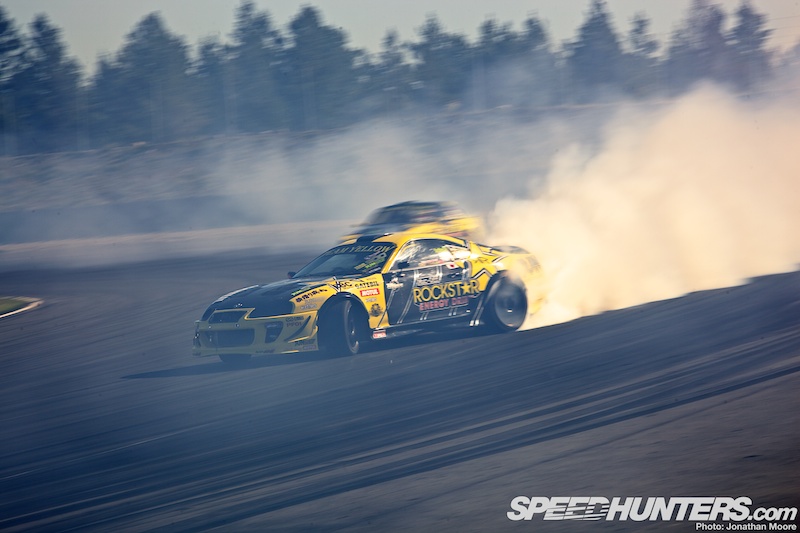 It appeared that every Supra ever made was here. They were everywhere.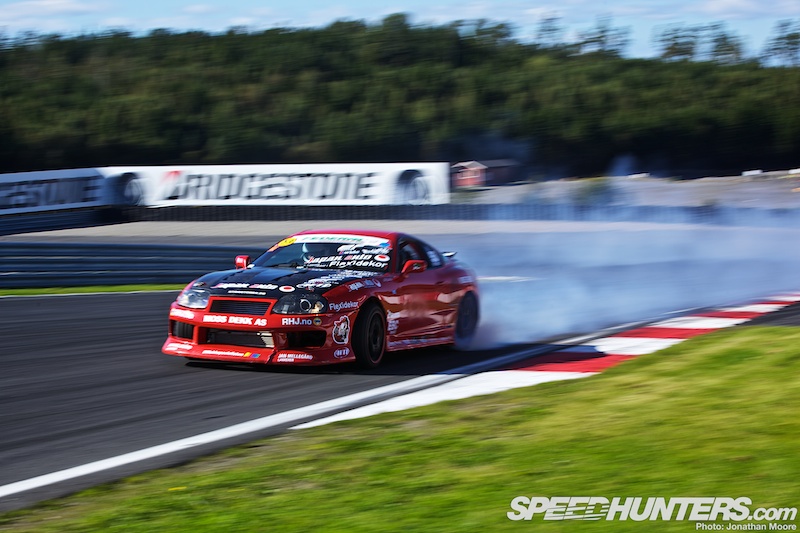 So many Supras, so many great liveries! Thankfully there wasn't a Castrol one out, otherwise I might have had heart failure.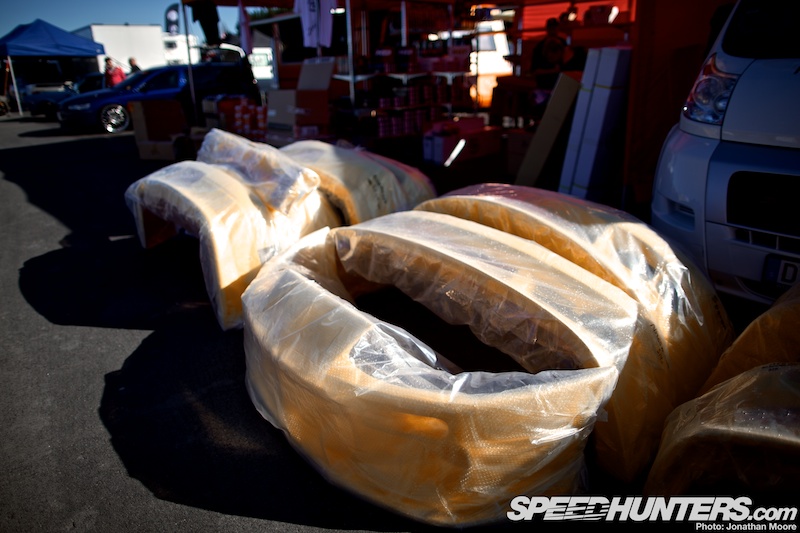 The spares sellers obviously knew their market…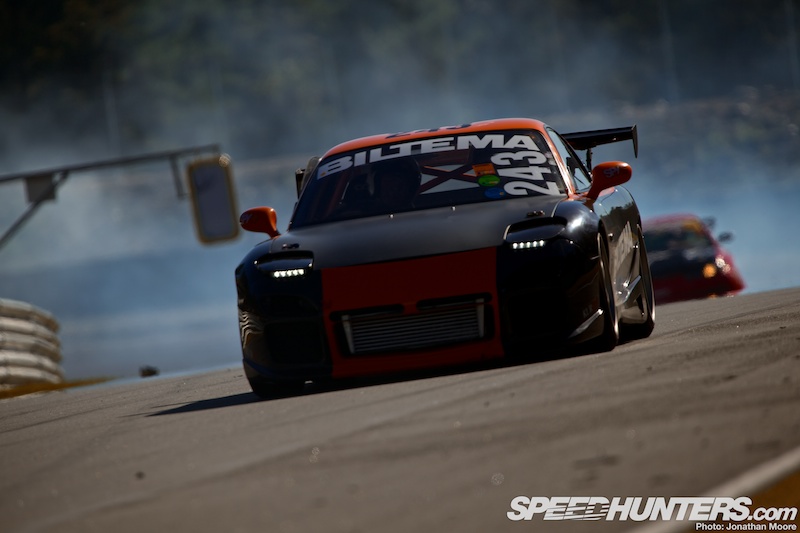 Nissan Silvias were of course hugely popular, with Evos of various vintage also popping up. The added Japanese interest came with the odd entries from Mazda – with a handful of RX7s – Honda (was that one CRX I spotted?) and Subaru.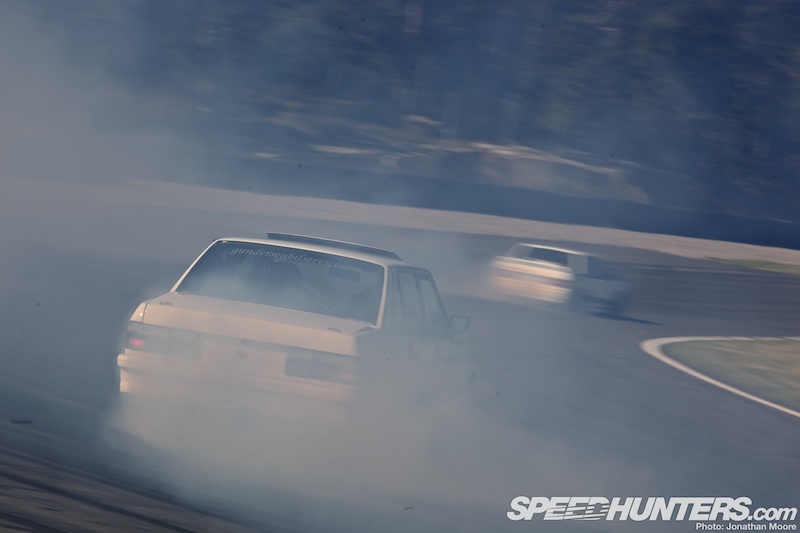 Of course, Japanese cars are de rigeur, but Gatebil is about so much more. I've a new-found respect for boxy Volvos. They should not be able to do this. They should be driven to the shops by smug people who know they will come off better in a crash.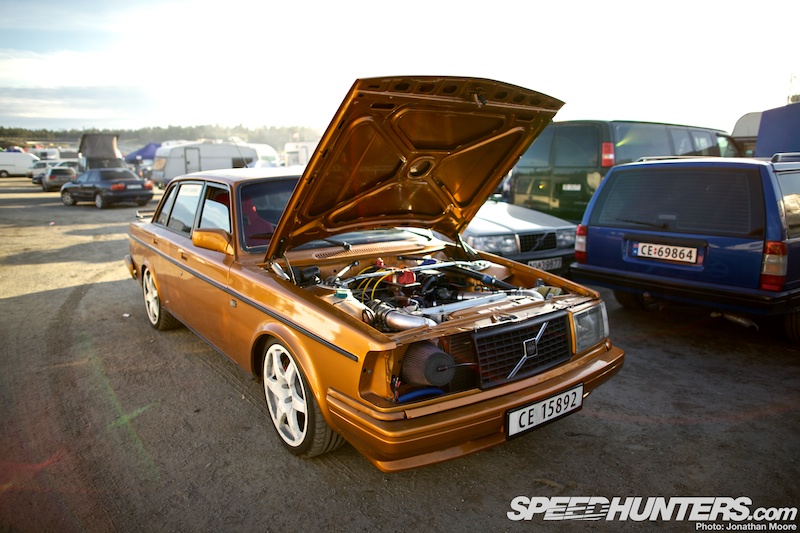 But not these ones. These turbo-charged Swedish slayers just came in mean and meaner guises.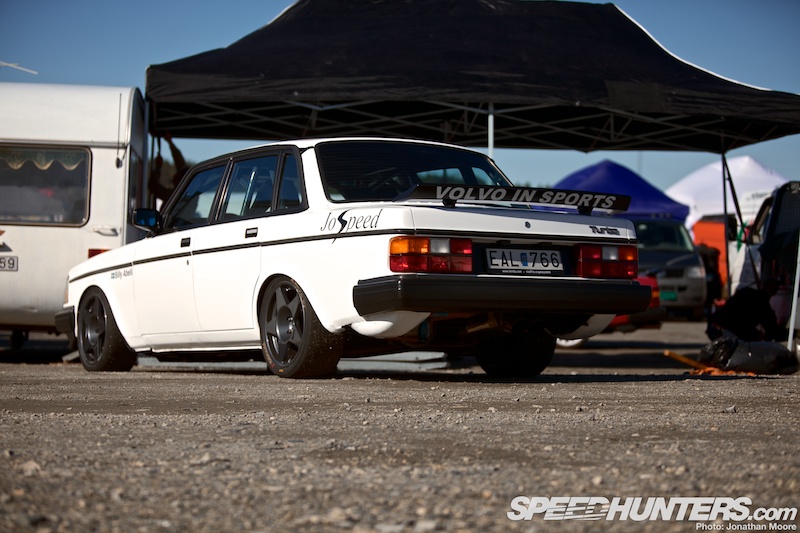 They just got lower and faster…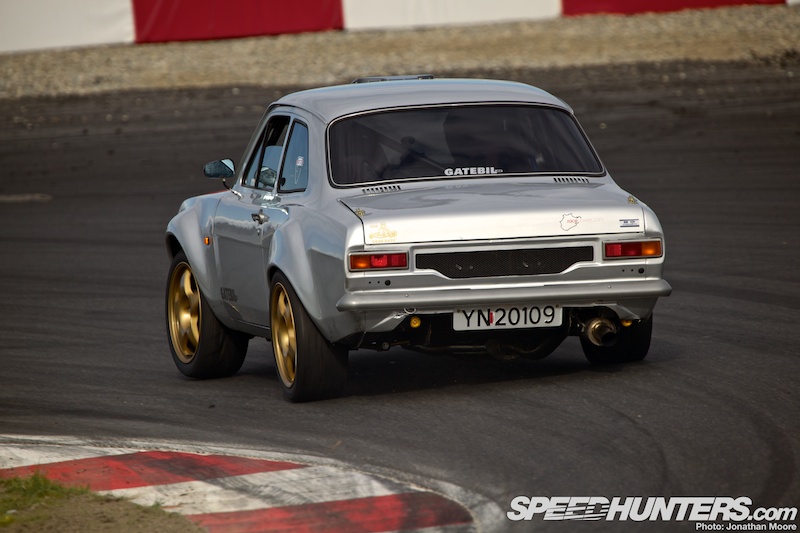 This Escort – turbo-charged, naturally – was firing round Rudskogen at obscenely fast speeds that a Mk1 was never designed to achieve. Eyes see one thing, ears hear another. Computing error.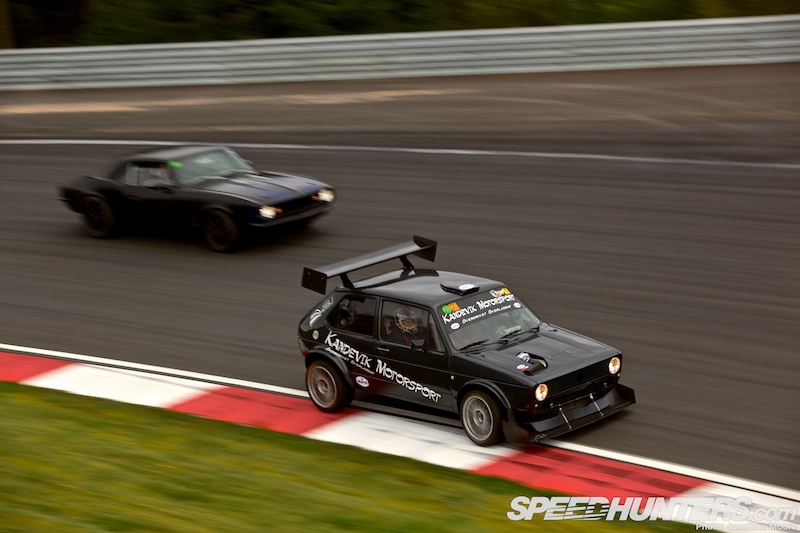 This Wolfwagen Golf, sporting an aero pack that made it look more like its American Rabbit name, was similarly eye-wateringly fast on the throttle: accelerating out of every corner it went into warp speed compared to everything around it and ate up the short straights between what makes Rudskogen so special: those corners.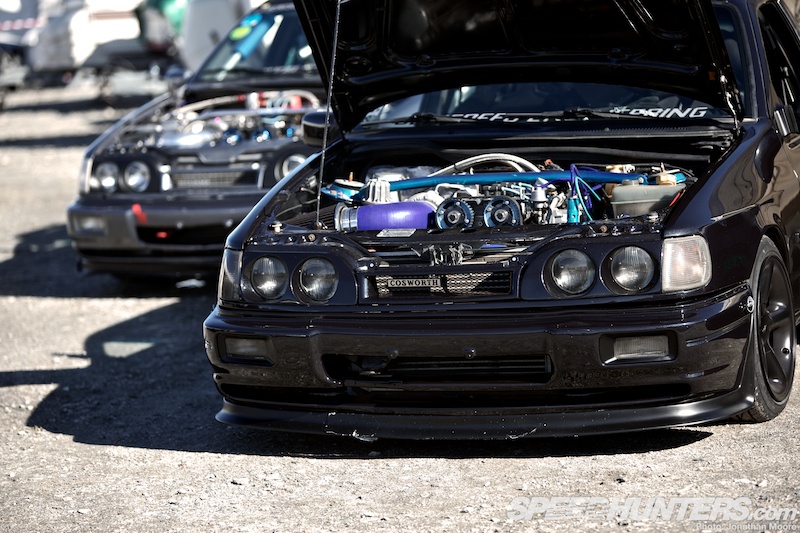 Sierras and Sapphires were also out in surprising numbers, some with stock blocks spiced up with a little extra push of air, some with complete bypass operations, all capable of smoking it sideways with the best of the dedicated drifters.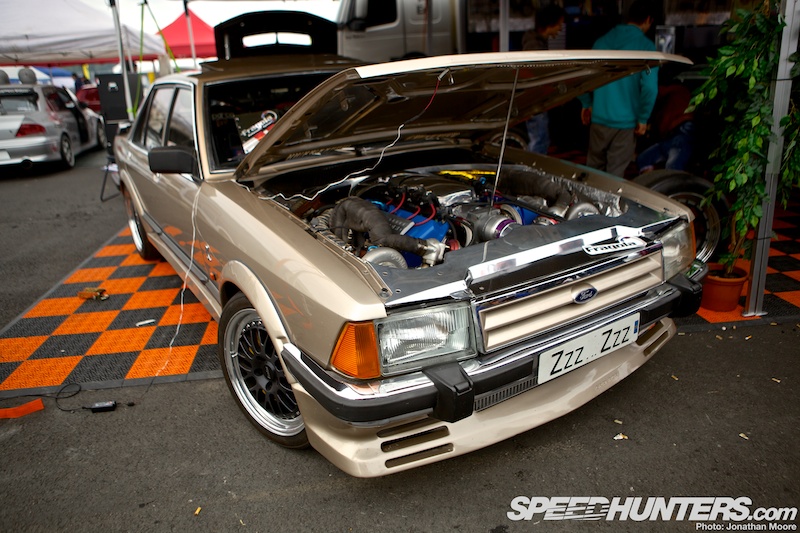 This Granada was also on show. The one with the Koenigsegg engine. The story of the build is here , but in person it's on a whole new level of deranged.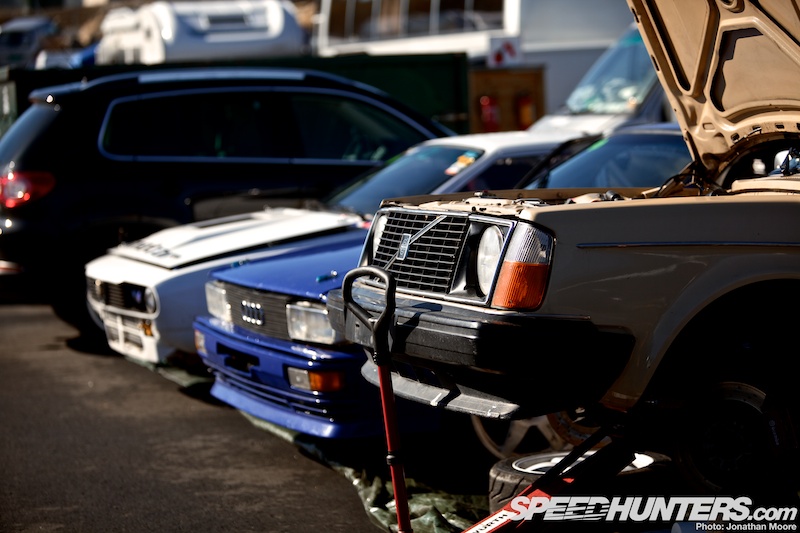 Even a car from Alfa Romeo's last hurrah with proper-wheel drive was out, though the GTV suffered a sticky end on Saturday, with a mashed front-end for its troubles.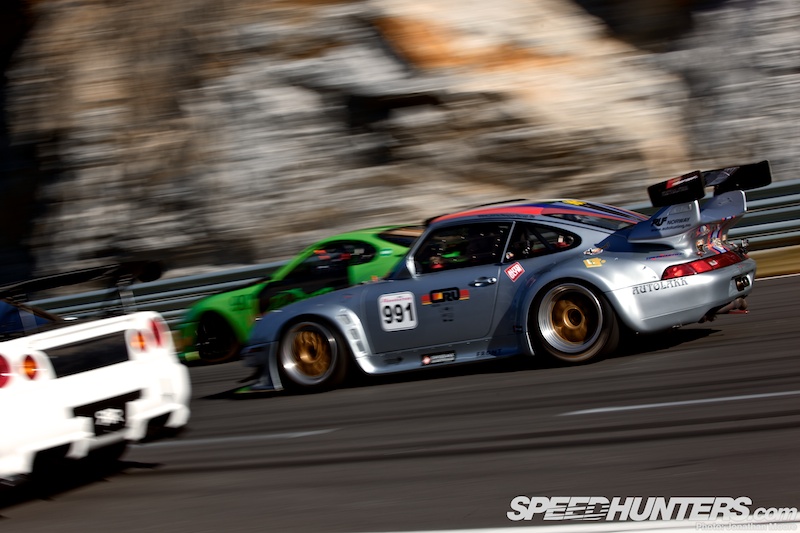 A couple of pure-bred racecars running stock could be found though, the most impressive examples being a pair of Porsche 993 GT2s and a Ford RS200 that looked like it had just been driven off the forecourt.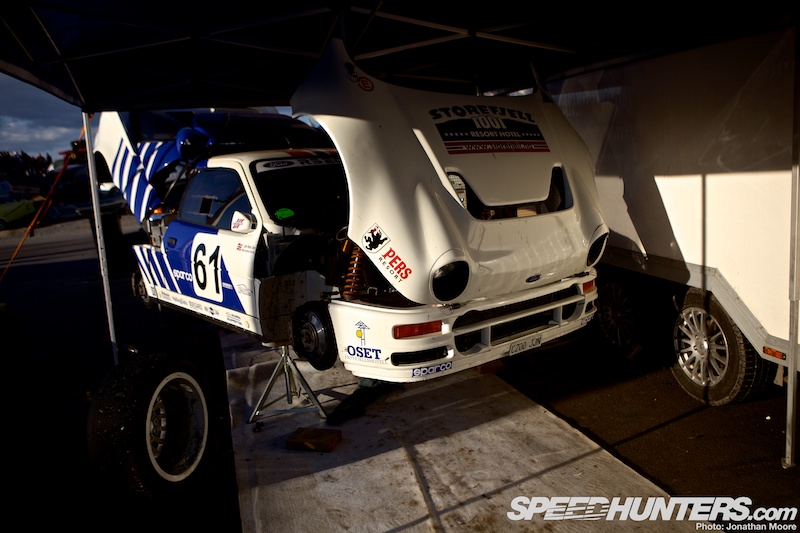 Which it basically had been.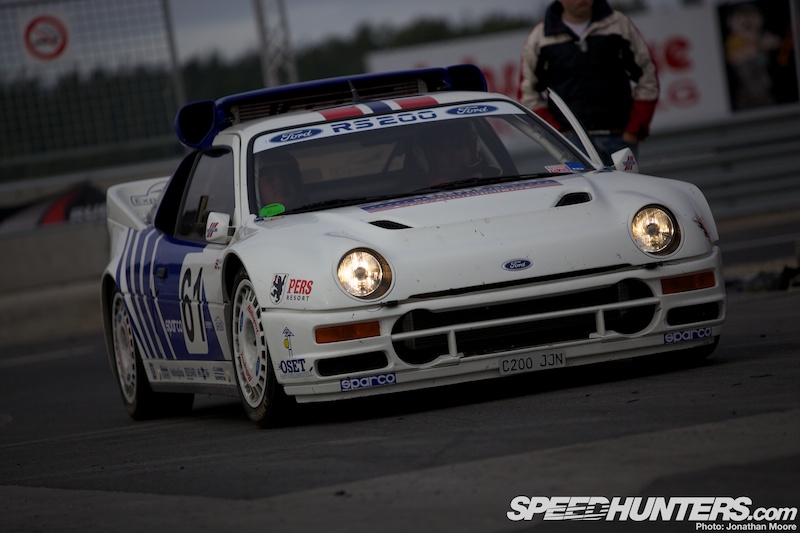 The RS200 had been owned since new and was in immaculate condition, despite being pushed to the absolute limit during the Time Attack races. It wasn't achieving Supra-levels of air, thankfully, but was still absolutely launching through that first corner and was wickedly quick – even keeping the 1,000hp Audi A3 honest in the races.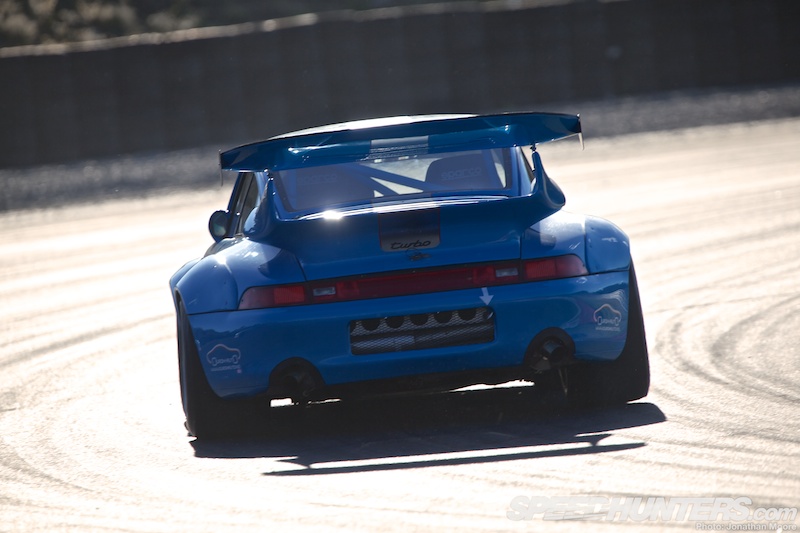 The blue 993 had only been in new hands for a couple of weeks: it still had race position lights on the side from its previous life. After his impact with the BMW, the owner shrugged his shoulders and smiled. Oh well, it just needs to be rebuilt! This is the general attitude: no one goes out of their way to damage their cars, but it seems no one is upset when there's work that needs to be done.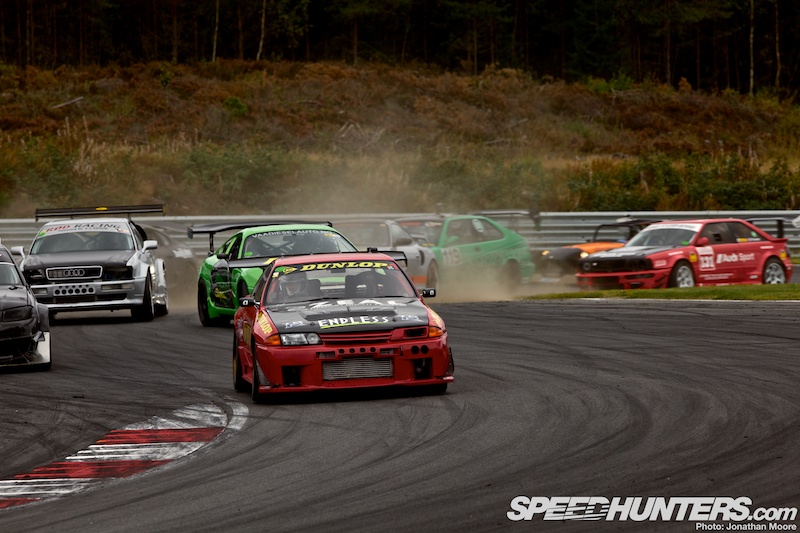 The start to the Time Attack races were torrid affairs as the mixed grid hammered into the first turn and were scattered like ten-pins.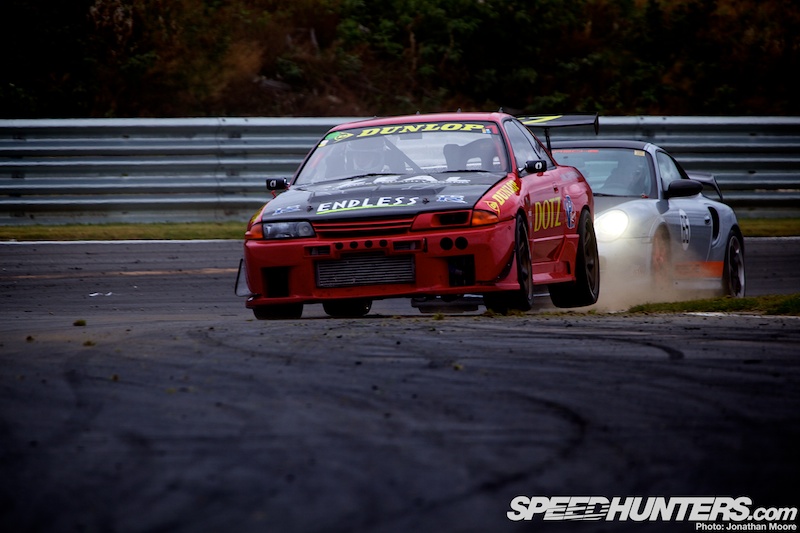 If it was like this at the first corner, it must have been chaos all round the lap! The track completely changes character depending on what's on: racing, drifting, grip and regular driving sessions all give completely different styles of attack; all just further impress what a great circuit Rudskogen is. And this was a track designed by (whisper it) Hermann Tilke!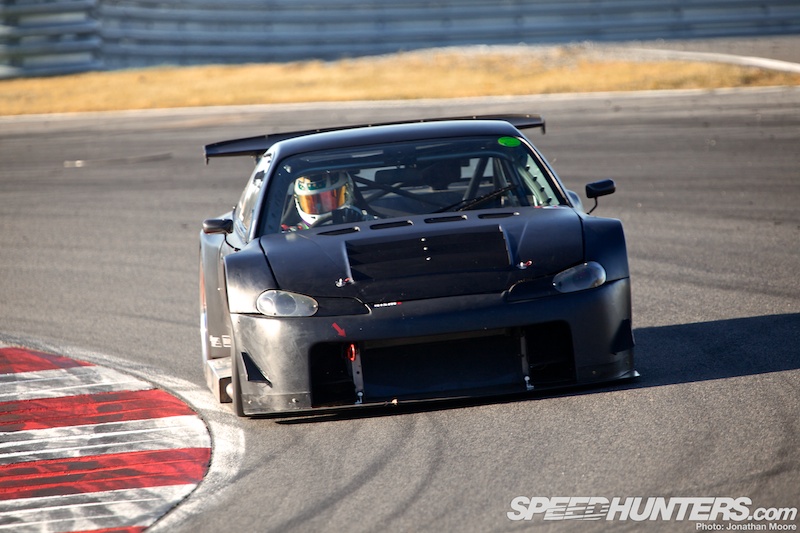 The DTM-powered, ex-Japanese GT300 Silvia that Sean featured back in August was also out again, this time stripped of its livery and in bare carbon fibre – and looking all the meaner for it. Owner Radni Molampour says that they're continuing to tune and rebuild as they go, and that he's still learning how to drive such a downforce-laden car quickly. It's all about belief.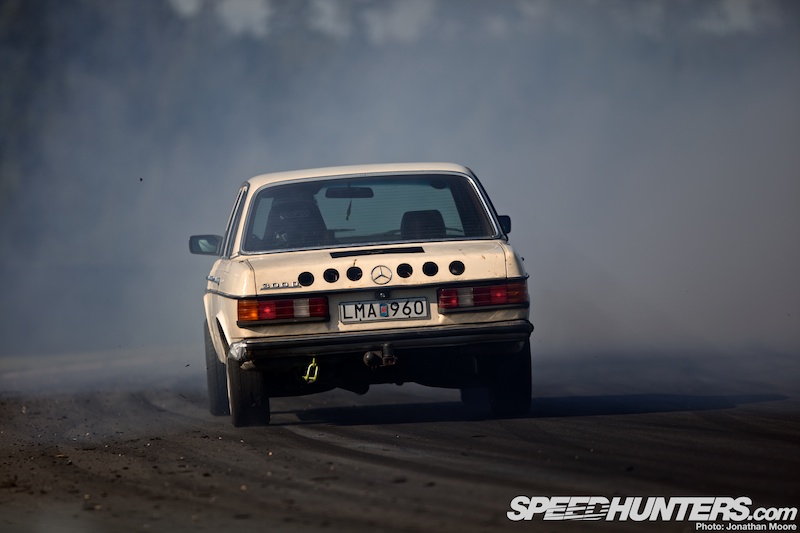 How about this for another look at how eccentrically eclectic the Gatebil is. A Mercedes-Benz 300D which was merrily drifting around belching turb0charged diesel smoke…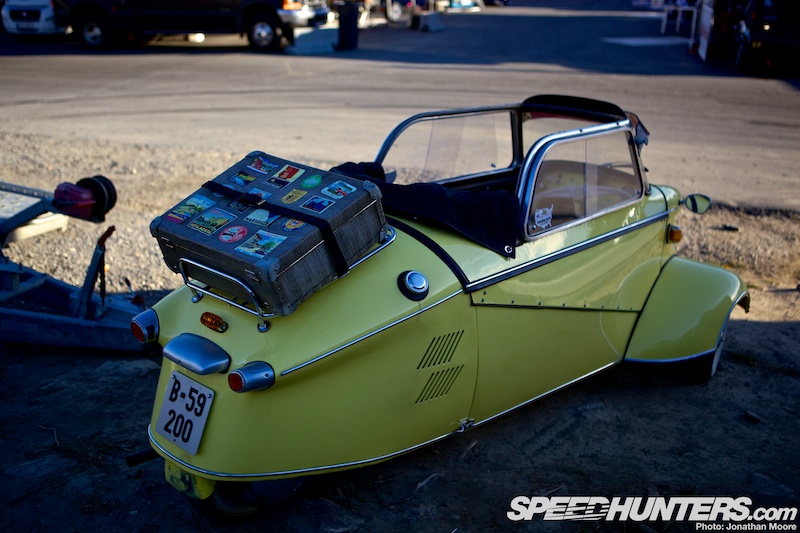 …a Messerschmitt Kabinenroller in the paddock…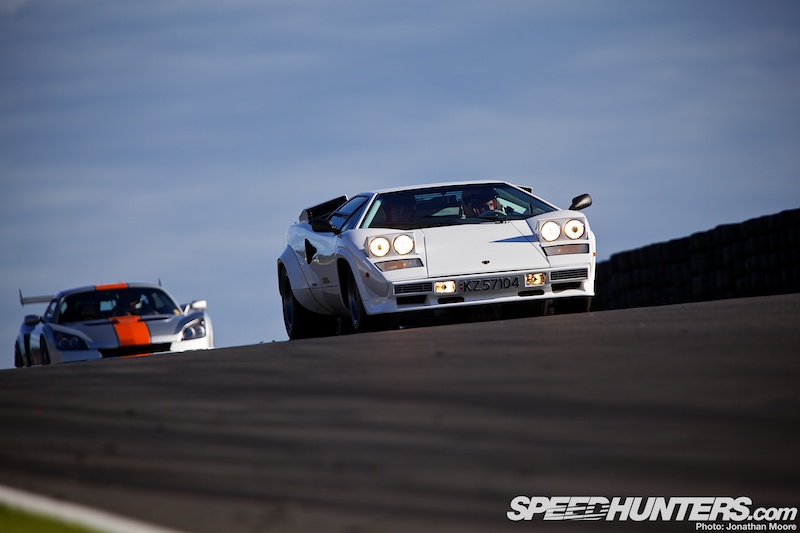 …and a Lamborghini Countach SV in the Gatebil Exclusive class! Arrgh! My head!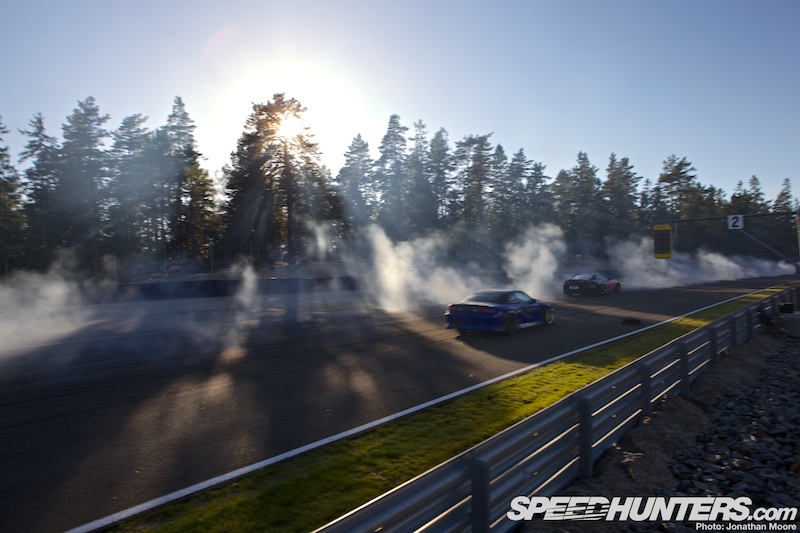 There's a magic hour in the forest, when the sun is sinking on the horizon and sunbeams slice through the trees, picking out the rising smoke. It's a beautiful time of day. You don't get this at Silverstone…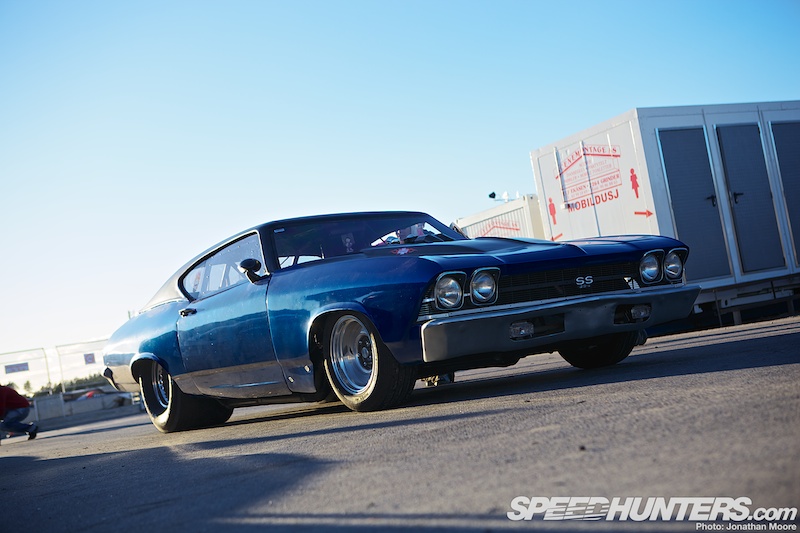 Early evening on Friday was also the time for the 300m drag challenge, and no one could challenge this mighty Chevy SS. Americana was present on track over the weekend as well: half a dozen C6 Corvettes were powering round, next to old and older Camaros and a single Viper.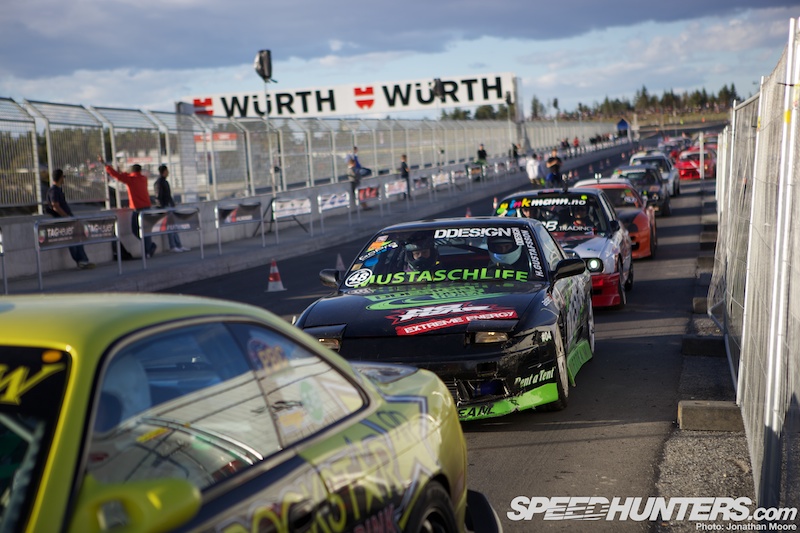 The Breisladd drift competition closed off each day: qualifying was held in the balmy evening sun on Saturday.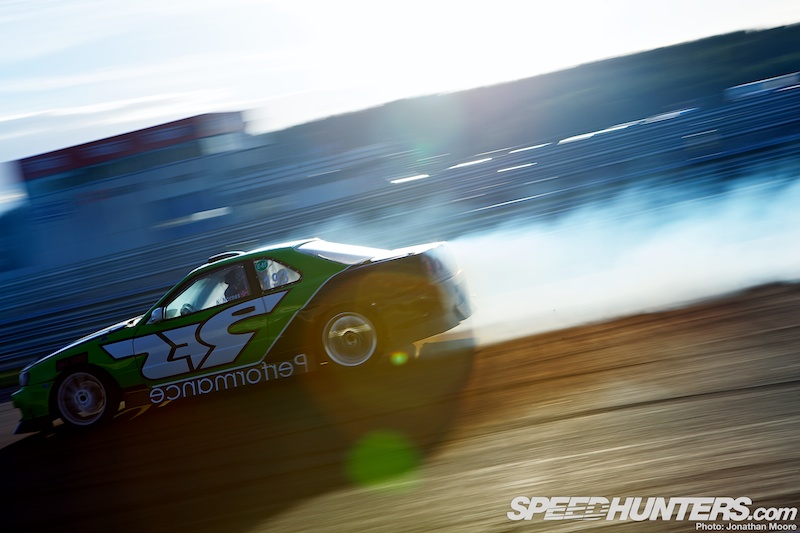 Dozens of competitors took part around the keyhole-shaped final section at Rudskogen…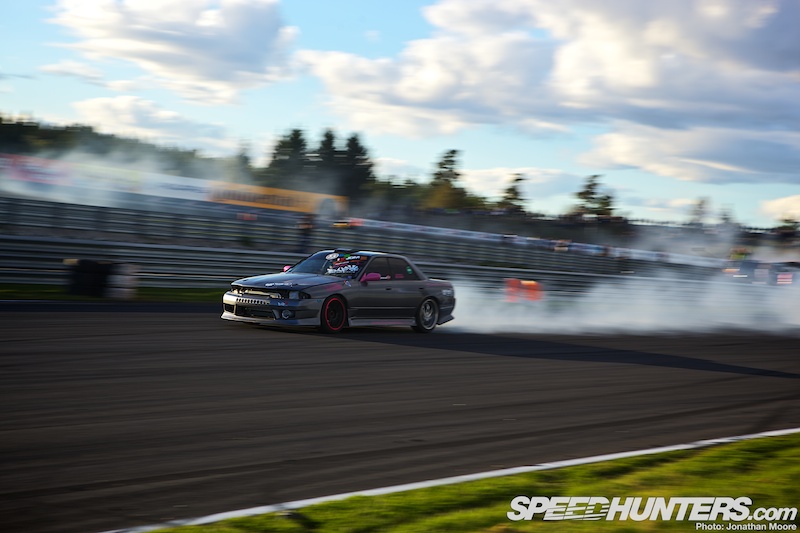 …with the best holding that drift all the way round and down to the finishing line.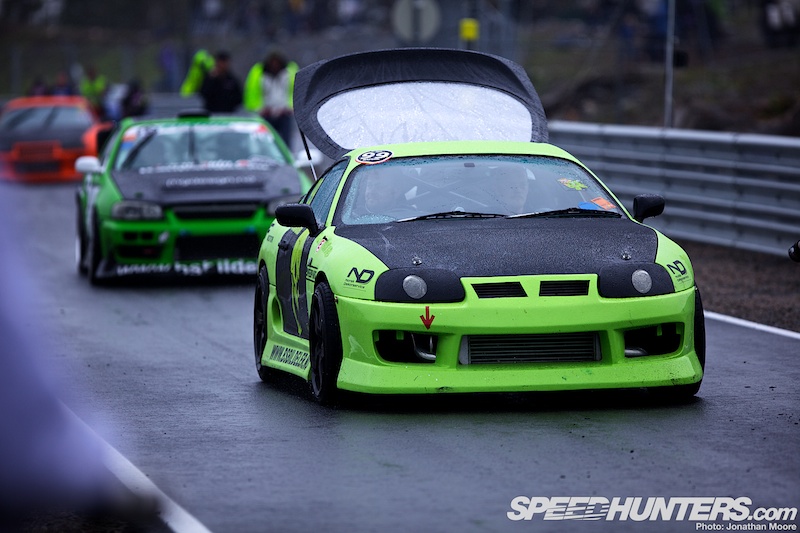 The shame was that Sunday's finals were washed out: the clouds had moved in fast, and despite the organisers moving the session forward it wasn't early enough to miss the rain and a premature end to the competition. But this did nothing to detract from the weekend: three days of automotive bliss.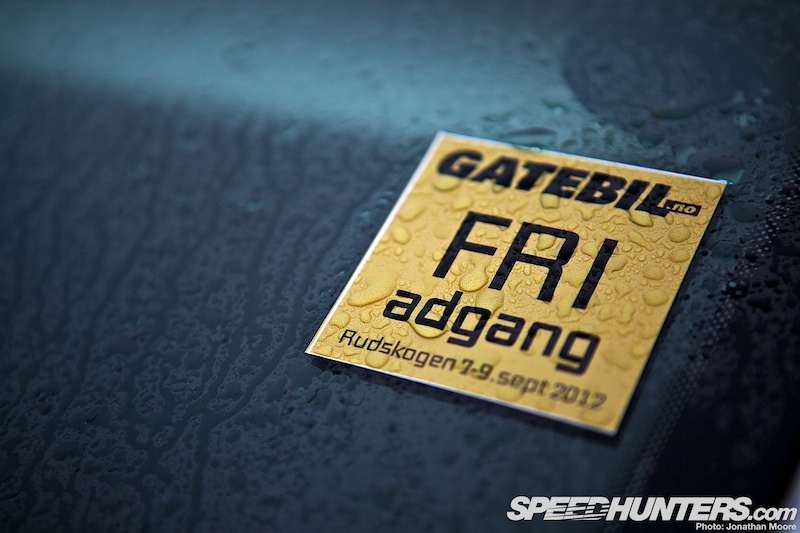 Gatebil, I salute you.
Jonathan Moore
---
---
---
---
---
---
---
---