Gatebil isn't exclusive. It isn't about the latest and greatest supercar, or any my-turbo's-bigger-than-your-turbo posturing. Gatebil actually operates under some very simple objectives: fun; the enjoyment of driving; the celebration of every kind of car. It's about helping each other out. It's about passion. All these things make Gatebil so refreshing and enjoyable, and it's simply a delight to see the variety of machinery on show: where else could you see a pure-bred GT hang it out next to a Group B rallycar, a carbon-bodied Japanese street racer, a home-built speed machine, a big American muscle car and a bewinged Lotus 7-alike? It's the racing grid you would normally only be able to dream of. Here are just half a dozen vehicles which I think highlight the eclecticism you find at an average Gatebil event.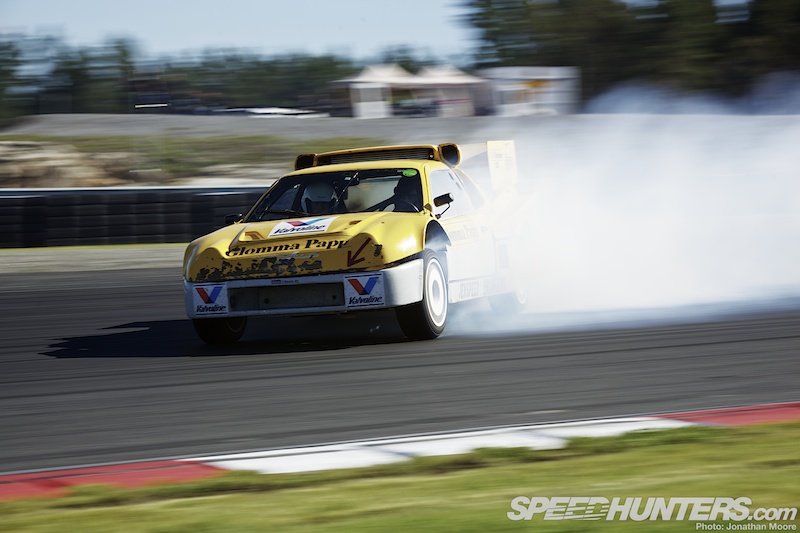 A single RS200 is more than enough to get the pulse racing, and at Gatebil September there were two out to play: an immaculate factory-liveried example – and then this smoking rallycross behemoth.
The car was bought in 1987 by Jan Artur Iversen, the owner of the Glomma Papp cardboard factory, to race in the European Rallycross Championship. Like many Group B rally cars, this RS200 evolved into a new and even more powerful beast in the ERC. Luckily it survived this shunt from early in its life!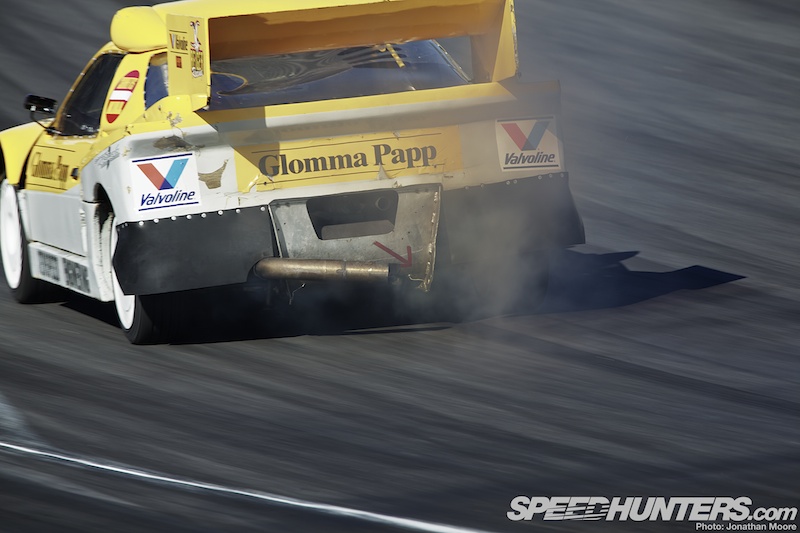 Iversen competed in that series with the car until 1992, when it was retired to his personal museum. There it stayed until 2005, when Morten Lerdahl bought the car and added some minor upgrades.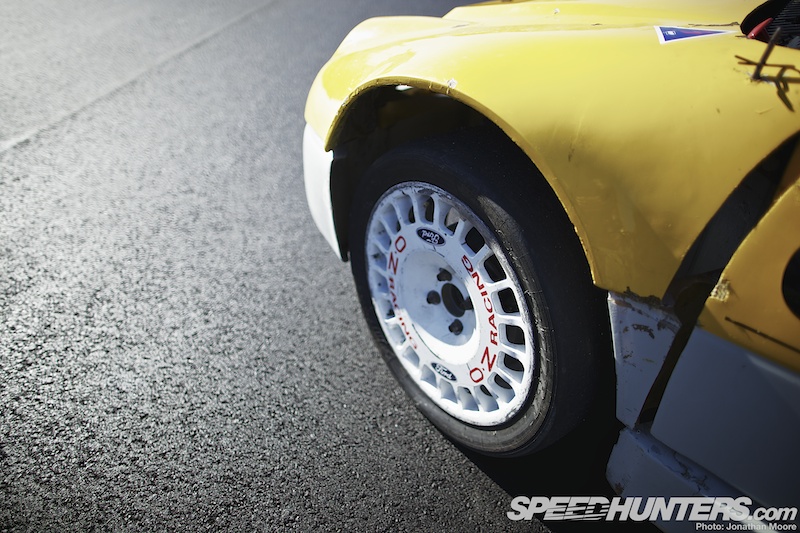 The engine was put on the dyno: it was still producing a huge 728 bhp and 840nm at 2.4 bar turbo pressure! Extreme rallycross heaven. The engine is a 2.1-litre Evolution stroked to 2,364cc.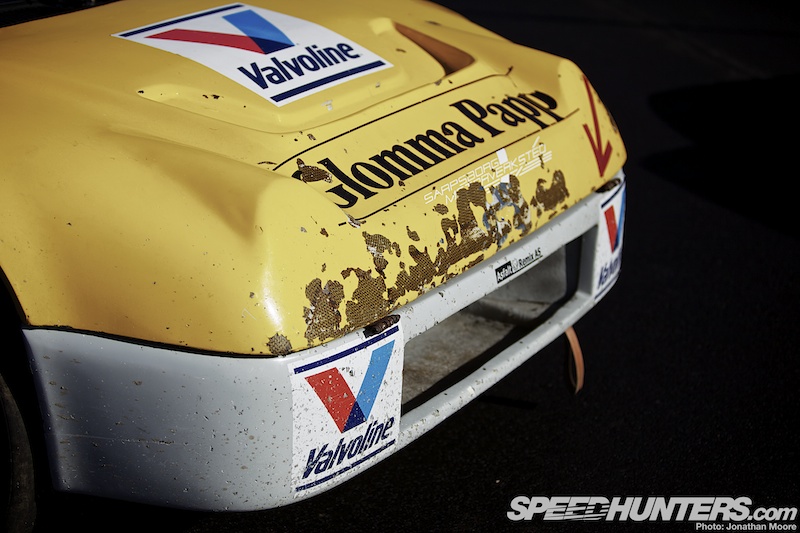 The bodywork is made of Kevlar and the historic Glomma Papp livery has been retained to show the origin of the car. The majority of the chassis maintains its Group B rally spec. It's not pretty in the context of the original RS200, but in extreme rallycross form it is a hell of a machine, and wears its battlescars proudly. There are plans to make it road legal, with a street body kit – which would mean it could then drive to track events and hill-climbs! You're not going to try and beat this thing off the traffic lights…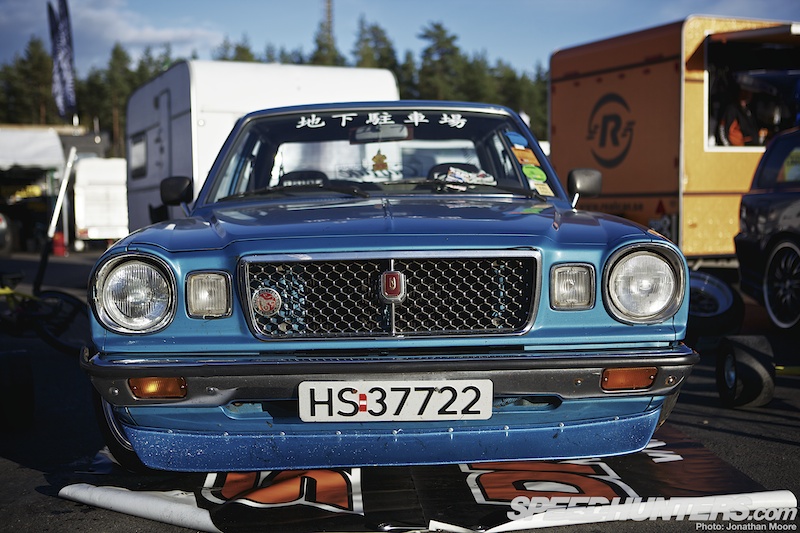 This 1977 Toyota Cressida was built up by Underground Garage and is owned by Fredrik Sørlie.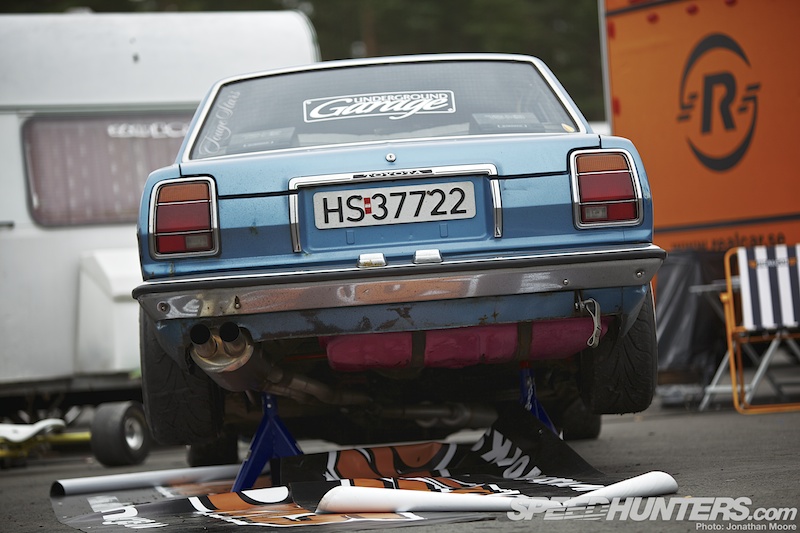 The Cressida is powered by a normally-aspirated MkIV 2JZ-GE engine running through the W58 gearbox from a MkIII – the rest of the drivetrain is stock Cressida but with a welded diff. The exhaust has been custom-made, with twin two-inch pipes running all the way through.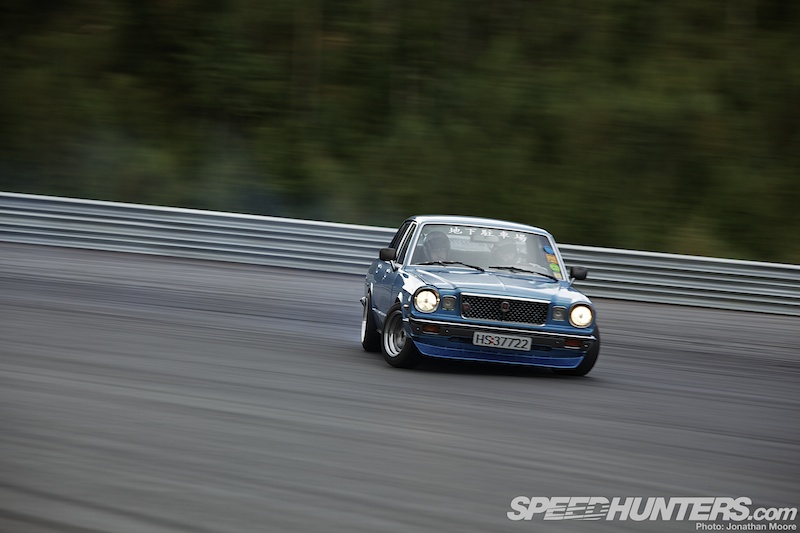 The front crossmember and steering have been built from scratch so it can achieve the best angles, and it can now reach an impressive 63 degrees of steering lock: perfect for that on-track hooning!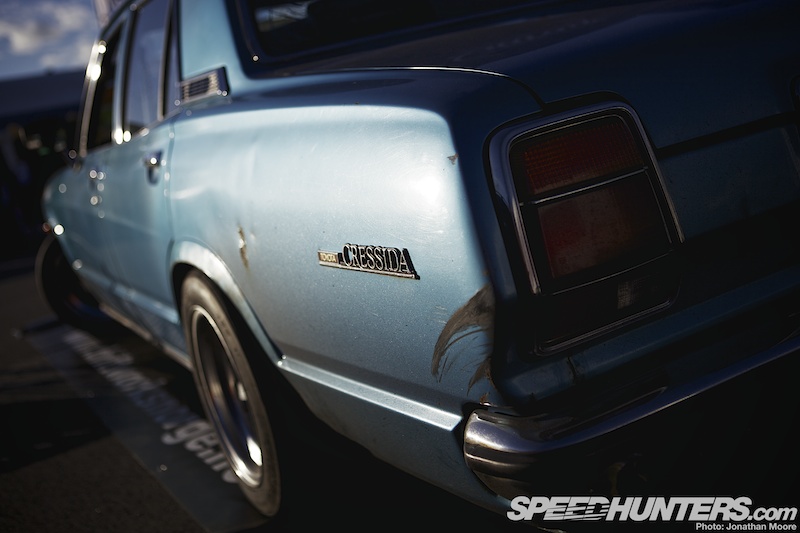 The Cressida runs on SSR Longchamps mounting Toyo R888 tires; stopping power is provided by brakes from a Caldina GT-T. The suspension uses Tokico HTS dampers and Öhlins springs.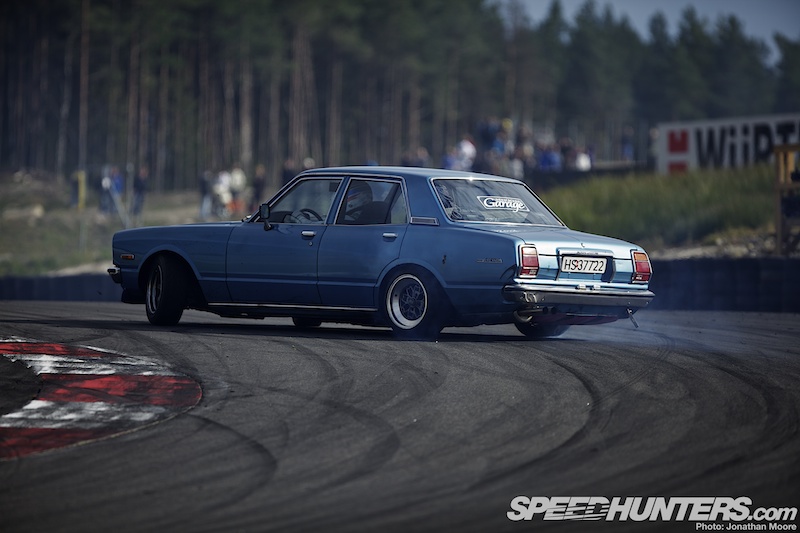 Most impressively, Fredrik drove it all weekend with no rear brakes or a handbrake – and still managed all this!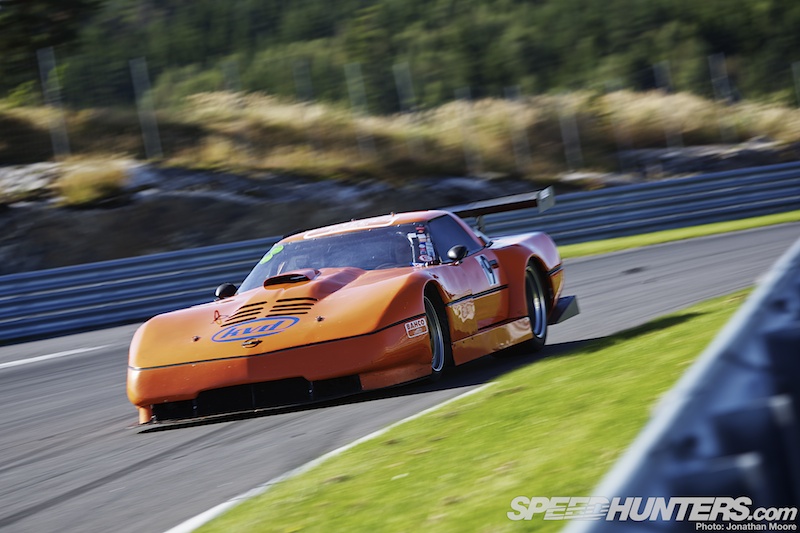 Something brutal was also rumbling around Rudskogen: this home-made IMSA-style Chevrolet Corvette.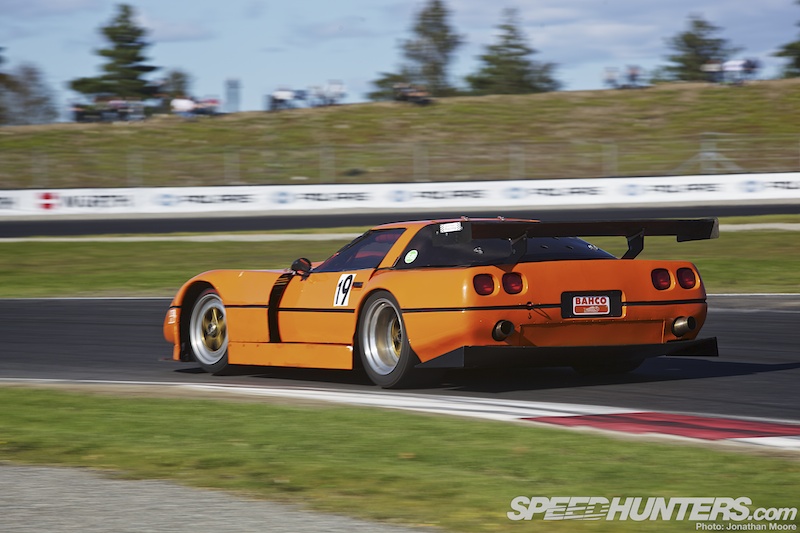 Over-wide, over-long, over-big, over here… a gloriously weighty sledgehammer of a car!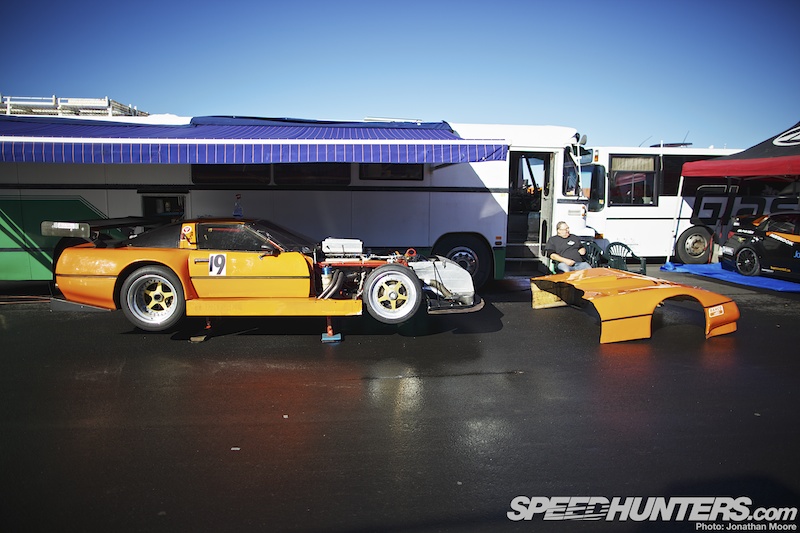 Somewhere underneath there's the original Corvette chassis. All of the oversize panels have been hand-made for this project.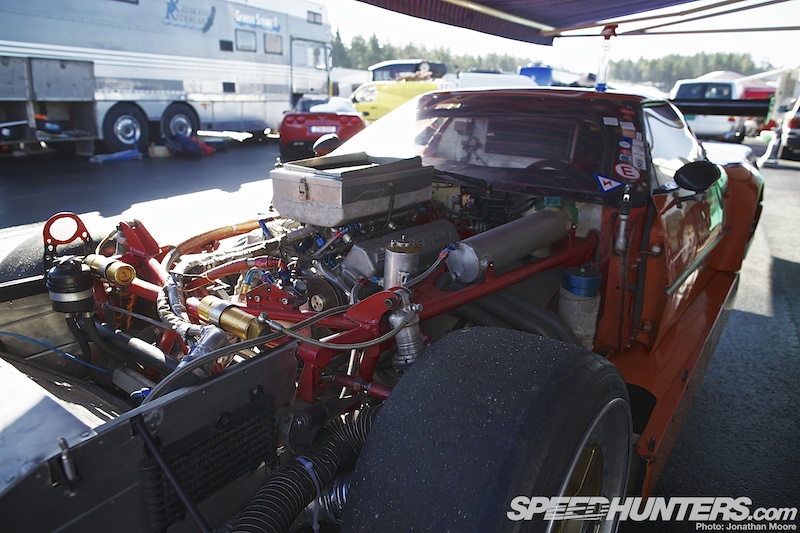 Currently it mounts a small block V8 – the owners don't really know the exact capacity, just that it's great fun! They do have a big-block engine standing by with even more power – perhaps 600-650hp – which they're thinking of installing.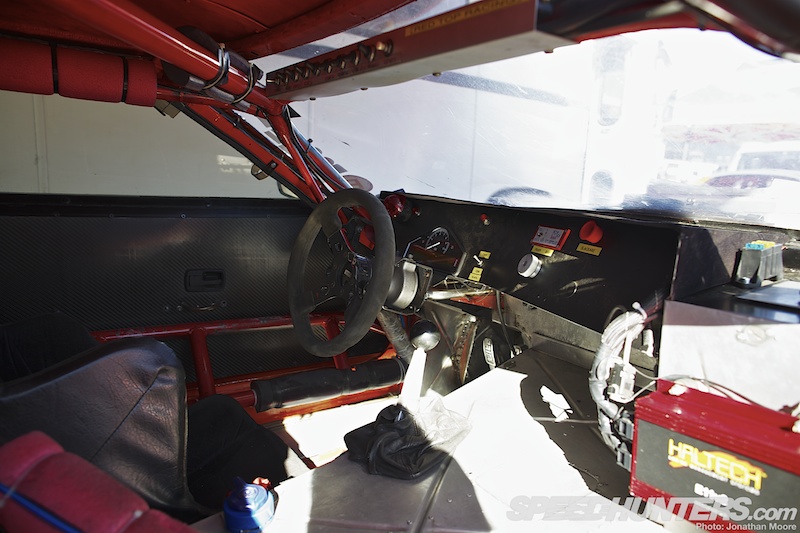 The cockpit is… practical. The wheel, a rev counter, ignition and fire extinguisher. A gear lever that looks like it would trigger a howitzer. And the loud pedal. A very loud pedal.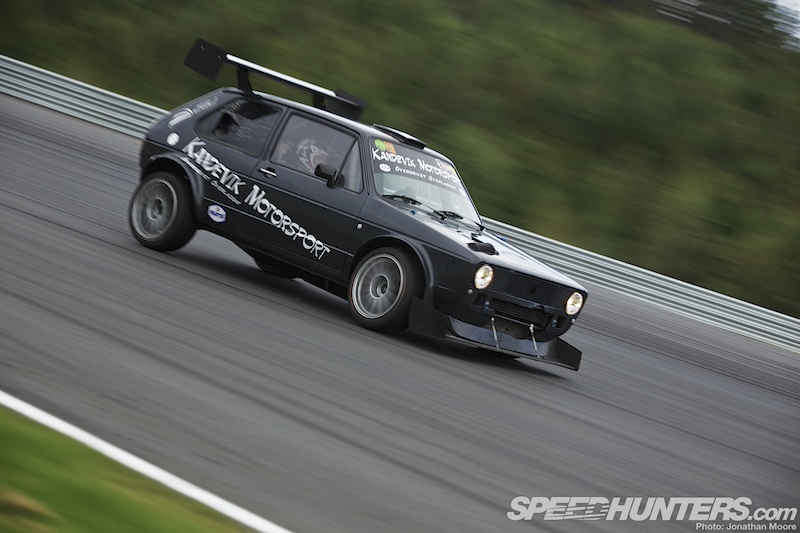 There were some serious mechanicals under the Wolfwagen Golf's exterior: you only got small hints of what's going on courtesy of the cut-outs and outrageous aero…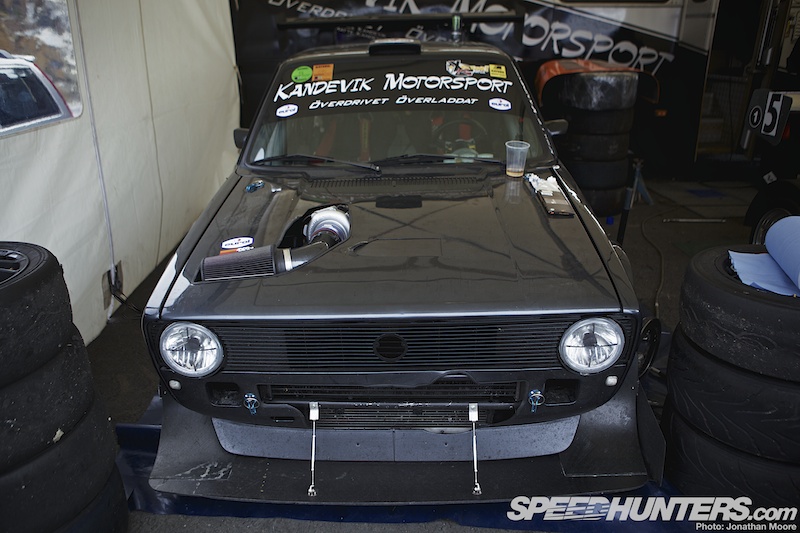 Under the hood a VW VR6 and Garrett turbo (using dual 44mm wastegates) are crammed in. It runs with larger valves and an aluminium short-runner intake, with performance tuned via a wide-band lambda and MoTeC M600.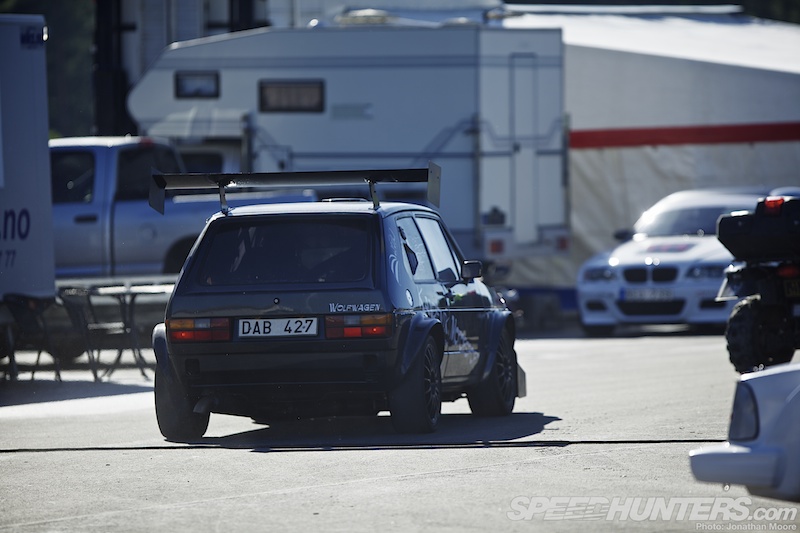 The power comes out at around 690hp/755Nm, which makes for insanely fast acceleration in a car that looks like it weighs as much as a packet of crisps. Watching this car from the side of the track never failed to bring a smile to my face as the turbo wound up and the car rocketed off down the next straight. A close-ratio five-speed gearbox required fast changes to keep up!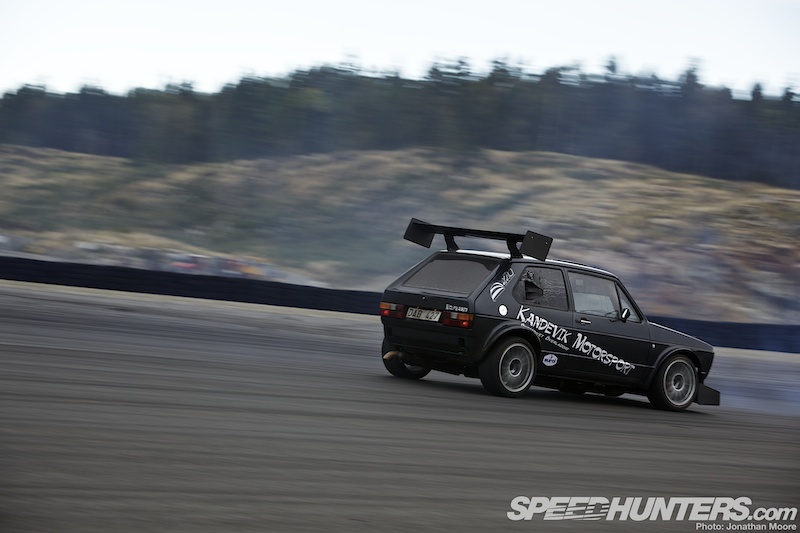 The flared arches contain the 285/30/18 rears 235/40/18 fronts – the braking pressure is adjustable and the Golf has a hydraulic handbrake. Closer-fitting arches were tried, but caused too much smoke build-up!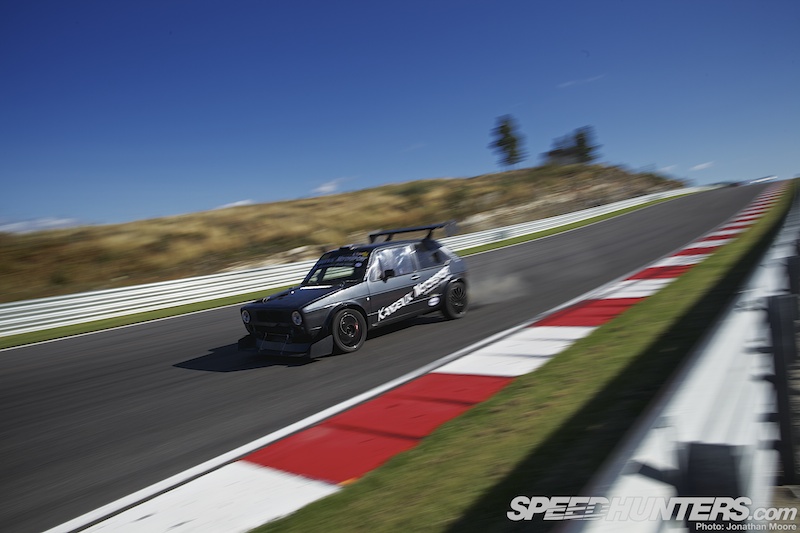 Unfortunately Krille Kandevik experienced engine problems all weekend, so the speed was a little erratic (a blown spark plug affected the cylinder pressure), but it was still hugely entertaining – and hopefully still great fun to drive!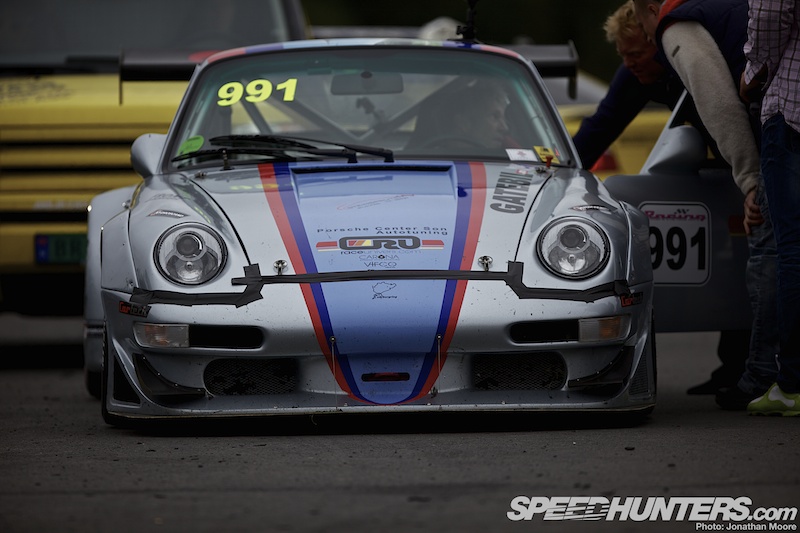 There were two Porsche 993s at Gatebil and both were driven to the maximum. The twins unfortunately suffered various levels of damage, with this car ending up stranded with a folded-over rear rim and its powder-blue sister stopping out on track – in the side of a BMW…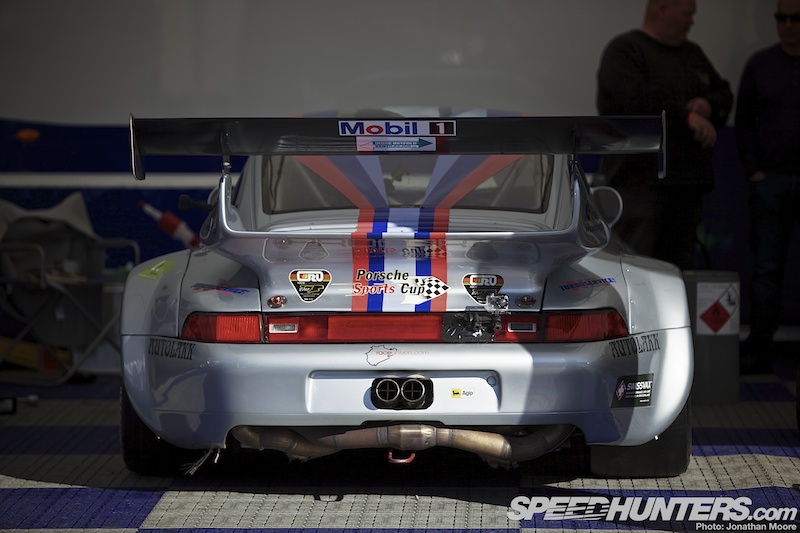 It's an FIA GT2 Supercup body, weighing 1,100kg and with full racing accoutrements: airjacks and centre-lock BBS rims (12×18, 14×18). Michelin tyres are being used: 27/65-18 and 31/71-18. They are enormous. Power comes from the 3.6-litre twin-turbo unit hanging out back: that means over 600bhp on tap and a whole world of torque to play with (over 900nm), with adjustable boost adding to the potential fun.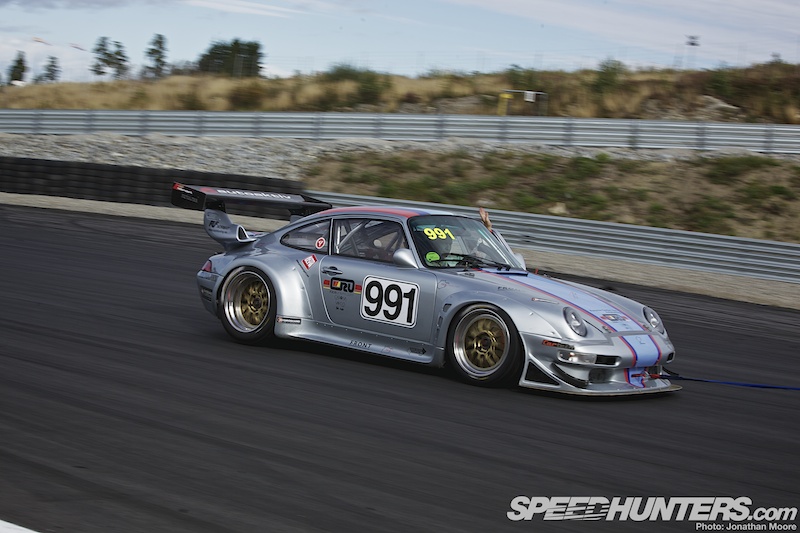 The Porsche is using a standard GT2 Evo drivetrain to the rear, though a modified G50/54 six-speed transmission and a 60/80 diff. Suspension is the Bilstein/Porsche Motorsport damper and springs package, with stopping power from Porsche endurance-spec racing callipers: 400mm vented disks up front and 320mm vented disks in the rear.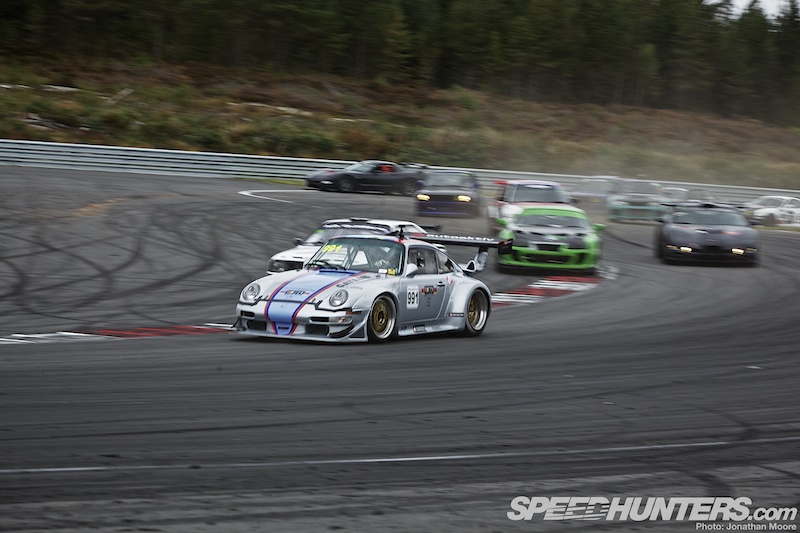 The car has quite a history: it was built by Porsche/Alzen Motorsport – Jurgen Alzen drove it in the Porsche Supercup Series – and competed in 62 events between 1998-2006. It's been to all the great tracks: Hockenheim, Nürburgring, Spa-Francorchamps, Le Mans… and now Gatebil.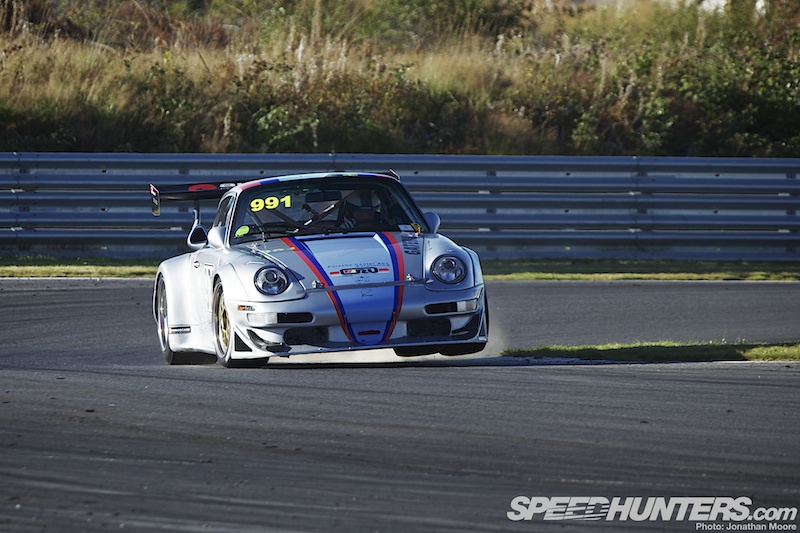 It's won the Gatebil Time Attack and Extreme series in both 2011 and 2012; the GT2 can lap Rudskogen in 1:26s and Vålerbanen in 56s. Seeing the car in action you can see why: it was absolutely driven to the limit!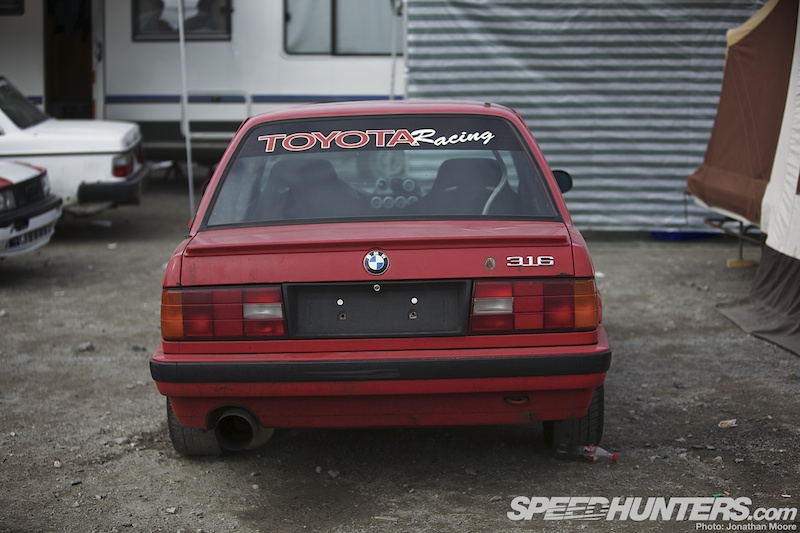 From the back this BMW 316 looked reasonably innocuous. Except for the size of the exhaust and the rear window strip…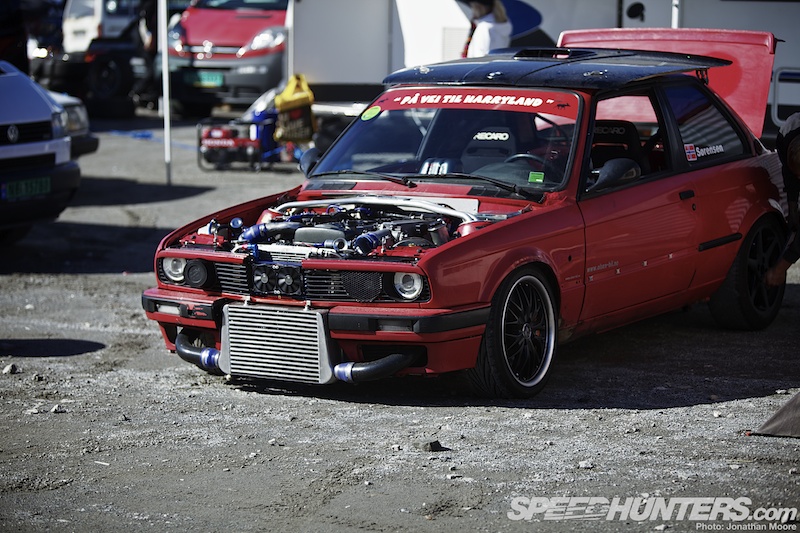 From the front it was a different matter, with the front-mounted intercooler dominating the front of the car.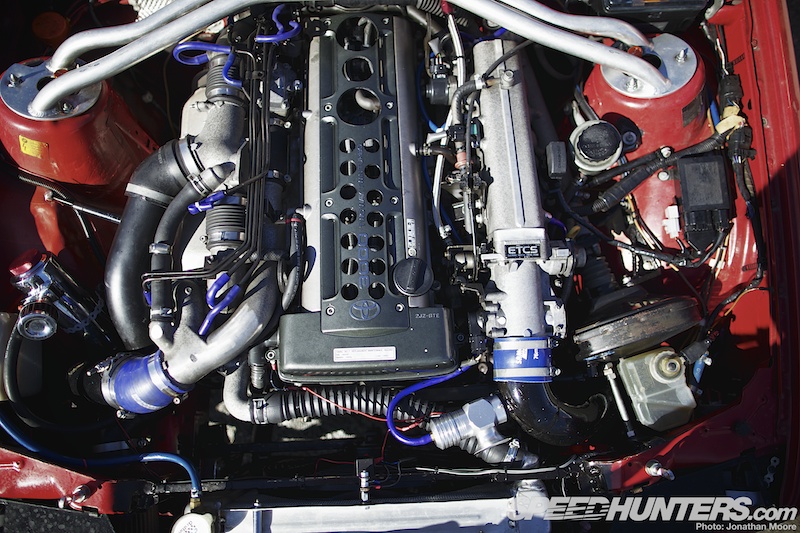 In the engine bay, a Toyota 3000 Two-way Twin Turbo 2JZ GTE.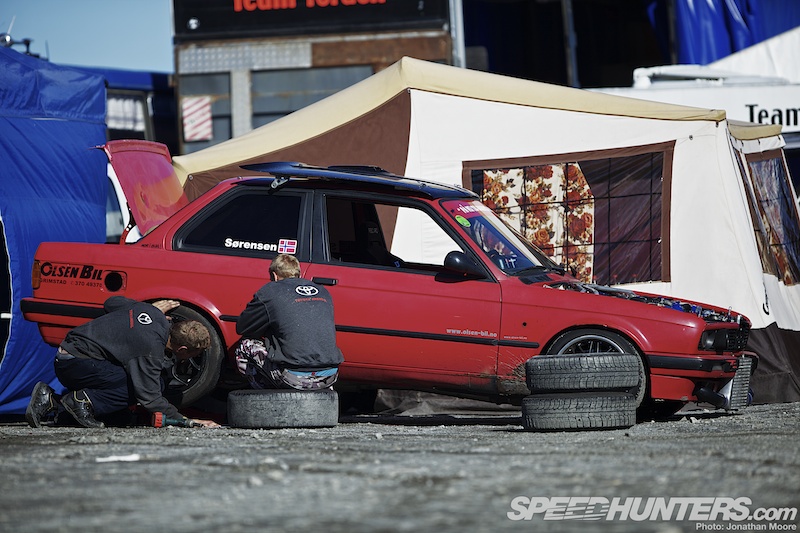 This car was representative of the vast majority of weekend warriors, alternating track time with changing rubber that had cried enough and carrying out little tweaks and repairs to keep the car going. It's the spirit of Gatebil.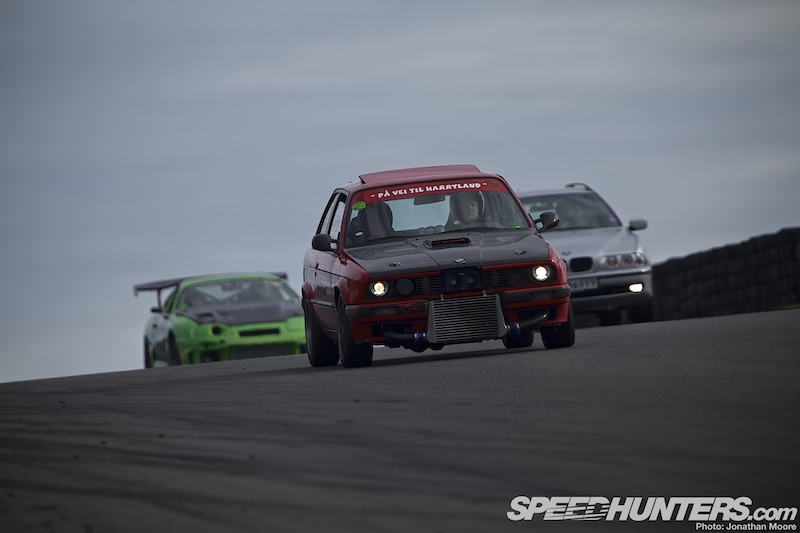 There were so many other cars deserving of more detail, but, well, it just means we'll have to go back again. The terrible shame! Many thanks to Egil Håskjold for his help over the weekend and with tracking down owners after the event. Cheers Egil!
Jonathan Moore
---
---
---
---