So there I was, ¥700 ($9) toll paid up, and sitting in a brand new 911 Carrera Cabriolet. In front of me a deserted Hakone Turnpike, one of the best and most thrilling roads you could ever wish to drive in Japan. The long and fast paced private road would take me form a little over sea level all the way up to 1011 m (3316 ft). The top was down, the weather was perfect…this was going to be one hell of an afternoon.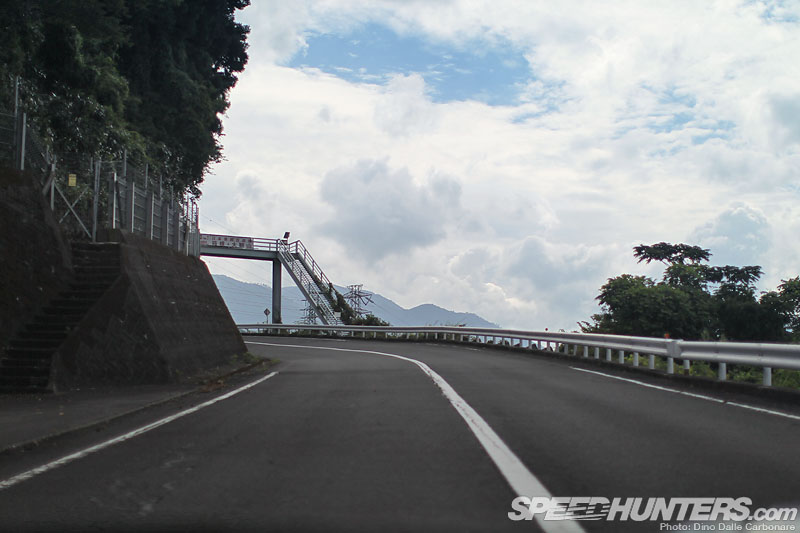 The whole idea behind these Dream Drives is to combine some of the world's best driver's roads with equally special cars and with our celebration of the 911 today, the 911 Cabriolet couldn't have been a better choice. From the start of the turnpike the road begins to climb up with quite a big incline…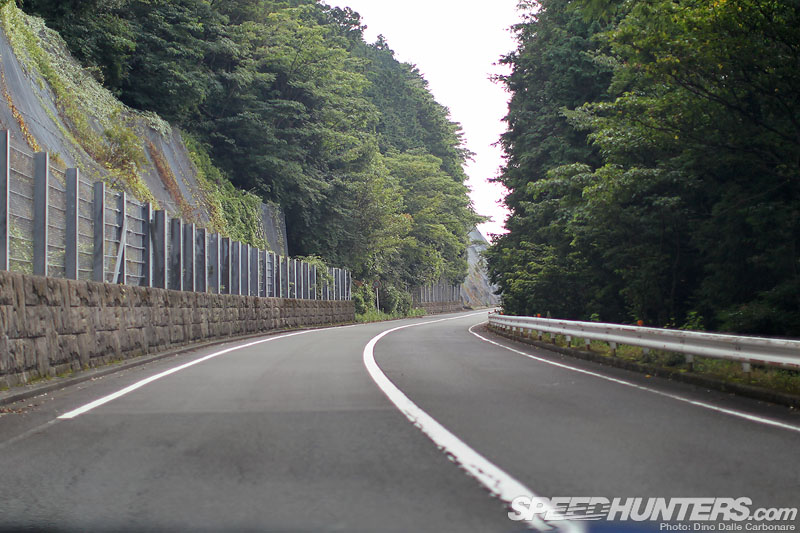 …starting off with a series of gentle corners.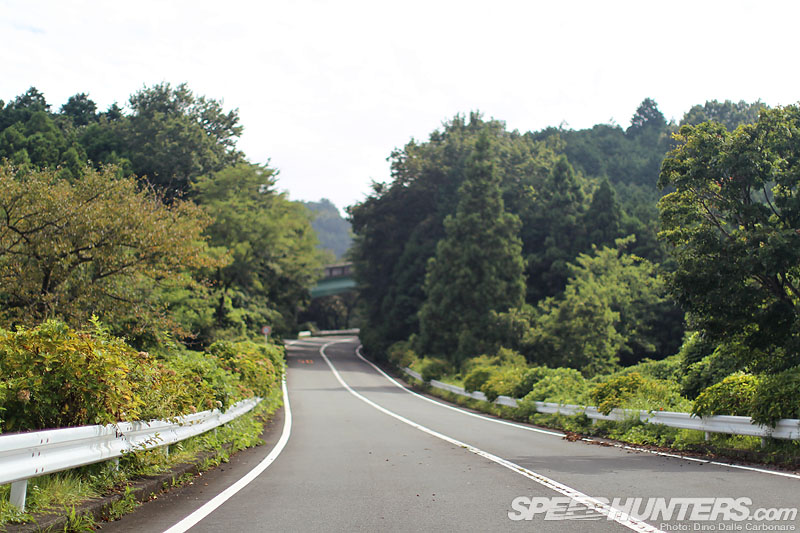 As you being the climb, the vegetation gets thicker, the road almost disappearing in front of you.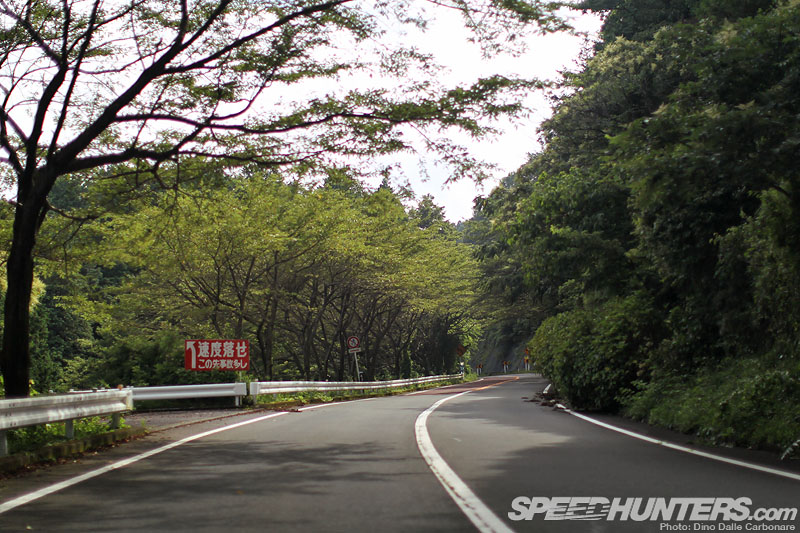 The Turnpike isn't a tight and twisty mountain road, but a rather wide and fast stretch of smooth tarmac where you really get to push your car to pretty high speeds…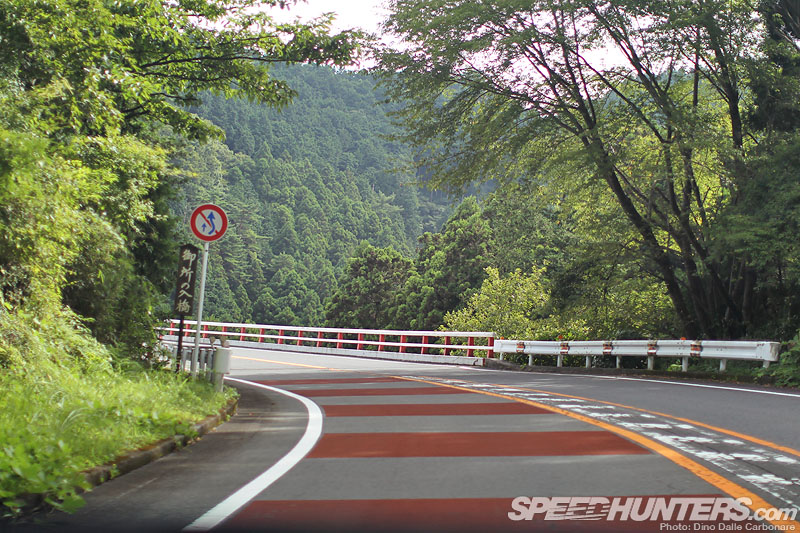 …giving your chassis, suspension and brakes a big workout. Of course speed limits still apply despite the road being privately owned, so if you want to speed, you better be ready to accept the consequences if you get caught.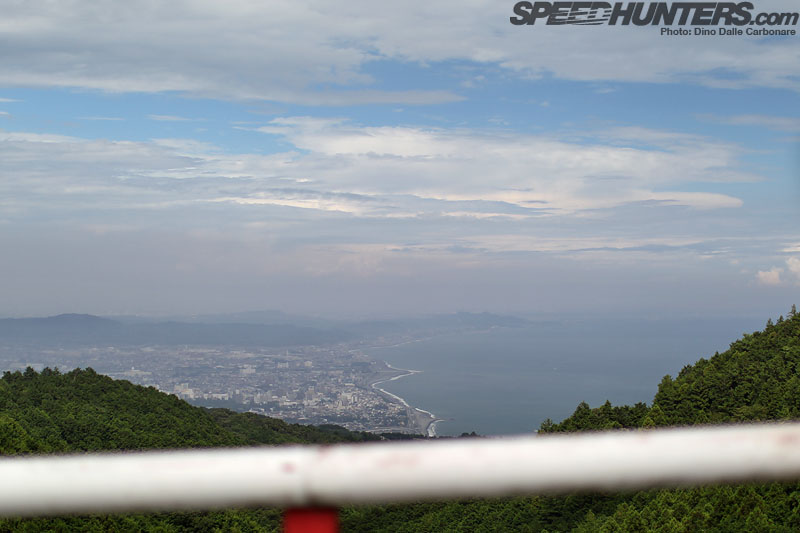 You rise up quick and in no more than a few minutes you are already a good way up the chain of mountains that overlook the Odawara coastline and the Pacific Ocean.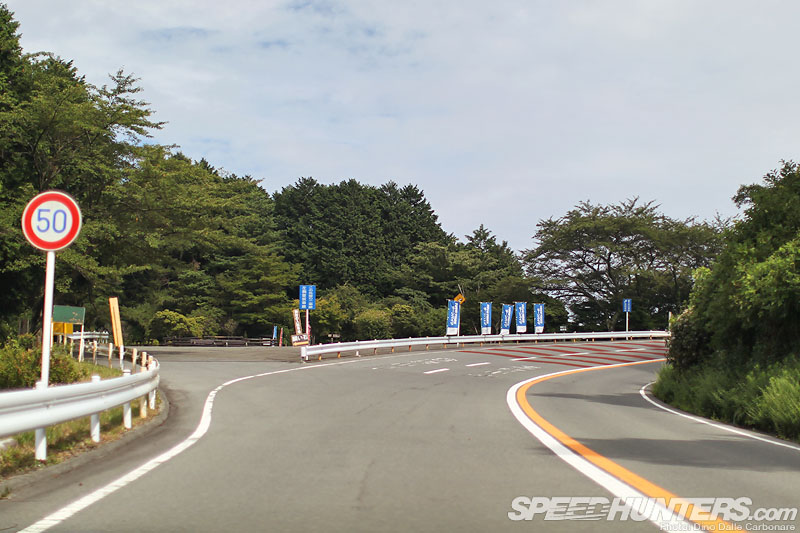 Soon after passing a bridge with that awesome view, there is a little parking area with an observation spot, in case you want gram some touristy pictures.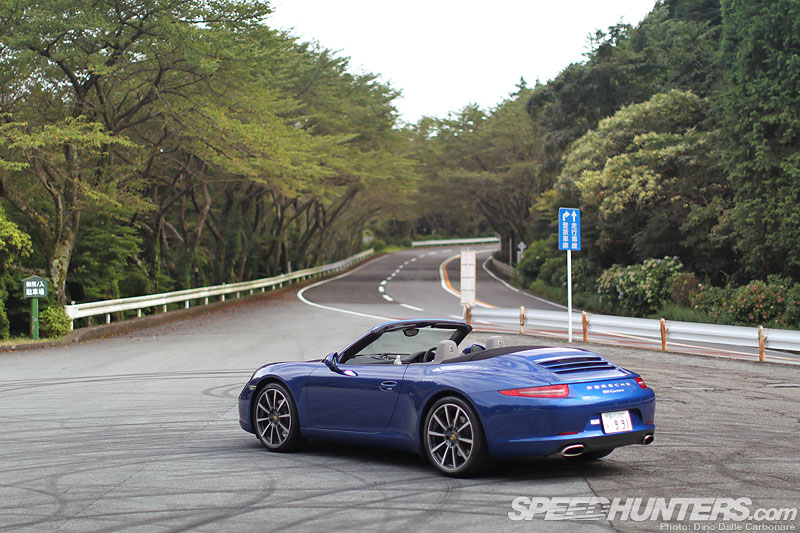 It might look pretty familiar, as this is where a lot of Japanese car magazines come to shoot new cars and safely take some action snaps. I do a lot of photography here myself, it's a great spot and changes dramatically with the various seasons.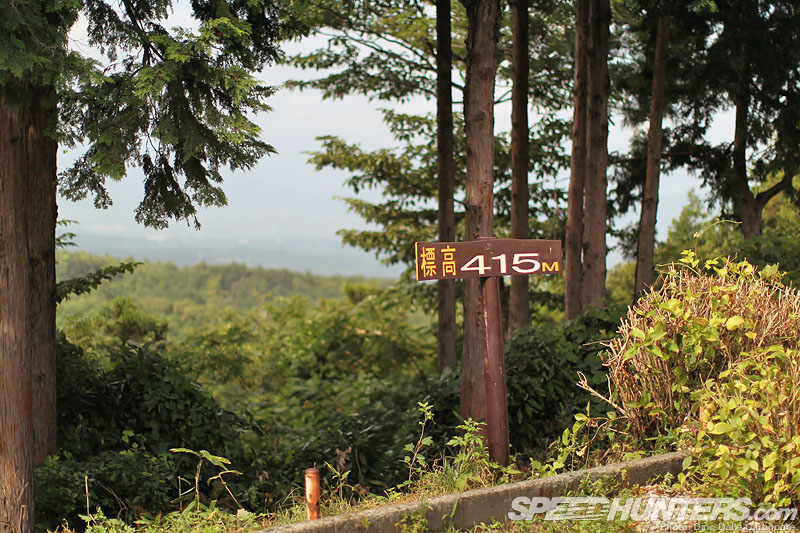 This parking area sits at an altitude of 415 m (1361 ft), and is just under a third of the way up to the top.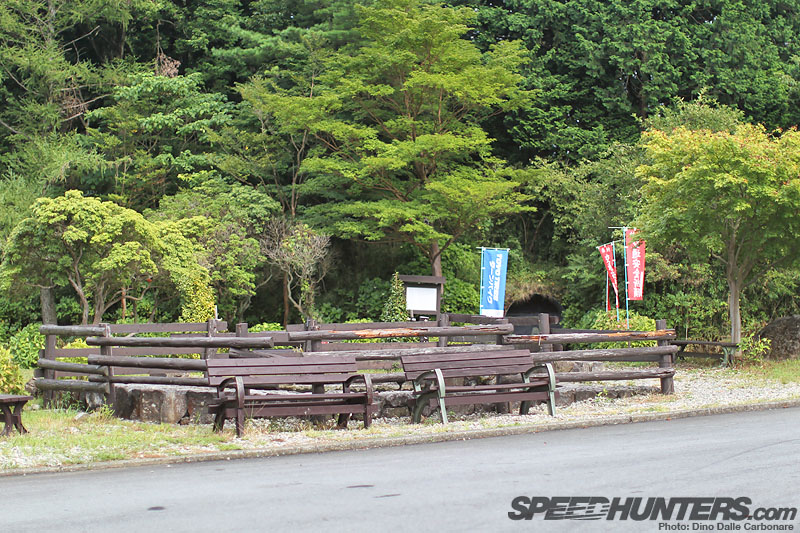 There are a few benches if you want to take a break from driving…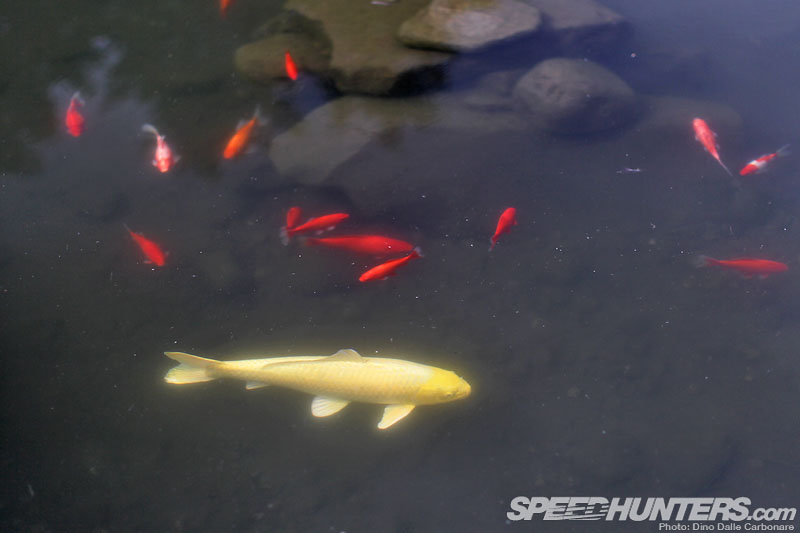 …chill out and watch the fish in the little pond swim around!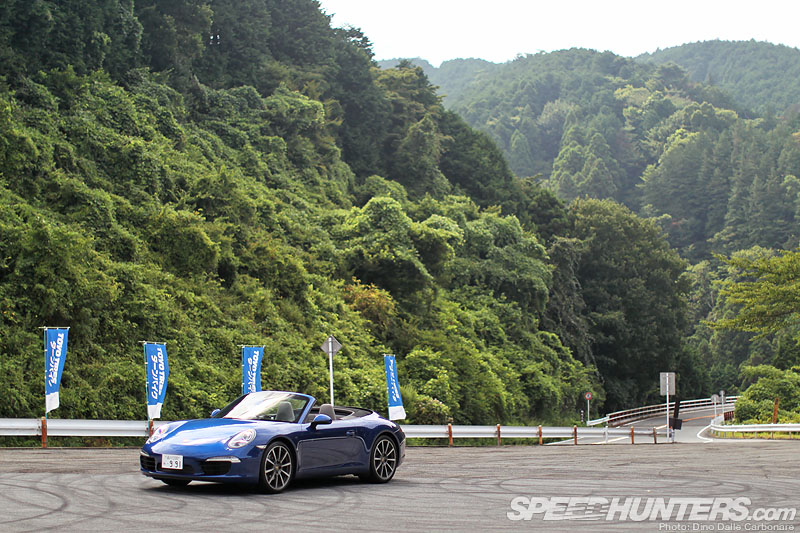 I took the opportunity to get some more shots of the 911, a car that was really impressing me in every way imaginable.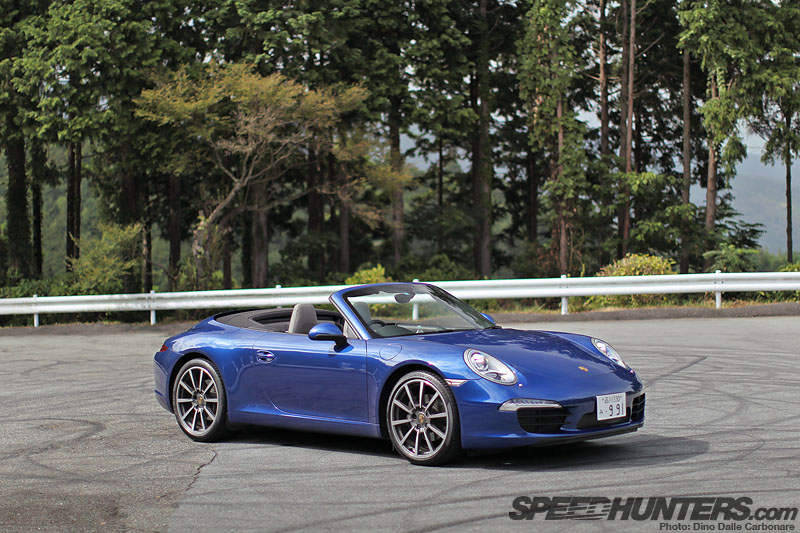 Porsche are the masters of subtle changes, but even by their standards the evolution from 997 to 991 is quite dramatic. While the design remains as recognizable as ever, the car has grown quite a lot, sporting a longer wheelbase (+100 mm). The car is longer overall too (+70 mm) with the rear wheels sitting further back in relation to the engine to improve weight distribution. It all translates into a car that eats up corners efficiently and precisely without any nasty surprises.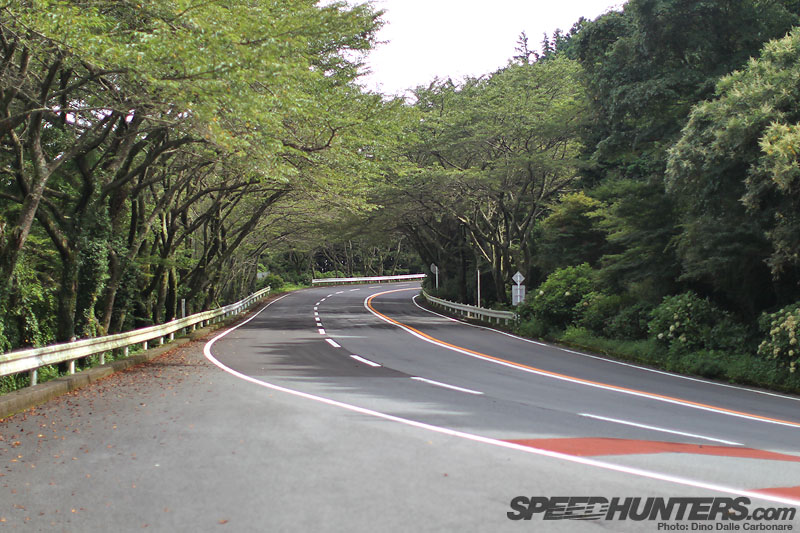 After grabbing a few shots…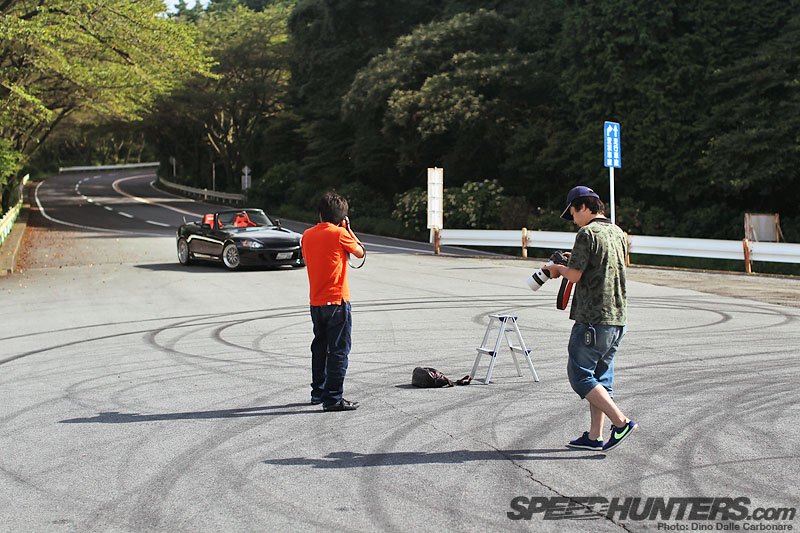 …I moved the car to one corner as a couple of photographers from some kind of Honda-related publication arrived with a nicely tuned S2000. Not wanting to get in their way I continued with my climb towards the top…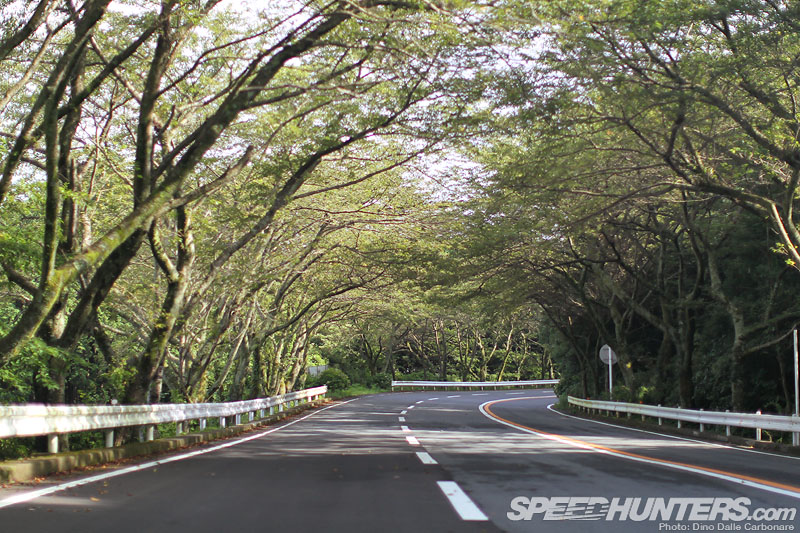 …documenting the Turnpike's best corners and most interesting sections.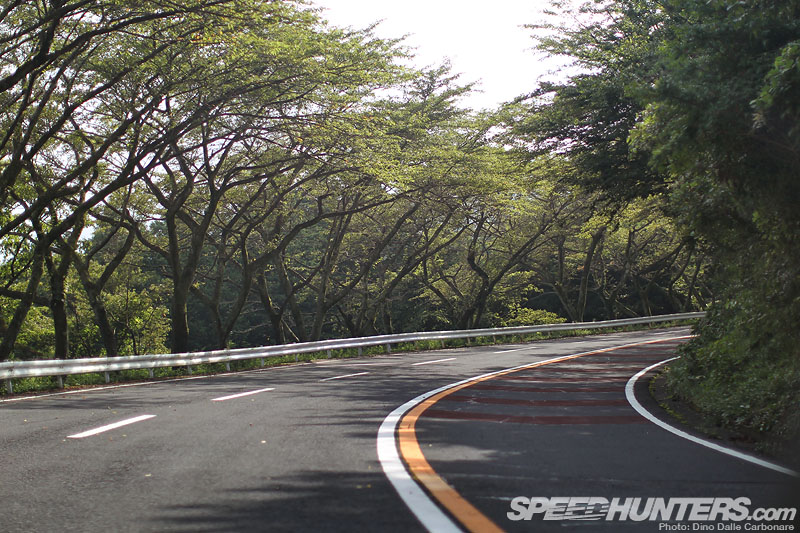 From the parking area on up,  the road really begins to get pretty twisty, a constant stream of big-radius cambered corners…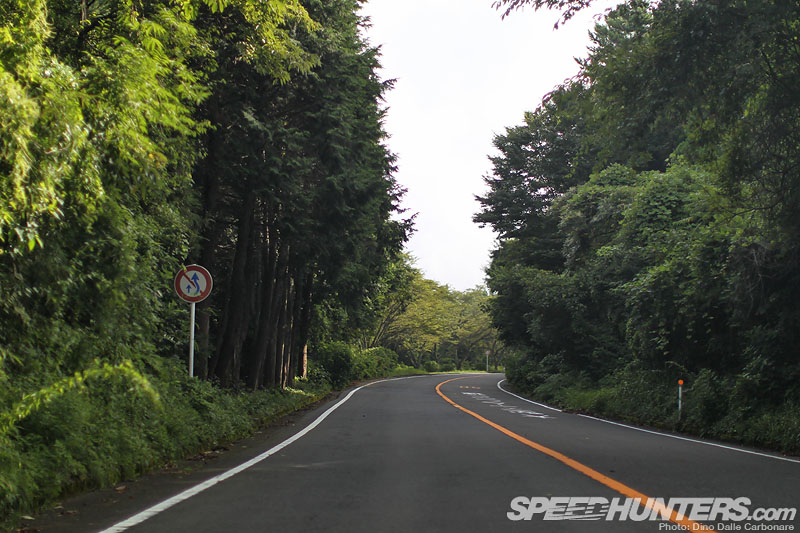 …connected up with straights that allow you to really explore the higher reaches of your car's engine. This is where the 911 really shines, its torquey flat-six clearing its throat past 4,000 rpm, the whole exhaust and induction note changing into a screaming wail that is guaranteed to make the hairs on the back of your neck stand on end.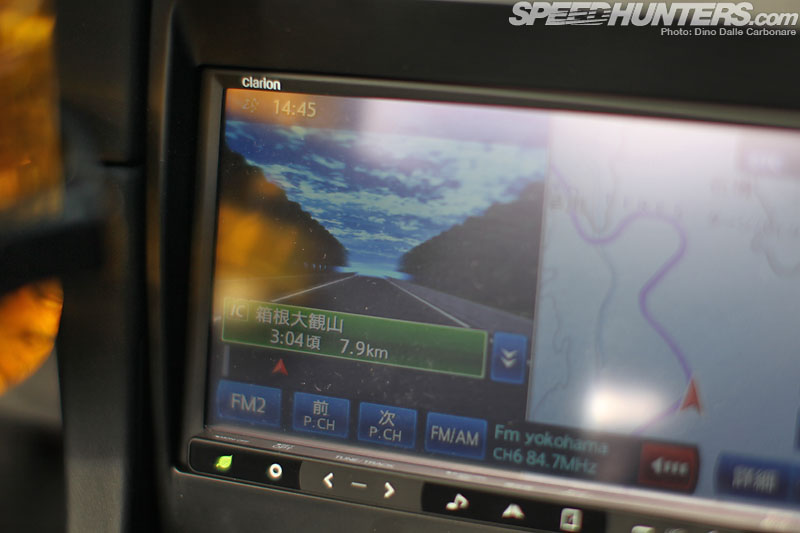 With 7.9 km to go before the top…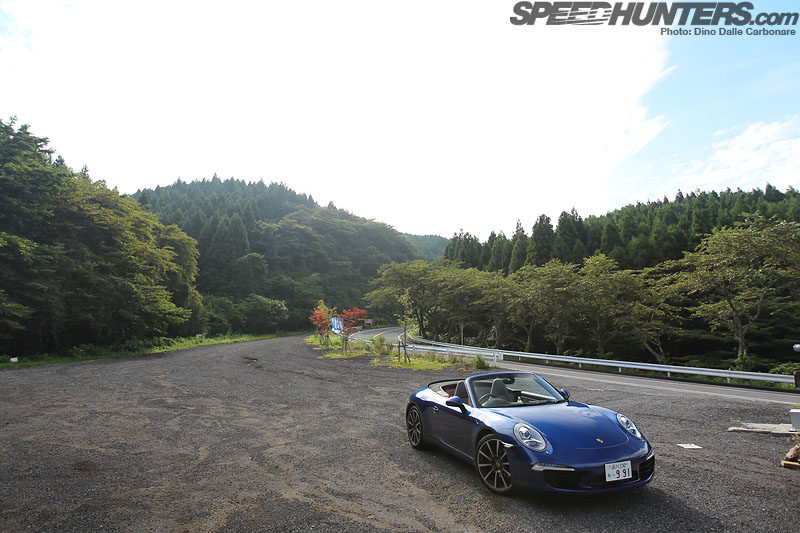 ….there was another observation point I wanted to stop at…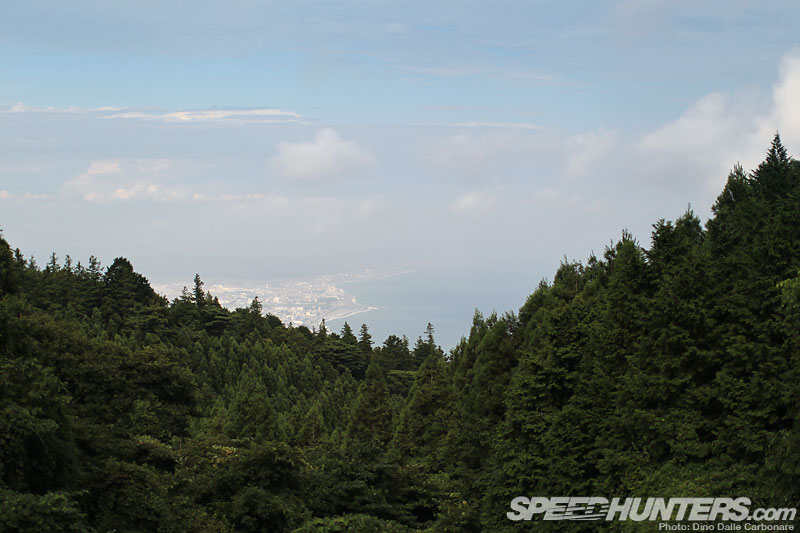 …one of the last places that you can get views like this from.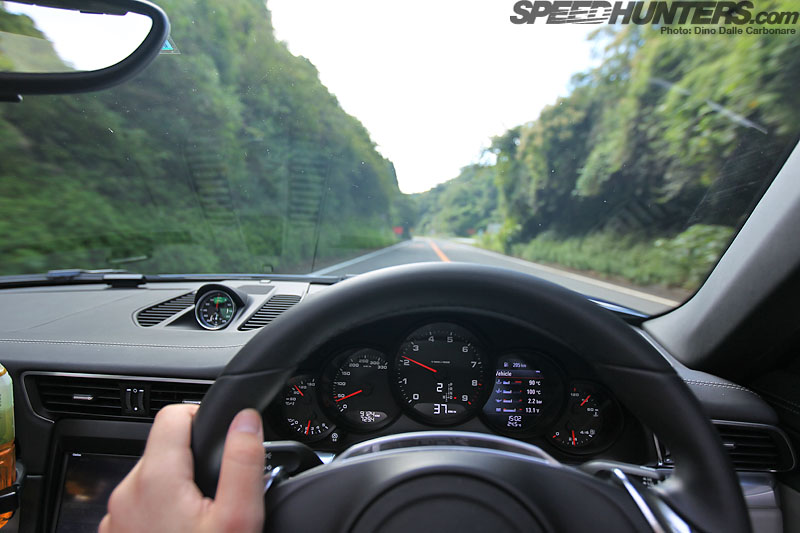 It wasn't long before I got back in the 911's comfy and supportive seats, the need to drive becoming stronger.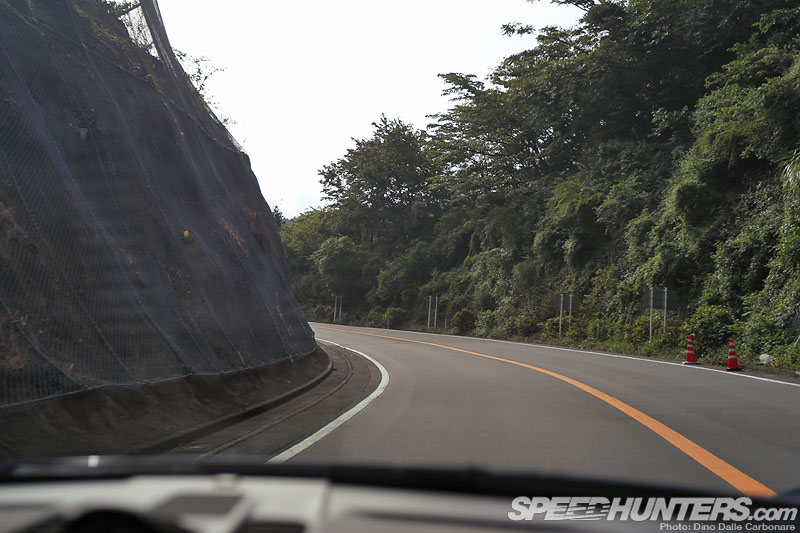 As more corners came I really began to tune into the car's handling, and this is where I was glad that my first drive in the new 991 was with a base model Carrera. You see, on top of the 50 HP hike that the Carrera S has, it also comes with active dampers and Porsche's Dynamic Chassis Control (PDCC) which continuously adjusts the rigidity of the anti-roll bars. With no such trickery…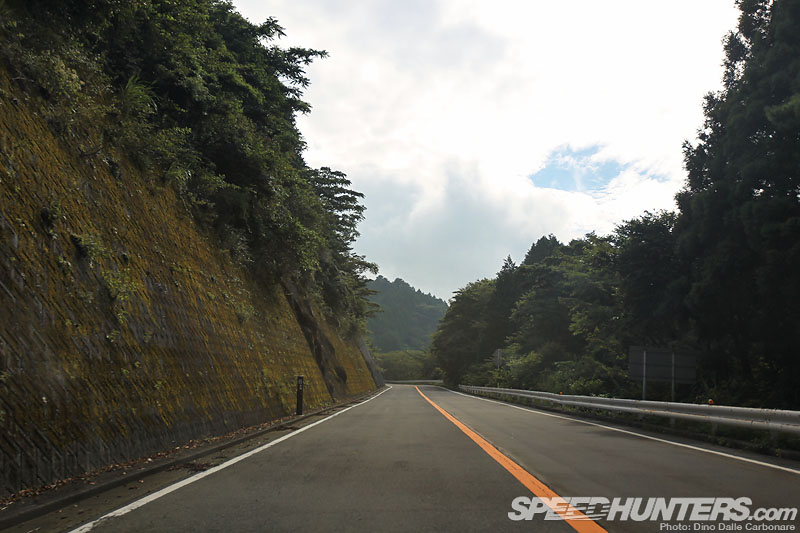 …I was able to really understand and appreciate the 911's chassis and dynamics, which were far more impressive than I could have possibly imagined, especially on the convertible. Porsche worked hard at making sure the Carrera Cabriolet feels just as torsionally firm as its roofed counterpart…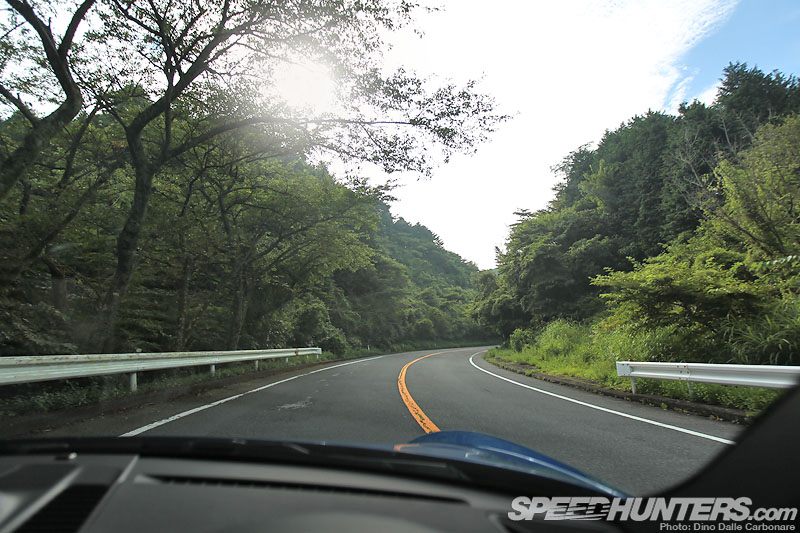 …so even if it does weigh a little more, there is no scuttle shake or noticeable chassis flex to be experienced. As the road continues to meander up the mountains…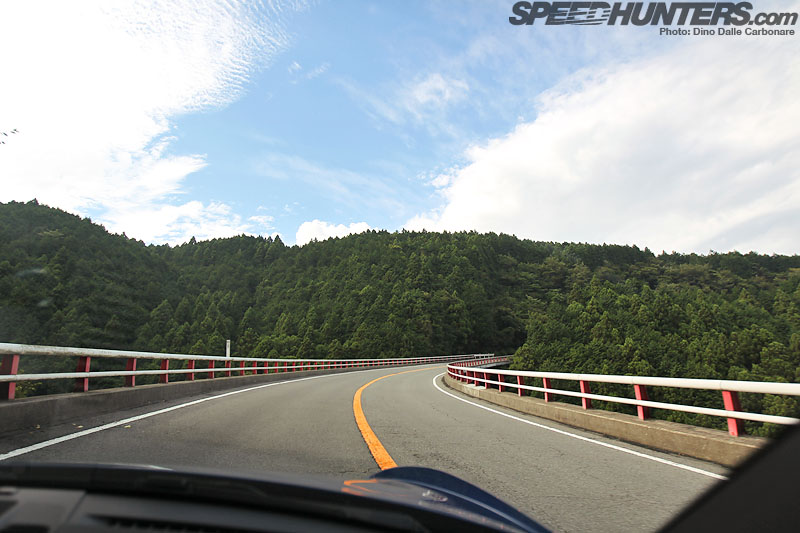 …over bridges…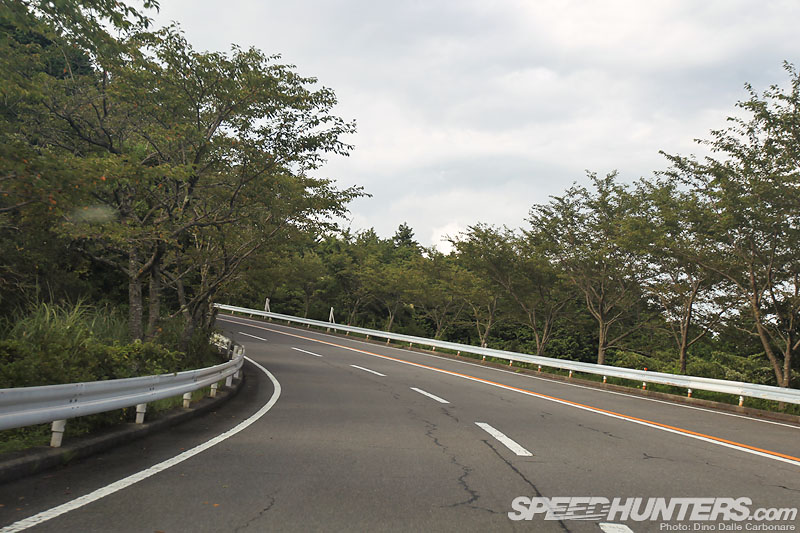 …and around slightly more technical corners I can't help but be impressed at the awesome job that Porsche and ZF have done at making the electrically assisted steering feel as natural as technology currently allows. I'd be lying if I said a regular hydraulic system wouldn't give more feedback and a more direct connection to the front wheels, but these systems are here to stay so crying about how great the older cars felt is pointless. If I recall everyone freaked out when Porsche engines went water-cooled with the jump from 993 to 996…but who is complaining these days?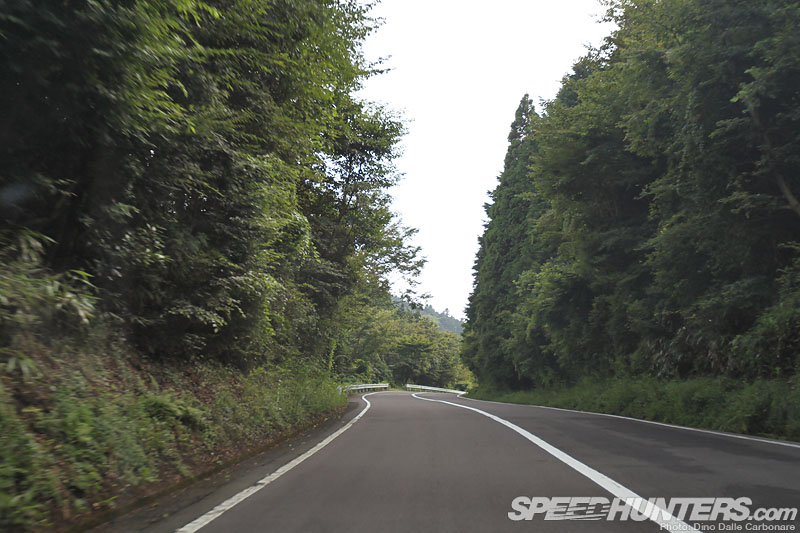 With the engine effortlessly singing away to the 7,000 rpm red line as it unleashed all 350 HP, it's always reassuring to know that you have a great set of stoppers to rely on to shave off speed, fast. And this is where I really take my hat of at Porsche. There have been only a few cars that I've had the pleasure of driving that can offer a similar pedal feel; it's consistent and progressive with a ton of feedback allowing the driver to accurately modulate braking force. And inside those massive 20-inch wheels the brakes almost look lost with their little drilled rotors and 4-pot calipers at each corner. If the little brakes on the entry level Carrera feel this good, I can't wait to sample the anchors on the upcoming GT3!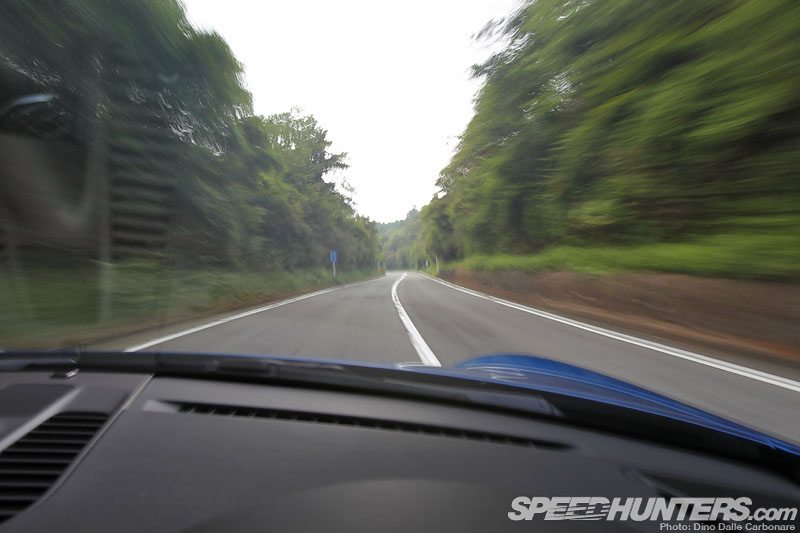 The 911 danced through the corners with finesse, all the time keeping tons of feedback coming in through each of the controls.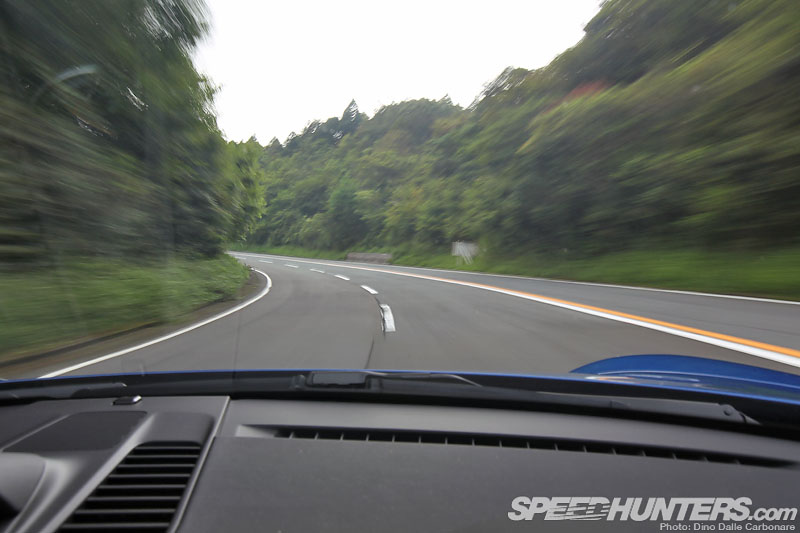 Like all cars these days, the 991 was equipped with a dual clutch transmission, or PDK in Porsche talk. I have nothing but praise for this 'box, it's lightning fast and in Sport Plus mode gives a reassuring shove in the back when shifting at higher rpm. It makes the gearbox in the R35 GT-R feel rather dated for example, but why on earth Porsche has not yet amended the unnatural layout of the shift buttons on the steering wheel is beyond me. You have to push the front button to shift up, and push the rear button to shift down. It's a good thing this transmission has an ECU that doesn't allow over-revving as I would have blown up the engine about 100 times! And it's the same with the shifter on the transmission tunnel, pull back to downshift and push forward to upshift. I understand this sort of layout is common on regular everyday cars with slush boxes, but on a Carrera?  Why?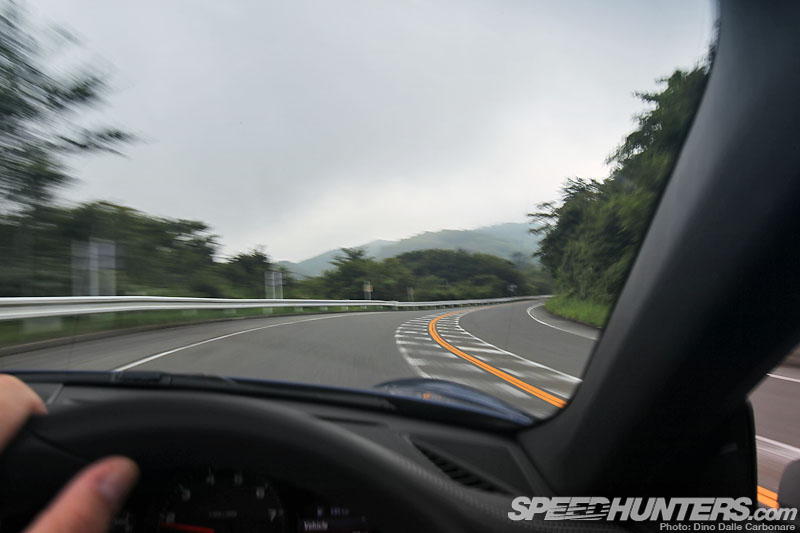 Anyway, slight complaints aside, the drive to the top proceeded…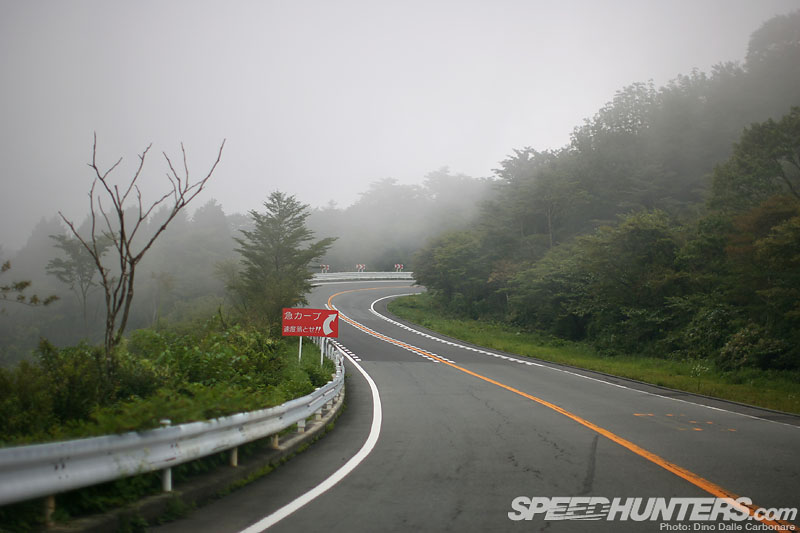 …except the clouds were really beginning to set in now, with banks of fog through some of the corners.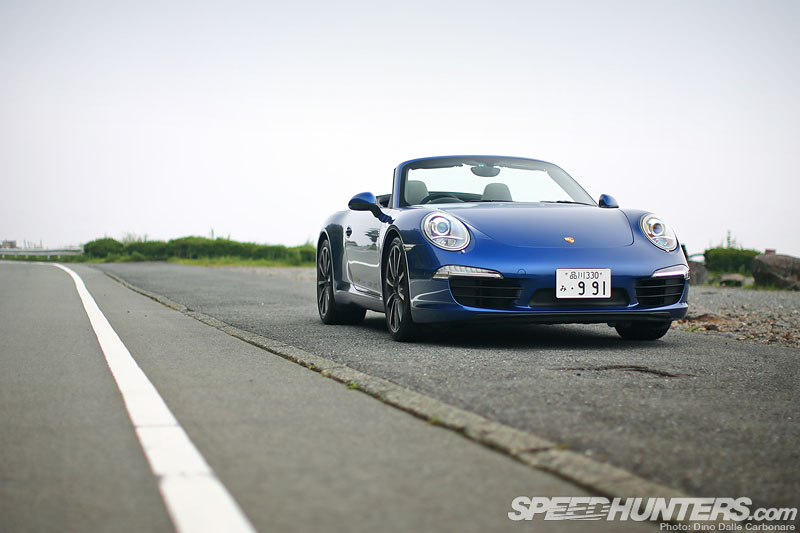 I pulled over at the last observation point…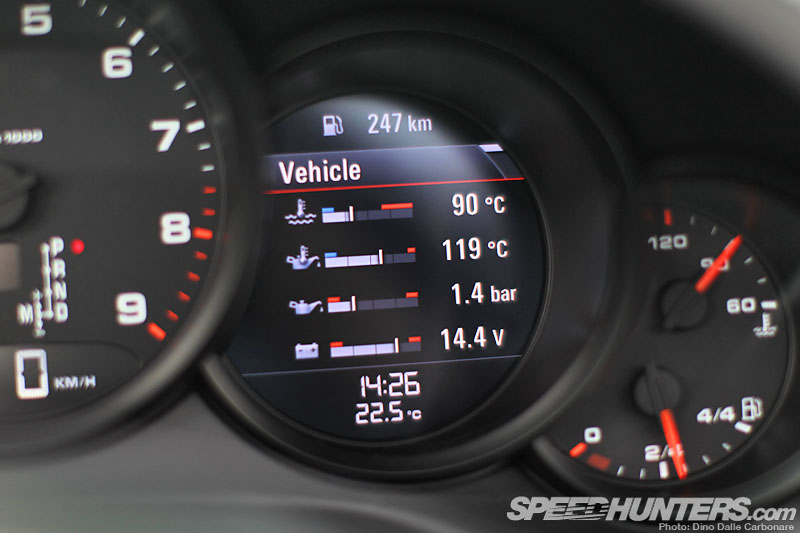 …for a quick break, a couple of shots and to allow the engine to cool down a bit. I saw a max oil temp of 122-deg C, I know Porsches run hot but thought I'd better let the car breathe.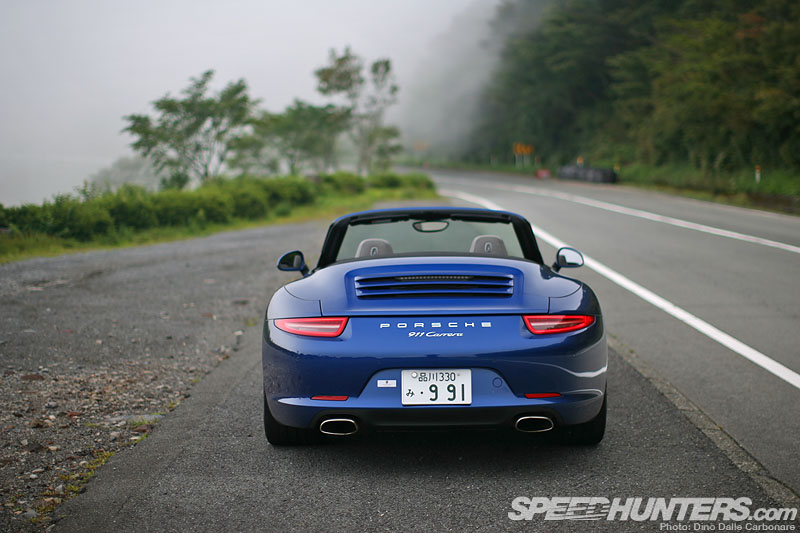 I though the blue of the press car Porsche Japan gave me was quite unusual at first, but it did look awesome under the cloudy skies, highlighting all the right curves. I'm a big fan of the new taillights, they are slimmer than the outgoing 997 items and sport a more modern design with very bright and visible LED outlines. What sets this new 991 Cabriolet apart from previous drop-top 911s is the technical advances in its folding canopy roof. Not only has it been designed to mimic the coupe's lines more, but is far more resistant and features a magnesium alloy frame, a main metal structure and a rear glass window. The result is sturdy construction and literally no buffeting at high speeds keeping things very quiet inside. It's almost too bad I drove it almost always with the rood folded away!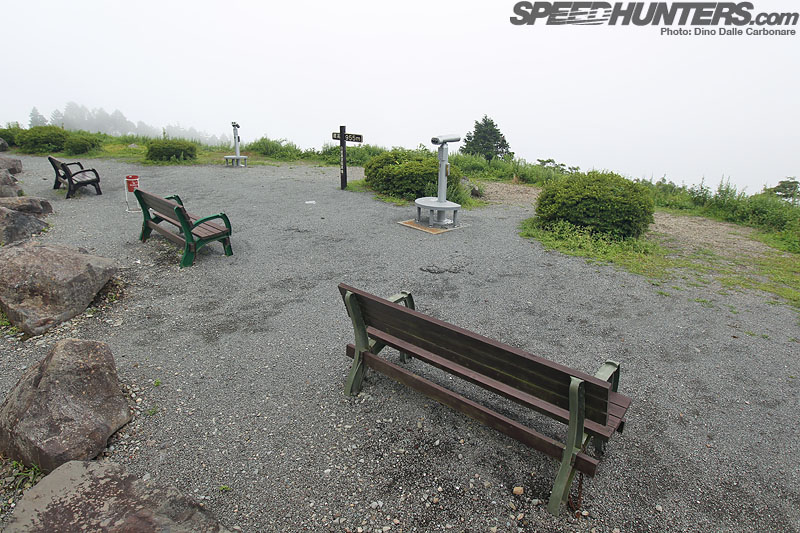 From here you can usually get an amazing view of the Pacific, but not today!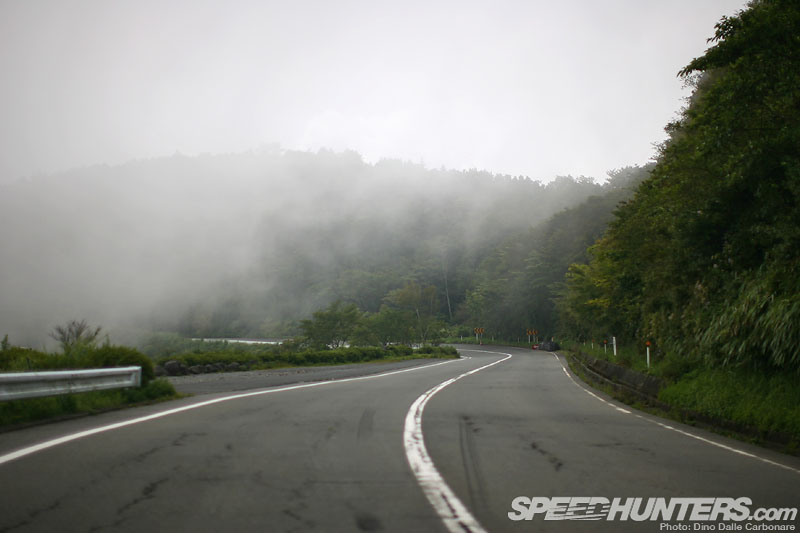 With the temperature dropping to about 20-deg C the engine didn't need much cool down time so I set off again, through the fog…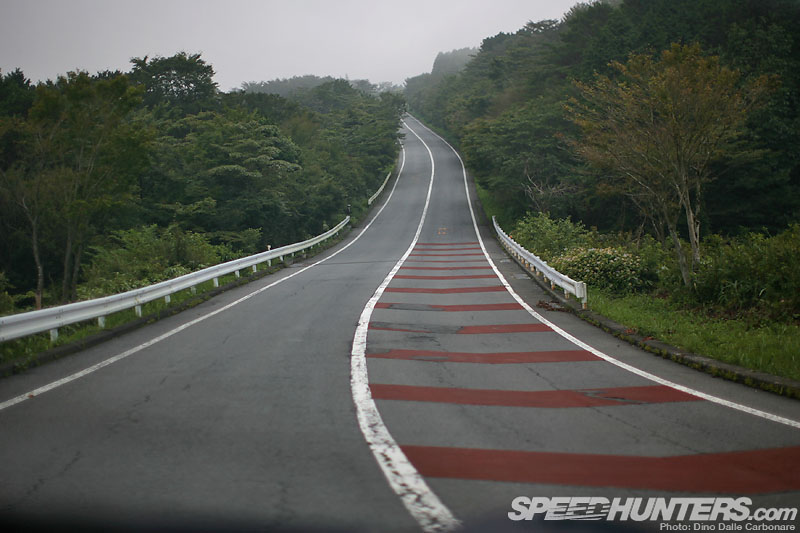 …and onto the final climb, where the corners give way to faster straights.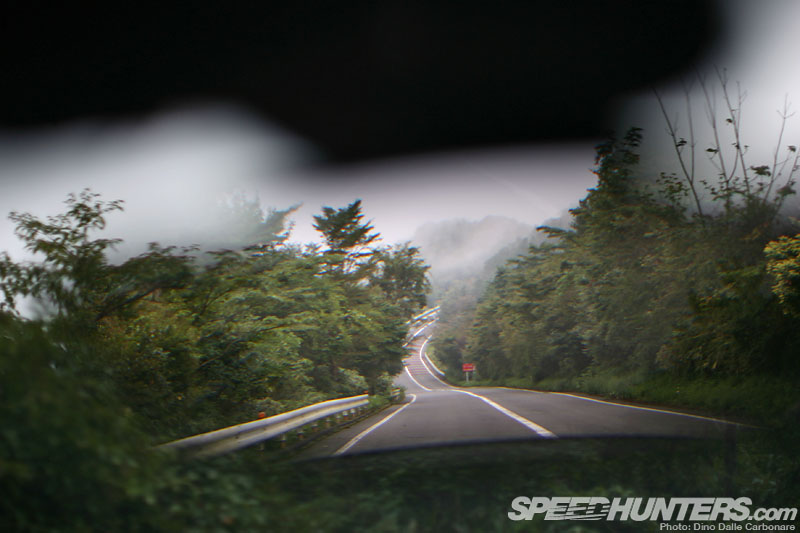 Looking at the rearview mirror this section sort of reminds me of the Nordschleife!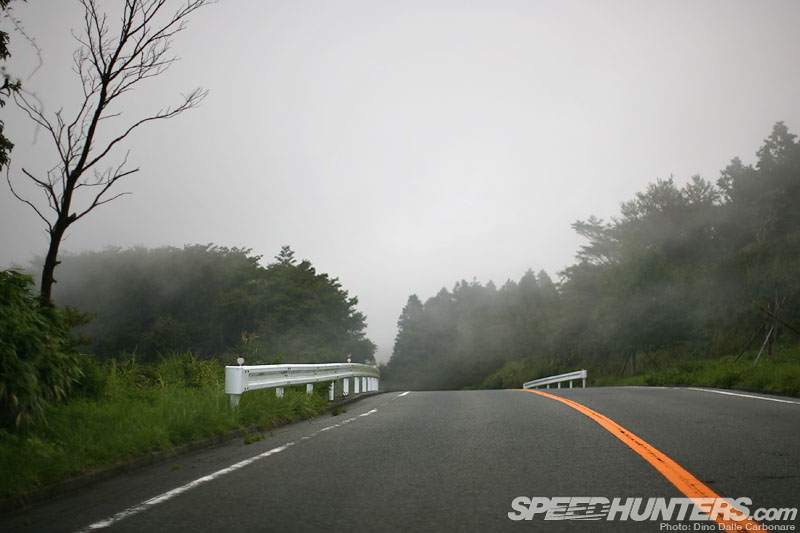 One final blind crest…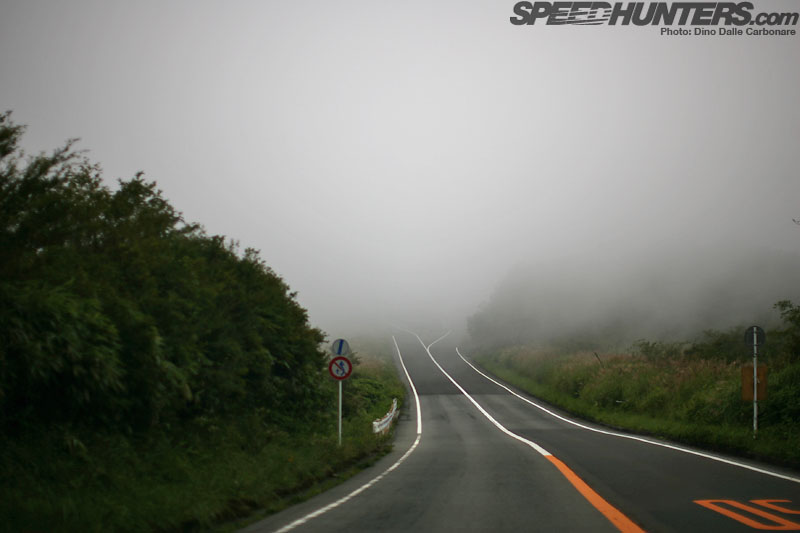 …and we are there, the road splits at the end as you make your around to the rest area.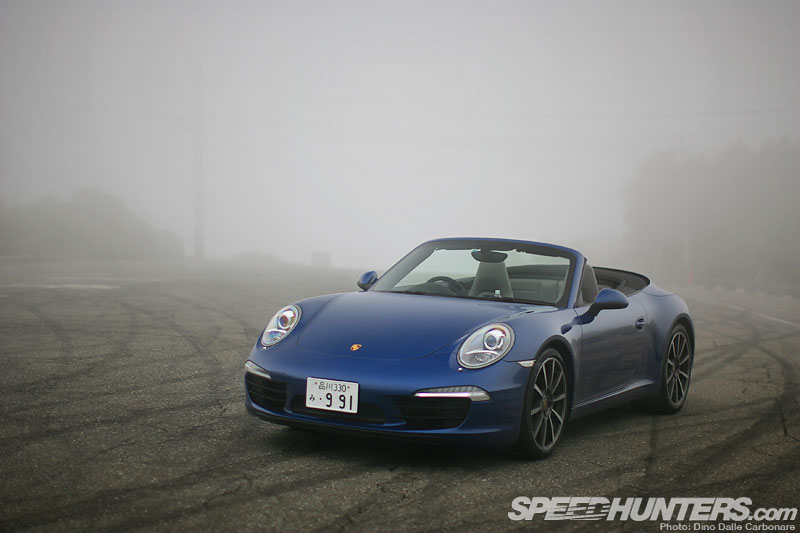 The fog was pretty thick at the very top…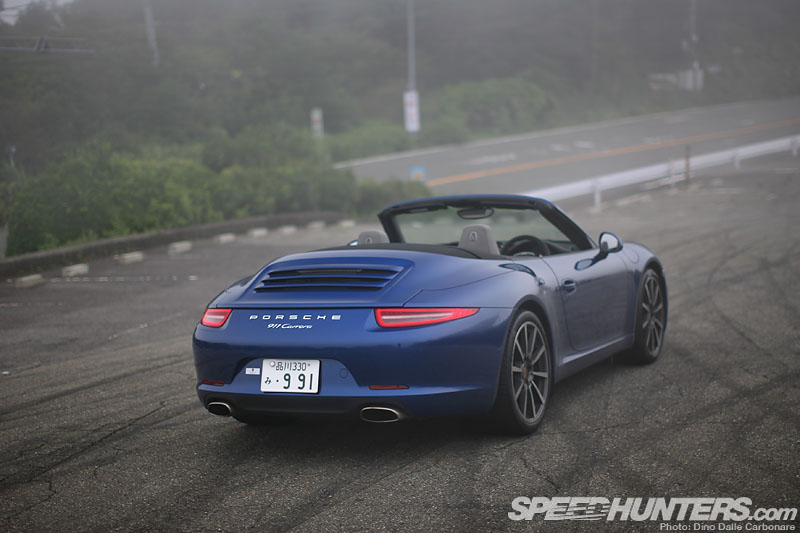 …so I decided to park up the car…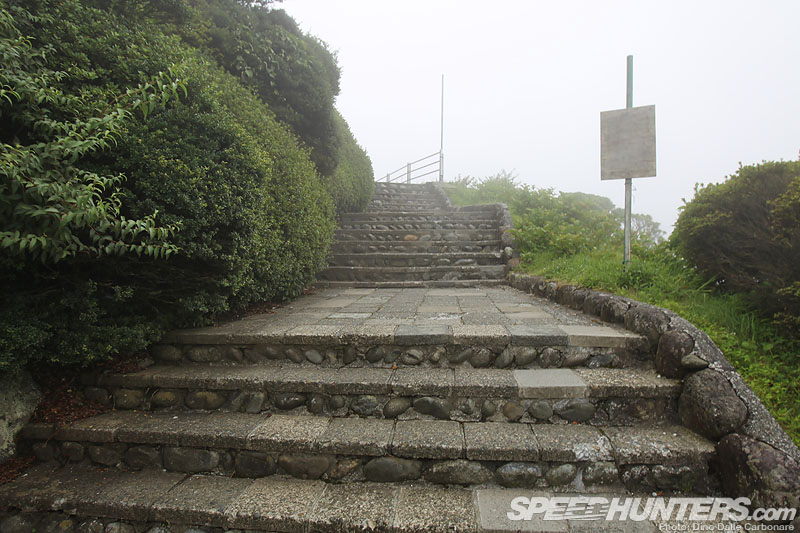 …and head up the stairs…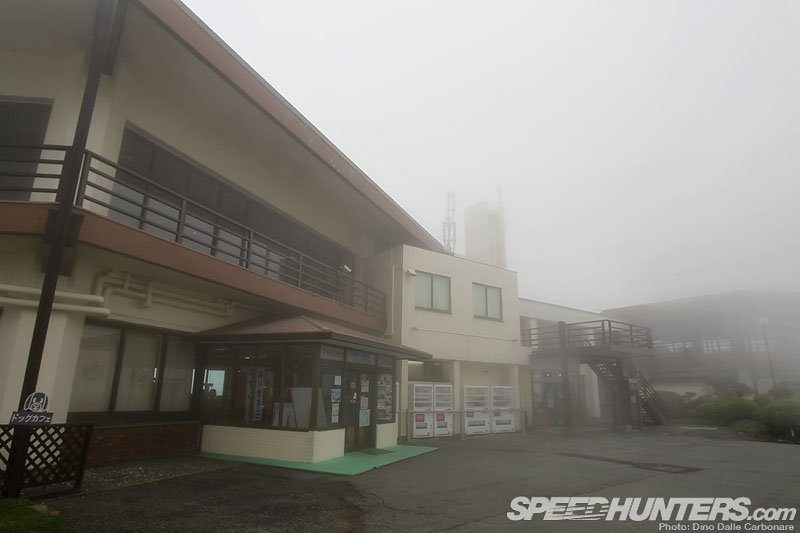 …to the restaurant area, fancily named the Toyo Tires "View Lounge."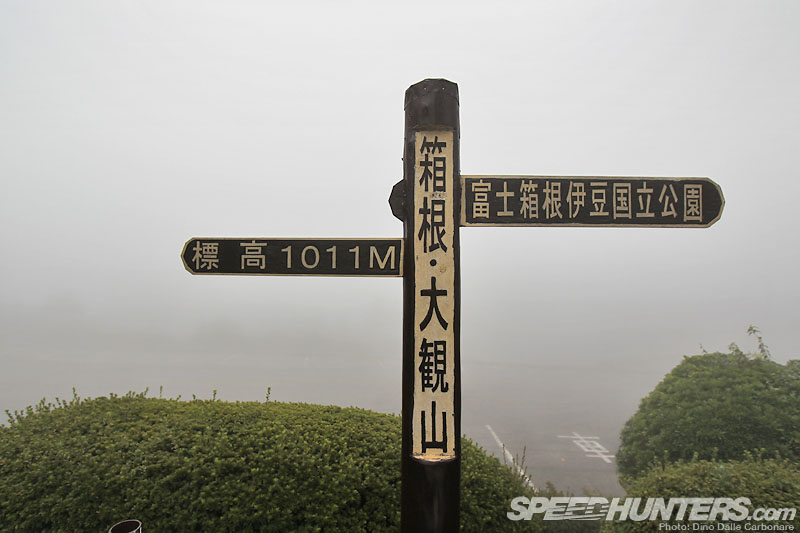 This is the highest point, and from here you have an incredible choice of roads that you can sample. You can go to the left, either all the way down to Lake Ashinoko, or take another short toll road that connects you over to the other side of the mountain where you can drive either down to the south of the peninsula on the Izu Skyline, or down towards Gotemba and Fuji Speedway on the Ashinoko Skyline. These are all roads that deserve their own Dream Drive posts! I will get to them at some point!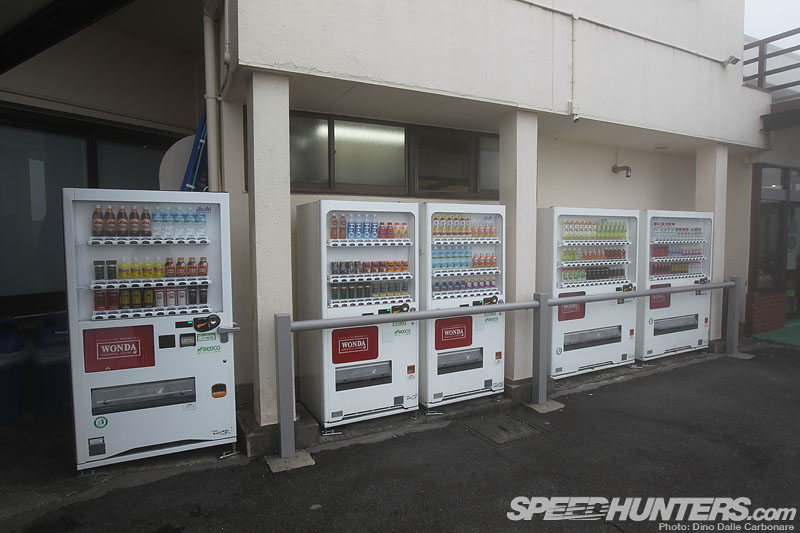 Can you get more Japanese than this? Perfectly functioning, non-vandalised vending machines, stocked up with change. A rarity in most countries.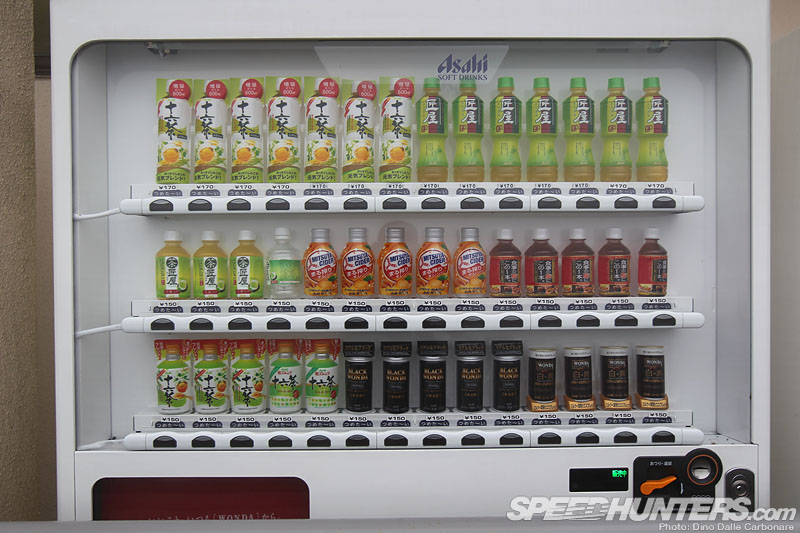 Nice selection!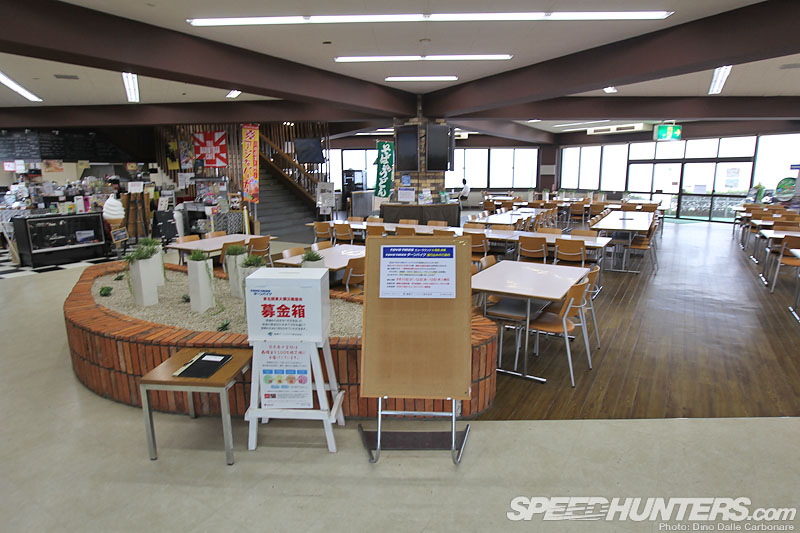 There weren't too many people around but usually, on a clear day, you can grab lunch and admire nice views of Fuji-san. Not today!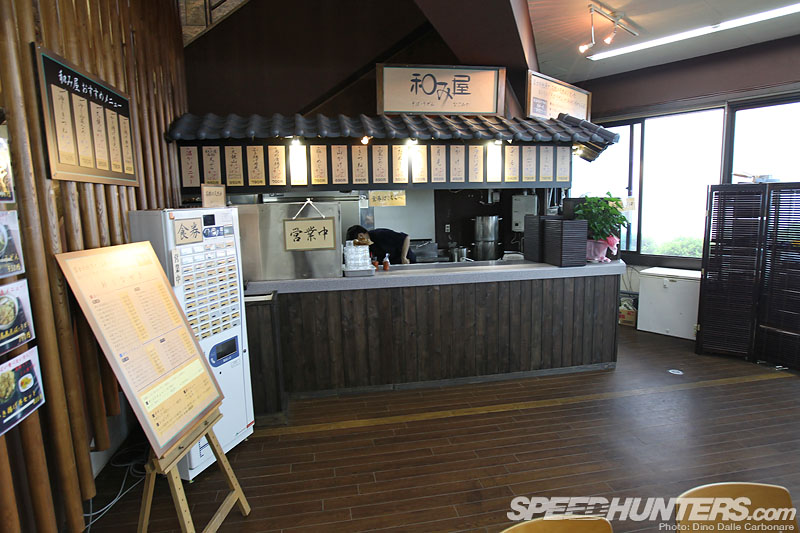 Here you can get a nice selection of Japanese food like soba and udon.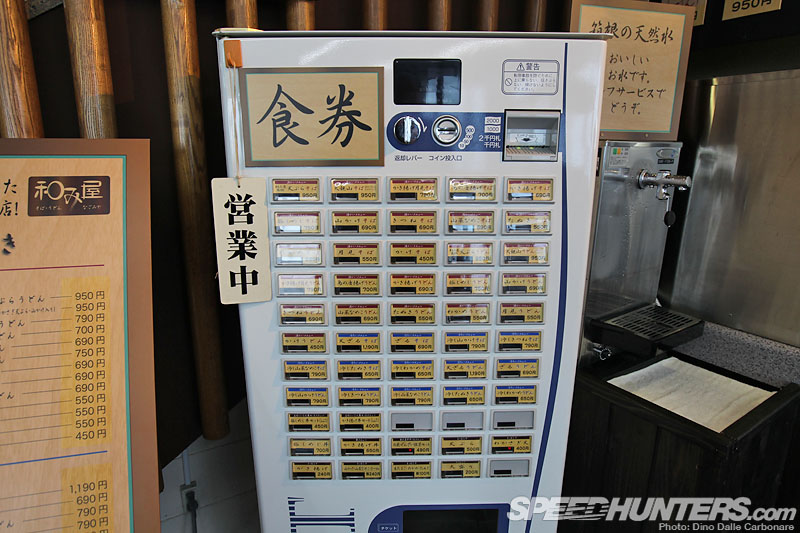 The system is simple, you choose what you want, insert money and press the button. Out pops a ticket, which you hand over at the counter. The ticket is ripped in half and you are called once your food is ready.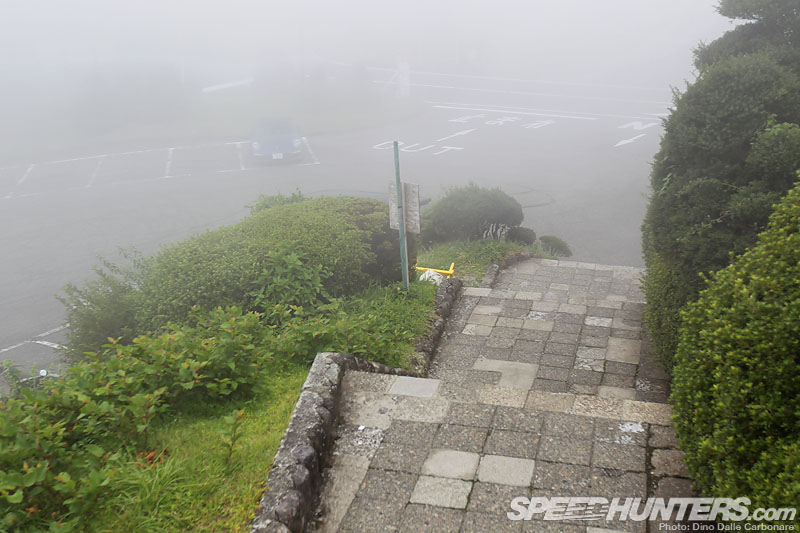 Can you spot the Porsche?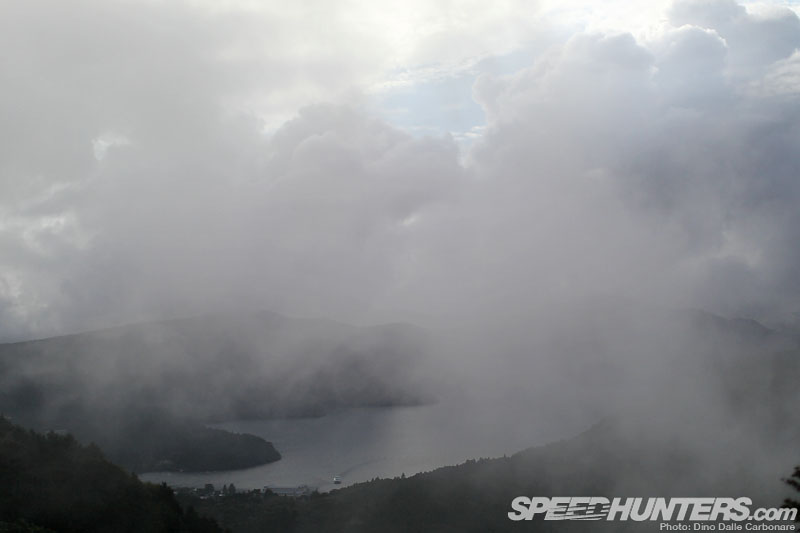 It wasn't long before the clouds began to clear. It would have been a pity to have come to the top of the Turnpike and not…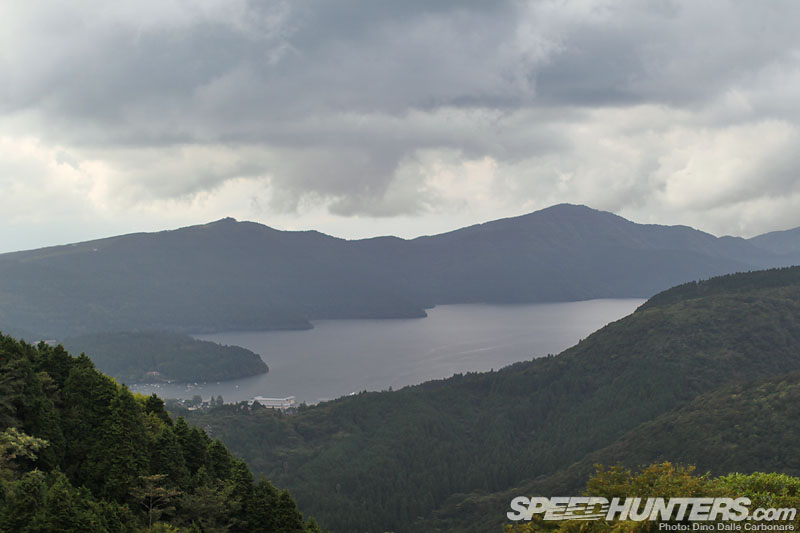 …gotten at least one shot of Lake Ashinoko. Fuji, again, was nowhere to be seen!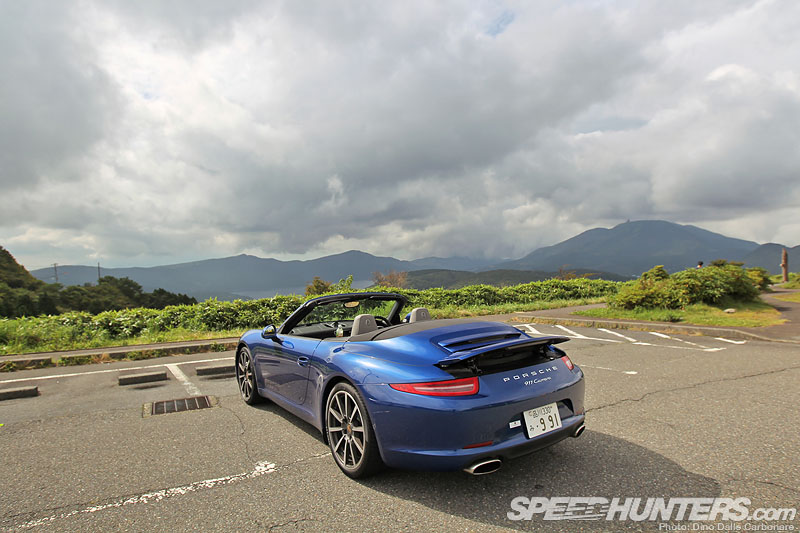 I decided to move the 911 over and grab a few more shots with the lake in the background. Here is one with the rear spoiler up; you can raise it at the push of a button or it raises itself over 120 km/h (75 mph).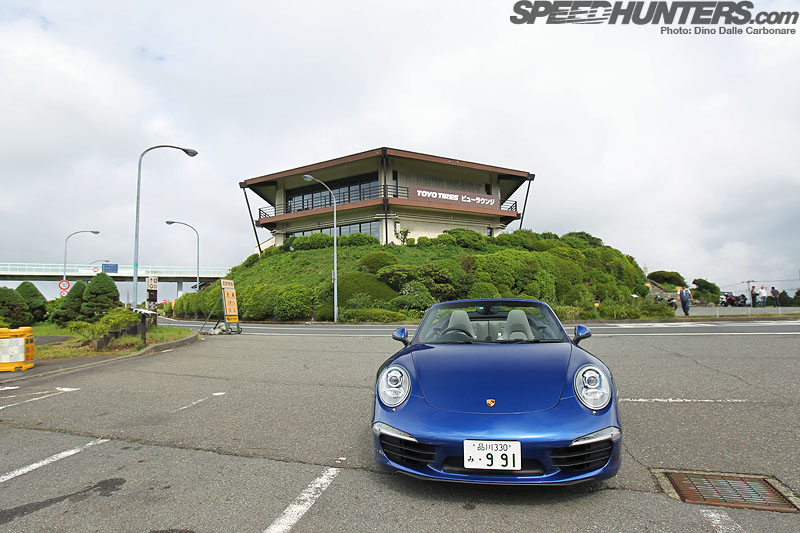 From this view you can see the "View Lounge" in the background.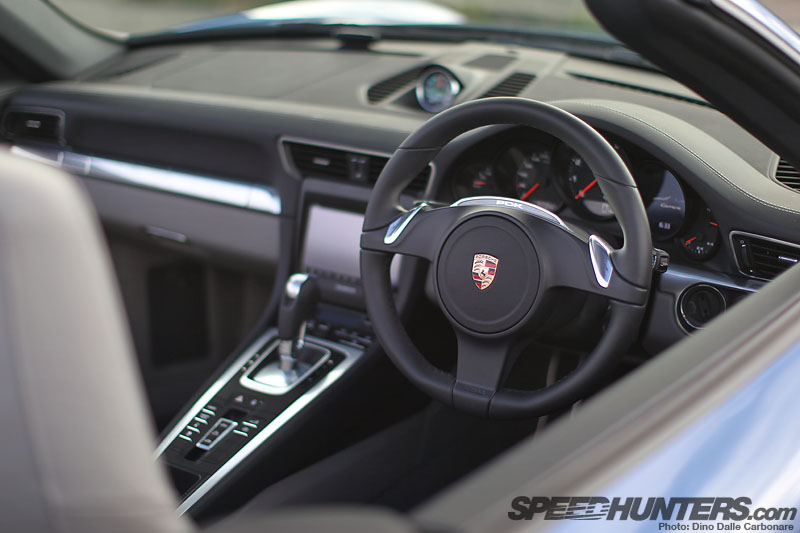 This was a good opportunity to let the car rest and take a look at the interior, which is quite a lot different in layout from the older 997.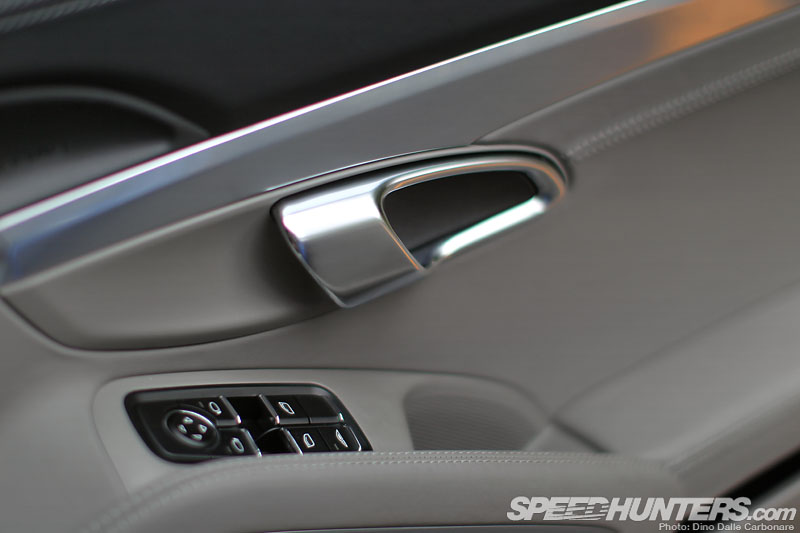 The fit and finish, trim levels and build quality are of very high standards, everything is upholstered in very tightly stitched soft leather…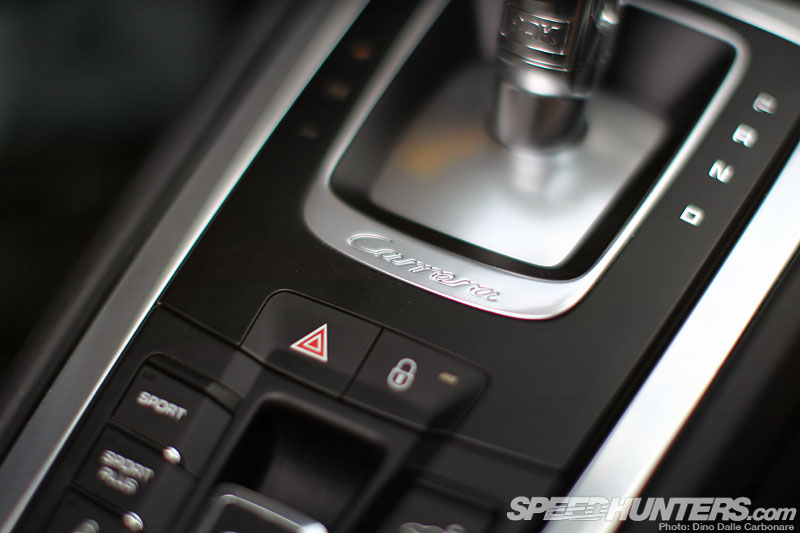 …what else would you expect in a Carrera.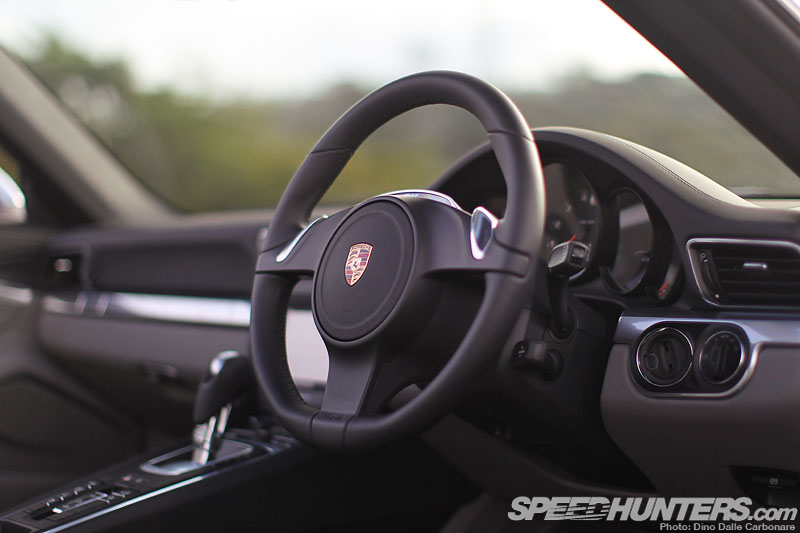 Here is a look at the rather modern steering wheel…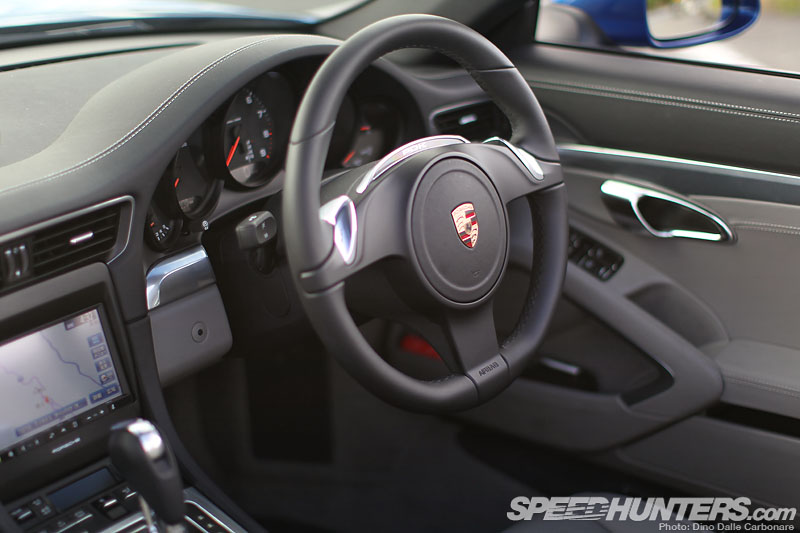 …with those wrong-way-round shift buttons.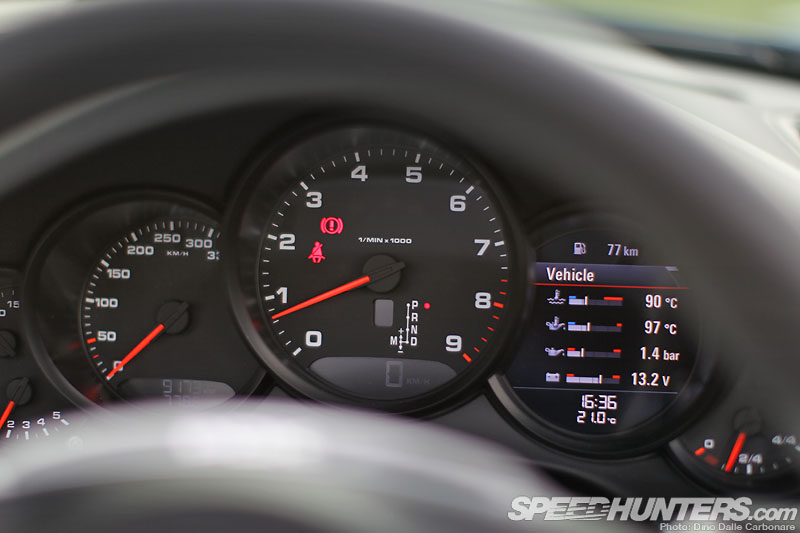 Instrumentation is laid out in the usual recognizable Porsche fashion with the right side dial offering a small color LCD display which shows a few different readouts, which also includes a very Skyline GT-R g-meter graph.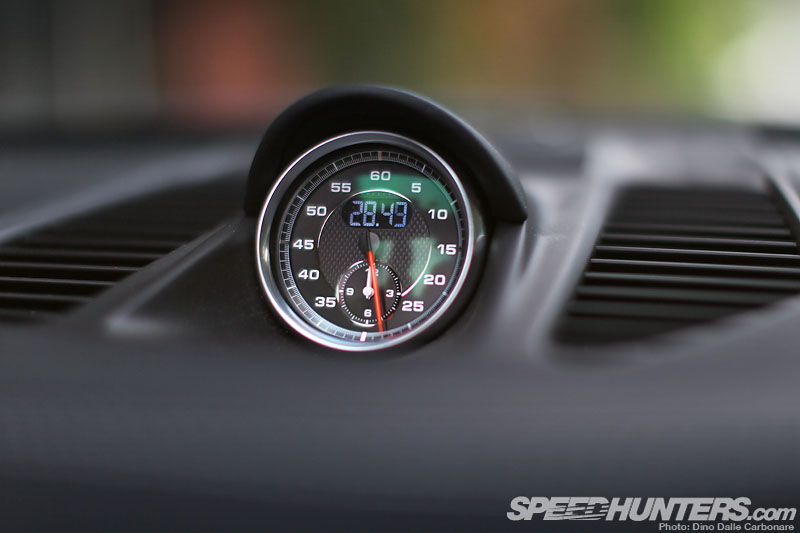 The chronograph is also displayed on the main dash area so I don't quite understand why a second analog unit needs to be present. Still I guess it comes in handy at the track.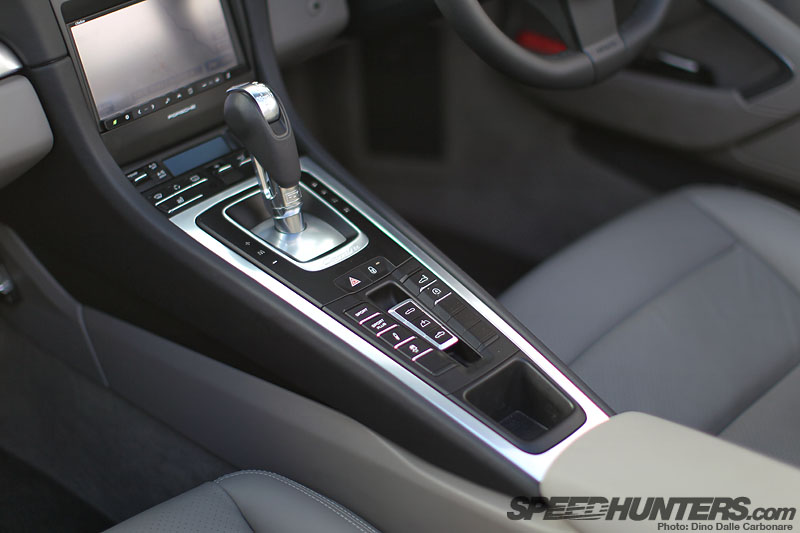 One of the biggest changes in the cabin is the adoption of the raised and sloped transmission tunnel which we first saw appear on the Panamera and then the new-gen Cayenne. It's a neatly laid out console with plenty of buttons but finding what you need quickly becomes second nature.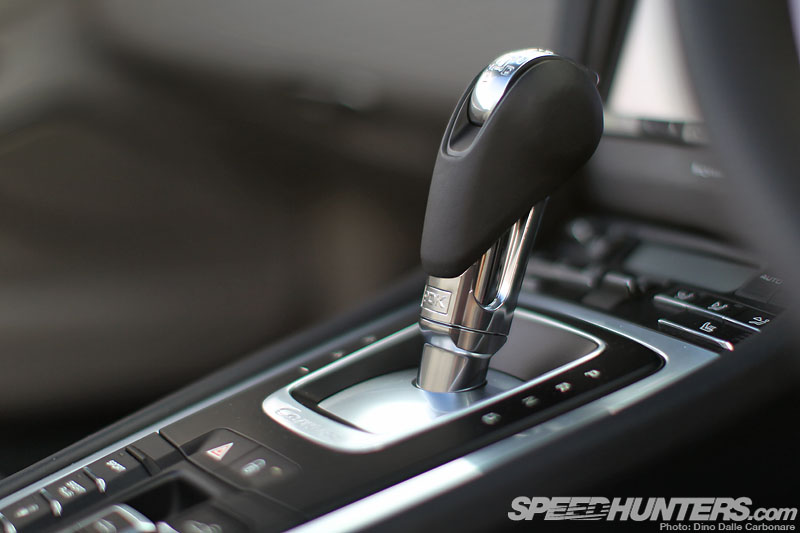 What I liked about the shift lever is that it still has that mechanical feel as you move it out of P and into D, or M position. Compared to say a BMW it feels less gimmicky. That said, at least BMW knows the correct orientation for the shift up and shift down points!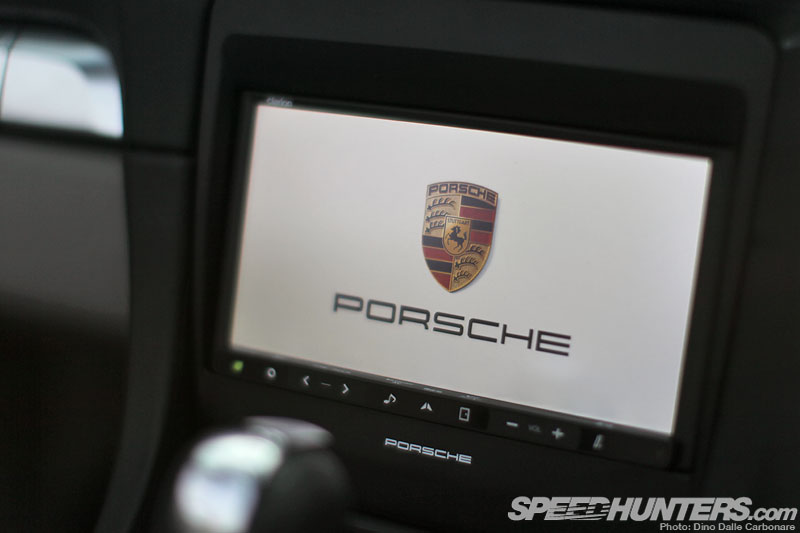 Porsche still hasn't bothered integrating the car's functions through an LCD screen, preferring the simpler button for each function approach. I like it as it's stress-free, but I'm sure there are some out there that aren't happy with this. The press car did have a Porsche-supplied double DIN navigation system which, for most people, will be sufficient.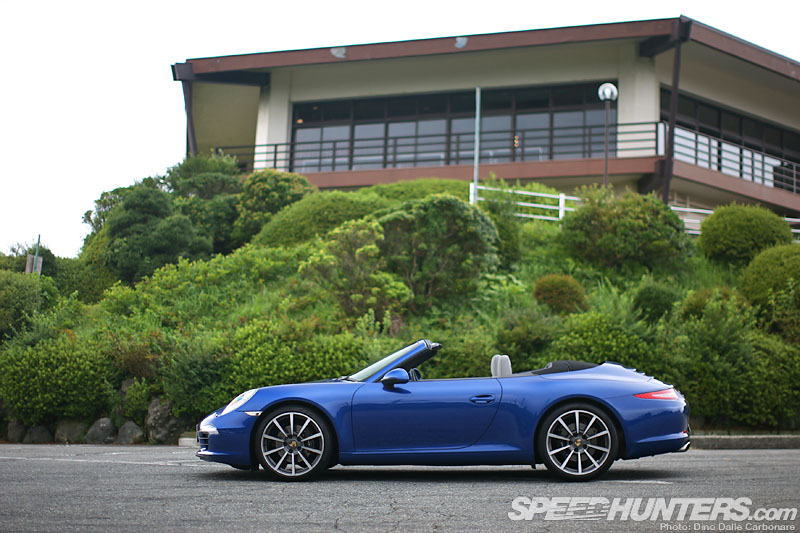 Here you can see those rather large, Pirelli P-Zero equipped, 20-inch wheels the Carrera comes with. I'm sure there will be some that complain it sits too high but if you say something like that you just don't get what this base model is all about. After spending a few days driving the 911 in a variety of situations it became very obvious that it still very much is a very usable every day sports car. It's comfortable, smooth and even frugal on the fuel consumption side of things if you baby it on the highway. The suspension, in its normal setting, is firm but it soaks every bump up with the efficiency that only very well developed dampers can. The only thing that lets it down is the cramped rear seats, they are bigger than the 997, but then again it's not like someone that buys a 911 isn't aware of its 2+2 seating configuration.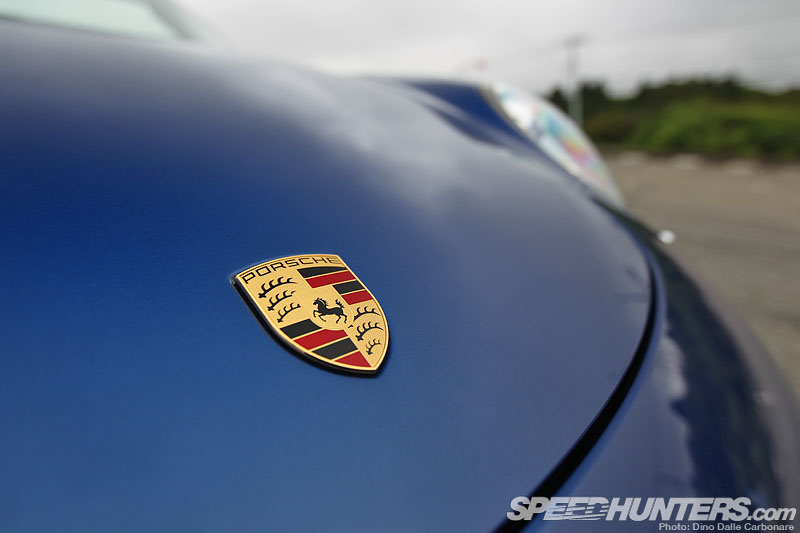 And how about storage? Pop open the hood…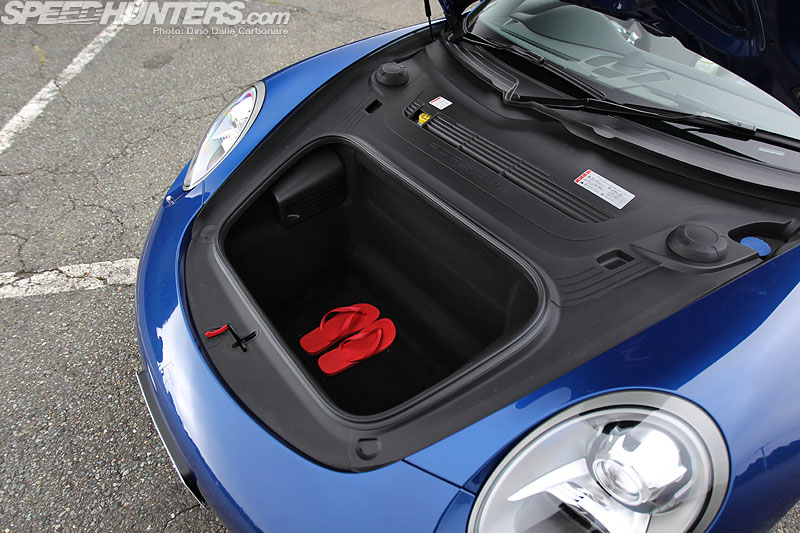 …and there is an decently sized trunk which can swallow up all your groceries.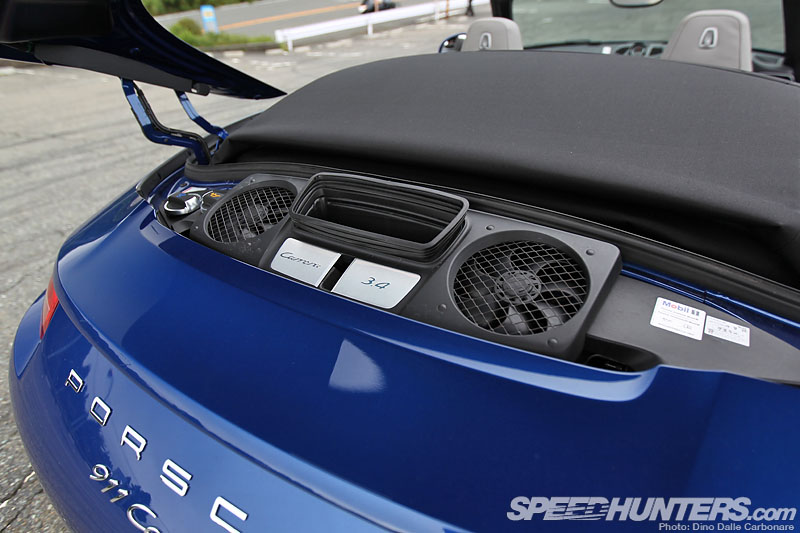 There isn't much to see at the rear; to get to the engine you have to first raise the electrically operated cowl which exposes the top section of the flat-6.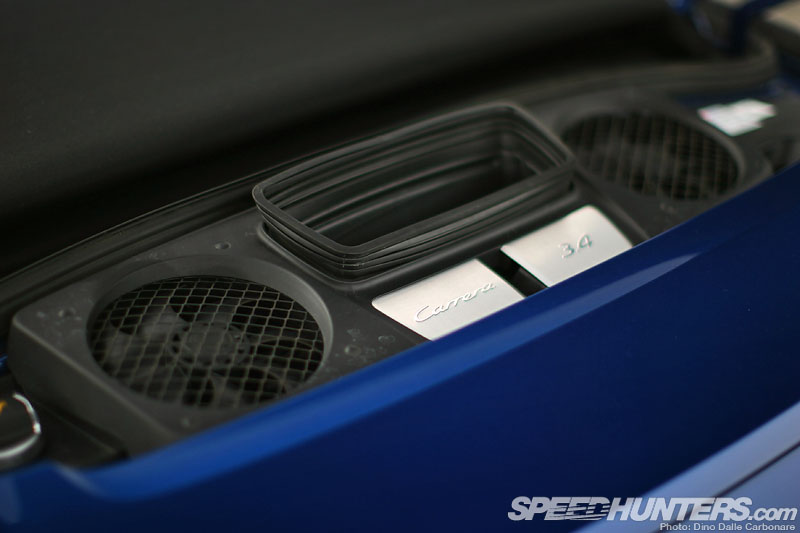 You only see a pair of extractor fans however. It still boggles my mind at how Porsche manages to make this naturally aspirated 3.4L feels so responsive and far more powerful than those 350 HP may suggest. It revs to the redline with urgency and is always there to reward each prod of the throttle with explosive acceleration.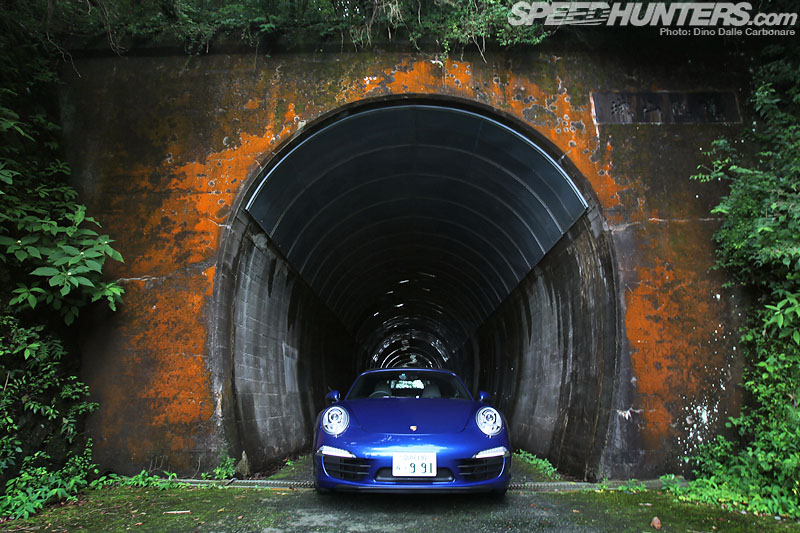 After finishing up with the pictures, I took the car down the tight road that leads to Yugawara Onsen, a town famous for its natural hot springs. There I had access to a few more challenging roads that allowed me to really push the 911 to its limits…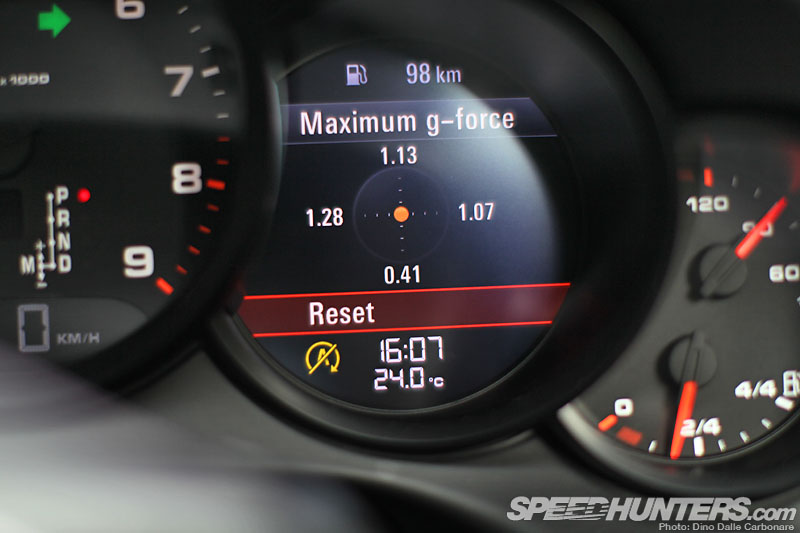 …giving that g-meter a proper workout. It's through those first and second gear corners and hairpins that I switched the traction and stability controls off and pushed the chassis as far as it would go. I was impressed at the progressive breakaway, its natural tendency to throw its tail wide still very much there, but so predictable, so useable in corner entry. And then when powering out  you have a monumental amount of traction which you quickly learn to trust.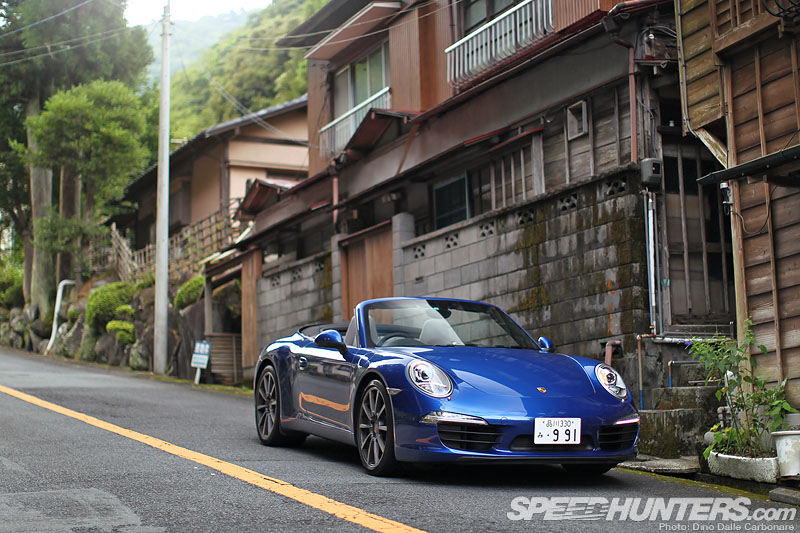 This was a wonderful day spent on an awesome road in the company of what is without a doubt one of the world's best driver's cars. And it's just the base model!
-Dino Dalle Carbonare