While I consider myself to be an open-minded fan of countless forms of automobiles, there are a few car related subcultures which have especially fascinated me. One of these is the one that revolves around customizing Japanese sedans from the 1970s and 80s. It's hard for me to put my finger on it, but there's just something special about these Laurels, Cedrics, Crowns, Mark IIs, and other lowdown cruisers from the Showa Era.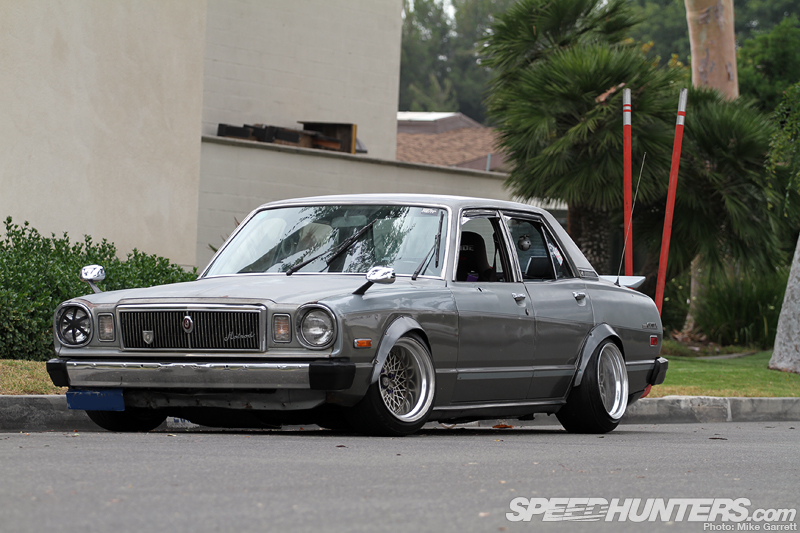 While in Japan it's not too hard to see these cars in their natural habitat, be at an event or simply out on the streets. In the US it's not quite so easy. For one reason or another, the American market never got many of these upmarket Japanese sedans from that time period.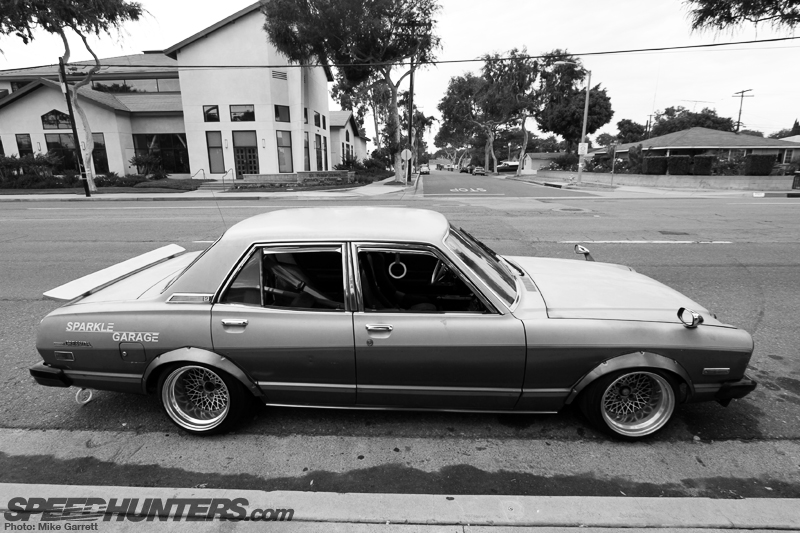 At the time, Japanese brands in the US were known mostly for building affordable economy cars rather than competing with Oldsmobile, Buick, or Chrysler on the higher end of the market. It wouldn't be until the early 1990s when larger, more luxury oriented Japanese imports began to take the market by storm.
One of the few exceptions to this trend came in the form of the Toyota Cressida – essentially an Americanized version of the Mark II that hit the market in the late 1970s. While not a smash hit, the Cressida was offered until the early '90s when it was replaced by models from Toyota's new Lexus brand as well as the front wheel drive Toyota Avalon.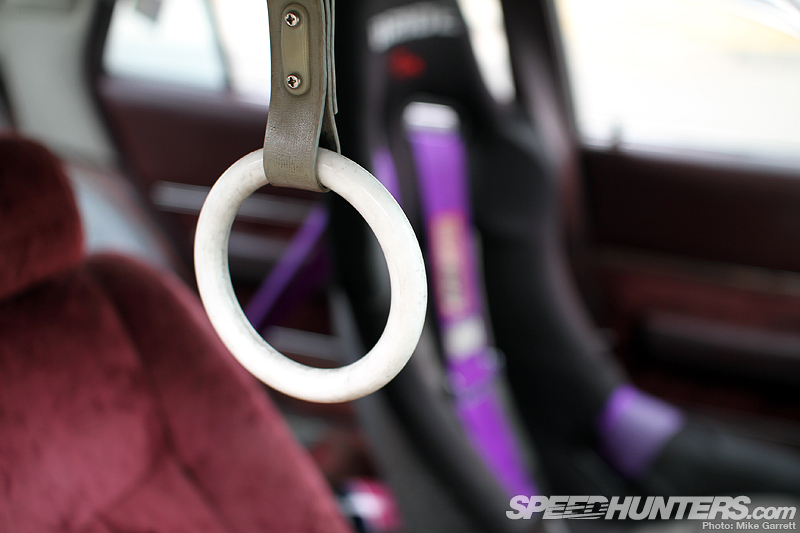 In the decades since, the Cressida has taken on a new found popularity at the hands of vintage Japanese car enthusiasts. Of the four generations of Cressida sold in the US, the first generation cars may be the rarest and most desirable thanks to their classic lines and strong resemblance to the Japanese market Mark II. It's become a cult classic so to speak.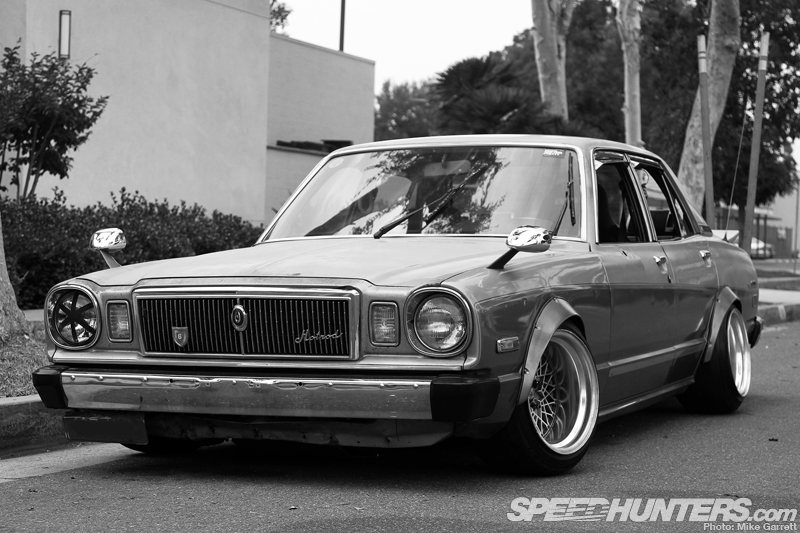 That brings us to this 1979 Cressida owned by Lloyd Letherman of Orange County, California. Lloyd has owned this Cressida for several years and during that time he's transformed it into what is surely one of the best Stateside interpretations of the traditional Japanese Shakotan machine.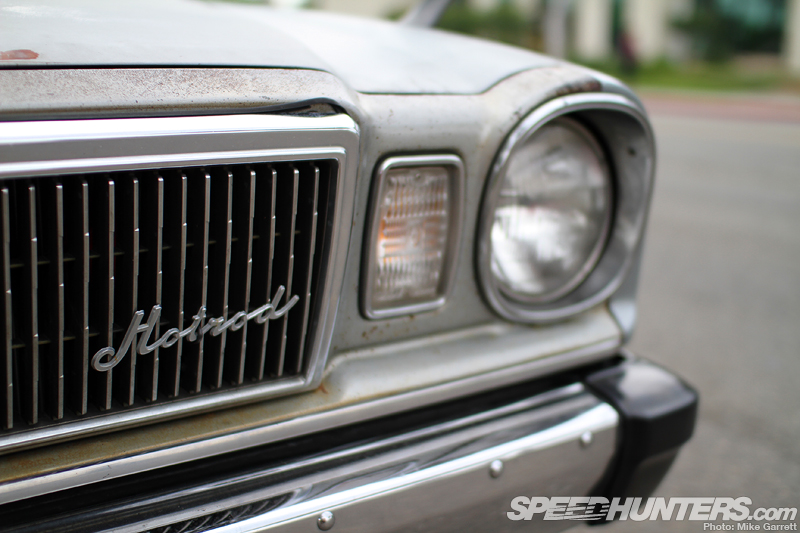 At the same time he's also infused just enough of his own personal style into the car to give it its own unique identity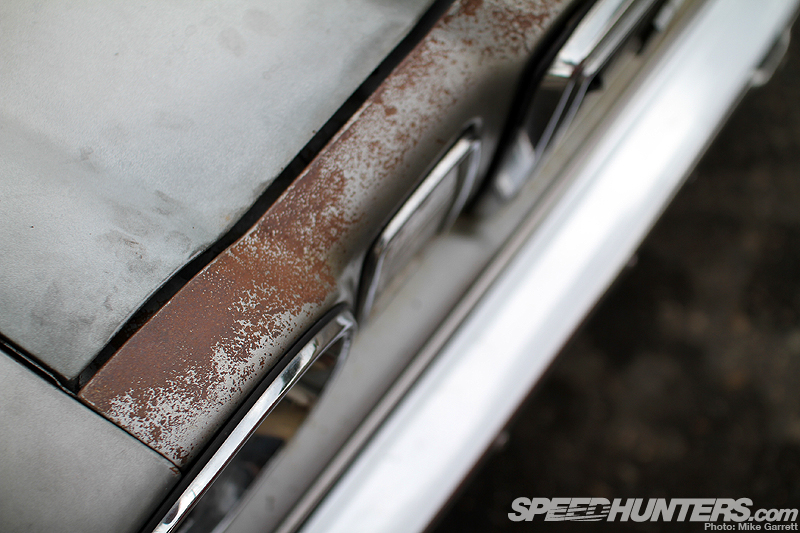 .
Let's make no mistake though. Lloyd's Cressida is far from a show car. I wouldn't go as far as to say that it's a "rat", but it's obvious that having the most impressive paintjob or most pristine bodywork are not high on his priority list. It's a driver plain and simple – and it was built on a budget.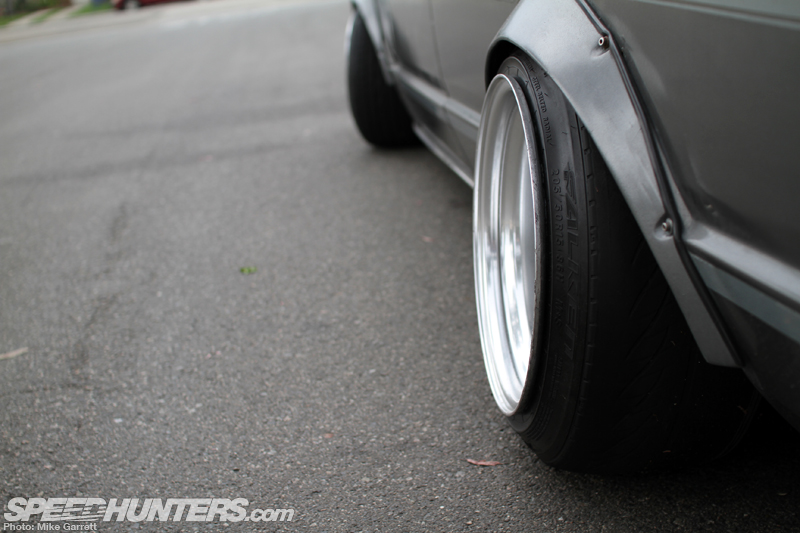 One of the most striking things about this Cressida is its scraping ride height and aggressive camber. Of course the rear camber would not be possible if Lloyd had not ditched the Cressida's stock live axle for an IRS unit from a newer model. Then comes the suspension itself. Unlike newer, more popular platforms you can't simply hop online and pick from dozens of coilover choices for a 1979 Cressida. Thankfully for Cressida owners, there's a company called SERIALNINE that specializes in parts for these old sedans. Lloyd is running Stance/SERIALNINE coils originally based on those for an S13.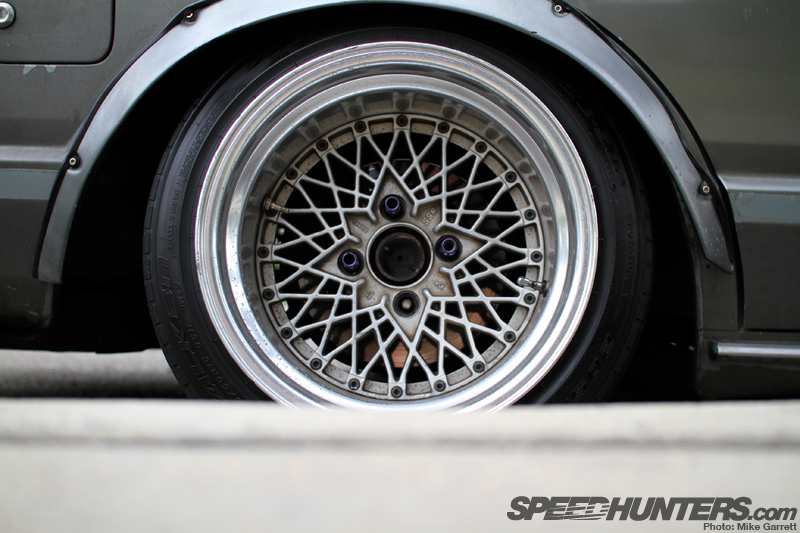 When I say this car was built on a budget, that doesn't mean that Lloyd hopped on Ebay and ordered up the first set of cheap, low offset wheels he could find. No, he waited patiently and saved up his money until he scored a set of SSR Formula Mesh wheels that have to be the absolute best choice for this particular car. The exact sizes are 15×10 -40 up front and 15×11 -25 in the rear, with 205/50/15 tires all around.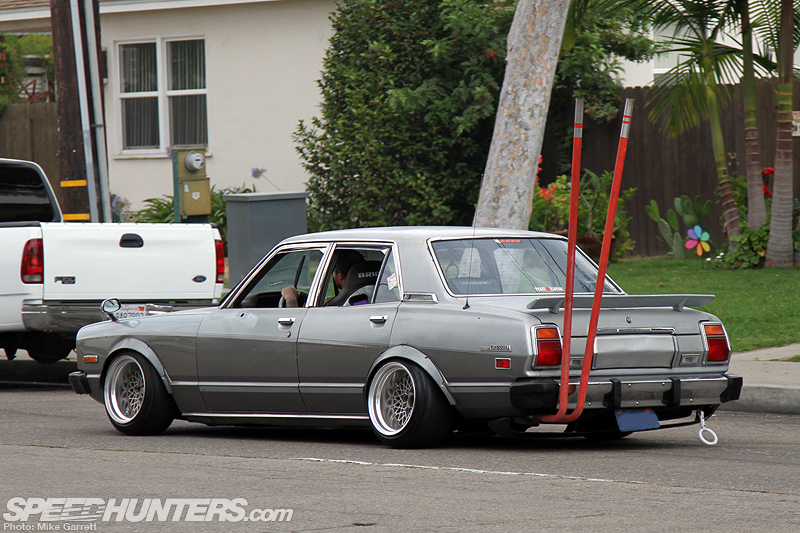 Before you rush in to attack this car's aggressively stretched tires and excessive negative camber, let's not forget that these styles have been engrained in Japan's Shakotan and Kaido Racer subculture long before there was even an internet to argue about it on. This is no Johnny-come-lately "stance" car.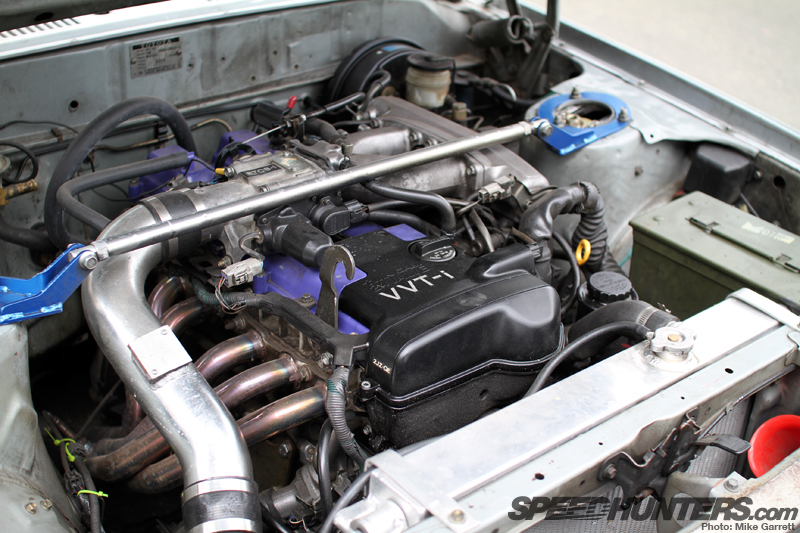 Even in Japan, if you were to pop the hood on your average Shakotan sedan, chances are you'll find a mostly stock motor there. Outside of a loud exhaust system, most of these guys are perfectly content to leave their engines stock and let the rest of the modifications do the work. In Lloyd's case, he has upped the ante by dropping in a naturally aspirated 2JZGE that he scored from a friend on the cheap.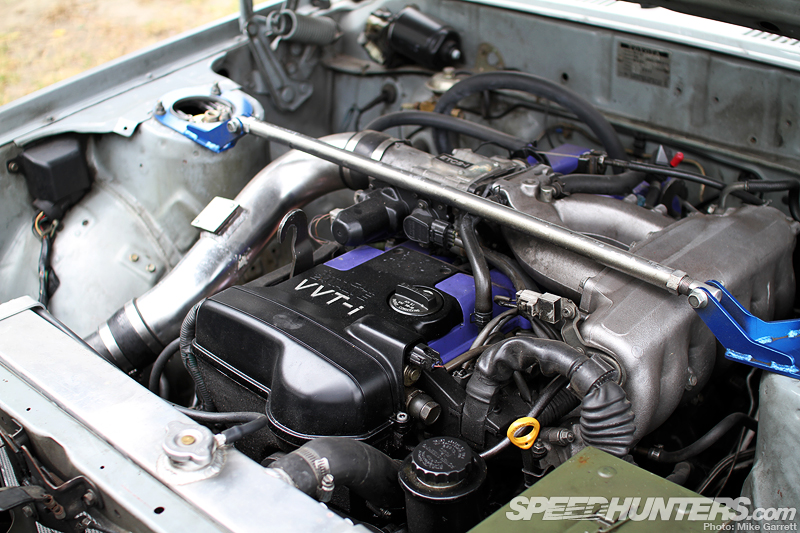 With a few bolt-on modifications, the 2JZ is likely making somewhere in the neighborhood of 230 horsepower. While that might not sound like a lot, it's still a massive jump in power from the original, tired inline six. Equally big is the added smoothness and reliability brought by the motor swap.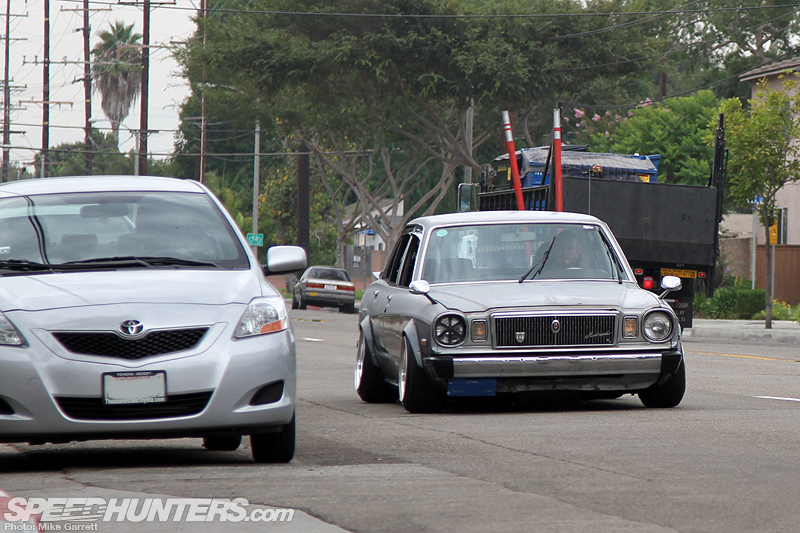 That reliability is massively important as the Cressida is Lloyd's primary car and serves as his transportation to and from work everyday. The extra power also comes in handy when he heads up to Willow Springs to go drifting with his buddies on occasion.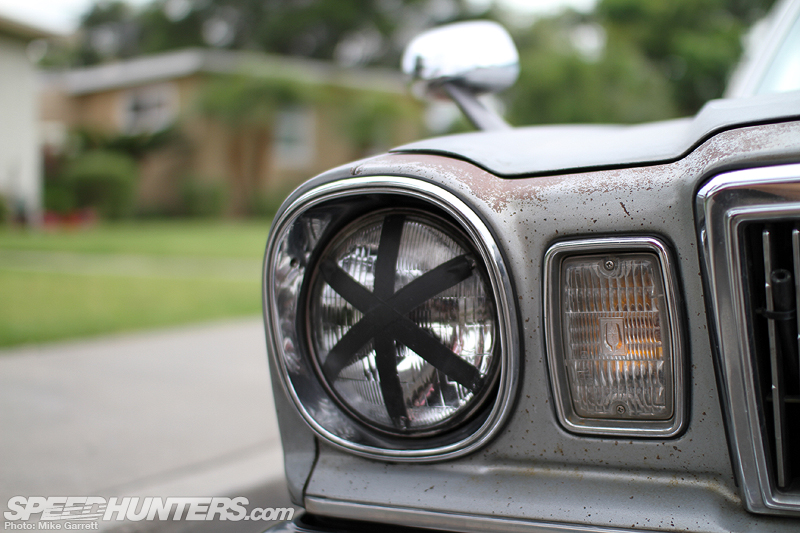 The body on the Cressida remains largely original with a few additions that further build on the Japanese street style theme.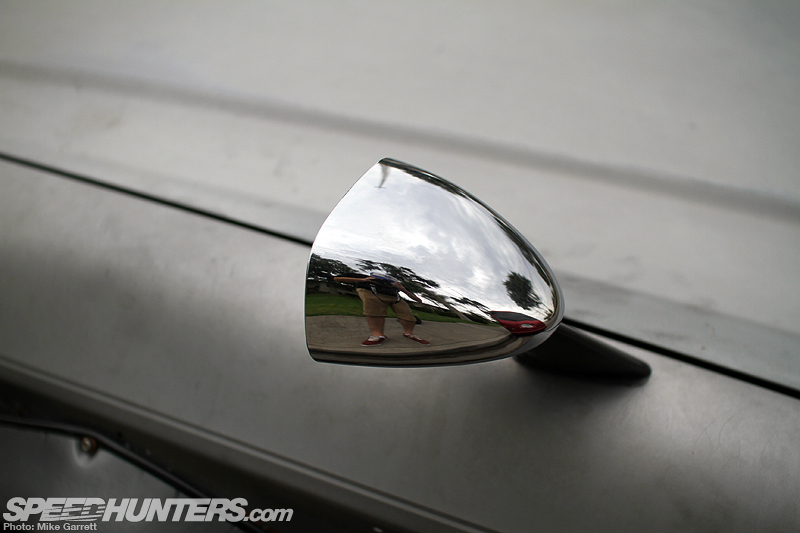 The fender mirrors for example come from a Toyota Chaser of similar vintage.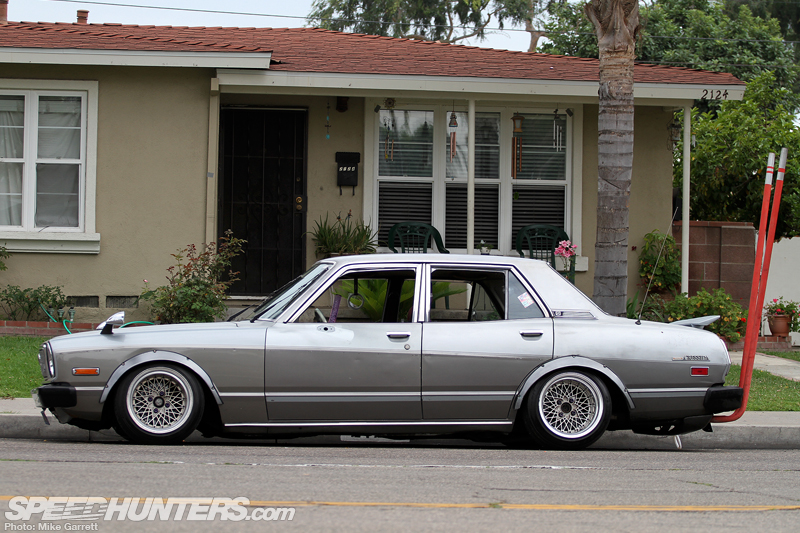 The fender flares were originally designed for a Toyota Starlet while the trunk spoiler was made for a Hakosuka Skyline. Again, a lack of aftermarket parts is nothing that can't be combated with a little creativity and ingenuity.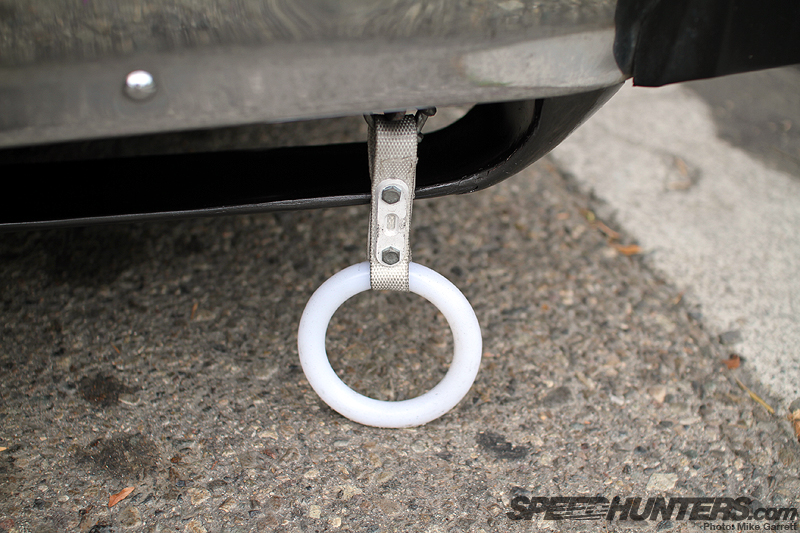 Of course the car would not be complete without a tsurikawa that spends it days being dragged across the streets and freeways of Orange County.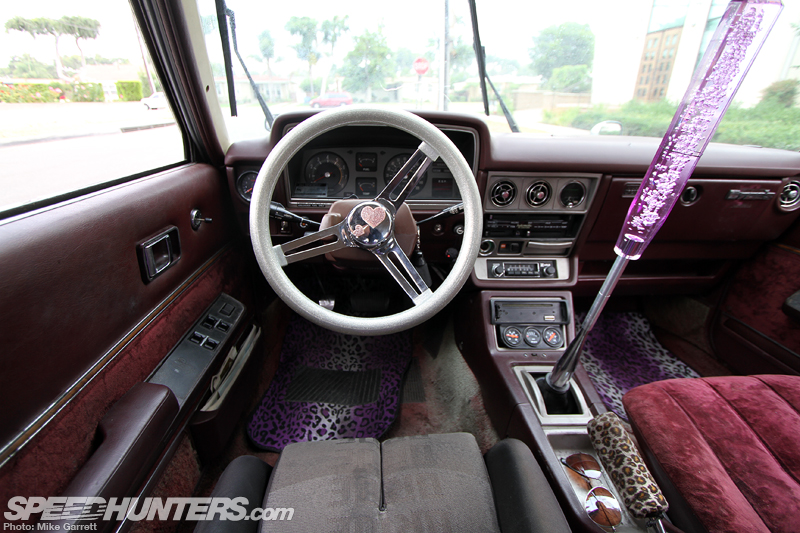 The interior has been fully customized to match and all the period correct touches are there.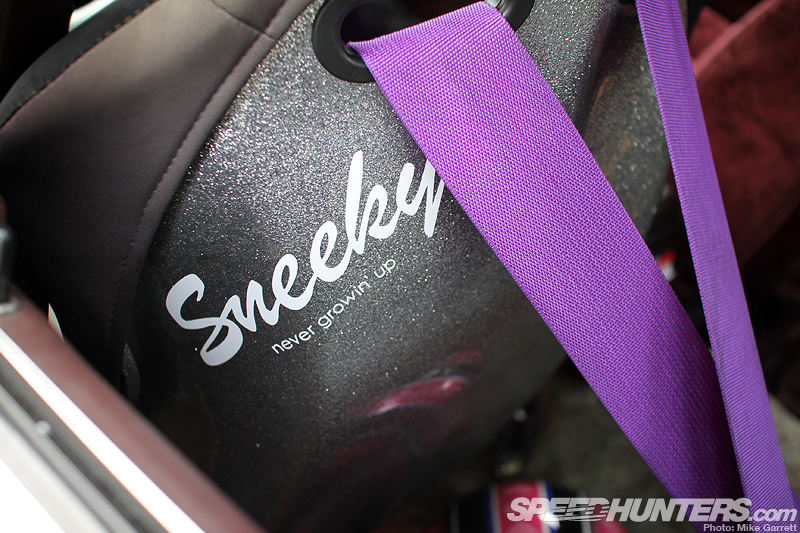 The single exception is the more race-oriented Bride Lowmax bucket seat and R.J.S. harness for the driver.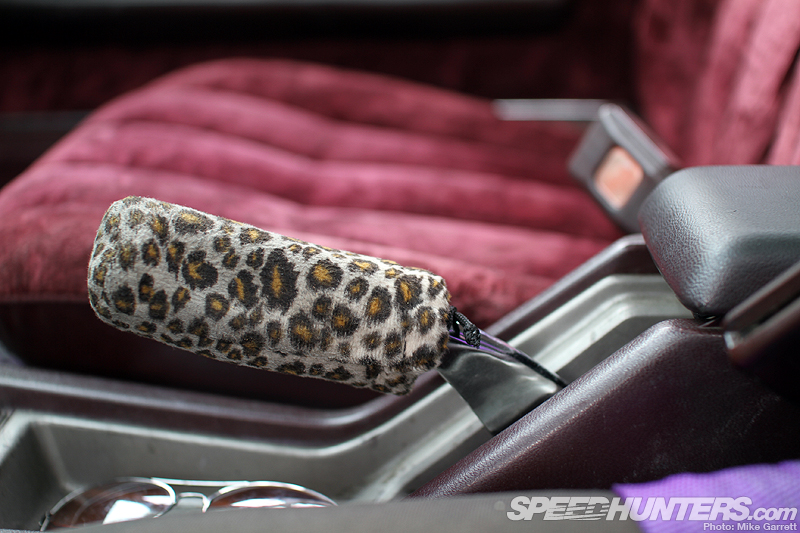 The passenger meanwhile gets to ride in the Cressida's original, sofa-like seat. Subtle is not a word I would use to describe the cheetah pattern floor mats and E-brake cover.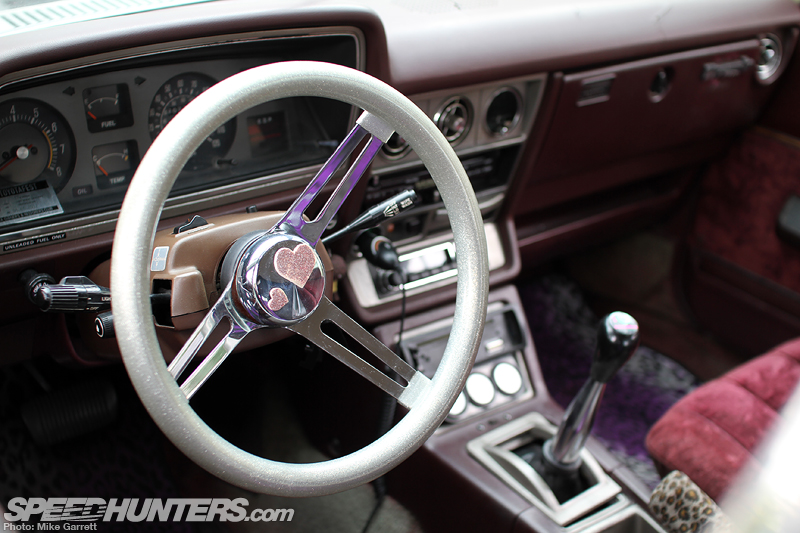 Could there be a more appropriate steering wheel choice than this metal flake covered piece from Mooneyes?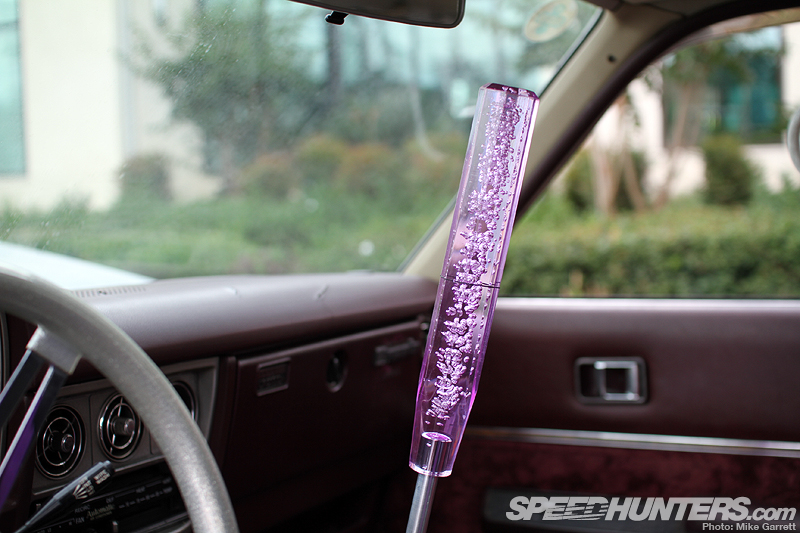 When it's really time to party, Lloyd throws on this enormous pink bubble shift knob and shifter extender to use with the W58 five-speed transmission.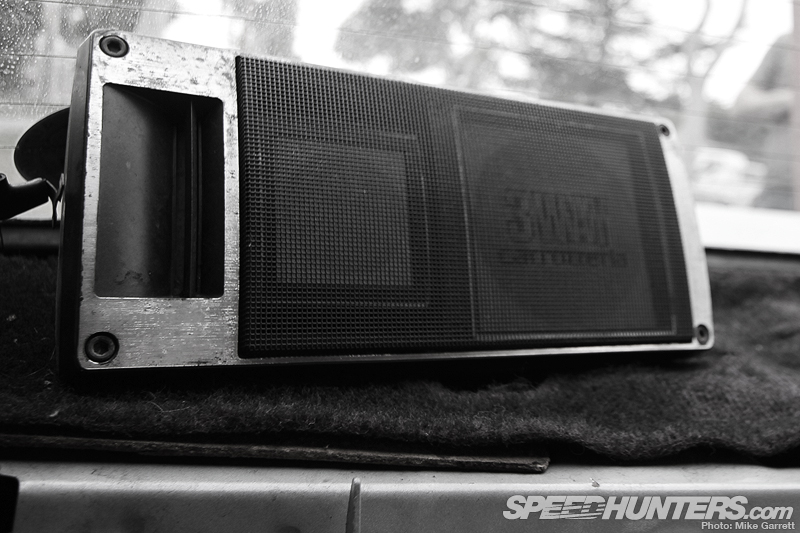 Finally, there's the Pioneer Carrozerria shelf mounted speakers out back. High end audio equipment like this was extremely popular in Japan during the bubble period and is still sought after by many enthusiasts today.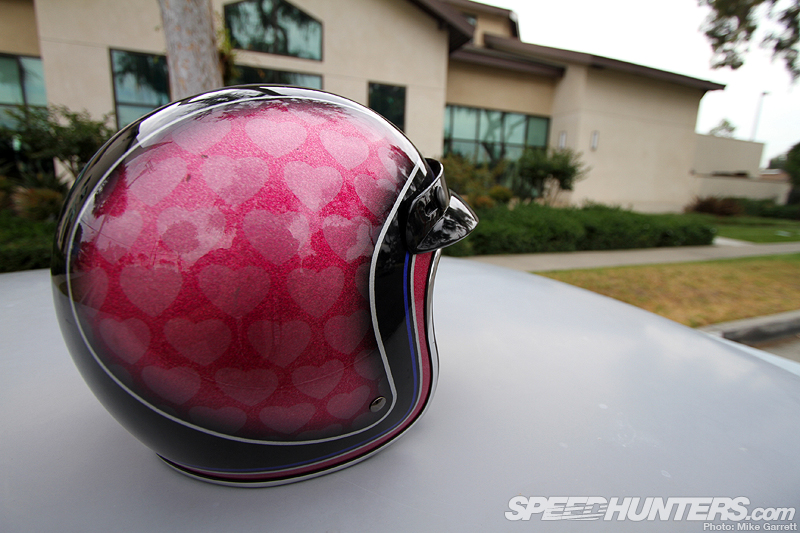 Lloyd has a friend who works at a helmet company and he just asked from the craziest design they have. I'd say it's a good match with the rest of the car…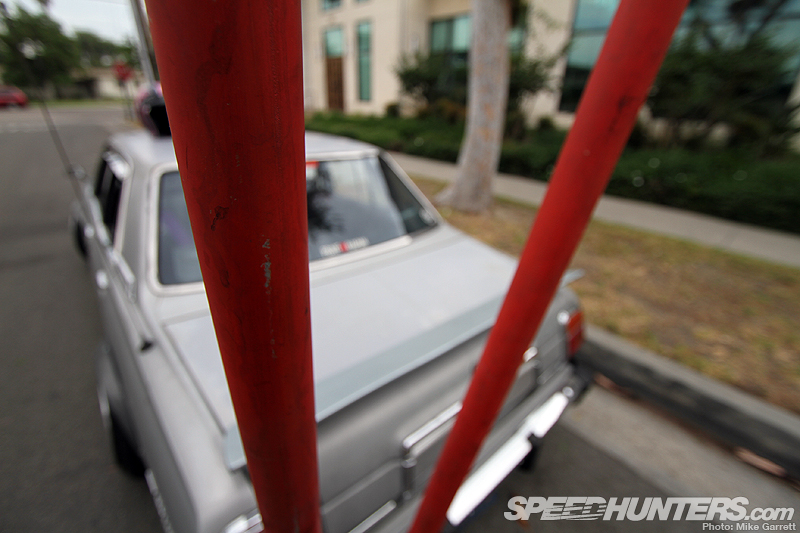 Oh yes, let's not forget about the gigantic takeyari pipes. These aren't a permanent feature of the car, but something Lloyd throws on for events and other special occasions. We as car enthusiasts will know the meaning behind these, but you can bet they get some very strange looks from the general public – as I experienced even during the short time of this photoshoot.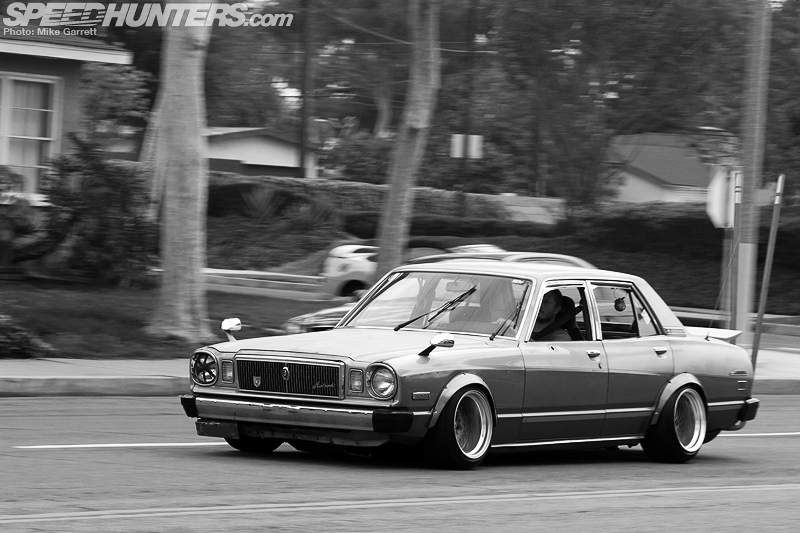 On the particular summer day that I photographed Lloyd's Cressida, SoCal was experiencing some very unusual weather. Gone were the sunny skies and mild, dry conditions of normal. In it's place was hot humid air, clouds, and the occasional rain storm. Not unlike what you find in Japan during the summer months.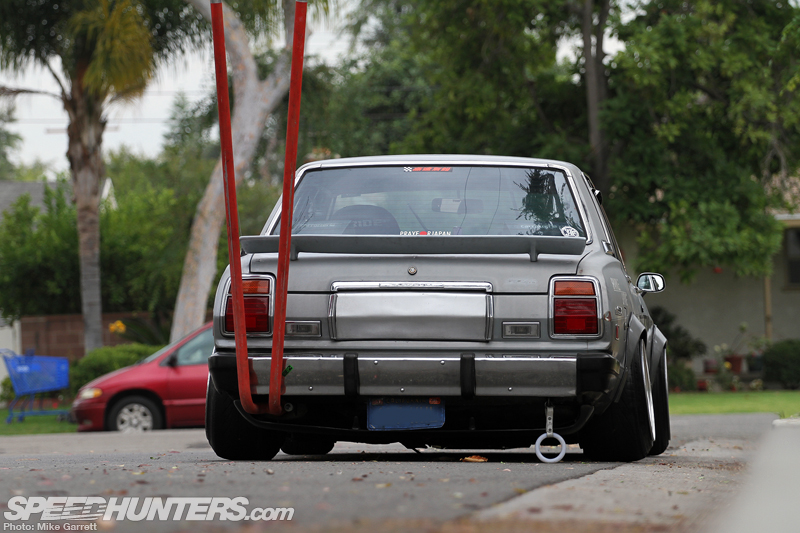 I suppose that was only appropriate considering the subject matter of this shoot.
Just like that strange summer weather pattern, Lloyd has brought a hot, sticky taste of Japan to the streets of Southern California.
-Mike
SPECS
1979 Toyota Cressida
Engine and Drivetrain
2JZGE VVTI Swap
Lexus IS300 Intake,
Mk. III Supra header,
Mk.III Supra CX Racing Aluminum Radiator
Xcessive Manufacturing JZ Motor Mount Brackets & Skid plate
Sparkle Garage Motor Mount Base Plates
W58 transmission
OEM Clutch
Solid differential mount
Welded differential
Suspension and Chassis
-Front suspension
Stance s13/SERIALNINE Coilovers and Camber Plates
CUSCO Strut Tower Brace
TechnoToyTuning RCAs
Xcessive Manufacturing LCA's, Tension rods, and Steering Arms
Independent Rear Suspension Swap
Body
Hakosuka Skyline GT-R Rear Wing
Toyota Chaser Fender Mirrors
Starlet Fender Flares
Super Silhouette Rear Underspoiler
Interior
BRIDE Low Max Sparkle-back Seat
R.J.S. Racing Harness
Mooneyes Steering Wheel
300mm Purple Bubble Shift Knob w/LED Light Base and 250mm Shifter Extension
Pioneer Carrozerria Shelf Speakers w/LEDs
Wheels and Tires
Speed Star Racing Formula Mesh
15″x10 -40 Front
15″x11 -25 Rear
Centerline Autodrag (Drift Spares)
15″x10 -42
205/50 Dunlop DZ101 Front
205/50 Falken 502 Rear
---
---
---