Earlier this month, Rod commissioned some of the Speedhunters team to create behind the scenes stories from a variety of events which we would be attending. To be honest, it caught me slightly unaware as the idea of covering my own processes and habits is a strange one. But on the other hand, it could be the perfect opportunity for me to examine my own methods and try and improve upon them.  I hope I don't bore you too much …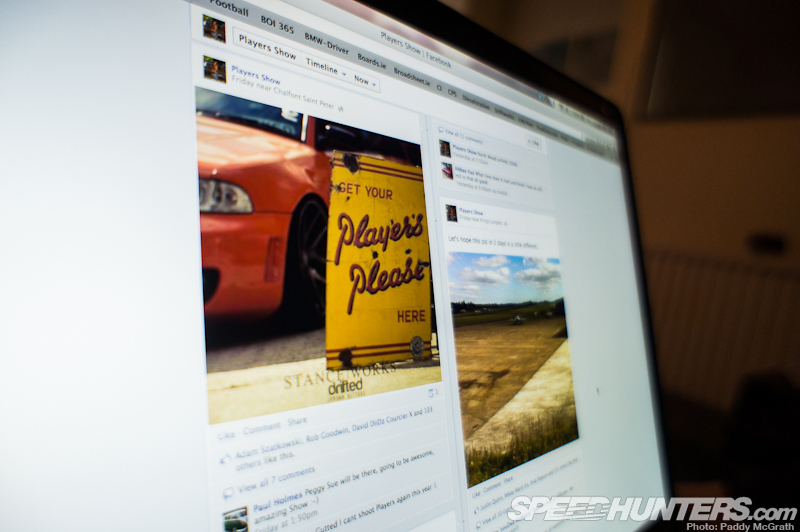 We usually lay out our calendars in January and February each year. We tend to start by re-visiting events that proved popular with you lot in the past, and then add in some events we've maybe never attended before or ones that have the potential to surprise or interest you as well. Last year's Players Show was a huge hit, so it was always going to make an appearance on here at some stage. Although I'll know about an event for some time before hand, I usually don't start dealing with the details until a week or so before the event takes place. This obviously depends on whether press accreditation needs to be arranged in advance, so it's not a set-in-stone rule.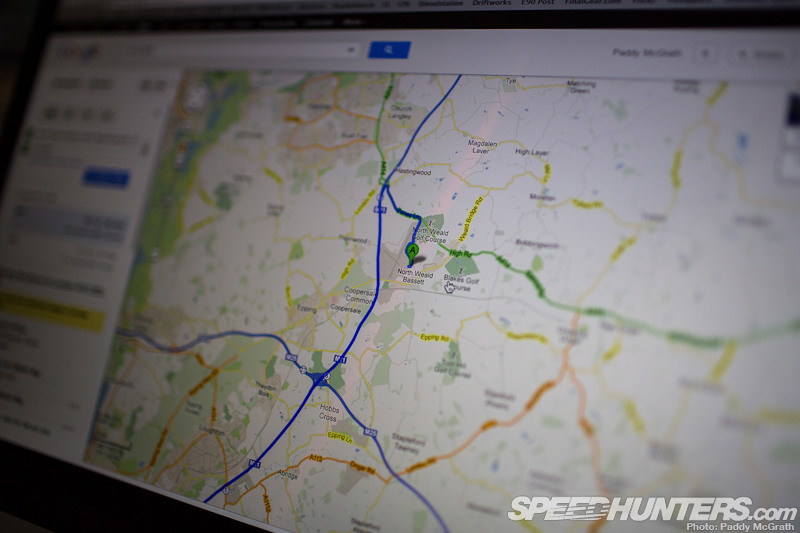 Travel planning always comes next – examining a route, estimating time required and planning my day from here. Luckily for me, Players is one of the closest shows I'll attend all year as it's only a short twenty minute drive from my girlfriend's place in London.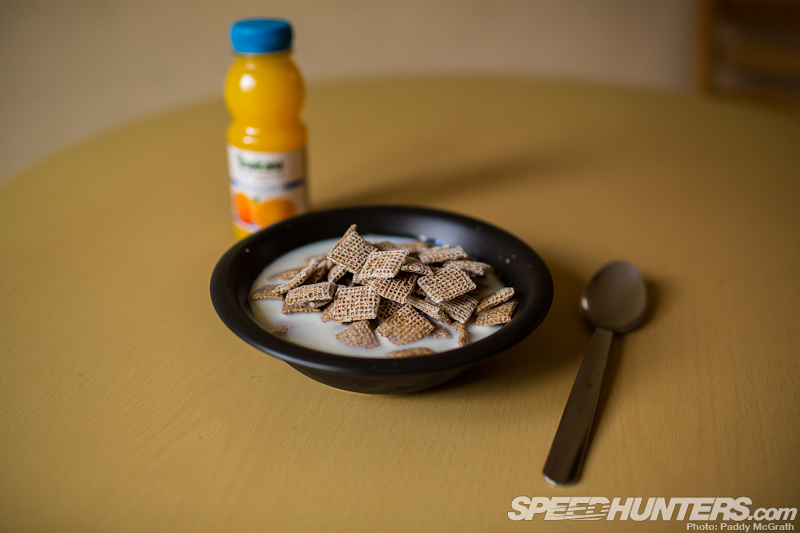 A sugar filled breakfast is a sure fire way to get your day off to an energetic start (along with a mid-afternoon crash if you're not too careful). More often than not, my next meal won't come until I put my feet up that evening as I rarely have the time during the day to eat and I try to avoid the poison in plastic on offer at these events.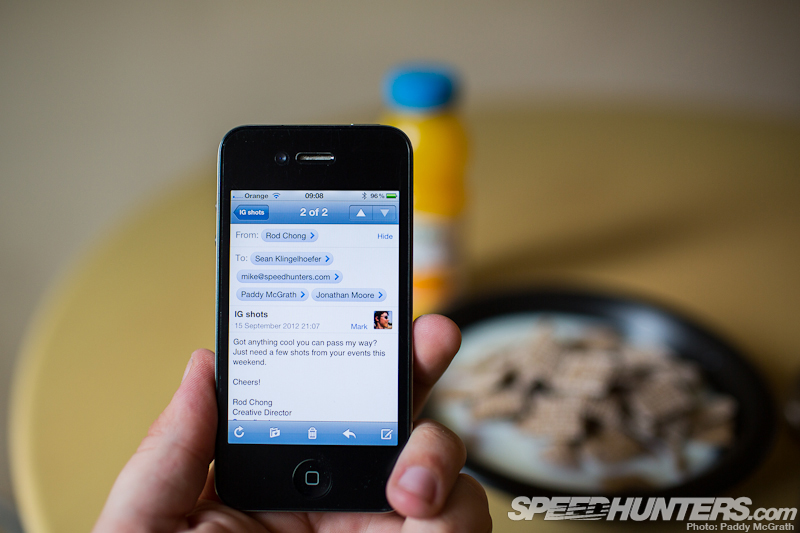 Next up is to check any messages that may have come in over night. Social media streams play a big part in keeping the Speedhunters name out there, so it's something we all try to keep on top of over the course of a weekend.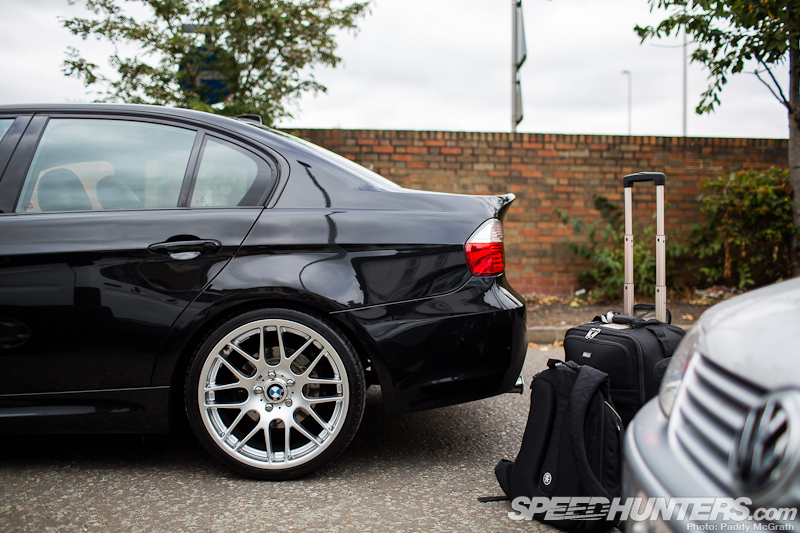 Breakfast eaten, messages replied and it's time to pack the car and hit the road …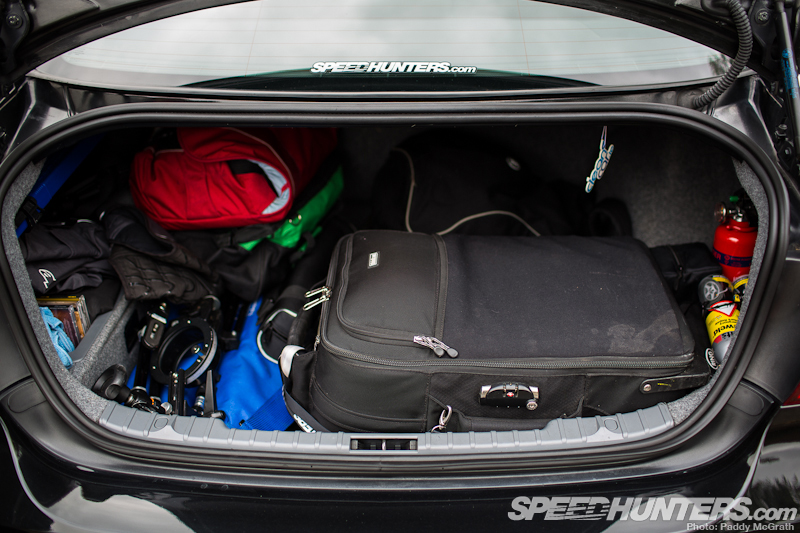 … my boot is usually a lot tidier than this. Inside is a my big Think Tank Case which holds most of my gear, a laptop bag, charging and cables bag, tripod, light stands, cleaning gear and other essentials.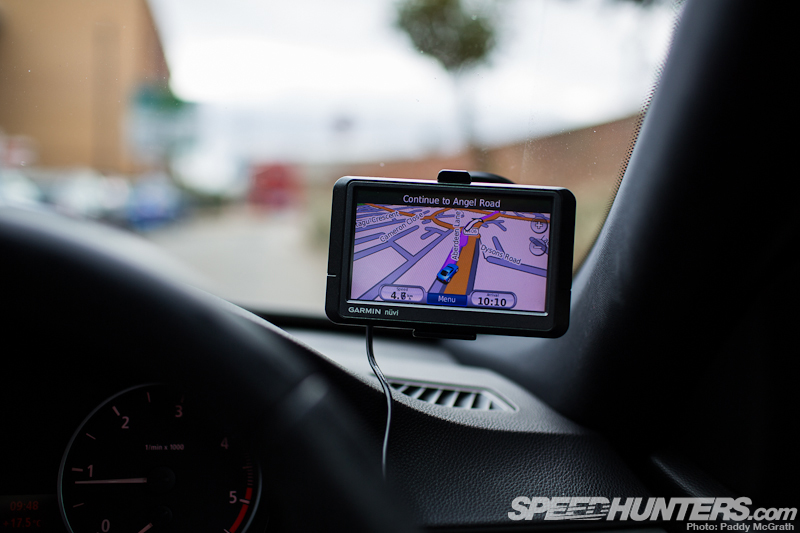 Players takes place at an air field in Essex which was a nightmare to find last year. This time however, following some mostly inappropriate text messages with Ben Chandler from Scene Media, I was armed with a more accurate postcode.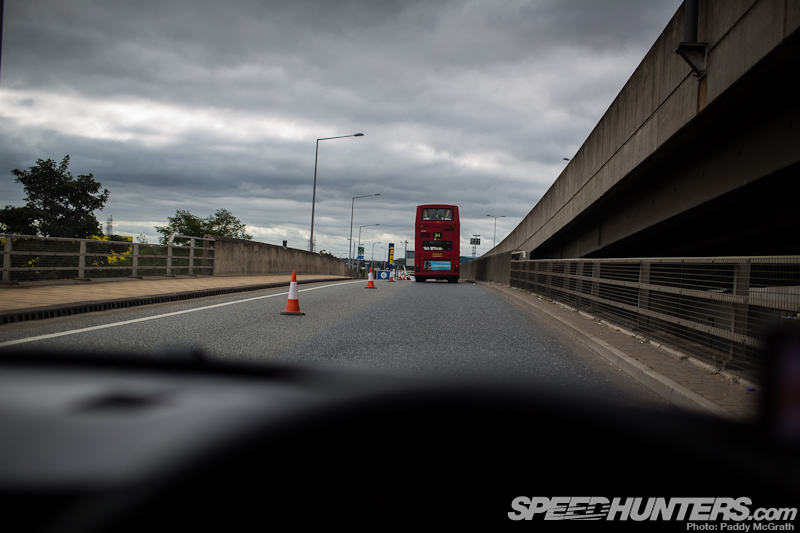 Traffic in London is usually a complete and utter nightmare. It's probably the main reason why I haven't moved over to the UK. I love driving so much, but this city seems to try and suck that enjoyment out of you.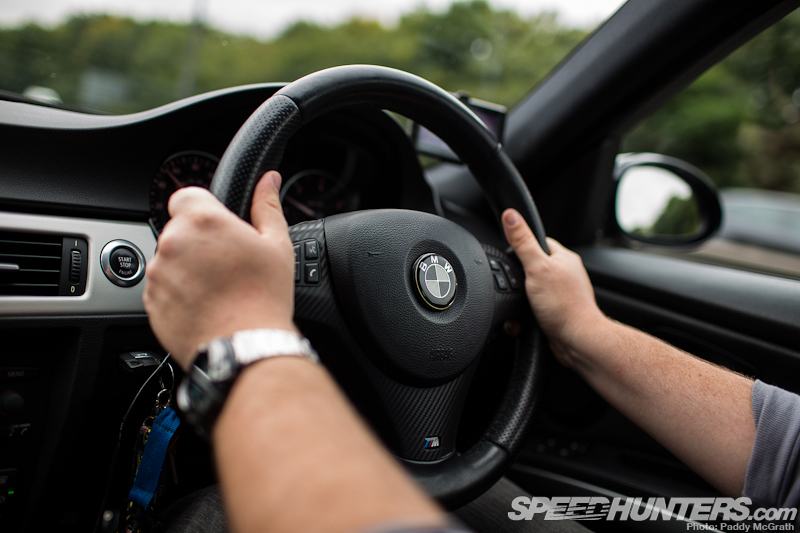 Thankfully before 10AM on a Sunday, it's more than manageable and decent progress can be made.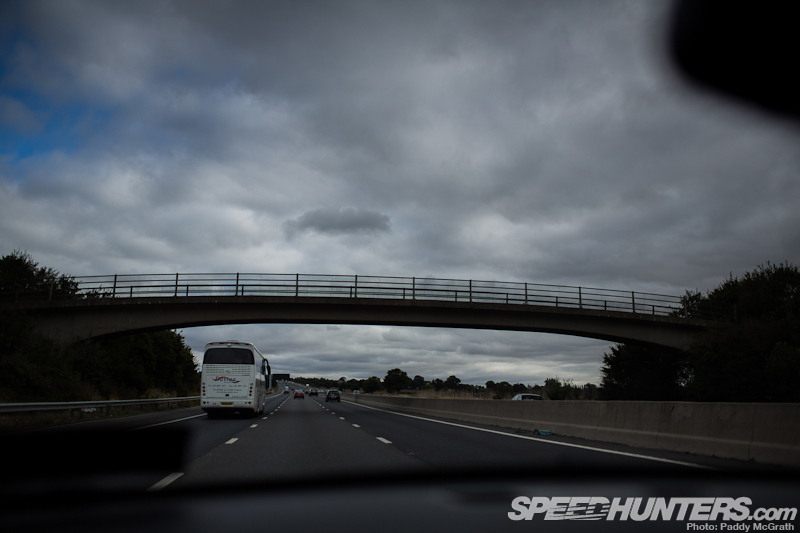 The entire journey, like most motorway journeys, is pretty uneventful except for some guy in a 997 Turbo overtaking people on the hard shoulder before swapping back to the overtaking lane at what was easily in excess of 120MPH.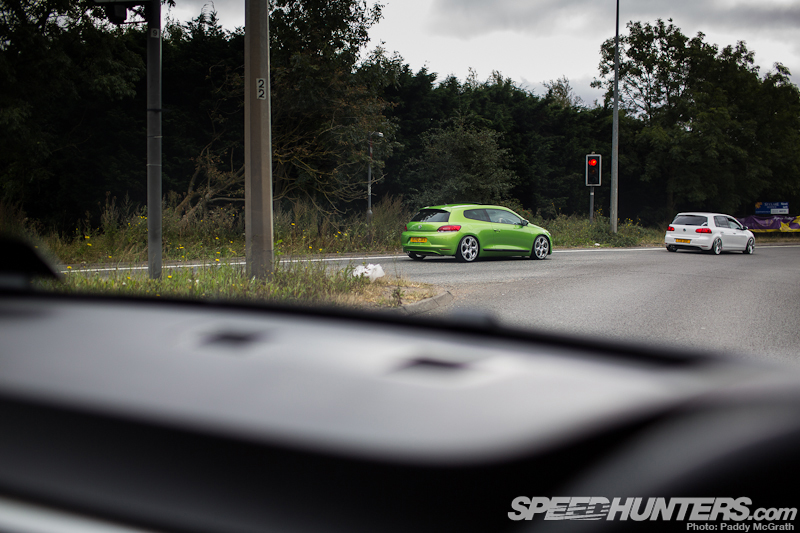 It must be one of those things that any automotive enthusiast can associate with – the closer you get to your destination, the more interesting cars get.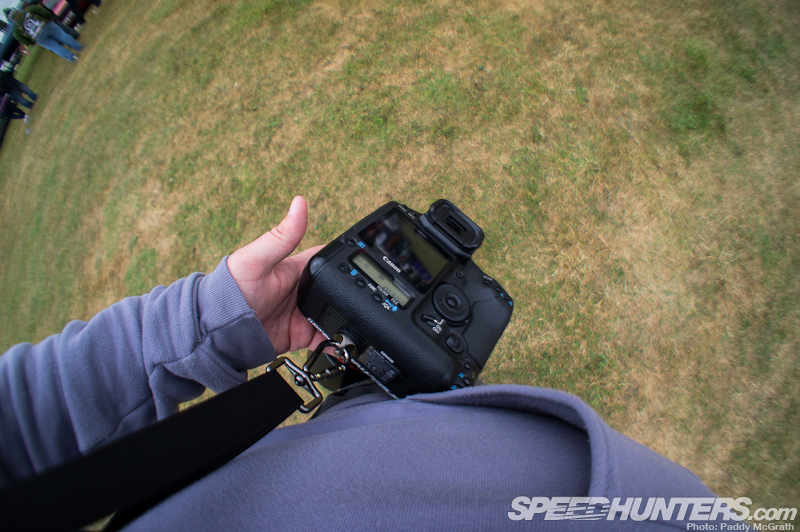 Arriving at the show and parking up, the next step is to pick a camera and lens combination. I usually shoot with two cameras on a harness system – at my left hand is a 1D MKIII with a 135mm F/2.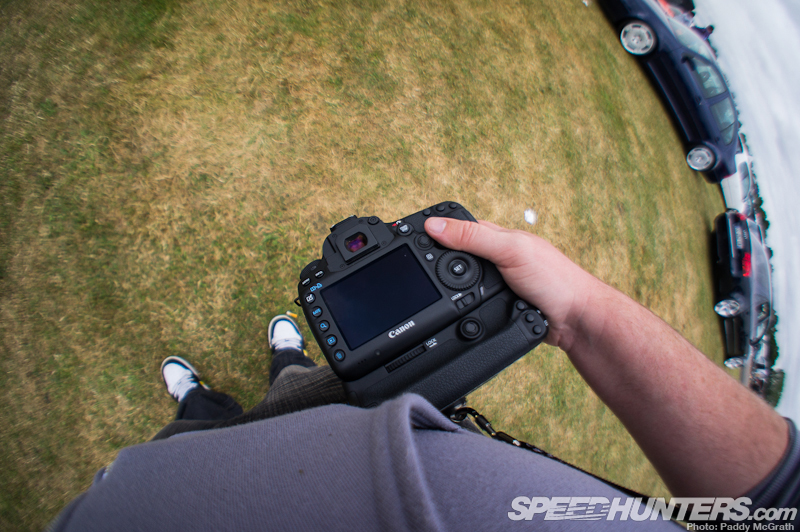 At my right hand is a 5D MKIII with a 35mm f/1.4 – this is my main weapon of choice for static shoots. You'll notice that the rubber eye piece is missing, this is because this a loan camera whilst my original 5D MKIII died after a couple of weeks.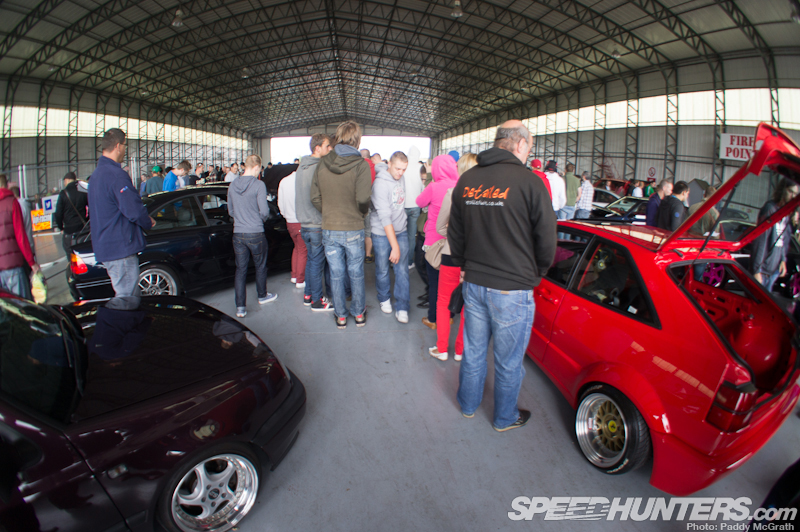 I always try to take my time to walk the show first to get an idea where the best cars are located and just how big of an event it is. Players seems to be getting bigger every year, which is great for the organisers and visitors alike, but a nightmare for photographers.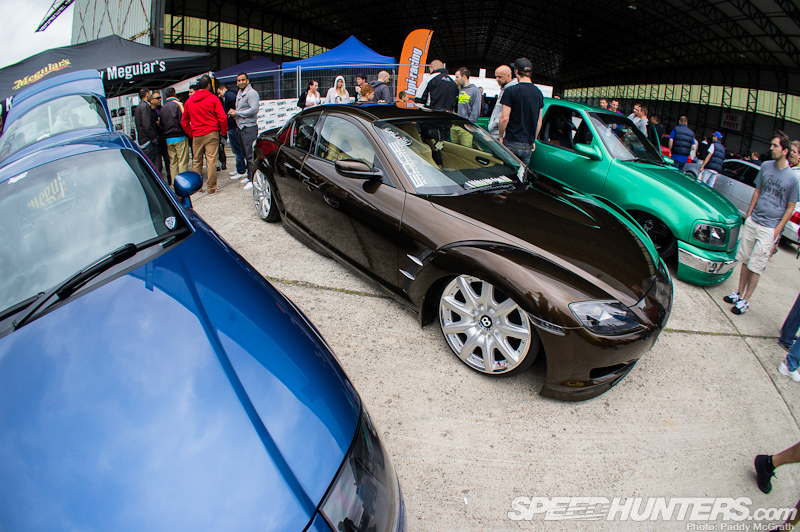 With such a large footfall and the cars tightly packed together, I knew this would be a show to test my patience.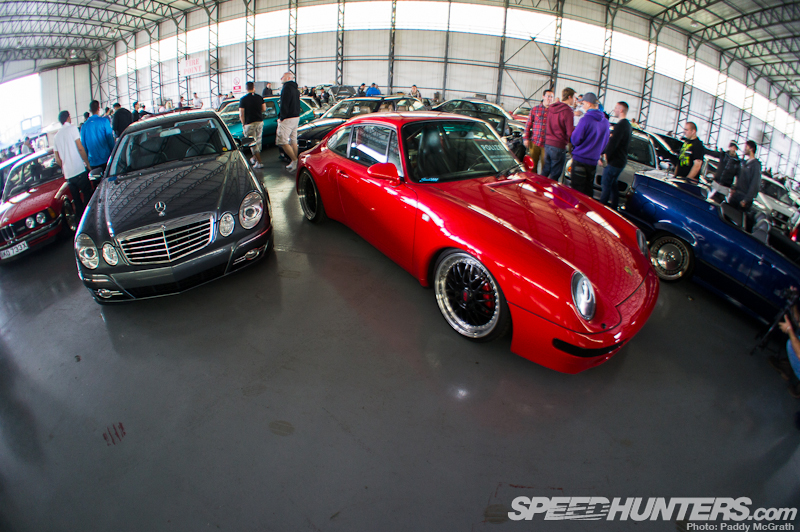 The backdrop for the show is pretty cool though – a couple of large hangers and lots of open space. Every inch of the open space though was filled with cars and people.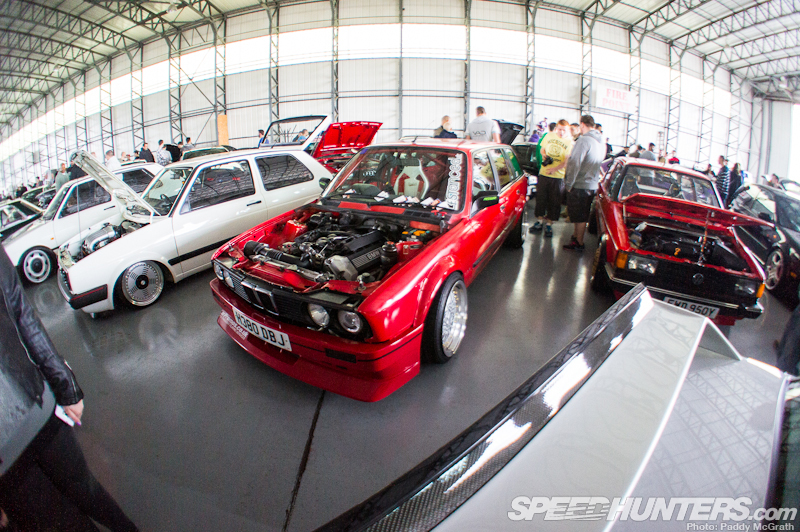 These reconnaissance shots were taking on a Sony NEX5 with a 16mm 2.8 & Fisheye converter, so it's a really wide view and gives you an idea of just how tightly things were packed.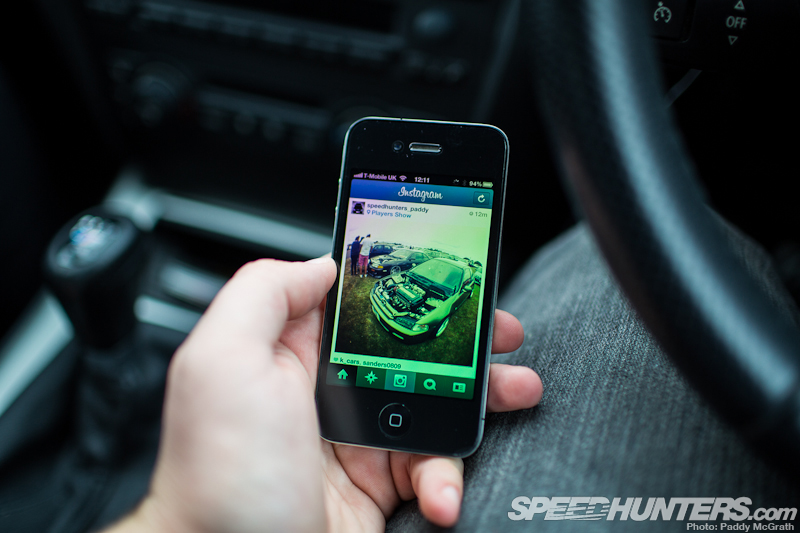 Popping back to my car to upload some images for Instagram, I took some time to formulate a plan of attack for the event. Static shows are, if I'm honest, a nightmare to shoot. There's very little you can do creatively and you always have to deal with what feels like a million people walking in front of your lens all day.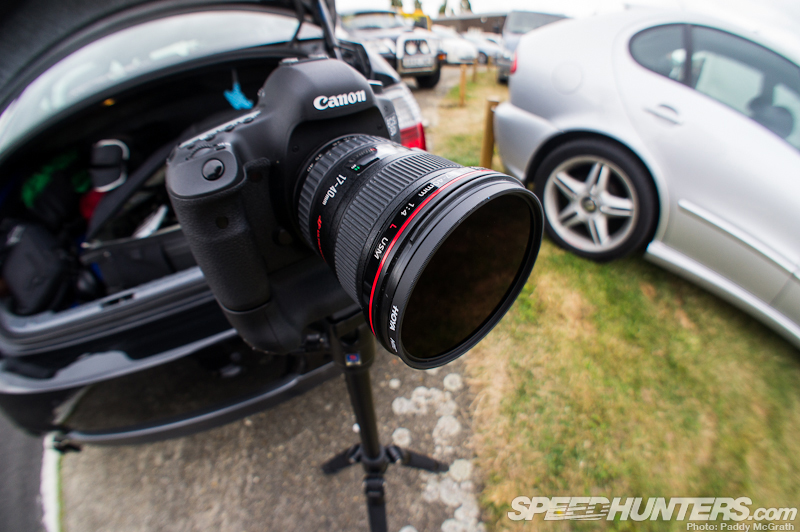 I've had a ND400 neutral density filter in my camera bag for some time, but never got the opportunity to use it before. A neutral density filter essentially blocks out light, allowing you to use longer shutter speeds in broad daylight.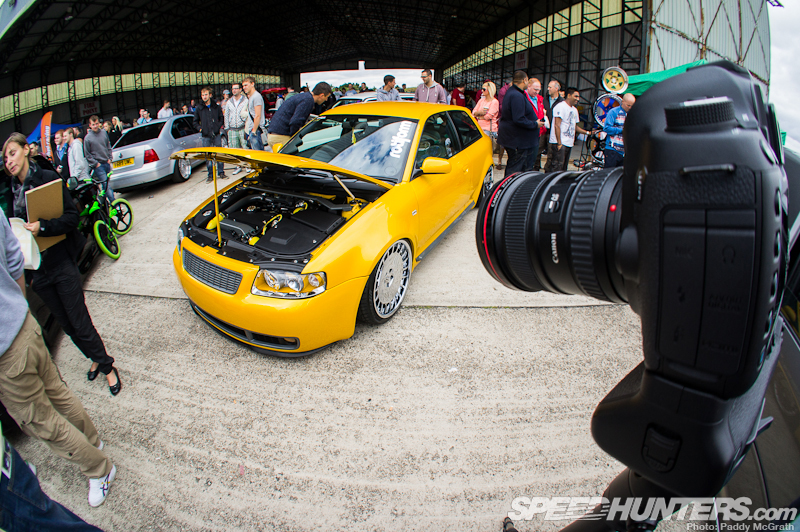 Where usually you could be shooting upwards of 1/1000th of a second in the sunhine, a ND filter  along with a smaller aperture (around f/8) can allow a shutter speed of around ten seconds or more. The result?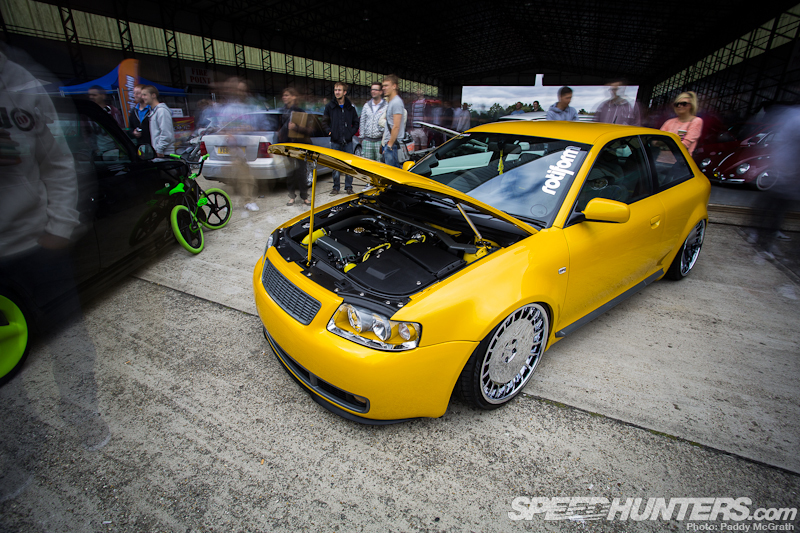 With the cars remaining stationary and people constantly moving around, the people begin to ghost and become less distracting – focussing your attention on the car and little else.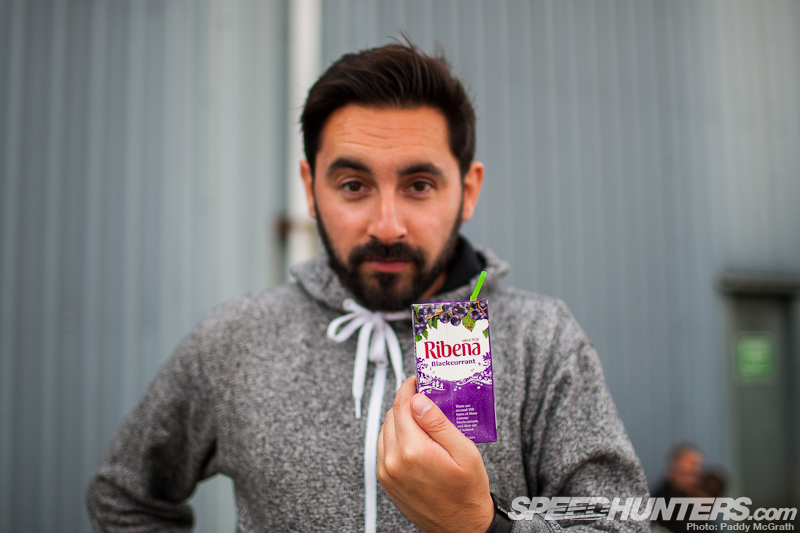 Here's Ben. Ben would like to publicly declare his love for Ribena Blackcurrant juice.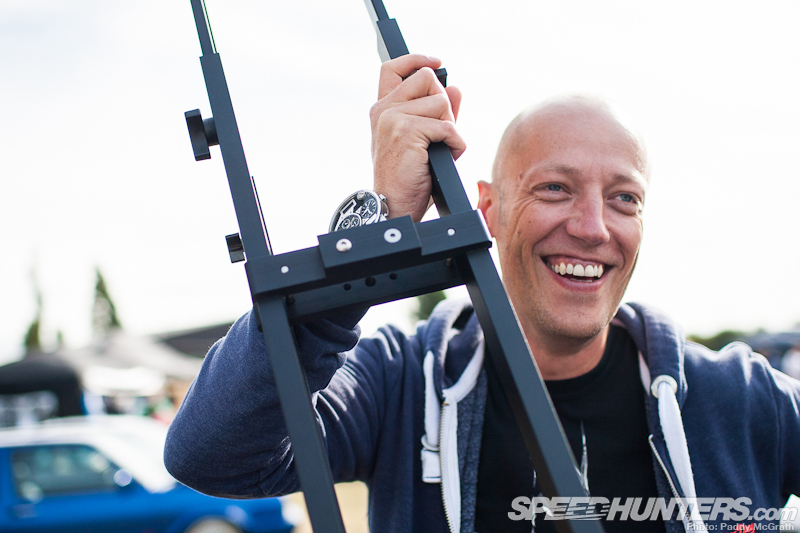 Here's Stephen. Stephen makes films with his crane and other film making devices. He makes me appreciate the fact that I don't have to carry or push a huge crane around all day.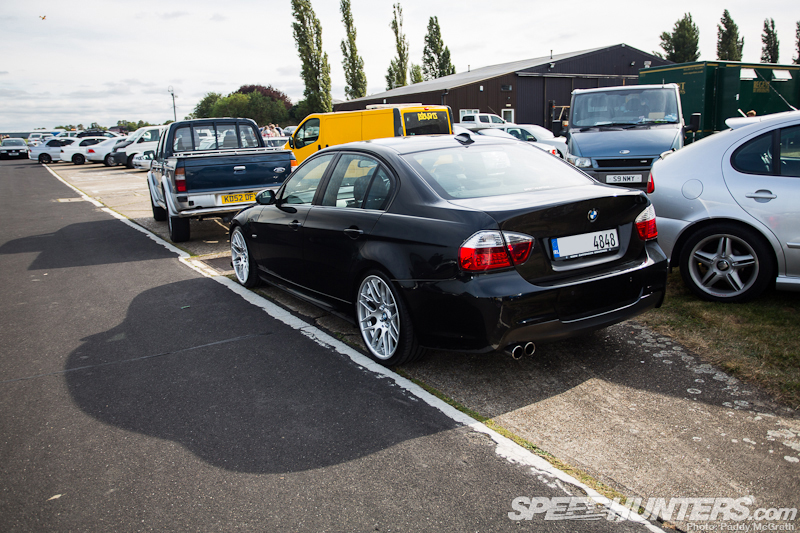 After a solid day of walking around and photographing things, and then photographing them again just to be sure …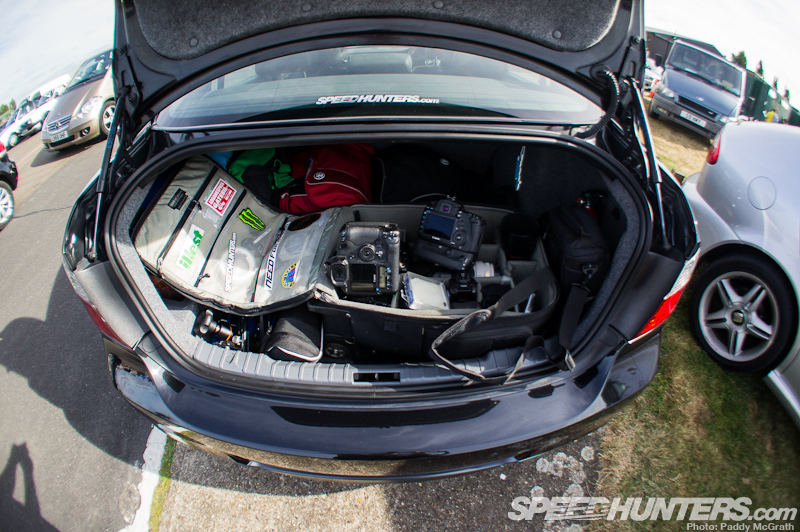 … it's time to pack up and hit the road.  I've obviously cut out many hours of mundane photography business here, but you can see what I was shooting in tomorrow's Players Show coverage.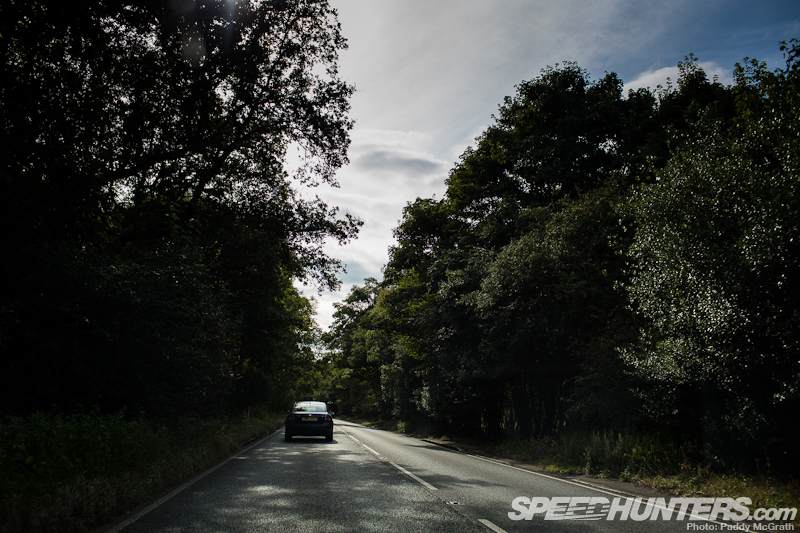 With no pressure on leaving, we could take the scenic route home.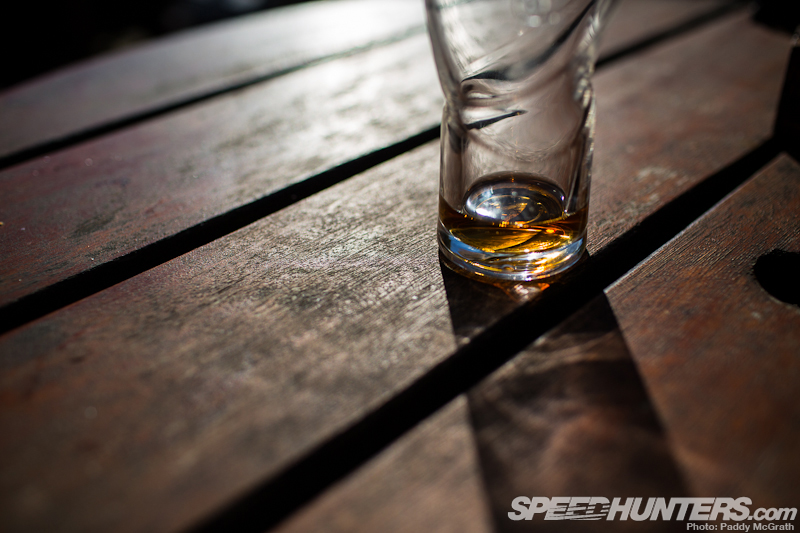 Stopping off only for a refreshing beverage in the autumn sunshine.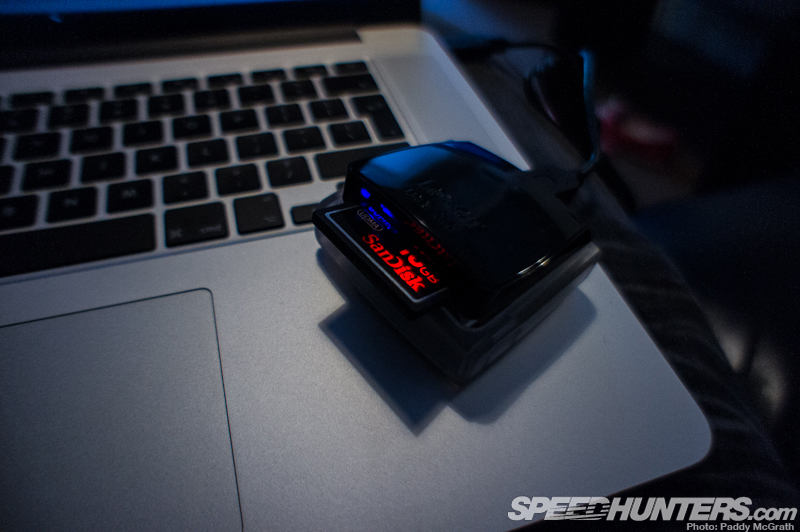 On returning to the house it's time to download memory cards, check images and realise that one my lenses is back focussing slightly which, to be honest, isn't ideal.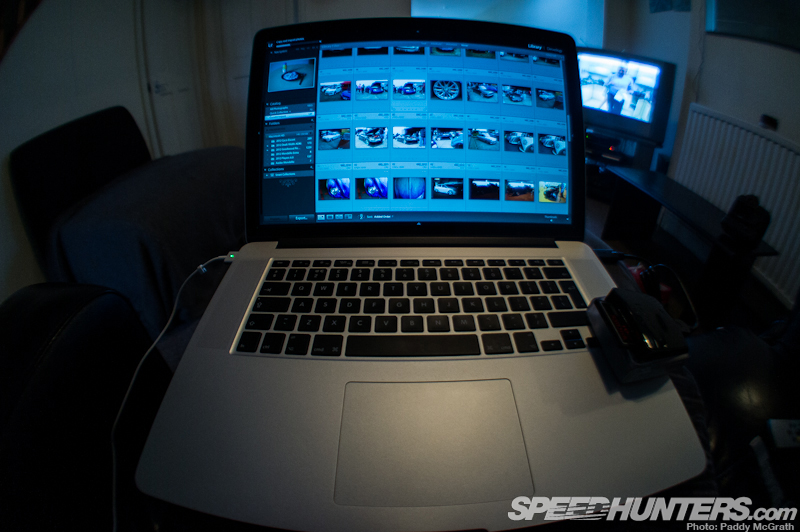 Next it's time to make my picks, edit, export, watermark, upload and format a story before writing it up, proofing it and publishing it. After all of this? Well, it's time to move on to the next one …
–
Paddy McGrath
paddy@dev.speedhunters.com