If there's one thing I'm sure everyone who attended the Yokohama World Time Attack Challenge will agree on, it's the fact that there was never a dull moment during the two-day event. Apart from a few moments spent mopping up fluid spills, the GP circuit at Sydney Motorsport Park was in constant use from 9am in the morning until after 9pm at night. I wrapped up happenings with the fastest time attack machines at WTAC in my last post, so this time around we'll take a quick look at the Open and Clubsprint side of the equation, before delving into the other big component of the weekend: the Tectaloy International Drift Challenge featuring Australia, New Zealand, and couple of guys from Japan's legendary Team Orange.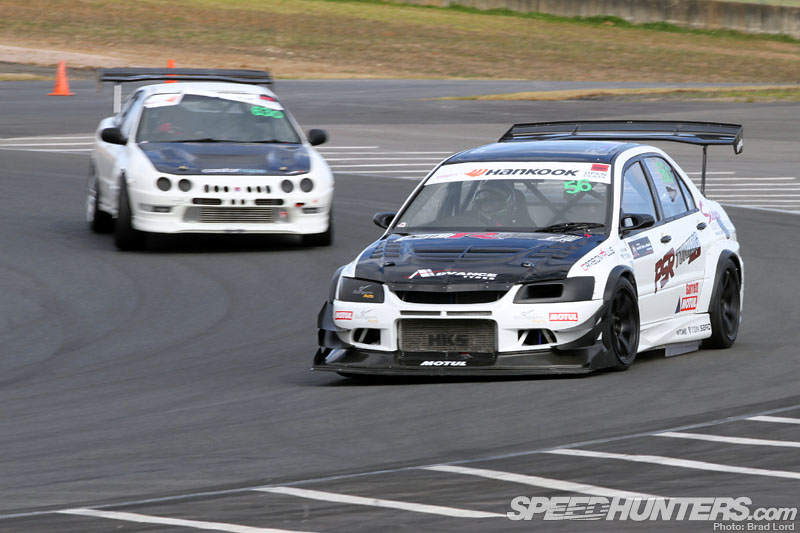 The beauty of World Time Attack Challenge is that it's open to everyone, from pro race drivers driving serious top-level machines (like Nemo), right through to guys piloting their own garage-built road cars. The Clubsprint class caters to the latter, while the Open class allows a few more freedoms including chassis work and aero upgrades only limited by imagination. The Pro class takes things a step further with permission for suspension reconfiguration and tube frame extensions among other things.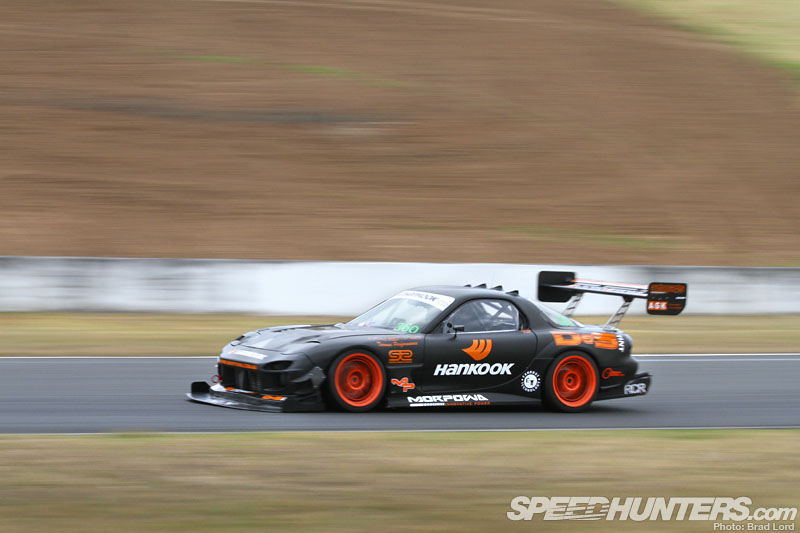 What really surprised me though were the quality of the builds in the two lesser classes. The Hankook/Morpowa Racing FD3S RX-7 for example is a serious piece of gear that placed third overall in the Open class as well as picking up trophies for the fastest rear-wheel-drive and fastest rotary-powered vehicle.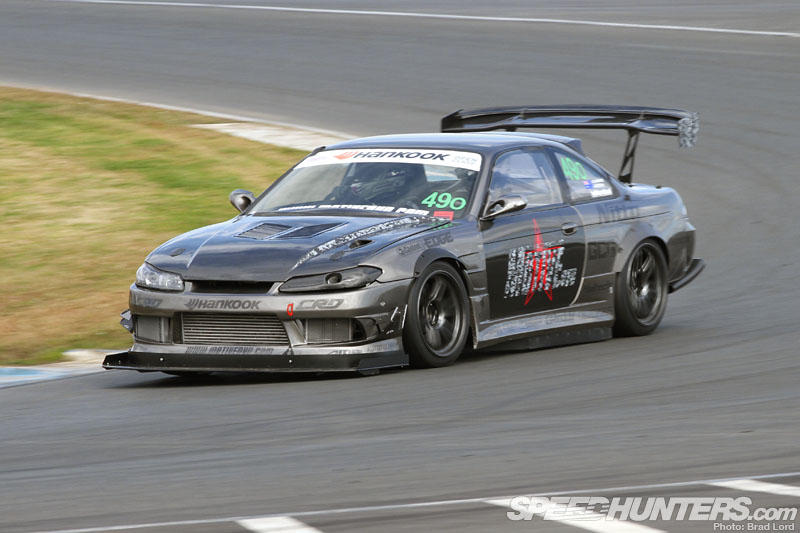 Motive DVD's JET200 Nissan Silvia S14 is a bit of weapon as well, and I'm a big fan of the carbon fiber/titanium paint scheme.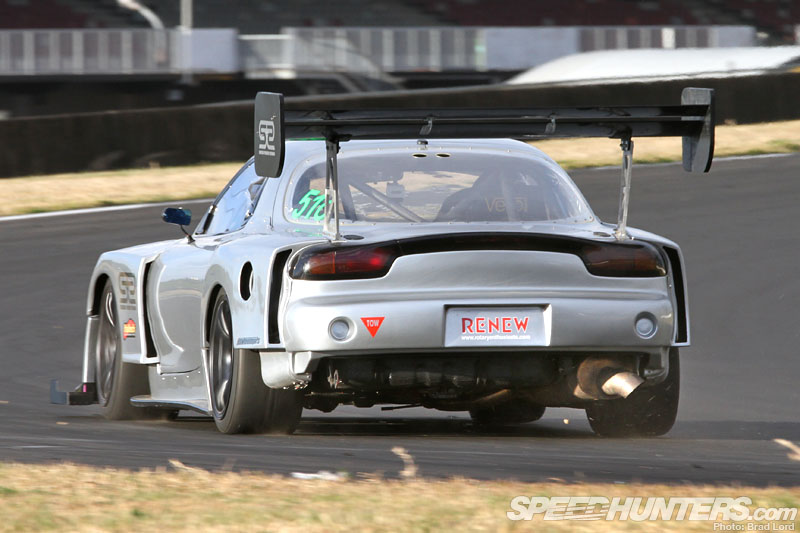 Drew Blackwell's Open class RX-7 definitely did it for me, too. It's hard to believe that the FD3S design is more than 20 years old when you see one lapping the track looking like this!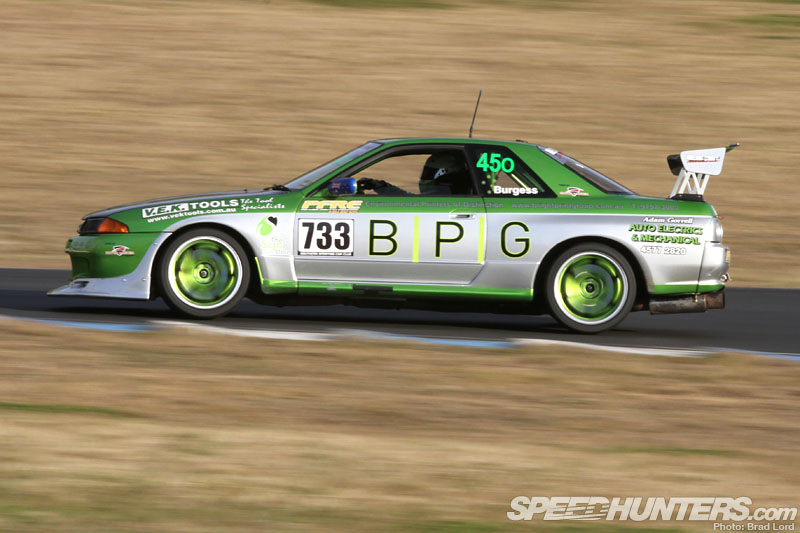 Speaking of that golden era of Japanese performance cars it was good to see a few BNR32 Skyline GT-Rs within the ranks and being put to good use, too. A tuned RB26 engine is music to the ears!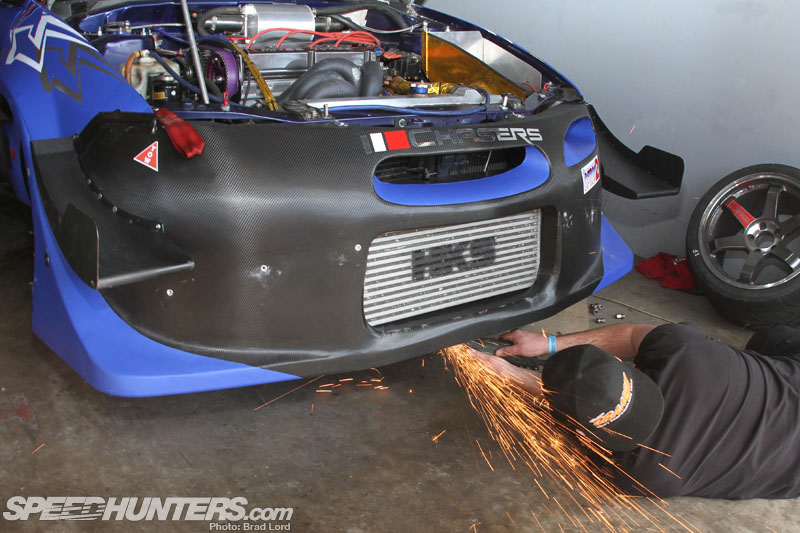 Whenever there was a break in proceedings I'd hot-foot it to pit lane, where there's all guaranteed to be something going on. While some teams made modifications…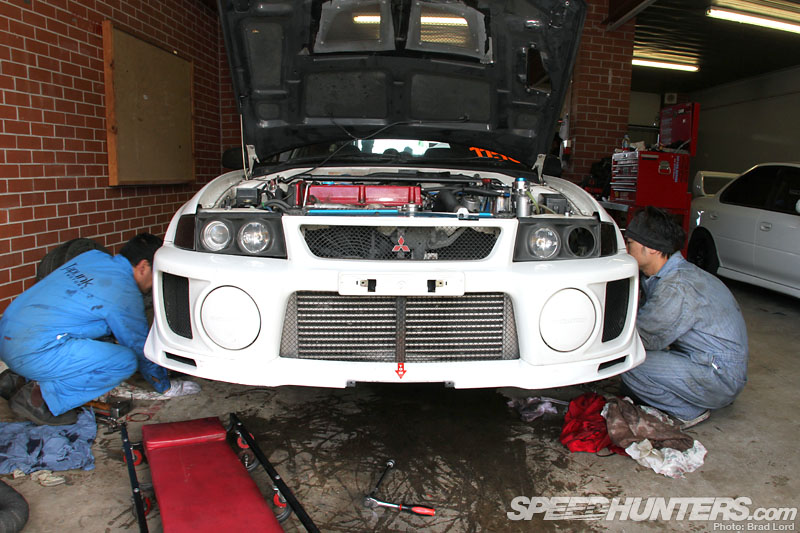 Others could be found plugging leaks….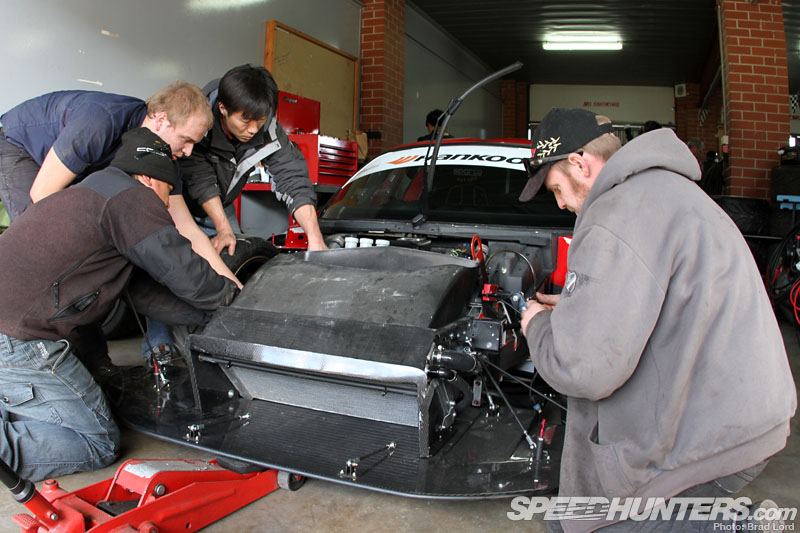 Some used the time in between sessions to make adjustments to their set up. But unfortunately for the Pro Concept Lotus team…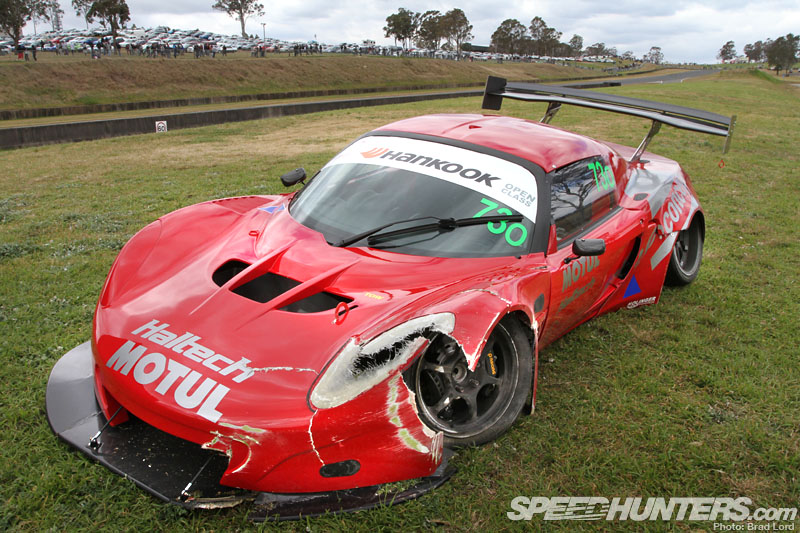 WTAC 2012 will be remembered for all the wrong reasons after their very cool Open class Elise came unstuck on the exit of turn two. I'm no expert, but that does not look like it will buff out easily…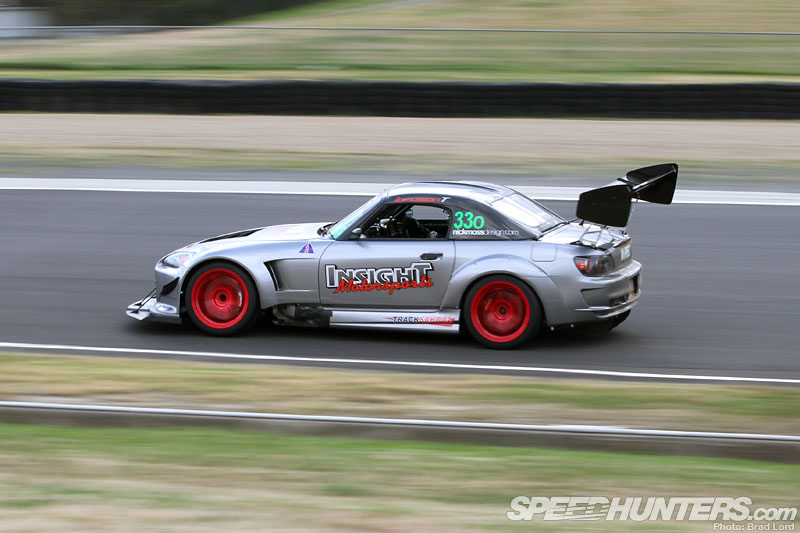 Insight Motorsports has done a very nice job of this Honda S2000. It went every bit as good as it looks too, finishing up 11th in the Open class with a respectable 1:36.2510 lap time.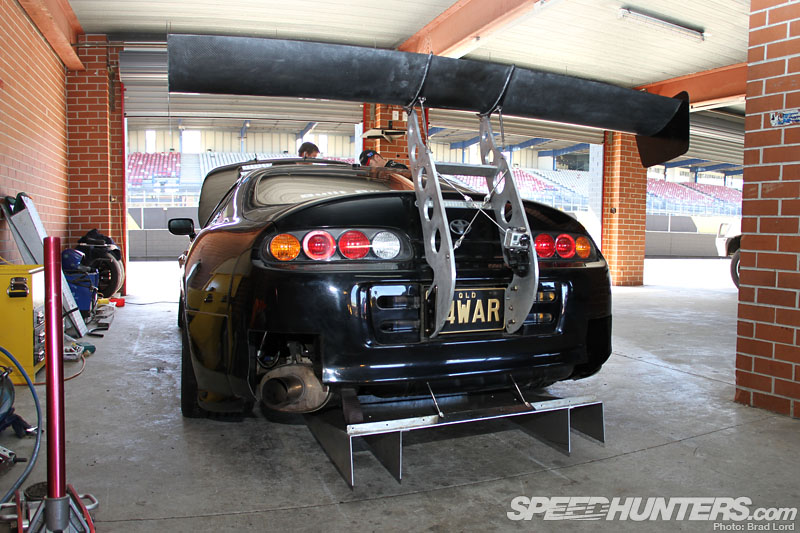 Anton Jones's Clubsprint class Toyota Supra attracted plenty of attention with its wild rear-end aero upgrades. I wonder if he can get away with driving it on the road like that?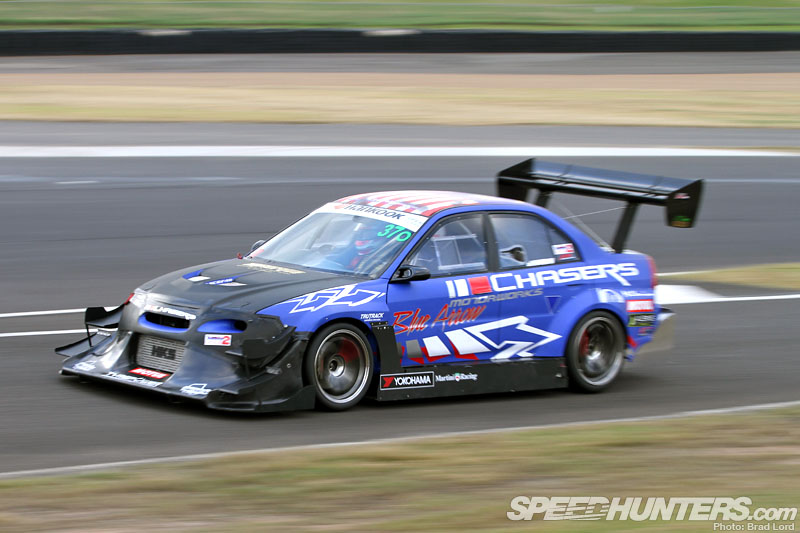 Another car with some serious downforce-improving bolt-ons was the Chasers Motorworks Lancer Evolution VI. Alif Hamdam's blue machine ripped up the circuit in 1:33.4840 to claim second spot on the podium in the Open class.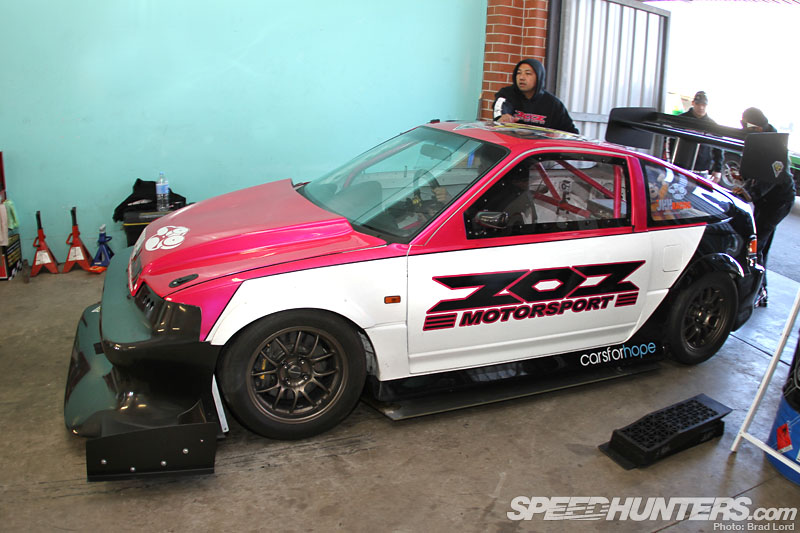 I need to make mention of Robert Nguyen's 101 Motorsport/JHH Racing Honda CR-X which took a couple of Open class trophies for its 1:35.1260 lap. Not bad for a naturally aspirated front-wheel-drive!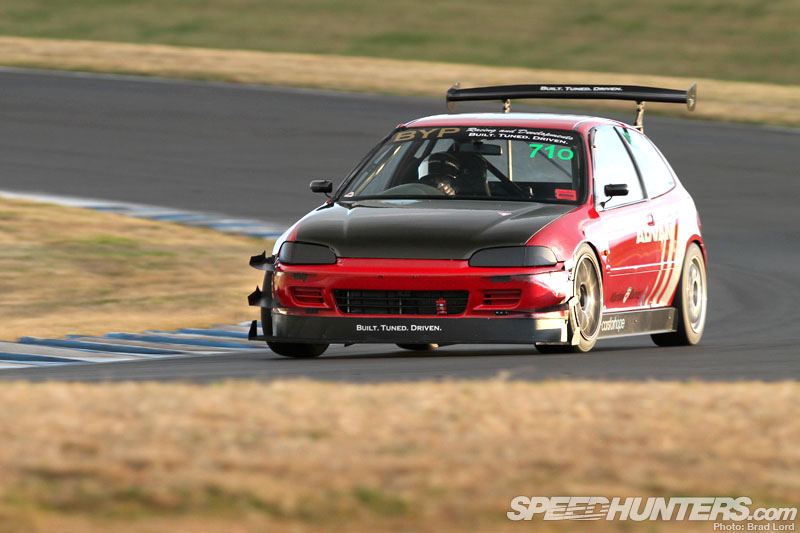 Another Honda doing the business in the Open class was Benny Tran's BYP Racing Civic. The EG hatch runs a K24-based naturally aspirated setup which helped it to a 1:36.7870.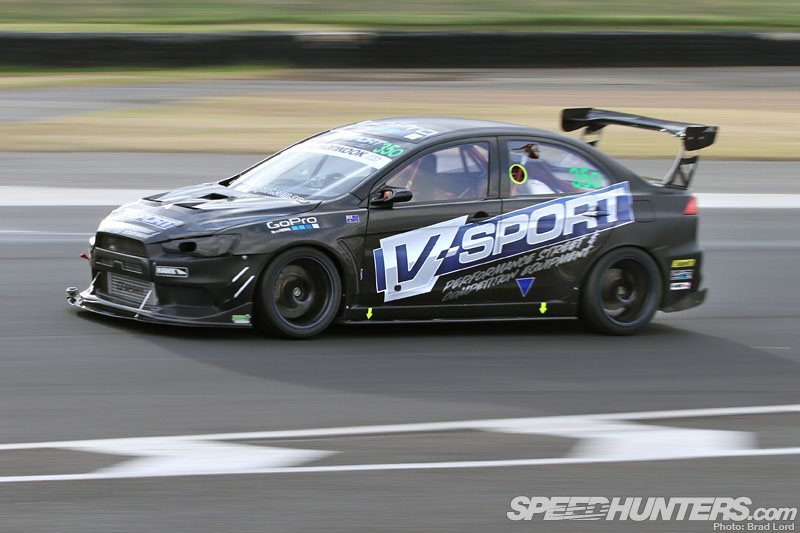 Although the earlier variant Lancer Evolutions dominated WTAC, the V-Sport Evo X proved that the latest iteration is still up to task. Fifth overall in the Open class.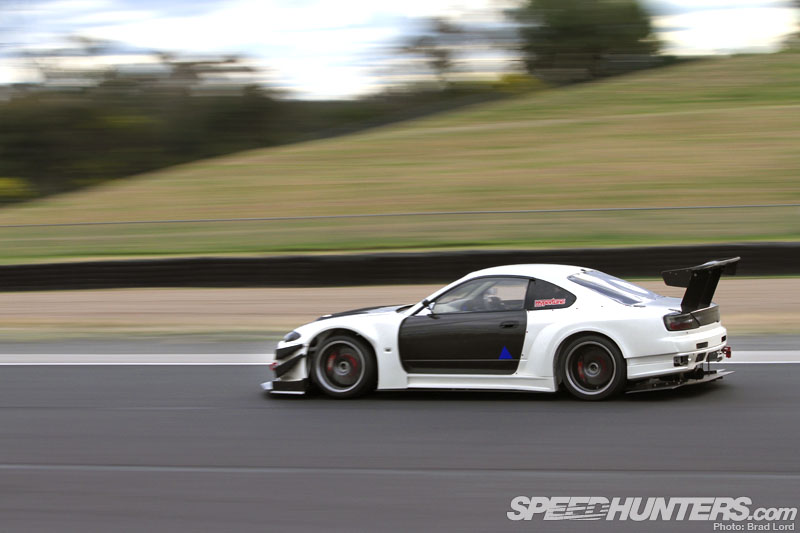 Andrew Sutton's clean Silvia S15 was doing the business too: fourth in class.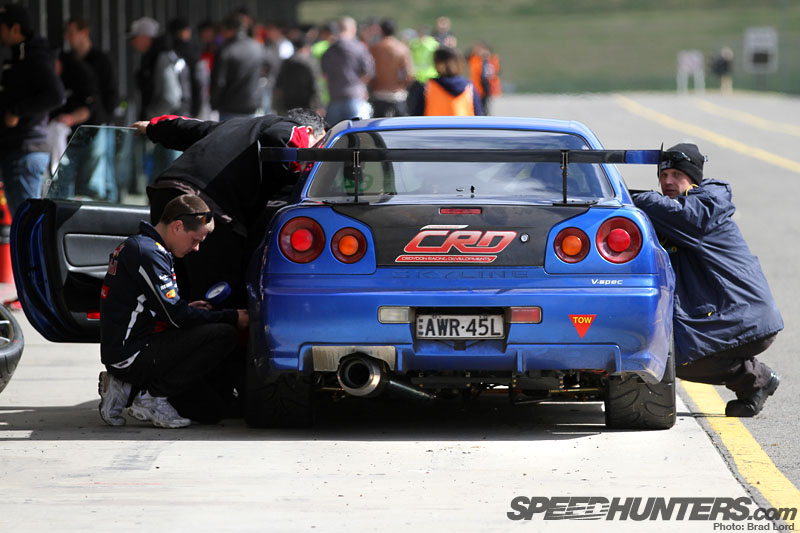 I really don't think I've seen so many tasty JDM rides in one place, at one time. At least outside of Japan anyway…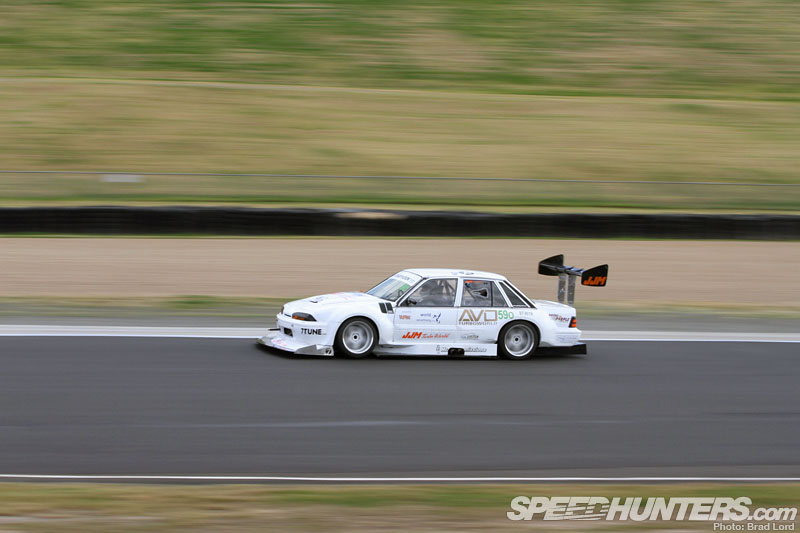 On the flip-side it was good to see people thinking outside the box, rather than following more tried and tested routes. Jason Clements's AVO Turboworld-tuned GM Holden Commodore VL definitely fits in the former basket.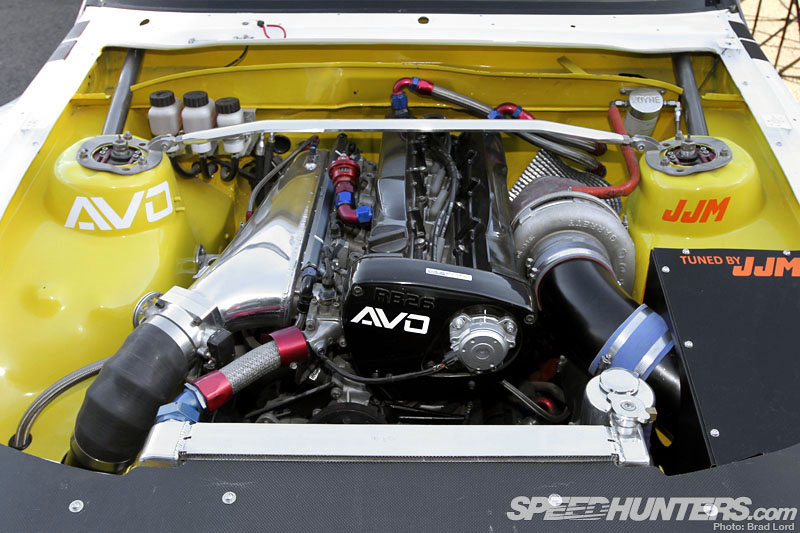 The Commodore still retains its factory Nissan-supplied RB30 block, but these days its stuffed full of race-spec internals and has been fitted with a modified RB26 cylinders head and a huge Garrett GT43R turbo. With 30psi boost screwed in, 800hp at the rear wheels is the result!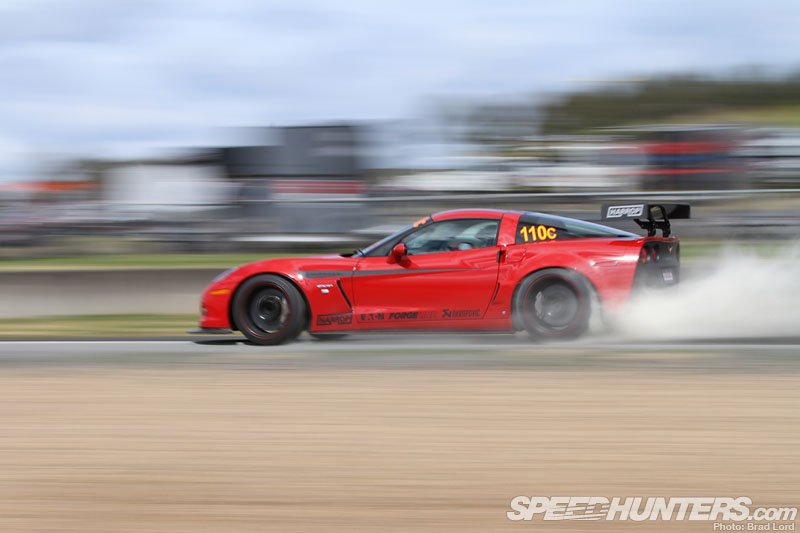 There were a few more unconventional entries too, including Harrop Engineering's 'Project Wixom' Corvette Z06, seen here running a little wide out of turn three. The 'Vette scooped a bunch of accolades in the Clubsprint class including fastest eight-cylinder, fastest naturally aspirated and fastest rear-wheel-drive.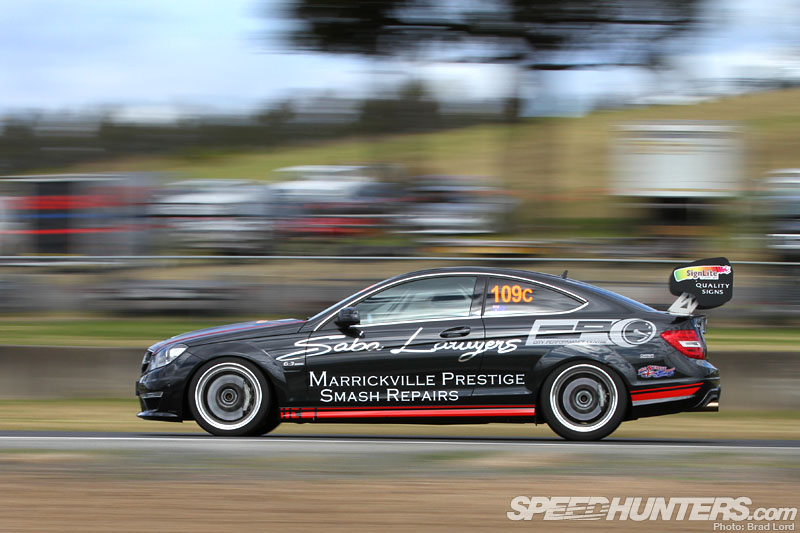 And it's not everyday you see a 'caged-up Mercedes-Benz C63 AMG time attacker!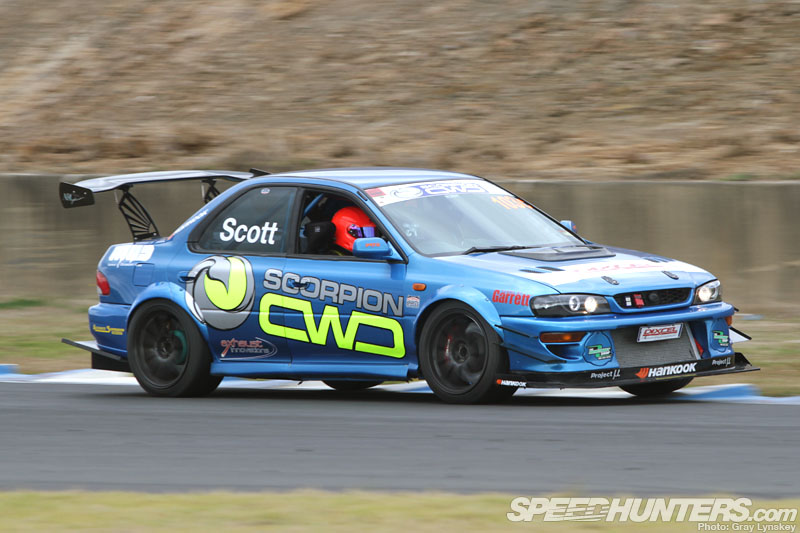 I mentioned the overall winner of the Open class in yesterday's post, but in Clubsprint the overall honors went to Neville Scott's Scorpion AWD Subaru Impreza which stopped the clocks with a 1:38.8600 lap. The IS Motor Racing/Royal Purple/Hankook Evo VII was second followed by the Road Track Rally Evo X in third.
Although I can't really comment since this was my first WTAC event, there were plenty of people convinced that caliber of car had definitely been raised this year –and definitely not only in the Pro ranks. If that's the case, then the 2013 rematch will be even better!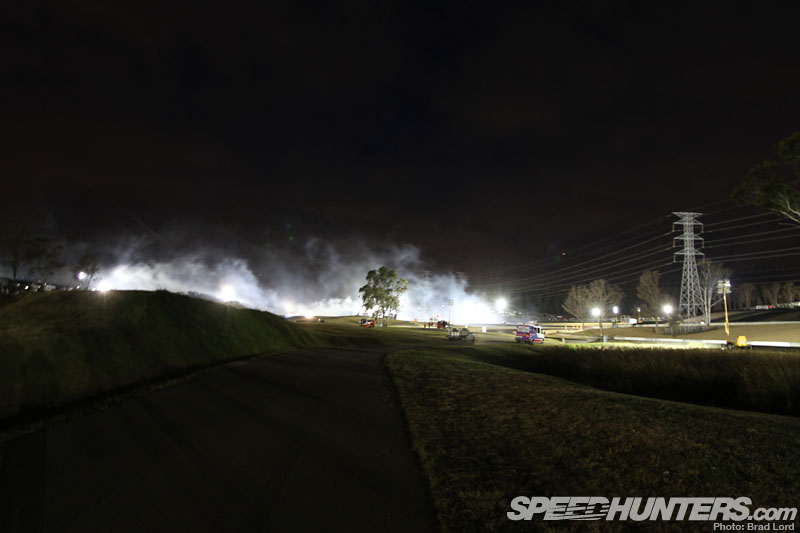 As the sun went down at Eastern Creek the Tectaloy International Drift Challenge smoke show – an integral part of the WTAC since the very beginning – kicked into life.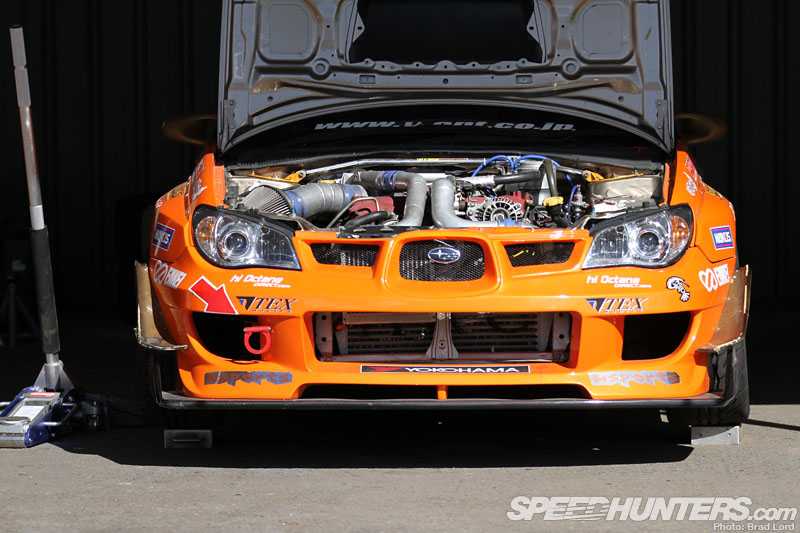 As had happened in 2010 and 2011 a contingent of top Kiwi drifters shipped their cars across the Tasman to compete, but this year they were joined by two well-known drivers from Japan – Nobushige Kumakubo and Naoto Suenaga. Team Orange was in the house!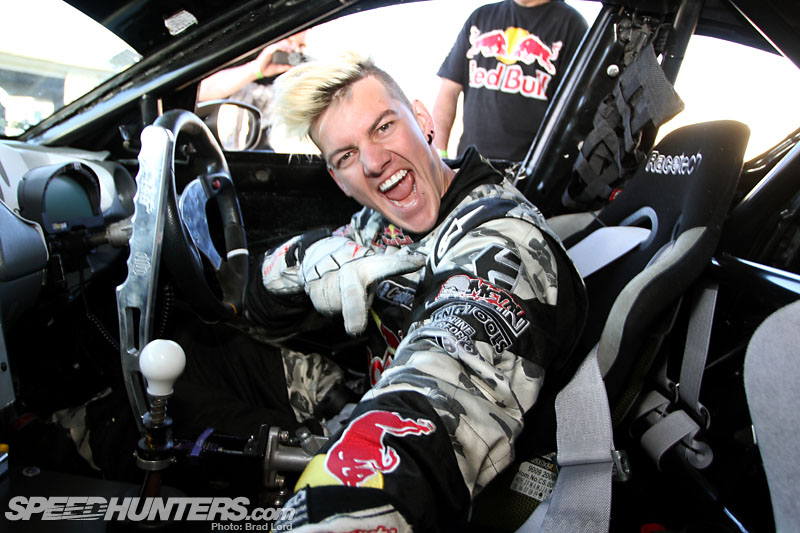 My first port of call was the Red Bull/Speedhunters pit to catch up with fellow Kiwi, Mad Mike. Prior to coming to Australia Mike had just finished giving BADBUL a complete mechanical overhaul and was chomping at the bit to give it a proper shakedown.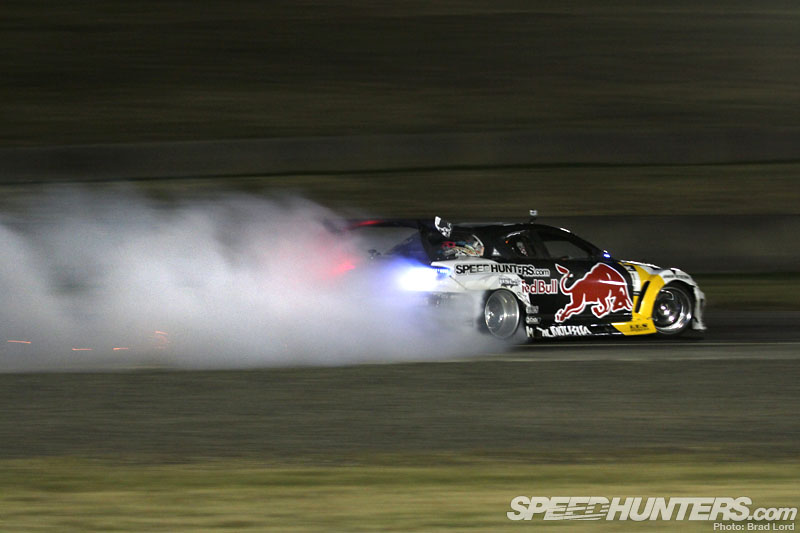 Initially things were looking good with plenty of smoke and sparks flying, but mid-way through the Friday night practice/qualifying session it all turned bad.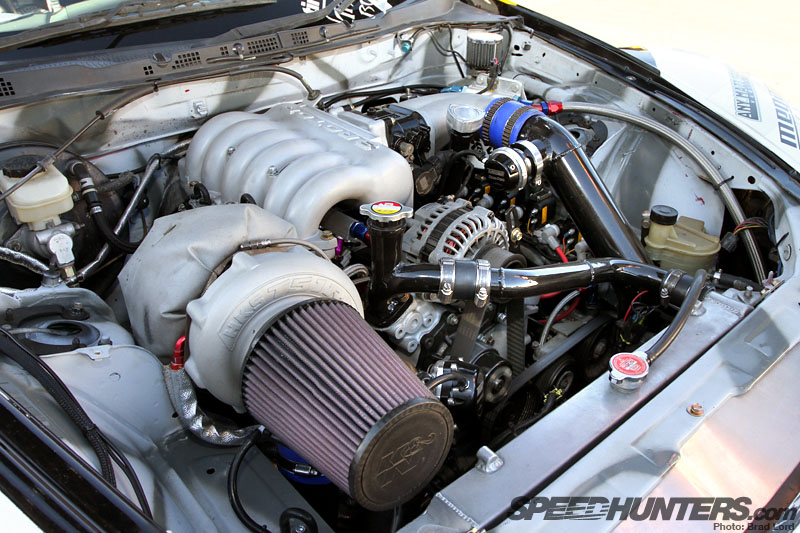 BADBUL' 20B engine dropped a rotor (aka, lost all compression on one rotor), so his event was over..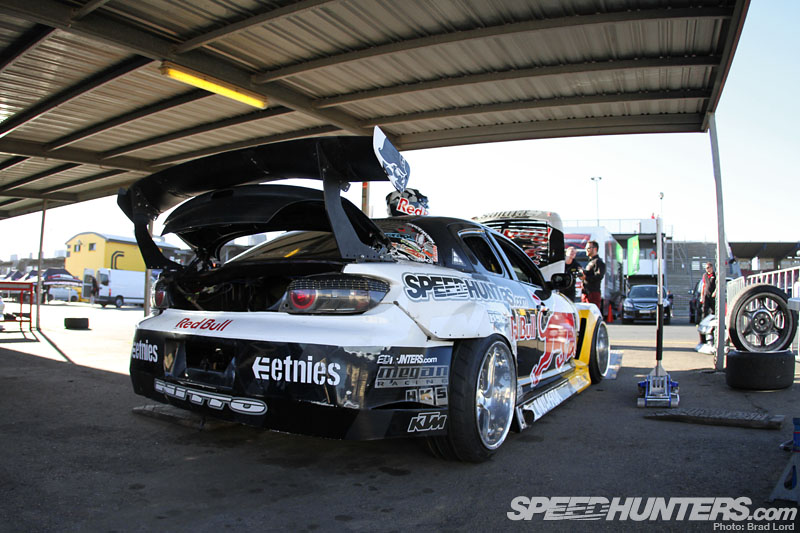 Before the engine trouble set in, BADBUL definitely showed signs of greatness, so I'm looking forward to seeing what it can really do once it's back in New Zealand and repaired. Mike tells me there's a fresh kit and a new livery on the way too…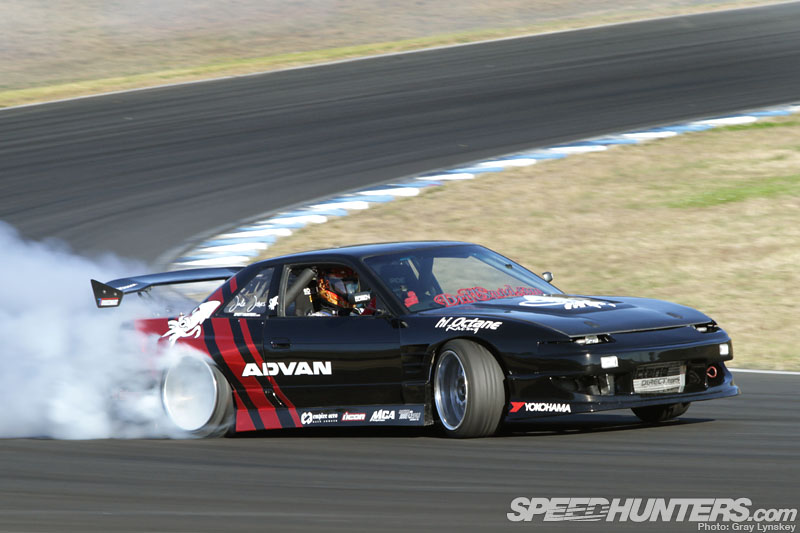 During the daytime WTAC programme a quick lunchtime session allowed the drivers an opportunity to run a few quick laps through the drift section. Considering how dark said drift section was at night, it was also a good opportunity to grab a few shots. Jake 'Drift Squid' Jones's self-built 'RB27′ Onevia made quick work of ADVAN rubber.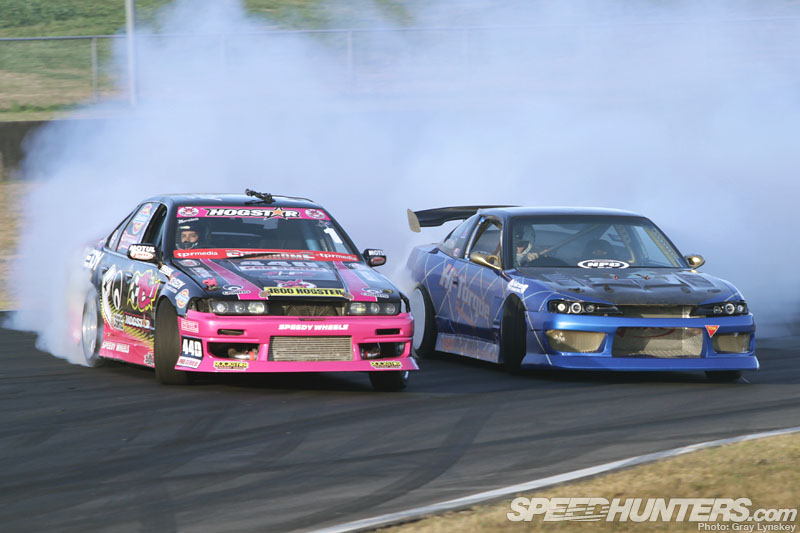 Tony Harrison in the blue Hi-Torque S15 Silvia ended up having a stellar event finishing second overall. The Nissan is an angry machine too, with a GM LS2 engine up front running eight un-filtered throttle bodies.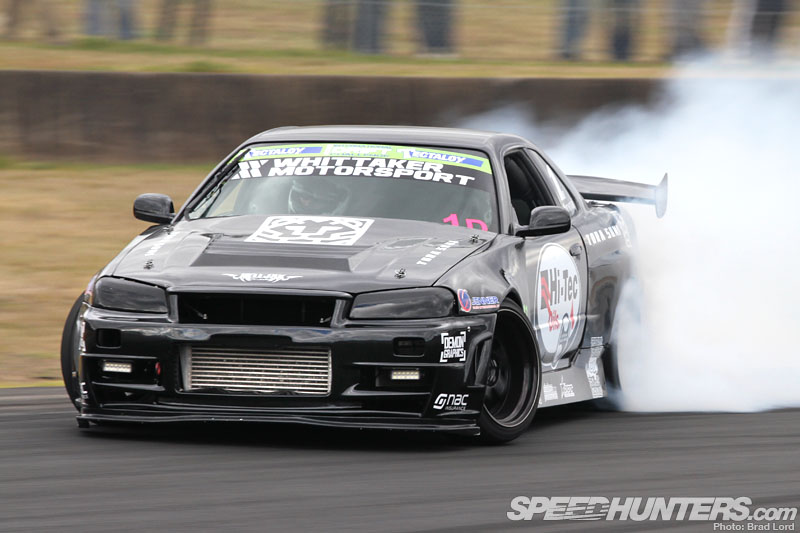 Last year's TIDC champ, Curt Whitakker couldn't repeat his 2011 winning performance, but put on a decent show as always in his R34 GT-T.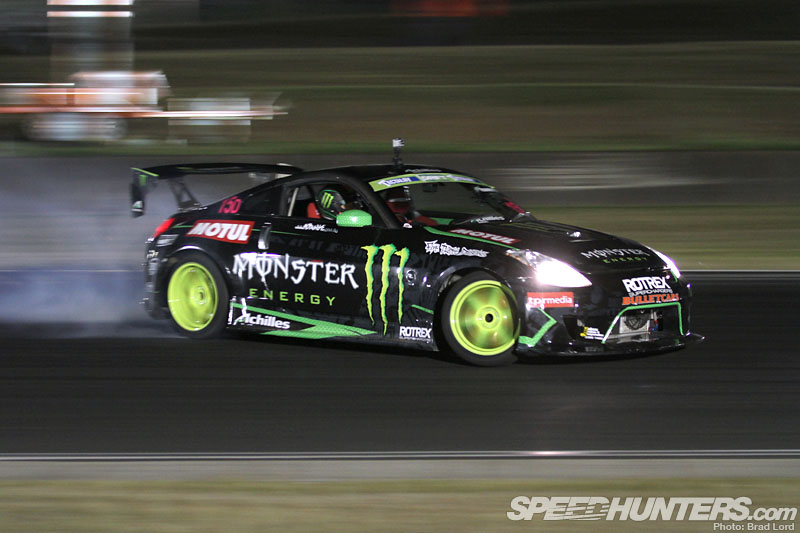 There's a lot to like about Rob Whyte's 350Z. It's NISMO engine package with added Rotrex supercharger is one of them!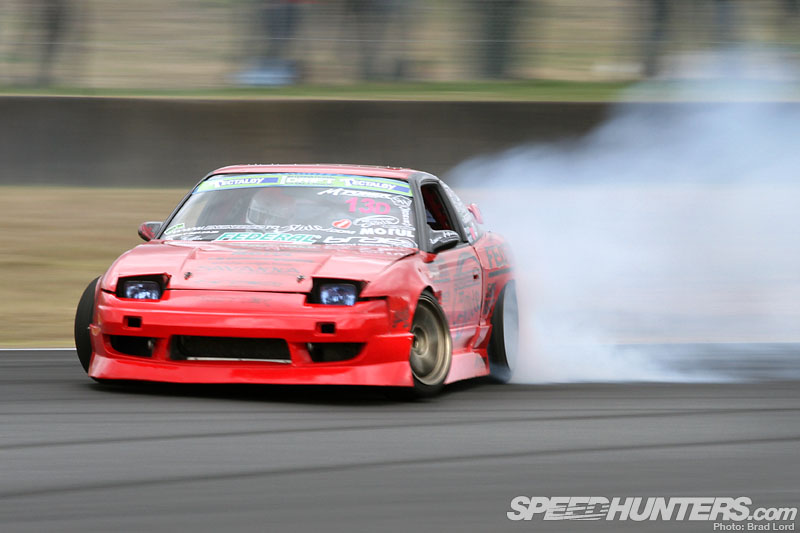 Nigel Petrie's Engineered to Slide 180SX is a thing of beauty. It's also pretty effective…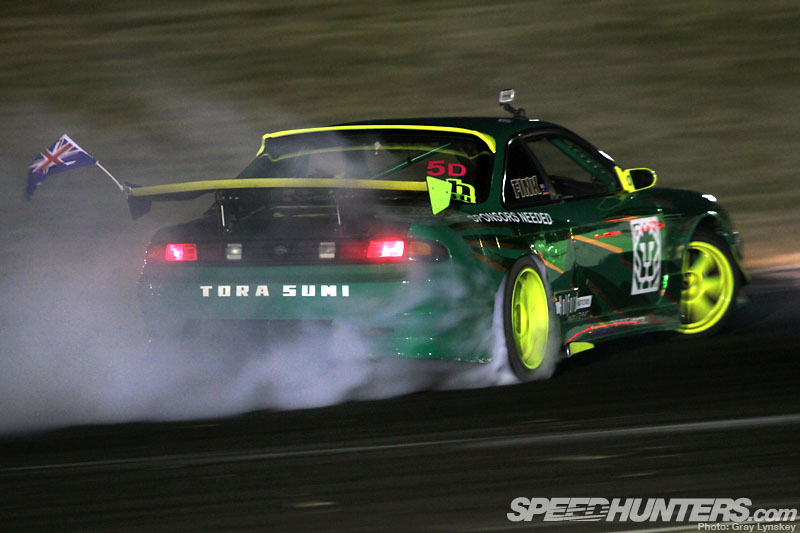 …as was ex-Drift Australia champ Luke Fink in his S14 who finished fourth.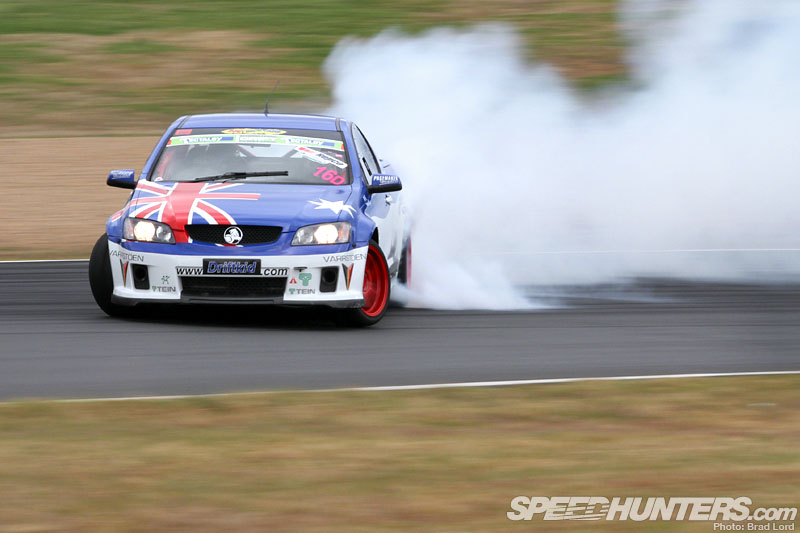 Nick Coulson, aka Drift Kid, is one of the rising stars of Australian drifting. He didn't place at the TIDC, but burnt lots of rubber and wound in plenty of opposite lock trying.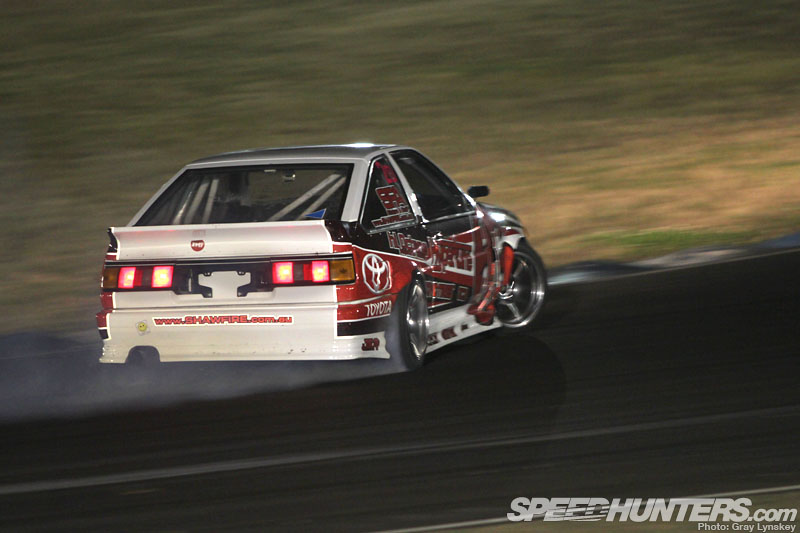 Another ex-Drift Australia champion and winner of the 2010 TIDC, Beau Yates, has stayed true to his roots driving an AE86. A tuned BEAMS 3S-GTE engine helps the cause…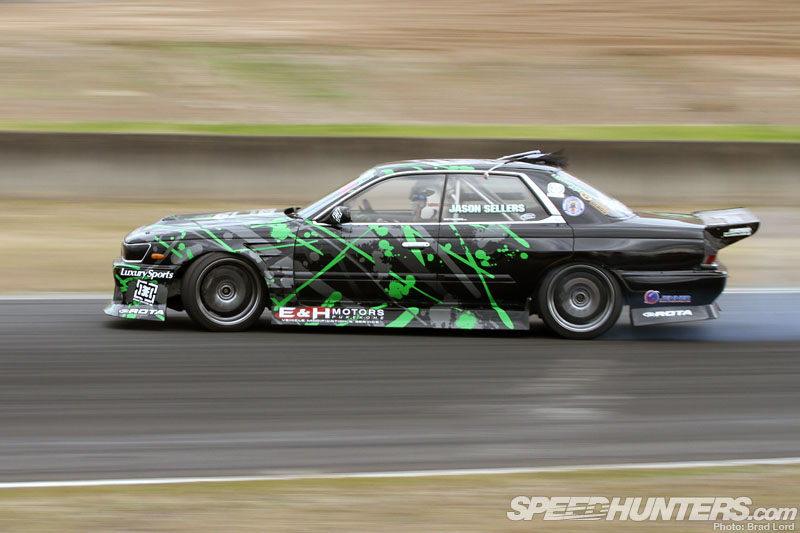 As a Toyota 2JZ does for Kiwi driver Jason Sellers' Nissan C33 Laurel. Jason finished ninth overall, one place behind Beau.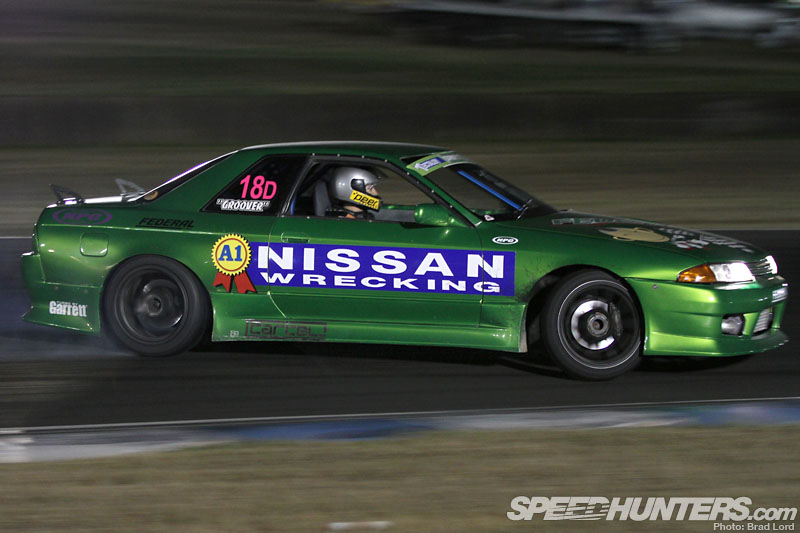 Driving a borrowed RB30-powered R32 Nissan Skyline, another well-known Australian drifter, Leighton Fine, fared a little better, and was rewarded with third.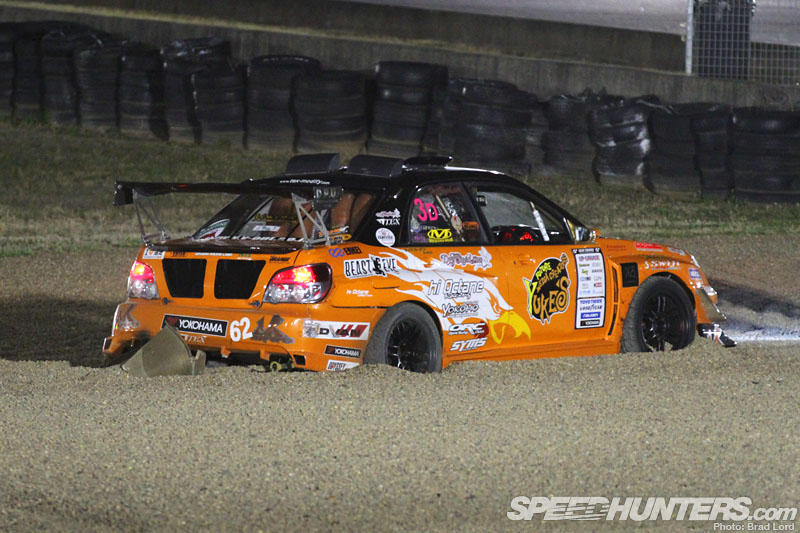 Kumakubo on the other had struggled with mechanical issues and a big spin during the qualifying session that left this Impreza in need of a tow out of the gravel trap.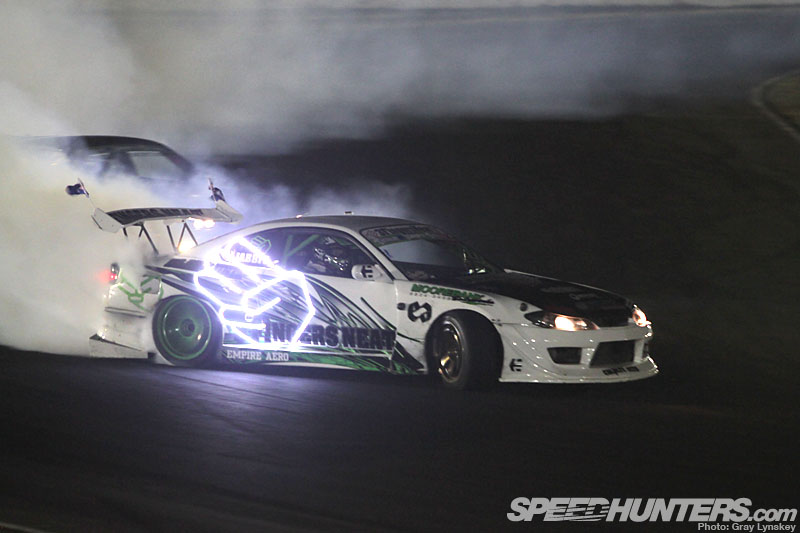 James Abbott's S15 lit it up in more ways than one.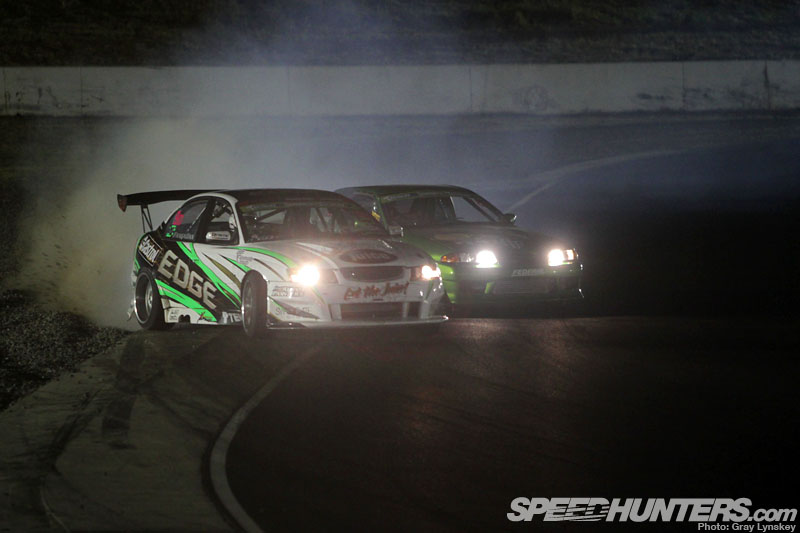 Those that braved the cold conditions were treated to plenty of door-to-door action. Kiwi, 'Fanga Dan' Woolhouse finished up seventh overall in his Castrol EDGE Commodore…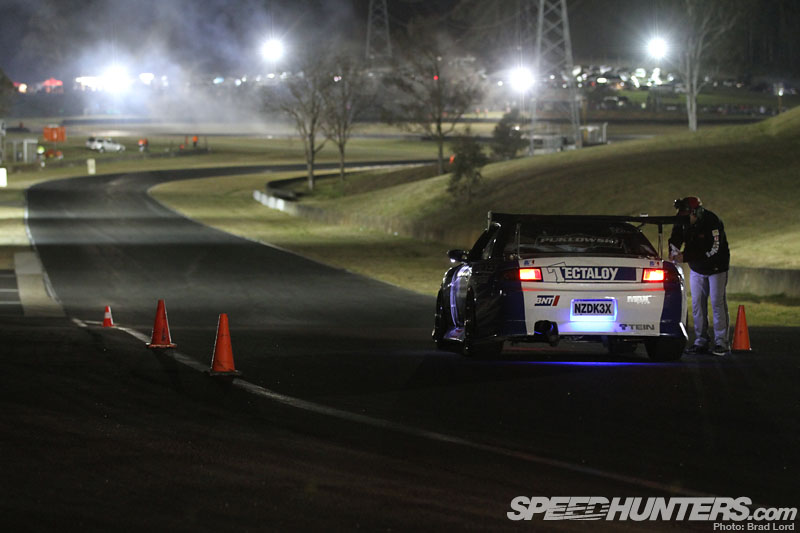 With his team mate and three-times New Zealand drift champ, Gaz Whiter, the first Kiwi in fifth. As you can see from angle the course runs a 100mph straight, followed by a right-hander and into a long sweeping left-hander…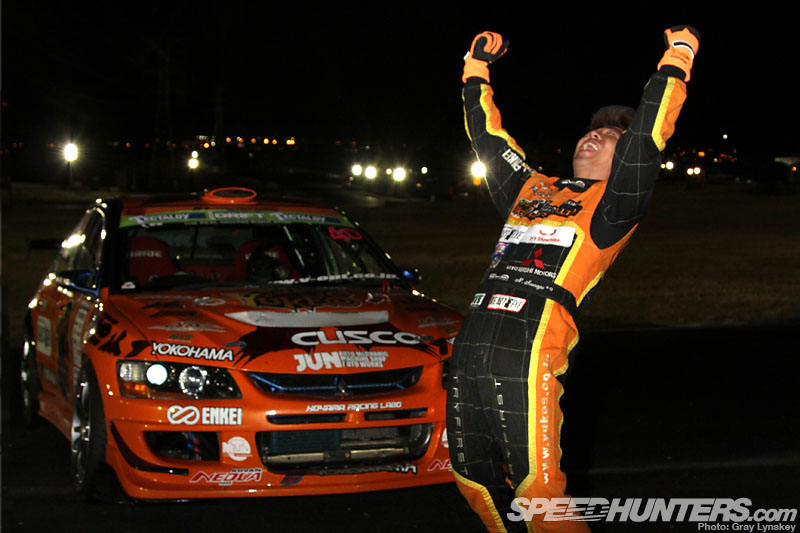 …that on this night was owned by Naoto Suenaga. And he was pretty happy about it too!
Look-out for our final WTAC wrap up tomorrow…
– Brad
Additional photos: Gray Lynskey/MGNinc