Ever since Superlap Australia announced the new World Time Attack Challenge back in 2010 I've been meaning to jump on plane at jet across the Tasman Sea to catch the action first hand. For one reason or another I never quite made it to either of the first events, but with some official Speedhunting needed to be taken care of, this year all of the stars aligned. It's been a couple of days since I arrived back in Auckland from my whirlwind trip to Sydney, and time to kick on with some more detailed coverage of the event that was Yokohama 2012 WTAC.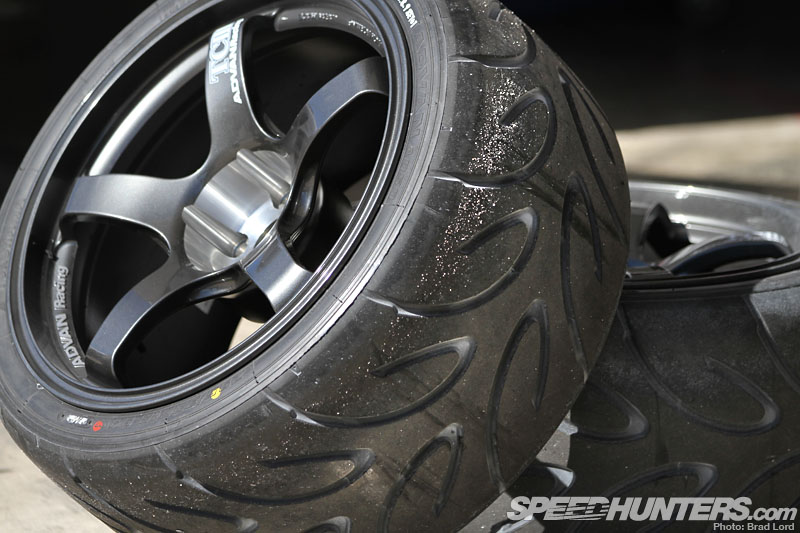 For the fastest cars in attendance – the subject of this post – there's was plenty of rubber melted for the cause over the two-day long event.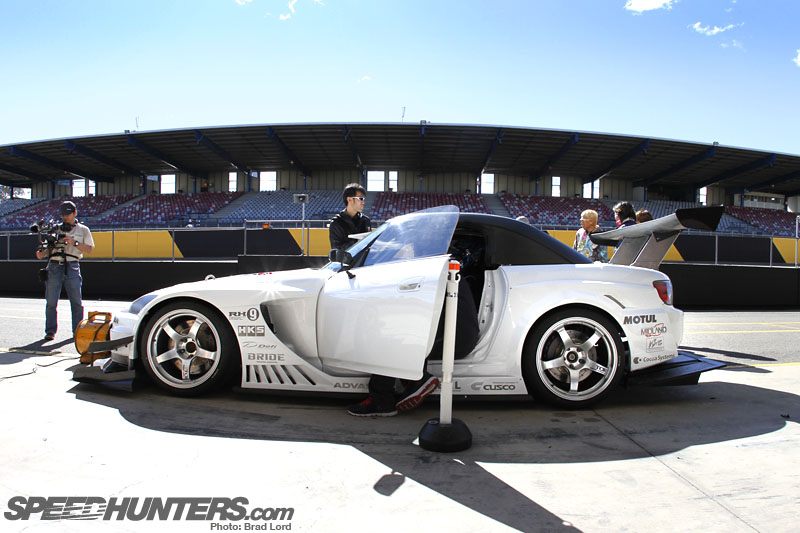 I have to hand to it the organizing team behind the event. Dreaming up the idea to run the World Time Attack Challenge is one thing, but getting some of the most respected names in the business to ship their cars (and themselves) half way around the planet, is quite an achievement.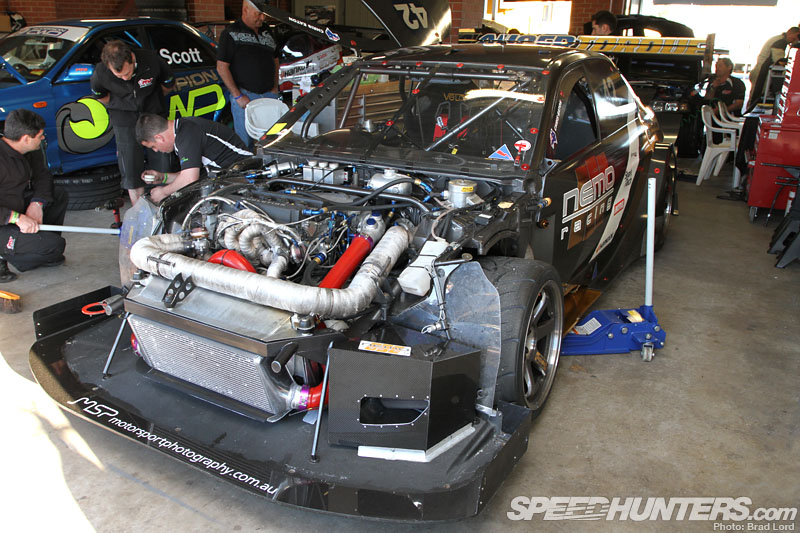 Over the past three years it's certainly helped in raising the game as evidenced by this year's overall winner and new WTAC record-setter: the Australian-built Nemo Racing Lancer Evolution.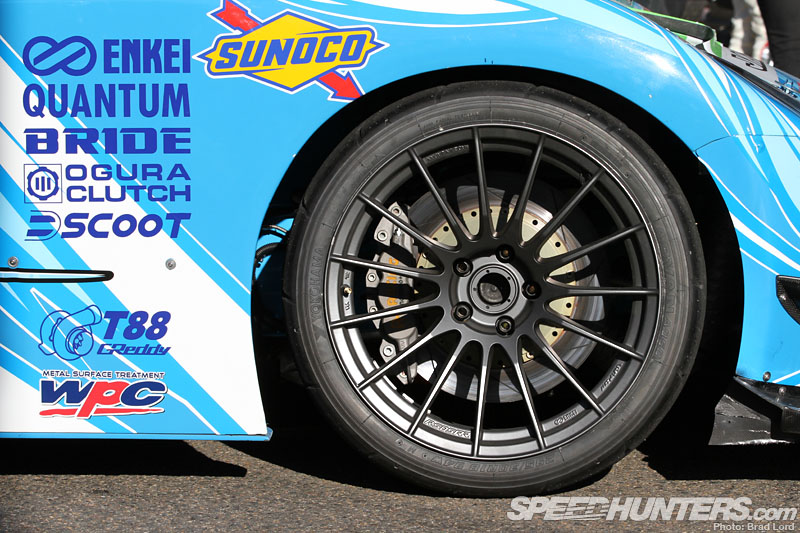 Of course, a "world" time attack event wouldn't truly be so without a contingent of teams from the country where the motor sport first originated. RE-Amemiya's 'Hurricane' RX-7 is Super GT-inspired creation that won the top tuner car prize at the 2011 Tokyo Auto Salon, but before WTAC 2012 was yet to turn a wheel in proper competition.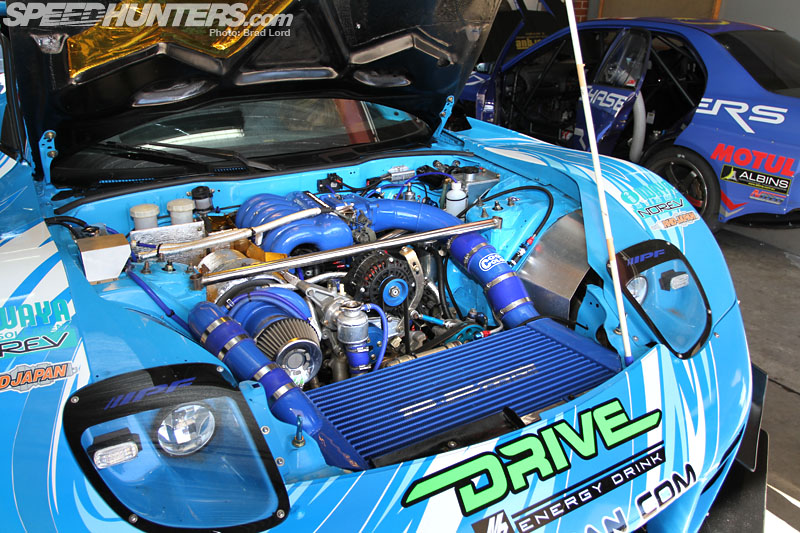 But with than 700hp on tap from its GReddy T88-34D equipped 20B engine, a whole bunch of parts borrowed from RE-Amemiya's Super GT program, and the experienced Nobuteru Taniguchi lined up for the drive, it certainly had the 'on paper' specification to get the job done.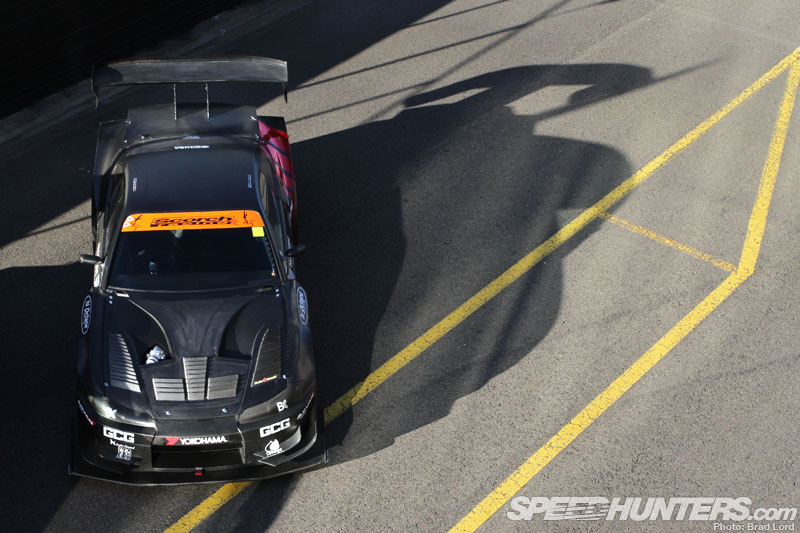 And in that respect so to did the amazing carbon fiber bodied Scorch Racing Nissan Silvia S15, which was back in Australia for WTAC for the second time. Under Suzuki, it's owner/driver, was eager to put the mechanical gremlins that hampered what was still an impressive performance at the 2011 event behind him.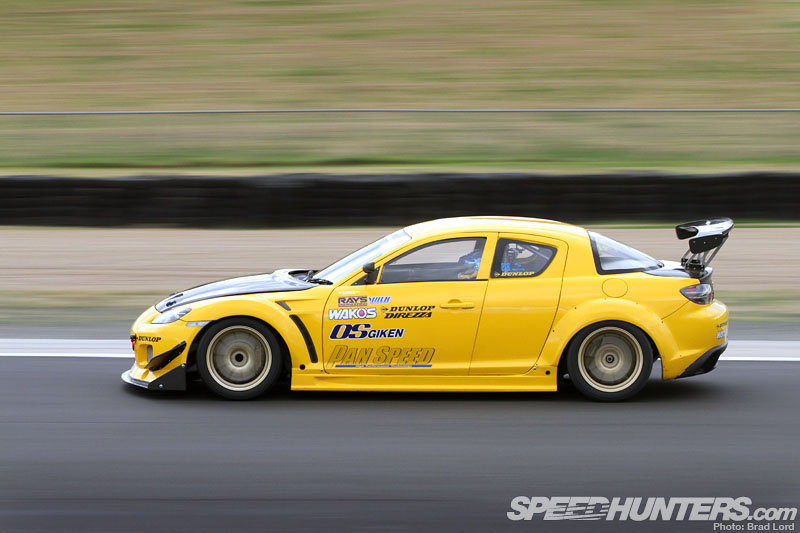 For the Pan Speed team out of Saitama, Tokyo, it was their third time competing at Eastern Creek. But instead of bringing their trademark FD3S RX-7, the rotary specialist shipped its naturally-aspirated, peripheral-ported, 20B Mazda RX-8 instead. In the very low-mounted hot seat was famed Super GT driver and Best Motoring presenter, Naoki Hattori.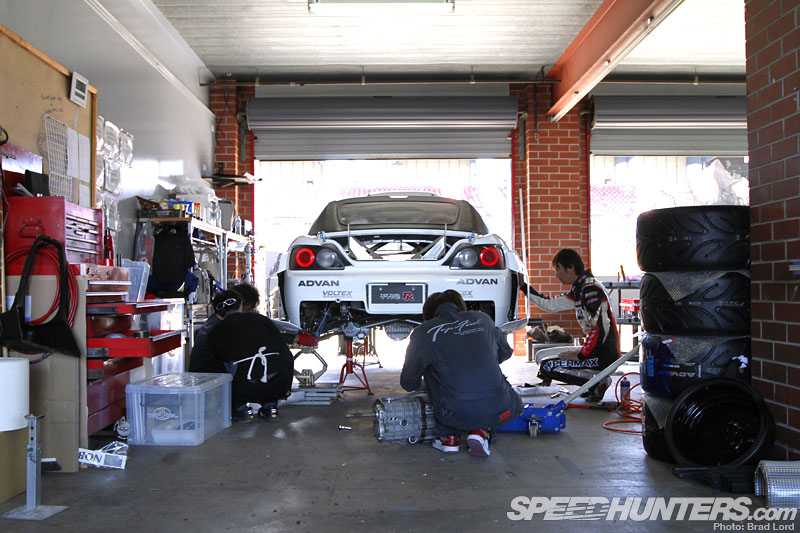 I've been a big fan of Top Fuel's work ever since I got to drive one of its manic turbocharged EK9 Civic Type Rs many years ago, so it was excited to check out its turbocharged Zero-1000 Honda S2000 in the flesh. Team Top Fuel with Voltex mechanics spent most of the test day underneath the on the car working on the driveline, and changing suspension in the hope to tame the handling…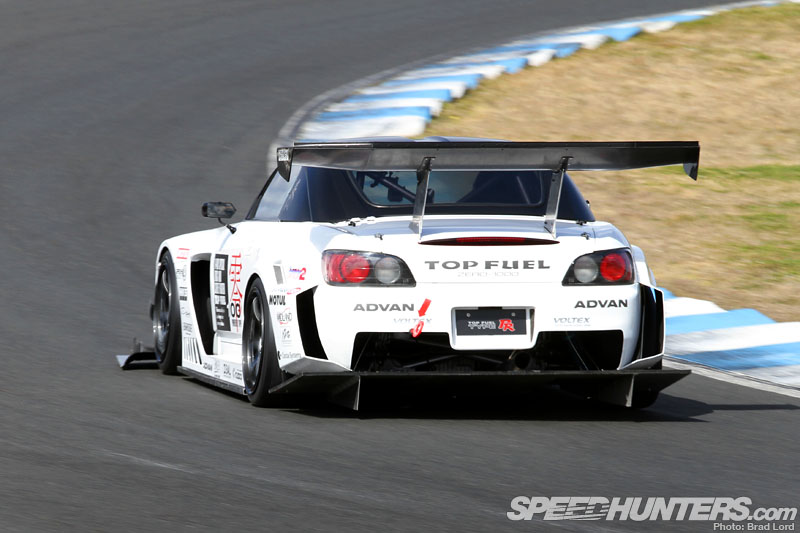 …But even after the tweaks, and with Taniguchi strapped tightly into the driver's seat, it still looked like a handful and a half on some parts of the high speed Eastern Creek circuit. I guess on-edge handling is something to be expected with 700hp, 1010kg and rear-wheel-drive, though, right?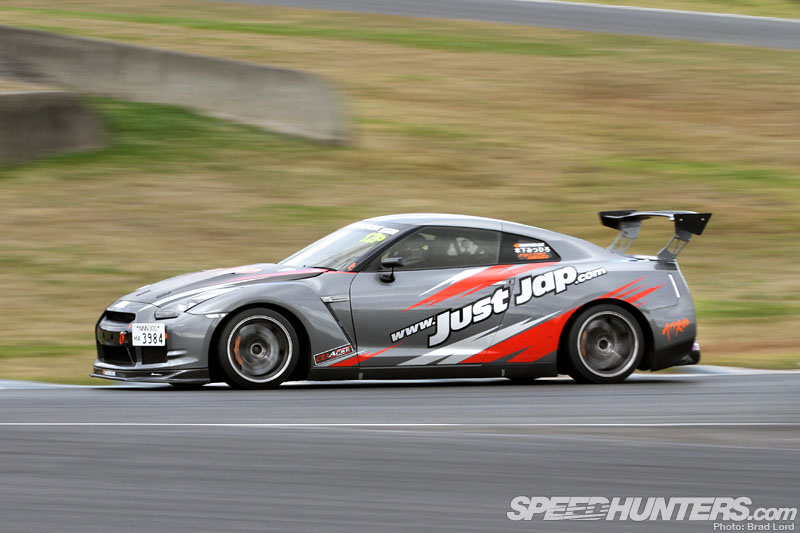 Another entry with a Japanese connection came with ATTKD/Just Jap Nissan GT-R. A regular street class time attack competitor in Japan, the R35 – driven by Mitsuhiro Kinoshita – features a dry carbon bonnet, fenders, doors, trunk lid and rear wing…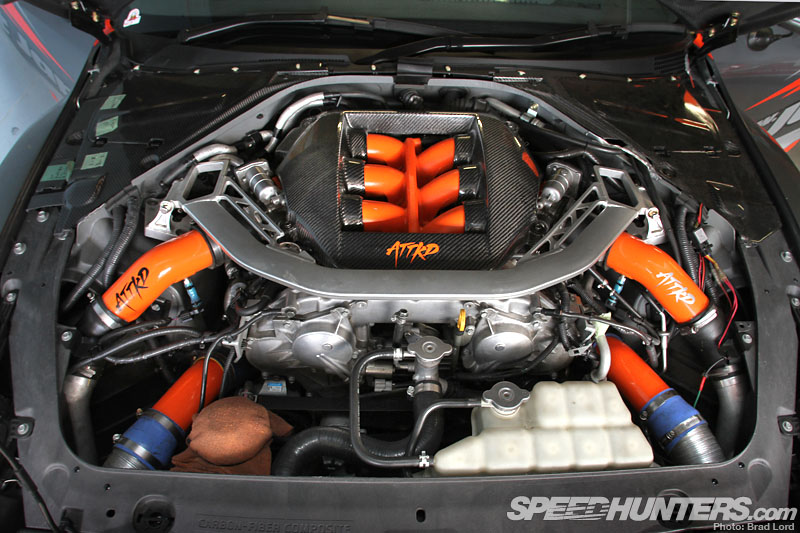 …Not to mention a fairly serious engine set up under the hood. The factory VR38DETT has been stroked to 4.1L and outfitted with an HKS GT800 (read: 800hp) kit.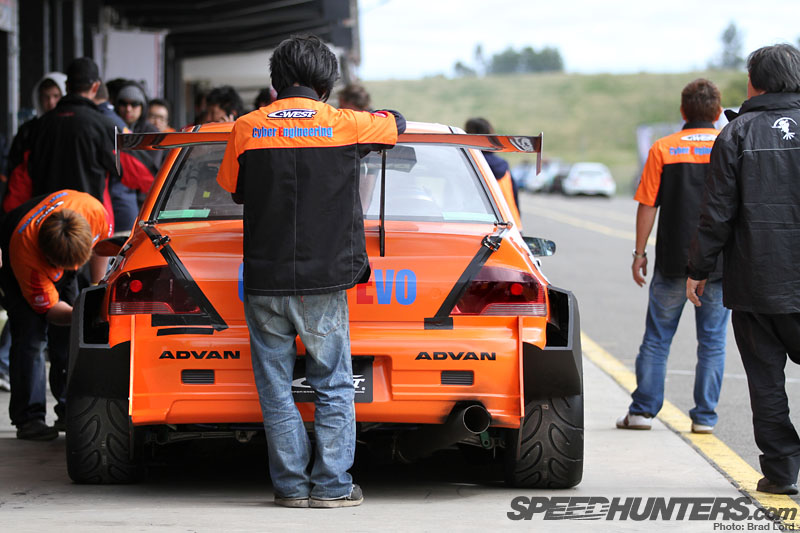 Of all the Japanese teams lined up to do battle at Sydney Motorsport Park it was WTAC's 2010 and 2011 winner and Tsukuba legend that most people were interested to see – especially so being its first time out wearing a fresh orange and red color scheme over a all-new C-West aero package. In the world of time attack racing, Cyber Evo certainly needs no introduction.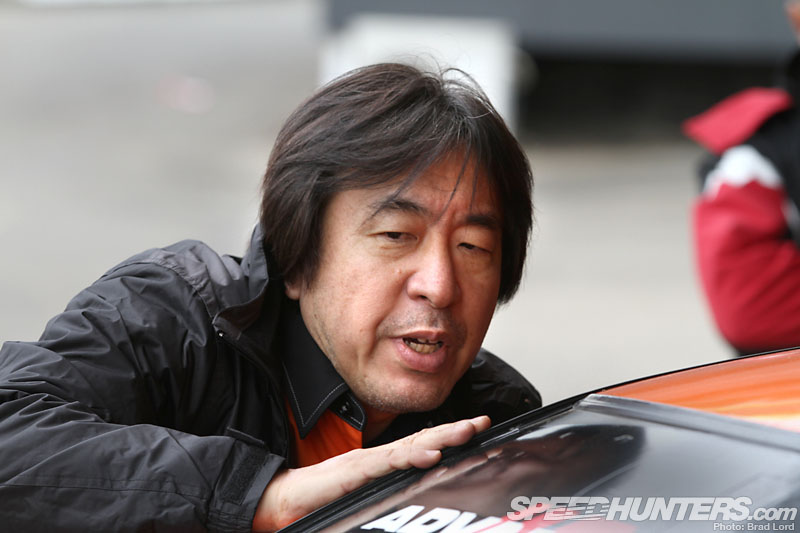 Initially Cyber Engineering had planned to retire the car and therefore not compete at this year's event, but one can only assume that the threat to its title being brought about by Nemo Racing was enough of a catalyst for Masamichi Takizawa to knuckle down and concentrate of further developing the proven Cyber Evo package.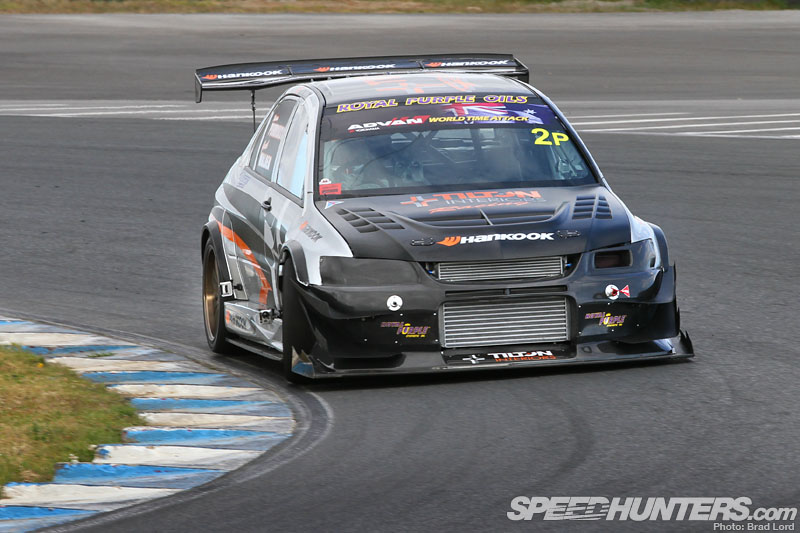 It's a recipe for success that many other time attack have followed – and in some cases – with similarly outstanding results. The Tilton Interiors Lancer Evo IX is fire-breathing proof. The Australian built machine features a Cosworth-spec 4G63 engine outputting over 800hp mated to a Holinger six-speed sequential gearbox and tips the scales at around 1150kg. Aero is by Voltex.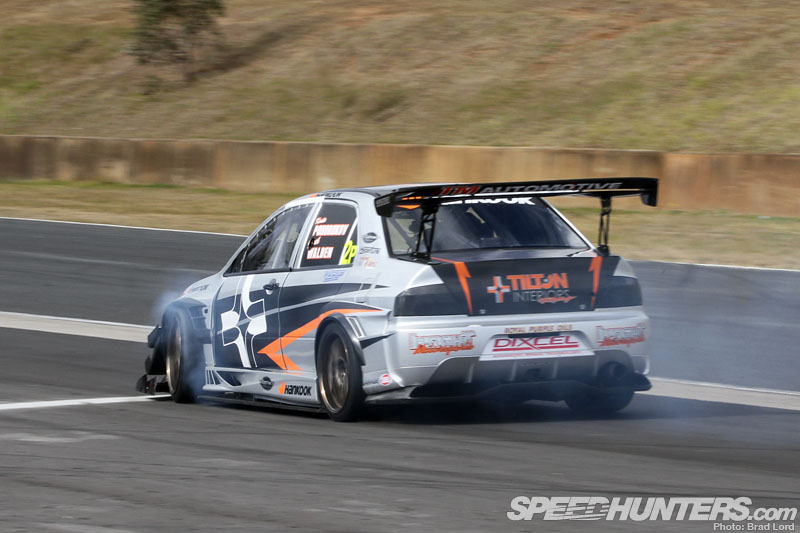 To say that Garth Walden drove the Lancer at anything less than ten tenths over the weekend would be selling his performance short, because I'm not sure anyone could have pushed the silver, black and orange machine any harder. In fact I'm sure of it! The Tilton team, which placed fourth overall in 2011, was duly rewarded for their efforts with a staggering 1:27.1820 lap and second place on the podium behind Nemo.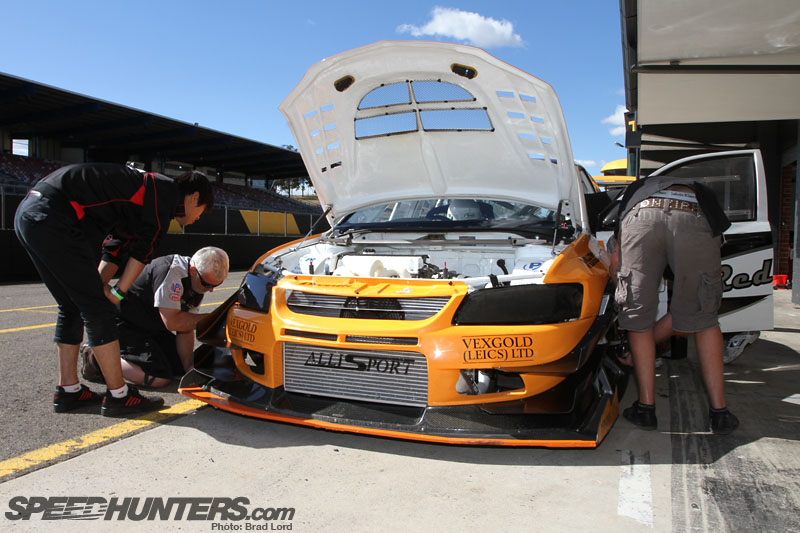 Another car taking a leaf out of the Cyber Evo's book was the sole UK entry: a stunning Lancer Evolution IX by Redbrick Racing.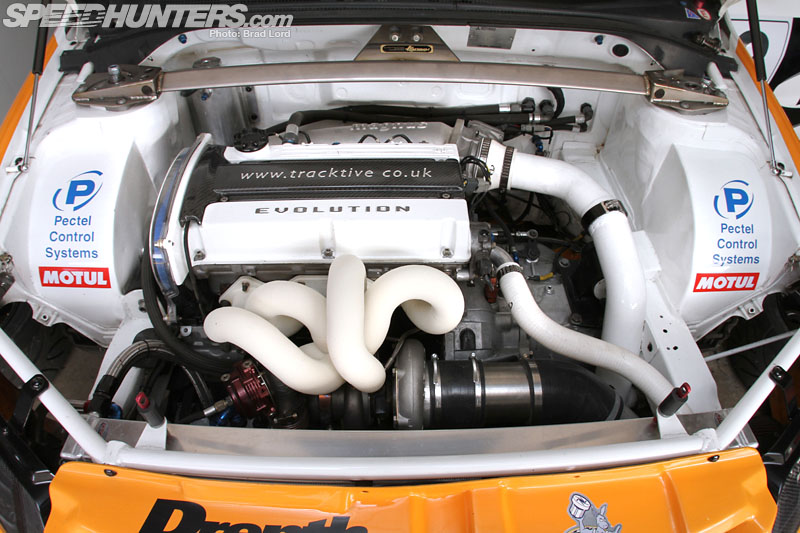 Just one part of a very serious, state-of-the-art build, the immaculate engine bay is home Tracktive-built 2.2L 4G63 stroker motor stuffed full of the good gear from Cosworth and breathing through a large Garrett GT42 turbocharger.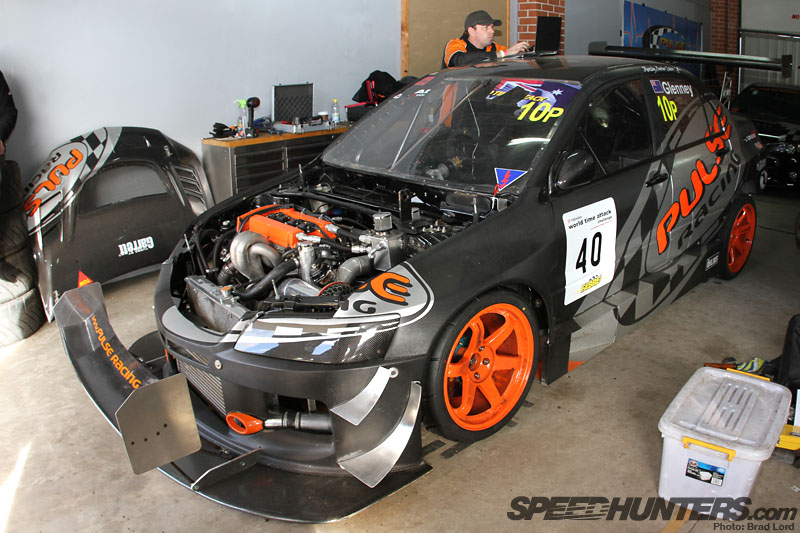 There were a few more notable Lancers in the Pro class ranks, like the wild-looking Pulse Racing entry which claimed ninth spot overall running a 1:30.8640 lap…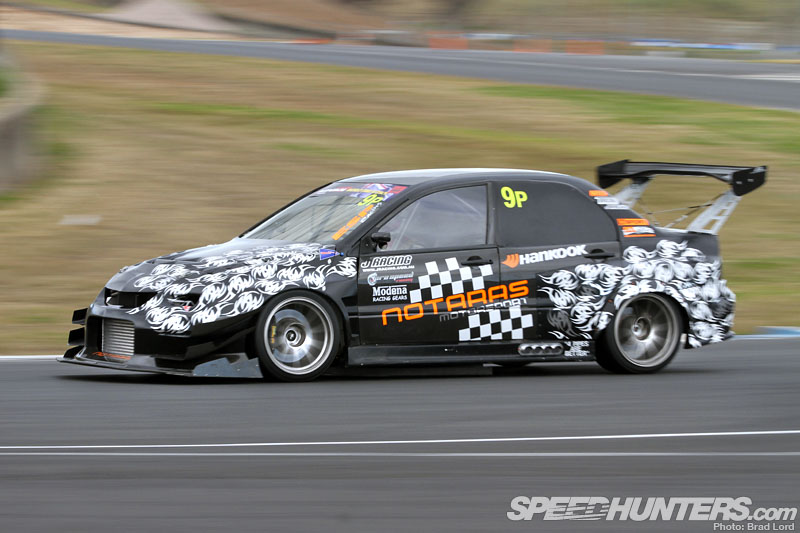 …Through to the Notaras Motorsport Evo IX which finished 10th overall with a 1:32.4470…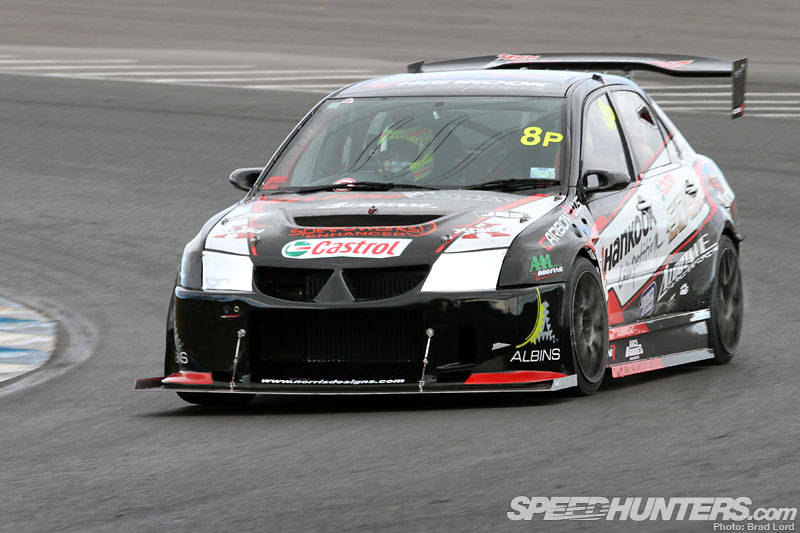 …And the Team RevolutioNZ Evo VIII, which placed 10th in class and 11th overall with a 1:33.4118.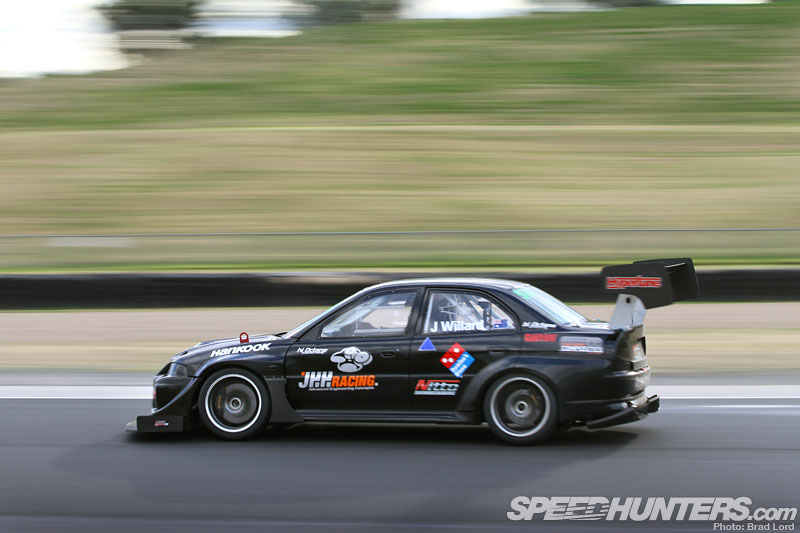 And I definitely can't not mention Steve Glenney's performance in James Willard's JHH Racing-sponsored 'Dominator' machine. Not only did the Evolution VI run 1:30.7260 to claim sixth spot overall, but it did it from the Open class – which it won outright by some margin.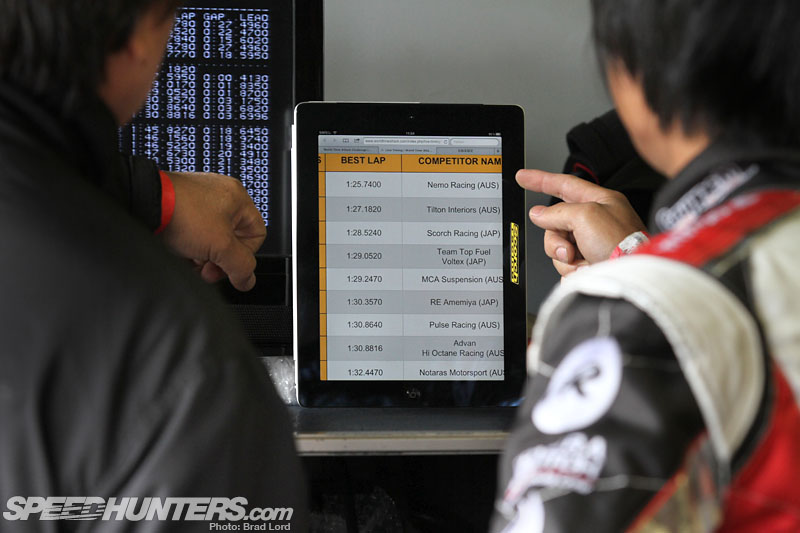 In between on-track sessions I lugged my gear back to the pits where there was always something going on. For most competitors, keeping an eye on the timing – which streamed live over the WTAC website – was a high priority.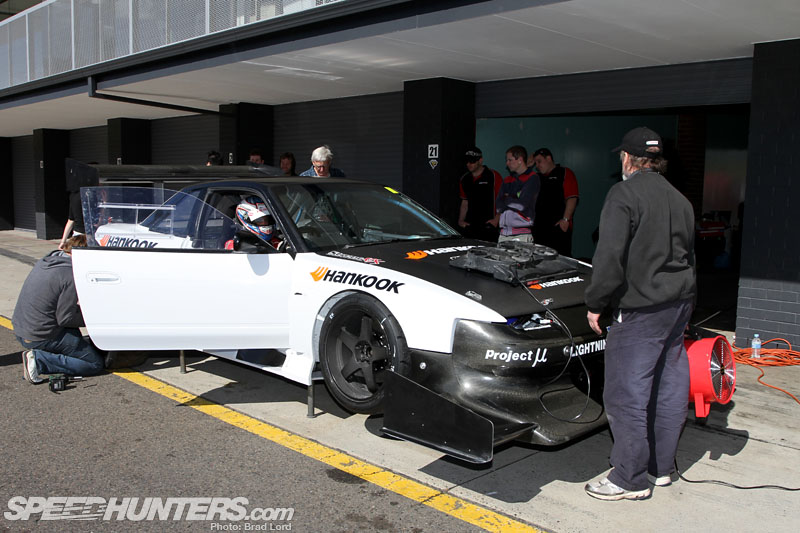 As cars came into the pits – in this instance the potent MCA Suspension Silvia S13 during practice…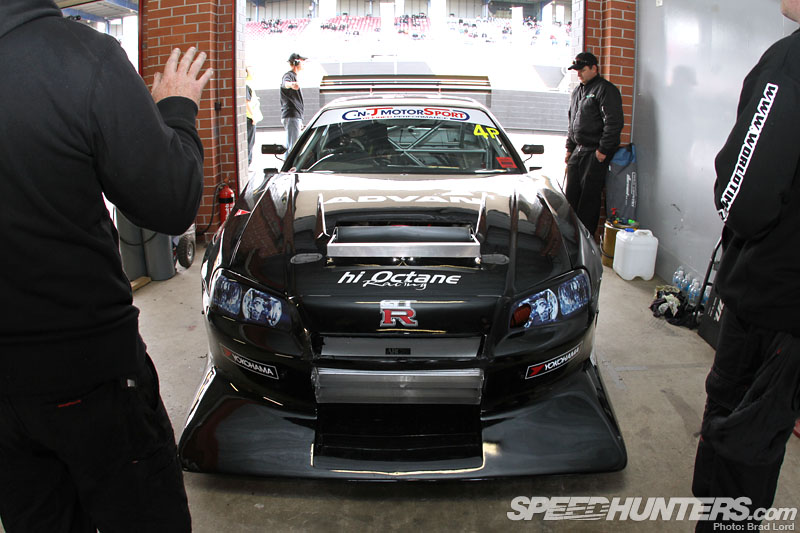 ….Others were ready to make their way out. Mark Berry's 600whp, ADVAN/Hi Octane Racing Nissan Skyline R34 GT-R is one of Australia's oldest purpose-built time attack cars and has been in a constant state of development over the past few years. The sinister-looking creation finished up sixth overall with a best lap of 1:30.7732.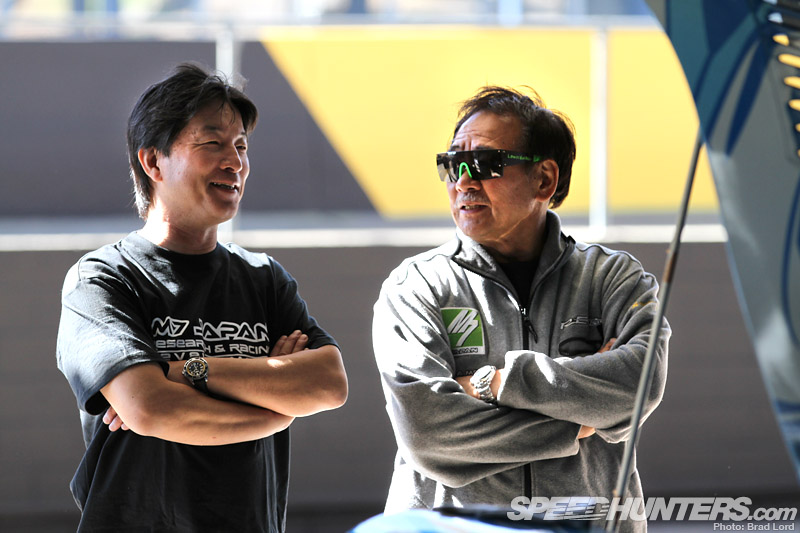 The pits were also the place where you were sure to run into a few familiar faces, in this case two of Japan's most revered Mazda rotary tuners: Hidekazu Koseki from Scoot Sports, and Isami Amemiya of RE-Amemiya.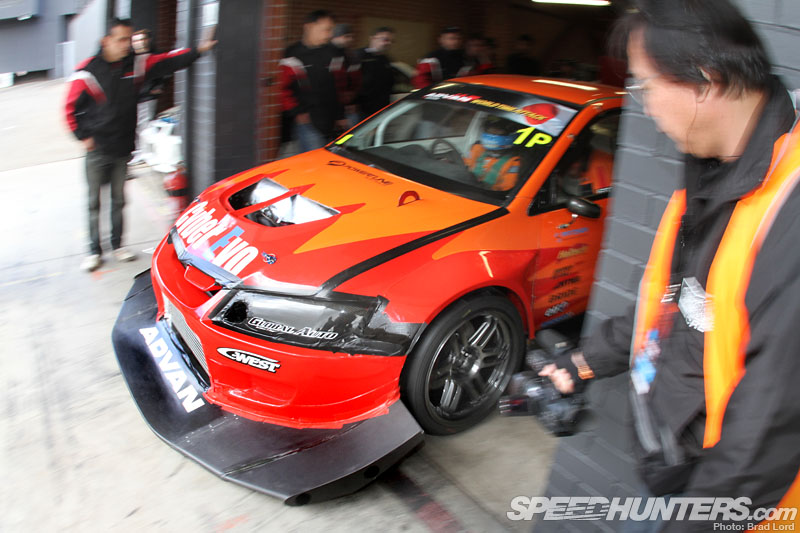 As Warren Luff had set the pace early on in the event blasting Nemo around the track to 1:25.7400 flying lap everyone was poised to see what WTAC's two time defending champion could come back with. Getting to the track had been the first issue for the team after mechanical woes discovered during last minute tuning in Sydney, reputedly necessitated the fitting of a borrowed engine. The team worked around the clock for two days straight and finally arrived at Eastern Creek at 4.00pm on Friday afternoon.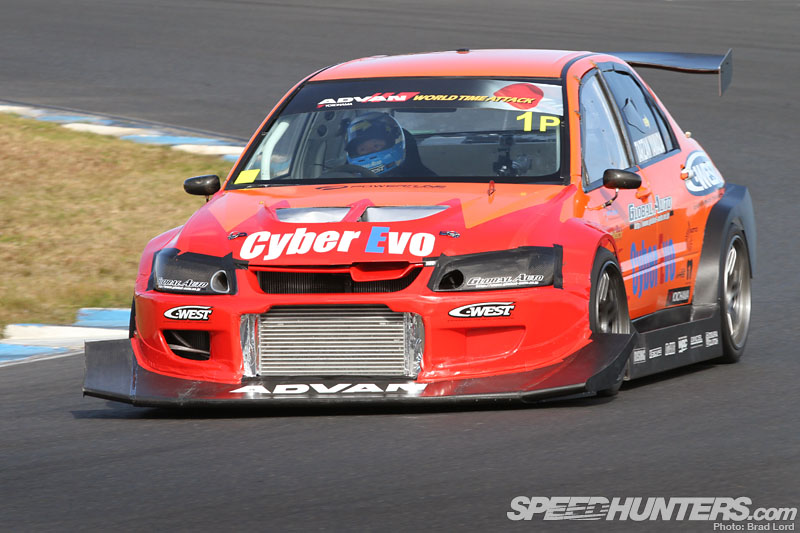 That meant there would be no testing and just four, 15 minutes sessions on Saturday for Eiji 'Tarzan' Yamada to pull a dream lap out of the bag.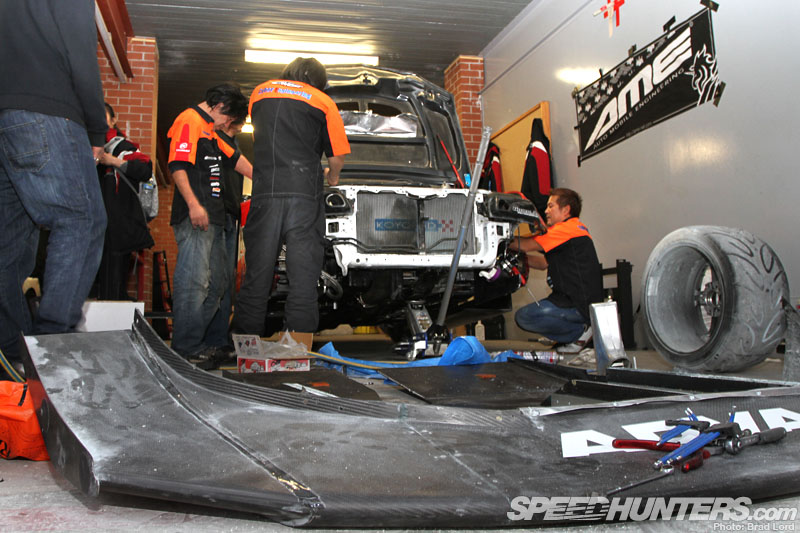 But it wasn't to be. After a few testing laps during the morning sessions, Cyber Evo hit the track looking ready to run a clean lap, only for its engine to blow its rear main seal and leak oil, which then started a small under hood fire. Any chances of a comeback were all but over.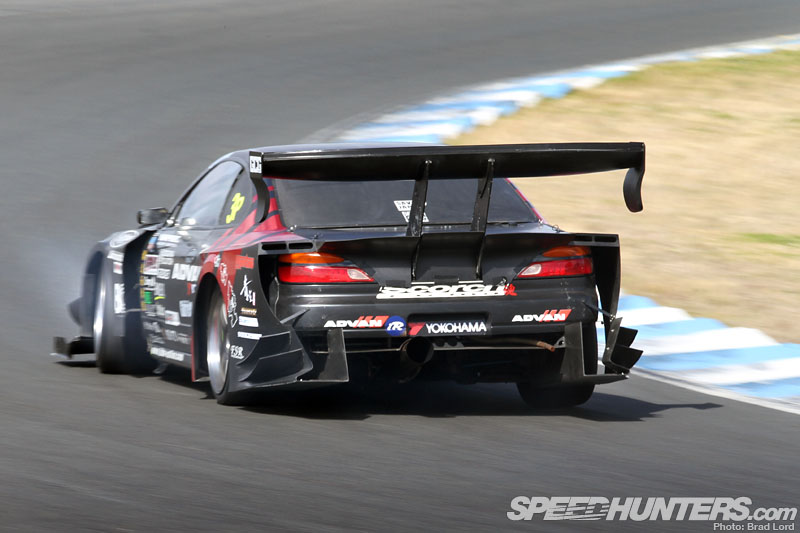 While first and seconds spots were pretty much spoken for the battle for third boiled down to the very last session. Going into the final quarter-of-an-hour Pro class stint Under Suzuki's Scorch Racing Silvia held the final podium position, but Earl Bamber in the MCA Suspension S13 was a man on a mission..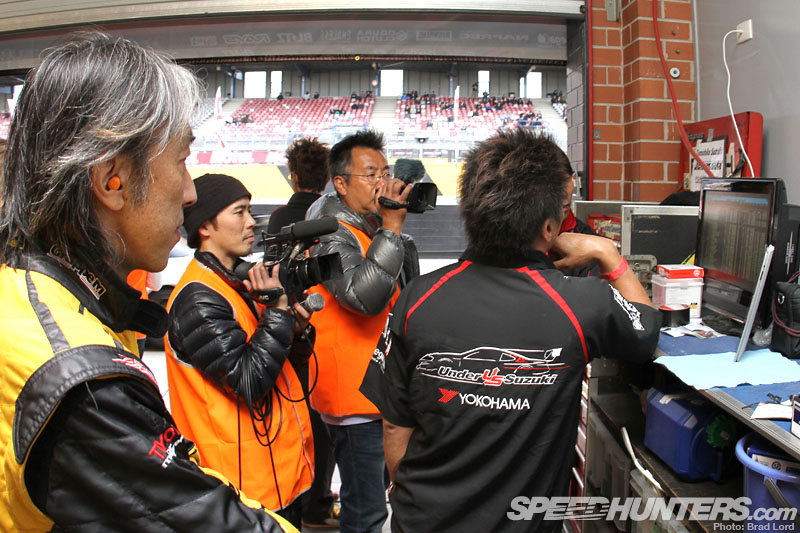 It was a tense few moments in the Scorch/Pan Speed pit garage…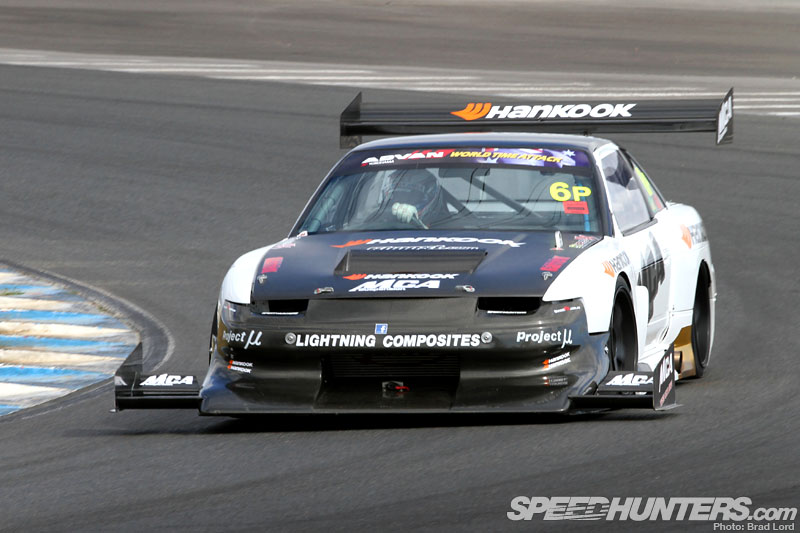 But ultimately, Bamber was cool under pressure, pulling a clean 1:27.8080 lap out of the bag to better Suzuki's time by half a second and claim a trophy.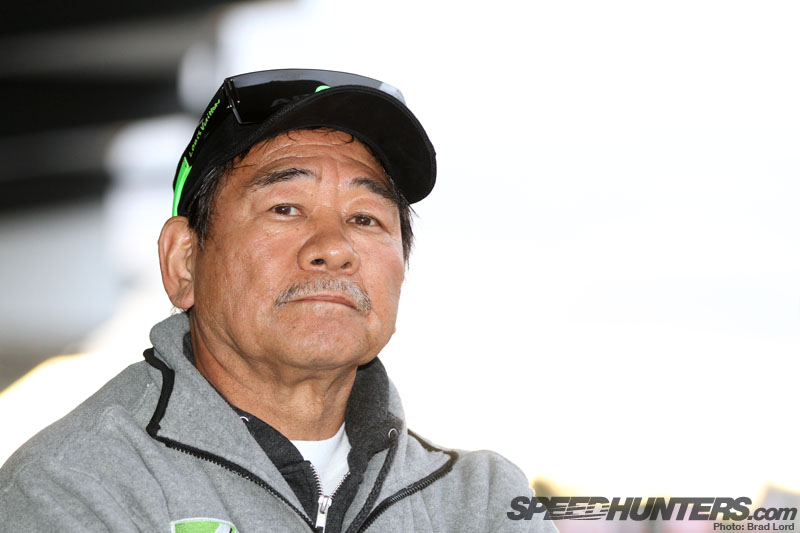 With his Hurricane RX-7 in the capable hands of Taniguchi, Amemiya looked on…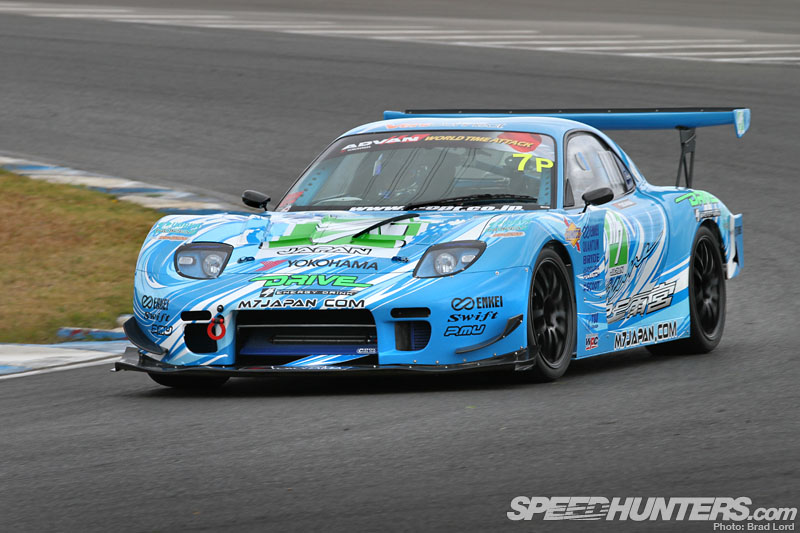 …As the Super GT driver and ex-D1 champ pointed it around the circuit for one final time looking to crack the 1:30 barrier.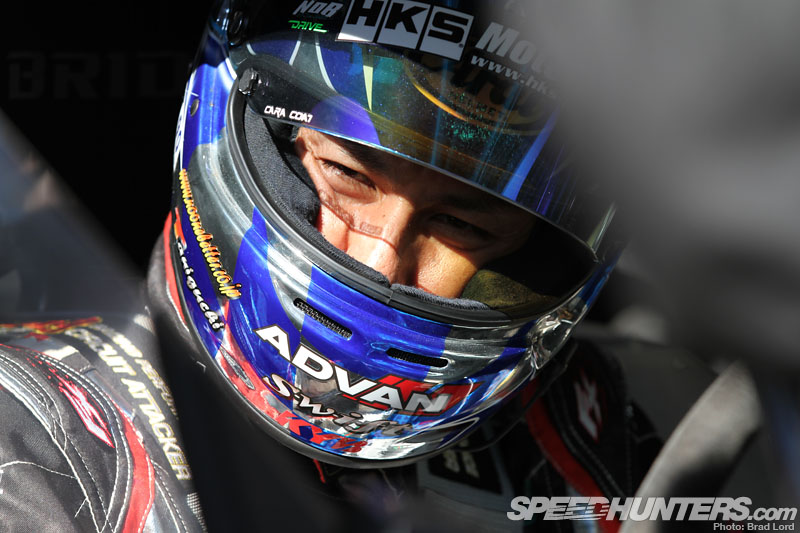 A 1:29.8020 lap was the reward.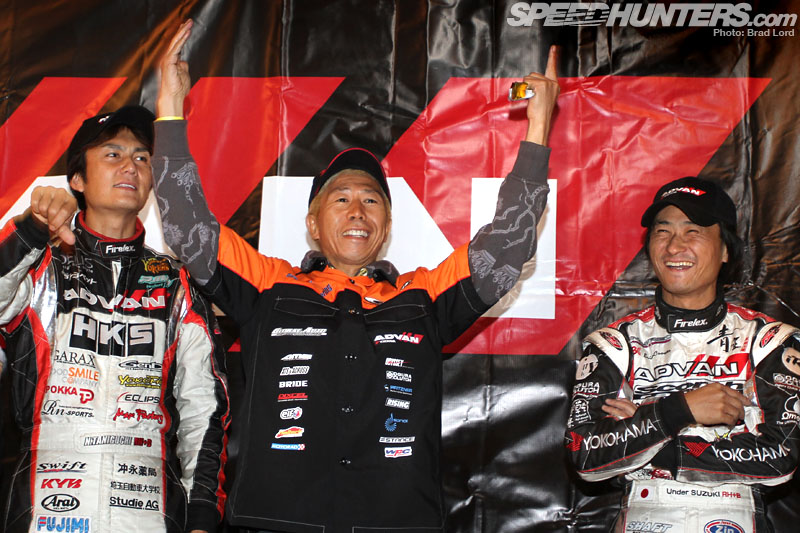 That left the RE-Amemiya machine sixth behind the Top Fuel/Voltex Honda in fifth and Suzuki's Scorch S15 in fourth. Not that any of them really seemed to mind…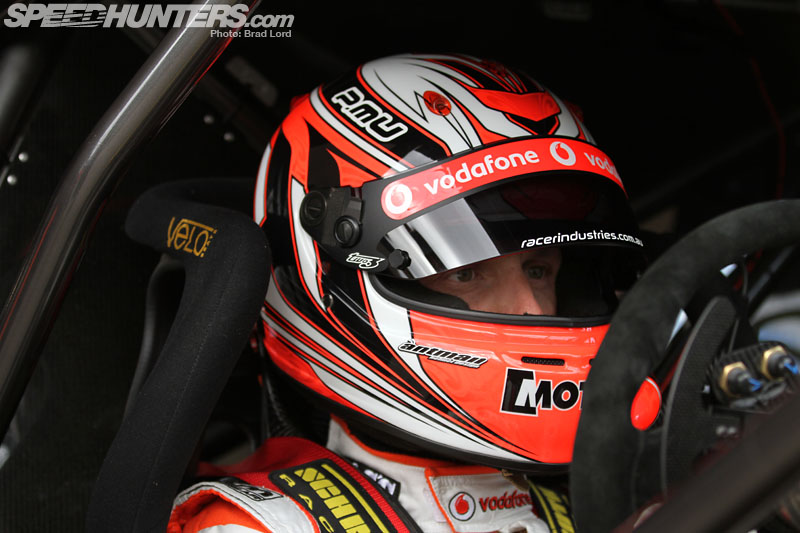 If the Yokohama 2012 World Time Attack Challenge will be remember for anything, though, it won't be the upsets. It'll be the exploits of this man – Warren Luff…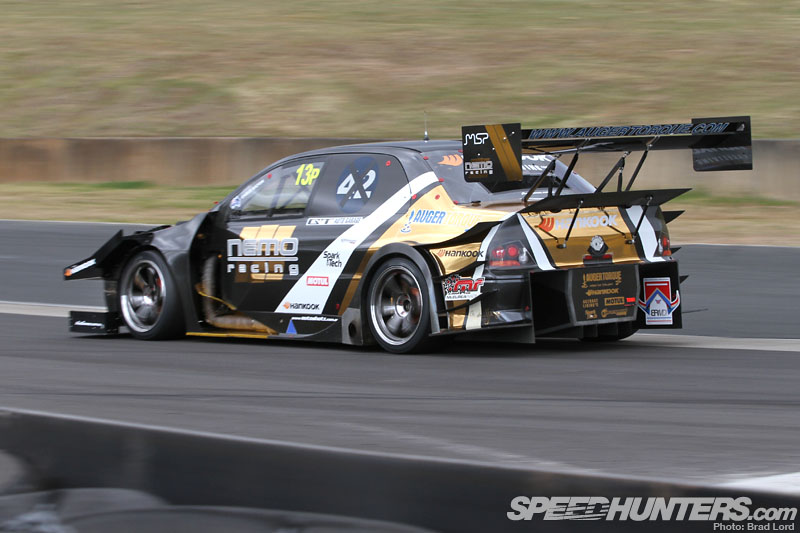 …Behind the wheel of this crazy lap-eating, record-destroying, time attack machine: Nemo.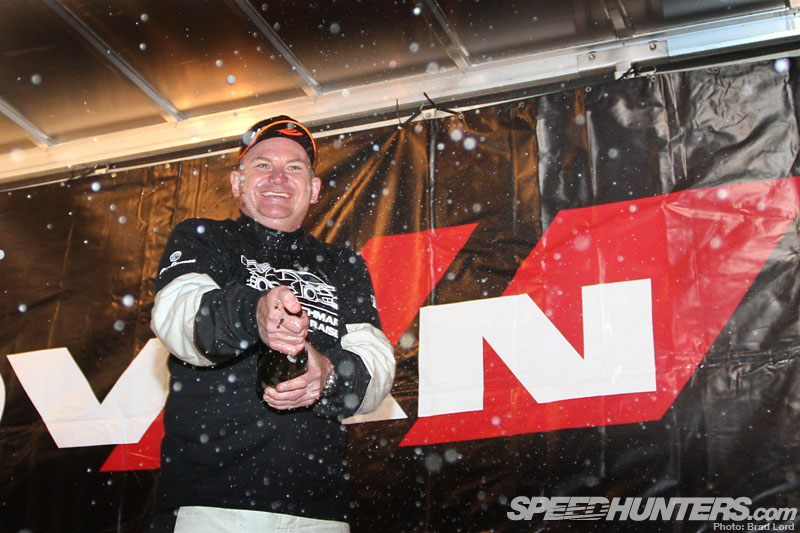 With Nemo running a best time of 1:25.0200, team head Chris Eaton couldn't have ask for a better way to launch the career of the world's most adventurous time attack machine, a car built not only to capture and reset the WTAC lap record, but those of similar events around the world. Buttonwillow and Tsukuba? You can bet they're both on the list. We've got 12 months to wait and see which teams will return to WTAC to challenge Nemo, and what automotive firepower they'll bring with them to attempt to get the job done. For now, as Eaton's t-shirt reads: "The benchmark has been raised." I don't think anyone's going to argue with that…
Stay tuned, there's more WTAC action to come!
– Brad