As I mentioned during my main event coverage, Bonneville Speed Week is full of stories. Stories about racers pushing their cars to the absolute limit across the salt flats, late night campfires full of stories from the past, and the stories of the journey to the salt itself. It's more than an auto race and it's more than a car show – Bonneville is a pilgrimage. Making the trip to the salt in a rental car or a brand new pickup truck with the air conditioning and satellite radio blasting is one thing, but many choose come to Bonneville in their hand-built Hot Rods. These cars don't come to compete, but they have become just as an important and memorable part of Speed Week as the streamliners that shoot across the salt going hundreds of miles an hour.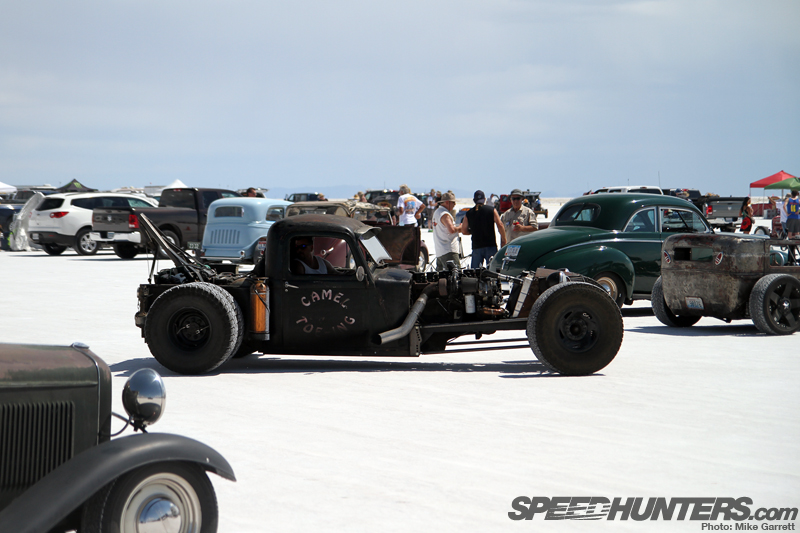 While I was on the salt I kept a keen eye out for interesting feature candidates, and as soon as I laid eyes on this wild looking machine I knew I had found something just crazy enough to work. I introduced myself to the owner and I found that like most people at Bonneville he was as friendly and easy-going as they come.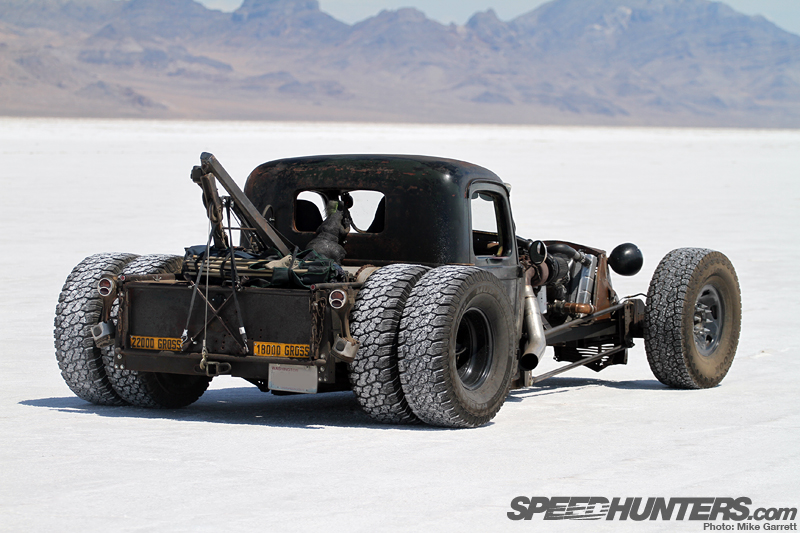 The owner/builder's name is Greg and he hails from the city of Pasco, Washington where he runs a shop called Desert Rats and Customs. This contraption is one of his most extreme efforts, with over 450 hours invested over an eight month long build process.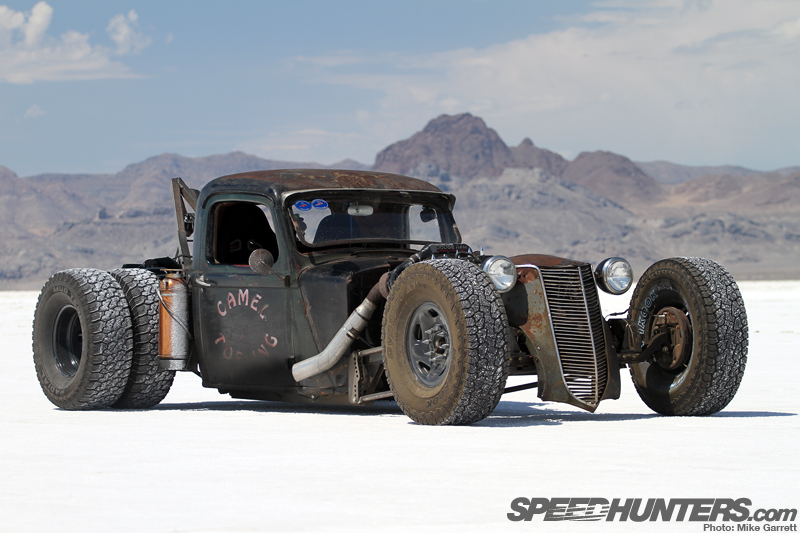 So, what exactly is it? Well, like most hardcore Rat Rods there's really no easy to way answer that. In fact, that's one of the things I love about Rat Rods. With so much custom fabrication and so many parts plucked from other vehicles, a machine like this bares no resemblance to anything that ever rolled off an assembly line. The cab might have come from a 1936 Plymouth truck, but other than that you won't find much factory identity in this beast.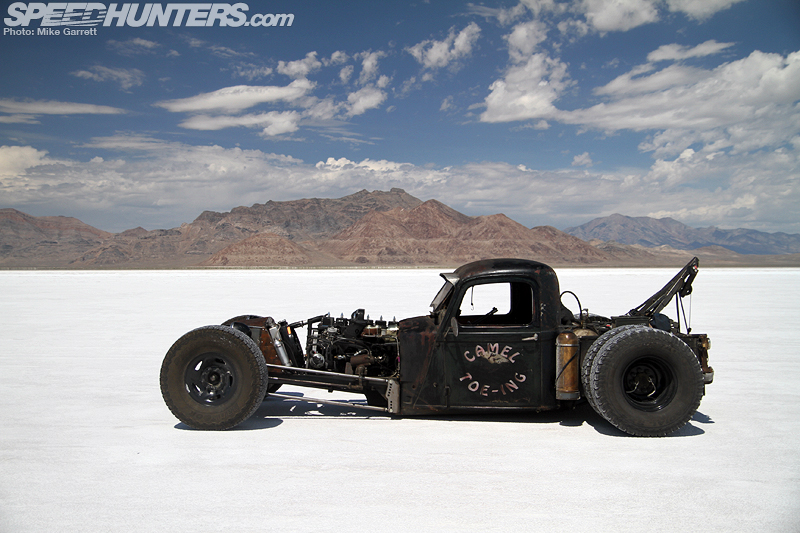 When Greg set out to build this rig, he wanted something that looked terrifying but also something that functioned. In this case we aren't talking about function in terms of lap times, but in terms of usability. With over 9,000 miles on the truck in its current form, I'd say he's succeeded.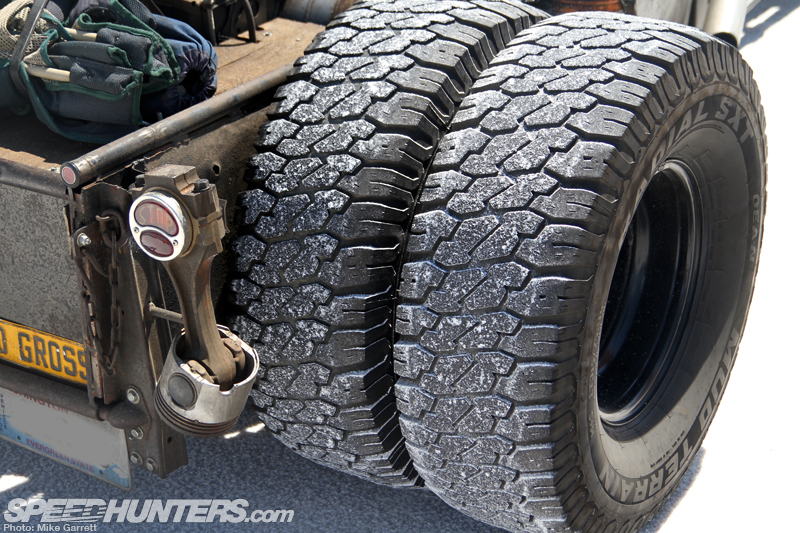 He began by building a custom chassis designed from the ground up for use with airbags. He also built one-off four-link suspension setups with panhard rods in both the front and the rear. Once the chassis was figured out, it was time to tackle the powertrain.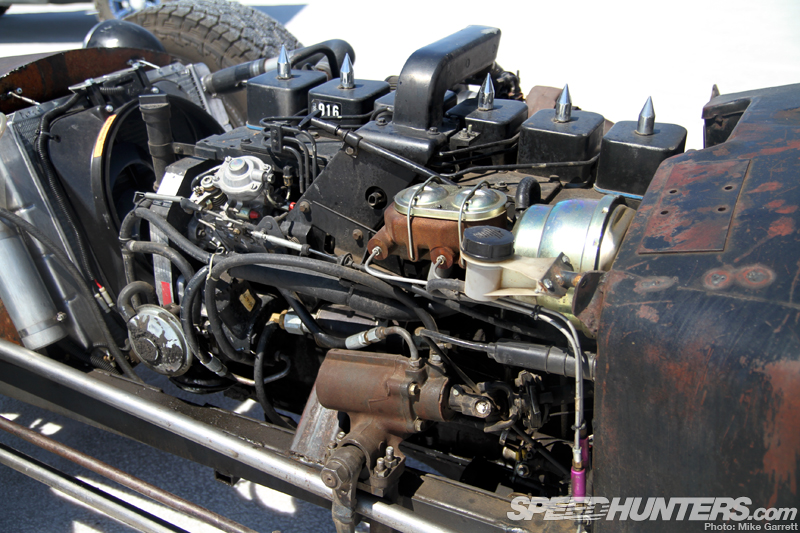 After a successful life as heavy duty hauler, a 1991 Dodge one ton diesel pickup was called on to sacrifice its running gear for Greg's Rat Rod project. This includes the Cummins 6BT turbo-diesel motor, the Getrag five-speed manual transmission, and the bulletproof dually rear axle.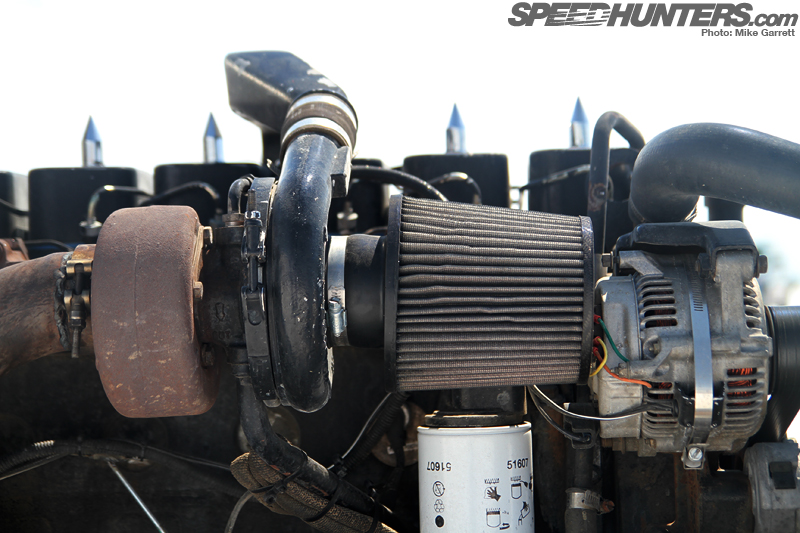 Believe it or not the Cummins actually has about 488,000 miles on it, and it still runs as strong as ever. Besides upgraded injectors and fuel pump, the engine is largely stock but it still makes plenty of horsepower to get the truck down the road. Then of course you also have that never ending supply diesel torque.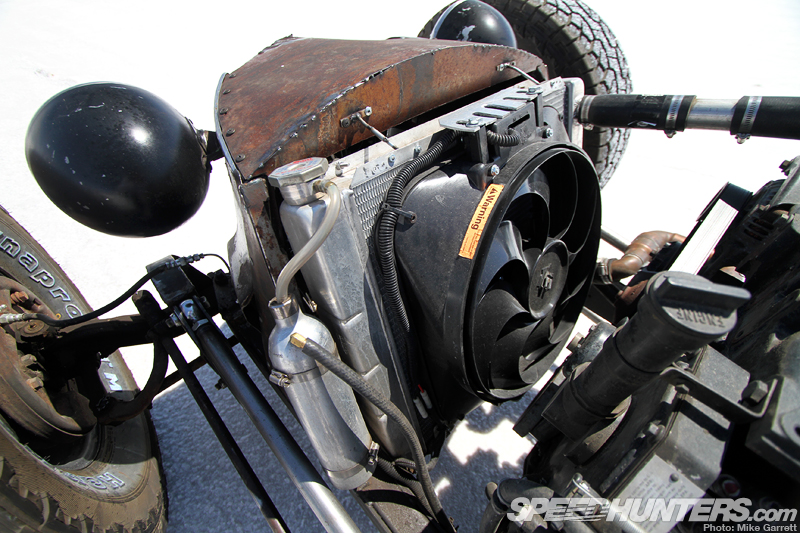 Besides great acceleration, the combination of the diesel and the stripped down truck also makes for some impressive fuel economy numbers. Greg says he got 30 miles to the gallon on the 600 mile road trip from Eastern Washington to Bonneville. With the exhaust dumping straight out of the engine bay, it also sounds downright scary when it's fired up.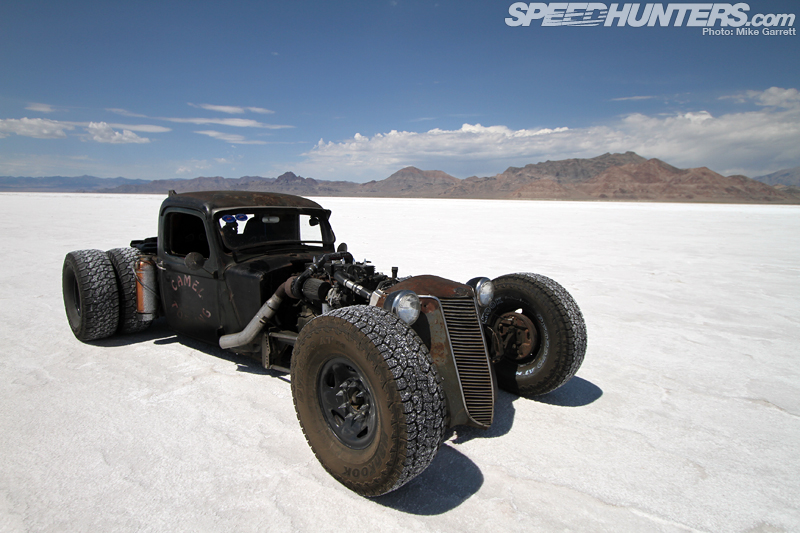 Judging by the reaction the truck was getting among the people at the Bonneville, its impact is undeniable. Even when it was parked way out on the salt people were constantly coming by to check it out and snap photos. Being the easy-going dude that he is, Greg was happy to let people shoot photos or even to climb inside and check it out in detail.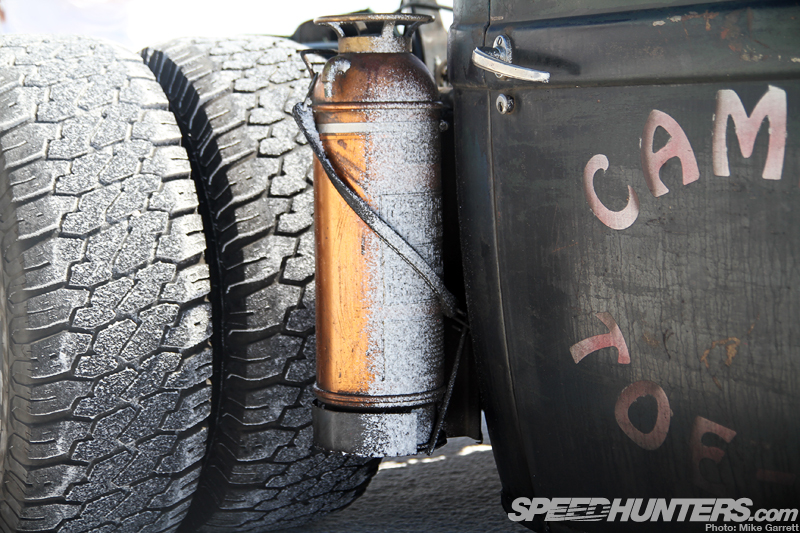 That's important because as you look at it closer, you begin to pick up even more of the unique little touches that have gone into the build.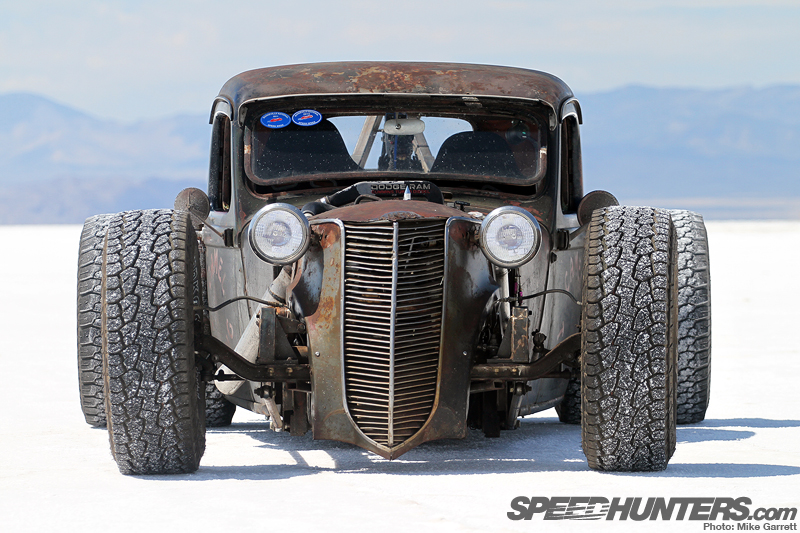 The front grille for example comes from a 1937 Studebaker, while the headlights were sourced from a Chevy truck.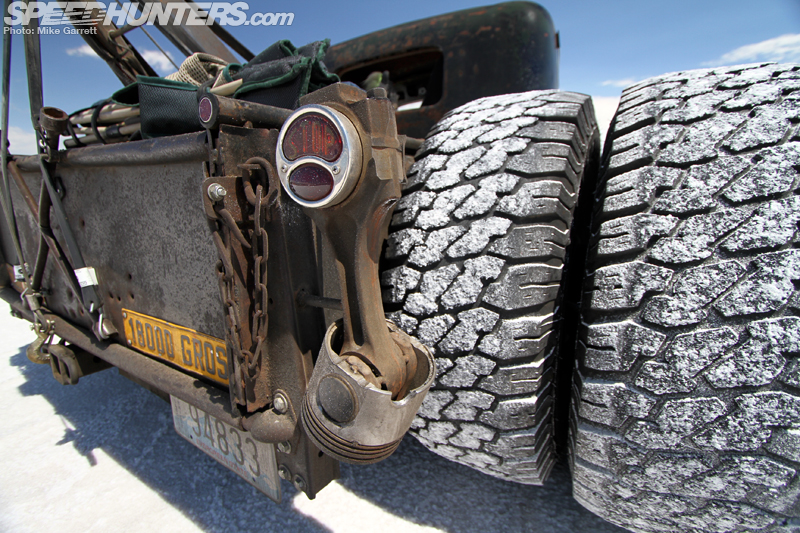 The taillight housings were built from the pistons and rods of a six cylinder Caterpillar engine, perfectly fitting with the truck's hard working theme.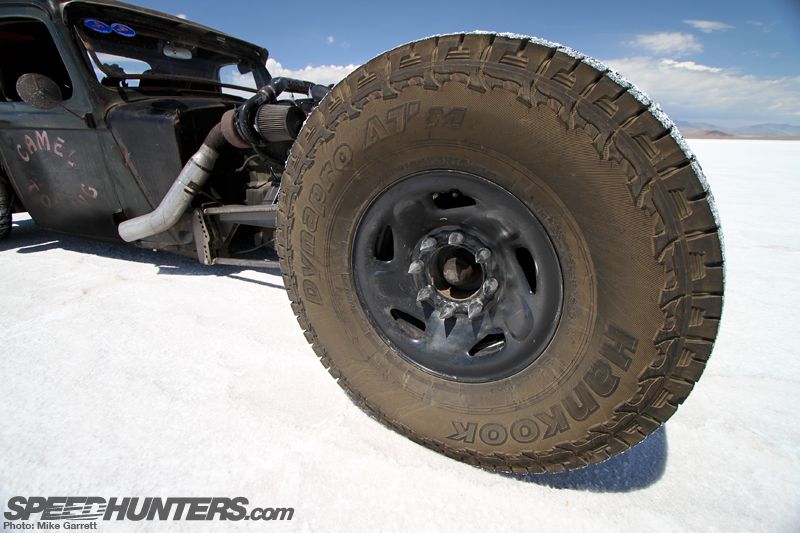 If there's one thing that's clear about Greg's truck, it's the fact that it's a rat through and through. In absolutely no way is this trying to be a traditional Hot Rod. There is nothing retro about the 35×12.50×16″ all terrain tires mounted on black steel wheels. To me these giant tires are one of the things that define the look of this over the top creation.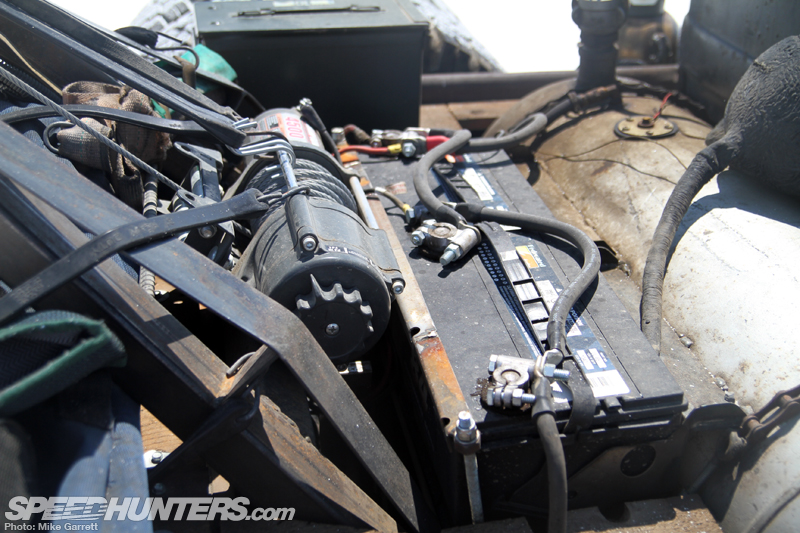 In the rear of the truck you can see the 30-gallon propane tank that's that's now used as the diesel tank. Greg says it was an extremely tight fit behind the cab.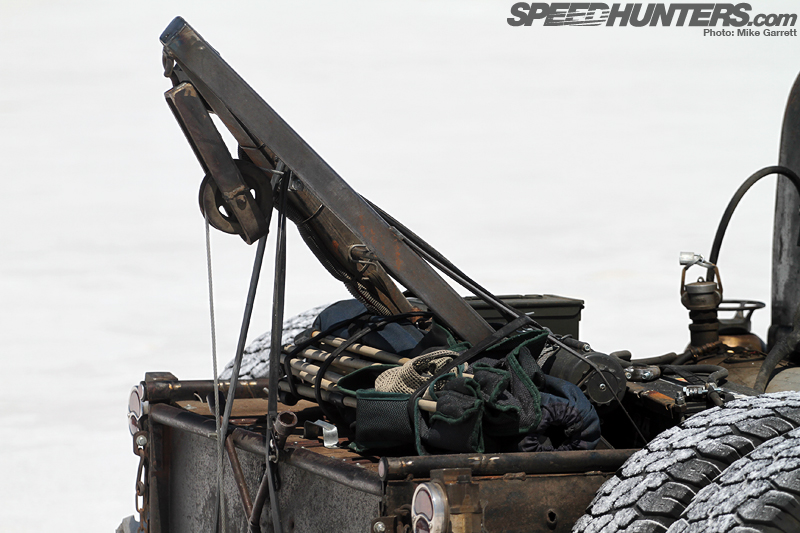 Then of course you have the giant winch – and it's not for show. Greg says the winch has been used for towing on more than one occasion and the truck is often used to pull around his 18 foot trailer loaded with project cars.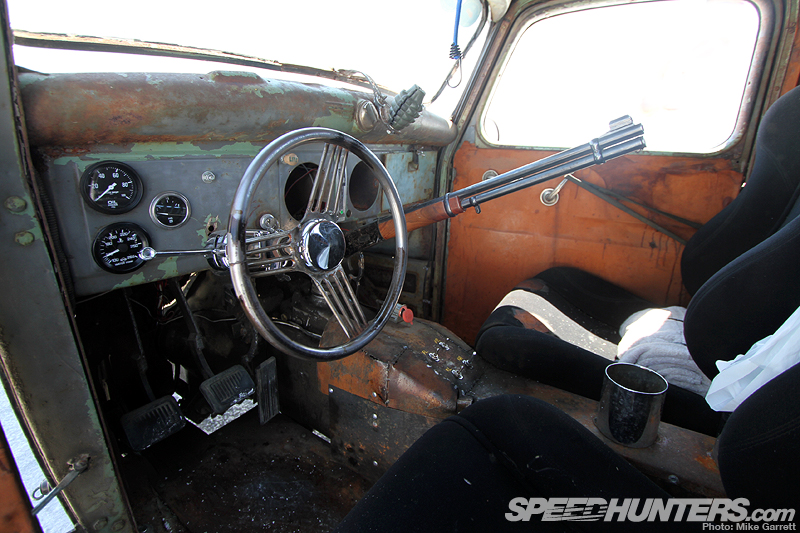 The steering is a traditional push-pull system with a Toyota power steering box, along with power brakes. The complete pedal setup also made its way over from the '91 Dodge donor truck.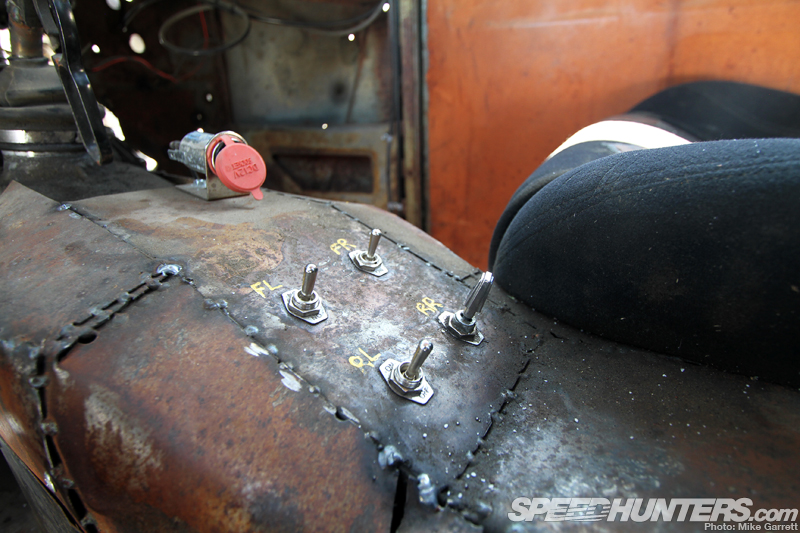 Here are the controls for the air suspension, with a switch for each corner. The onboard tank and compressor just add more to the mechanical sensory overload you get when looking at this truck.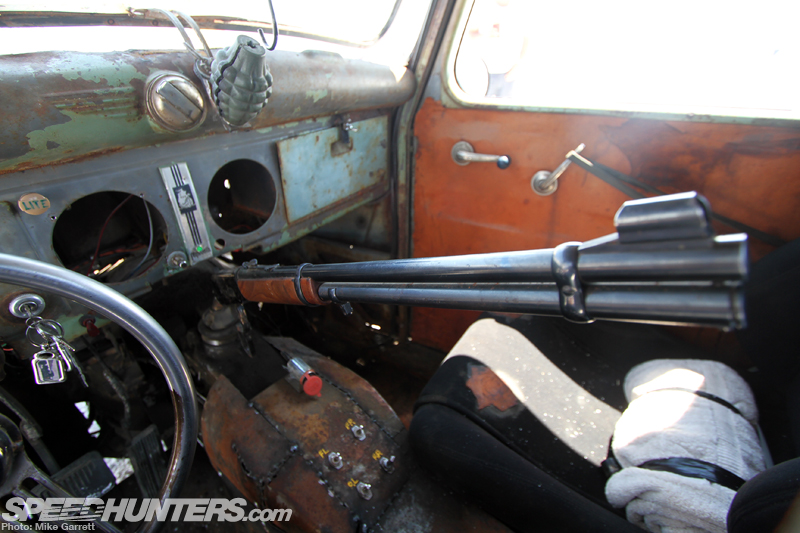 I've some pretty creative shifters in my time, but I'm not sure if anything tops this one. Yes, that's a 30/30 rifle that's used to operate the Getrag five-speed.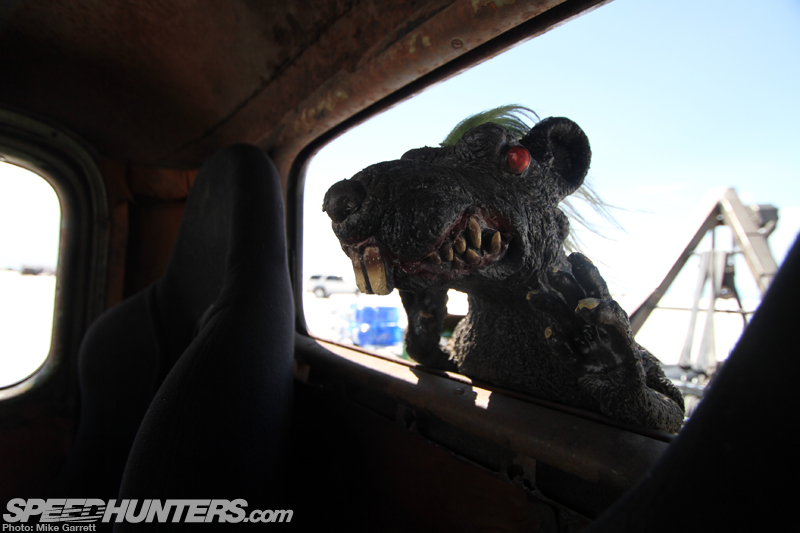 This little fellow also rides aboard proudly peeking between the two seats.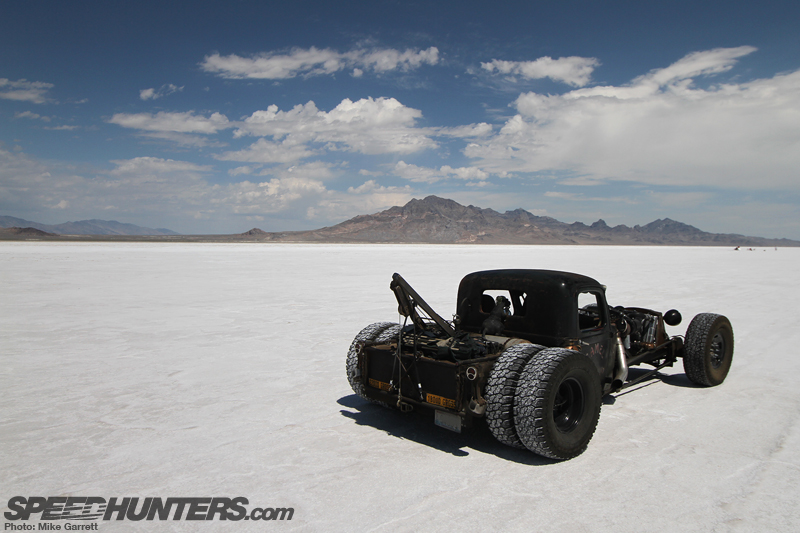 Greg proudly states the truck has never left him stranded and never seen a trailer (aside from the ones its towed) and that he would not hesitate to drive it anywhere.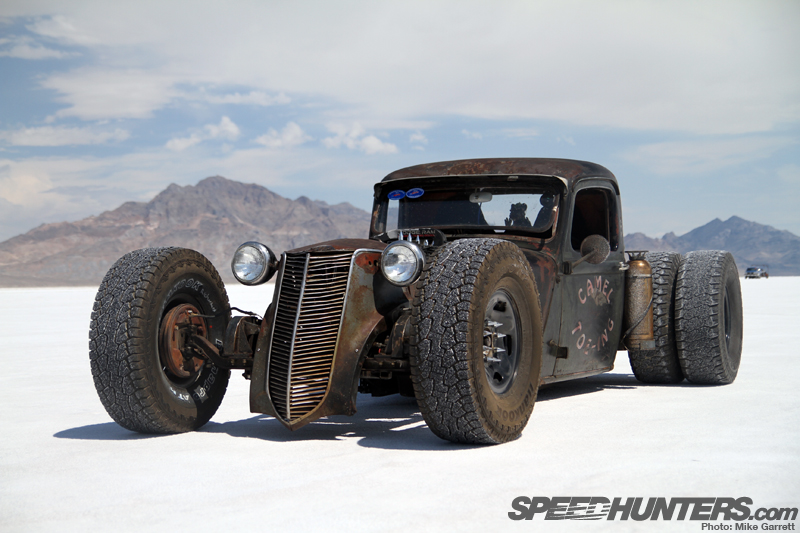 All the time I was shooting Greg's truck I couldn't help feeling like a little kid. There was just something about this thing that brought back memories of beating up my Tonka trucks and playing with Hot Wheels in the dirt as a boy. This build takes that common boyhood fascination with construction vehicles, big rigs, and other work vehicles and spits it out in a slightly twisted and totally cool fashion.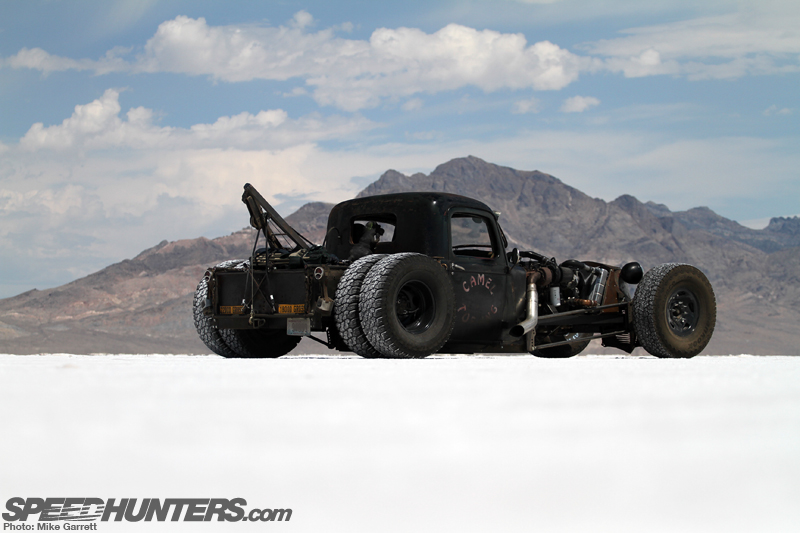 There you have it. A vehicle that perfectly sums up the craziness of Bonneville Speed Week and all the comes with it.
I'm not quite done with Greg and his creations yet though. Next week I'll be back with a look at another one of his builds and the interesting story behind its new international owner.
-Mike
Specs –
Chassis :
Custom-built 2x3x250 frame
Four-link suspension with panhard bar front and rear
Airbags at each corner with onboard compressor and tank
Body :
1936 Plymouth truck cab
1937 Studebaker Grille
Chevy truck headlights
Engine and Trans:
Cummins 6BT Diesel from 1991 Dodge One Ton Truck with 488,000 miles
100hp injectors with upgraded fuel pump
Getrag five-speed manual
Misc.
30 gallon diesel tank
Fully operational winch