There is a right way and a wrong way of doing things. Or is there? As far as I know nobody has ever imposed any rules or guidelines when it comes to cars. Like works of art anyone is free to do whatever one sees fit with his own car. Last week's feature on The Check Shop's 997 GT3 RS 3.8 raised a few eyebrows, with some feeling that a set of street-wheels completely ruined such a focused modern-day performance car. Well this week I want to continue on that line of thought, not so much on the form vs. function debate but more on modified vs. authentic vintage car restorations.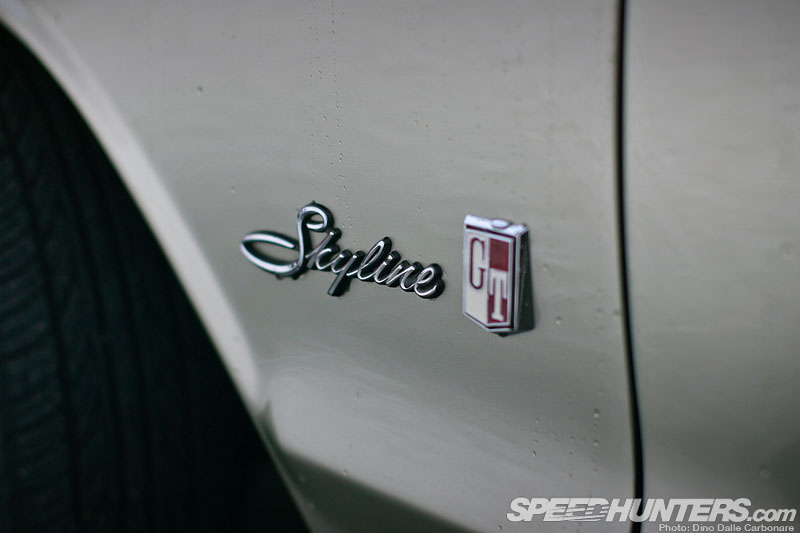 That's why I headed down to Nagoya for this particular feature, to meet up with Watanabe-san of Rocky Auto, probably one of the most recognized vintage car shops in Japan. Watanabe-san has developed a very distinct approach to restoring Japanese classics like the Skyline or the Fairlady Z; while he appreciates the unmolested and period correct look, at the same time he isn't afraid to meddle with authenticity.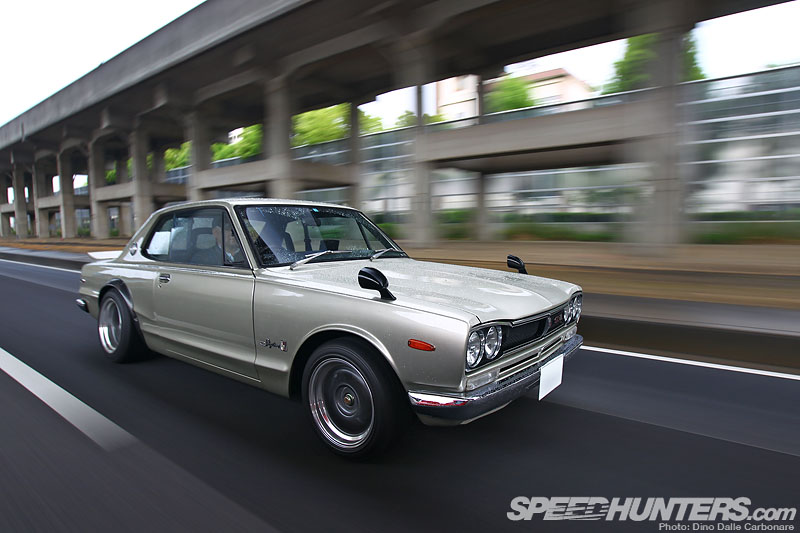 As he so simply puts it every time we talk about his cars, "I want to create cars that people want to drive" and by this he means drive them on a daily basis. This means make them "useable," powerful but at the same time safe. It's definitely an argument that's hard to argue against, except by saying that it's just not right. But right according to what? Who? Resto-modded cars have been all the rage for decades in the US, and what he is doing is precisely this…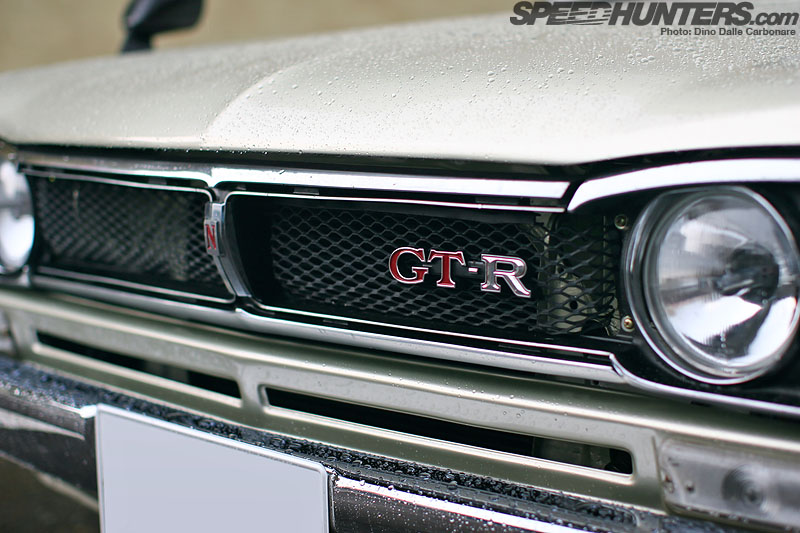 …only done with a Japanese twist. The 1971 C10 Skyline 2-door hardtop he put together for this year's Tokyo Auto Salon is probably one of the most talked about cars he has built, not because of power or carbon body panels like he has done in the past…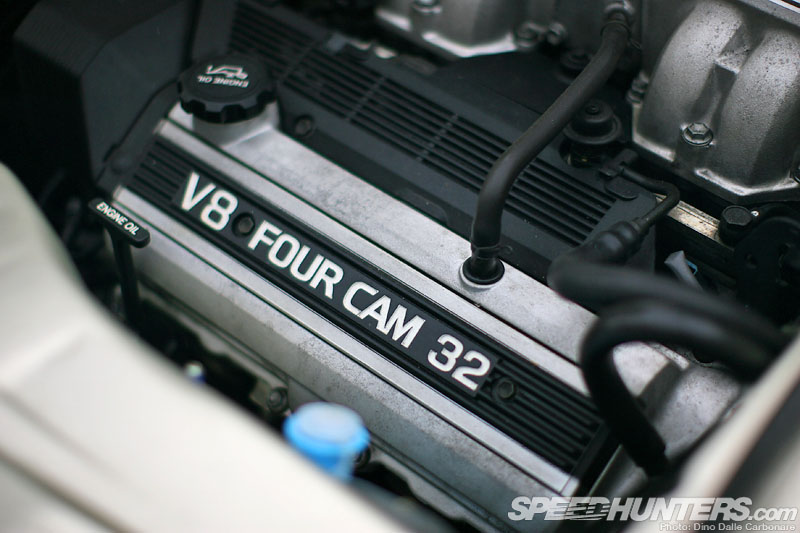 …but more because of the origin of the engine.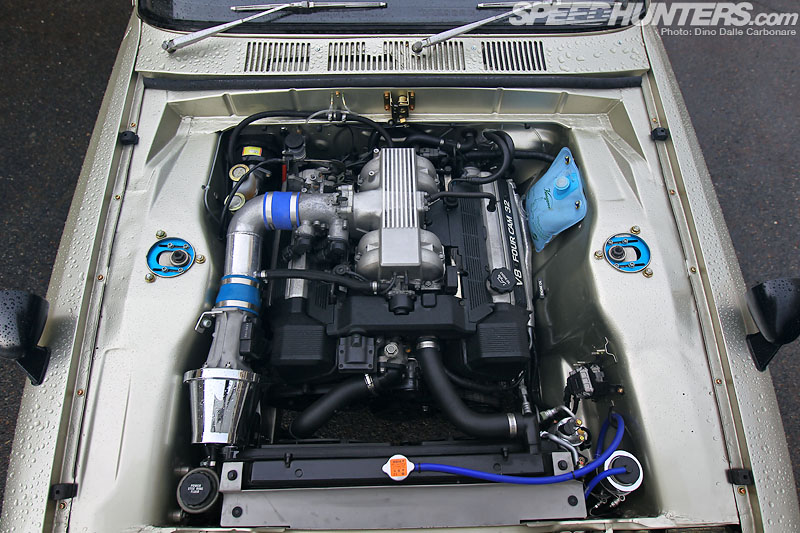 The Toyota 1U has become quite the popular engine to swap into small and light cars, we have seen them fitted to various generations of Corollas for example with awesome results. But into a Skyline?  An Hakosuka of all cars?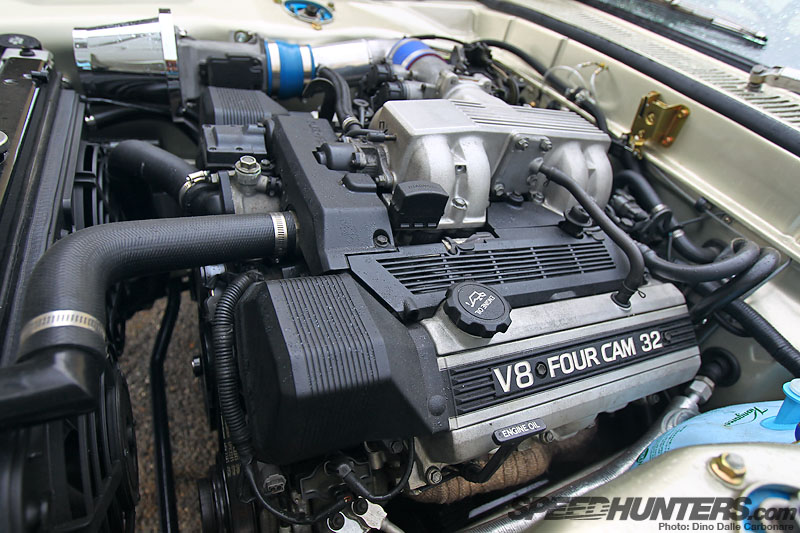 Aside for the fact that this will probably make a lot of Nissan aficionados cringe, not to mention those that in no way or form accept any sort of fettling when it comes to classic cars, Watanabe-san has created something quite different. Call it controversial if you want, but that is precisely what he was shooting for.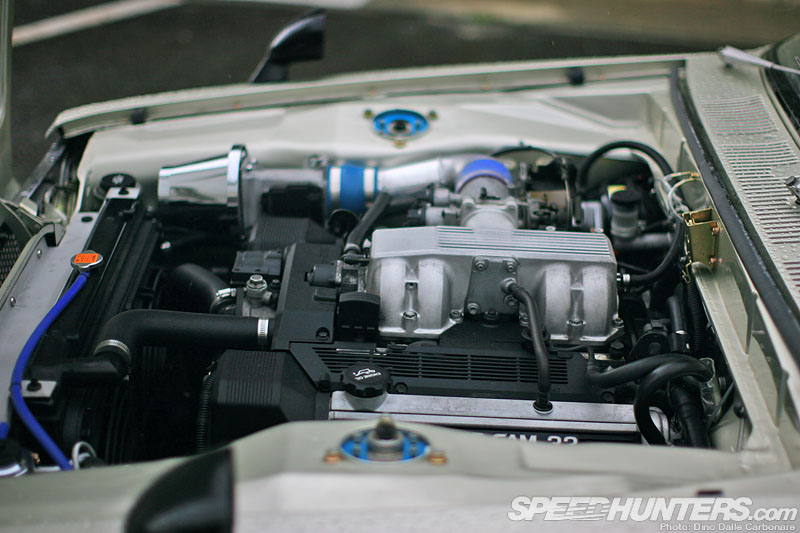 The 1U has fits without any problems in the C10's large engine bay, most of the engine fitted behind the front suspension mounting point, for optimal front to rear weight distribution. Prior to the swap itself the Hakosuka's chassis was fully restored, strengthened in high-stress areas to make sure it could take the low-rpm torque of the 4L V8.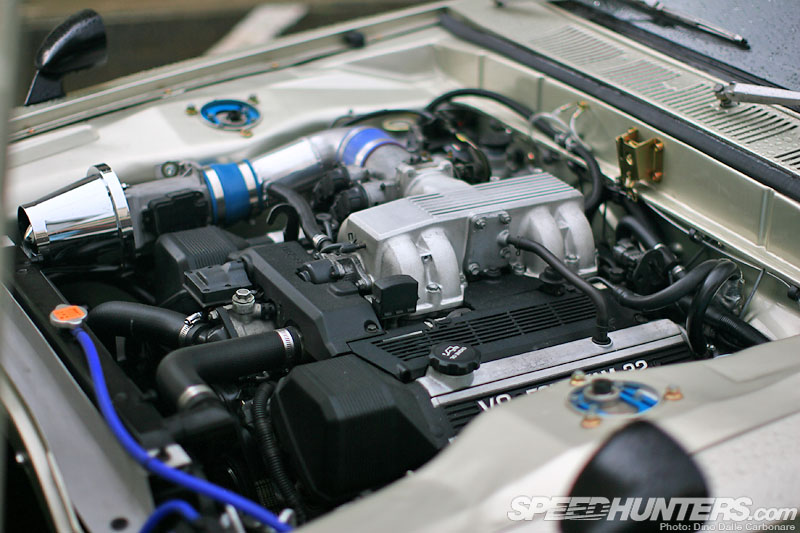 Aside from custom exhaust manifolds adapted to match the Rocky Auto stainless steel exhaust system, the 1U is stock, so good for 250 HP and 260 lb/ft of torque…and plenty of reliability.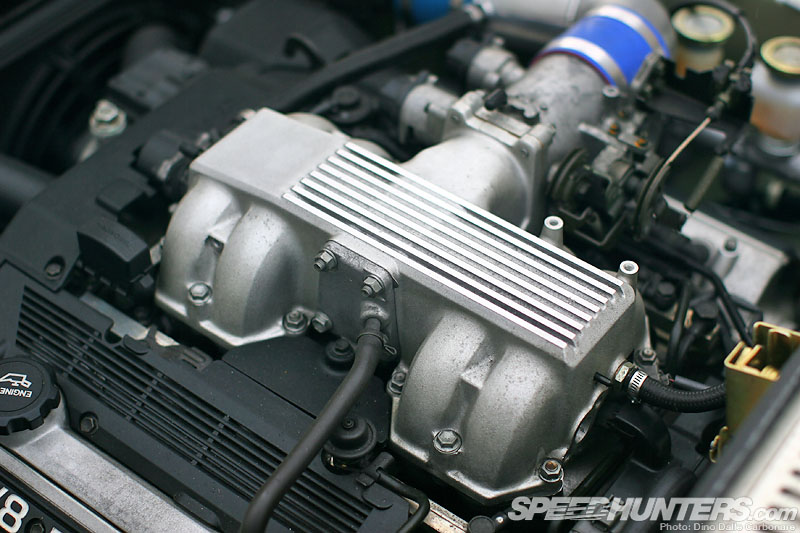 The engine sits so low that the stock intake plenum has no problem clearing the inside of the C10's stock hood.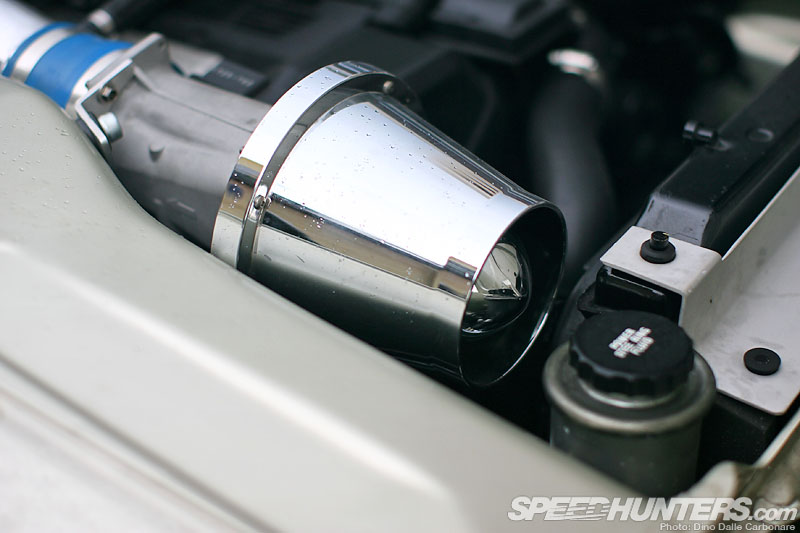 The only other modification has been carried out to the intake, with a bespoke induction pipe connected onto the stock air flow meter unit and then onto a shielded cone filter. The 1U is mated to a Nissan R32 5-speed manual transmission which sends torque to the rear upgraded LSD.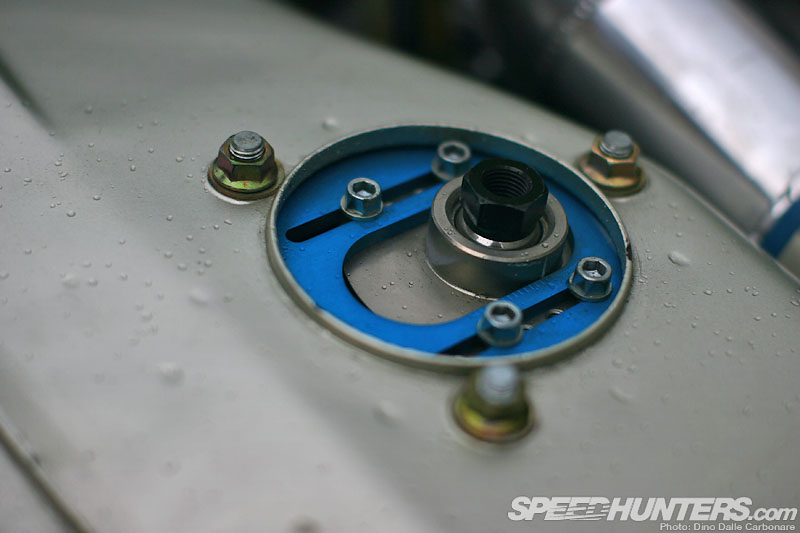 The custom adjustable Rocky Auto suspension allows the car to sit considerably lower than stock, but still set at a comfortable ride height for the car's new owner to be able to enjoy it on a daily basis. The front upper mounts are fitted with Cusco adjustable camber plates for added negative camber in the suspension's geometry. Along with an hydraulically assisted rack and pinion steering the V8 Hakosuka boasts adjustable lower suspension arms and thicker anti roll bars, along with harder bushes all round to tighten up the steering and overall feel of the car.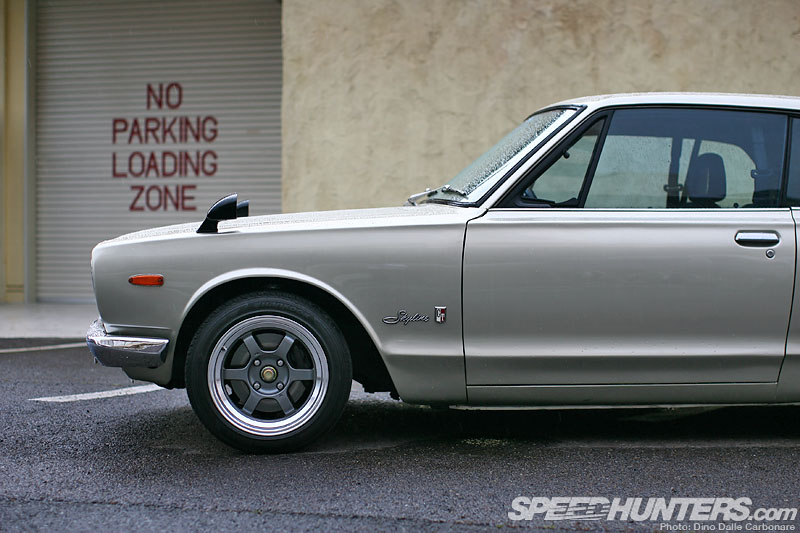 The donor car isn't the rare KPGC10 2000 GT-R, but an entry-level model that has been converted over to the GT-R look.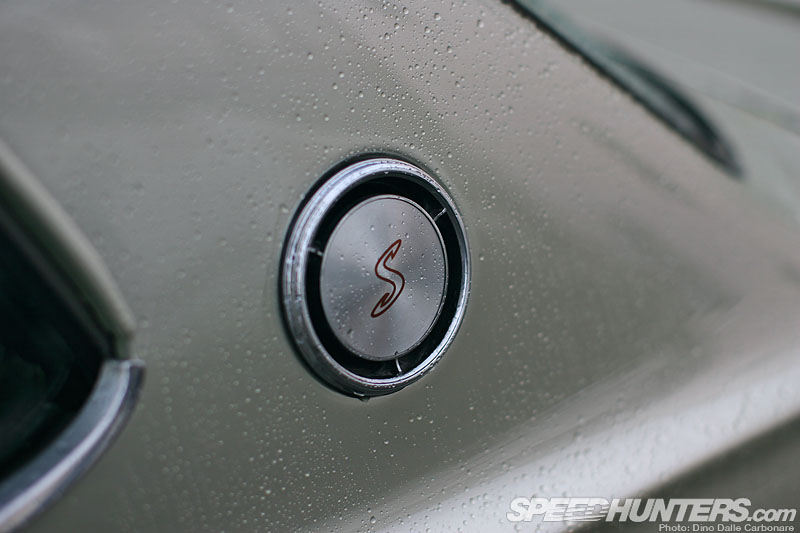 It's all about the details like the "S" emblem on the C-pillar.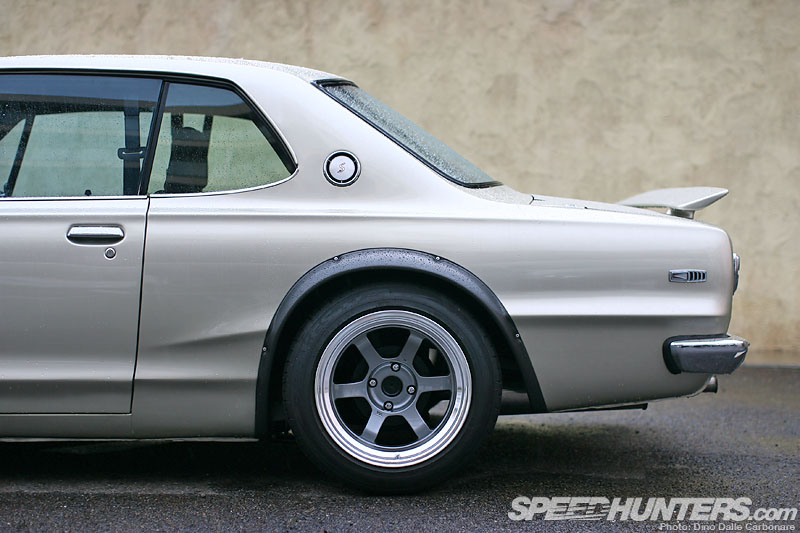 The rear is finished off with bolted-on overfenders to help contain the more aggressive offset of the wheel…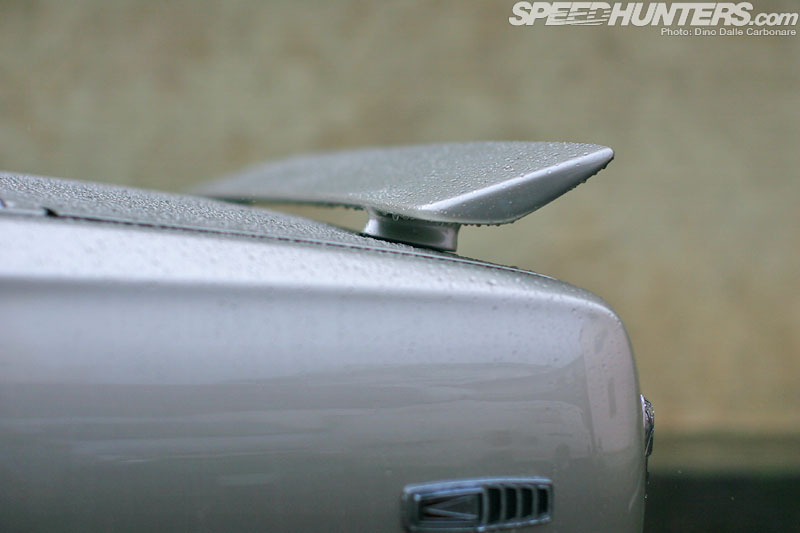 …while the rear sports the GT-R's raked trunk lid spoiler.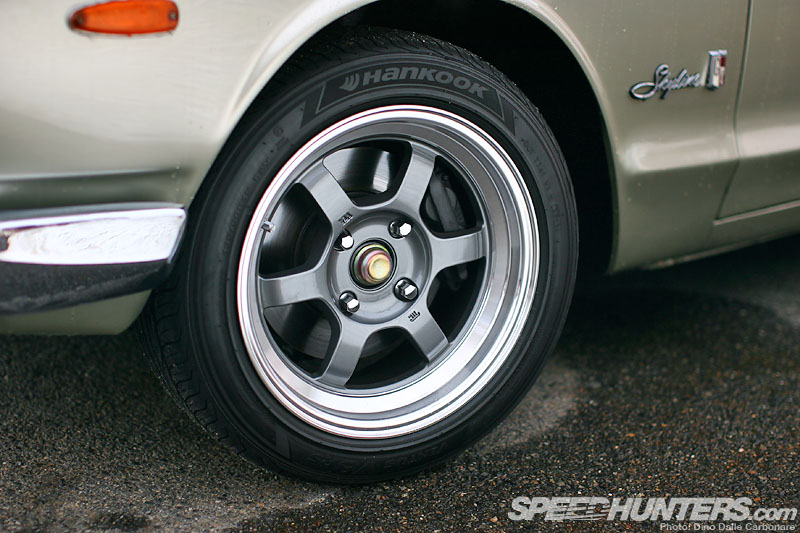 Wheel of choice, like on many of Watanabe-san's cars, are 15-inch Rays Engineering Volk Racing TE37V, finished off with a polished outer rim and silver spokes. Hankook V8 RS tires are used all around 195/50 up front and slightly wider 225/45 on the rears. Rocky Auto never leaves anything up to chance so after taking advantage of the 1U's ample torque and awesome acceleration there are reliable brakes to lean on in case you need to shave speed off fast! Both the front and rear calipers are borrowed from an R32 Skyline and are more than up to the job of hauling this modernized classic from any speed.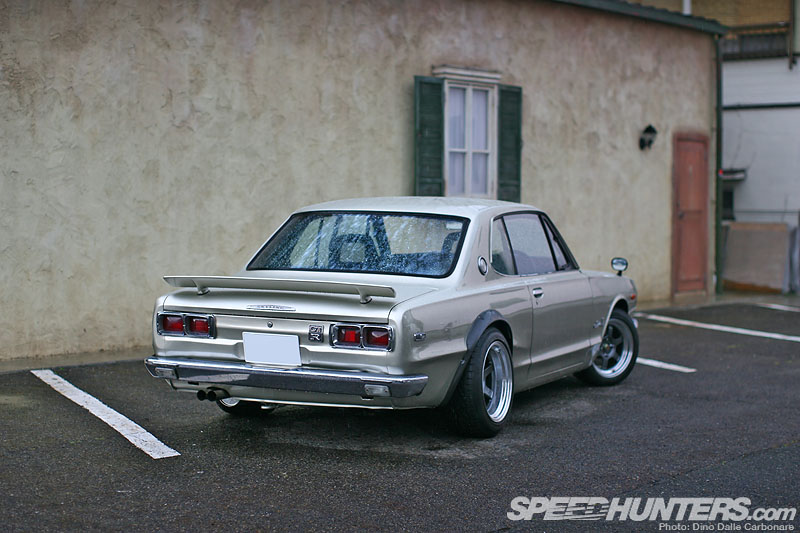 The result is a very authentic GT-R replica, also painted in the same factory sand-grey color the original cars were offered in.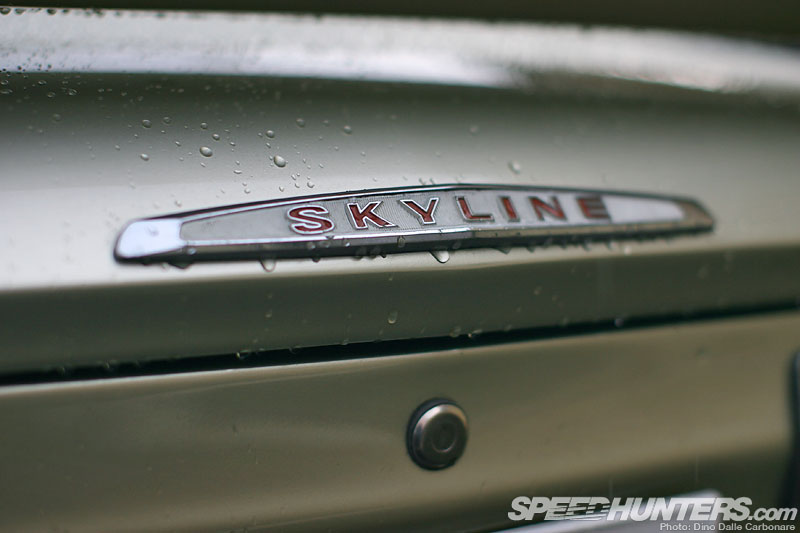 Every badge or piece of trim is authentic Nissan equipment…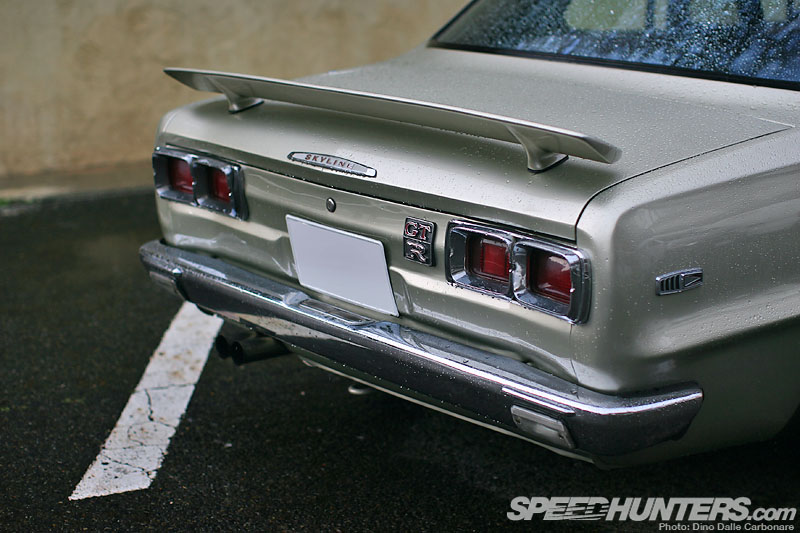 …which is why in Japan GT-R replicas of this level of quality fetch good money.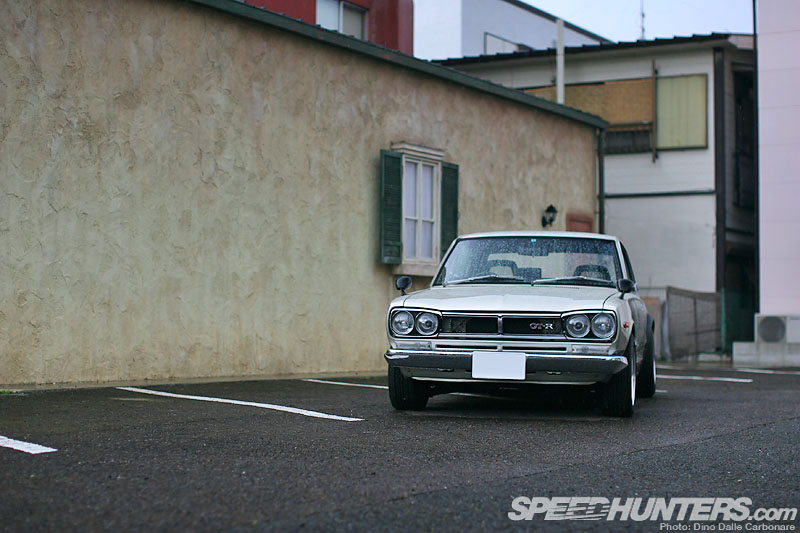 It may not have the legendary S20 straight-six screaming away up front but it's still is a vintage Skyline! Plus as Watanabe-san says, this is actually a lot more fun to drive than the all-original KPGC10, something you can believe has he owns about three of them, including a couple of Z432 that of course also came with the GT-R's S20 2-liter.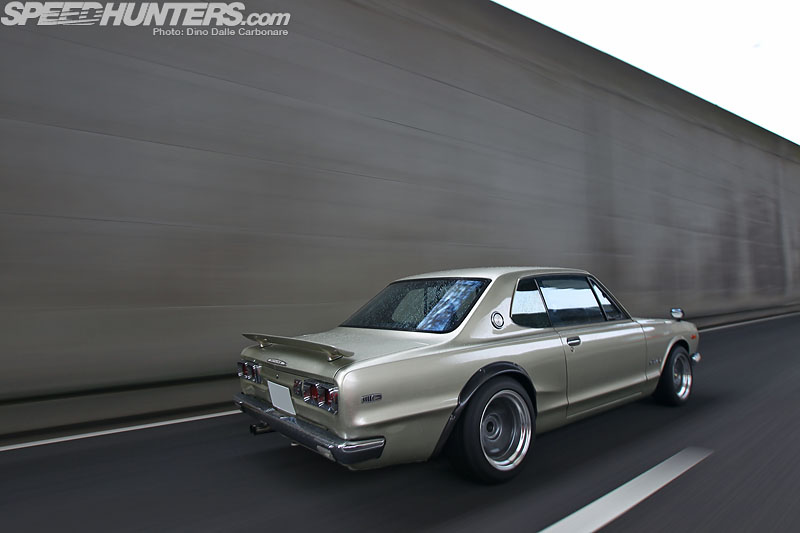 I'm not one to be so fussy about cars of this nature. Unless it's a true GT-R, which I would never dream of altering in any way but in the way it would have been done back in the early seventies, then I'm not really against this sort of resto-mod approach. In fact after Watanabe-san allowed me to take the Hakosuka out for a short drive I came away even more convinced, having enjoyed the explosive response of the Toyota V8 and the modern feel of the steering, suspension and gear change. The only thing that just felt wrong was the engine's sound, the brain just refusing to compute hearing a V8 burble scream out of a Skyline's exhaust!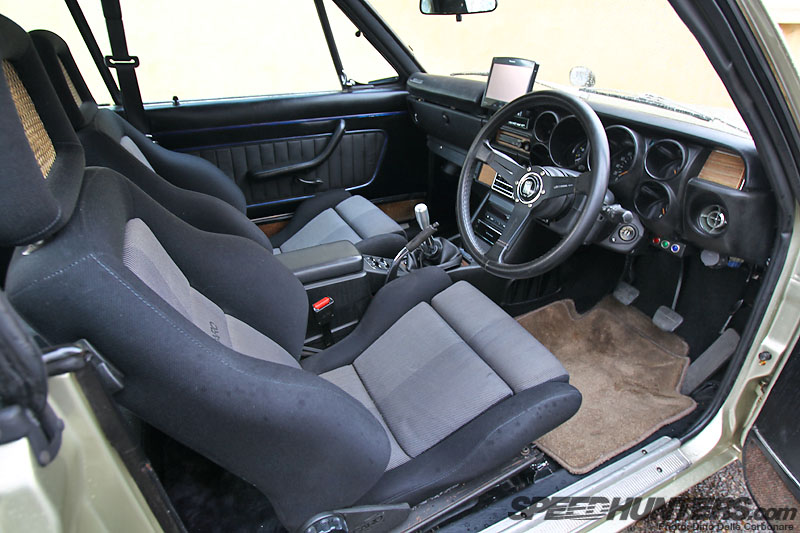 The same recipe has been applied to the interior; you get the vintage feel – and smell – of the classic cabin, spiced up with comfortable and supportive…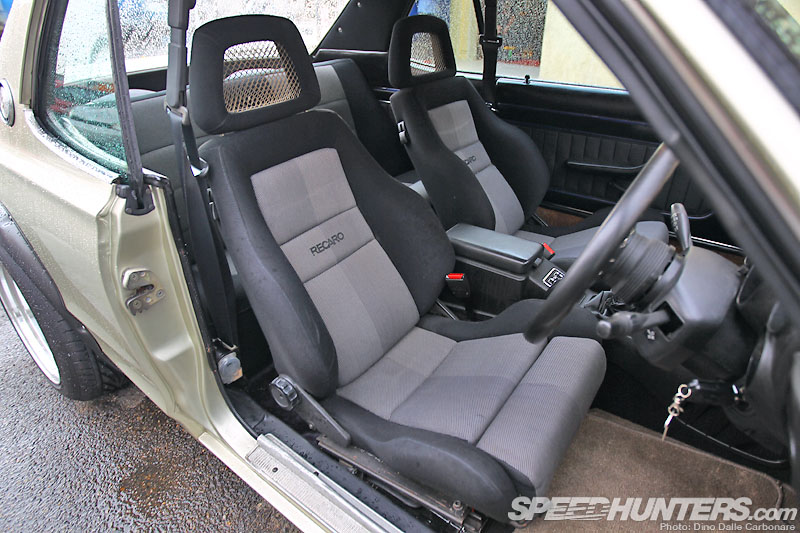 …Recaro reclinable seats…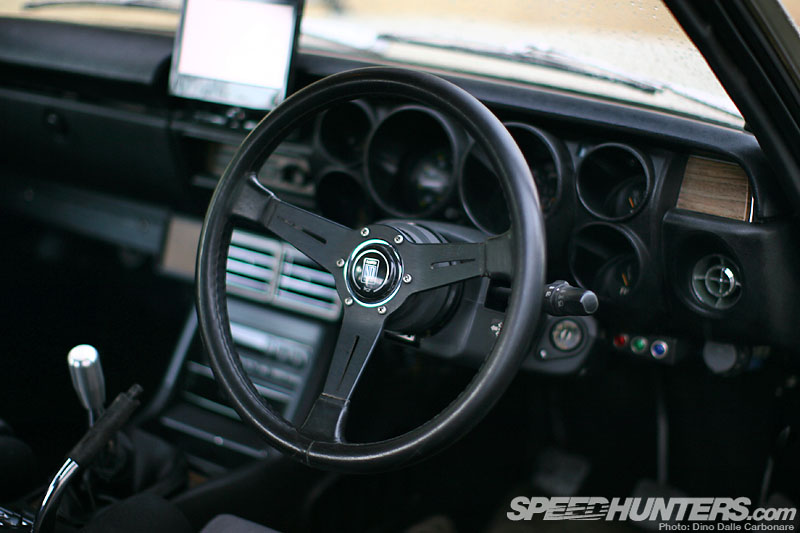 …and a Nardi steering wheel, which thanks to the power steering can be turned with one finger even at parking speeds.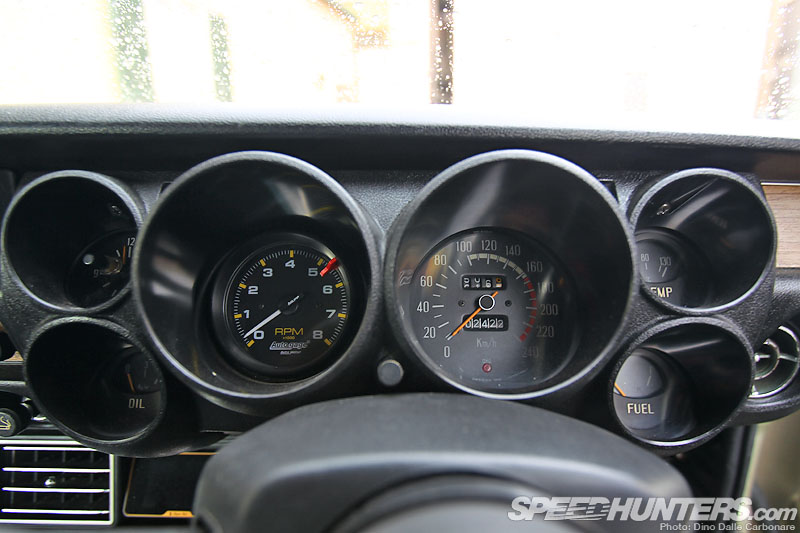 The stock dashboard and instrumentation remains…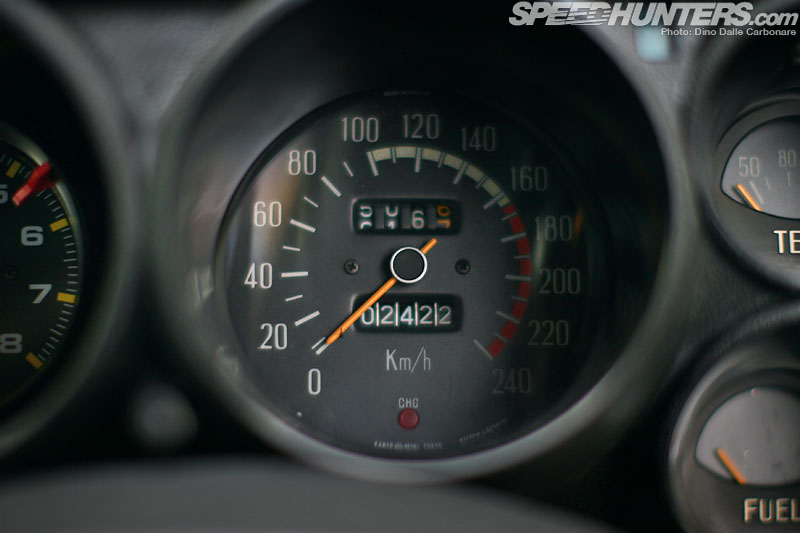 …like the speedometer…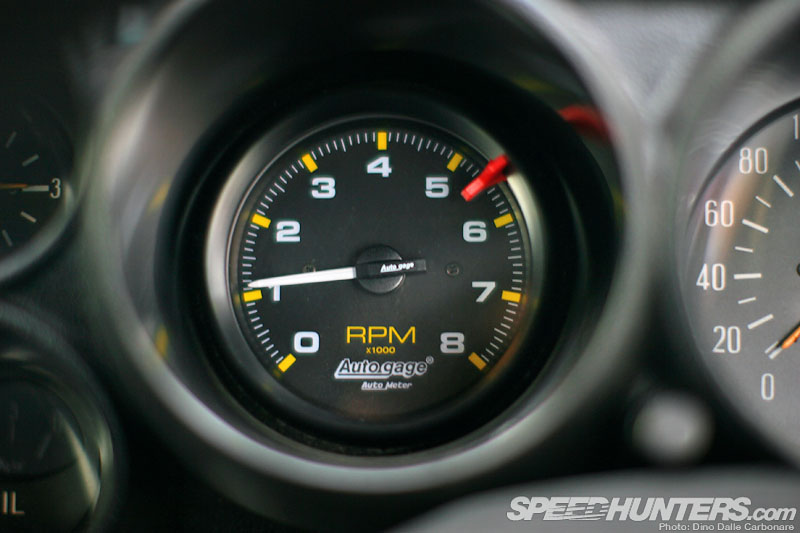 ….but the rpm gauge has been replaced with a more accurate AutoMeter unit, neatly enclosed in the stock binnacle.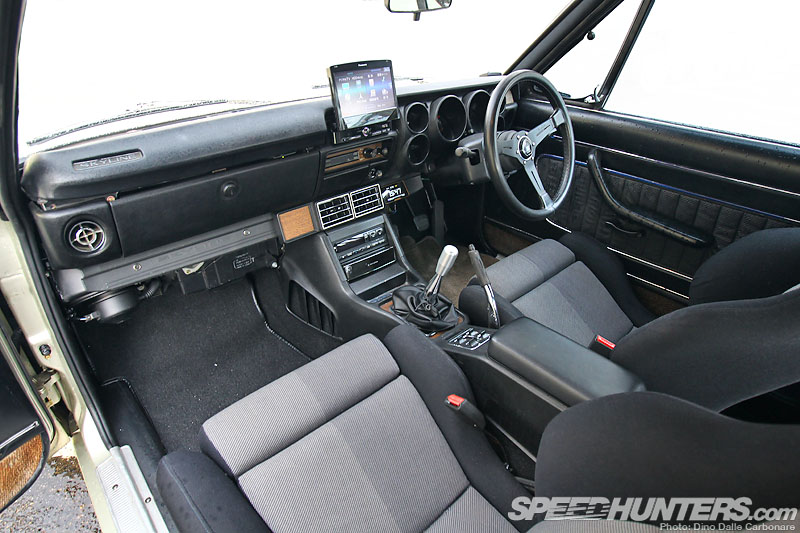 But it doesn't end there; like pretty much every single car in Japan…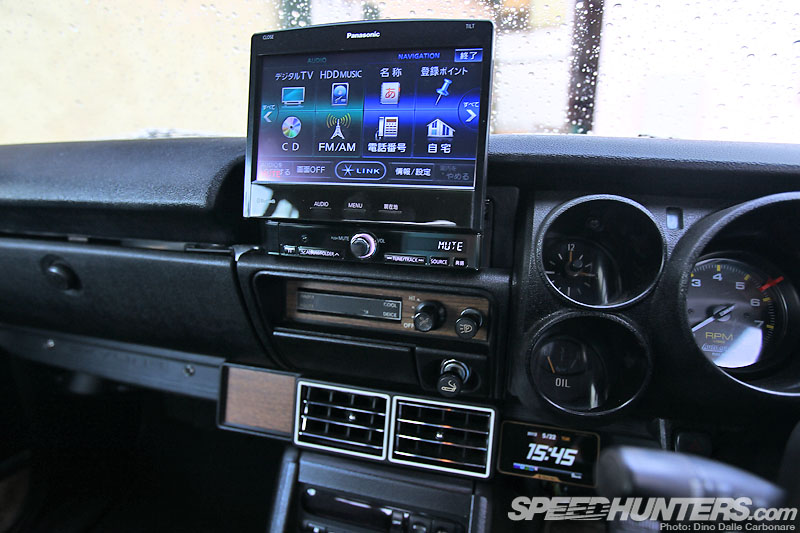 …a latest generation navi system was almost obligatory, doubling up as the main control center for the CD and HDD audio system…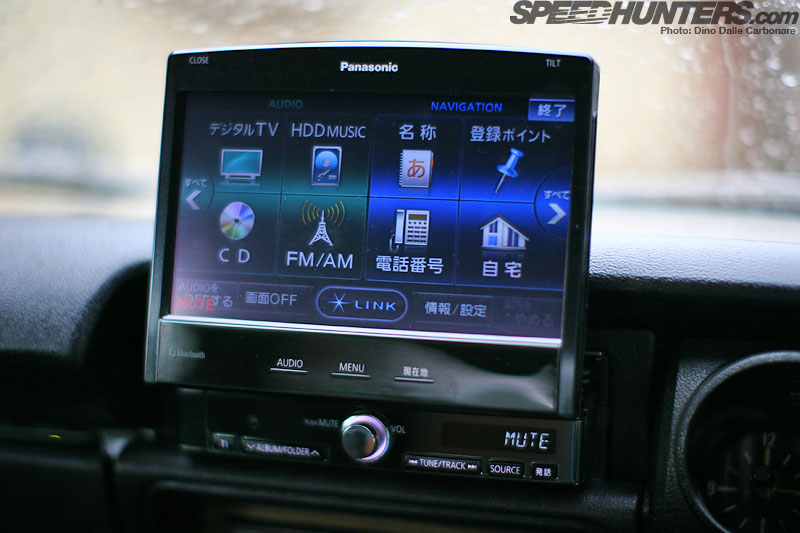 …and display for the digital TV tuner.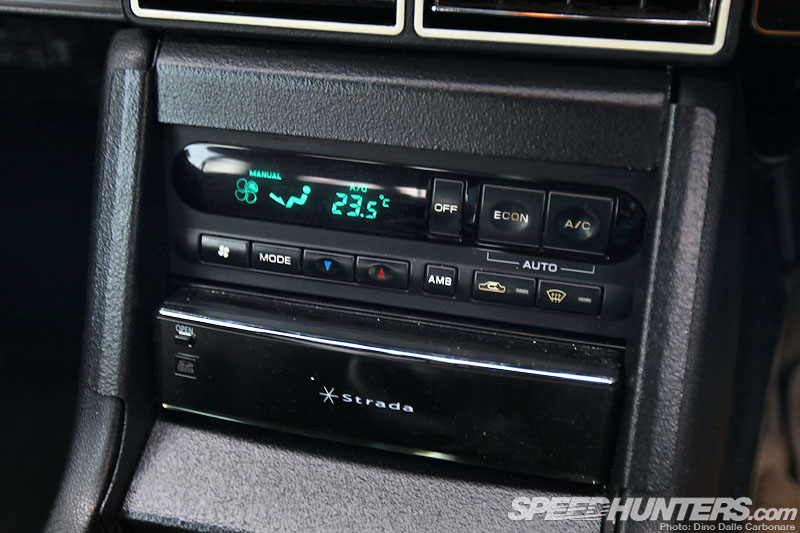 The modified center console houses the hard disc portion of the navigation system as well as the R32's A/C control unit, one of Rocky Auto's most popular retrofitted upgrades. There are also power windows, just in case you were wondering!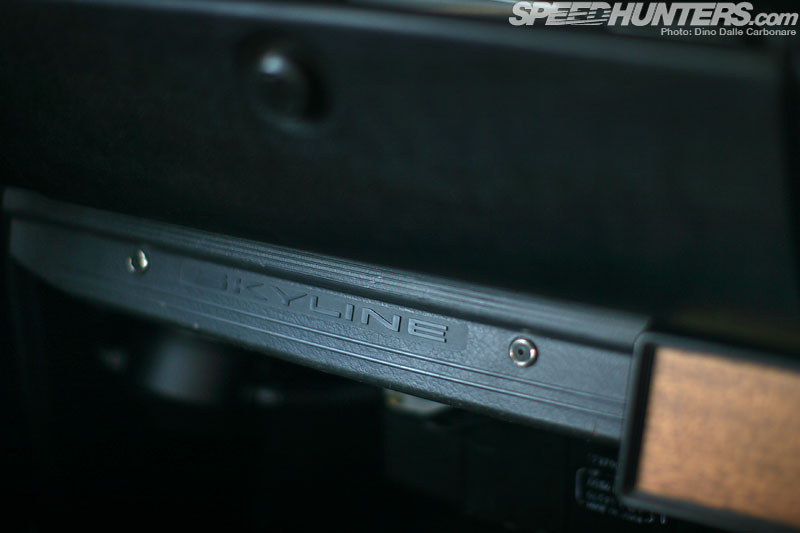 It may have been brought into the new millennium, but it's still very much an old Skyline!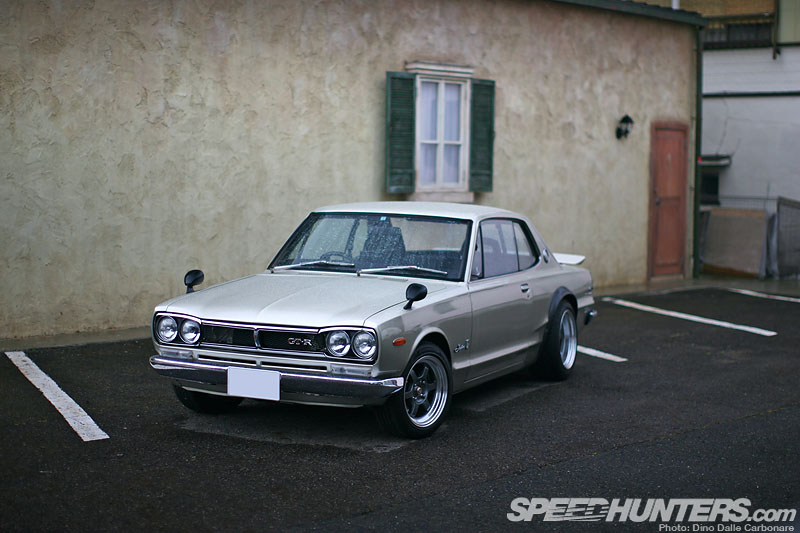 Rocky Auto continues to shock the motoring world every year with interesting new takes on their tried and proven approach to vintage car restoration. It's just a different way of doing things, one that you either appreciate or you don't.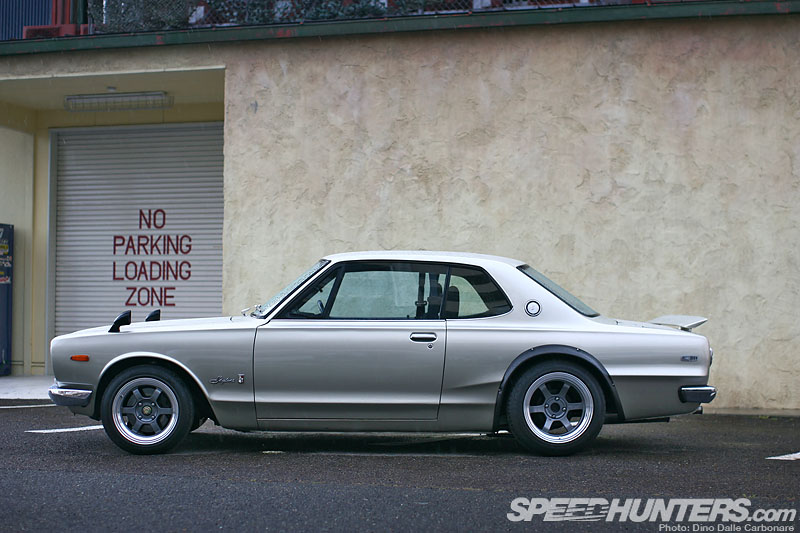 The last say is down to each individual car enthusiast.
Specs:
Engine: Toyota 1U engine swap, custom mounts, custom induction sustem, custom exhaust manifolds, Rocky Auto exhaust system, custom wiring
Transmission:  R32 Skyline 5-speed transmission and clutch, LSD
Suspension: Rocky Auto adjustable dampers, Cusco camber plates, Rocky Auto lower arms, Rocky Auto sway bars, hydraulic rakc and pinion power steering (from R32)
Brakes: R32 Skyline brakes all round
Wheels & Tires: Volk Racing TE37V 15x8J front, 15x9J rear, Hankook Ventus V8 RS 195/50R15 (front), 225/40R15 (rear)
Exterior: 2000 GT-R replica kit
Interior: Recaro reclinable seats, Nardi steering wheel, AutoMeter rpm gauge, R32 A/C unit, power windows, custom center console, Panasonic navigation & audio system
-Dino Dalle Carbonare
---
---
---