Hey fellow Speedhunters! After the madness that was Gatebil, it would have been nice to have had some time to recover, but as usual here at MCNSPORT we've been flat out! The D-Mac86 has taken priority in the shop in order to get it ready for competition at the imminent Trax festival at the famous Silverstone circuit.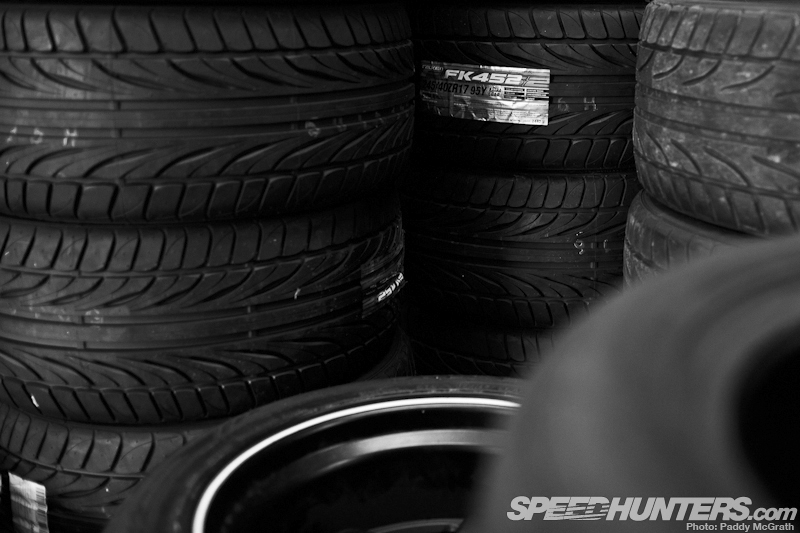 We're fully stocked with our new Falken FK453 rubber but still have some different size FK452's if needed. The amount of smoke that the FK453 tires produce is amazing, and I'm looking forward to laying down a smoke screen for anyone who tries to chase me in a tandem run!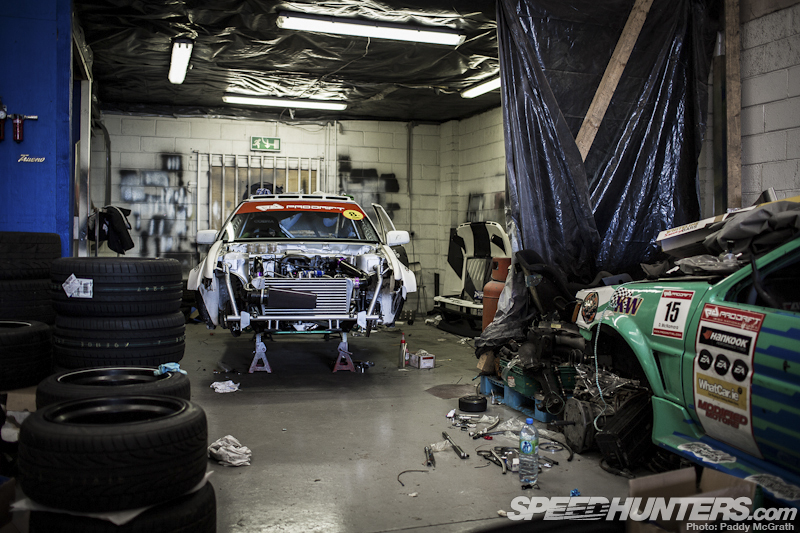 The amount of times this car has been stripped and put back together is crazy at this stage. Still, perfection doesn't come to those who wait around for it!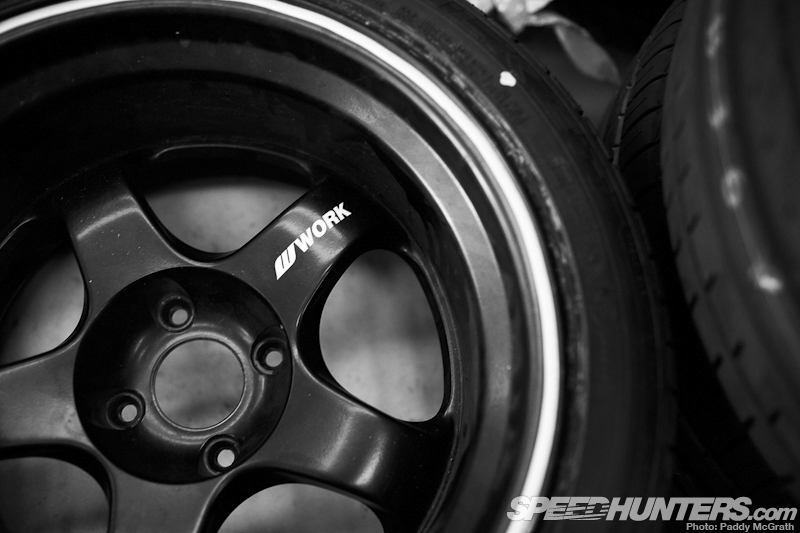 It's now time to dust off the satin black Work Meister S1s and get them turning in full competition anger for the first time in this evolution of the D-Mac86.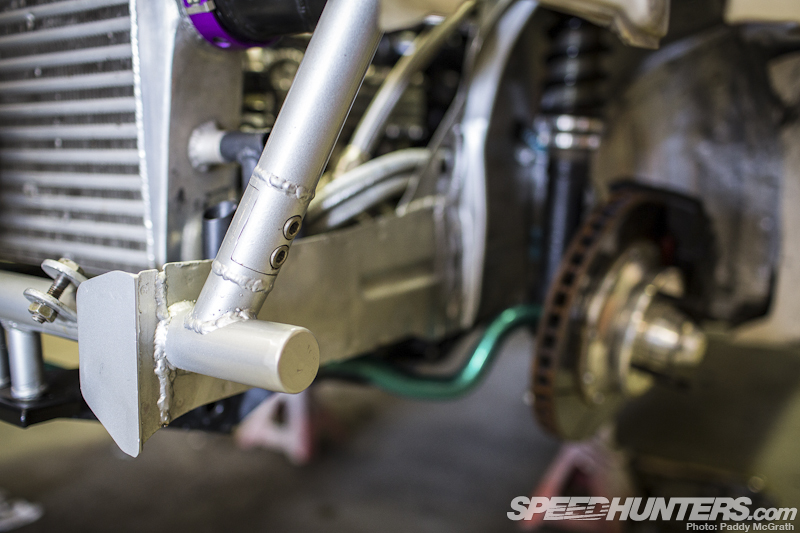 I feel that the front end should be now more or less perfect and everything working just as it should. We installed a power steering setup from an AE86 after Gatebil, as the non-assisted setup proved to be too heavy to allow quick adjustments while drifting.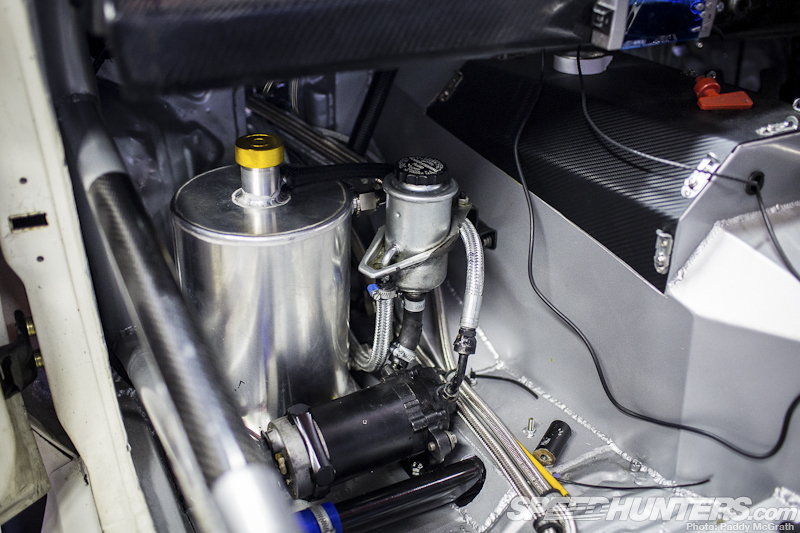 We installed a hydro-electric power steering system inside the car in the correct position for optimal weight distribution, The co-driver foot rest should cover this up nicely when fitted.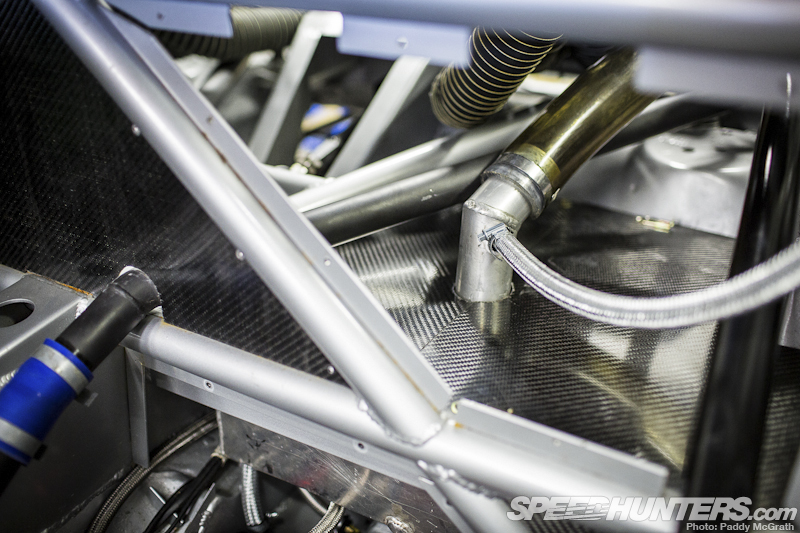 The fuel surge problems which we encountered at Gatebil were due to a relocated swirl pot idea which backfired on me.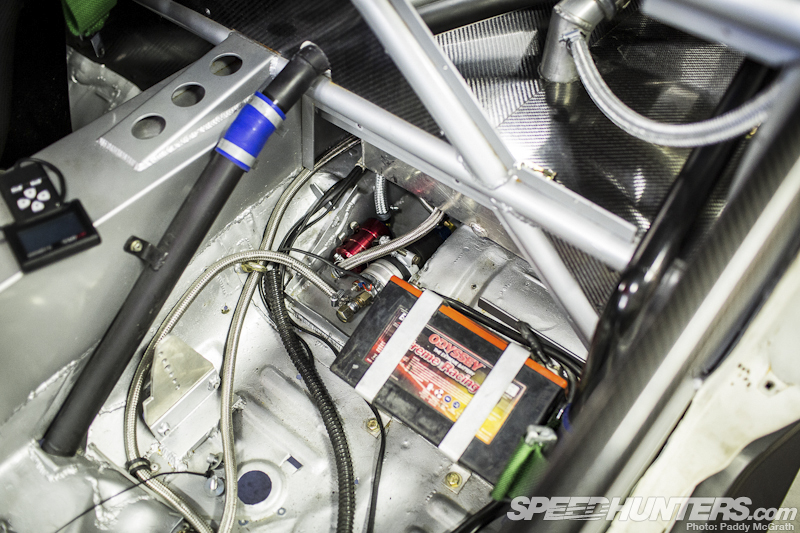 Space under the fuel cell is extremely tight, but with some clever engineering we managed to downsize and relocate the swirl pot again. Thankfully this has fully cured the issue, and the bridge-ported 13B's monstrous thirst for race fuel is satisfied once again!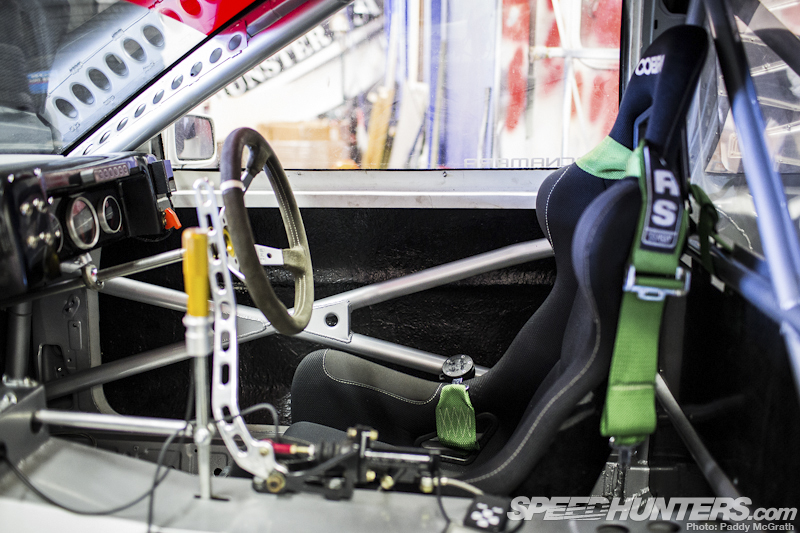 I cant wait to spend more time here, It feels like we have just been working on the car, it's really time to get some track time!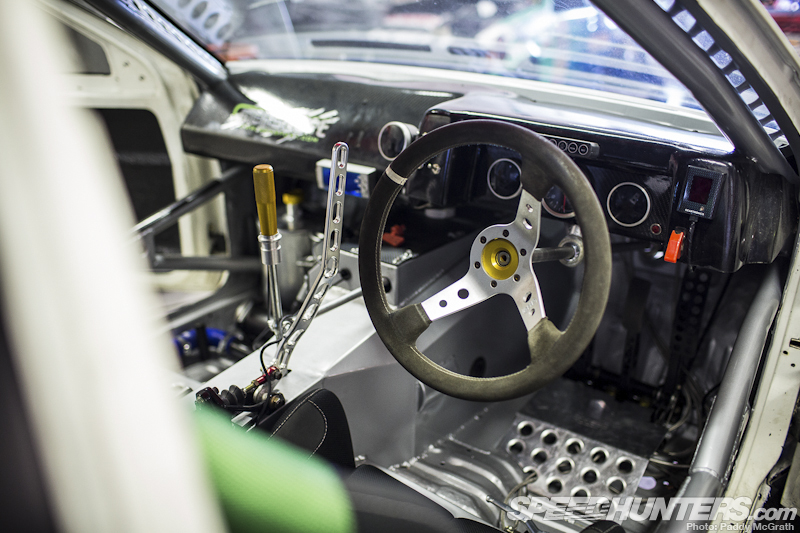 Everything is just where I want it and the controls are super-responsive, which is the way a top drift car should be. The Saenz sequential gearbox is an absolute dream to use and I can't wait to see how much of an advantage it proves to be in a tight tandem battle…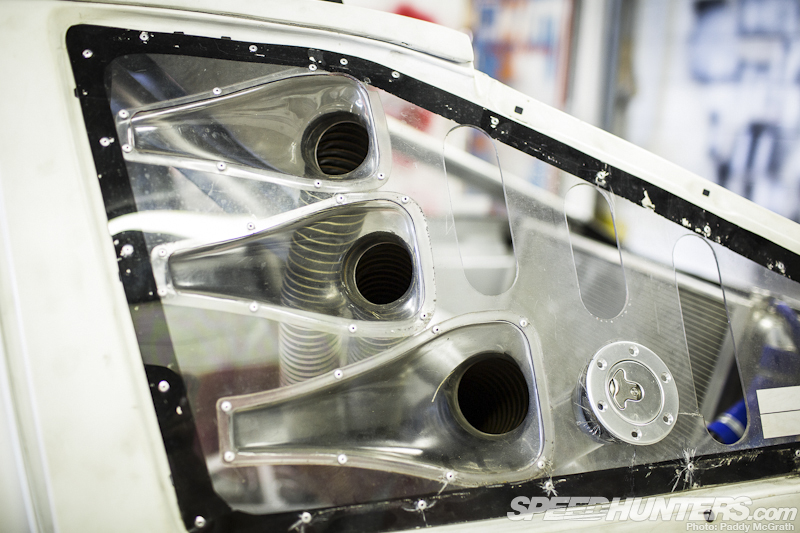 The radiator cooling ducts still remind me of something out of an Aliens movie!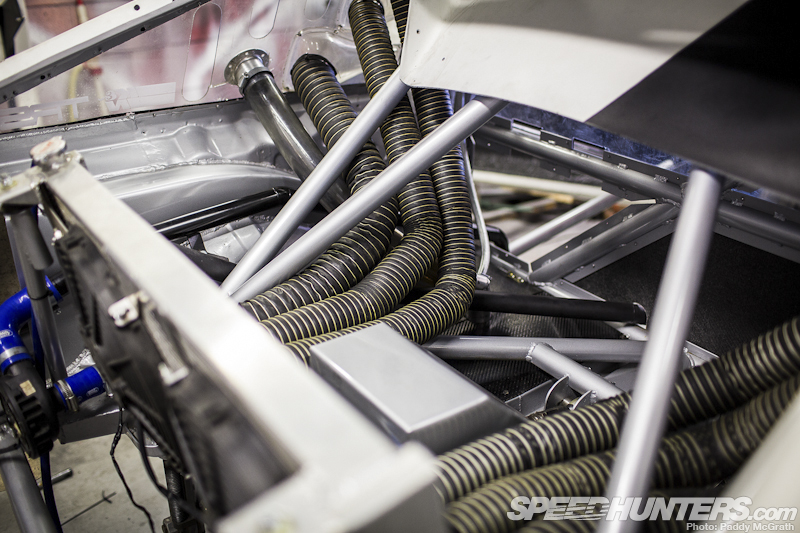 Or Doctor Octopus from Spiderman!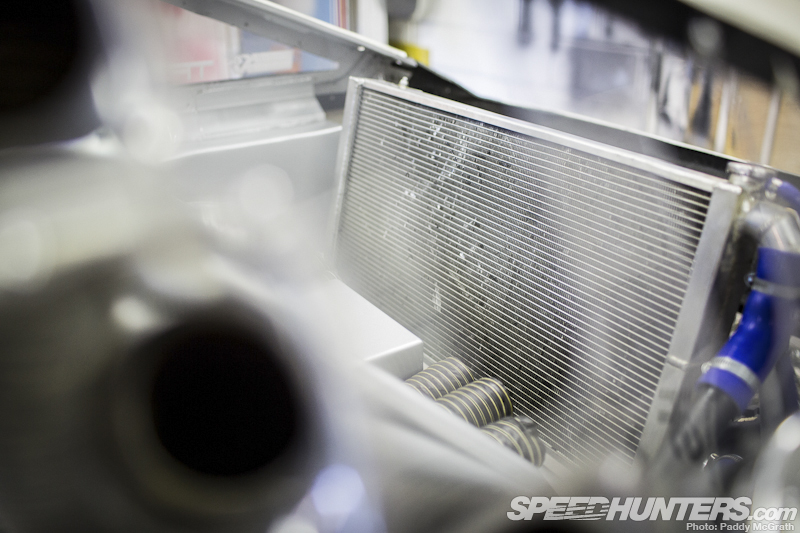 Flies in the radiator mean it's working. What a great way for a fly to end its life.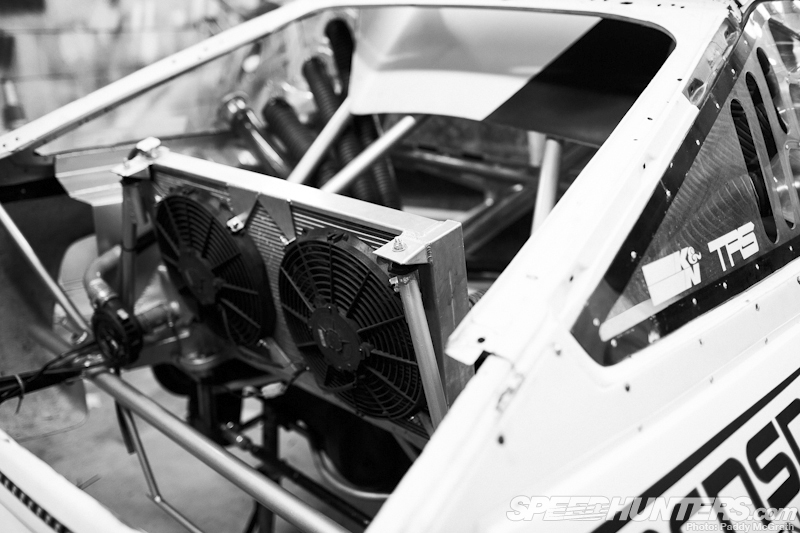 There really isn't a whole lot of AE86 left back here, only whats needed. No free ride here!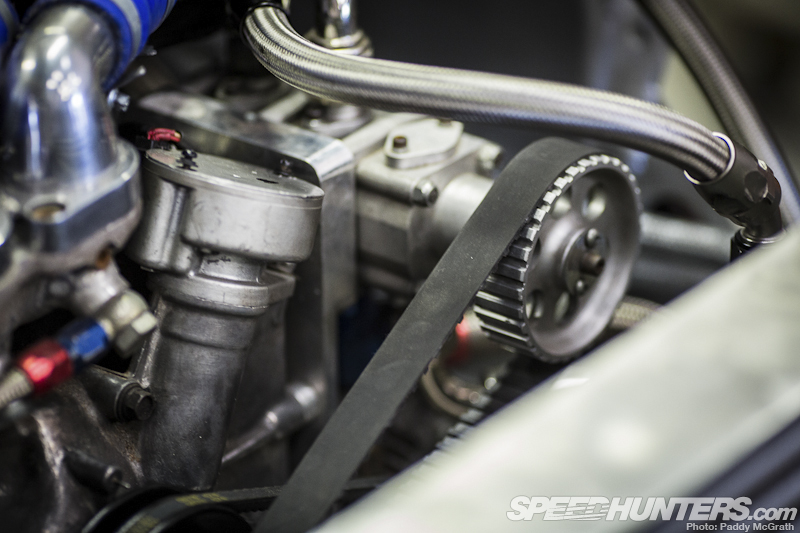 Our new dry sump system has performed faultlessly since its installation, and it gives great peace of mind to know that the engine is provided with a healthy supply of oil even under the strongest G-forces.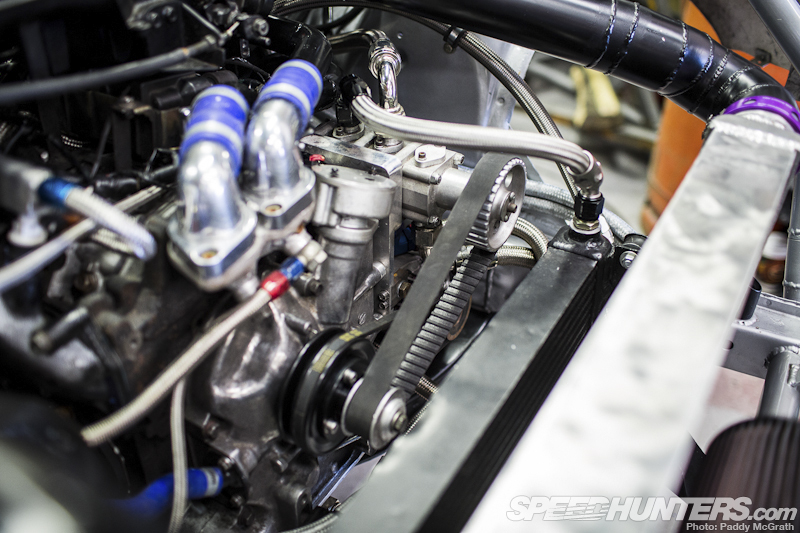 The engine bay is now looking pretty tidy and is more or less how I pictured it at the start of this project.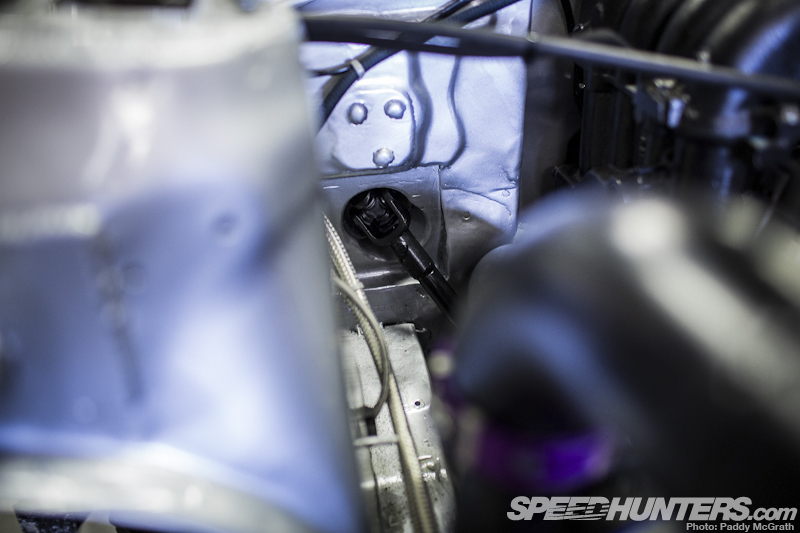 Snug fit!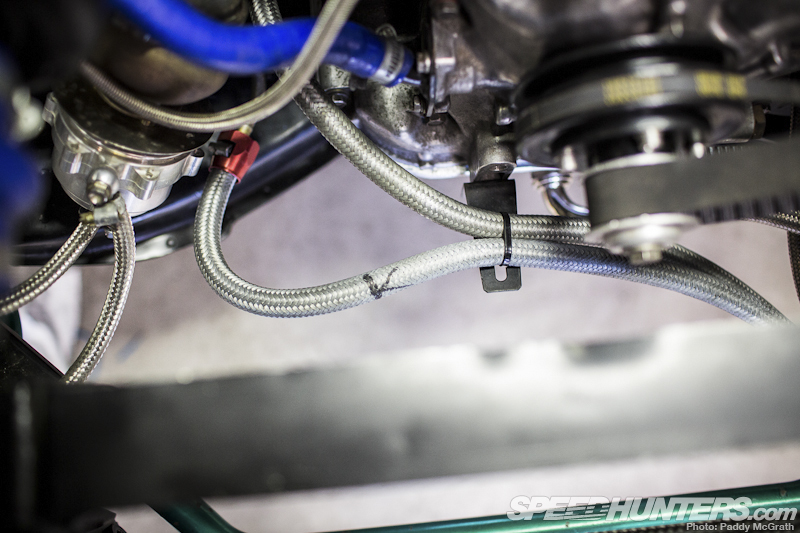 These are the new power steering lines that feed our rack. Good news for '86 owners is we have had to develop rack spacers and steering knuckles for the AE86 power steering system now.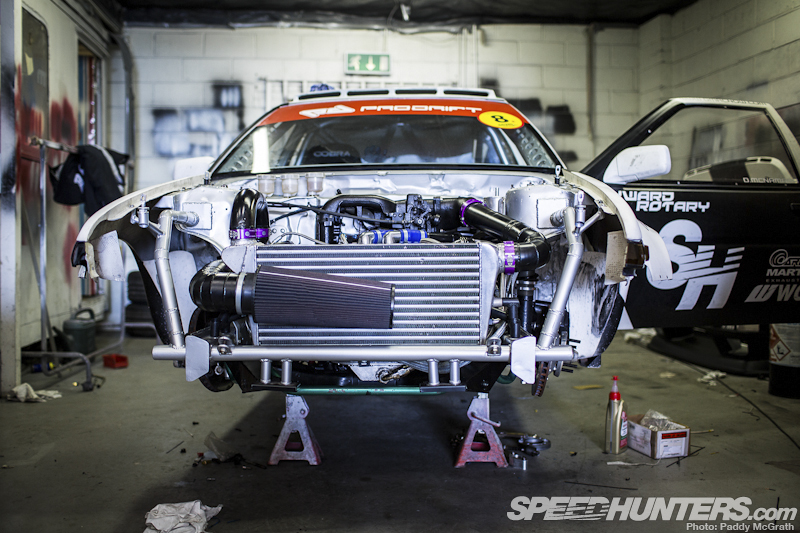 Since its inception, this project has been all about building the ultimate '86. I finally feel like we are somewhere close to that goal. What do you guys think?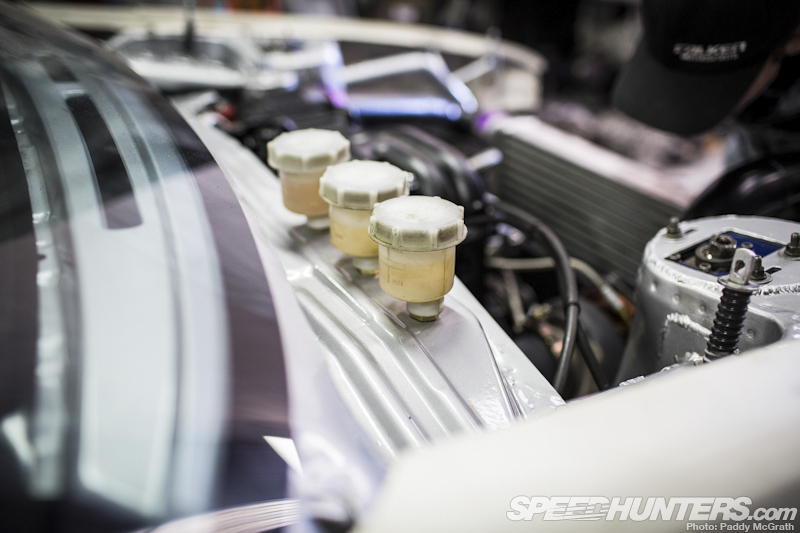 We have been working on the brakes too and have changed master cylinder size to give me better feel.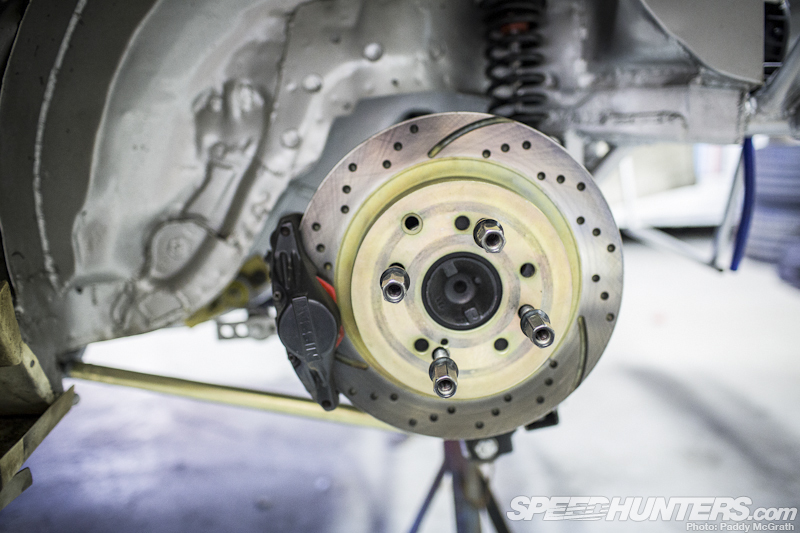 R32 Skyline GT-R brakes were designed to stop a car which weighs 1,430kg, so they have no problems hauling up the D-Mac 86!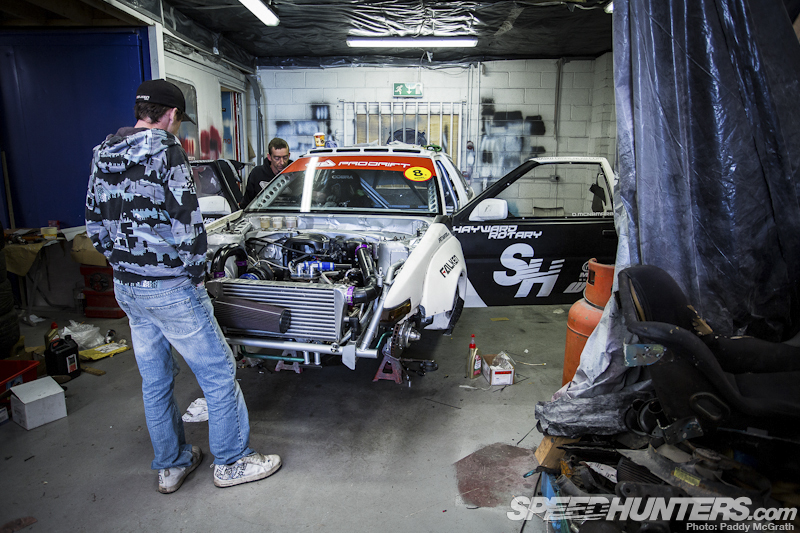 Our mechanic 'Happy' Darren and his ever present cup of coffee fire the car back up before we go to a test day at our local Mondello Park circuit. With some small adjustments, the engine was nothing short of epic, hitting a 10,000 rpm limit.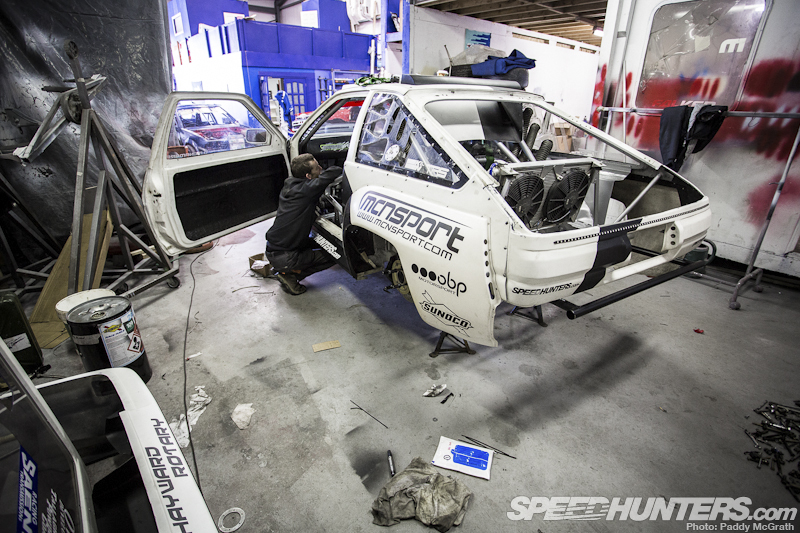 We were deep in discussion while Paddy was floating around.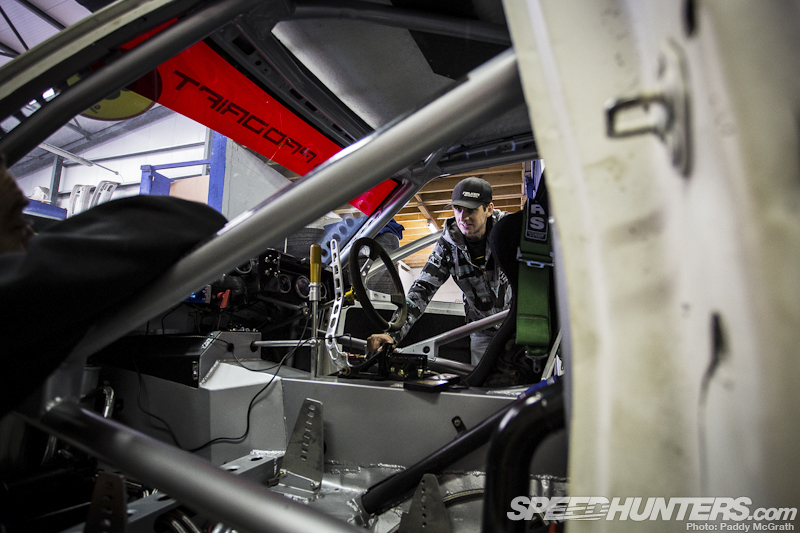 The newly fitted system system felt a little off and was causing some confusion around the shop.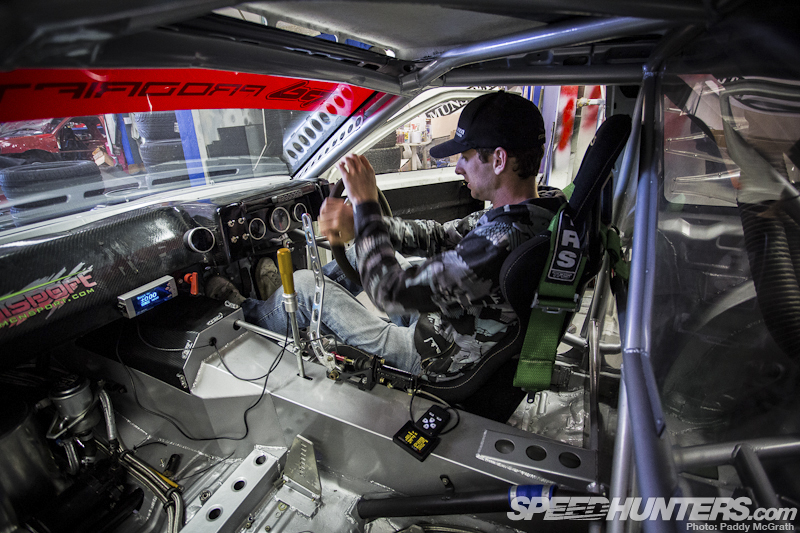 The steering rack had a couple of tight spots in it and we were trying to diagnose the problem.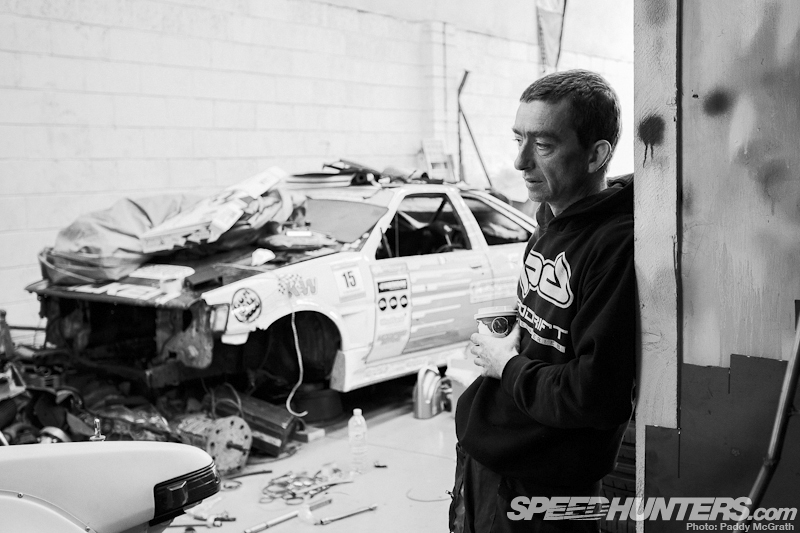 I think Happy's look says it all here!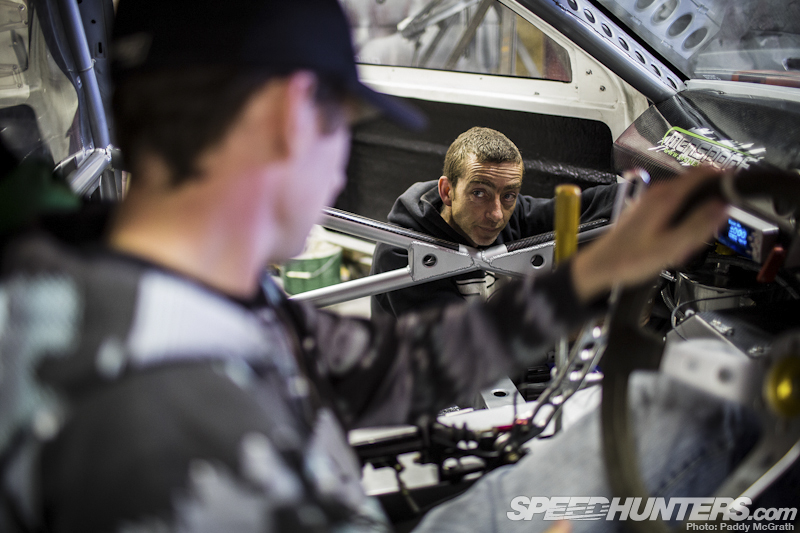 The problem with builds like this is eveything should work, but no one has done most of this stuff before so we encounter all the teething problems.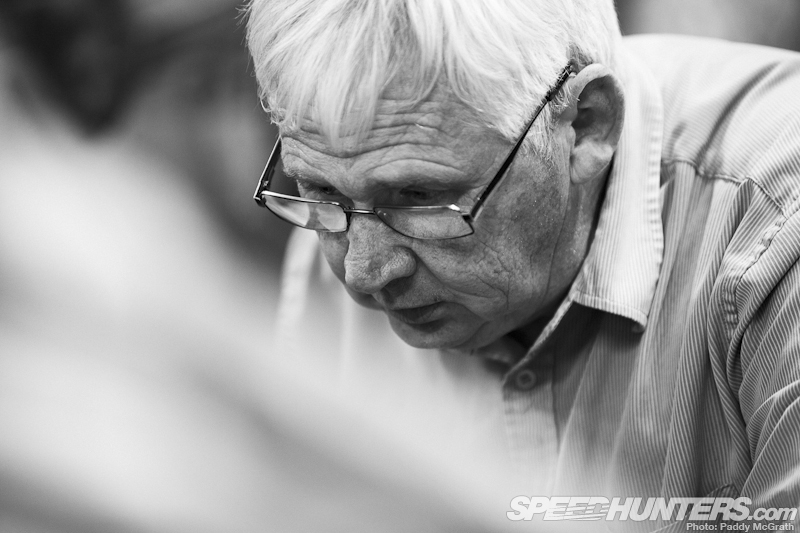 Even my veteran racer dad Charlie can get pretty psyched by the '86 when it's fired up!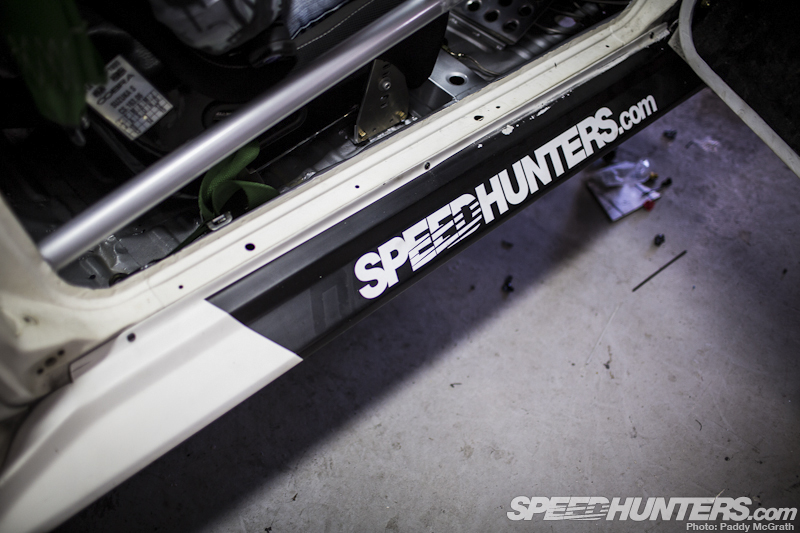 This Speedhunting can get pretty stressful…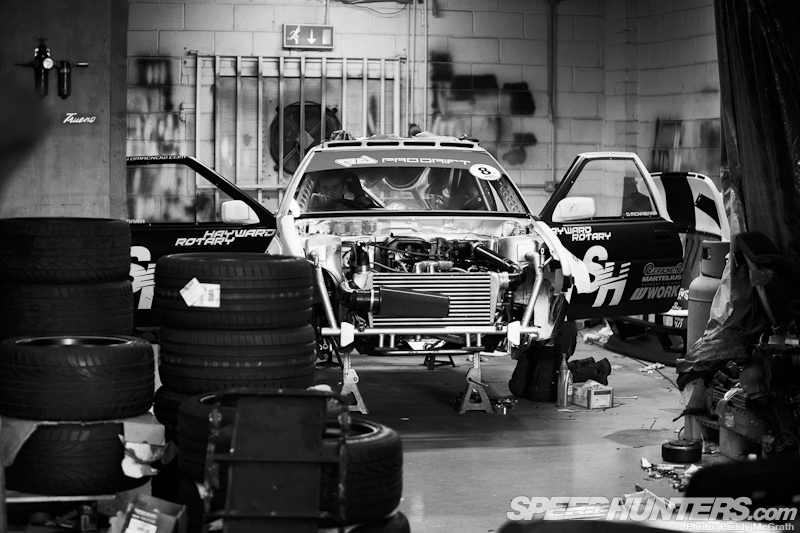 With all the time and effort gone into fitting our new power steering setup, it seems like we have a bent steering rack so it all must come back out again. I swear if it was raining soup I'd have a fork!
We are still working as I write this, and we leave for Silverstone at 5am so everything must be right this time. But nevertheless I'm really looking forward to stretching the D-Mac86 to its limit in competition again. Be sure to come along to Trax this weekend to see us in action!
See you there, Speedhunters!
–
Darren McNamara
Photos by Paddy McGrath