Last week during my time in Reno for Hot August Nights, I took a break from the car shows and overall craziness of HAN to visit Reno's own National Automobile Museum. The city may not be known as a beacon of car culture, but the National Auto Museum is considered by many to one of the best museums of its type in the United States.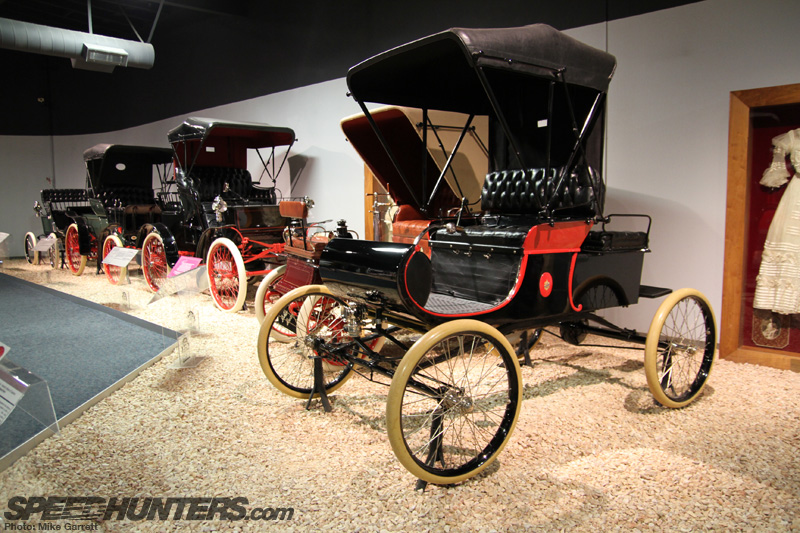 It's quite a large facility with over 200 cars on hand, so I was interested to head inside and look around – and that's not just because I wanted to escape the heat wave that had fallen over the city of Reno.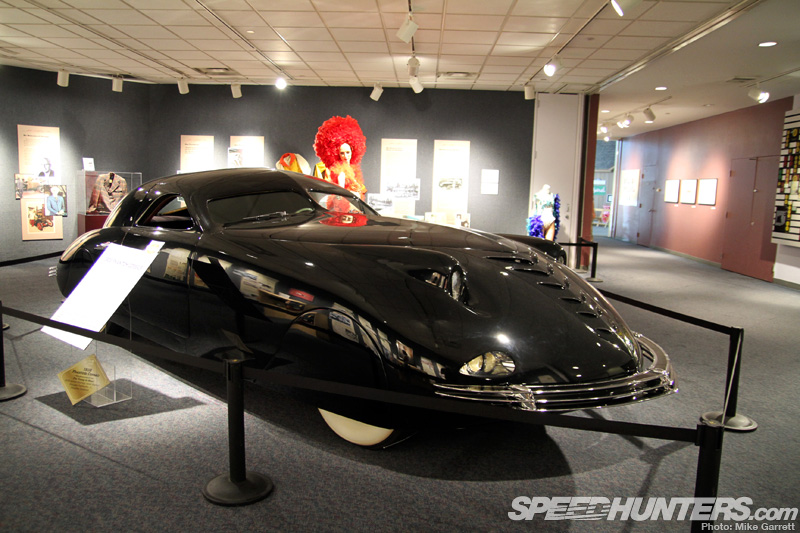 The existence of the museum is largely thanks to one man – the late Nevada gaming pioneer and casino owner William F. "Bill" Harrah. Harrah was obsessed with cars, and thanks to the fortune he earned from his hotels and casinos he was able to amass one of the world's largest collections of historically important cars.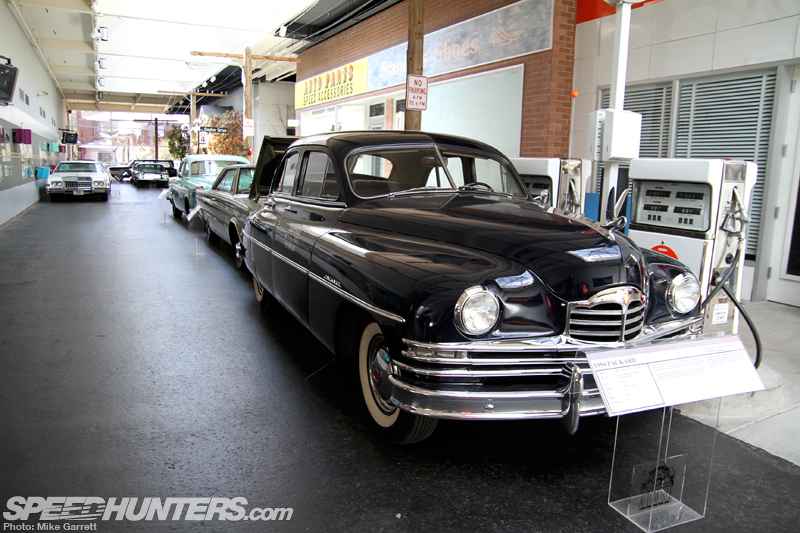 Following Harrah's death in the 1978, the majority of his car collection was scheduled to be sold off, but the Nevada government stepped in and established a non-profit origination to preserve and display the collection. Thus the National Automobile Museum was born.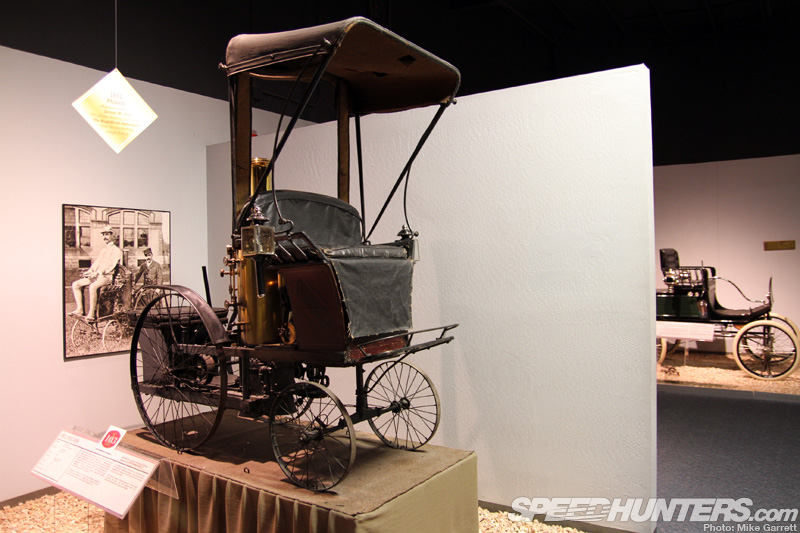 The museum's primary focus is on both the overall history of the automobile in the United States, as well as the cars of Mr. Harrah himself. As you'll see in a bit, he actually had a rather eccentric taste in cars.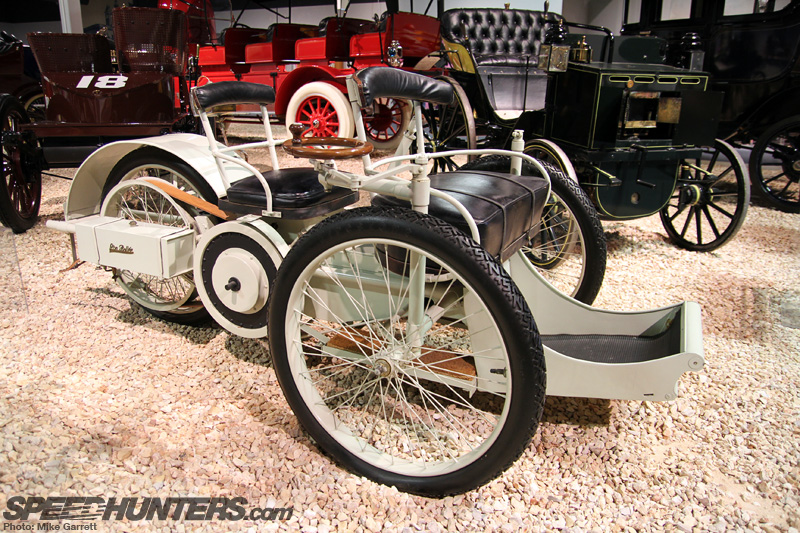 Now I'm not going to pretend that I have a huge passion for horseless carriages and other turn of the century or antique automobiles – but it's impossible not be fascinated by these historic machines.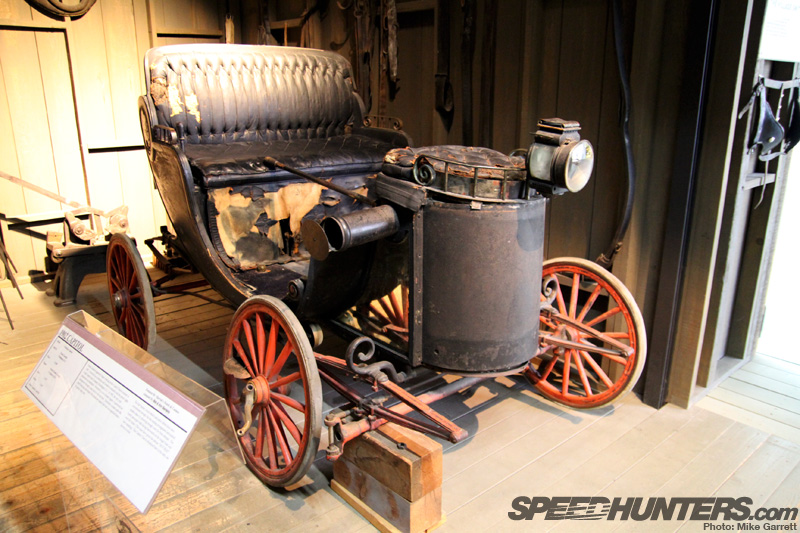 The collection includes some amazingly rare vehicles like this is steam-powered Capitol prototype from 1902, which is the only one known to exist in the world.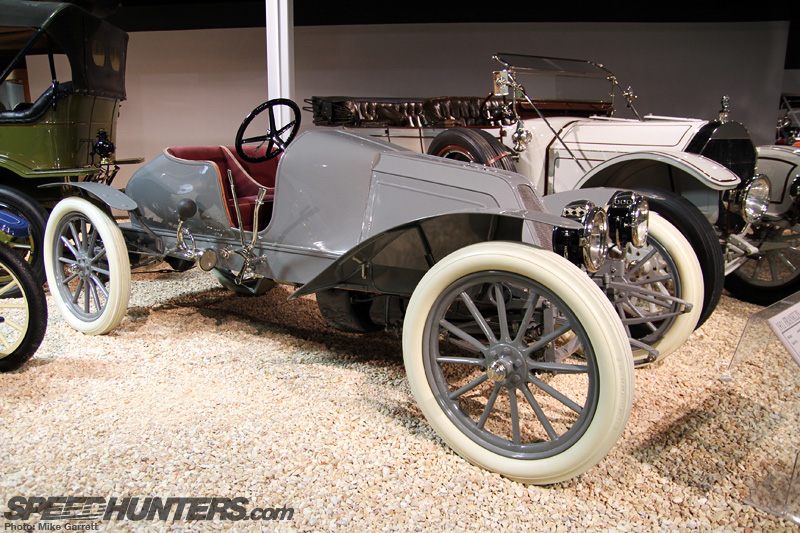 If you are familiar cars from the second half of the 20th century and beyond, it's pretty amazing to see vehicles from so many long-vanished makers. There are countless cars from brands like Franklin that weren't able to survive the Great Depression of the 1930s.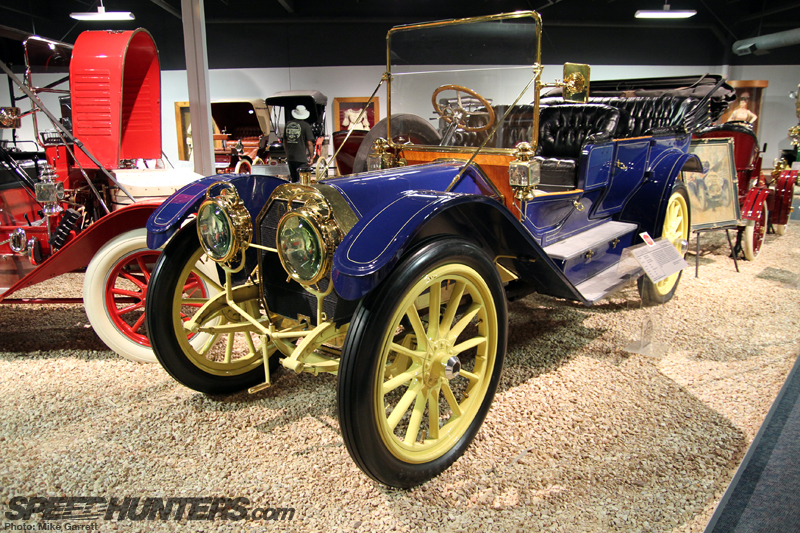 If you haven't had a chance to see many of these antique cars in person, you may be amazed at just how big some of them are. We might think that today's cars have gotten too large, but many of these early passenger cars are actually bigger than modern full size SUVs.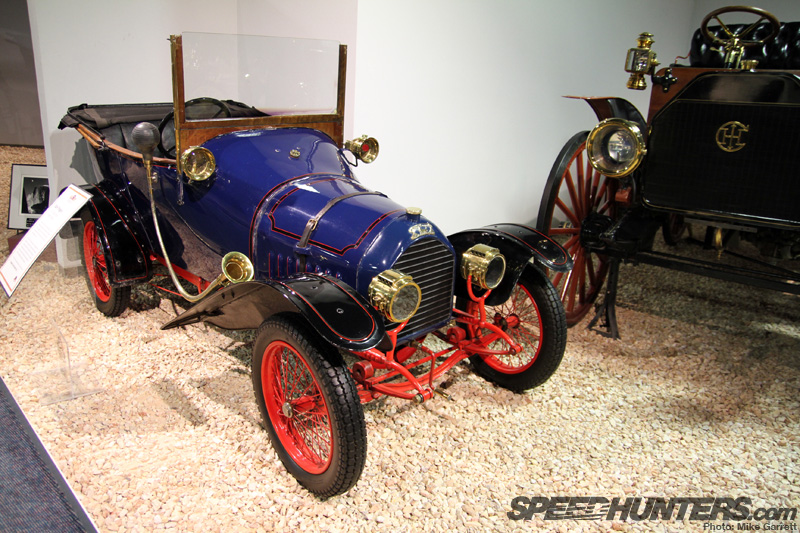 Others, like this 1913 Peugeot Bébé are much much smaller.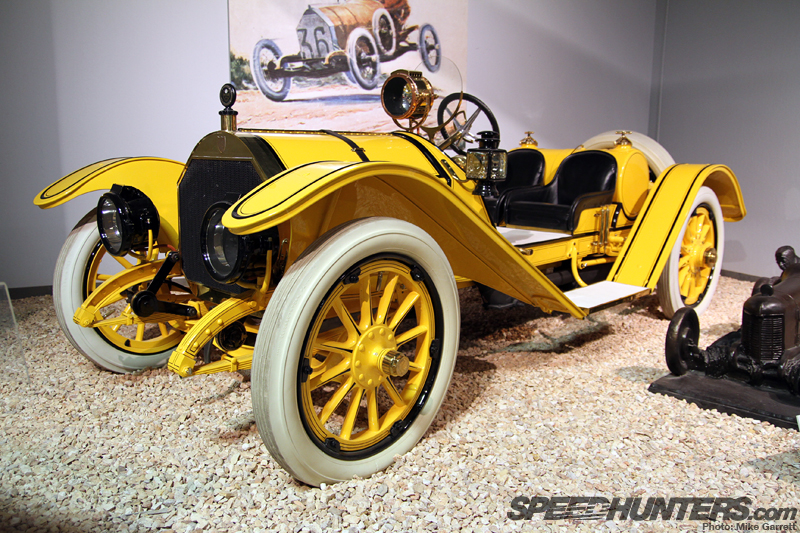 Also from 1913 is this Mercer Series J Type 35. This was the sports car that young men dreamed about in the early 20th century, long before there were Porsche 911s and Corvettes.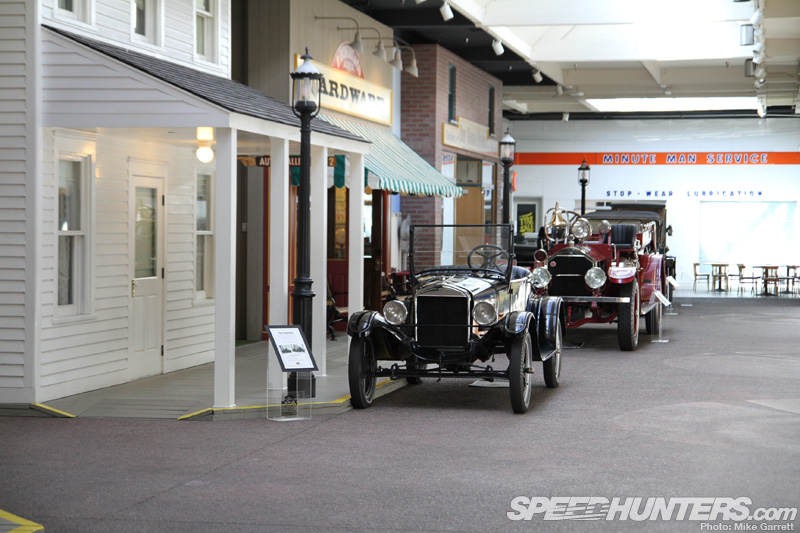 Outside of the main display areas, the museum has life-size street scenes that feature cars from different periods of history. Very well done.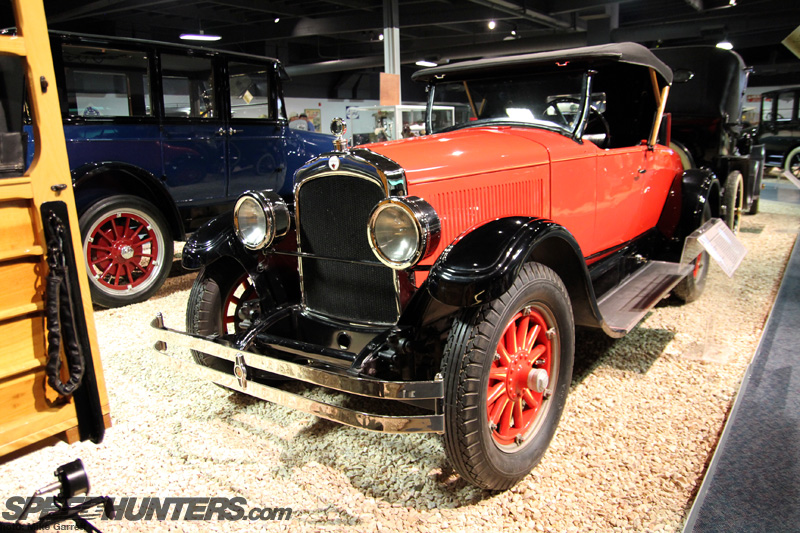 The names of these cars were quite interesting as well, like this Jordan Playboy from 1926 – named very much for the type of fellow that would buy one I assume.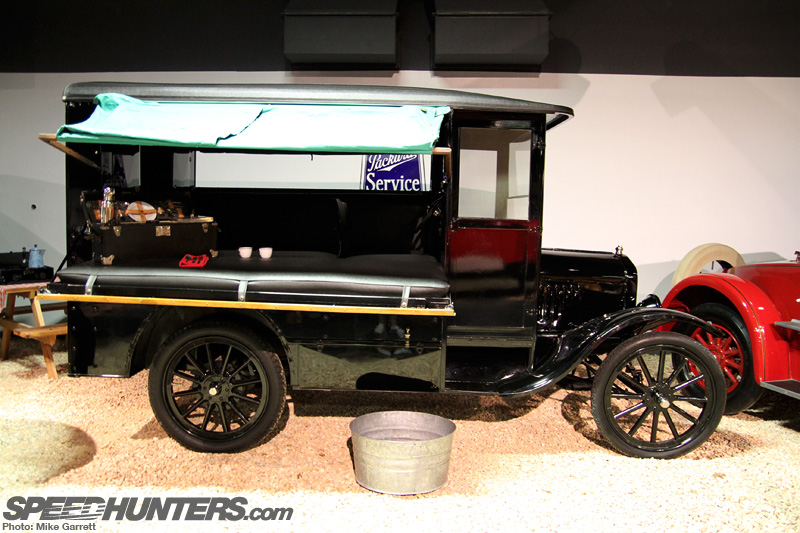 How about an early RV? This conversion kit for the Ford Model T was known as the "Kampkar".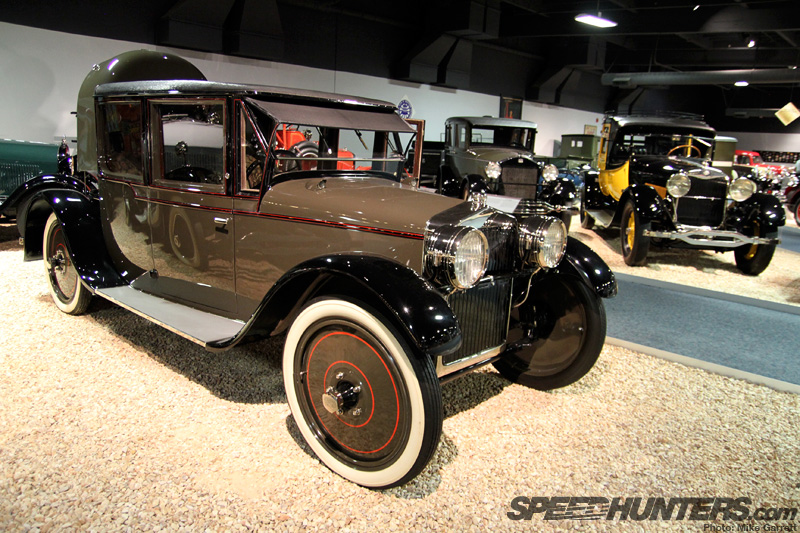 In addition to historically important cars, there are also many more experimental vehicles in the collection like this 1925 Julian…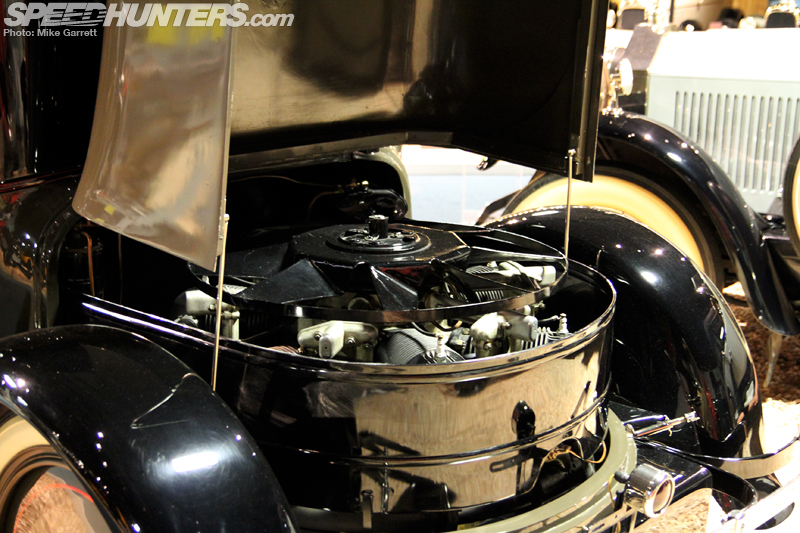 …with its rear-mounted six-cylinder radial engine.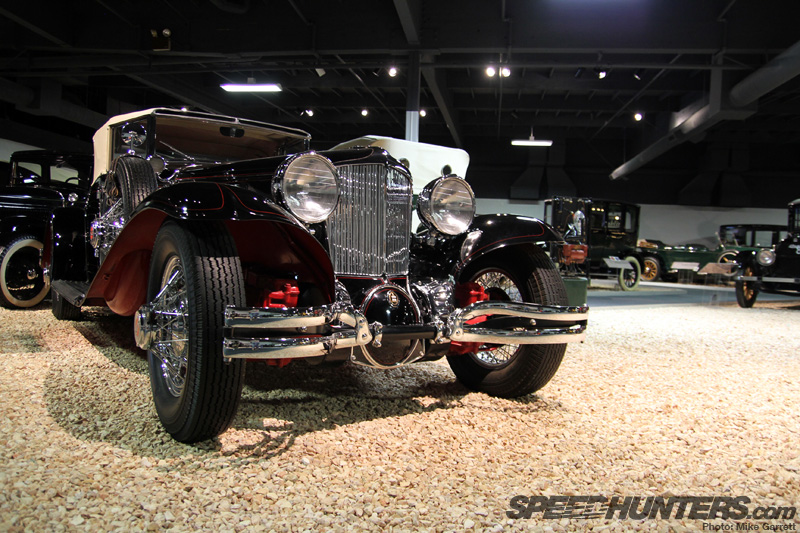 This 1931 Cord is typical of the extravagant pre-war cars found in the collection.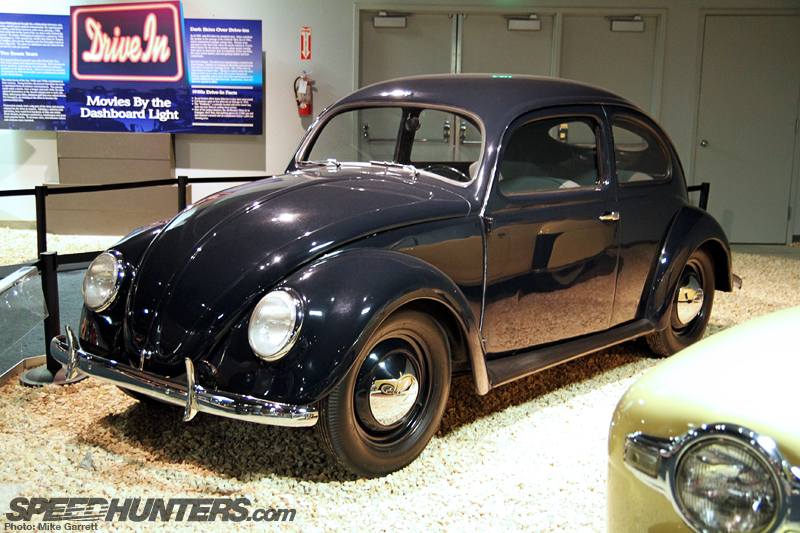 Fast-forwarding a decade and a half and moving to a completely different class of car we have a 1947 Volkswagen Beetle. As the inclusion of this VW suggests, Mr. Harrah's collection was about much more than just high end vehicles from around the world.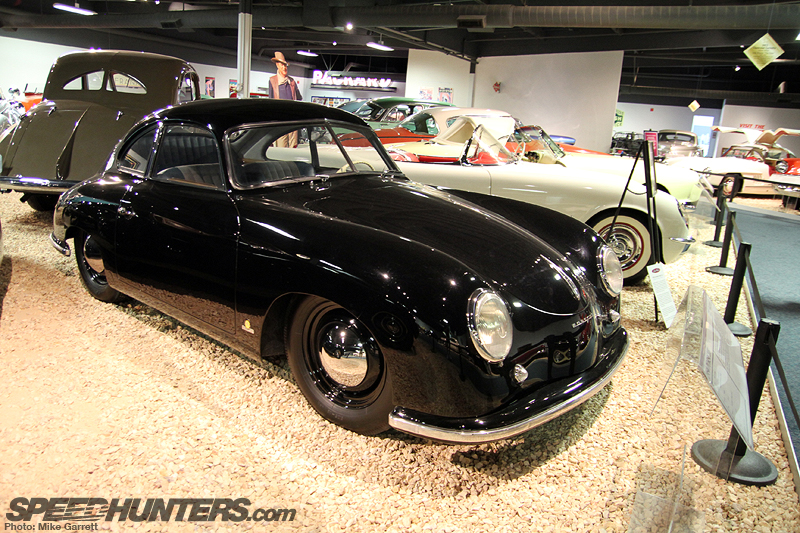 Squash and widen the aforementioned Volkswagen just a bit, and you have this 1950 Porsche 356 Coupe.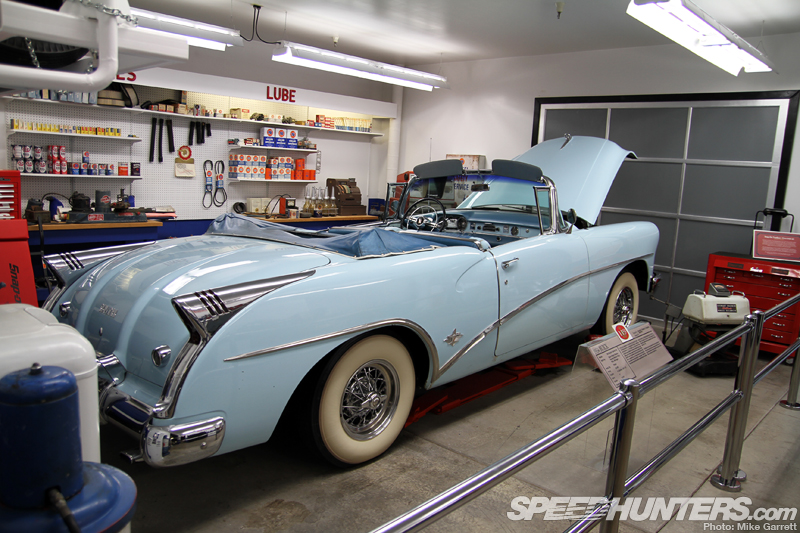 Here's a '54 Buick Skylark tucked into a nice recreation of a period garage.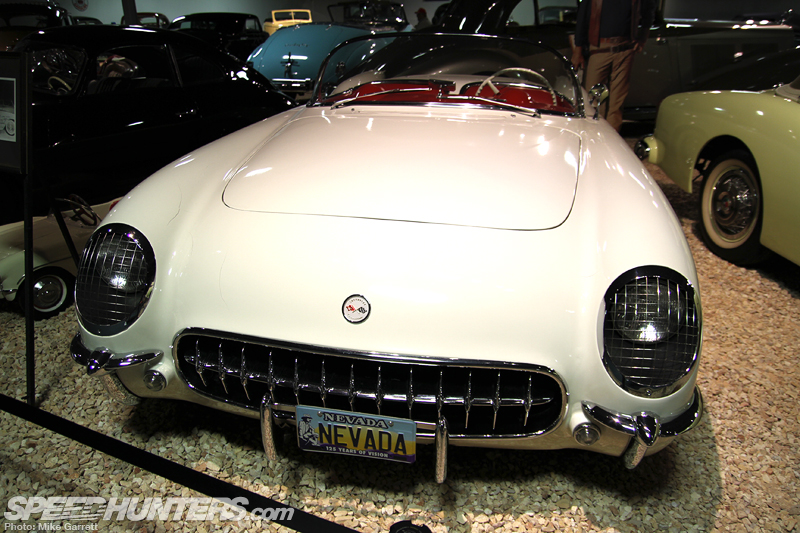 The museum includes several cars that were once owned by famous personalities, like this Corvette originally purchased by John Wayne in the fall of 1953.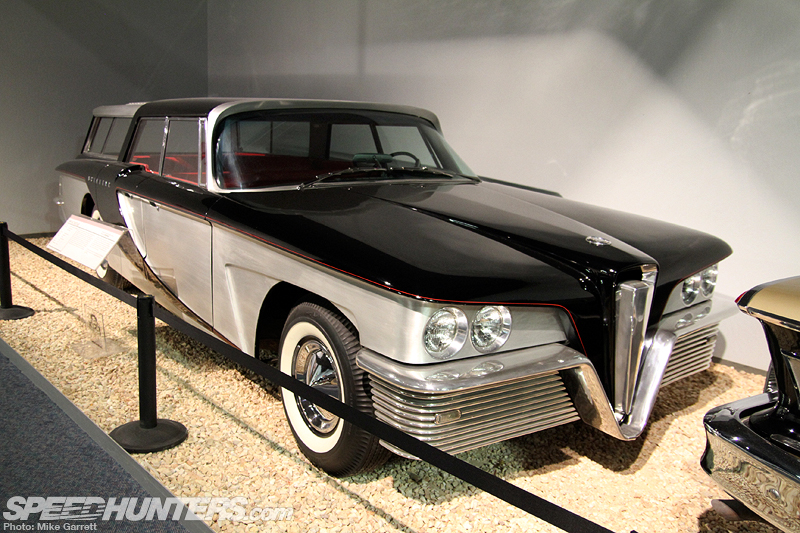 This strange looking wagon is a 1959 Scimitar, a highly stylized car built over the guts of a a '59 Chrysler New Yorker.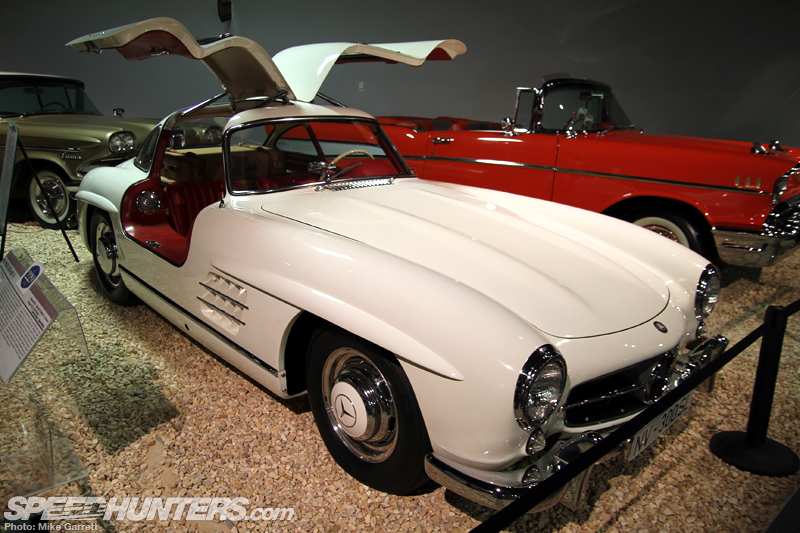 The collection is so rich in terms of cars that to see this '56 Mercedes Benz 300SL among the bunch is totally natural.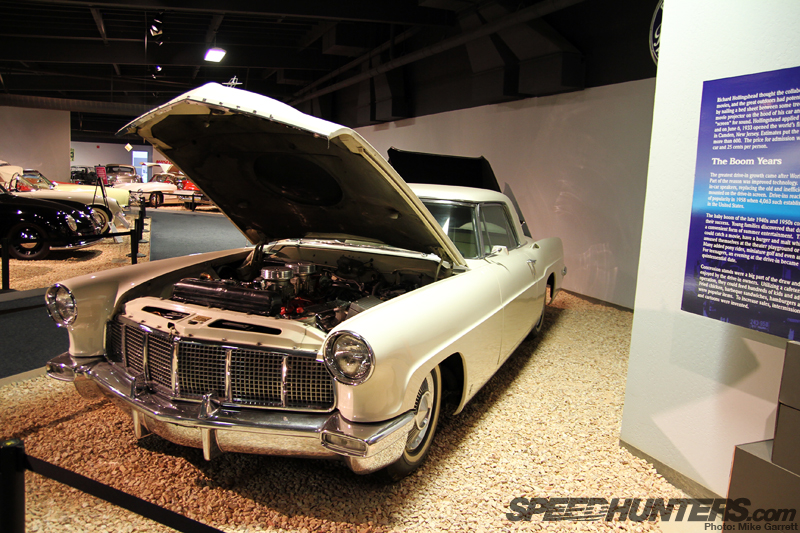 It seems that Mr. Harrah had a bit of a Hot Rodder's edge to him. This 1956 Lincoln Continental was purchased by him new, and looks totally original on the outside.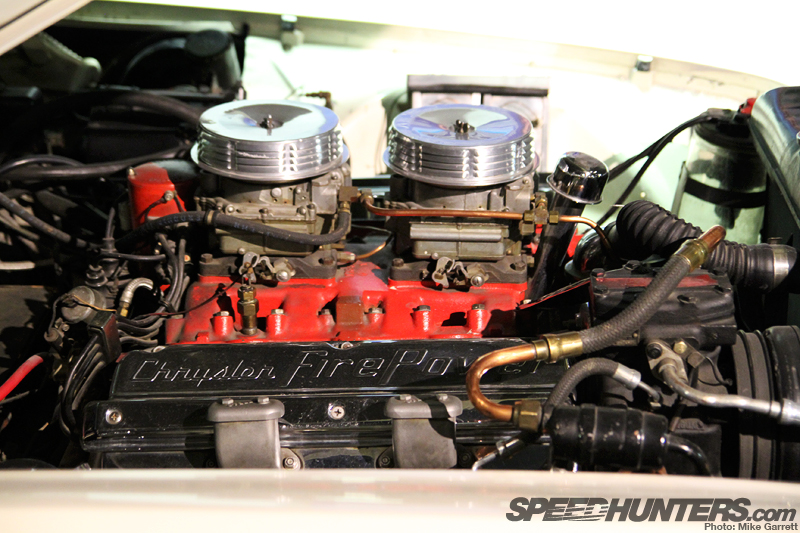 Under the hood though, you'll see the 1958 Chrysler Hemi engine he had swapped in, supposedly making around 400 horsepower.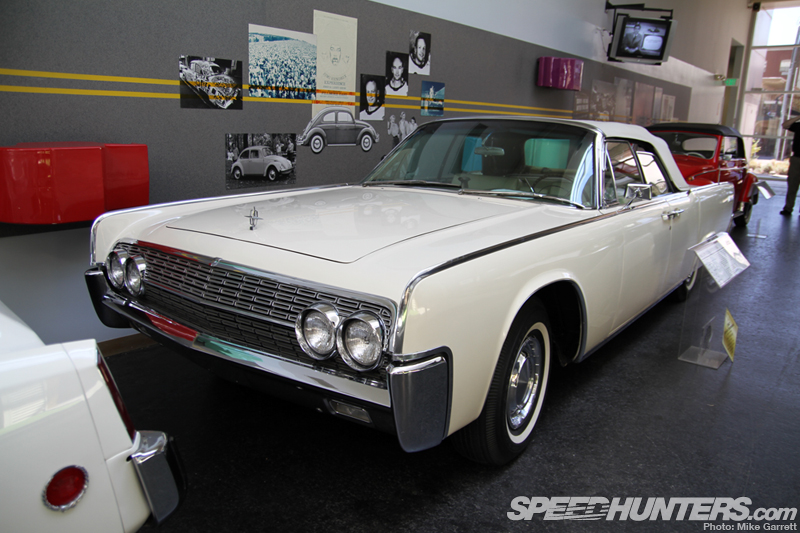 Other cars with famous owners include this 1962 Continental that was once assigned to President John F. Kennedy.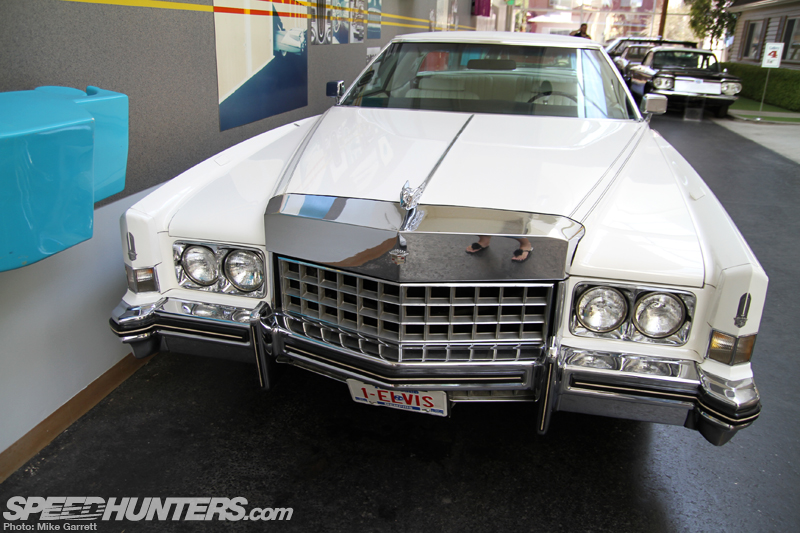 Here's a '73 Cadillac Eldorado that was owned by Elvis Presley before he decided to give it to his Karate instructor. I did not know that Elvis was a 7th degree Blackbelt until I read the information presented with this car…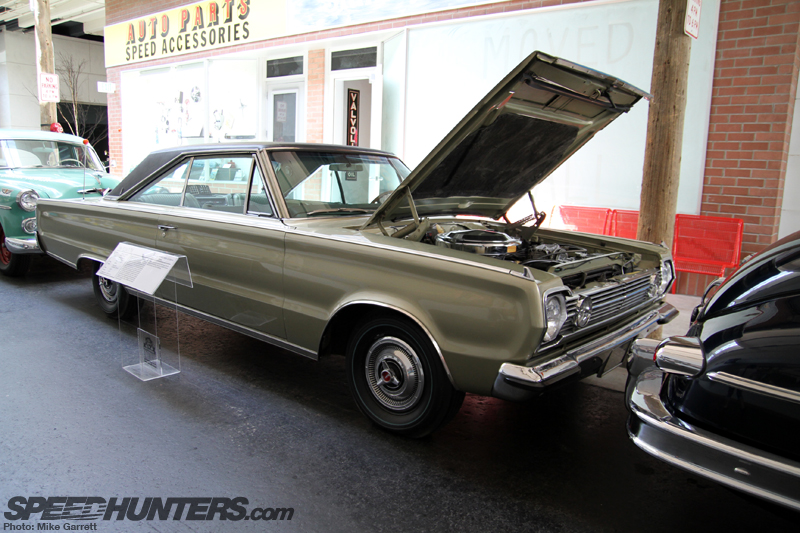 Bill Harrah special ordered this Plymouth Satellite  in 1966.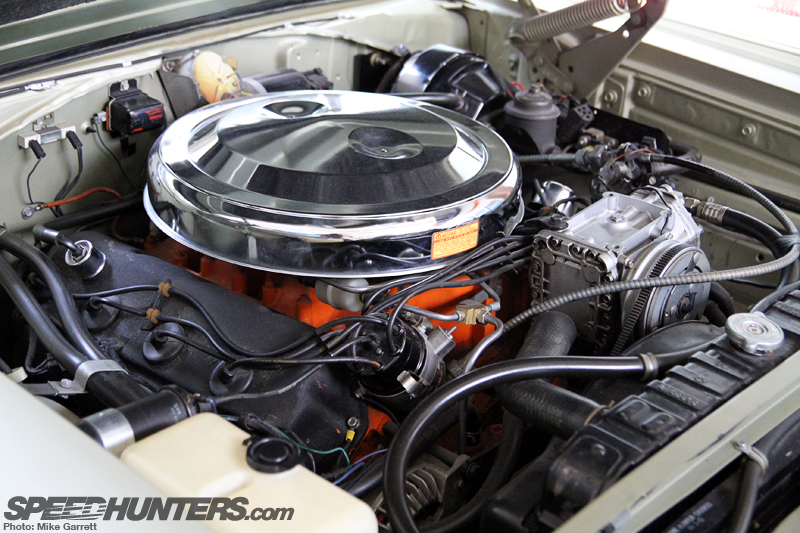 Naturally it's equipped with a 426 Street Hemi (with one of the first air conditioning units offered with the Hemi).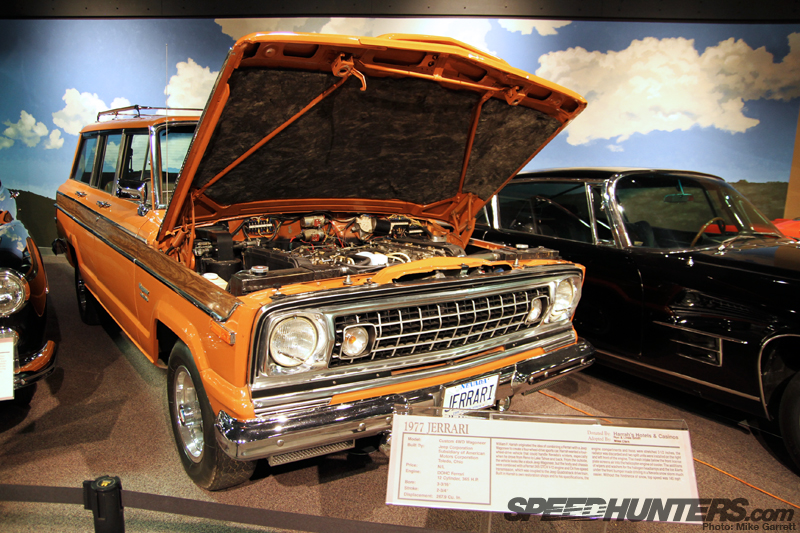 One of the strangest, and also one of the coolest vehicles at the museum is this 1977 Jeep Wagoneer that Mr. Harrah had built in his own restoration shop.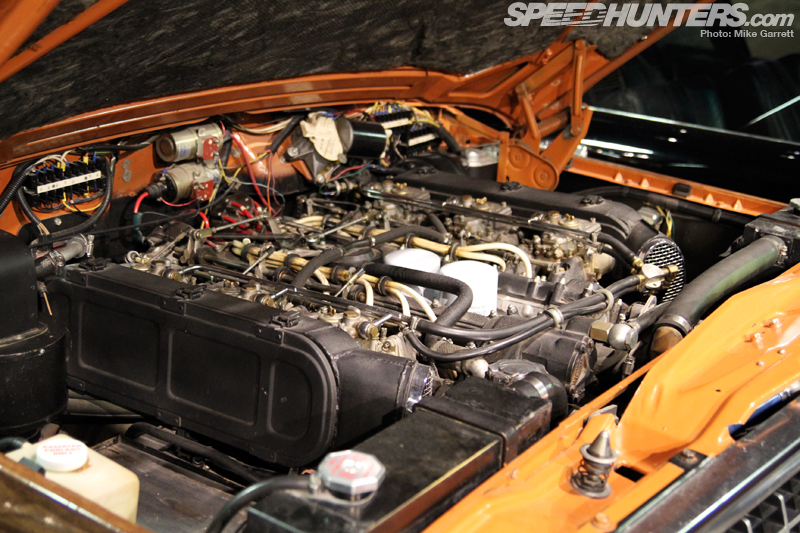 It's powered by a V12 engine from a Ferrari 365 GTC/4 mated to the Jeep's original four-wheel drive system. The idea for the Jeep was to to be driven between Reno and Tahoe with comfort and performance, even during heavy winter storms.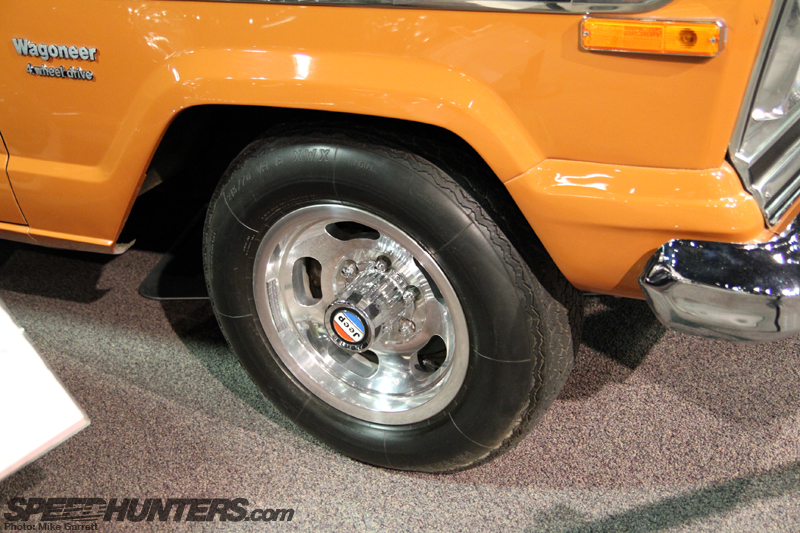 Outside of the exotic engine swap, the Wagoneer is otherwise completely stock looking.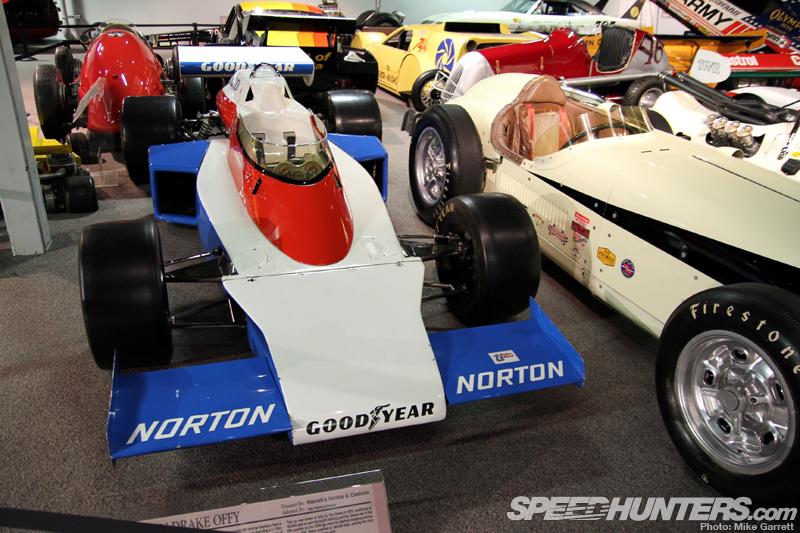 While race cars aren't the main focus of this museum, there is still sizable display of them on hand.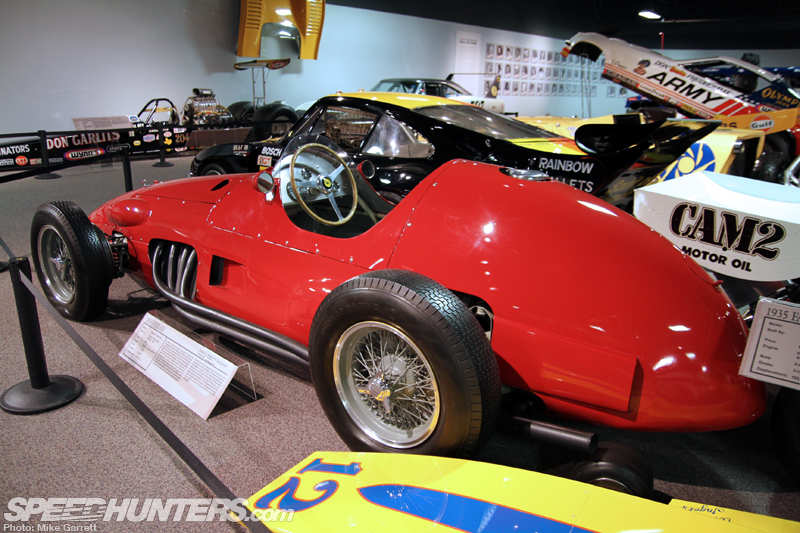 Among the bunch is this Ferrari Type 625 Grand Prix from 1955.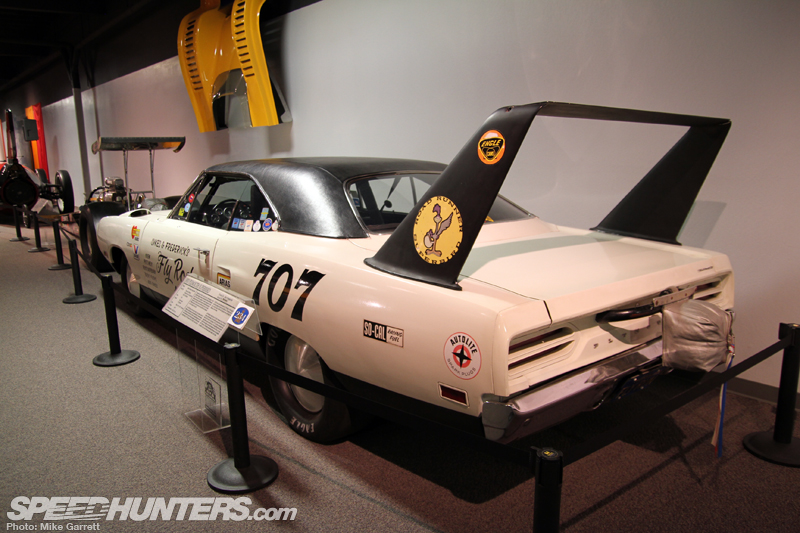 This Hemi-powered Plymouth Superbird is a Bonneville record holder, with a best speed of 216.392 MPH set in 1987.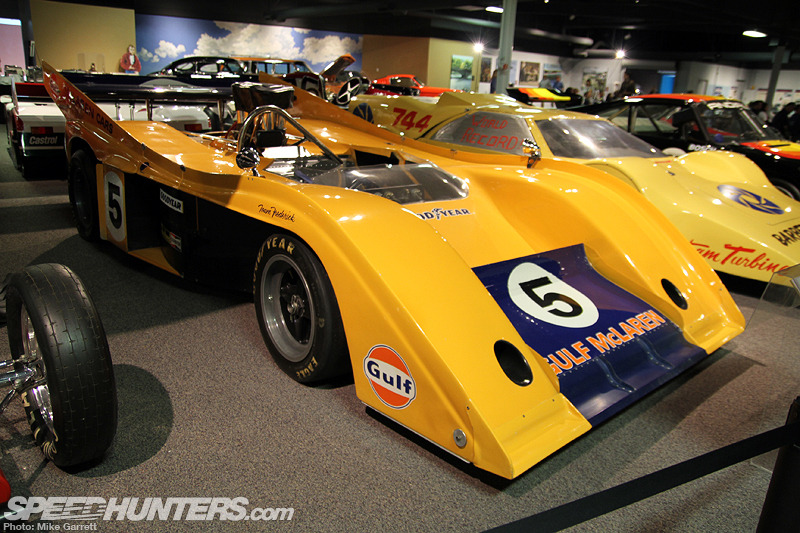 A McLaren M20 Can-Am car is another worthy addition to the race car section.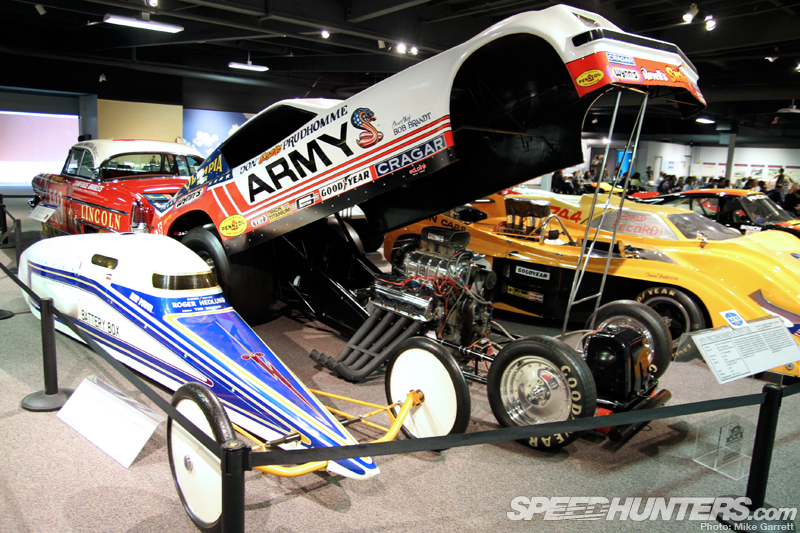 Drag racing fans will be happy to see Don "The Snake" Prudhomme's Army-sponsored Chevy Monza Funny Car on hand. This mid 1970s are considered to be the glory days of Funny Cars by many, and this one of the most recognized cars from that era.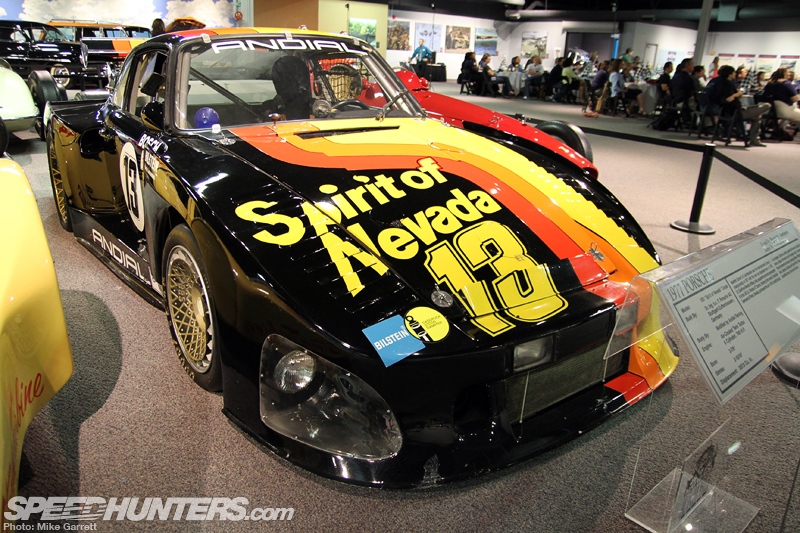 One of my favorites was this Porsche 935 that won the Group 5 championship in 1977. It eventually found itself in the hands of Reno's Randolph Townsend, thus the "Spirit of Nevada" livery.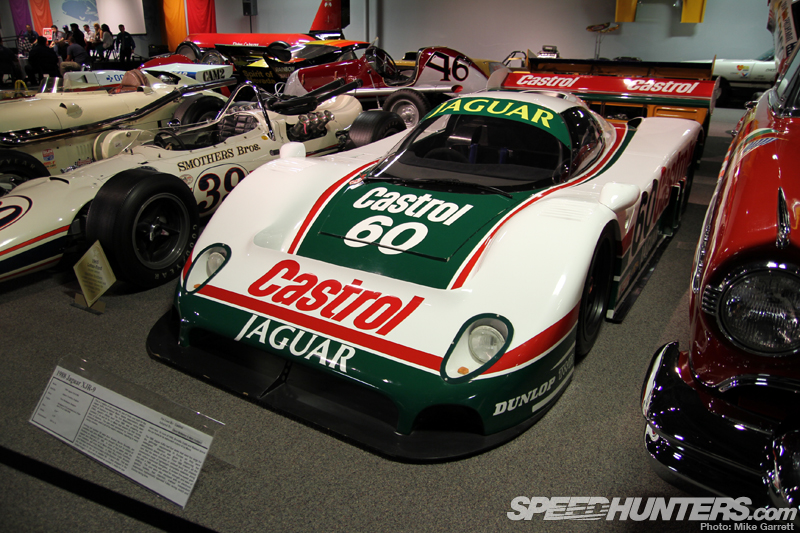 Finally, a replica of the Jaguar XJR-9 IMSA car from 1988, on loan to the museum from Castrol.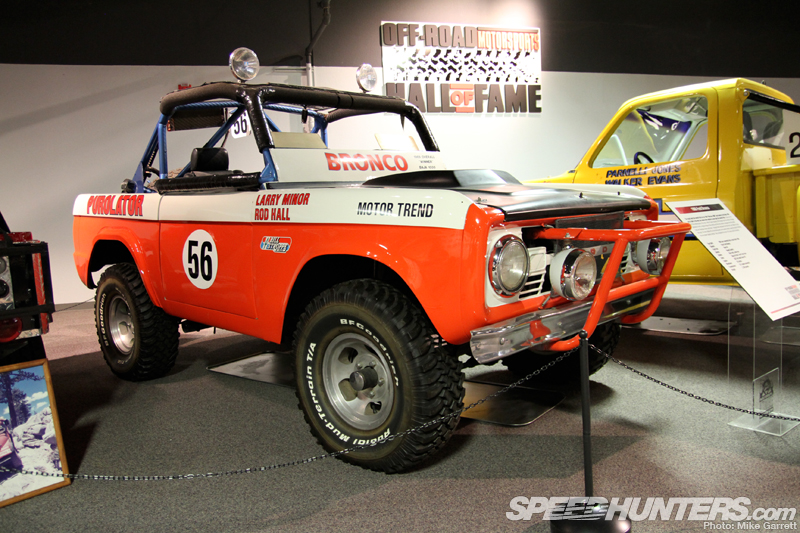 In addition to the normal race cars, there's also a section of the museum that houses the Off Road Motorsports Hall of Fame. It includes historic off road competition vehicles like this Ford Bronco that won the 1969 Baja 1000.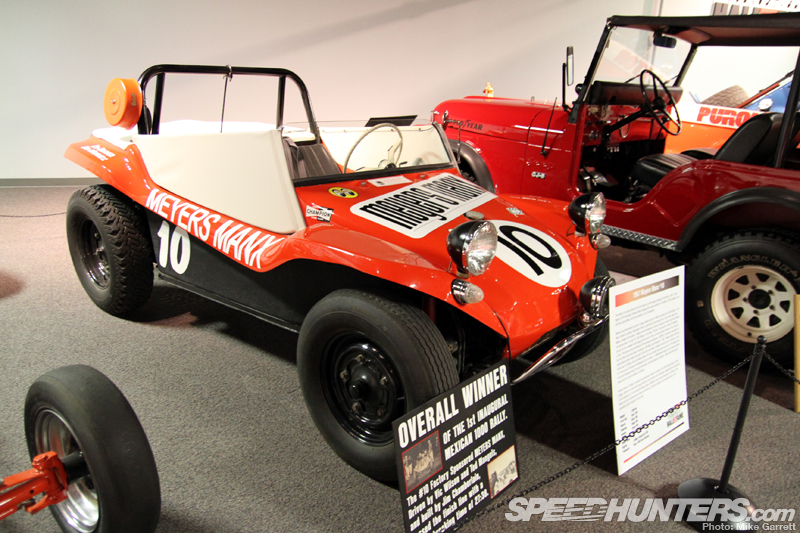 There's also a replica of the Meyers Manx that won the very first Mexican 1000 in 1967. The location of the original race-winning car is currently unknown.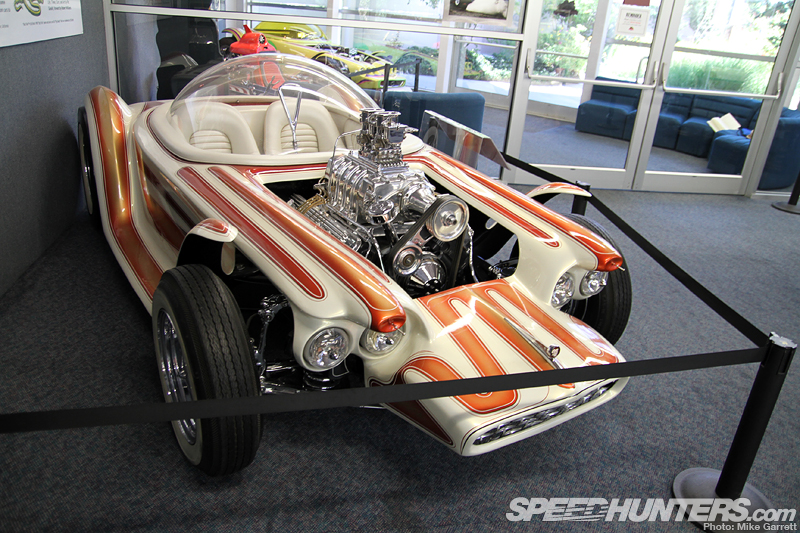 Rod and custom fans will instantly recognize the Beatnik Bandit, the famed bubble-top show car built by Rat Fink creator Ed "Big Daddy" Roth.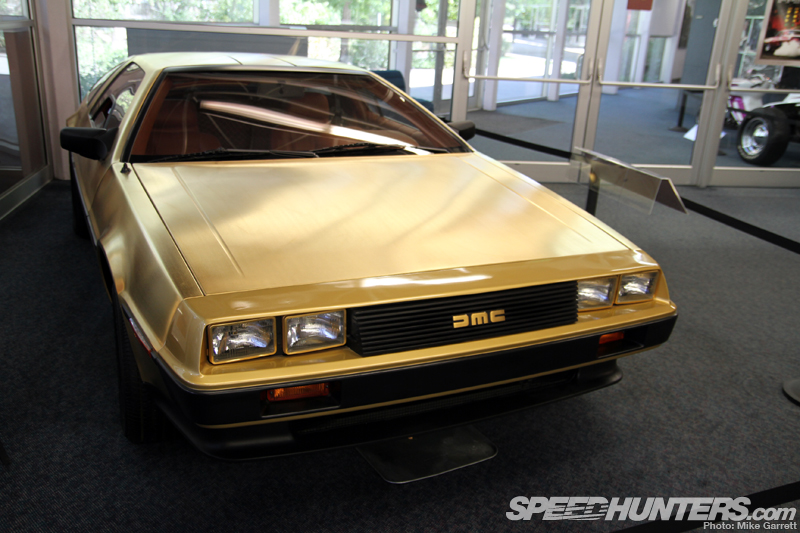 I'll finish up with this 24-karat gold coated Delorean, one of just two examples ever built. The gold Deloreans were used as part of a campaign for the American Express "gold" card in 1979.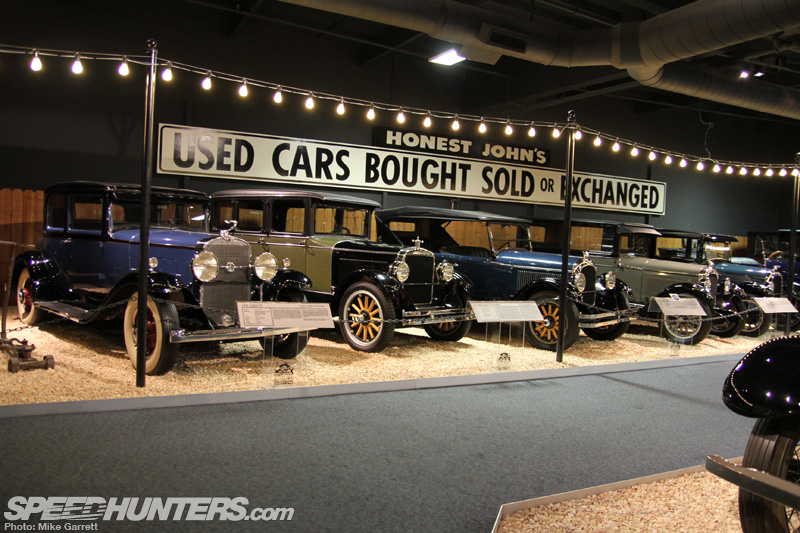 If you ever find yourself in downtown Reno with a couple hours to kill I highly suggest a visit to the National Automobile Museum for a trip through Mr. Harrah's crazy world of cars.
-Mike