In my journey as a Speedhunter I've had the chance to witness some truly amazing events. The wall to wall crowds of Tokyo Auto Salon, the insanity of the Formula Drift championship, the brutal power of nitro Funny Cars, and so much more. Never though have I been more more intimidated by an event than Bonneville Speed Week.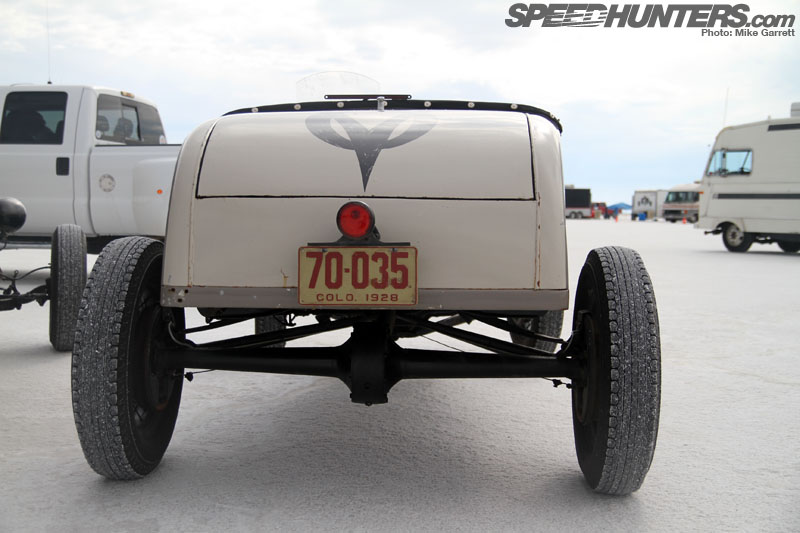 Earlier this year when I agreed to cover Speed Week I was one part excited and one part frightened. In the months and weeks leading up to now I spent hours online researching what to expect and going over how I would tackle this event in my head. "Why?", you ask? Well. there are number of reasons.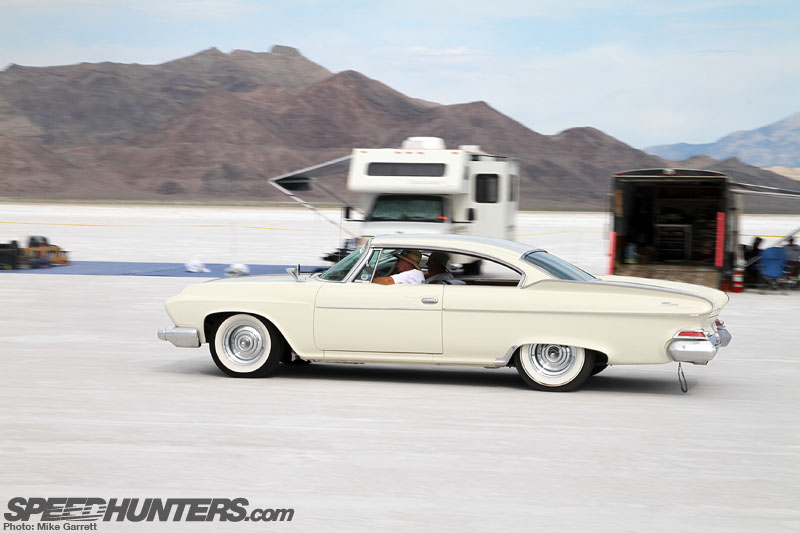 First off, there the physical challenges of being on the salt for a few days. Bonneville is unlike anywhere else on earth, and never before had I heard so many pieces of advice and warnings leading up to an event. "Pile on the sunscreen like you never have before." "Wear the darkest sunglasses you possibly can". "Bring twice as many cold drinks as you think you might need", and finally "The salt will ruin your car".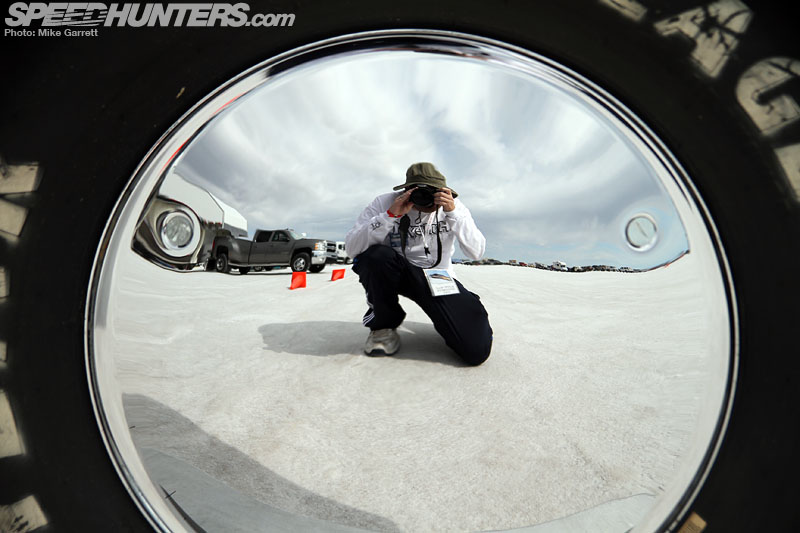 Needless to say, I've never done so much mental and physical preparation ahead of an event. Here's a self portrait I snapped earlier today through a gleaming Moon Disc. It's the middle of summer  in the desert and I'm wearing long pants and a long sleeve shirt and two pairs of sunglasses. Perhaps the long pants aren't necessary, but after hearing more than one story of the sun reflecting off the salt and scorching one's nether regions, I decided to leave my shorts in the suitcase.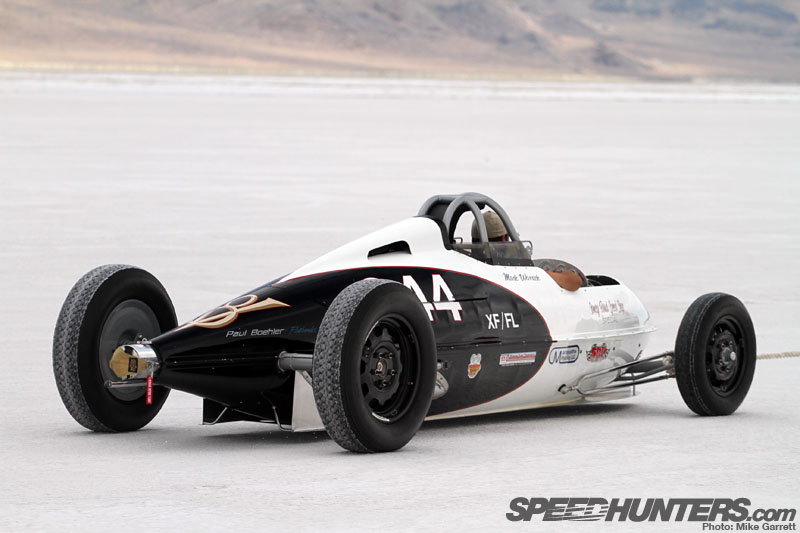 Beyond that, there was the challenge of actually covering the event. Speed Week is massive in both its physical size and its importance and I am the lone Speedhunter on the salt this year. Could just one guy effectively convey all that happens here? The short answer is "No". No one person, or even group of people could ever tell the full story of Bonneville.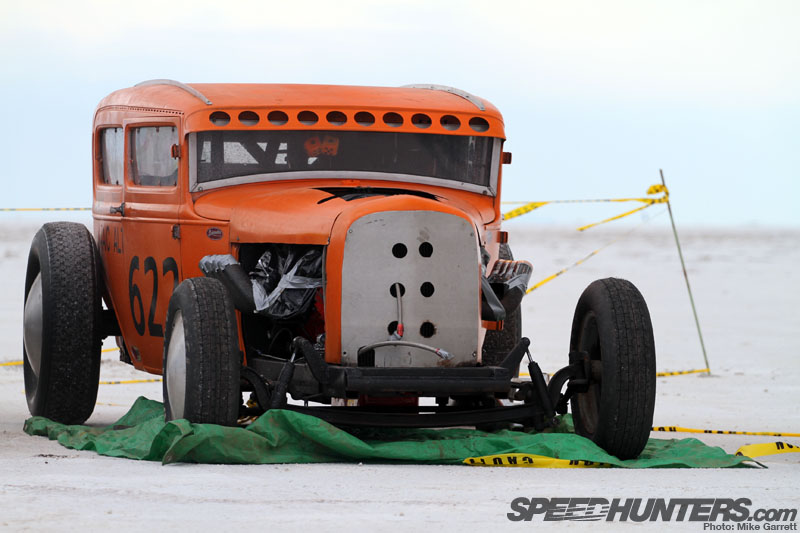 There are just too many cars, too many stories , and too much magic here. Still, I'm going to do my damnedest to convey the Bonneville experience as best a first-timer can.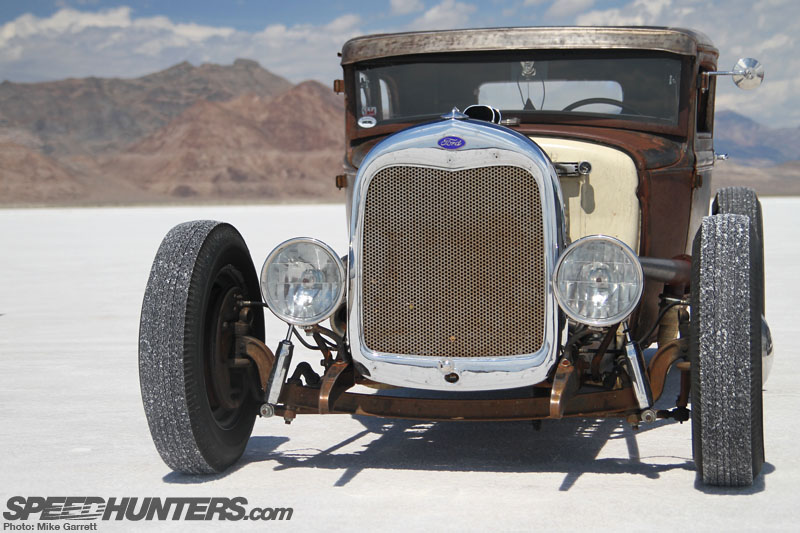 I'll share some more of my "deep thoughts" about Bonneville in another post, but for now I want to share my experiences from day one and a few initial observations.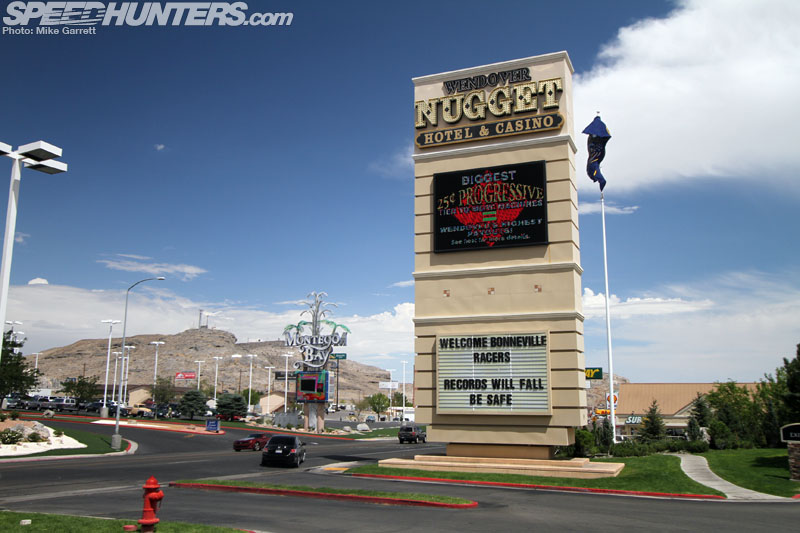 I arrived here in the town of Wendover this morning after a short drive in from Elko. Before you even get to the salt flats you can feel that Speed Week is in the air. The thousands of people that Bonneville draws every year is a massive part of Wendover's economy and the the racers are welcomed with open arms (and astronomical hotel room rates).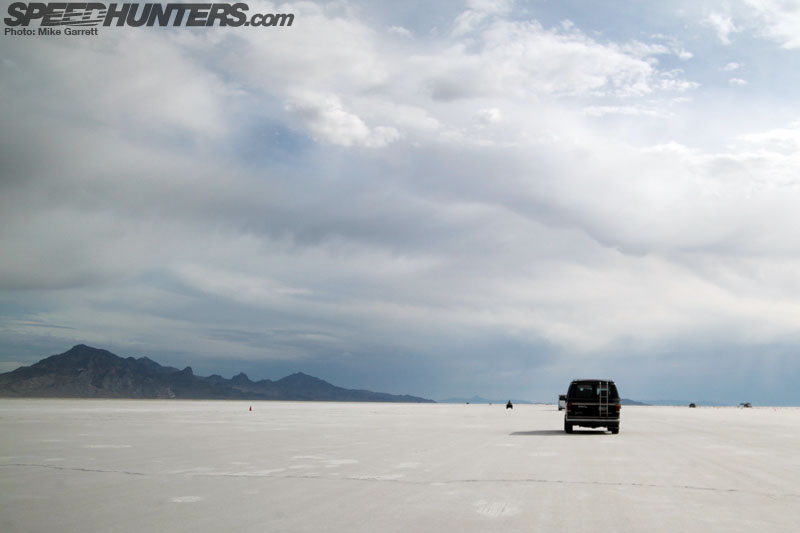 A short time later, I was driving down the long salt road to the Speed Week pit area. The wait was over.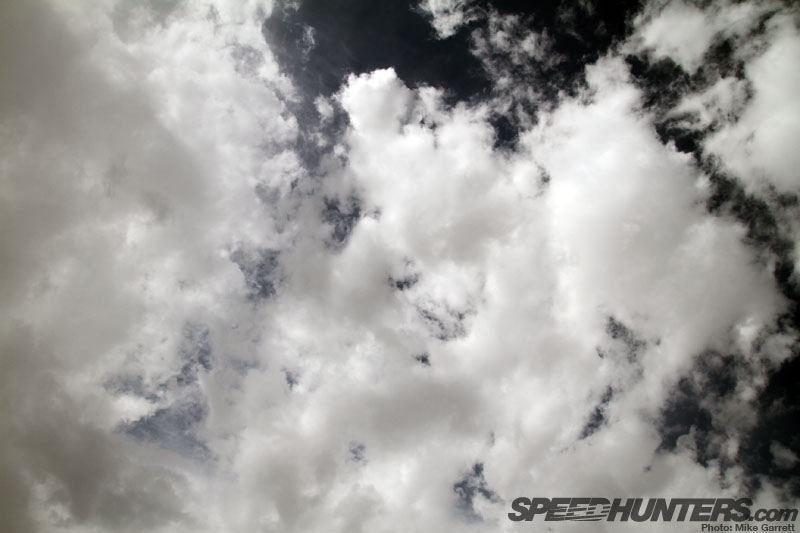 Today's weather has actually been a bit strange, with dark clouds hanging overheard for most of the day. In fact, as I write this there are thunder storms looming outside my hotel window. Tomorrow's forecast is said to be clear and sunny though.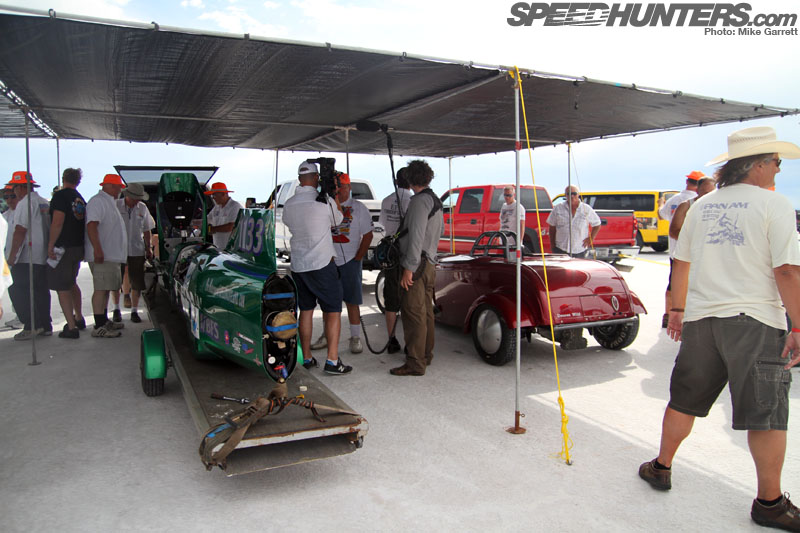 There was actually no racing on the salt today, as Friday is all about technical inspections and performing last minute work on the cars before runs begin tomorrow morning.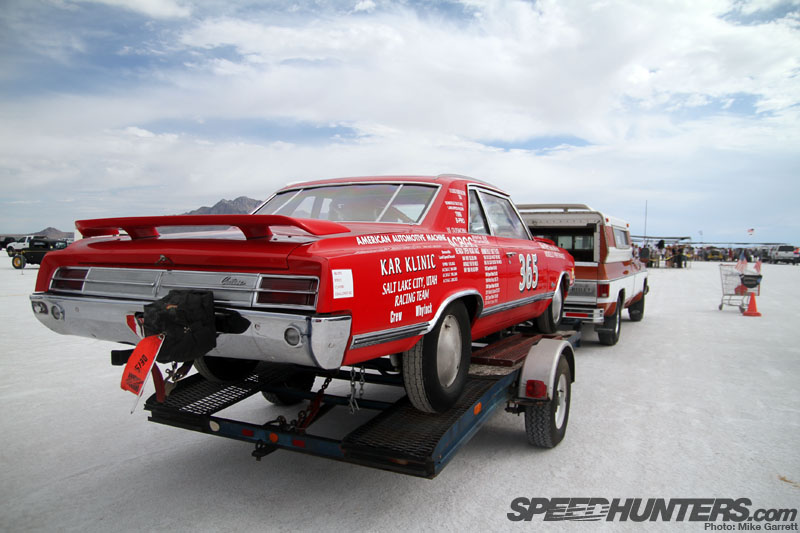 After grabbing my press credentials from the super friendly SCTA staff, I began to wander around the pits and get a feel for the place – trying to catch my bearings in a sea of automotive madness.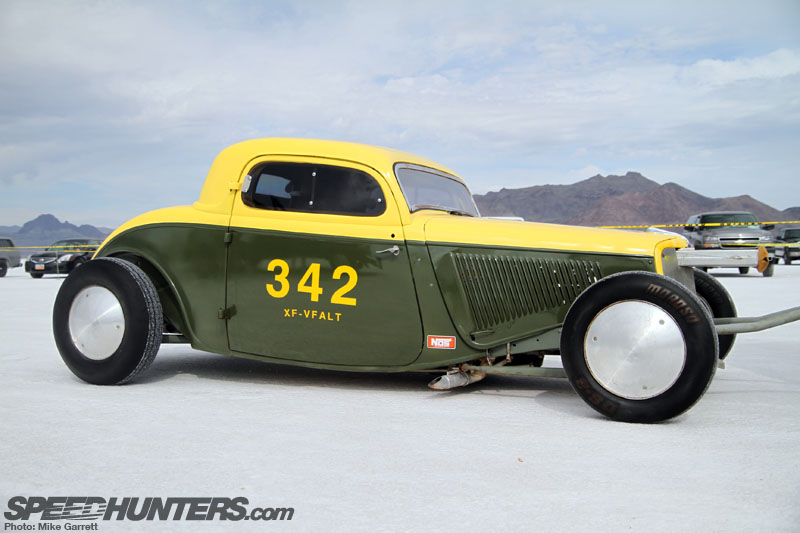 Of course when I say "wander" I'm not talking about walking. I'm not at all opposed to burning some calories while Speedhunting, but the pits at Bonneville are a few miles long. A car or a minibike is a must for getting around here.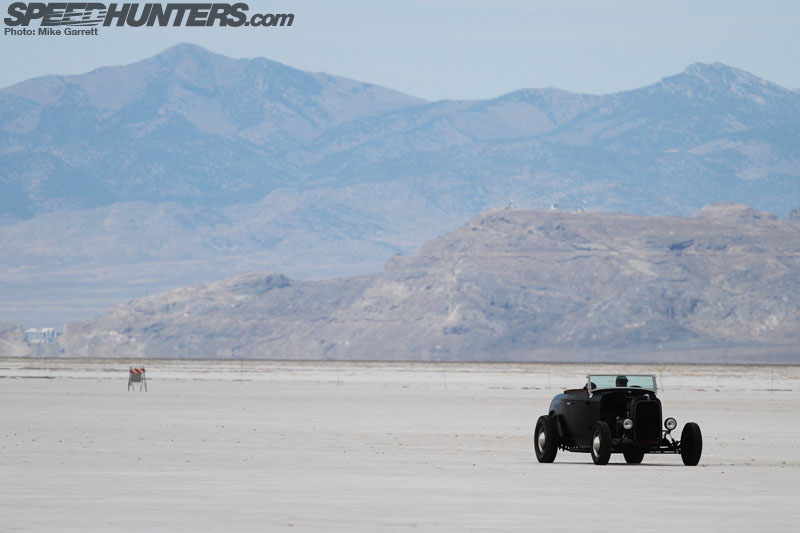 There's really no better way of getting around the Bonneville pits than by Hot Rod. Some are driven here thousands of miles across the country, while others are towed behind the RVs that make up the makeshift camping city at the  "The Bend".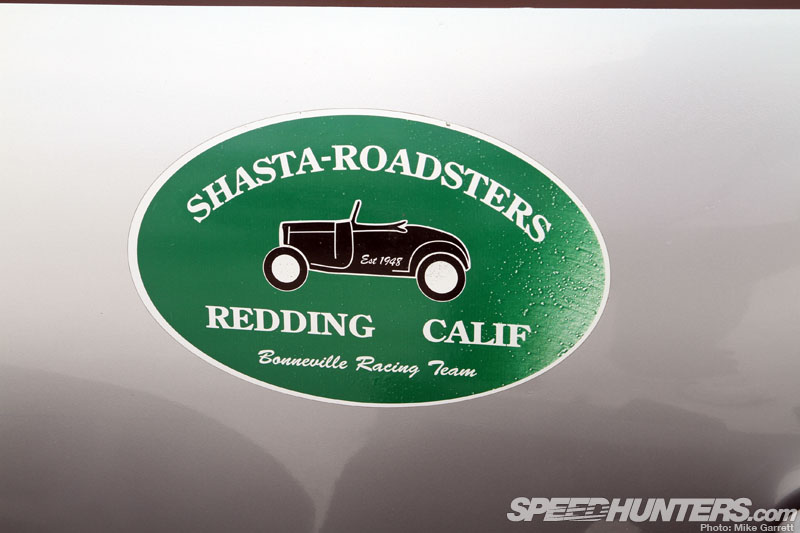 Just glancing at the license plates or decals affixed to the cars, you sense the importance of Bonneville as gathering spot for speed freaks and Hot Rod heads from across the United States.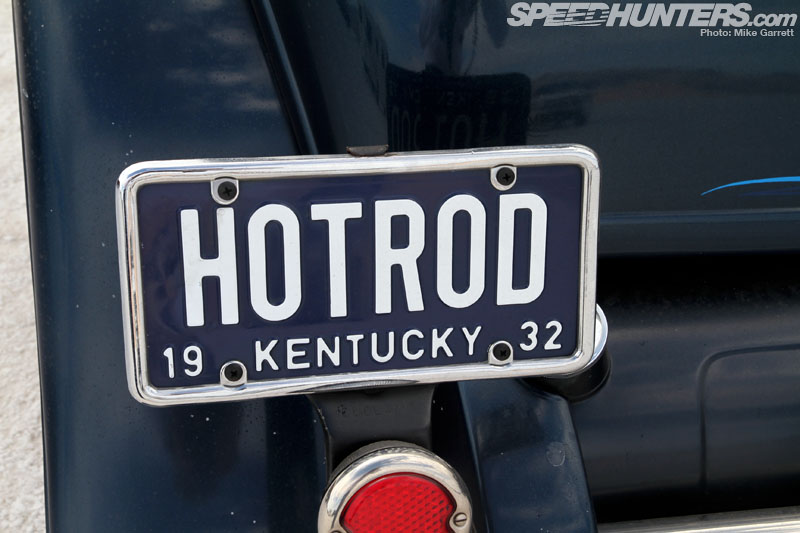 With so many people making the long journey to meet at the salt, it actually makes the United States seem smaller than it really is.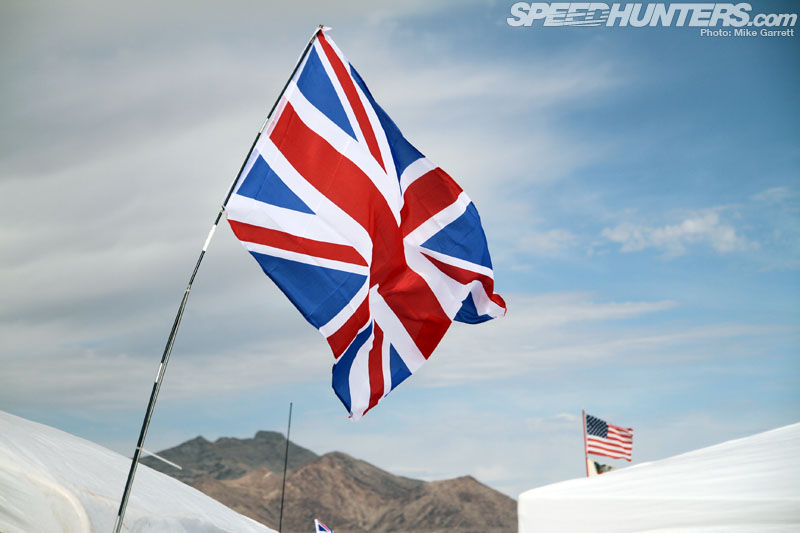 But more than that, Speed Week is a global event. I knew there are many international teams that compete, but the diversity in the pits really surprised me. Teams proudly fly their country's flag above their pit area, making it seem like the Olympics of Speed.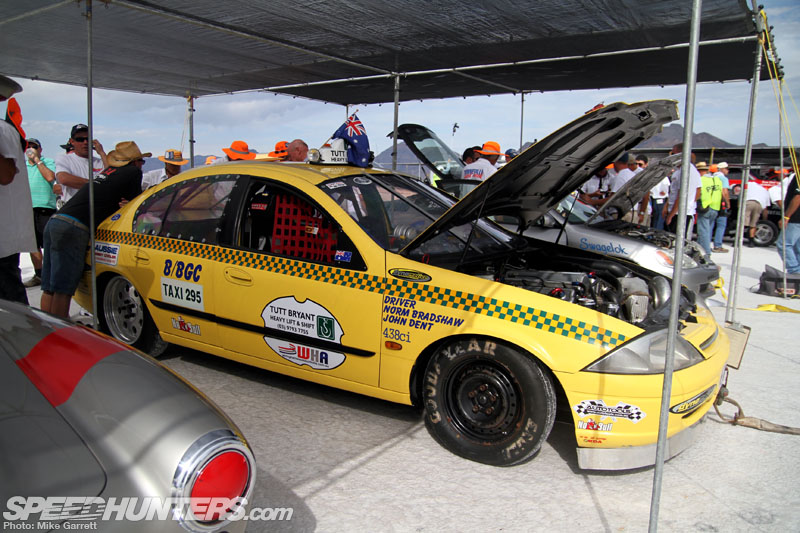 Speaking of international competitors, while in the tech area I came across a car that looked very unfamiliar to my American eyes. A closer look revealed it to be an Australian market Ford Falcon taxi built for top speed competition.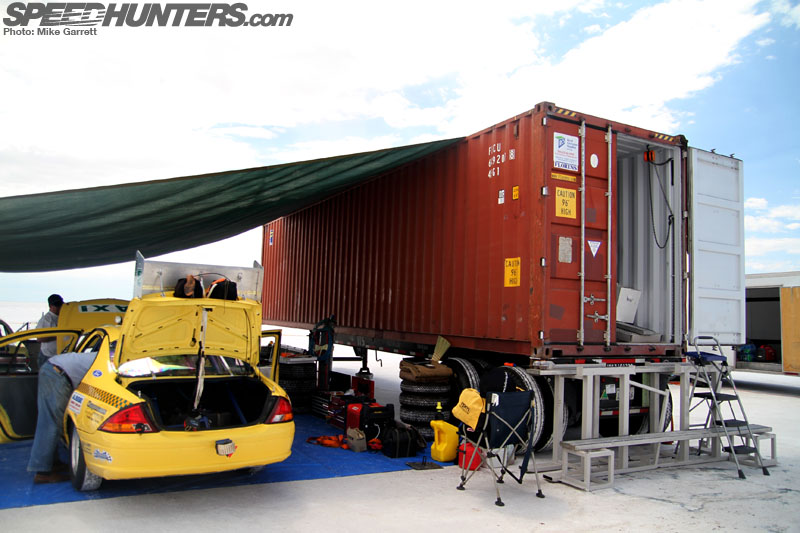 The Ford was actually part of a large Aussie contingent with a complete 40 foot container and a few vehicles…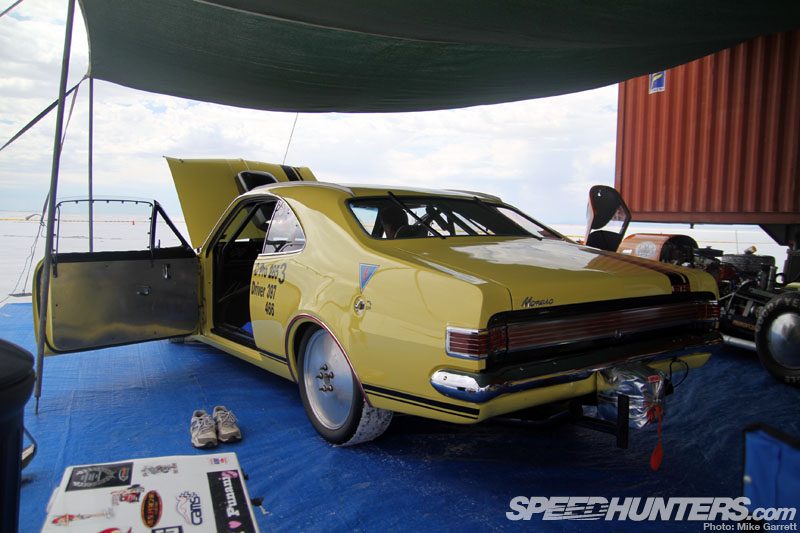 …including a vintage Holden Monaro GTS!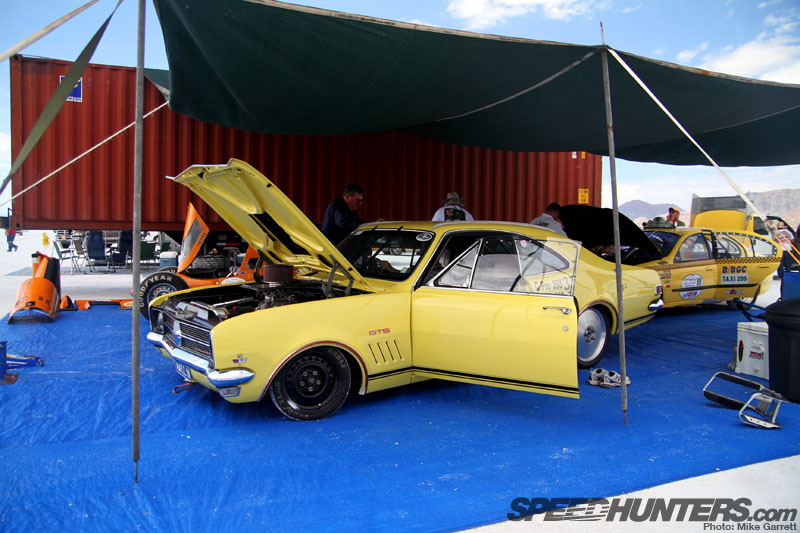 I've never seen one of these classic Aussie Muscle Cars in person before, so this was quite special to find one here on the salt.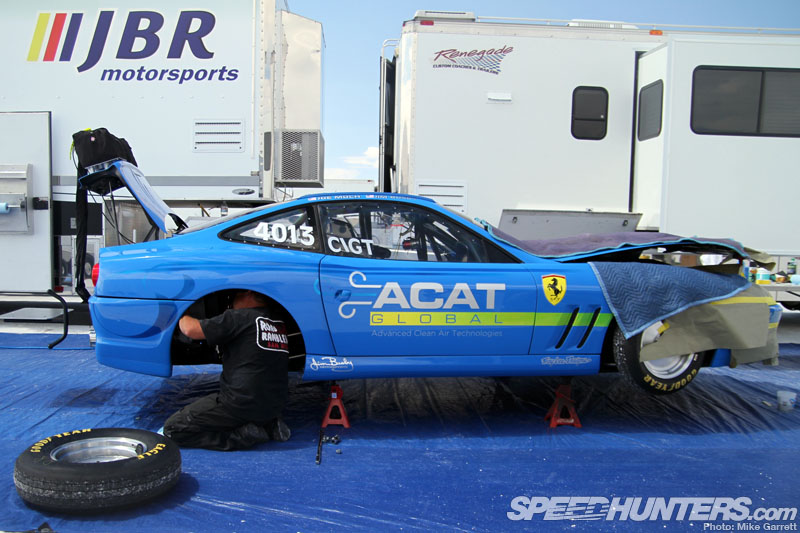 A little way down the road is another machine you don't really associate with salt flat racing – a Ferrari 575.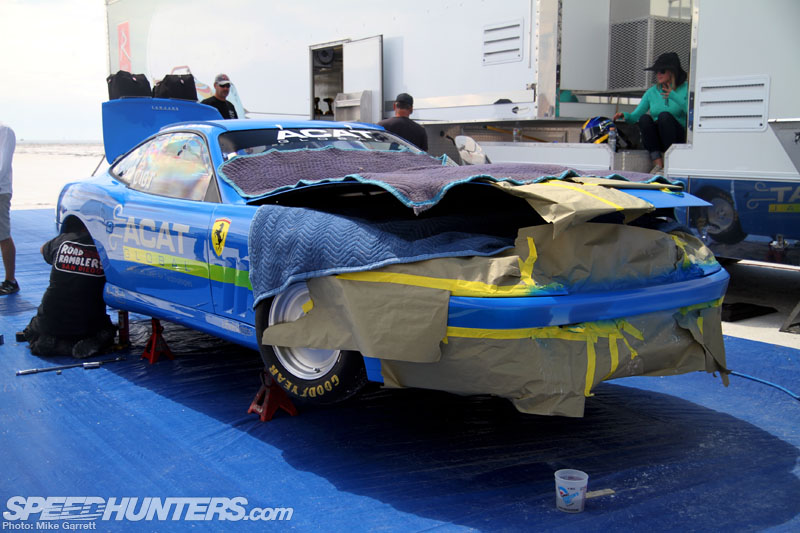 Built by JBR Motorsports and sponsored by ACAT Global, the Ferrari will be attempting to break a record in the C/GT class.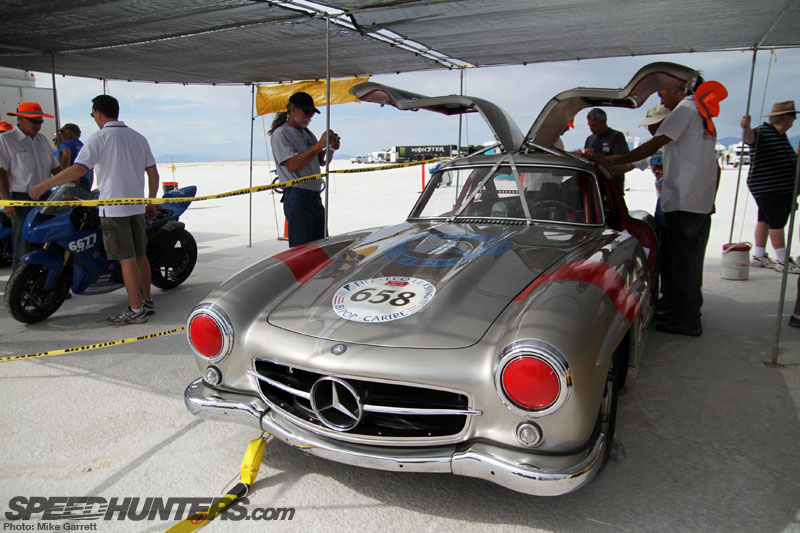 Also taking to the track in the Grand Touring Sports division is this 1955 Mercedes Benz 300SL. Not sure what Mercedes purists would think about this, but I love it.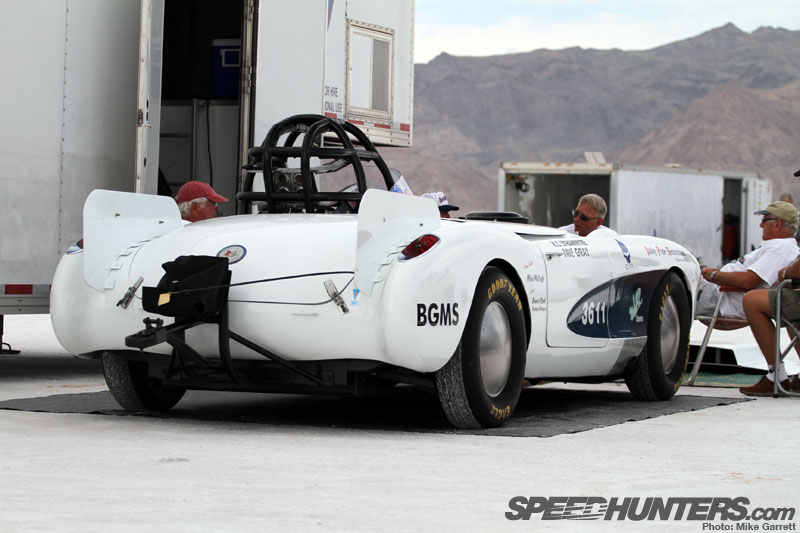 Of course people come to Bonneville to break records, but you can sense that the event is as much about camaraderie as it is timeslips – even for the serious racers. Some were making adjustments to their cars, but just as many were sitting around telling stories and generally enjoying themselves.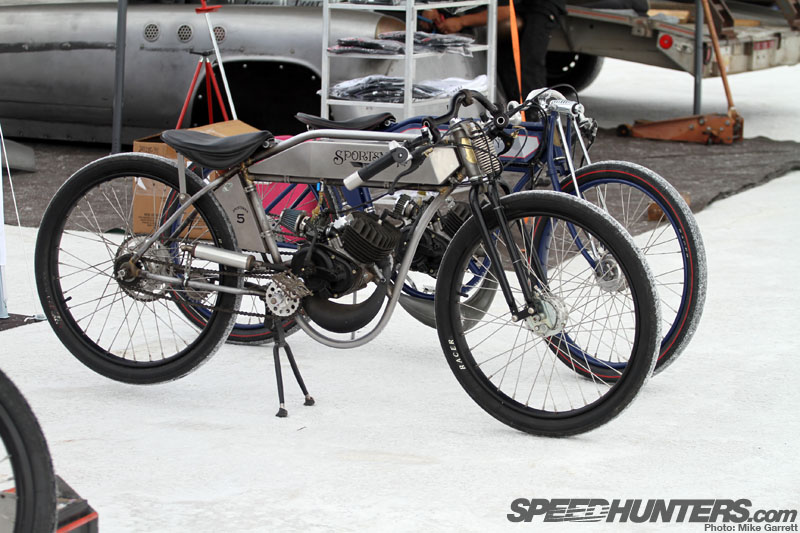 Even for the motorcycle-challenged like myself, Bonneville provides much two-wheeled eye candy to enjoy. Just like the cars, the salt flats are littered with vintage bikes.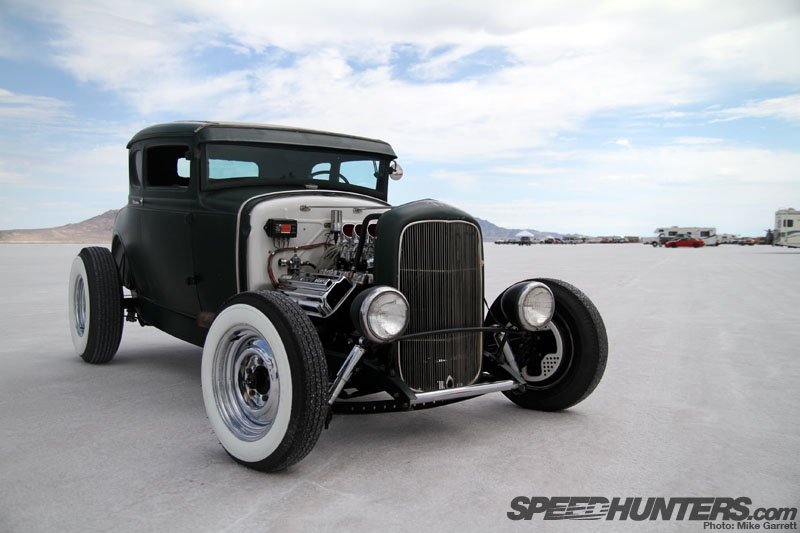 It needs to be said that Bonneville is amazing from a photography standpoint. I'm no Larry Chen or Sean Klingelhoefer when it comes to producing breathtaking images, but the salt makes it easy for damn near anyone to get the "good stuff". It almost feels as if you are cheating. The Hot Rodders know this, and regularly park their cars off to the side for themselves and others to snap photos.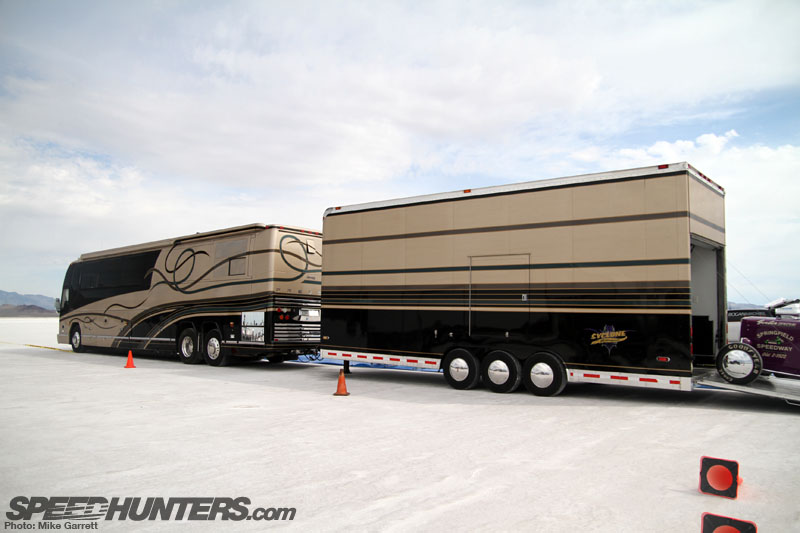 Some of the rigs people transport their cars in are as impressive as the race machines themselves. Others make do with beat up trucks and old RVs.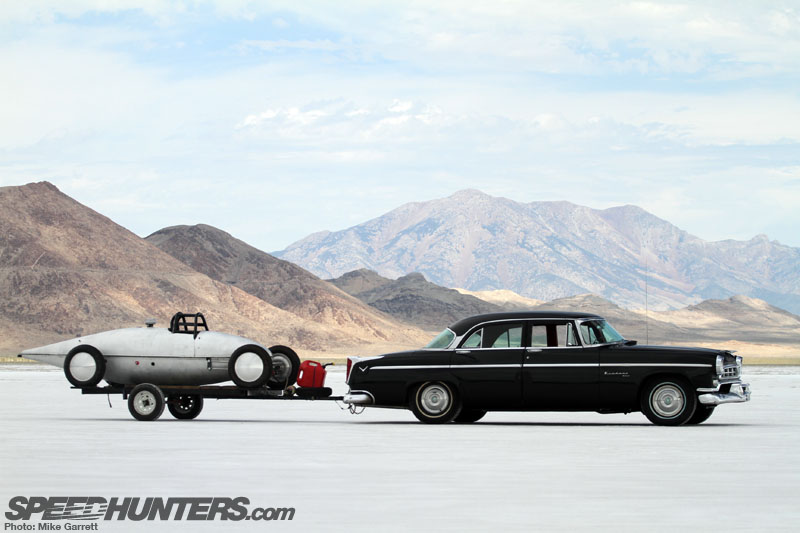 Then you have those people who like to keep their entire setup period correct, like this Belly Tanker being towed around by a big Chrysler sedan. Just too cool.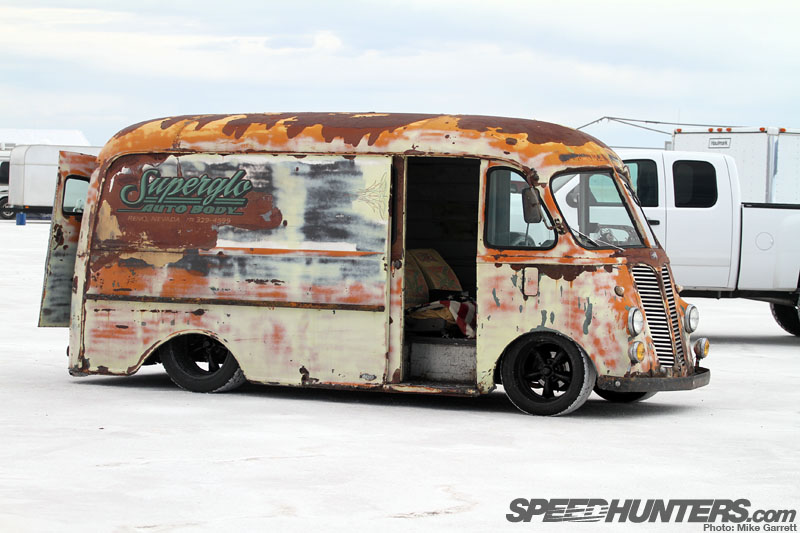 Bonneville is about so much more than just the racing. I saw more people stopping to check out this International truck than the streamliners.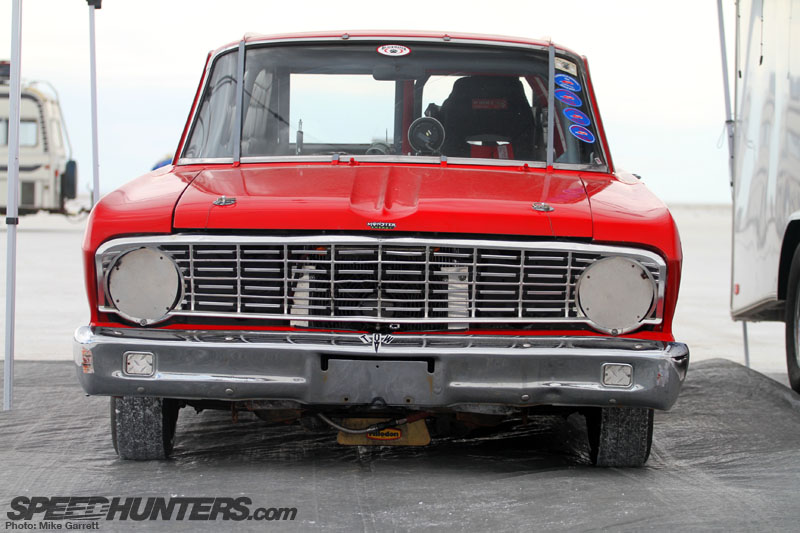 This little Ford Falcon may as well be showroom stock compared to some of the creations that will be taking to the salt in the coming days.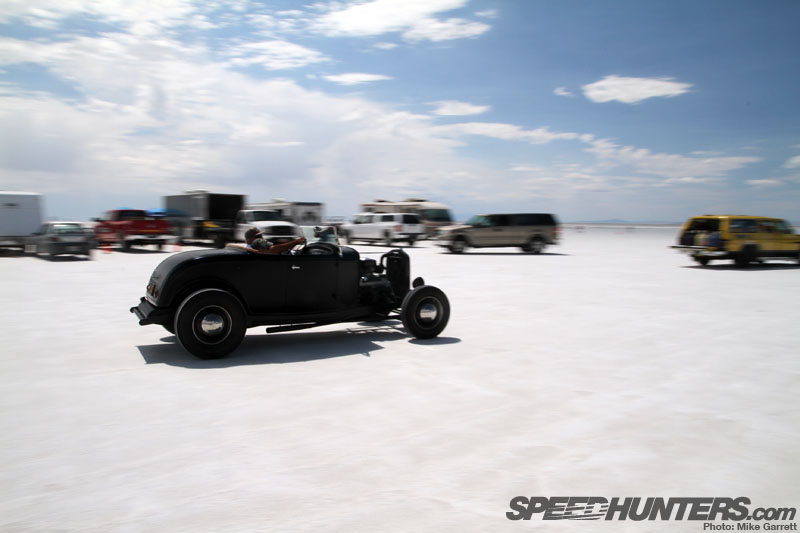 The one thing that was clear after my first day at Bonneville was that all those fears left my mind as I soaked in all that was happening around me. Yes you need to be prepared out here, but once you are on the salt it all comes easy. Like so many before me, I'm coming to learn what makes Bonneville so special.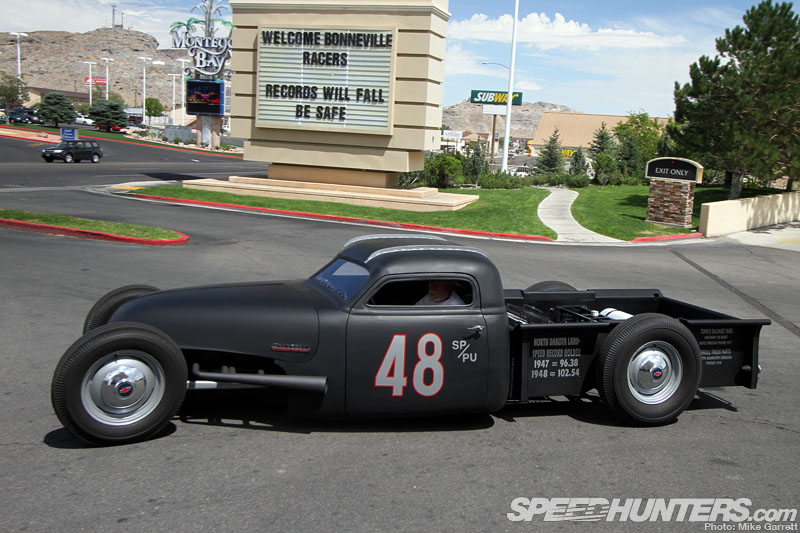 There's so much more that I want to share from Speed Week, but right now I'm going to wrap this up so I can head over to check out the nightly Hot Rod gathering outside the Nugget casino.
More to come!
-Mike