I may be composing this story from the plush confines of a resort hotel, but my time in Reno so far has been anything but a leisurely vacation. Not that I'm complaining at all, as I've had the opportunity to see some very cool stuff over the last 24 hours or so.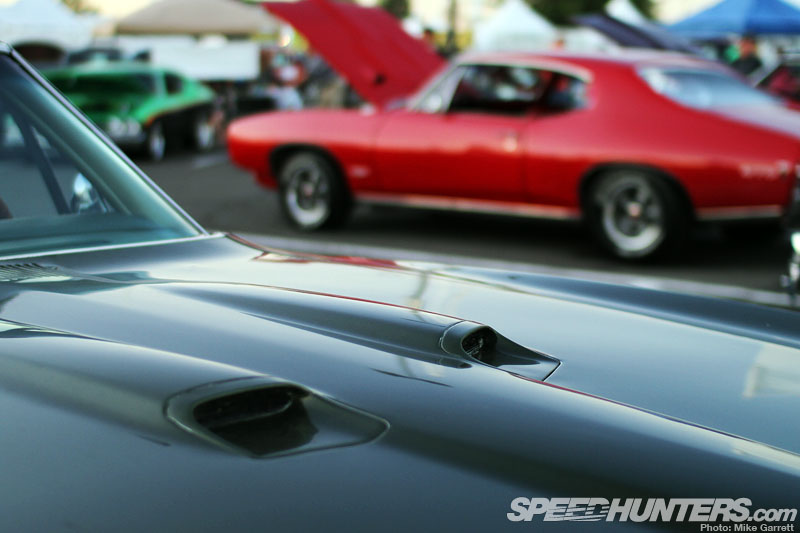 Yesterday was my first full day in town and I spent the it exploring some of the other Hot August Nights activities spread around town, as well as hitting up some local Speedhunting destinations.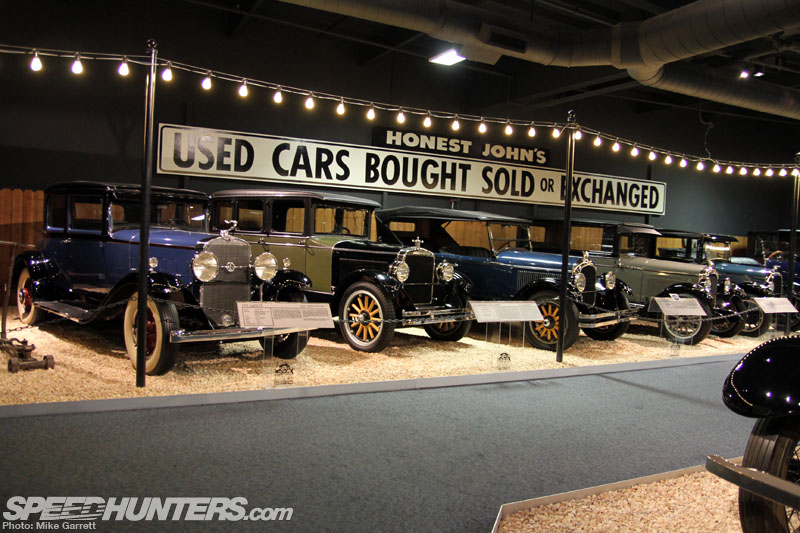 I started off my day with a visit to the National Automobile Museum, located right in the heart of downtown Reno.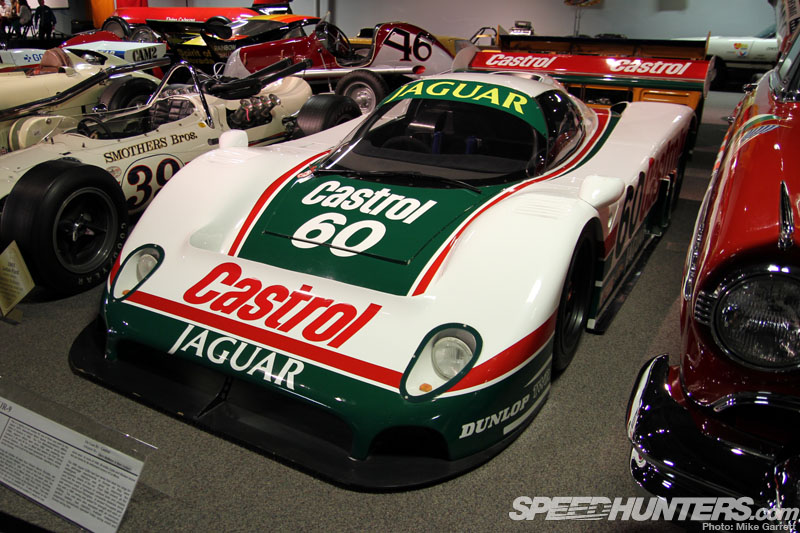 I'll save the details for later, but it's a must-see place for fans of automotive history.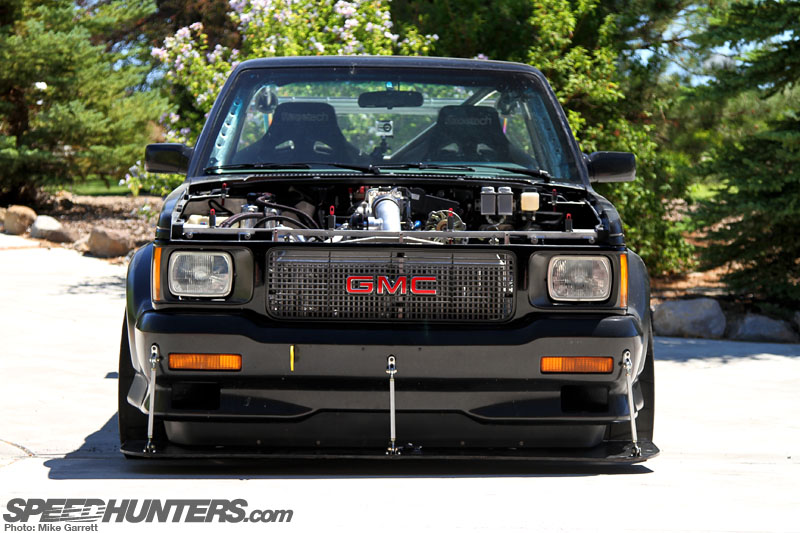 From there, I made my way out to visit a Reno resident by the name of Adam who has built himself one hell of a pickup truck.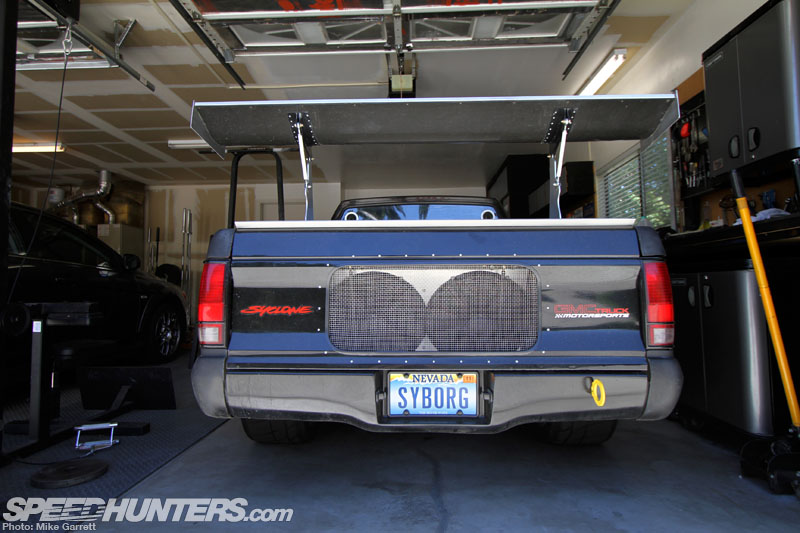 I don't want to give away too much right now, but let's just say that I'm very excited to share this one of a kind machine with you guys. It's almost Gatebil-esque in its execution.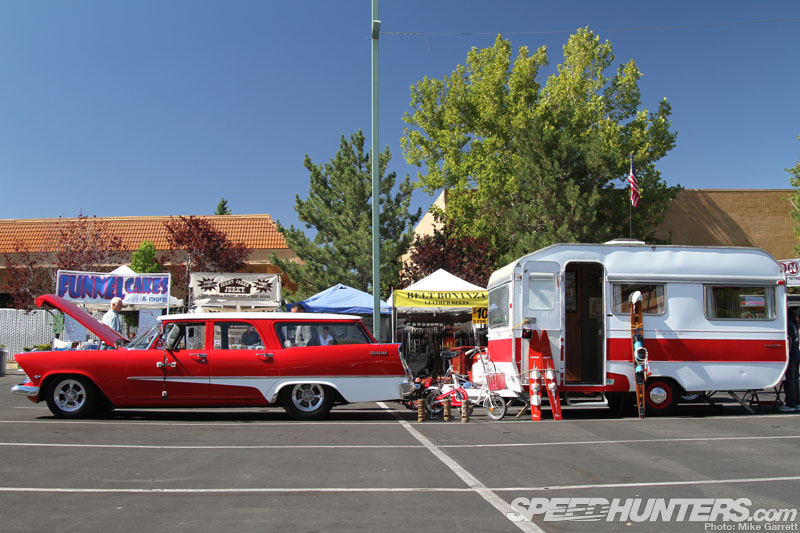 By the time I returned the Peppermill Resort there was already a sizable contingent of classic cars assembled in the parking lot, including this Plymouth wagon and trailer combo that made the trip down from BC, Canada. It's hot here, with temperatures hovering around 100 degrees, but that hasn't seemed to stop anyone from enjoying themselves. It's not "Cool August Nights", right?
Another car that caught my eye was this matte blue-colored '57 Chevy Nomad. The exterior was mostly original, with just a hint of custom attitude.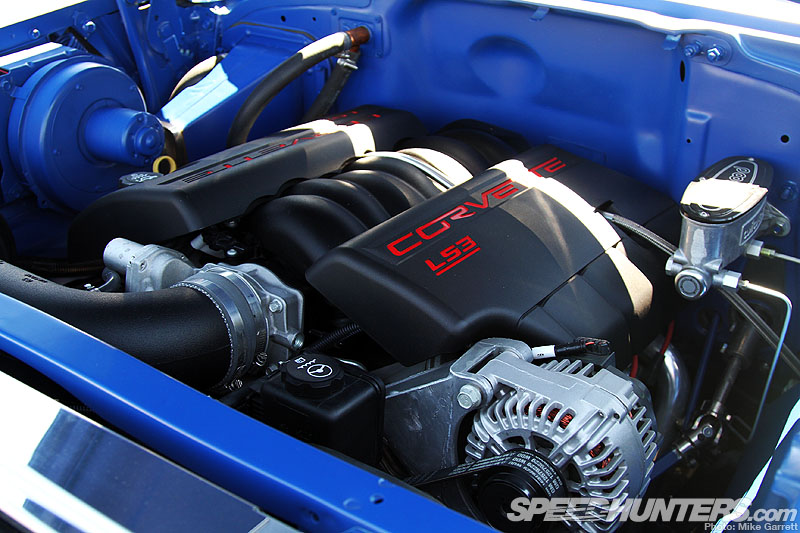 But under the hood was a very well done LS3 swap. Over 400 horsepower with all the reliability of a brand new car. What's not to like with this?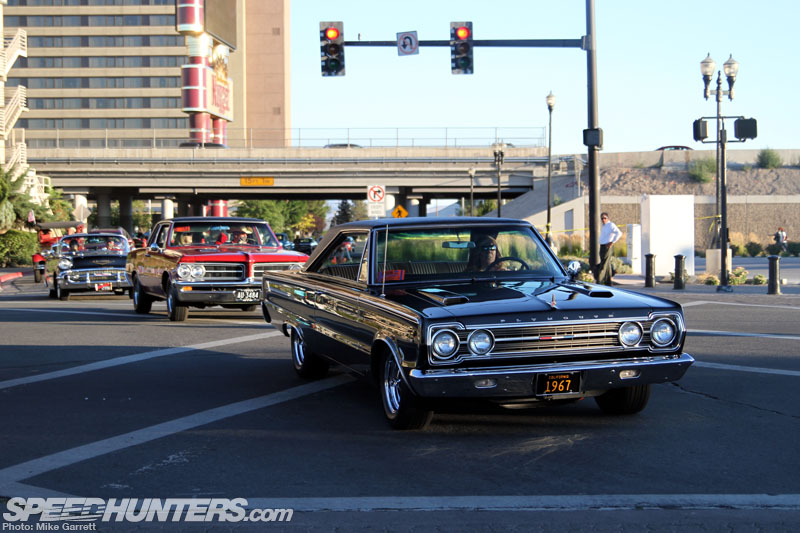 My next stop was the neighboring city of Sparks, where the evening cruise was just getting under way.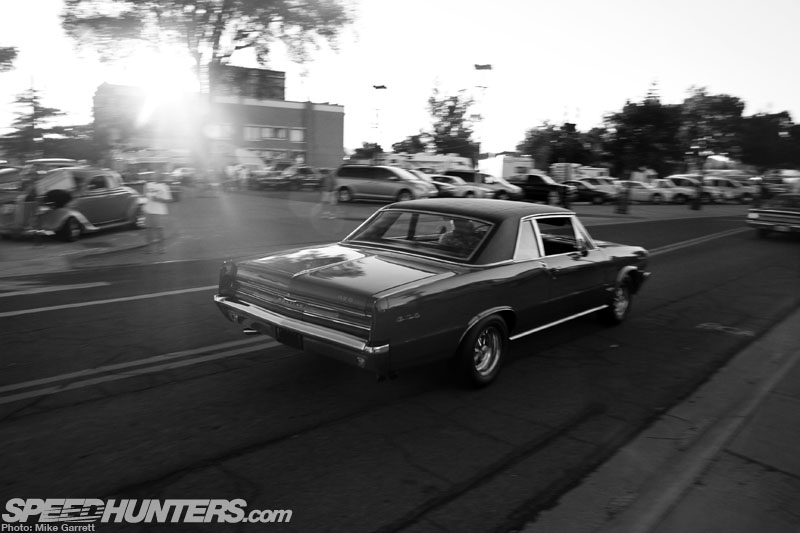 This is one a few different spots around town where Hot August Nights participants are able to cruise their machines on blocked off city streets. It also gives spectators the chance to to see and hear the cars in motion.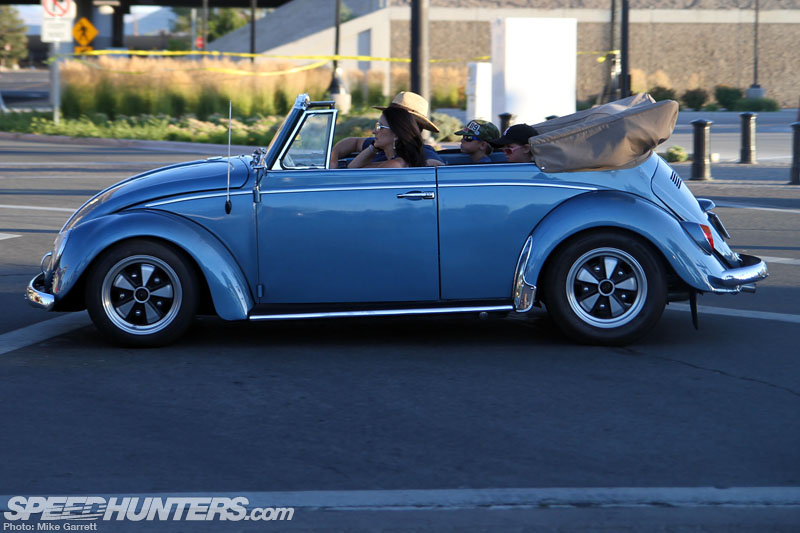 I've been rather surprised by the amount of aircooled VWs that I've seen around town. The crowds seem to enjoy them just as much as the Hot Rods and Muscle Cars.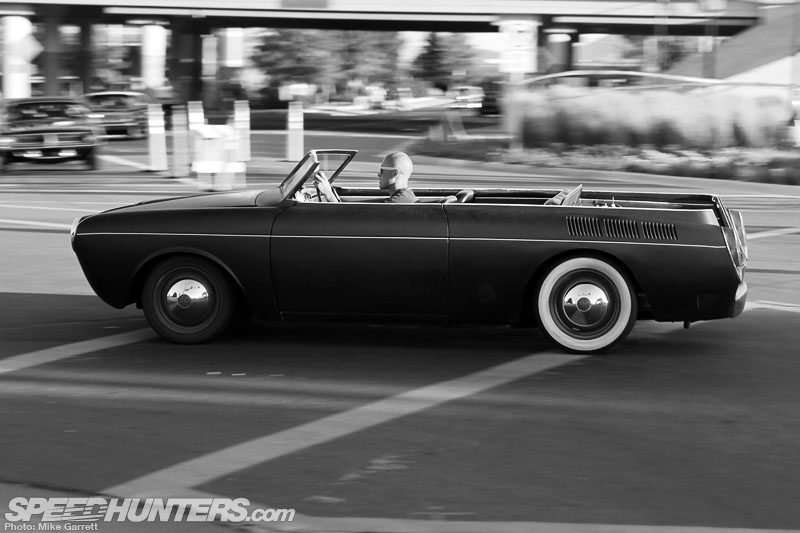 Speaking of Hot Rod VWs, I caught this chopped up Squareback taking part in the cruise. Interesting.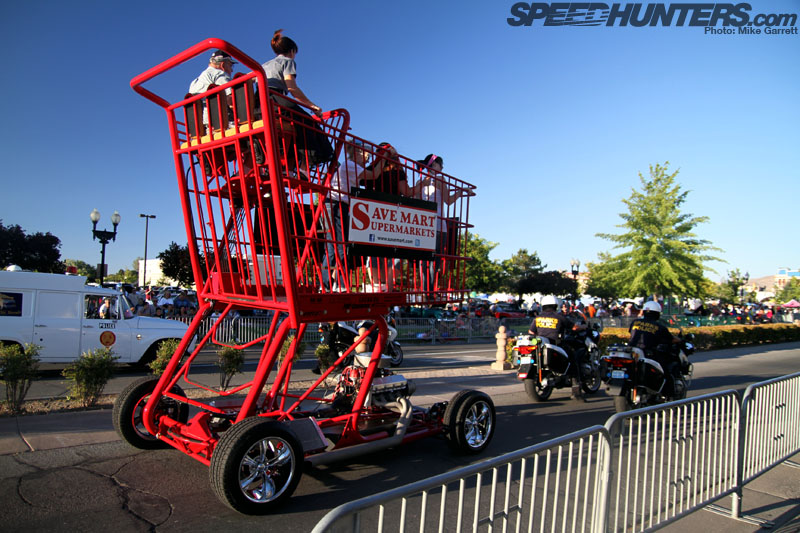 Yes, that's a giant V8-powered shopping cart that was driving around. Nothing at all unusual about that…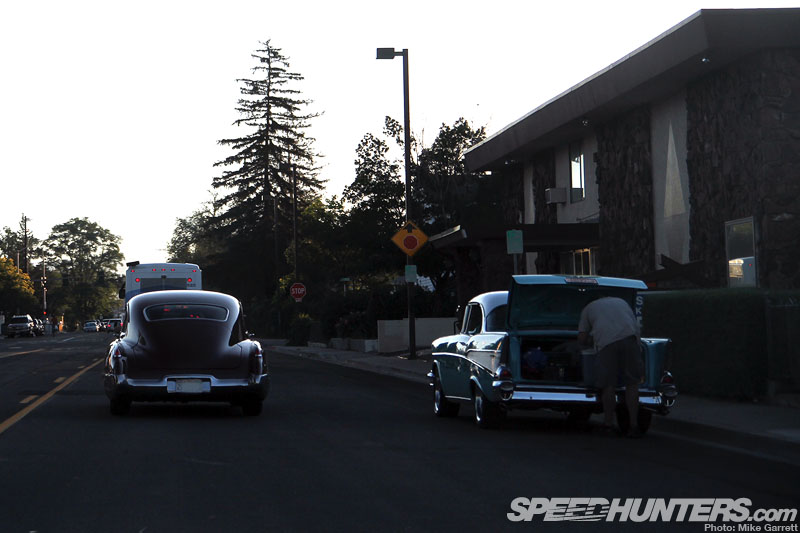 Even outside of the sanctioned cruises, you can't go more than a block or so without seeing a classic car making its way around town.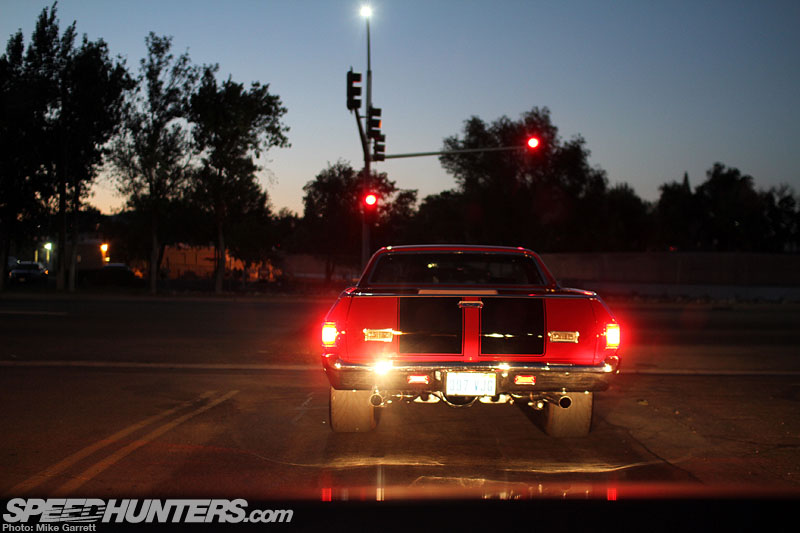 With so many different things happening across the city, normal intersections become moving displays of Hot Rods, Muscle Cars, and other rumbling machines. It's very much part of the fun of Hot August Nights.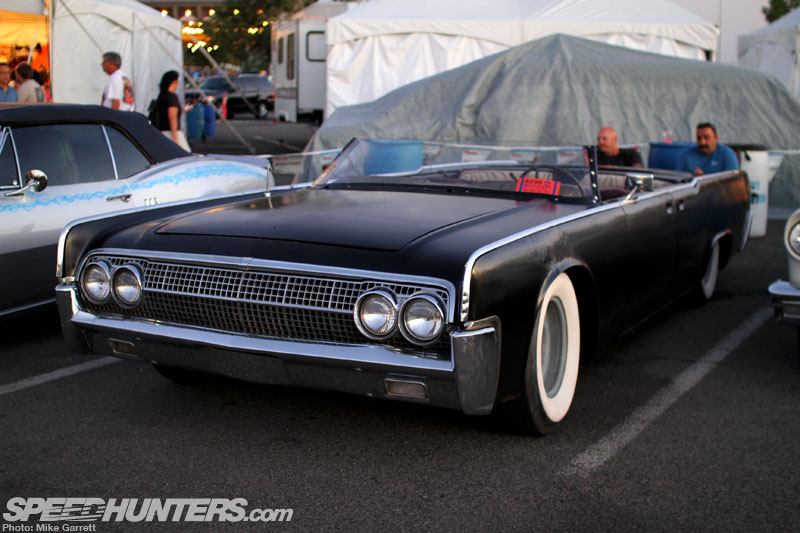 Next up, I dropped by the Grand Sierra Hotel where another massive car show had taken over the parking lot.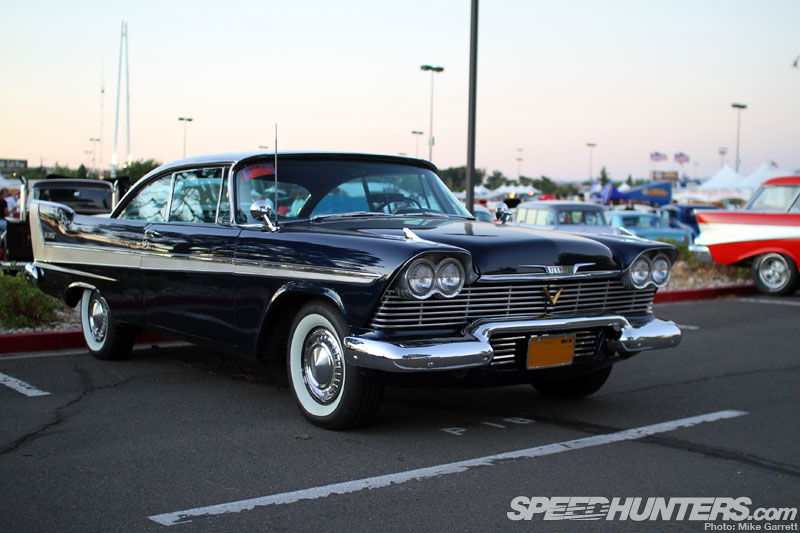 For me, picking a definitive list of favorite cars is damn near impossible – but the 1957 and 1958 Plymouth is absolutely one that sits very high on that list. This dark blue '58 was absolutely stunning.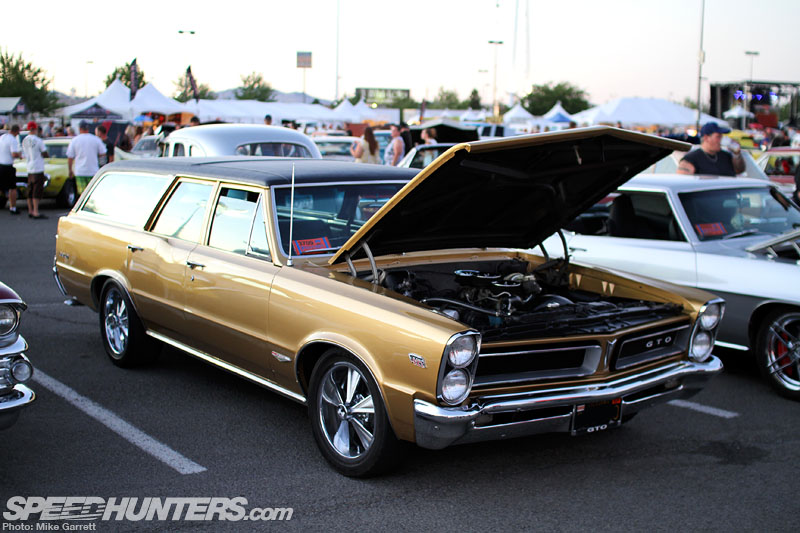 There was no 1965 Pontiac GTO station wagon offered from the factory, but if there was it would have looked like this. Note that it even has Pontiac's signature "Tri-Power" setup under the hood.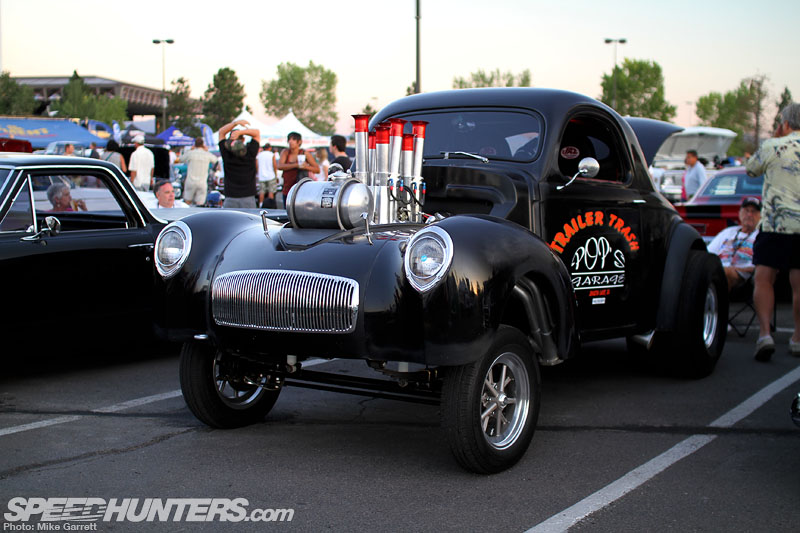 Keen eyes will recognize this Willys Gasser from my coverage of the Eagle Field Drags.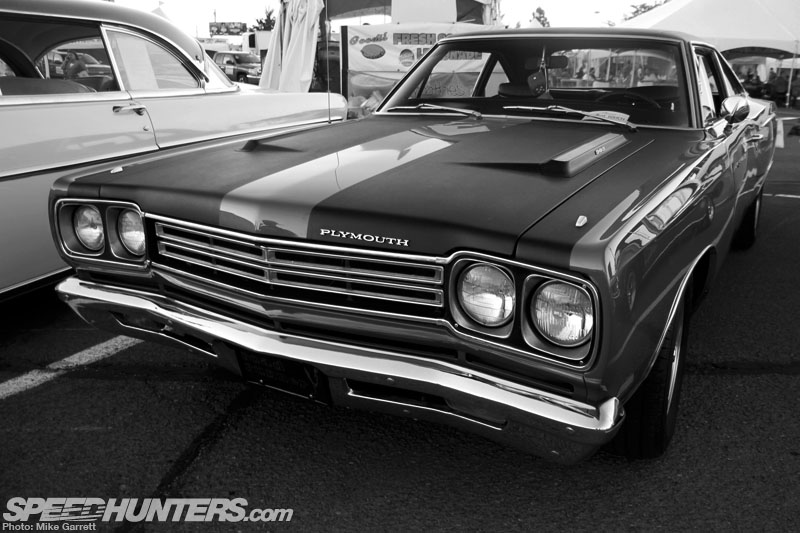 For me one of the most enjoyable parts of Hot August Nights has been the Muscle Cars, and when it comes to Muscle Cars few had a larger impact than Plymouth's Road Runner. This is a car that defined low buck thrills when it hit the market in 1968.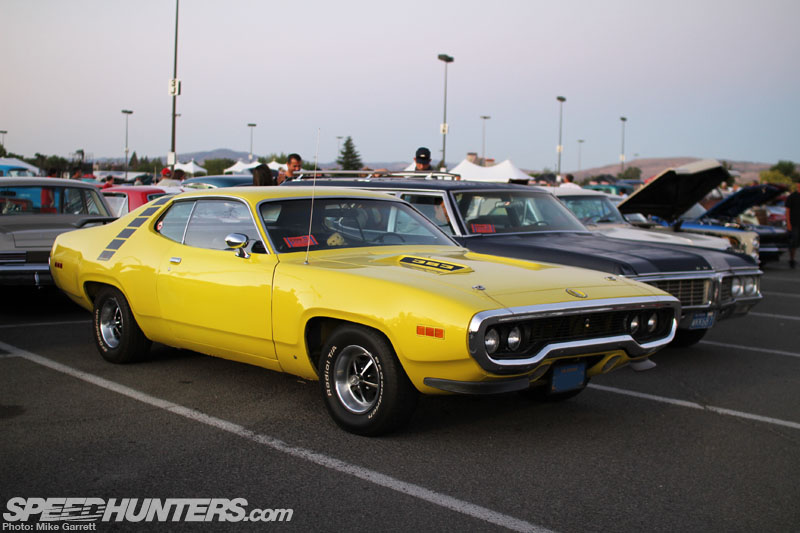 In 1971 the Road Runner got a dramatic redesign. By this time the days of the Muscle Car were numbered, but these Mopars still packed a decent punch.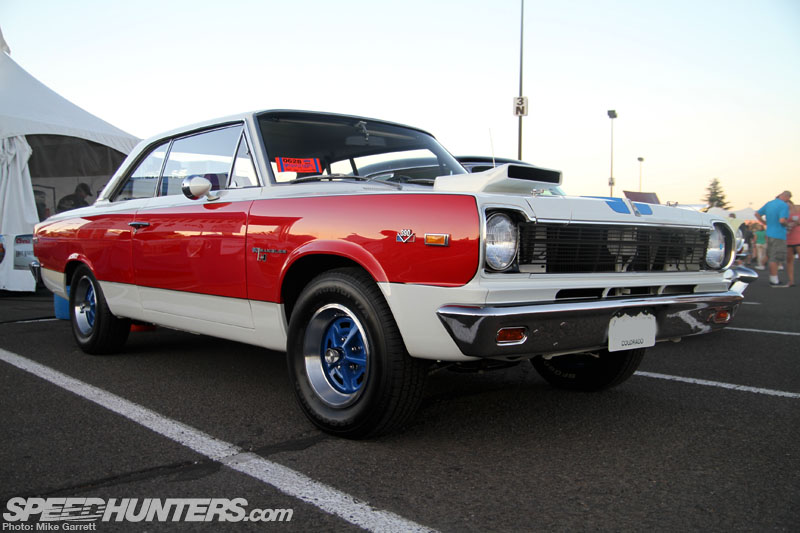 You see Corvettes, Mustangs, and Camaros by the dozen at Hot August Nights, but you won't see many '69 AMC Hurst SC/Ramblers hanging around. This is surely one of the coolest paint schemes ever to appear on a Muscle Car.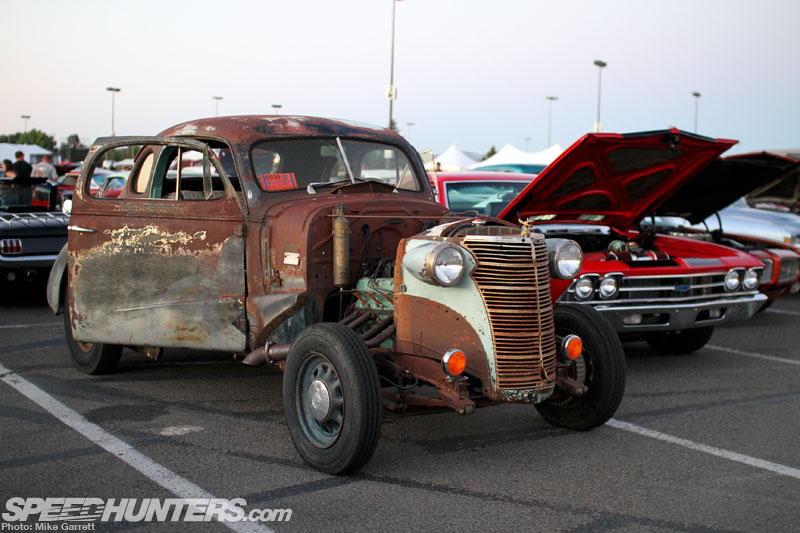 As far as Hot Rods go, brightly colored billet-laden examples seem to the most prominent here in Reno. There are still some proper rats to be found though…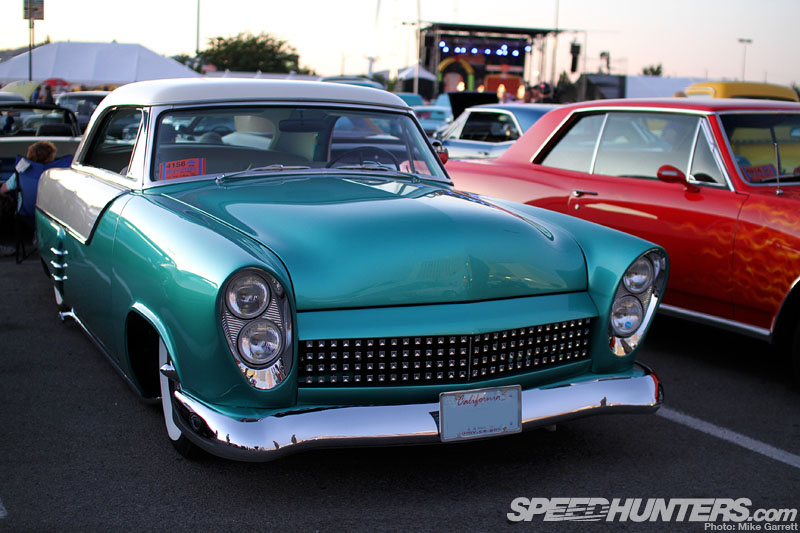 The same goes for traditional customs. They aren't exactly plentiful at this event, but they do pop up here and there. The owner of this '52 Ford purchased the car back in 1957 as high school student for the price of $587. Check the Lincoln headlights.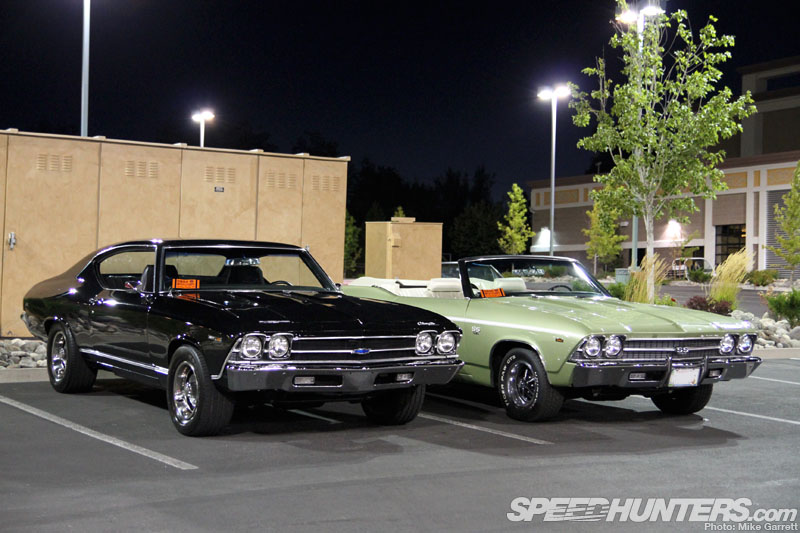 Before turning in for the night I made another pass through the parking lot here at the Peppermill, where there was still plenty of action going down.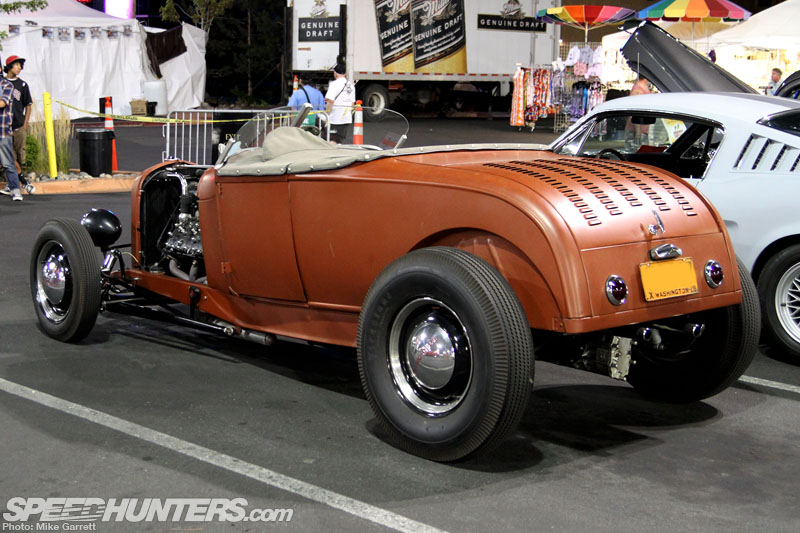 Not a whole lot Flathead-powered cars at Hot August Nights. This Roadster was repping quite well for the flatty crowd though.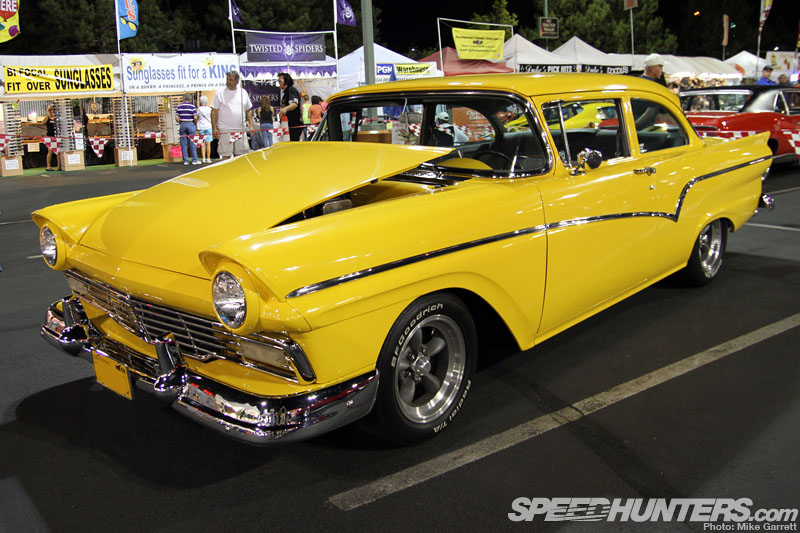 Torq Thrusts are one of those classic wheels that look good on just about anything, including this tidy '57 Ford.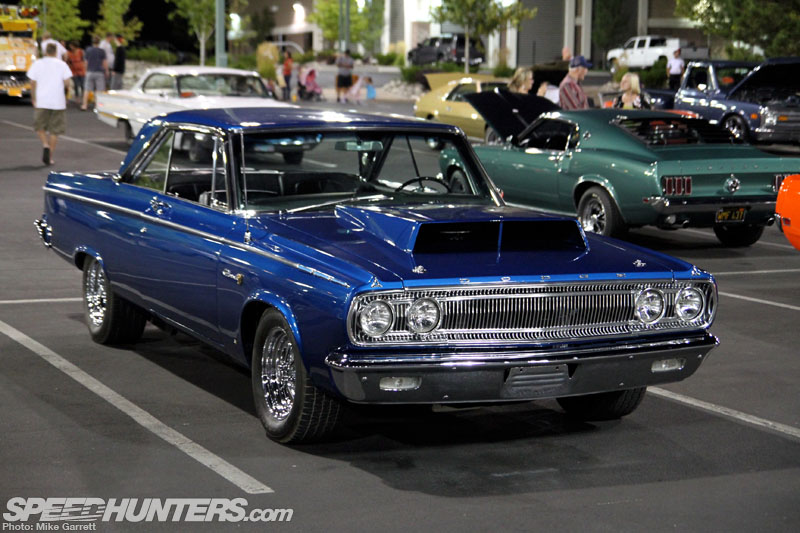 This Dodge looks all business with Cragar mags and a tall Super Stock style hood scoop.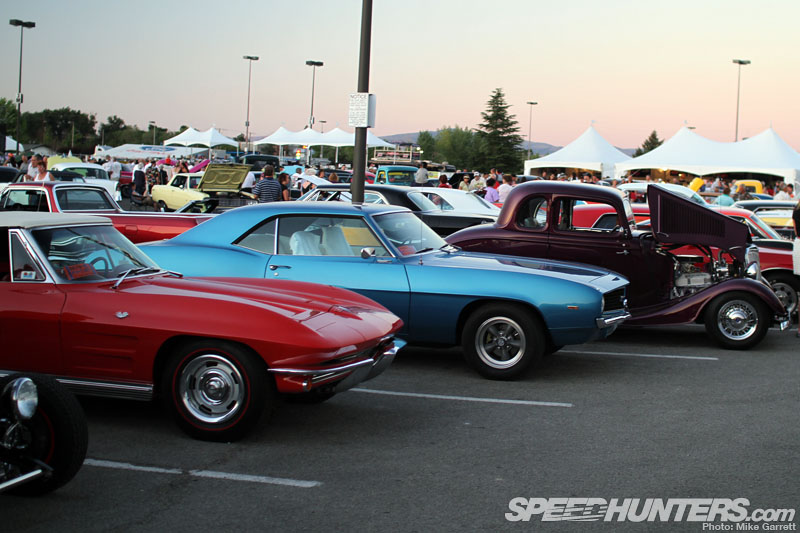 Alright then, I've got one more day here in Reno before I jump on the highway and head east for Bonneville.
Time to head out and see what else I can find.
Don't forget your desktops below!
-Mike