Much like prescription medicine, Speedhunting has many obvious benefits which are accompanied by those nagging fine-print side effects. While there aren't many downsides to circling the globe looking for the best cars inhabiting it, there are a few. In my case the word jaded comes to mind. Fortunately the cure for this sickness is the same as the cause, and there are days when certain cars really kick my brains in – like this all original Porsche 550 Spyder.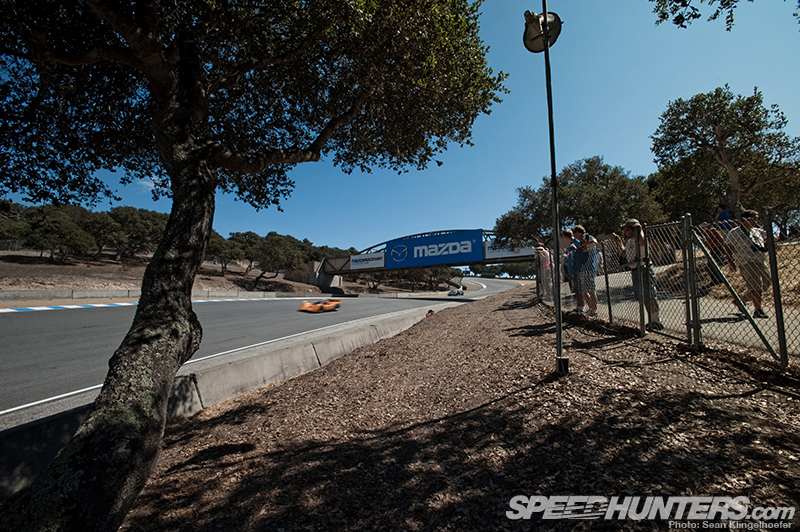 There aren't many places in the world that one can go, Speedhunter or otherwise, where you can view such a vehicle up close, let alone racing. In fact the only place I can think of off the top of my head is the very place I had my encounter – the Rolex Monterey Motorsports Reunion.
Last weekend the Monterey peninsula hosted two of the greatest historic car meetings in the world, one being the very well known Pebble Beach Concours D'elegance and the other being RMMR. Since this isn't Resaleinvestmenthunters, I spent my weekend at the racetrack…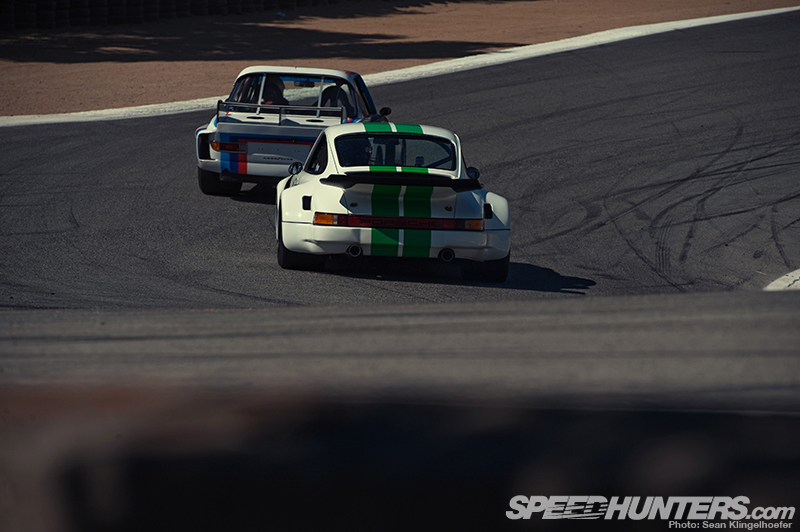 Watching these priceless machines tear ass around it. If there is anything more glorious than seeing a historic race car being flogged around a circuit I certainly don't know of it.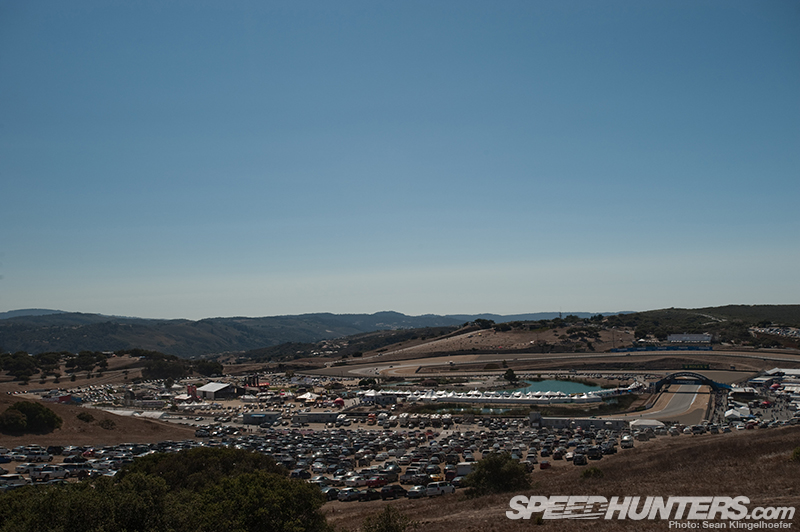 Of course this event is world class in every sense of the word, and I'm not just speaking of the cars. Laguna Seca is just a hair over two miles of asphalt carving its way through one of the most beautiful parts of the world I have ever visited. It's always a pleasure to come back here regardless of the event, so I was quite excited to finally attend the historics.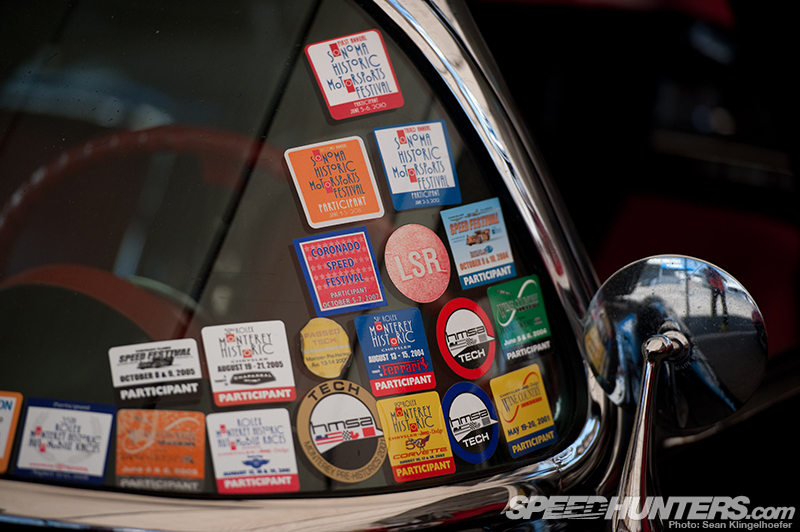 The people who participate in the event are equally fanatical about being involved. I have joked that the type of people that own vintage sports cars and racers are usually the type who have dozens if not hundreds of them and it seems that they collect participant decals with the same fervor.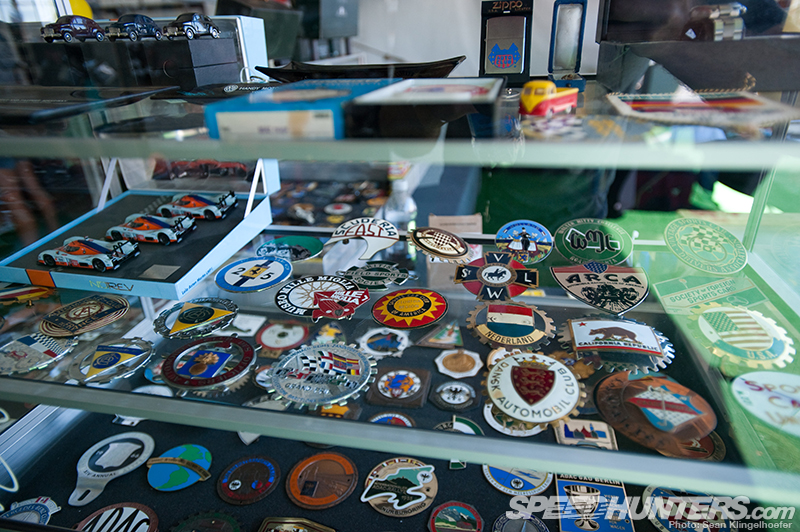 But you don't have to be an owner or a driver to get in on the experience. In fact I'd argue that this event might be one of the few where the best job to have on the weekend is that of an ordinary spectator. With all the awesomeness that exists here I often found myself wishing I could pack up my gear and just cruise around with a beer in hand a few bucks to waste on souvenirs.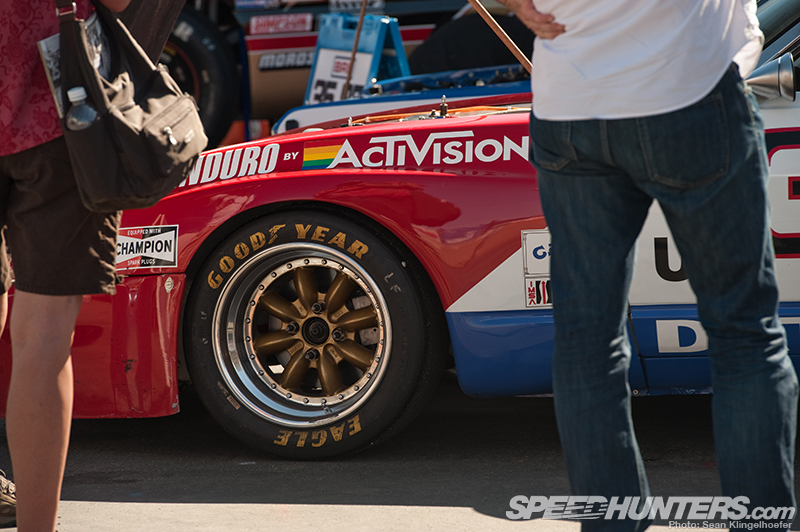 On top of the field being comprised of extremely diverse and historically important cars, they are all sitting in a paddock area that is completely open to the public. Sadly this often made getting "the shot" quite difficult, but after a while I accepted the crowd as an unavoidable element of the weekend and got on with it.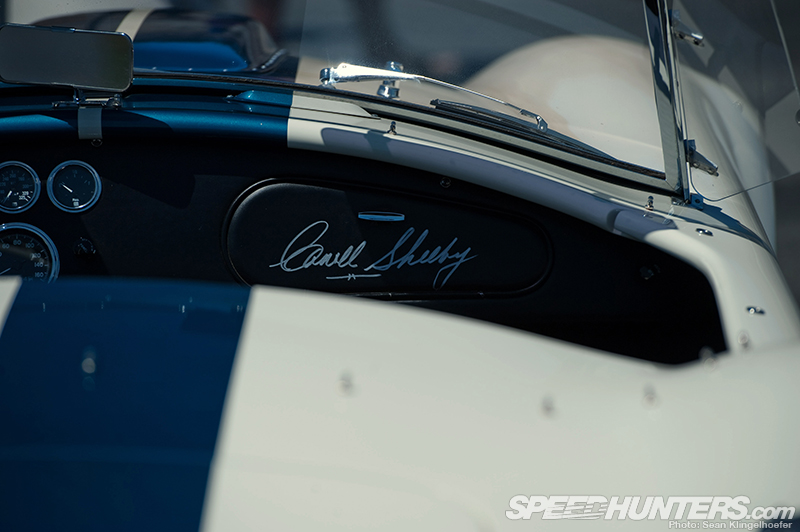 Each year the Reunion has a main theme and this year's key subject was a tribute to the late Carroll Shelby, a man who devoted his life to making cars a little lot faster. I think it goes without saying that he gave a tremendous effort to the advancement of both the American racing scene and car performance in general.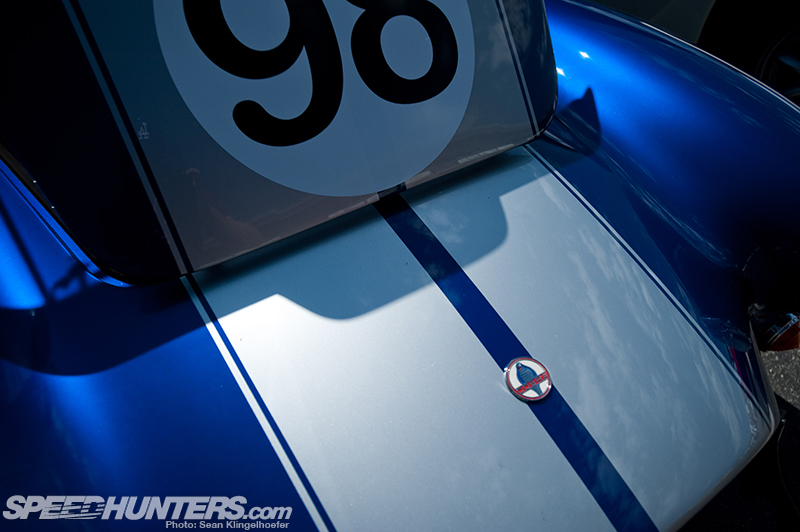 With 2012 marking the 50th anniversary of the Cobra, I'd wager that the theme would have been more or less the same regardless of Shelby's passing. With his death back in May I can think of no better tribute than here at Motorsports Reunion. Needless to say I wasn't the only one who felt that way.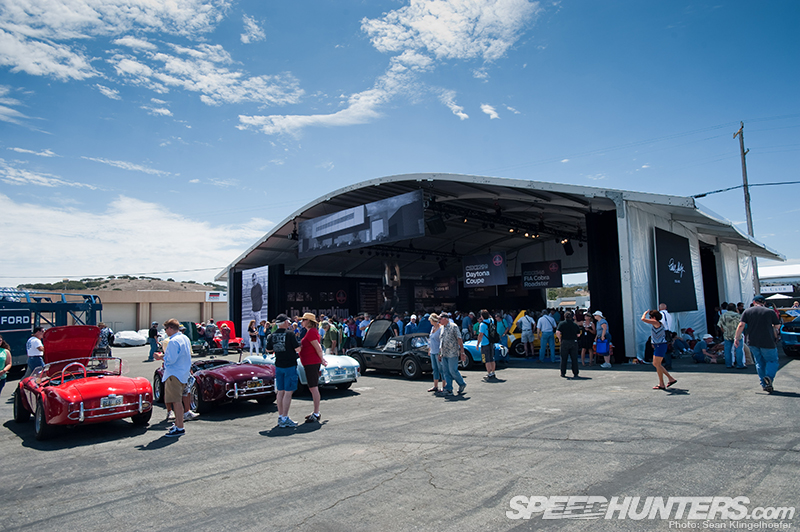 Upon entering the paddock you'd have to have been deaf and blind to have missed the display setup to honor Carroll. Inside the canopy were different cars and pieces, like a Cobra's body hanging from the ceiling, with historical significance to the Shelby legend.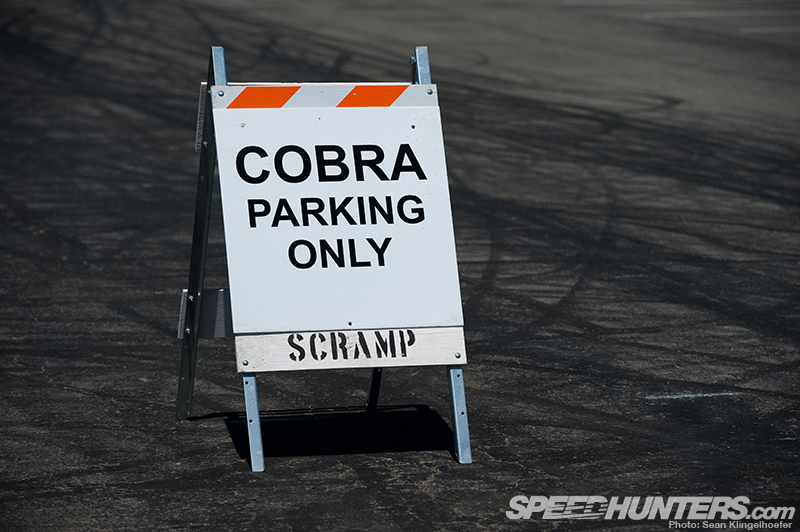 Needless to say this attracted many Shelby enthusiasts. Not only were there more Cobras being raced over the course of the weekend then I've ever seen in my life, there was also a special parking area near the paddock especially set aside for spectators with Shelby vehicles.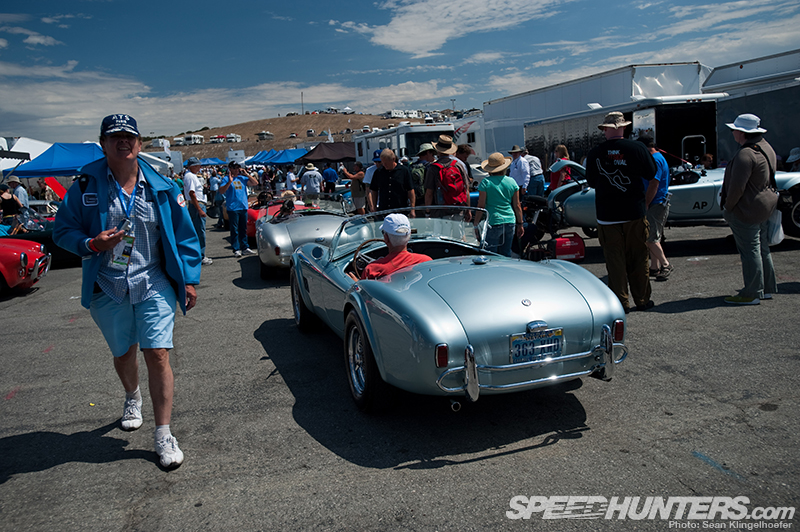 In addition to the parking area there was also a parade session on Saturday where the owners could pay their respects to the man via a lap of the circuit. As great as it was to see these incredible cars in such great numbers I have to admit I did go a little bit numb after a while at the site of a Cobra…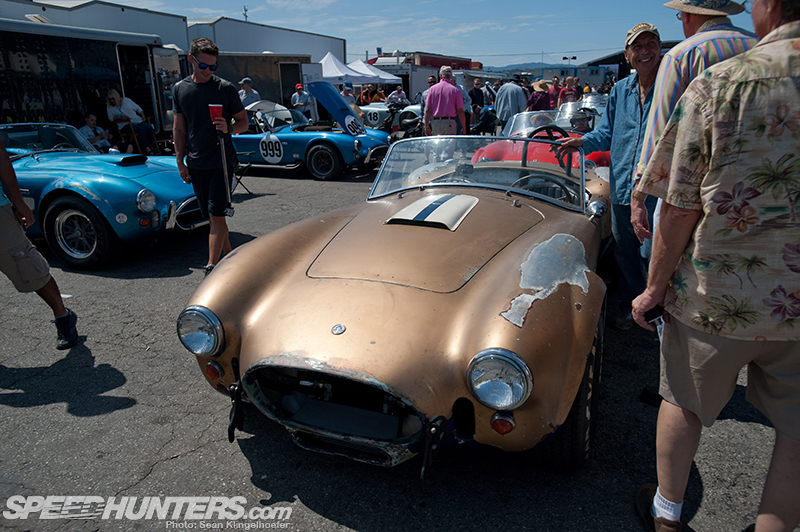 But there were always exceptions waiting to be found. I'm not sure what it is about unrestored originals, but there's something about dented metal, flaking paint and patina that does something for me.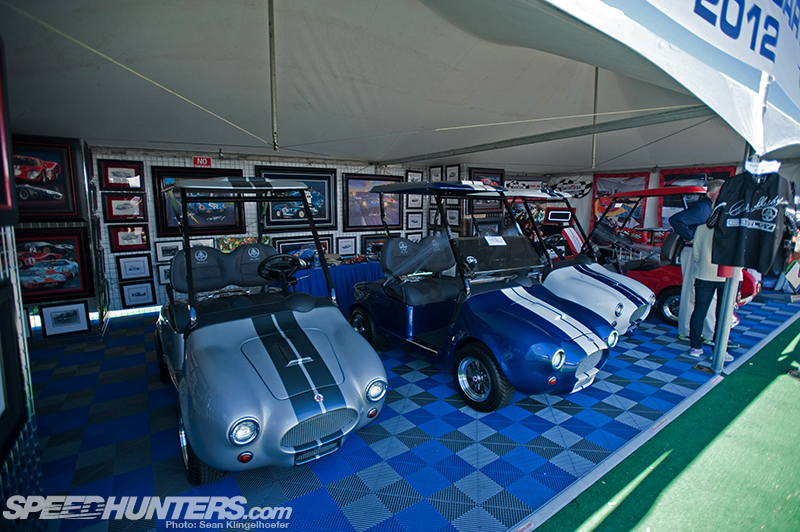 There was also a lot of Shelby-related memorabilia, like the Cobra golf cart – for the car collector that has everything. "Yo dawg, I heard you like Cobras…" Now all they need is a matching "my other car is a Shelby" bumper sticker.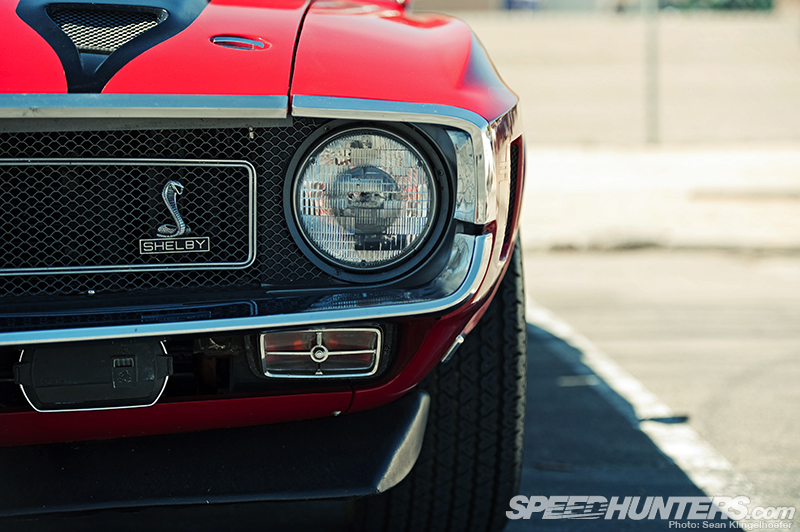 But it wasn't just the Cobras getting in on the celebration. In fact I don't think I've seen so many Shelby 'stangs in one place at the same time either. Yes, it was a rather good weekend…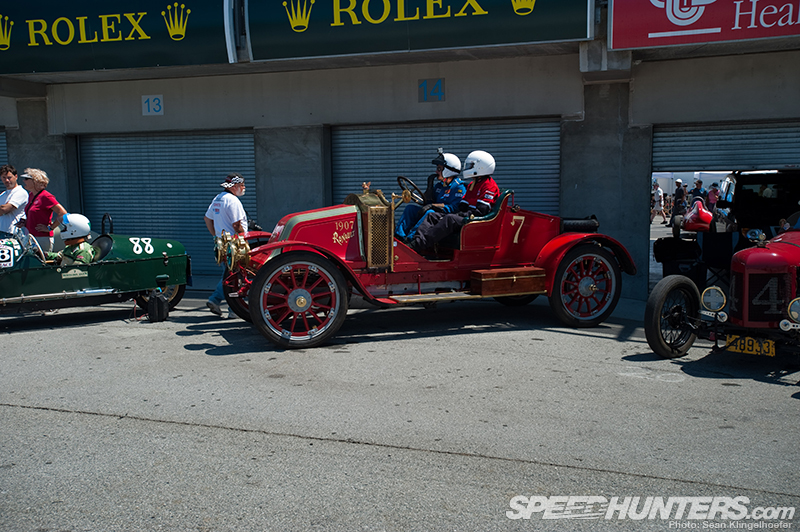 Aside from the main Shelby theme there was lots of typical-run-of-the-mill-mind-blowing-historic-race stuff going on… like people looney enough to race a car built in 1907. Just the thought of letting that Renault coast through the corkscrew is terrifying.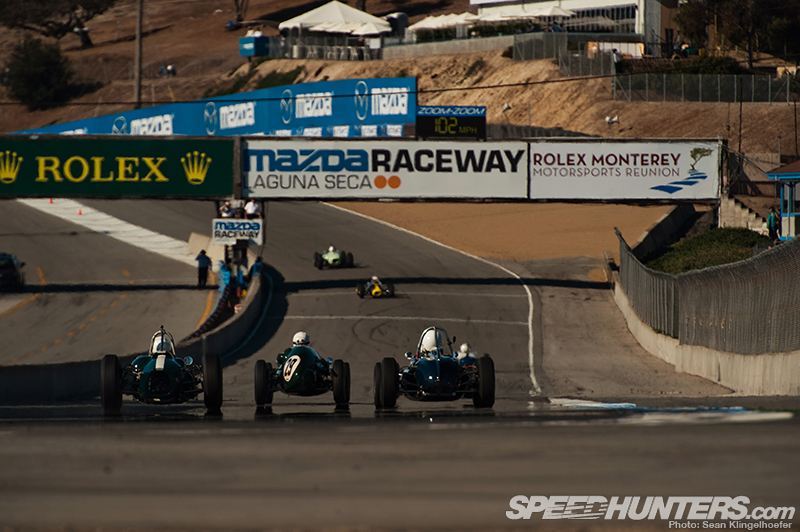 Of course these guys are doing much more than coasting. In fact they're racing, in cars that became notorious for killing their pilots. Around one of the most technical courses on earth. With grids occupied solely by amateur drivers. Insanity defined.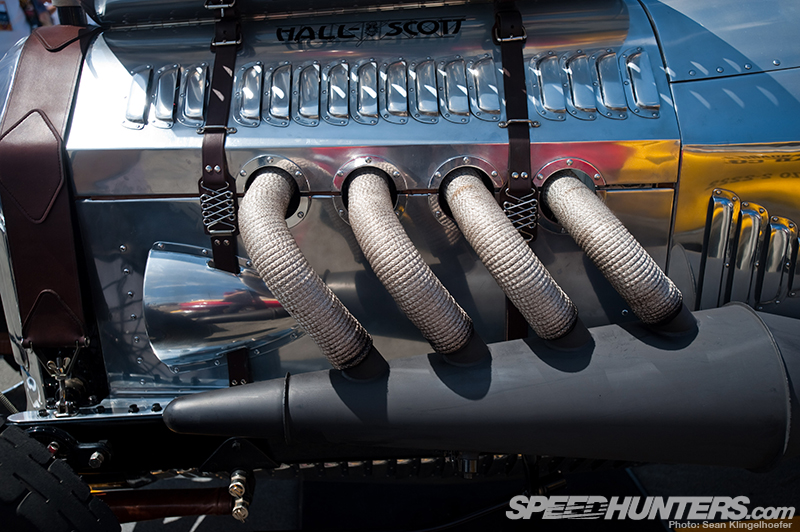 Seeking a break from the chaos and gut churning sense of overwhelming panic, I set off to do something that always seems to put my mind at ease. I went and found shapes. In some cases I had absolutely no clue what I was looking at, I just knew when I saw something that looked interesting.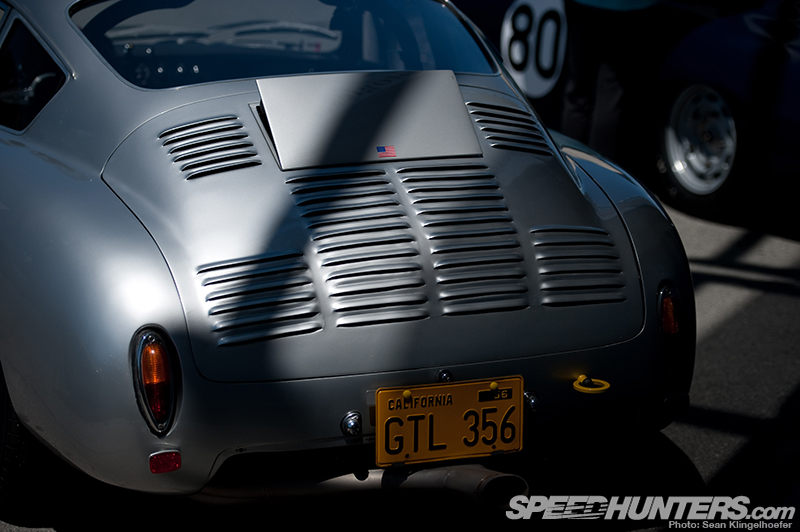 Other times I would run into something I could easily identify, but the same rule applied – find the cool. Not surprisingly there was a lot of amazing rolling stock on display, so much so that I felt quite understaffed trying to make sense of it all by my lonesome.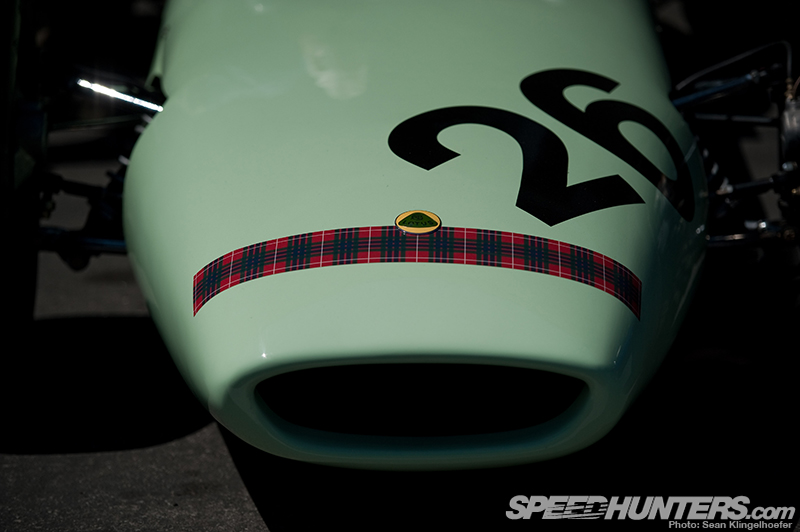 While I don't know much (see: nothing) about sixties-era formula cars, I can appreciate beauty when I see it. Right around the time I shot this Lotus it hit me, whilst cruising the paddock I had an epiphany. No matter how much I believe to the contrary, I don't know everything there is to know about cars – or racing. Not even close.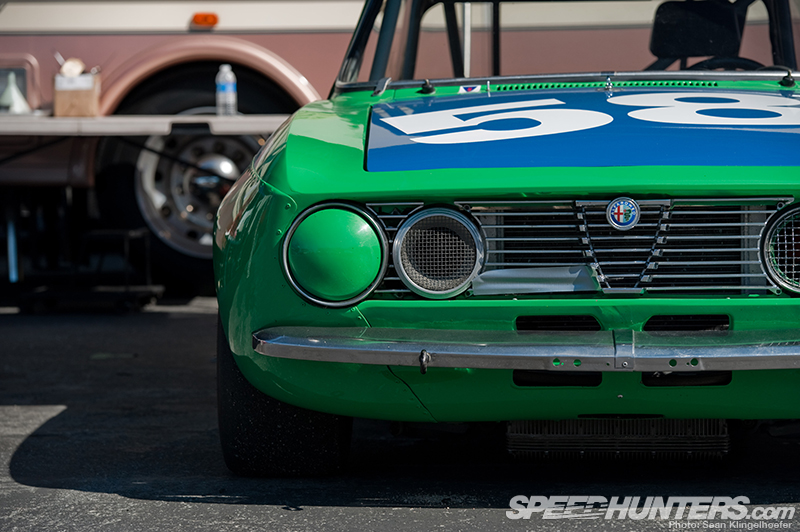 In fact, if anything I realized that surely this is only the beginning and there is likely a far greater amount I don't know compared to that which I do. It was inspiring.  Before long I found myself appreciating cars which I had previously written off as boring, ugly or strange. Even now as I sit here sorting through photos I'm becoming more inspired.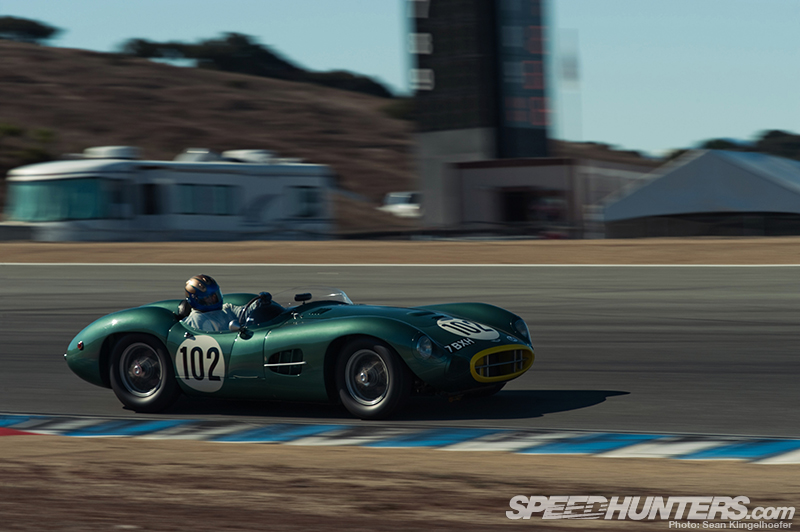 And so with this new found curiosity I headed track side to see these relics in motion. If there's something to be learned from the Monterey Motorsports Reunion it's that speed looks good on anything. It certainly doesn't hurt when "anything" looks as good as this Aston Martin to begin with.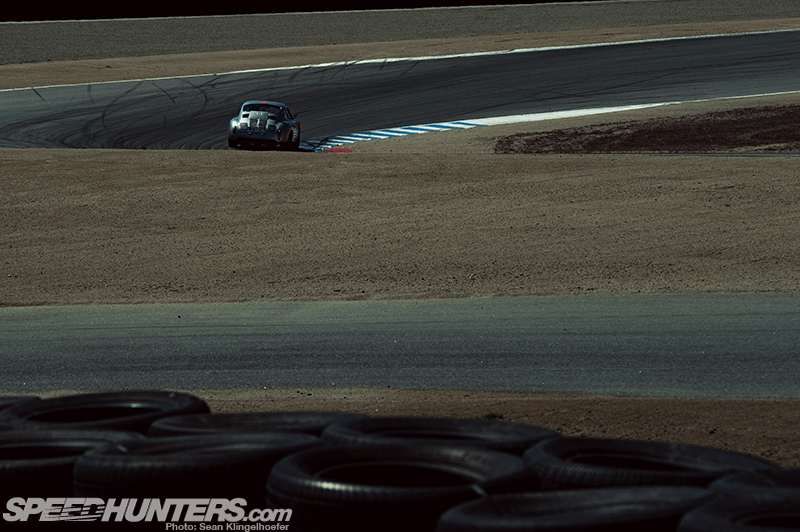 Sometimes I feel as though I've been cheated out of an era of motorsport that will never exist again. Don't get me wrong, I'm all for technology, safety and the advancement of the sport, but there's something romantic about cars that are practically designed to win or kill you. Seeing such cars at Laguna Seca is about as close as I can hope to get, but it's certainly better than nothing.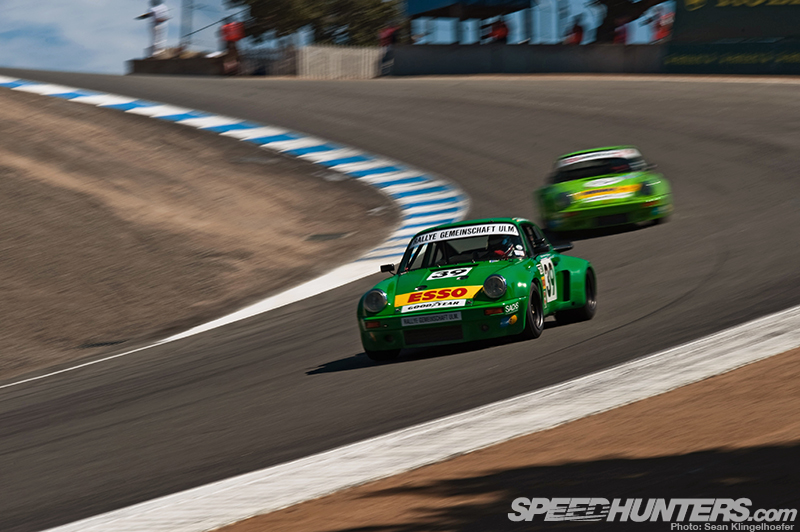 It's cool seeing the progression of motorsports unfolding right before your eyes. In mere hours you can watch the lineage of a brand spanning decades of improvement. This is something I think any car fanatic should experience at least once.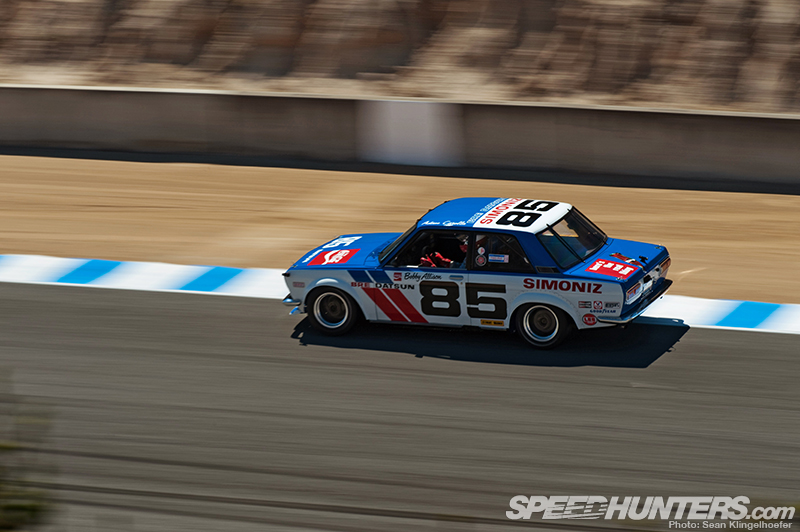 And with the massive expanse of makes, models and even racing categories, there's literally something for everyone. I'd imagine some of our readers might not be interested in motorsport or historic cars, even still there are cars for them – like Adam Corolla's BRE 510.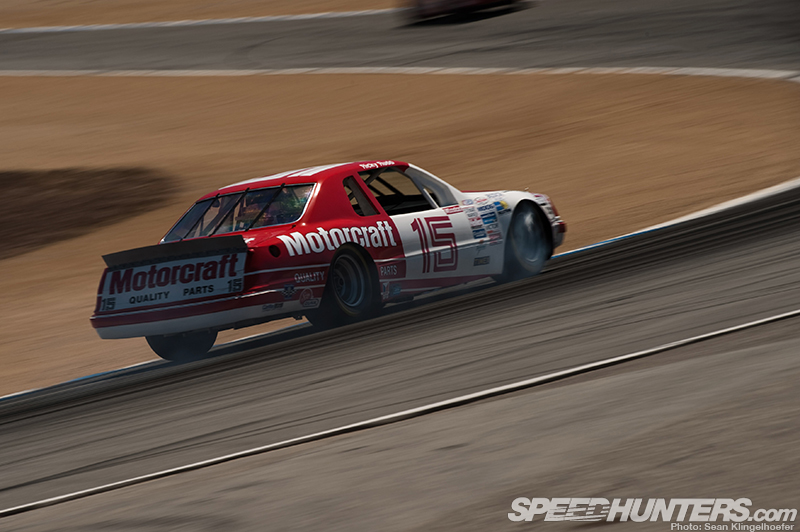 I mean hell, there's even NASCAR, if Days of Thunder is your thing. I've long accepted the term "rubbin's racin'" and its practical application to oval racing, but I think this guy is taking it to the next level. Is this stance working for you?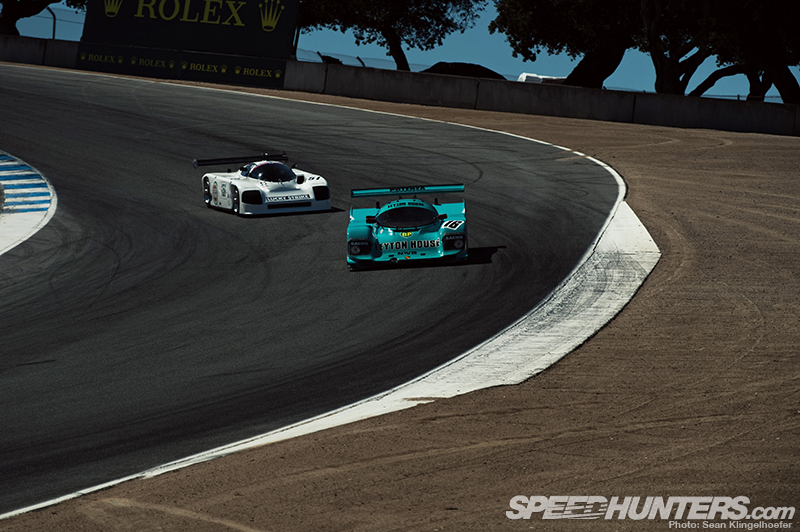 If I had to chose one group that tickled my particular fancy, it would have to be the 80's Group C cars. There's a secret attraction to these curvy wedge shaped monsters that I never get tired of. Watching in-car videos of these bad boys ripping around Le Sarthe gives me goosebumps for weeks.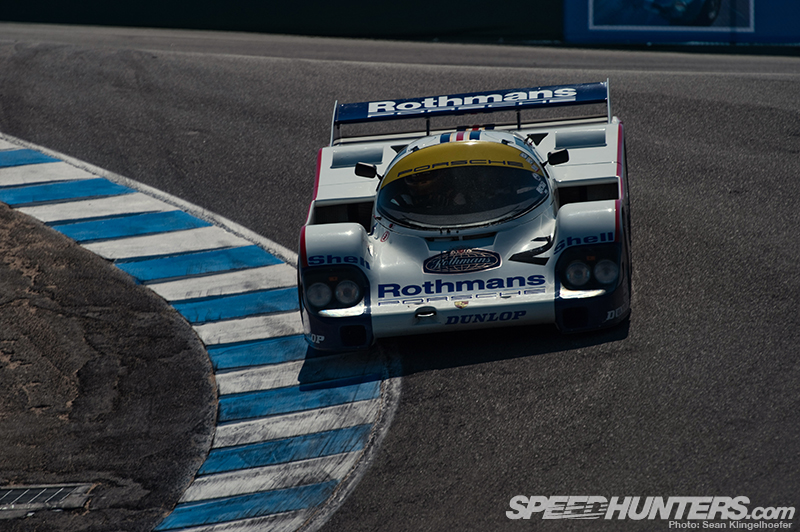 Watching and hearing them violently scraping their way through the corkscrew has the same effect. If I had to make a case for a classic livery, a Rothmans 956 would certainly be up there amongst my favorites.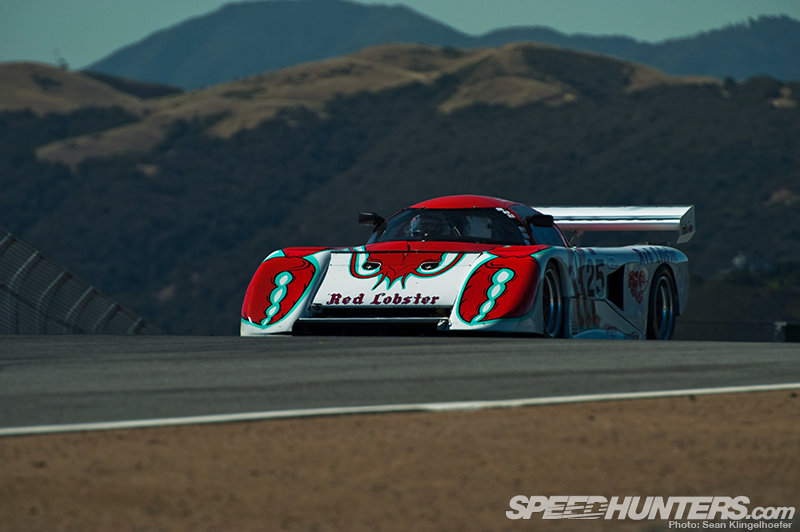 And after this weekend, a Red Lobster March would also join that list. Never before have I seen a livery design more fitting to the body of a car than a giant red crustacean gracing the shell (no pun intended) of a prototype which has an uncanny resemblance in structure. It's as clever as it is tacky and I can think of no better way to end today's post.
Until next time…
More stories by Sean Klingelhoefer on Speedhunters
More historics events on Speedhunters
– Sean
---
---
---