Lets quickly return now to this past Sunday at MIVW . After the observations I made in part one of my MIVW coverage , it's time for my second look. Above you see the Audi TT that came from Belgium. The owner has perfected the stance over the years and is now rolling around on custom 18" BBS RS courtesy of Rotiform.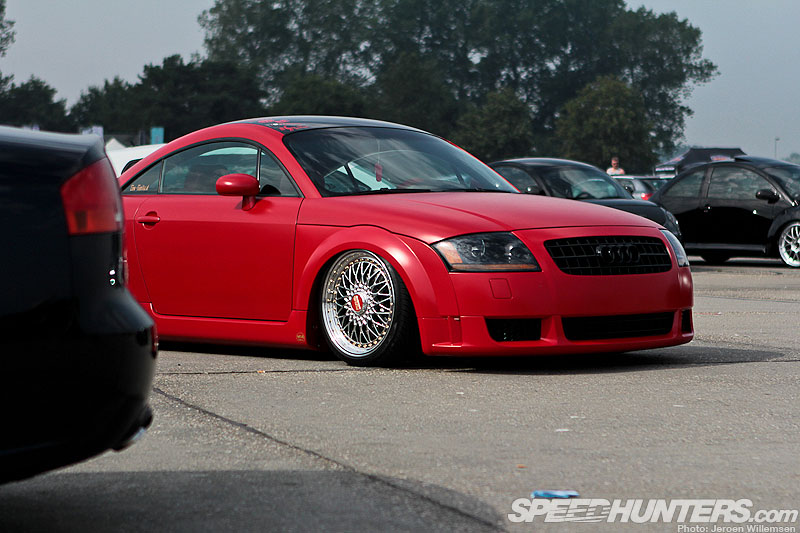 A very different Audi TT was this older version also rocking a set of BBS wheels. The most striking part of the car was of course the flat red paint job accompanied by a carbon roof.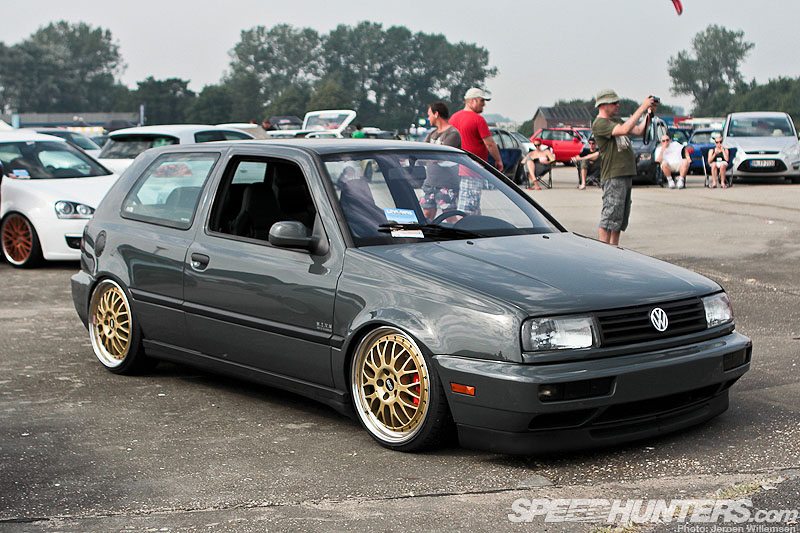 I really have a soft spot for the MKIII Golf especially with the Vento headlights. This one belonged to a member of the MIVW crew and was rolling around on golden BBS wheels.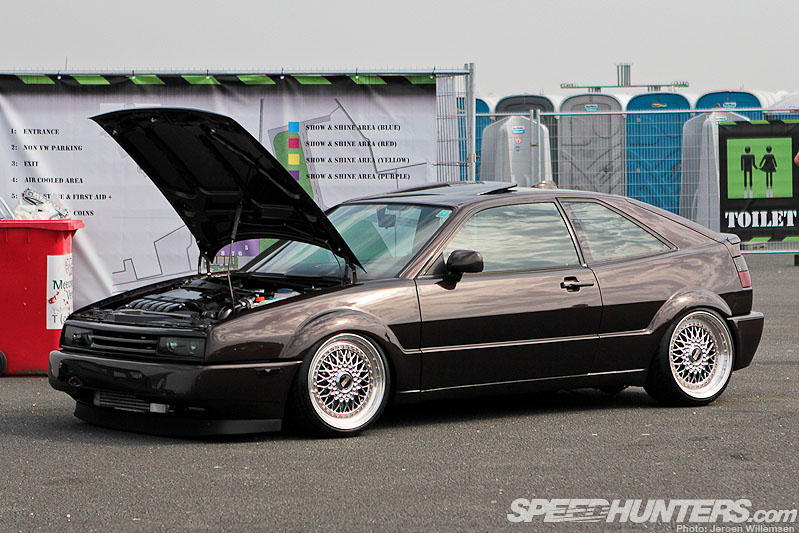 It was cool to see a lot of Corrados at the show as these cars are getting pretty rare. So it's good to see that some people preserve them and make them look better than before.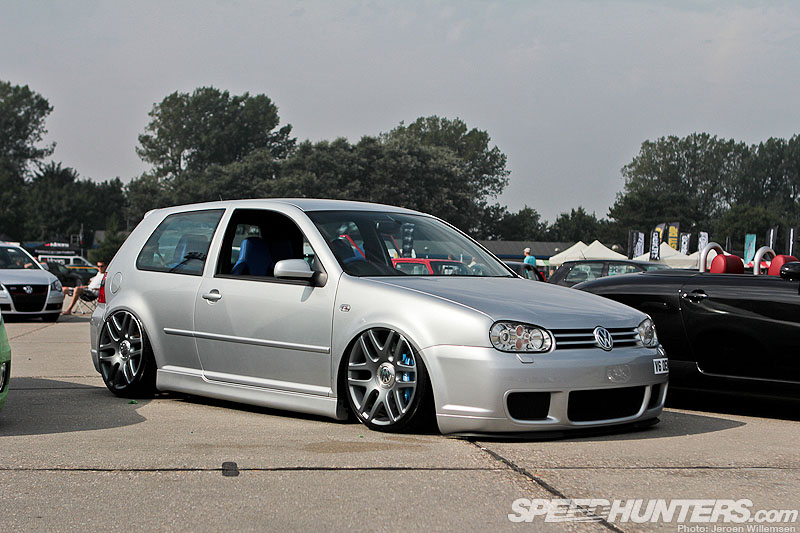 This Golf MKIV was a favorite of mine at MIVW. It ticked all the right boxes.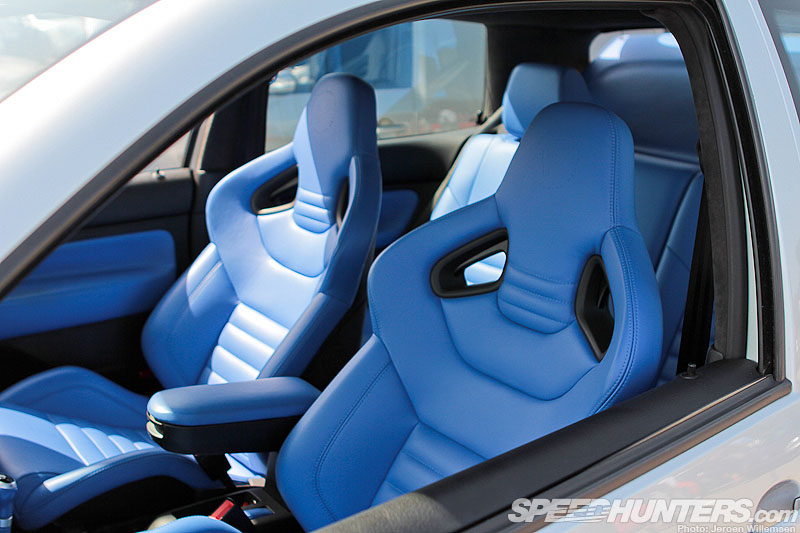 It starts in the interior. The guys from the UK always go all out with their interiors and leave no stone unturned. These two Audi RS4 seats have been reupholstered with blue leather along with the back seats and the door inserts.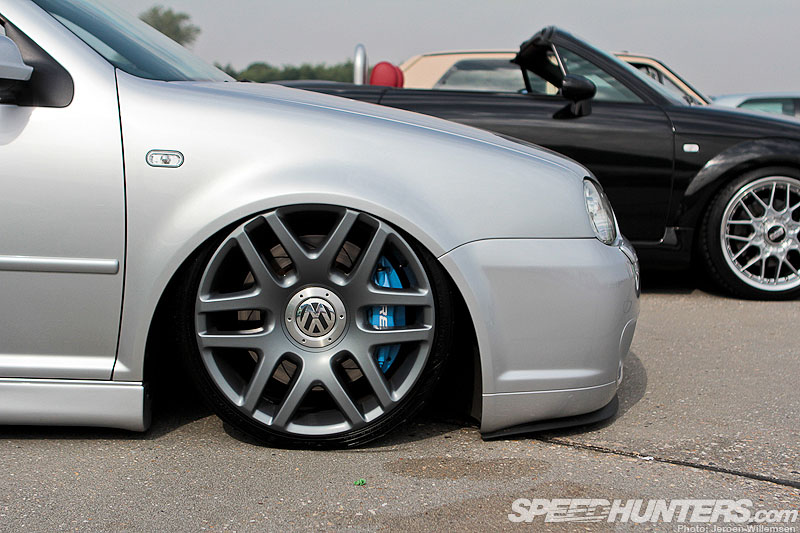 Then there is the massive drop and the R8 calipers behind 18" wheels. I think they are OEM Audi items. It's all these 'subtle' changes that make this car really stand out.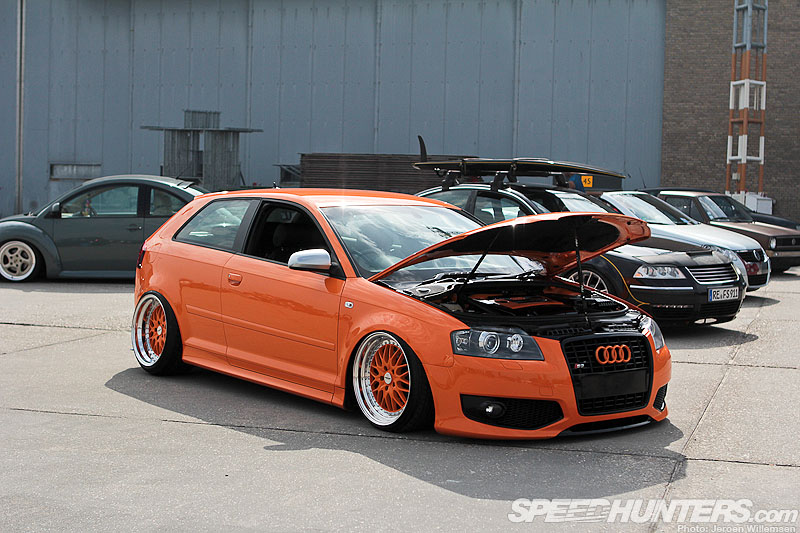 A car with a totally different approach was this orange Audi A3. It just screamed for attention with its stretched tires and paint job.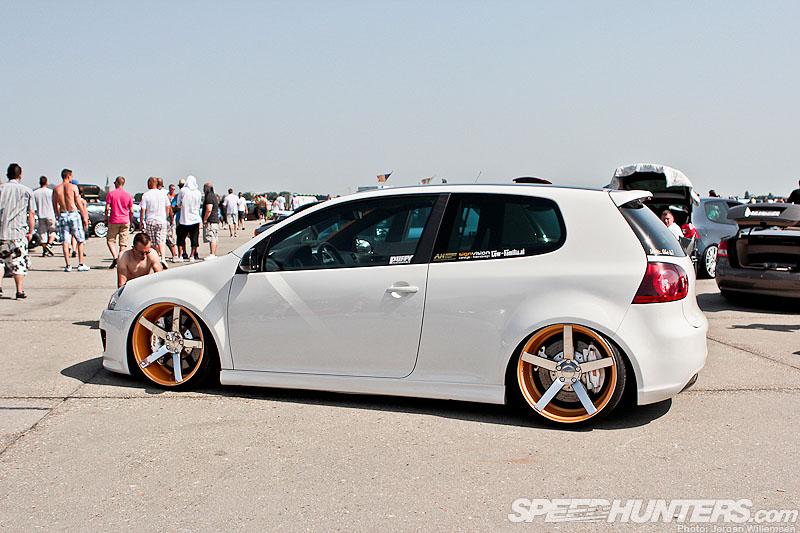 In my previous report somebody asked for a different angle on this car. The brakes have been replaced with a full Audi R8 system including calipers and rotors. They are hard to miss behind the thin spoked Vossen wheels.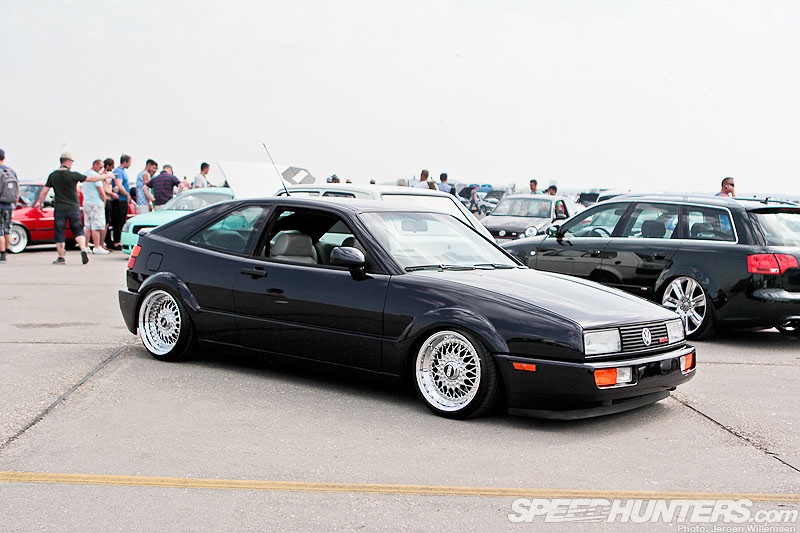 Another Corrado with a more old school approach.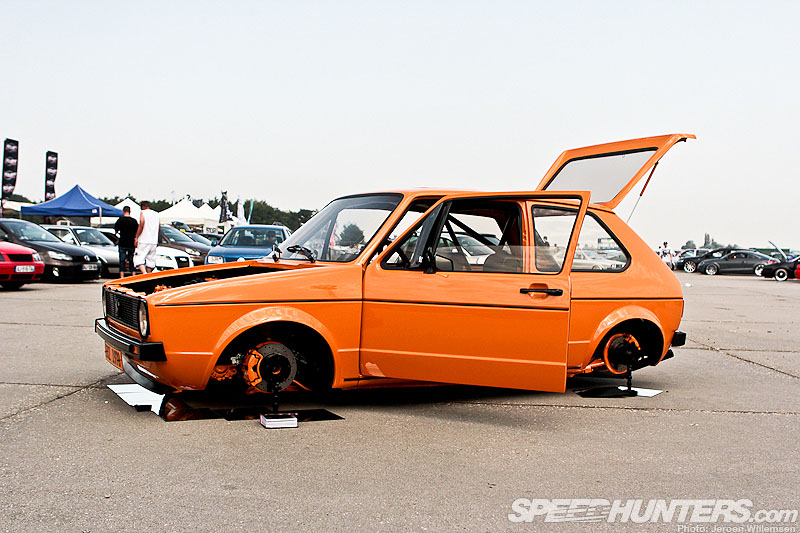 This Golf MKI was pretty crazy and got a lot of attention during the day.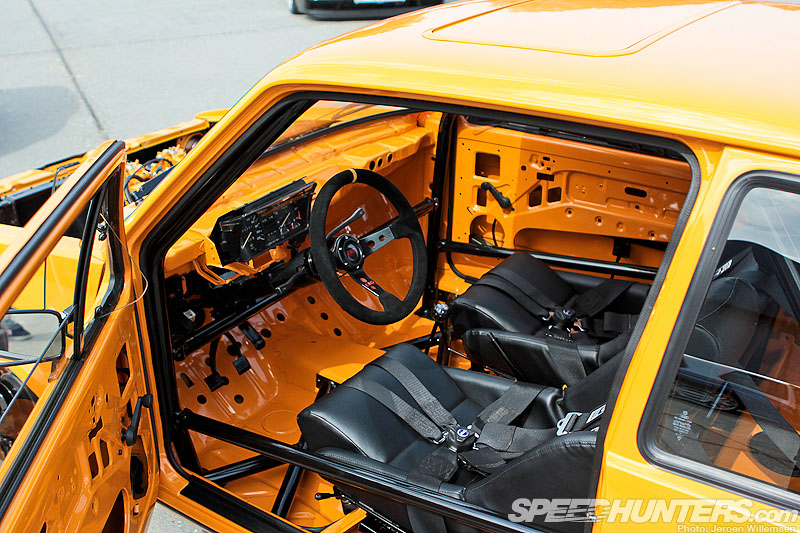 The interior had been completely gutted. The only things left in there are the two seats, roll cage, steering wheel and speedometer.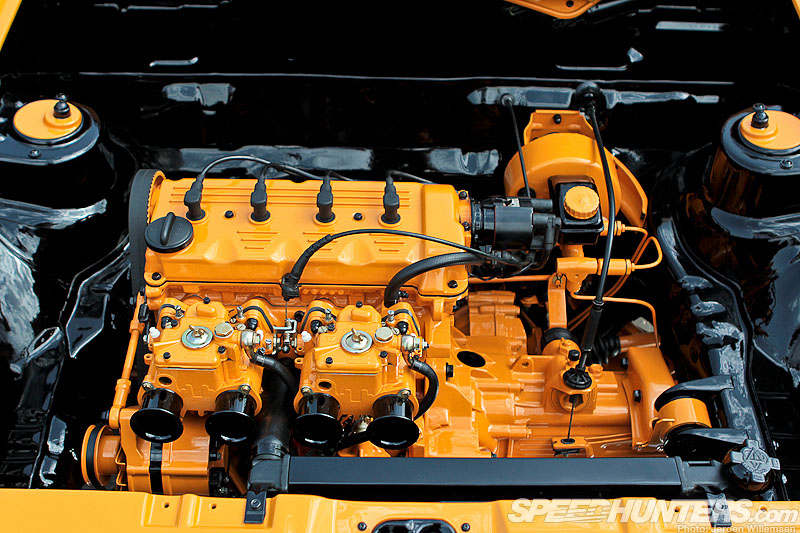 Even the engine had been color coded with the rest of the car. Everything had been painted orange and some of the smaller bits were painted black for a little contrast.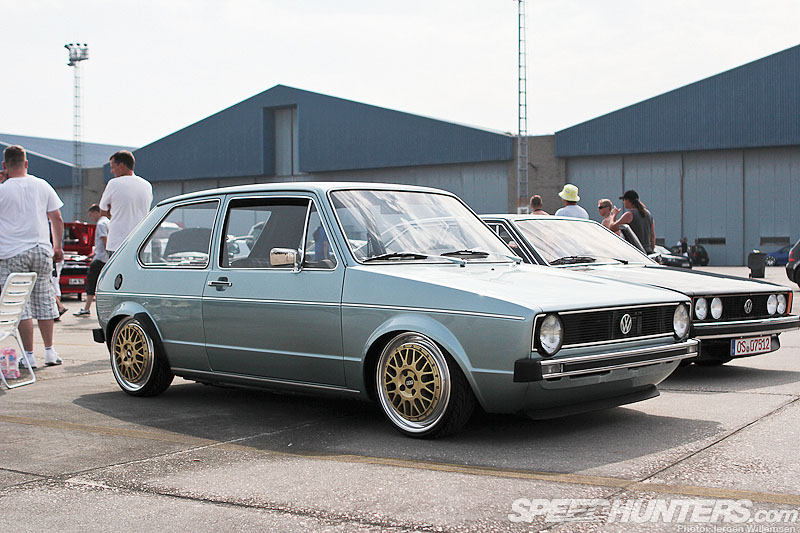 This blue Golf MKI was just recently featured in Performance VW. After the feature it switched wheels so now its rocking these reverse mount BBS rims.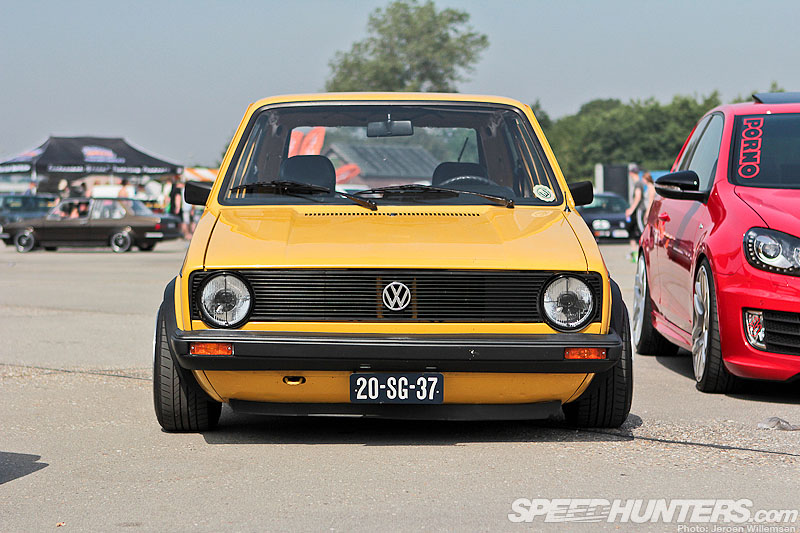 The MKI is such timeless machine, I would love to own one.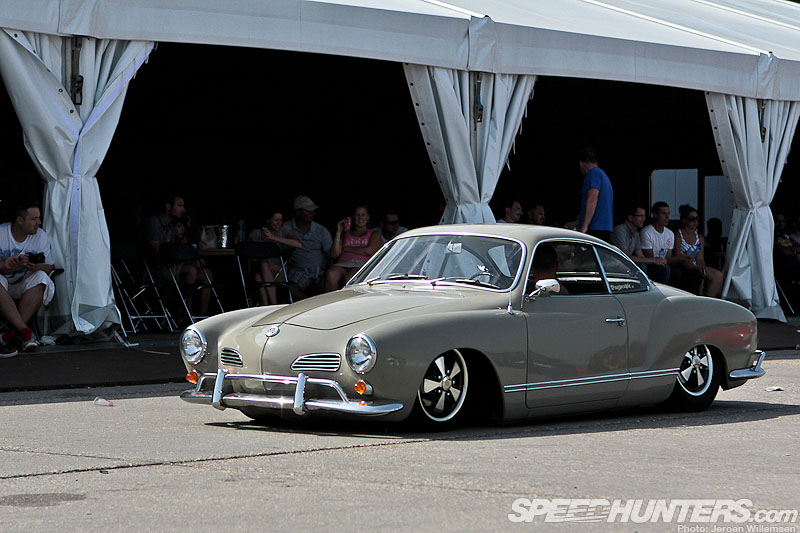 During the day it got extremely hot so a lot of people took shelter inside the tent to stay out of the sun. Luckily for them some owners drove their cars around so there was always something to see. This particular Karmann Ghia rolled around scraping all the way.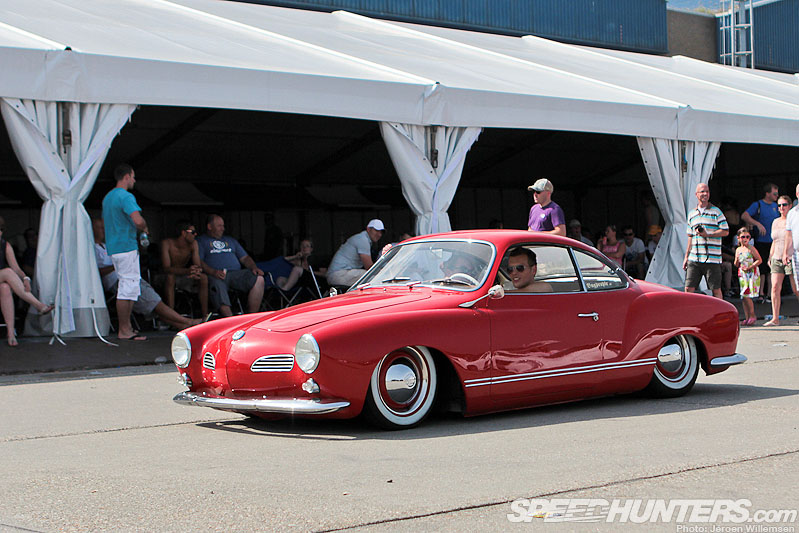 Its friend did a bit better because all I could hear were engine noises instead of the constant scraping.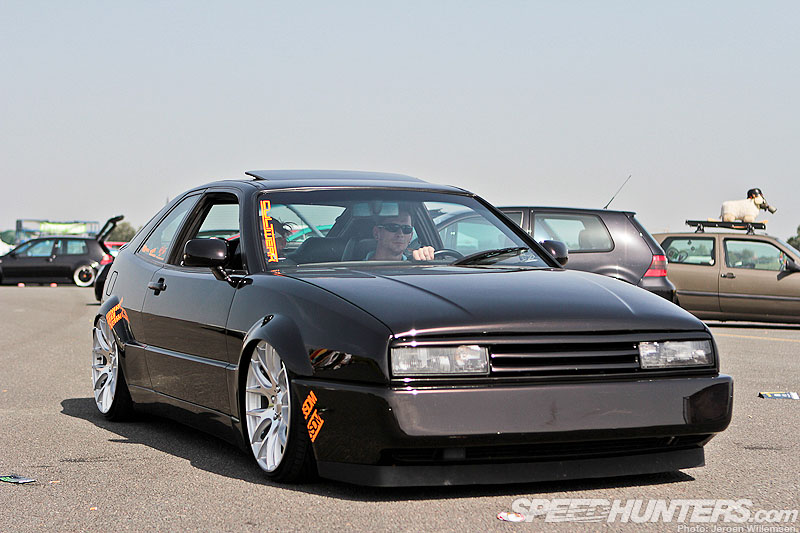 This Corrado belongs to Andy Linz from Germany. This car is so low I find it amazing to see he is still able to drive it. The car is still on a H&R suspension system that allows him to daily his car like this.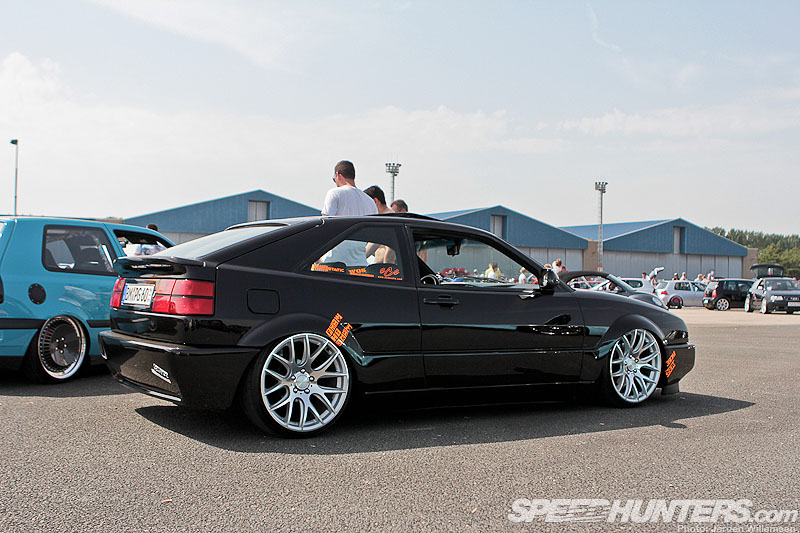 I featured this Corrado before but it seems to change rims faster than I can keep track off. This time around he is rolling around on some 18" 3SDM wheels called 0.01.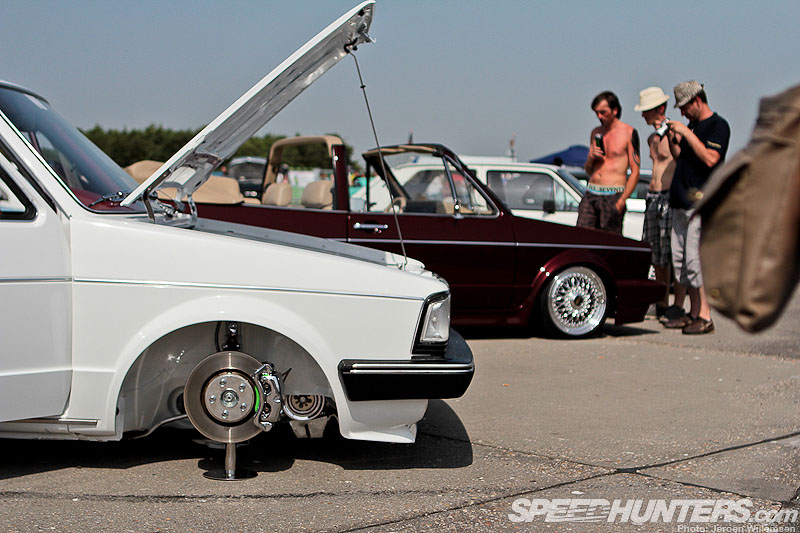 I think that these two cars  are at the top of their game. The white Jetta in the front belongs to Oliver Verheij and it has been built with such a high attention for detail.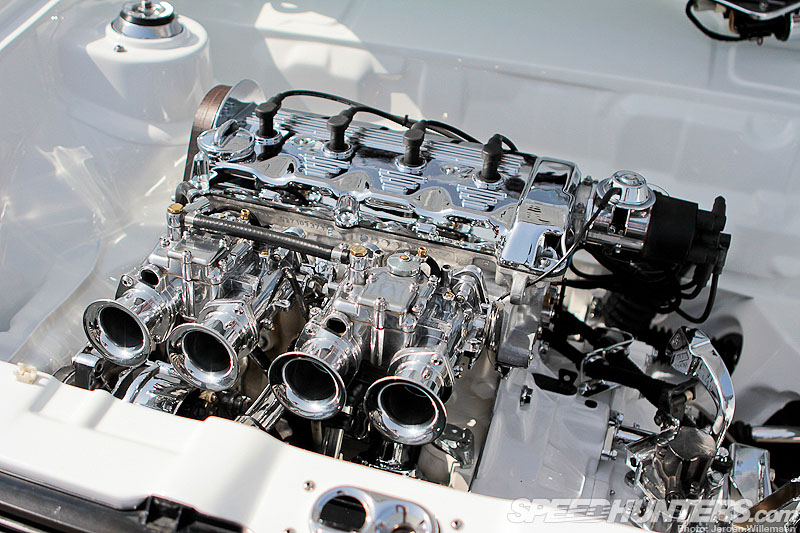 Just check out his engine bay to see what I mean. Just perfection.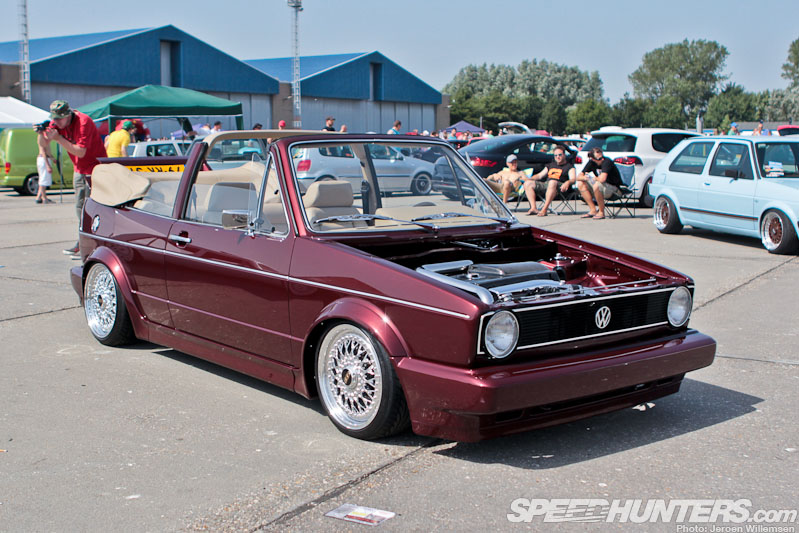 The red MKI convertible belongs to Twan Niemeijer. Both these guys are repping Holland in a big way with their cars.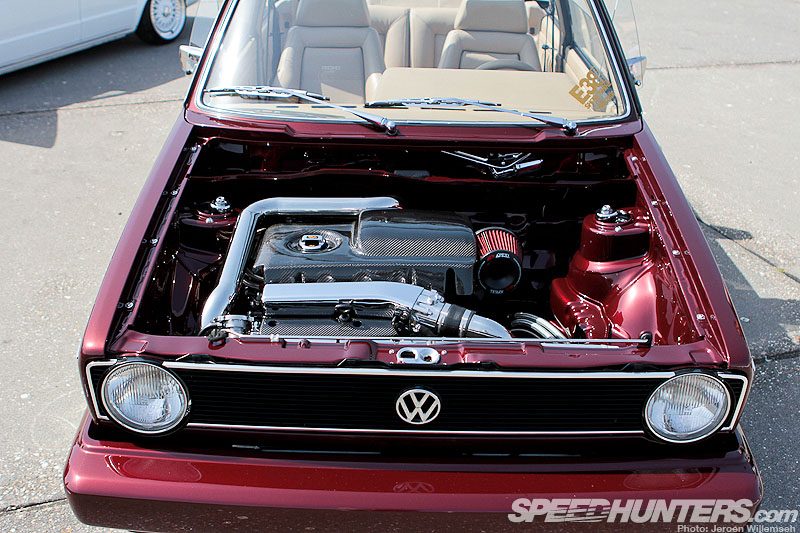 Twan went with a more modern approach with his engine. His MKI now has a 1.8T 20v with more than 230bhp. It also has a lot of carbon details which is something you don't see very often inside the engine bay of a MKI.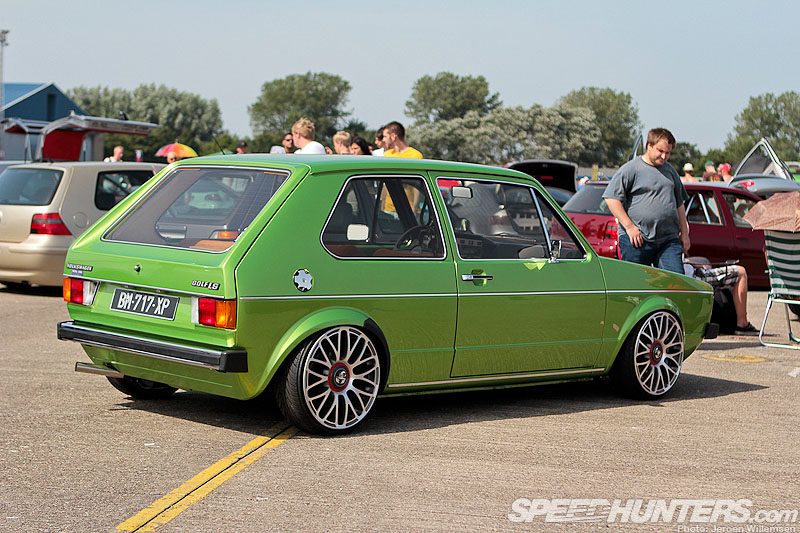 This green MK1 had a set of Abarth wheels probably borrowed from a Fiat 500. Although they are pretty big I still think it's a cool look.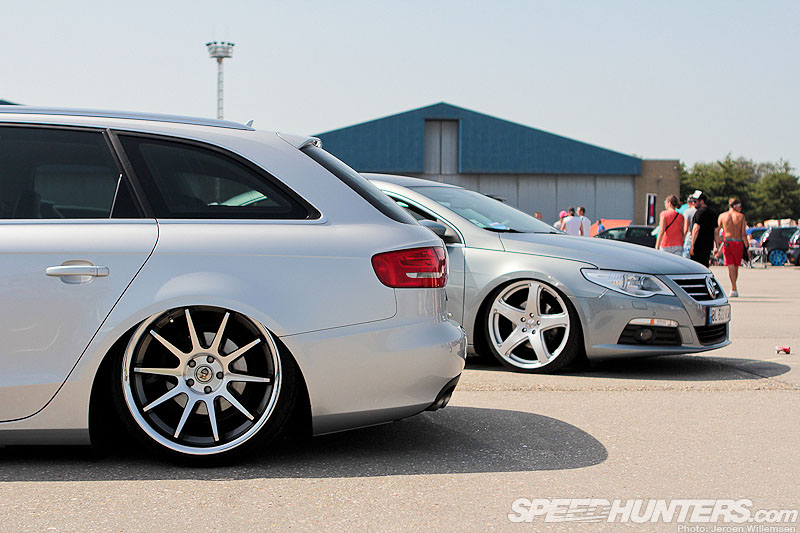 Both these cars represent the newer generation. Big wheels and massive drops all thanks to air ride technology.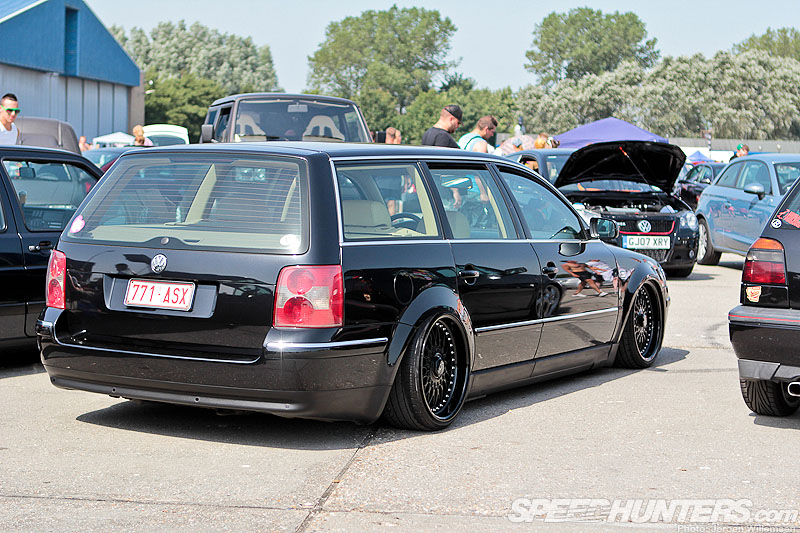 But despite the rise of cars with airbags, most had been dropped using springs. This Passat from Belgium looked very mean with its black paint and black BBS wheels.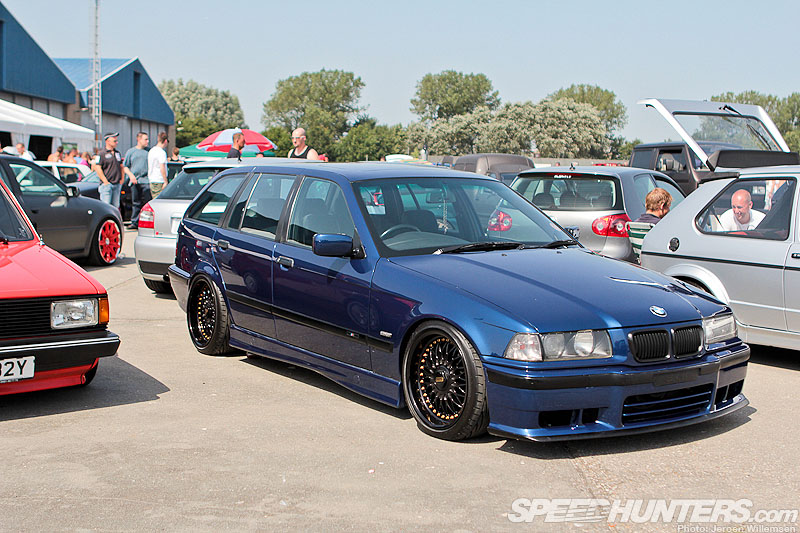 I spotted a BMW E30 M3 last year and this year another BMW found its way inside the show ground. This time a E36 Touring on black BBS wheels with golden accents.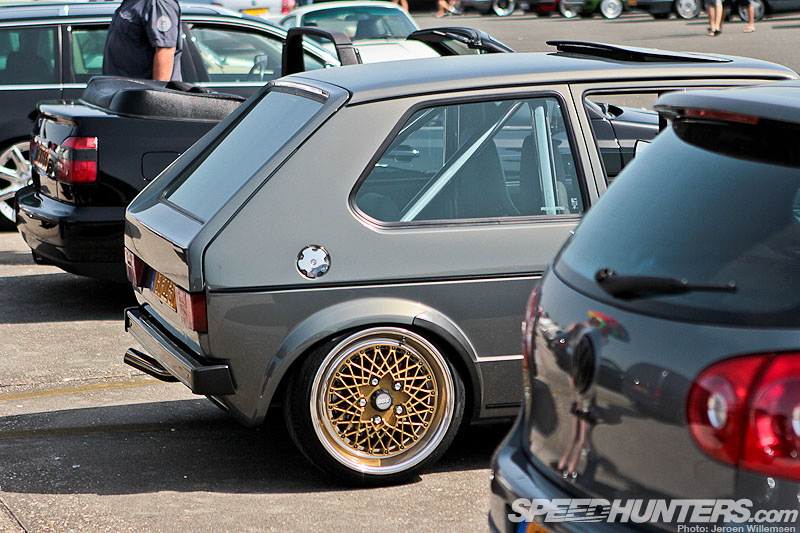 A guy that has put Holland on the map inside the VW scene has to be Ron Huijzer with his famous Golf MKI. This year he changed things up a bit.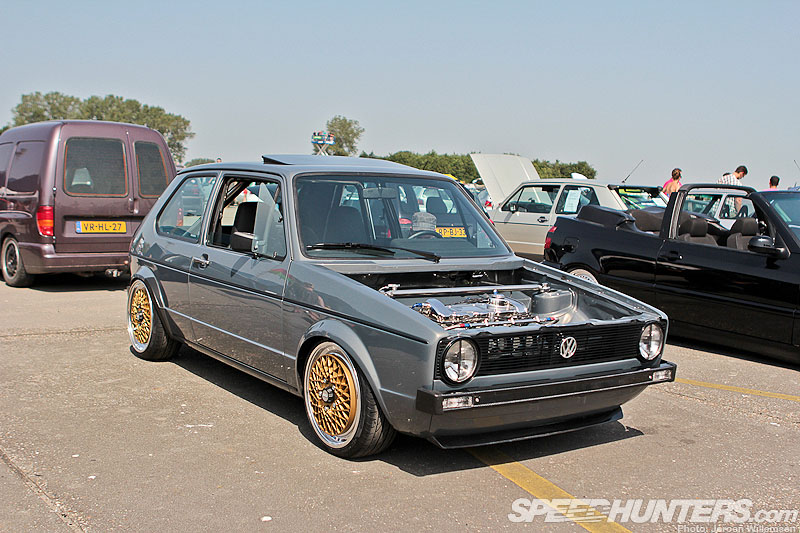 Gone are the silver BBS RS wheels and instead are a set of golden BBS E50s that have been custom made by Rotiform to suit his car.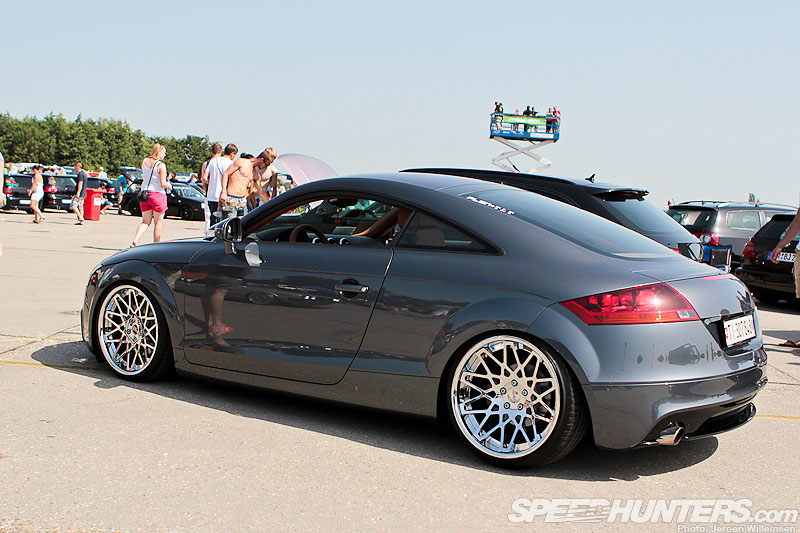 Sometimes all you need are a nice set of wheels, in this case chromed Rotiform super concave BLQ's.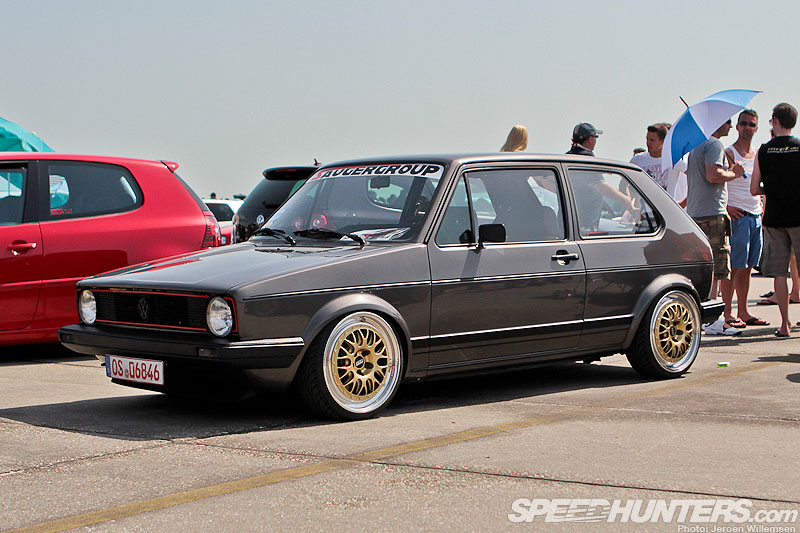 I'll end this part with another car from the Saugergroup. This car has a sequential gearbox for those ultra quick gear changes while racing up the mountain.
Before I end my coverage I still have some Car Spotlights for you, so keep an eye out. There might even be a third part after I process all the photos I took that day.
-Jeroen Willemsen