"Your machine is amazing, intimidating and spectacular. Not really beautiful, except in a unique creation kind of way…" These were the words chosen to describe Cody Loveland's insane creation, from the mouth of none other than Randy Pobst, racing driver and childhood hero to Cody. Having had the pleasure of recently meeting Randy at Mid-Ohio I can assure you a kinder person, and hence description of this NSX, doesn't exist.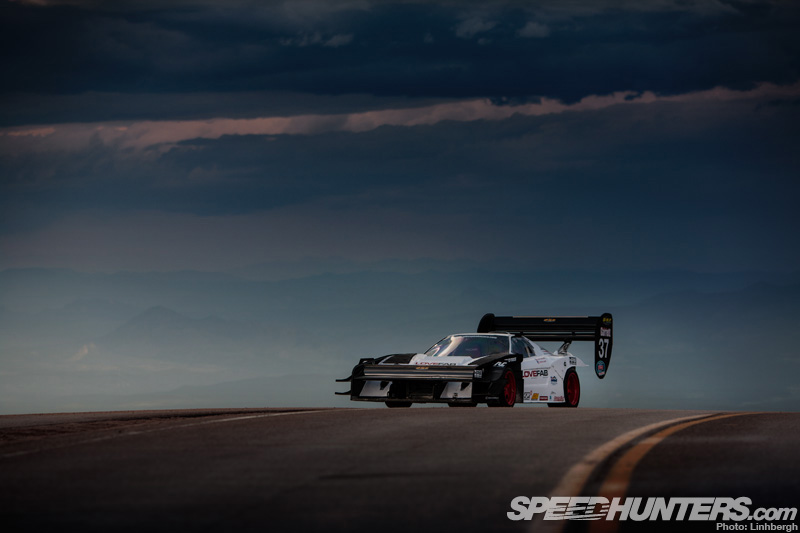 It's been said that beauty is in the eye of the beholder, but in some cases I think, at least in physical form, beauty simply cannot exist. In the case of this NSX I am quite certain that there is something beautiful about it, but I'm not so certain it can be found anywhere in its outward appearance.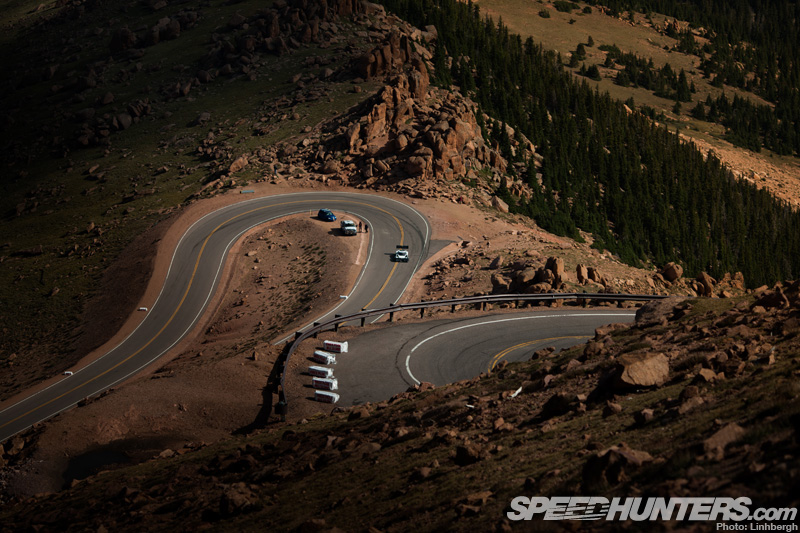 The beauty in this machine lies in the way it works and the reason it exists. It's a no-nonsense build which has been narrowly focused on one target – setting the fastest possible time up Pikes Peak. It's a project which has gone from a simple concept dreamed up by Cody and his friend Matthew Noble Marker in a hot tub, to a monster charging up the most well-known hill in Colorado in just over one year.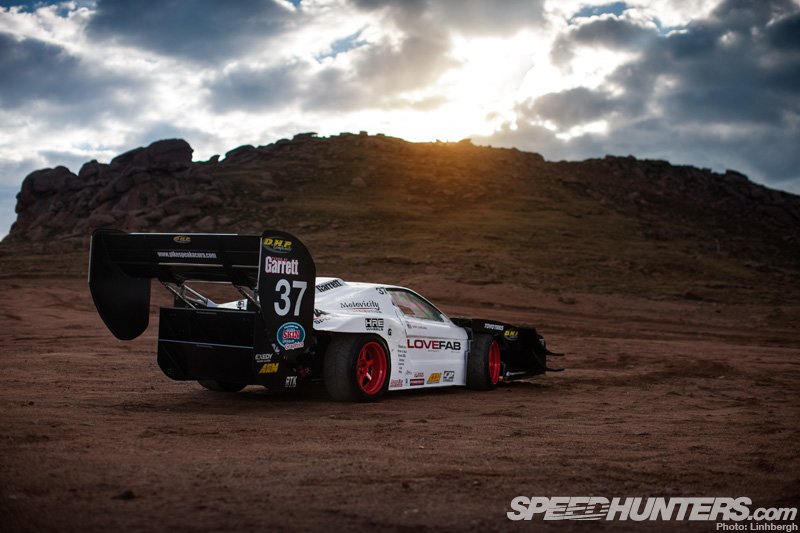 "We were dreaming up ways to race the NSX in an environment that wouldn't totally destroy the car (such as rally), while still being different from traditional road racing" Cody tells me.  "Simultaneously, we both spit out 'Pikes Peak!', and the preparations began. I dissected the rulebook and found that it wasn't extremely difficult to build the car." With an NSX, an understanding of the rules and a lot of will power, Cody set off to build something spectacular.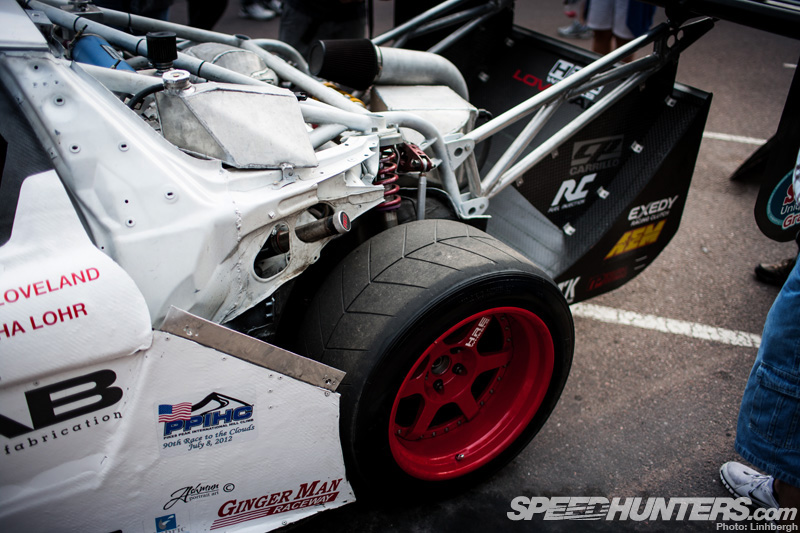 While the most glaring feature of the car is unquestionably the outrageous bodywork, the majority of what makes the car tick is lying beneath the carbon fiber cloak. In order to properly use all of the downforce on offer, Cody first fabricated the chassis mounted brackets capable of accepting the aero load and transferring it directly to the car.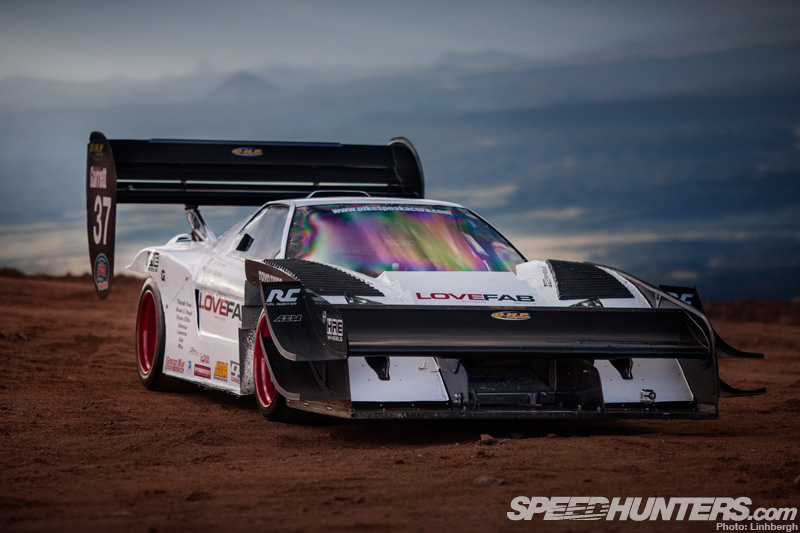 With the basic framework taken care of in-house at LoveFab, the team at DHP Composites then got to work designing a complicated package which could be installed onto the frame. While precise might not be the word I'd use to describe the resulting aerodynamics, effective is absolutely accurate.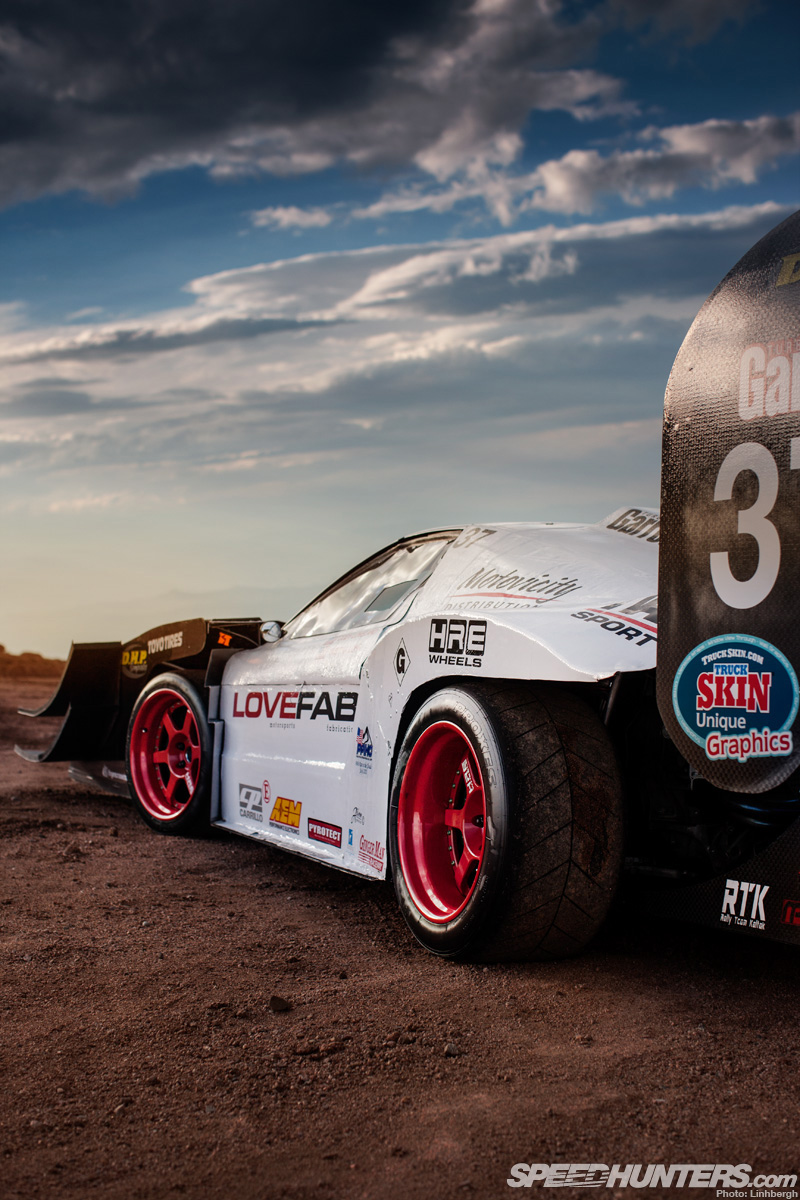 Virtually the entire original body of the car has been removed and replaced with carbon. As I can think of no better way to describe the final look of the car I'll have to agree with Randy, it's certainly intimidating. Not surprisingly all of the recently added downforce had a very noticeable effect on the cars handling which posed a few problems.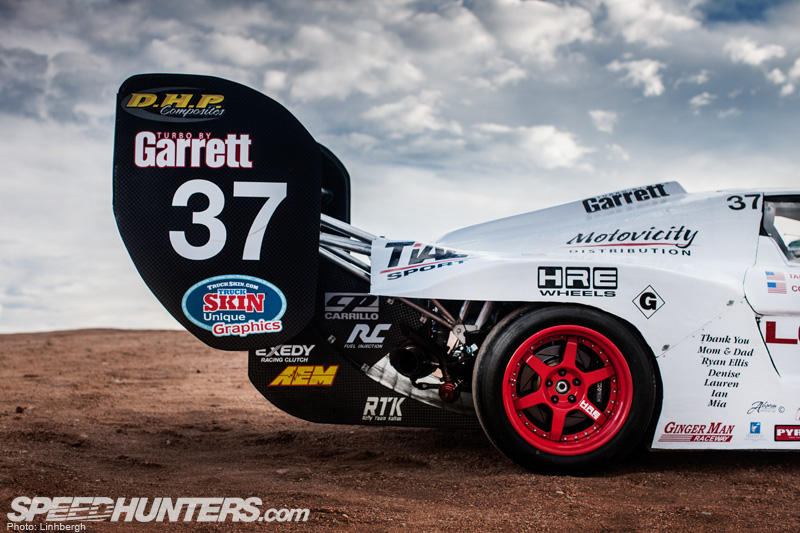 For starters, the rear was creating so much grip that the front wheels were having a very difficult time finding traction. In order to combat this, the massive front canards were added just before PPIHC. The second problem was that the aero load was so extreme at speed that the car was literally being shoved onto the pavement, and subsequently, the shock absorber's bump stops.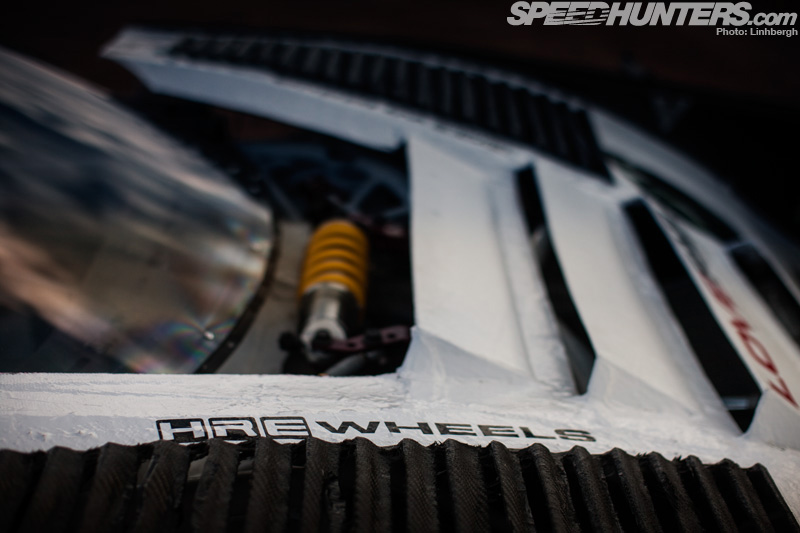 While upping the spring rates would solve the problem it higher speeds, it would also kill any low-speed mechanical grip, and considering that the PPIHC course consists of many tight hairpins this simply wasn't an option. Instead a more complicated solution was needed and Cody decided to combat the problem by using a third-element damper, like those you may have seen installed on the likes of F1 and Indy cars.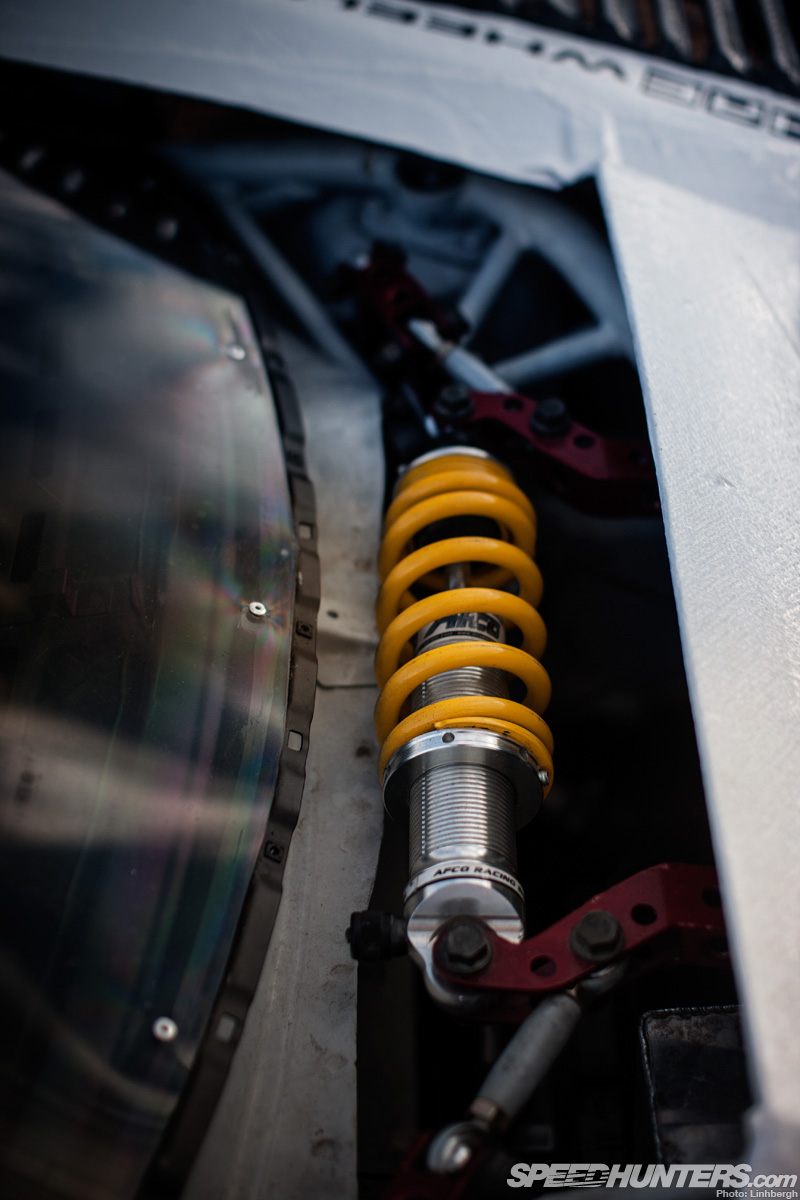 In a very overly simplified nutshell, there are linkages attached to the center shock which require both of the traditional shocks on the axle to be compressed before the third shock/spring comes into play. Thus when a load is only applied to one side, say in a corner, the shocks act independently. When both shocks are compressed simultaneously the linkages going to the third shock are activated creating a higher overall spring rate, thus you can think of it as a very complicated progressive spring.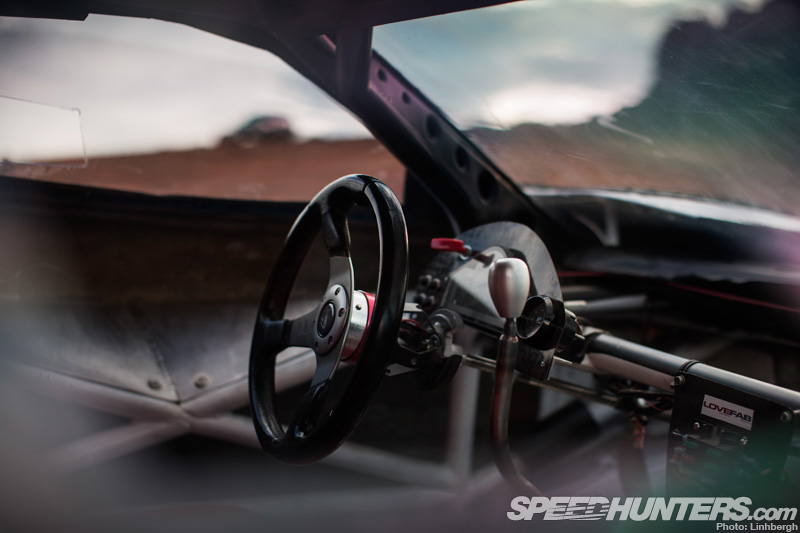 Fortunately the interior is considerably more simple. When I say that there's nothing inside the cockpit I really mean it. I've said it before, but this time it can be taken literally. In fact I'm not sure there is a single component from the factory left inside the car at all. Not a single panel, button, switch or clip – it's all gone.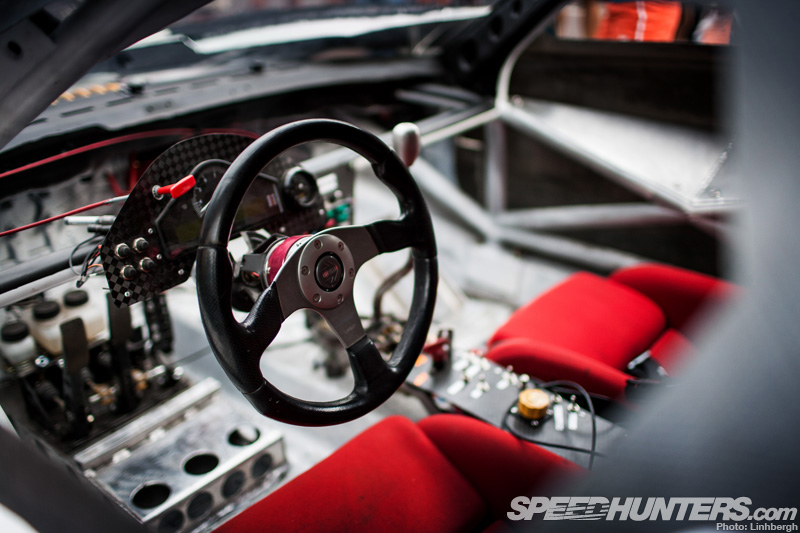 Instead you've got a bunch of metal, a few bits of carbon fiber, some cloth and the occasional electrical component. Keeping weight to a bare minimum, Cody decided to make his own dash and center consoles out of nothing more than a flat sheet of carbon. Hung in front of the Recaro driver's seat is a steering wheel, a STACK dash and a set of pedals.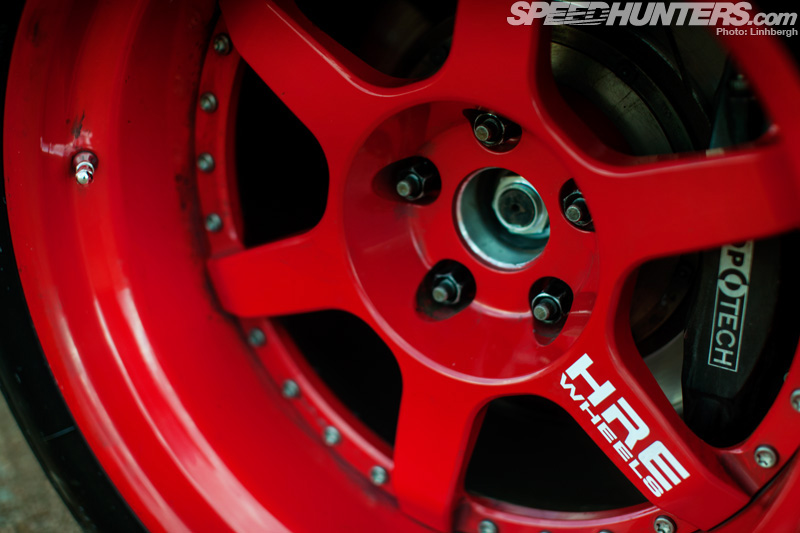 One of those pedals controls an adjustable dual-master cylinder which determines how much fluid is sent to the Stoptech brakes. I'm told that the bias is currently set to 100% rear as the car has so much rear grip that anything less causes the fronts to lock up almost instantly. Incredible.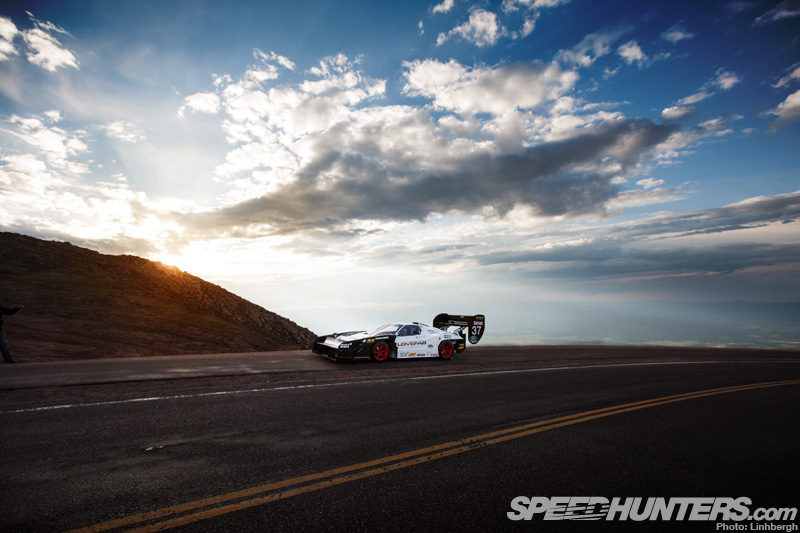 So this is the car that was constructed in roughly seven months, beginning with the initial tear-down back in December. But like any car this ambitious, the adventure wasn't without mishaps and had the event not been postponed you likely wouldn't be reading this story until next year.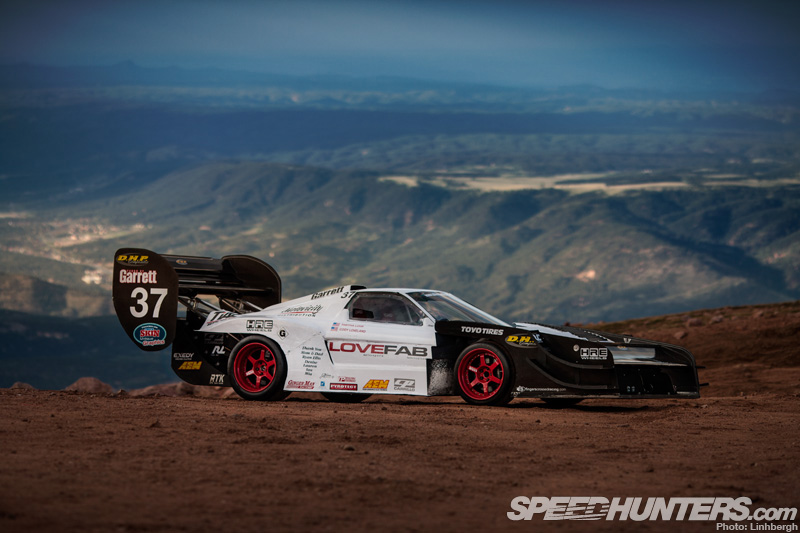 During initial testing back in June the car spun a rod bearing, the result of a faulty dry-sump setup. With the event being cancelled and rescheduled for August, Cody had some time to build a spare engine and get the car back into shape. Learning from that expensive mistake, this time around the car is running a tried-and-true wet oil pan with an Accusump for reserve.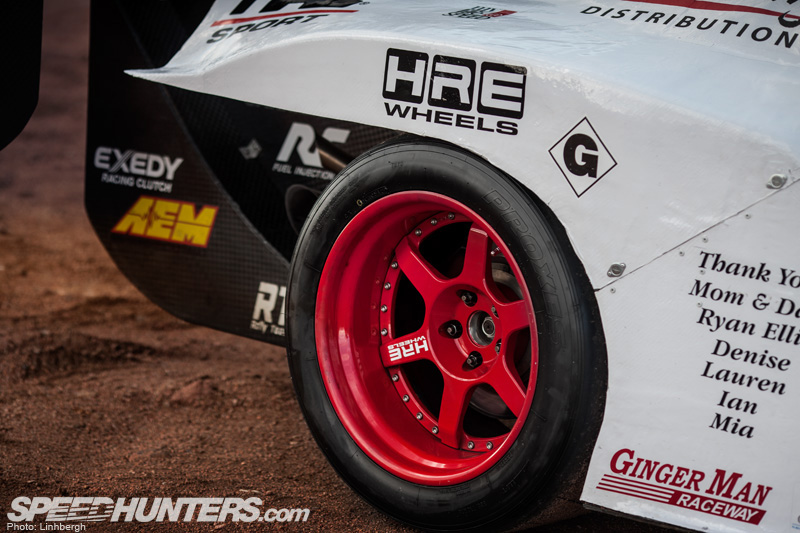 But that was just one of many issues along the way. There was also a mix up with the car's original wheel sponsor and Cody was only sent four of his eight ordered wheels, and each of which turned out to be the wrong size. Luckly HRE, who have a long history supporting PPIHC cars, decided to step in and help out a racer in dire need and equipped the car with a brand new wheel – the C96S.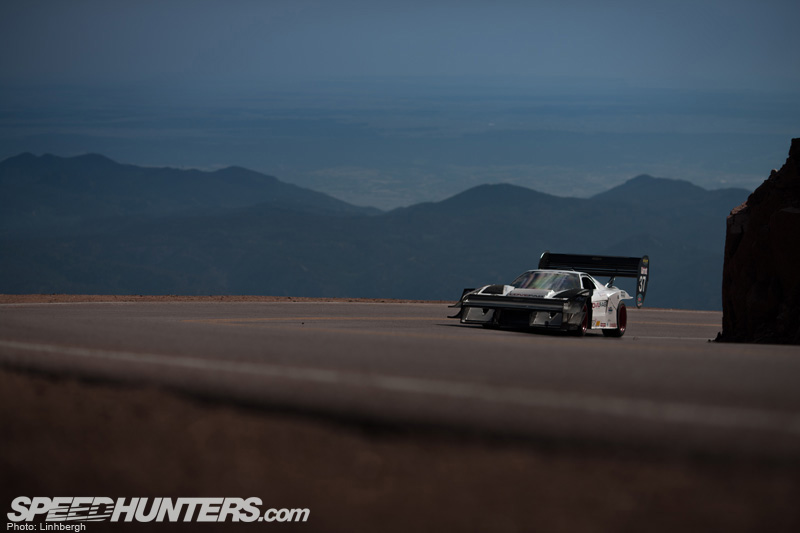 And so with a new engine, new aero and some new rollers the team was off to Colorado to see what they could do. Unfortunately for the team the week would begin with a dose of bad luck that the mountain has become infamous for dishing out. It would begin with some minor yet common fuel delivery gremlins and then crescendo into a scary shunt during Thursday's practice session.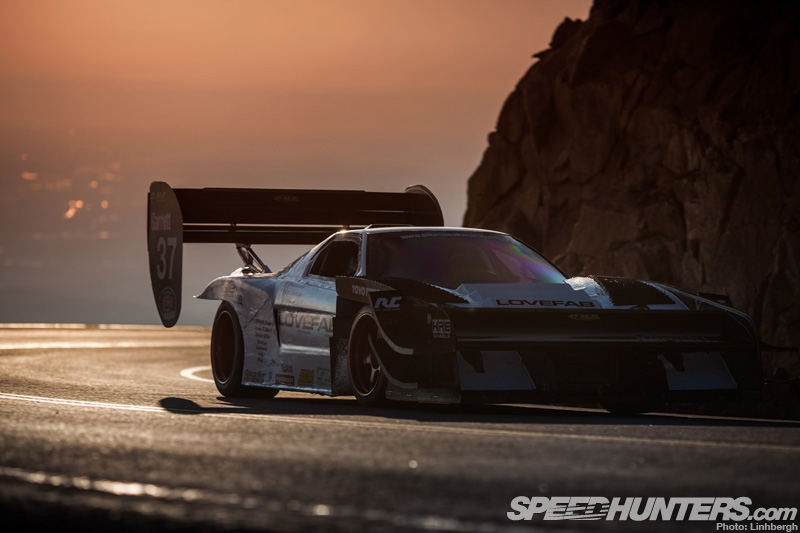 The team was shaken but they weren't about to give up. "The car was destroyed and we rebuilt it within twelve hours and had the car ready to race again for Friday morning's practice.  While pulling up the the grid, many teams turned around from their rigorous car preparations and gave us standing ovations for getting the car done and ready to run without hardly a trace of an accident, and on forty-eight hours of no sleep."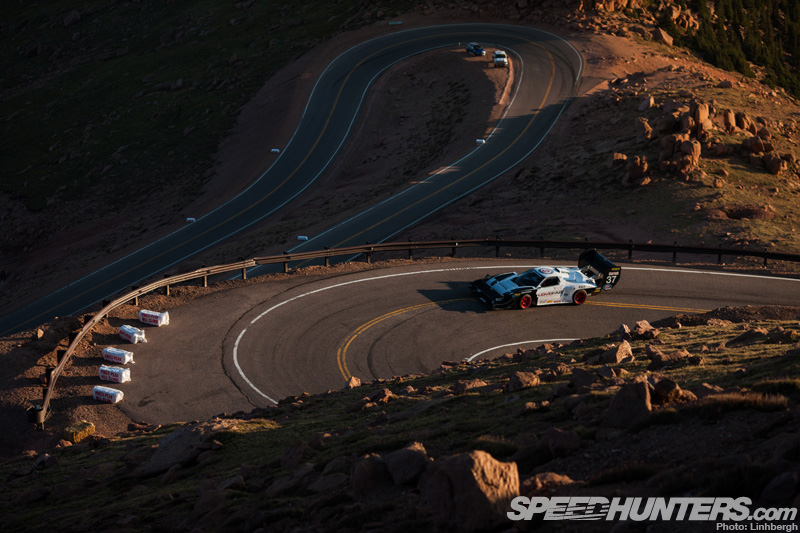 With a new goal of just finishing without destroying the car, the NSX was driven up the course at what Cody would estimate was about half pace. Due to the misfortunes of others, slow and steady ended up very nearly winning the race. The rookie team had managed second in the Unlimited class, a bittersweet result in the honor of friend and co-conspirator Matthew Noble Marker, who passed away at last year's Olympia Rally.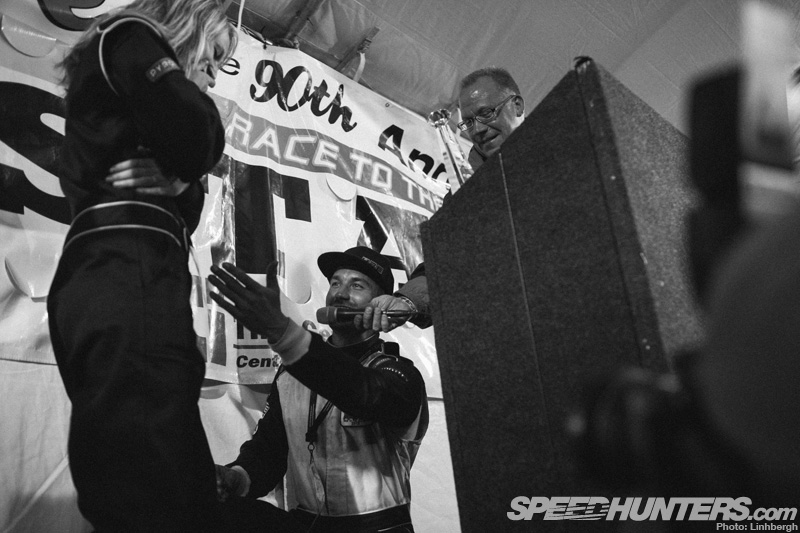 But it wasn't all tears as Cody had a very special surprise in store for his co-driver Tabitha. "I had it arranged with the Pikes Peak Committee to call me up for an award, because we certainly did not plan on receiving one, and I was to propose then. I guess the laugh is on us, we received a second place trophy and I got the job done in front of our peers.  It was a moment I wanted to share with everyone there, as they all saw the hardships we went through over the course of the week."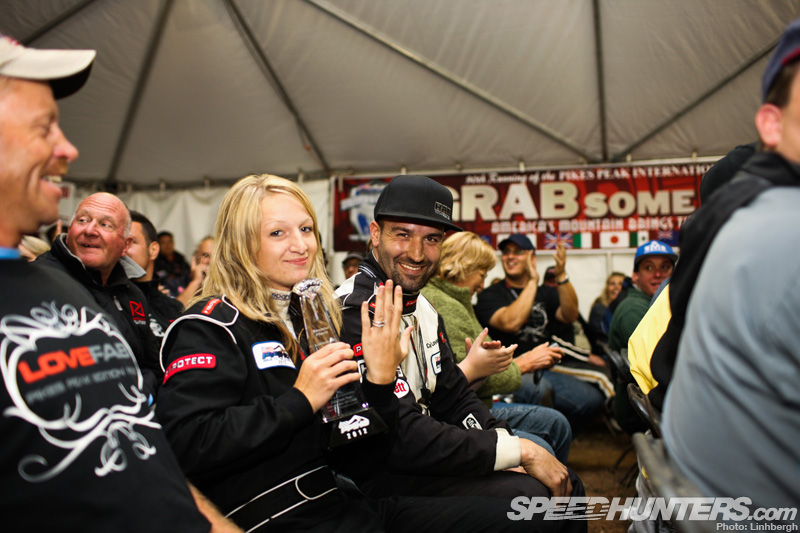 If you'll pardon the pun, I'd say that these guys really put some love into the event. After speaking on the phone with Cody, who returned home to Michigan only hours ago, I could tell from his excitement that the two will definitely be returning to the mountain. And so on that day I guess you could say that two lifelong commitments were made: one to each other, and one to the mountain.
1991 Acura NSX
ENGINE
Turbocharged 3.0L C30A V6; LoveFab LF1200 engine preparation (includes turbo manifold, y-pipe, intercooler, exhaust); CP 9:1 pistons; Carrillo rods; quadruple radiator setup; Garrett GTX4294R Turbocharger; TiAL wastegate and blow-off valve; RC 1200CC injectors; external fuel surge tank; Bosch 044 primary fuel pump (to surge); Aeromotive secondary fuel pump (to engine); Accusump
ENGINE MANAGEMENT / ELECTRONICS
AEM EMS and sensors; STACK ST8130 dash
DRIVELINE
Factory 6-speed transaxle; OS Giken LSD; Exedy twin-plate clutch
SUSPENSION / CHASSIS
LoveFab third-element push rod suspension design utilizing Afco racing 2-way adjustable shocks w/ 550lb springs; KW Variant 3 coilovers w/ custom spring rates; roll cage; front and rear tube frame
BRAKES
Stoptech calipers and 2-piece rotors (f/r); Hawk HT-10 pads; floor-mounted pedals w/ dual-masters and adjustable balance bar
WHEELS / TIRES
HRE C96S LoveFab Pikes Peak Edition 18X13″, and 18X11″ wheels;  280/650/18 front Toyo Proxes RS1, hand grooved  335/710/18 rear Toyo Proxes RS1, hand grooved
CABIN
Recaro seats; custom carbon console; Pyrotect safety gear
BODY
DHP Composites full carbon fiber body w/ Pikes Peak wing package
PERFORMANCE
2500lbs wet; 675WHP @ 22psi at 7000ft elevation on Revolution's Dyno
THANKS
Yukio and Keith from Garrett, Adam and Jeremy Jabaay, Jake Kaminiskis, Brian Vinson and the entire Pikes Peak Acura crew for the AMAZING facility and hospitality, Rhett, Savannah, and Valentin from Fingers Crossed Racing, and Adam and the crew from Revolutions Performance for helping us out so much this week.  We would NOT have made the finish line without them.  Truly an amazing group of racers!
More from Pikes Peak 2012 on Speedhunters
More stories by Sean Klingelhoefer on Speedhunters
More stories by Linhbergh Nguyen on Speedhunters
-Sean