When you really think about it, cars are very strange things. To most people these hunks of metal and rubber are seldom more than a tool used for transportation, but here at Speedhunters we could never view them in such simple terms. I'm not quite sure when my curiosity about the car turned from a simple sense of wonder to a life altering obsession, but I can say that I don't think it will ever go away.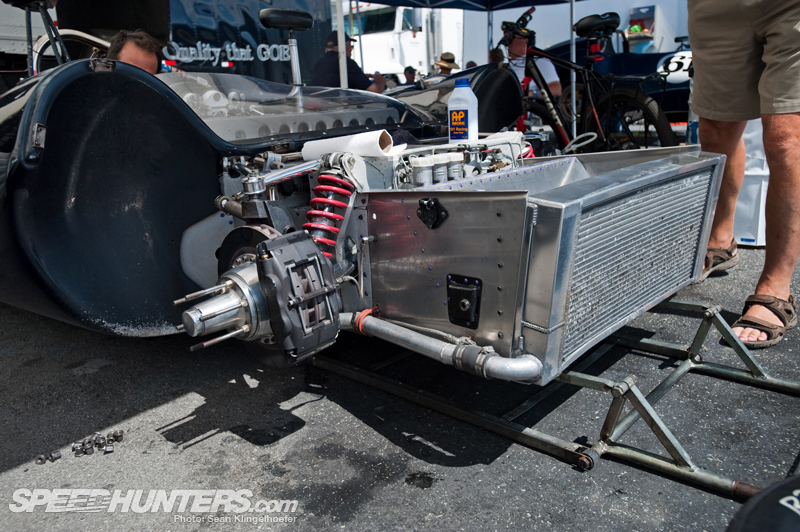 In fact it's quite difficult for me to wrap my brain around how "ordinary" people can not have the same emotional attachment to cars. I tried long and hard to think about why it is that I don't view the car like a camera or computer or other devices I get along well with but view merely as tools. Eventually I realized that the answer is quite simple.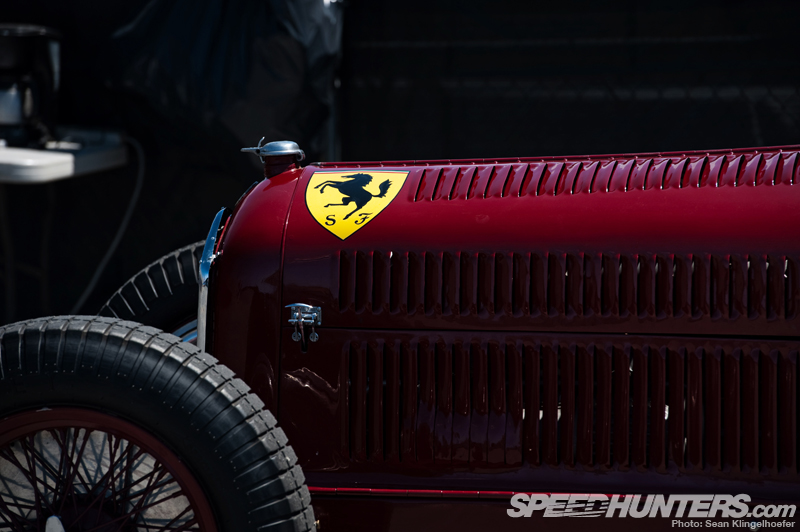 The car is perhaps the only tool I can think of that really gives back. Every ounce of blood, sweat and tears you pour into the car they are capable of giving back. If you respect the car it will fulfill your wildest dreams, but if you overstep its limits it won't hesitate to push back.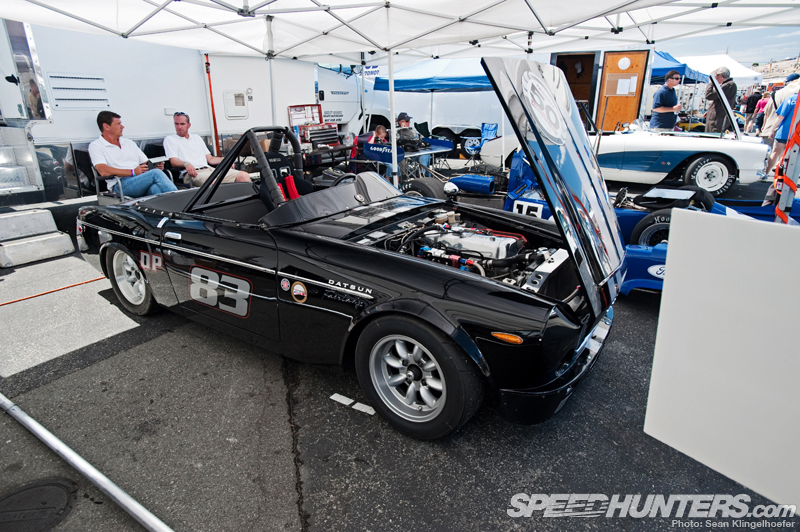 In recent years this seems to be one trait of the automobile that the car makers are trying to eliminate. Rod talked about what "soul" really is, and how it applies to a car after having driven the McLaren MP4-12C. While I'm not so inclined to refer to a car's aura as "soul", I certainly agree that there is more going on than a bunch of lifeless pieces bolted together.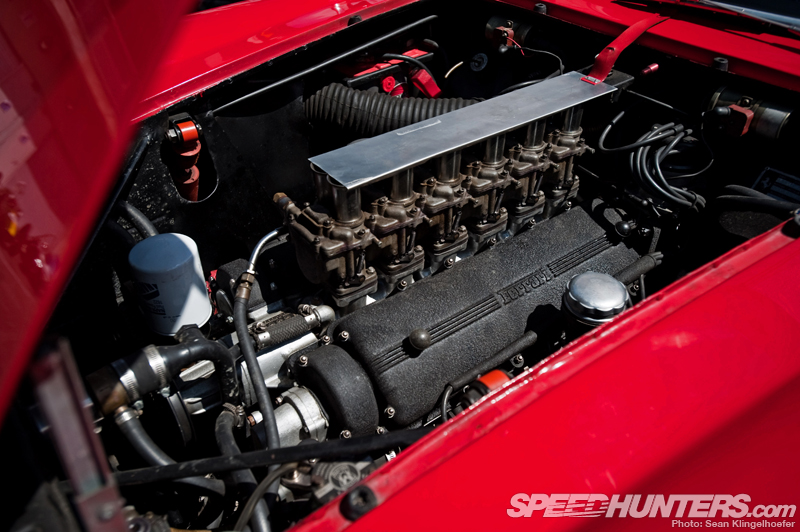 Perhaps "character" is a more vague yet accurate description for the phenomenon, and when it comes to character, the cars on display at the Rolex Monterey Motorsports Reunion had it in spades. While carburetors, bias ply tires and drum brakes do not necessary give something a soul, they certainly do add character.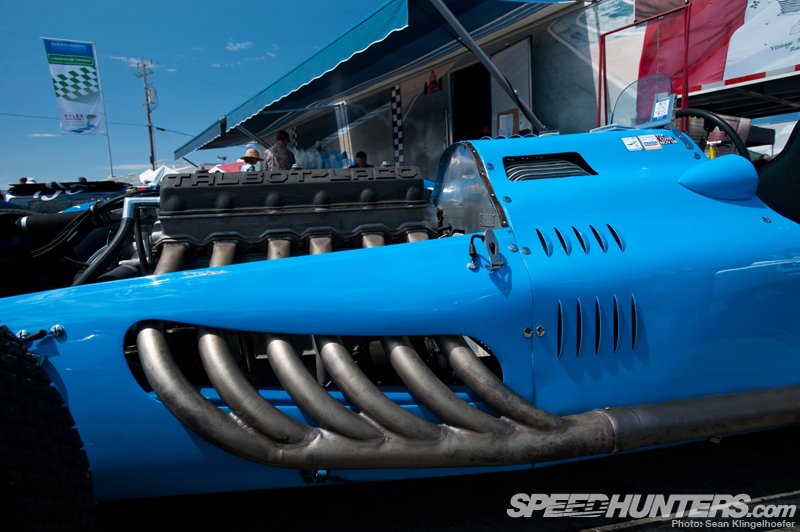 Of course character is also a byproduct of age and experience, and this is true of both people and cars. Strangely as you age and gain character you become increasingly interested in the past, at least such is the case for me. Suddenly things you never found particularly exciting are worth a further look.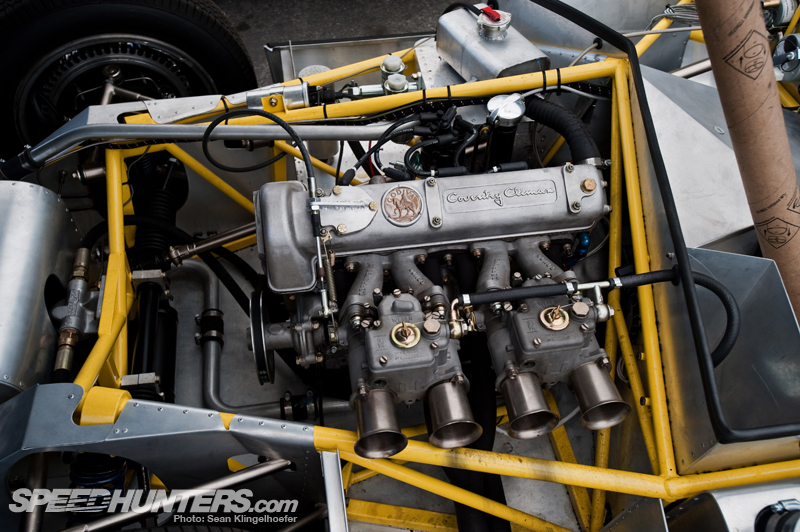 It's a trait that separates the human species from basically every other known life form, the ability to look into the past in an attempt to improve the future. For any petrol head, this means getting up close and personal with some vintage rolling stock and really taking a good look at all the bits.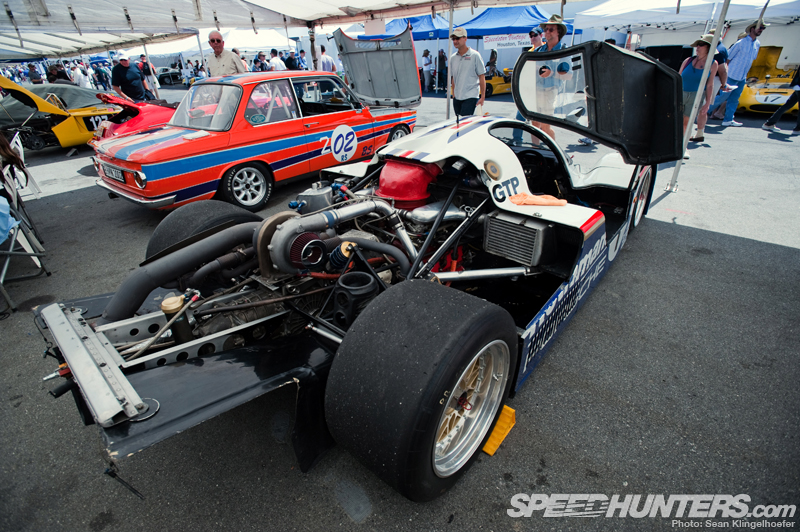 While historic events are largely occupied by older enthusiasts who are reliving the glory days, I truly think that they offer much more to a younger generation unfamiliar with the cars. It is only by retracing the footsteps that one can fully appreciate where the car is today. For example one look under the skin of the 962 shows a design that appears quite crude compared to the likes of a current prototype like the Audi R18 E-Tron.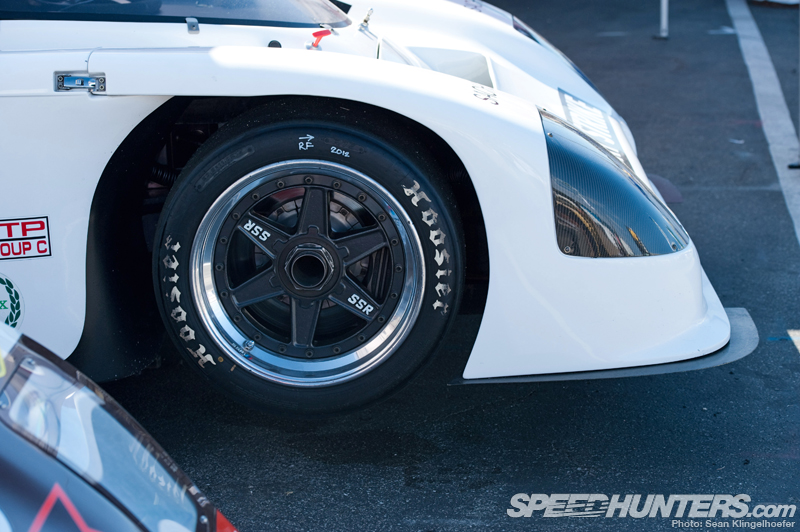 On a much smaller scale it's even fun just to look at how particular components have evolved, like the turbocharger or the wheel. Take for example this set of SSRs I found bolted to a prototype. They're clearly designed for performance, and probably look great to any JDM enthusiast, but you have to admit they look ancient compared to today's current Super GT 1-piece forged crop.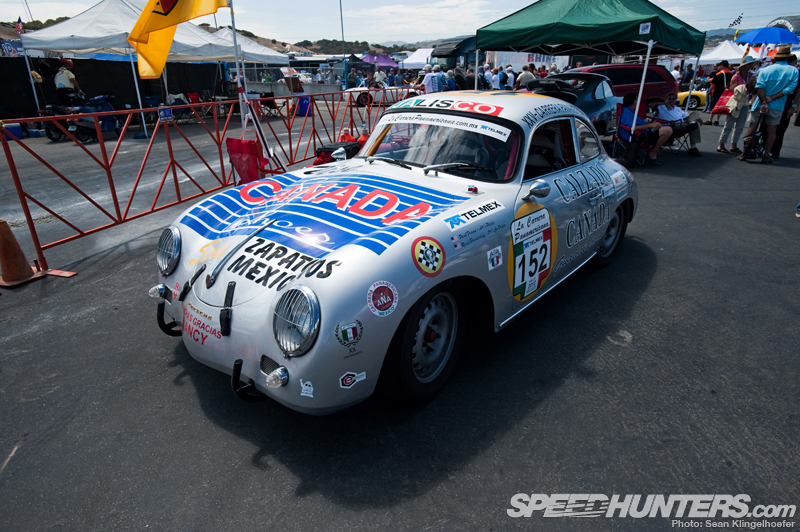 And so it was with some of these thoughts bouncing around in my subconscious that I navigated the paddock looking for patterns and evolution. One car that has an obvious traceable lineage is Porsche, and in terms of purchasable cars it all started with the 356. This is a car I used to find ugly, but over the last couple of years I've fallen in love with them.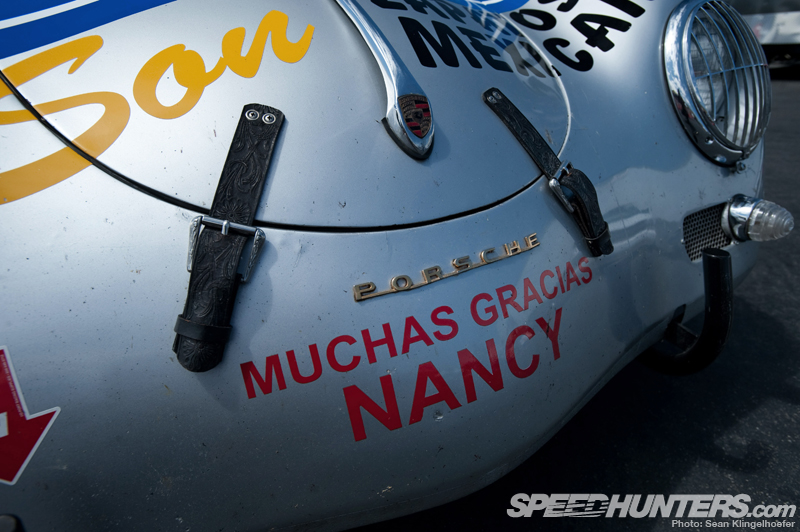 I like them in all forms: beat up originals, fully factory restored jobs and even outlaw racer style. This Panamericana style is a pretty popular choice amongst those who actually track these little cars and there were a few at Monterey last weekend, with this being my favorite. I tripped out when I saw the Latin-flavor added to the hood straps. Clever.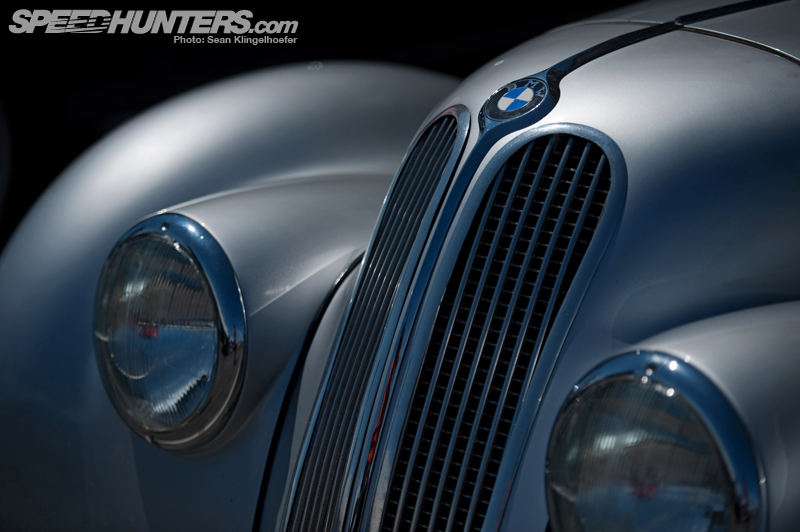 Other brands, like BMW, have come a very long way in the evolution of body shape. In fact, had it not been for the logo on the hood and the extremely oblong kidney grills, I would have had no idea I was looking at a 328 from 1939. I'm not a BMW buff by any means, but I would presume that given the date, this was probably one of their first attempts at making automobiles rather than airplanes.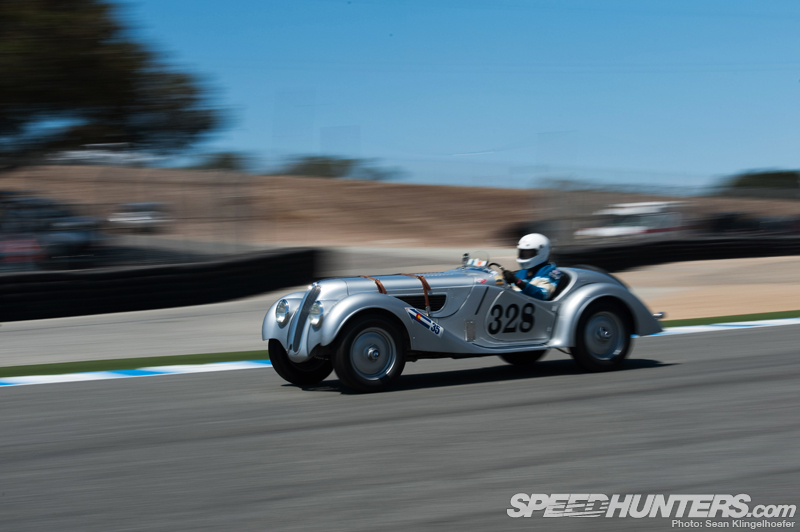 It's certainly a far cry from today's 3-series, but in a class where it was the sole competitor with fenders it looked decidedly advanced. You never realize what you've got until it's gone, and I find fenders have gone largely unappreciated. I mean, without fenders than can be no gap to close up, and thus (gasp) no stance!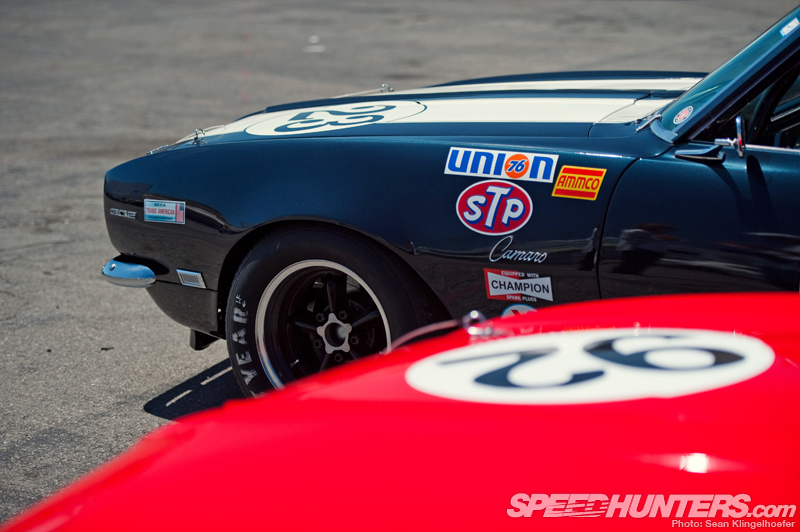 Over the course of the weekend I got a new fixation on the Trans-Am cars of the late sixties and seventies. To me this was really the golden age for the American car industry when classics like the Camaro and Mustang were born. Seeing them in full racing trim makes them even more appealing.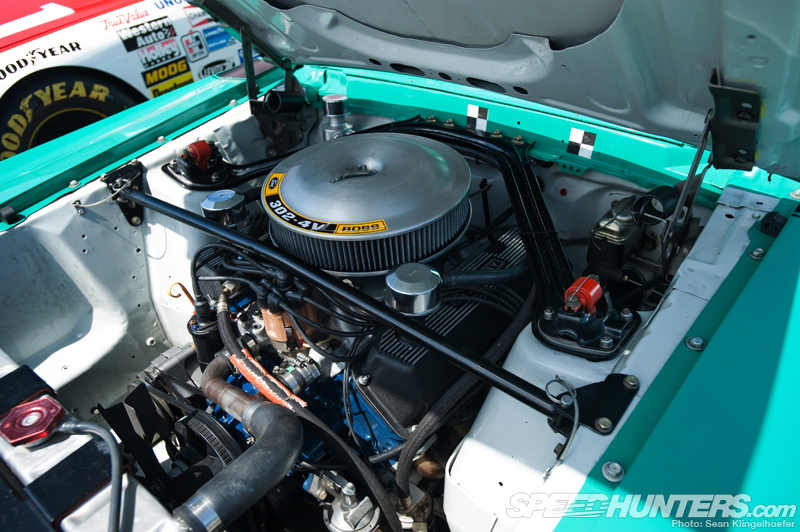 Many of these cars were in immaculate condition too, in some cases they were fresh off a restoration. I don't know enough about the mustang to tell if this 302 has been relocated or not, but I can tell you that appears to be some pretty trick suspension.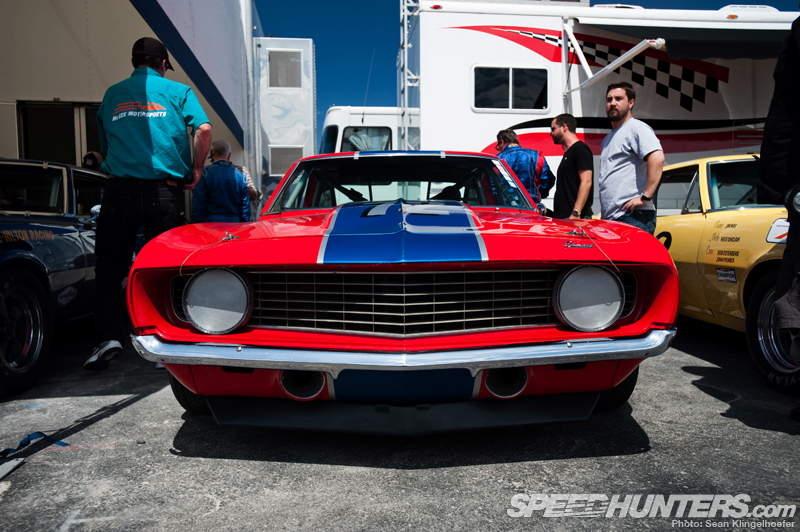 While the Mustang is certainly a beautiful car, I've always been more of a Camaro fan. I can't really explain it, other than the fact that I think it just looks downright badass. I've already gone over why I like these cars before, so I won't bore you to death again, but I will say that there were some mouthwatering examples at Monterey.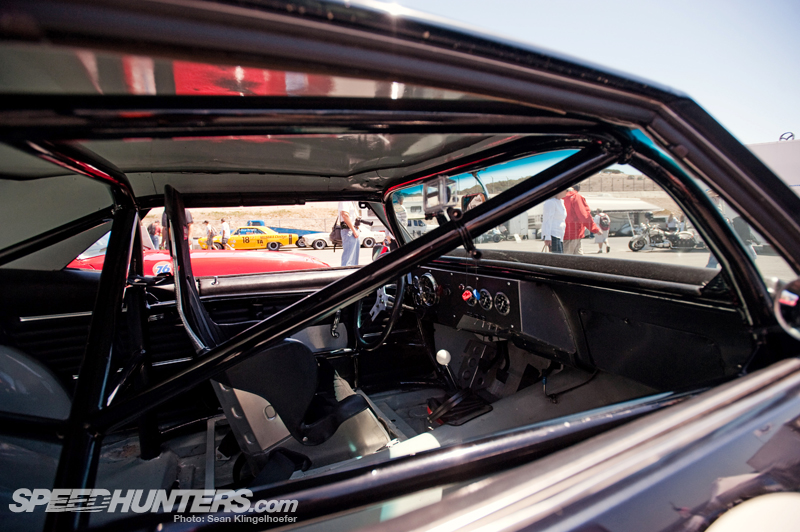 Being that these are mostly authentic vintage race cars, they have interiors and cages to match. They're bare bones but incredible to behold. When I peeked inside some of these cars I couldn't help but think of the movie Death Proof.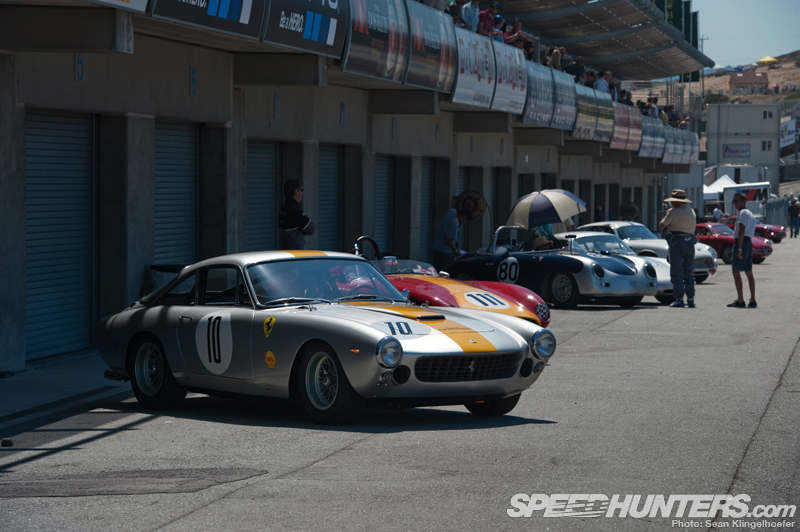 While I believe that automotive design has largely improved over the years, there are certain stunning examples of how powerful a few simple curves can be. This Ferrari 250 GT Lusso had a profound effect on me last weekend, and although it wasn't the only one there, this livery really exposed to lines of the car.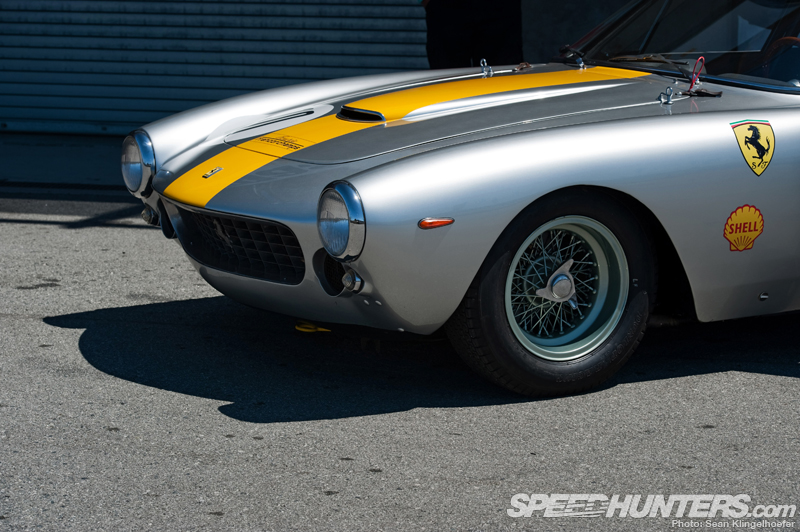 Every time I encountered it I stopped in my tracks and my jaw hit the floor. It's incredible how tin can have such an emotional foothold on the human brain. I mean am I crazy or is that not one of the most beautiful things you've seen all day? Hell, all week.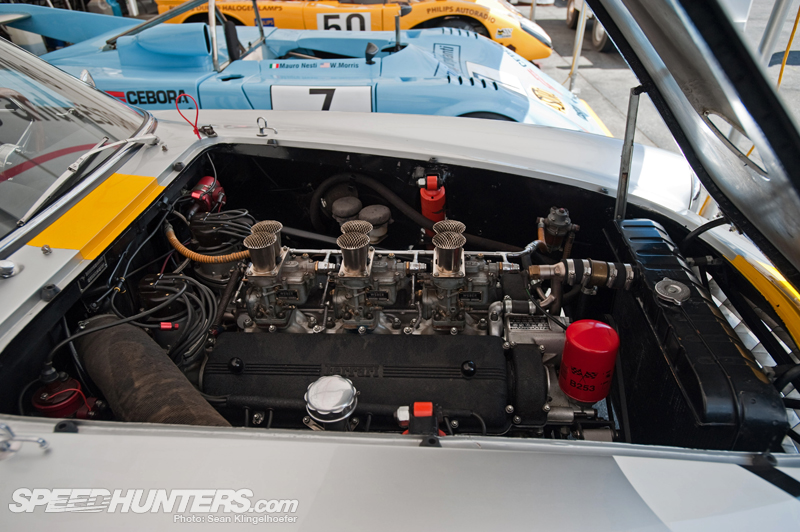 While the engine wasn't quite as well kept as the exterior, I can appreciate the fact that it gets used. Even still there's something sexy, in a I'm-not-even-trying-and-I'm-still-hot way, about the Webers jetting out of the V12.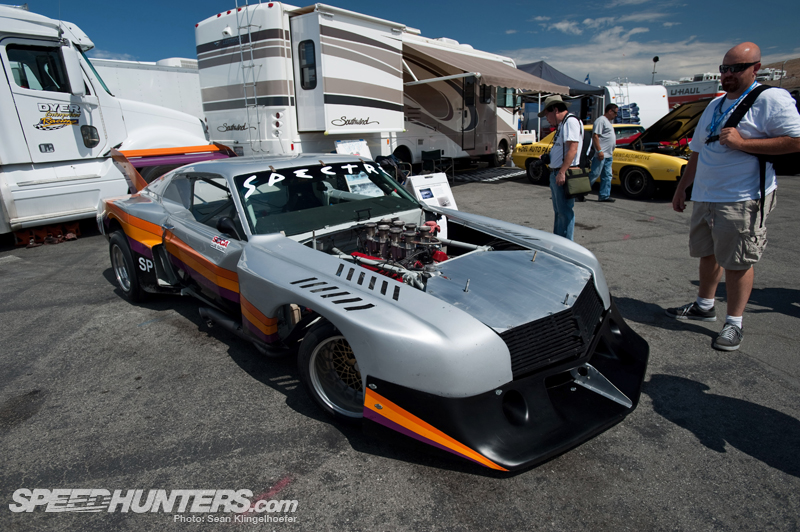 Occasionally I would come across a car that I had absolutely no clue about and couldn't recognize or define in any manner. I never thought I would say that about a Ford Mustang, that is until I stumbled upon this virtually unidentifiable 1970 model. The body work is unbelievably aggressive and makes other silhouette cars of the era look like a joke.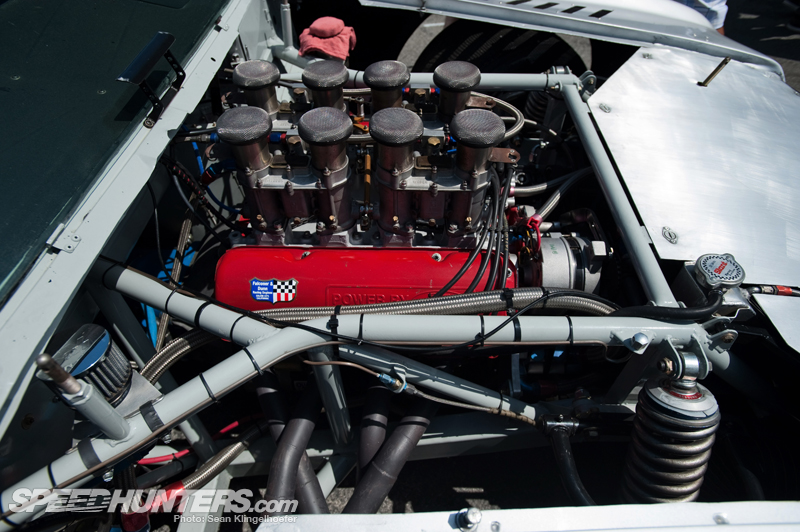 Under the hood is a Boss 302 which has been sandwiched between the complicated tubular chassis. Even looking back at the photos now it's an astonishing piece of engineering. I mean look at how the headers have to built and removed/installed; it's crazy. I think I might have to try to line up a feature on this bad boy…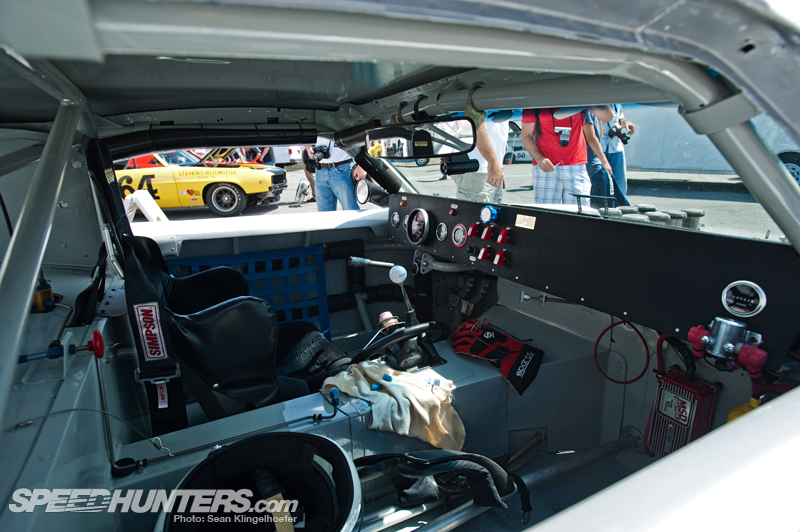 The cabin is full of more custom racing awesomeness and at this point I began to wonder how much of the car aside from the roof, if any, is actually a Mustang. The rawness of the interior gives some indication at how serious of a machine this is, but if that's not enough to do the trick let me just say it was out lapping most of the Kremer K3s…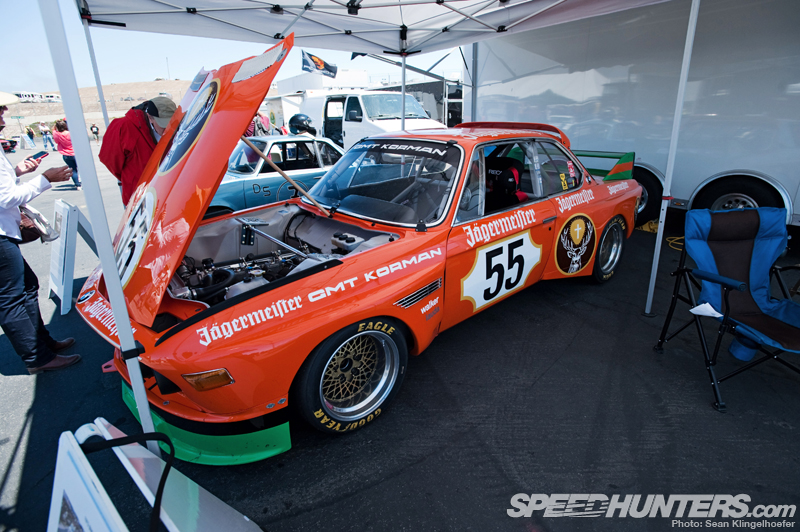 A BMW 3.0 CSL, Jagermeister livery and gold BBS mesh all equate to a crapload of "likes" in today's social networking society, but when you combine all three you get business as usual in the seventies. Obviously when I saw this car on track it beckoned me in for a better look and I couldn't resist its call.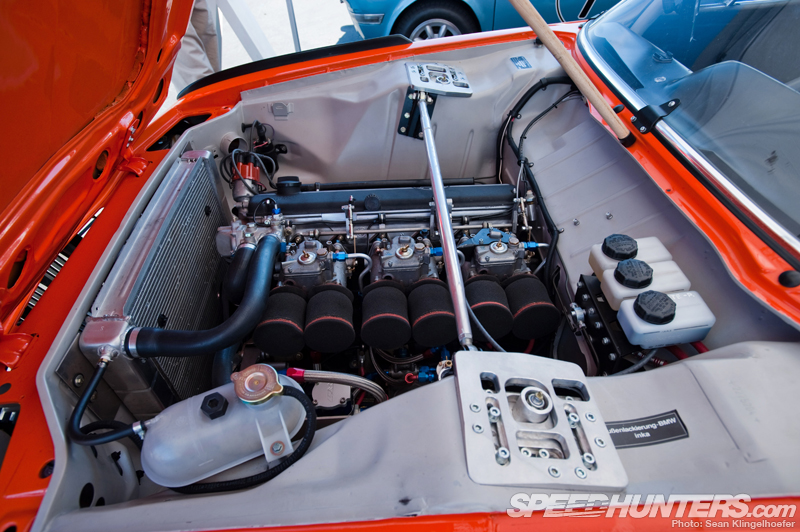 And was I ever glad I when I got closer, this is about as sterile as it gets when talking about classic engine bays.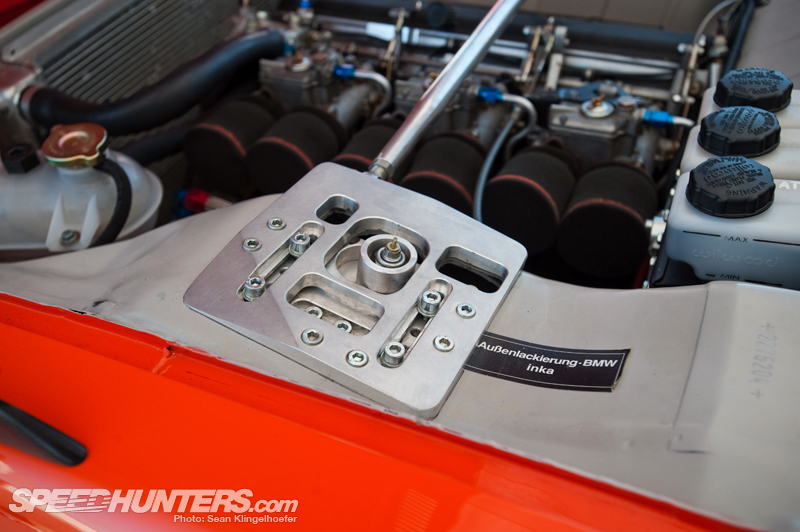 It's great seeing innovation popping up on cars like this adjustable upper shock mount on the CSL. Without cutting edge racing technology paving the way back in they day, you wouldn't have similar items on your 240SX as we speak. Respect.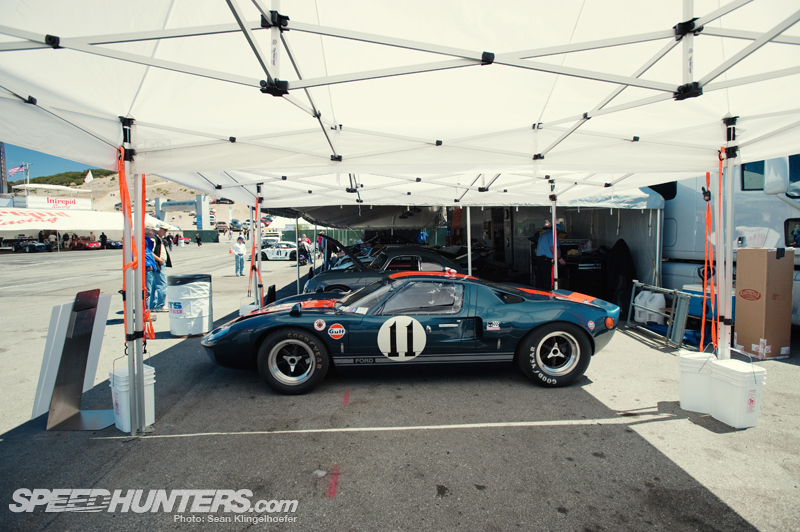 One car I was really looking forward to seeing last weekend was the Ford GT40, a machine that I had never seen outside of a photograph. I don't think I need to explain why this car is importance, but even if you aren't aware of the significance of the GT40 you likely recognize its body shape from which the Ford GT stole its looks.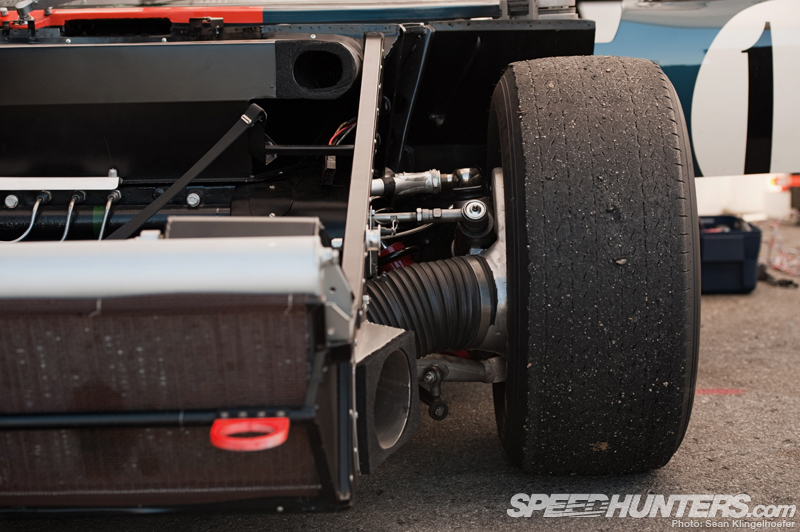 Unfortunately every time I took a stroll through the paddock, both of the examples present were either completely closed up or completely surrounded by spectators. This made shooting details all but impossible and the best I managed to get was this shot showing some of the front end. Despite this, you can still see why this car was so successful as the suspension design doesn't seem too far off from today's cars.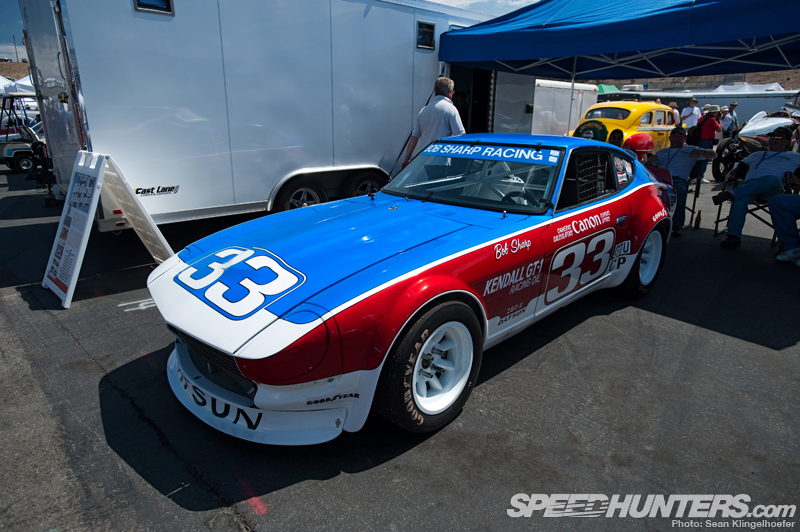 Since two of the Speedhunters are S30 owners and I'm sure many of you readers are big fans of the Z car, I figured I'd close out with a pair of devastatingly handsome Fairladys. The first being this well known car originally owned by Bob Sharp, a man synonymous with racing Datsuns in the states.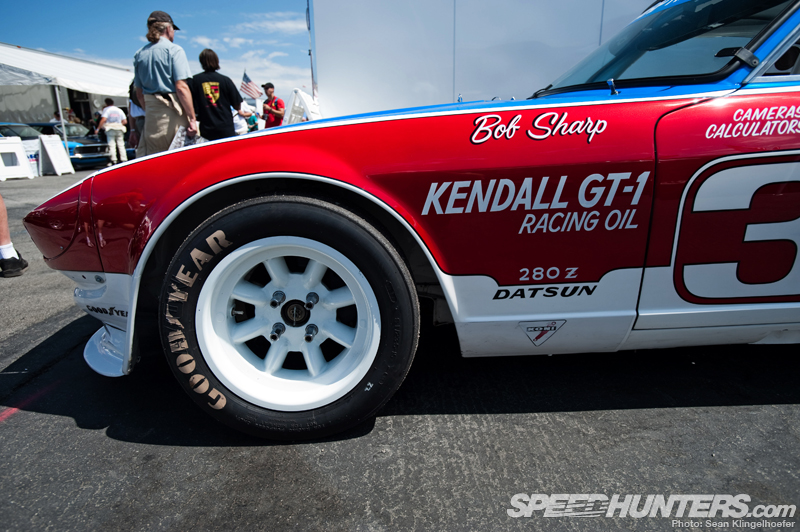 This example was extremely well kept and if it wasn't restored I'd say it was in unbelievably immaculate condition. The owner seemed to take a lot pride of in the condition of the car as I frequently saw him cleaning it the moment which it returned to the pits. It was an amazing car no doubt, but I think there was one that was a pinch more interesting…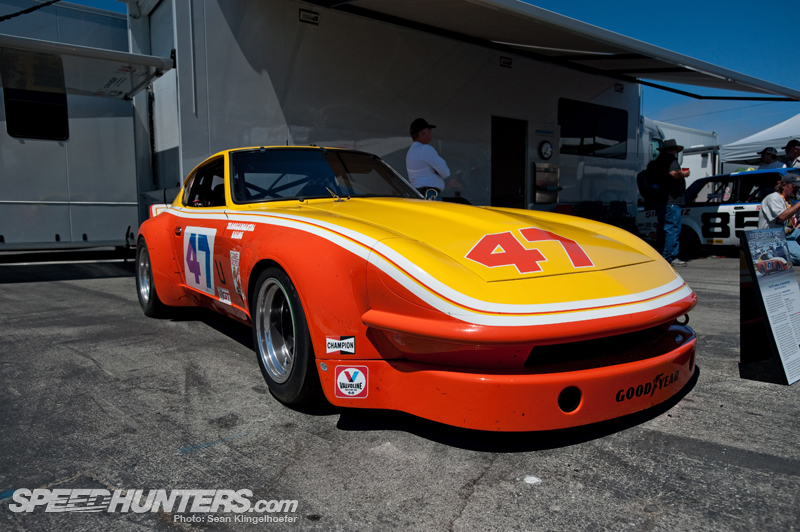 Yep, that just happened. When I first stumbled upon this car I had to stop and think whether I was in Japan or California. Then when I realized I was still in Monterey I thought "hmm maybe it's a Japanese car" and went in to check…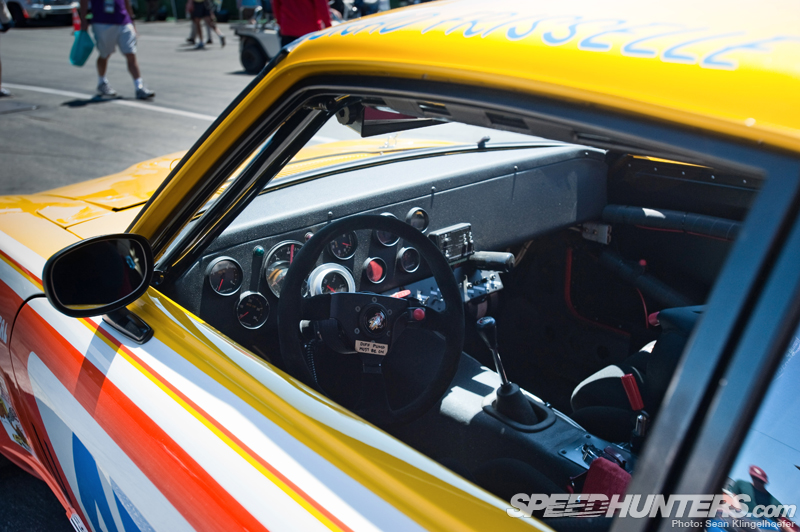 Nope, this is good old LHD 'merican stuff here. As it turns out this very 240Z won the IMSA GTU class back in 1976 and I didn't realize it until I was doing some more research on the car that Mike Garrett actually did a spotlight on it when he toured Canepa late last year.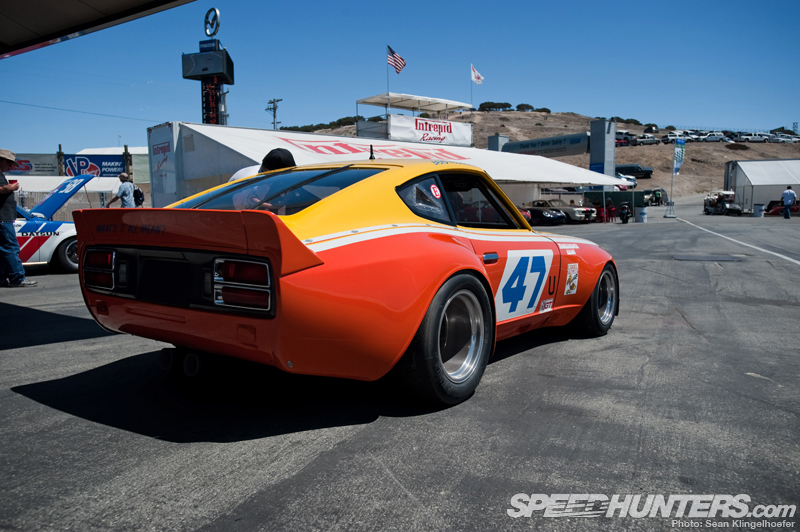 Great minds think alike I suppose. Seriously though, this is the stuff that the original bosozoku are trying to imitate, the only thing missing is a ridiculous exhaust and I could easily see this thing wailing on the expressway. The color combination and shaping of the livery is spot on.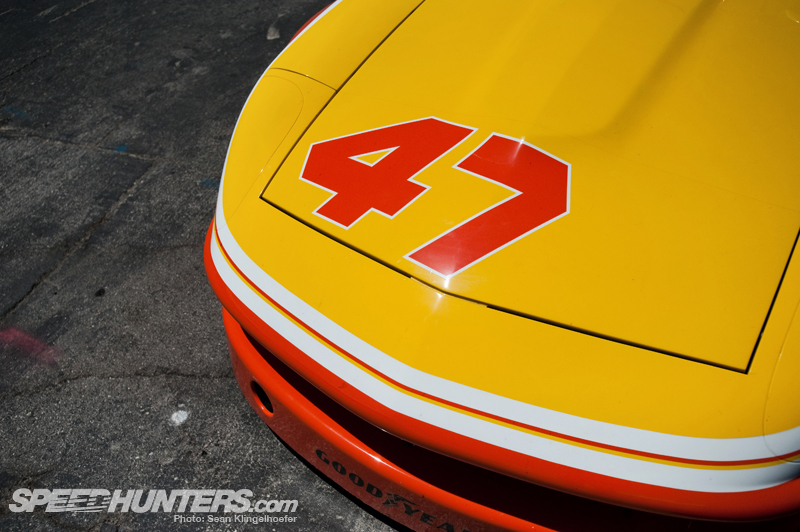 While I expected to run across lots of strange, cool and obscene cars last weekend, this was definitely something that caught me by surprise. To that effect I think it's the unexpected that makes historic events, and life, so much fun. I used to think that these were weekends designed for stuffy old people and that I would have nothing to relate to, but I couldn't have been more wrong. If you share that viewpoint do yourself a favor and attend one, you can thank me later.
More stories by Sean Klingelhoefer on Speedhunters
More historics events on Speedhunters
– Sean