Greetings from "The Biggest Little City in the World" – Reno, Nevada. This morning I packed up and hit the road on the first day of what for me is an eight-day long Speedhunting road trip through the states of Nevada and Utah. Later this week I'll be losing my salt virginity when I experience Bonneville Speed Week for the first time, but for now I'm here in Reno to enjoy a few days at an event called Hot August Nights.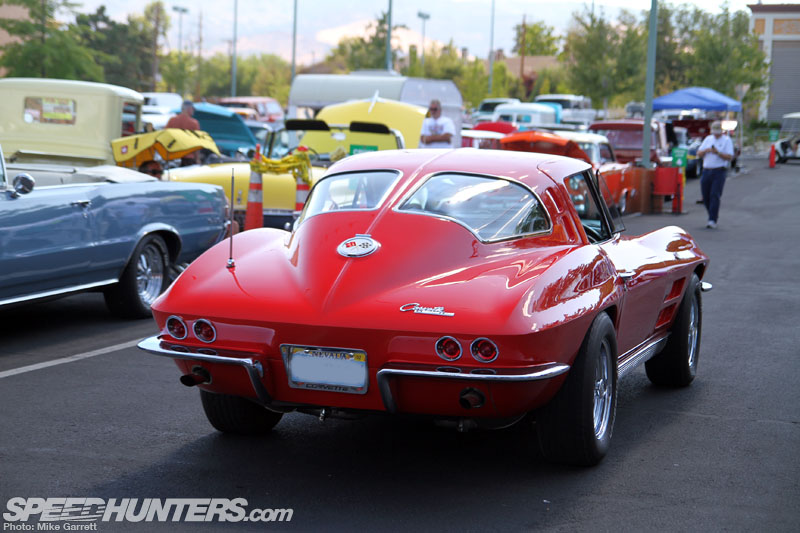 Hot August Nights is a long standing gathering of Hot Rods, Customs and Muscle Cars and other classics that happens in the city of Reno every August . Actually, the word "gathering" is an understatement – the city is absolutely overwhelmed with cars.  Everywhere you look there's an interesting car to see, so I'm quite excited to be here and experience this. A nice little appetizer before Bonneville.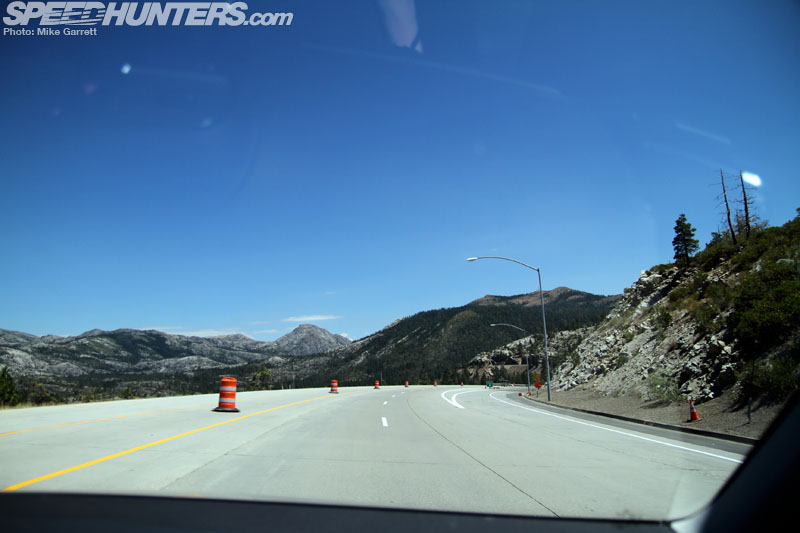 Today's drive was quite enjoyable. Heading east on Interstate 80 from the city of Sacramento, I crossed the Sierra Nevada mountains on the historic Donner Pass. Needless to say, the scenery up here is pretty breathtaking, even when viewed from the confines of the modern interstate.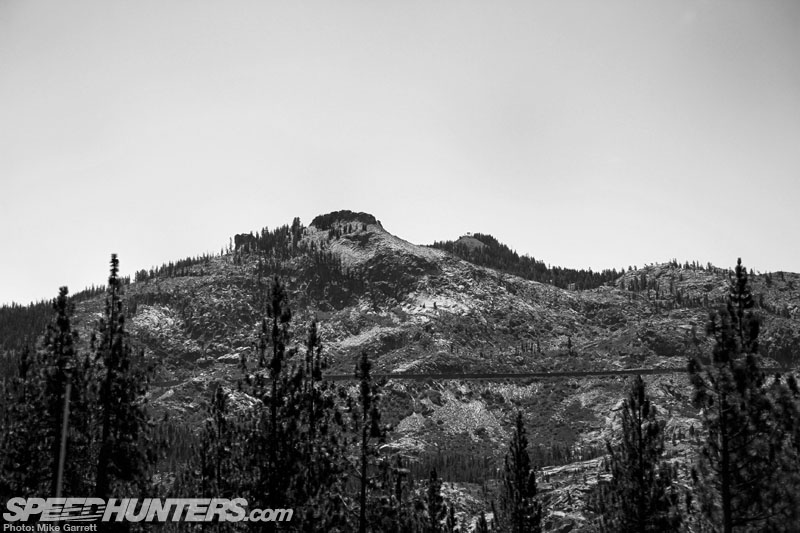 The route follows the original transcontinental railroad line over the Sierras, part of the groundbreaking ribbon of steel that first connected the United States in the late 19th century.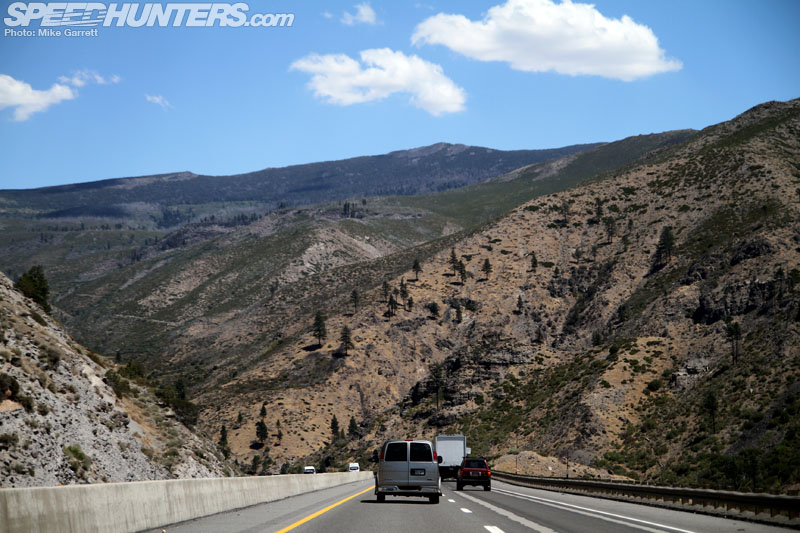 In the winter months these mountains and the highway itself can be covered in snow, but right now it's typical California/Nevada summer conditions – hot and dry.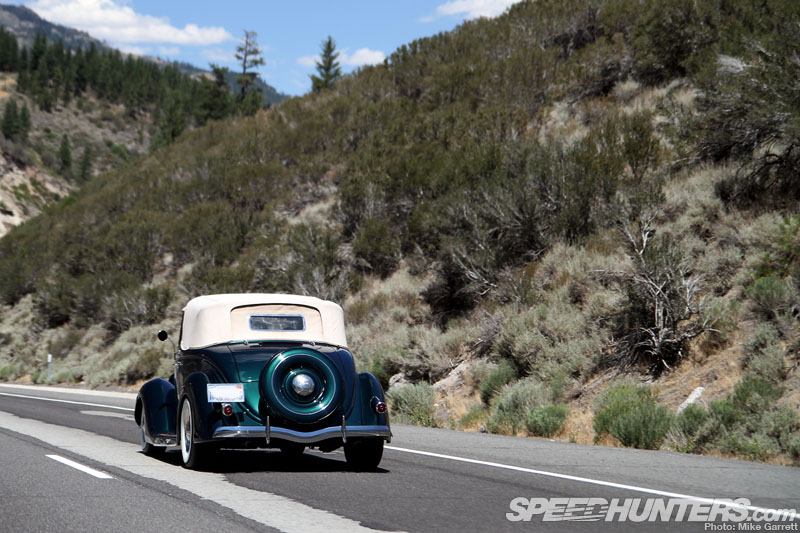 Along the way I passed several vintage machines making their way towards Reno – none of which seemed to have any problem pulling the long grade.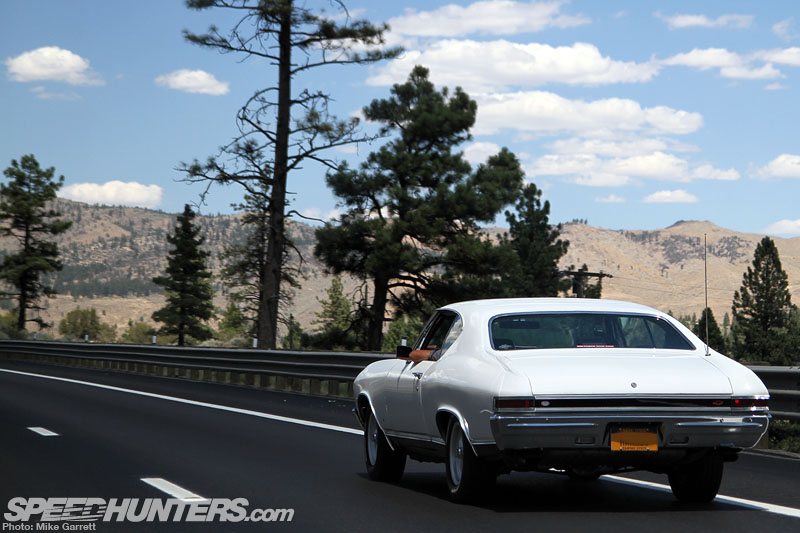 This Chevelle I spotted on the highway was actually wearing New York plates. Talk about a long way from home.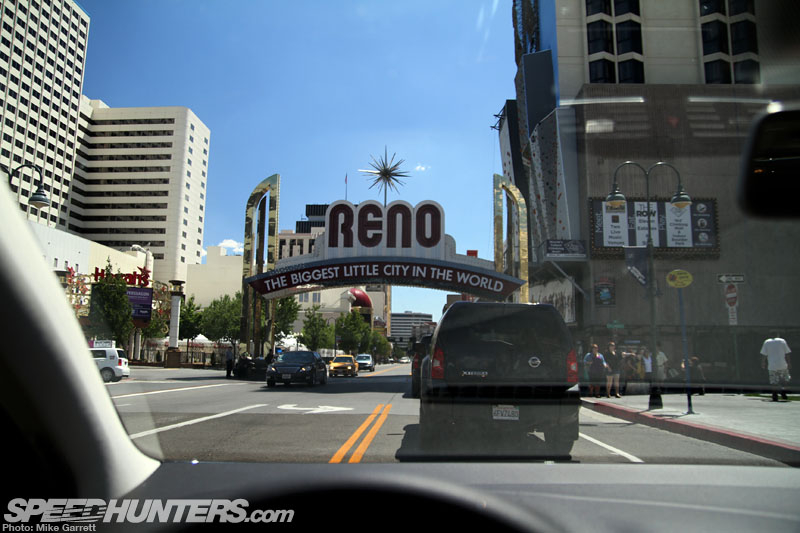 After coming down the hill, it was right into the heart of city of Reno. I didn't spot a too many classics on the streets here, but you can bet the place will be packed within the next couple of days.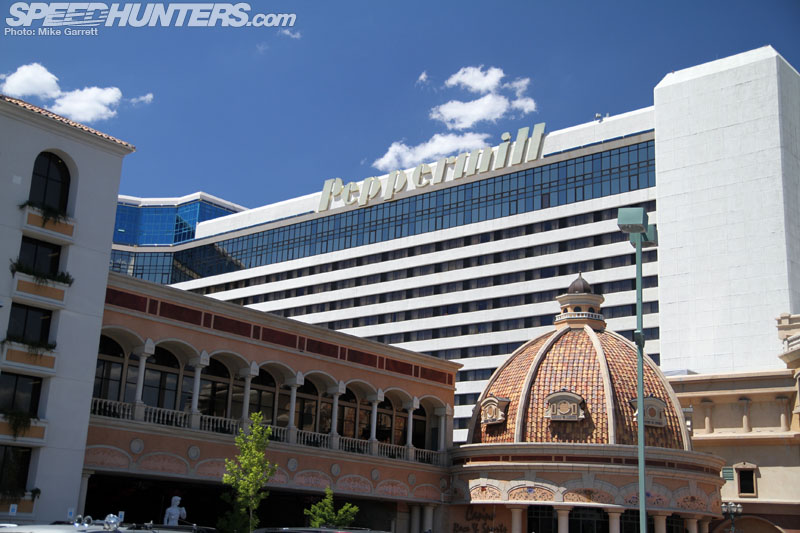 This is my home for the next couple of days – the Peppermill Resort and Casino on Virginia Street.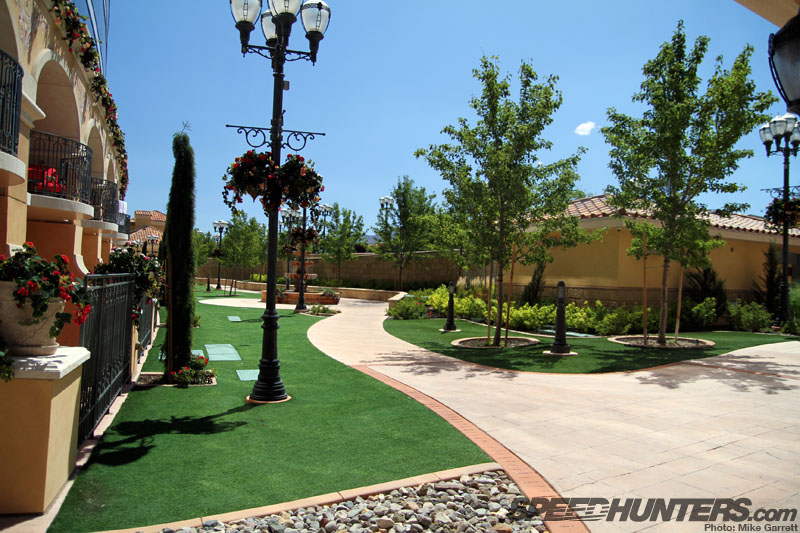 Reno might have an image of being a gritty casino town with cheap buffets and loose slots, but this hotel reminds me much more of the high end resorts you find in Vegas. A pleasant surprise as I personally haven't been to Reno for years.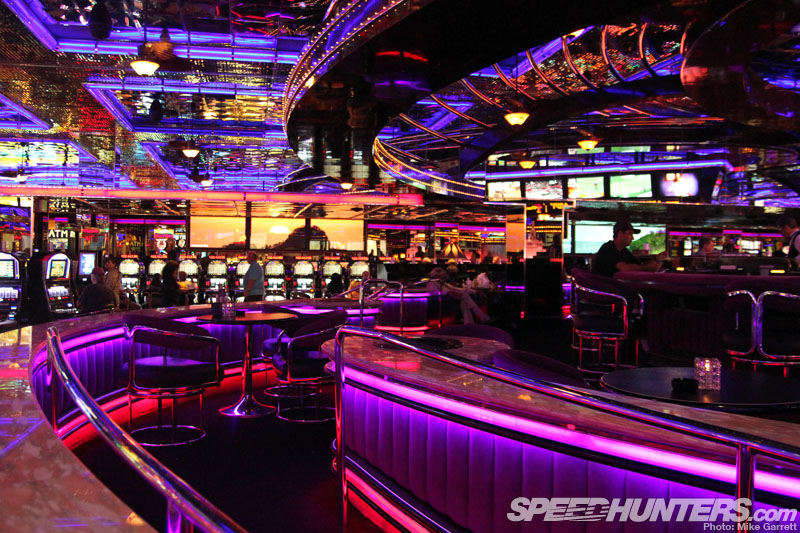 Not a bad working space if I do say so myself. It also happens to be one of the centers of activity for the Hot August Nights action, which I'll get to in just a moment.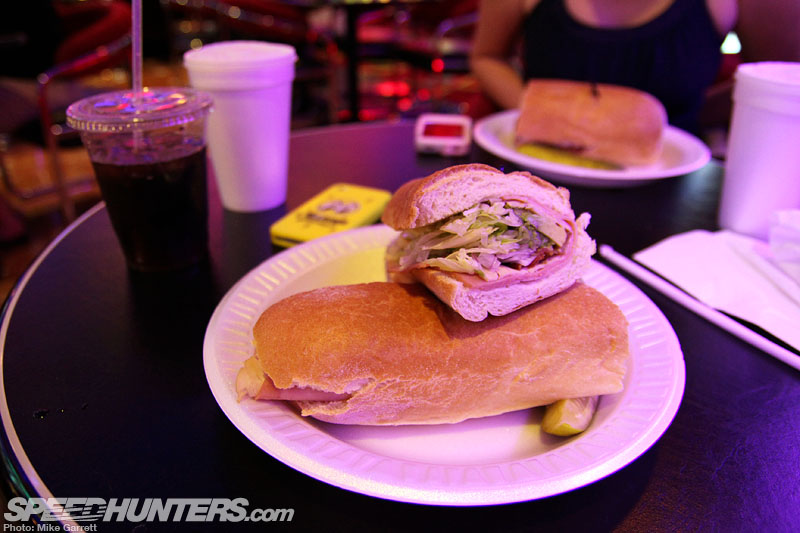 But first some foodhunting at the in-house deli. I couldn't stop myself from pulling a Larry Chen and posting a picture of the sub sandwich which I promptly devoured after working up a big appetite on the drive in. This is actually pretty high end cuisine compared to my usual road trip diet of energy drinks and assorted junk food.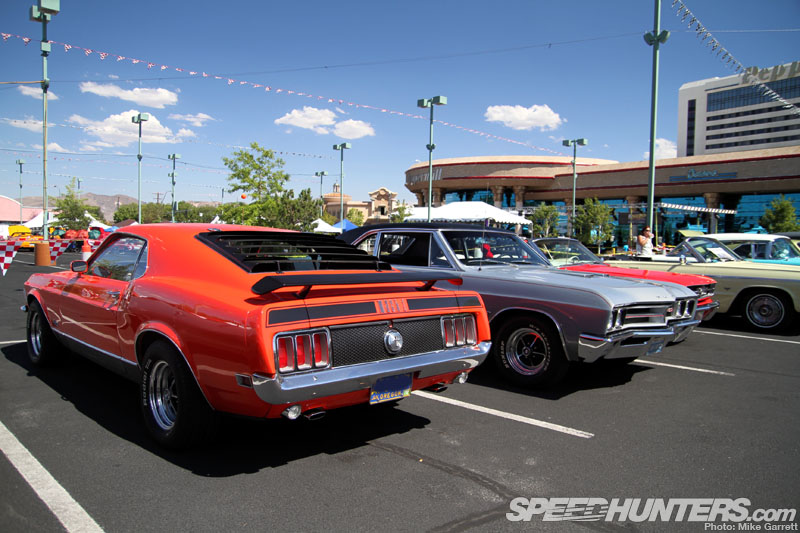 With the belly full I made my way outside into the heat, where cars were already gathering in the Peppermill's parking lot. Monday marks the official kick off for Hot August Nights, so this seemed like the place to be.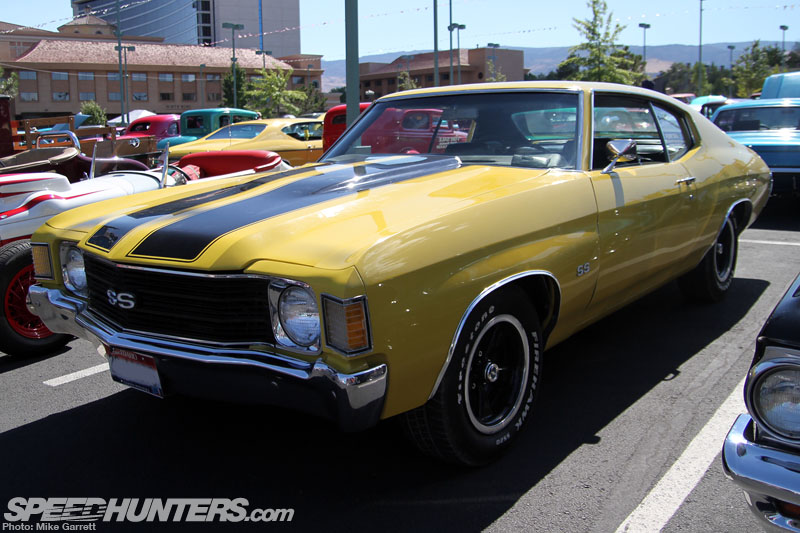 This is of course just one small part of Hot August Nights – which includes events held all over the Reno area. There are car shows, cruises, drag racing, swap meets, and even a collector car auction. It's a massively popular celebration of cars, Rock and Roll music, and Americana.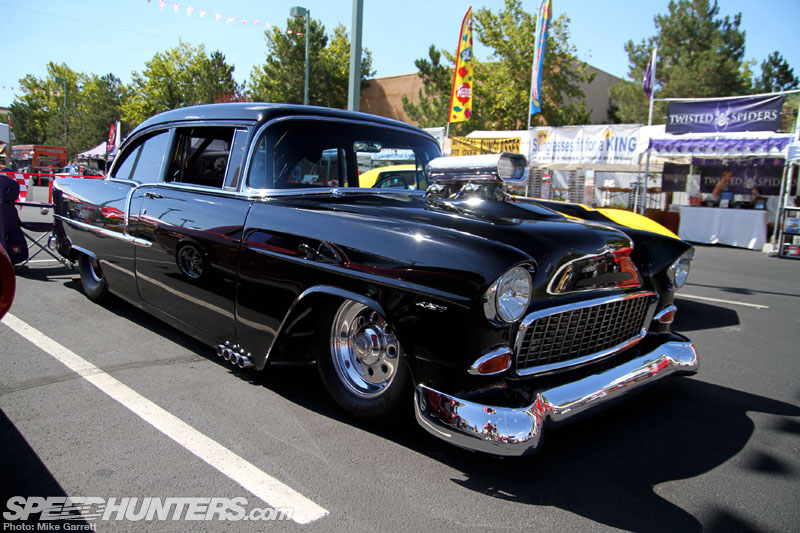 I really can't overstate just how big this event is. There are thousands and thousands of cars that come out, representing every state in the Western US and some that travel from even further. I've already accepted the fact that I won't even come close to seeing everything during my time here.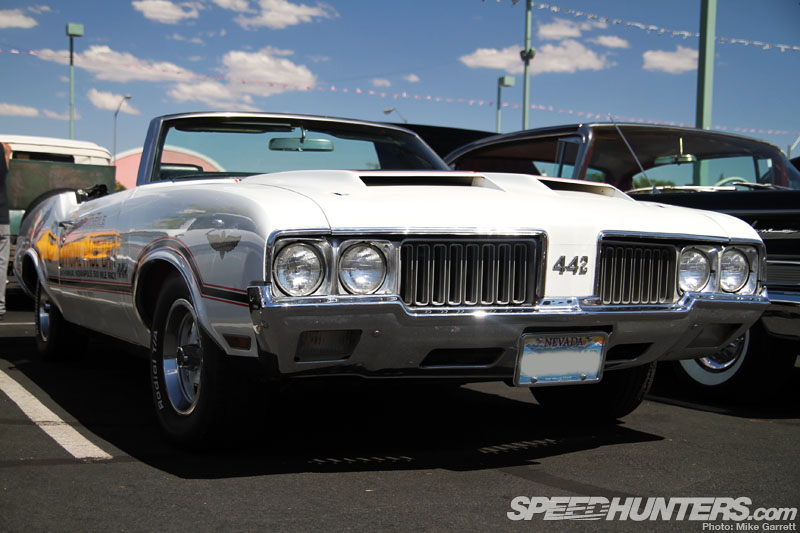 The event is officially open to American and European cars from the 1970s and earlier, and among the mix you'll find everything from rat rods to fully restored Muscle Cars, along with some truly crazy street machines.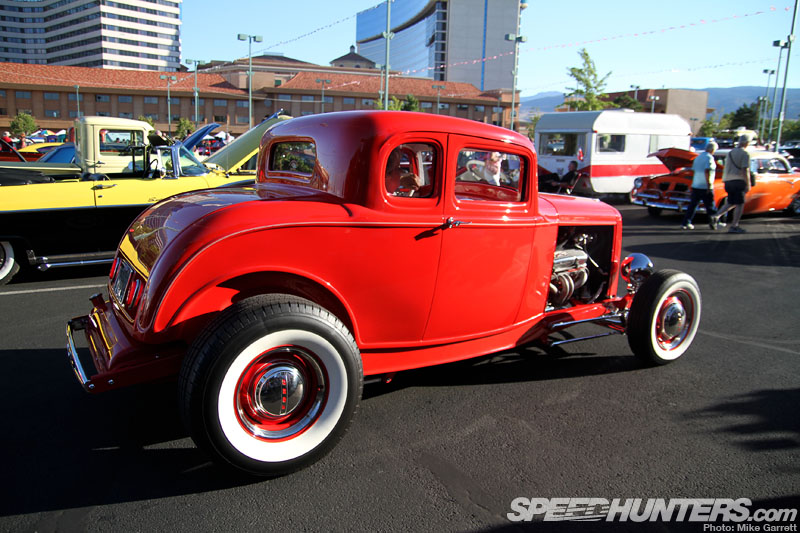 To be honest, there are plenty of cars that are a bit "unfashionable" in my humble opinion, but with so many of them around, there are lots of gems as well. Note – the traditional-styled coupe pictured here most definitley gets a thumbs up from us.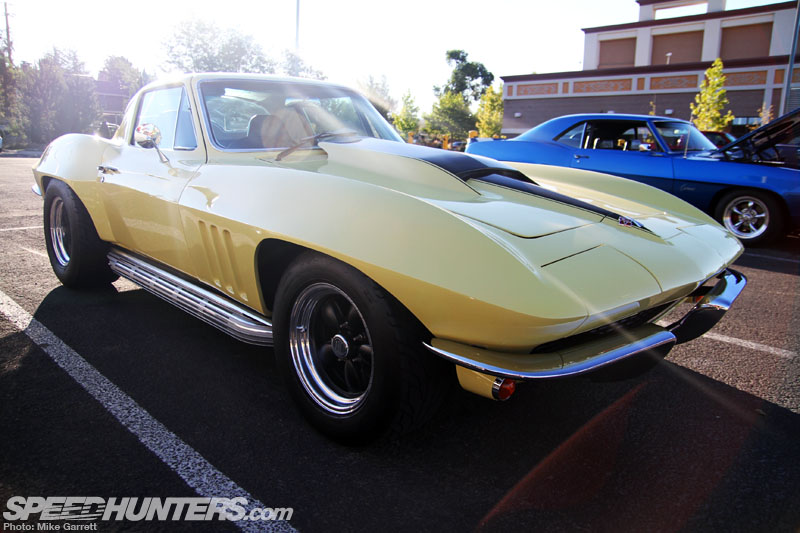 One of the cars that caught my eye during my early browsing was this bitchin' Corvette out of Arizona. I don't think there are many who won't agree that that the C2 'Vette is simply one of the best American cars of all time.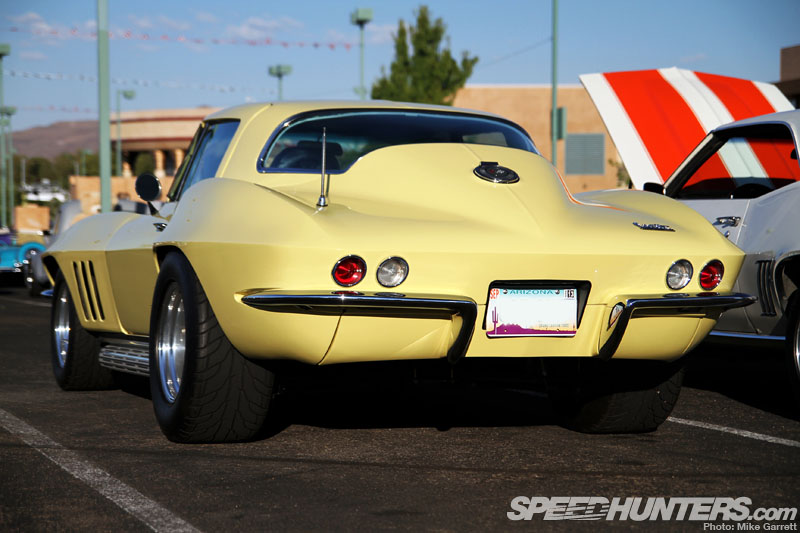 This particular example was wearing some positively meaty rear tires. If only you could have heard the sounds that came out of the those side pipes…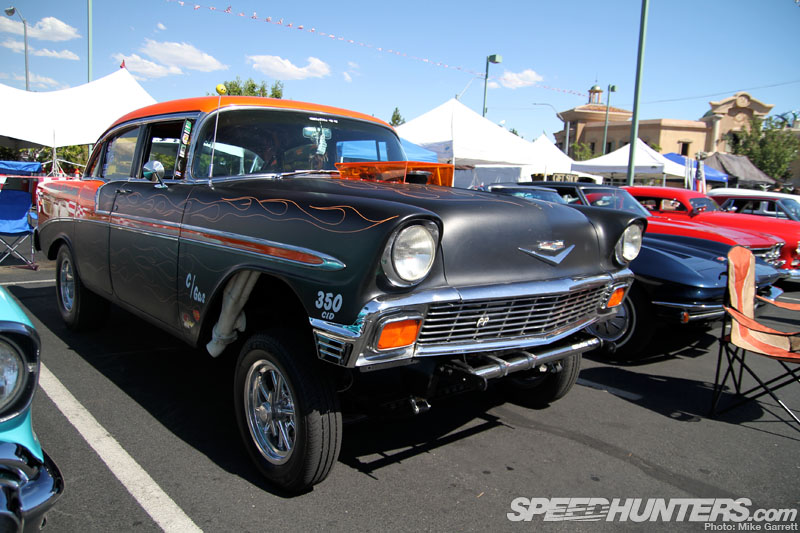 Elsewhere in the parking lot I found this '56 Chevy Gasser, which was interestingly built out of a four-door sedan. Kind of cool.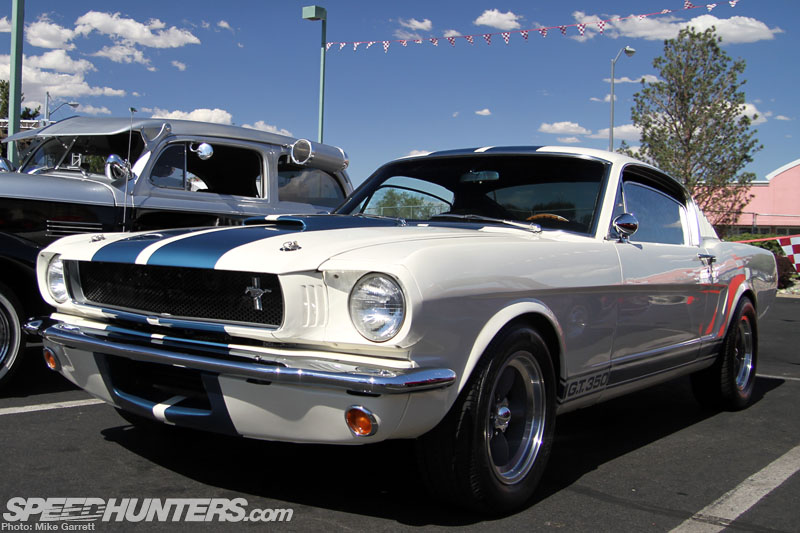 This G.T. 350 was one of many Mustangs that had come out. Nothing outrageous, but when the car is this cool it doesn't need to be.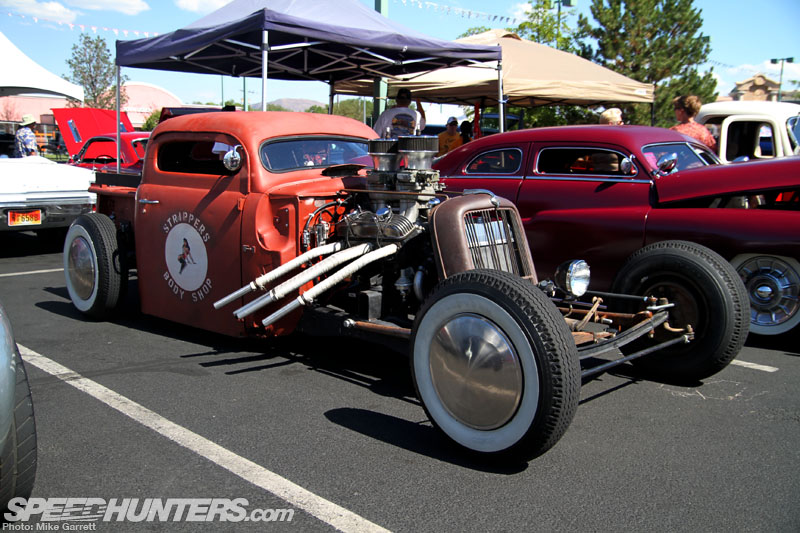 Perhaps a little hint of what I'll be seeing at Bonneville later this week?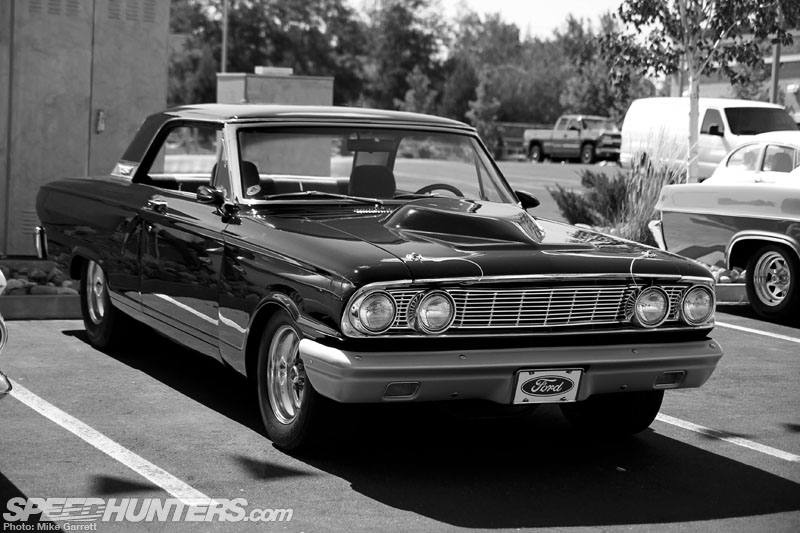 The Fairlane – Ford's drag weapon of choice during the mid 1960s.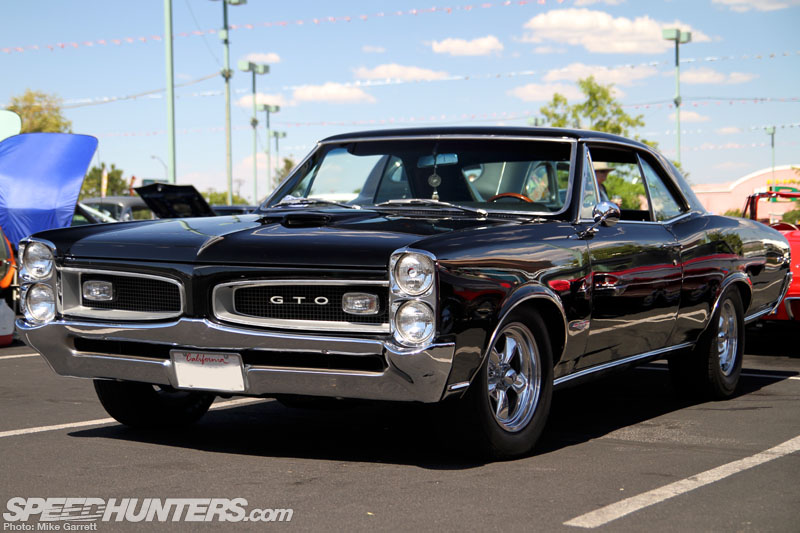 I'd be really interested to see the breakdown of the different cars registered for Hot August Nights. For example, how many Pontiac GTOs will be taking to the streets of Reno this week? Based just on what I saw today, I'd say there are a lot.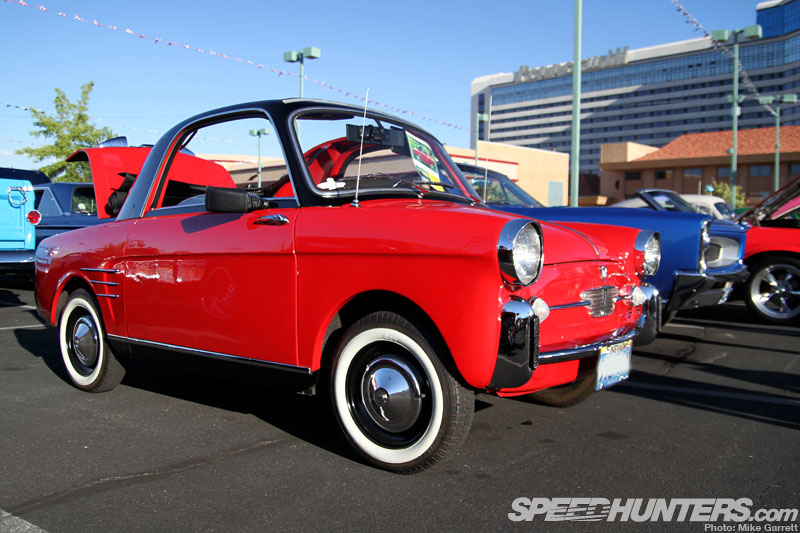 Slightly more rare is this little Bianchina and all sixteen and half of its horsepower.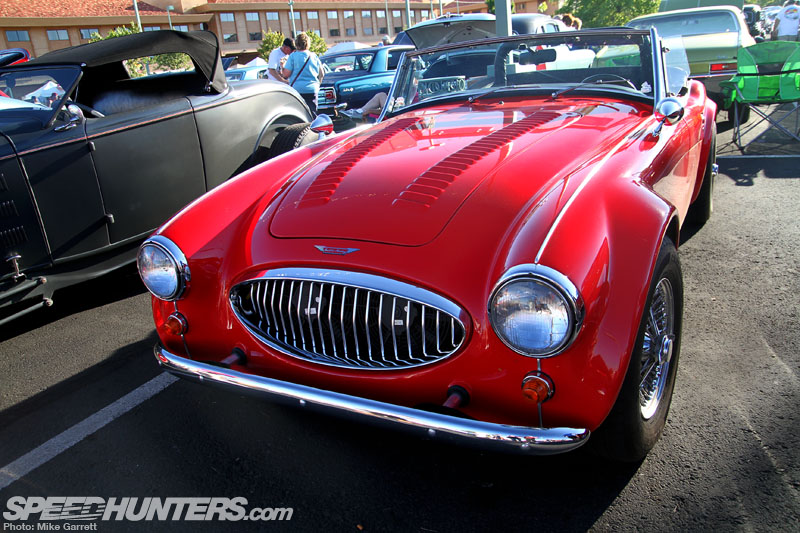 Although heavily outnumbered by American models, vintage European cars like this Austin Healey add a nice variety to things.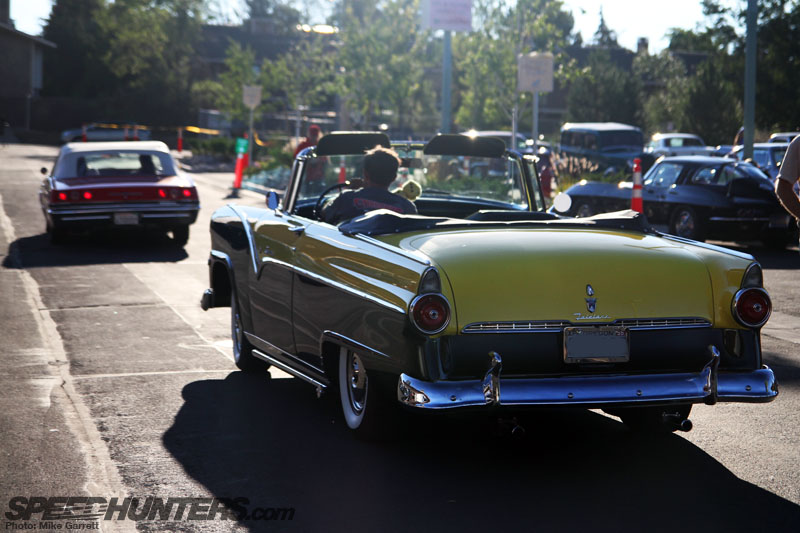 On the outside, this Ford Sunliner looked like your typical '50s cruiser…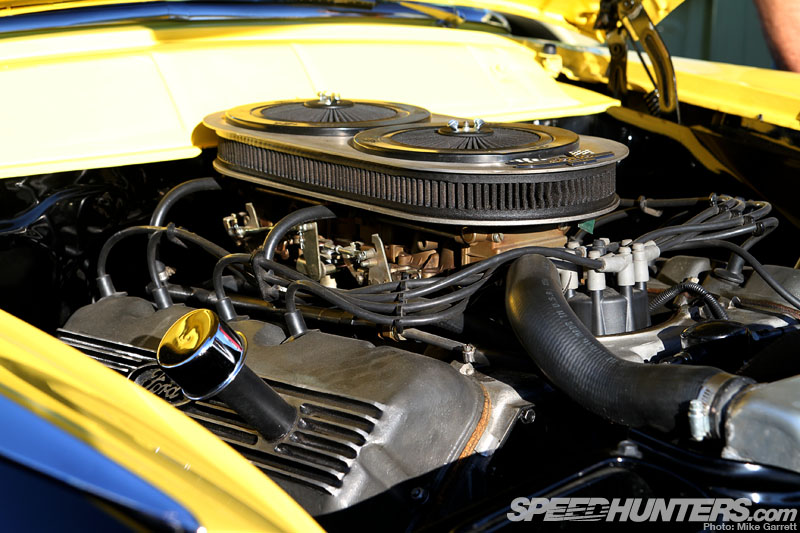 …but under the hood it was actually packing one of Ford's legendary SOHC 427s. Pretty wild.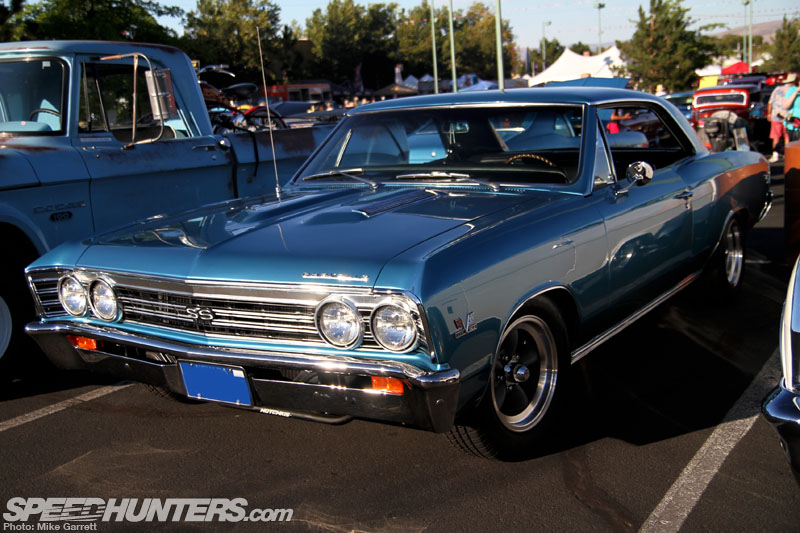 Sometimes it's the downright simple cars that tug on my automotive heart strings the most. Such was the case with this SS 396 Chevelle. There was nothing crazy about it, just a tasteful and timeless example of a great Muscle Car…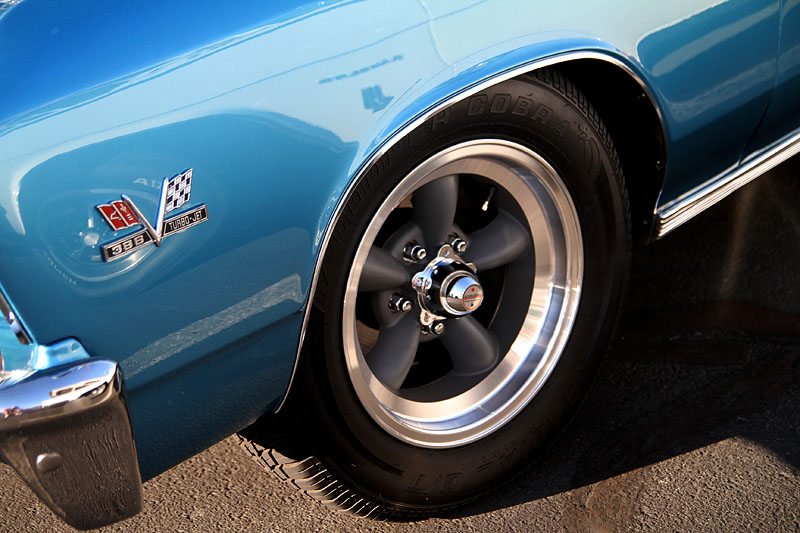 …with an equally timeless set of American Racing Torq Thrust wheels.
It's been a long day and I should probably get rested up for another day of Speedhunting in Reno. Check back tomorrow to see what I find on day two.
-Mike