Sometimes the most magical moments of Speedhunting come about completely by accident. Rod, Larry and I had been soaking up the legendary old Spa-Francorchamps track in Belgium, a 14km white-knuckle ride in a racing car – though thankfully less-so at a more sedate pace for our drive round the public roads that made up the old circuit. Larry and I had been positioning ourselves to take shots of Rod driving our Audi S7 through the banked Holowell corner; once we were done, getting back in the car Rod had a huge smile on his face. "I've got something to show you…"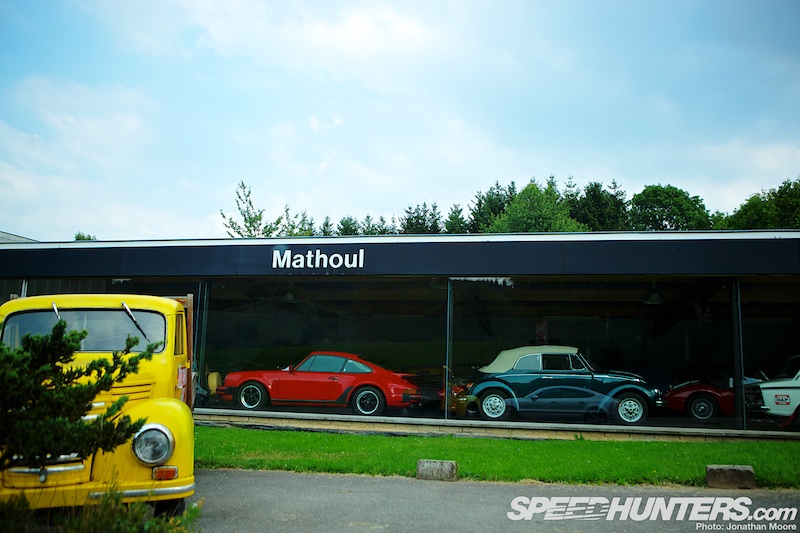 We drove around the original Stavelot hairpin in the reverse direction, and to our right was an innocuous looking garage with a simple sign: Mathoul. A canary-yellow vintage pick-up stood outside, but it was the window display that piqued our interest.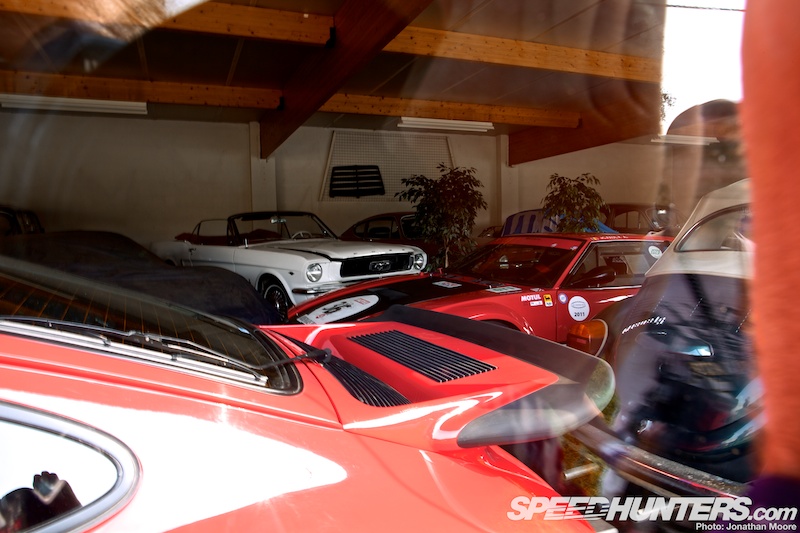 The 911, Beetle and Variomatic-equipped DAF 66 rallycar were exciting enough, but pressed up against the window it was clear that this garage was a treasure trove of automotive joy.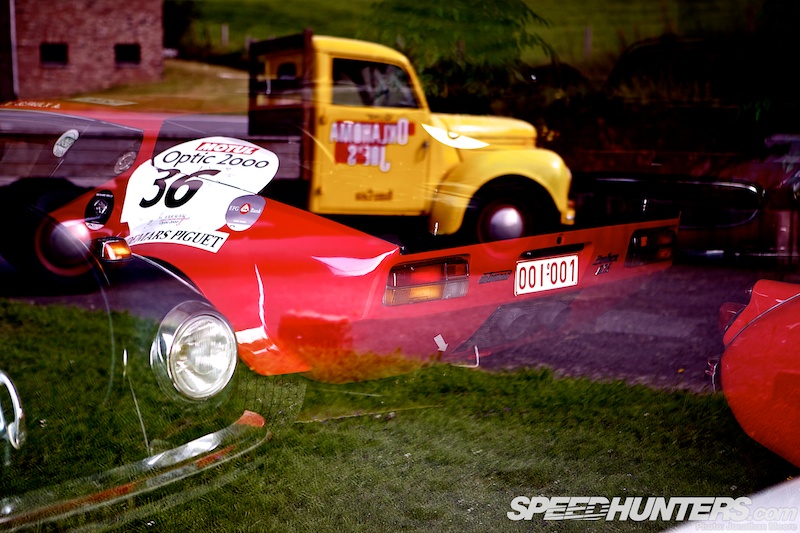 This Pantera GT5 had us all rapt. By this stage we were beginning to mist up the window. It was getting a bit embarrassing.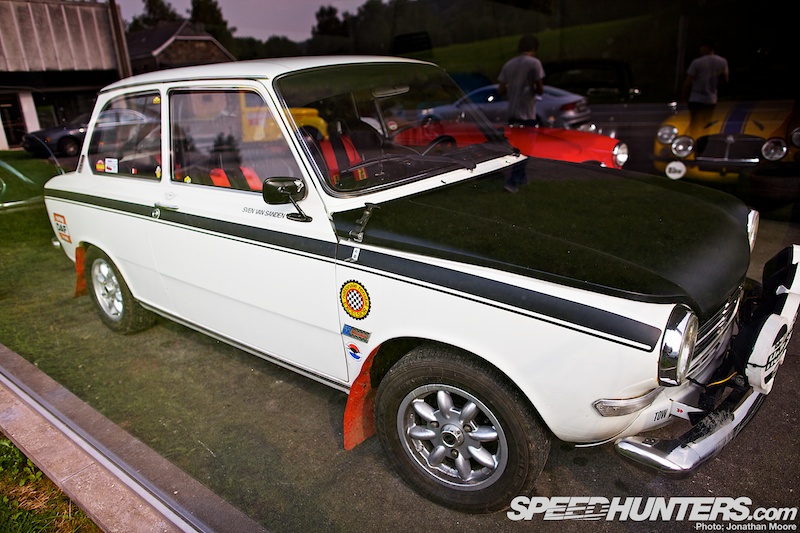 This was obviously no ordinary small-town dealership. Not with a track like Spa on its front-doorstep. The owner of the Garage De L'Eau Rouge – 'Specialiste Oldtimer' – Jean-Claude Mathoul, was hard at play in the main workshop tinkering with an old motorbike, but was incredibly generous with both his time and the access he gave us to nose around his shop.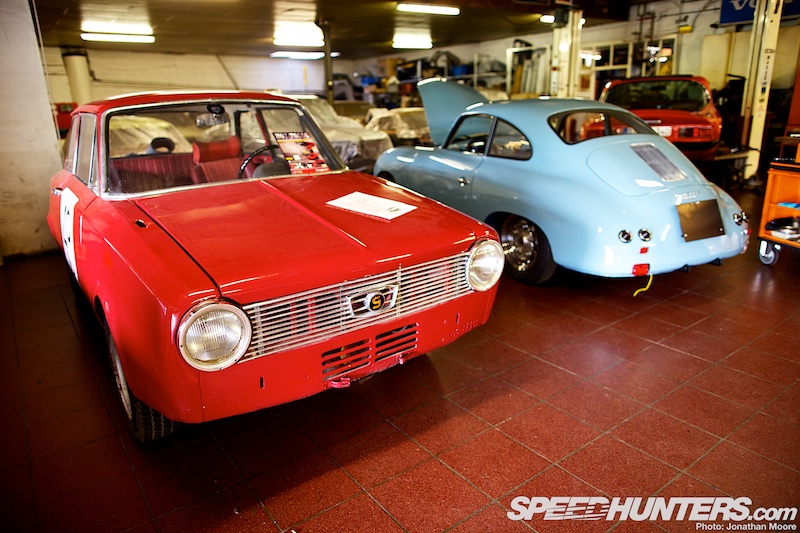 Our chins being on the floor probably helped our case. Jean-Claude had a seriously impressive line-up of metal on show, a lot of which had taken part in the Spa 24 Hours and other classic events over the previous 50 years. This is a Glas 1304TS from 1966 – it was a works entry in that year's 24 Hours, winning the 1300cc class and finishing sixth overall. At the forefront of technology involving timing belts and overheard camshafts, the German company was bought out by BMW in the same year in order to gain access to Glas' various patents.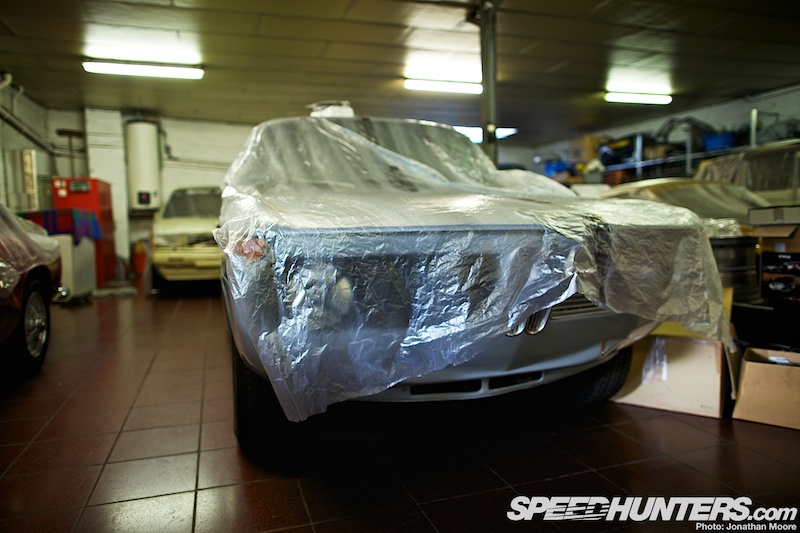 Most of the other cars in the workshop sat under dust sheets, either awaiting their next stage of restoration or a return to their owner.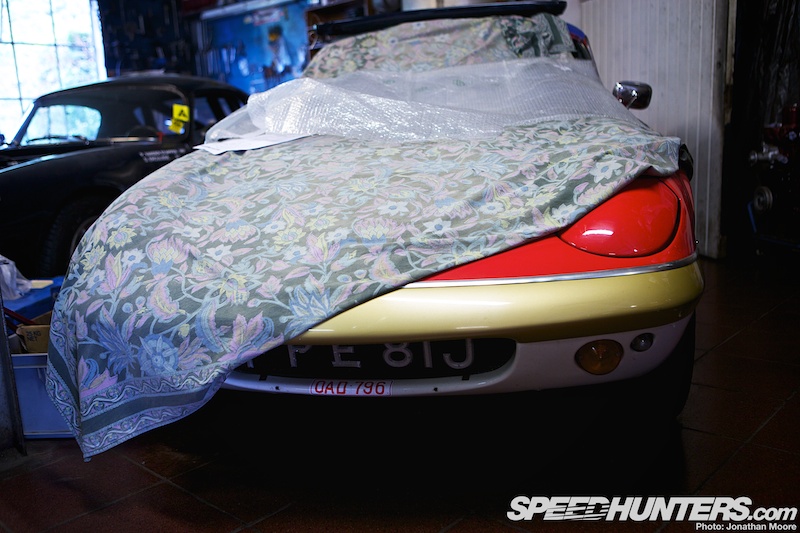 Jean-Claude offers a full range of maintenance and restoration services for both road and race cars. He had a fine showing of classic British sportscars, like this Lotus Elan in Gold Leaf colours.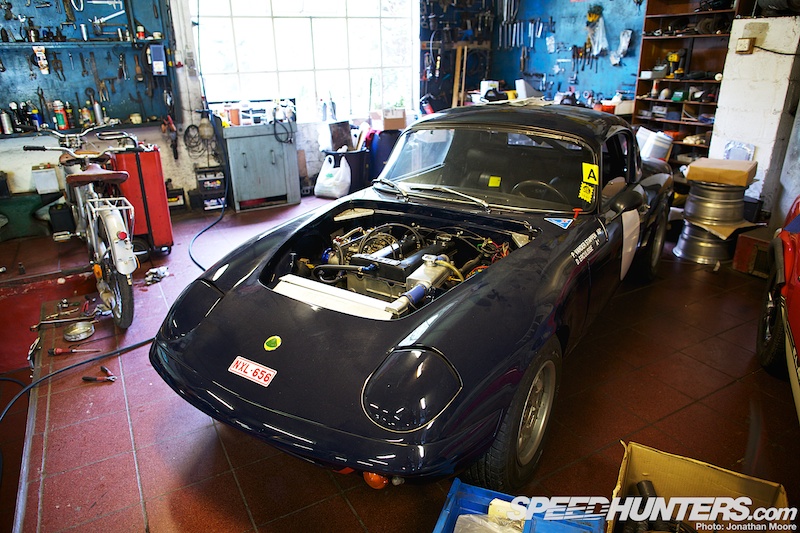 A second Elan was undergoing some engine work; it seems like Jean-Claude has the ultimate work-place we all dream of. How could you open the door every day and not have the biggest smile imaginable?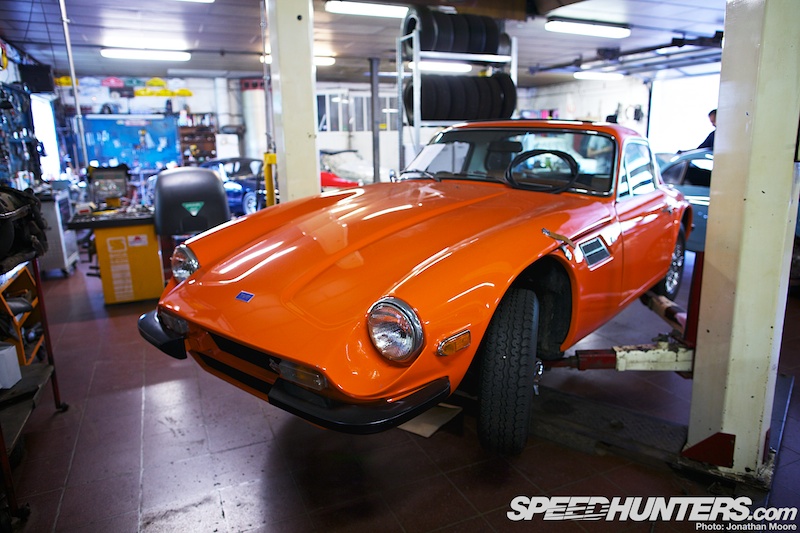 An immaculate M-Series TVR painted in a hardcore shade of orange was up on the lift.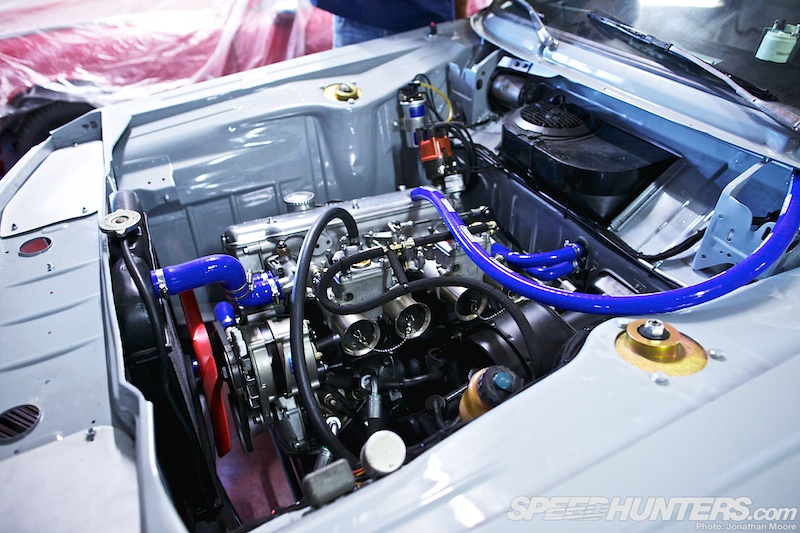 The final British representative was a Cortina that looked like it had just rolled off the production line.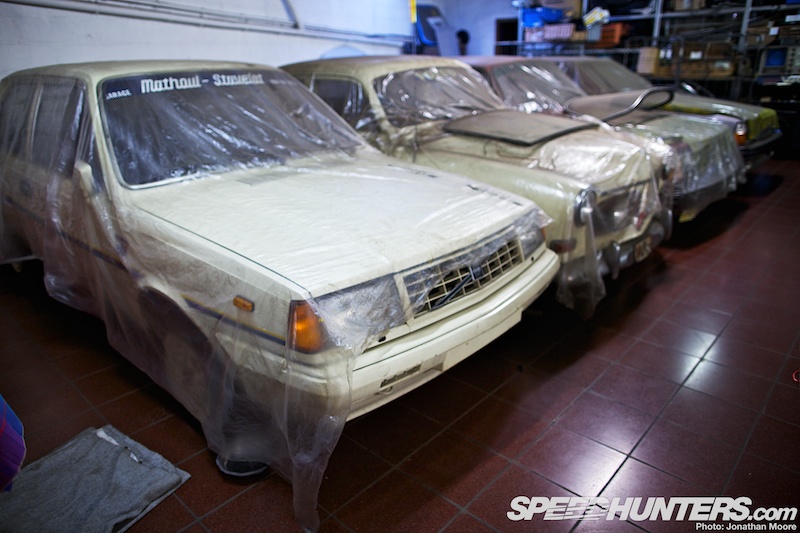 There was a good collection of Swedish models lining the back of the workshop: Volvos from across the years.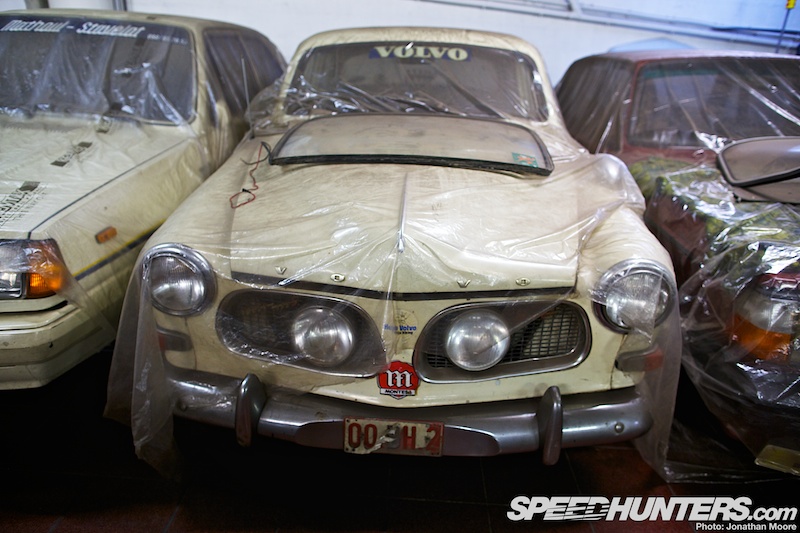 There was a glory period for Volvo in the '60s when they produced some drop-dead gorgeous coupés, like the P1800 and the 122S. Volvo won various rallies and touring car races in the early '60s with the 122S, even winning the European Rally Championship overall in 1963. It's easy to forget how successful in racing and rallying the marque has been over the years.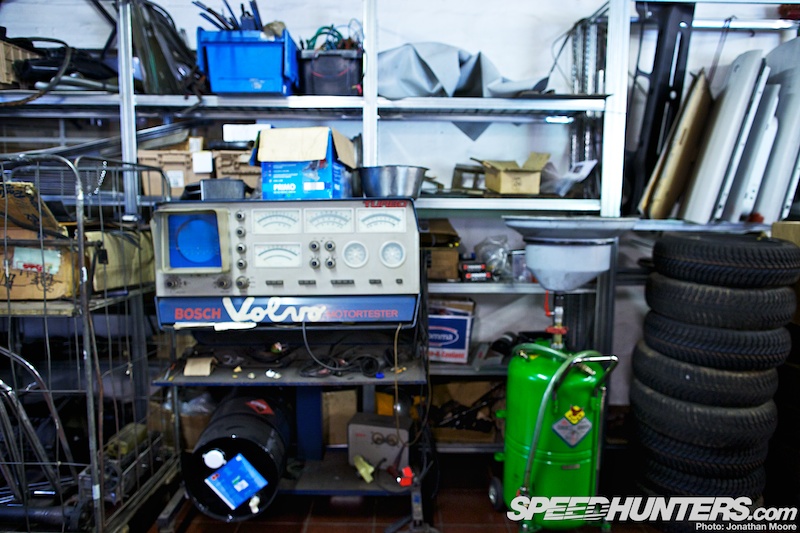 The walls of the Jean-Claude's garage were lined with parts, equipment, tools, tyres… An Aladdin's cave where you could probably find a part for any classic car you care to name. He also has a parts truck that is used to support cars out at tracks or on stages around Europe.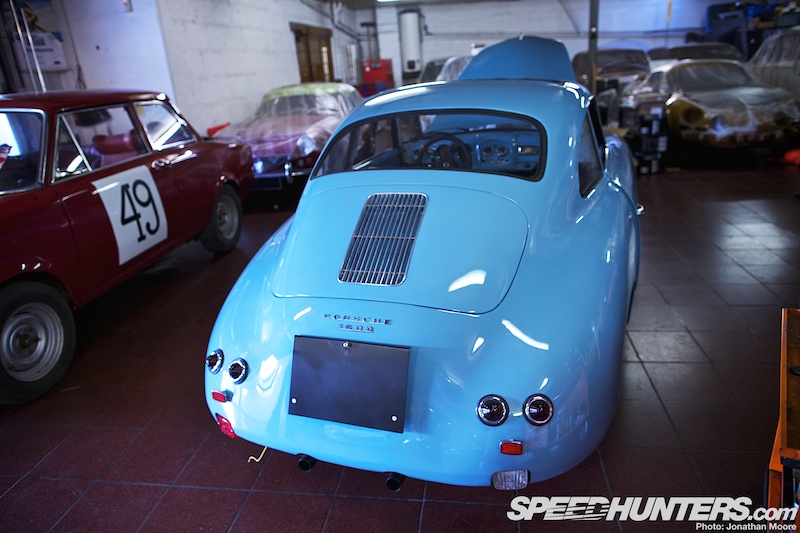 Fancy a 356 to complement your old 911? How about this beautiful baby-blue 1600 Super Coupé – just 75hp, but a top speed of well over 100mph.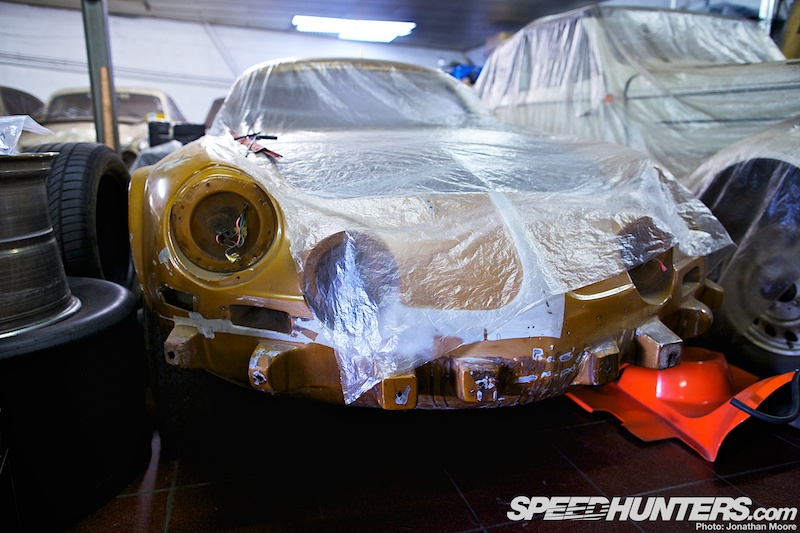 Jean-Claude sees a constant turn-over of cars, as new vehicles come in to replace those that are sold on or returned to their owners. It's exciting to see what's coming up next on his list, like this Alpine A110.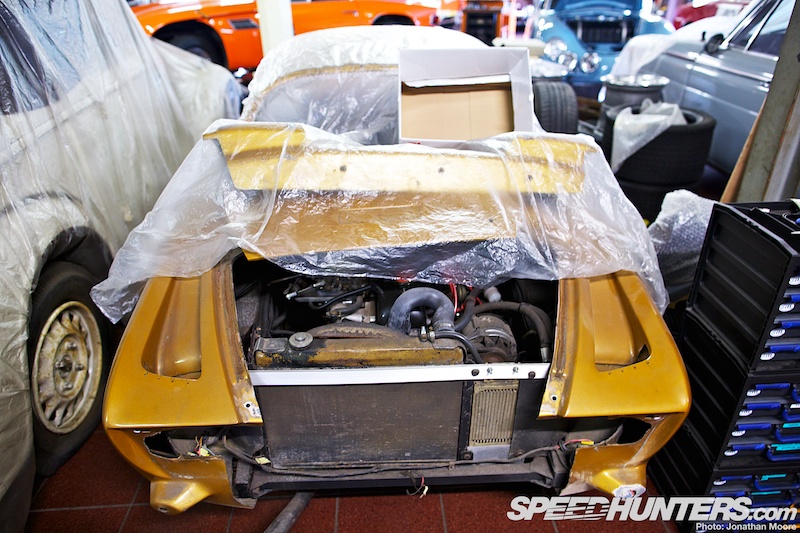 It's unusual to see an Alpine not in the classic French racing blue or Renault yellow – this golden arrow will look amazing when restoration is complete.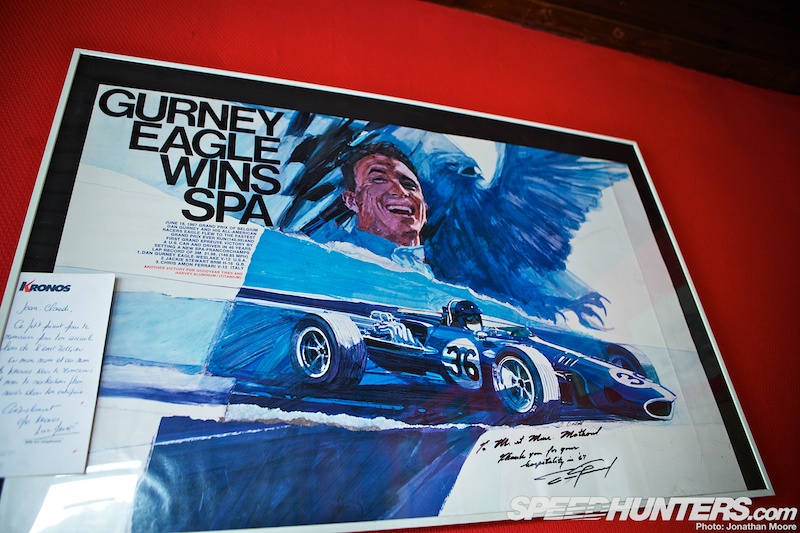 The Mathoul garage has a long history in the area, stretching right back to the glory years of the old track. Legendary F1 racers of the '60s would visit the garage to have work done on their own cars.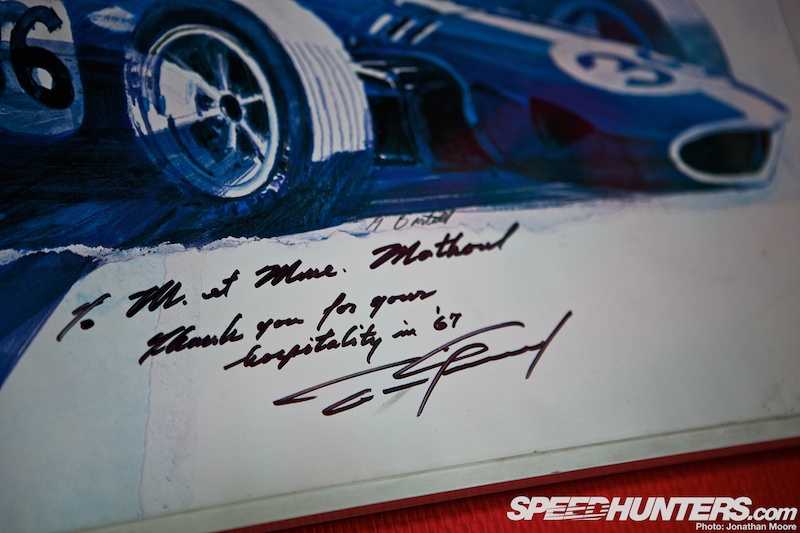 How about this: a hand-written thank you from Dan Gurney following a visit during the 1967 season. Quite something.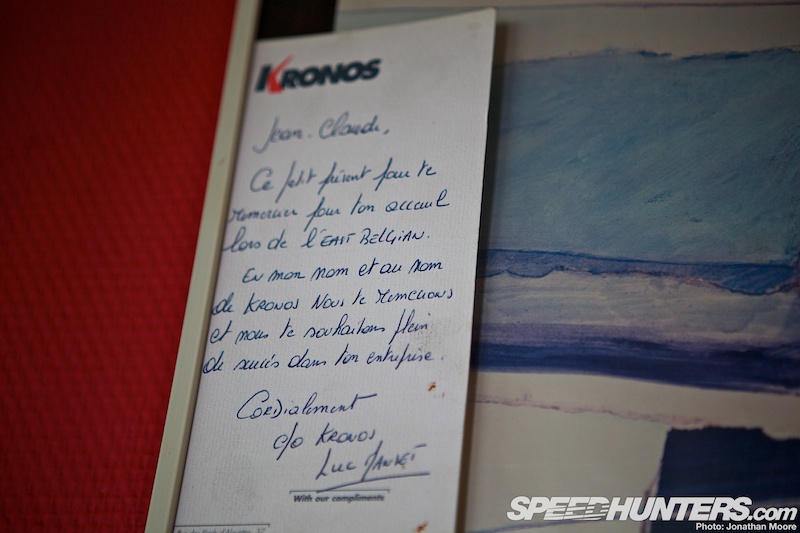 Modern teams continue the theme: the Belgian Kronos racing team have added their best wishes to the walls of Jean-Claude's office: his specialist knowledge is always sought after.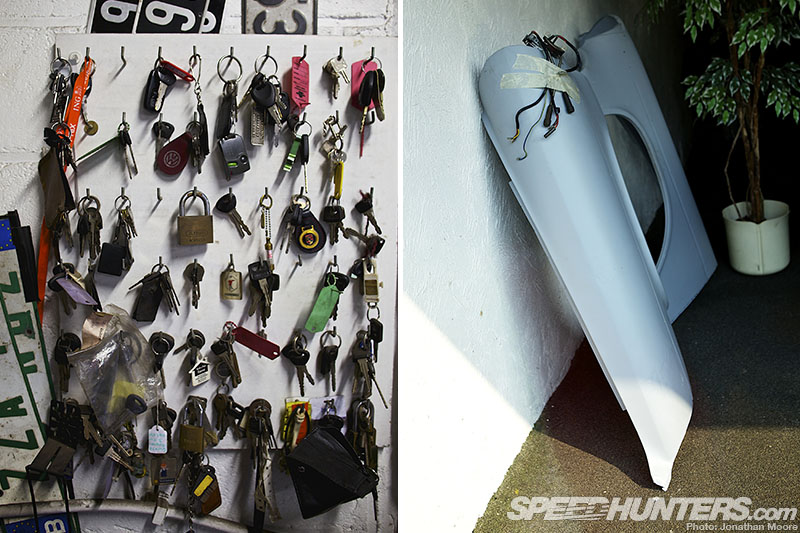 When you see the key rack and various body panels stacked against walls you realise that there's even more to see: we didn't have time to walk around the lot around the back of the garage which contained another couple of dozen cars, but we did take a peak inside the showroom area out front.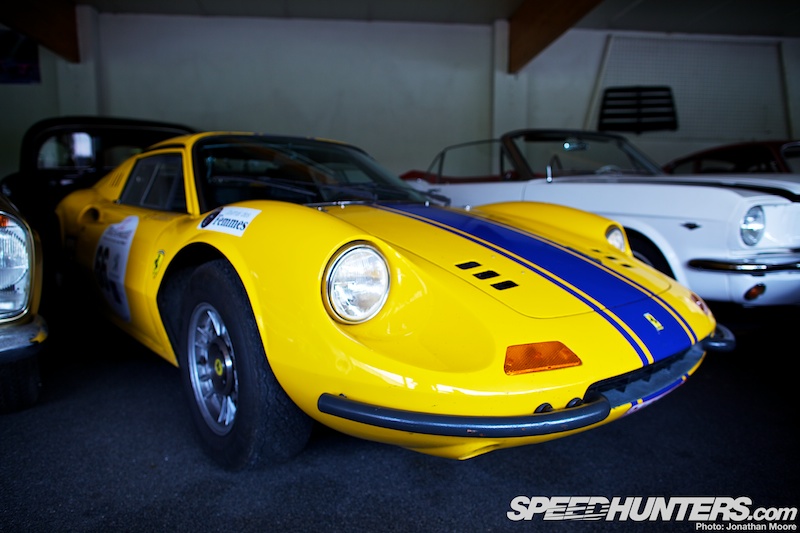 Inside, an original Ford Model T (Jean-Claude furrowed his eyebrow at Rod's suggestion of turning it into a hot-rod…), Mustang, Volvo P1800, Mercedes SL, Cobra… And under a dust-sheet this Ferrari Dino.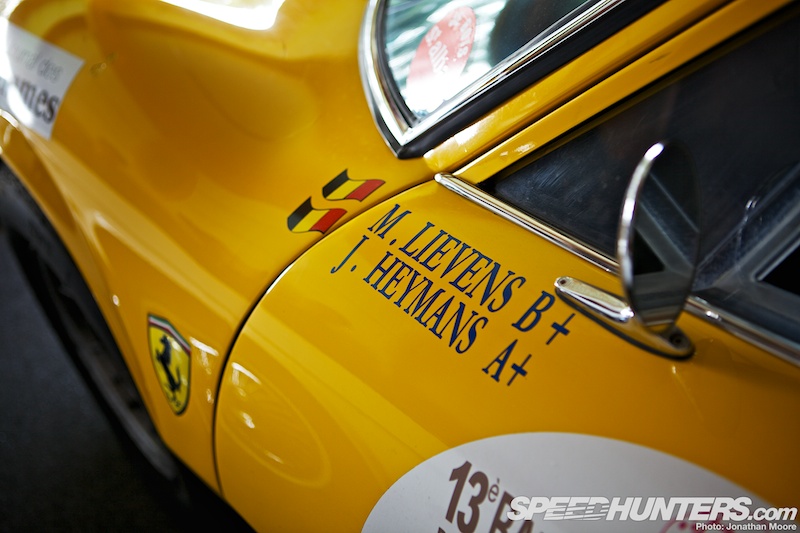 Most recently it had been run out in regularity rallies by Martine Lievens and Jacques Heymans.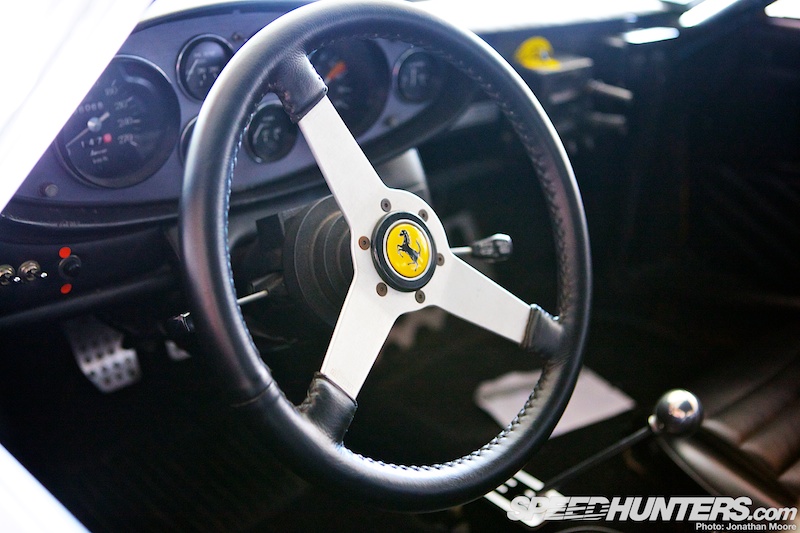 The interior sums up that perfect Ferrari driving environment of the time: a simple leather-bound steering wheel and long-throw H-pattern 'box, drilled pedals and big dials. And the sound of that engine…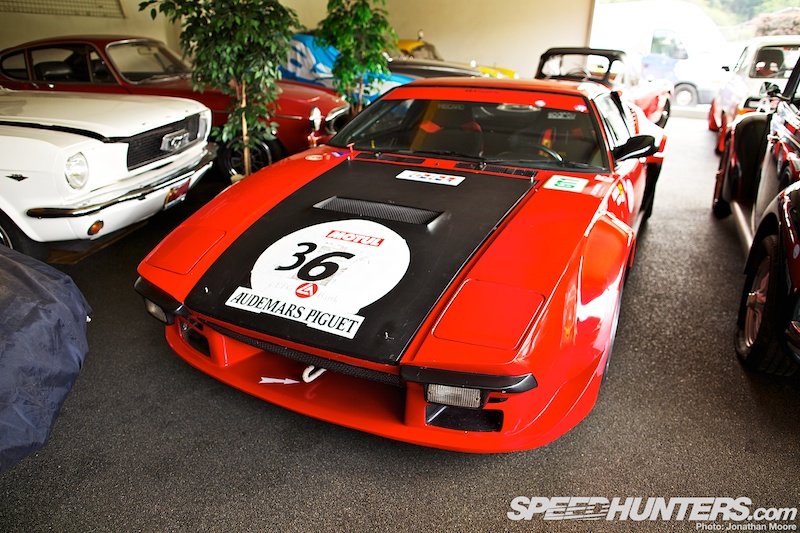 In front of the Dino was a car that showed more of the brute-force side of Italian engineering compared to the delicate style of the Dino.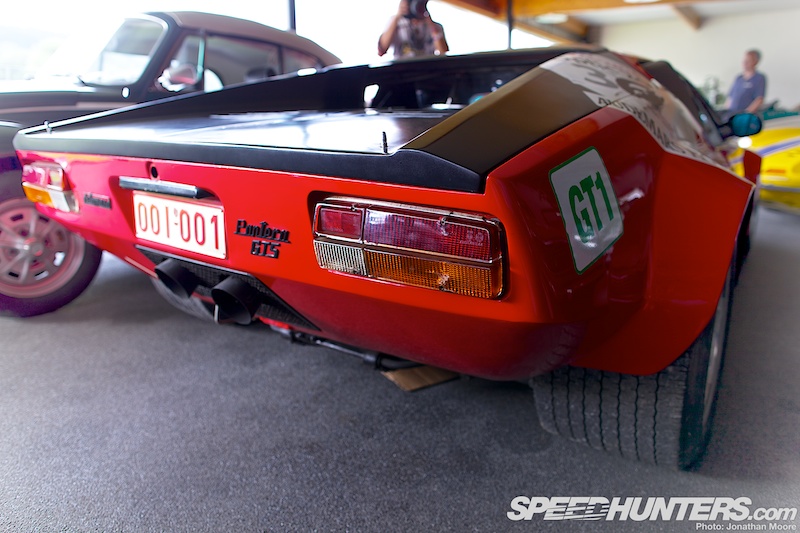 The De Tomaso Pantera GT5 racer took a road-car that was already mean and fast, made it as wide as a small country, added tyres whose size wouldn't look out of place on a '70s F1 car and tuned up the already eardrum-bursting Ford V8.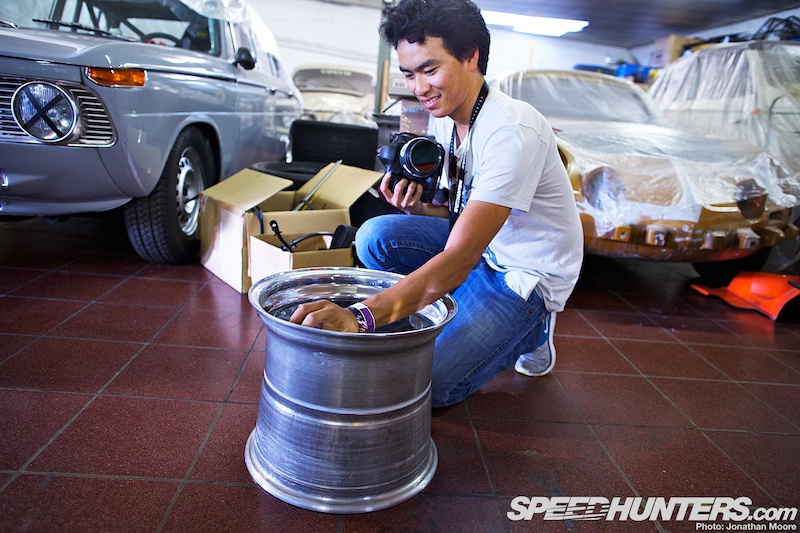 The rims are unbelievably wide. Even Larry's over-sized Android phone couldn't fill up the deep-dish interior. The Pantera put a lot of rubber onto the road, but it really needed to given the power on tap.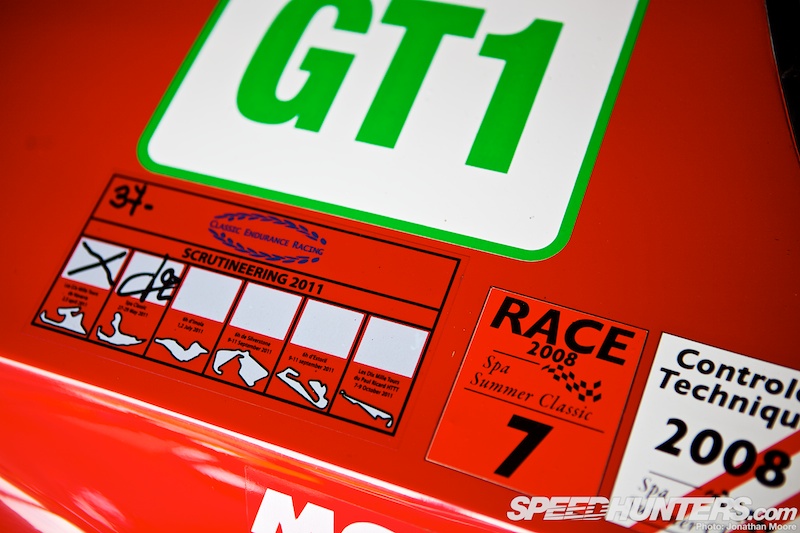 The Classic Endurance Racing series this one raced in last year serves up a mix of big-banger sports prototypes and muscular GTs: I like the fact that they've appropriated modern GT1 stickers for their class! Though it seemed that the previous owners of the Pantera didn't make it through the whole season…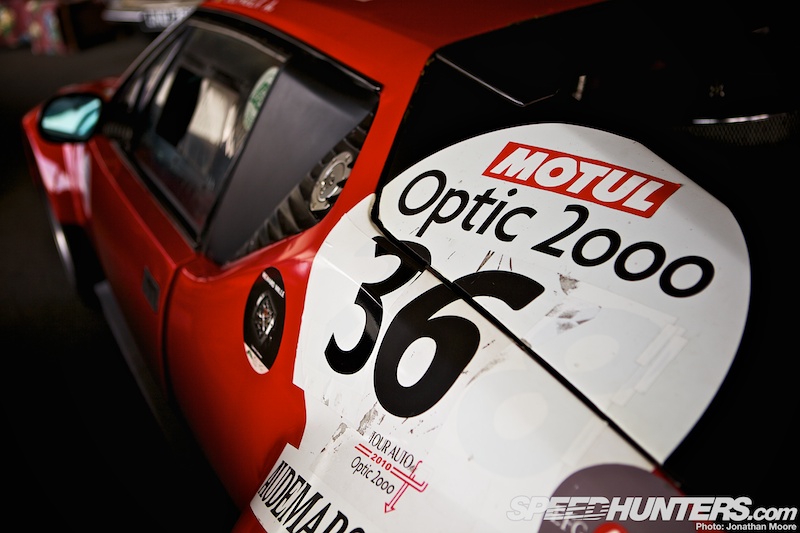 This Group 4 Pantera looked like it had come straight from the track – and was ready go right back out. I saw a trio of these cars race at the Spa Six Hours a couple of years back: every corner was like watching an angry bear being attacked by a wasp – tail-out, all power and rage but in serious trouble until it found a straight to stretch its legs.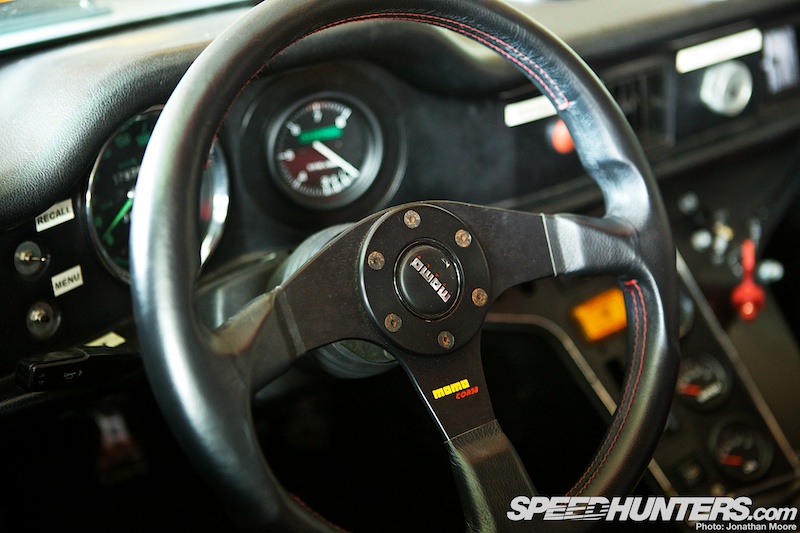 Being behind the wheel of one must be exciting and scary at the same time. Garages like JC Mathoul are dangerous places: they need to carry a health warning, both for the reaction to seeing such an awesome line-up of cars and the potential damage to bank accounts that could result. Temptation is strong. Maybe it's time to try out some classic racing?…
Jonathan Moore