My first memory of anything Hachiroku, and also anything drifting, started with a gentleman named Katsuhiro Ueo. I am sure many of you remember those short, gritty, AMAZING drifting video clips to first come out of Japan.
I know this is technically an AE85, and not a REAL 86, but this was what started it for me back in the early 2000s.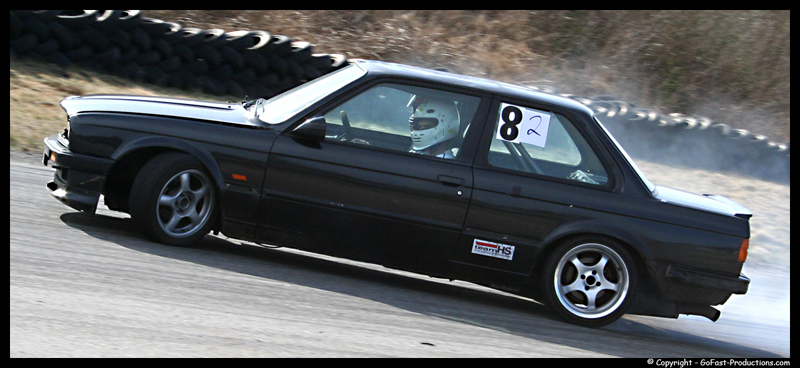 With a very vague dream of perhaps one day possibly getting to see my drift heroes in real life, and let alone drift with them, I eventually got my first drift car. A BMW E30 – in some ways a distant European Hachiroku cousin.
Five years later my friends and I had built – and gone through – several drift cars. I had become a full on drift addict, pouring my every cent and Norwegian krone into getting the next fix.
And then, in 2008, I got to battle the one and only Katsuhiro Ueo at the Red Bull Drifting World Championship in Long Beach, California. That night, when my small delegation of friends and myself got to take the legend to a One More Time, is one of the absolute highlights of my life.
In the rerun, UEO schooled me good and he hands down deserved the win, but thinking back on that one night still gives me goosebumps.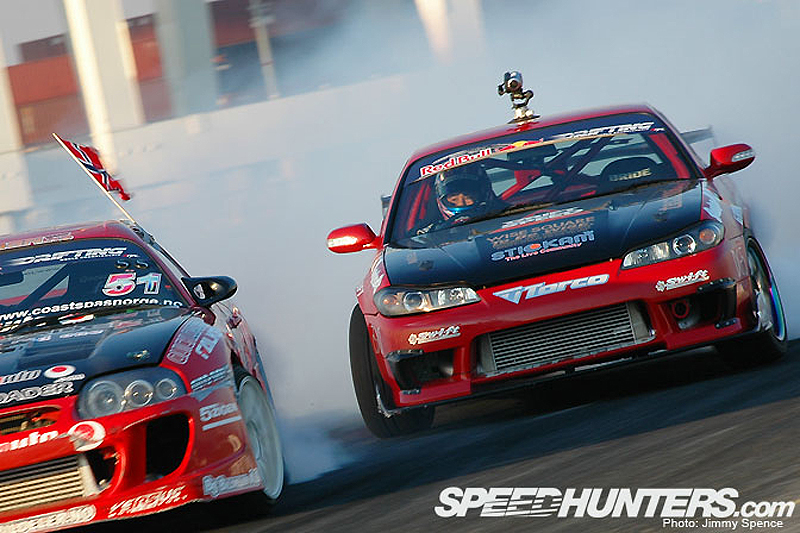 Although my love has always been with the bigger and bolder Toyotas, I feel like it is all coming full circle now: Toyota now has a remade 86 in their lineup, of which my good, old buddies and myself have based our dream drift car upon. This summer, we were back in our hometown garage, and we were going down that old avenue of wrenching on something entirely new. It's always most exciting when you don't know the outcome.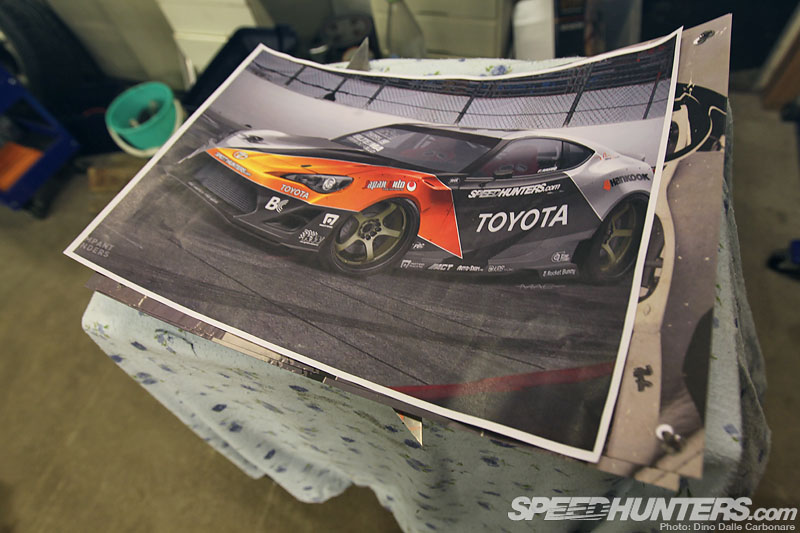 We've covered the 86-X project quite extensively here on Speedhunters, but we never had time to go over the finished car. So what better occasion than 86 Day?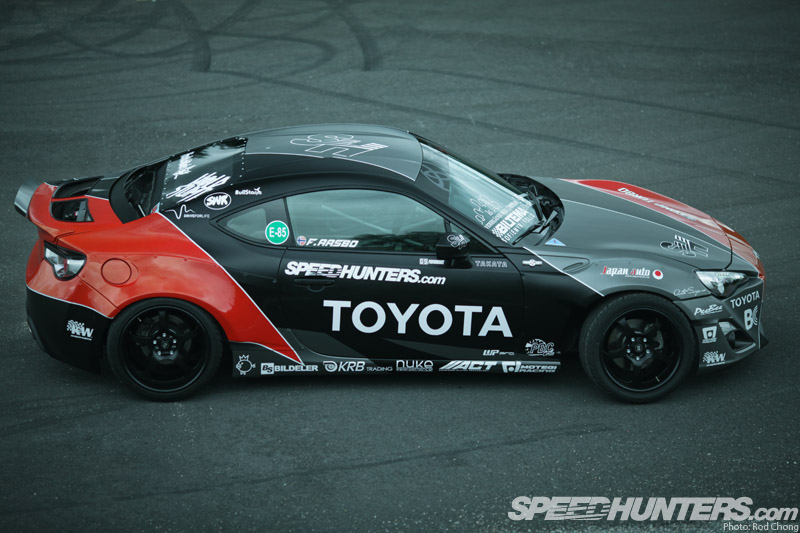 After what was a crazy build period, we got the car finished in time for Gatebil – sort of.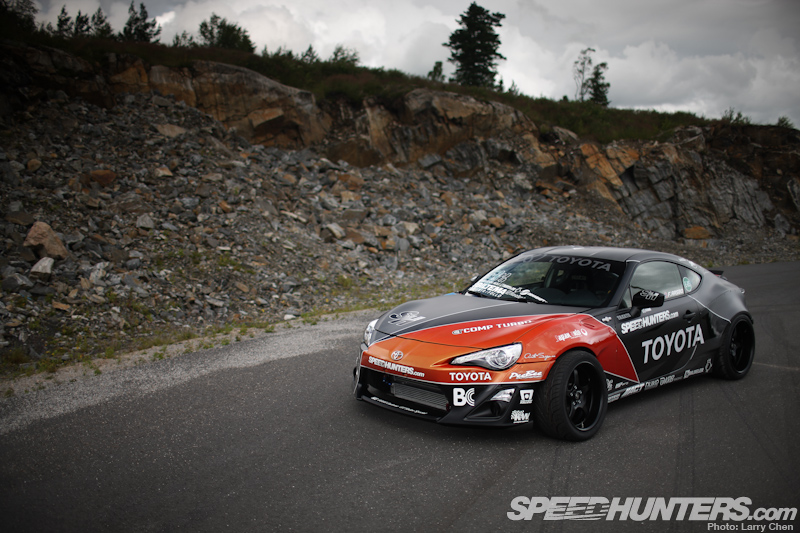 Although we didn't get to paint the wheel centres, I feel like we got the look of the car pretty close to the original render, which was created between Michael Creighton, Rod Chong and myself, based on Andy Blackmore's original Speedhunters/Need for Speed livery design.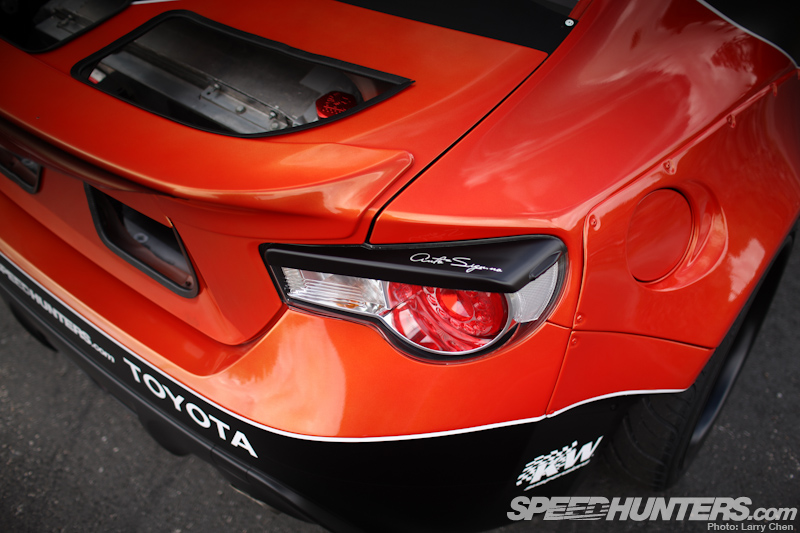 I have to say that I feel like certain areas of the exterior came out even more aggressive looking than the original concept. One example is the taillight "lids" that MadMike and Erik at Auto-Sign added.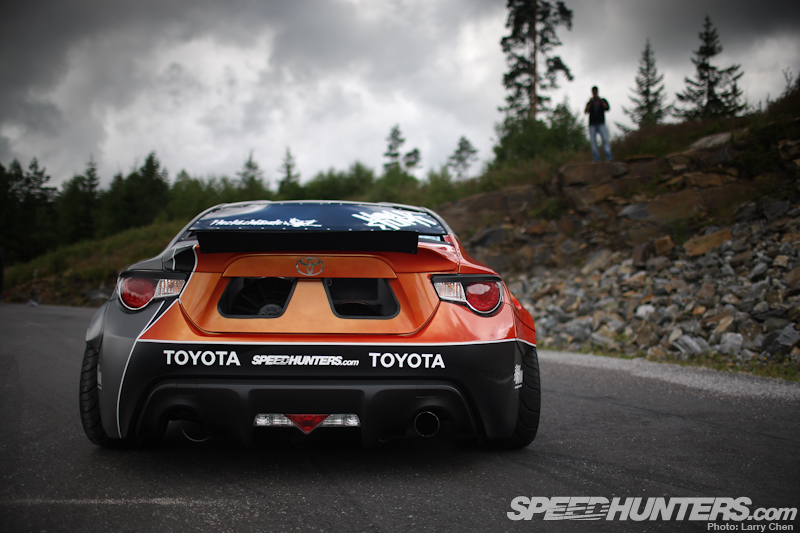 Several people have told me the car resembles the pigs from the Angry Bird mobile phone game, and looking at the car from the back now makes me chuckle!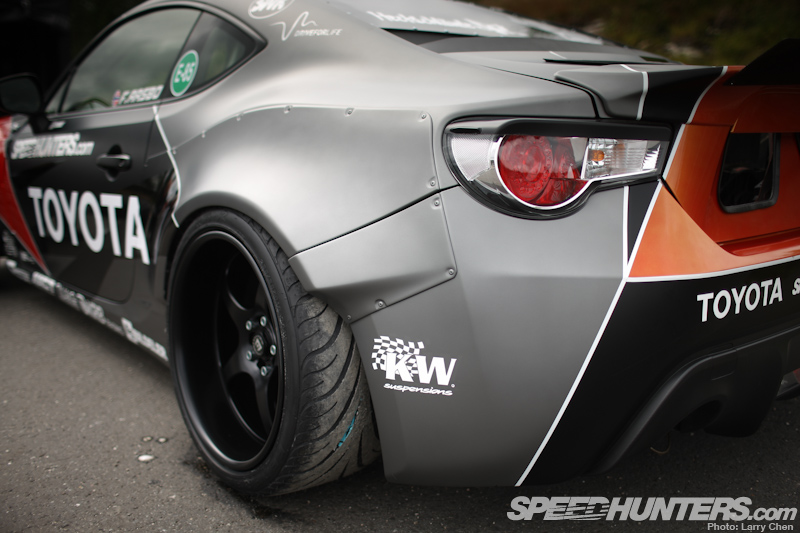 I also love the dark tint matte gunmetal that my painter Espen came up with for our third color. I feel very fortunate to have great people helping me out with making it all look right, because I am concerned with making it work right.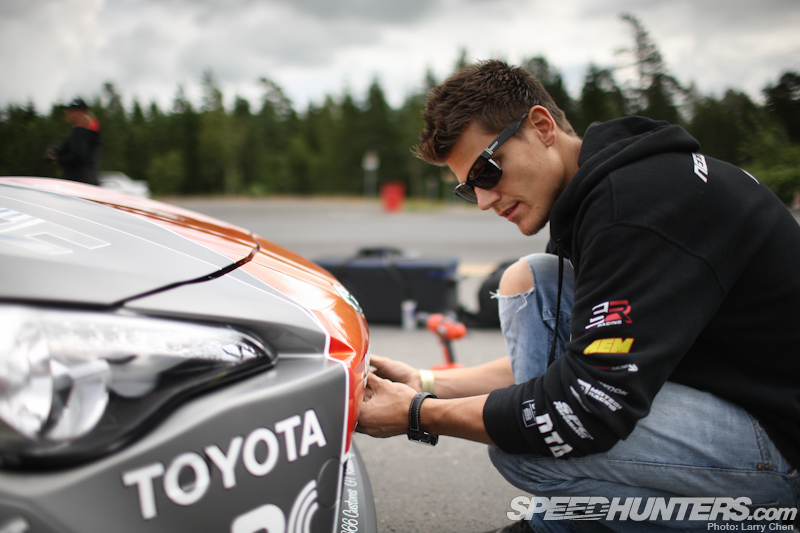 And in that respect, we had already come a long way as we debuted the car at Gatebil mid-July.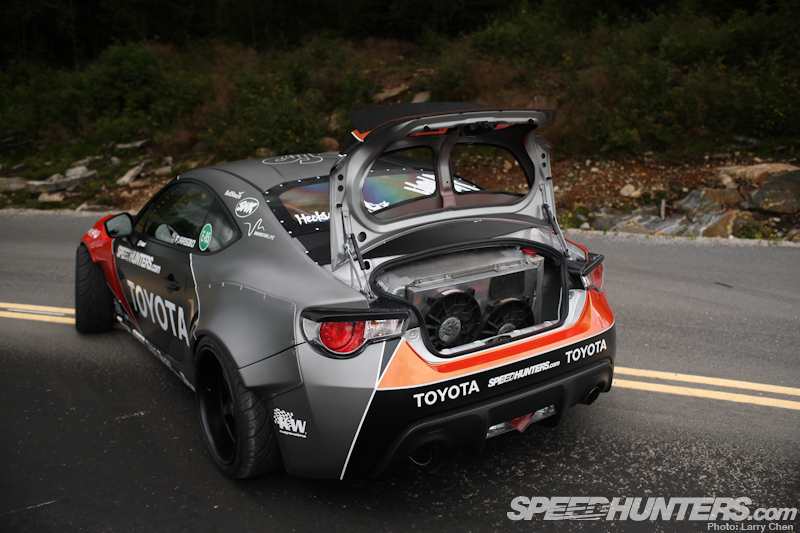 The rear mounted radiator setup worked great, with stable 80 centigrade temperatures from start to finish. We run a stock, mechanical OEM Toyota water pump with no additional electric pump.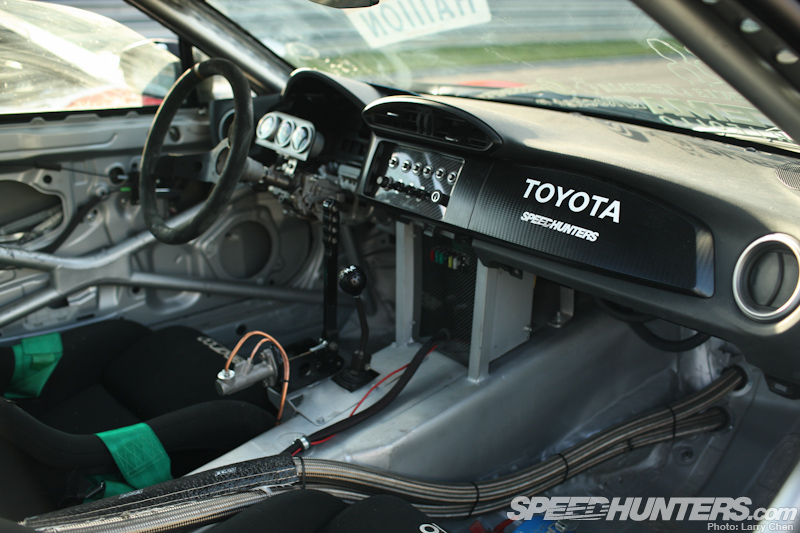 The only cooling problem we seem to have now is that the -20 AN coolant lines that run through the cabin act as a huge heat exchanger. Yeah, it does get pretty sweaty in there.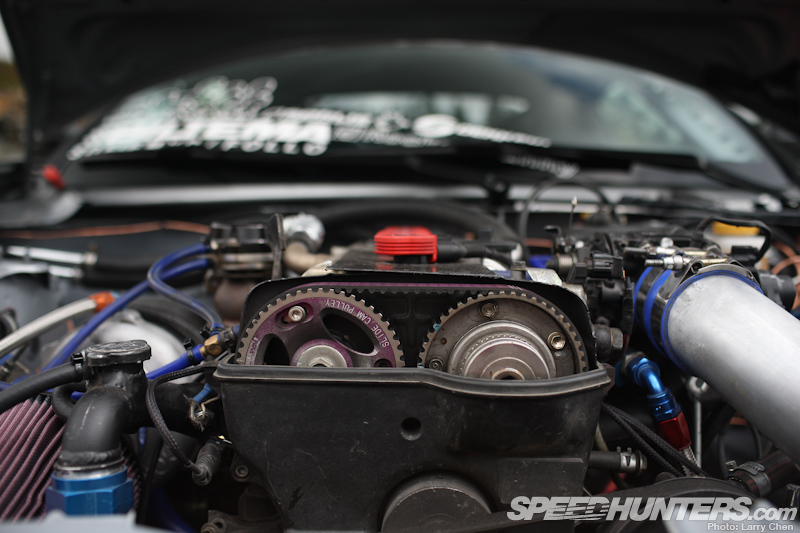 The engine ran super smooth all weekend. This is the exact same unit that we ran in the Need for Speed Japan Auto Supra in Abu Dhabi, Qatar, at Silverstone and at Mondello last year.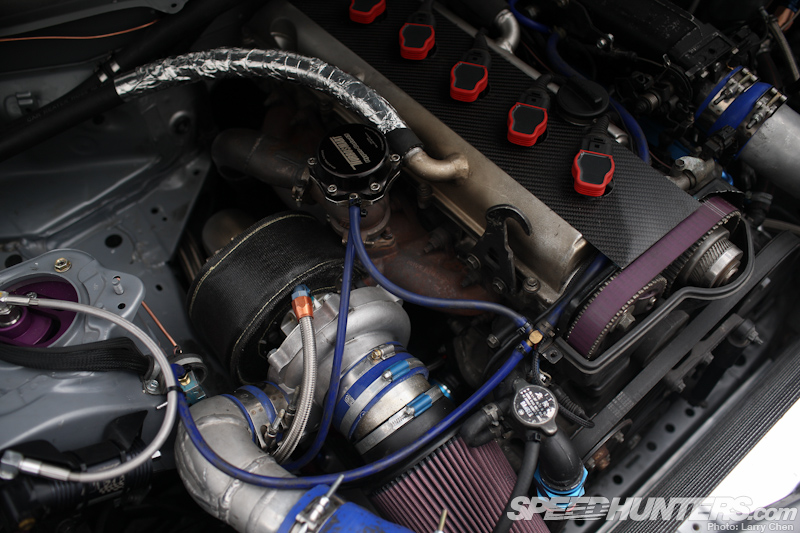 This is a pretty basic 2JZ-GTE with some aftermarket, higher compression pistons as the only internal modification to an otherwise stock long block. We run a very conservative setup with a "diesel truck" style SPA cast manifold and a medium sized COMP CT4B turbo. Both my fabricator guy Bjørn at SWR Performance Engineering and I like it "industrial spec" and we try to design everything to take a beating. Our last dyno graph shows 661 hp and 872 nm to the rear hubs.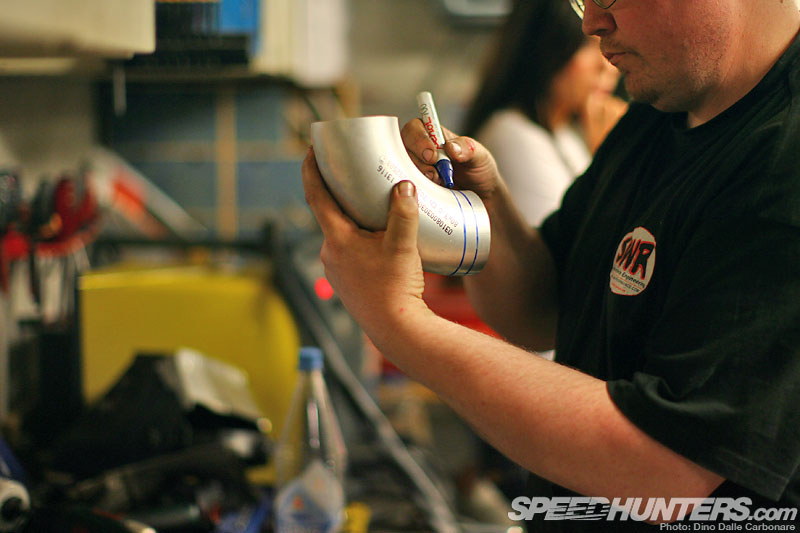 You see, we have two unspoken rules for our car builds. Rule number one is to never compromise if something is crucial for the overall success of the project. And with this build, one very crucial aspect was to get all the parts collected in Norway before deadline. With no parts, there would be no car for our Gatebil debut. Hence, a lot of time was spent communicating with sponsors, freight forwarders, customs authorities and the likes to make sure all the prototype bits and pieces showed up in time. The now legendary phrase "overnight parts from Japan" definitely holds relevance to this project…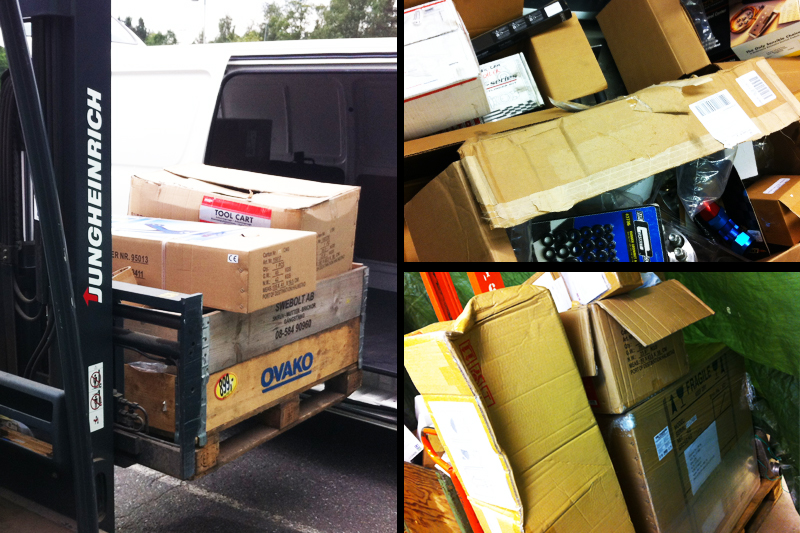 Our second rule is to use the 80/20 approach for everything that is not crucial. If you are going to make something 100 percent perfect, it will require 100 percent of your time. But if you turn down your standards just a notch and make it 80 percent perfect, which is still pretty good, it will require only 20 percent of your time. So, in theory, if you're the kind of guy who's a forever perfectionist you can increase productivity up to five times using the 80/20 approach and letting go of your standards just a little bit.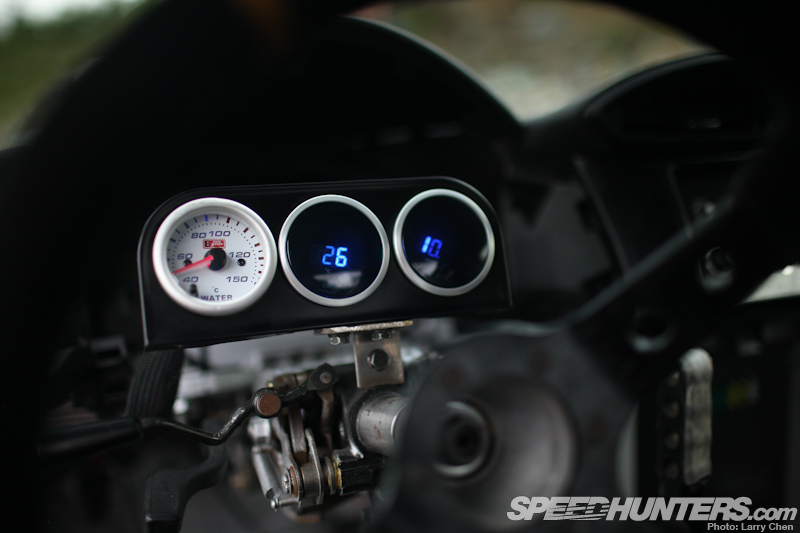 In short, what I am saying is this: Most of the things in life does not have to be absolutely pristine. For a race car, you should only really need to take the "perfect" approach to making the car as fast as possible. We all need to compromise somewhere, and if your compromise is to never finish what you've started because your standards are too high, then perhaps it's time to re-evaluate. Using the 80/20 approach on things that are not very important frees up time to spend on what really matters.
Plus, as long as you reach that one end goal for your proejct, whatever that might be, it doesn't matter if you're on fire in a pile of junk when you get there. You still made it.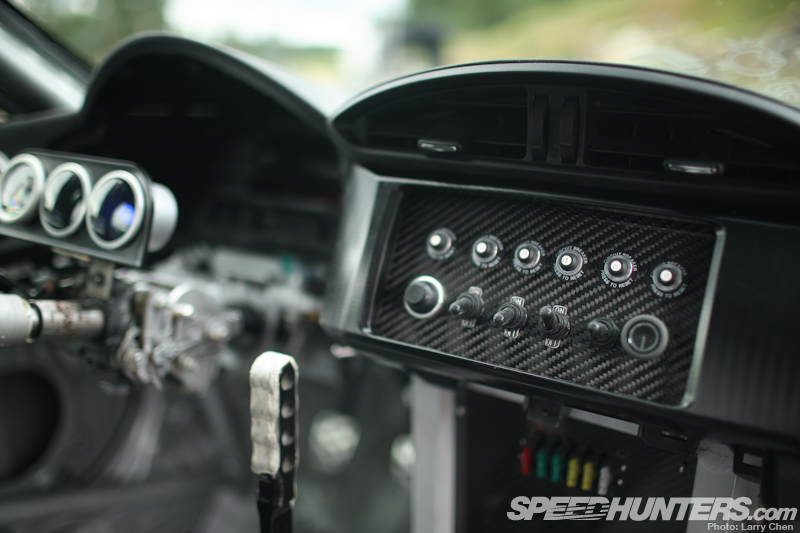 But it's when that said race car is also part show car and part showcase for your sponsors products it gets tricky, because that's when certain guidelines come into play. You need to make it look good while still keeping your focus on the actual performance of the car. It's still function over fashion, but you need to drag fashion with you.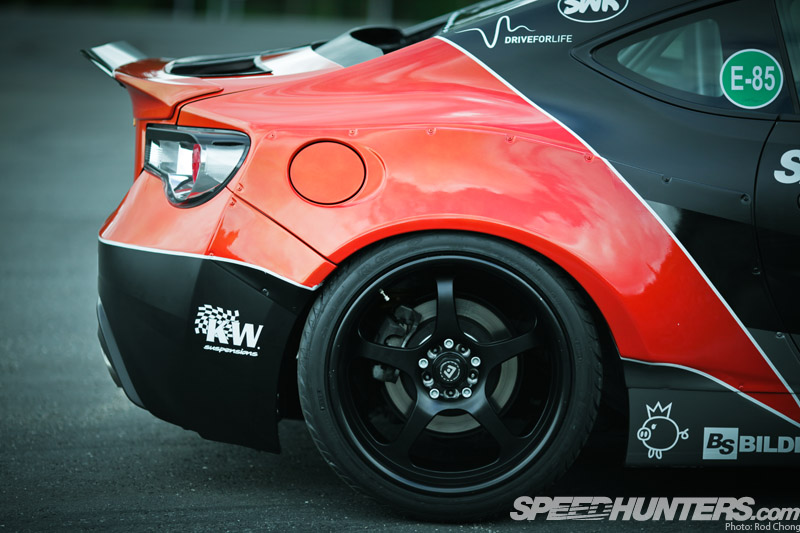 So which corners did we cut to get the 86-X race and photo ready in 37 days?
We attacked the biggest problems first. We got the motor and drivetrain to fit, before we packaged everything else wherever there was space left.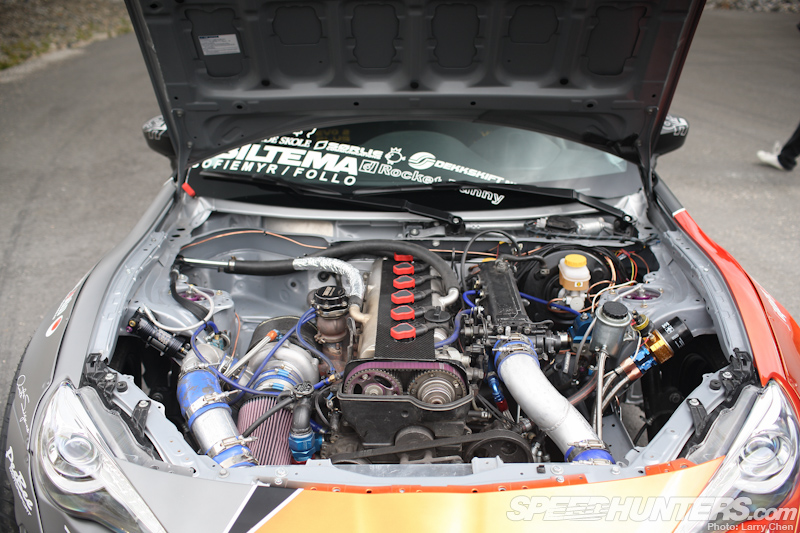 We didn't get fancy. We bashed out tight spots in the drivetrain tunnel with a sledgehammer and used tried and tested parts over new and shiny ones. The entire rear suspension and drivetrain setup was bone stock for Gatebil, but we will be running upgraded Driveshaft Shop axles from now on following our CV joint explosion just before the Breisladd (Powerslide) competition.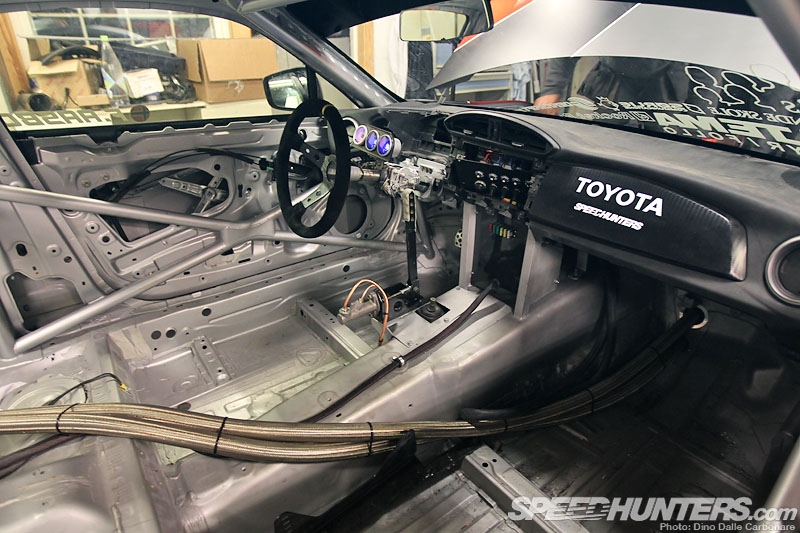 We rattle can painted the interior. A couple of days saved there!
And with everything else, we put in as much time, effort and know how as we possibly could. Because the whole point with our shortcuts was to free up time for the things that were super important to make this the perfect drift car.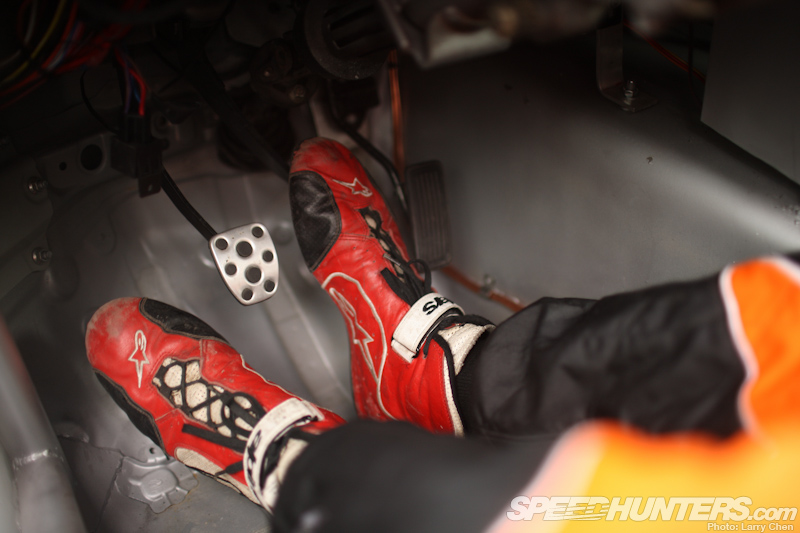 To me, the perfect drift car is one that has a ton of forward bite, which translates to being fast, while still being easy to drive and very forgiving. Drifting is almost like a disaster waiting to happen, and the only thing that is certain is that the lead car is not going to do exactly what you expect. Hence, my philosphy is to build a drivability surplus into the car that allows you to recover from the unexpected.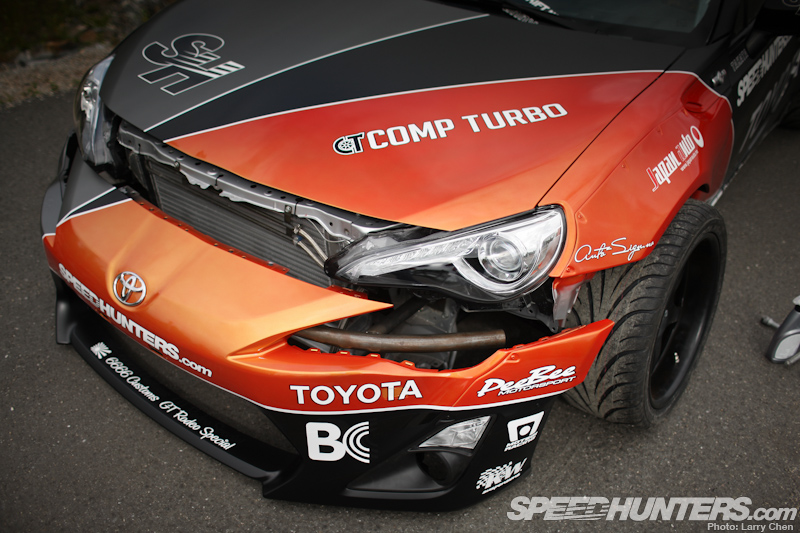 Specifically, this surplus includes additional steering lock, which gives you the margin to prevent a spin in case you dabbed the brakes a little too much or just threw it into the turn too hard.
With the 86-X we had to push the front wheels out quite a bit to make room for the tire and wheel combo on full steering lock. The stock boxer engine is very wide compared to your regular inline or V-engine, which means that the chassis legs are far apart. This in turn limits the space in the wheel well. In addition to us having to run a 25mm conversion spacer at Gatebil, this is the reason for the 86-X's very wide front stance. We will play with less scrub radius (by removing the spacer) at a later stage, but we might find that the wide stance helps stabilize the car.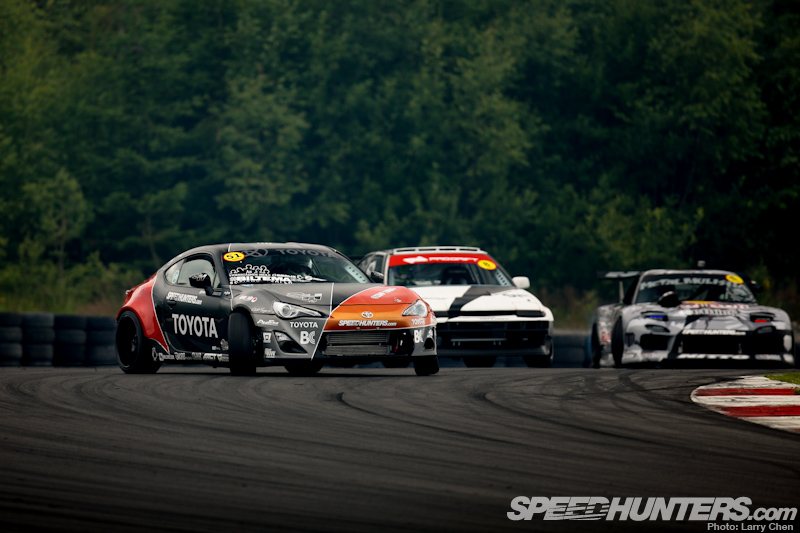 Furthermore, we used parts that I am familiar with in to help me get up to speed as quickly as possible. We used a Toyota Soarer steering column, which is pretty close to the Supra one, as well as a Supra gas pedal and throttle body to help make the transition as easy as possible. Our hope was for all of these different parts to fuse together and actually work in a perfect symbiose.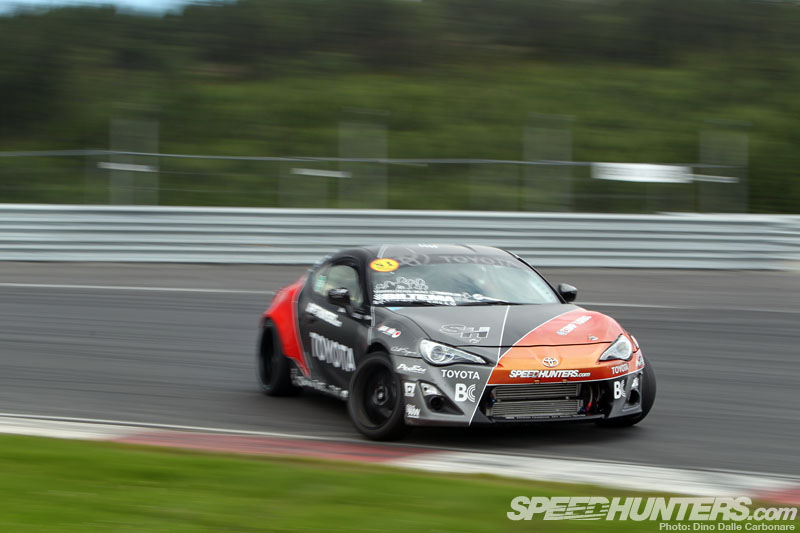 And although we did have our share of minor debut issues, oh boy did it work! After a few troubled sessions on Saturday, we got a couple of decent, damp condition sessions in on Sunday. The 86-X was drifting!
And right there and then, the 86-X fulfilled my dream of the ultimate dream car: A nimble, aggressive, affordable drift car.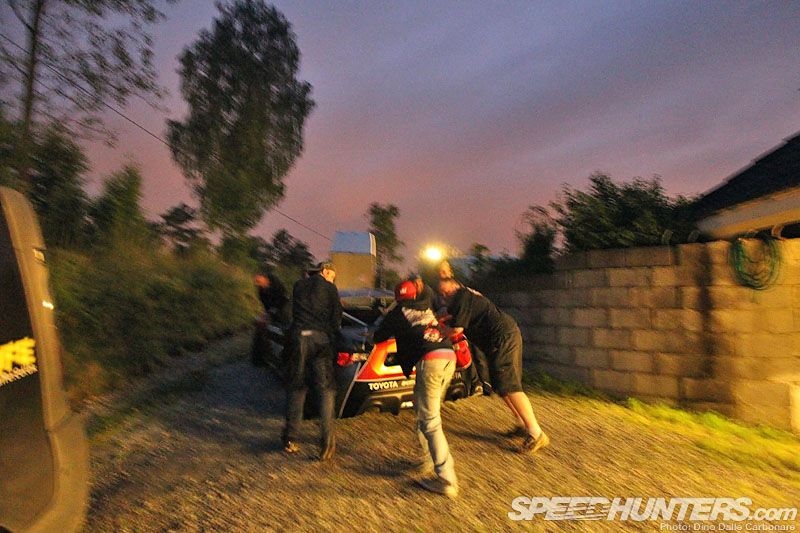 All in all, I am very proud of what our friends and sponsors helped put together for our first outing at Gatebil.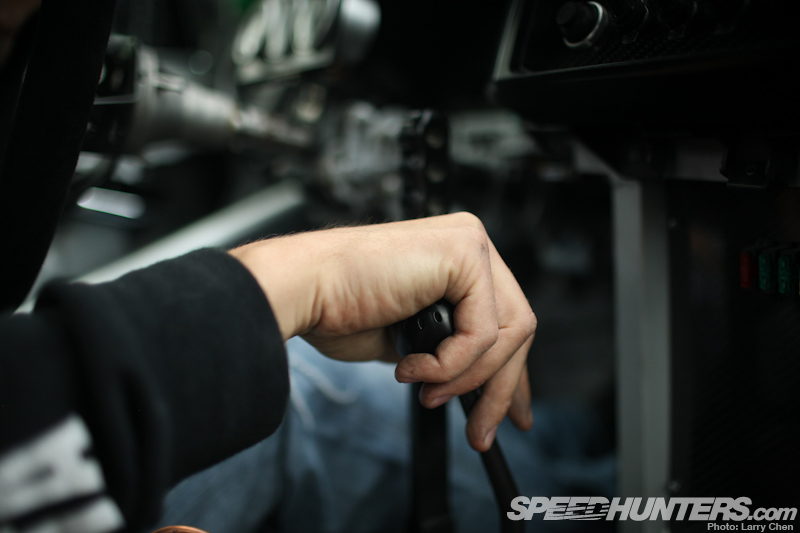 And with that said, I feel like I, and the 86-X project as a whole, owe a lot to the little 80's sports car that is the Hachiroku. If I hadn't gotten to see those epic Ueo video clips, would I ever have started drifting? Would something like the GT86/FR-S ever had happened without the original AE86? Who knows, perhaps we would all have been collecting stamps instead.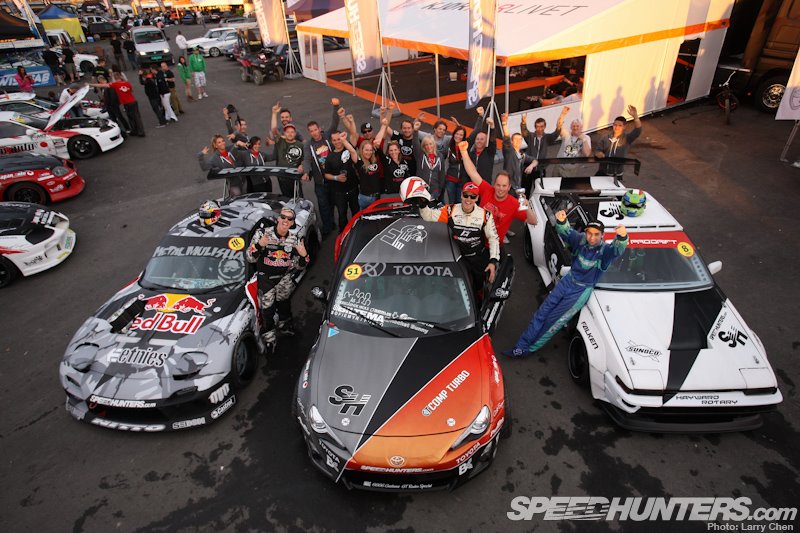 Feel free to join me in this salute as I give ode to the original AE86 Hachiroku and for everything it's been – and still is. Cheers!
We are currently at work installing the new and beefier rear differential setup before the 86-X's competition debut at Silverstone, for the British Drift Championship at Trax on September 2nd. We won the event by the smallest of margins last year, and I know this year the Brits are on a mission to take it back. But so is the Irish Prodrift delegation, who we will meet at Mondello Park on Sept 9th… And who knows who else might show up!
See you there?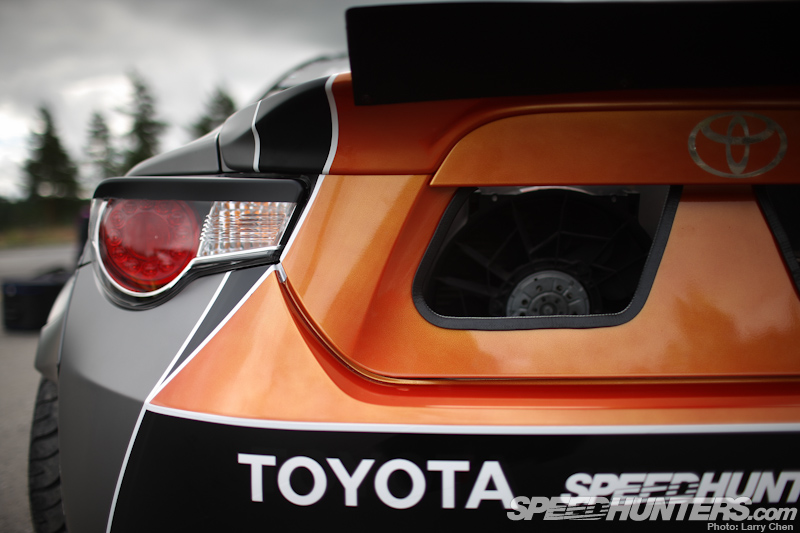 SPEEDHUNTERS TOYOTA 86-X SPECIFICATIONS:
EXTERIOR: TRA Kyoto 6666 Customs GT Rodeo Special Rocket Bunny wide body prototype fenders. Andy Blackmore/Michael Creighton/Fredric Aasbø personalized Speedhunters.com signature livery. Paint by Ås VGS technical university students and teacher Espen Enerhaugen. Vinyl by Erik at Auto-Sign. Motegi Racing Traklite wheels, 8×17 +0 (front) and 10×18 +0 (rear). Tires for Gatebil supplied by Dekkskift.no.
ENGINE #1: 2JZ-GTE VVTi from the Japan Auto Supra. JUN Cosworth pistons, OEM Toyota rods and crank. Engine build, engine mounts, downpipe and boost piping by Bjørn at SWR Performance Engineering. SPA cast exhaust manifold, COMP CT4B billet cartridge turbo, BS Bildeler intercooler and Albert Aasbo stainless steel exhaust system. Autronic SM4 tuned and set up by Kai Roger at KRB Trading and Christer at PBC Auto. 661 hp and 872 nm to the hubs. Nuke Performance fuel system plumbed with Red Horse hoses and fittings.
ENGINE #2 (to debut later this year): Brian Crower 3.4 2JZ-GTE non-VVTi stroker. Built by Bjørn at SWR Performance Engineering and Tor Gunnar Karterud. Full BC internals including crank, rods, pistons, cams, gears, etc. Power estimate: 800 hp and 1000 nm to the hubs.
DRIVETRAIN: Advanced Clutch Technology triple disc race clutch and ACT custom flywheel with integrated pilot bearing. Mid Valley four speed transmission, driveshaft by Ingar at Powertrain, rear axles by The Driveshaft Shop.
CHASSIS: Toyota GT86 production chassis (first one to arrive in Norway). KW Suspensions 3 Way Race Kit. PeeBee Motorsport super drift angle kit, including lower control arms, tie rod links and roll center correction spacers. FIA & Formula Drift-approved roll cage, transmission tunnel, rear firewall and radiator mounts by JH Linnerud. WP Pro 6 caliper big brake kit (to be installed).
INTERIOR: Takata FIA harnesses, GS Performance steering wheel. FIA seats. Custom dash switches and automatic circuit breaker setup. Custom steering column and throttle pedal assembly.
THANKS TO: Each and every one of our sponsors and friends that has been involved in this project – it simply wouldn't have happened without you. A special thanks to Lars Erik, Håkon and Espen at Toyota Norway, Rod Chong and everyone at Speedhunters, Albert, Bjørn, Petter, Marius #1 and Marius #2, Roy, Thomas, Christian, Lars, Mad Mike, Ben, Wenche, Camilla, Henning, Ingar, Christer, Kai Roger, Espen #1, Espen #2, Tom Ole and the awesome students and teachers of Ås VGS. And last, but not least, my parents for dealing with the non stop garage noise and for having belief in us. We made it in the end!
Fredric Aasbo
---
---
---
---
---