When did you first become aware of Japanese culture? It's a serious question and one that I've asked myself, hence passing it on to you. If you're Japanese or based in Japan, then excuse this line of questioning although I'd hope the resultant answers will be of interest.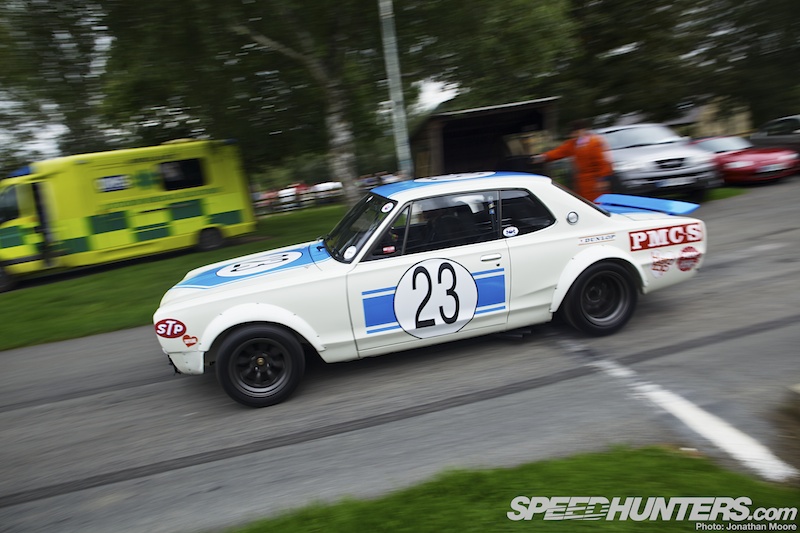 I was grown in a land of Ford Cortinas, the odd Datsun and a smattering of Toyotas. That odd Datsun being the local farmer who bought a brand new 620 pick up in 1979, what I would give for that now.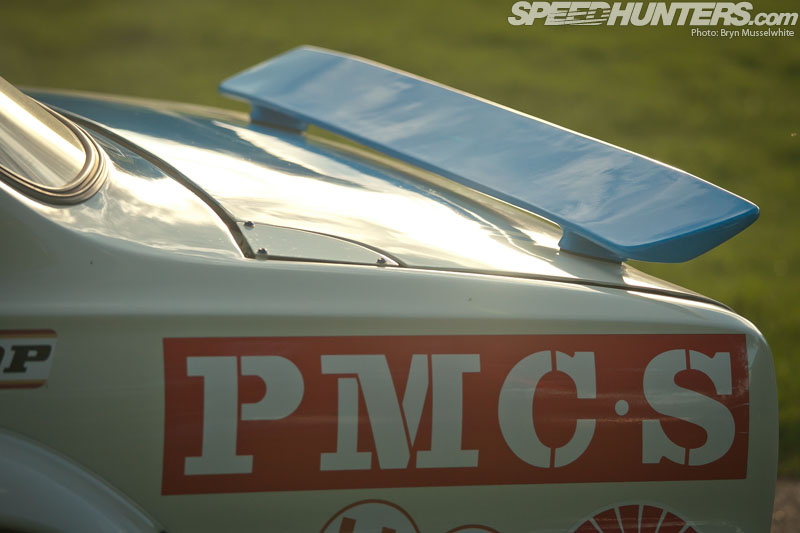 A 1983 Tamiya Catalogue was my first experience of what I would consider to be Japanese culture, looking through the glossy pages opened my eyes to a whole world of car models I'd never seen.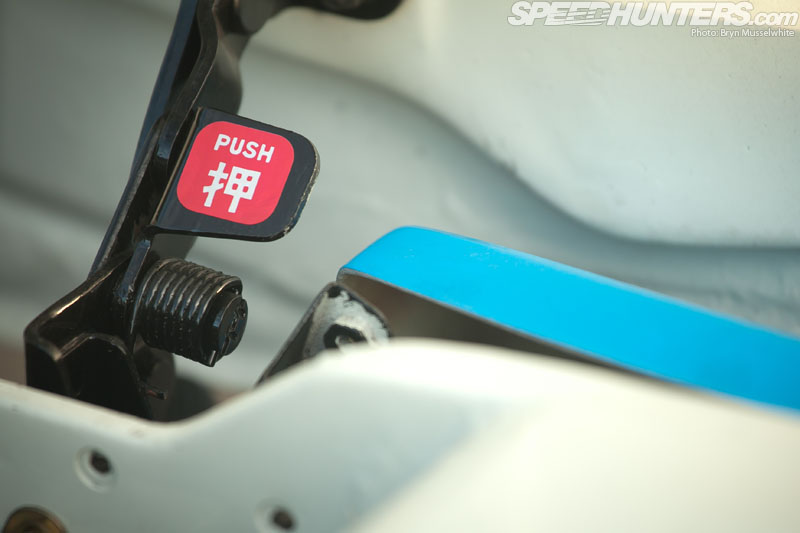 Honda Jazz to TA Celica… They were all there. Liveried with names that were unknown, I was ten years old and my car world just blew up.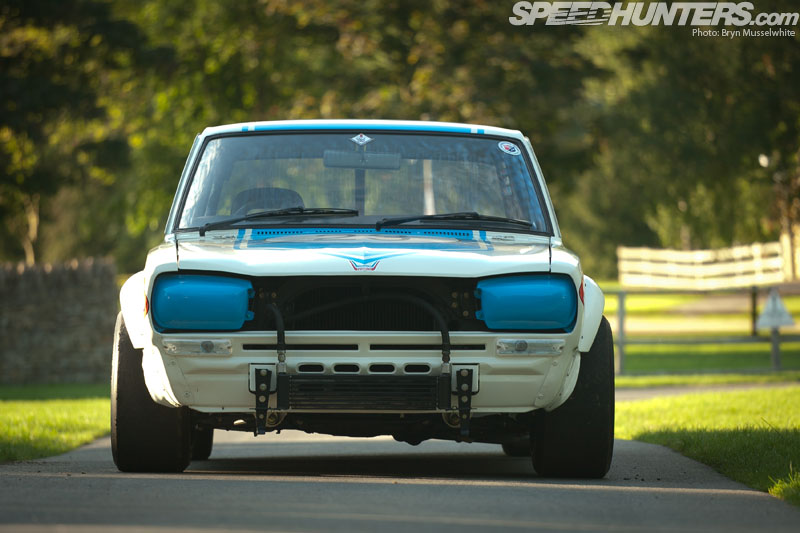 I'm sat here at the Retro Rides Gathering thinking about those pages and how much Alan Thomas' KPGC10 reminds me of those models. It's image perfect, just how I'd expect it to be as if assembled by full size Tamiya mechanics, the kind whose feet are joined by a flat piece of plastic painted to look like tarmac.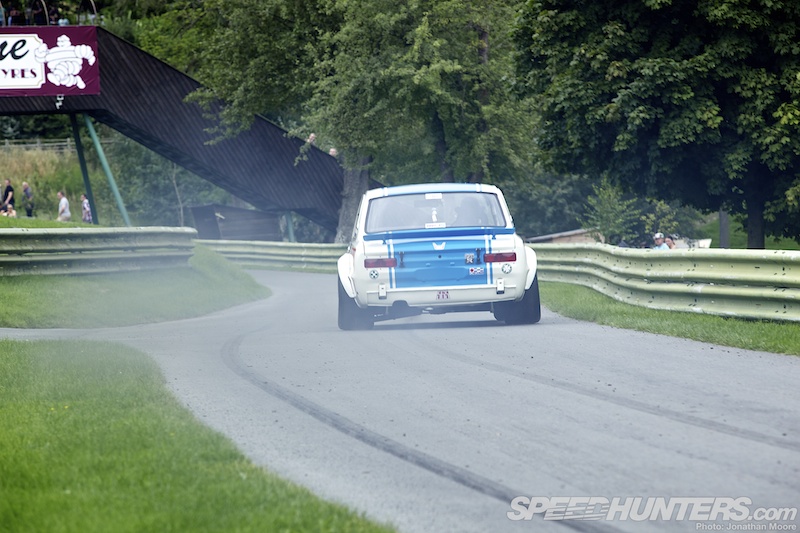 We've pictured this actual KPGC10 at a few events over the years, when we shot the Gosser BMW at Classic Le Mans in July it was sat a couple of hundred feet away being displayed by Nissan France, but now finally… We're alone. Almost.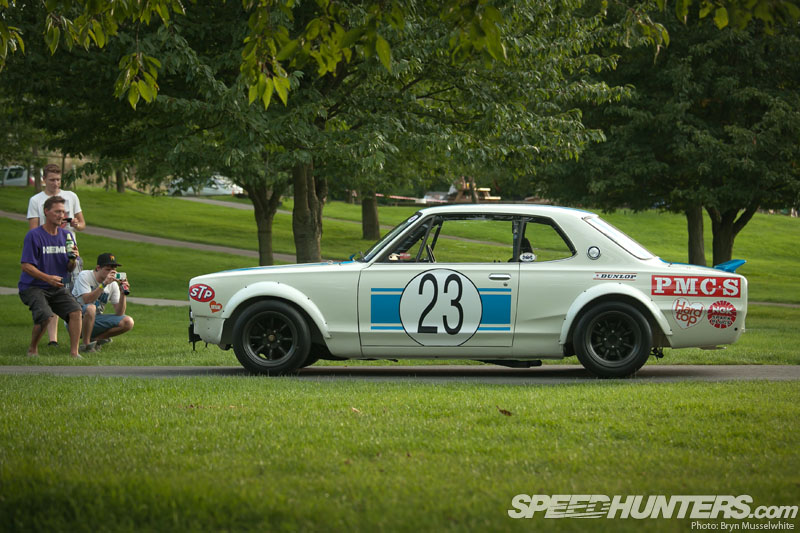 As with a lot of Japanese cars, there is a hint of familiarity for a European, a line here or there that shows a nod of the designers pen to European styling houses. Alan and I discuss the very Italianate lines of the pillarless coupe and how the 'wave' swage line is a key element of the side flank. Which when I think about it is the kind of detail absent on European peers.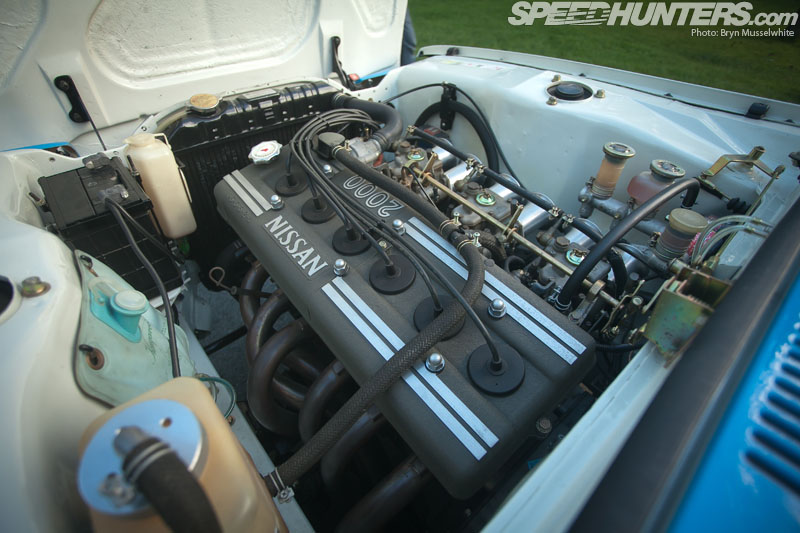 If you're sat there wondering what all the fuss is about, then I'll give you a little fuss to work with. When Alan became the custodian of this KPGC10, there was only one other S20 engined car outside of Japan, that being a PGC10 (four door) in South Africa.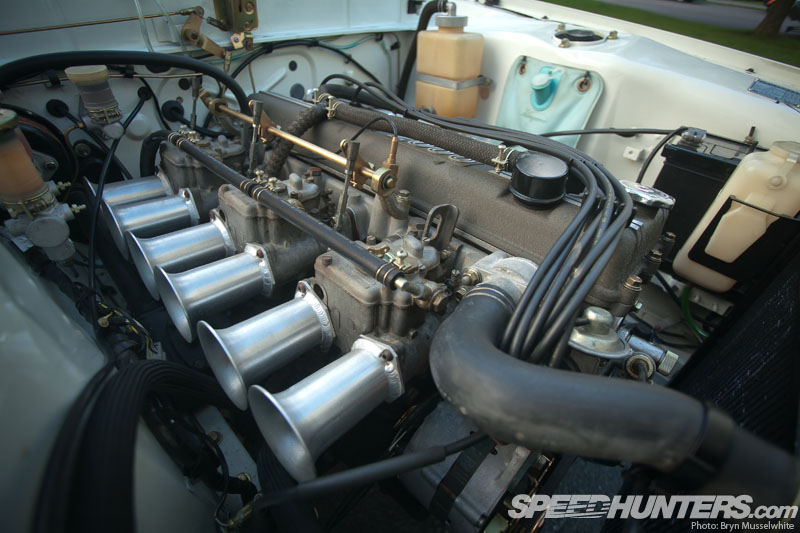 Now there is a KPGC10, a KPGC110 and a Fairlady Z432 in the USA… But that's still only five cars outside of Japan. This is a rare car in Japan, let alone London.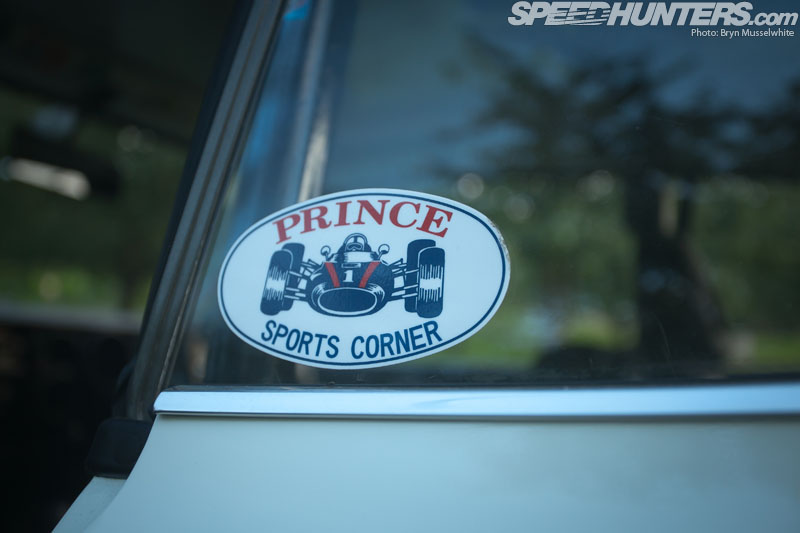 It's easy to see why Alan is the right person to own the GTR. Swapping stories with him is easy, his passion spills through in every answer, we discuss everything from air cooled VWs to the incredible times he had living in Japan from the late 80s through to early 90s, a subject I hope to tell you more about in the future.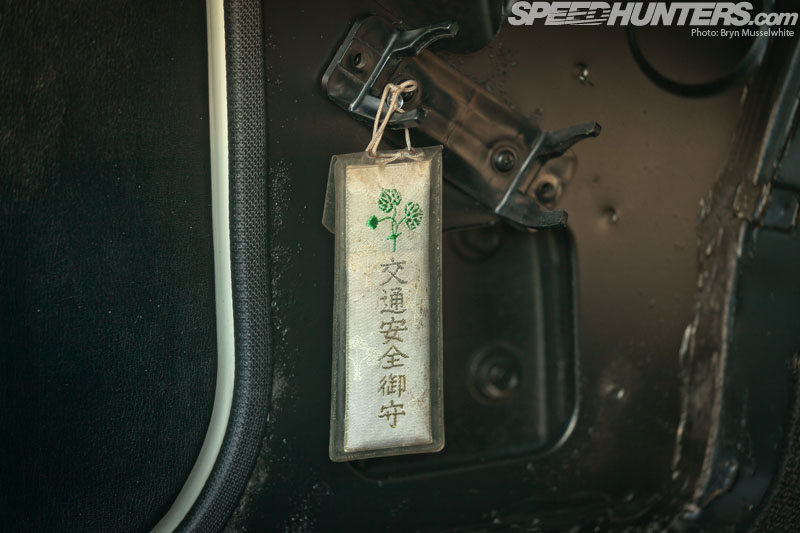 It seems that living and breathing the culture cemented his interest and led him down a path to owning one of the rarest and most coveted of Nissan models.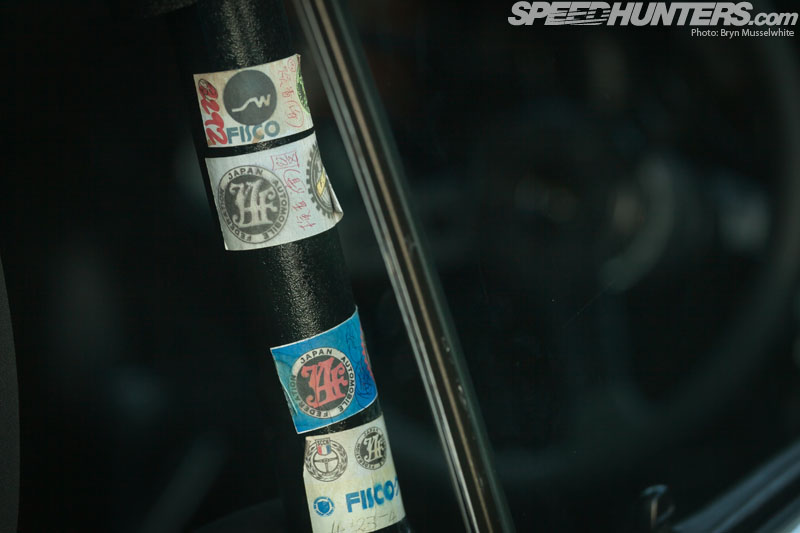 The very skilled previous owner simply instructing Alan to "do as I liked with the car, but to try to show it in a good light and spread the word about Nissan's early racing activities and these interesting production cars."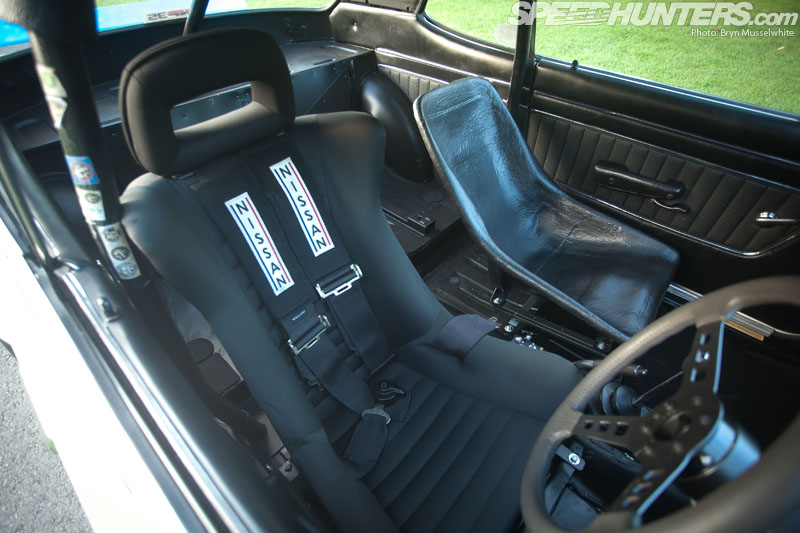 So we've blown some smoke, and flashed some mirrors but just how impressive is this GTR?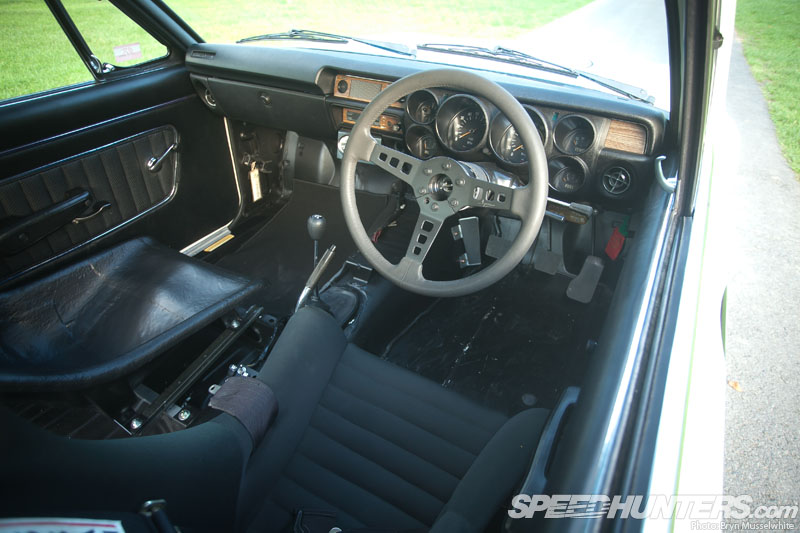 Very. Everything smells right, looks right, it gives you that sense of unprompted sense of awe when you take a look around. Everything for a purpose and everything purposeful.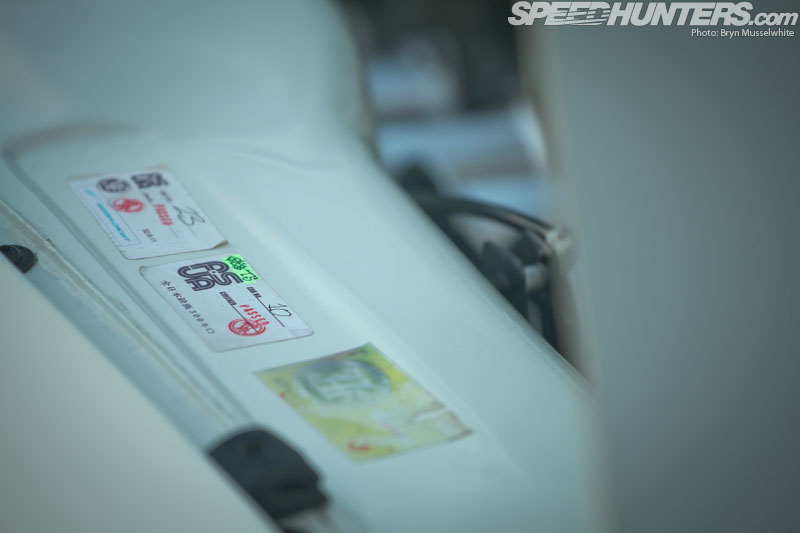 Although there's something faintly odd about it's presence here, as I said so many facets of Japanese car design are familiar, yet the harsh, piercing exhaust note that the 2ltr rasps out through the side exit exhaust seems so alien.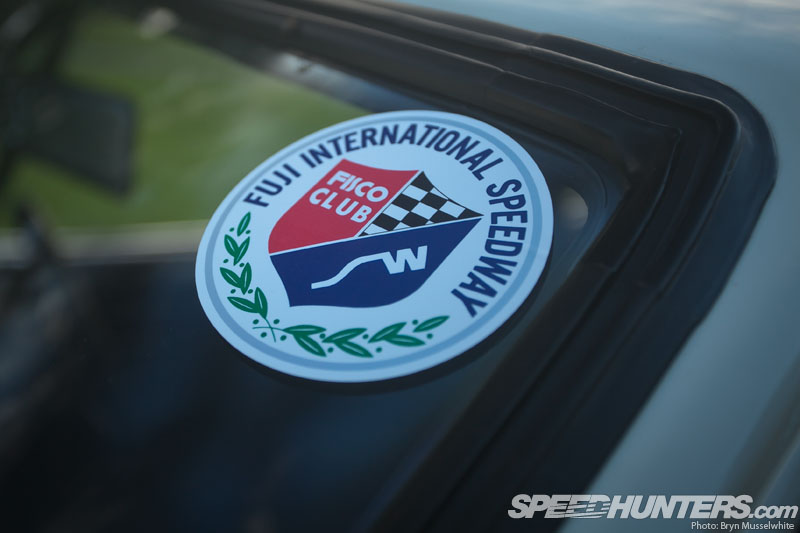 I half expect to look over the horizon and see Mt Fuji rising from the rolling Cotswold vista, solely brought forth by the distinctive tone. I'm used to barking carbs, but the revs rise so quickly, the 2ltr six shouting a very distinctive song.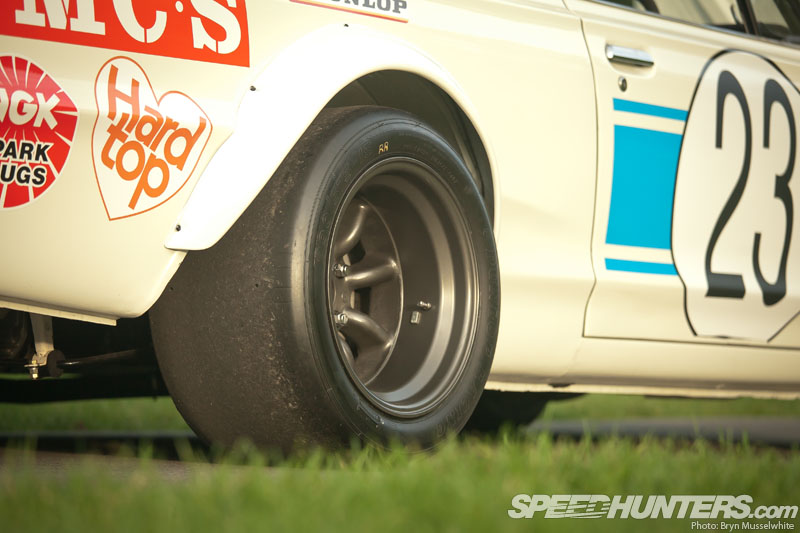 Alan points out that although the arch and tyre combo might look impressive, it's actually over tyred by modern standards. The 11J wide Watanabe mags are gorgeous, but he goes on to say that in the early 70s tyre tech wasn't what it is now, so they had to be that wide, now modern compounds mean grip is almost infinite in this wide girth.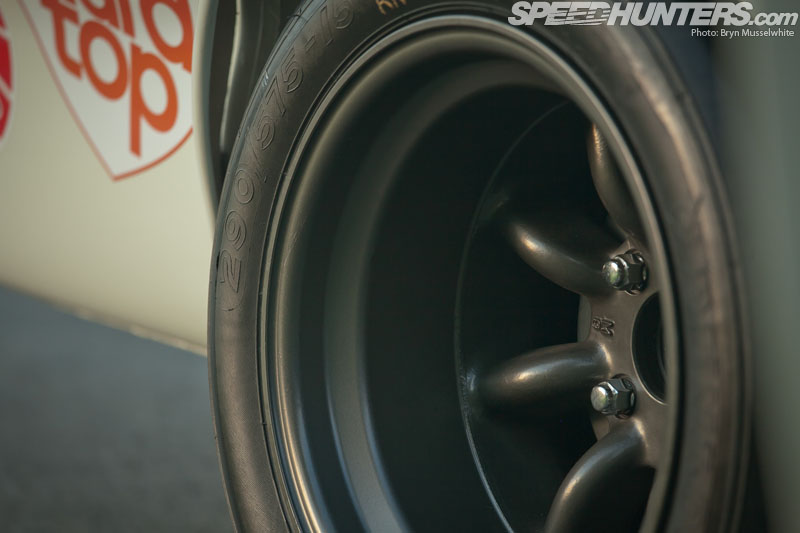 Adding that on a near perfect day at Silverstone, itself a fast track with plenty of rubber on the line and open corners, you can almost imagine what it would be like to dance around that Fuji track that the Hakosuka (pronounced hakoska) is so famed for racing around.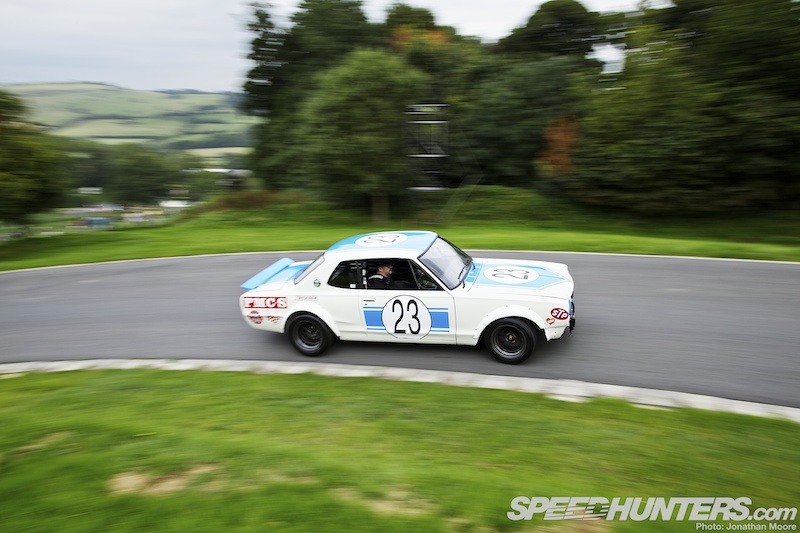 Flat out, minimal braking and that exhaust note…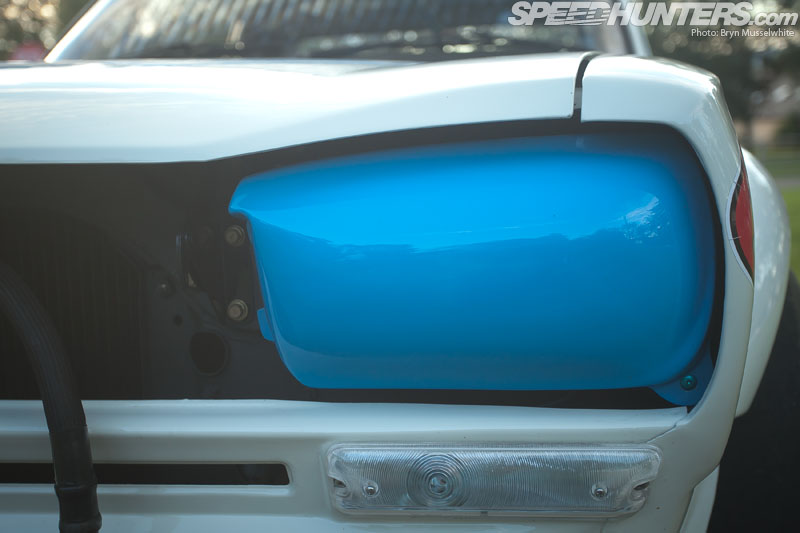 As for this particular GTR, what is its history? "My particular car is a bit of a white elephant, having started out as a road car and then gradually morphed into a circuit-oriented one trick pony. Perhaps a showroom stock car would get more attention for the marque and model, and a greater appreciation for just how extraordinary these cars were for the market and the period."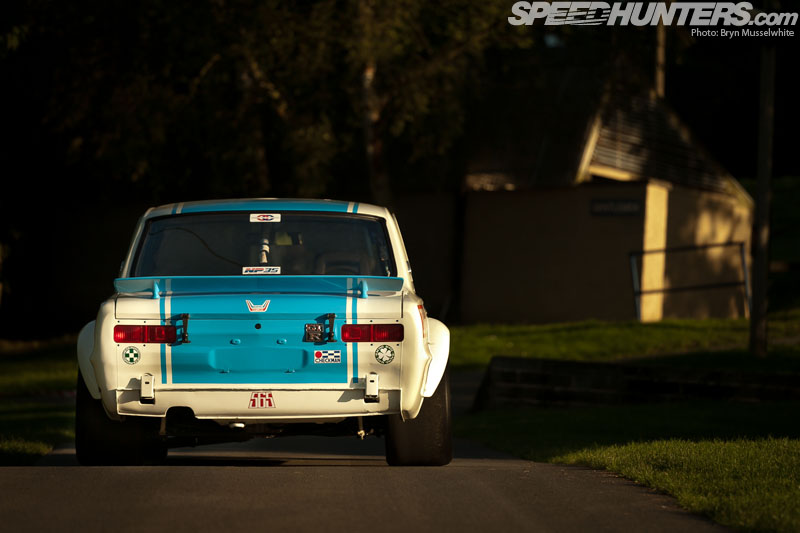 In some circles, but you're amongst friends here Alan, "A race-bred (certainly blue blooded) twin cam 24-valve straight six engine with triple side-draught carbs, a hand-made stainless six-branch exhaust manifold and electronic ignition…"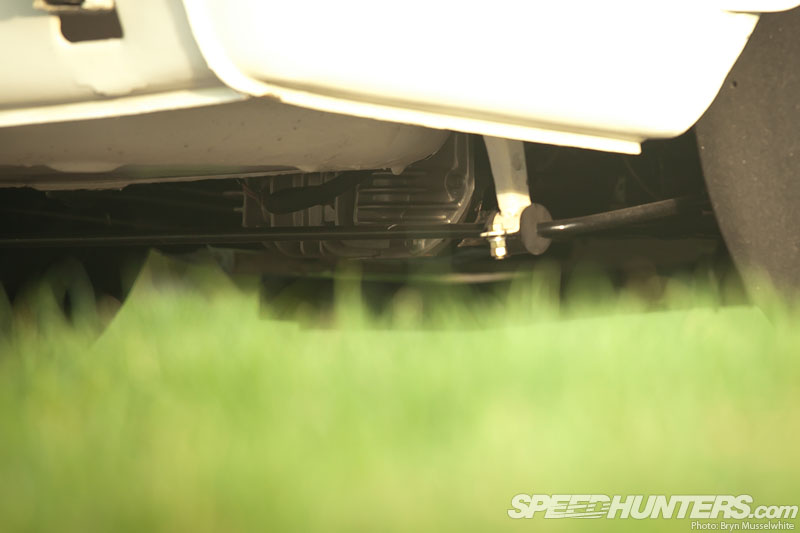 "… A five speed O/D trans driving an LSD-equipped diff, with front disc brakes and McPherson strut / semi trailing rear all independent suspension sounds quite exotic for 1971."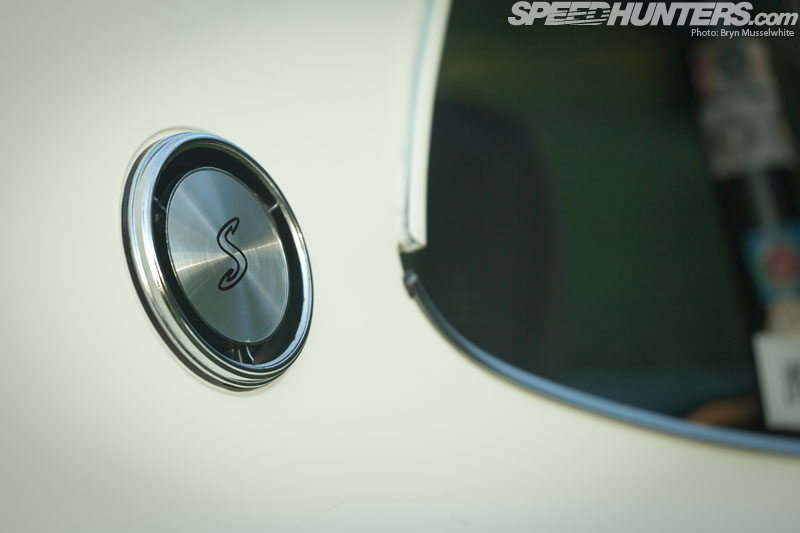 The four door debuted in Feb. 1969, Alan saying, "If these cars were from anywhere other than Japan they'd be extraordinary, but the fact that they WERE from Japan makes them even more interesting for me."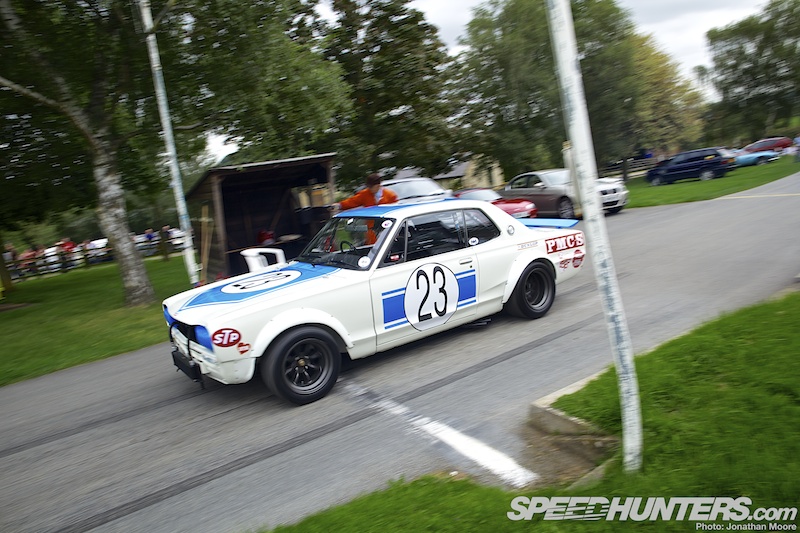 "In fact, I think they were a signpost of great things to come, and it was only really the Yom Kippur War and subsequent 'Oil Shock' / OPEC oil crisis that put a lid on greater things coming. If it wasn't for that ( Japan had no domestic oil supply, and has always had to import it ) we might have seen some really interesting and sporty cars from Japan in the mid to late 1970s.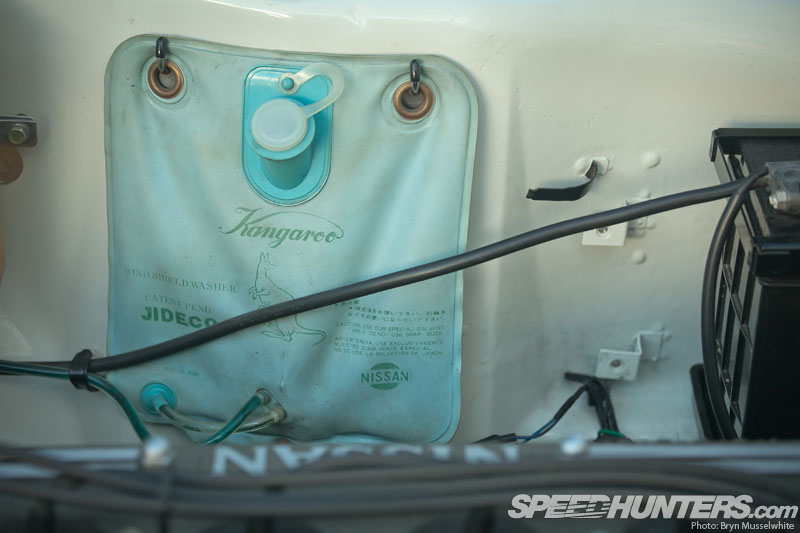 As it was we arguably we had to wait until the mid to late 80s, with giants such as the R series Skylines and peers.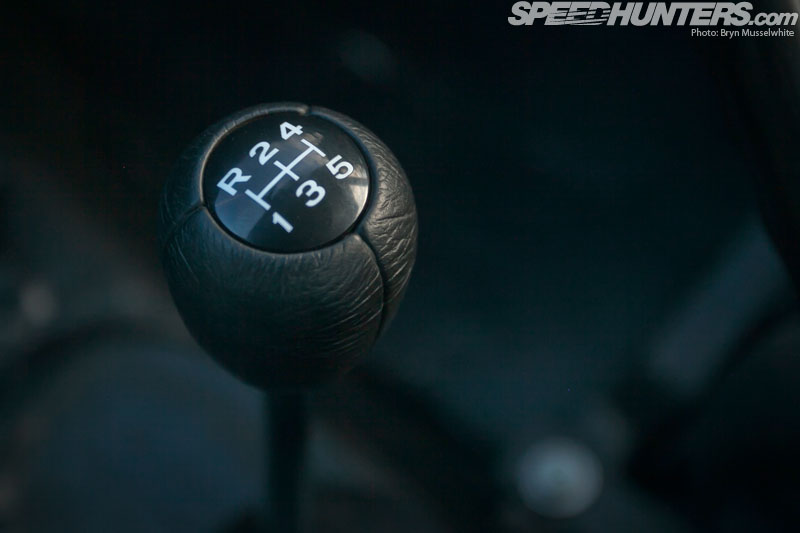 Look around the GTR and you'll see now familiar items. Dog leg box? Okay, we know how this works.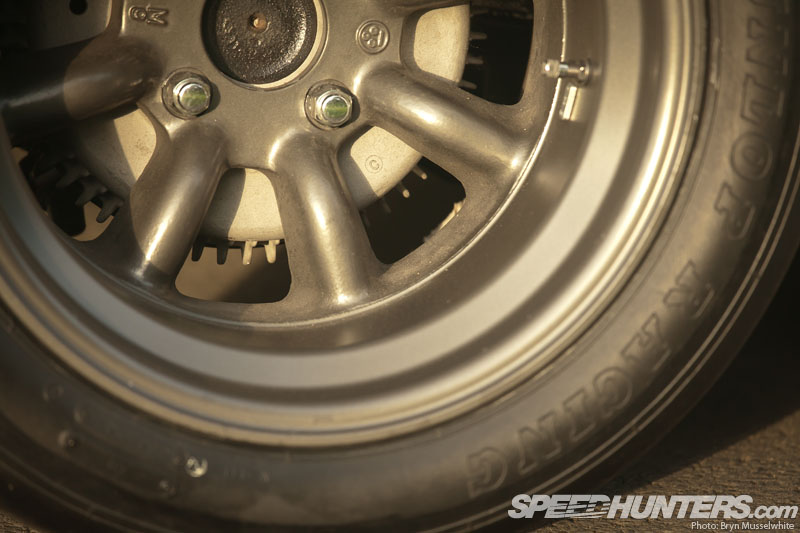 Common sense like the rear drums, finned for cooling… Nothing new there.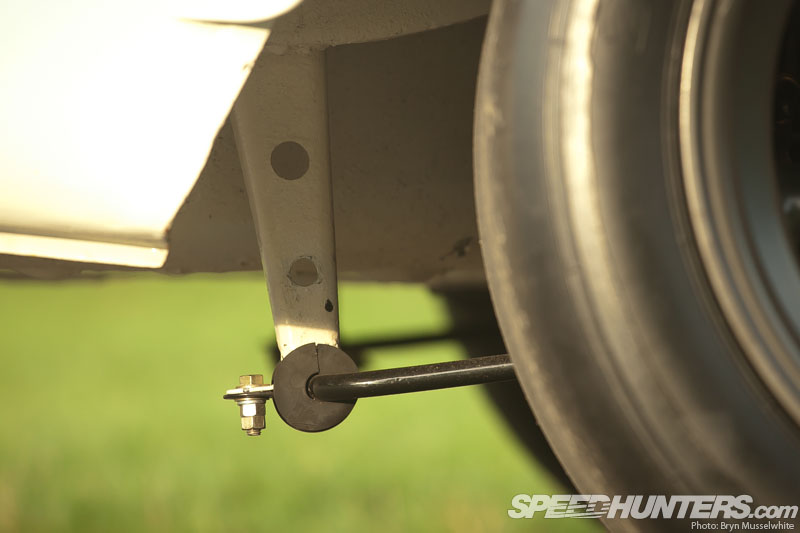 The rear anti-roll bar which is unique to the GTR and often cloned on lesser models. Take a look at the brackets.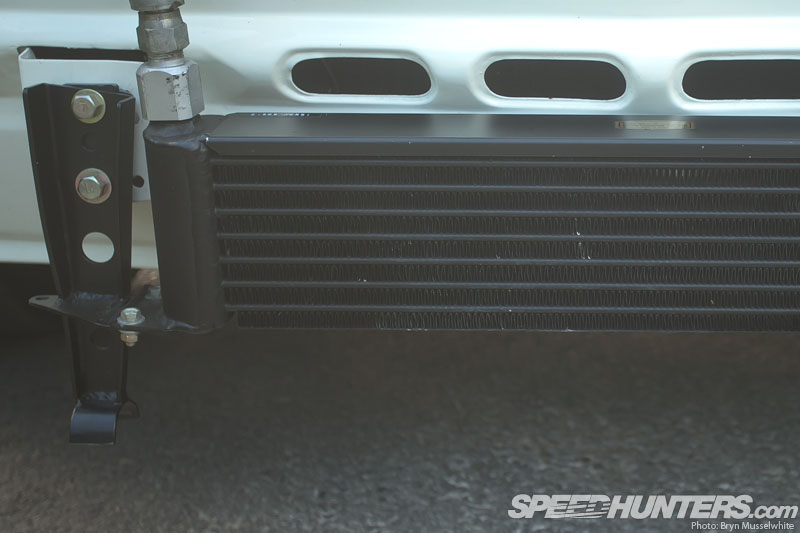 And you'll see them again at the front, painted black and flanking the oil cooler, slightly altered and acting as lifting points for a quick lift in the pits. The kind the lever up the whole front of the car in one swift movement of the large hooped handle.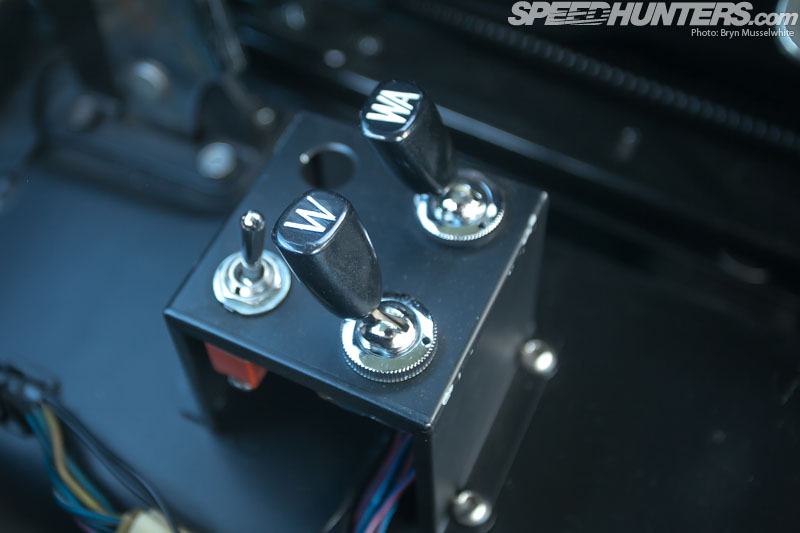 Inside there are indications of the history, from the works spec centre mounted switches.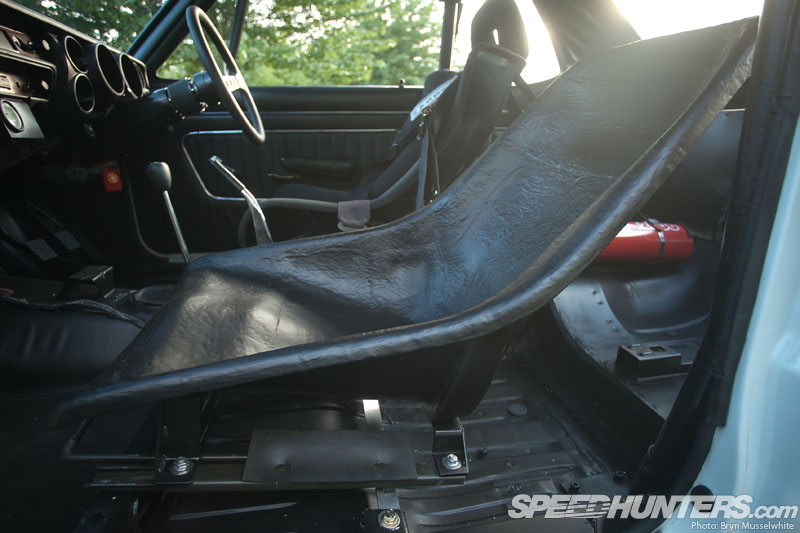 To the bare GRP passenger seat, itself made by an industrial seating company in Japan. After all, if you wanted plastic chairs akin to those you find in a school, just with a little more 'scoop', you'd go to somebody who made them already, right? I smile as Alan tells me this and we discuss how it must confuse builders trying to replicate the look when they trawl through endless period auto accessory catalogues.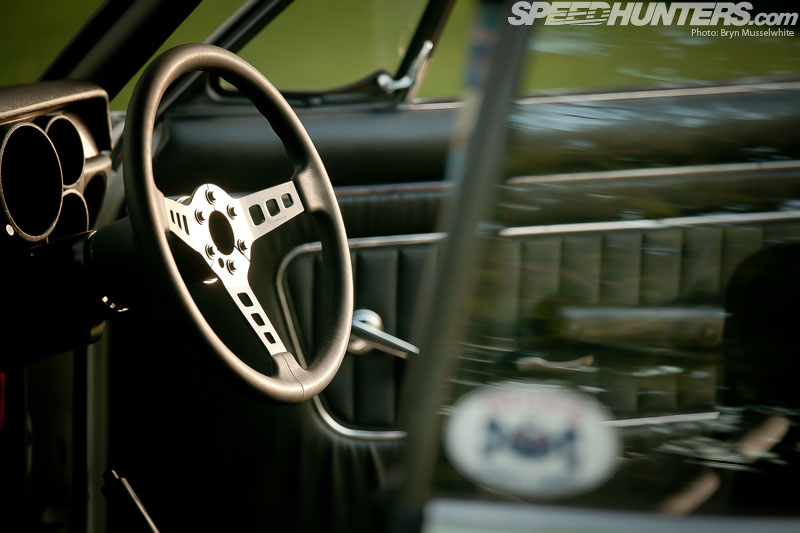 Japanese culture then, do we get it? Some will, some won't. If you've read this far, chances are you're in the former camp. For us it's all about respect, Japanese cars just ooze it and the KPGC10 you're looking at here demands it.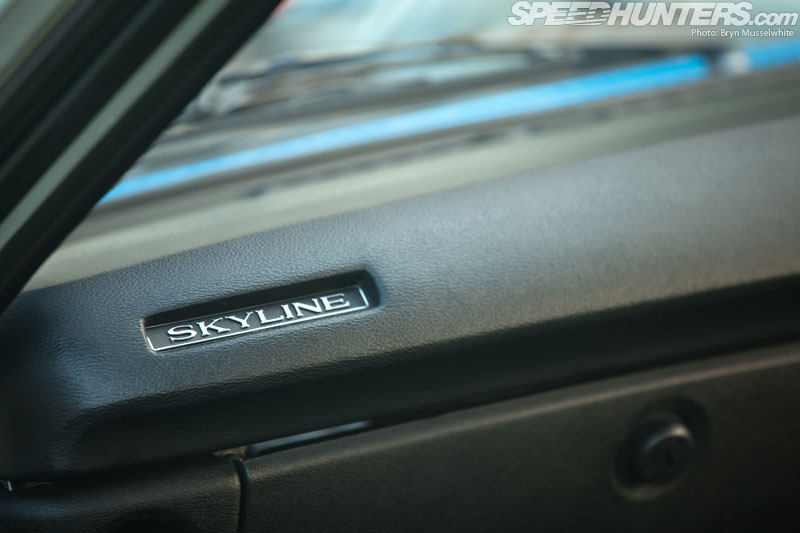 Like a lone warrior representing a nation against armies of BMW 2002s, twin-cam Alfas and hot Cortinas it shows just what is possible if you distill all the good bits, methodology, doctrine and make just one car.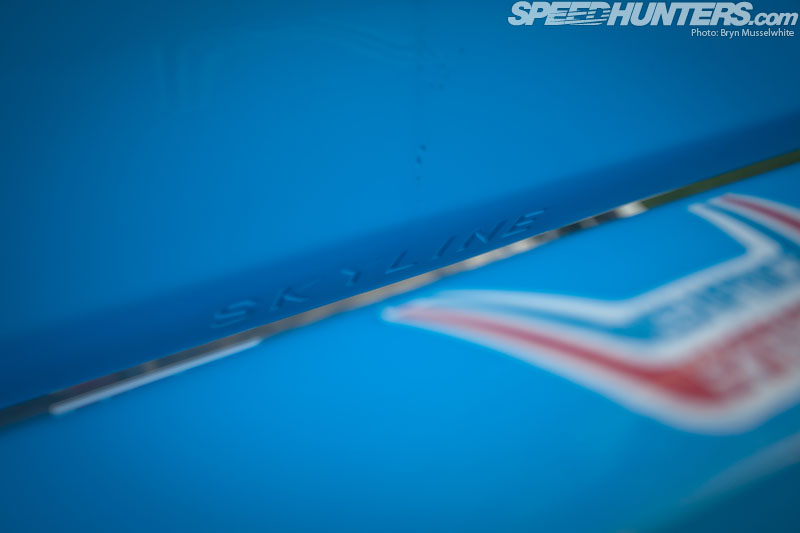 Not just any Skyline though…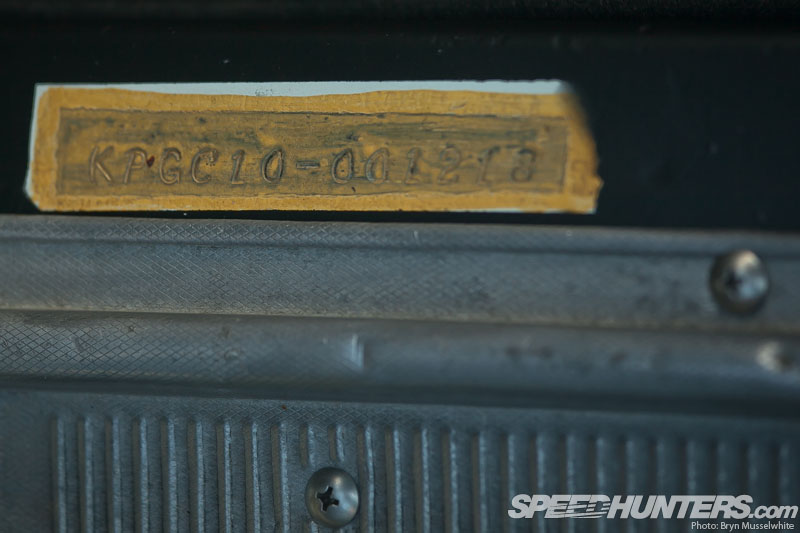 a GTR.
1971   Nissan Skyline 2000 GT-R Hard Top
Chassis   Number: KPGC10-01218,  Engine Number:   S20-002256
*Fibreglass bonnet & boot lid
*Works type fibreglass 'Overfenders' (1971 season type), Works type fibreglass headlamp covers
*Works type blue / white paint scheme.
*S20 type 24-valve DOHC straight six, 1989cc
*Modified head with Nissan 'Sports Option' cams
*High compression forged pistons
*Exhaust manifold: Ito Racing stainless 6-branch, Works-type dual pipe side exit
*Carburettors: Weber 45DCOE-9 x 3
*Factory Mitsubishi electronic ignition
*Mechanical tachometer drive
*Nissan 'Sports Option' oil breather system &  catch tank
*Works type front-mounted oil cooler, triple core radiator
*Safety cell with interior filler & breather system
*Twin electric pumps, with swirl pot
*Nissan competition F5C71-B 'Option 4' direct drive 5-speed transmission
*R200 4.1 ratio differential with plate type LSD, finned alloy rear cover
*RS Watanabe 'R-Type' magnesium 8-spoke wheels. 9.5j x 15 front, 11j x 15 rear
*Dunlop Racing Japan slick tyres. 235/565-15 front,  265/575-15 rear
*Nissan 'Sports Option' Sumitomo MK63-20S four pot front brake calipers, ENDLESS pads
*Nissan 'Sports Option' vented front brake discs
*Nissan 'Sports Option' alloy finned rear drums, competition linings
*Nissan 'Sports Option' race front struts
*Nissan 'Sports Option' adjustable rear dampers
*Nissan 'Sports Option' Fuji springs front & Rear
*Nissan 'Sports Option' front & rear anti roll bars
*Nissan 'Sports Option' three point roll-over bar
*NISMO fibreglass driver's race seat
*Works type Ikeda Bussan fibreglass shell passenger seat
*Willans four point race harness
*Works type switch panel on trans tunnel
*Works type modified pedals & foot rest
Original owner / driver Dr Hiroshi Shimizu, Kyoto,   Japan.
Refurbished by Mr Hideki Matsui of NP35, Nagano,   Japan 2005.
Bryn Musselwhite
More stories by me on Speedhunters
More Hakosuka stories on Speedhunters
Our thanks go to David Murphy and Keith Batsford of the Retro Rides Gathering for making this shoot happen… They came from the retro-rides.org forum.