If you're completely honest, participating in some form of motorsport will have crossed your mind at some stage. Today we can drive the Nurburgring before ten AM from the comfort of our bedroom thanks to console games, whilst watching coverage of the most obscure forms of motorsport from around the globe online. In reality, very few of us will experience it first hand though, so why the fascination?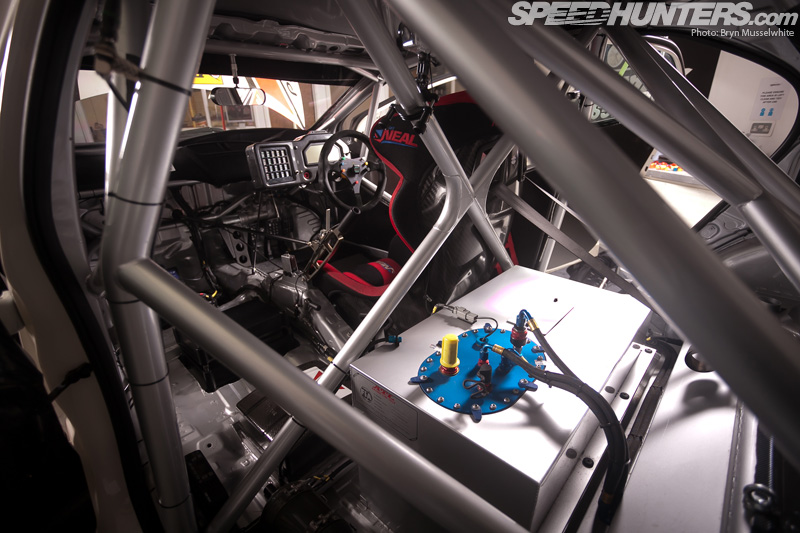 'Race inspired', 'full race spec', 'race prepared', virtually all developments in the motoring world filter down from motorsport.  But what's it like when you're in the middle of it all? When you have regulations and championship points to consider, when a major manufacturer entrusts you to represent it? We're here to find out.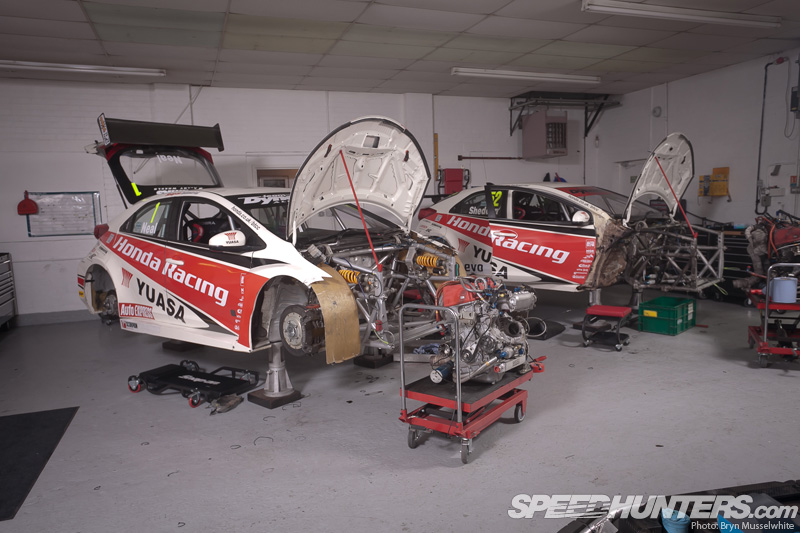 This is the workshop of the Honda Yuasa Racing Team, who to compete in the 2012 BTCC had to build a new car to comply with newly implemented regulations.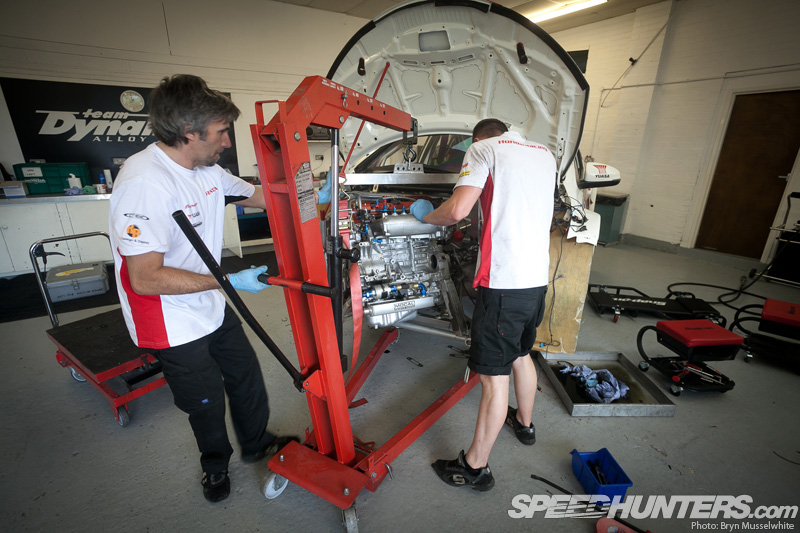 Originally the plan was to take a closer look at a complete 2012 Civic, but as ever with a race team time is of the essence. Both Matt Neal and Gordon Shedden's twin cars have been off the transporter mere hours, after returning from Snetterton the previous night.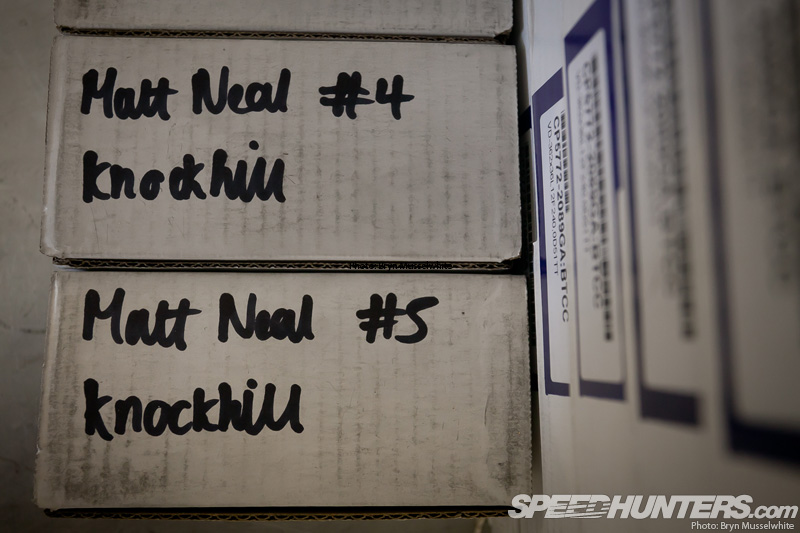 With roughly ten days before they must be back on the lorry and headed for the next round at Knockhill in Scotland, waiting is not an option.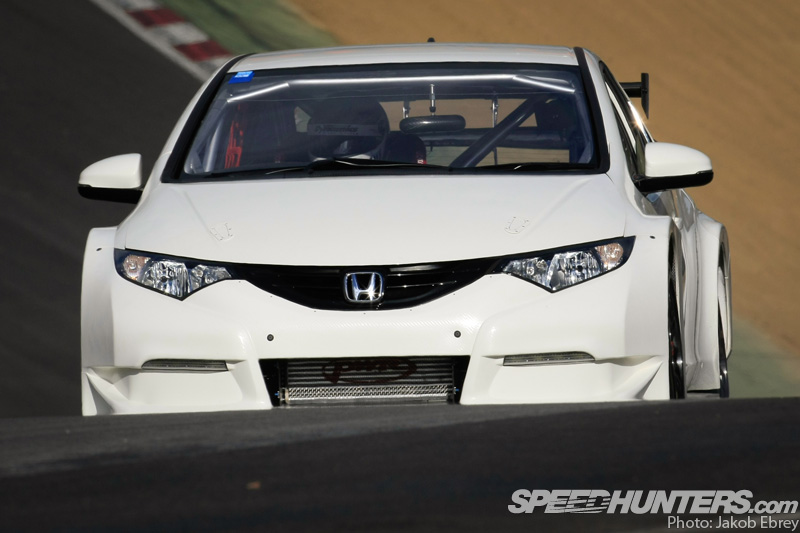 Team manager Peter Crolla shows us round and tells us about a resource of images taken by Jakob Ebrey who is the official BTCC photographer, from the first day of testing through to the latest round, asking did we want to use them? When faced with two partially stripped race cars, the plan swiftly changed to a rare insight in to how the 2012 car came in to being.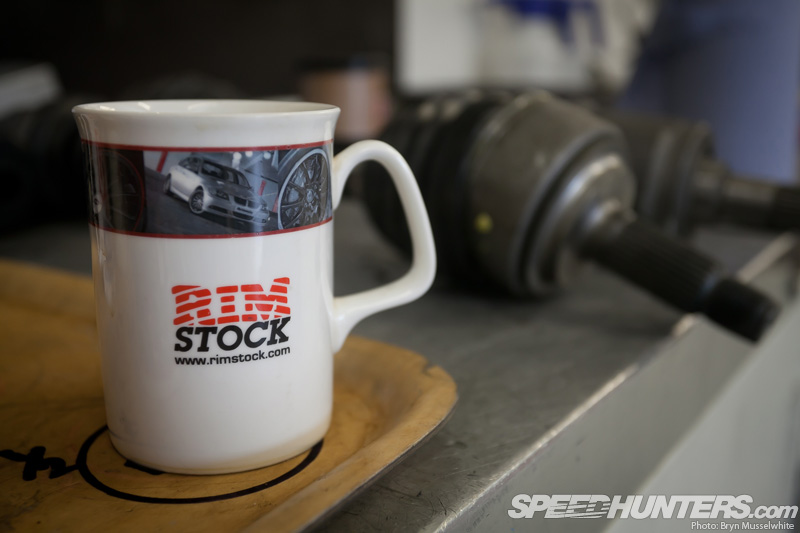 Sat to one side of the workshop, is a lower, smaller space which would appear to be some sort of clean assembly room. Here sits Barry Plowman, the teams Technical Director. Balancing his attention between a laptop, mobile phone, landline, the rapidly progressing strip-down happening next door, and now us would quite possibly drive the sanity out of a human. Barry is thankfully well practiced and appears to bring a simple  fluidity to all of the requirements made of him. This is what he does and he's been doing it for over twenty years. Preparing Nissan Primeras, BMWs, Mazdas and more recently a whole raft of Honda based machinery.  We ask how many BTCC cars have been built under his supervision, he's reticent to put a number on it, maybe fifty? Experience like this wins races, lots of races.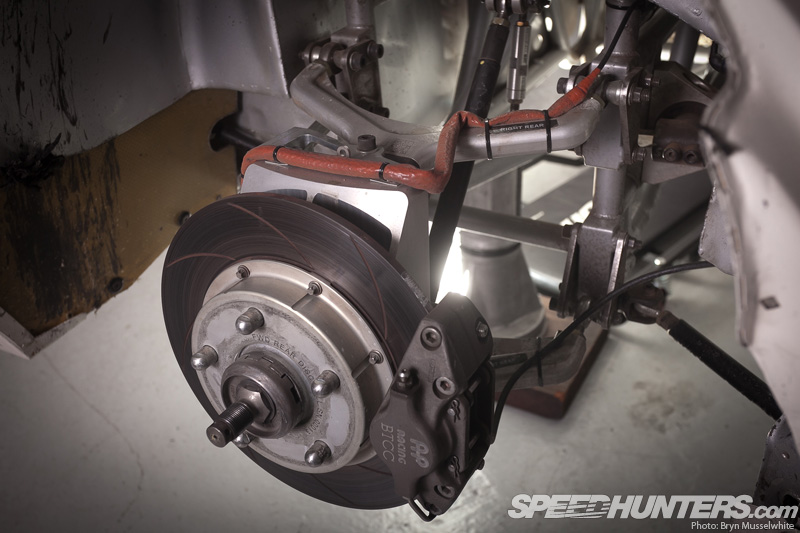 So does it get easier with time? Obviously, but Barry rightly points out, "The challenges are always different with different cars."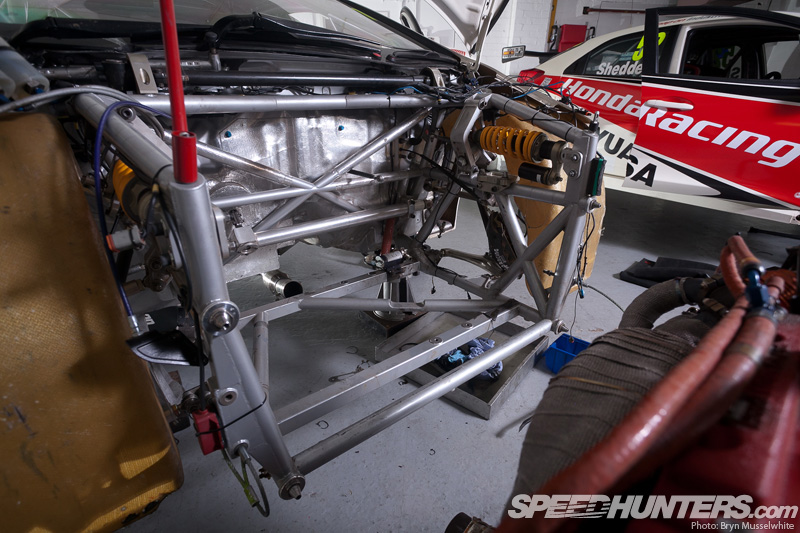 With a championship win under their belt in 2011, big changes came for the team in 2012. New regulations meant that the BTCC cars would now have a front and rear subframe to which control suspension componentry and brakes would hang.  This enables manufacturers with what might be a weaker base chassis for racing to enter and have a fighting chance.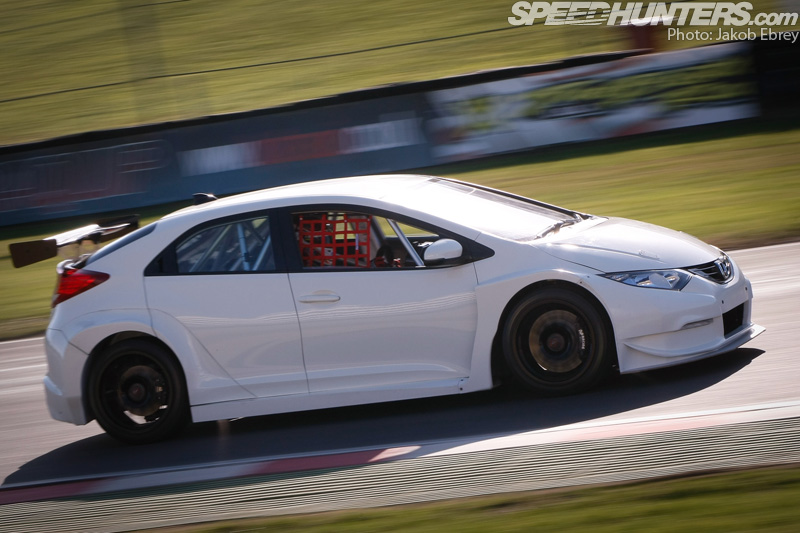 With an already winning formula, was Barry phased by this? "The Civic model changed, as well as the regulations. So it was perfect timing for us to create a new car."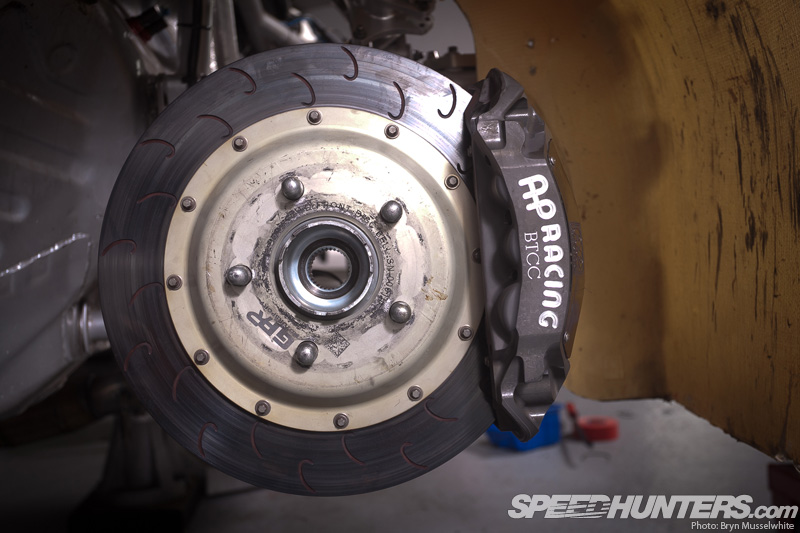 Another control part is the X Trac 1046, six speed sequential gearbox, but as Barry says, "We'd used the box before, so along with the AP brakes they would have been our first choice anyway."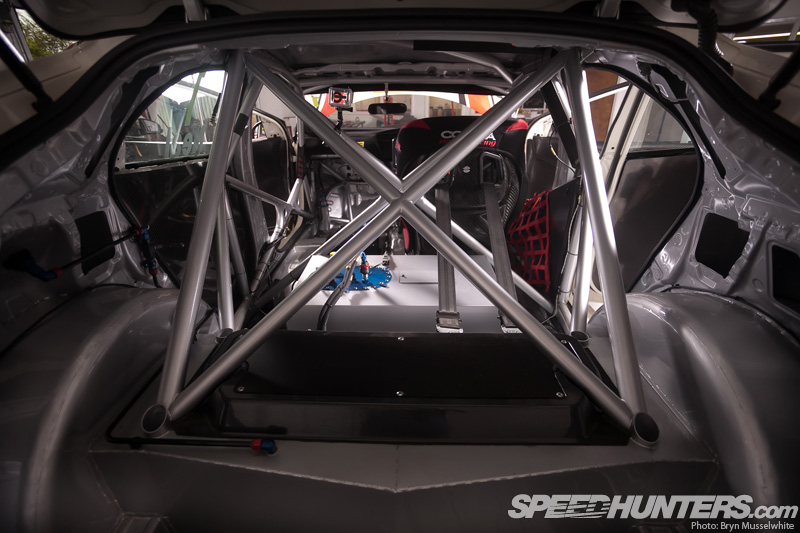 The obvious question for us is how do you start building a new car? "We start with a bare shell, there are guidelines in place as to where you can position the subframe by height. So we have that to work with, then we look at all the components and start drawing."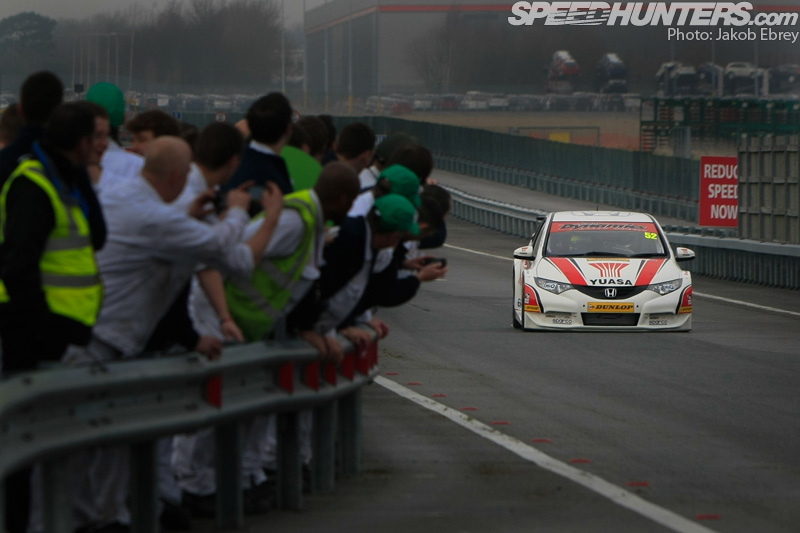 With factory backing from Honda and the new 2KC being built here in the UK, the donor shells have to travel roughly seventy miles to the teams workshop. So do you get a naked base? "The first shell we built was from a prototype road car, the next four were from Honda and came with no paint. If they do come with paint they need to be acid dipped, this takes the zinc off as well so we can weld to them."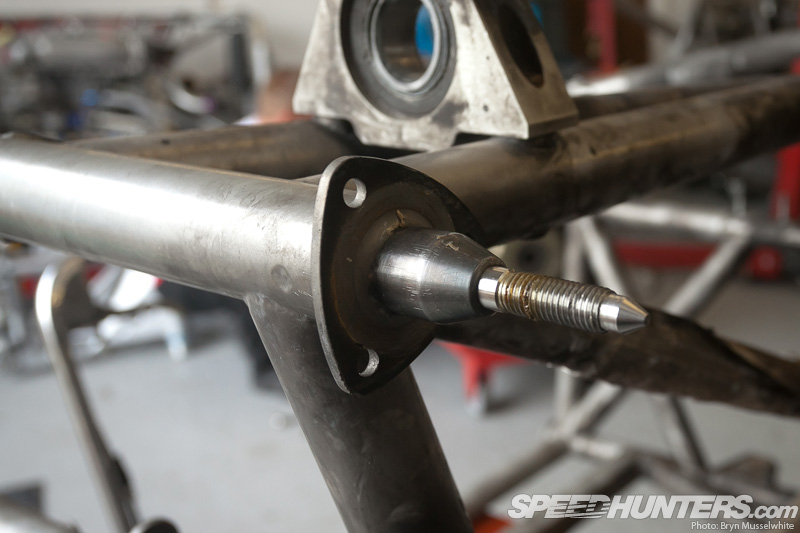 All the shell prep is done in house. The front of the shell is cut off, along with most of the rear floor. The front subframe then ties in to the roll cage by way of locating dowls, which resemble track rod ends. Help from the factory in the early stages is welcome and means less real time building, with computer work coming first, "Honda are very good to work with, quite a modern company. There is a fair bit of support comes out of the factory when it comes to data that we can work with, CAD drawings etc."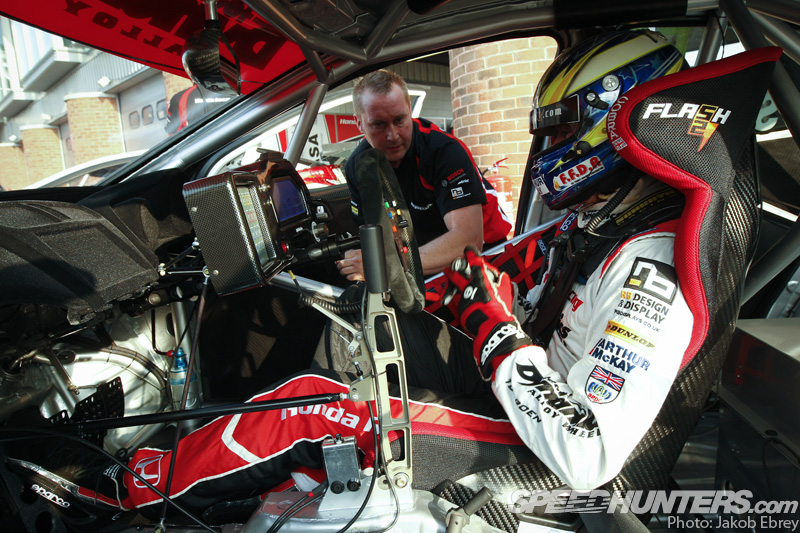 Barry goes on to tell us that when a bonnet is needed with the striker mechanism in it or any other panel that maybe doesn't need a certain bracket or fixing, it's simply left off as the part progresses down the production line. That's kind of cool to think your standard road part could be created next to an almost identical item destined to be raced huh?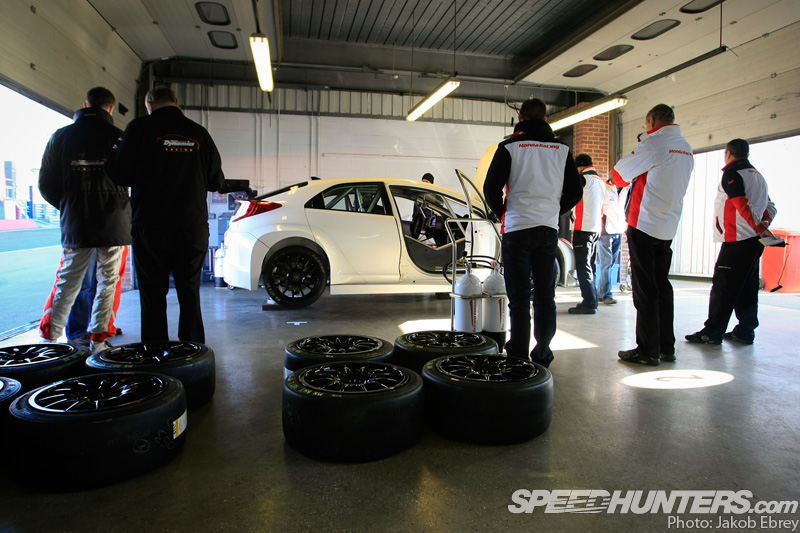 The first shell, which is incidentally the one which is the focus of our workshop pictures, was started in July 2011 and saw the track for the first time in February 2012.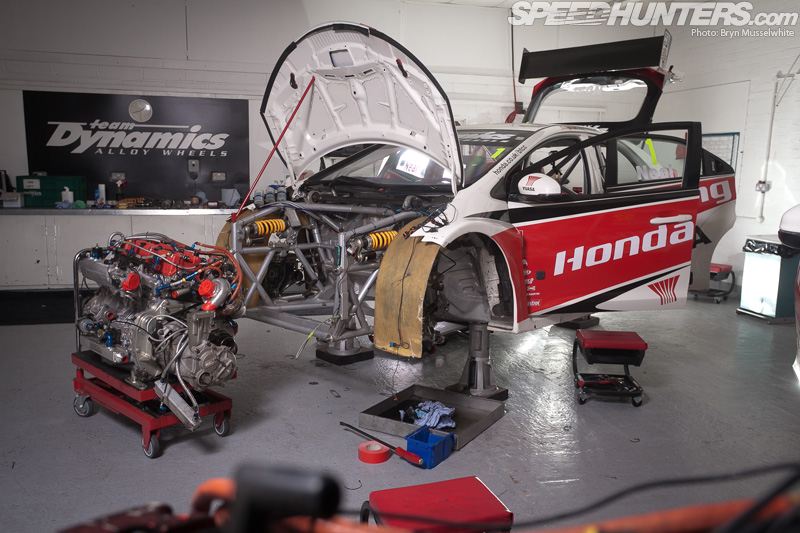 A few of you commented the other day when a picture of the engine was posted on our Facebook page, so we asked Barry about the positioning of the turbo, "We couldn't get it to the perfect angle. We actually had a lot of trouble early on with oil passing the bearing, and going in to the exhaust housing. An electric scavenge pump has since solved this. In short it needed to go where it is now for packaging reasons and obviously we need to keep everything as low as possible in the whole car."
So what's your overall opinion of the new subframe regs? "In some respects it's easier and some it's harder, there's a lot going on there that wouldn't have been on the original car, more things taking up room."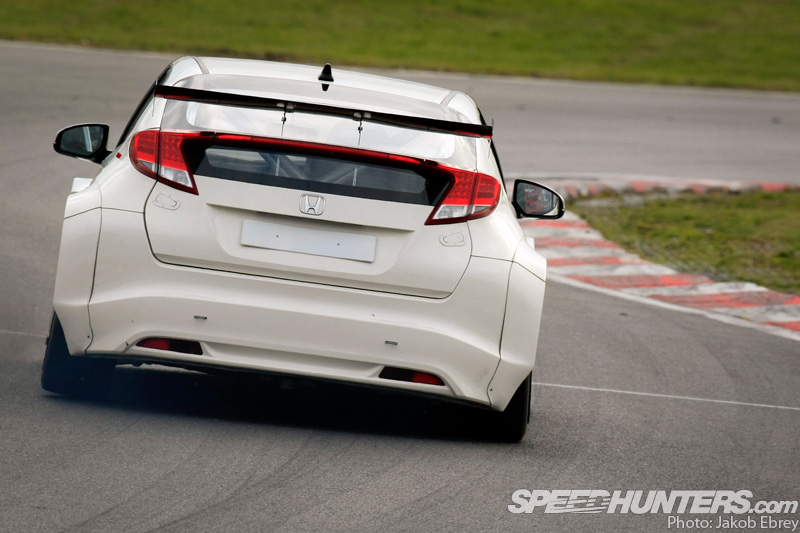 As with any race team, there are no superfluous elements. There's simply no space and time for wasted energy, especially when you're developing a new race car. Stuart Beaton is the design engineer responsible for the aero treatment, so we guess it's best to start with the limitations, right? "We're limited by the regs of course. In terms of the shapes it's got to be similar to the road car. Front and rear wings must be a blend, so you blend it out to a maximum width. Some things you can do to be clever. Rear wheel arches are a little bit flatter and a little bit boxier. It's all about applying our recipe, from a suspension to an aero point of view. You just try and make sensible decisions."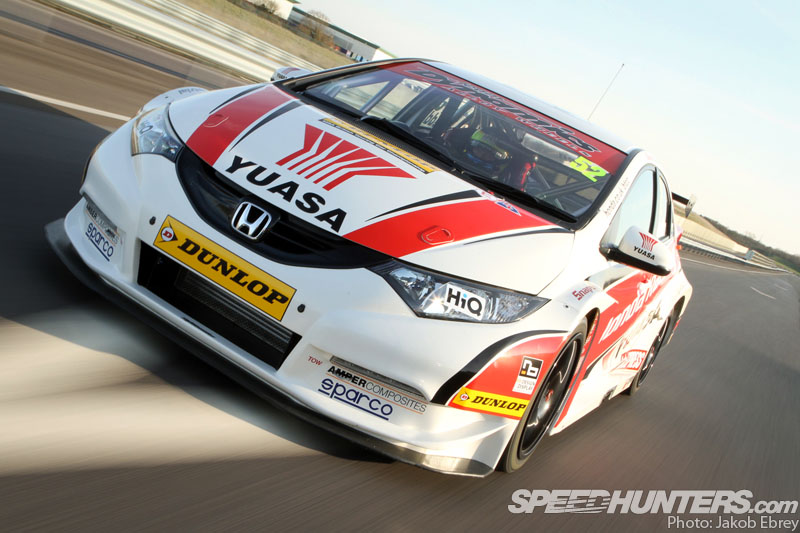 From the bottom of the original road car bumper up to a line 200mm above, the team have a free reign, but you'll see there are no brake cooling ducts here. Instead these are routed to the main radiator opening.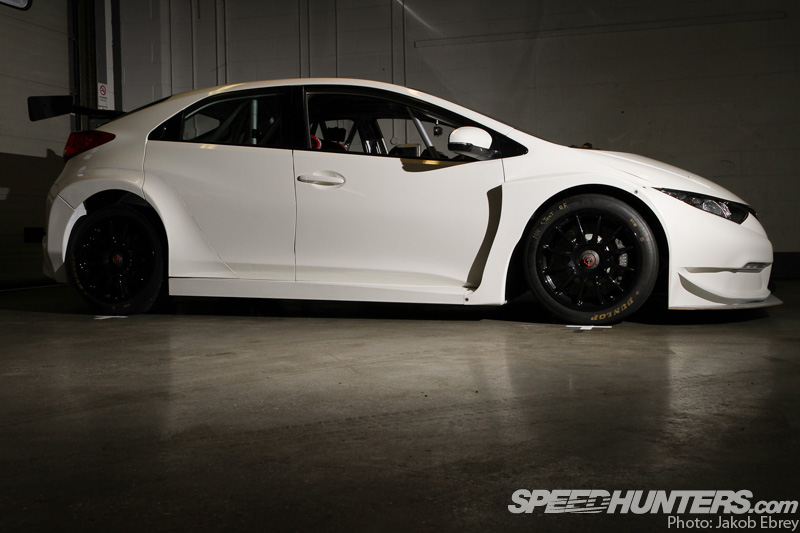 TOCA the governing body do have a final say on the overall appearance of the cars, but Stuart tells us that they are in regular communication to ensure the development work is in the right direction, after all there are moulds and tooling costs to consider.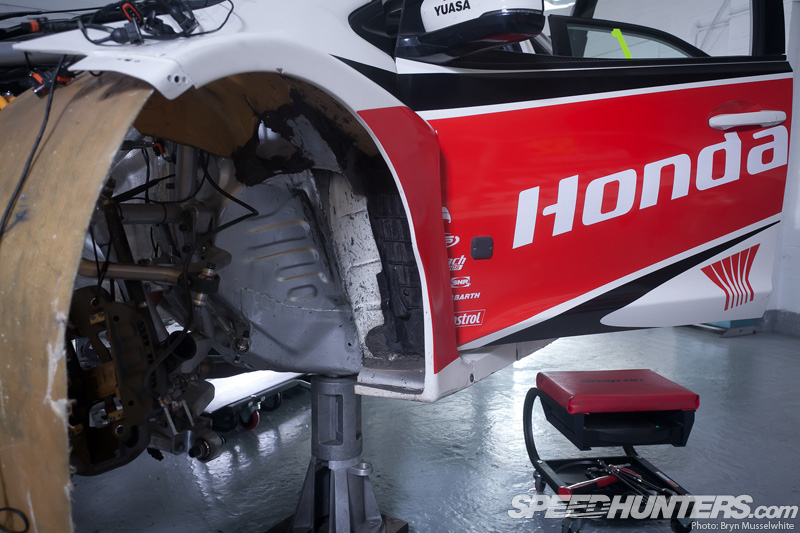 It catches us by surprise when Stuart says, "This is the first time we've worked in CAD on the aero. We had all the geometry to work with, we sent the files to a pattern make and they made them. Because there's only Eddie and I up here designing things, it can save time. In fact it was a major time saver."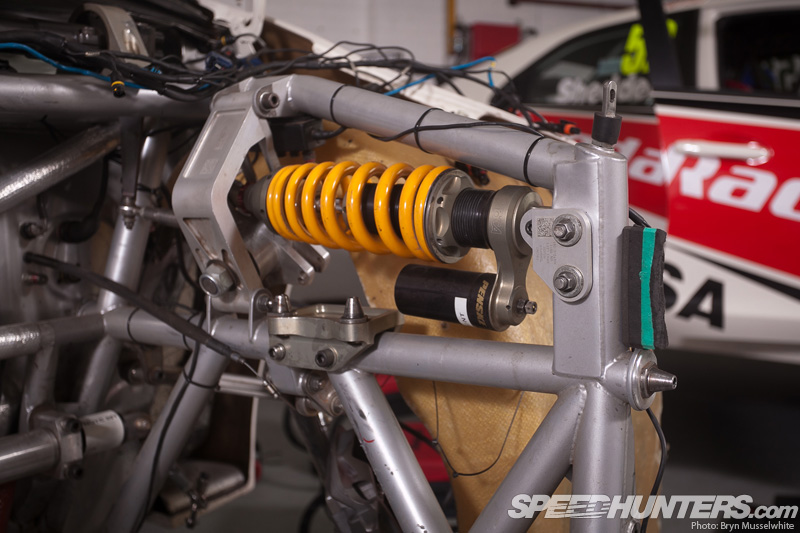 With all this experience of building championship winning cars, the project came together well. Stuart saying, "The hard work that was done first paid off, when we came to correlate the CFD (computational fluid dynamics) in the wind tunnel it all worked. First you have common sense, then the recipe, then the engineering, then you validate it all."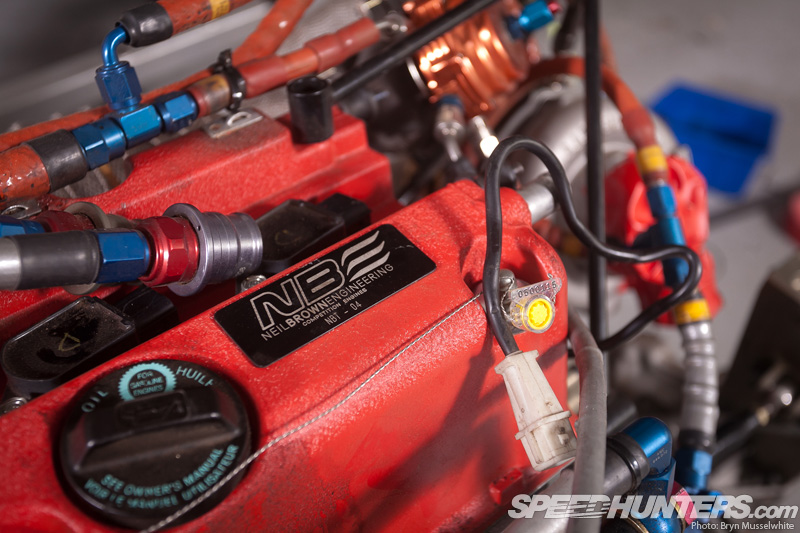 When asked what the major achievements are with the new car, Stuart says, "That everything works as it should." We guess that sometimes with racing you should be grateful for everything.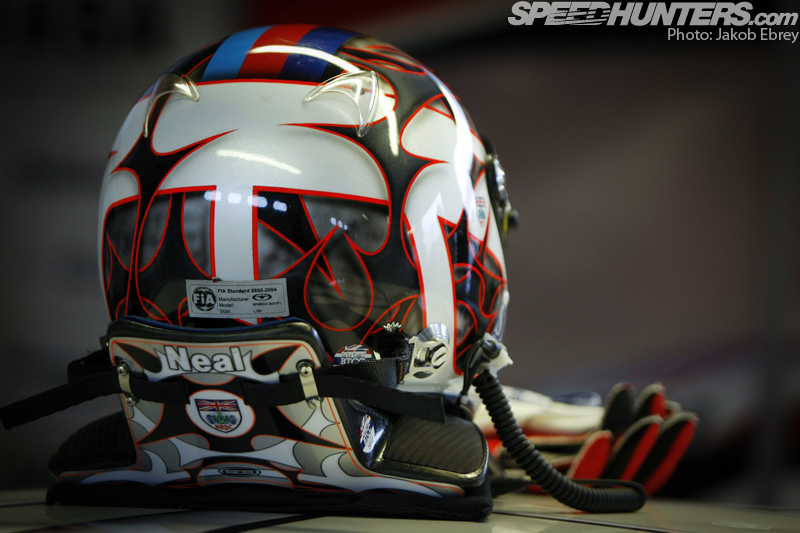 However the fact is that the first one ever built is currently ranking second in the 2012 BTCC championship with Matt Neal on board – this very car stripped before us.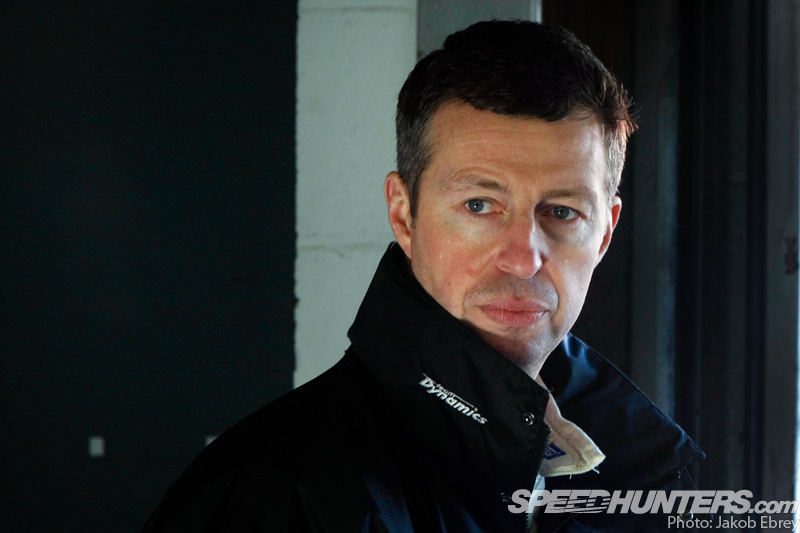 Matt is a devastatingly effective driver, his BTCC record is immaculate with seven titles to his name over the last twenty years. His team Gordon Sheddon? Currently leading the championship. The Civic is obviously a winner.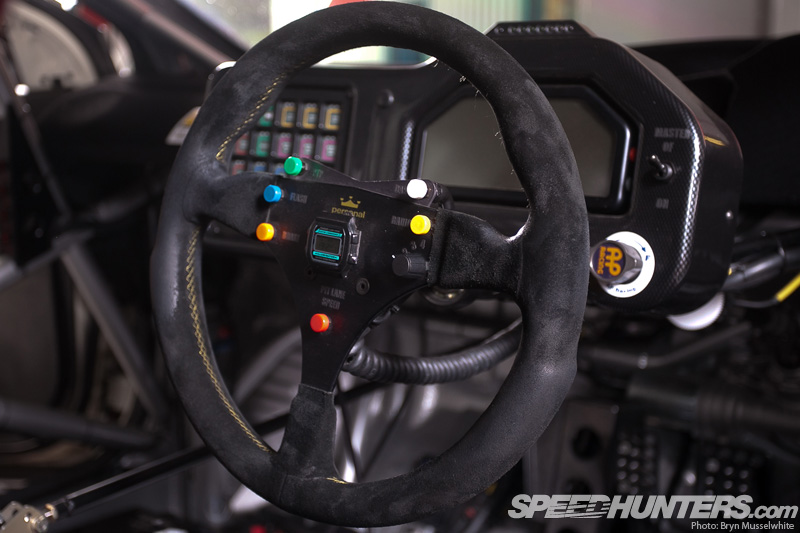 There are little touches all over the Civic we love, from the rose jointed dash pod to the faithful old digital watch stuck in the middle of the Personal steering wheel.  There is just something extra special about being up close and personal with a race car, the details are laid bare to take in. Purity of function is everywhere.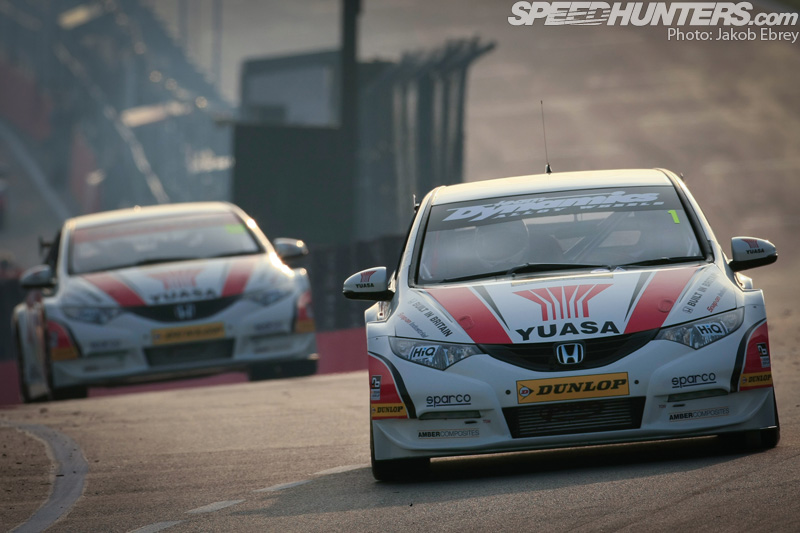 Could this be one of the most successful BTCC cars of all time? Follow all the action at the series home page, because as the season unfolds, it might just be. The Team Dynamics built 2KC Civics are dominating 2012, having looked inside them, we can see it's the experience that counts here…
Bryn Musselwhite
………………………..
Engine
Type R engine, 1998cc modified by Neal Brown Engineering to run a turbo, Garrett based Owen Developments turbo, Omega pistons, standard valves, modified cam, standard crank, ECU Pectel SQ6
Boost – o.6bar over atmosphere which gives 330bhp, peak power @ 6400rpm, 290lbs ft @ approx 5000rpm
Transmission
AP twin plate carbon, XTRAC plate type differential (externally adjustable), Team Dynamics made shifter, hubs are control part, XTRAC control drive shafts
Suspension
Double wishbone, rocker, Penske damper, own design progressive front spring, linear Eibach rear springs, double wishbone with a rocker, Penske damper
Brakes
AP six pot front and two pot rear calipers, 368mm and 285mm discs
Wheels and tyres
10x18in Team Dynamics, control wheel, Dunlop tyres to suit conditions
Interior
Separate AP pedal box with pull type cylinders, electronic power steering, Cobra Ultralite seat with Schroth harness
TEAM WEBSITE