Hopefully you are all enjoying the AE86-related content we've prepared for you today, a special day in which we pay homage to a little car that has made a very large impression on the hearts of some many JDM enthusiasts out there. In an attempt to bring you as much awesome hachiroku content from Japan as I possibly can, last night (I'm in the future here in Japan so the 6th was yesterday!) I jumped on the highway and made my way down to Daikoku PA, hoping that my little message from last week…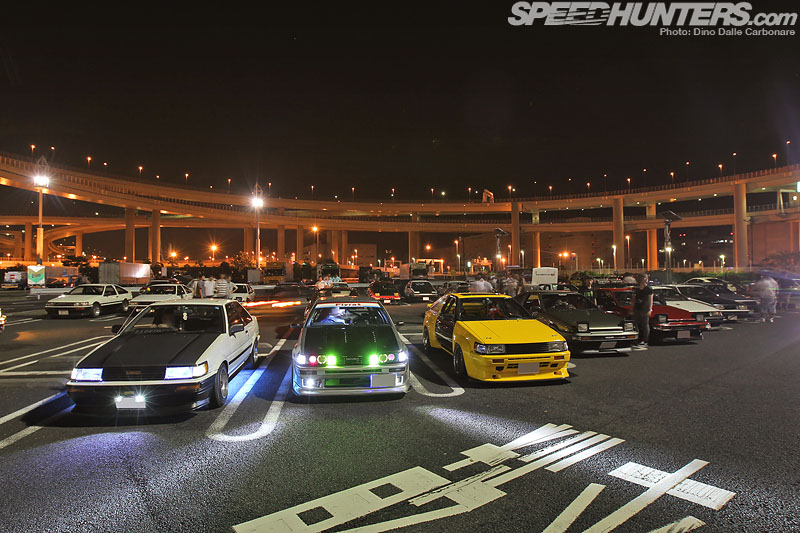 …would help bring in a decent number of cars. To put it lightly I was pleasantly surprised…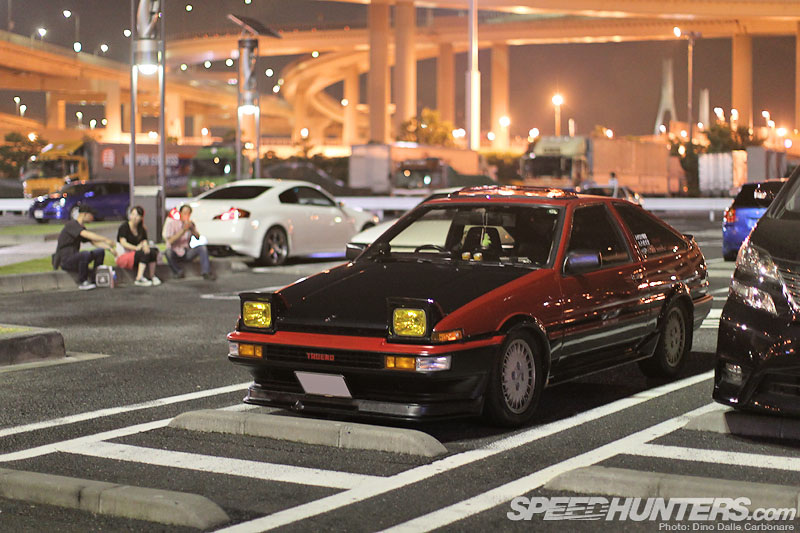 …because even by 8 pm there were a substantial number of AE86s already parked up!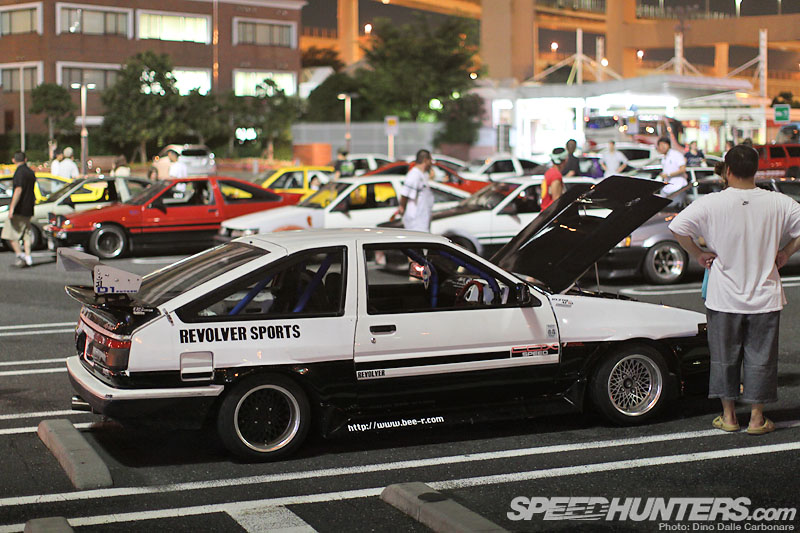 By the time I had set up my camera gear the number of cars literally doubled and this was really beginning to turn out into a proper meet…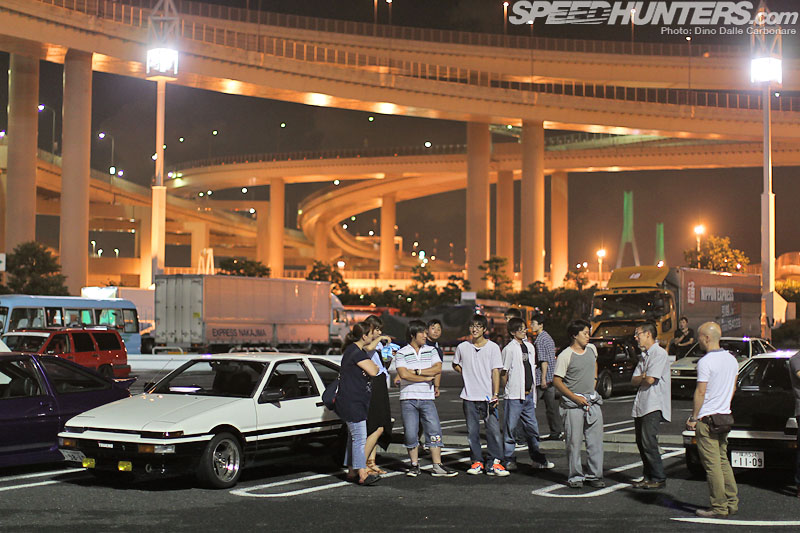 ….actually scratch that, a celebration!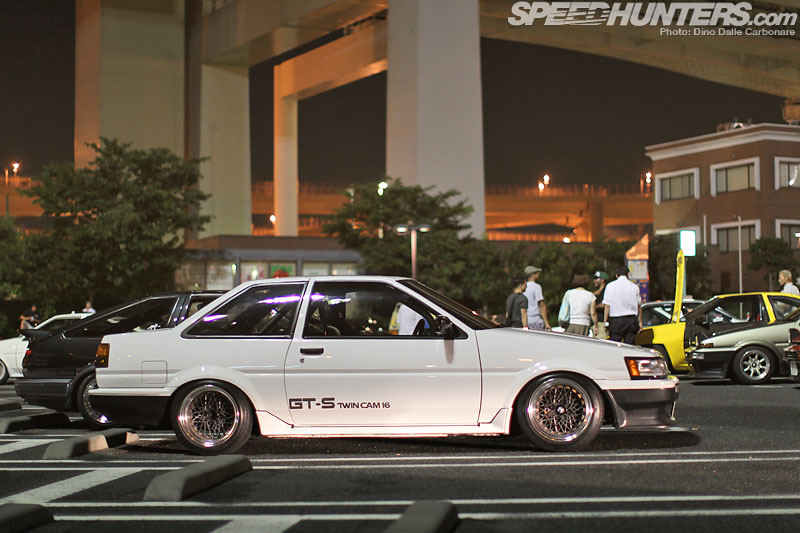 Knowing that it was a work night and that most probably wouldn't be sticking around too long I got busy and began to do the rounds, snapping away at the wide variety of tuned cars that had shown up.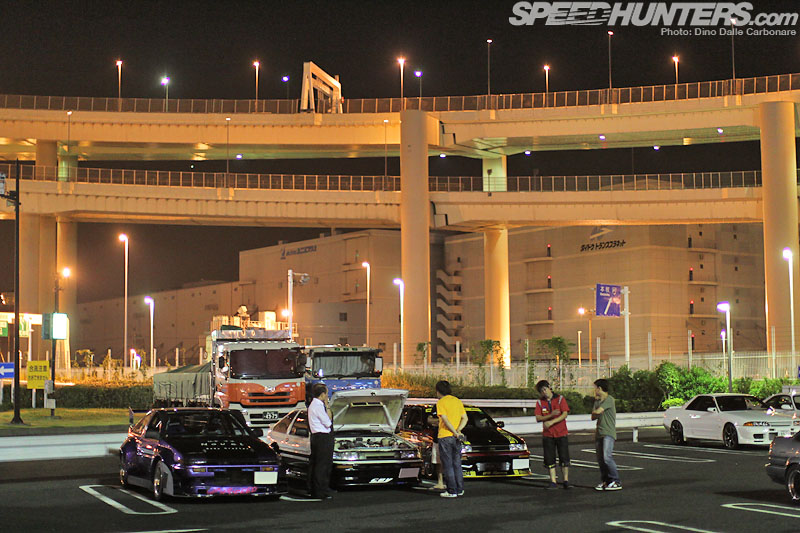 There were obviously a lot of different clubs in attendance and in typical Japanese politeness each parked away from each other, not wanting to be too close in case more member cars would show up.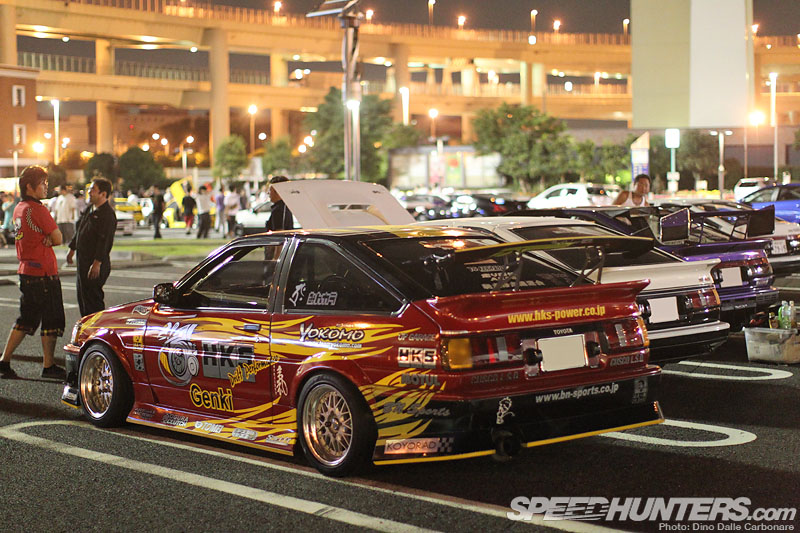 I made sure to drop by every group because there is usually so much awesomeness present at AE86 gatherings, that each car deserves to be appreciated, much like this Levin which was sporting the old HKS D1 team livery that Nob used to run on his S15.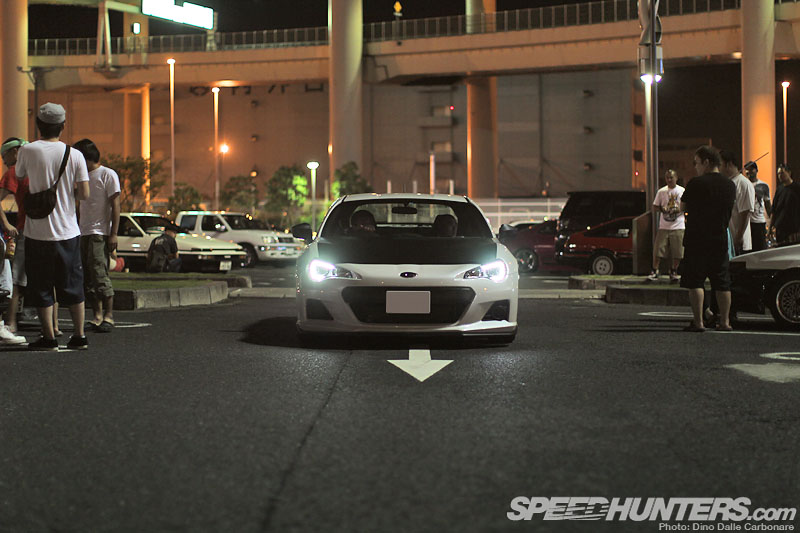 Of course I always keep my eyes peeled for other types of cars too, as you never really know what is going to show up on a random night in Daikoku. There were a couple of new 86s there, but it was this Subaru BRZ that stole a lot of attention, probably because it was a completely stripped out Type-RA version running on stock steel wheels!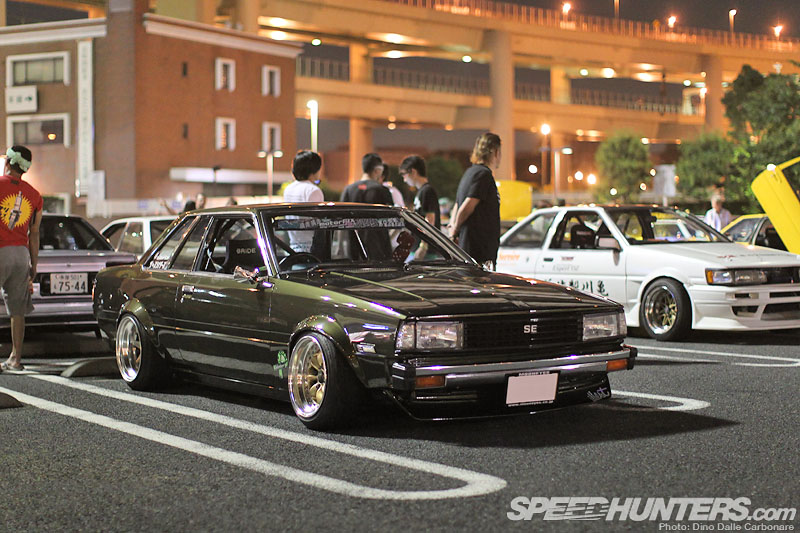 Among all the hachirokus this AE70 Sprinter stuck out like a sore thumb, sitting low on its mismatched rims and sporting a later ten front end conversion, seeing the owner had a little accident while out drifting.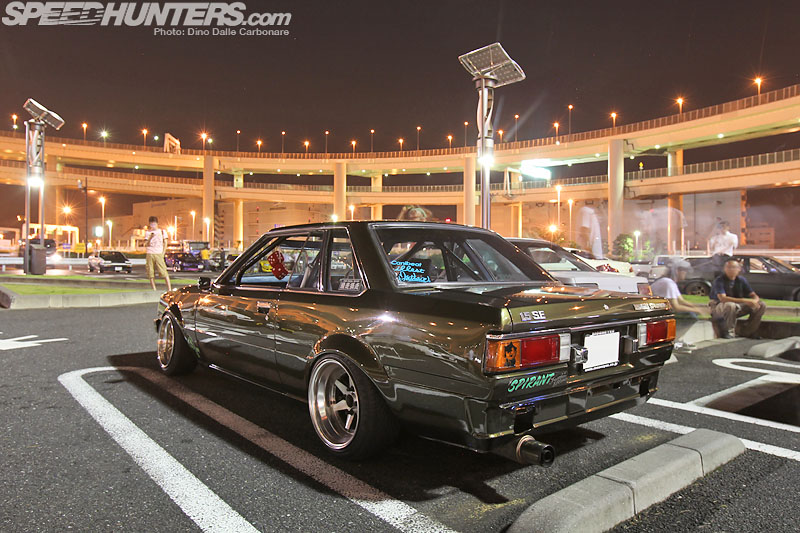 Looks aside, it also packs serious performance thanks to a 20-valve blacktop swap, replacing the stock 3A-U it originally came with.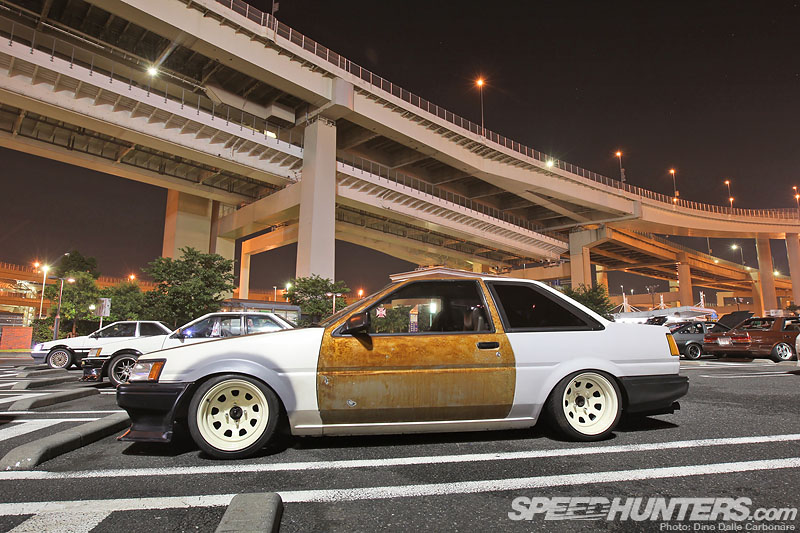 This Levin might be a work in progress or it might be finished, who knows, but one thing is certain it looks very hot sitting on those deep dish Diamond Racing wheels.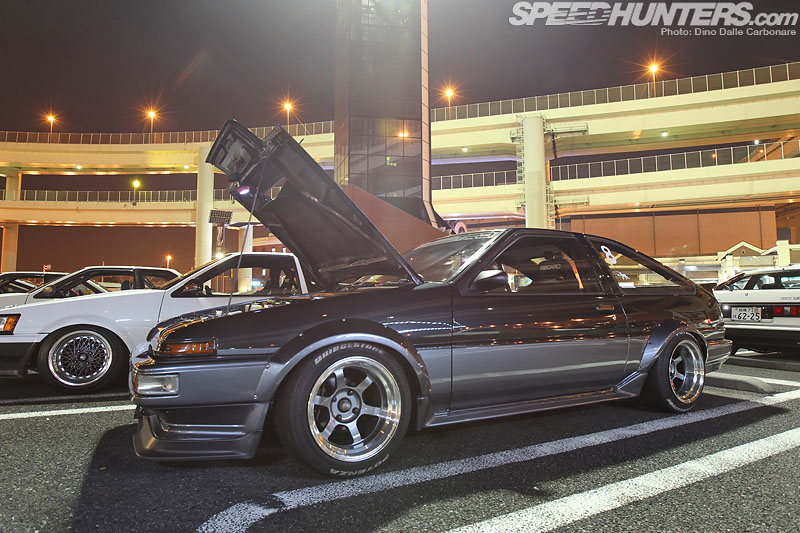 I'm a sucker for TE37Vs so when I saw this Trueno roll in I had to follow it and make sure I got some nice shots…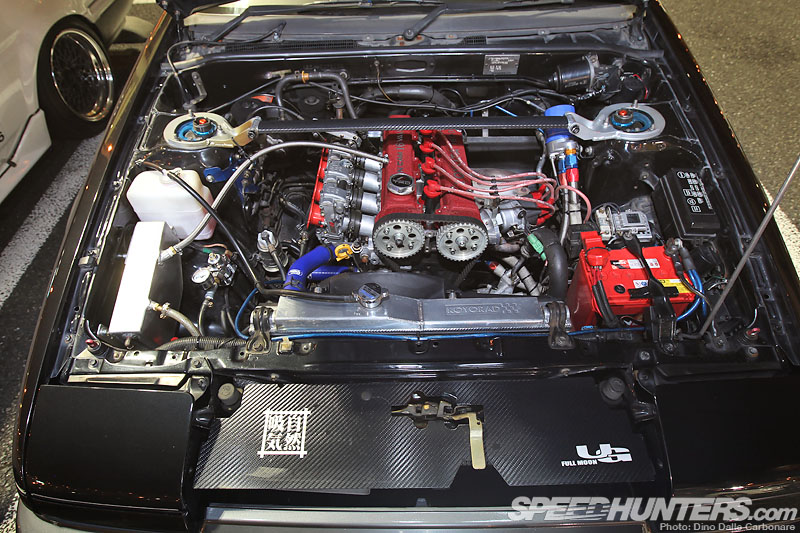 …including under the hood.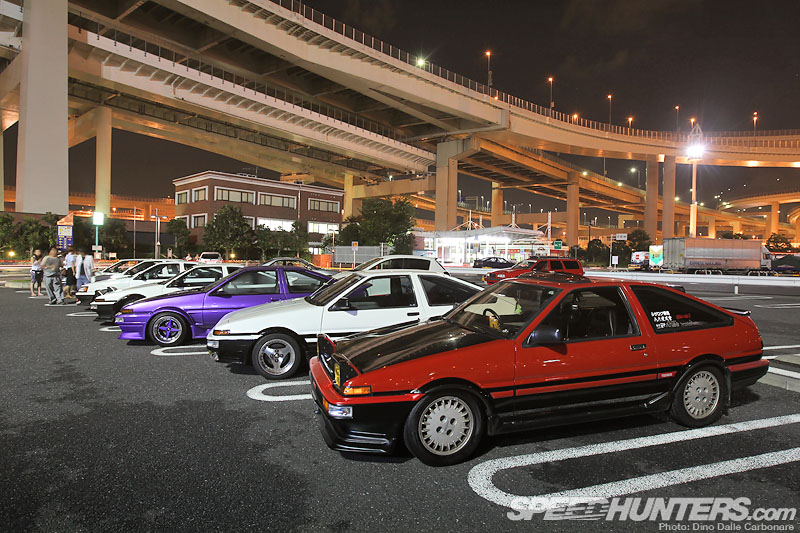 It was great seeing so many cars continuing to arrive, turning this into the biggest 86 Day gathering I have personally attended!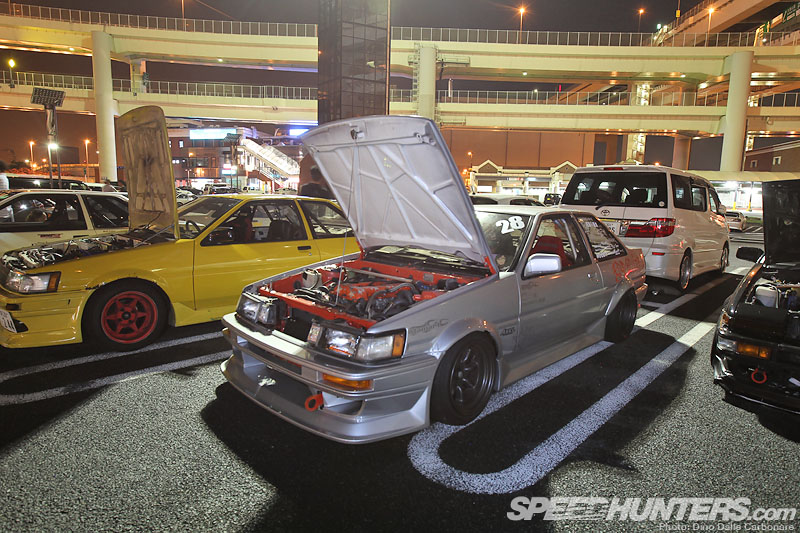 But let's keep checking out more individual cars, like this drift-spec example…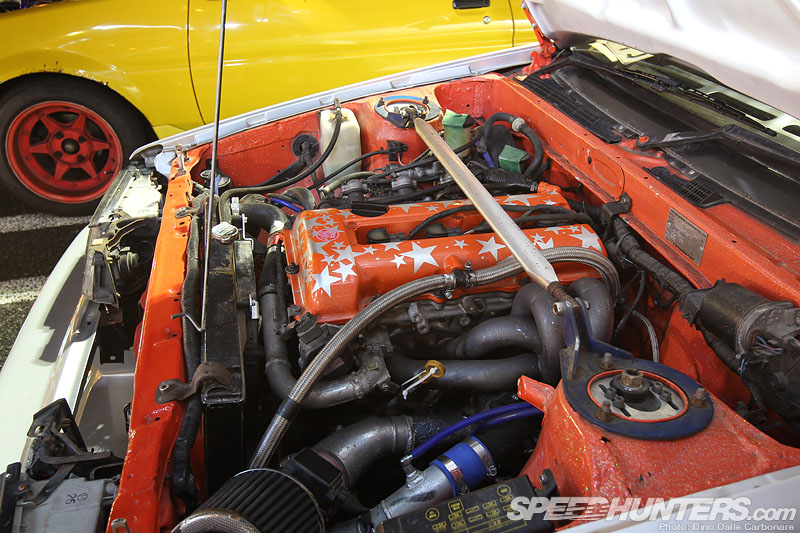 …that had done away with the 4A-G in place of an SR20DET, probably one of the most common swaps to be seen in the drift scene. You need lots of power and torque to smoke tires, right!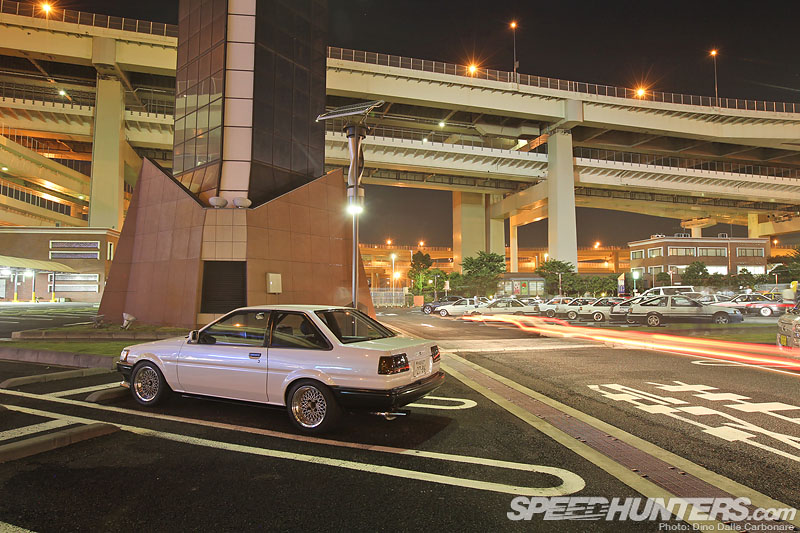 There were plenty of lonely cars parked away form the main meeting area…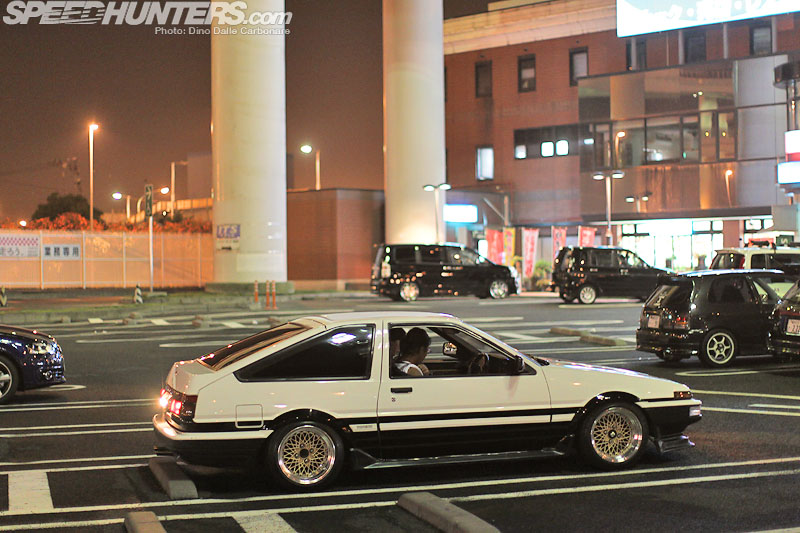 …with some actually turned out to be some of the cleanest example that showed up last night!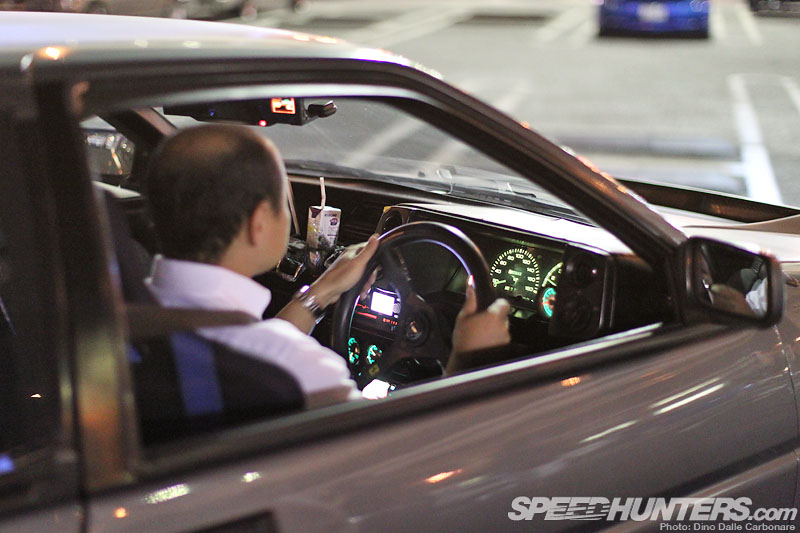 As some left to return home…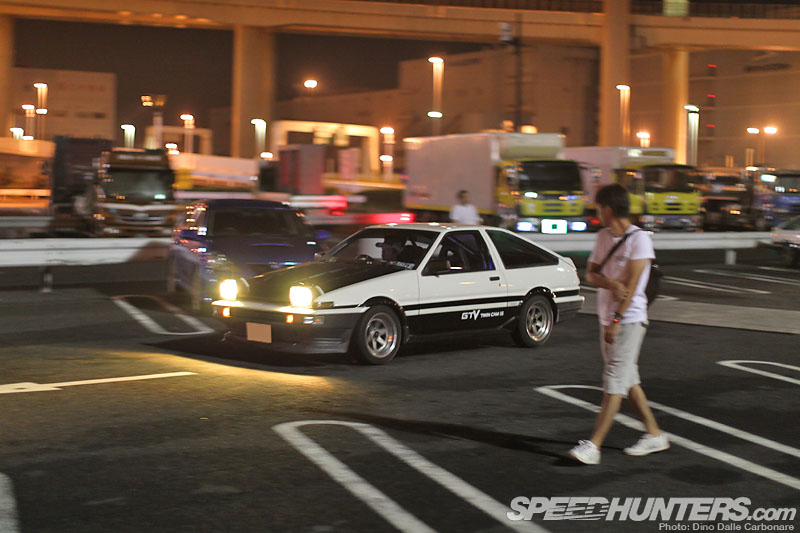 …there was a pretty constant stream of cars continuously arriving, adding to the incredible sight of such an awesome gathering.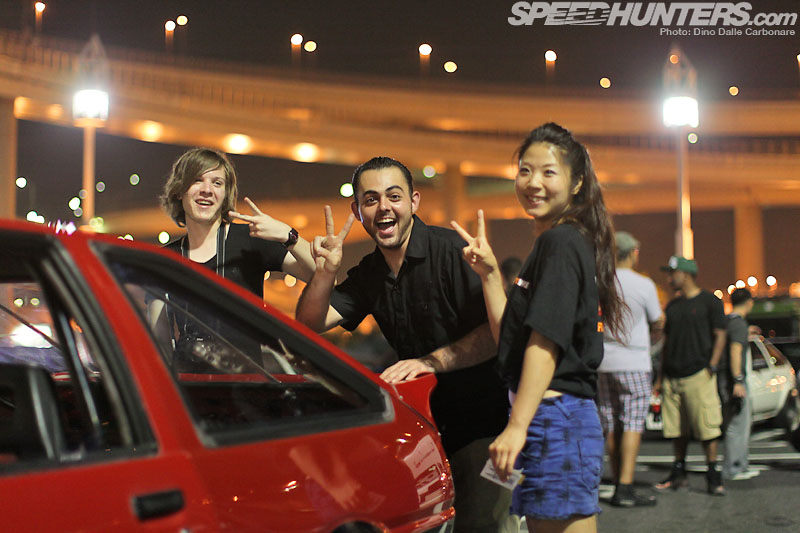 These sorts of meetings are all about having fun, talking cars and of course meeting new people.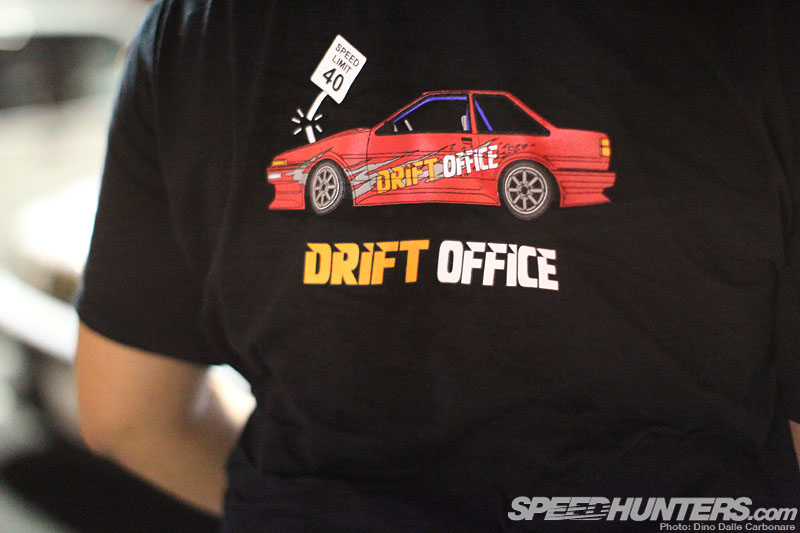 I met a few guys over from Drift Office in Seattle, there to check out the AE86 meet and grab some shots. Nice T-shirt!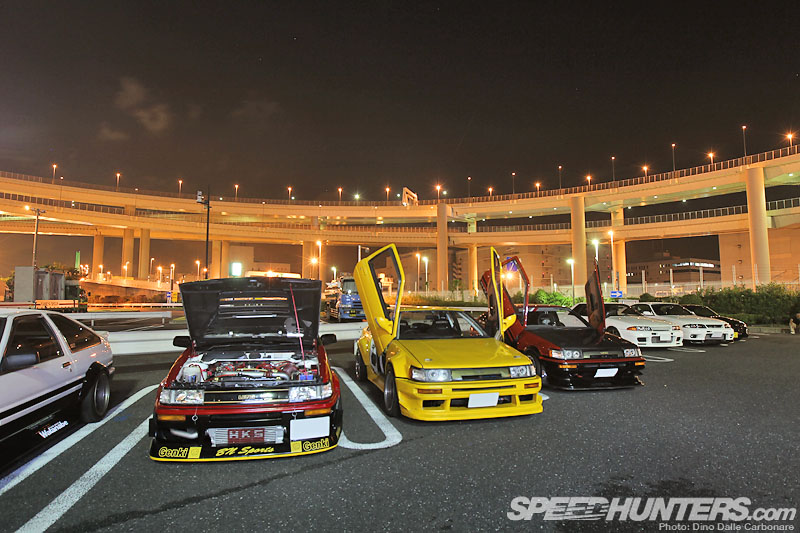 The AE86 does appeal to a variety of different people; I noticed there were a lot of older owners, probably into the scene back since they first got their cars in the eighties. Younger owners tend to be the ones trying new styles and ideas joined by those that like to drift, those that like to grip and those that prefer to go for a more showcar approach.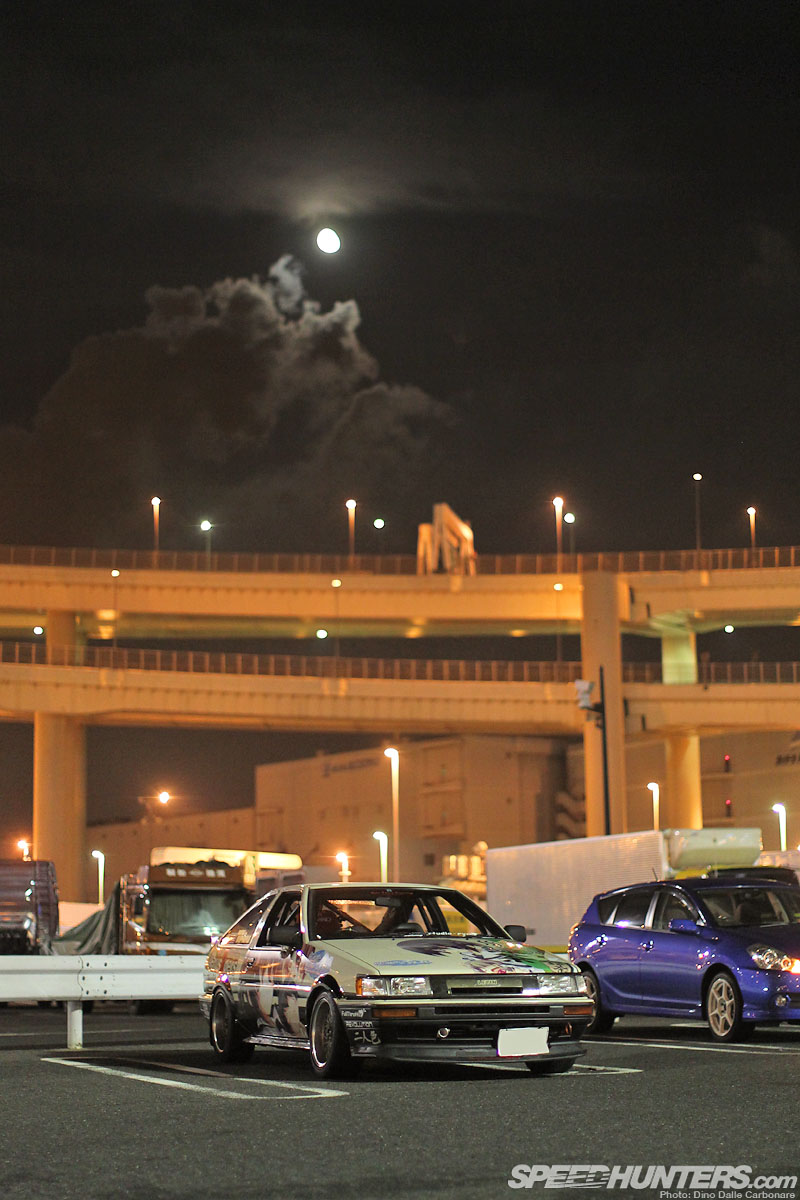 Oh and let's not forget itashas!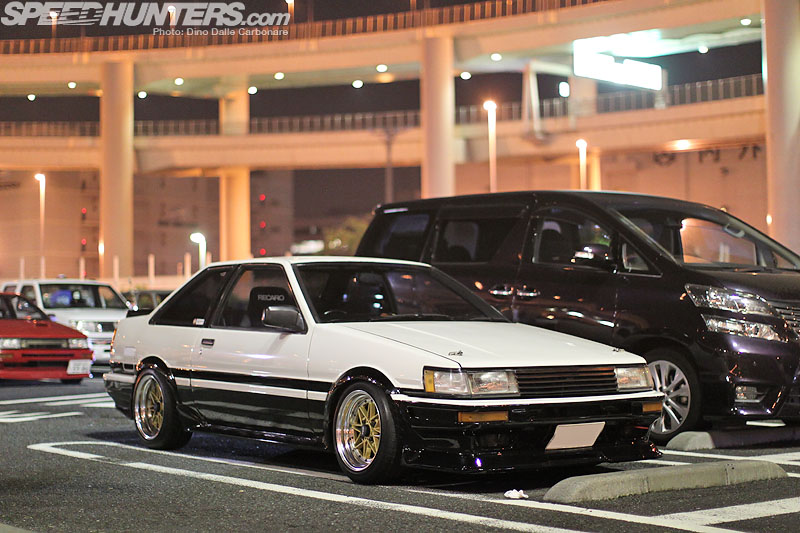 But that is precisely what makes the AE86 so unique, it appeals to a lot of different people for a lot of different reasons; as long as there's passion, who is anyone to judge.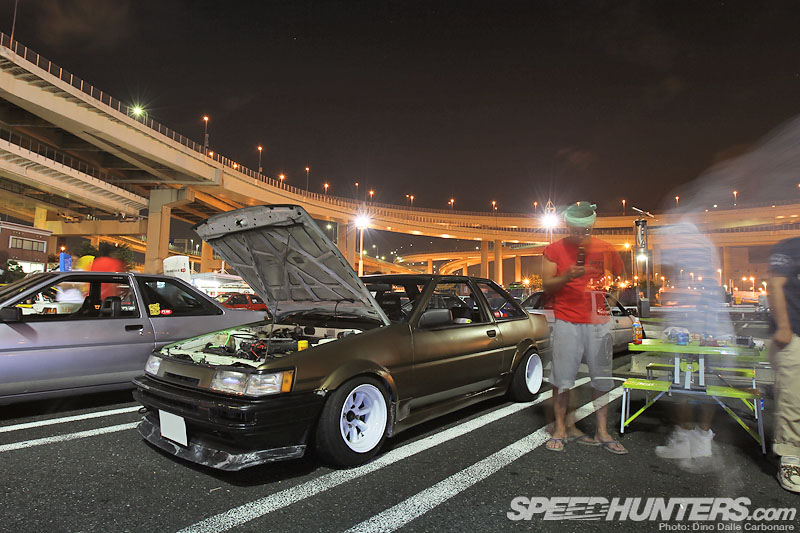 And you should never judge on a car based on its looks, because even the most used and abused cars…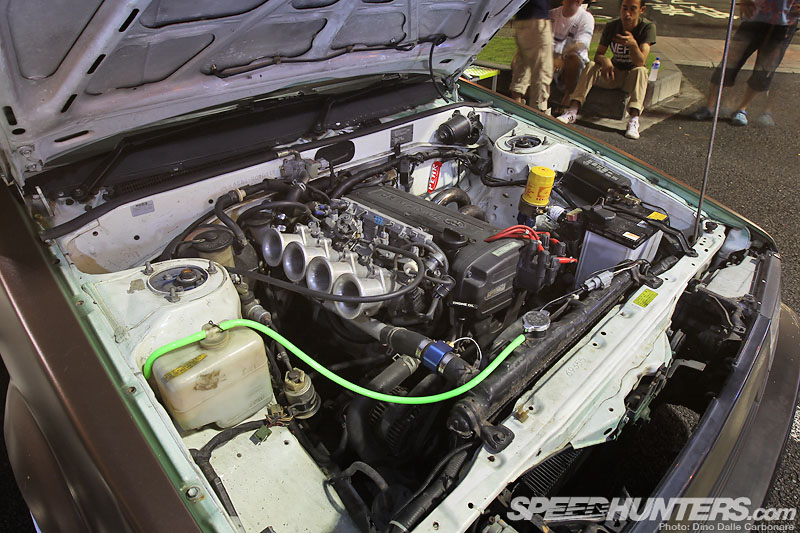 …might be packing serious hardware under the hood like this particular Levin. The only thing that sucks about these static meetings is not being able to hear all these awesome engine at full rpm!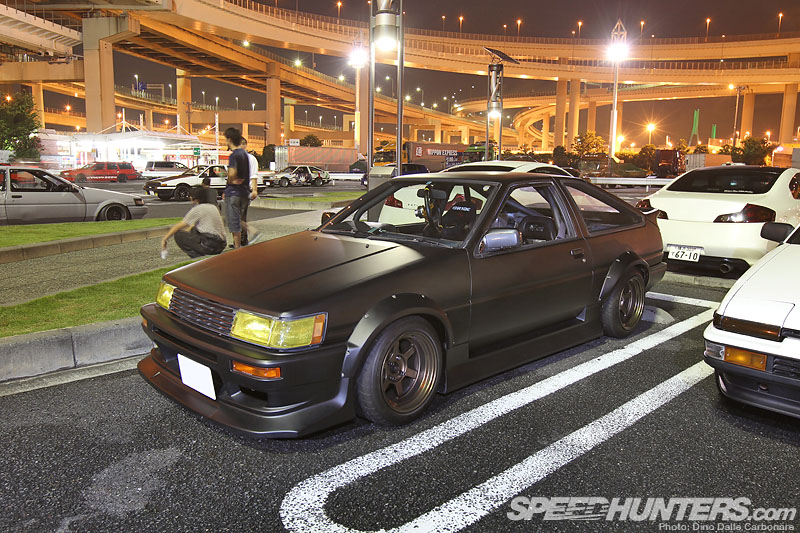 How about a bit of and RWB look? Love the TE37Vs and the yellow headlights!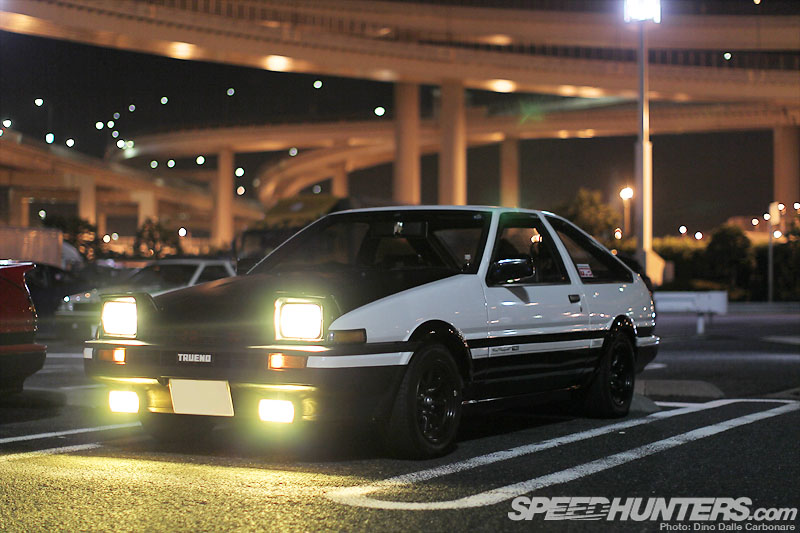 And on the subject of yellow lights! The owner of this car was showing off the sheer power of his full HID-set up!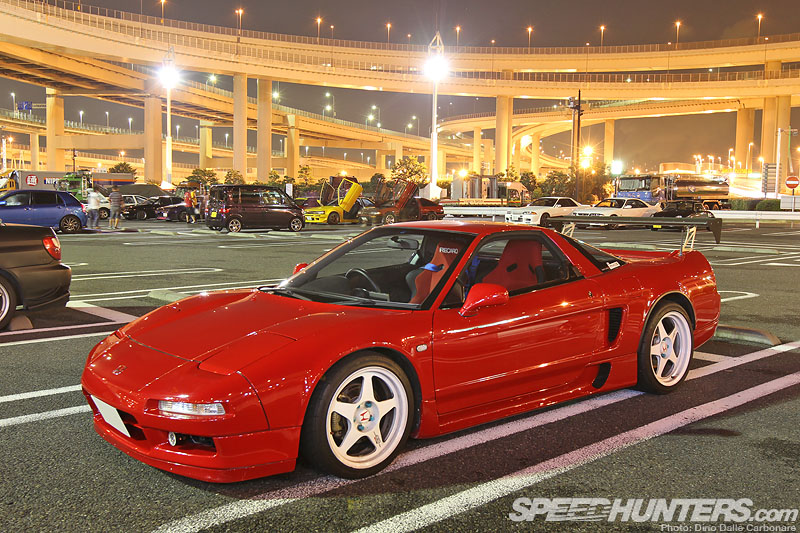 Time for a little pause now as we admire the sublime lines of this NSX, parked up on a far away corner of the PA.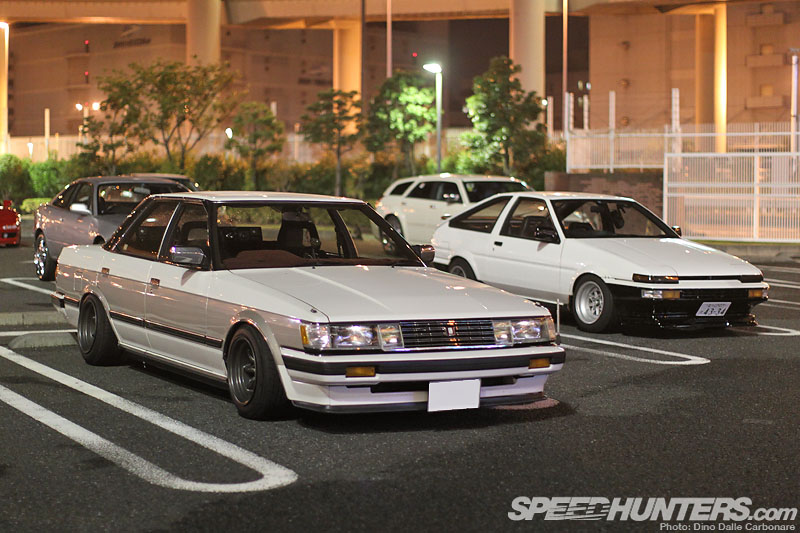 And how is this for a nice dose of coolness, a slammed GX71 MarkII on Watanabes.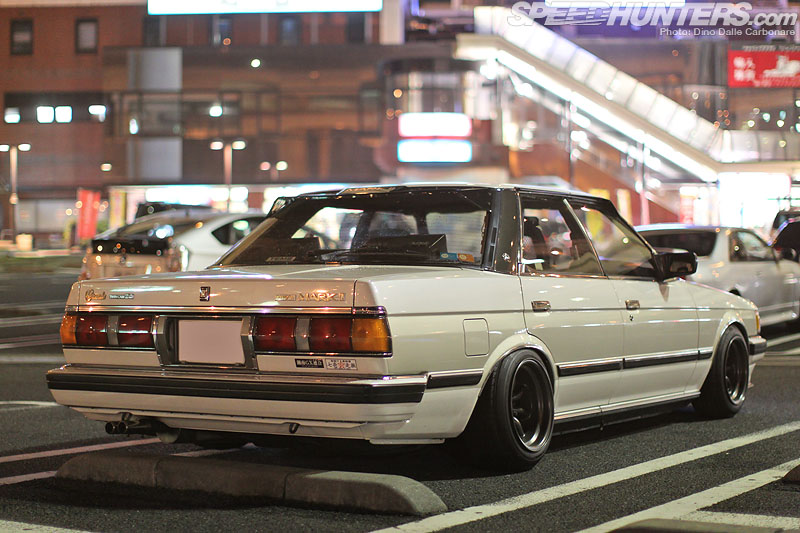 I managed to catch the owner just as he was leaving, giving me enough time to complement him on his superb ride….oh and give him a couple of Speedhunters stickers!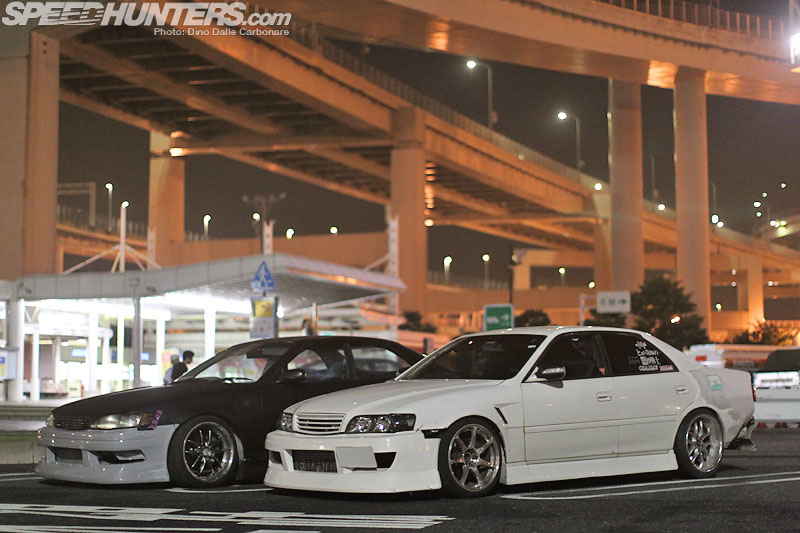 I also met a couple of young drifters, one of which has just gotten his license but is already rocking a somewhat beaten up JZX90. Well I guess you got to hit stuff in order to learn how to avoid it!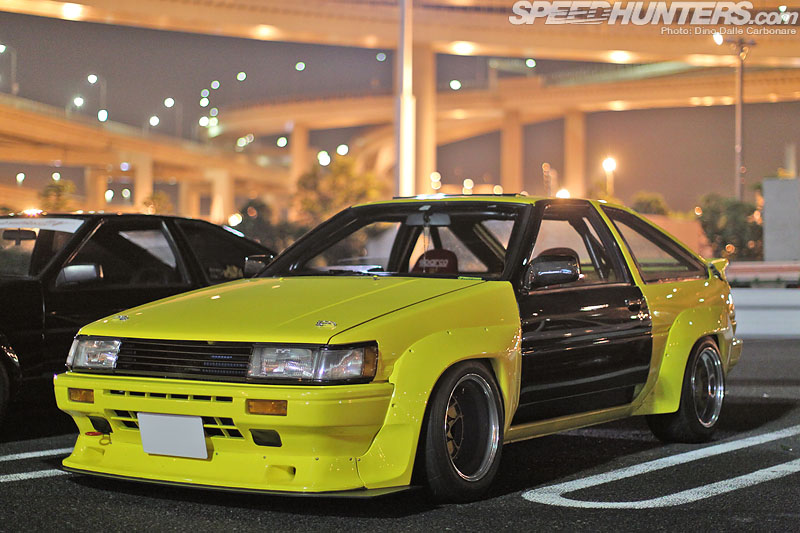 Take a look at this N2 replica, sporting authentic TRD N2 overfenders and a set of carbon fiber doors.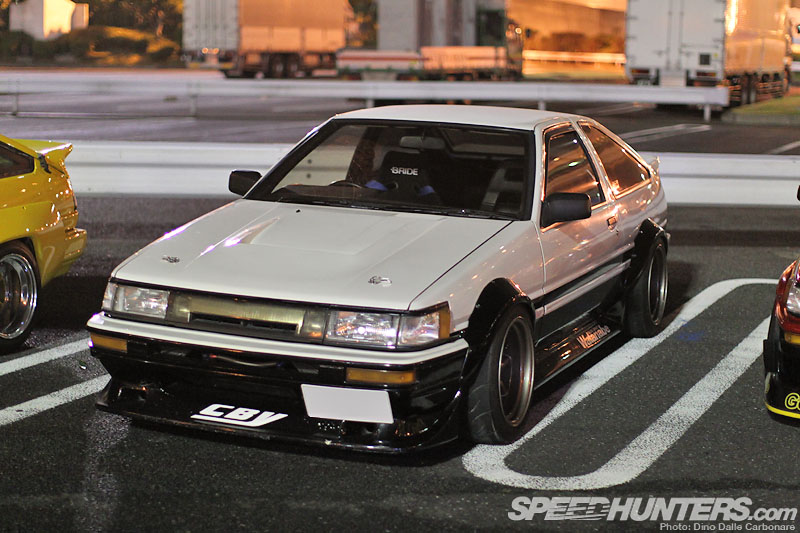 Cristal Body Yokohama dropped by Daikoku with their street-spec demo car, which reminded me yet again that I really should head over to their workshop for a little visit!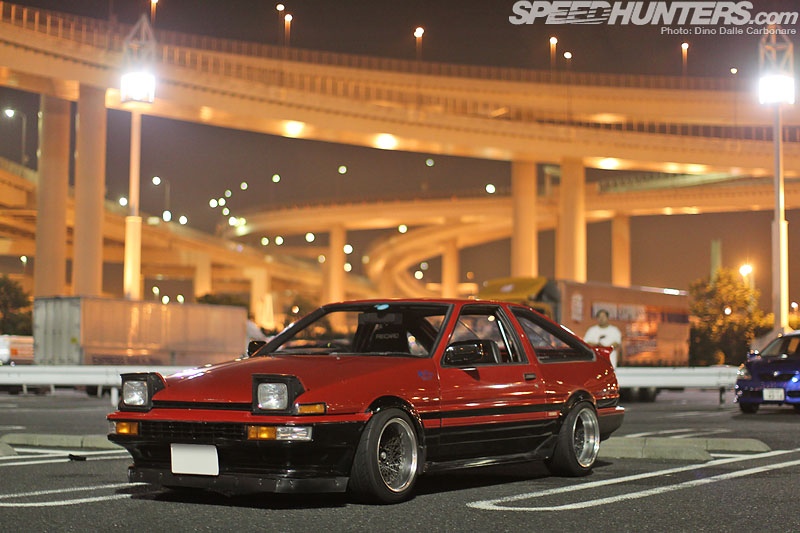 This Y-plate Trueno, which I posted a picture of on our Facebook page earlier on today, is being driven on the streets of Japan for only a few more weeks, after which it will be shipped off to its new home in the US. The owner plans to convert it into a fully fledged race car.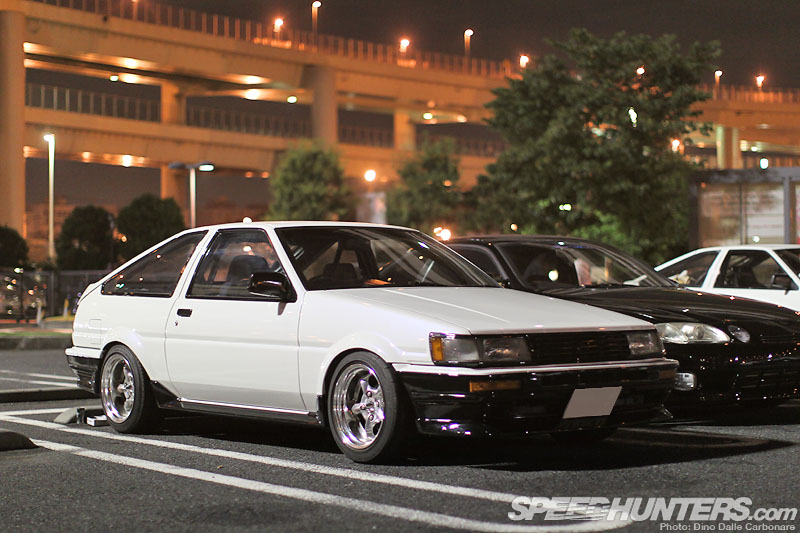 And here is yet another exceptionally clean Levin…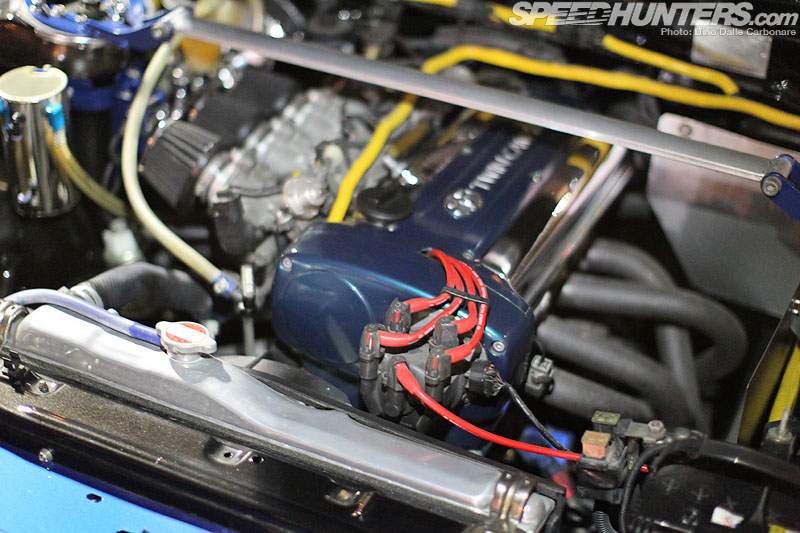 …boasting a carbed 20-valve swap, yet another engine I wish I could hear at full chat!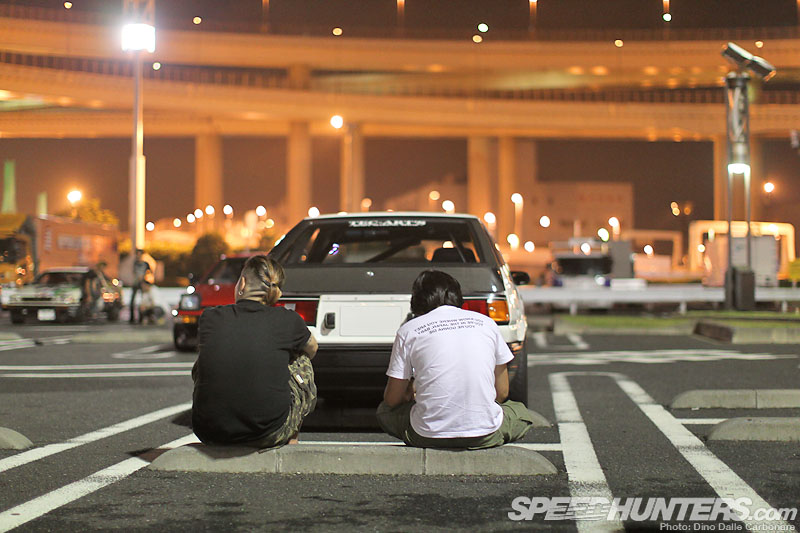 So that's about it from the 86 Day meeting in Daikoku, the place to come to when wanting to immerse oneself in JDM car culture. Many thanks to all the hachiroku owners that dropped by and allowed me to shoot their cars, ありがとうございました!
Oh and make sure you check out the desktops I prepared below!
86 Day stories on Speedhunters
-Dino Dalle Carbonare