The major car manufacturers use the Goodwood Festival Of Speed as the ideal way of showing the public their latest and greatest creations in the context of racing legends past and present – often using the racing cousins of their road-going models to prove their own competition credentials. It's a fantastic chance to get up close to brand new cars that are only now hitting the road, or concepts that you'd only ever normally see at an international motor show.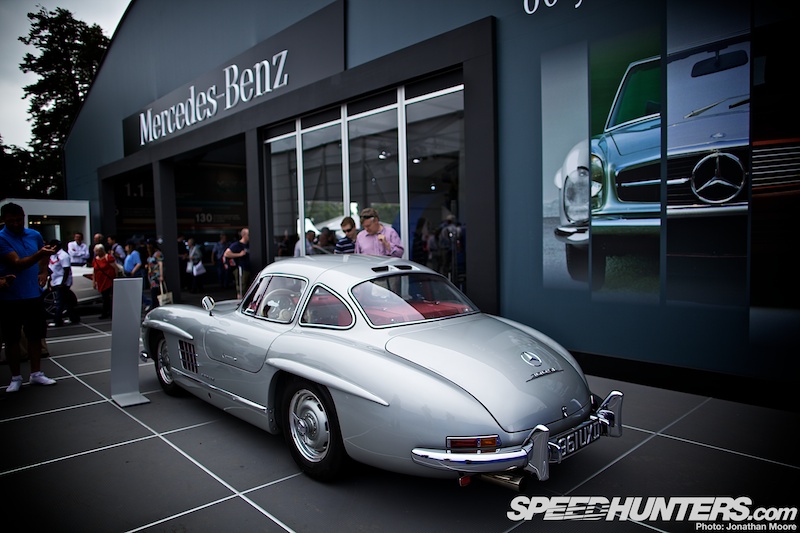 A huge area was dedicated to the stands that the manufacturers had set up: over 20 big brands brought along aircraft-hangar-sized structures complete with cars of both the present and past and impressive hospitality areas with which to wow potential customers.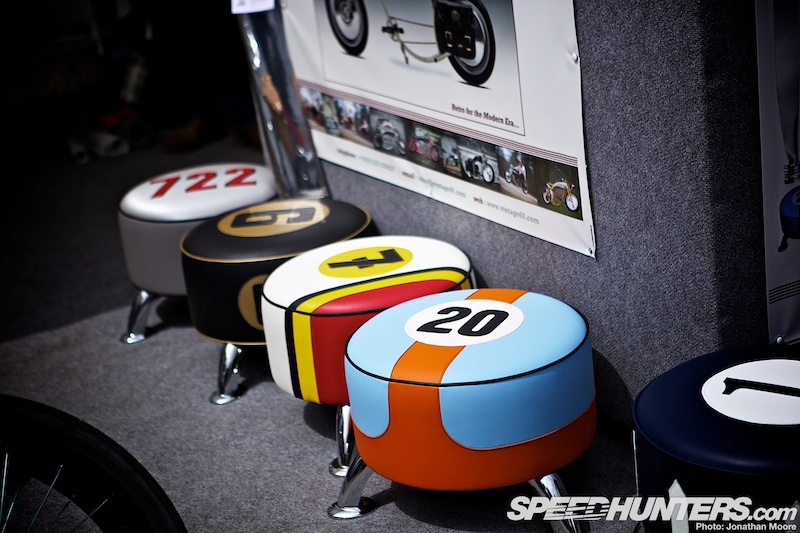 If the Gullwing or a new SLS was a step too far, the packed market area opposite allowed you to go home with smaller and cheaper racing momentos.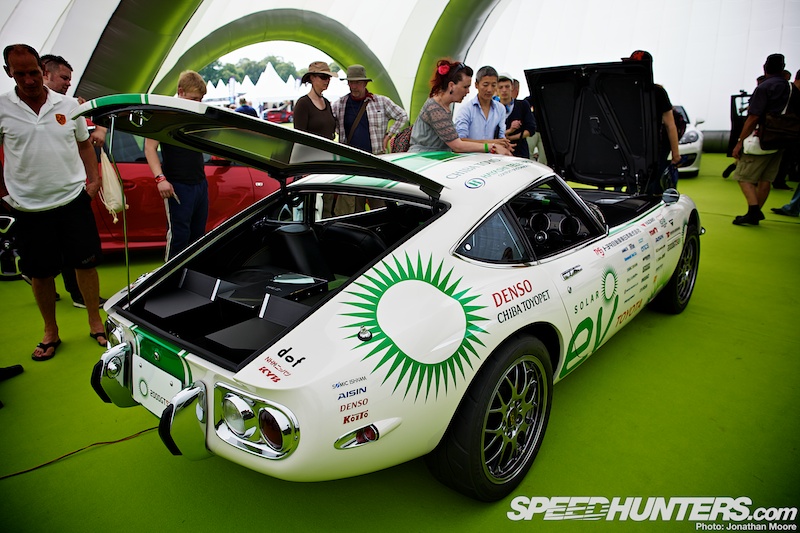 Goodwood have also introduced the FoSTech area for 2012, which highlighted concepts and innovations that are pushing alternative and hybrid cars and proved that we don't need to be scared of these new technologies. In fact, they can provide provide a perfect link between old and new…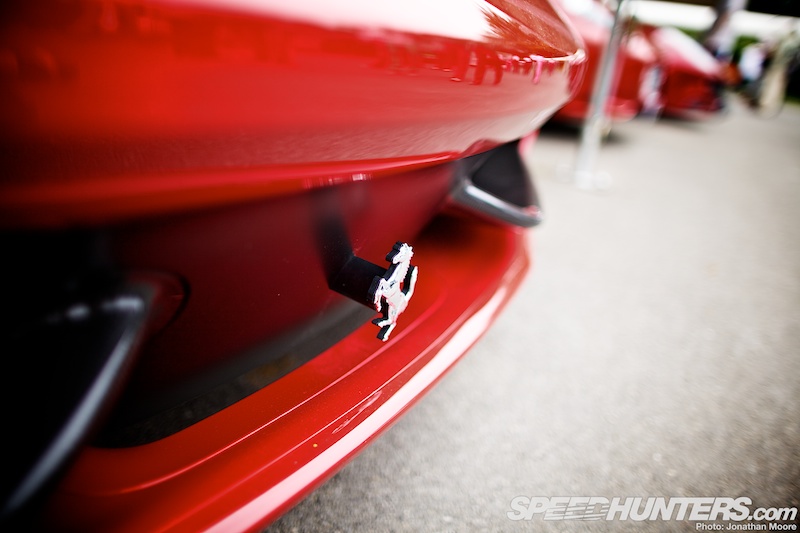 There was also the Supercar Paddock, where you could mingle with a mind-blowing collection of exotica on static display…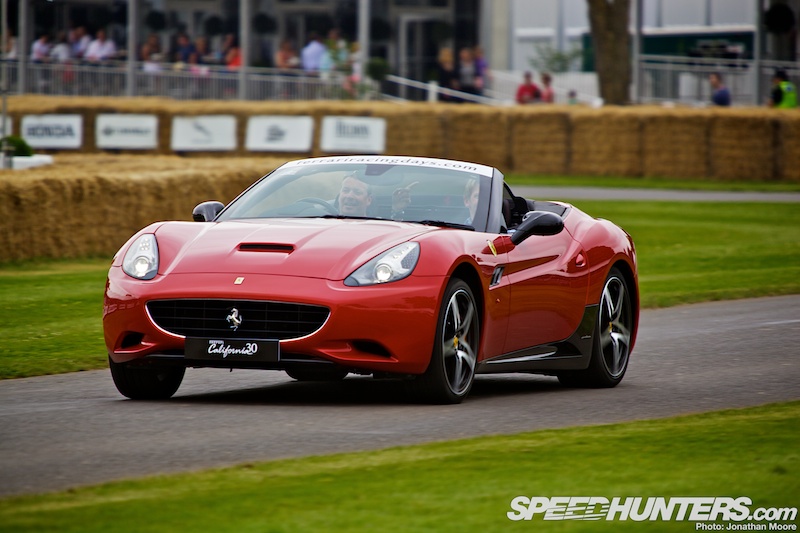 …before they headed out to take a blast up the Goowdood hill-climb course.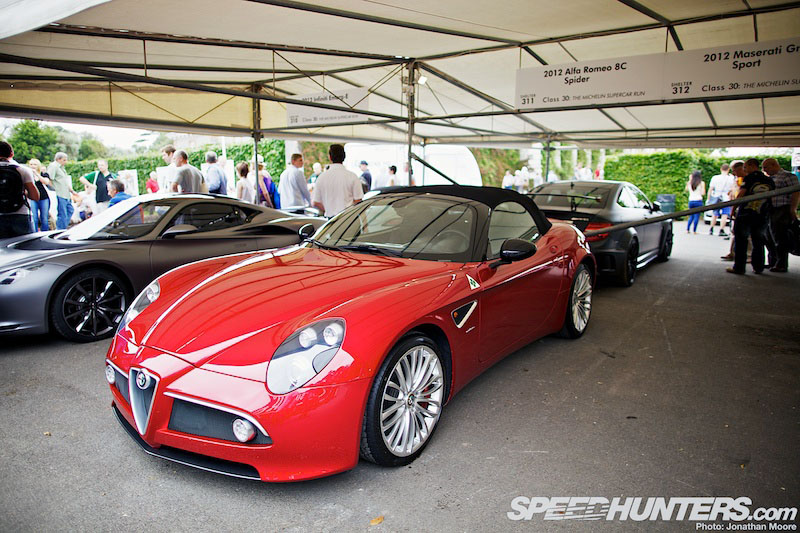 In the paddock were almost 50 examples of obscenely attractive supercars: an international supersonic slide-show. The Alfa Romeo 8C Spider is the drop-top alternative to the drop-dead gorgeous 8C Competizione.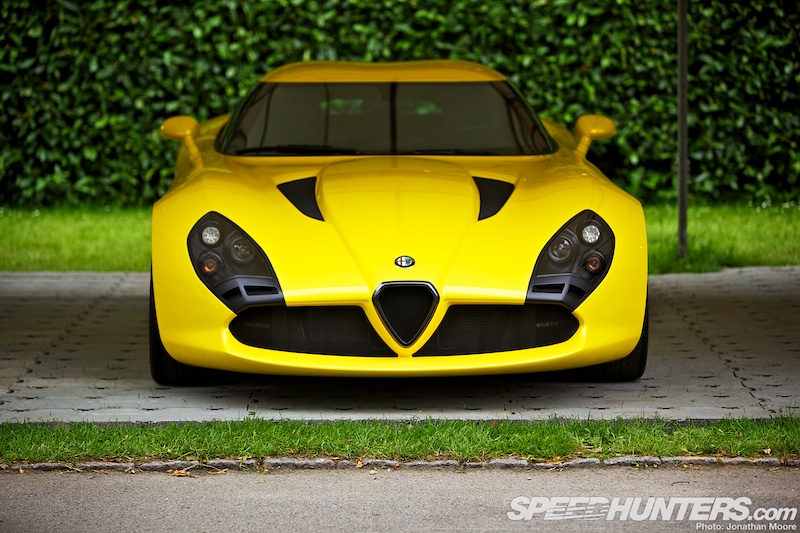 The limited production version of the Alfa Romeo TZ3 Zagato was on show in this shockingly  bright yellow: the original one-off Corsa prototype was based on the platform of the Dodge Viper ACR, and used the 600hp, 8.4-litre V10 from that same car.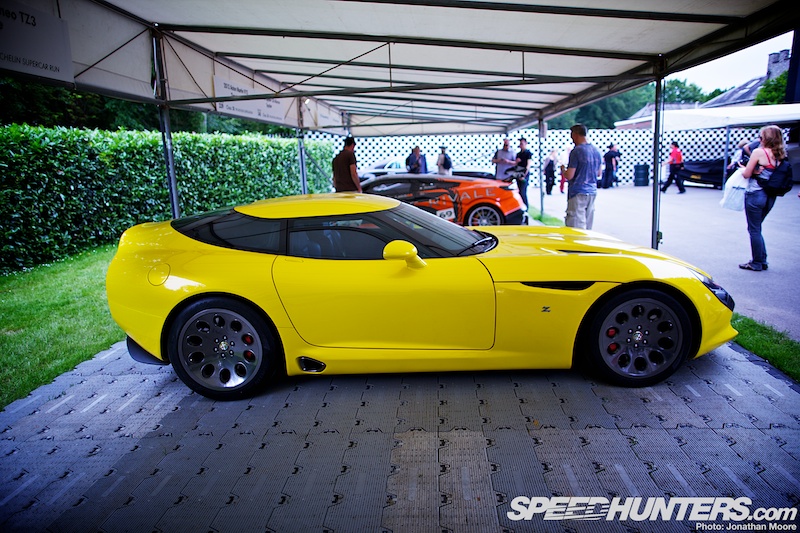 The concept is being followed by a limited production run. Just nine of these Stradale will be built, now using the 8C floor plan but retaining the vicious Viper power plant.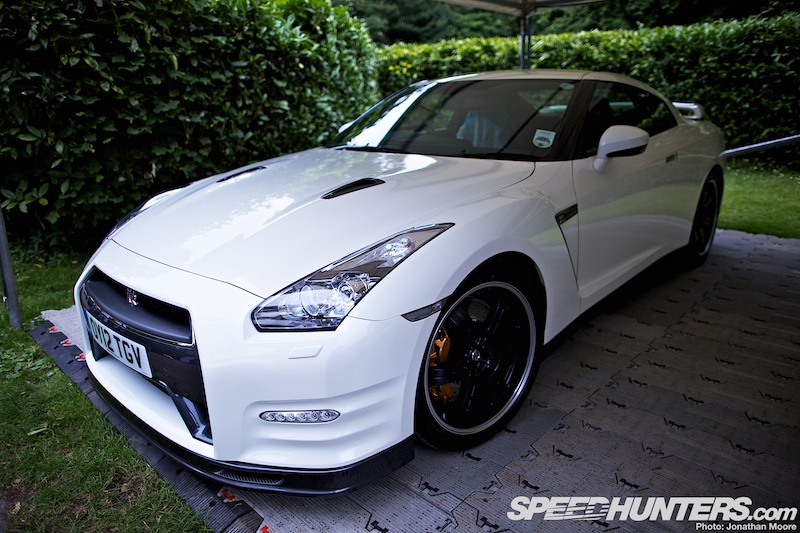 Nissan's Track Pack version of the GT-R: RAYS alloys, brake updates, revised aero and adjustable dampers are added; the rear seats are removed. The 3.8-litre twin-turbo V6 gets revised heads, a new intercooler and exhaust, pushing power up to 550hp.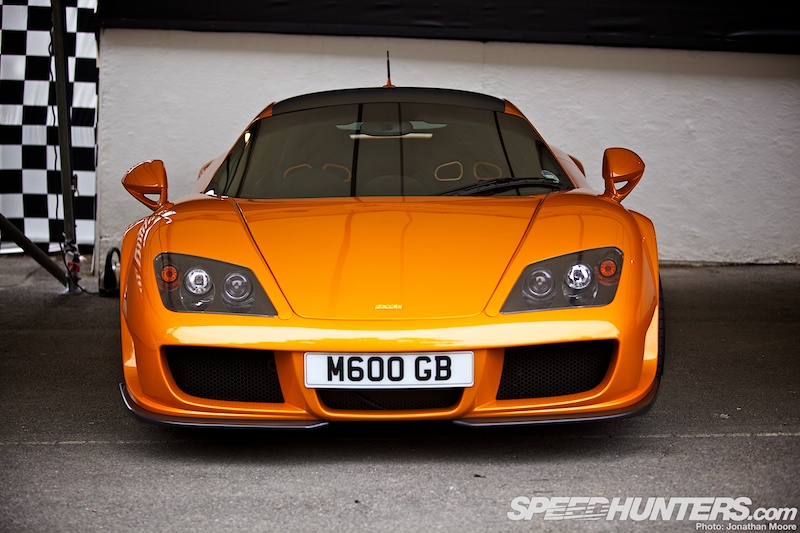 Noble looked to have disappeared, but the M600 has signalled their return to the supercar fold: as you'd expect with a Noble, it's a car more about power than finesse. There's a magic switch on the dash that allow you to choose between Road, Track and Race settings: 450, 550 or 650bhp respectively…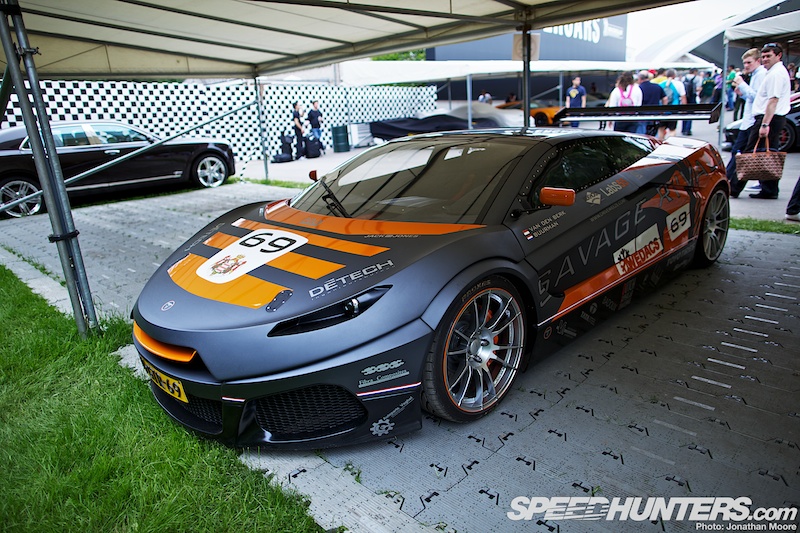 Dutch firm Savage Rivale rocked up with the GTR – the track version of the eccentrically-named Roadyacht GTS.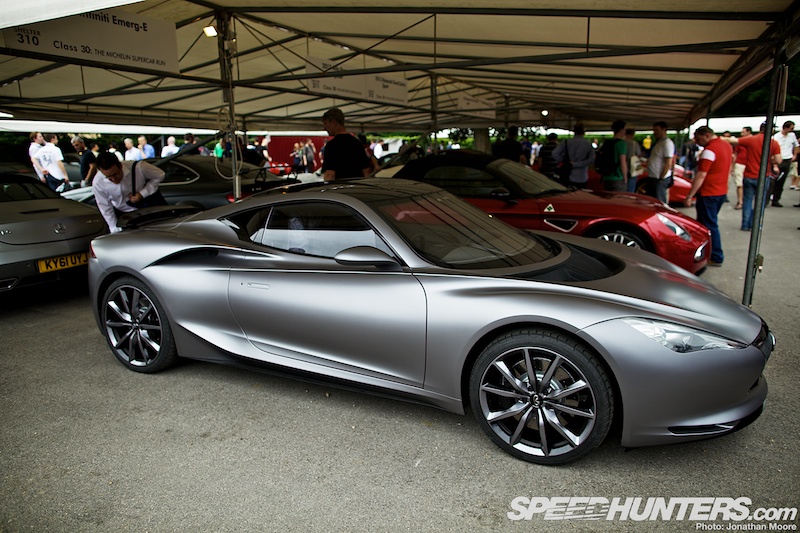 Red Bull F1's Sebastian Vettel has his name put to a special-edition Infiniti FX SUV, but rather more appropriate was the Emerg-E, which was driven up the hill by Seb's team-mate, Mark Webber.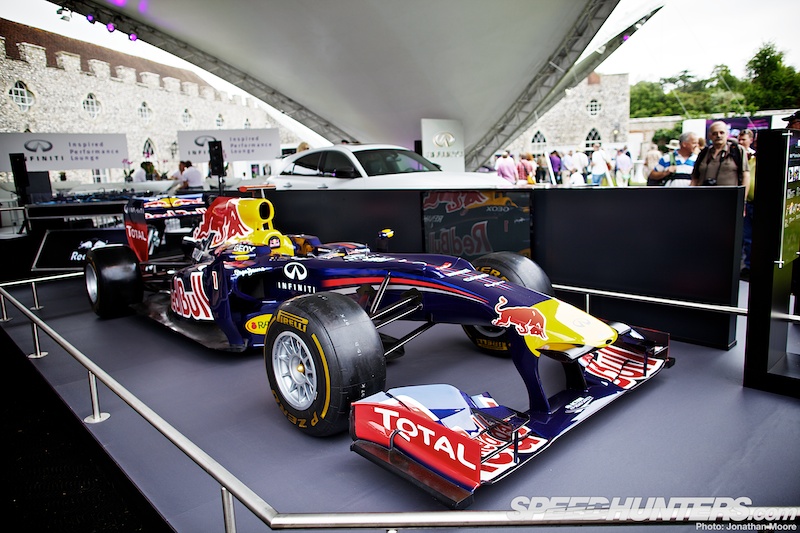 Infiniti's tie-in with Red Bull also meant they had a Red Bull F1 car on show, meaning you could almost forgive the SUV hidden on the other side…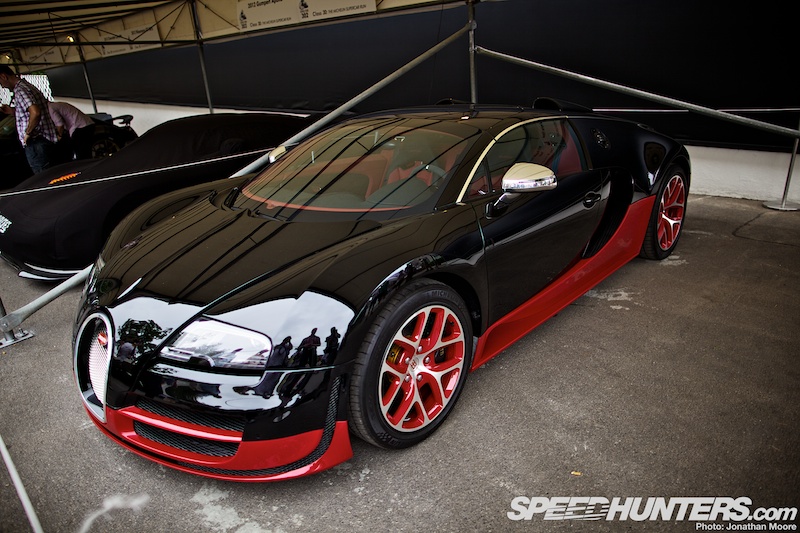 Bugatti's Veyron Grand Sport Vitesse was drawing the expected crowd: it's the kind of car that you can't help but stop and stare at. A pure forward-motion machine, built to go as fast as humanly possible. And stop again, which is a nice touch.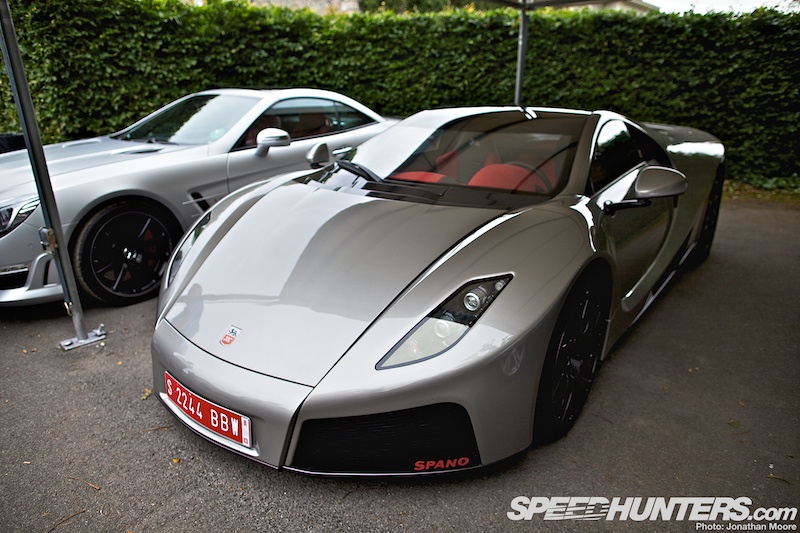 The GTA Spano looked great in real life: quite old fashioned lines with its big GT styling. The Spanish company brought its supercharged V10 sportscar to Goodwood after having shown it off last month at the Supercar Parade prior to the Le Mans 24 Hours.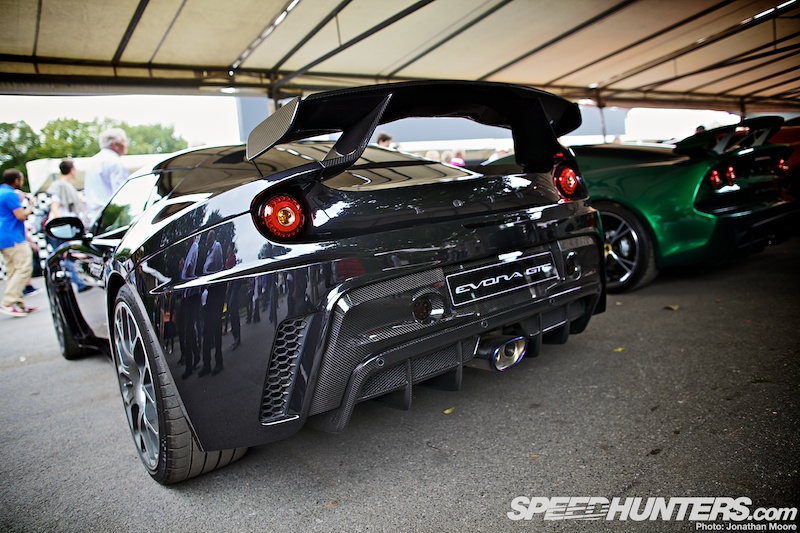 The Lotus Evora GTE continues the bulking-up programme the Evora needed: with a more muscular body kit and aero pack the car sits much more comfortably beside its more extreme compatriots.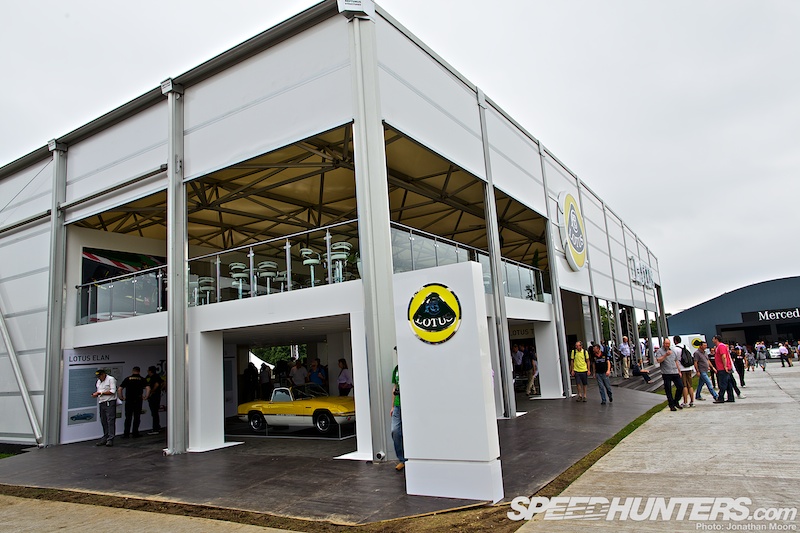 Lotus Cars had one of the largest stands going: it contained an old Elan and Elite to counterpoint the modern output: Evoras and Elises, plus an LMP2 sportscar.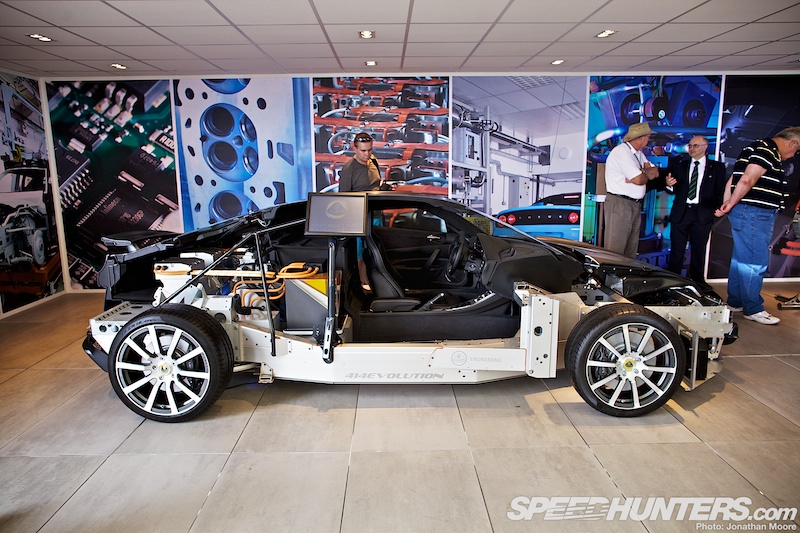 Lotus' entry into the hybrid war was also on show: the new Evora 414 Evolution, which uses two electric motors backed up by a range-extending three-cylinder bio-fuel unit to provide 1000Nm of torque and 408hp.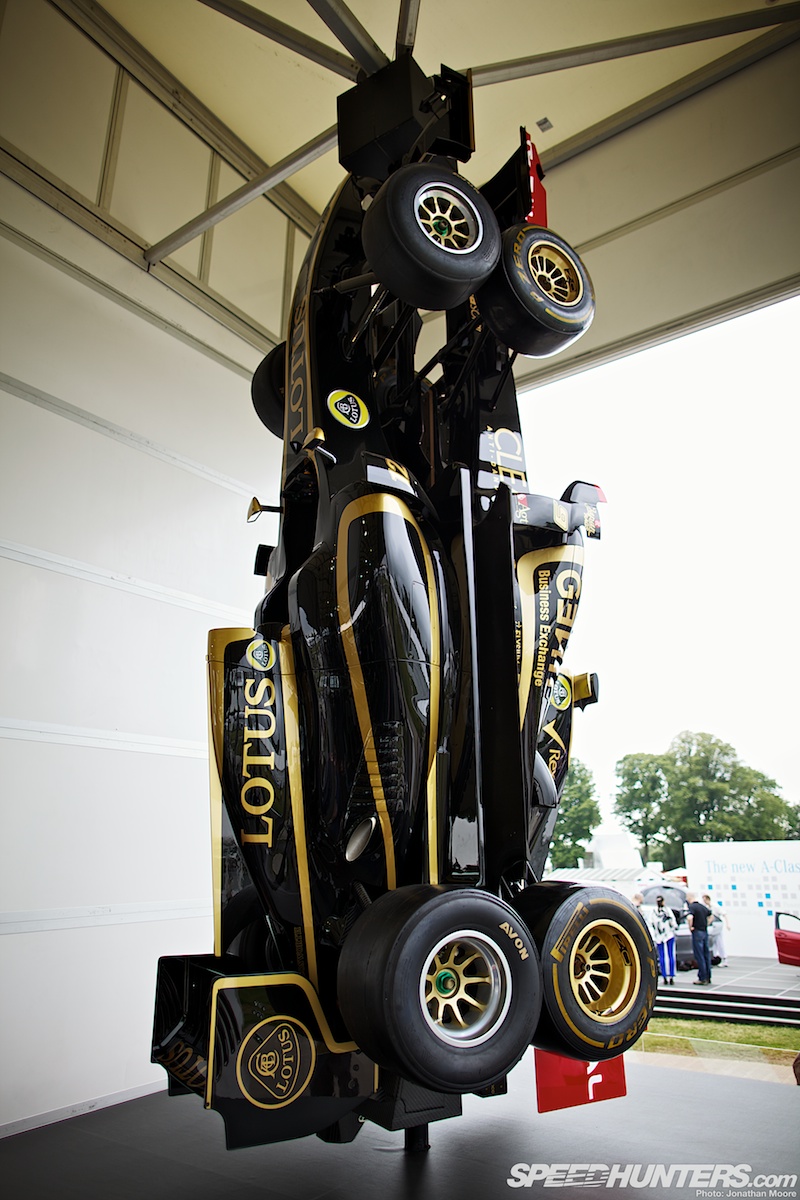 These revolving entwined F1 cars provided a stunning corner-piece to the Lotus stand.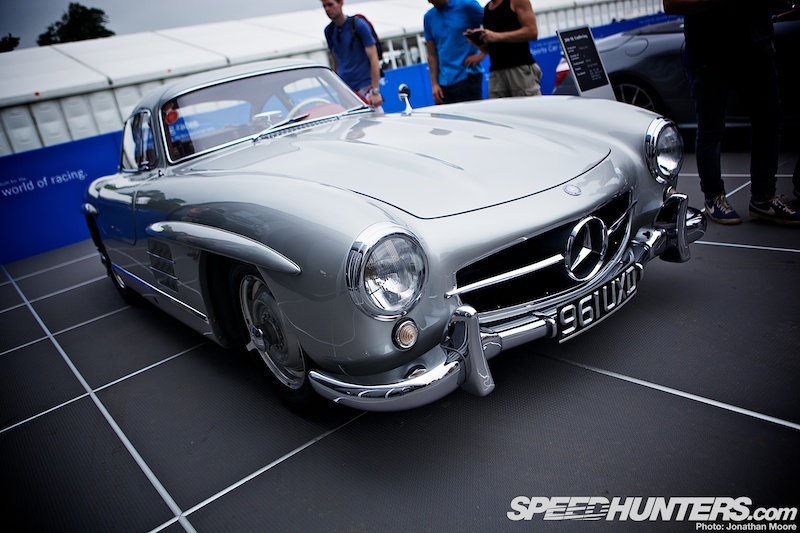 Next door, Mercedes upped the stakes with a 300SL Gullwing, still one of the most beautiful cars ever made.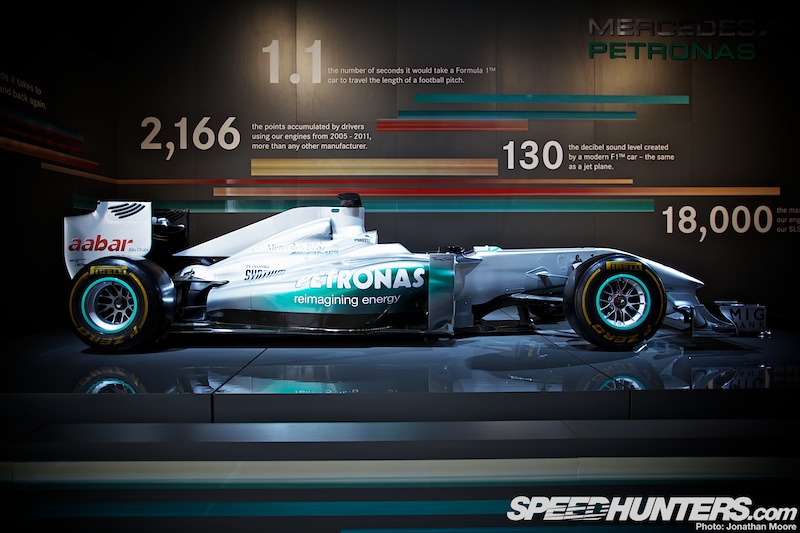 Inside, a modern Silver Arrow showed off Mercedes' modern-era F1 programme.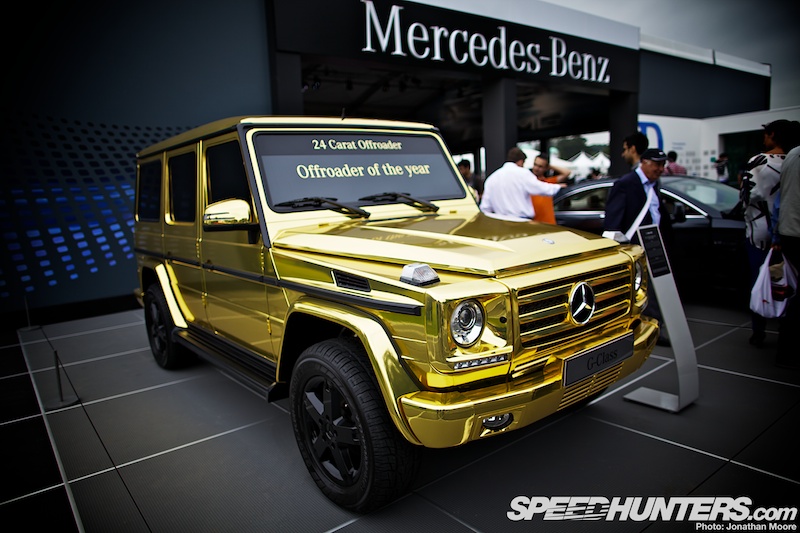 Outside… a Golden Arrow? This new '24 Carat' G-Class had been given a shiny wrap, but still looks pretty much the same as it has for 30 years…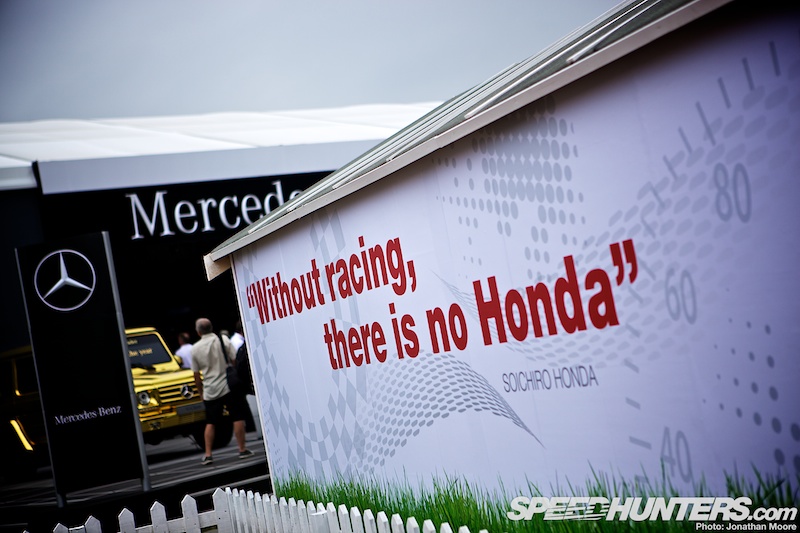 The Festival gives all the manufacturers the perfect opportunity to reinforce their association with racing, though this sign was just in front of… a straw-bale-lined racetrack for Honda lawnmowers!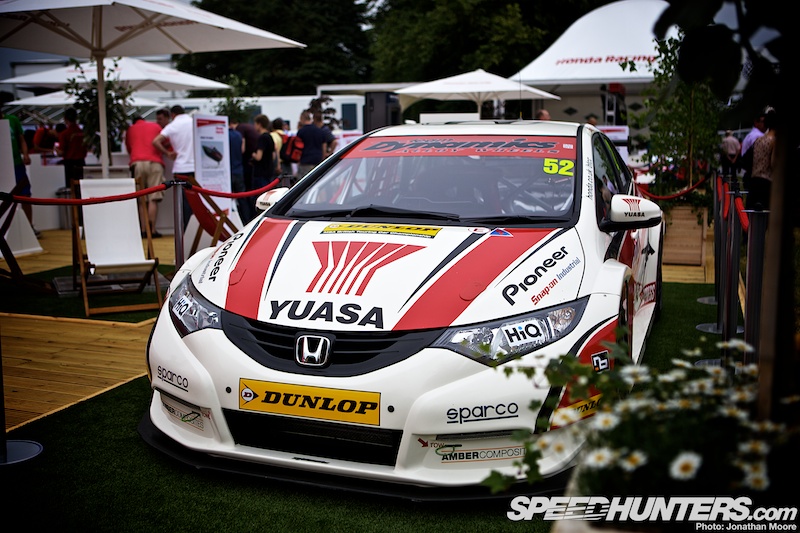 At least the current British Touring Car Championship Civic struck a more sporting pose: it's a really aggressive-looking racer, just what real touring cars are supposed to be.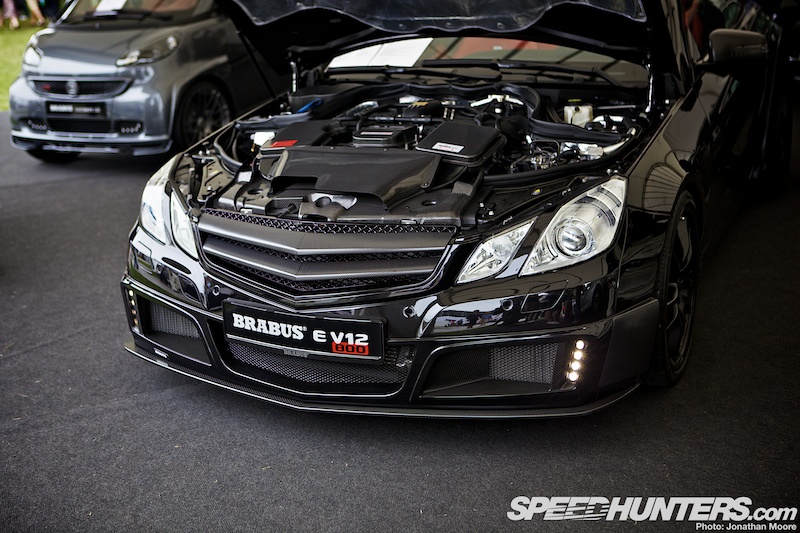 The specialists and boutique manufactures lined up next. Brabus were displaying their up-gunned Mercs…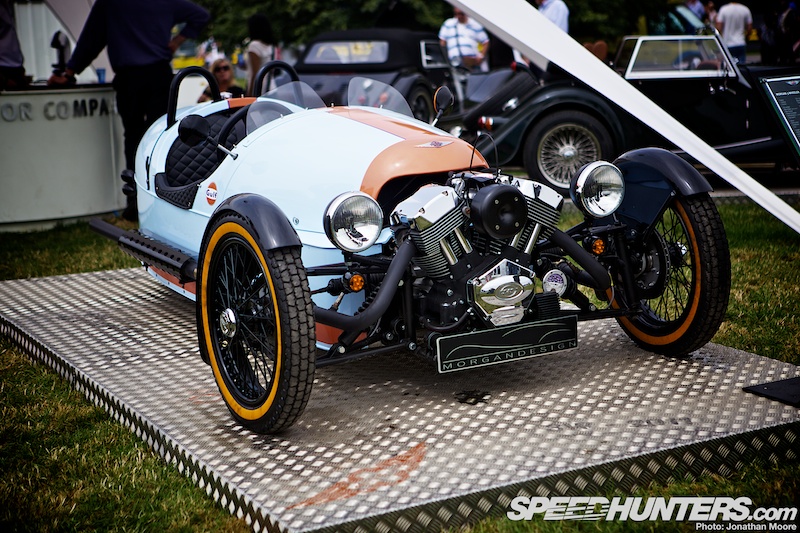 …and Morgan their under-wheeled but accurately-named Three Wheeler.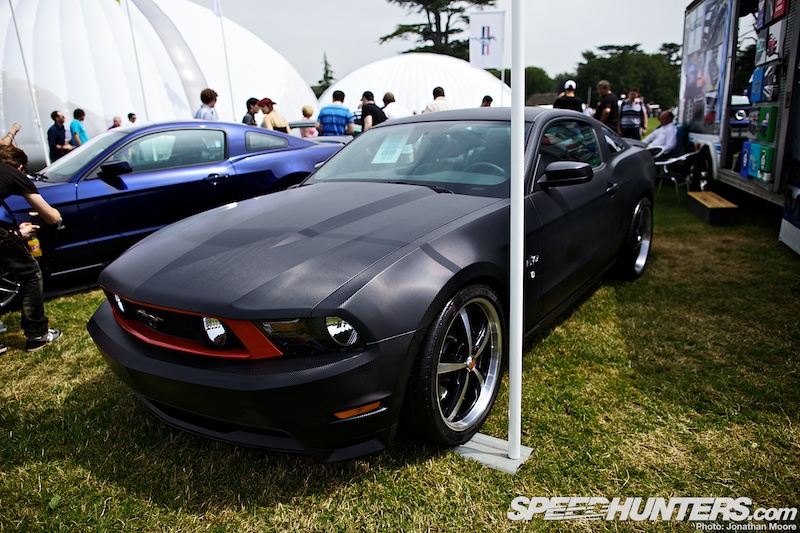 UK Mustang specialist Bill Shepherd had a fine line-up of Mustangs old and new, from this carbon-wrapped 5.0 and a Boss 302 to old school '60s coupés and Fastbacks.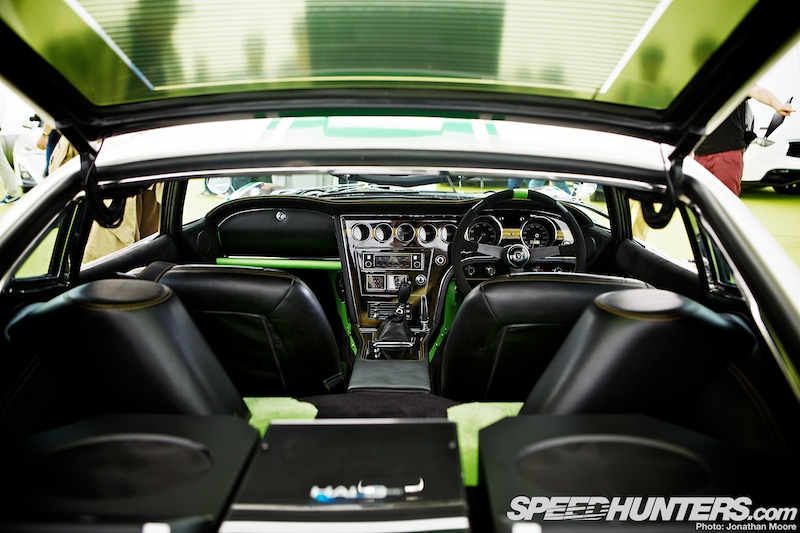 In the FoSTech arena, taking something old and making it into something completely different were Toyota, who have made this one-off 200GT SEV. Inside things might look familiar…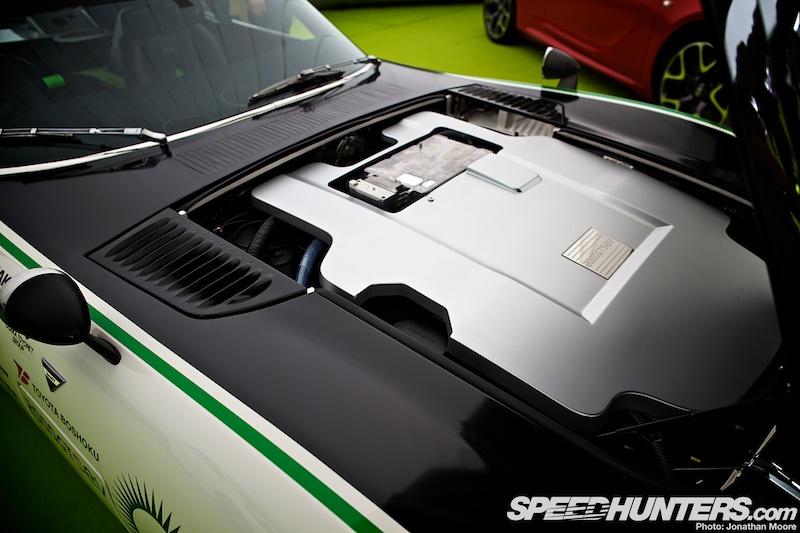 …but under the hood is something else. The Crazy Car Project have taken this rare car and replaced the SOHC straight-six with a solar-powered, 161-hp electric motor. The SEV has on-board 35kWh lithium ion batteries and photovoltaic cells are built into the hood. It's so wrong that maybe it's got to be right.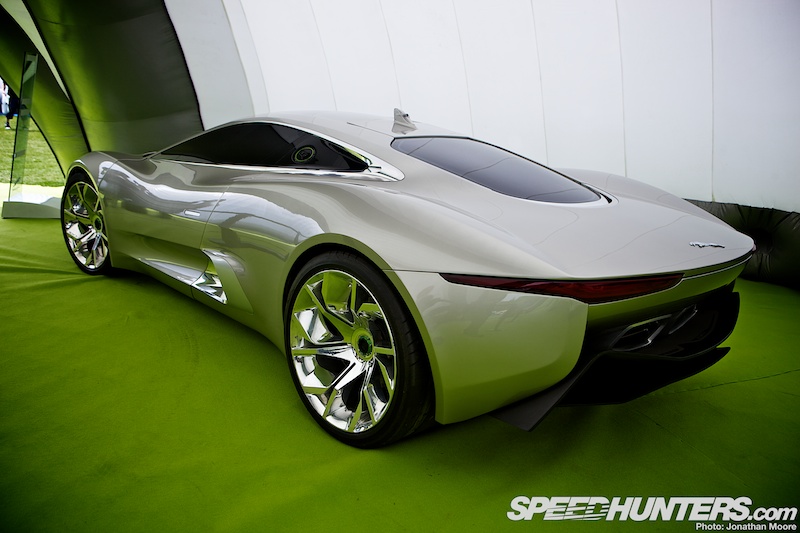 You really are spoilt at Goodwood: all the concepts that you see photographs of and think, well, it's bound to be just a Photoshop job – they actually exist! Jaguar's C-X75 hybrid was looking suitably futuristic: Williams F1 are helping with the production and logistics of making this now quad electric-motor powered car, as the original micro gas turbines simply weren't practical for a production model. A 200mph top speed and a sub-three second 0-60mph are still goals. All that and saving the planet!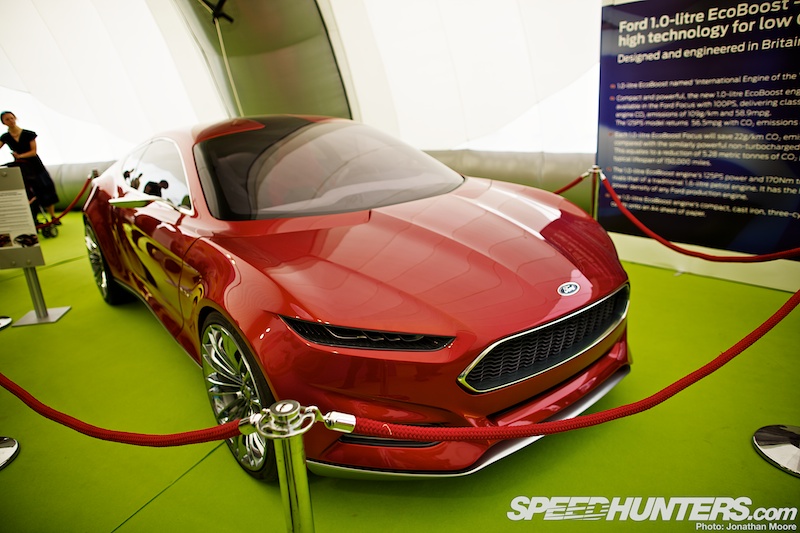 The Evos Concept demonstrated Ford's take on a plug-in hybrid: it was unveiled at last year's Frankfurt motor show and is stunning in the flesh. Future Ford cars are promised to take cues from its radical styling.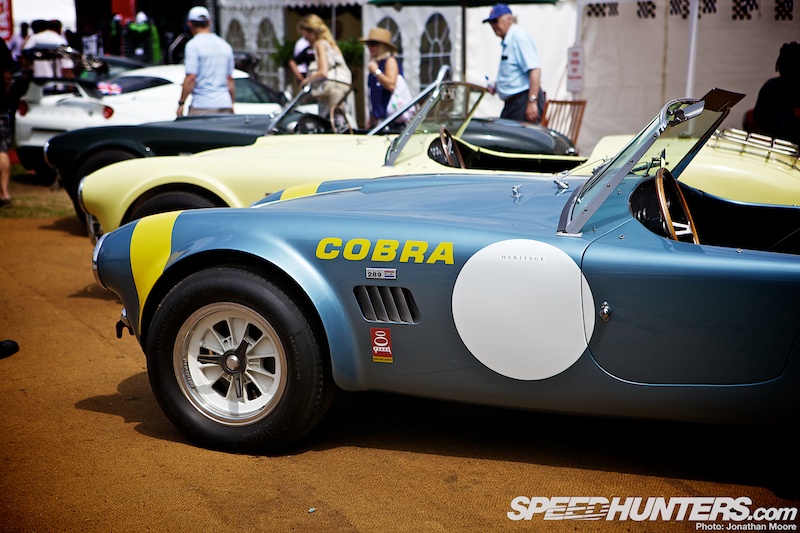 Sometimes the past is still the future. Or, the future is past. Anyway, the AC Cobra is still going strong, with a rejuvenated AC Cars not only producing Cobras but also the 378 Zagato GT.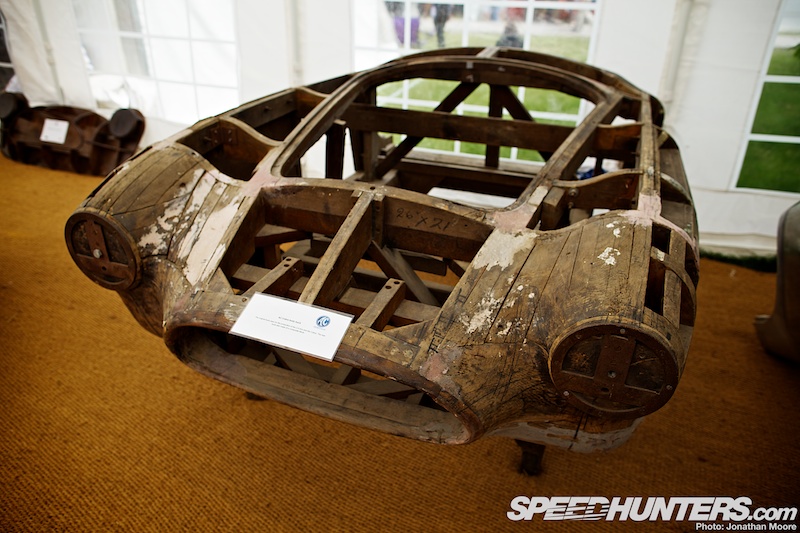 The AC Heritage tent had some of the original wooden bucks used to form the Cobra's body panels.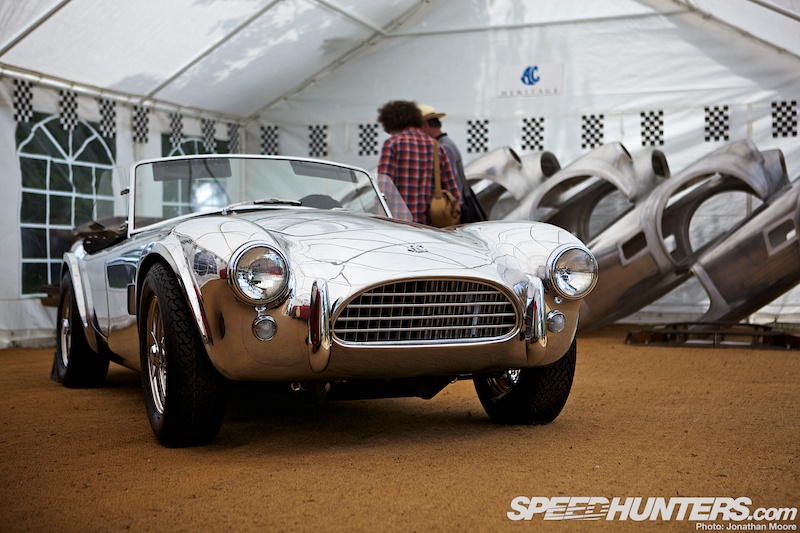 New builds are available, with the AC 427, AC 289 Roadster, Shelby ACs and continuation racing Cobras with FIA certification. The aluminium hand-crafted body and chassis produced using the original Thames Ditton Factory tooling and drawing specifications by AC Heritage and the Brooklands Motor Company.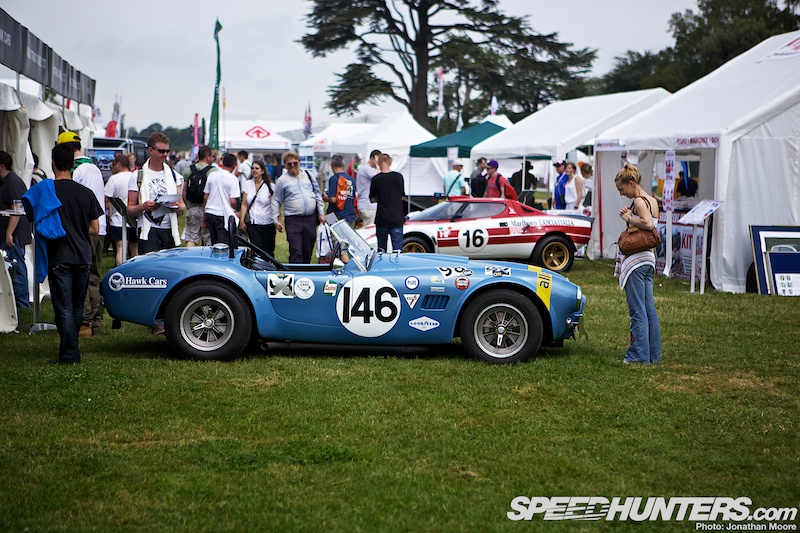 Replicas are still popular though, and Hawk were demonstrating both their Cobra and Stratos HF recreations.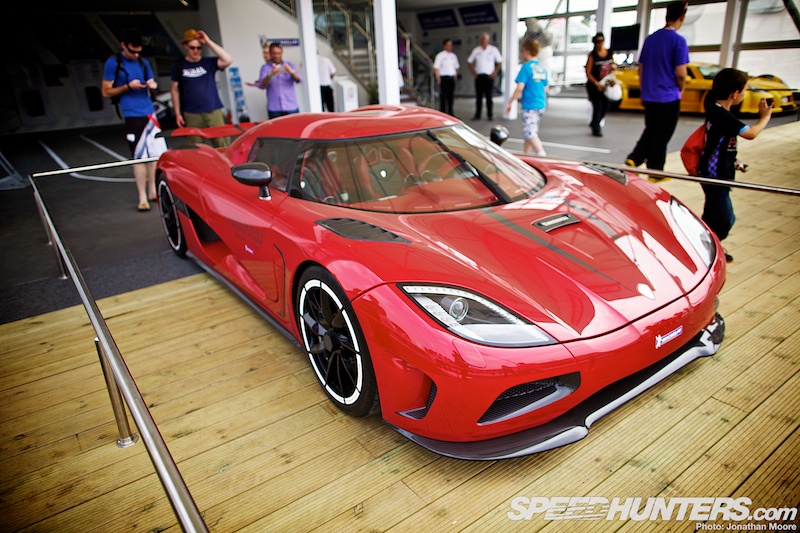 At the other end of the price scale, back to supercars. The Michelin stand was rich in exotics, starting off with this Koenigsegg Agera R…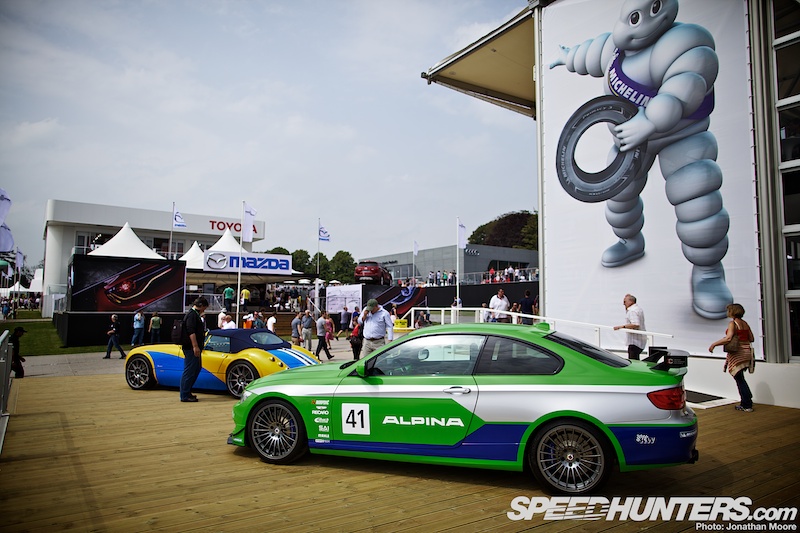 …with a Litchfield Nissan GT-R, B3-GT3 Alpina and Wiesmann MF3 on the balcony…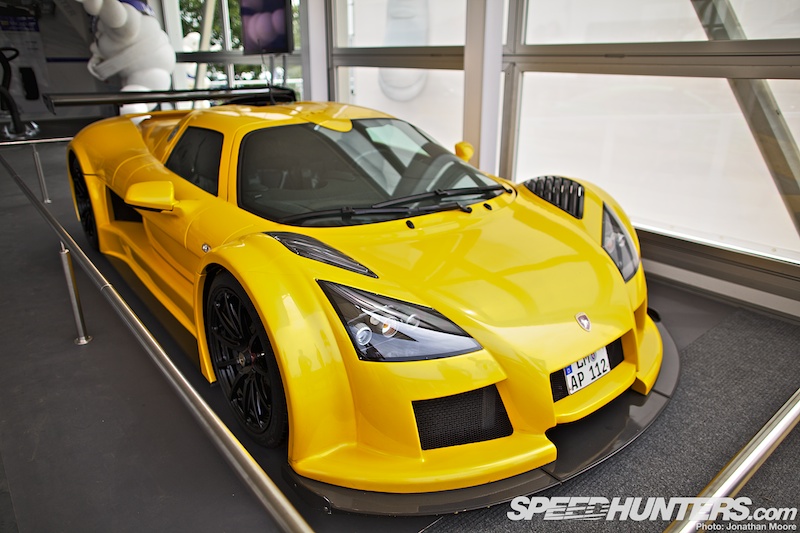 …and a Gumpert Apollo S. Both the Agera and Apollo set world records on Michelins, hence their presence on the stand: for the fastest 0-300-0kph time (21.19s) and fastest production car lap of the Nordschleife (7:11.57s) respectively.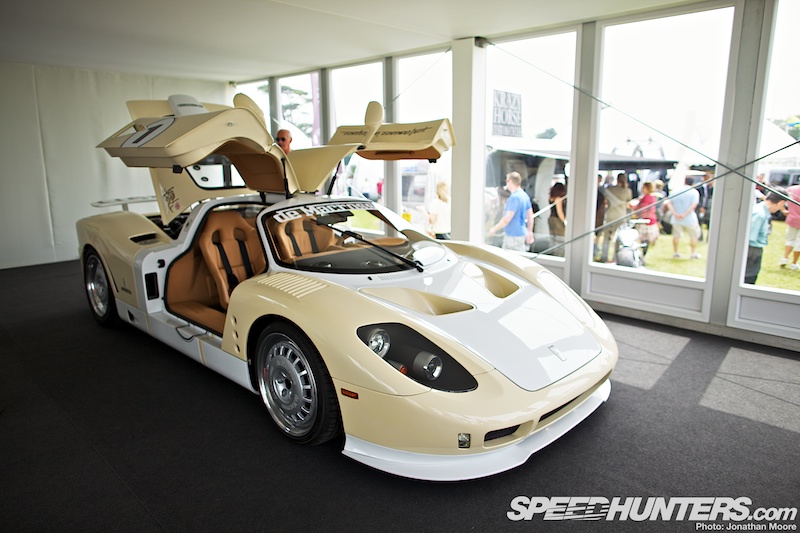 This was a car that I hadn't seen before: the De Macross Epique GT1. A very '70s shade of beige and classic, almost GT40-invoking lines cover a mid-engine two-seater engineered by Multimatic. They have a long history of developing race-cars (Mustangs most recently, Panoz GTs and LMPs in the recent past), and the GT1has a carbon-fibre monocoque tub and hand-formed aluminium body.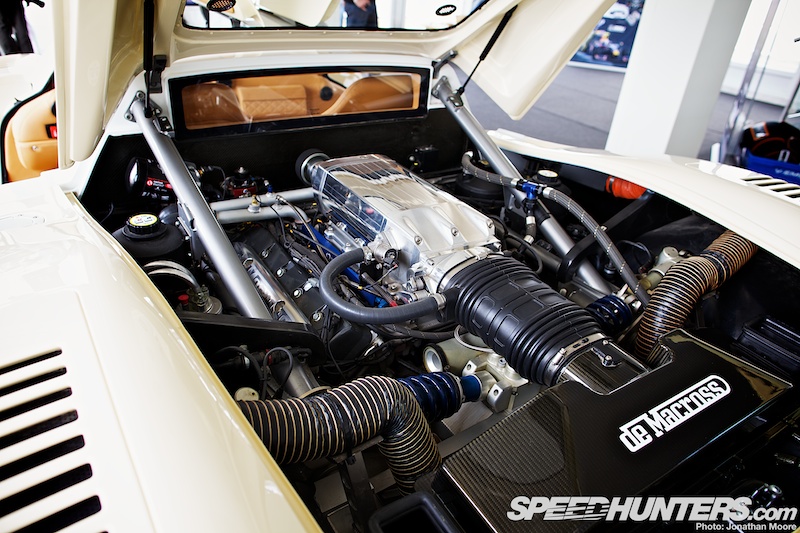 The engine bay contains a startling large Roush Yates Racing-built 5.4-litre supercharged V8 punching out 845hp and 725ft-lbs of torque. The drawback is the price: they're built to order at – deep breath – one million five hundred thousand dollars. US, that is.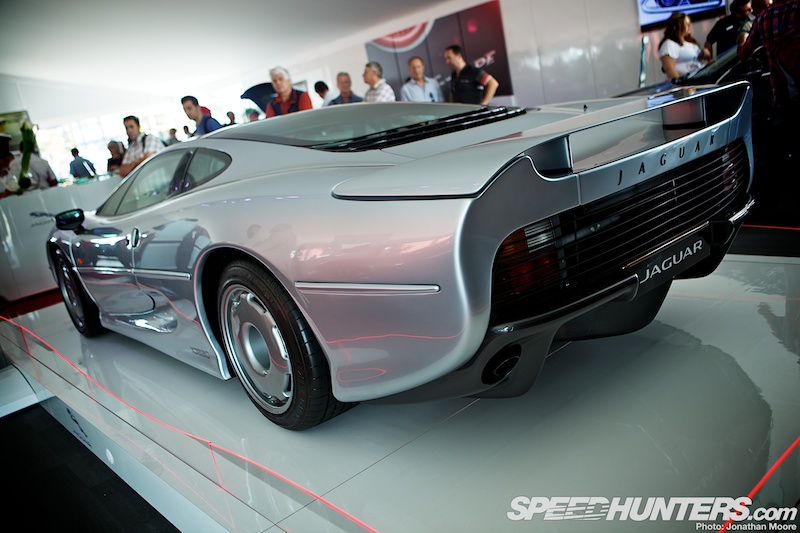 Jaguar's rather more reserved display was made by this XJ220: the one in the Musée Des 24 Heures at Le Mans seemed rather lost, stuck next to a nondescript wall and under horrible yellow lighting. This one one was much appropriate, giving the Big Cat an elevated podium that showed off its powerful poise.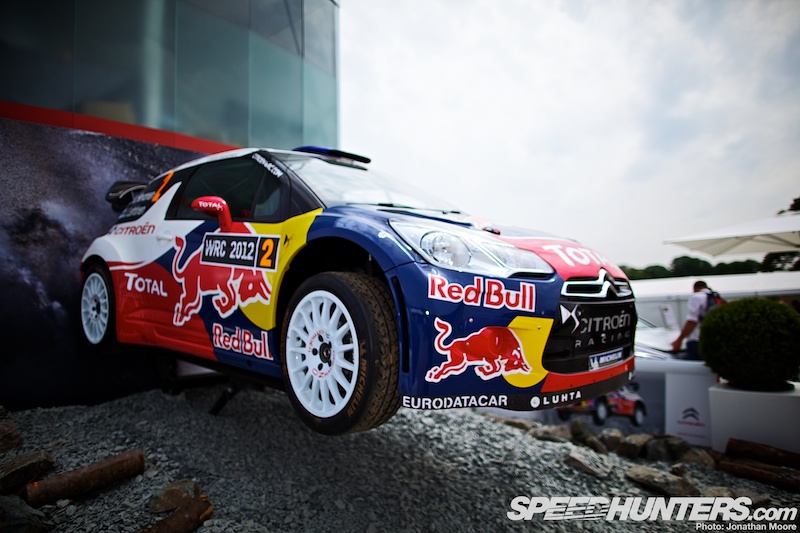 Citroën had a great display on their stand, with this DS3 WRC exploding out of the side of the building.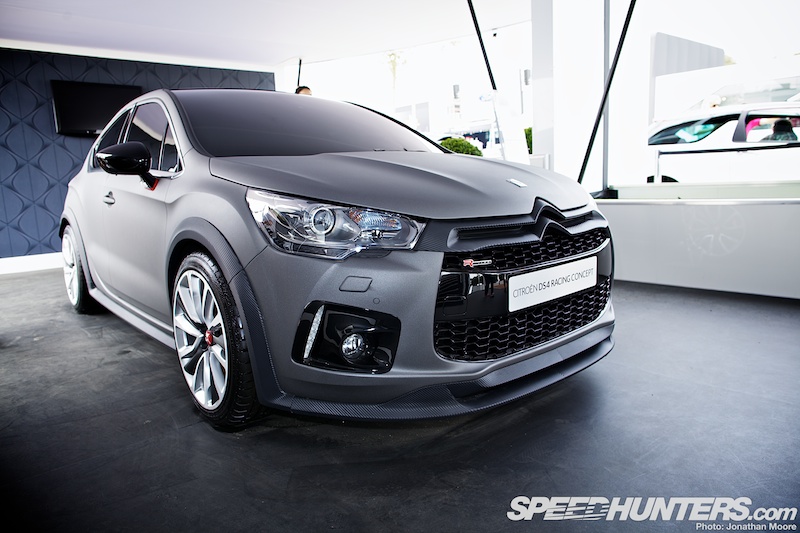 Inside, a sneak peak at a 256hp DS4 Racing Concept.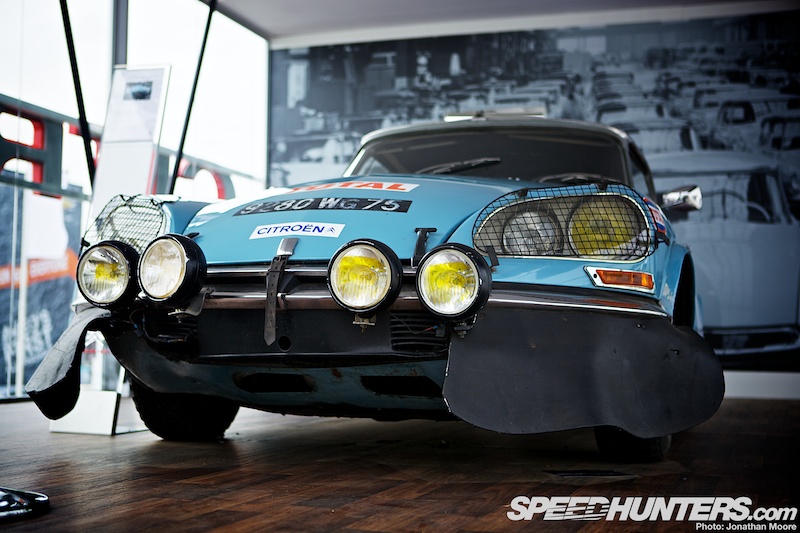 Upstairs was my favourite: a DS Group 5 Rally prototype from 1972. It was based on a shorted DS21 and took part in the '72 TAP Rally in Portugal. The rallying DS retained its hydropneumatic suspension, which must have made the rough Portuguese roads a breeze, and had a healthy 190hp on tap. I love the leather straps on the bonnet and the fish-like side guards.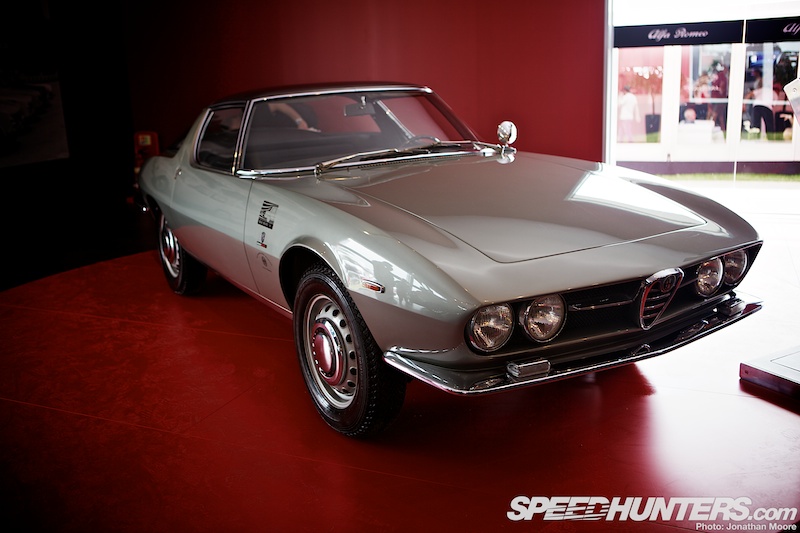 Alfa Romeo seem to be in virtual hibernation at moment, down to just two mainstream cars in the major European markets: the Guiletta and Mito. They brought out this svelte Bertone-desgined Giulia coupé (celebrating 50 years of the model) for a static display, and also ran a pair of racing Giulias up the hill (a 1750GT Am and GTA 1300 Junior).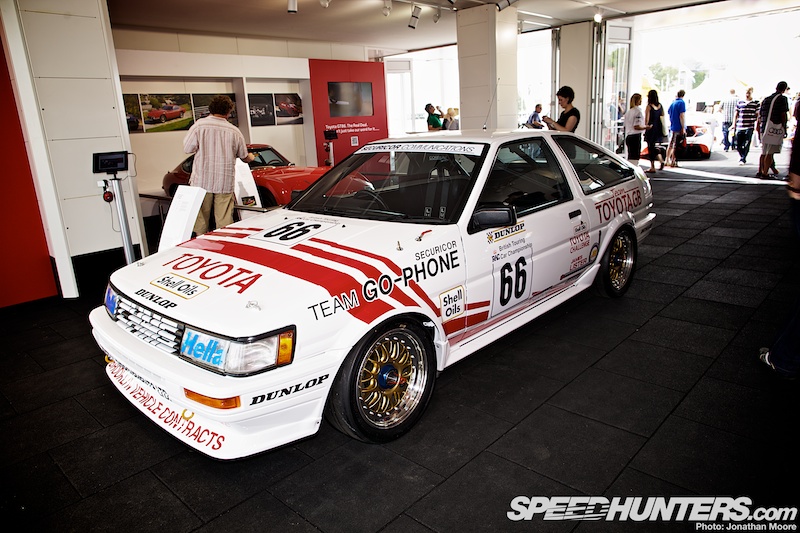 Toyota are really ramping up the excitement over the GT86, and reminding people of the long history of the name. This AE86 competed in the British Touring Car Championship in the mid-'80s, and was virtually unbeatable in its class. AE86s won the BTCC two years running in 1986 and 1987, whilst at the same time variants were also competing in national rallying.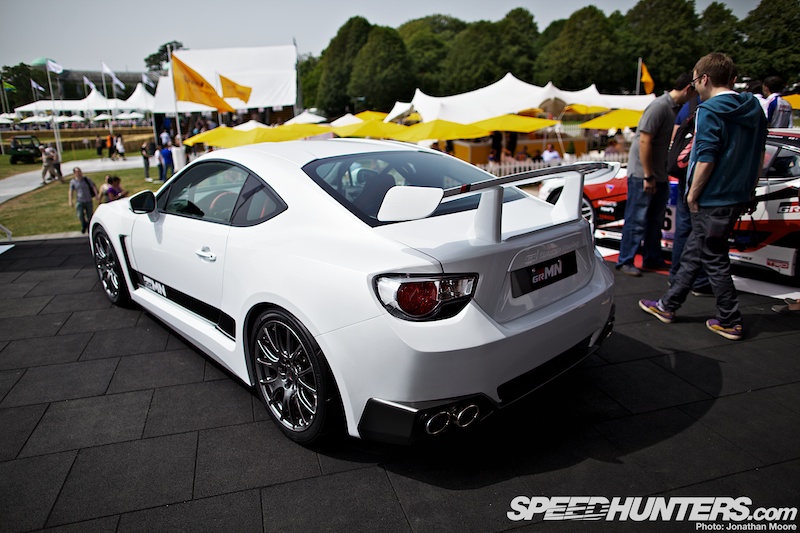 Nürburgring specialists Gazoo Racing were given pride of place on the Toyota stand to show off their Sports FR Concept version of the GT86.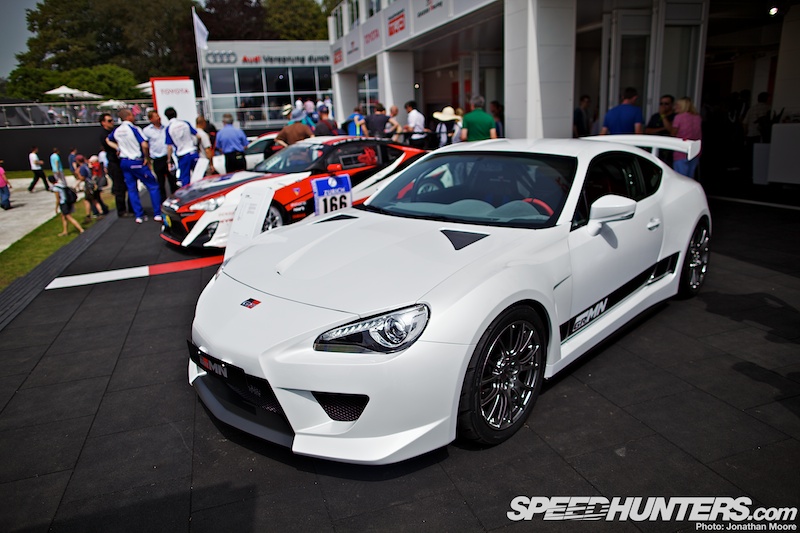 The FR has been equipped with a twin-charger system combining a turbo and supercharger to boost performance and provide consistent power delivery. Gazoo have also tuned the suspension and brakes, and bolted on a wide body kit to help deal with the increased power.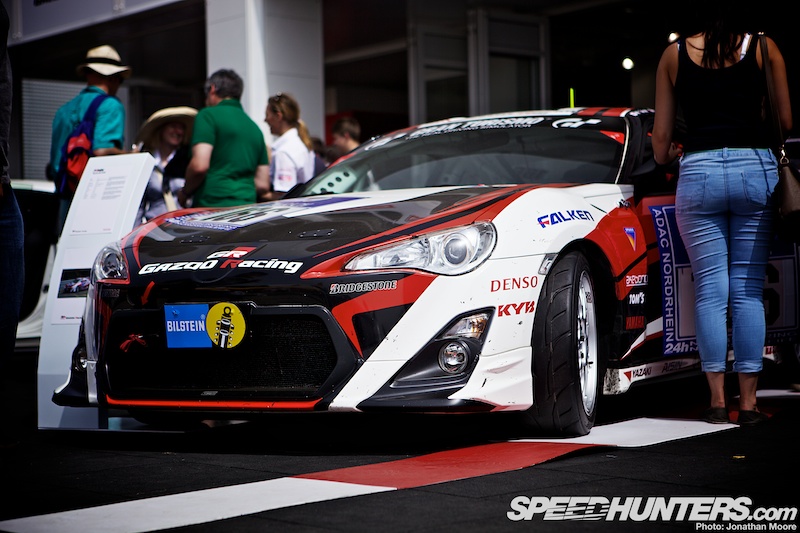 In its pearlescent white, the FR looked even more aggressive than the 86 that Gazoo ran in this year's Nürburgring 24 Hours!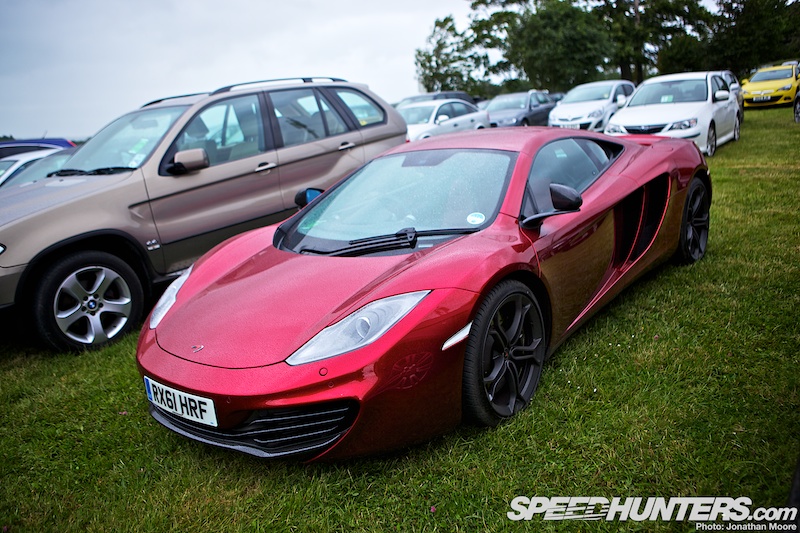 The VIP car park was also overflowing with more great cars – though they'd all had to negotiate a steep stony hill to get to the parking, which probably led to lots of sobbing supercar drivers by the time they got to the top. I don't think there's an MP4-12C rally version quite yet…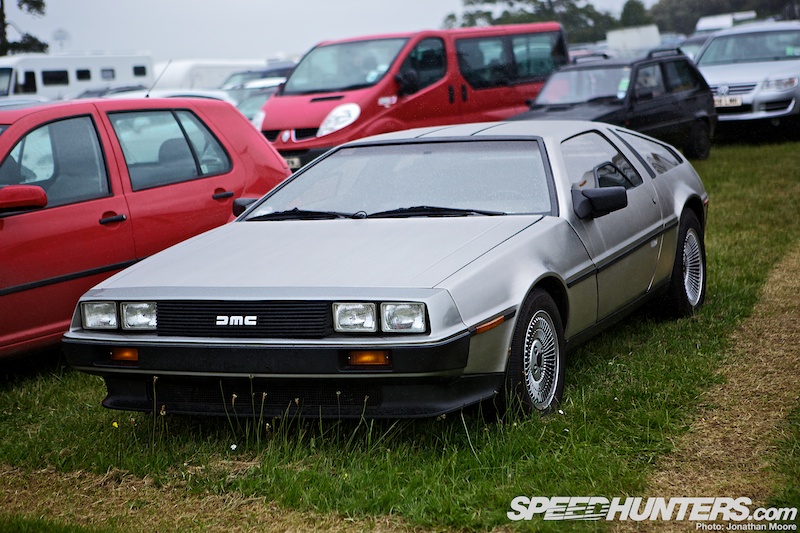 Luckily the DeLorean likely flew in…
Jonathan Moore
Speedhunters at the 2012 Goodwood Festival Of Speed
---
---
---