When does passion turn into obsession? There is a fine line between doing something for a bit of fun and devoting all your spare time to a particular hobby. When it comes to the Japanese time attack scene it's hard not to use Under Suzuki as the perfect example of this, a pharmacist by trade but a car builder and dedicated lap-time-hunter every second of free time he gets. Even Suzuki-san himself had no idea where his unrelenting obsession for speed would lead him and what an inspiration to so many enthusiasts out there he would become. He is synonymous with the Battle Evome time attack series, coincidently the same event that led me to come across this Garage Kagotani-built FD3S.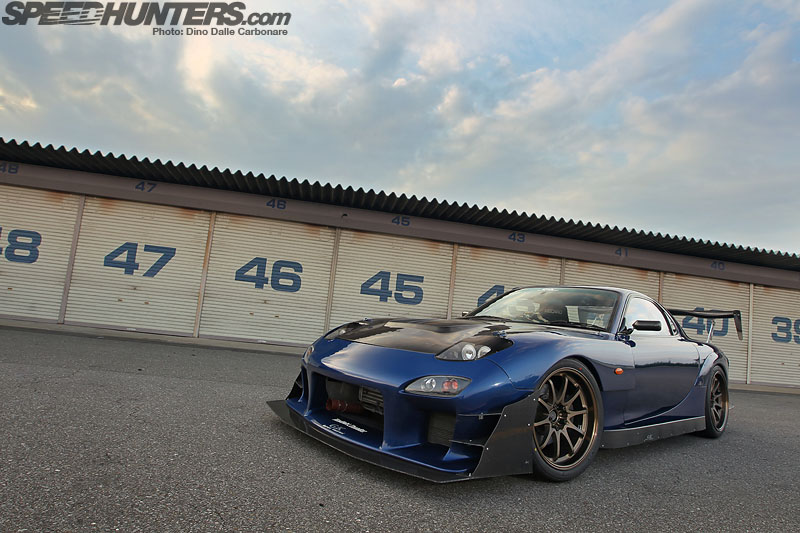 As we gear up for the 7's Day coverage I thought this amateur time-attack RX-7 would be another perfect rotary to look at, a complete opposite to the Revolution RX-8 we saw earlier on. There are no big budgets here, no prohibitively expensive custom-made dry carbon, only a great deal of passion and need to go faster which as you will see is pretty effective at pushing enthusiasts like Dr. Wada, the owner of this FD, to get closer to their goals. Dr. Wada, a surgeon, has always seen time at the track as a kind of downtime from the operating room, a way to unwind and do what he loves most. However it didn't take long for the time attack bug to hit and the modifying began. After seeing the FD in action I decided to meet up with Dr. Wada and Kagotani-san at Tsukuba…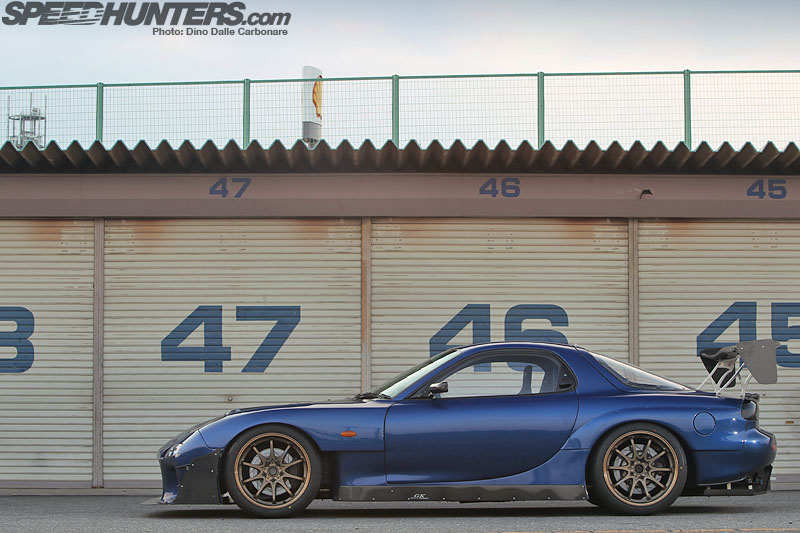 …to chat more about this car they have slowly developed over the years. It just so happens that this was also the shakedown test of the newly rebuilt engine, now sporting a bigger and more serious single turbo set up. Aesthetically the FD wears a ton of parts from the Garage Kagotani catalogue…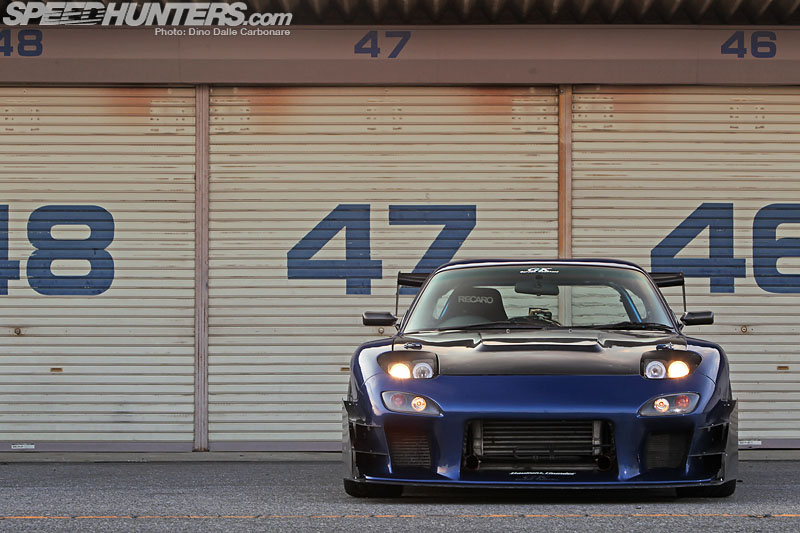 …starting off up front with the bumper, which features very large intakes to aid cooling. Carbon fiber canards and an underspoiler are much needed additions to help maximize front downforce, while to help shave weight off and give a more streamline look, the pop-up headlights were replaced with fixed RE-Amemiya units. Modifications continue with a Kagotani carbon fiber aero bonnet…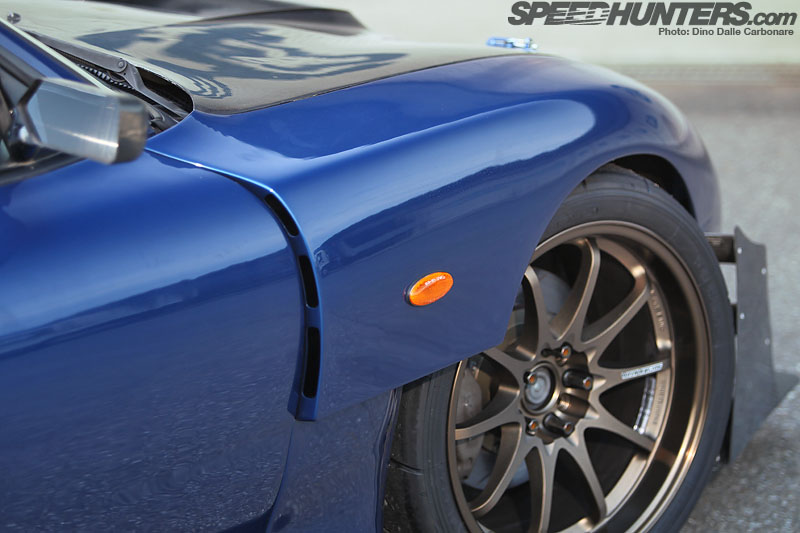 …and wider front fenders, which as we can see here just about manage to contain the Volk Racing CE28Ns.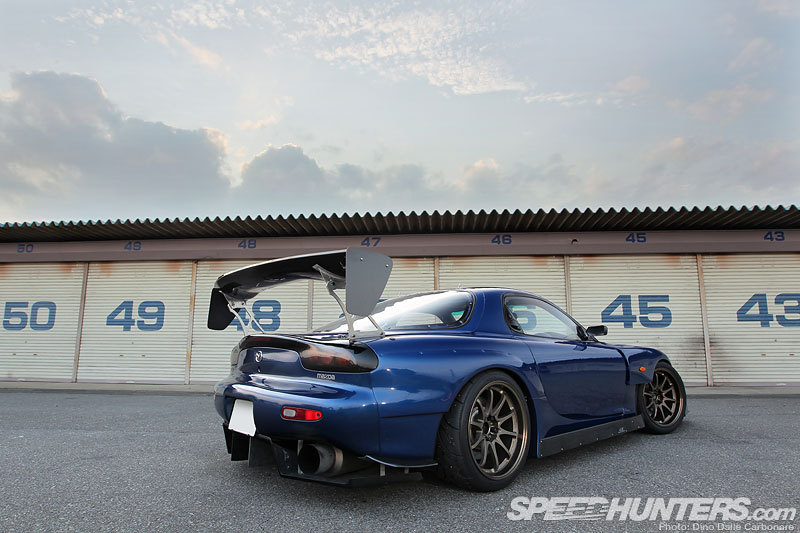 From the rear the FD rocks the unmistakable RE-Amemiya look, obtained thanks to the addition of the side skirts…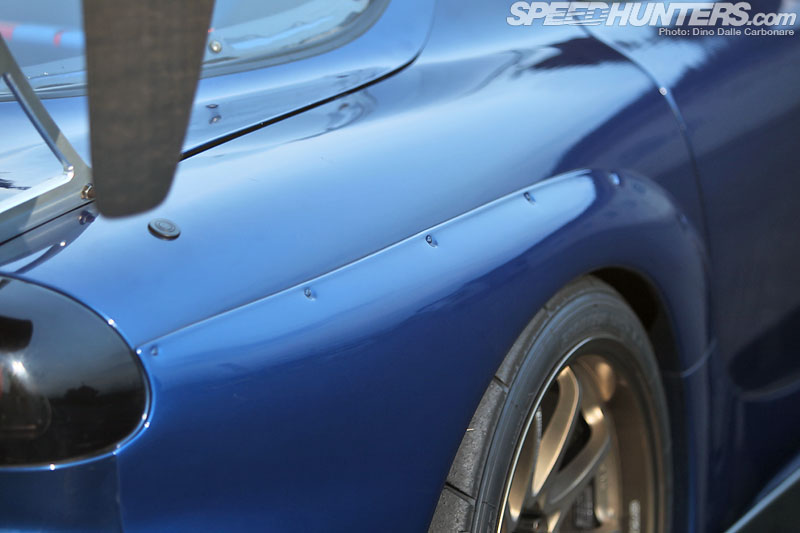 …and riveted-on over fenders. Kagotani added his own carbon aero skirts that are apparently functional at adding stability at higher speeds. More and more time attack cars in Japan are positioning wings as high as possible to boost rear downforce, the Kagotani carbon GT-wing…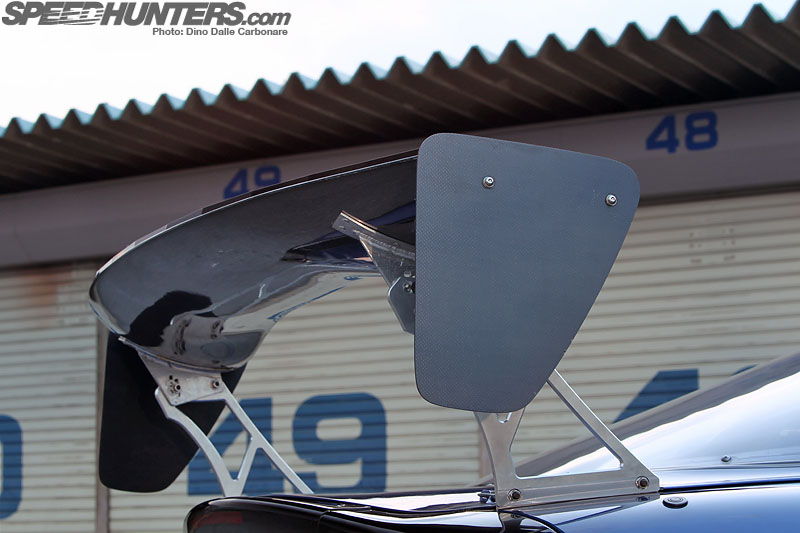 …on this FD is no different, set high on its aluminum and adjustable stays.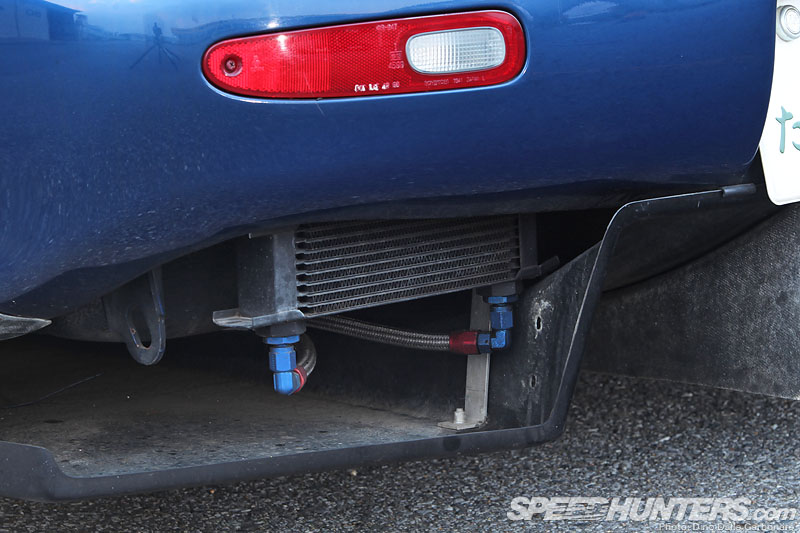 The Garage Kagotani diffuser helps to stabilize and further push down that rear end, helped along by custom side canards. There is also a transmission oil cooler fitted back there, taking advantage of the air passing in between the diffuser and the car.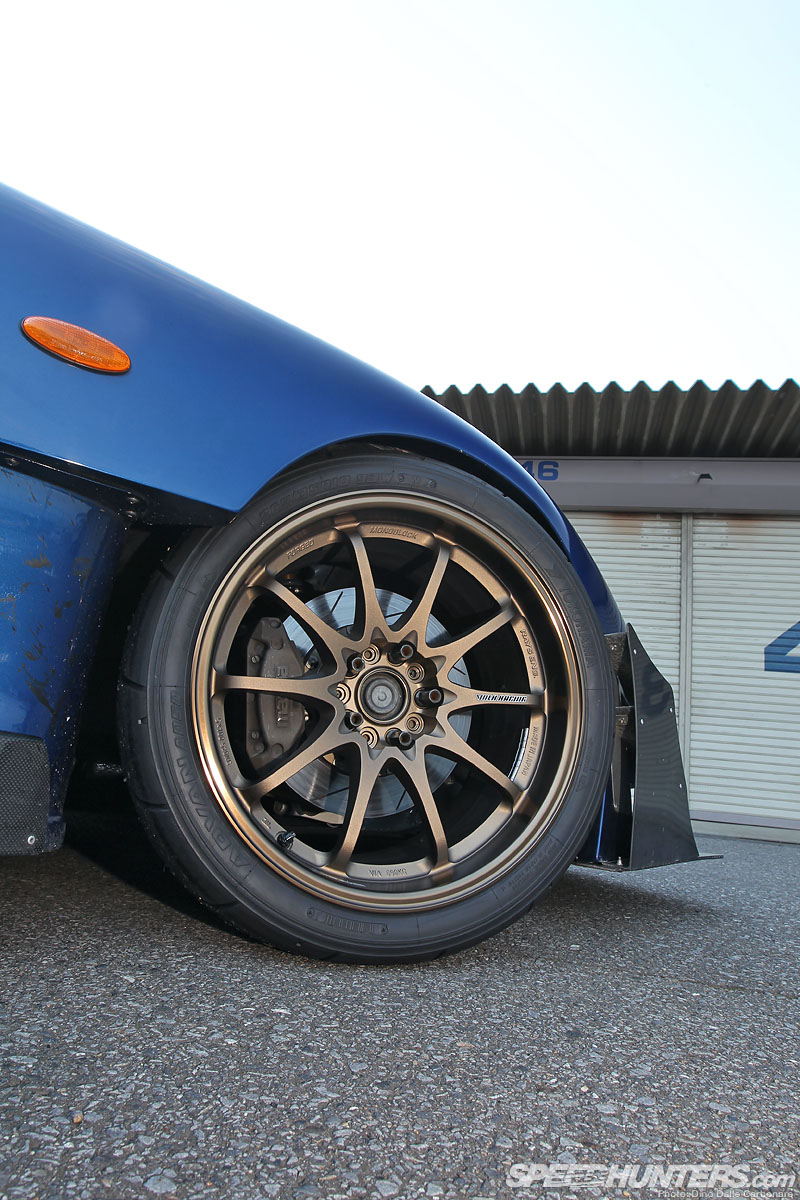 The Volk Racing CEE28Ns were chosen for their lightness and for the fact, that despite their age, they still look as cool and as functional as the day they were released! The matte bronze rims measure 9.5J across with an 18-inch diameter and run Yokohama Advan A050 in 265/35R18 all round. Seeing the car has shed substantial weight, the stock Mazda 4-pot front calipers have been able to keep up with the power and overall performance upgrades, but to make sure the braking is resistant to fade Rdd slotted rotors were added along with high-friction PFC pads. At the heart of any serious track car there is always a serious suspension set up, and here Aragosta Type-SS 3-way adjustable dampers take care of that. These top of the line dampers are mated to Hyperco springs, now running  a slightly softer rear rate, to allow for more squat under power in order to maximize grip when exiting corners.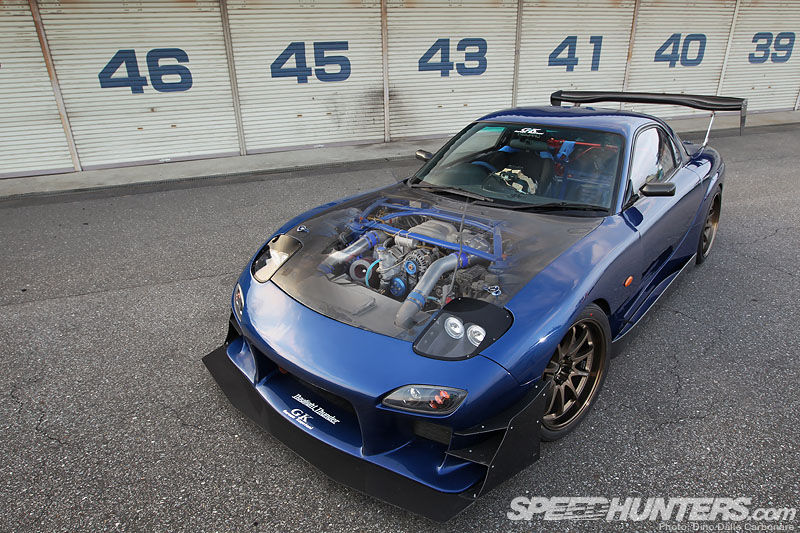 Prior to the last round of modifications Dr. Wada's FD was still running the stock twin turbo set up, perfectly fine for power levels up to and just over the 400 HP mark, but no good for anything substantially over that. With a goal of 500 HP…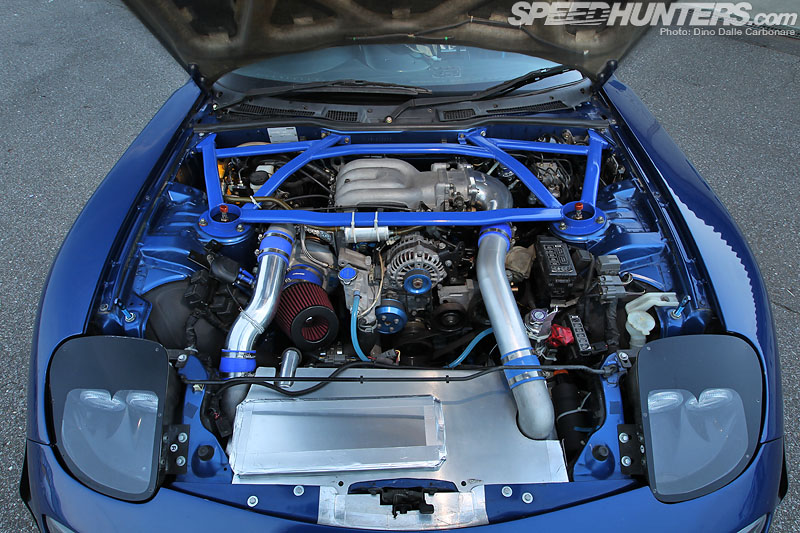 …Kagotani-san and Dr. Wada decided to mate the already side-ported 13B to a large single turbo, big enough to flow a suitable level of air for the agreed upon power-level, but still small enough to offer good response. It was decided…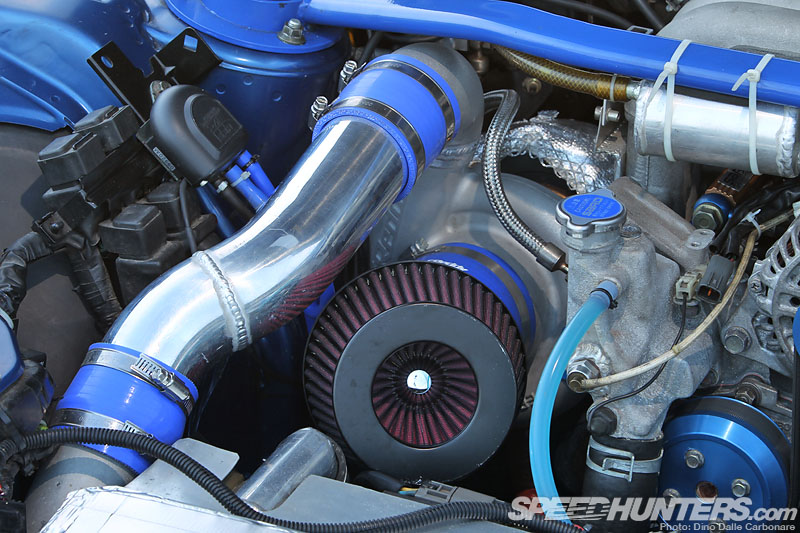 …that the Trust T78-33D would be a perfect choice, taking advantage of the 13B's strong exhaust pulses and able to flow enough air for 500 HP at just 1.1 bar of boost. The bigger turbo obviously called for more fuel, which is supplied by a pair of Sard 1000 cc/min primary injectors and an additional set of same sprayers for the secondary pair.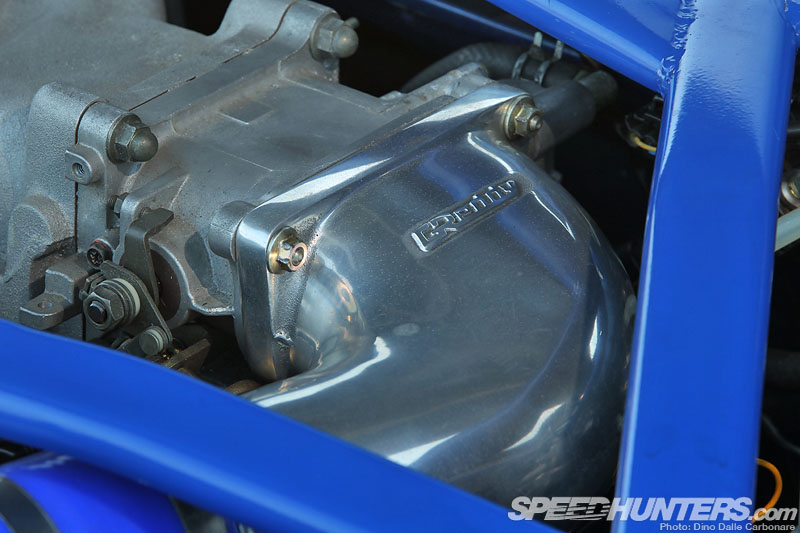 An HPI intercooler is plumbed in place thanks to some custom aluminum piping, which then connects onto the GReddy intake elbow, feeding the stock plenum with the cooled and compressed charge. Engine management is handled by an HKS F-Con V Pro piggyback ECU, mapped by Kagotani for optimal mid-range response.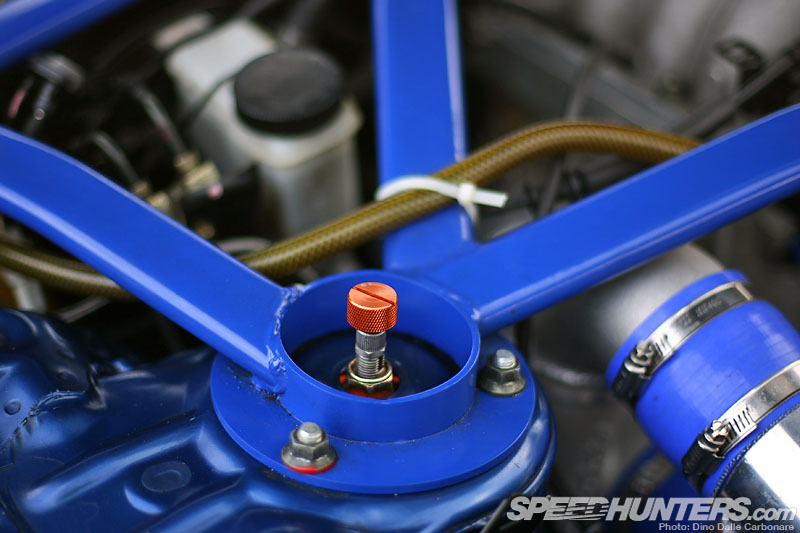 Here is one of the six bracing points of the complex AutoExe strut tower bar, which has been painted blue to sort of match the chassis. The rebound settings on the Aragosta dampers can be adjusted on top of the damper…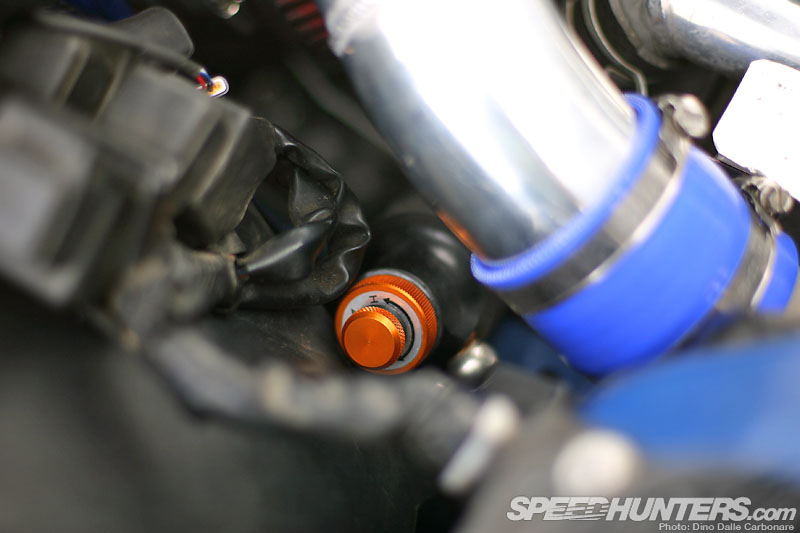 …while the low-speed and high-speed compressions via the two dials on the piggyback tank.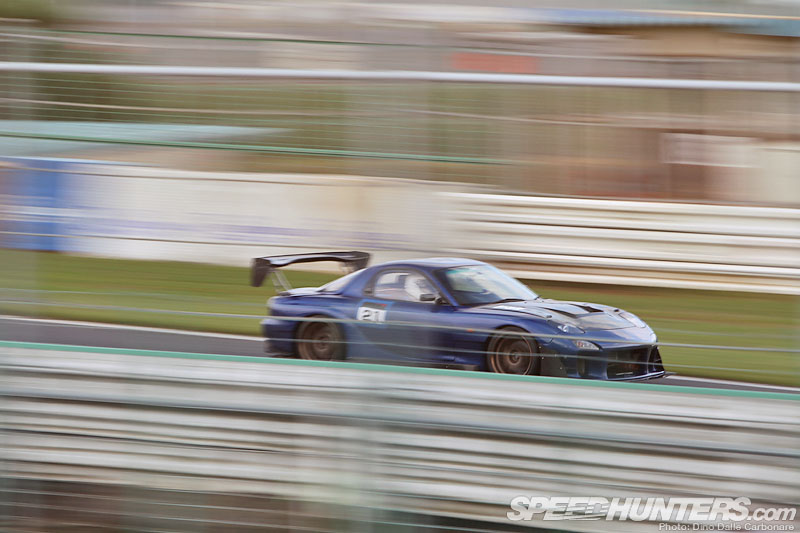 Dr. Wada was busy on the day getting used to the extra 100 or so horses that his FD was now generating and gradually dialing in the boost…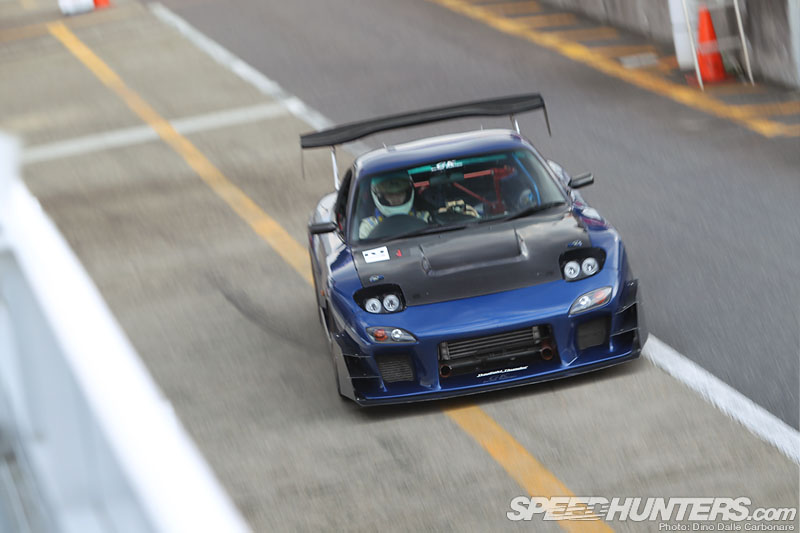 …not to mention fine tuning the suspension, that now not only had to cope with more power but different springs.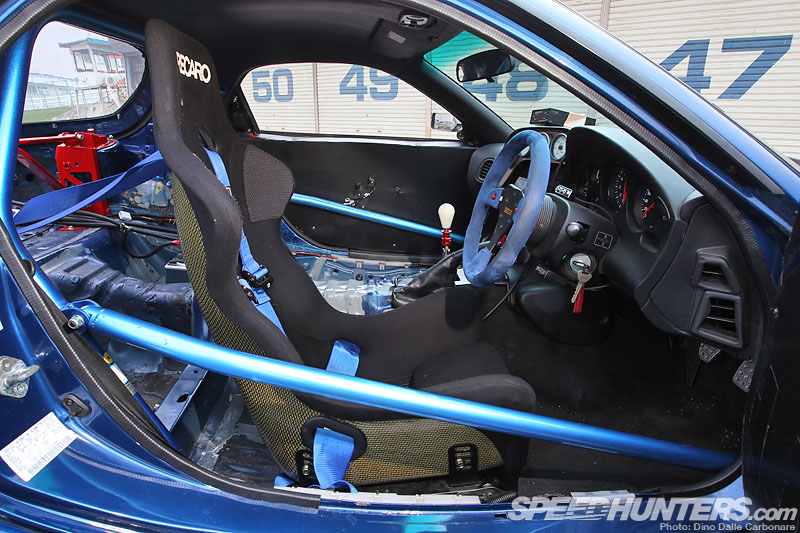 This FD hits the scales at 1,150 kg and to achieve this weight pretty much everything that wasn't needed in the interior was relegated to the trash. The 4-point Cusco bolt-in cage may not have the same effect of a dedicated custom-fabricated item, but it does the job, boosting torsional rigidity and in the case of an accident protecting Dr. Wada.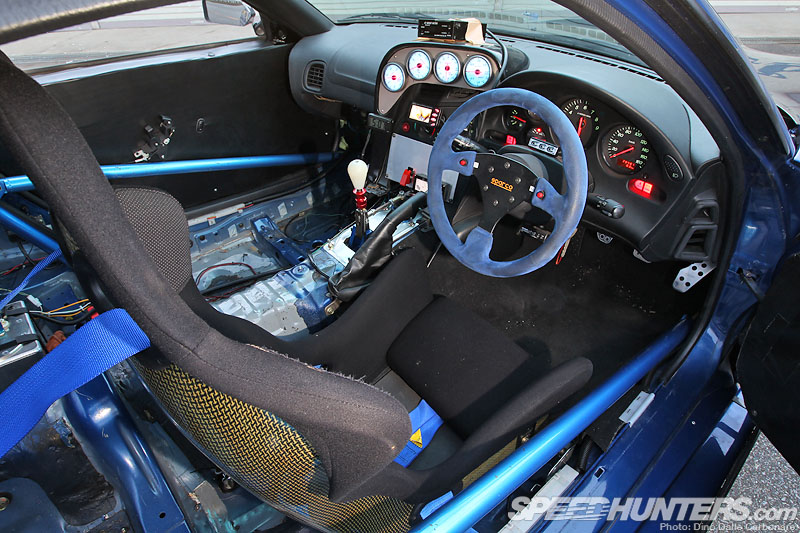 There is only one seat, a lightweight carbon-Kevlar Recaro SPG bucket fitted together with an OMP harnesses. Only the main section of the dashboard has been left in place…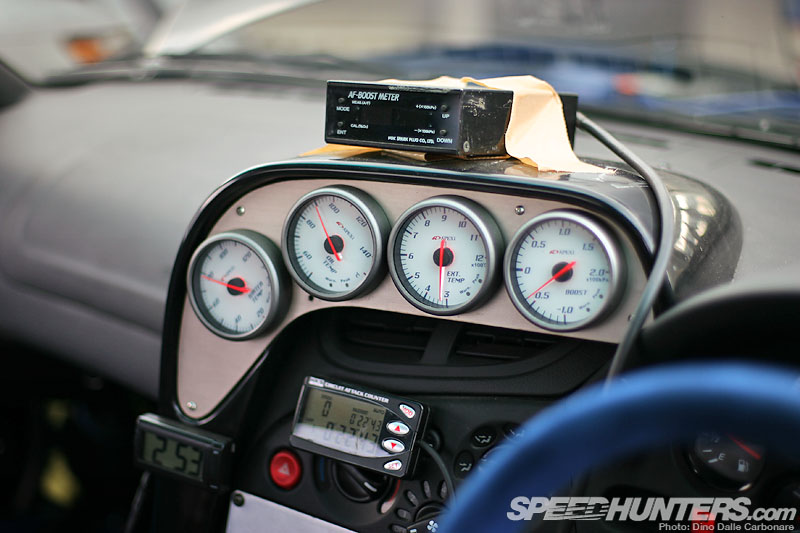 …joined by a set of Apexi gauges mourned in a carbon fiber instrument pod. There are plenty of gadgets to fiddle around with like the HKS lap timer and boost controller, not to mention the NGK A/F meter…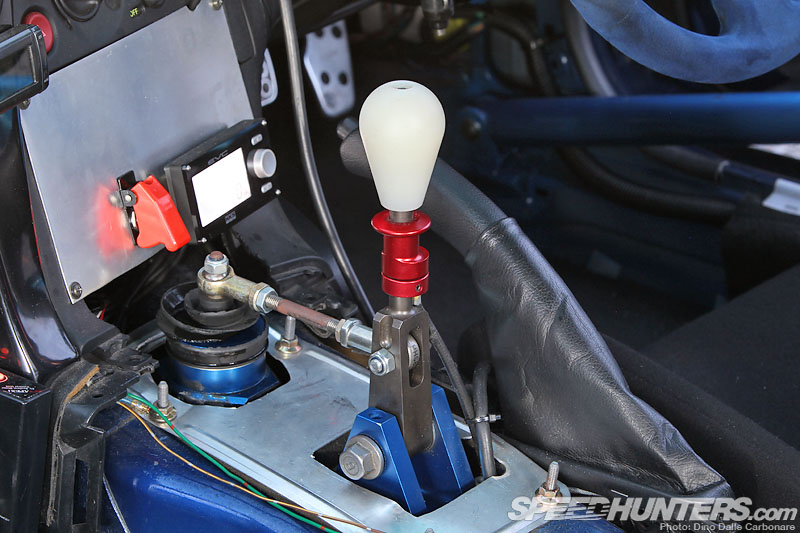 …but it's the shifter assembly that will instantly grab most people's attention. Fast and seemingly instant shifts are one of the most effective ways to shave time off a lap, and this is one area of the car that Dr. Wada didn't want to make any compromises over. That's way channeling the 500 HP to the rear Cusco RS LSD is a 6-speed Quaife sequential transmission mated to a twin plate Exedy clutch and supplying very reassuring mechanical clunks at each pull of that custom lever. Nothing gets you more respect at a soukoukai event than running a sequential 'box!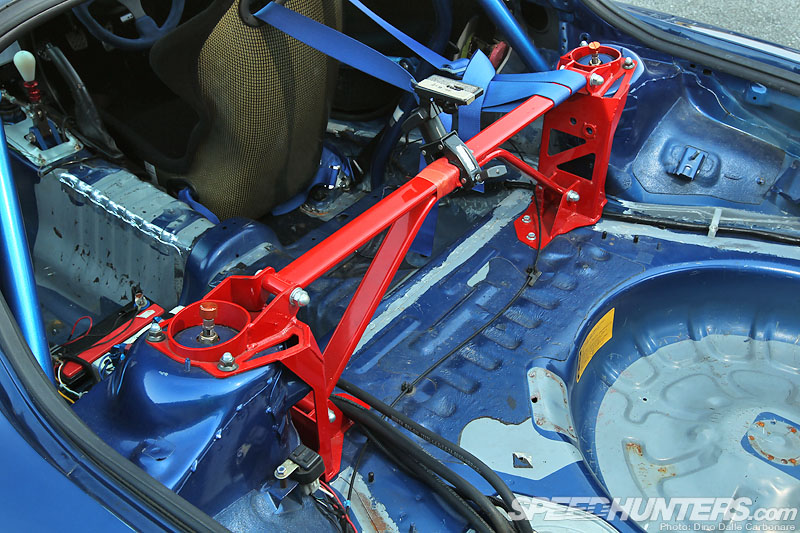 Again from AutoExe is the rather complex looking rear strut tower bar, which doubles up as a chassis brace helping stiffen up that particular area of the shell.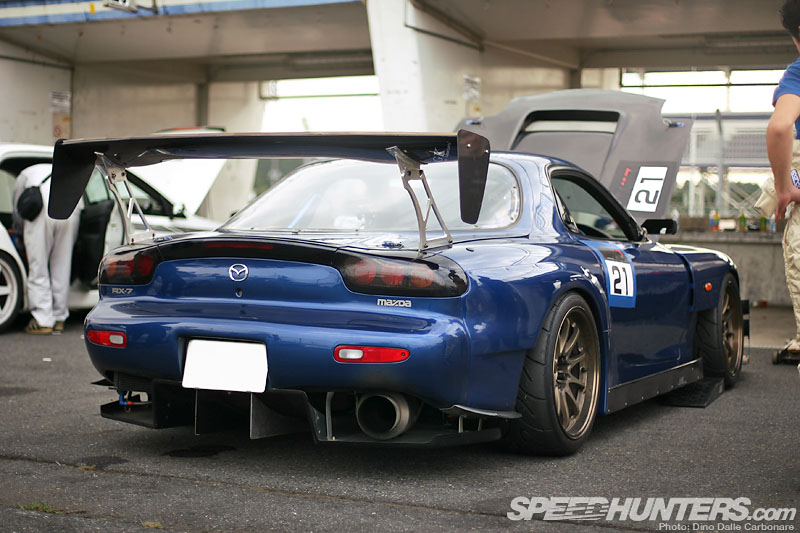 With the car having already dipped under the all-important 1-minute barrier at Tsukuba…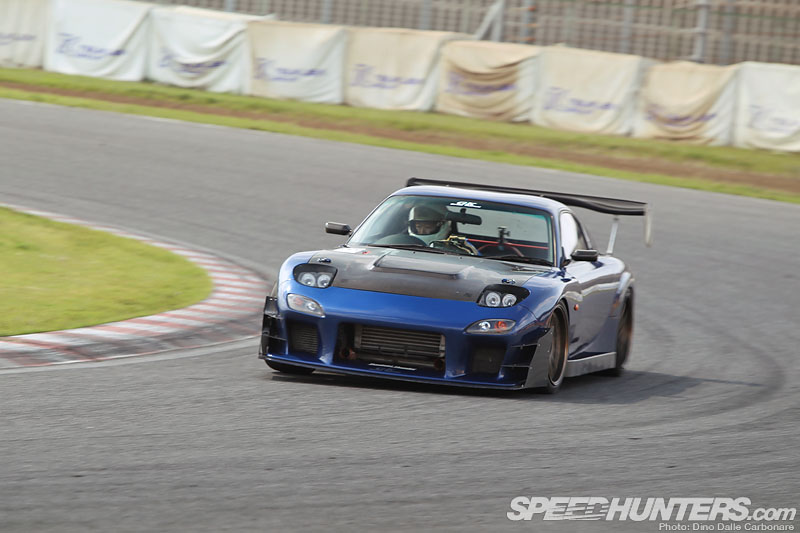 …Dr. Wada, seen here tackling turn one, hopes to eventually make it into the 57-sec, something that will be more than possible once the suspension is set up properly.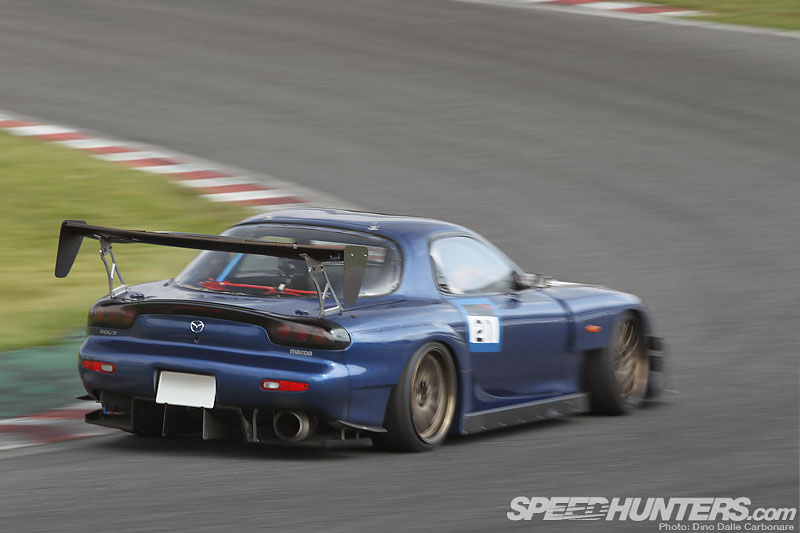 I'm sure we will be seeing a lot more of Dr. Wada at the next Battle Evome soukoukai this coming winter, and if he does manage to hit that 57-sec lap you can bet we will be there to see it!
Are we getting pumped for 7's Day yet? Wanna see more JDM rotary goodness?
-Dino Dalle Carbonare