Seeing a Ferrari F40 is pretty much a dream come true for most car fans. You might catch a glimpse of one driving through a big city, or perhaps at a race weekend. The F40 is such an epic car that it's hard for your heart not to race at the sight of one. I've felt it – certainly Dino has as well, and I'm sure most of you out there feel the same way. The F40 is an iconic car: a racer for the road. One car to rule them all.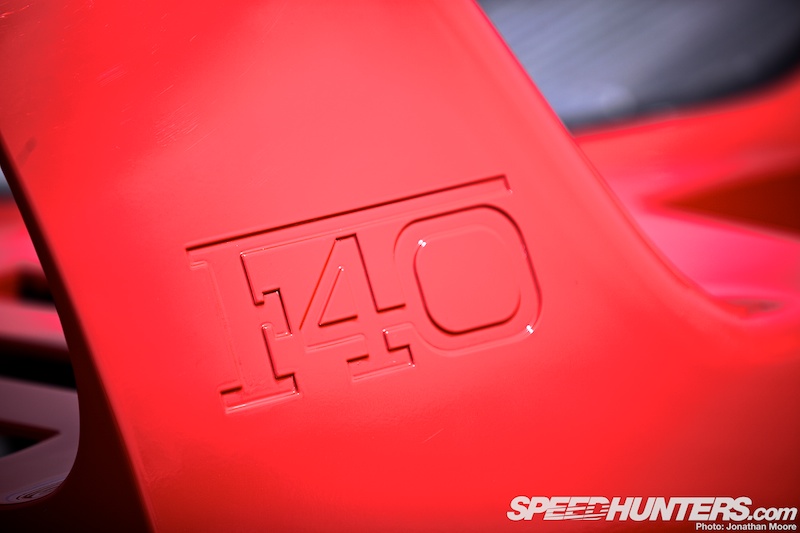 The F40 was the world's first road-legal car capable of 200mph when it went into production in 1987. It was Enzo Ferrari's legacy to the automotive world and is still considered one of the finest supercars ever made.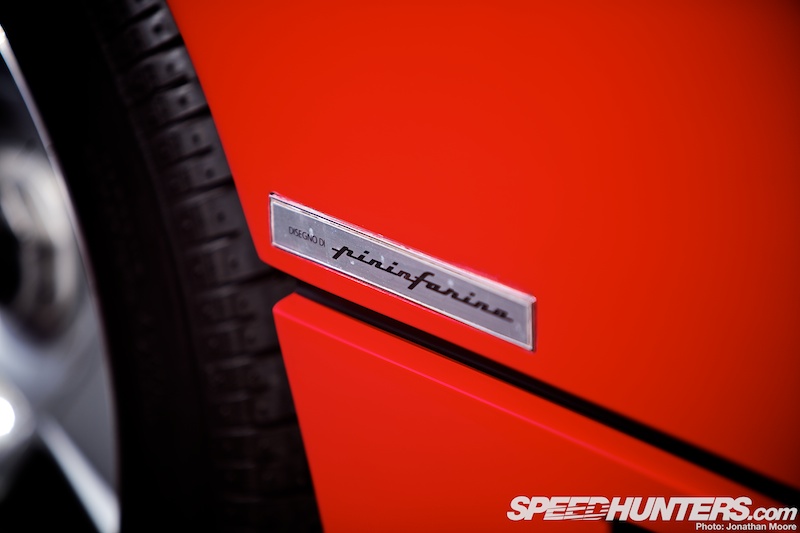 With an ultra-lightweight body designed by Italian design house Pininfarina and a twin-turbocharged V8 producing 478hp even in stock form, performance was incredible. Its classic styling is timeless and stunning, putting most modern hypercars to shame.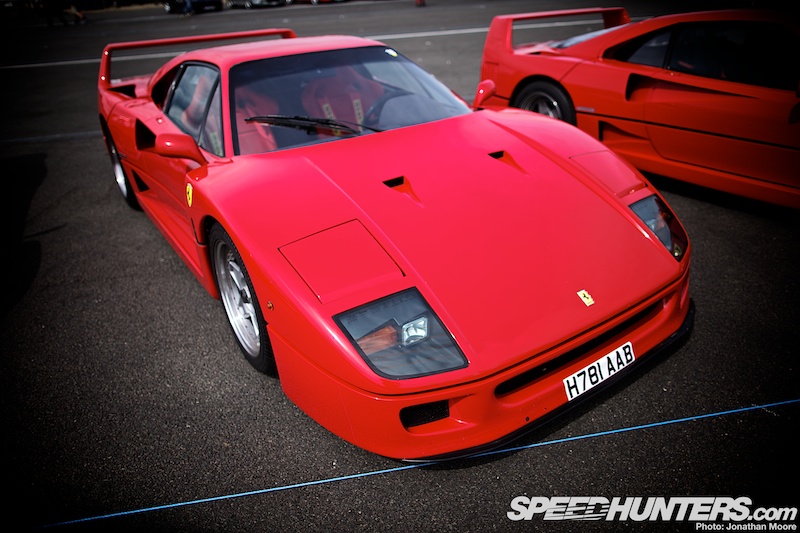 So how about when you see two F40s? Possibly at a car club meet or a specialist show. In that situation you might even see three or four if you're lucky, like at the Auto Italia show in the UK back in May this year.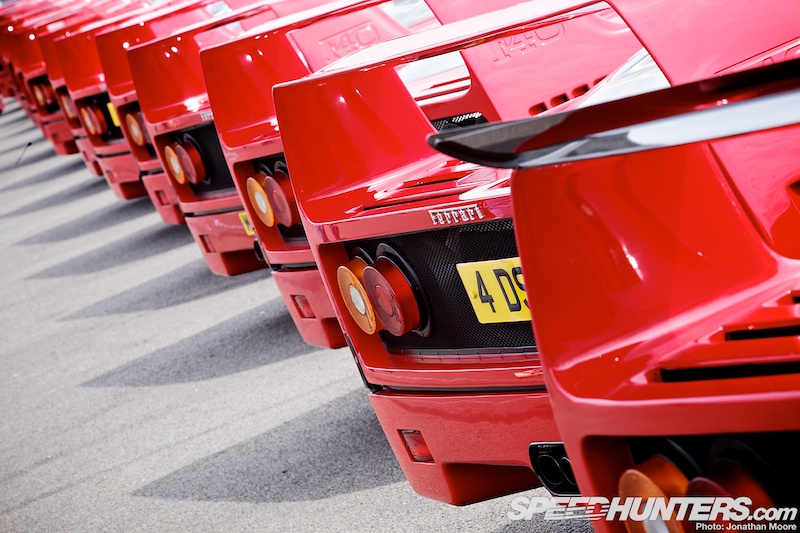 So how about sixty. Yes. Sixty.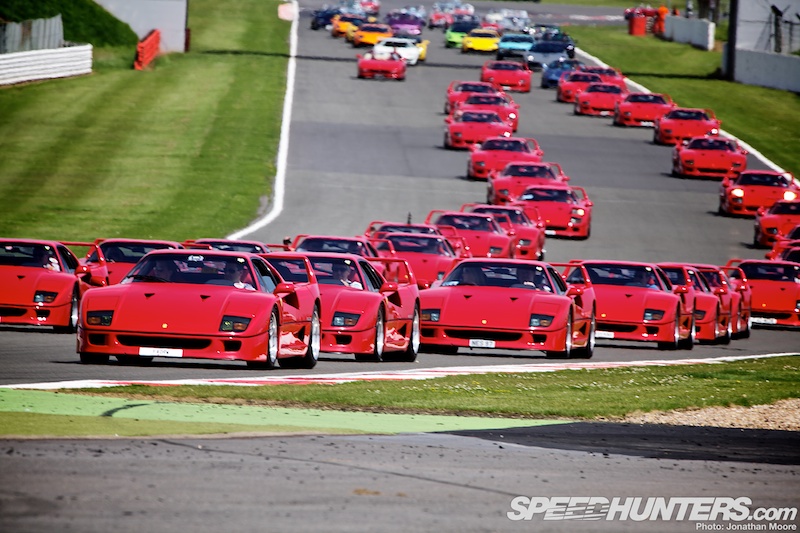 Sixty F40s. Driving straight at you in two-by-two formation in a line that stretched as far you could see, all the way down Silverstone's long Hangar Straight.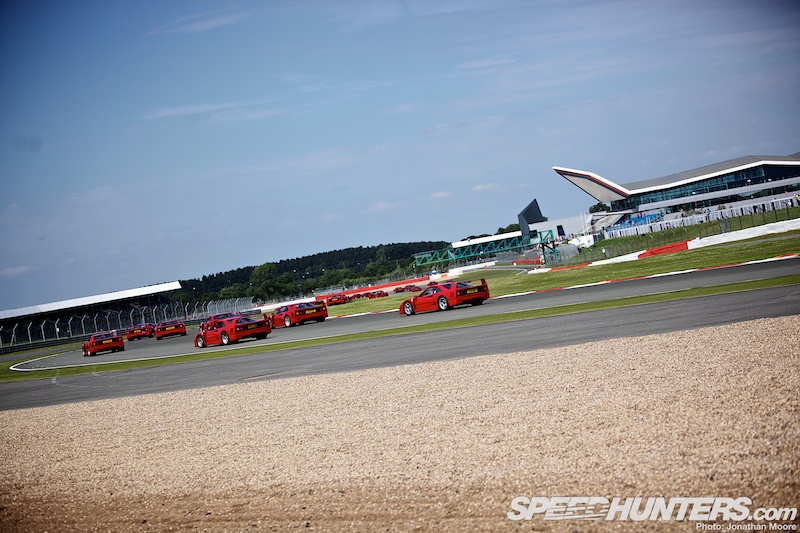 This mind-altering display was part of a successful attempt at the world record number of Ferrari F40s gathered in one place, held as part of the Silverstone Classic motor-racing festival.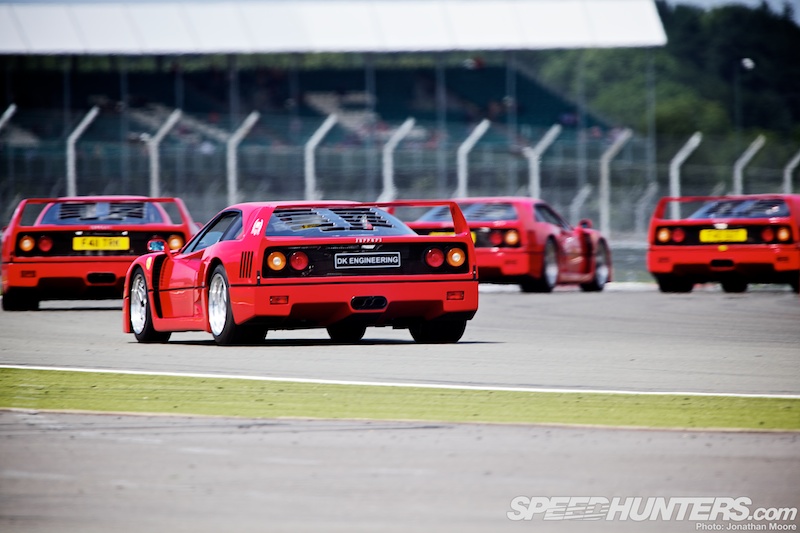 Almost one in 20 of all the F40s built were part of this scarlet demonstration, the largest collection of F40s seen anywhere in the world.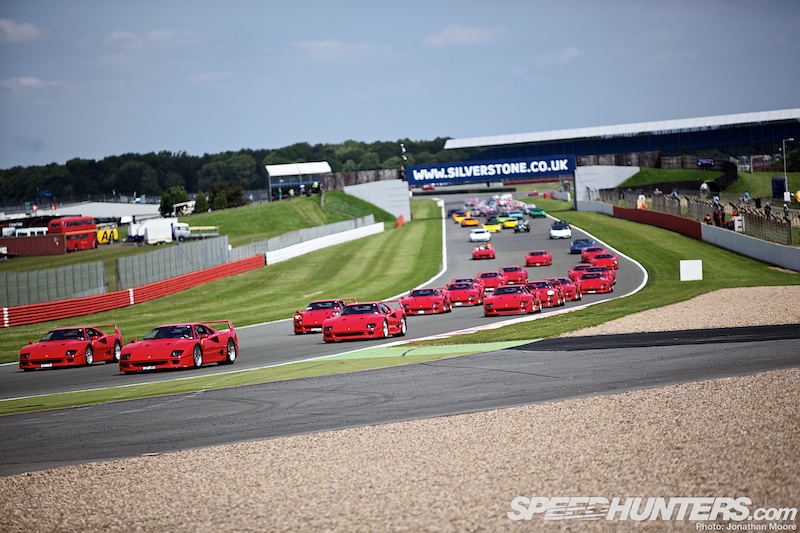 The sixty F40s headed up another 400 cars paraded by numerous other clubs: Lamborghini, Lotus Elans, TVRs, Morgans, Mercedes-Benz and MGBs followed in their wake. They were great, of course… But my head was still trying to compute the F40s. It couldn't. It still can't. Along with the fans at the fences we were all looking on in a combination of disbelief and giddy excitement.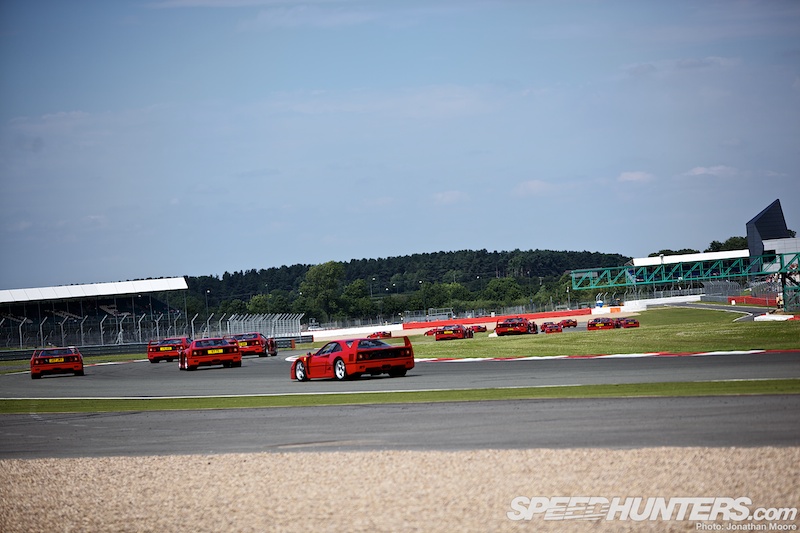 Cars had driven in from across Europe to be part of the event, organised by the Ferrari Owners' Club Of Great Britain. Ferrari's first Formula 1 victory was achieved at Silverstone back in 1951, perfectly complemented by a victory 50 years later for Fernando Alonso's Ferrari in 2011. With plenty of victories scored in the intervening years the track provided a perfect location for the assembly.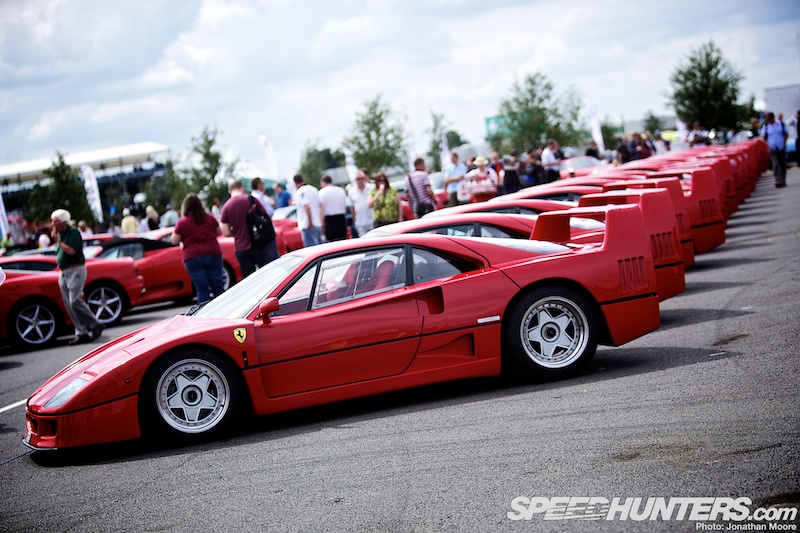 As a taster to the parade lap around the Silverstone Grand Prix track, a dozen F40s were lined up in herringbone formation within the Ferrari Owners' Club corral on the in-field of the track.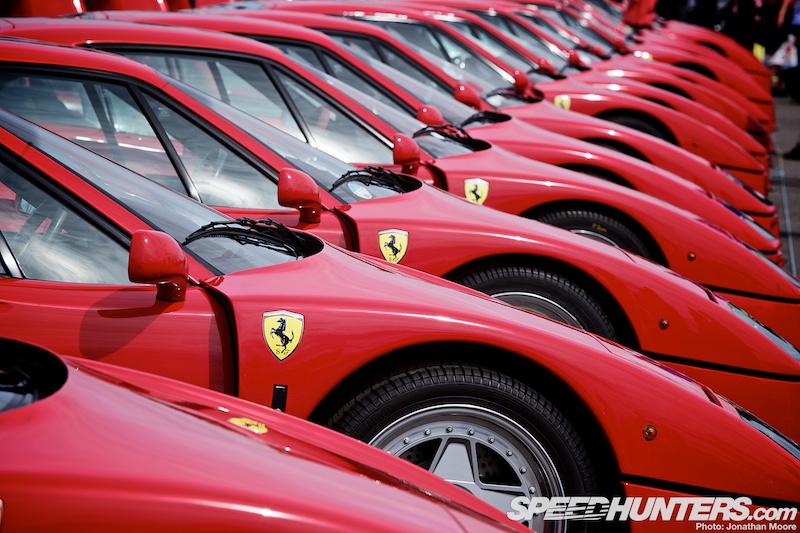 Prior to the weekend, 70 owners had put their names down for the parade – which in no way should sound like 60 was a disappointment!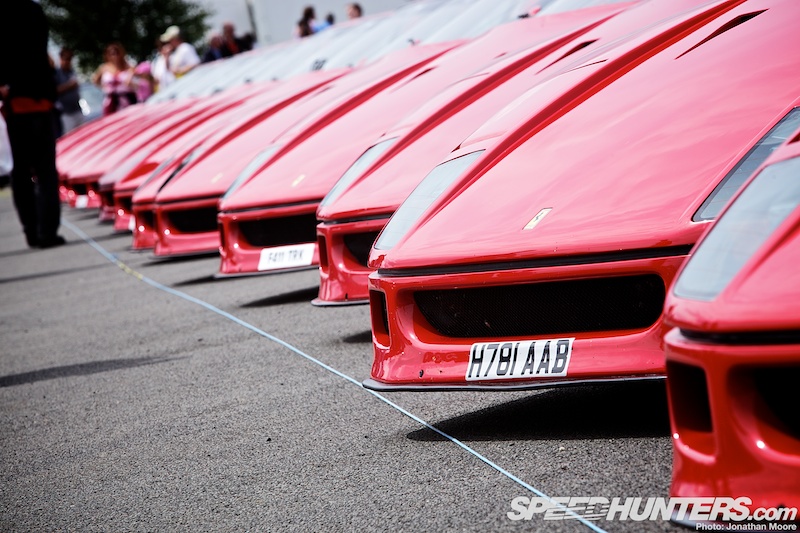 40 had turned out for a similar attempt in 2007 at Silverstone, and 25 were initially signed up for 2012 – which still would have been impressive. More owners added their cars to the list as the Silverstone Classic date approached, with 60 eventually taking part on the day.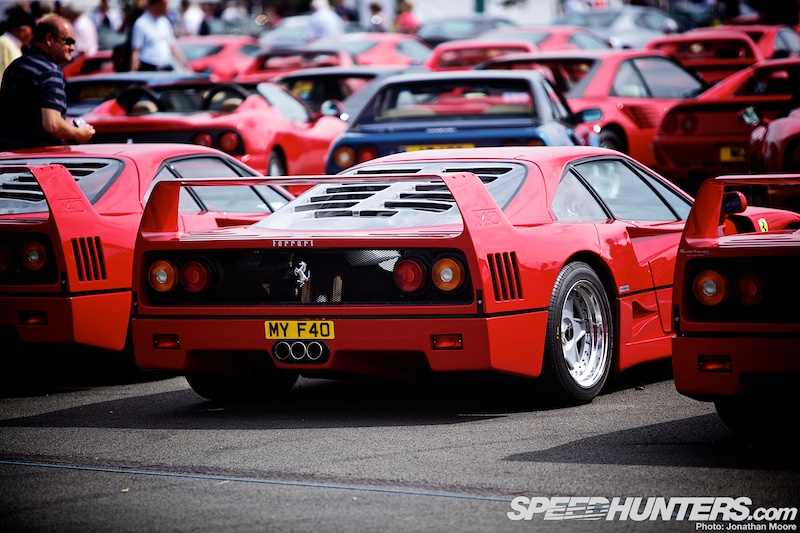 It's not often you can say that you'd ignore the ranks of other iconic Ferrari models parked up in lines in front of the F40s, but confronted with this immaculate line-up it was impossible to do anything but stand and stare. As we all did.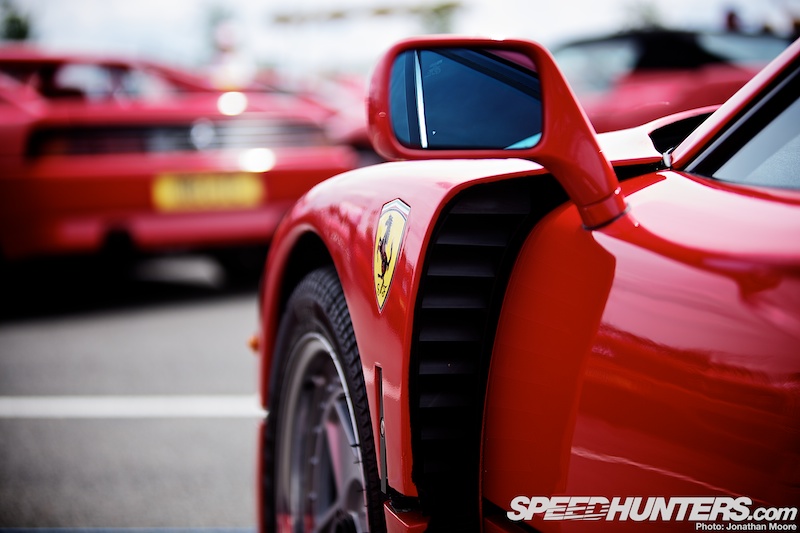 Underneath might be all high-tech carbon-fibre and Kevlar, but it's the exterior of the F40 that captivates.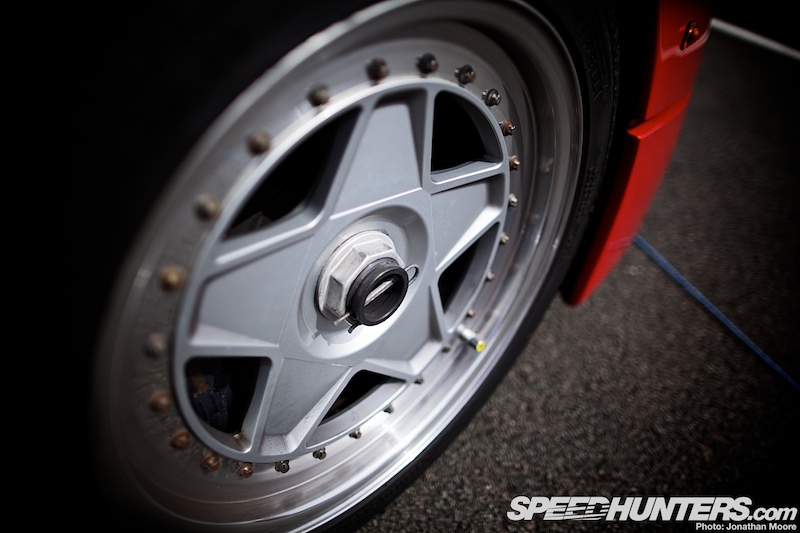 Everything about an F40 oozes grace and style.The standard wheels have a classic, almost 60s simplicity to them, the central-nut with retaining pin the only thing to give away their modern racing-derived purpose.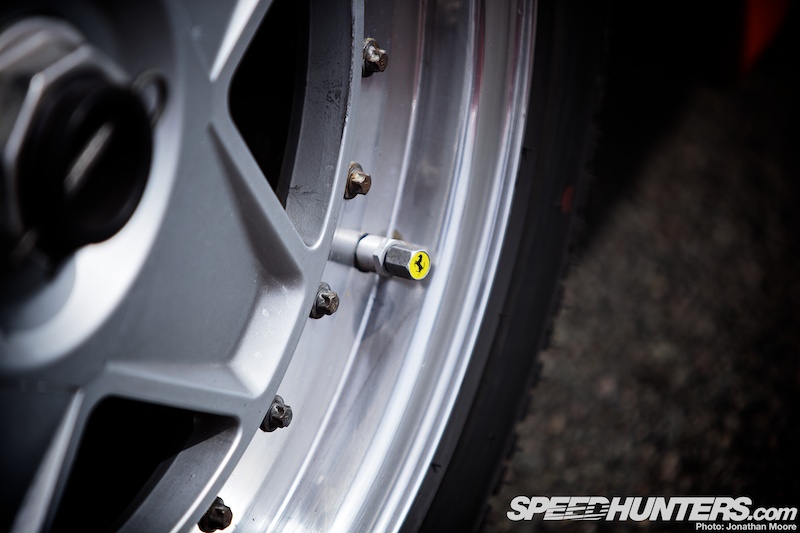 The big Prancing Horse stickers on the sides of the nose are matched by smaller, more delicate examples on the valve-caps.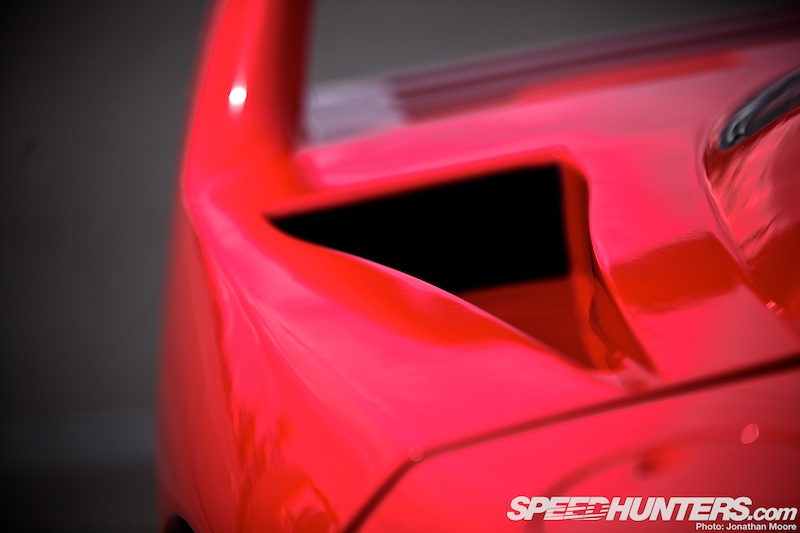 That racing heritage of the F40 is visible in every part of the car, covered as it is with big NACA ducts…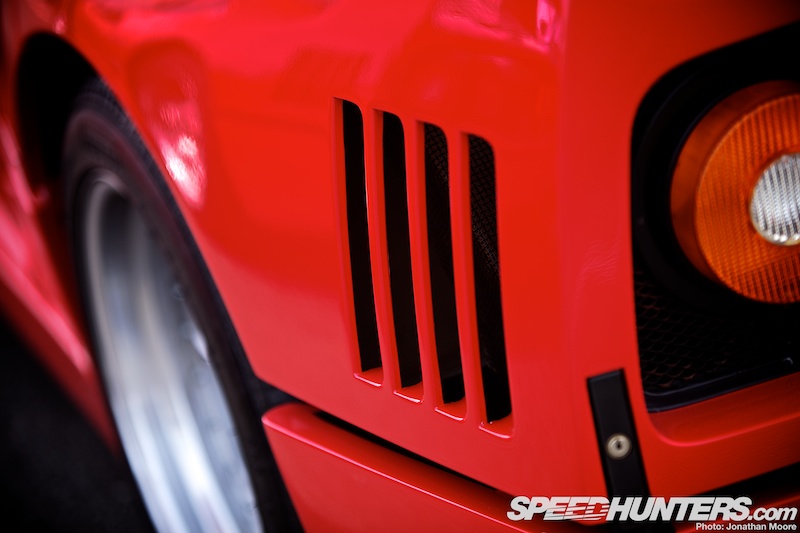 …vents and those enormous covers of single-piece bodywork.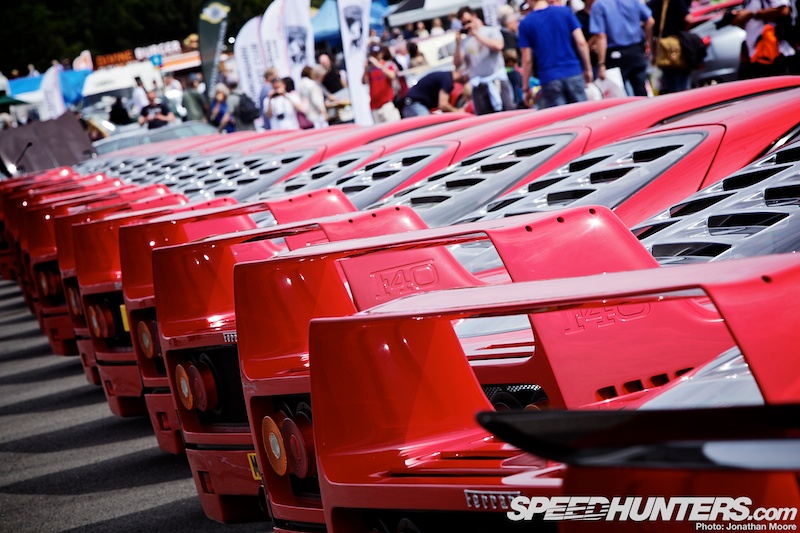 Then of course there's the rear wing. Again, simple and unfussy, but brutally effective in tune with the under-body aero and internal air ducting.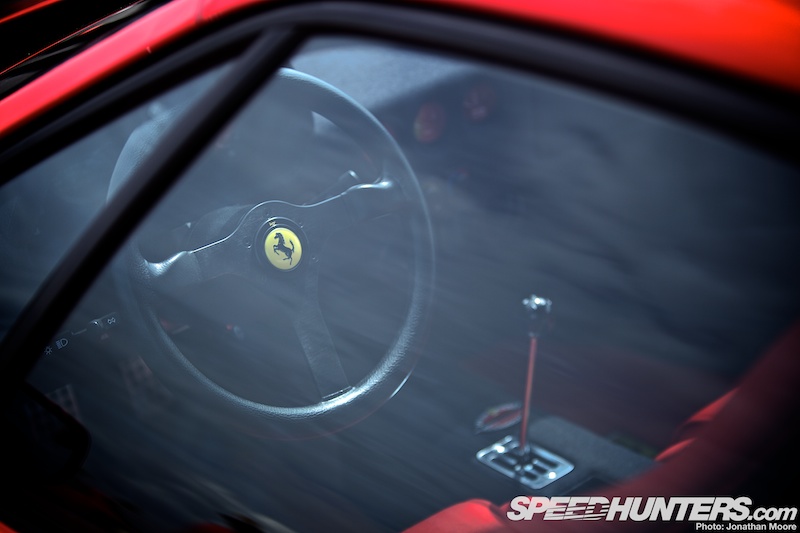 Inside the cockpit the spartan interior wraps the driver up in a protective racing seat. Again, nothing superfluous is added: a basic steering wheel, a dogleg 'box with a seemingly incredibly long throw and a set of pedals. What else would be required?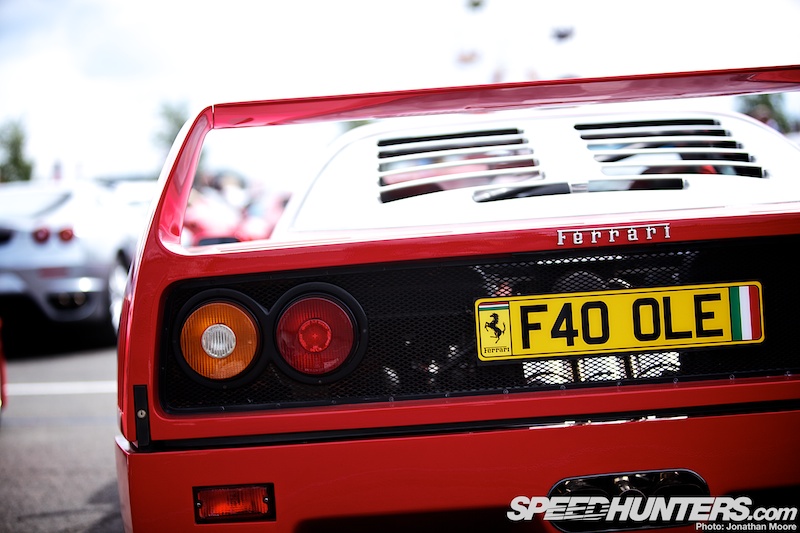 Under the plastic window and behind the mesh is the heart of the F40: the mid-mounted 2.9-litre twin-turbo V8.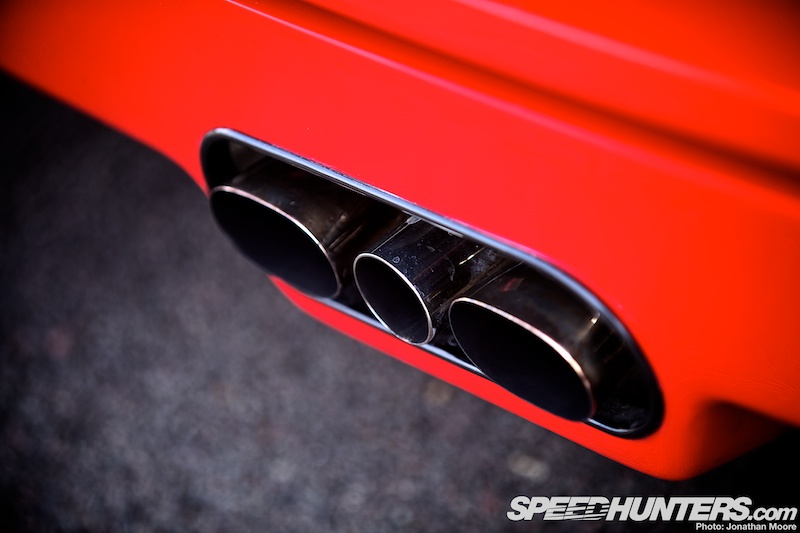 The centrally-mounted triple exhausts connect back to the twin banks of the V8 and the turbo wastegate.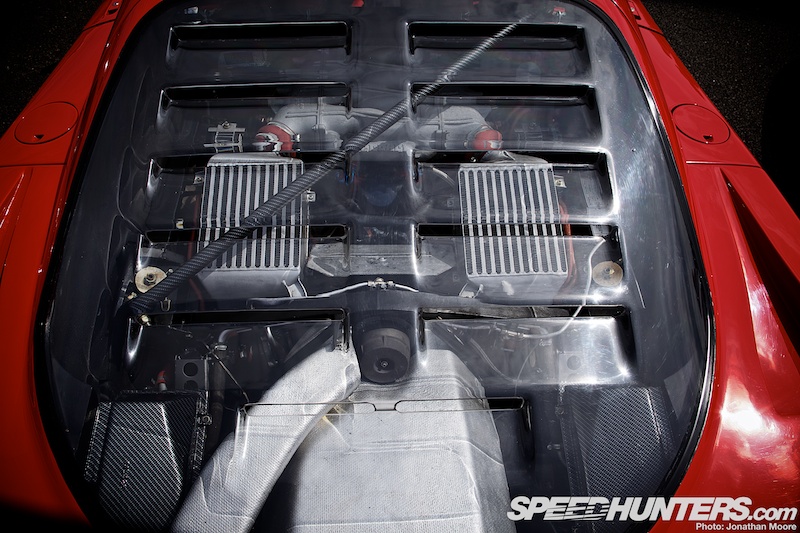 Modifications are rare, and even then normally done with sensitivity. The F40's reputation is such that it's really not a car to mess with. Under-the-hood power hikes are more typical, though hardly essential given what's on tap as standard.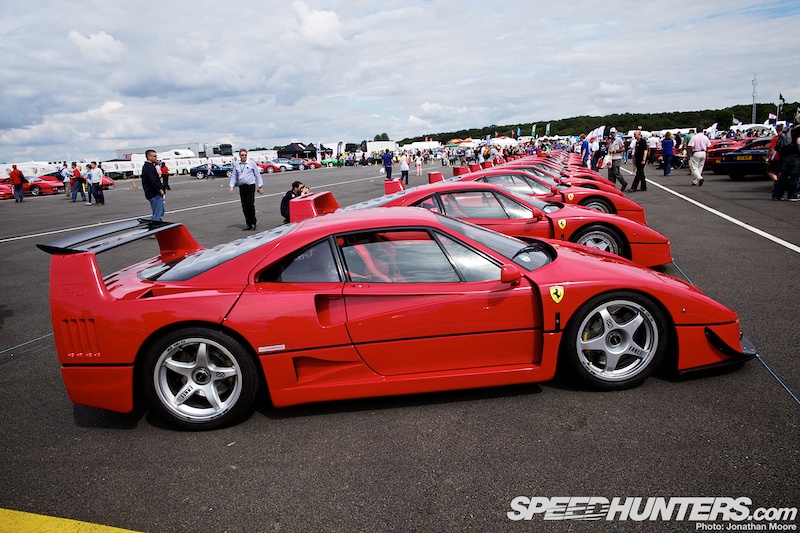 I saw just a single F40 with minor body tweaks, hinting at the LM racing version: a carbon front splitter and dive planes, with an adjustable carbon wing at the rear.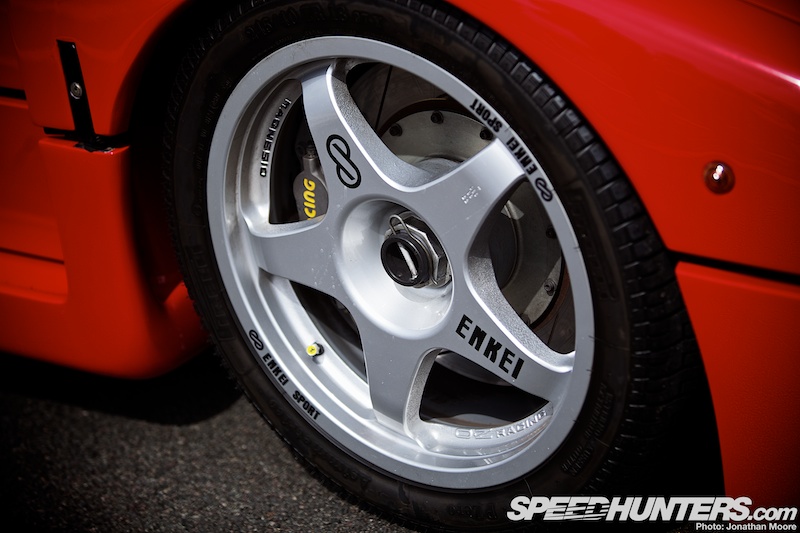 This one also featured Enkei Sport magnesium rims to shroud its AP Racing callipers.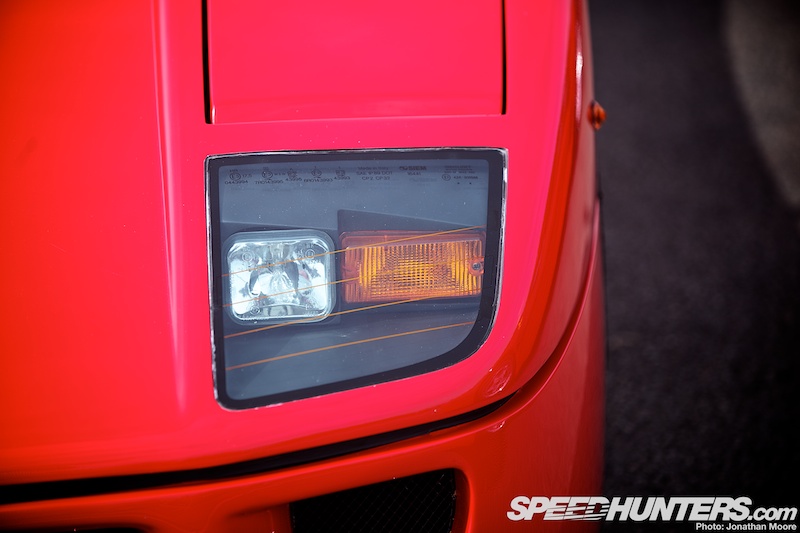 One or two other featured the one-piece LM headlight clusters, having removed the secondary flip-ups; the vast majority retained their original dual lamp set-up.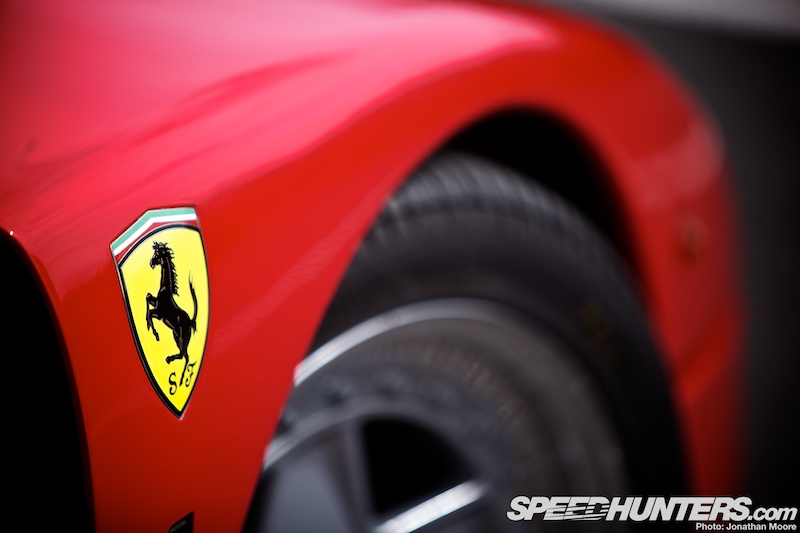 And all, without exception, were Rosso Corsa.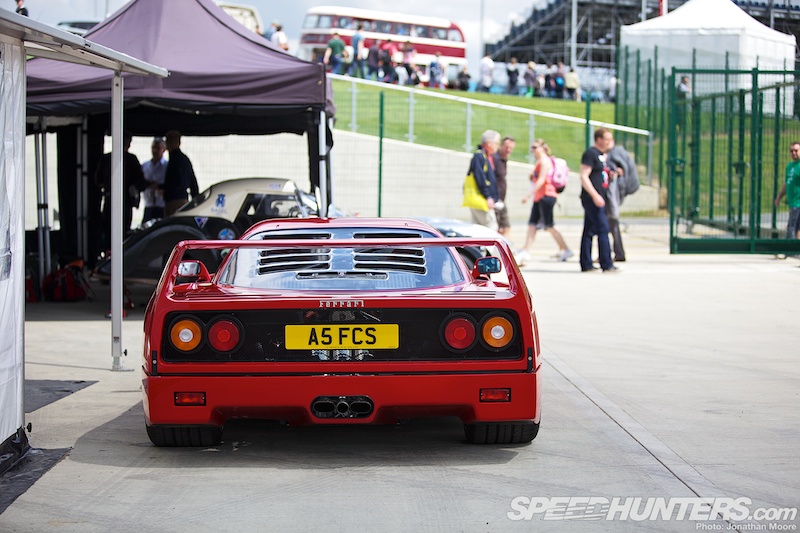 More F40s were dotted around the circuit, brought to Silverstone by teams, race-drivers and guests. It became like a game of hunt-the-F40.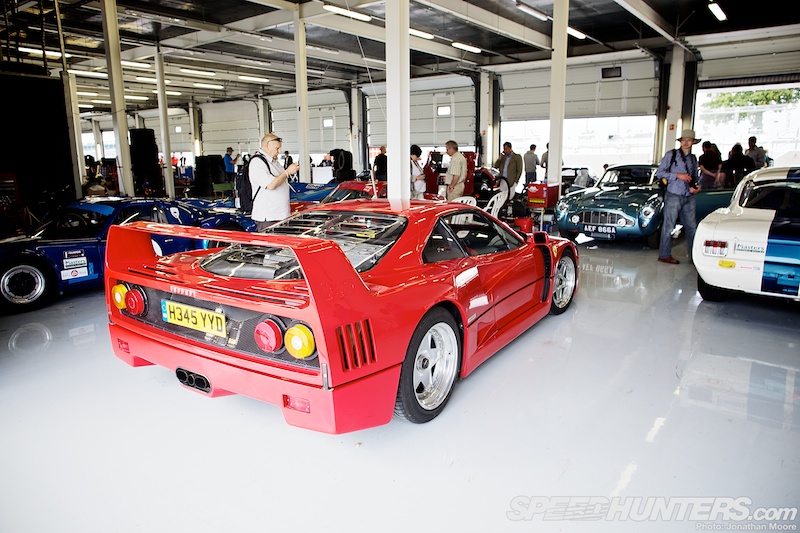 Here's another one!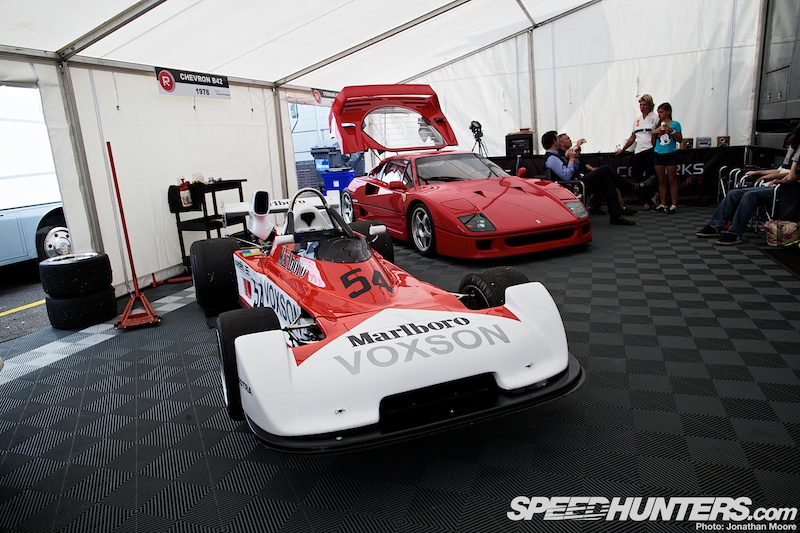 And another one. It must be particularly nice to be able to say 'my other car is a Ferrari F40′.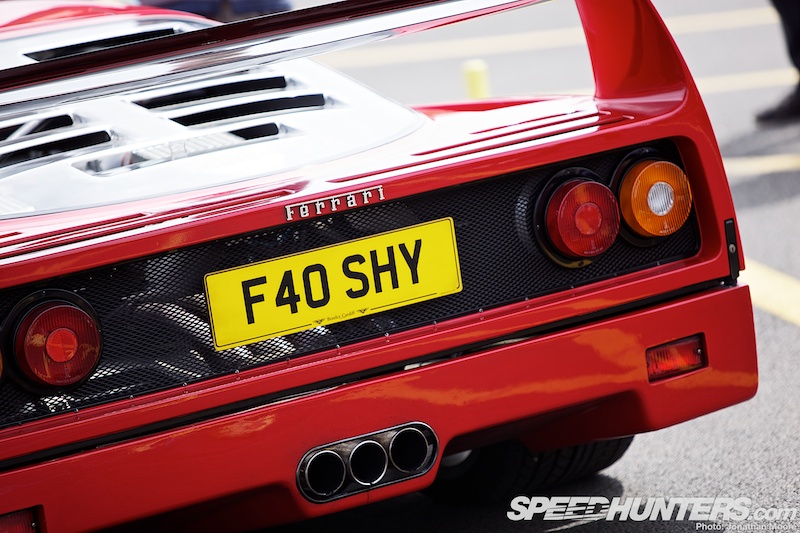 Shy is one thing you can't be as an F40 owner. Maybe F40 Proud would be more appropriate? F40 Dream for sure.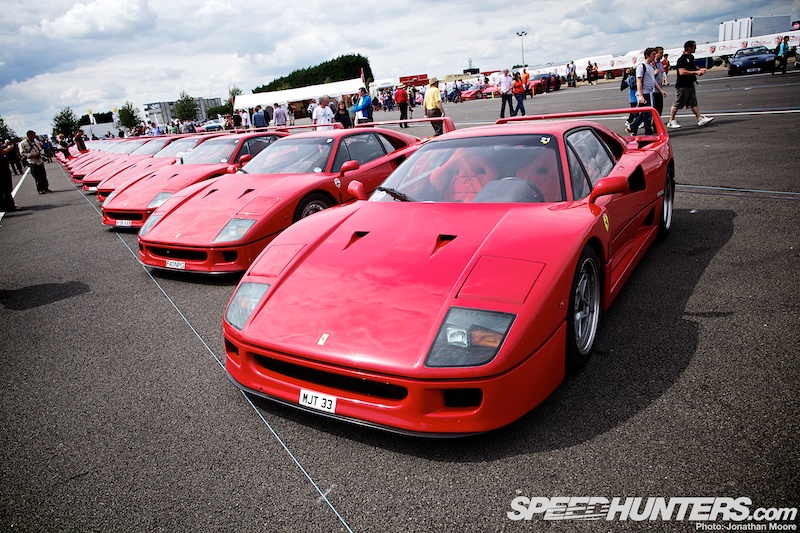 Sixty Ferrari F40s. There's nothing else to say.
Jonathan Moore