We are all products of our own environments. It's our surroundings that shape the decisions we make and the paths we choose, and this notion can be applied to quite a lot of things. Take cars for example. Ever since I was a kid one of the most interesting aspects of traveling was always observing the different cars I would see in different countries and I would always wonder what my father would be driving if we lived in another country. It's very much the same with tuning culture; depending on where you live or the influences you are exposed to you tend, in most cases, to adapt. I think Roland Zetterström is one of the best examples. Roland, who is from Sweden and very much into cars…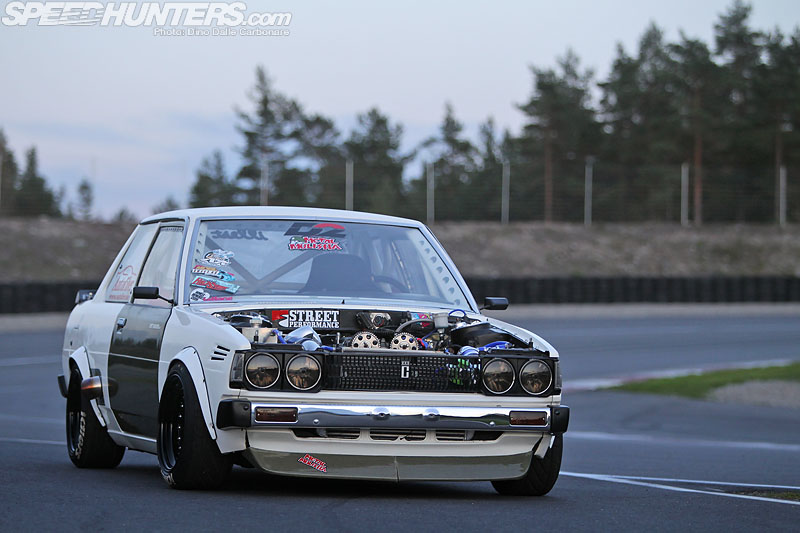 …has created what may possibly be one of the most unique KE71 Corollas we have come across here at Speedhunters.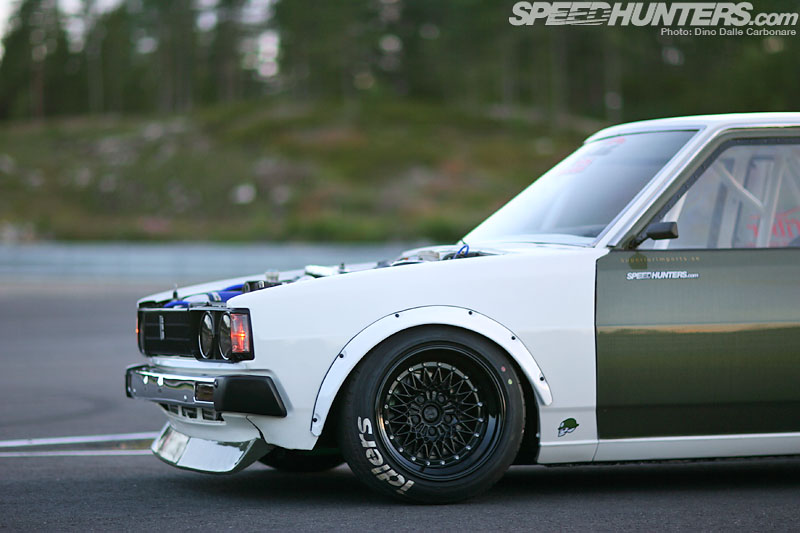 Roland's passion for Japanese cars and JDM culture in general, see the idlers logo stenciled onto the sidewalls of the tires, was the drive behind his Corolla project, a build he approached with quite a lot of imagination.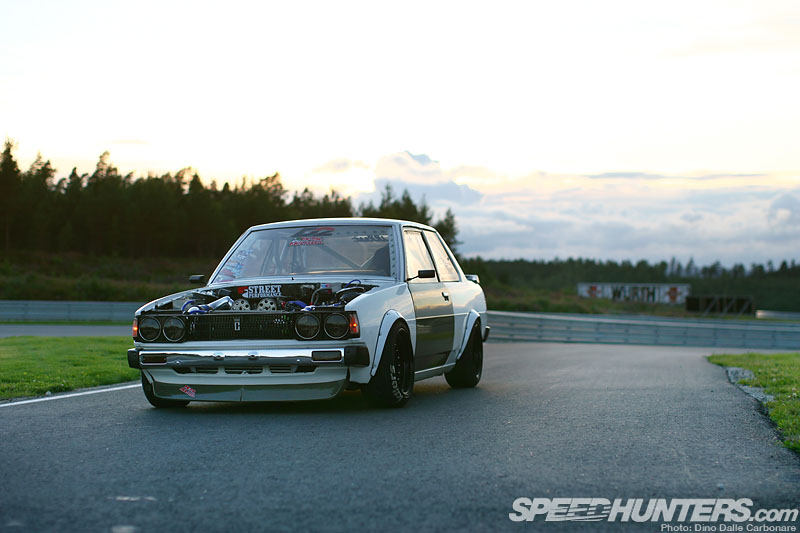 The idea here was to create a capable drift car that would mix those unmistakable oldschool lines of the Corolla with lots of modern detailing. This is why on the exterior you will find things like carbon-Kevlar doors, trunk, chin spoiler and hood (removed for the shoot)…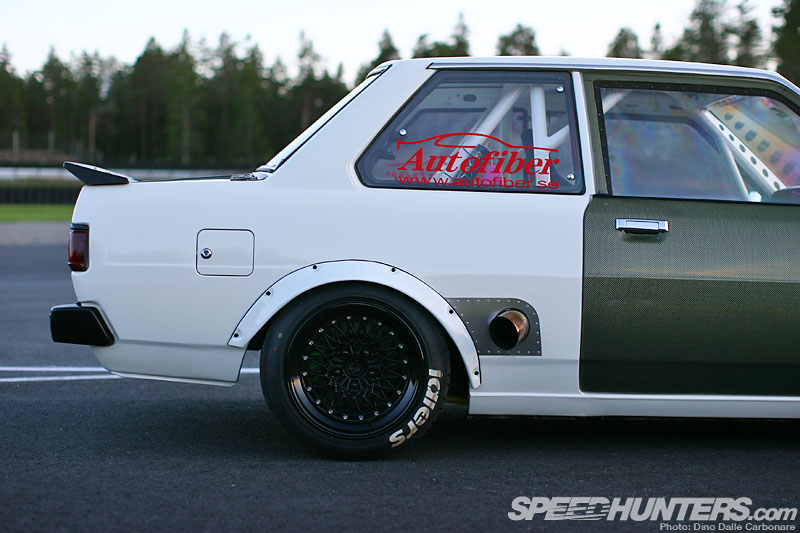 …and custom touches like a side exit exhaust. But it isn't until you take a look at the engine bay that you fully understand the essence of this car…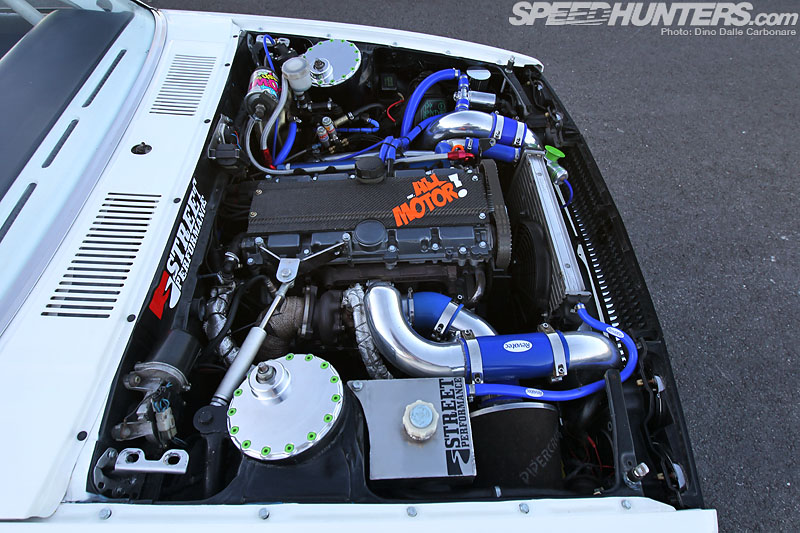 …sporting an engine-swap that makes it one of the most uniquely powered KE71s around. Roland wanted reliable power and torque and with plenty of easily obtainable Volvo engines in Sweden he decided to go for the V70R lump, a 2.5L, boosted 5-cyilinder motor that straight out of the box packs 300 HP.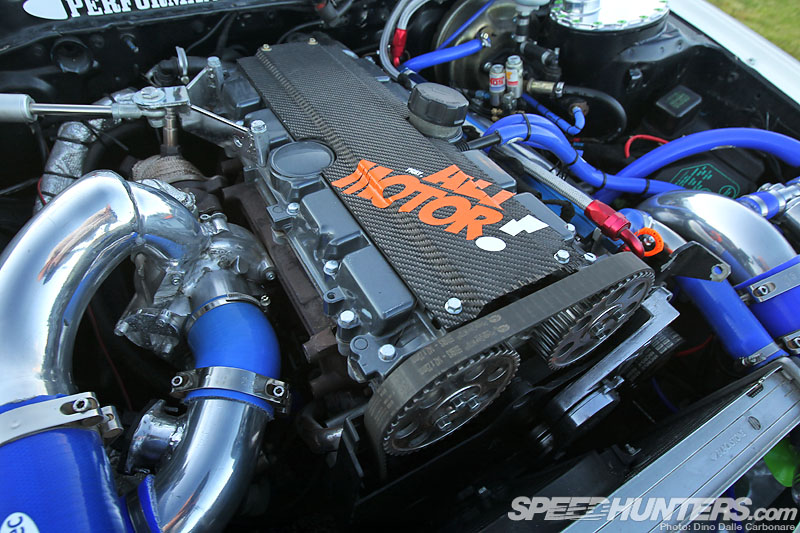 Roland made the most of the set up by throwing in some GLT cams with slightly more aggressive profiles…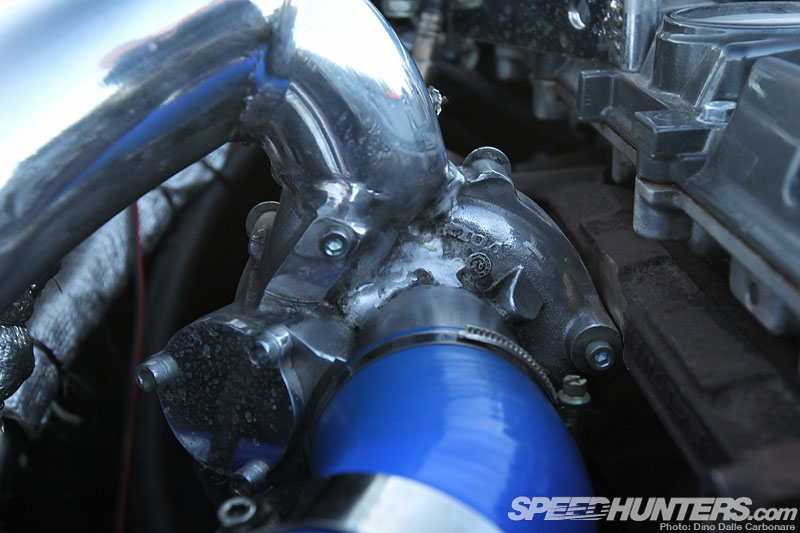 …and replaced the turbo with a more modern KKK24 from the Volvo S60R.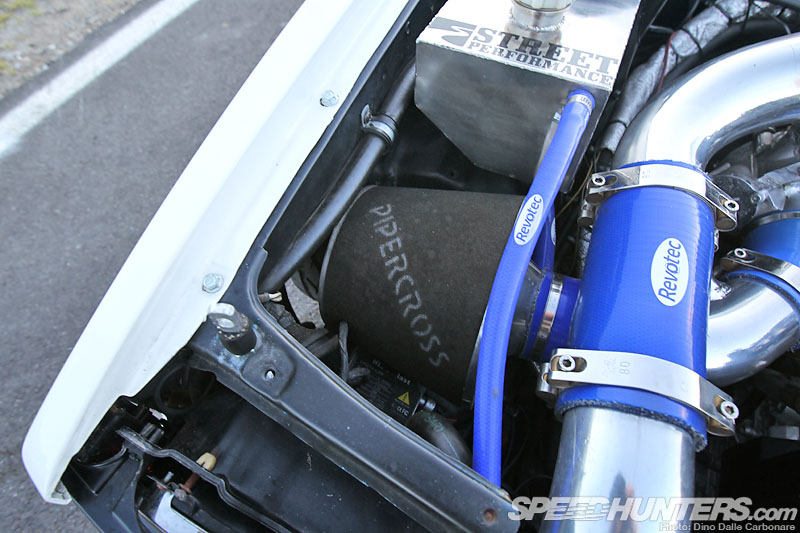 The turbine is plumbed in place with custom aluminum piping and the Pipercross cone filter has been located into the front corner of the engine bay to help it suck up the freshest air possible.  A large core intercooler is positioned low behind the front grill so it don't obstruct flow to the radiator.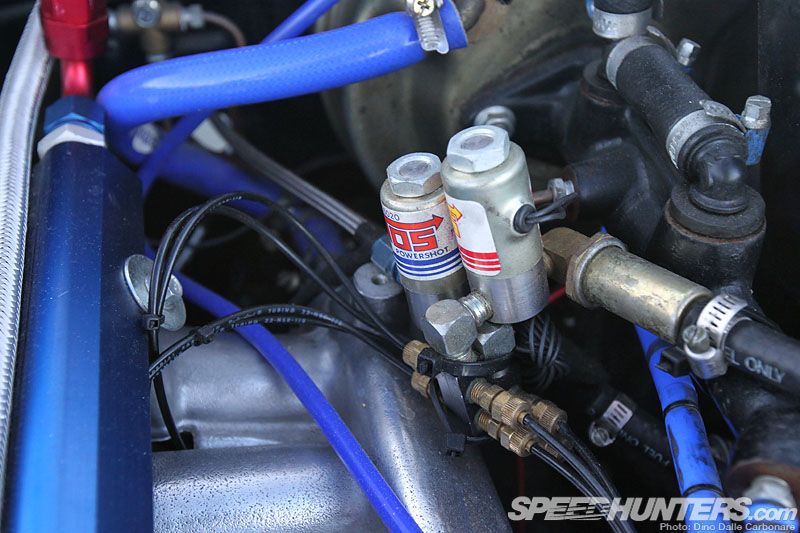 Roland has even added a shot of nitrous oxide, a little boost of power that's always there if you need it. An Auto tech ECU takes care of engine management and in this current spec the Corolla manages to develop 330 HP. Transferring this power to the Volvo 240 rear end is a 5-speed Getrag 260 gearbox out of an E34 528/535 BMW which has been adapted to fit the Volvo 5-cylinder engine.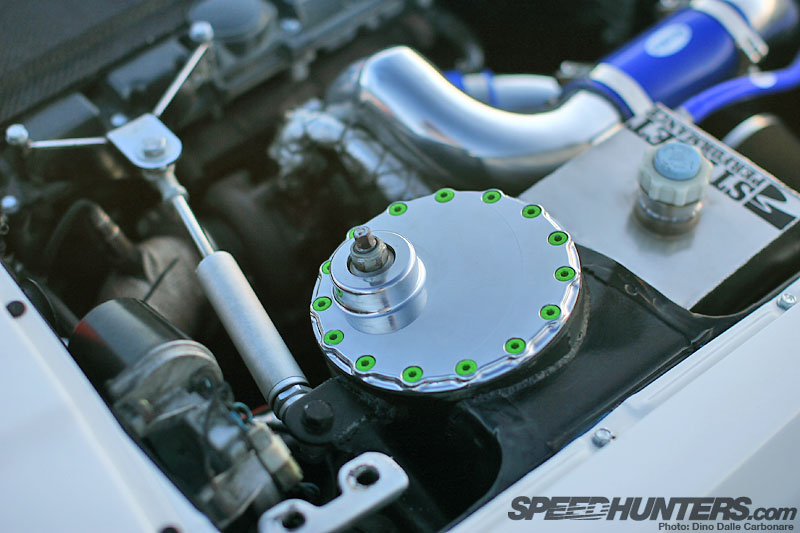 What I noticed at Gatebil is that a lot of people in Scandinavia devote a lot of attention to suspension and suspension set ups and this is one area that Roland in no way skipped over. On top of the adjustable custom front control arms…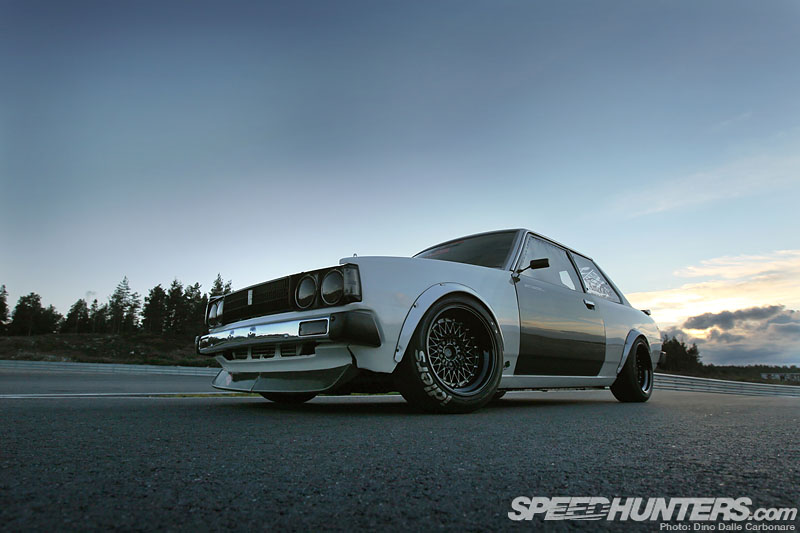 …and fully adjustable rear links he fitted 3-way Öhlins dampers all round. The result is a top of the line handling package…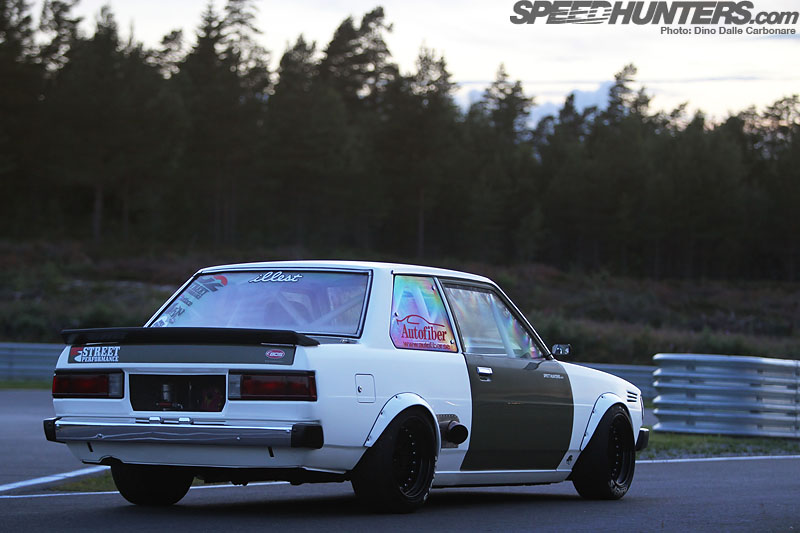 …which has been lowered for that all important optimal stance.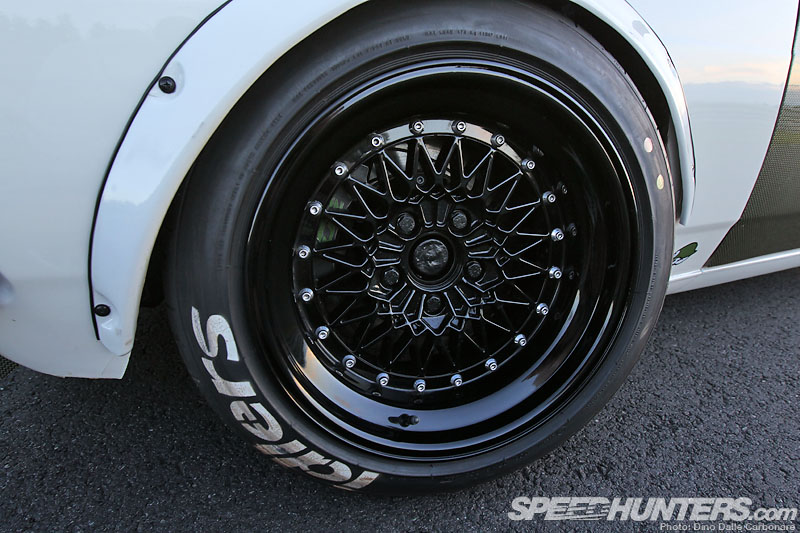 16-inch by 8J Compomotive mesh wheels are the wheels of choice, custom painted in glossy black to contrast the white exterior. You can just about see the D2 6-piston front calipers which bite down on D2 304 mm slotted discs. Stabilizing things are the rear are smaller 2-pot calipers and slightly smaller rotors.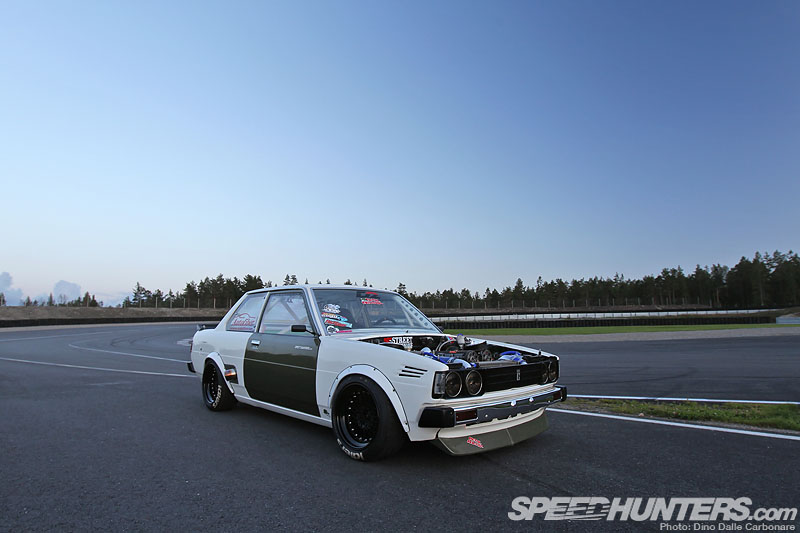 While the exterior may look simple from certain angles there are a lot of details that make this Corolla stand out…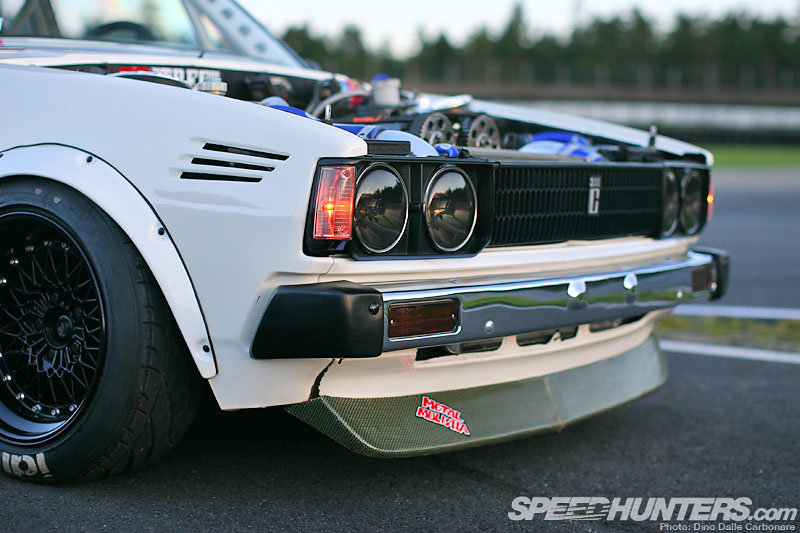 …starting off with the Datsun front fenders that Roland adapted, sporting a series of cut outs on the passenger side to provide a fresh supply of air to the air filter. The tinted headlights were a JDM-spec conversion that replace the square lights the European cars came with and to finish things off the front and rear bumpers were replaced with spotless new items.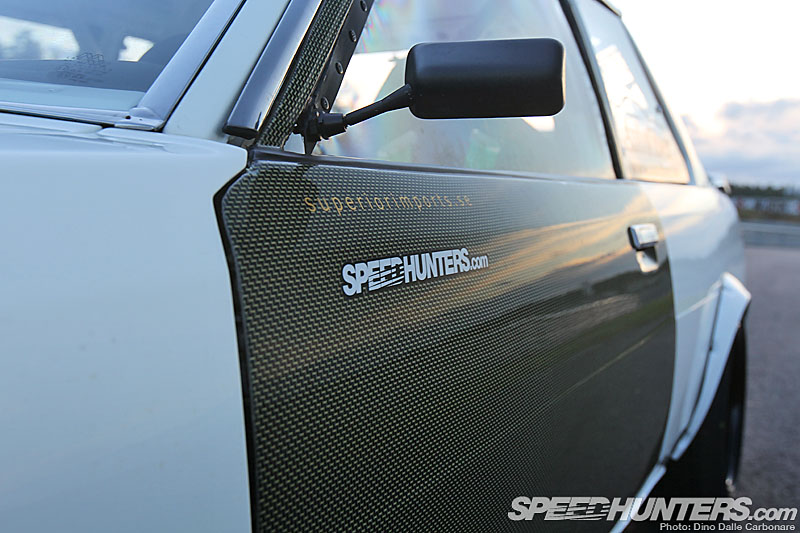 The carbon-Kevlar doors help shave a lot of weight off the car as do the lexan windows that have been fitted all round, except the windscreen of course…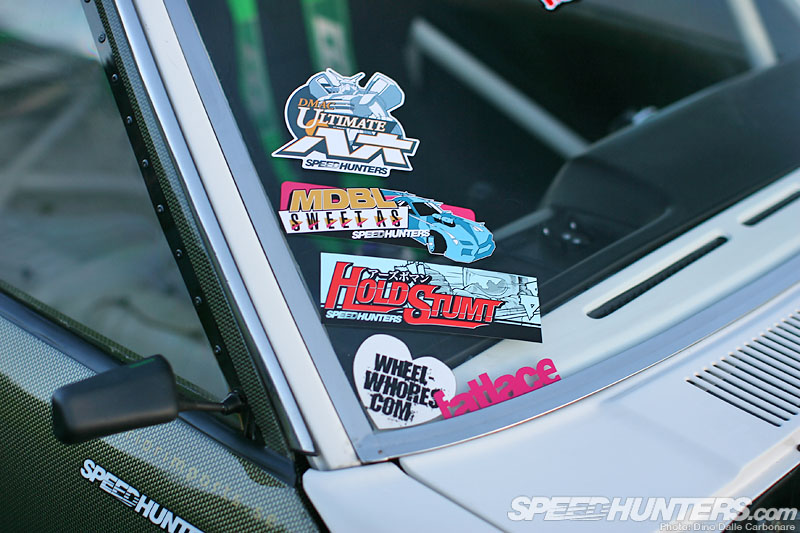 …where Roland applied all three Speedhunters stickers that we unveiled at Gatebil.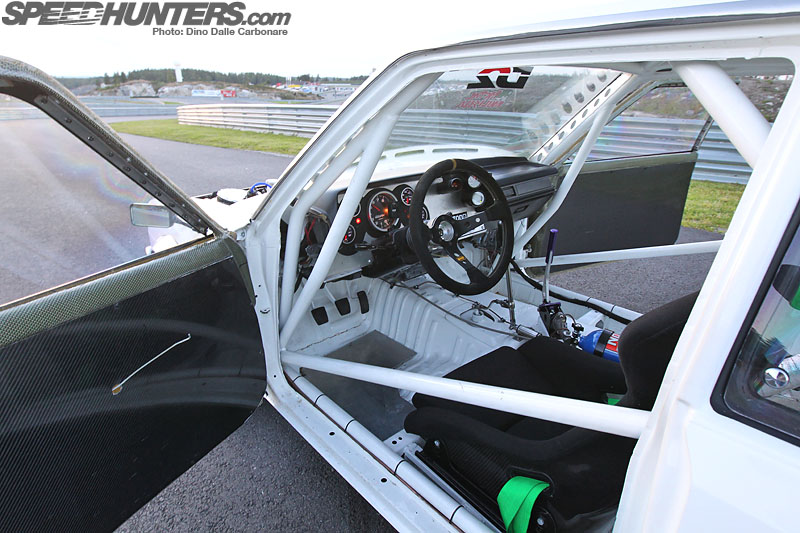 Swing open the lightweight door and you are confronted with yet more quality and attention to detail. The whole driver side of the dashboard was cut away and rebuilt around a clean sheet of aluminum…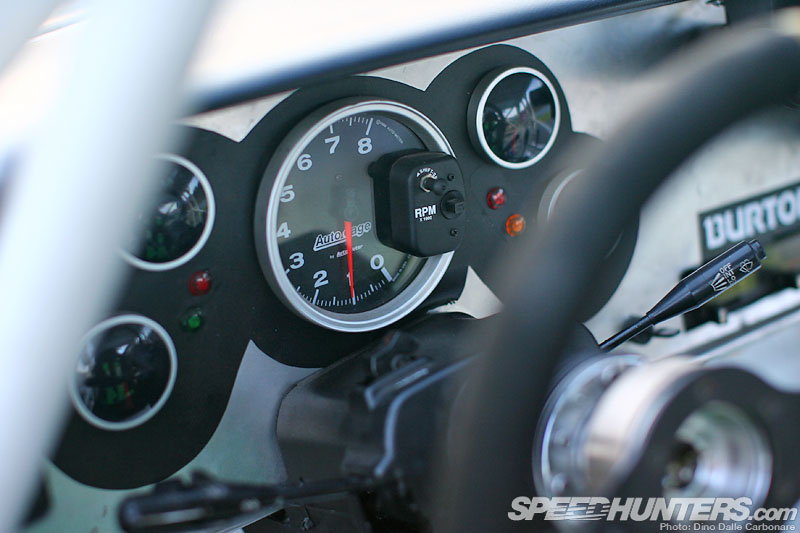 …onto which all the instrumentation was fitted. At the center of the custom cluster is the Auto Meter rev counter with four auxiliary gauges around it, displaying boost, oil pressure, oil and water temperatures.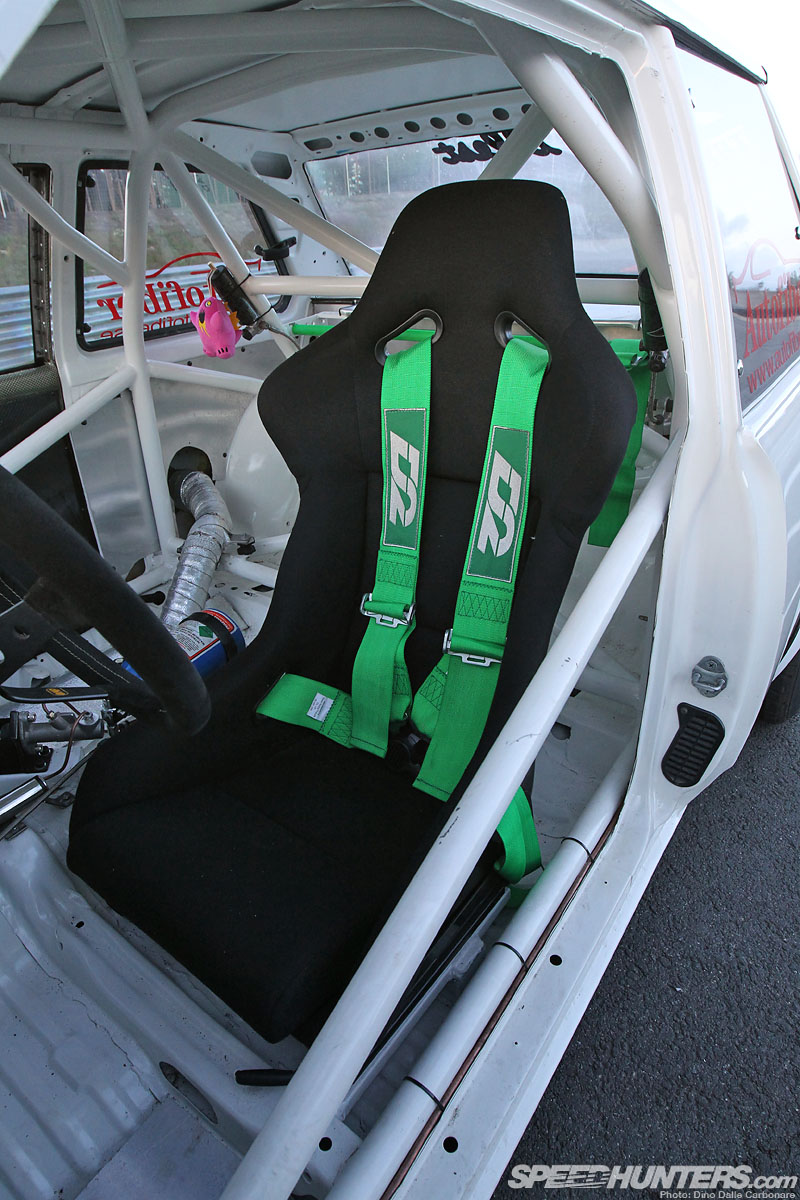 There is only one bucket seat, meaning that to keep weight down Roland has no intention of taking anyone for rides!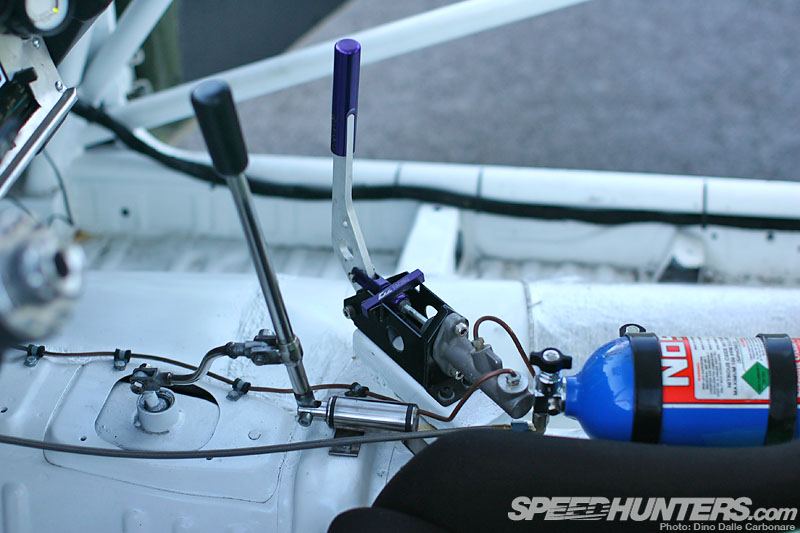 A D2 hydraulic handbrake has been fixed in place at an angle behind the custom linkage for the Getrag transmission, allowing Roland instant rear-wheel lock up when he's throwing the car sideways around the track.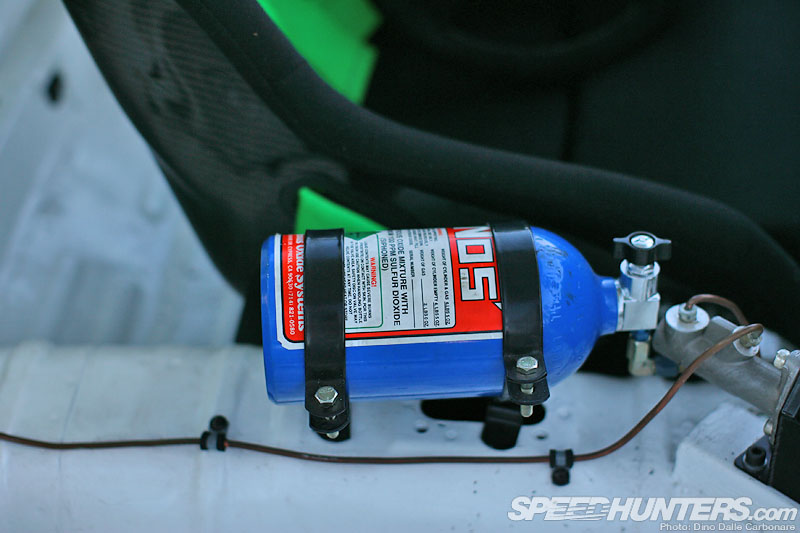 Got nitrous? Well just a little bit in this mini-canister.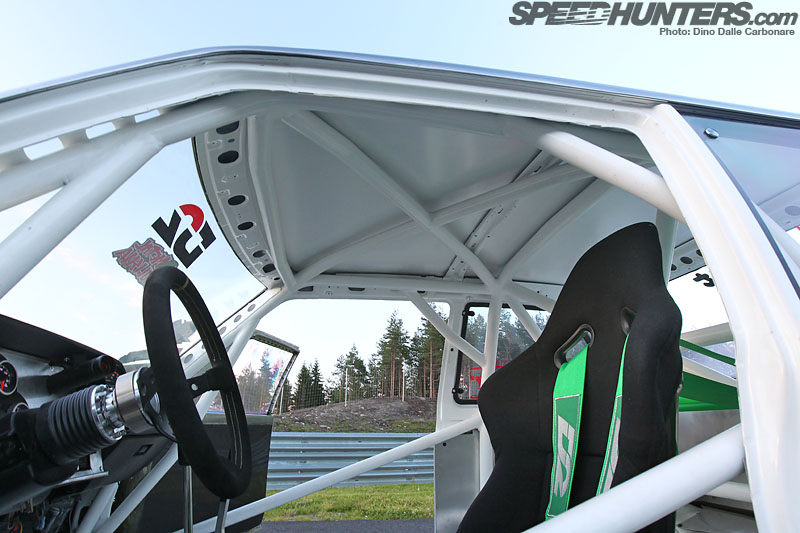 Before embarking on the build Roland stripped down the KE71 chassis to the bare metal, removing sound deadening material and anything that was unneeded for the built. He then seam welded the whole shell and fabricated a custom roll cage using a total of 36 meters of tubing.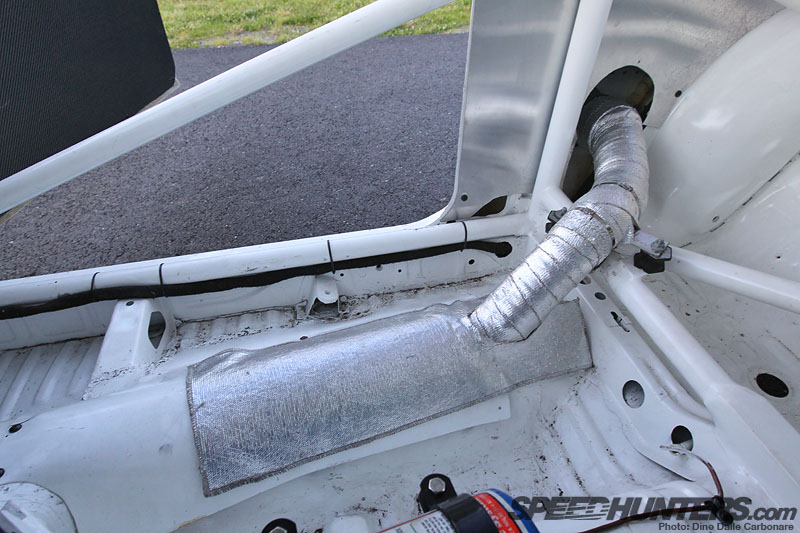 The coolest feature of the car, 5-cylinder Volvo engine aside, is the side exit exhaust which runs along the passenger side of the interior…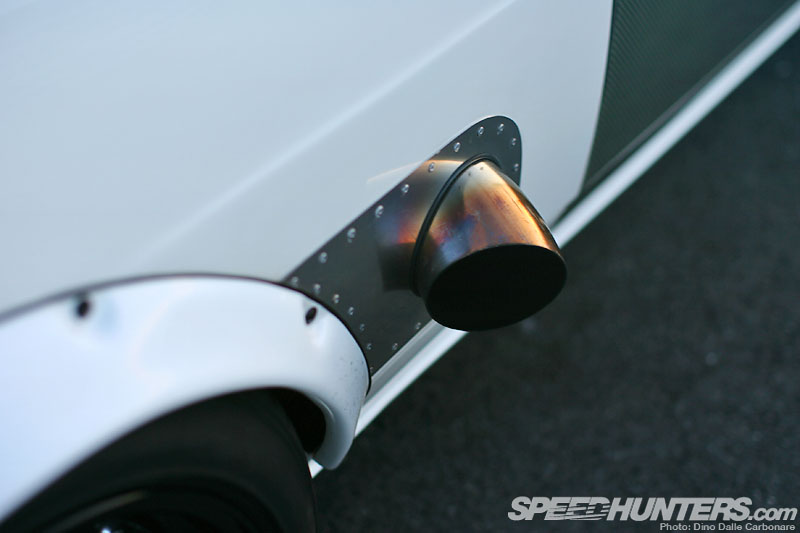 …and pops out in front of the rear fender.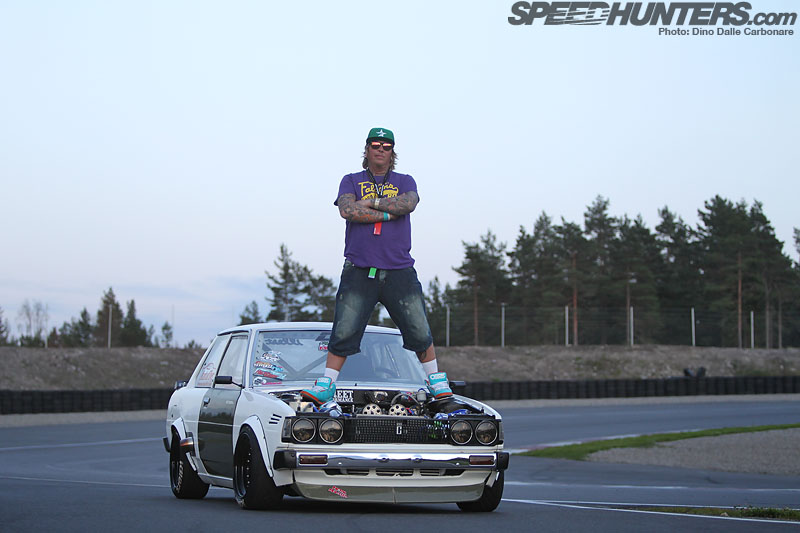 Roland, seen here posing on top of his car, is very happy with how the project has turned out, however that unavoidable tuning bug has hit again…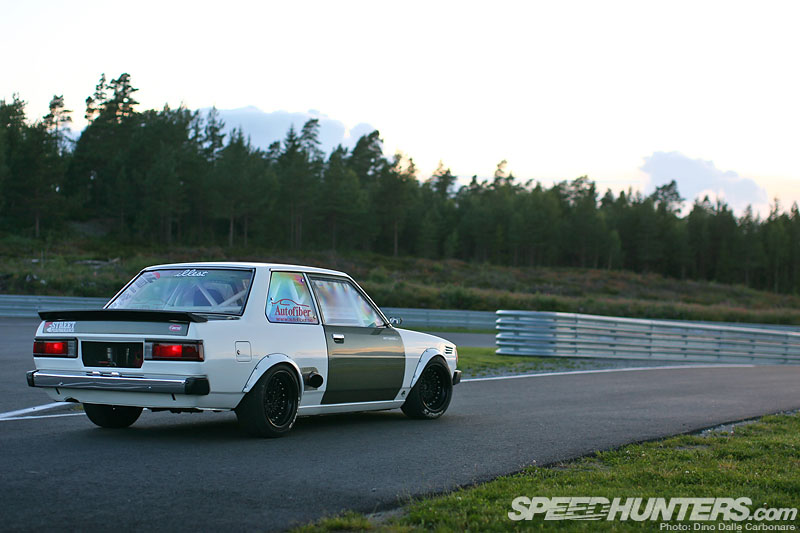 …and he is already planning on a new engine for 2013, one that will push out between 600 and 700 HP. I guess you will have to way until next year's Gatebil to see what he's got on his mind!
Roland would like to thank everyone that helped him along the way:

FM-bildelar Getinge
superiorimports.se
BDS.se
autofiber.se
streetperformance.se
dalhems.com
larsbilverkstad.com
Gatebil 2012 related stories on Speedhunters
-Dino Dalle Carbonare