Ryan Tuerck is leading a triple life at the moment, with his Formula Drift persona mirrored by his off-season hooning and missile car madness – the latter ably abetted by Tony Angelo, Chris Forsberg and Vaughn Gittin Jr. Ryan lives just a half a day drive away from Wall Speedway so when Formula Drift came into town he decided to bring all three of his drift cars along. I had a chance to sit down with him to talk about the three similar yet very different drift machines. Would the real Ryan Tuerck please stand up?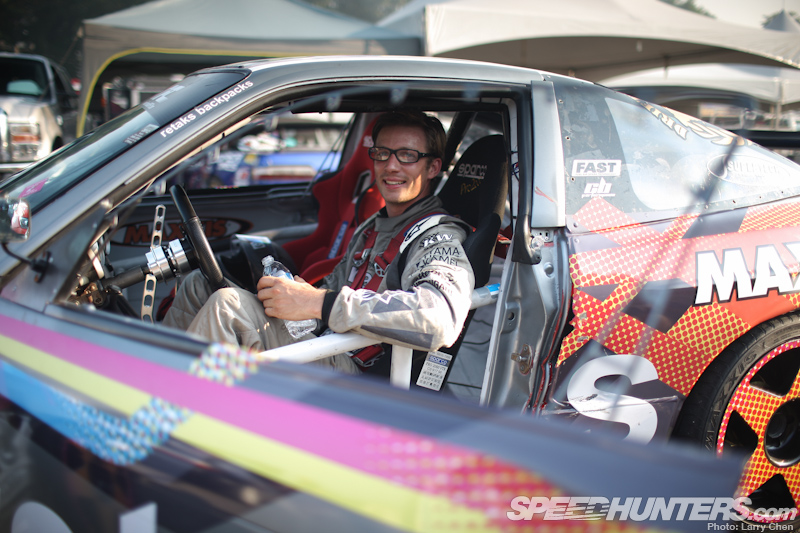 Larry: I see you have brought all three of your drift cars. Let's start with the competition car.
Ryan: The competition car… That's the only one that I don't personally own, but I guess you can say it's mine as I do most of the work to it.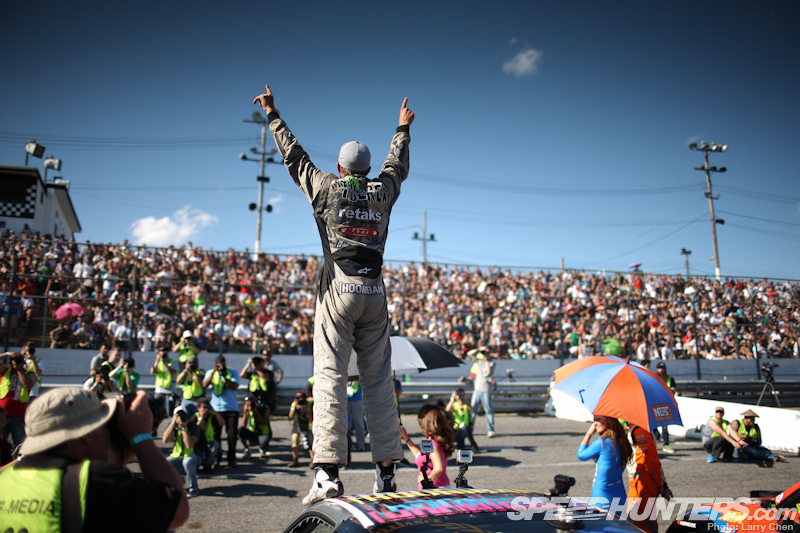 I've taken it upon myself to adjust the suspension as well as other things myself and I've made the car competitive this year compared to how it has been in years past.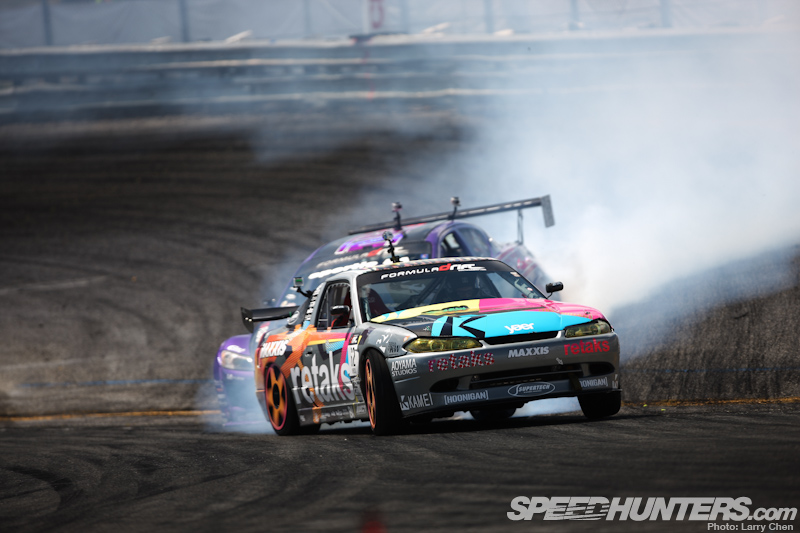 Larry: So, in a way you adopted it?
Ryan: Yeah, I definitely took it under my wing. After drifting all these years I've learned a thing or two about the 240sx chassis. I applied all my knowledge into that car, you know?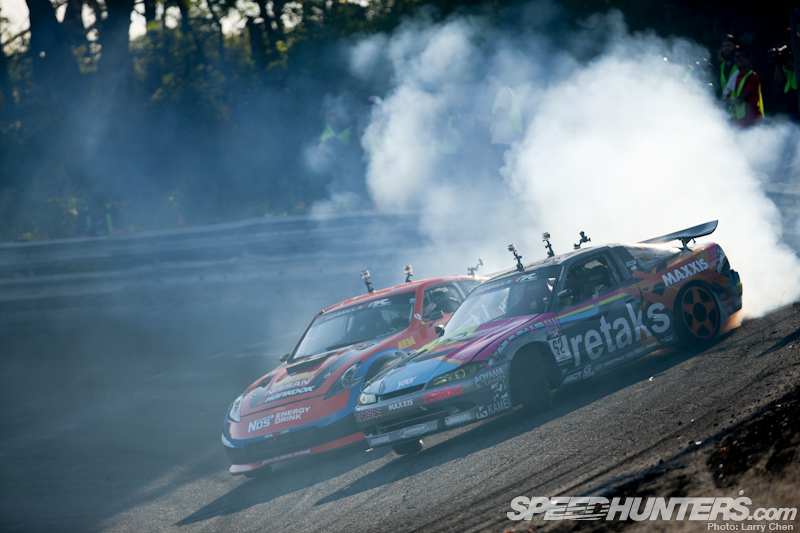 In fact it's probably one of the best 240s I ever drifted just from the simple fact that it's got a lot of really nice parts on it, a good engine and a great transmission.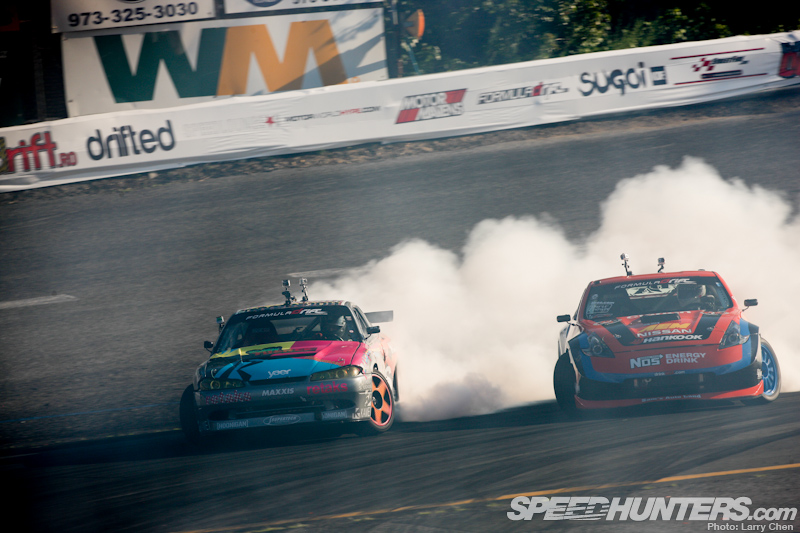 We got some really good suspension parts from KW on there, and Part Shop Max hooked us up with their rear-drop knuckles that helps out with the bump-steer correction. I never had that kind of stuff on a 240 before.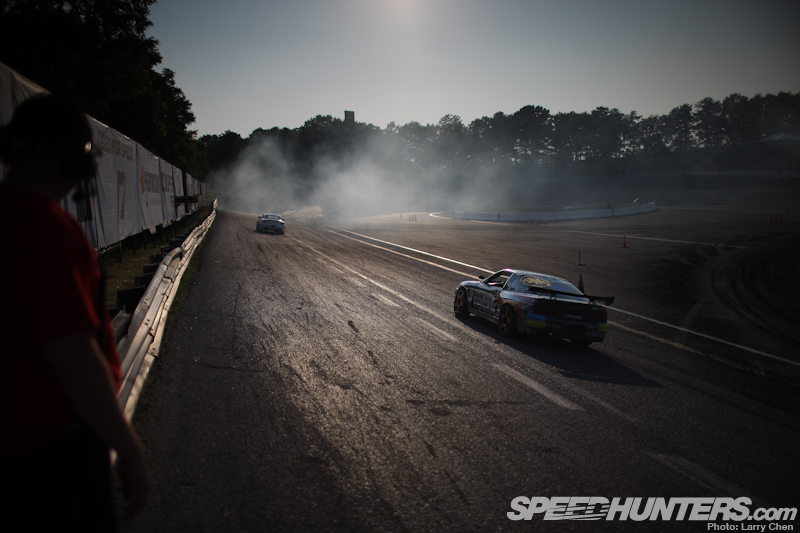 From a competition standpoint I had high-end parts when I was driving for Gardella but I'd never had that before on a 240sx, so it's one of the best cars with that particular chassis.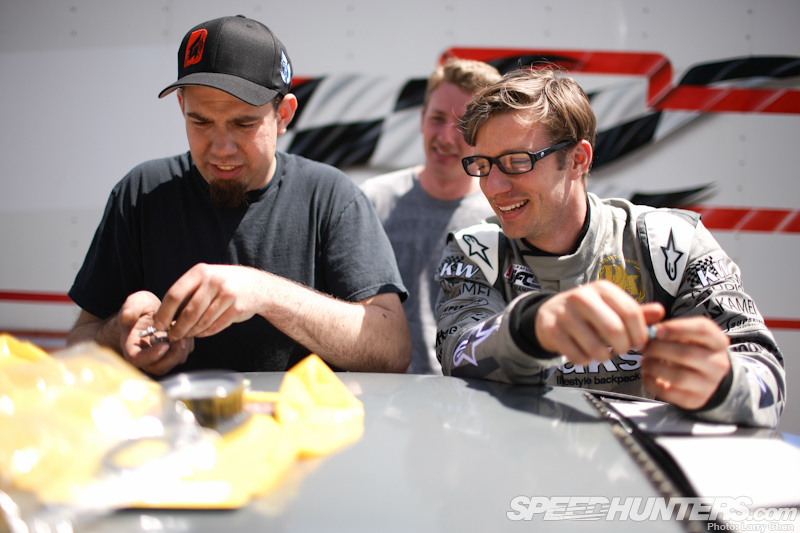 Larry: So, what would you do differently if you built one from the ground-up for competition?
Ryan: If I built one from the ground up? I don't know, if I had an option to do different things I would think about doing maybe a turbo engine, depending on what kind of budget I had. I always wanted to do a really cool turbo setup with some legit anti-lag on it…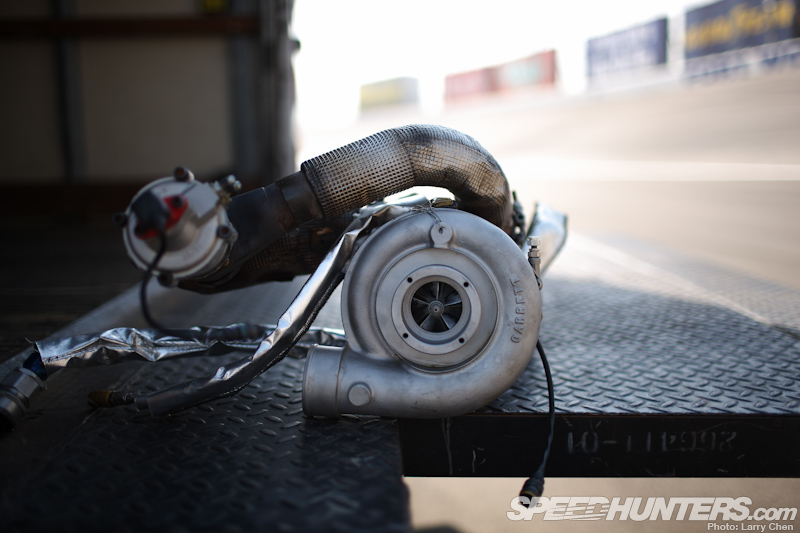 Larry: Wow, really? Versus building a naturally aspirated car?
Ryan: Yeah, because I've never driven an anti-lag setup and I'm thinking it probably would be on a par, the amount of torque and that you could get out of it. But that would require some of those super-expensive Garrett turbos and changing them literally every two events.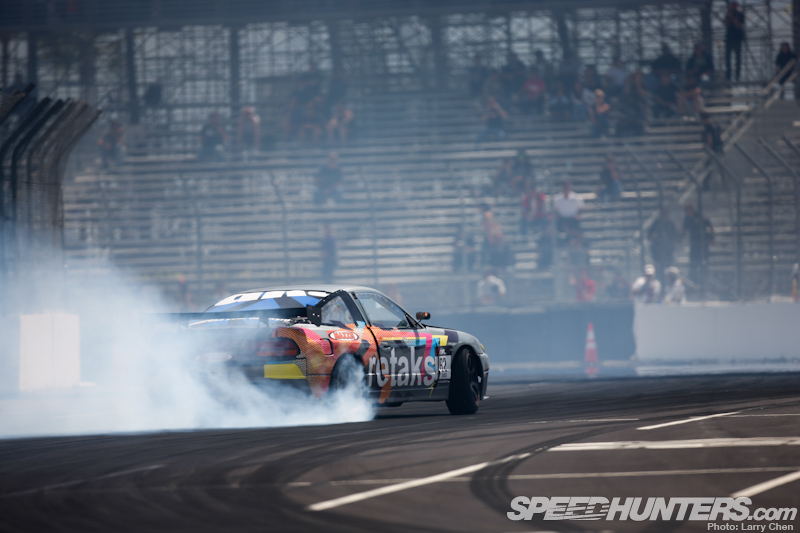 So It would be very costly and a NA is definitely the best way to go as far as affordability and reliability. But if I had those options, I would definitely consider that if I could put the right sponsors in place.
Larry: So tell me about your black car. I remember seeing it in the off-season video. I loved that there were not a million tire marks on the ground. You were actually laying fresh tire marks.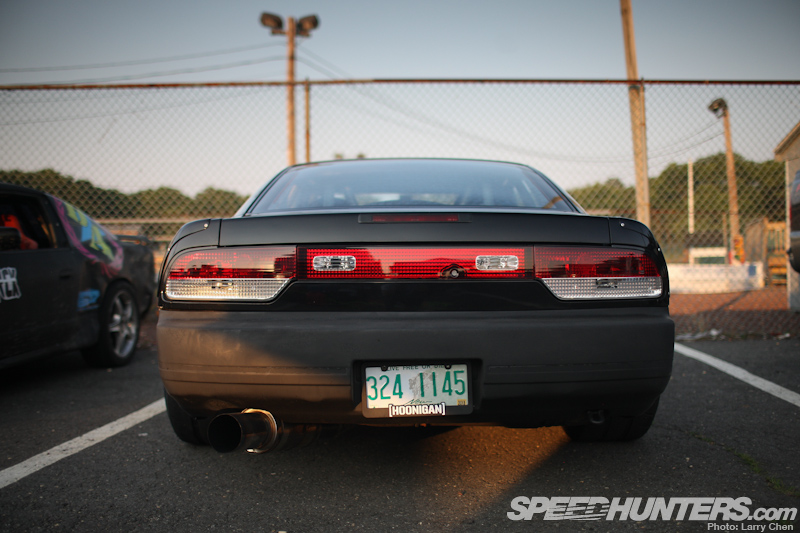 The concept for my black car was just to have a super clean 240 that's not for Formula D. I wanted a nice paintjob on it and I didn't want to worry about getting it destroyed from drifting.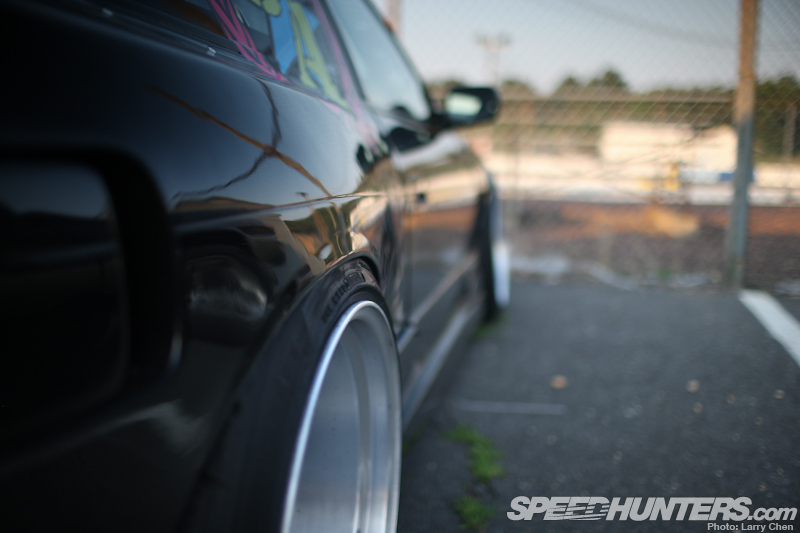 I really wanted to build an eye-catcher and I always wanted deep-dish wheels, so I got the Works on there. The lip and over-fenders really shows everything off. I think it looks cool.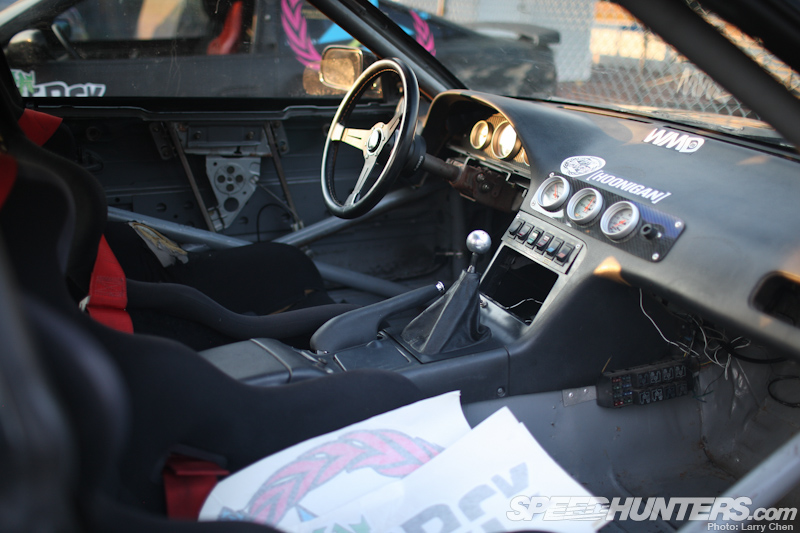 I had an SR in there for the off-season video, and my buddy borrowed it and destroyed it. He grenaded the whole engine on me when I was at SEMA.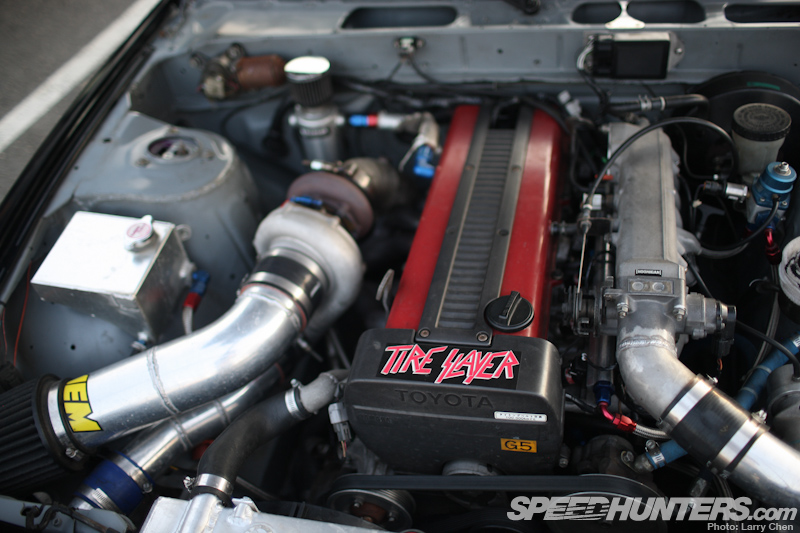 Luckily I had a 1Jz just sitting around from another car that I purchased and everything was just ready to bolt in. I originally built it for another car, but since my motor was grenaded I just said screw it, I'm gonna put this 1Jz in the car.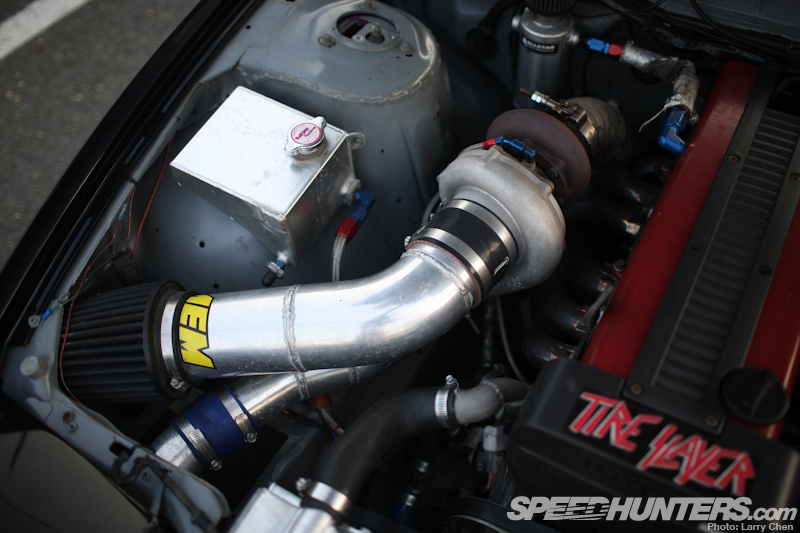 It became a huge nightmare. I pretty much haven't driven that car since the off-season. Next week at East Coast Bash will be the true test. Hopefully it will be 100 percent ready to go by then.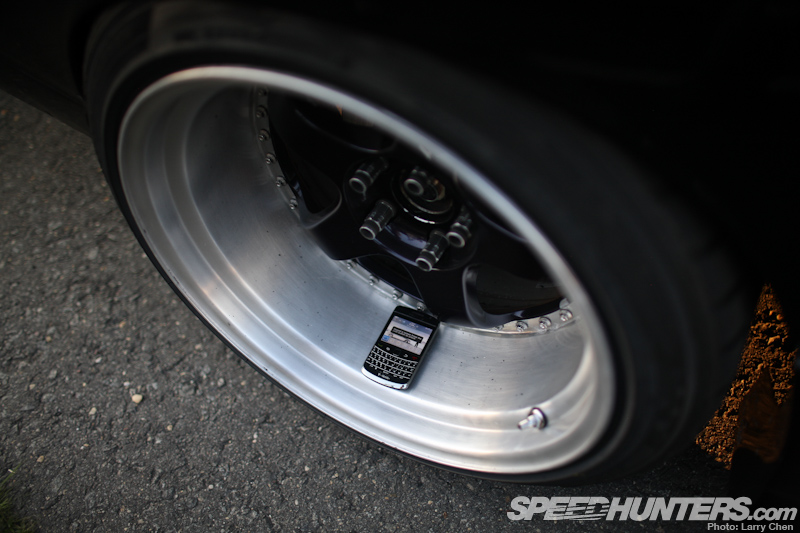 Larry: So, are you planning another off-season video?
Ryan: Well, I'm trying to. The venue I used got purchased by somebody. I went to him to try and see if I could rent the property and his insurance company shut me down.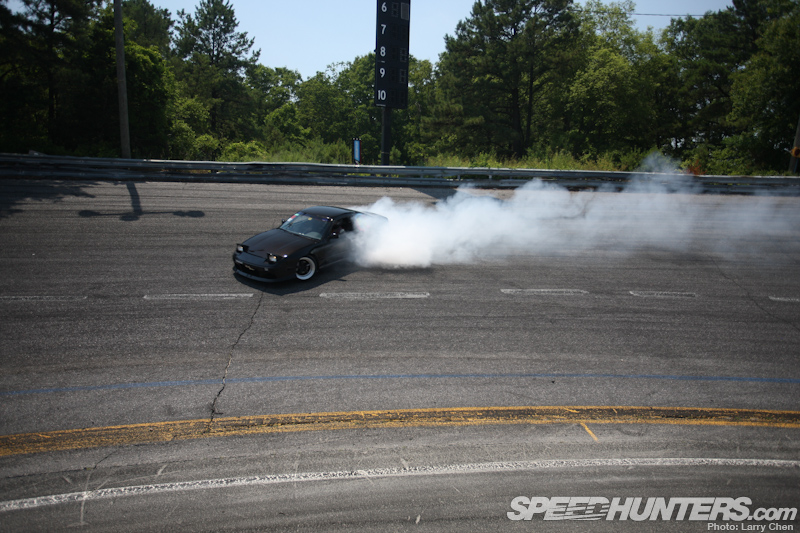 I don't think I'm gonna find anything quite like that, but I've got some other ideas that can be equally as entertaining and fun to watch. So keep an eye out for it.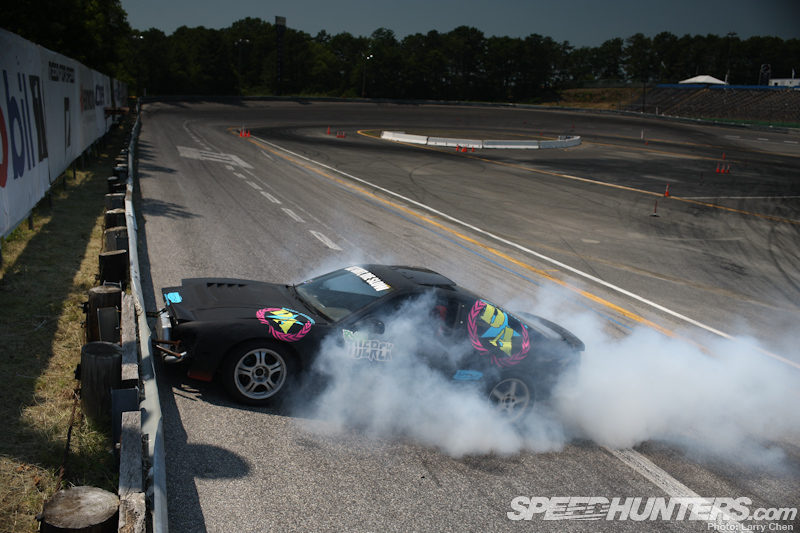 Larry: Okay, so now onto my favorite car. What's going on with your missile car? Who do you think started the whole North American missile crisis?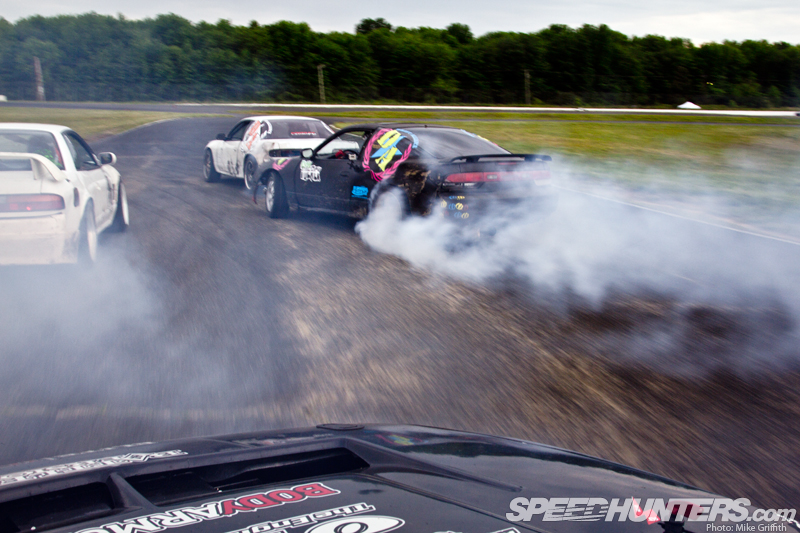 Ryan: (Laughs) I don't know. I think it was kind of like a co-op thing. Me, Tony Angelo and Chris Forsberg pretty much started it. Chris was actually the first one that decided that he was gonna buy a crap car and just destroy it.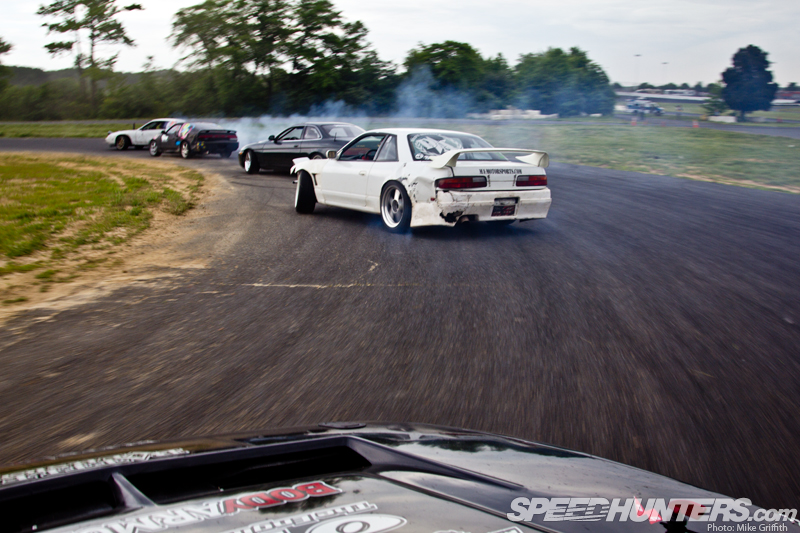 Well, not destroy it, but take it out to smash bumpers and corner panels and everything. So he bought the 24 Hours Of Lemons car that me, Tony, Vaughn and Chris all went in on.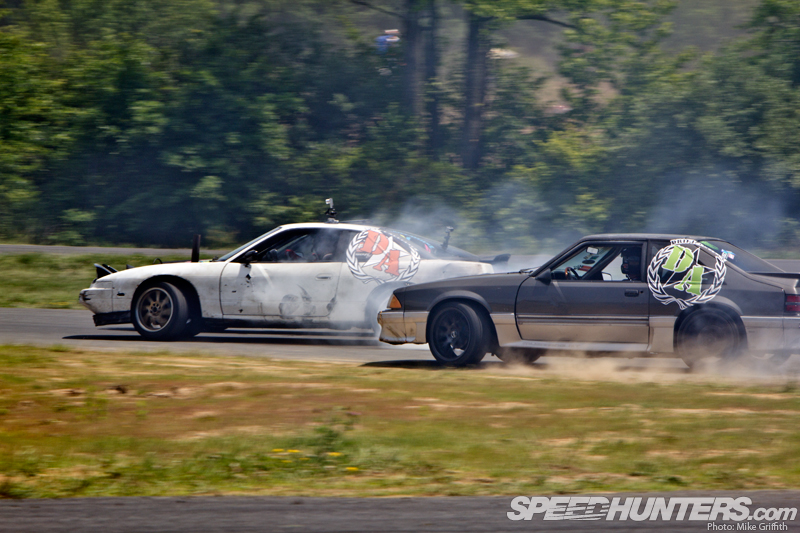 He put the KA turbo in and started driving it at the local events out west. At the same time Tony and I both got missile cars as well, so that we could screw around on the East Coast and have a good time.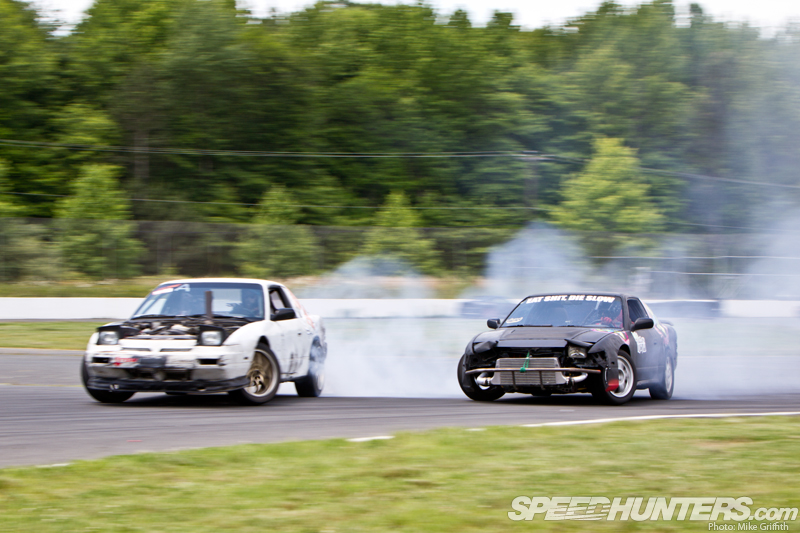 I'm gonna say Chris definitely took the initiative to start the revolution.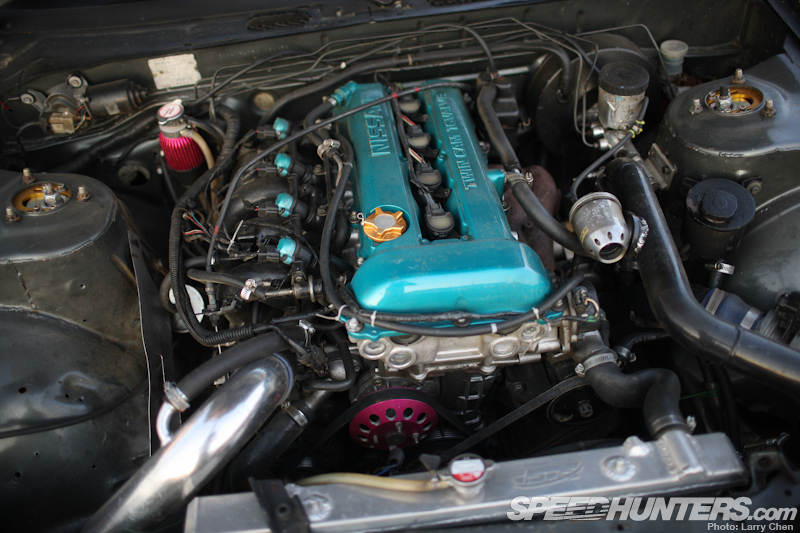 So my missile car is basically all spare parts. It's got a solid SR with a stock T28 turbo on it with upgraded fuel injectors.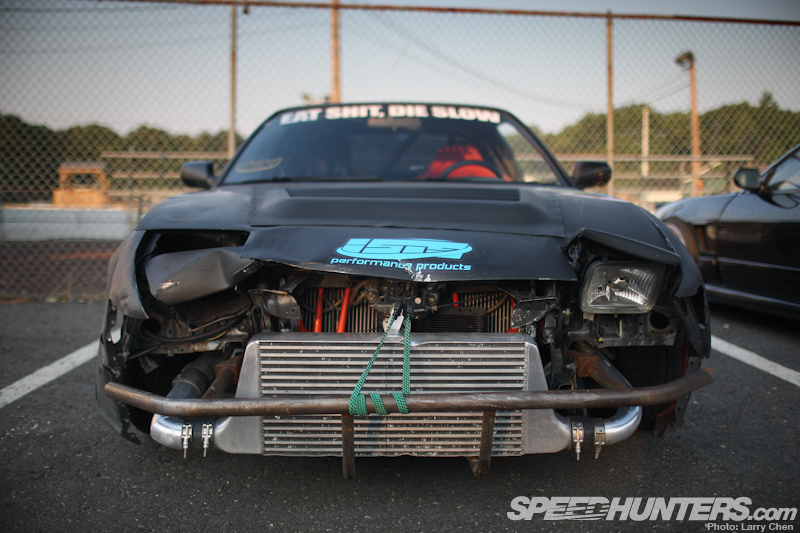 I pick up tires from a tire warehouse, all used 15-inch tires, take them down to E-town and just go and have a blast.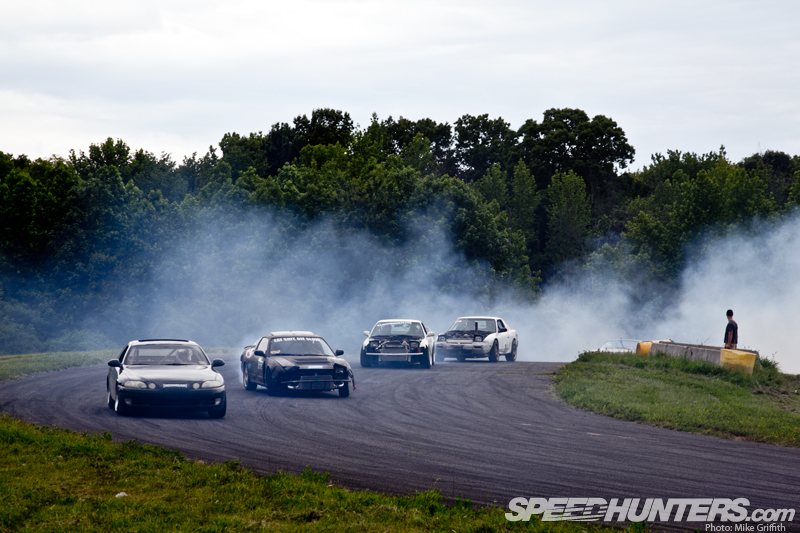 It's very inexpensive. Driving with Chris, Tony and Jr in missile cars is some of the most fun I've ever had drifting in my life.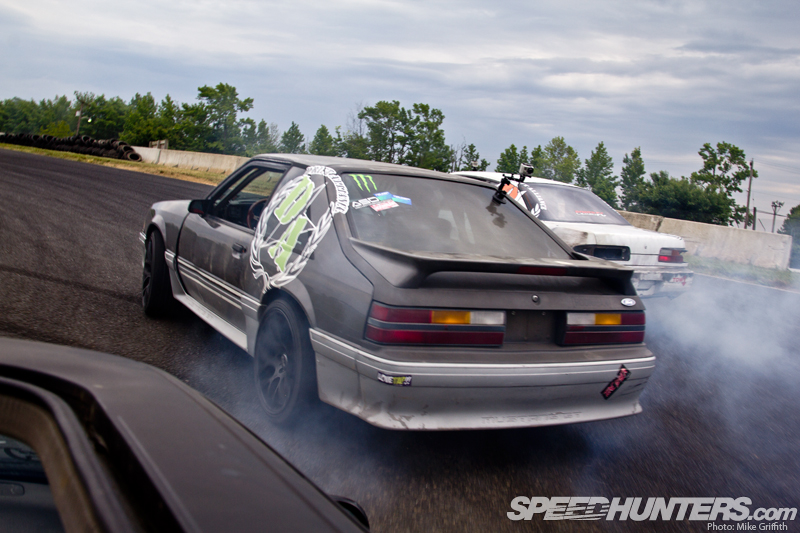 Larry: Yeah, it's cool that you finally got Vaughn into it. I saw his missile car at his place the other day.
Ryan: Vaughn finally stepped up to the plate and got a legitimate missile car that we can smash together. The first days he had his missile car he destroyed everybody's cars, but since his car is a tank it was just fine.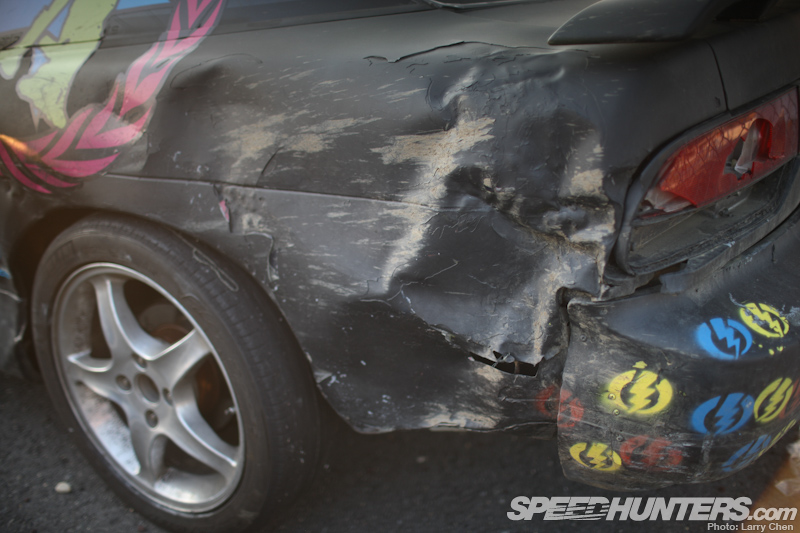 Every time I drive my own missile car I've then gotta rebuild it. That thing gets so haggard after a couple of hours of driving.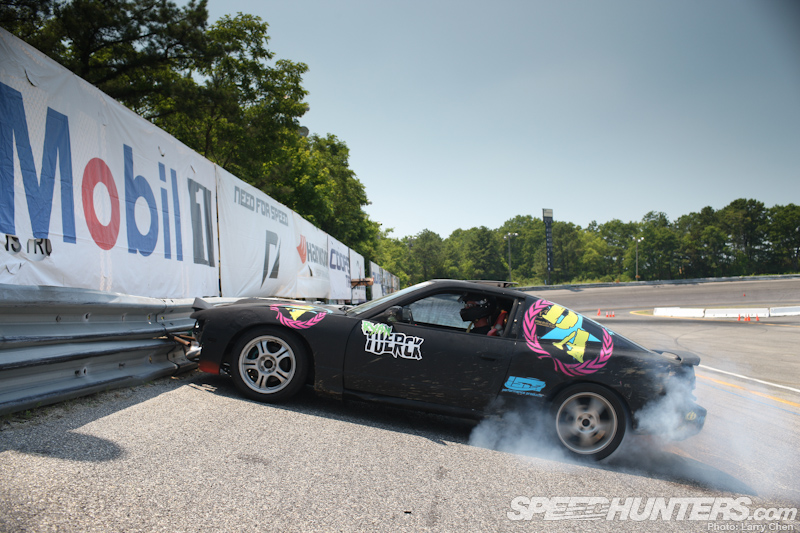 Larry: That is just all sorts of awesome! Well thanks for showing us your cars.
Ryan: No problem! Any time!
Ryan and Larry
Larry@Speedhunters.com
Additional photos provided by Mike Griffith
More car features on speedhunters