Taking inspiration from the past is something that car manufacturers have been doing for years. Call it retro styling or tapping in to the bloodline of the brand, let's just say some do it better than others. When it comes to Mercedes Benz and AMG however we can safely say that they have created nothing short of a masterpiece with the SLS, a car that like its long distant relative, the 300SL, is not only an exceptional road car but is proving itself in motorsport too.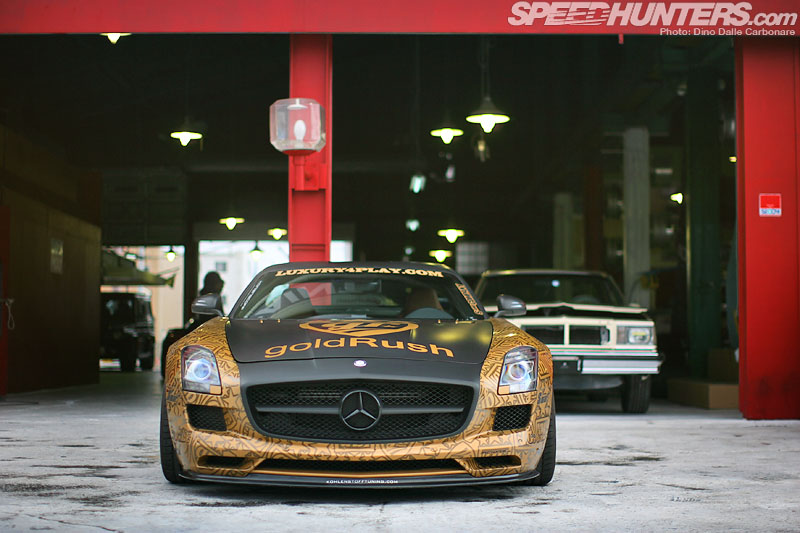 The SLS has established a little niche in super car territory; it might not be as balls out as a Ferrari 458 Italia or as surgically precise as a McLaren MP4-12C but it combines outstanding performance with comfort, elegance and every day usability in a way that only AMG knows how to do. On a recent visit to S & Company down in Osaka I had the chance to spend a few hours with one…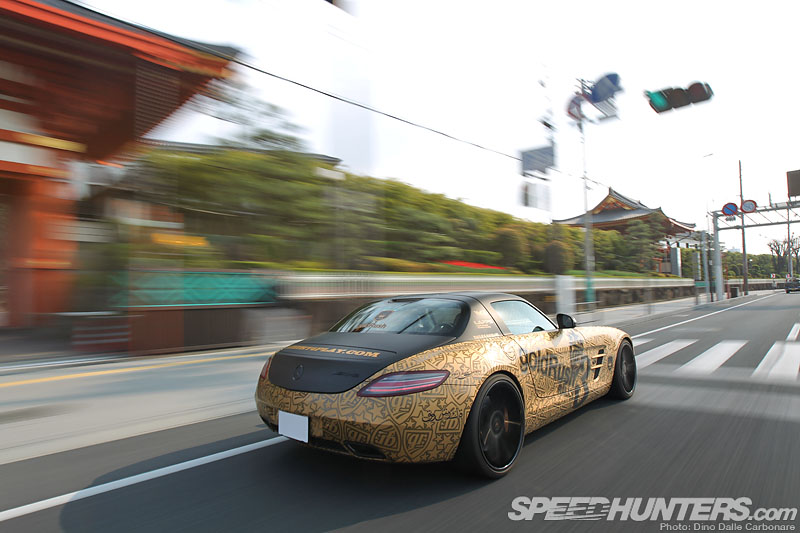 …a customer car that had been dressed in a full Gold Rush vinyl wrap that was done for this year's Auto Salon. Shikata-san, the man behind S & Co has an impressive workshop where all sorts of restoration and custom magic happens to a variation of vintage as well as modern cars, but one side of his business is creating custom vinyl wraps for all sorts of applications. Seeing that the fourth Gold Rush race kicks off tomorrow in LA I thought this would be a perfect time to take a look at this stunning SLS. In reality it was all just an intricate excuse to play around with what is still a pretty rare car in Japan. Honestly, do you blame me?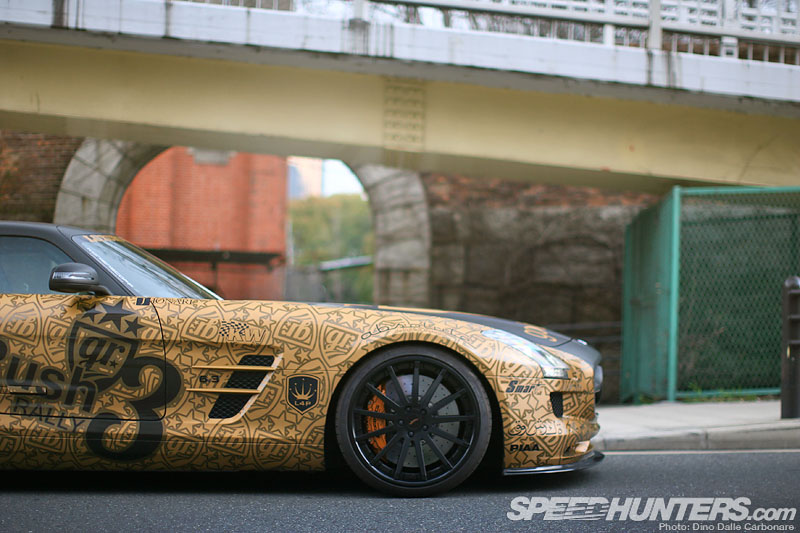 By the time you read this the vinyl will have probably been removed, exposing the metallic silver body that lies beneath. Aside for the show-car like wrap the SLS packs some basic but pretty serious modifications starting with the Agio Absolute 13-spoke wheels, one inch bigger than the stock 20-inch rims and wrapped in Michelin Pilot Sport rubber, 275/35ZR21 at the front and 295/25ZR21 at the rear.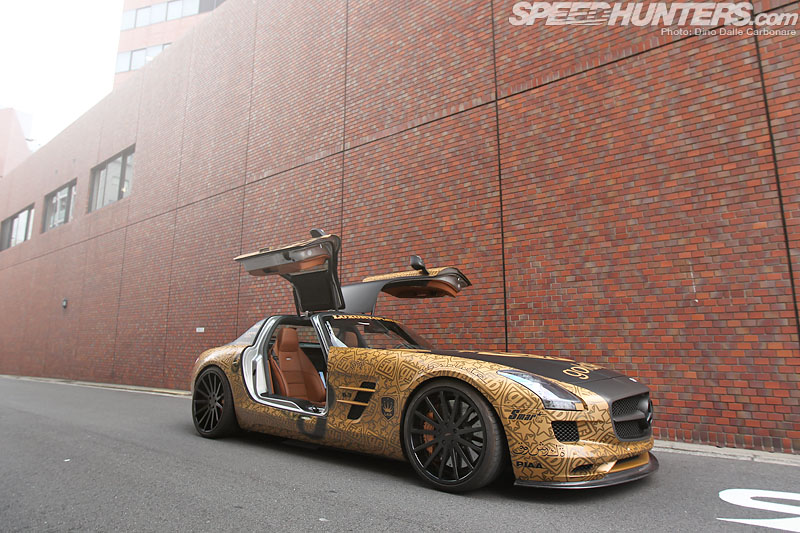 The car sits quite a bit lower than standard thanks to the fully adjustable KW Variant 3 suspension. The adjustable dampers are a little harder than stock but still supple enough to deal with everyday driving on the streets of Osaka.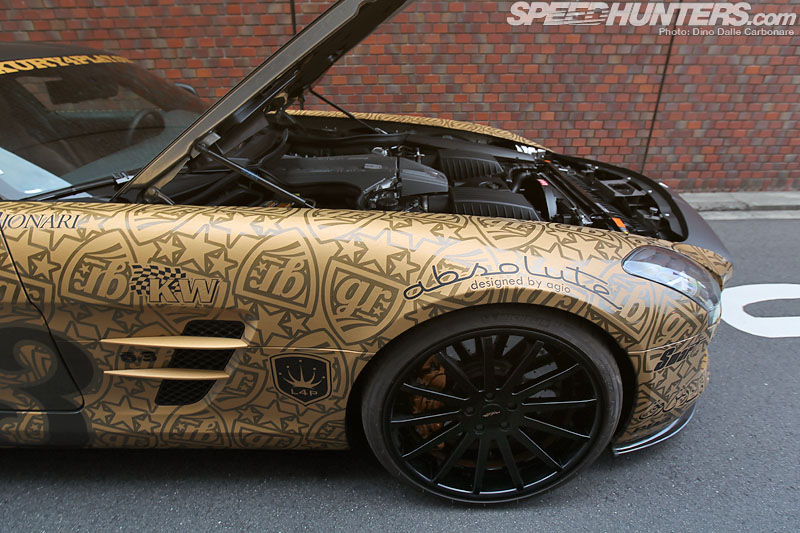 Of course there is a reason for that extremely long front hood line, the whole 571 HP 6.2L V8 sitting completely behind the center line of the front wheels, a perfect example of a well executed front-midship layout.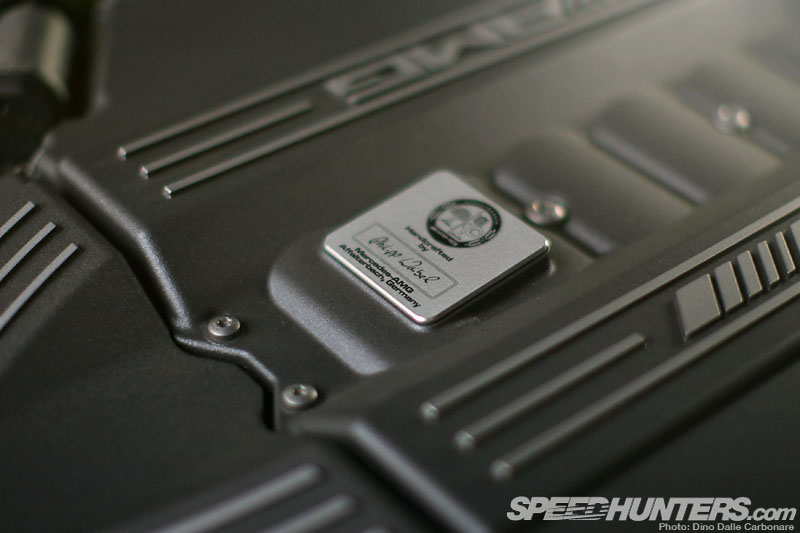 The hand-built, naturally aspirated brute of a V8 wears a plaque with the signature of the AMG technician that assembled the motor from start to finish…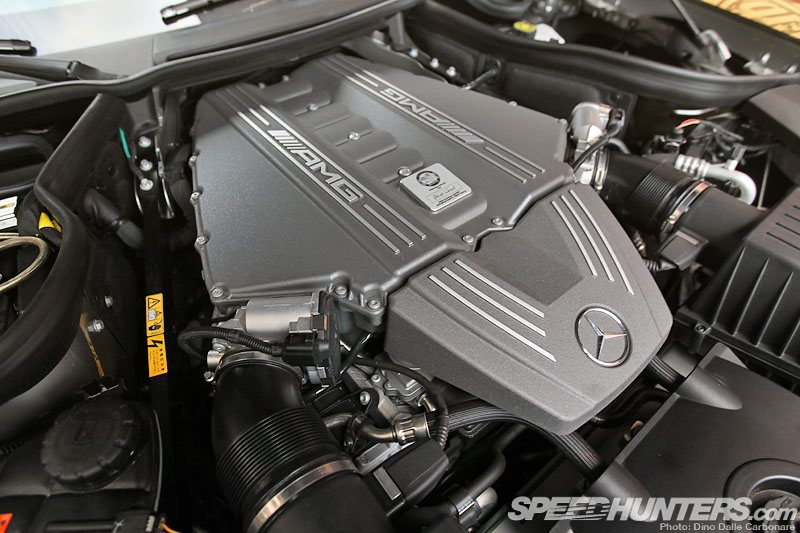 …an AMG trademark for years now.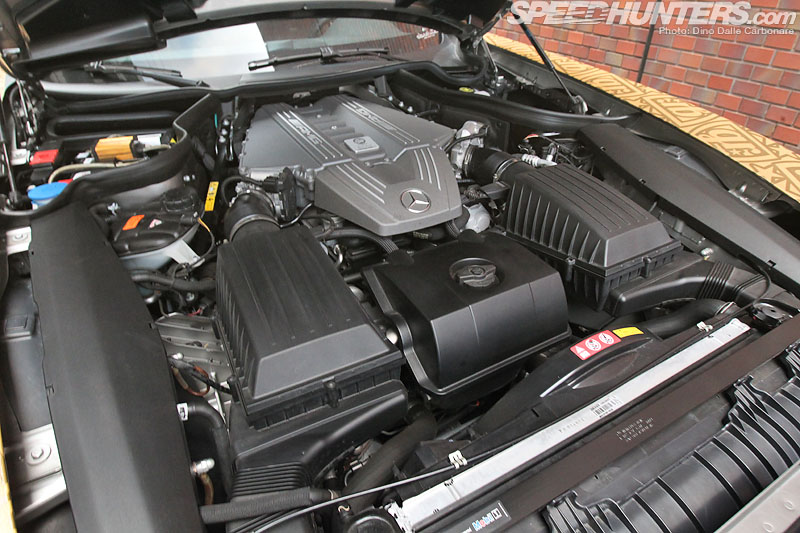 AMG's M159 V8 has won itself great admiration in the industry for being a superb engine, that big capacity offering instant torque right from idle with a very usable curve that peaks with 480 lb/ft (650 Nm) at 4,750 rpm. It's also one of the best sounding V8s out there too, a true hairy-chested burble that progresses to something reminiscent of a Nascar racer. It couldn't be more different from the flat plane crank wail of a Ferrari V8, which is probably why the owner wanted to further tap into the sound thanks to a straight through exhaust system, which on top of rupturing your eardrums at every prod of the throttle, liberates a few HP to boot.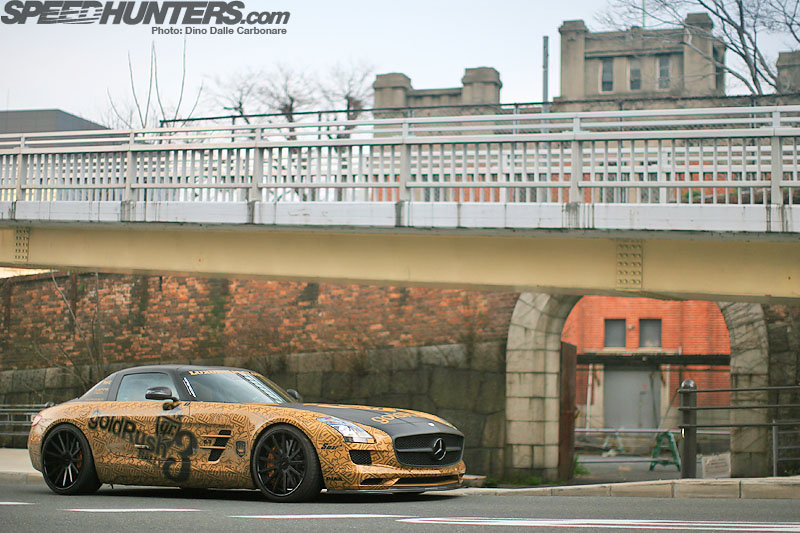 Aside from the brushed gold wrap the SLS hides…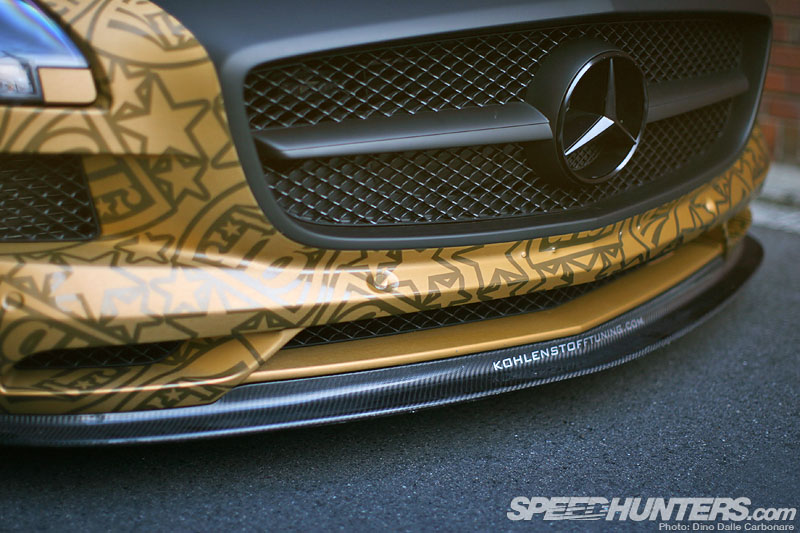 …a nice little addition, the Kohlenstoff Tuning carbon fiber front lip made by a new Japanese company specializing in import cars.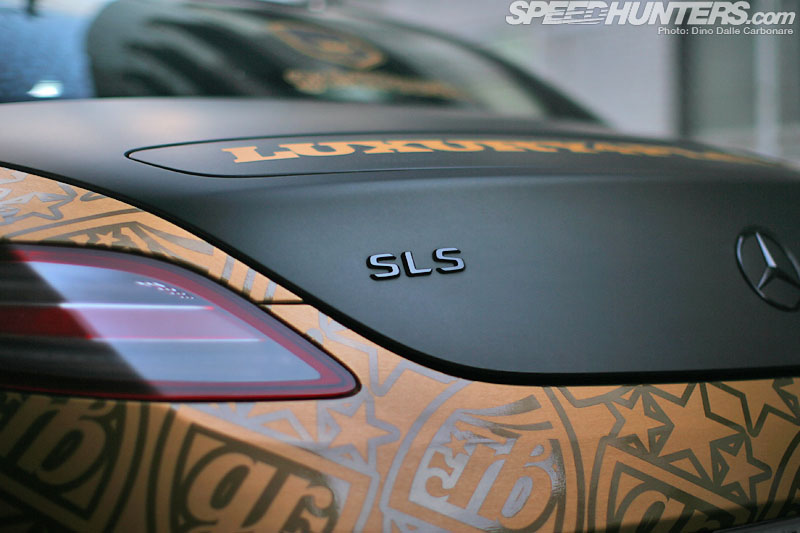 The wrap includes what Shikata-san tells us is quickly becoming a poplar thing to do, a matt-clear film for the taillights, there mainly for protection but also for looks.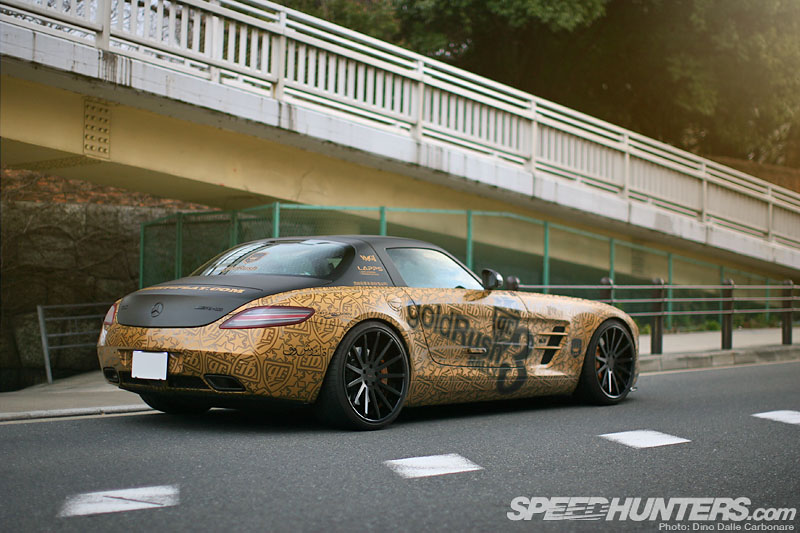 The custom aftermarket exhaust system is nicely integrated behind the stock finishers on the bumper so, as long as the engine isn't running, you would never know they were there.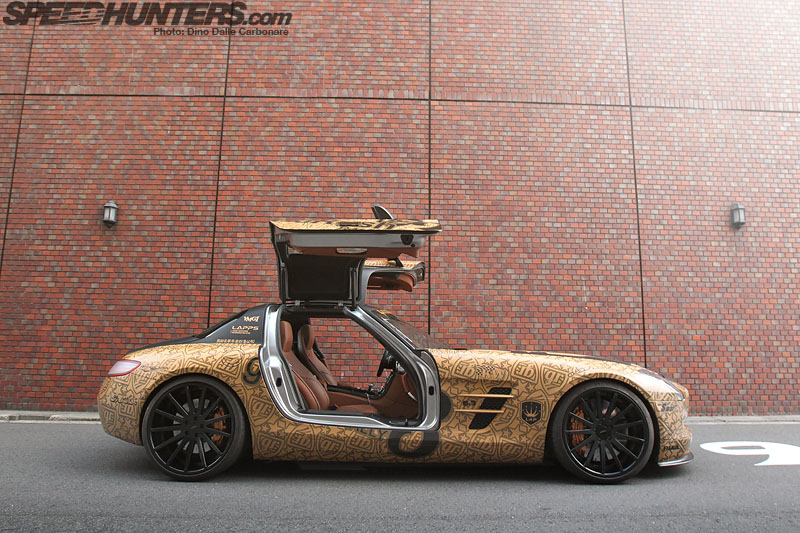 Like every car that wears the AMG logo…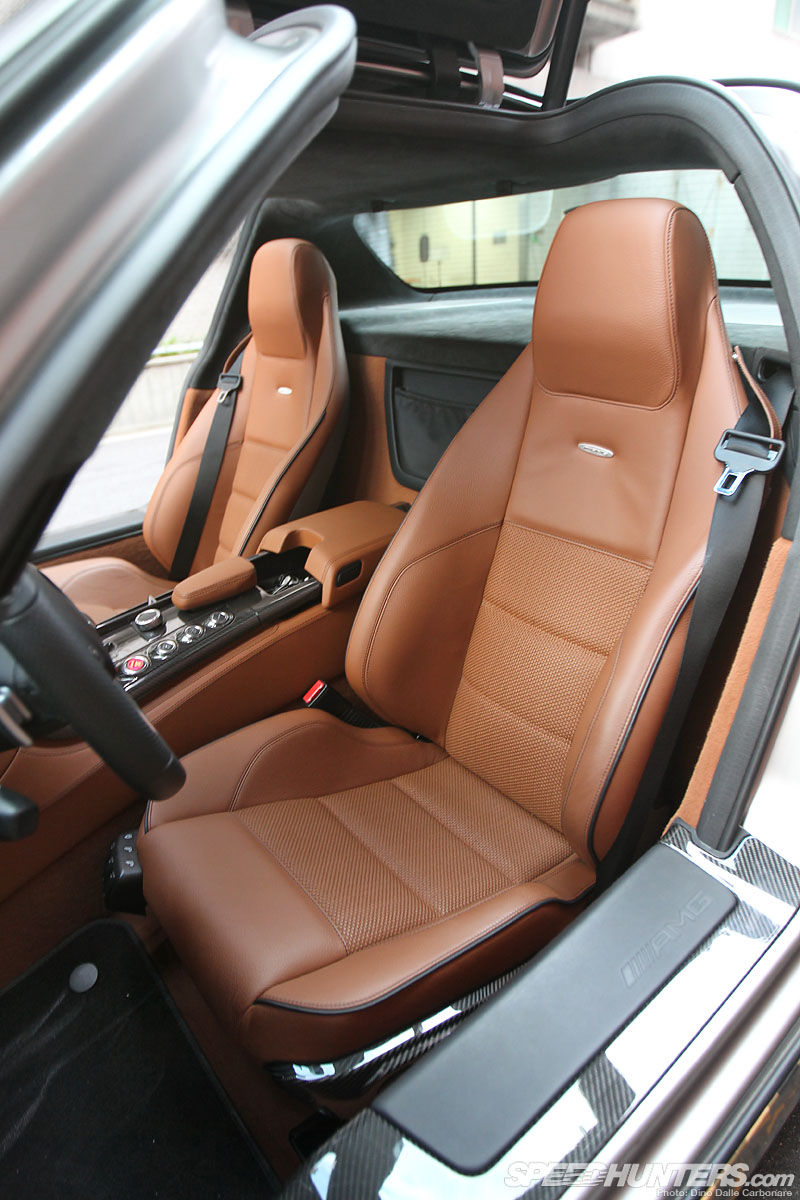 …comfort, attention to detail and exotic materials are the norm in the interior. Once you climb over those chunky carbon fiber trimmed sills you gently sink into the soft yet supportive seat, electrically adjustable to fine tune your preferred driving position.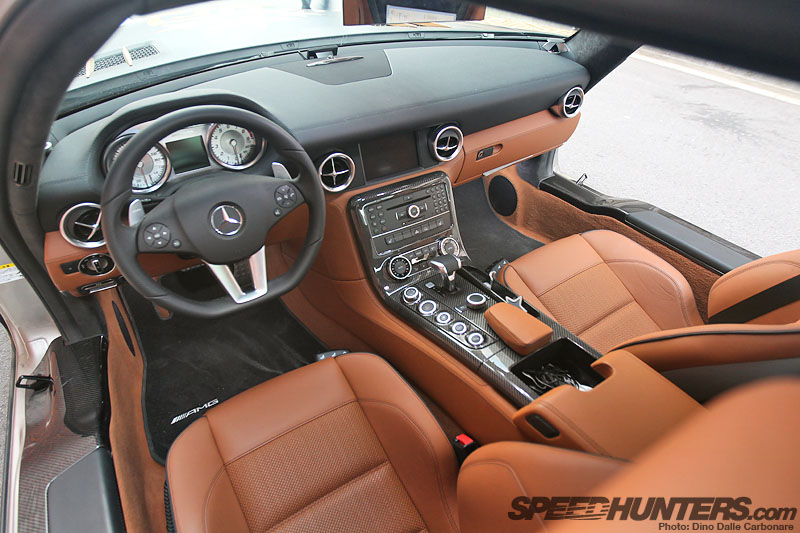 Layout is typical Mercedes Benz with lots of buttons to play with…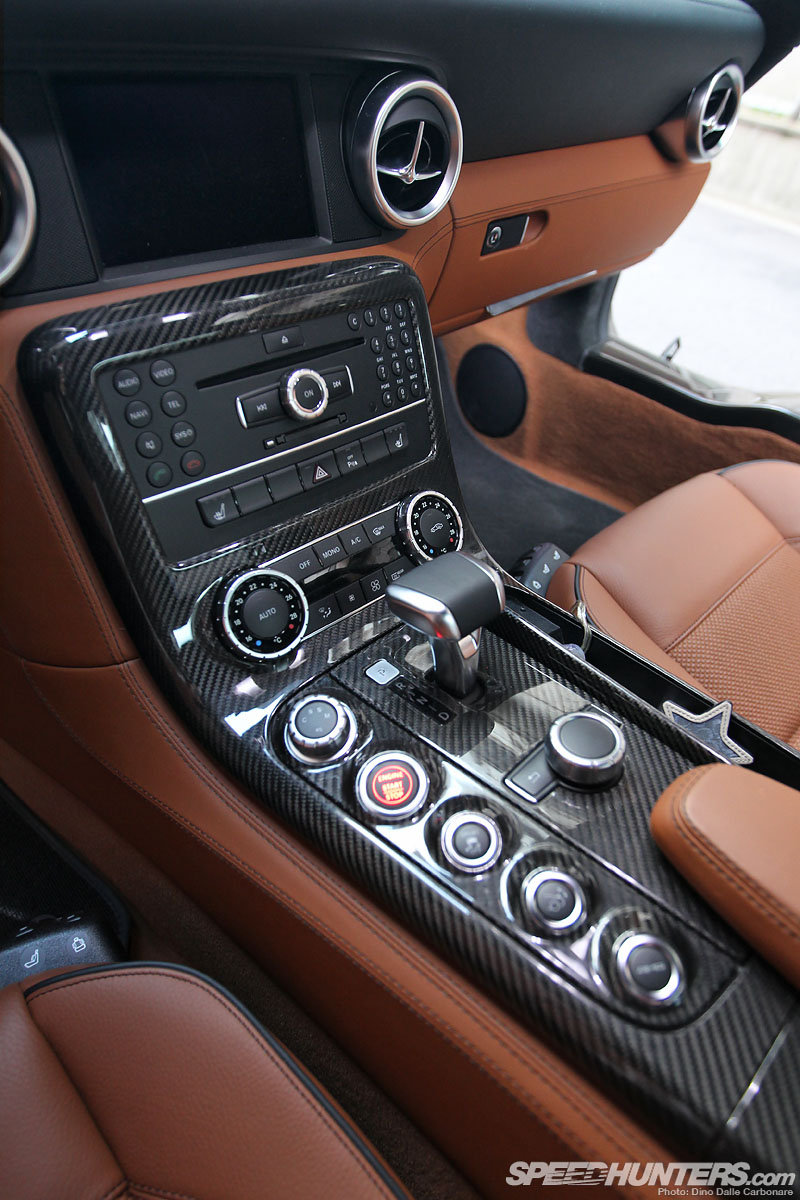 …the majority of them laid out on the carbon fiber center console. This is where the small aluminum and leather gear selector is located, allowing you to drop the 7-speed dual-clutch transmission into drive, park or reverse. When you need to shift manually it's the brushed aluminum paddles behind the thick-rimmed steering wheel you need to play with.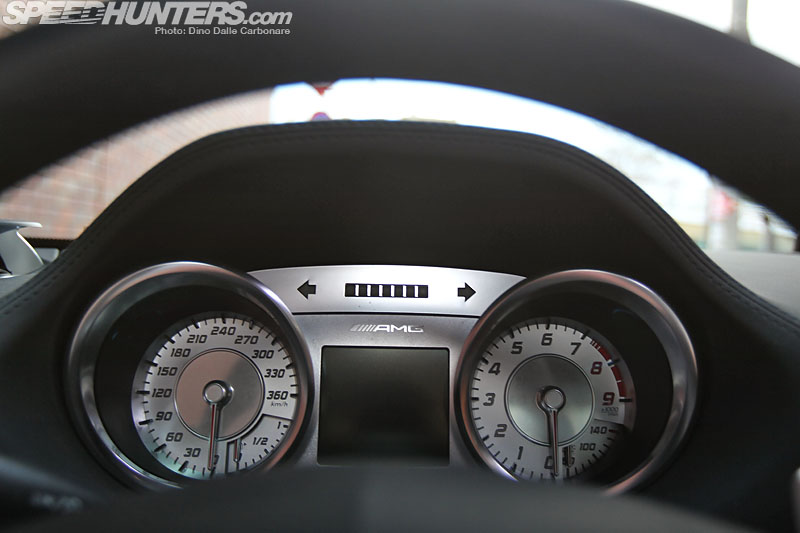 Instrument layout is very simple, a pair of analogue dials and a large square LCD center display for flicking through the various trip computer views and keeping an eye on the selected gear.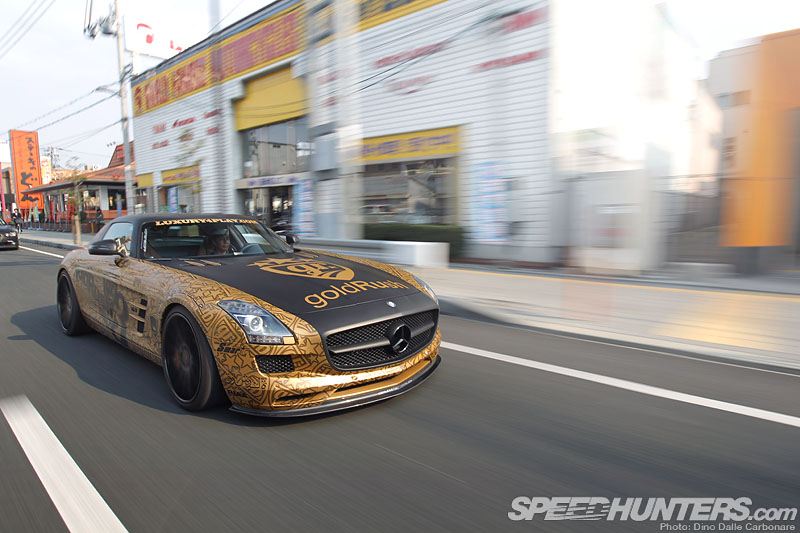 Seeing the SLS tackle the narrow streets of the Osaka suburbs was quite a sight, the unsilenced thundering sound of its monstrous V8 making this one of those experiences I won't be forgetting for a while! I will be back at S & Company soon for a little shop visit, and to check out the curious mix of cars they always seems to be working on.
Scroll down below for a few desktops of the S & Co SLS.
-Dino Dalle Carbonare