There aren't many major international motorsport events that find their way down to New Zealand, but since 1977 us Kiwis have been lucky to have a regular round of the World Rally Championship on our doorstep. Although it's a bi-annual affair now (Australia hosts the 'Down Under' round every other year), this weekend the world's best WRC drivers are in Auckland for the seventh round of the FIA 2012 World Rally Championship. It also marks the 500th WRC round since the championship began back in 1973.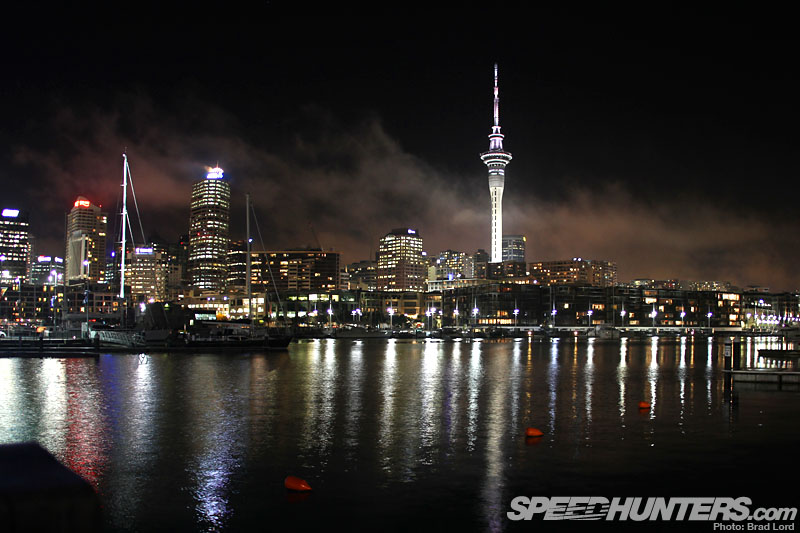 For 2012 the WRC event returns to Auckland, New Zealand's largest city and home to one third of the country's 4.4-million population. Rally HQ is located right at the heart of it all in a newly developed public precinct around the port area. Teams get this pretty spectacular view every morning and evening when the cars and their drivers leave and return to Parc Ferme.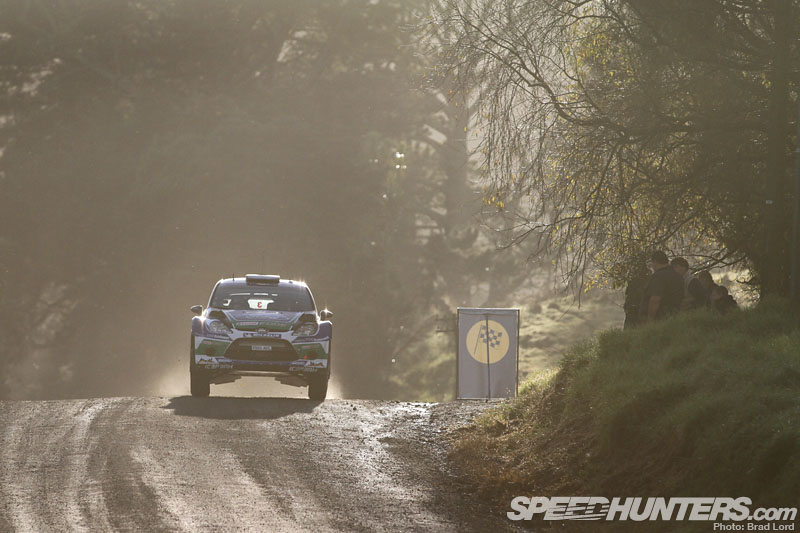 The event runs for three days. The first day is based south of Auckland, the second north of Auckland, and the third and final day, a little closer to the city itself and includes two Super Special Stage runs around the tarmac roads of the iconic Domain park. But before all that  things kicked off bright and early on Thursday morning with an official shakedown session for all the rally's competitors. For most of the field it's a final opportunity to for drivers to dial their cars – and selves – in before the first Special Stage. For the 13 WRC class competitors in the event there was also qualifying to determine the first day's running order, which is very important. But a little more on that tactical aspect of the WRC in a moment.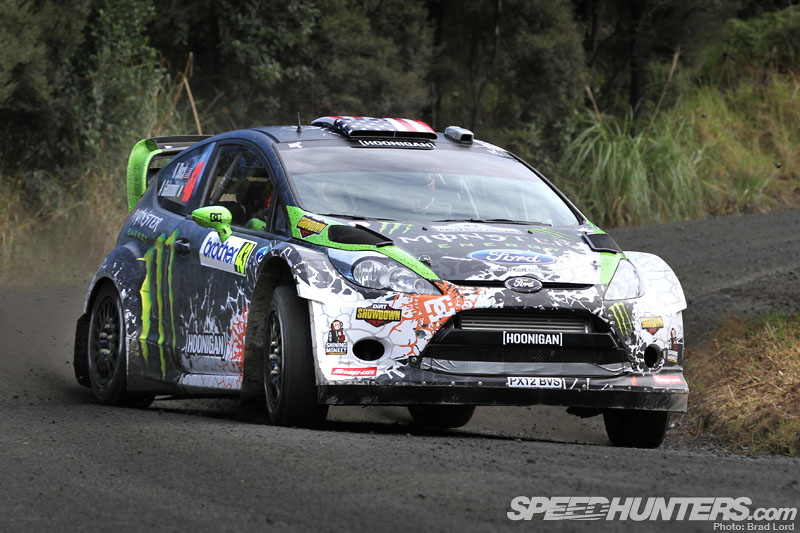 Over the course of Speedhunter's Brother Rally New Zealand coverage I hope to be able to give you a taste of what the event is all about, and show you why tens of thousands of local fans jump in their cars and drive hundreds of miles a day (normally in circles) to get up-close-and-personal with the action. And for a little more insight into what goes down at a WRC event we're doing it alongside the crew from the Monster World Rally Team (MWRT).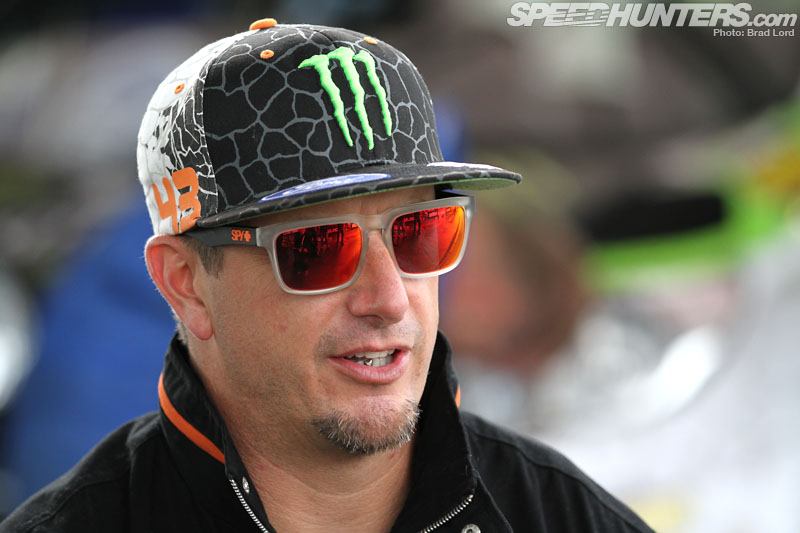 Ken Block certainly needs to introduction, but while the DC Shoes co-founder is best known for his Gymkhana video antics, rallying is his true passion. And competing in the World Rally Championship in a full-blown World Rally Car is a dream come true. Due to his other driving commitments (think Gymkhana World Tour, Global Rally Cross and the X Games) Ken is only competing in three rounds of the WRC this year. Having driven here before on a number of occasions, outside of the 100 Acre Wood Rally in the US (which he and co-driver Alex Gelsomino have won six times straight), Ken rates New Zealand's roads as his favorites. It's all do to with high-speed, cambered gravel roads that allow drivers to really get their cars dancing.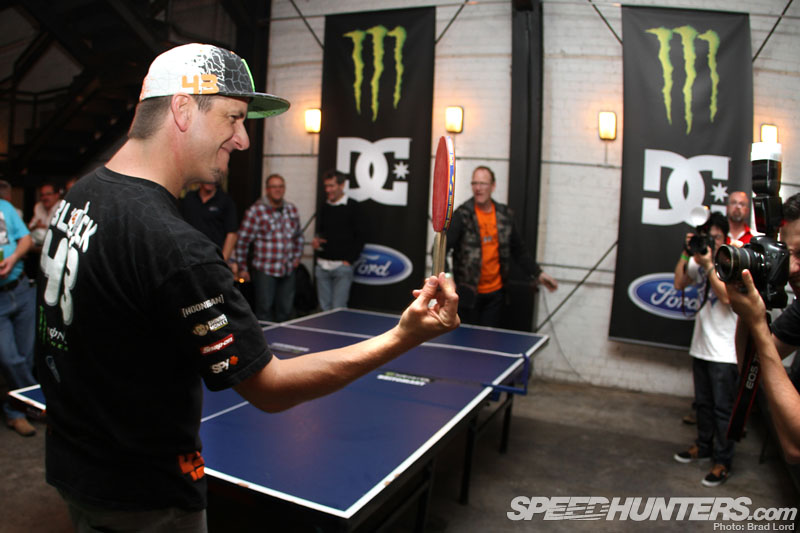 Before the serious stuff begun we've been hanging out with Ken and the MWRT. On Wednesday night we hit up a Monster Energy x DC x Ford party at a small bar venue in Auckland's CBD…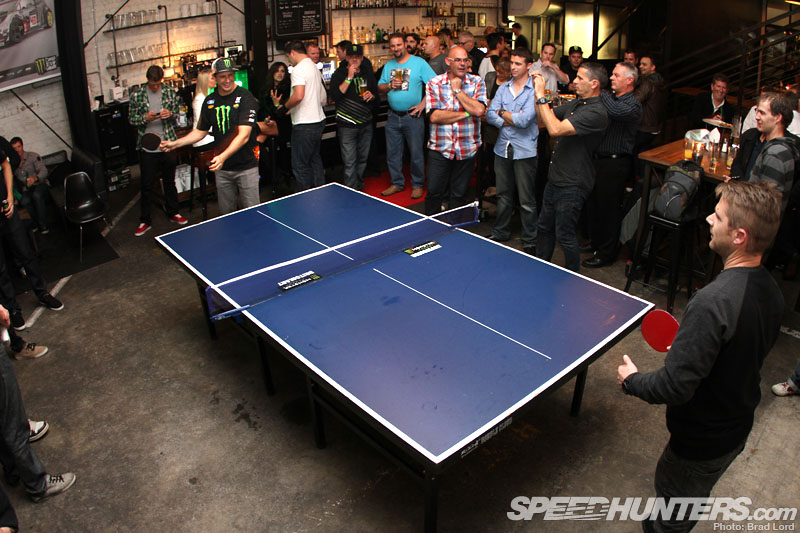 …Where Ken competed in another one of his favorite pastimes. He loves table tennis so much that he has a custom built table that doubles as his dining room table in his home!  There we no shortage of challengers ready to step up and get their ping-pong on.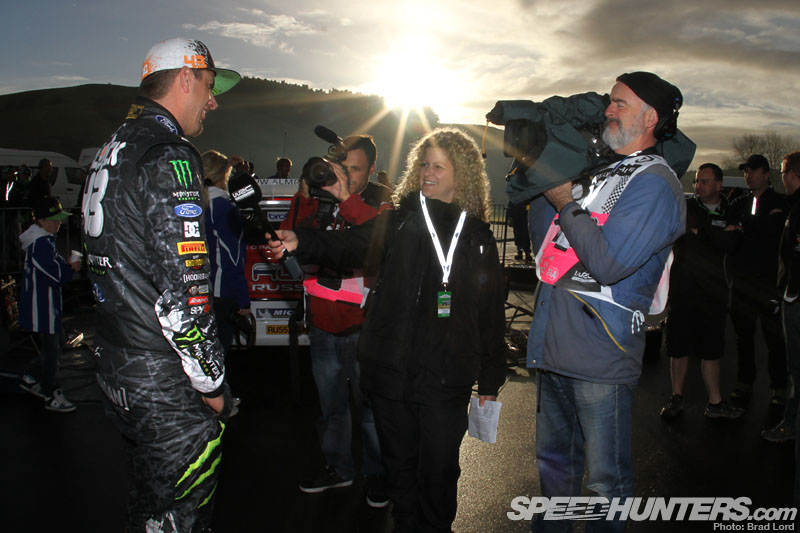 Aside from the actual purpose of making the 12-hour long-haul flight to New Zealand, Ken has been a very busy man. So far he's undertaken dozen of interviews for local and international media outlets…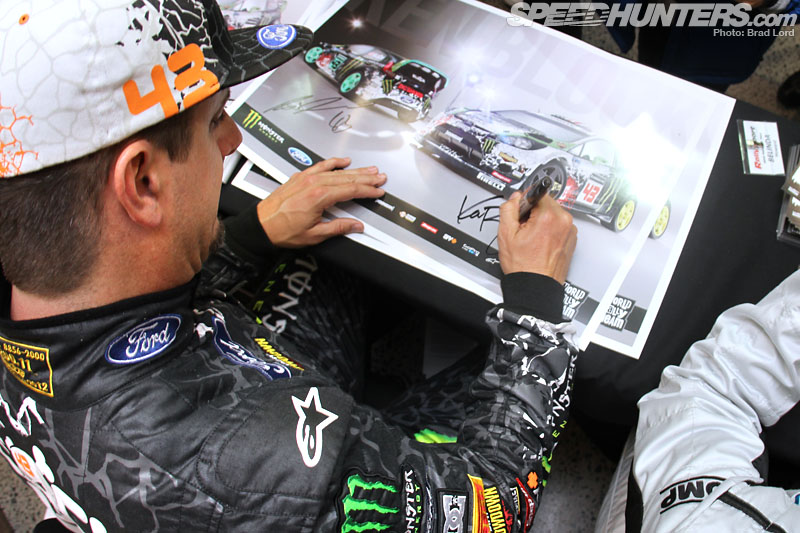 … and signed hundreds, if not thousands of autographs for Kiwi fans. On the Thursday evening signing session he was still going after most of the WRC drivers had left, which was pretty cool.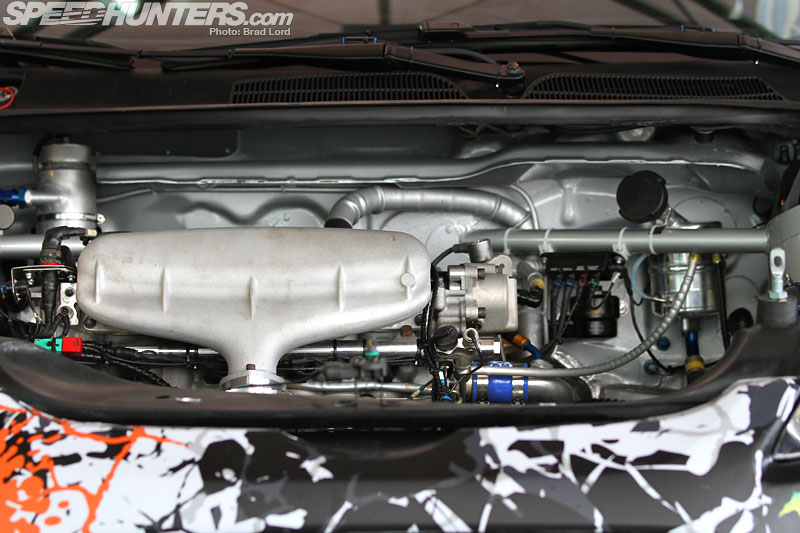 If an opportunity during the tight schedule permits I'm planning on to take a closer look at Ken's #43 car, which is a brand new build for this event. The M-Sport prepped turbocharged four-cylinder Ford Fiesta RS WRC is a very trick piece of motorsports hardware.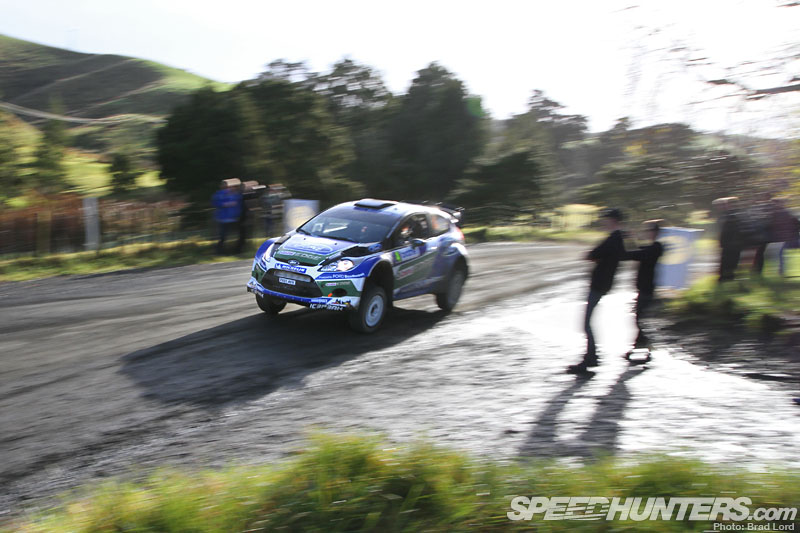 Even though they're physically small in size, the current crop of WRC machines are true performance marvels. It's pretty interesting to know that even though engine capacity was recently limited to 1.6 liters (down from 2.0 liters), and that electronic wizardry – like active differentials and and steering wheel-mounted paddle shifters – has been outlawed, the new generation of World Rally Car is pretty much still on-par performance-wise with the old one.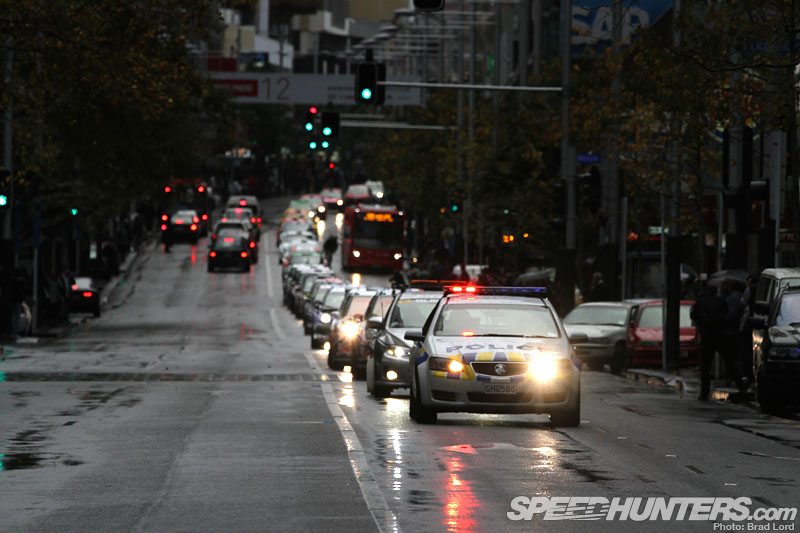 To kick thing off the entire Brother Rally New Zealand competing field was given a police escort through the CBD. The traffic lights were phased continuously green for the spectacle and thousands of people lined the streets to catch a fleeting glimpse of the cars before they get dirty, and in some cases, beat up.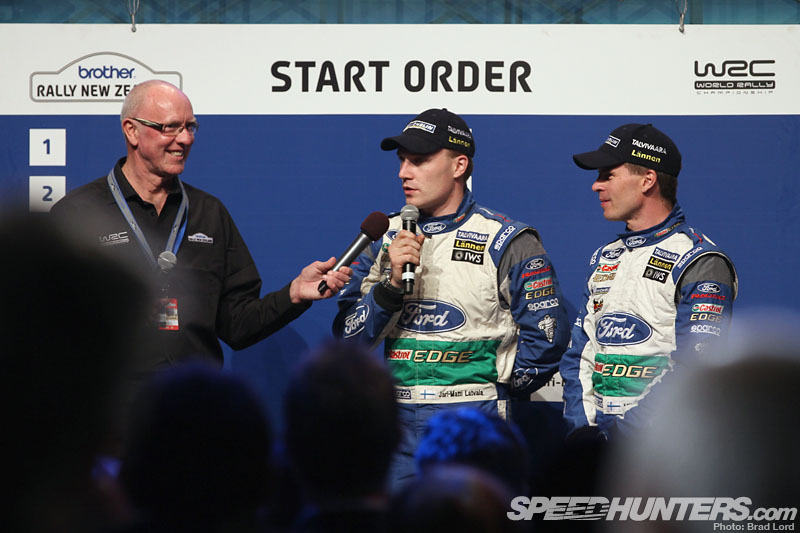 Later on in the evening at Rally HQ, the official welcome played out in front of a large audience. As previously mentioned, one of the most important aspects of gravel rallying is whereabouts a driver starts on the road. If the conditions are dry, loose stones on the road surface make things slippery for the first cars through the Special Stage, so it's often not an ideal place to be. Based on the qualifying results from earlier in the day the WRC drivers got to choose their road position for the first day of competition. Ford World Rally Team driver Jari-Matti Latvala was the quickest through the 5.06-kilometer (3.14-mile) qualifying stage, which meant he got to make his selection first. And he surprised everyone when he opted for the very last position among the World Rally Championship competitors – 13th – betting on the fact that the weather would stay dry and therefore many of the competitive stages would need 'sweeping'. Citroen World Rally Team drivers, Loeb and his team-mate Mikko Hirvonen, however, banked on rain and selected first and third respectively, while Latvala's team-mate – popular Norwegian driver Petter Solberg – chose to run second on the road.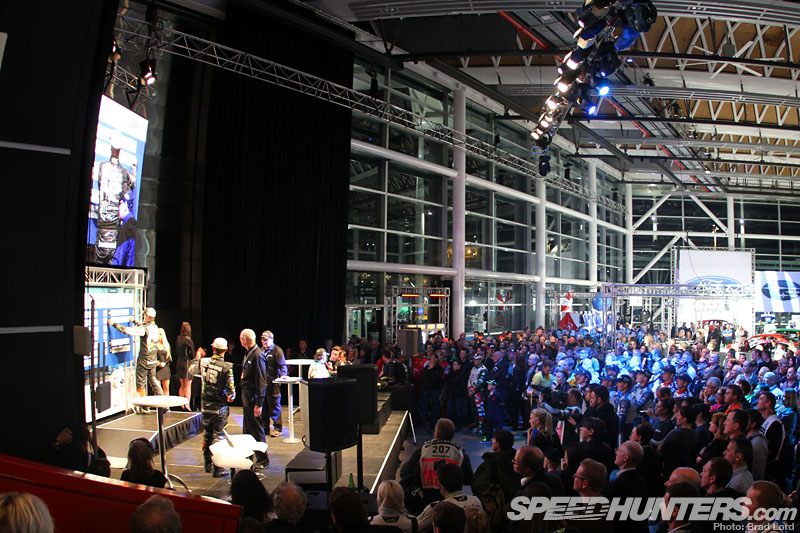 Since he qualifying a little way down the WRC field Ken thought he might be lumped with one of the first positions on the road. But that's not how things panned out at all. On Friday morning he and co-driver Alex Gelsomino started from ninth, which is not a bad place to be. Here you can see Ken staking his claim on the Start Order board.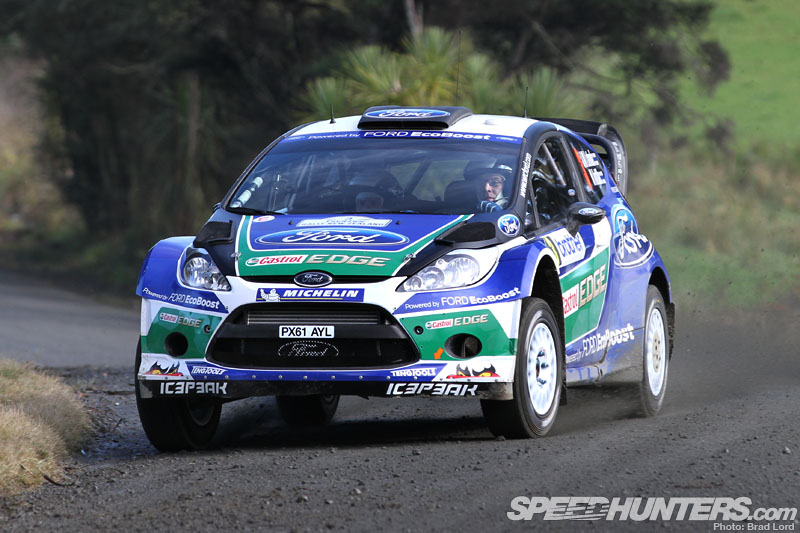 As the winner of the 2010 WRC Rally New Zealand (the last time New Zealand was on the WRC calendar) Latvala took overall honours, so he's the man to beat. Loeb, who currently leads the 2012 WRC Driver's Championship, and as a previous winner of the event he – along with all the top-ranked drivers – will be looking to bolster his points count. With both dry and wet weather conditions forecast for the three days of competition ahead, how it will all pan out is anyone's guess. But it's going to be fun!
Stay tuned for lots more Brother Rally New Zealand, including action from all three days of the event. For a stage-by-stage plays and up-to-the-minute results check out the official WRC website here.
– Brad Lord